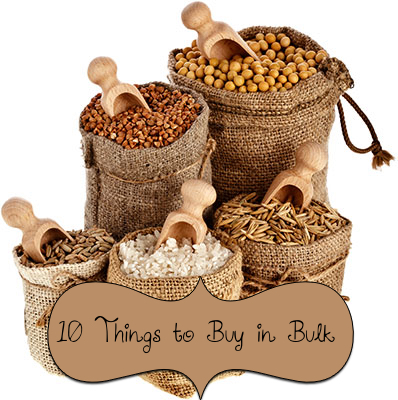 Rice –  Most rice varieties will last indefinitely in storage except for brown rice.  Brown rice has oils that will go bad if kept longer than 6 months. Rice a versatile food that can be used for a variety of different meals so it's great to have on hand. See this article for more ideas on how to use rice: https://www.prudentpennypincher.com/ways-to-make-plain-white-rice-less-boring/
Oats — It can be used for more than just oatmeal (e.g. granola bars, oatmeal cookies, bread, etc). In bulk, its dirt cheap and will last you forever.
Pasta — I buy a 6 pack of individually wrapped 1lb pastas of different types (spaghetti, angel hair, elbows, etc). We make a pasta dish at least once a week here so its always good to have on hand. This week Sam's Club had a sale on pasta 6 lbs for $4.
Mashed Potatoes — I buy a giant box of this stuff for $5 because we have mashed potatoes at least twice a week and most of the time I'm too lazy to make homemade mashed potatoes. A box last about 4 months. Sam's club has the best instant mashed potatoes that I've ever had (Idahoan Real Premium Mashed Potatoes )
Toilet paper — You will save a lot of money if you buy toilet paper in bulk. Wait until it goes on sale to save even more.
Paper towels — Same goes for paper towels
Trash bags – I buy a 200 box for $11 and it lasts almost all year!
Canned food —  tuna, soups, etc…whatever canned foods that your family uses regularly
Meats — Sometimes we buy chicken or ground beef in bulk if we can't find better deals somewhere else, but you have to freeze it properly and use it within a couple months. Read this article to learn how to freeze meats: https://www.stayathomemum.com.au/recipes/freezing-bulk-meat/
Pet food and cat litter
Also, you should always compare prices. Not everything in bulk will be cheaper. Determine the price per unit and check other places. Sometimes I have found that Walmart is cheaper than Sam's Club. There's not much of a point buying in bulk if you aren't saving money.
If you are a member at Sam's Club, always check the Instant Savings. You will find a lot of good deals there. I've bought large packs of paper towels and water almost free from Instant Savings!! I can definitely say that the savings I have received outweigh the cost of membership.