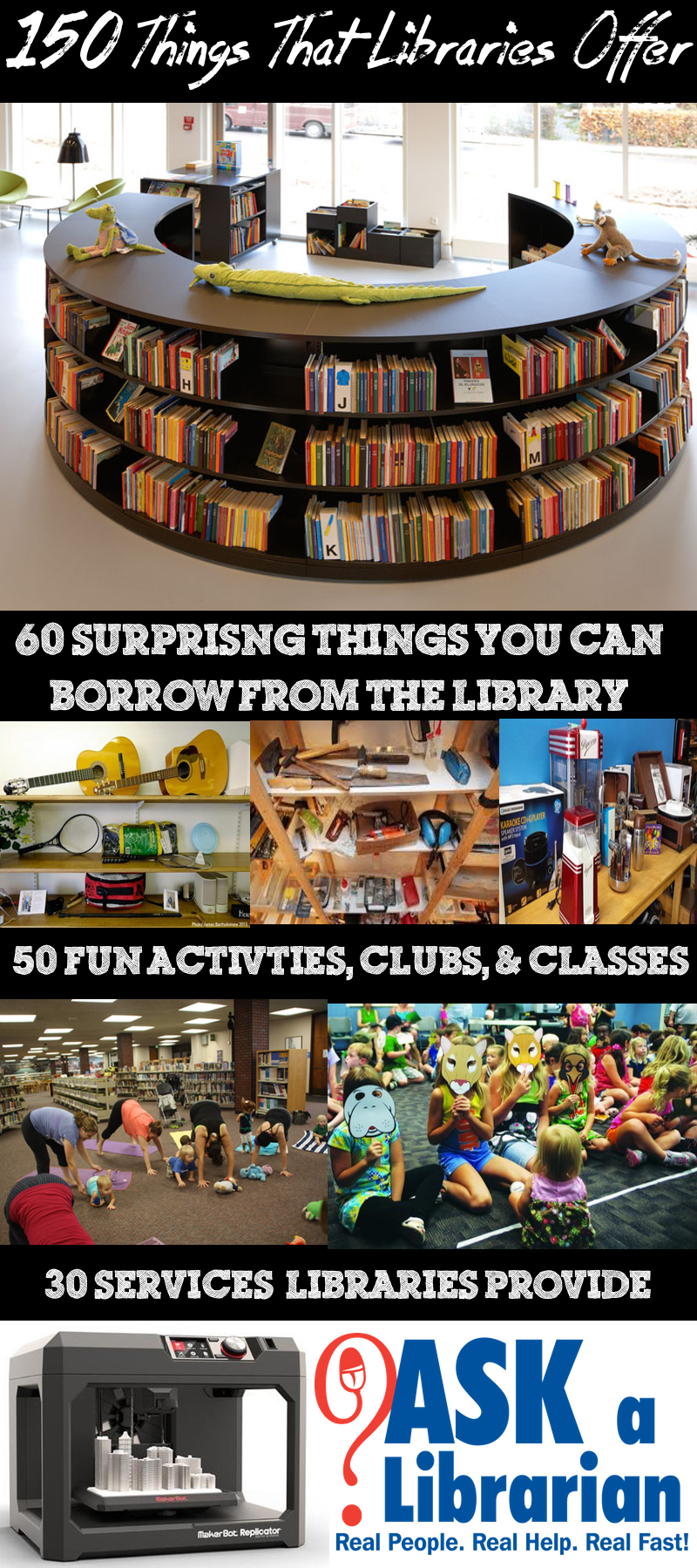 Public libraries offer A LOT of free things that most people don't know about. I know because I got my Master's in Library Science; otherwise, I probably would have never known that you could get much more than books and media at the library.
A public library's purpose is much more than to provide access to books; their mission is to enrich their communities and improve quality of life for its citizens and they do that by offering technologies, tools and resources to help people succeed.
Because every community has different needs, not every library will offer all of these things, but a majority of these items will be available through at least one library in your local public library system. Borrowing items is especially great if you only need them for a project or two. No need to buy something you are only going to use once or twice. It's also a good way to try before you buy.
What Can you Borrow at Libraries?
Books – DUH!
Music CDs
Blu-Rays
Video Games – Wii, Xbox, PC Games, Playstation 3, etc.
E-books
Board games
Online databases – database subscriptions are VERY expensive and libraries provide access to hundreds of different databases for free. These databases are EXCELLENT resources for children and students. They provide high quality scholarly and academic articles that are superior to what you would find with a simple Google search. Some examples of databases that libraries give you access to:

Junior Reference Collection
Kids InfoBits
National Geographic Kids
Biography in Content (Gale)
World Book Kids
Lynda.com
Reference USA
Gale Business Collections
Academic OneFile
America's Genealogy Bank
Auto Repair Reference Center
Health & Wellness Resource Center
Science Online
Literature Resource Center
Live Homework Help
Mango Languages
Local newspaper archives
WorldCat

Digital Collections – Libraries are working on digitizing local historical documents and photographs so that you can learn about your city's heritage and cultural roots.
Tablets
E-readers
Layaway Launchpads – they are designed just for kids and are pre-loaded with high-quality, ad-free apps that are both fun and educational.
Portable Blu-Ray Player
MP3 Players
DVDs
Laptops
Periodicals
Magazines
Cameras
Cooking appliances
Sewing machines
Irons
Home appliances
Musical instruments
Sheet music
Hobby kits such as model kits for planes, ships and buildings.
Discovery kits – They are filled with books, craft ideas, puzzles, dvd's, games, etc. for young and old. They are themed like Dinosaur Discovery Kit or Elephant Discovery Kit
Activity kits – Book accompanied by an activity card and simple activity (puppet, stuffed animal, etc.)
Parenting kits like tolieting and bedwetting kits
Cassettes
Scrapbooking kits
Audiobooks
Pedometers – like FitBits
Newspapers
Downloadable Apps – apps that would otherwise cost you money to download
Comics and graphic novels
Virtual reference library
Digital magazines through services like Zinio
Telescopes
Book Kits (10 books and a guide). Good for book clubs.
Digital music services like Freegal that offer over 7million songs to choose from.
Toys and gadgets – like gaming accessories (e.g. controllers)
Seeds
Gardening tools (also gardening classes)
Video production equipment
Sports equipment
Consumer guides / reports to figure out best brands to buy
Science equipment (Microscopes, pH meters, etc.)
Digital Voice Recorders
Phone chargers
Exercise/Workout Videos
Bicycles and bike pumps
Bakeware
Home Energy Evaluation Kits
Headphones
LCD Projector (fee may apply)
Craft supplies
GoPro
Lawn care items like rakes, shovels, etc
Puzzles
Overhead Projector
Dolls (ex. American Girls Dolls)
Winter items like show shoes, sleds, ice skates, snow shovels.
Energy Meters for the home
Libraries are creating "library of things" like Sacramento Public Library – http://www.saclibrary.org/Services/Library-of-Things/ or http://oaklandlibrary.org/locations/tool-lending-library

What Services Do Libraries Provide For Free (Or A Small Fee)?

Electric car charging – this one is very new. So far there is only one library in my state offering this service, but more libraries are working on getting these installed.
Research help – Librarians are expert researchers and you can enlist their help.
Bookmobiles – This is a up and coming service in my area. They are mobile libraries that come to you! Especially helpful if you lack transportation to get to the library. Here, they primarily visit senior living/retirement or low income communities for people that can't drive or don't have transportation.
Career help – libraries give patrons access to resources, websites, and databases to help people look for jobs. An example of my local libraries Career page is here.
Book sales – you can buy books for thrift store prices! ($0.50 to $1)
3D Printing – 3D printers are thousands of dollars, but many libraries are buying them to let patrons use for FREE (or sometimes a small fee). There are over 250 libraries in the US that offer 3D printers to patrons! Some examples of the cool things people have made at libraries are: printed phone cases, toy characters, playing pieces for board games, replacement parts for electric razors, cookie cutters, artificial limbs for amputees, tools, jewelry and more!
Free passes to local educational or cultural institutions – ex: museums, sports games, zoos or aquariums
Room reservations – you can reserve a conference room.
Homework help
Free wi-fi
Computers
Copy
Print
Fax
Scan
Ellison Die Machine
Book vending machines – like Redbox but for books!
Laminating
Ask a Librarian – is a live virtual reference service (chat, email, texting) that offers online reference assistance. Questions are answered in real time by librarians with subject expertise in a wide range of disciplines. You can ask questions about library services, information resources, and conducting research.
Internet access
Computer usage
Research guides/finding aids on many subjects
ADA Services (ex. large print and braille materials)
Readers' Advisory Services – Recommending books based on reading interests
Inter Library Loans
Forms – libraries provides legal, government and tax forms for residents
Special Collections
Delivery Service for people who are homebound
Mobile library app that gives you 24/7 access to the libraries online books, resources and databases
Consumer health information and resources
Government Assistance
Request Materials
Genealogy Services
Access to library materials 7 days a week!

What Can You Do at Libraries? Programs – Events, Classes, Clubs and more!
There are thousands of different programs at libraries (New York Public Library offers more than 80,000 programs annually), so I couldn't cover them all, but I will list some of the more popular ones (for kids, teens and adults)

Adult

Genealogy classes
Career development classes – to help with resume and gives free career related resources and advise
Money Matters / Financial Programs
Computer classes (Internet Basics, Microsoft Office 101, etc). I have taught many of these computer classes at my local library. It's an excellent resource for senior citizens.
Learn a language classes – In my state, many libraries have Spanish classes.
Author talks – meet your favorite author!
Bingo night
Movie night
Book clubs
Book discussion groups
Technology classes – ipad basics, mobile device help, etc.
ZUMBA
Yoga
Art gallery / exhibits
Writing club
Job counseling
Adult coloring
Quilters & crafters
Cooking programs
Speed Dating
Aerobics / Exercise classes – Great place to find a running buddy
Adult pottery class
Open mic night
Wine tasting (yes, really)
Special lecture or creative workshops
Volunteering – A library is a fun place to volunteer and they could really use the extra help!

Kids and Teens

Computer coding – teaching kids programming
Pokemon club
Minecraft club
Story time
Comic Cons – My local library has one of these every year and they are REALLY popular – thousands show up for it.
Block Party / Lego League
Game Zone
Teen Time
Puppet shows
Teen crafts
Family game night
Anime club
Battle of the Books
Origami
Robotics club
Poetry slam
Writer's group
Dance party / dance studio
Summer Reading Program
Makerspaces / Hackerspaces – This is a trending topic in the library field and was what I did my thesis paper on. If you aren't familiar with the terminology it simply means a space where people gather to make, create, and share supplies, skills, and ideas. Some examples of makerspace equipment: Espresso Book Machine (print and bind your own book!), Digital Creation Stations, 3D Printer, Laser Cutter/Engraver, Vinyl Printer/Cutter
Nursery Rhyme Time
STEM programs
Guitar Lessons
Manga Mania
Harry Potter Parties
CreateIT and iTNation programs give teens experience using various digital media software and allow them to teach introductory digital media classes to others.