I've included links to products on this post that I will earn an affiliate commission for any purchases you make.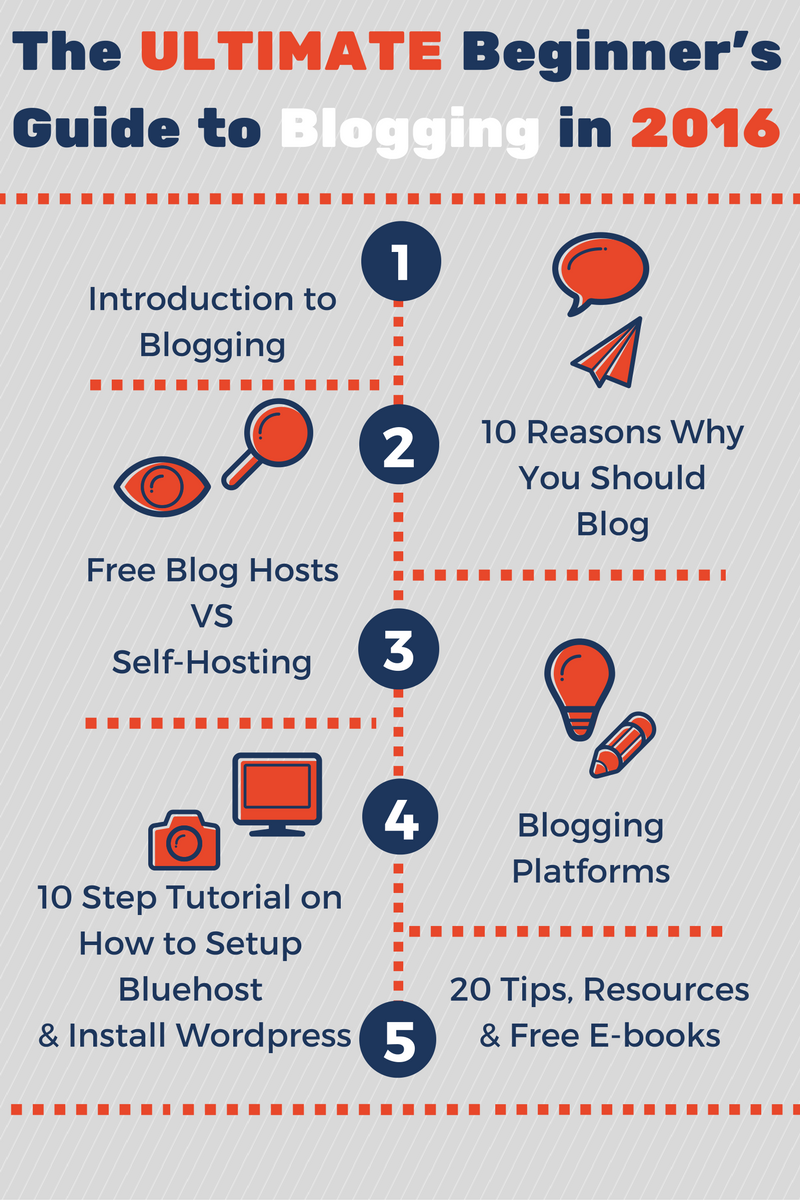 I am going to take you step-by-step through the ENITRE process of getting your blog started in 2016 from choosing hosts, domains and blogging platforms to customizing your blog and publishing your first post. All of this can be done in less than 30 minutes with my tutorial. However, before we dive into the logistics, I think it's important to start out with a brief discussion of the benefits of blogging and reasons for blogging because before you can start a blog, (A.) you'll need to know if it's right decision for you and (B.) what your topic will be.
Why You Should Blog?
Do you have a passion? Something you love to talk about and are knowledge about?There are plenty of people that would love to learn from your knowledge and experiences

For me, my passion is saving money. I have a lot of experience in that area and I wanted to share that knowledge with others to improve their quality of life.
You don't have to be a subject expert either, so don't let that deter you. You just have to know how to find the information that your audience wants!

Flexibility

Perfect opportunity for stay at home moms
Make your own schedule
You don't have to leave the comfort of your own home and save on gas money too

Fun – I honestly don't even think of blogging as work really because I have so much fun doing it! I'm actually excited to get started on my blogging activities in the morning. Most people can't say that about their jobs.
To help others – You are in the position to have a positive impact on other people and be influential.
Work life balance
You are your own boss
Low risk and cost – if you get Bluehost with WordPress, it will only cost you a couple of dollars a month and if you change your mind, you will get a refund! So why not try it out and see how you like it!? The only real investment you make is your time.
You can make a good income from blogging and you can turn it into a full time job/business with some time and effort.

I started making money from my blog in 3 months, but it will depend on how much time you put into it. I put in 25-30 hours a week.

If you just want to blog as a hobby, it will help you establish a positive online presence, build a network and depending on the topic, it may help you land a job!

Also, it will help you get freelance writing jobs because you can use your blog posts as writing samples.

You will learn so many new things and improve your writing skills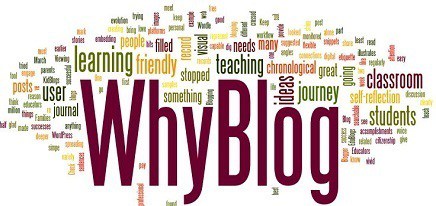 ---
Where Do I Begin?
When I started looking into blogging, I had so many questions about how to get started blogging. I spend a lot of time researching my options. There are so many blogging and hosting websites out there! I was overwhelmed with choices and information.
So I'm going to save you the hassle of having to spend hours figuring it out. Without a doubt, the best option is self hosting with WordPress.org. I will explain the reasons why soon.
But first, here is the brief outline of what I will be discussing:
Step 1:

Choosing a host: Free Blog Hosts vs Self-Hosted

Step 2:

Choosing a domain

Step 3:

 Choosing a blogging platform and installing it

Step 4:

Customizing your blog

Step 5:

Publishing your first post
No one likes confusing technical lingo so let's get some terminology out of the way to clarify what I will be talking about:
Domain: The domain is the URL of your website. Example: yourwebsite.com is the domain name.
Hosting: Hosting is the company that puts your website on the internet. All you data is stored there. Basically, it's like a virtual hard drive on the internet where your blog will be saved.
---
Free Blog Hosts
(Tumblr, Blogger, Blogspot)
First of all, "free" is not free. It comes with a number of catches:

The biggest catch is that

they own your site.

You will have limited control and customization options and no FTP access. You are constrained to what their basic interface will allow.

They can choose to delete your blog if they want to and all your hard work will be gone.
They sell your ad space so you have no control of what ads will appear on your blog!
You are not allowed to sell products or services through your free blog.

Very limited

storage, page size limits, customization and functionality.

Only 1GB of space
Maximum limit on a single page display is 1 MB
Maximum image size: 8MB, 250KB on mobile and for backgrounds;
These are just a few of the major limitations. There are dozens more. All the limitations on these free platforms will give you a headache and end up wasting your time

Lack of flexibility
You don't get your own domain name
Basic interface that is easy to use
Poor security
No plugins

Very few themes

to choose from

your blog won't look professional, which means you will lose a sense of authority and as a result, you won't get as much traffic
These types of blogs are not taken seriously on the web anymore.

Upgrading and transferring difficulties

– If you choose a platform like Blogger and then later decide you want to monetize your website, you will have a hard time transferring to another platform without losing a lot of data including your search engine rankings so I think it's best to start out right and go with self-hosted from the beginning. Otherwise, you would probably have to pay someone to help you upgrade to a stand alone blog.

Questionable long term sustainability

Blogger is not doing well and isn't being updated routinely. Experts think that it is possible that Google may decide to cut its loses as it has in the past with other projects like Google Reader.
In contrast, WordPress is updated and improved upon continuously.
---
Self-Hosted Blogs
Which Host Should I Choose?
I highly recommend Bluehost. Here's 15 reasons why:
It's very easy to set up

– only takes minutes until your blog is up and running!

1-click WordPress installation

Best choice for

monetizing your blog.

 You can run any of your own advertisements, affiliate links, direct advertising, etc
User-friendly
Affordable
Offers 24/7 technical support
FREE domain
Backed by the ANYTIME

money back guarantee

If you cancel within 30 days you receive a full refund on your hosting service.
If you cancel after 30 days you receive a prorated refund for the remainder of your hosting term. So If you buy 12 months of service and only choose to use 6 of those months. The cost of the remaining 6 months will be refunded back to you.

UNLIMITED email accounts and storage
UNLIMITED website space and websites
No gimmicks, no contracts.

Automatic backups

– creates daily, weekly, and monthly backups of your entire account.

Scalability

– Start with what you need and move to more powerful options as your website grows.

Enhanced interface

with tools that make it simple to manage your websites, domains, emails, and more
$200 in advertising offers (Google, Bing, etc) to help grow your business
Offers excellent

protection

for your website through:

resource protection
sitelock
spam protection
domain privacy
unique IPs
Sign up here. With my Bluehost referral link and as a first time user, you get a special offer of hosting at $3.95/month!! The normal price is $7.99/month. And remember, it comes with a money back guarantee so you can cancel your service ANYTIME if you aren't happy with it or you decide to stop blogging. There is no commitment or hidden fees.
Basic hosting is priced at 12, 24 and 36-month terms. To help save you money, the longer term you purchase, the lower the monthly rate will be.


---
Which Blogging Platform Should I Use?
Here's 25 reasons why WordPress.org is the best choice:
The world's most popular content management system with over 86 MILLION users.

Easy to learn and use.

 User-friendly

1 click installation

with Bluehost.

It's perfect for people who aren't tech savvy.

You don't have to build your own website because there are

thousands of free useful plugins and professional-looking themes to choose from

on WordPress.

Budget-Friendly

– WordPress is FREE through Bluehost

Customization

– you can customize a lot without needing to know any coding. (E.g. logos, colors, menus, headers, etc.)
Optimized for

search engines

Open source

– you own the site so you have complete control and ownership

Plugins

greatly improve functionality.
WordPress has an awesome 

support community

.

If you have a question or need help, there a lot of people out there who will help you.

Search Engine Optimization is simple and user-friendly on WordPress. It can be complicated and confusing, but WordPress has some great plugins that make it easy.

Safe and secure

– provides protection against spam and attacks

Accessibility

– you can access it from any browser

Scalability

– It's for everybody!

It's great for new bloggers AND professional bloggers.
And It's a great platform to grow your blog and business.

Auto updates

available so you don't have to waste too much time on maintaining your site
Creating and managing

content is easy and quick

. As a result, you will post more frequently and gain followers more quickly.
It's a

social platform

– you can communicate with visitors through comments, posts, discussions and more!

Automatic syndication

for RSS, which leads to free yahoo site listings
You don't have to worry about losing your work.

Drafts are automatically saved

so if your power goes out or your computer shuts down, it will automatically save your work.

Versatile platform

for all kinds of businesses from e-commerce stores, personal blogs, small business websites and more

Content scheduling

. You can set your posts to be released at certain times.

Mobile Friendly

– designed with responsive coding to allow your users to view your site on all devices, which is increasingly important since most traffic comes from tablets or cell phones these days.

Categorized blogging

– easier to search and navigate the contents of blogs
Options to increases

loading speed

, which in turn leads to higher google rankings and more traffic.
---
My Personal Opinion and Experience
Aside from all the facts that I've listed, my personal experience with both WordPress and Bluehost has been 100% positive. I haven't had a single issue with my blog and don't know anyone else who has had bad experience either. I've only ever heard positive feedback about Bluehost and WordPress. I honestly think its the best option for anyone considering blogging or starting a website for a business/store. I'm really glad that I followed another bloggers advice about signing up for Bluehost and WordPress! If I hadn't, my blog wouldn't have been nearly as successful.
---
How Do I Get Started with Bluehost and WordPress?
2016 Version
Sign up for Bluehost here. Click on "Get Started Now"
Choose which plan you want. I recommend either basic or plus. You won't need prime for your first year of blogging.
Create your domain name
Enter your account information and billing information
Log into your new Bluehost account by going to the homepage and clicking login at the top right corner.
Install ang Login to WordPress:

In your cPanel, look under the "Website" heading and click the "Install WordPress" link. Then choose the domain you want to install it on
Click the Show advanced options box and enter in your site title, username, and password.
After WordPress installs, you will be emailed your site URL, the admin login URL, your username, and password.
Log into WordPress by going to the admin login URL

Change your blog title. Go to Settings –> General
Choose a theme. Appearance —> Themes. You can customize your themes later on with the Customize link under Appearance.
Add new plugins. Go to Plugins —> Add New and browse through the popular and featured plugins.  I recommend starting out with:

Jetpack – adds many new features to your blog like sharing, site stats, mobile theme, related posts and much more!
Akismet – protects you from spam
Yoast SEO – will help you improve your search engine ranking.
Wordfence  – security plugin with firewall, login security, malware scan, and more

Write your first post by going to Posts —> Add New and clicking "Publish" on the right side when you are finished with your post.
If you prefer a video tutorial, check out this helpful video from OnBlastBlog.com

If you need any help setting up your blog or have any questions for me, please feel free to leave a comment or send me an email [email protected]. I'm here to help!
---
Useful Tips & Resources for Beginner Bloggers