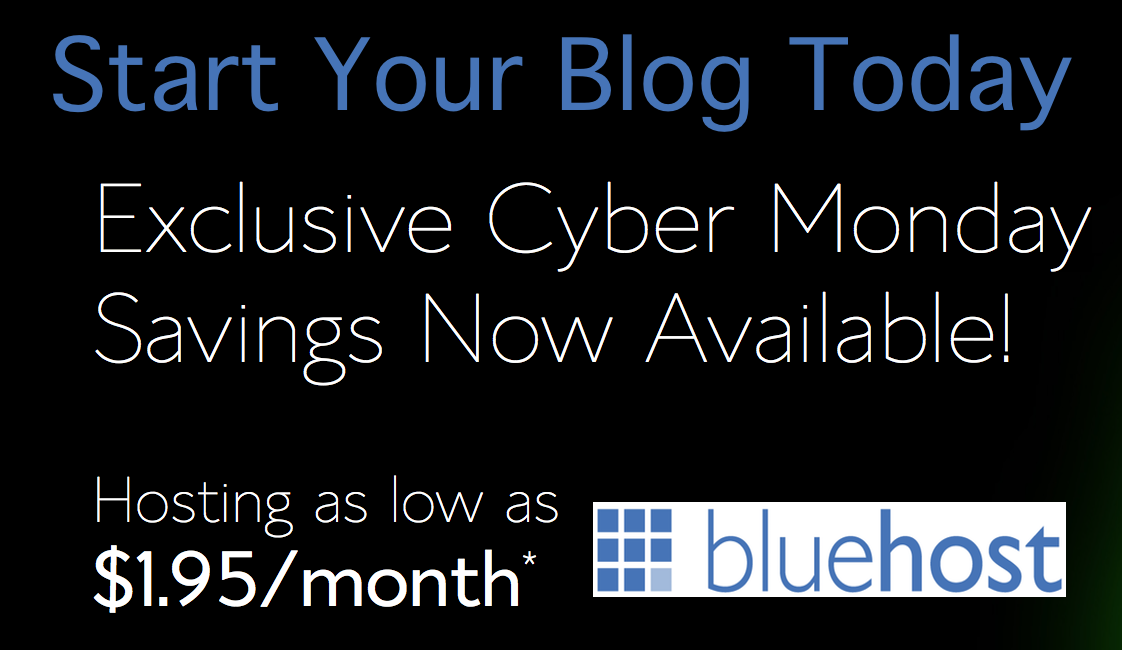 Get the best deal of the year with Bluehost's Cyber Monday sale. This deal only lasts from RIGHT now and until 3 p.m. EST. It is 70% off the regular price!!
Now is the best time to buy hosting for your blog! You can have your blog up and running minutes after you sign up.
You definitely don't want to miss this deal! It is the cheapest pricing EVER!
If you miss this amazing deal, then don't worry, you can still sign up for $2.40 per month until the end of tonight!
Why Bluehost is Awesome:
It's very easy to set up – only takes minutes until your blog is up and running!
1-click WordPress installation
Best choice for monetizing your blog. You can run any of your own advertisements, affiliate links, direct advertising, etc
User-friendly
Affordable
Offers 24/7 technical support
FREE domain
Backed by the ANYTIME money back guarantee
If you cancel within 30 days you receive a full refund on your hosting service.
If you cancel after 30 days you receive a prorated refund for the remainder of your hosting term. So If you buy 12 months of service and only choose to use 6 of those months. The cost of the remaining 6 months will be refunded back to you.
UNLIMITED email accounts and storage
UNLIMITED website space and websites
No gimmicks, no contracts.
Automatic backups – creates daily, weekly, and monthly backups of your entire account.
Scalability – Start with what you need and move to more powerful options as your website grows.
Enhanced interface with tools that make it simple to manage your websites, domains, emails, and more
$200 in advertising offers (Google, Bing, etc) to help grow your business
Offers excellent protection for your website through:
resource protection
sitelock
spam protection
domain privacy
unique IPs
How Do I Get Started?