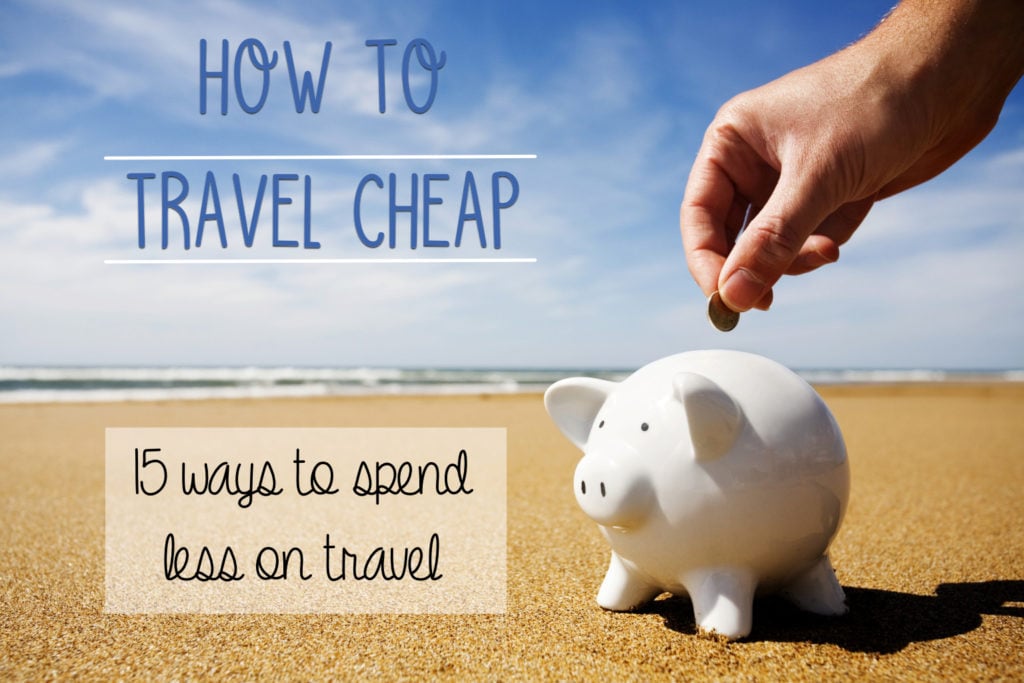 15 Ways to Spend Less on Vacations
Traveling doesn't have to break the bank. Everyone deserves a getaway, especially people who struggle financially. I know from personal experience how stressful it can be and how much getting away for a little while can help ease that stress. I always set aside something every month to go into my vacation fund. Even if it's only $20. Every little bit will add up! Sometimes saving for travel might require making sacrifices. For instance, cutting back on lattes, shopping, entertainment and going out to eat. Matt from Nomadic Matt said "I made it [travel] a priority. If travel is not a priority for you, you will always find some other things to spend money on and you'll never have "enough" money to travel." His comment resonated with me because it's 100% true.
Below are some important tips for how to travel when you have little money:
The first step is to determine where you want to go and create a vacation budget. Put money into your vacation fund every month. You need to plan for the costs of flying, rental cars, gas, food, hotels, tips, tolls, parking fees, national park fees, entertainment, activities, etc. You must plan out every detail of your vacation in advance. If you just make some airline/hotel reservations and then say, "i'll just wing the rest." I guarantee that you will overspend on your budget and you will come home broke and miserable. You need to know the costs for what hotel you are staying at, what restaurants you are going to, your means of transportation, etc.  This will require a lot of research. I always budget in an extra $100 as a miscellaneous fee because despite how much I try to plan for every little expense, there is always something that I forget or didn't anticipate. On my last trip, I didn't anticipate how many tolls the city had and how I had to pay to park everywhere we went so that extra $100 covered those extra expenses.

Be realistic about what kind of trip that you can afford. If you want to save for an exotic, 2 week long vacation in a foreign country, you will likely have to save for years and it will require a lot determination on your part to make that dream a reality.

Plan your vacation for the off-season. You can save hundreds of dollars this way! Flights and hotels will be offered at reduced prices. Sometimes up to half off.
Set up email alerts for flights and hotels. Websites like Kayak monitor prices and will notify you of any price drops and advice you to buy when it drops really low. You may have to take a red eye flight, have a long layaway or reserve far in advance for really good discounts.
Camping, B&Bs, AirBnB, and house swapping are all ways to save on the costs of lodging because hotels can be expensive especially if you are going to a tourist hotspot. My rule of thumb is never spend more than $100 per night for lodging. Sometimes we stay at hotels out of the tourist area to make that happen. Ex: in a small town 30 minutes from our destination.
Find free vacation activities instead of paid ones. Sightseeing, scenic drives, hiking, parks, nature (waterfalls, mountains, lakes) etc.

If you do want to do some paid activities then stop by the Visitor Center. They have coupon books for deals on activities, restaurants, and hotels! Typically they offer 20-40% off regular prices. They also have package deals that take 50% or more off if you buy tickets to many places. Another way to save is to look up Groupon's for your destination. 

Resist the temptation to go to nice restaurants on your vacation (or just budget for one or two). If you have a kitchenette in your hotel, cook there. Whenever we go on vacations, we pick up some supplies at the local Walmart. As long as you have a mini fridge, you can make sandwiches for lunch, yogurt, etc. or microwave some frozen foods. I know it's less glamorous than fancy restaurants every night, but it will help make vacations more affordable. You don't have to eat in the hotel!

Go have a picnic in a park or at a scenic spot!

Always consider the costs of driving vs flying. Sometimes it will be cheaper to drive and sometimes it won't. On my last vacation, we drove up half way to our destination then took a flight the rest of the way and got a cheap rental car when we were up there. It ended up being much cheaper than a direct flight from here to there or driving the whole way.
Save on the costs of car rentals with trams, trains, buses, rideshares, etc. Many tourist destinations have trams or tour buses for visitors. This is not always a feasible option, but if you are in a big city with a lot of traffic and expensive parking, then this would be the best way to go.
Cruises can be cheaper than regular vacations. There are a lot of good deals online for cruises. They give deep discounts to seniors as well. My grandparents often go on cruises for almost free.
AAA discounts–  Many hotels, airliners and car rental companies will offer discounts to AAA members.  Don't forget about student and senior discounts too!
Vacation Packages – If you book flight, hotel and rentals all at once, you save money that way too.
Here are some resources that will help you plan an affordable trip: