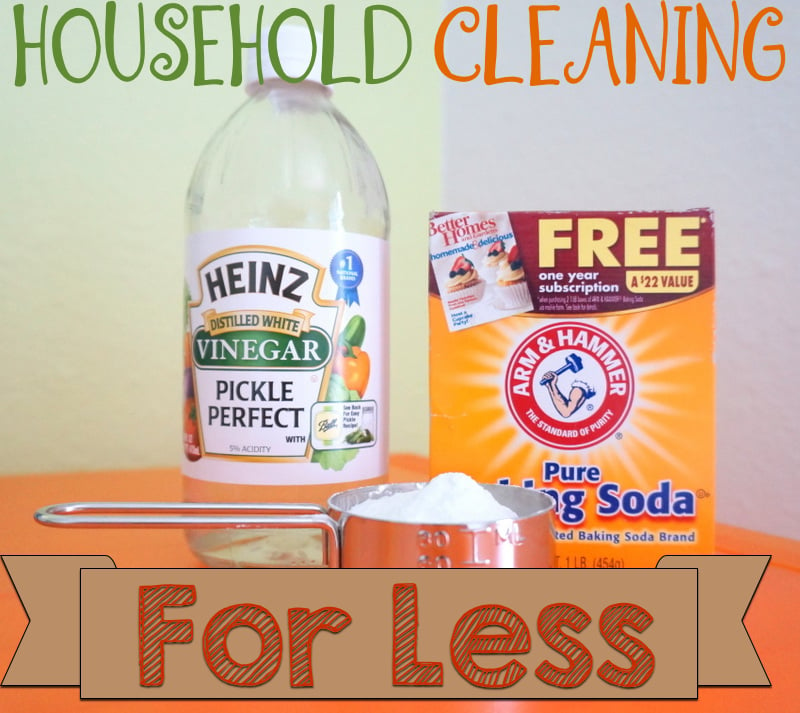 Why spend $5-$10 for name brand cleaners when you can get baking soda and white vinegar for a couple of dollars! Baking soda and white vinegar are powerful natural cleaners that are  environmentally friendly. They can be used in hundreds of ways all over your home!
White Vinegar Uses:
Kills germs
Cleans stainless steel
Eliminates odors

you can clean your litter box with vinegar to remove leftover cat odors
if your pet had an accident on the carpet or floor, it can be used to neutralize pet odors
once I accidentally bought a shirt that smelled like smoke from thrift store and thought, "oh great, this smell is never going to come out", but I soaked it in white vinegar for an hour and the smoke smell was gone!

Removes mineral, lime and charcoal buildup
Great for scrubbing around the stove burners, destroys stubborn stains that most cleaning supplies have a hard time removing.
Bathroom cleaner — wipe away scum and mildew with ease!
Use as a toothpaste to brighten teeth
Add to dishwasher to eliminate hard water stains and make dishes shiny!
Clean and descale a Keurig
Acts as a clothing stain remover
Unclogs drains
Steam cleans microwave
and much more!!
---
Baking Soda Uses:
Clean and brighten floors. Dissolve ½ cup baking soda in a bucket of warm water
Clean the oven (sprinkle on with water & let it sit overnight)
Use with laundry detergent to get a deeper clean
Deodorize
Great for hair and moisturizing the body
Remove tough stains from pots and pans
Clean toothbrush – mixture of ¼ cup baking soda and ¼ cup water;
Fridge cleaning
Antacid to relieve heartburn  (1/2 teaspoon + 1/2 cup of water)
To clean a toilet, add ¼ cup baking soda to the bowl, swirl, then scrub.
Add baking soda to icy sidewalks―it's less corrosive as salt.
Keep your grill clean all summer long by putting some baking soda on a damp brush and scrubbing
Freshen rugs and carpet by sprinkling baking soda on carpet, wait 1 hour, then vacuum up.
Clean the dishwasher and coffeemaker by running an empty cycle with baking soda.
Extinguish a grease fire by scattering a handful of baking soda over the flames
---
For specific cleaning recipes using baking soda and vinegar, check out http://www.apartmenttherapy.com/20-diy-green-cleaning-recipes-141129
Tip 1: Baking soda and vinegar have a lot of the same uses and can be combined for extra cleaning power, particularly for scrubbing the stove, removing odors and unclogging drains.
Tip 2: Baking soda and vinegar's usefulness extends beyond just cleaning. It can be used in health and beauty as well!
Tip 3: Add lemon juice for a fresh scent
---
Buy in bulk to save even more money. You will be able to clean your house for a whole year with these products!