Make your own indoor fairy garden lantern for less than $10 and in under 30 minutes with this cheap and easy DIY project. This project is perfect for people who don't have a backyard or space for a real fairy garden but still want to experience the fun of making one. It's great as a summer craft for kids too. Just build the lantern and let the kids put everything in!
I got everything but the fairy house and the fairy lights at Dollar Tree. I got the fairy house at Micheals using 40% off sale plus 20% off my order coupon so it was only about $3 and I already had the fairy lights, but you can get them at Micheals too for around $5 with sales and coupons.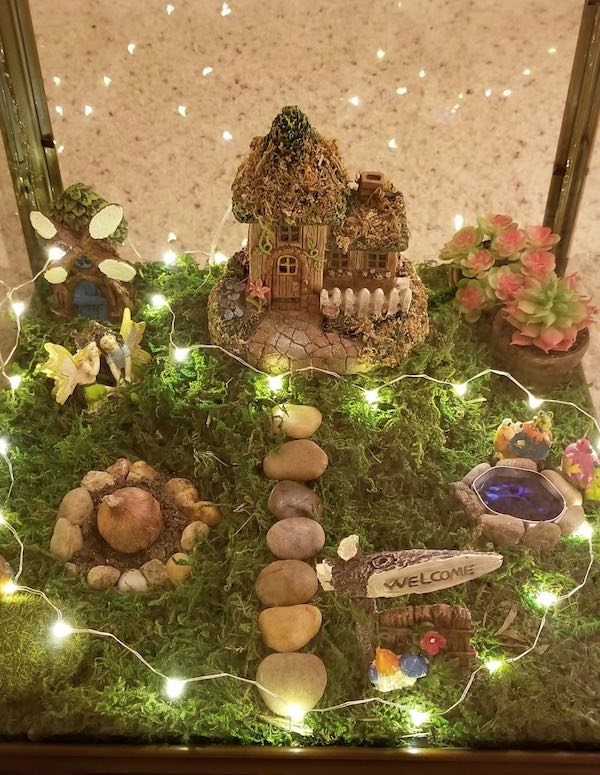 Supplies for Indoor Fairy Garden Lantern
4 picture frames of the same size (I used 11×14)
hot glue gun and glue sticks
foam board
scissors
floral moss
fake succulents, plant bulbs or small fake flowers
river rocks
moss covered "rocks" (optional)
soil (free)
brown craft paint (optional)
battery operated LED micro lights (optional)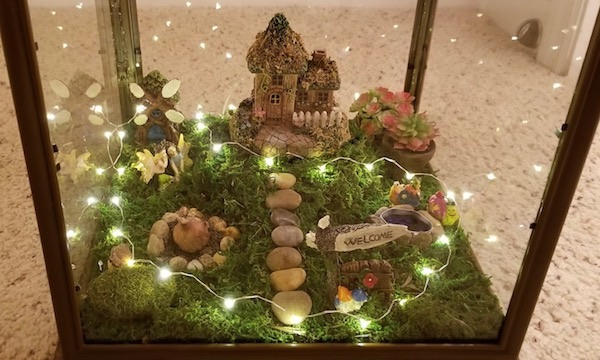 Directions for Indoor Fairy Garden Lantern
Using a hot glue gun, glue the corners of all the picture frames together.
With a pencil trace an outline of the bottom onto a foam board and cut it out. You can paint the foam board the same color as the picture frame to match (That's what I did).
Glue the foam board to the bottom of the lantern.
Put your floral moss in the lantern first. You can build up a little hill like I did to put the fairy house on top of.
I made a little pond from the metal ring holding a tea light candle and taped some of the small river rocks/pebbles around the rim of the metal. Then, I added a little bit of water and ½ drop of blue food coloring. Other Ideas:

You could also make a fairy fire pit instead with some twigs on top of a LED tea light candle inside the metal ring. All of these supplies can be found at the Dollar Tree.
You could also add a patch or two of soil and "plant" your succulents or other small plants, bulbs, flowers etc.

Place all your figurines and village pieces where you want them to be. Add boulders, river rocks, succulents and other little details.
Finally, add the fairy lights around your fairy garden if you have them to make your fairy garden look more magical.