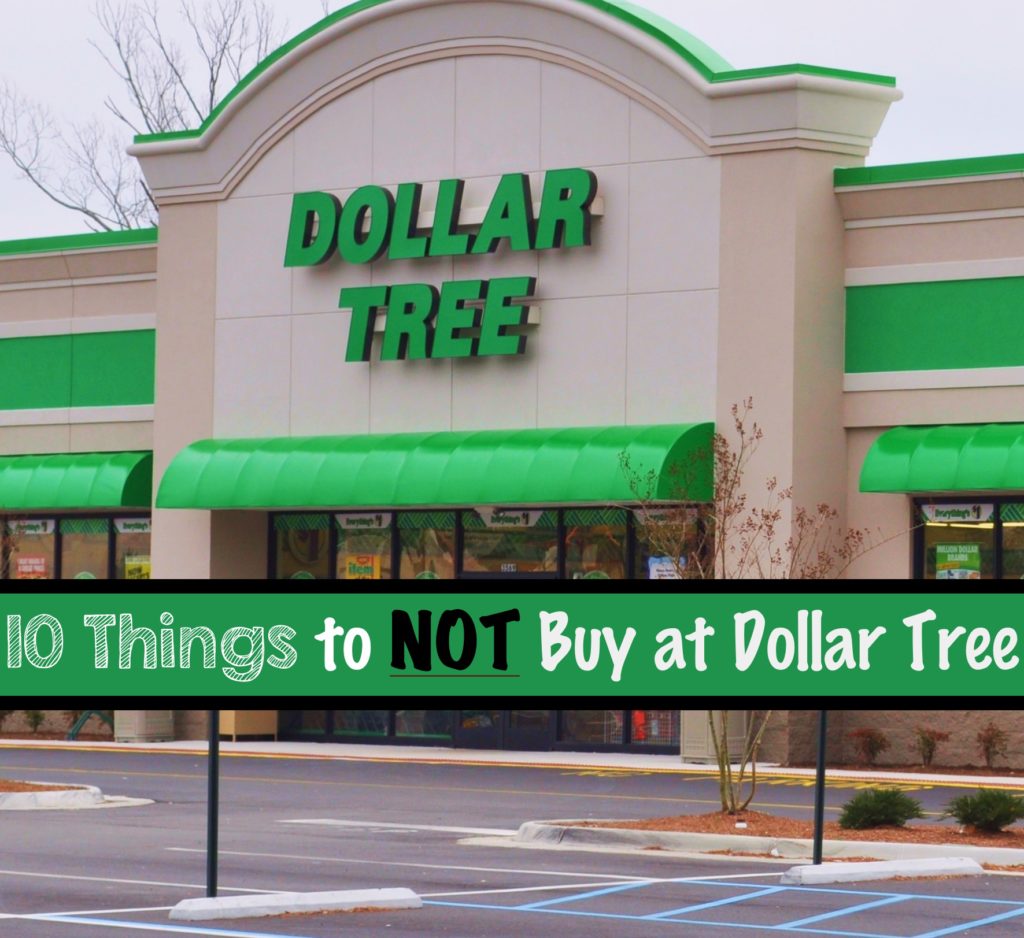 While there are many items at the Dollar Tree that you can definitely save money on, not everything you buy there is a good value. Sometimes it's not worth the $1 for small qualities or poor quality. It took a lot of trial and error for me to figure out what to buy at Dollar Tree and what not to buy. Here's what I've learned to avoid at the Dollar Tree: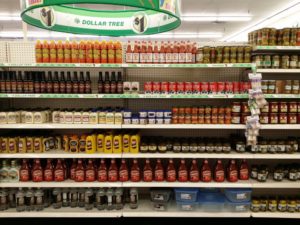 Food — All of these $1 food items are in very small quantities. You can get more for your money at ALDI. For example, a small bottle of mustard that is 1/4 the size of ALDI's mustard is $1, but you can get a bigger bottle of mustard at ALDI for  .59 cents. Same thing with canned tuna. It costs a $1 at the Dollar Tree, but at ALDI, it's .57 cents per can. For every rule there are  exceptions, I have come across one good food deal at the Dollar Tree, they sell a large pack of tortillas for $1 whereas it costs $1.49 to $1.99, depending on size, at ALDI. However, I would say that 90% of the food at Dollar Tree is overpriced for the quantity that you receive, but you can find some good deals if you compare prices with other stores.

Drinks — The Dollar Tree soda is TERRIBLE. Don't be tempted to try it. You can get name brand sodas for a dollar at any grocery store anyway. (They have sales on it almost every week). Plus, you can get non name brand sodas at Walmart, Winn-Dixie, and Publix for about .75 to .85 cents that tastes just as good.

Health and Beauty — You will find a better deal on shampoos, conditioners, soaps and body washes at Walmart. For instance, you can get a bottle of VO5 for $0.74 at Walmart. Also, the bath products are sold here are not a good quality. Suave is a good brand for a cheap price that you can find at Walmart. Also, you can find coupons on these items at many stores for additional savings.

School and Office Supplies — Don't buy paper, pens, crayons and clear tape here. You can buy these items for Walmart for .88 cents or less. I recently bought a 2 pack of bubble mailers at the Dollar Tree for $1, only to find out Walmart sells them for .85 cents. You can also get these types of items cheaper if you buy them in bulk.

Pet Food — Cat and dog food and treats are not a good buy. You can get them less when they are on sale at pet stores. They have a little bag of temptation treats that is half the size of the normal bag. I have found the normal bag on sale at Petsmart for $1.

Kitchen  —  Aluminum foil and trash bags are thin and tear easily. Dish towels and Oven Mitts are poor quality. I tried the oven mitts once and had to use two at once so that I wouldn't burn myself! Another thing to avoid is the kitchen utensils. They are flimsy and cheap. If you want quality kitchen items at a cheap price, check out your local thrift store. They will have nice cookware, dishes, silverware and utensils for a lot less than what it would cost at Walmart. I got a nice cheese grater that was in excellent condition and worked really well for .50 cents at thrift store while it costs $8 at Walmart

Cleaning Supplies — There are SOME good deals in this category, but there are some things to avoid due to their cheap quality. Some of the name brand cleaners are worth $1 like Pine Sol, Fabuloso, Lysol, Comet, The Works, but I would shy away from the generic stuff; most of them are not very effective especially the laundry detergent and bathroom cleaners.

Electronics/Technology — You get what you pay for here. You won't get quality headphones, cords, plugs or screen protectors for $1. I avoid buying anything in this area of the store. Goodwill is a great place to find cheap used electronics and accessories, but you should always test them in the store.

Lightbulbs and Batteries — The price is tempting, I know, but these won't last for very long. You might be able to get away with buying these if you put them in areas that are lightly used. For instance, putting a cheap bulb in a utility closet that you don't go into very often or a cheap battery in an alarm clock as a secondary power supply.

Anything sharp — Kitchen knives, scissors, utility knives, peelers, cheese graters will all go dull quickly.
Don't let this list scare you away from shopping at the Dollar Tree. Most things that you can buy at there are a good buy. These are just some of the exceptions. The list of good buys would be much longer than the list of things not to buy!