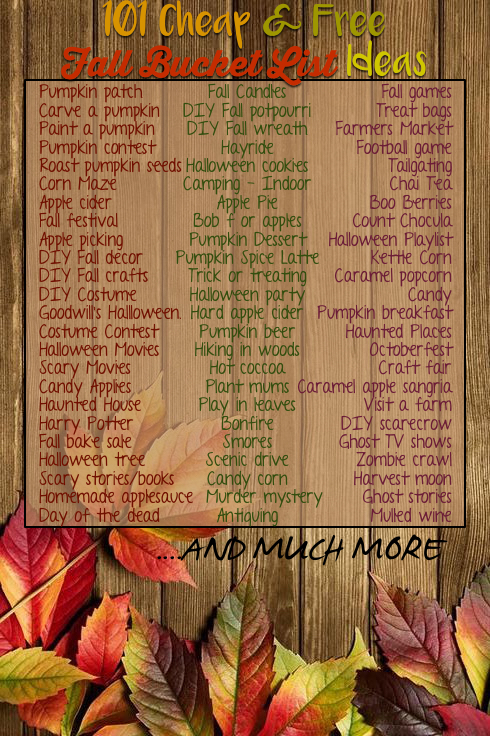 101 Cheap & Free Fun Things To Do This Fall – 2016 Version
Visit a pumpkin patch
Carve a pumpkin
Paint a pumpkin
Enter a pumpkin carving contest
Roast pumpkin seeds
Go through a corn maze
Drink apple cider
Go to a Fall festival/fair. My church has one every year. It's fairly inexpensive. Only things that cost money are ride tickets and food.
Window shop at Halloween stores to get some of your own ideas for making decor and costumes. Also, it's fun to see what's popular this year for Halloween. For instance, this year Spirit is selling Trump and Clinton toilet paper!
Apple picking
Collect pinecones, acorns, fall leaves and corn stalks for Fall decor
Make Fall art out of leaves
DIY Fall decor. See my previous blog post about 60 cheap DIY fall decor ideas
DIY Fall crafts with kids
Make your own Halloween costume. Here are some ideas: https://www.pinterest.com/goodwillwm/diy-halloween-costumes/
Go to Goodwill's Halloween department. The costumes there are new, but at least 35% less than Spirit Halloween's prices and you can get used costumes there for even less. Check out this board for some ideas: https://www.pinterest.com/goodwillvalleys/halloween-costume-ideas-at-goodwill/
Enter a costume contest
Watch Halloween movies – My favs: Hocus Pocus, The Legend of Sleepy Hollow, Ghostbusters, Double, Double Toil and Trouble, The Adams Family, Edward Scissorhands, The Corpse Bride, It's the Great Pumpkin, Charlie Brown!
Watch scary movies
Make candy apples
Go to a haunted house. Not the expensive theme park ones, but a local haunted house. The ones here only charge $5-$10 per person.
Burn Fall candles or fragrances. Try a new pumpkin or apple candle.
Make your own fall potpourri http://www.howsweeteats.com/2013/11/how-to-make-your-house-smell-amazing-during-the-holidays/
Make a fall wreath
Go for a hayride
Make halloween cookies. Here are some easy & affordable cookie ideas: http://www.goodhousekeeping.com/holidays/halloween-ideas/g3676/easy-halloween-cookie-recipes/
Go camping if you have the equipment or if it's too cold go indoor camping
Make an apple pie
Bob for apples
Make a pumpkin dessert (cake, rolls. cupcakes, etc). Check out this Pinterest board for some ideas: https://www.pinterest.com/allrecipes/pumpkin-recipes/
Make your own pumpkin latte. Save money by making homemade pumpkin lattes that are just as good as Starbucks, but a lot less money. https://www.babble.com/best-recipes/homemade-pumpkin-spice-latte/.
Tip: you can also add a tablespoon of pumpkin puree for a more creamy pumpkin taste.
Go trick or treating
Have a Halloween party. It doesn't have to be expensive. You can make it a potluck or find inexpensive party decor ideas/recipes.
Try hard apple cider or pumpkin beer
Hike in the woods
Have a cup of hot cocoa
Read a Halloween book to your kids (You can borrow these at your local library. See my previous post for more free things that libraries offer )
Read a Halloween magazine
Plant some mums
Play in the leaves
Take a nature walk
Have a bonfire
Make s'mores
Take a scenic drive through the fall foliage
Play a fall game – https://www.pinterest.com/explore/fall-games/
Make treat bags for Halloween trick or treaters with cheap things like $1 packs of pencils, spider rings, small candies, etc.
Go to a Farmers Market. Support local farmers and take advantage of the bountiful harvest this season.
Watch a football game
Tailgate and bring some chili
Drink chai tea
Eat Boo Berries or Count Chocula
Make a Halloween playlist/soundtrack for trick or treaters. My favorites songs to add to my playlist are Thriller, Monster Mash and Harry Potter music.
Make chili, soup or another crockpot meal
Eat kettle corn or caramel popcorn
Check out Goodwill's Halloween decor
Eat candy
Make a pumpkin breakfast item like pancakes, waffles, oatmeal or donut
Scare someone! BOOO!!
Visit a haunted place in your area or take a ghost tour (some tours can be expensive though so check prices first)
Sit by the fire and sip a warm fall drink
Celebrate Octoberfest with german food and beer
Attend a craft fair
Make caramel apple sangria – http://www.anightowlblog.com/2014/09/caramel-apple-sangria.html/?m
Visit or tour a farm. Here in Florida, we have a lot of orange grove tours with samples and lunch included for under $15. A good way to support farmers and learn more about farming.
Make a scarecrow. http://thequeso.com/how-to-make-a-scarecrow-without-involving-any-money-or-actual-skill/
Get winter clothes at Goodwill – sweaters, long sleeve shirts and boots
Host a potluck Thanksgiving
Make gravestone and leaf rubbings
Rake leaves and then stuff them into a pumpkin leaf bag
Use a Fall or Halloween wallpaper on your phone and social media sites
Tell ghost stories
Have a Ghost Adventures or Ghost Hunters marathon
Make apple or pumpkin butter
Watch the harvest moon
Dress up like a zombie and go to a zombie crawl (small admissions or donation fee)
Make or buy your dog a costume and go to a Halloween dog parade. Goodwill sells dog costumes for $1.49.
Celebrate Day of the Dead. Here in Florida, there are many parades and celebrations.
Get free pancakes from iHop the day before Halloween (12 or younger)!
Make luminaries with paper bags. My grandmother used to do this every Halloween when I was a little kid. You can decorate the bags and make cut out designs. It's fun for kids.
See this site for some luminary ideas. http://kidsactivitiesblog.com/60064/30-halloween-luminaries-light-night
Open your windows to enjoy the crisp, cool air
Make dinner inside a pumpkin "bowl".
Example: http://www.crisco.com/recipes/creamy-pumpkin-soup-in-pumpkin-bowls-2095 (most of the ingredients are things you probably already have on hand)
Go antiquing for Fall decor ideas. Avoid the boutique type antique stores and go for the antique malls or even flea market antique stores — you are more likely to find better prices there. https://www.pinterest.com/explore/vintage-fall-decor/
Get a free donut at Krispy Kreme when you arrive in costume on Halloween.
Make a mask with free printable – http://mrprintables.com/printable-halloween-masks.html
Print some halloween coloring pages out for your kids. http://www.raisingourkids.com/coloring-pages/holiday/halloween/
Halloween ComicFest – participating comic book specialty shops across North America celebrate the Halloween season by giving away comic books free to anyone who comes into their shops. It takes place on October 29th.
Stock up on Halloween candy after Halloween, when it goes on sale
Have a picnic in a park and enjoy the fall colors. Bring a thermos of a warm drink and some pumpkin treats!
Donate canned goods or volunteer for thanksgiving food drives
Play a murder mystery game. My town has several different companies to choose from and it doesn't cost too much if you go through Groupon or you could make your own and invite friends!
Drink mulled wine
Have Halloween Oreos
Make a Halloween Tree from Dollar Tree stuff (small pot for vase & paint halloween colors, small knickknacks like spiders, bats, glittery halloween branches, black roses, etc).
Eat candy corn
Read a scary story or book. Steven King, Edgar Allen Poe, The Legend of Sleepy Hollow.
Make homemade applesauce
Create a Fall bucket list of your own. Choose the top 10 things you want to do this Fall! Download my free Fall Bucket List printable
Have a Harry Potter movie marathon and make butter beer and pumpkin pasties http://wizardingworldpark.com/butterbeer-recipes/ and http://www.browniebites.net/pumpkin-pasties-from-harry-potter/
Make your own Halloween cards
Have a bake sale and sell Halloween and Fall desserts like apple pie, pumpkin pie, pumpkin bread… there's so many options!
Take family photos in the fall foliage.