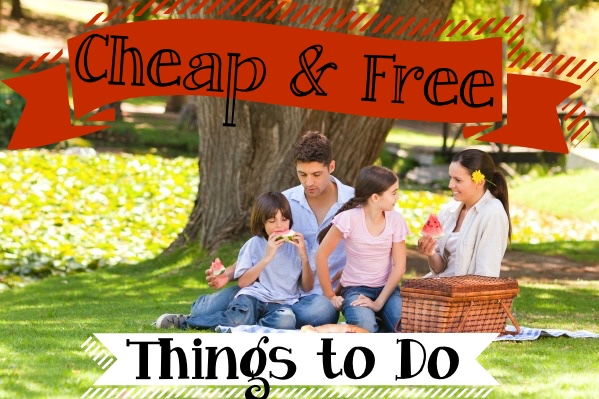 Have a limited budget for going out places and doing stuff? Don't be discouraged. Even if you have little to no budget for activities, you can still find things to do. You don't have to sit at home, bored all weekend. My monthly "fun" budget is $50, but we make it work! Here are some suggestions:
Go to your local state park and have a picnic.

Some cheap picnic meal ideas are: watermelon, lemonade/iced tea, sandwiches/wraps, crackers and cheese, pasta salad, and lemon creme cake

Beach – This isn't a viable option for everyone, but it's something we like to do once a month because we live near the beach. It's free & fun.

Tip: you can get beach chairs very cheap at thrift stores (under $5) or you can just use a long towel

Sightseeing — Be a tourist for a day and explore your area. Here we have historic forts, manatee viewing centers, riverwalk, fishing piers, which all cost $0-$10. Research sightseeing and point-of-interest activities in your area!
Zoo – They can be expensive, but through Groupon or the zoo's website you can find deals. My zoo offers $6 admissions on certain days throughout the year.
Botanical Gardens – Usually free or they may ask for a small donation of like $5.
Museums – There are many here that offer admission under $10.
Brewery Tours & Craft Beer Tastings – Tours are almost always free and you can buy samples of beer for under $10. A brewing company near me has a sampler with 5 beers for $7.
Movie on the Beach / Movie in the Park – Many communities offer reduced price outdoor movies.
Flea Markets
Thrift Stores – Good place to get some brand name clothes for under $5.
Yard Sale – Host one or get up early on Saturday map out some to go to! You will find a lot of great deals at yard sales.
Groupon — There are many great deals on things to do for over 50% off. For instance, this week I found a Groupon for $4 movie at the theater! You can't beat that price!
Festivals & Fairs — General admission can be cheap or free. Just a couple weeks ago, we had a sugar sand festival that cost $7. There was music, fireworks, sand sculpting contest, vendors, crafters, entertainment and more! It was a lot of fun for a cheap price.
Movie Marathon – grab beer, some popcorn, invite some friends over and watch a bunch of movies!
Camping-  Assuming you have a tent and camping gear, there are plenty of free campgrounds.
Library – No need to go out and buy a book or blu-ray. Check out a book or movie from the library for free! Some library are even have video games for check out. Great choice for raining weekends.
BBQ – Grilling hamburgers and hot dogs is very cheap and delicious!
Drive-in Theater – I don't know how many towns still have these. We have one left and tickets are pretty cheap. It's a good way to see new movies for less.
Take your dog to a dog park and stop at Petsmart for some treats! 
Take a class — Libraries offer computer, craft and genealogy programs for free. Also groupon has some classes for really cheap. I saw $5 bartending, piano and guitar courses on there.
Invite people over for a potluck
Kayak rental – around $10-15
Go for a hike or walk on a scenic nature trail. Have fun while getting exercise!
Aquariums – Like zoos, they can be expensive, but some give discounts on certain days.
Go to a casino, play at a few slot machines and people watch.
Check local magazines and newspapers for coupons to restaurants. I found a coupon to CiCi's 2 buffets & drinks for $10. Sweet Tomatoes had 2 lunch buffets for $15.
Bowling – They have weekly specials for discounted prices. the one by me as $2.50 games and shoe rentals on Sundays.