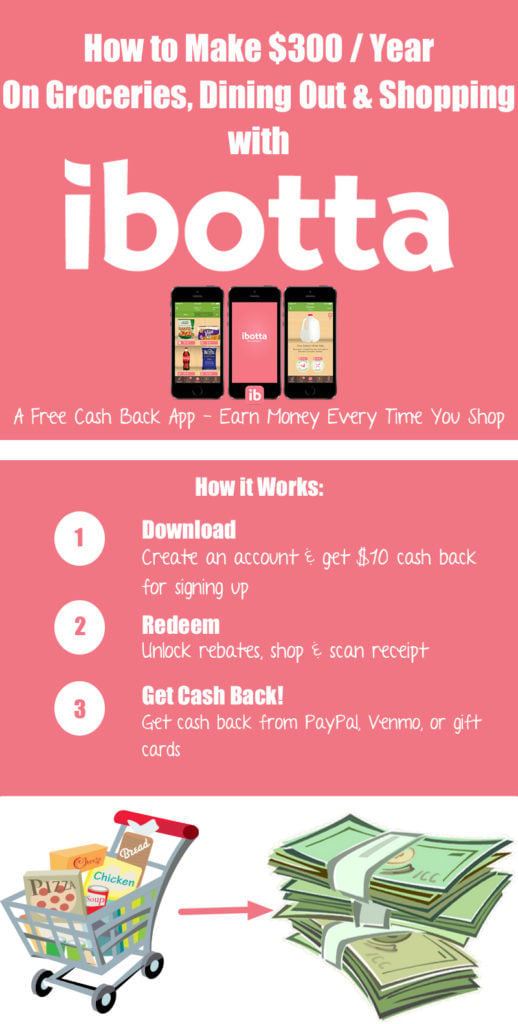 You don't need to clip coupons to save at the store anymore! With the mobile savings app, Ibotta, you will earn just as much as you would with regular coupons, but with less hassle. You can easily earn cash back on your every day purchases. Ibotta users have earned $112,357,647 in cash back rewards so far. Ibotta has over 50,000 five-star app reviews.
What's awesome about Ibotta:
get $10 just for signing up
get $5 for getting your friends to sign up
redeem your cash back with Paypal or Venmo
Ibotta reports first month earnings at $20-$25 per user! That could be a savings up to $300 a year!
get extra cash back with bonuses by buying featured products, redeem items at specific retailers, or complete certain tasks.

you can earn cash back from non-brand name items like milk, produce, bread, cereal, soda, eggs and more!
get cash back at over 500,000 locations
can be combined with other coupons
get cash back for dining out at restaurants like Taco Bell, Subway, Papa Johns, Chili's, Applebee's, Outback & more
get rebates for shopping at places like Kohl's, Macys, JCPenny, H&M, Old Navy, Aeropostale, and many more!
many speciality stores offer cash back too (examples: Petsmart, Bed, Bath & Beyond, Best Buy, Micheals, Toys R Us)
join teams for extra cash back. Each month, your team will be given a specific task or total earnings goal. Once you reach your goal, and your team reaches their goal, you will receive the bonus earnings for that level. You can create teams through Facebook
create a shopping list on the app and it will notify you if there are any rebates for the items listed. For example, if you add yogurt to your grocery list and there are yogurt rebates available, there will be a red tag next to it and when you click on it, it will show you all the yogurt rebates.

you can choose to redeem your cash back through gift cards as well like Best Buy, Amazon, and Starbucks
has more offers, selections and brands than any competitors
save time by using QR codes (Walmart, Best Buy, etc.) or syncing up your loyalty programs (Rite Aid, Food Lion, Hanford, etc.) so you don't have to take a picture of your receipt
---
How Ibotta Works:
Sign up using my referral code: uivxstc or use this link and get $10 cash back to start out. (Please use my link or code so that I get credit for the referral. Thank you!!)
Unlock Rebates:

Select one of the many Rebate Categories or by use the search bar.

Select a nearby Retailer.

Browse Ibotta rebates.

Complete one or more fun tasks to unlock rebates. These are usually tasks such as sharing on Facebook, learning a fact, or taking a quick poll.The more fun tasks you complete, the more cash you unlock!


Go shopping and buy the items you want to unlock

Redeem
Ibotta will verify your purchases and send you cash within 24 hours. Verify purchases with the following methods: scan your barcode, receipt, QR code, or link your loyalty card (e.g. Rite Aid, Best Buy, Hannaford, Food Lion) to your app.
To get your cash, just link your Ibotta account with either PayPal or Venmo. You'll have the cash deposited into your Ibotta account within 48 hours. I've redeemed $11.25 so far this week!