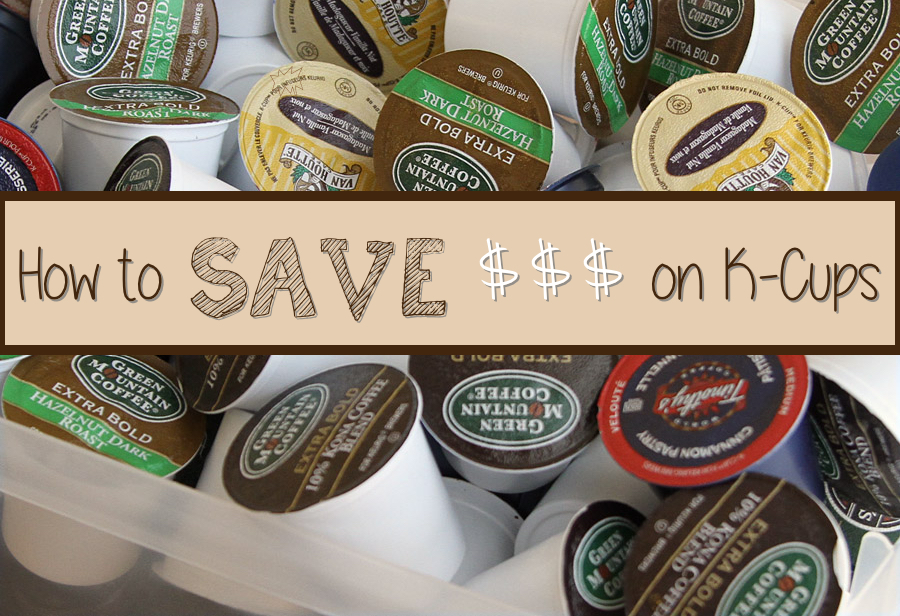 I got a Keurig 2.0 as a Christmas gift a couple of years ago and I love it. It's a very convenient way to make coffee for one or two people, but unfortunately brand name K-Cups can be very expensive. Even with using coupons and shopping around for deals online/in-store, the best sale prices on brand name k-cups end up being about .50 a cup or more.
Reusable K-Cup Filter

Ekobrew Refillable K-cup for Keurig Brewers for $8.83
This is probably the best way to save money on k-cups. Decent bagged coffee is half the price of a 12 pack of k-cups and you get more coffee for your money. This was one of the first ways I tried to reduce spending on coffee, but it didn't work so well for me. The filters made using the Keurig much less convenient because you had to put the coffee in and then clean the filter out after every use. That's too much work when I wake up — especially when I am half asleep and in a hurry. I like simply being able to pop a k-cup in and not have to worry about clean up. Also, they don't make filters for a carafe so if you want to make more than a cup, this won't be the best method for you.
However, if you have the time and don't mind a little extra work, then this is a great way to save money on coffee! Plus, its much more environment friendly!
A word of caution though: Be sure to read the compatibility specifications and online reviews. Some of these filters claim to work on Keurig 2.0, but don't; and some of the ones that work on the classic Keurig won't work on Keurig 2.0. Typically, Amazon.com has the best prices on the filters. Eco-Fill and EkoBrew are good products.
Buying K-Cups in Bulk
At Sam's Club or Costco, you can buy a large box of name brand k-cups with about 80 to 100 k cups inside for about .45 cents a cup($35 to $45 a box). Also, every once in a while they have a $5 off sale on certain brands. Bulking in bulk is only slightly better than most sale prices.
K-Cups at Flea Markets
You can sometimes find a k-cup vendor at flea markets that sell discounted k cups. There is a shop at my local flea market that sells an assortment of individual k cups at decent prices. Mostly what I like about this place is you can customize your own "sample pack" and try lots of different flavors without having to buy a whole box of k-cups (in case you don't like the flavor & are stuck with them). It's a good way to experiment. I never buy those amazon sample packs, not only because they are way over priced but also because they always have stuff in them that I know I wouldn't like (bold coffee, cappinuno, tea, decaf, etc.)
Prefer Brand Name K-Cups, but Still Want to Save Some Money?
I was in this boat for a while too. Your best bet is Coffee for Less 5% off with my code
 or Bed, Bath and Beyond. If you sign up for email subscriptions at Bed, Bath and Beyond, you get a 20% off coupon every month, which you can use on k-cups. Also, If you buy online, then you get free shipping. With the 20% off savings, you can get most k-cups for about .50 cents a cup.
What about Carafe Packs?
I haven't discussed the topic of finding cheap carafe packs because I haven't had much success finding them at decent prices, at least consistently. The best deals I have found for them were at a local salvage discount grocery store called Bargain Basement, where they have items that have passed their expiration date or have dented boxes. Might be worth a try checking your area for salvage grocery stores too, you may find some discounted ones there as well, but I think it's mostly hit and miss. If anyone has any good ideas about where to find cheap carafe packs, I would love to hear from you!
Are you interested in buying a Keurig, but don't want to spend $100-$200 for one? 
Craigslist is a great place to find gently used Keurig machines for 60% off the retail prices for new ones! In my area, Classic Keurig's go for $30-$40 while Keurig 2.0 machines go for $50 to $70. Sometimes people throw in carousel's, reusable filters and sample packs of k cups with that deal too!
Need to Descale your Keurig? 
Don't waste the $14 on the descaling solution! Just use white vinegar. It's the same stuff that's in the "solution" but Keurig charges you 5 times the cost of vinegar.
Here are the instructions for descaling with white vinegar:
http://www.thekitchn.com/how-to-clean-a-keurig-cooking-lessons-from-the-kitchn-218103
Want to drink a k-cup that isn't compatible with Keuring 2.0?
There are lots of "hacks" out there to trick the Keurig. Some work and some don't. The simplest way I have found is to cut off a small hold cut in the center of a used k-cup and tape it over the incompatible k-cup that you want to use. You can use that label over and over again. I use electrical tape because it stays sticky forever so I don't have to keep re-taping it. I have only had to cut one label and have been using it ever since.