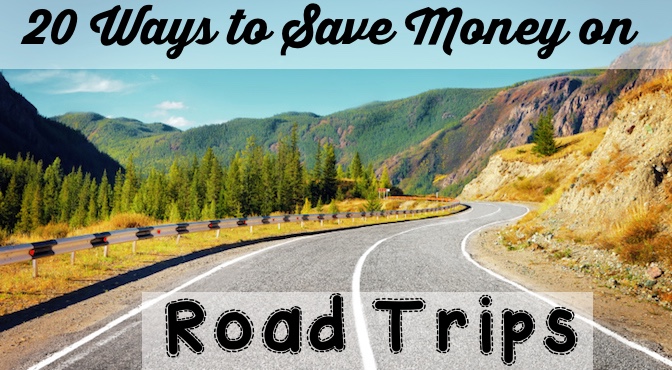 I prefer road trips to flying. The main reason is because it's significantly cheaper. Gas prices are dropping so it's a great time to plan a road trip. Another plus is that you can customize your trip more by stopping off at scenic spots along the way or taking scenic routes.  However, road trips can be expensive if they aren't properly planned and budgeted. These tips will help you ensure that you save money for the fun stuff:
Don't stop for gas right off the interstate. 90% of the time they are $0.20 to $0.50 more a gallon than the other gas stations in the area, which may not seem like much, but it will add up during your trip. I can't count the number of times that I have gone a couple miles down the road from interstate and the prices of gas were a lot cheaper than the ones right near interstate.
Download Gasbuddy. This handy app will tell you the best gas prices in the area.
Pack your own food and bring a cooler. Before your trip, make a quick stop at ALDI or Walmart for breakfast, lunch, snacks and drinks for on the road. Not only is stopping at convenience stores for junk food expensive, but it's also unhealthy. We bring water, sandwiches, yogurt, cheese, protein bars, and stuff like that and just keep the perishables in our cooler. Most motels and hotels have mini fridges so we don't have to worry about food going bad.
My Trip Calculator will provide an accurate estimate of how much your trip will cost in gas money. Of course, be sure to factor in the stops and in town traveling that you will do; not just the departure and destination points.
Plan your trip throughly. Know where you are going to stay, eat, sightsee, etc. Research prices to find the best savings. You will need to check multiple websites to find the best deals. (Kayak, Trip Advisor, Hotwire, Expedia, or http://recreation.gov/ if you prefer camping.
Create a road trip budget. This one ties in with planning. In order to make a budget, you need to plan every aspect of your trip in advance to find the most savings. If you don't create a budget and plan, you will end up spending much more money!
Use discounts like AAA, Groupon, Student IDs, package deals
Road Trip Planners – There are apps like Roadtrippers to help you plan your trip and efficiently schedule stops. It shows you outdoor and recreational actives along the your route (most of which are free or cheap). It also maps out for you lodgings (camping, rentals, hotels, motels), restaurants, shopping, and more! You can compare prices and see reviews from other people.
Google Maps is an invaluable tool when taking a road trip. In order to avoid getting lost and wasting gas, I highly recommend you map your trip with Google. It will reroute you if it detects traffic or accidents. It always chooses the best route, which will save you time and money. The only disadvantage of this app is that it drains your phone battery like crazy so I also recommend having a phone charger in your car. I have tried other mapping apps, but none are as good as Google Maps.
Don't forget to factor in the cost of car maintenance. You should get your car checked out and fluids topped off before you go on a road trip. Especially make sure that your tires have enough air. If your tires are a bit low, it will increase your gas prices.
Visit the official tourism websites of the states and cities you plan to visit. Most sites will provide links to free things to do.
Stop off at the visitor center at your destination town. You will find coupon books for local activities, lodgings, and restaurants. Usually around 20% off.
Outdoor Activities – Hiking, camping, swimming, picnics, parks, beaches, canoeing are all cheap and free activities that you can do on your vacation. You can rent canoes or kayaks for less than $10 a person and there are plenty of free campgrounds as long as you have the camping equipment.
Avoid driving through major cities unless you have to. There will be more traffic in these areas especially during rush hour. Sometimes it will be best going around the city.
Make a travel list and check it so you don't forget to bring something and have to buy something on your trip that you forgot. Once I forgot my phone charger and had to buy a new one at a convenience store. Needless to say, it was overpriced and a waste of money.
Get a gas credit card that offers cash back rewards. BP offers 5% rebate on BP gas.
Park and walk. Instead of driving through downtown, park and explore the area on foot. It will save on gas, you'll get exercise, and you'll be able  to window shop.
Get AAA. In the long run, it will save you money and your piece of mind. It makes the trip less stressful, knowing that if something goes wrong, you can call AAA and have them fix it or tow your car to somewhere that can.
Eat local – You will you get to experience the local culture and cuisine and save money at the same time. For instance, a local mom and pop diner is going to be cheaper than a chain restaurant.
Rental cars – Sometimes renting a car is the way to go if you have a car that's a gas guzzler or you don't want to add too many miles to your car. I personally think it's worth the extra money to rent a car instead of driving your own, but for some people it's not an option. Dollar and Thrifty offer really great prices on rental cars (about $250 a week for economy or compact car) whereas companies like Enterprise and Budget will cost that much PER DAY! Make sure you get unlimited miles ANYWHERE. Some rental companies can be very deceptive and only offer unlimited miles in the same or adjacent states and will tack on huge fees if you go beyond their limits.

ALWAYS READ THE FINE PRINT

about their policies and fees. I have been screwed over by many car rental companies. They say it will only be $200 and then when I bring the car back, it ends up being double that price.
If you liked this article, check out my other article How to Travel Cheap for more money saving travel tips!
---
WHEN IN DOUBT ABOUT DRIVING VS FLYING, CHECK OUT THIS WEBSITE. It will calculate the costs of driving and flying and show you which option is cheaper. For instance, I chose a trip from Florida to Wisconsin and the price of driving was $475 and the cost of flying was $931. It factors in amount of time driving, gas costs, layovers, flights, rental car prices, etc. Having driven there before and tried to find flights, I know that the prices calculated on this site are accurate.