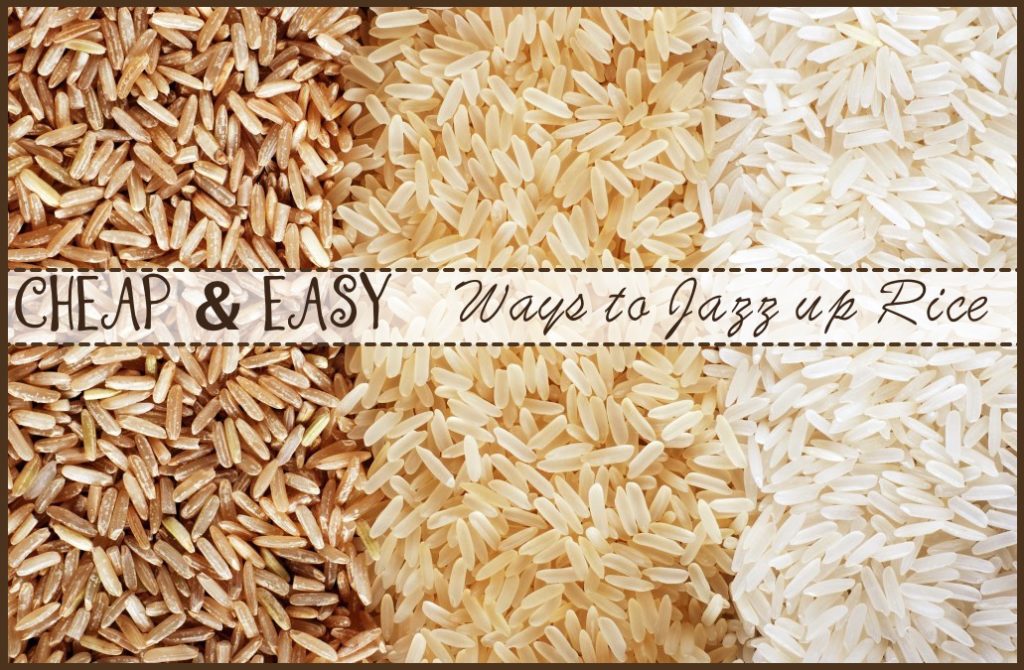 Buying rice in bulk is cheap and very filling, but it can be bland and boring if you have it often. Here are some cheap ways to jazz up rice. Many of the ingredients are things that you probably already have in your kitchen or can buy at a low price.
Fried rice with mixed veggies

add soy sauce, garlic, veggies and egg (optional)
fry rice over high heat with 1/2 teaspoon of oil until rice is pale brown (about 5 minutes)
for best results, you should cook the rice the day before and then fry it up the next day

Rice pudding — great for breakfast or dessert

just add milk, sugar, vanilla extract, egg, and butter. optional ingredients are raisins or cinnamon

Rice soups like chicken & rice soup
Mexican rice — makes a good side for enchiladas or burritos!

add minced garlic, tomato sauce or salsa, chicken broth and a small can of green chilies or some chopped onion. Sometimes I add some sour cream and taco cheese to make it more creamy and flavorful!

Herb rice

Oregano, rosemary, basil and butter

Creamy parmesan rice

 grated Parmesan cheese, butter, parsley (optional)

Curry rice

all you need is curry seasoning and to sprinkle in some cashews or other nut.

Broccoli and cheese rice

use meltable cheese, chicken broth or cream of chicken, and some broccoli, You could turn this into a casserole by adding chicken and putting crushed crackers on top.

Mushroom rice

add fresh mushrooms or canned mushroom, beef broth or beef bouillon cube and for extra flavor you can throw in cream of mushroom soup or french onion soup.

Lime cilantro rice

lime juice and chopped fresh cilantro or dried cilantro leaves
excellent side dish for fish like tilapia

Rice pilaf

garlic, onion, broth of your choice, peas, mushroom, carrots, or corn (one of them or all three if you'd like!) and cook in skillet

Burrito bowl

black beans, corn, salsa, tomato, lettuce, shredded cheese (monetary jack, mexican or taco blend are good choices) cilantro or jalapeños (optional)
Tip 1: Substituting water for broth when cooking is an easy & cheap way to add more flavor. If you don't have broth on hand, you can use bullion cubes.
Tip 2: You can put diced meat in these rices (like chicken or pork) and turn them into a main entree, which will stretch your meat further and save you money.