These DIY bathroom ideas are inexpensive and easy to do. Also, many of these ideas are great for small bathrooms.
Crafting Supplies You May Need:
Scissors
Glue (E6000 glue, and/or super glue)
Tape
Ruler
Tape measure
Pencil
Marker
Pallet and Wood Project Tools:
circular saw or hand saw
jig saw
hammer and nails
wood glue
sandpaper
Towel Rack and Storage DIY Bathroom Ideas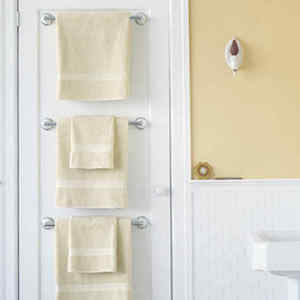 Back of the Door Towel Holders
All you need is 3 towel bars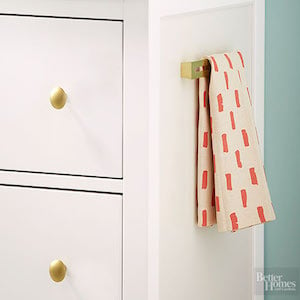 Side of Cabinet Storage
decorative handle + gold spray paint + knobs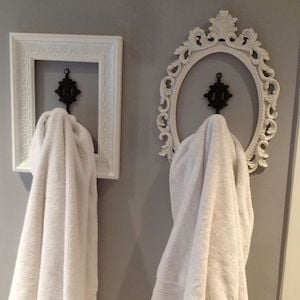 Decorative Towel Hangers (Source Unknown)
thrift store picture frames + white and black spray paint + decorative hooks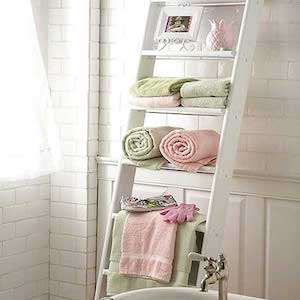 Ladder Towel Rack
small ladder + spray paint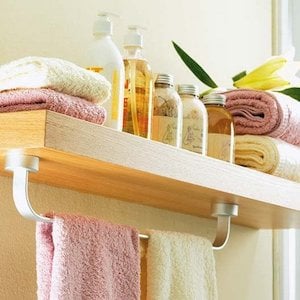 Under Shelf Towel Rack
towel rod + wall shelf + mounting hardware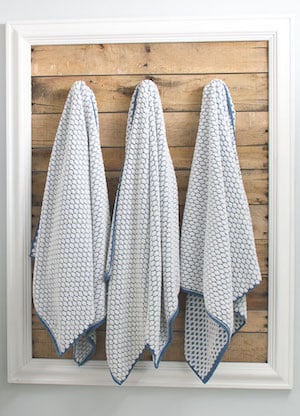 Pallet Towel Rack
mirror with frame + nail gun + frame wire + picture hangers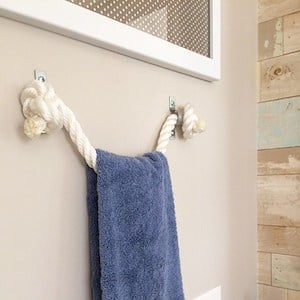 Rope Towel Holder
galvanized clips + clear nail polish + screws + wall anchors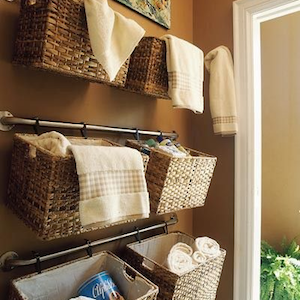 Towel Bar Organizer
towel bars + bins or baskets + s-hooks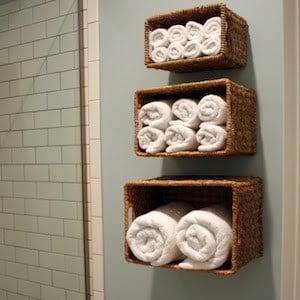 Wall Baskets for Bath Linens
3 different sized baskets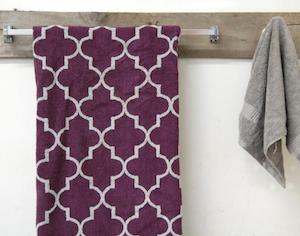 Rustic Towel Bar
pallet (free) + towel bar + robe hook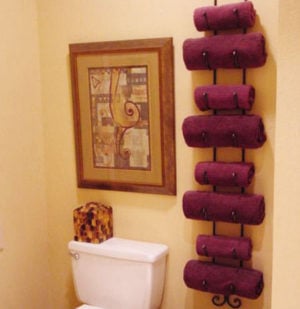 Towel Rack (Using a Wine Rack)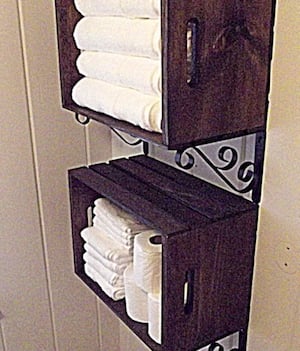 Crate Storage
wood crate + baskets + wood stain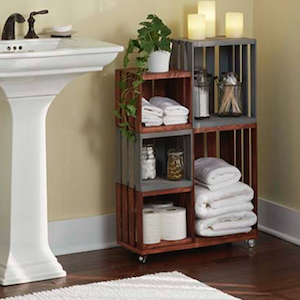 Bathroom Crate Storage Shelves
wood crates + wood stain + polyurethane + plywood + adjustable wrench + casters + drill
---
Shelving DIY Bathroom Ideas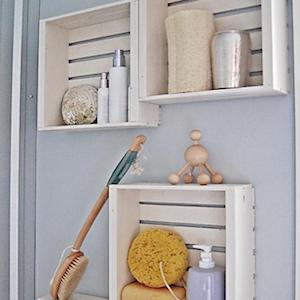 Crate Storage
crates + spray paint or stain + large-picture hanging strips + exterior clear coat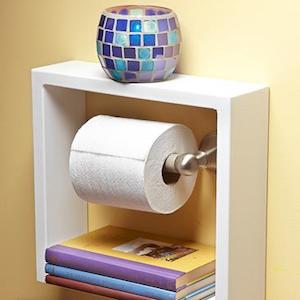 Toilet Paper Shelf
"shadow box" picture frame + white spray paint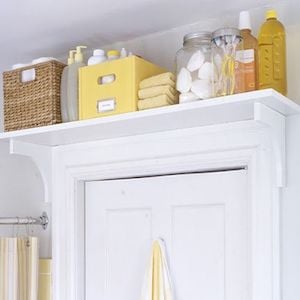 Above Door Storage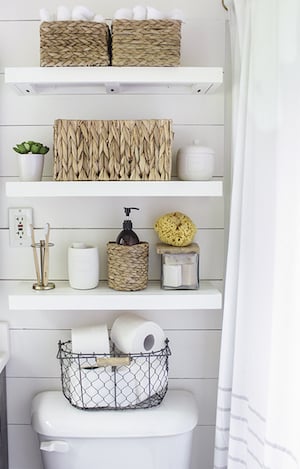 Over The Toilet Shelving
wood board + nails + wood glue + drill & screws + wood stain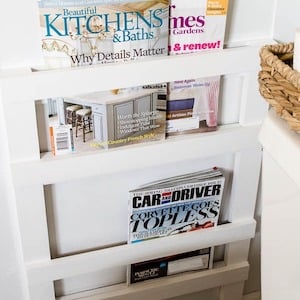 Bathroom DIY Magazine Rack
wood + paint + level + nails and hammer (or nail gun) + putty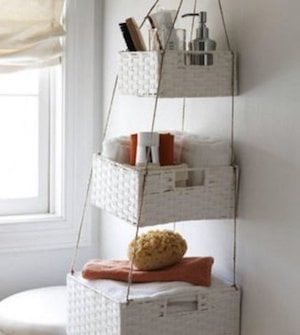 Hanging Basket Storage (Source Unknown)
set of 3 baskets + rope + heavy duty hook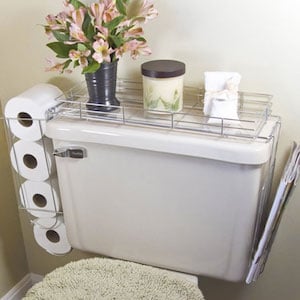 Over The Toilet Tank Storage
toilet paper holder + wire basket + over-the-tank magazine holder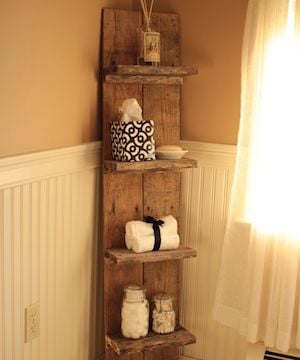 Bathroom Shelf (Original Source unknown)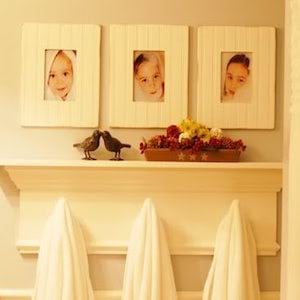 Bathroom Shelf with Towel Hooks
wood boards + molding + caulk + wood glue + putty + primer + paint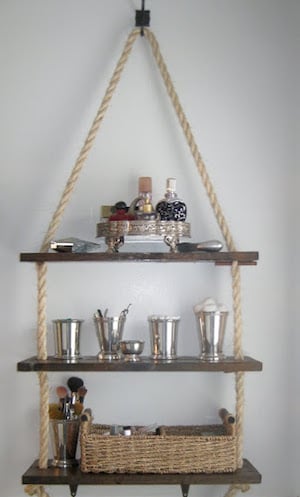 DIY Hanging Storage
wood shelves + wood dowels + drill + hook + brackets + wood stain + polyurethane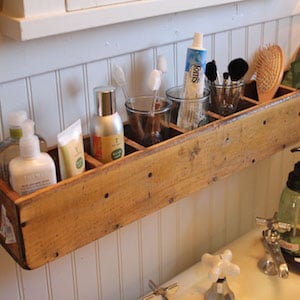 Over the Sink Shelf
This is just a wood cd rack mounted horizontally to the wall.
You can find one at the thrift store for cheap
or you could easily build one out of pallet wood.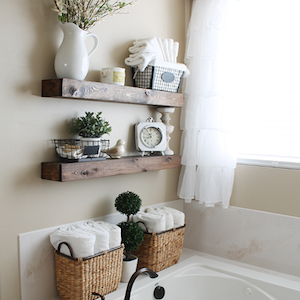 DIY Floating Bathroom Shelves
wood board + nails + Wood Glue + drill & screws + wood stain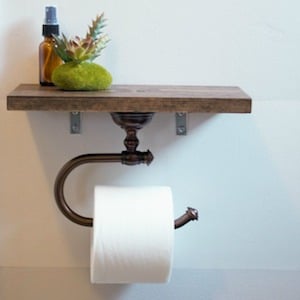 Toilet Paper Holder and Shelf
bronze toilet paper holder + scrap wood + wood stain & polyurethane + corner brackets and screws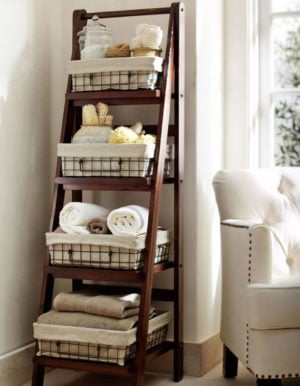 Ladder Storage (Source Unknown)
ladder + wood stain + baskets + fabric (for basket lining)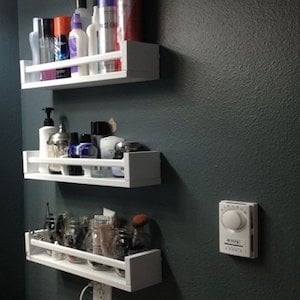 IKEA Spice Rack Shelving
spice rack ($4) + white spray paint
---
Container Storage DIY Bathroom Ideas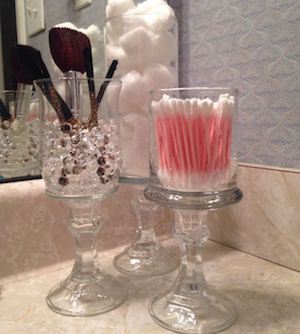 Storage Jars
round candleholder + 3 glass taper candleholder + E-6000 glue + urn candleholder + hurricane candleholder
You just have to glue the taper candleholder to the bottom of the other candleholders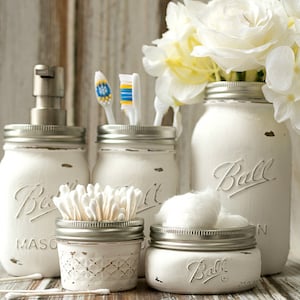 Macon Jar Bathroom Organizer Set
mason jars + white paint + clear coat sealant + mason jar soap lid converter kit + mason jar flower frog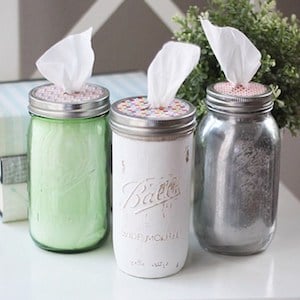 Mason Jar Tissue Holder
mason jar + scrapbook paper + tissue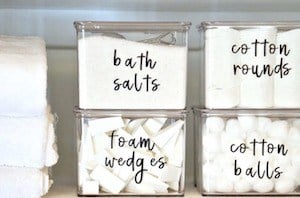 Bath & Body Organizers
small clear plastic boxes + black permanent marker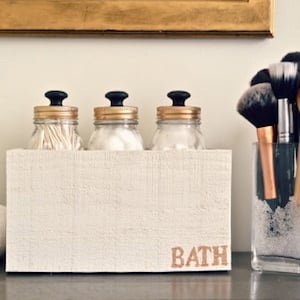 DIY Mason Jar Storage Idea
mason jars + spray paint + acrylic paint + stencils + wood + wood glue + clamps + wood knobs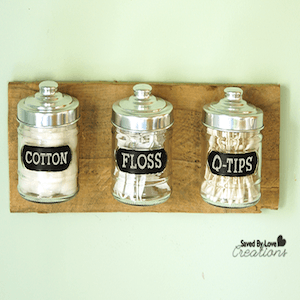 Bathroom Organizer
jars with lids + saw tooth hanger + chalkboard paint + small wood pallet + E600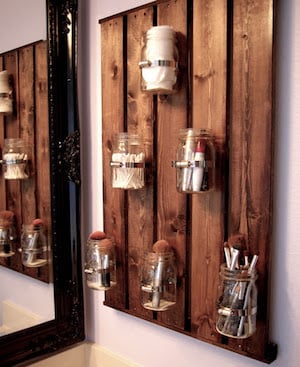 Mason Jar Pallet Organizer
hose clamps + wood stain + mason jars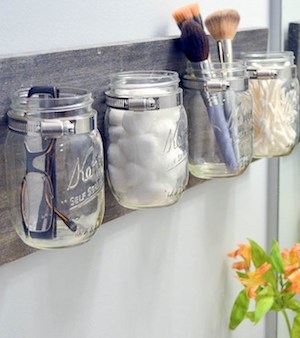 Mason Jar Organizers
mason jars + hose clamps + scrap wood + picture hanging kit + screws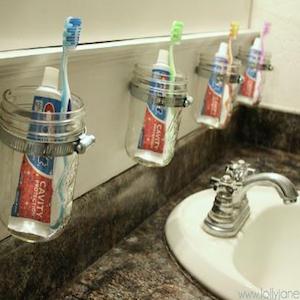 Mason Jar Toothbrush Holder
mason jars + hose clamps + screws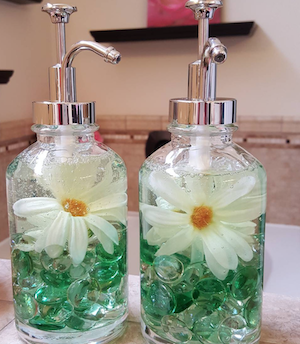 Dollar Store Soap Dispenser
soap dispenser + glass gems + softsoap + flowers
You can get the last 3 item at Dollar Tree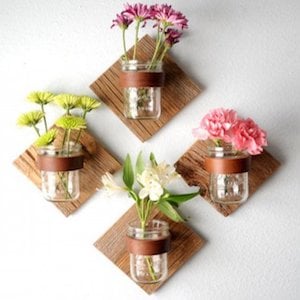 DIY Rustic Mason Jar Scones
mason jar + leather strap + reclaimed wood
---
Under The Sink and Drawer DIY Bathroom Ideas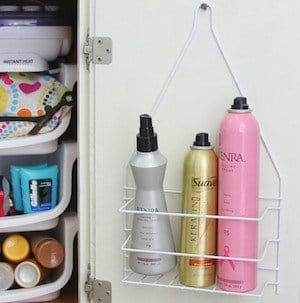 Under the Sink Makeover
nesting bins + metal shower caddy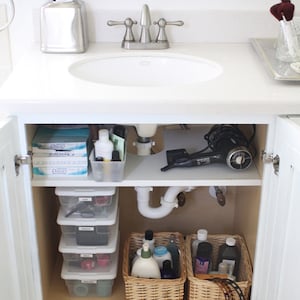 Under The Sink Extra Shelf
wood board (cut to size) + white spray paint + pegs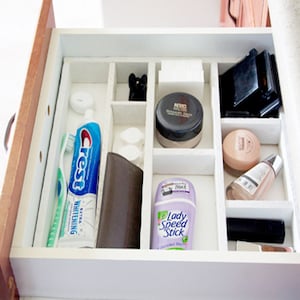 DIY Drawer Dividers
wood lathes.($0.55 at Home Depot) + wood glue + white spray paint + drawer liners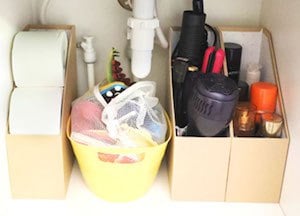 Under The Sink Organization
3 magazine holders + 1 plastic tub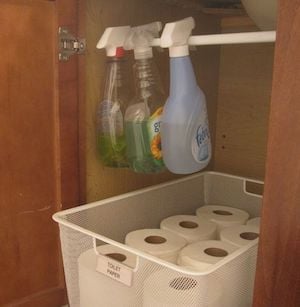 Bathroom Cleaning Supplies & Toilet Paper Storage
tension rod + plastic bin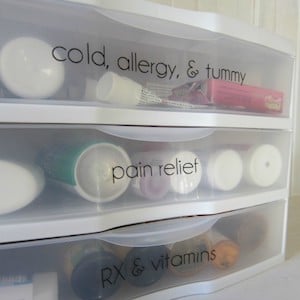 Medicine Storage
plastic bin with drawers + labels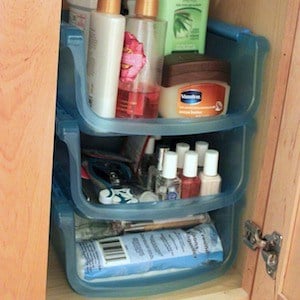 Under Sink Organization
stackable bins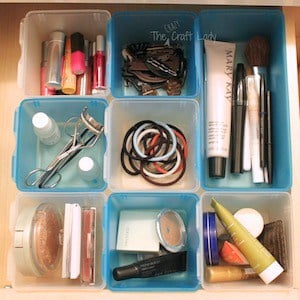 Drawer Makeup Organizers
Assorted Plastic Drawer Organizers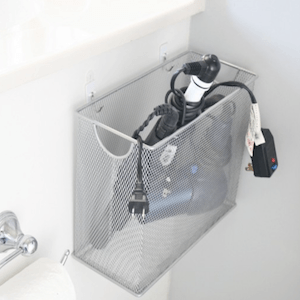 Hair Appliance Storage
file folder box + hair straightener , blow dryer, etc.
or you can use a over the cabinet door wire basket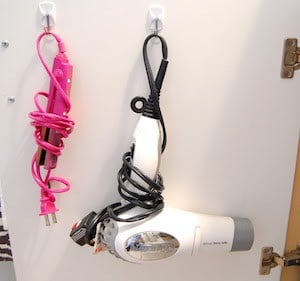 Hair Appliance Storage
all you need for this is command hooks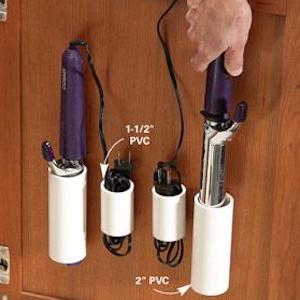 Curling Iron and Cords Holder
pvc pipes + double sided tape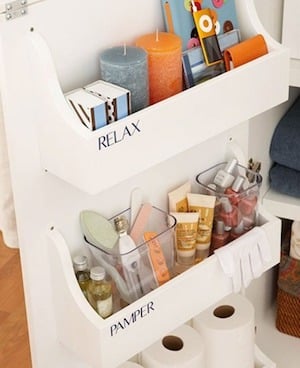 Cabinet Door Storage Bins (free plans included)
saw + hammer & nails + wood filler + putty knife + sandpaper + paint + labels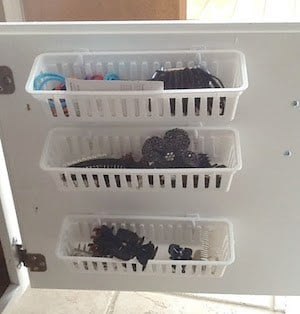 Inside Cabinet Door Storage
plastic baskets + command hooks
---
Makeup DIY Bathroom Ideas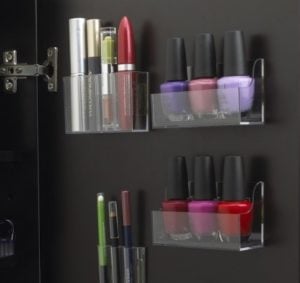 Makeup Organizer
clear plastic organizers + double-sized tape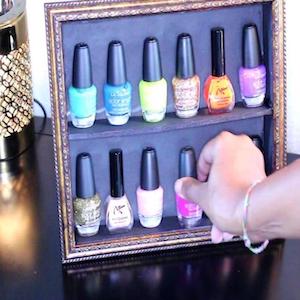 Fingernail Polish Display Stand
black foam board + picture frame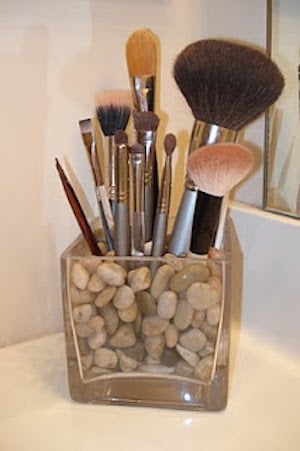 Makeup Storage
makeup brushes + river pebbles + square candleholder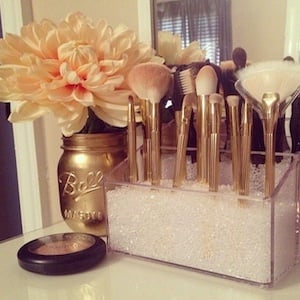 Gold Makeup
gold spray paint + plastic organizer tray + mason jar + fake flowers + clear vase filler raindrop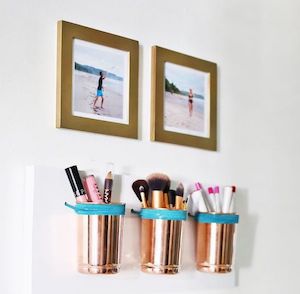 Copper Cup Organizer
wood board + copper tumblers + colored leather lace + white paint + sawtooth picture hangers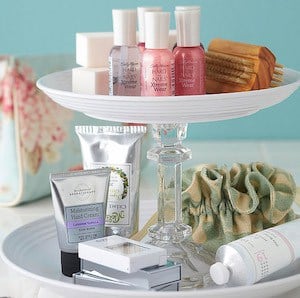 Tiered Tray
glass taper candleholder + white plate + white saucer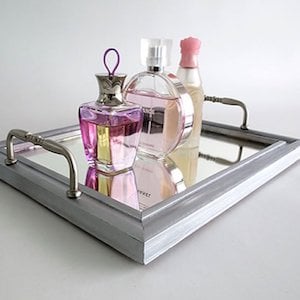 DIY Mirrored Vanity Tray
frame + mirror + drawer handles + rubber pads + silver spray paint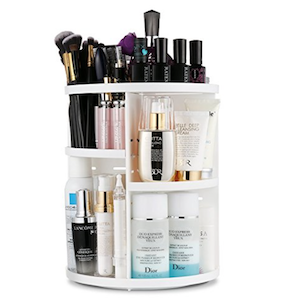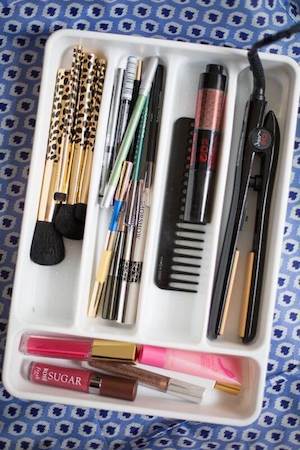 Makeup Organizer (using a cutlery tray)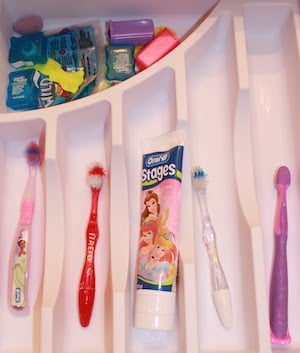 Toothbrush Organizer (using a cutlery tray)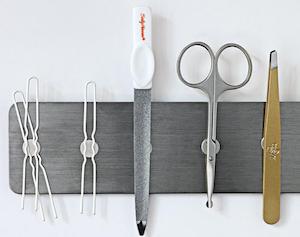 Magnetic Strip Organizer
(for the inside of the medicine cabinet door)
magnetic strip + tweezers, bobby pins, etc.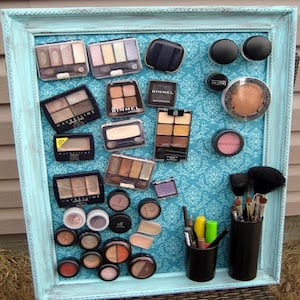 Make-up Magnet Board
acrylic or spray paint + metal cut to size + spray adhesive + fabric + magnets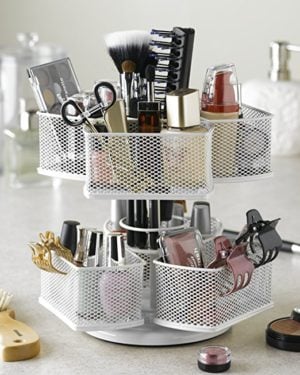 Cosmetic Organizing Carousel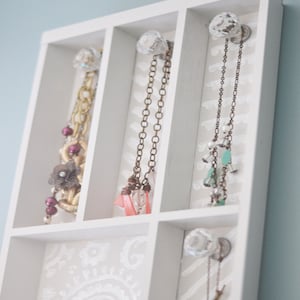 Jewelry Holder from a Cutlery Tray
wooden cutlery tray + paint + knobs + cup hooks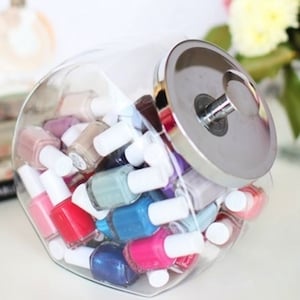 Cook Jar Nail Polish Holder
You can get the cookie jar at Dollar Tree
---
Shower DIY Bathroom Ideas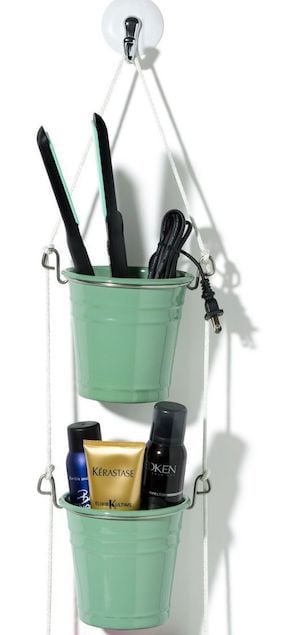 Bathroom Organizer
small pails + suction cup hook + white rope + s-hooks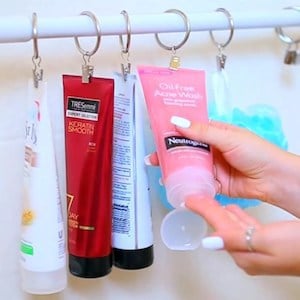 Bath Product Organization
shower curtain rod + curtain rings with clips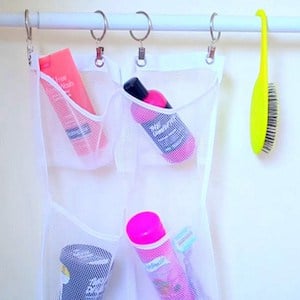 Shower Storage
small mesh over the door shoe organizer + curtain rings with clips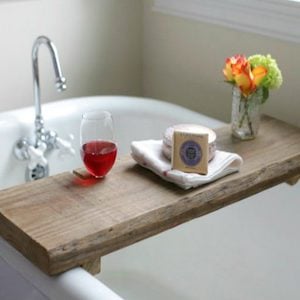 Rustic Bath Caddy
reclaimed wood board + saw + sandpaper + wood screws + drill + waterproofer
Other DIY Bathroom Ideas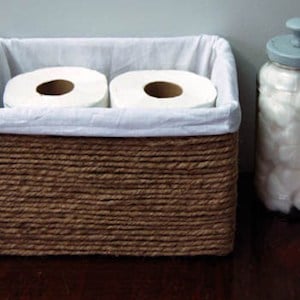 Cardboard Box Basket
jute twine + cardboard + white fabric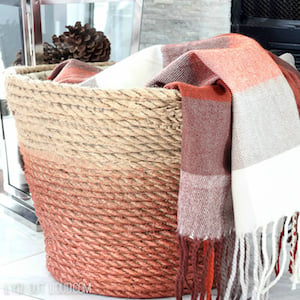 Metallic Rope Throw Basket
round laundry basket + paint + jute rope + 1 yard felt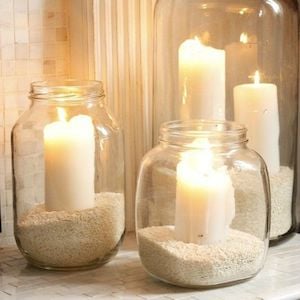 DIY Nautical Bathroom Candles
empty jars + sand + white pillar candles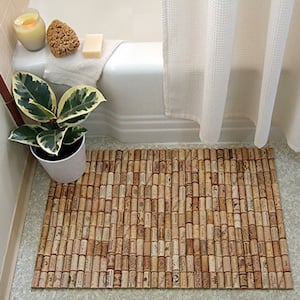 Wine Cork Bath Mat
175 wine corks + hot glue sticks + non-adhesive shelf liner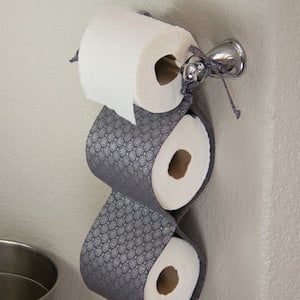 Fabric Toilet Paper Holder
fabric + needle + thread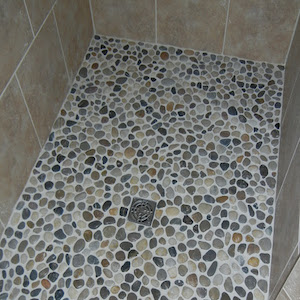 Pebble Shower Floor
river rocks (Dollar Tree) + grout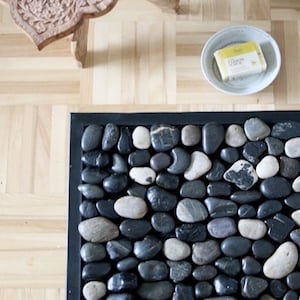 Pebble Bath Mat
river rocks + cement glue + rubber mat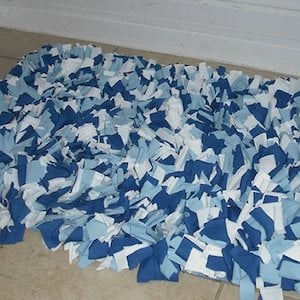 DIY Rag Rug
towel + fabric + sewing machine + thread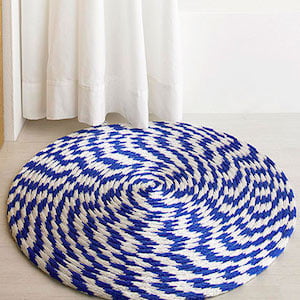 Rope Rug
polypropylene rope + white duct tape + nonslip rug pad
---
Wall Art DIY Bathroom Ideas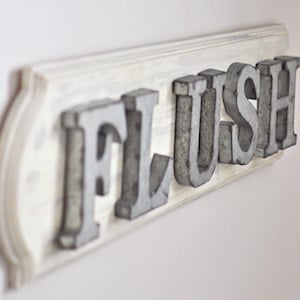 Flush Sign
–halk paint + wax + wood + metal letters + sanding block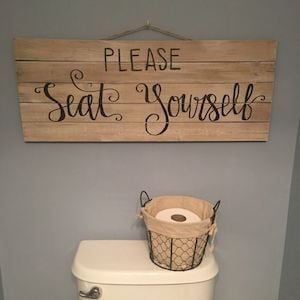 Pallet Bathroom Art
pallet wood + stencils + acrylic paint + rope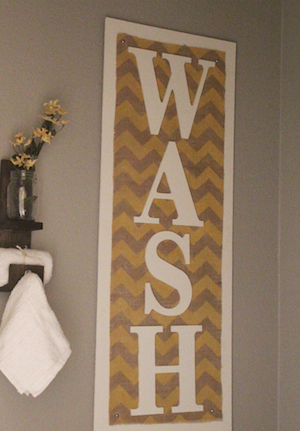 Chevron and Burlap Wall Art
wood letters + burlap + plywood + spray paint + wood glue + picture hanging kit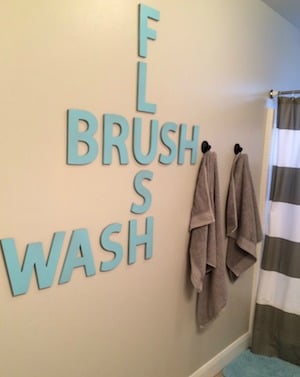 Letter Wall Art
wood letters + aqua spray paint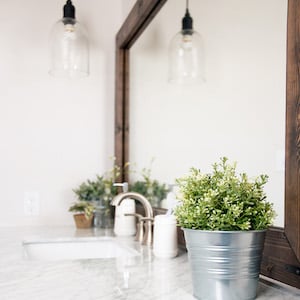 Framed Bathroom Mirror
wood + saw + staple gun & staples + wood glue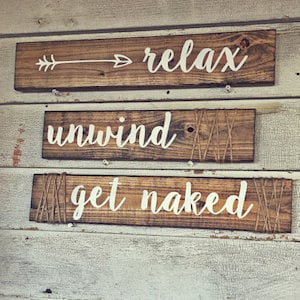 Rustic Bathroom Signs
pallet wood + wood stain + white acrylic paint + stencils + twine + white paint marker (for arrow)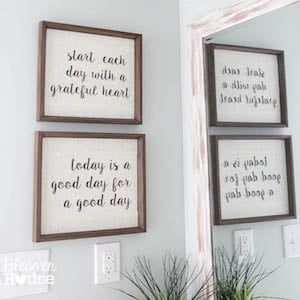 Bathroom Wall Art
chalk paint + dark soft wax + parchment printer paper + mod podge