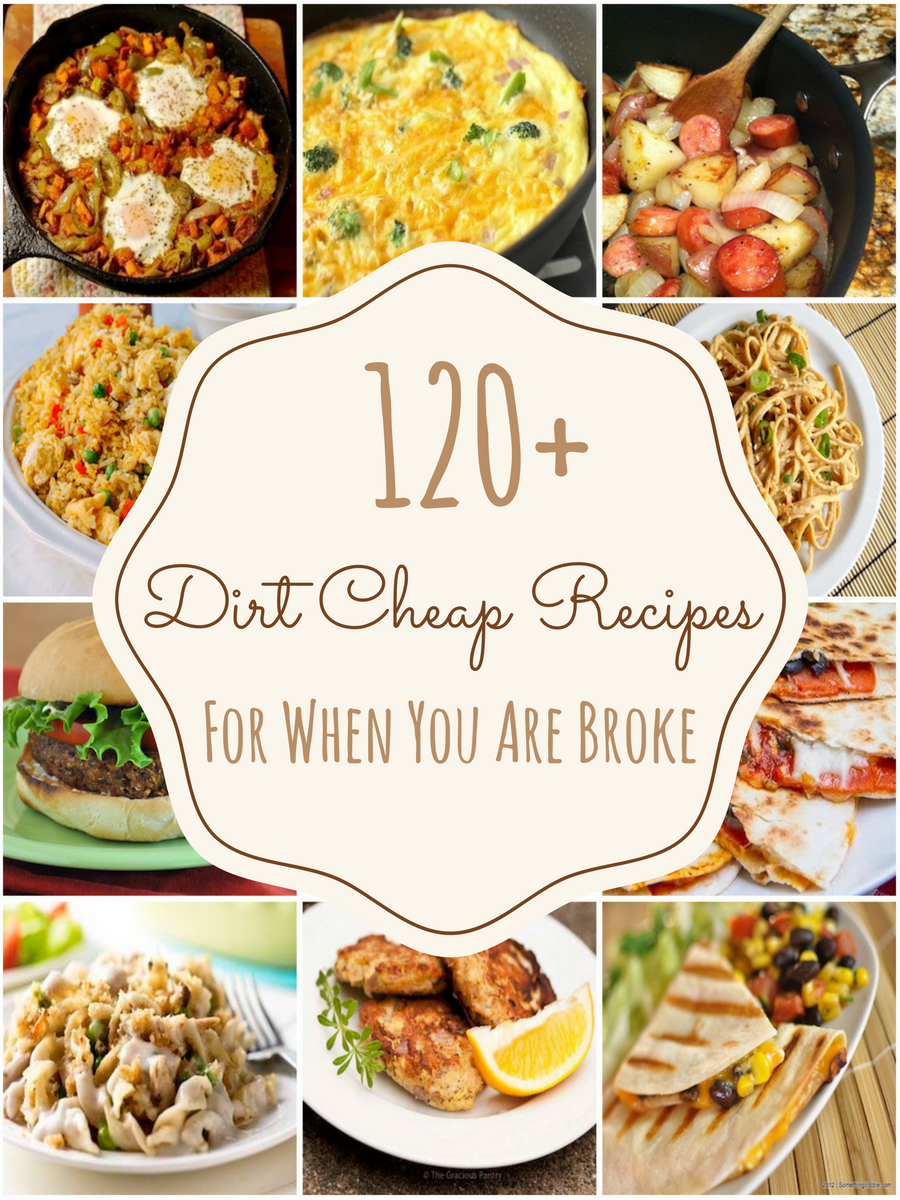 Say goodbye to ramen noodles! Check out these flavorful dirt cheap recipes:
Dirt Cheap Breakfast Recipes
Breakfast is cheaper than lunch or dinner so I usually have one or two "breakfast for dinner" days during the week.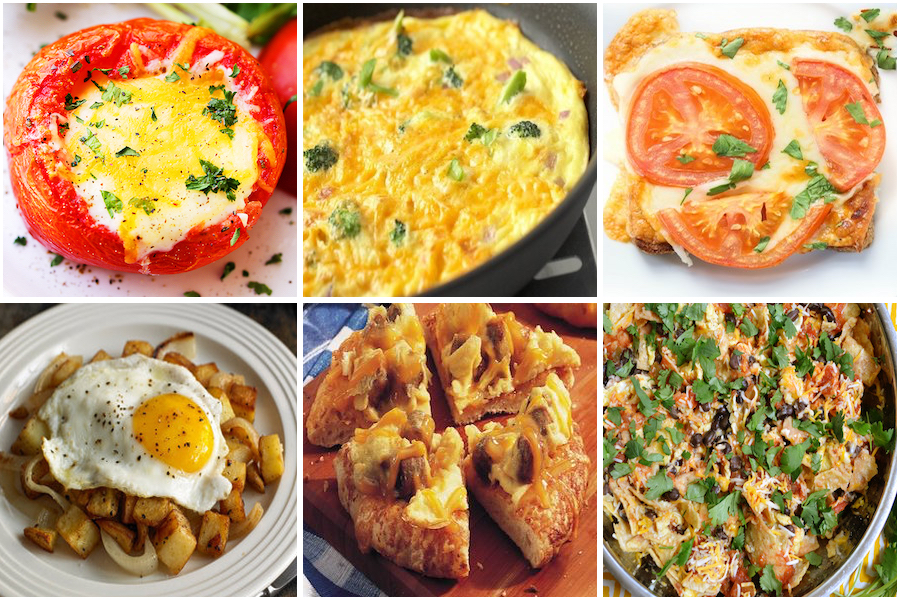 Scrambled Eggs and Toast
Breakfast Burrito (filling ideas: scrambled egg, salsa, frozen breakfast sausage, black beans, cheese, diced potatoes). Burritos are very versatile; you can just add what you have / can afford.
Omelets
Biscuits (with Jam and Butter)
Parfait – yogurt, fruit and oats or cereal
Easy Three Ingredient Healthy Muffins with bananas, oats and milk
Fried eggs and buttered toast – I add a dash of hot sauce to give the eggs a little kick
Southwest Breakfast Scramble (eggs, salsa, cheese, and black beans)
Crepes  – They are surprisingly easy and cheap to make. You just need flour, egg, milk and butter
Cheesy Grits – You can add cheese or bacon bits for extra flavor, but you can make basic grits with just cornmeal, butter and milk
Breakfast Cookies – These cookies can be made with only bananas, oats and cinnamon
Pancakes (Check out these 3 ingredient pancakes made with eggs, bananas and cinnamon)
Fried Cornmeal Mush – tastes better than it sounds. You can serve with syrup, honey, powered sugar or jam
Waffles – Here is a simple recipe for waffles – You probably have all the ingredients in your pantry. You can make waffles more filling by turning it into a PB&J waffle sandwich.
Homemade Cereal Bars – This recipe is only 3 ingredients (oat cereal, peanut butter and honey). You can get bagged generic cereal at Dollar Tree.
Cinnamon Roll Oatmeal – cinnamon, oats, milk, sugar
Apple Toast – apples, bread, butter and cinnamon
French Toast Sausage Roll-ups – You can get the breakfast heat-n-serve sausage links at ALDI for $1 a box
Frittias – you can fill them with anything you have on hand (eggs, potatoes, ham, onion, etc.)
Hash Browns – Requires a little effort to make, but you only really need potatoes and oil or butter
Make Your Own Yogurt – If you have the time, making your own yogurt is easy and only requires two ingredients (milk and active cultures). To make it even easier, you can use a crock pot to cook the yogurt (2 hours and 45 on high)


Dirt Cheap Lunch Recipes

Banana and Peanut Butter Sandwiches. You can grill it too.
Three-Ingredient Tomato Sandwich – tomato, mayo and bread
Banana and Peanut Butter Quesadillas
BLT (without the bacon or you can get turkey bacon at ALDI for $1.50, which is a lot cheaper than regular bacon. It's a bit less flavorful, but still good in a BLT)
Chicken Salad Sandwich
Bagel, Cucumber, Chive and Onion Cream Cheese Sandwich. I tried this last week. It's very good and filling.
Leftover Stuffing Muffins – has stuffing, ham, spinach in it, but you can just put what you have into it.
Tuna Salad Sandwiches
Chicken Lettuce Wrap
Sloppy Joes – sloppy joe sauce, ground beef and buns are all you need. I like to add dill pickle chips too.
Soup and Saltine Crackers. Canned soups can be expensive. ALDI has good everyday prices on soups though. I wouldn't pay over $1.25 per can because you can usually find them on sale for $1. Here are some cheap homemade soup options:
Taco Lettuce Wrap


---

Dirt Cheap Dinner Recipes

For dinner, we are only having meat once or twice a week because meat is the most expensive part of the grocery bill. For the rest of the week, we are having meatless meals like bean burritos or vegetable stir fry. Sometimes we substitute tofu for meat because its cheaper. If we do buy meat, it's chicken thighs, drumsticks or ground beef.

Mexican Dinner Ideas

Bean Burritos – You just need tortillas, can of refried beans, and salsa, You can also add in rice and cheese if you want to.
Black Bean and Corn Quesadillas – All you have to do is mix a can of black beans and corn, salsa and cheese together and  put in between two tortillas. This is one of my favorite recipes. We have it at least 3 times a month.
Chicken Quesadillas – chicken, taco cheese, taco seasoning and tortillas is all you need. You can serve with sour cream or salsa
Mexican Rice and Beans
Yellow Rice and Beans with paprika chicken thighs or drumsticks


Italian Dinner Ideas

Spagetti with Garlic Bread
English Muffin Pizzas – This is a quick and easy dinner idea and you can serve with a basic salad.
3-Ingredient Italian Chicken – pasta sauce, bell pepper and chicken
Garlic Chicken – cheap to make and delicious
3 Ingredient Pizza Crescents (with crescent rolls, pizza sauce and mozzarella cheese)
Pizzadilla – Obviously, you don't have to follow that exact recipe, just use what you have on hand. It could just be cheese, sauce and pepperonis
Homemade Pizza – You can get pizza crust and sauce at Dollar Tree (for $1 each) or you can make homemade pizza dough with this recipe (no yeast required)
Italian Mac and Cheese – just need cheese, oil, garlic and egg.


American Dinner Ideas

Chili Cheese Hot Dog Bake –  canned chili, hot dogs, cheese and crescent rolls
Broccoli and Cheese Potatoes with a side salad
Chili Cheese Potatoes with a side salad
Chili Dog Tater Tot Casserole – frozen tater tots, canned chili and cheese
BBQ Chicken Thighs or Drumsticks with baked beans
Cheesy Chili Spagetti – canned chill, elbow noodles and cheese. You could also make your own chili with beans, tomato sauce and diced tomato.
Tuna or Salmon Patties -You don't have to use breadcrumbs. You could use crushed saltine crackers instead — that's how my grandmother makes it. Also, you don't need the parmesan cheese. Just canned tuna, crushed crackers, onion and seasonings will be just as good.
Skillet Turkey Kielbasa ($1.50 at ALDI) with potatoes and peppers.
Ham and White Beans with cornbread
Tuna Casserole -canned tuna, noodles, veggies and cream of chicken soup. You could also add cheese or crushed potato chips on top, but that's optional.
Butter Chicken – chicken, egg, butter and buttery round crackers. This is a very delicious recipe!
Chicken, Broccoli and Cheesy Rice Casserole – This recipe uses canned chicken. You could use shredded cheese instead of Velveeta. It's healthier and cheaper.
Mac and Cheese – noodles, cheese and milk is all you need! I like to add spam, bacon or broccoli for extra flavor.
Chili – ground beef, chili seasoning, chili beans with chili sauce, tomato sauce, garlic and onion powder. We like to cook it in the slow cooker and top with taco cheese or chili cheese corn chips (the ones from Save-A-Lot are the best).
Chicken Parmesan – We buy this $3 bag of chicken patties (Walmart brand) and top with pasta sauce and mozzarella and serve with noodles. It's quick, tasty and lasts at least a couple of days. I call it the poor man's version of chicken parmesan!
Slow Cooker Chicken and Dumplings – chicken, biscuits, onion and cream of chicken is all you need. You can add some frozen or canned veggies to it as well.
Chicken Pot Pie – chicken, pie crust, cream of chicken and veggies
Tater Tot Bake – tater tots, ground beef, onion and cheese
Shepard's Pie – We just use  3/4lb -1lb ground beef, brown gravy, 2 cans of veggies and 2 cups of mashed potatoes. You can top with cheese (optional). It always lasts us at least 2-3 dinners. It's a good way to stretch your meat further.


Asian Dinner Ideas

Egg Fried Rice – vegetables, rice, eggs, soy sauce, and sesame oil
Thai Peanut Noodles – peanut butter, ramen noodles or thin spaghetti, soy sauce, and sriracha (if you like it hot). This is surprisingly good. I was hesitant to put peanut butter in noodles, but it's actually pretty tasty especially with the sriracha
Vegetable Stir Fry or Vegetable Lo Mein – mixed frozen or canned asian vegetables, noodles and soy sauce and/or stir fry sauce.


---

Sides

Oven Fries – you just need potatoes, oil and seasoning to make your own french fries!
Skillet Green Beans – frozen or canned green beans + soy sauce + sesame oil
Pan Roasted Corn – frozen or canned corn, seasonings, oil
Pinto Beans
Garlic Green Beans – you can omit the parmesan cheese if you want. It tastes just as good without it.
Corn on the Cob
Seasoned Rice


---

Snacks

Homemade Baked Tortilla Chips – all you need is tortillas, oil and salt!
Vienna Sausages and Saltine Crackers
Tuna or Chicken Salad on Crackers
Peanuts
Celery or Carrots and Ranch Dressing
Homemade Hummus and Vegetables
Homemade 3 Ingredient Guacamole and Chips
Peanut Butter and Jelly Bars – oats, PB&J, sugar, egg, butter
Sweet and Salty Saltines


---

Desserts

Bread Pudding – This recipe only has basic ingredients like milk, sugar, cinnamon, and eggs. Great dessert to make for super cheap bread from bread outlets
3 Ingredient Butter Cookies – butter, sugar and flour
Brownies (homemade version with cocoa)
Do you have a dirt cheap recipe that you would like to share? Please let me know in the comments!