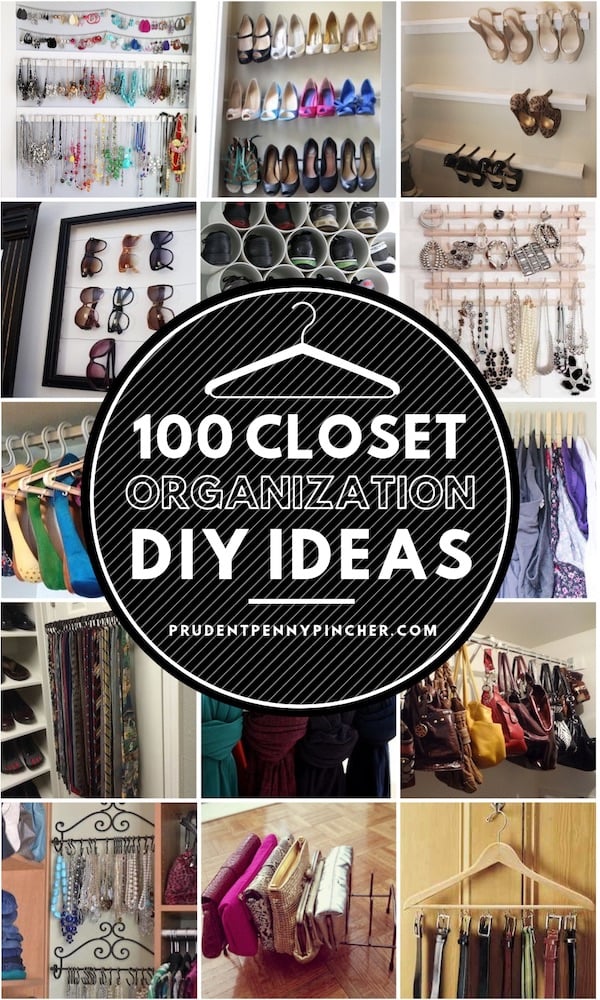 Organize your closet for less with these DIY organization and storage ideas. Many of these closet organization ideas are great for small closets and maximizing space. There are a hundred budget-friendly closet organization ideas for clothes, shoes and accessories.
Closet Organization for Clothes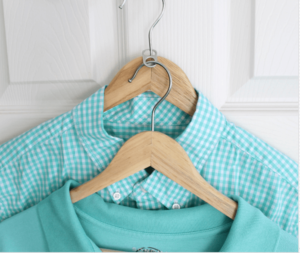 Shirt Organizer (using a soda tab)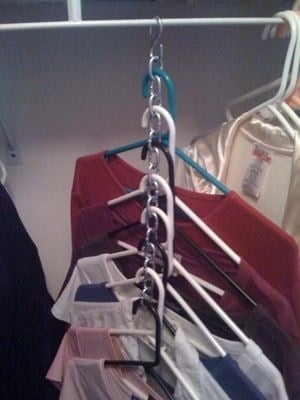 Shirt Organizer (using s hooks)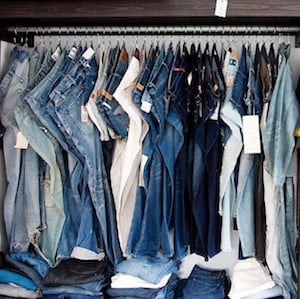 Jean Organizer (using s hooks)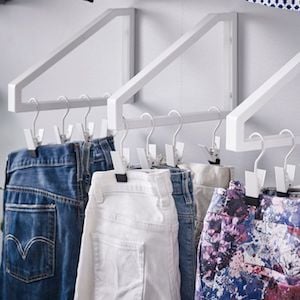 Clothes Organization with Shelf Brackets
curtain clips with hooks + $2 IKEA shelf brackets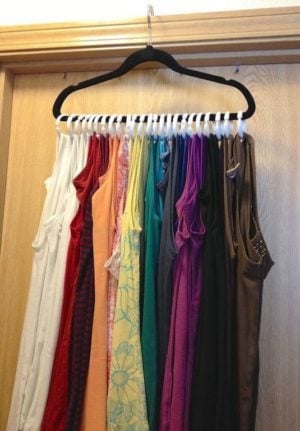 Tank Top Organizer
shower curtain rings + hanger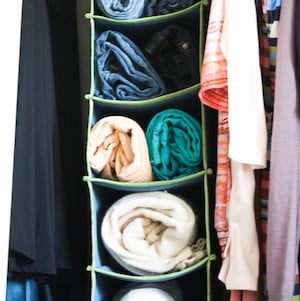 Shoe Organizer for Sweaters & Sweats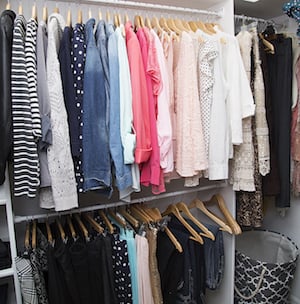 Organize by Color and Category & Use 2 Rods to Maximize Space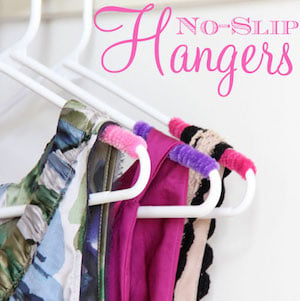 Pipe Cleaners No Slip Clothes Organization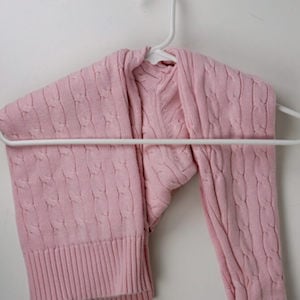 Closet Organization for Scarves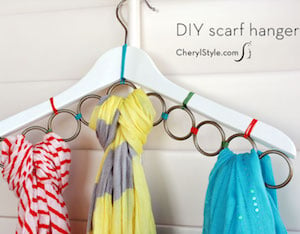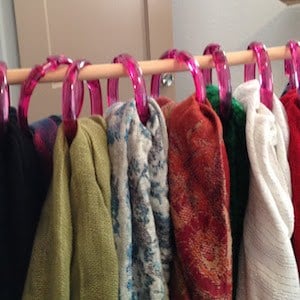 Scarf Organizer
shower curtain rod + curtain rings + scarves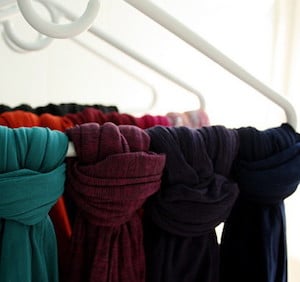 Clothes Hanger for Many Scarves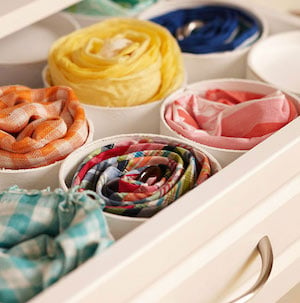 Sock and Scarf Organizer
(using PVC pipe)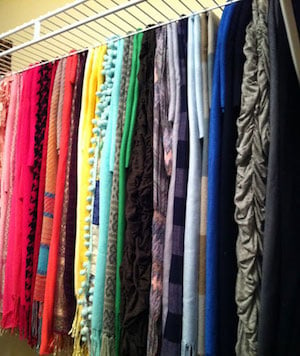 Ventilated Shelving Scarf Organzier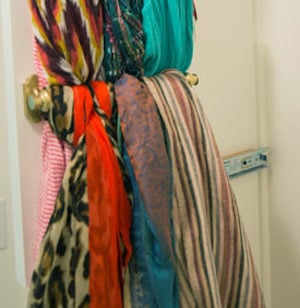 DIY Slide-Out Scarf Organizers
plywood + 1×2 poplar + drawer slides + towel bars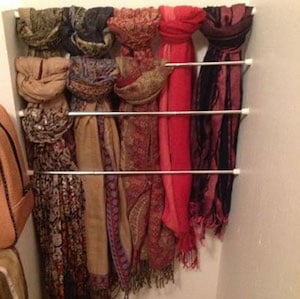 Tension Rod Scarf Storage
Closet Organization for Belts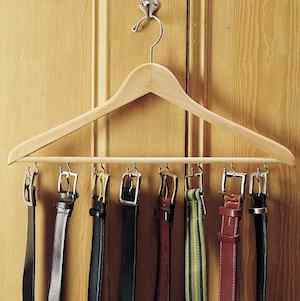 Wooden Hanger Belt Rack
wooden hanger + wire cutters + cup hooks + drill/drill bits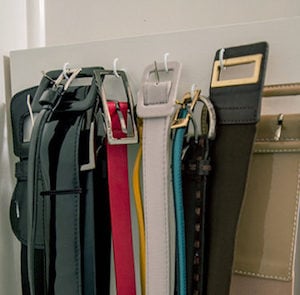 DIY Slide-Out Belt Organizers
1×4 board + 1×2 poplar + drawer slides + cup cooks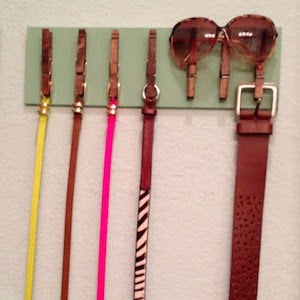 Belt Organizer
board + clothespins + hot glue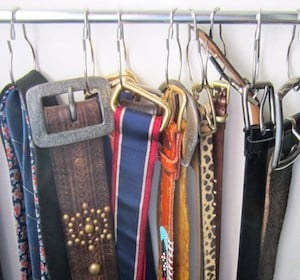 Belt Organizer II
shower curtain rings + shower rod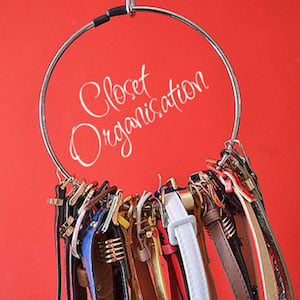 Closet Organization for Purses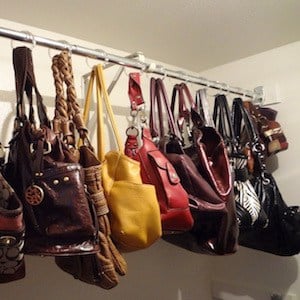 Purse Organizer
curtain rings + shower curtain rod (or you could just attach the rings to hangers)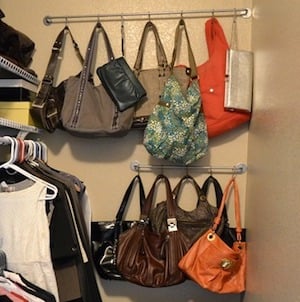 $5 Purse Organizer
towel bar + hooks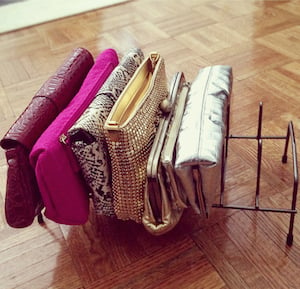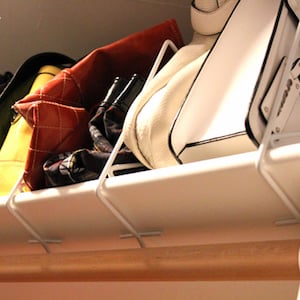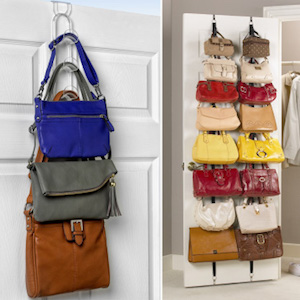 Hanging Purses on Over the Door Hooks
Closet Organization for Undergarments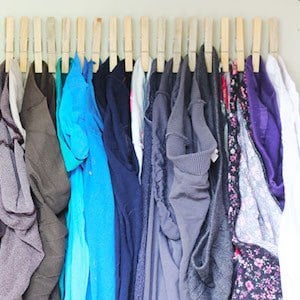 Tights Organizer
clothespins + ruler + glue gun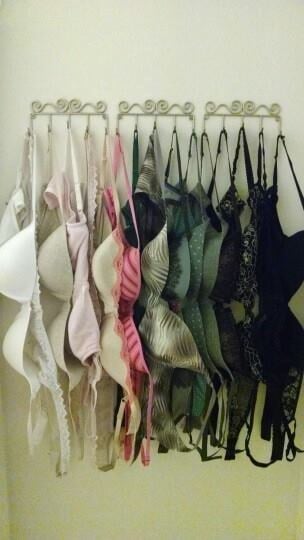 Bra Organizer Using Metal Racks or Towel Hook Rack
You could do the same thing with 2-3 of these Dollar Tree hooks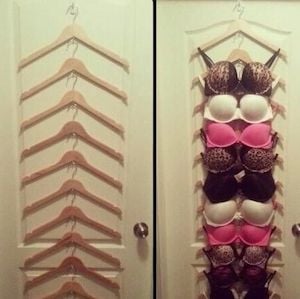 Hanging Bra Organization
Add hooks to wooden hangers and stack them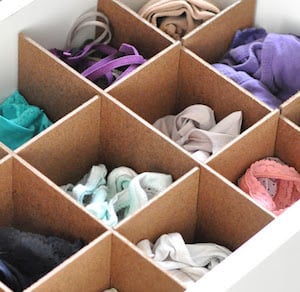 DIY Custom Drawer Organizers (source unknown)
plywood + saw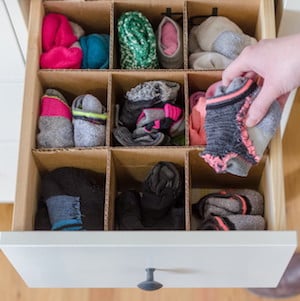 Cardboard Drawer Dividers
cardboard + ruler + box cutter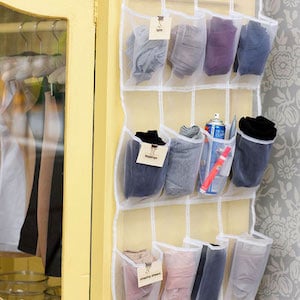 Over the Door Shoe Organizer for Underwear & Tights
Closet Organization for Ties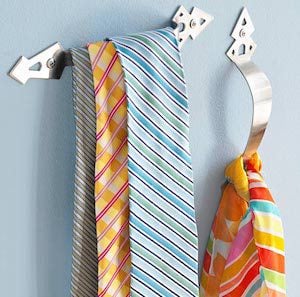 Tie Holder
screws + decorative drawer handles (you can them at Walmart for $2-$3)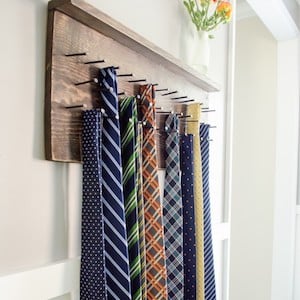 DIY Tie Rack
wood + wood stain + wood glue + nails/hammer + saw + sander/sandpaper + spray sealer + hangers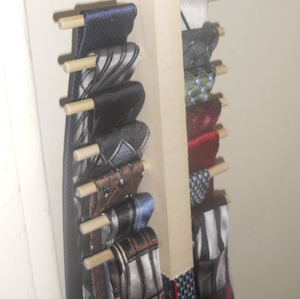 Space Saving Tie Rack
Saw, Hammer & Drill + clamps + 1×2″ poplar + wood dowel + screws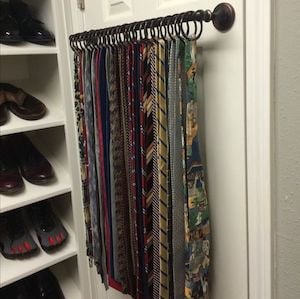 Towel Bar Tie Organizer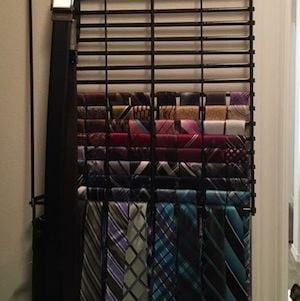 BBQ Rack Tie Hanger
A cooling rack would work just as good and you could spray paint it whatever color you want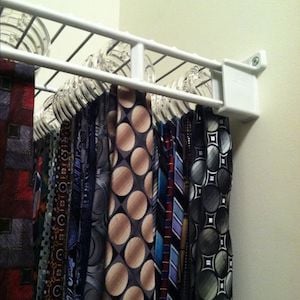 Ventilated Shelving Curtain Ring Tie Organization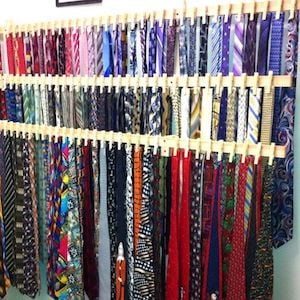 DIY Tie Rack
trim boards + clothespins + hot glue gun
You could even used spray painted yard sticks for the base as well.
Closet Organization for Shoes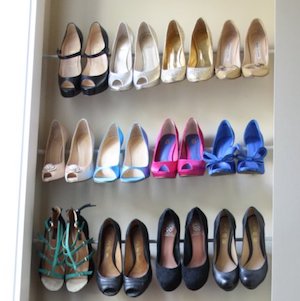 Tension Rod Shoe Organizer
tension rods + masking tape + level + tape measure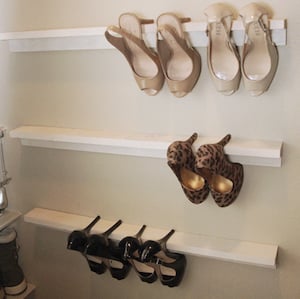 Shoe Organizer DIY
wood glue + 1×3 wood + spray paint + wood screws + drill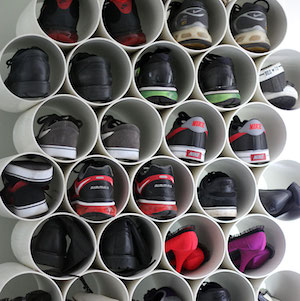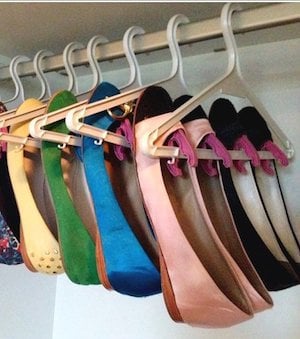 Flats Organization
plastic clips + hangers
You can also use bent wire coat hangers to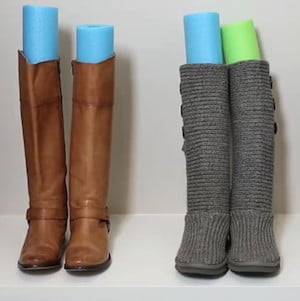 Tall Boot Organization
(using cut in half pool noodles)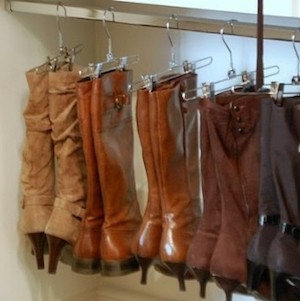 Pant Hangers for Boot Organization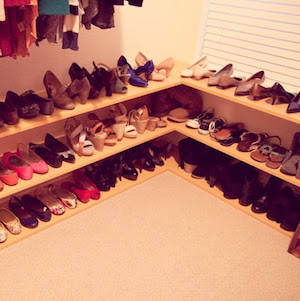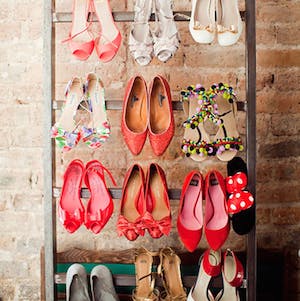 DIY Shoe Ladder
You can even put them on one of these $5 DIY blanket ladders that take up very little space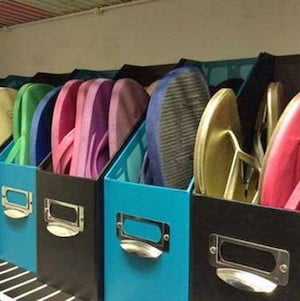 Flip Flop Magazine Holder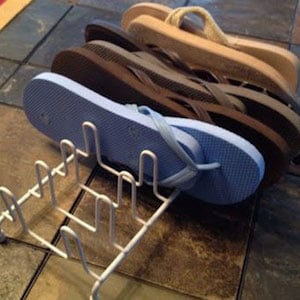 Plate Rack Flip-Flop Organizer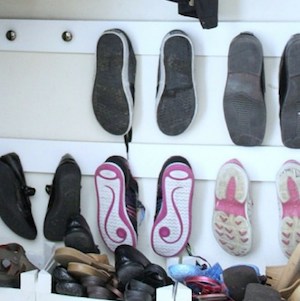 Closet Shoe Hooks
wood board + knobs + spray paint + drill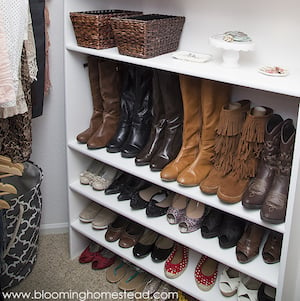 Cheap Bookcase Shoe Organization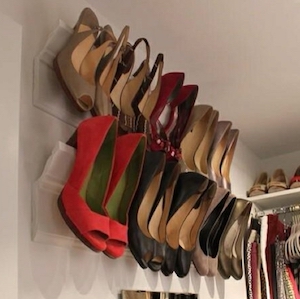 Crown Molding Shoe Rack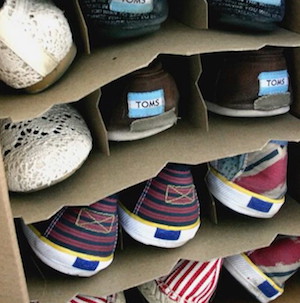 Wine Box Shoe Organizer for Unused Shoes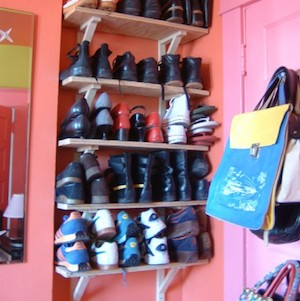 Behind the Door Floating Shelves for Shoes
Check out this tutorial for how to make $5 floating shelves. It's easy, no building required.
Closet Organization for Jewelry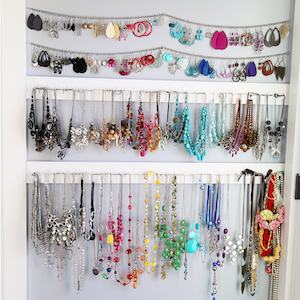 Simple Jewelry Organization
trim boards + hammer/nails + cup hooks + long chain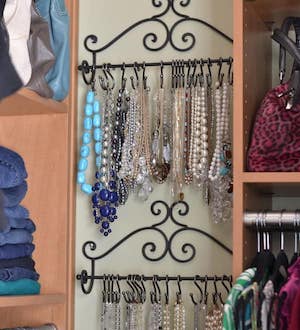 Towel Rack Jewelry Organizer
towel rack + s hooks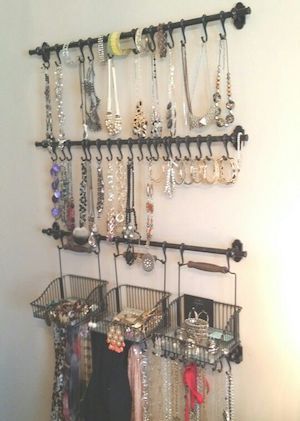 Ikea Jewelry Organizer
Ikea Fintorp rails, hooks, and baskets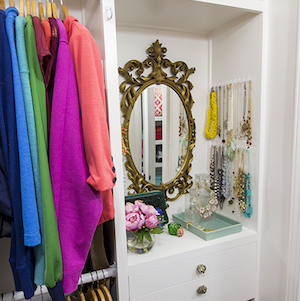 Vanity Organization for Jewelry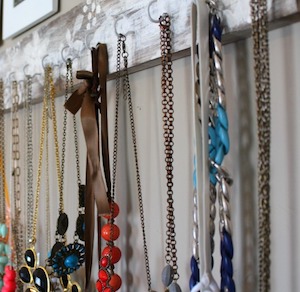 Jewelry and Scarf Organizer
wood + cheap knobs + spray paint + drill + hooks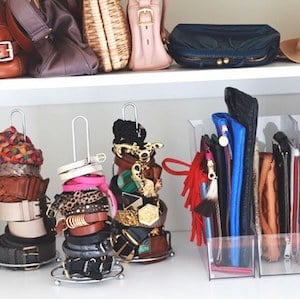 Paper Towel Holder for Organizing Jewelry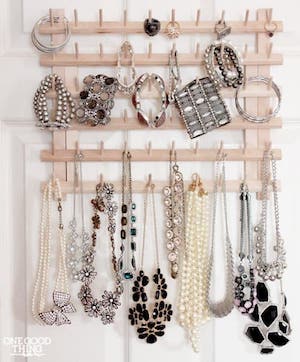 Other Closet Organization Ideas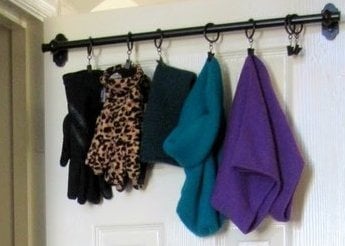 Winter Accessory Organzier
towel bar + curtain clip rings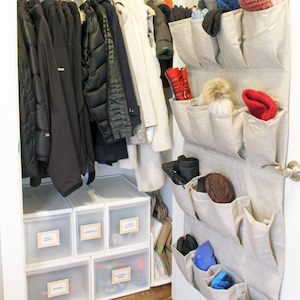 Winter Accessory Over the Door Shoe Organizer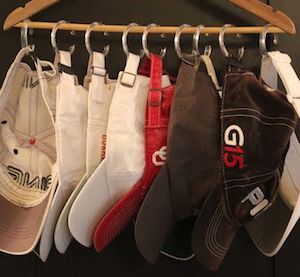 Hat Organizer
curtain rings + hanger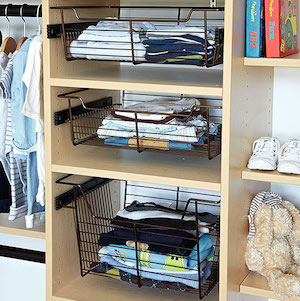 Wire Basket Drawers
drawer sliders + wire baskets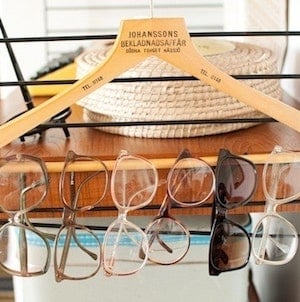 Hanging Eyewear from Coat Hanger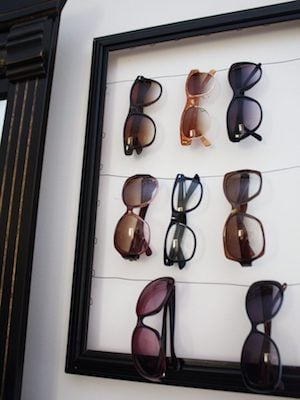 Glasses Organizer
picture frame + spray paint + picture hanging kit with picture hanging wire + hooks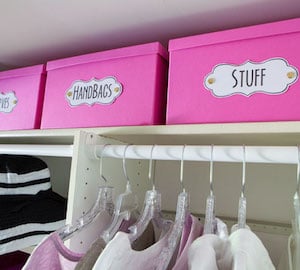 Bin Organization for Accessories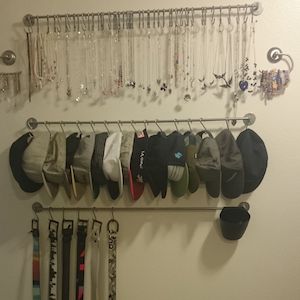 Towel Bar Accessory Organization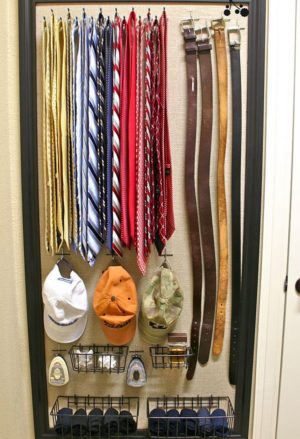 Cork Board Storage
MDF moulding + peg board + fabric + peg board hooks + baskets + screen clips + staple gun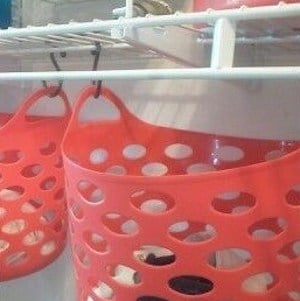 Organizational Basks Under Shelving
S hooks + dollar tree baskets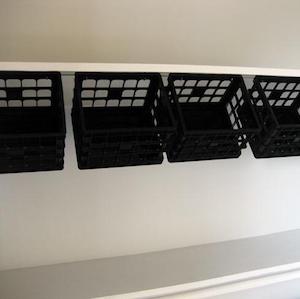 Crate Organization Using Cup Hooks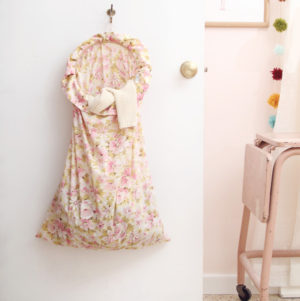 Hang Dirty Clothes Over the Closet Door
Closet Organization Makeovers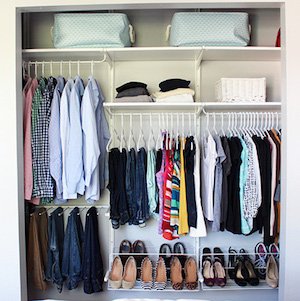 How to Organize a Small Closet from Just a Girl and Her Blog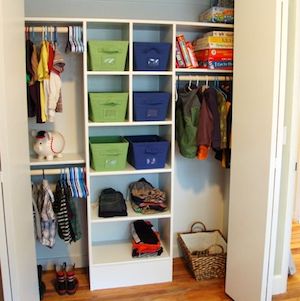 Custom Closet on the Cheap from Take The Side Street
shelving + new wood closet rod + closet rod supports + caulk, primer & paint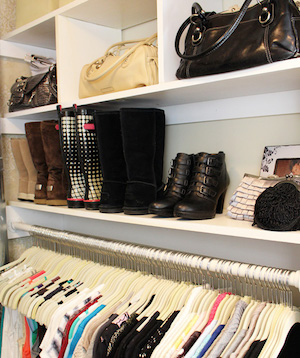 How a Girl Built Her Closet from Confessions of a Serial DIYer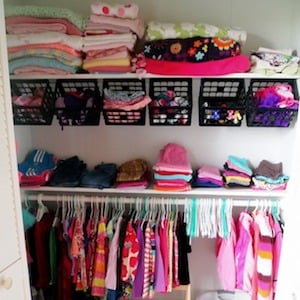 Kids Closet Organization Makeover from Reality Daydream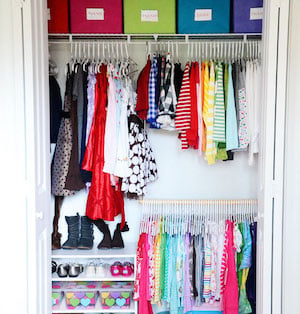 Kids Closet Organization from A Bowl Full of Lemons