The ULTIMATE Budget Halloween Party Guide
Budget Party Decor Ideas, Free Printables, Cheap Party Supplies, Free Party Fun and $1 Halloween Snacks and Treat Ideas
Did you know that the average person spends $74 for Halloween?! And probably much more than that if you are hosting a Halloween bash! The following halloween party tips will help you stay on budget. so you can throw the spookiest party in your neighborhood without scaring your wallet!
Halloween Party Decor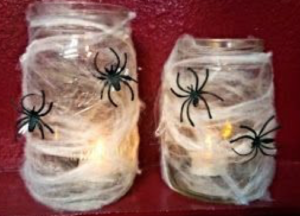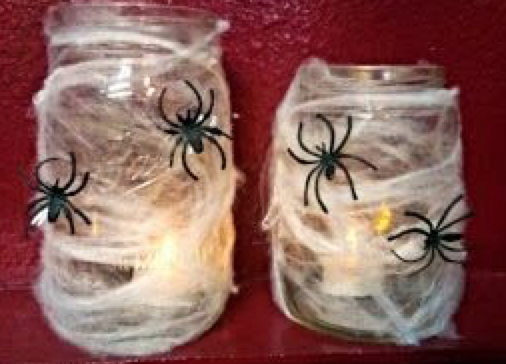 Spider Web Mason Jar
webs with spiders (Dollar Tree) + LED tealight candle (Dollar Tree) + mason jar (Dollar Tree)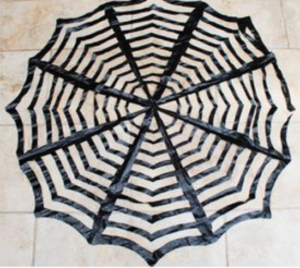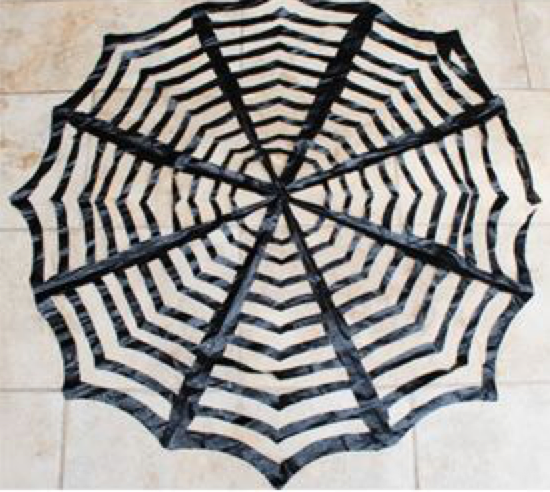 Trash Bag Spider Webs
black trash bag + scissors.
Tutorial here: http://www.fastforwardfun.com/easy-diy-trash-bag-spiderwebs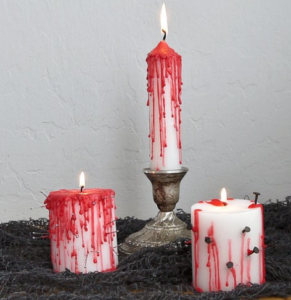 DIY Bleeding Candle
White taper candles (2 pack – Dollar Tree) + red taper candle (2 pack – Dollar Tree).
Just light the red candle and drip it over the top of the white candle.
Tip: You can put the candles inside an empty wine bottle and put a creepy label on the bottle.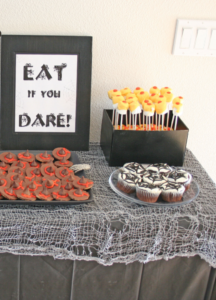 Creepy Cloth (Dollar Tree)
Add it to your table, halloween scene, lamp shades and curtains for a budget-friendly spooky touch!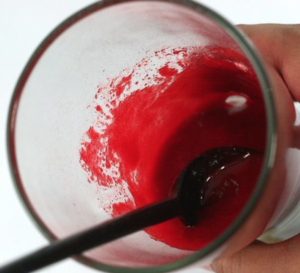 DIY Fake Blood
8 Easy Recipes found here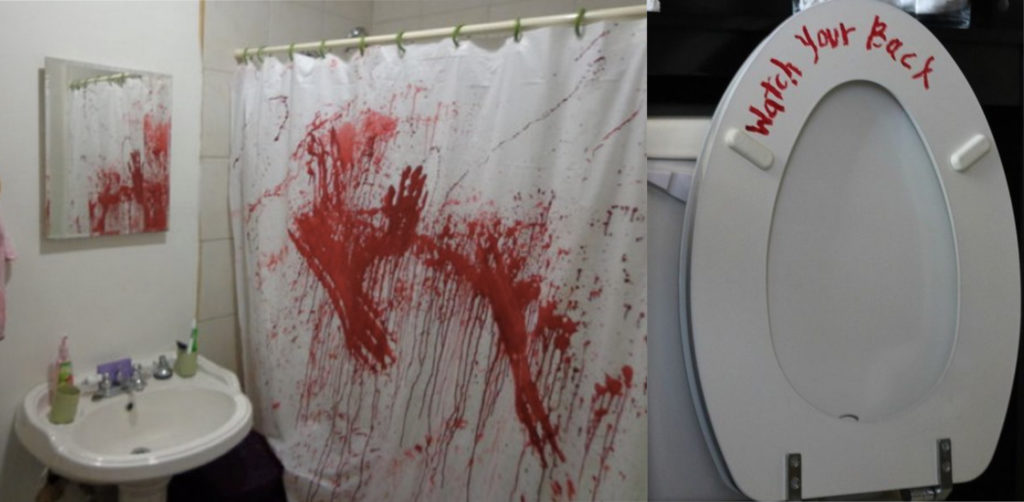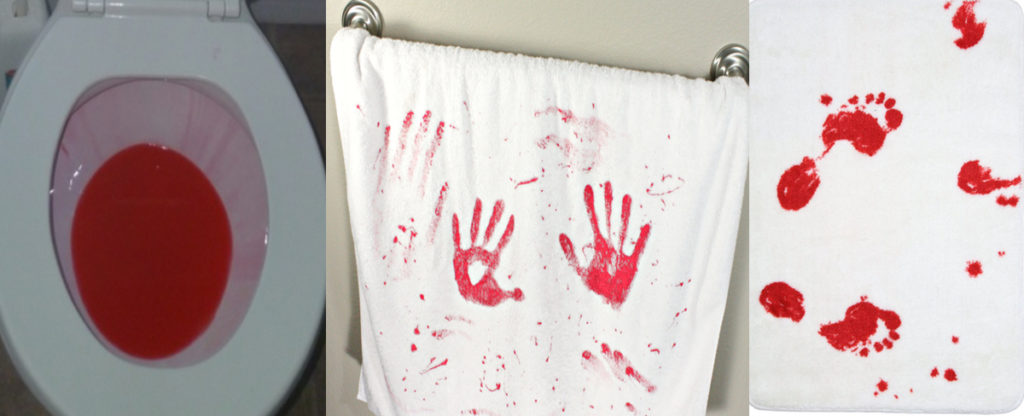 Bloody Bathroom Scene: Cheap white shower curtain ($3 – Walmart) + paint brush (for writing on toilet bowl and strokes of blood on shower curtain )+ cheap white towel ($2 – Walmart) + fake blood + red food coloring in toilet bowl + cheap white bath mat ($3 Walmart) – An entire room's decor for under $15!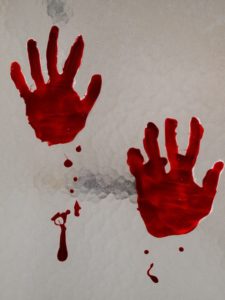 DIY Bloody Handprint Window Clings
Made with supplies you probably already have at home.
Tutorial here: https://feltmagnet.com/crafts/do-it-yourself-bloody-handprint-window-clings


Skull Candle Holder
3 skulls (Dollar Tree) + 2 terra cotta saucers ($0.75- Walmart) + black spray paint (Walmart -$0.99) + Halloween candle(Dollar Tree).
Here's the tutorial – http://endlesslyinspired.com/2014/10/22/diy-skull-candle-holder-31-days-halloween-day-20/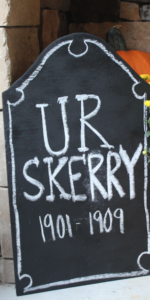 Chalkboard Tombstones
Chalkboard Tombstone (Dollar Tree) + Chalk (Walmart – $0.47)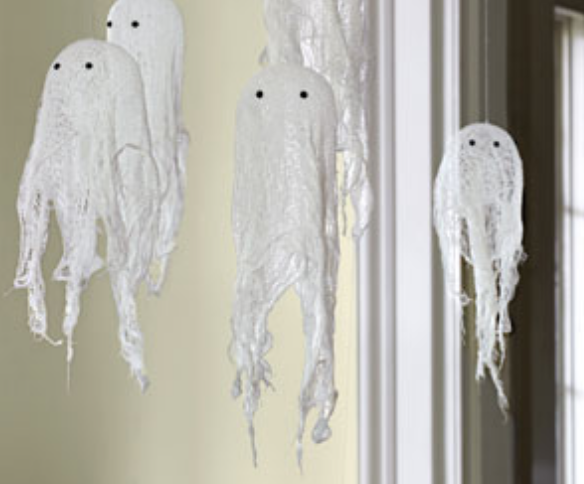 Cute Hanging Ghosts
Cheese cloth or white  creepy cloth + craft balls (Dollar Tree) + googly eyes (Dollar Tree) + fishing line to hang them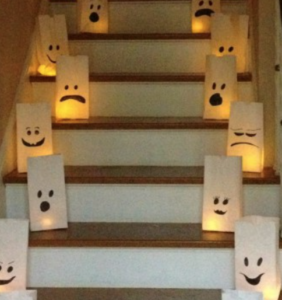 Ghost Paper Bags
white paper bags (Dollar Tree)  + LED tea light candles (Dollar Tree, 2 pack) + black permanent marker (Dollar Tree)

Witch Hat Chandelier 
orange streamers (Dollar Tree, 2 pack) + basic witch hat (Dollar Tree) + orange gift wrap for top (Dollar Tree)
Just cut the streamers in half, vertically into smaller strips. Tie a orange ribbon around gift paper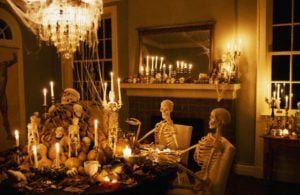 Candles
Candles are cheap and they create a spooky ambiance.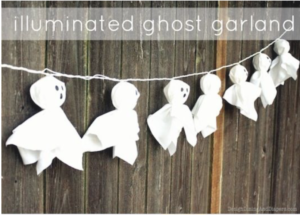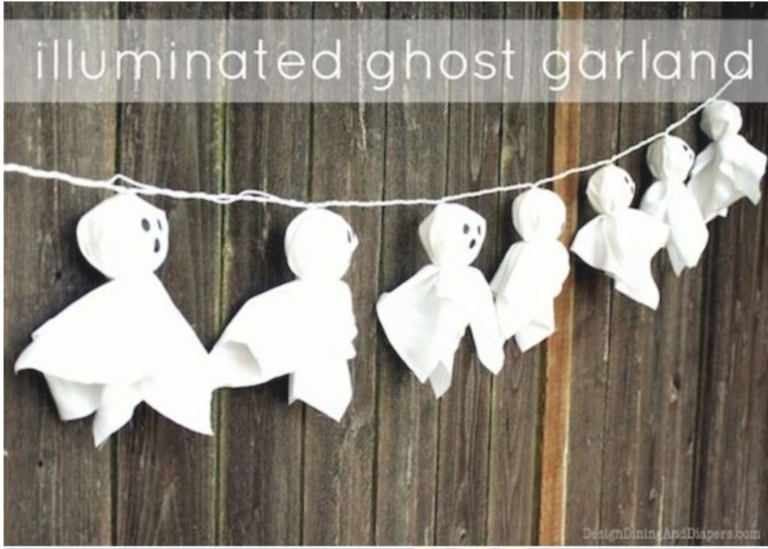 Ghost Garland
basically, you just need white lantern lights and white fabric
Tutorial here: http://designdininganddiapers.com/illuminated-ghost-garland/
Free Printable Halloween Party Ideas
Spooky Bottles, Jars and Vases
Buy a bunch of various sized $1-$2 glass vases, jars and bottles (or use the ones you have) and print out these spooky labels. You can get some small and medium sized ones at Dollar Tree. Large ones are $2-$3 at Goodwill. You can also use old pickle and jam jars that you already have.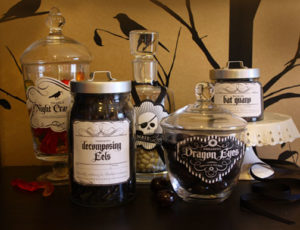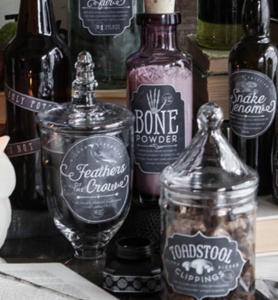 Halloween Apothecary Labels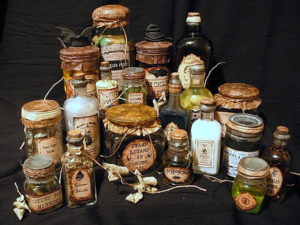 Halloween Apothecary Labels II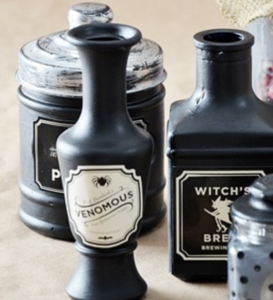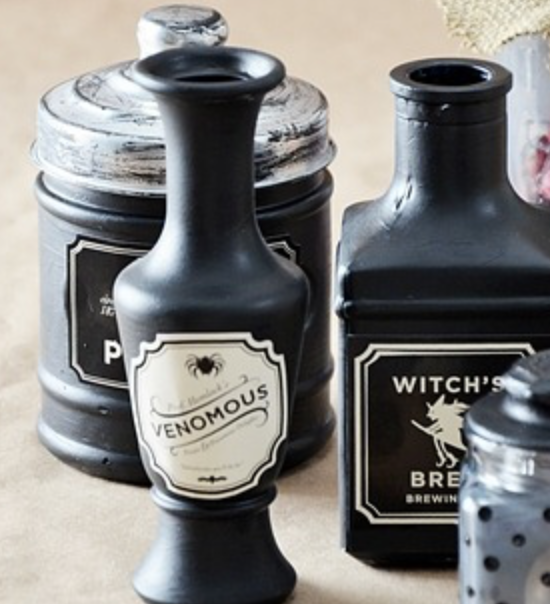 Poison Bottle Labels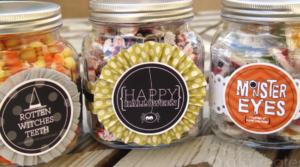 Halloween Treat Jar Labels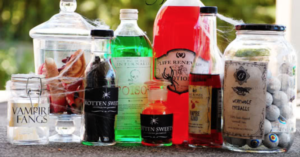 Creepy Apothecary Labels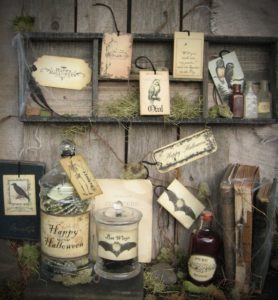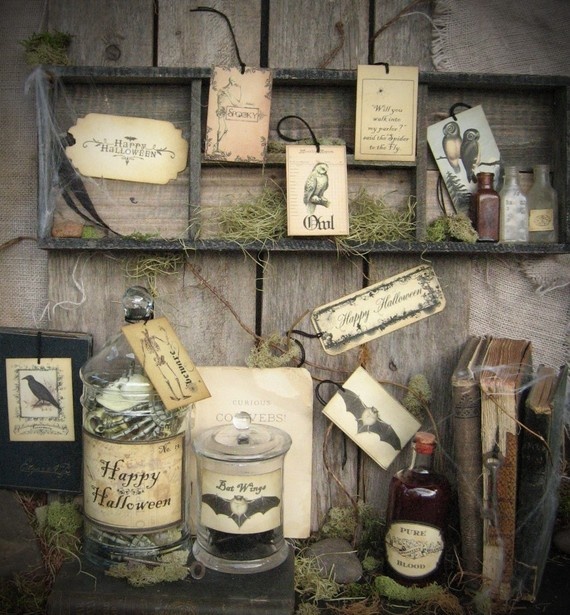 Halloween Potion Labels
Tip 1: Spray paint some of the bottles. Walmart has $0.99 black spray paint.
Tip 2: Add spooky looking liquids and creepy candies like worms, eyeballs, etc.
Tip 3: Add spiderwebs, insects and creepy cloth accents around bottles
Spooky Soda Labels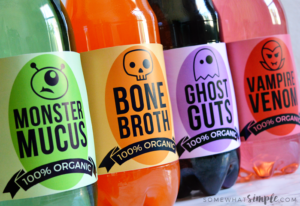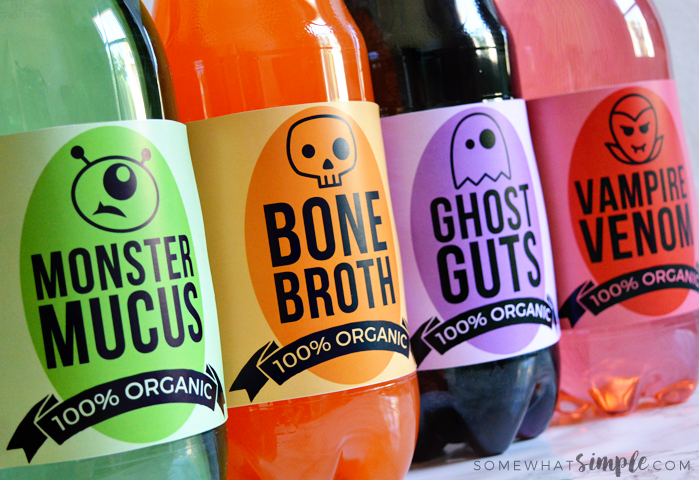 Cute Halloween  2 Liter Soda Labels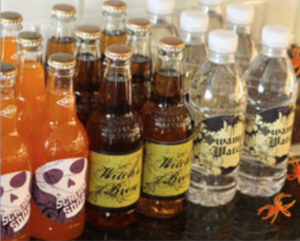 Halloween Soda Bottle Labels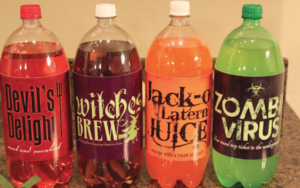 Halloween 2 Liter Soda Bottle Labels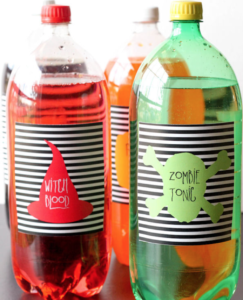 Cute Halloween 2 Liter Soda Label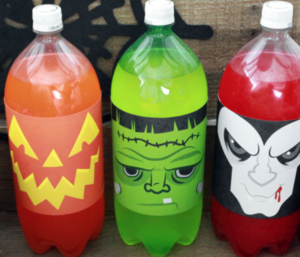 Spooky Halloween 2 Liter Soda Labels
Bat Wall Scene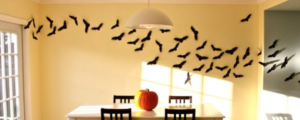 All you need is black construction paper or card stock, scissors and tape! The tutorial is here
You can also:
add these to your lamp shades
make a garland (hole punch + black string)
make a bat tree (with a black vase, sticks and bats glued to the sticks)!
add googly eyes (Dollar Tree)

Creepy Mice Silhouettes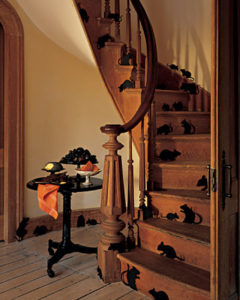 All you need black construction paper
You can download the template here
Spooky Book Covers
Kraft paper or brown paper + free printable + any book + glue stick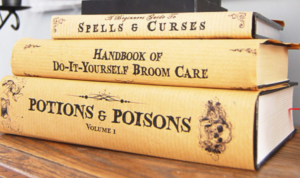 Halloween Book Covers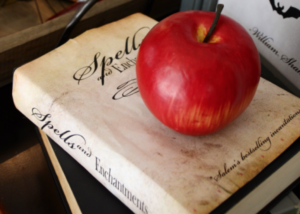 Spell Book Cover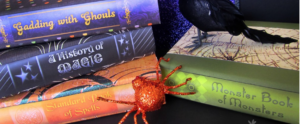 Harry Potter Look Alike Book Covers
These book covers would go great with these witch labels and this witch party set
Tip 1: Books looks great with a crow or skull decor (both of which you can get at Dollar Tree).
Tip 2: You can also use Aged Parchment Cardstock or scrapbooking paper ($2-$4)
Tip 3: If you don't have the right sized book, you can go to Goodwill or any Thrift Store and get a book for under $0.50.
Halloween Candles
Candle wrapper printables
printable candle holder wrapper + LED candles (or glass candle holder) (Dollar Tree)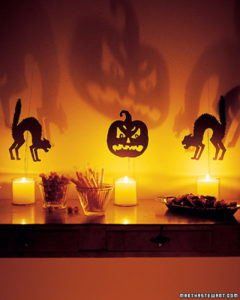 black construction paper or foam board (Dollar Tree) + wire (Dollar Tree) + glass jar pillar candles (Dollar Tree)
Printable Halloween Art 
free printable + black frame (Dollar Tree).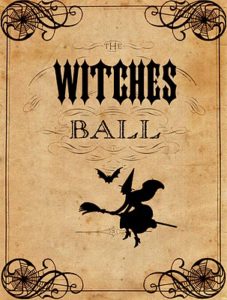 Witch's Ball Printable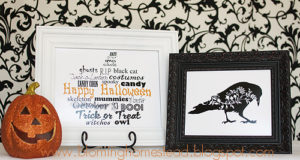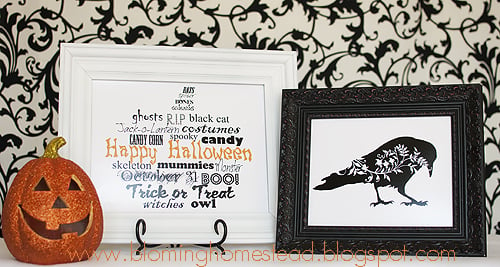 Halloween Framed Printables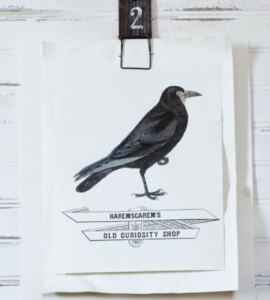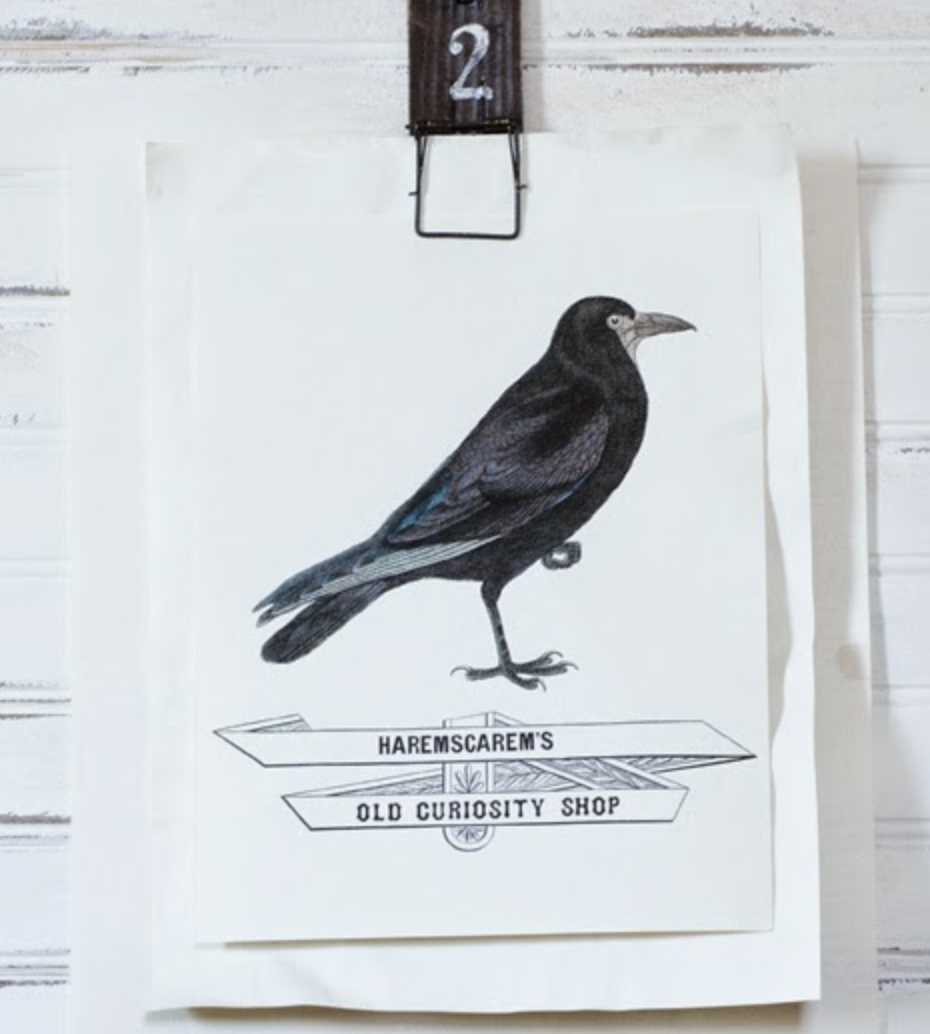 6 Black and White Halloween Art Printables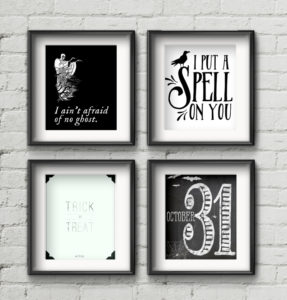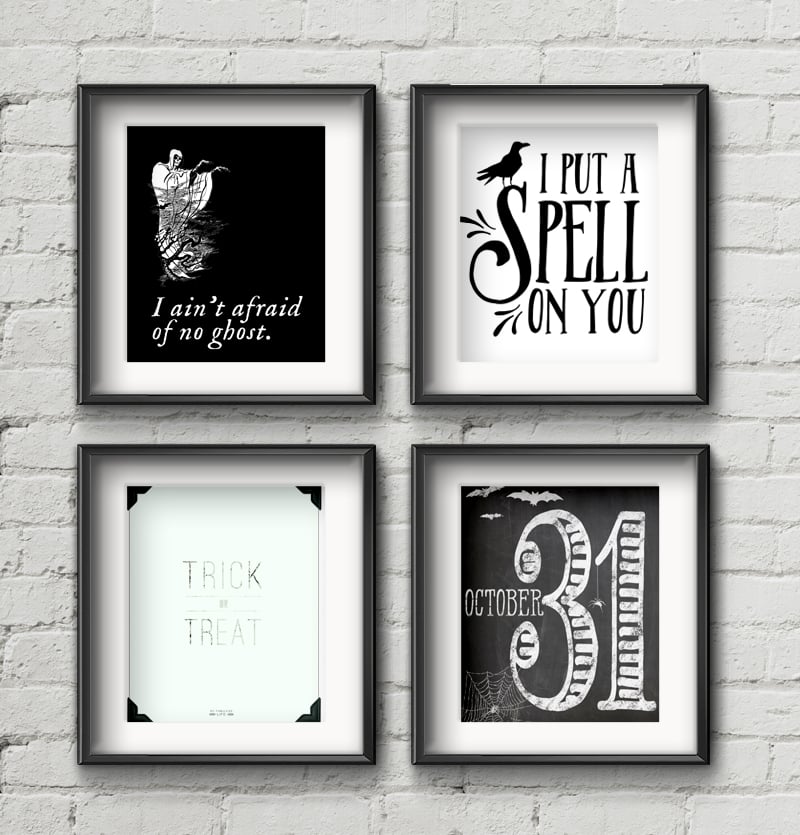 12 Halloween Art Printables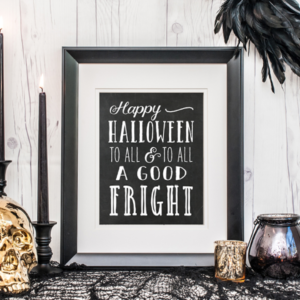 Black and White Halloween Printables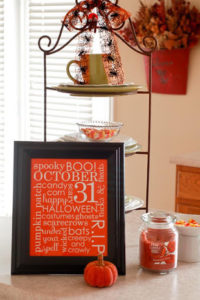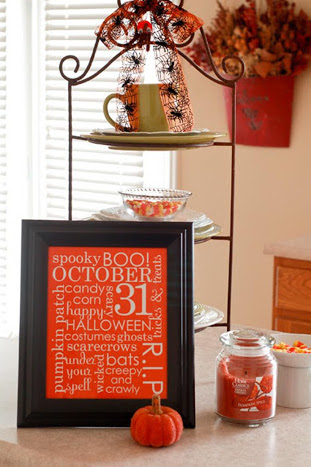 20+ Halloween and Fall Art Printables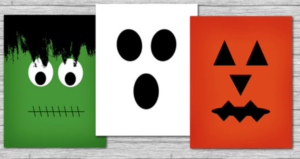 Halloween Wall Art Set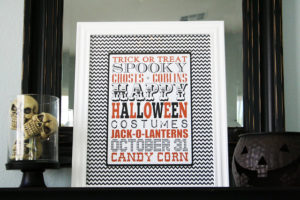 Subway Art Printable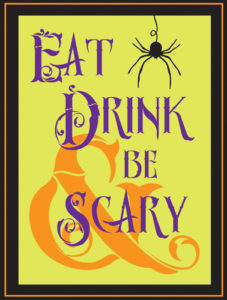 Eat Drink and Be Scary Printable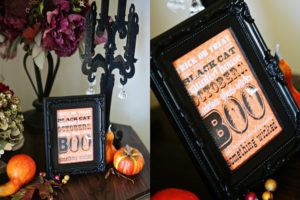 Subway Art Printable
Full Party Set Printables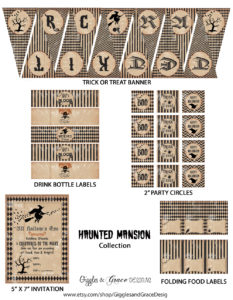 Halloween Party Printables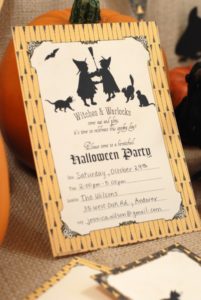 Halloween Witch Party Printables 
includes invitation, treat tags, cupcake toppers and cootie catchers.
Printable Cupcake Toppers
free printable + plastic picks or toothpicks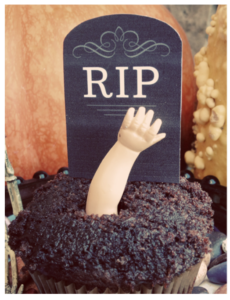 Want more Halloween printable ideas? Here is a comprehensive list of 100 Halloween printables. Also, check out this Pinterest board for Halloween printables
$1 Halloween Party Supplies – Dollar Tree
Mostly Dollar Tree just has basic colors available like black, orange, purple, red, maroon, gray, green, white. There are a handful  of halloween printed things like plates, wine glasses, plastic cups etc.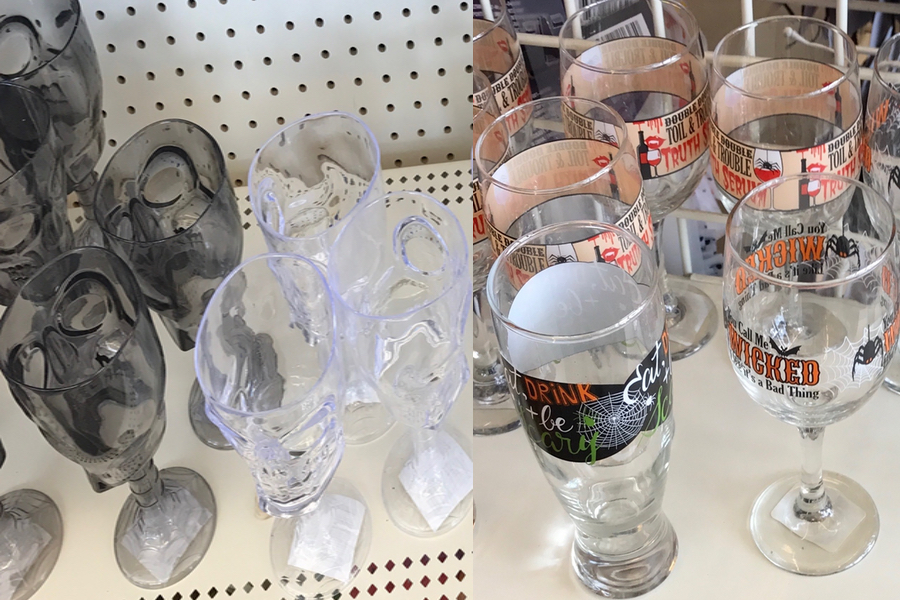 plastic skull goblets
halloween wine and beer glasses
plates –  24 count
bowls  – 10 count
napkins – 24 count
utensils – 48 count
party cups – 12 count

 TIP: add googly eyes to the tops of the cups for a spooky look

table covers
streamers – 2 pack
ballons – 15 pack

TIP: Add ghost faces to white balloons and pumpkin faces on orange balloons with a black permanent marker

cauldron – use as a serving bowl for apples or candies
spider web candy bowl – Party City
round black plastic sectioned serving tray
plastic punch ladles, 12″
plastic tongs, cake cutters, scoops
clear fluted serving bowls – great to put colorful candies in
halloween ice cube trays
plastic shot glasses – 24 count
glass martini glass
glass wine glass
wine corkscrew
plastic halloween partnered cups

Tip 1: while not $1, you can get glass punch bowls set (with cups) for $5 at Goodwill
Tip 2: If you are looking for speciality barware or servewear, check out Goodwill for that too. You can get most glass items there for under $5
Under $1 Halloween Party Food (Per Serving)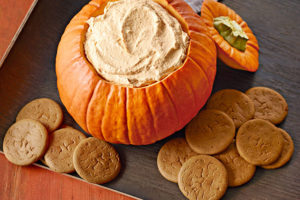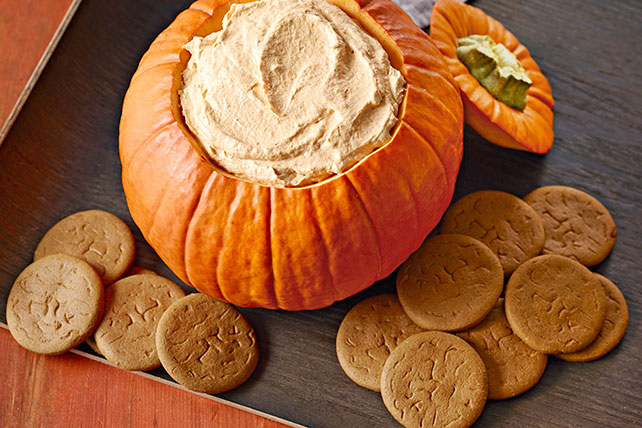 2 Ingredient Pumpkin Pie Dip – recipe here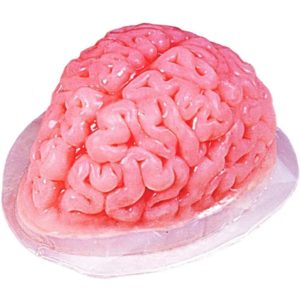 Brain Jello = jello (peach and watermelon) + brain mold (Dollar Tree)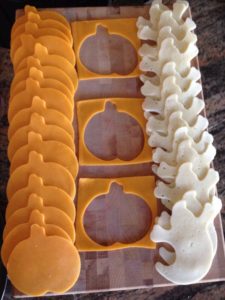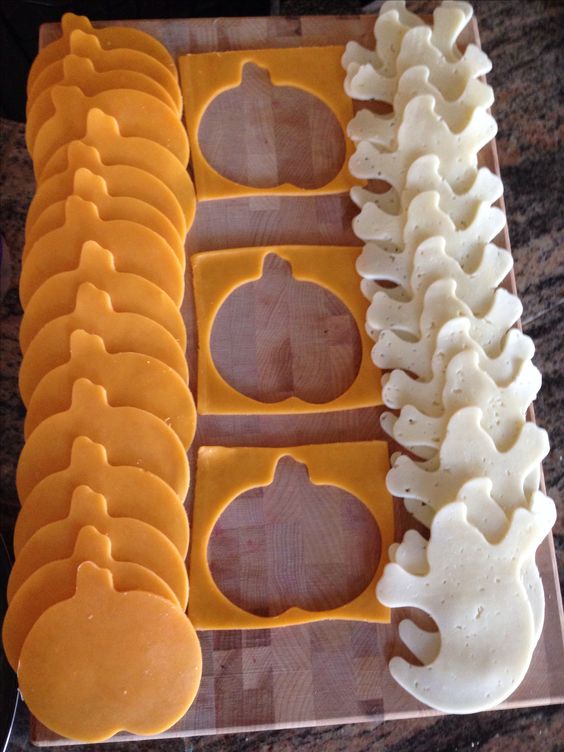 Halloween Cheese Platter

Candy + Bowls + Sharpie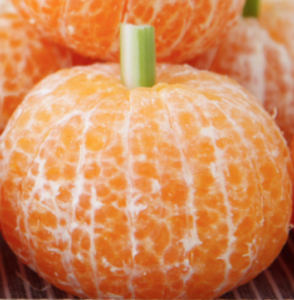 Orange with Celery Stem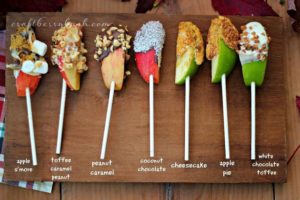 Caramel Apple Bar
get the list of ingredients and great tips here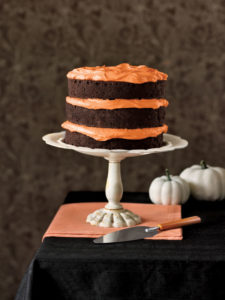 Halloween Cake
dark chocolate cake with orange cream cheese frosting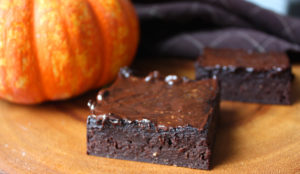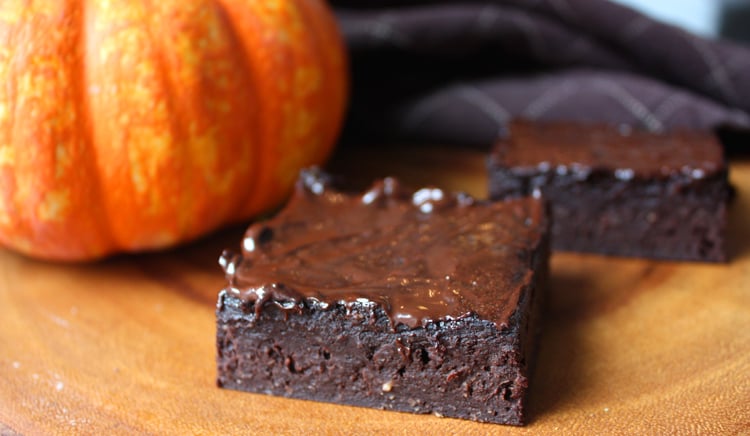 2 Ingredient Pumpkin Brownies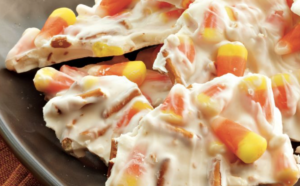 3 Ingredient Candy Corn Bark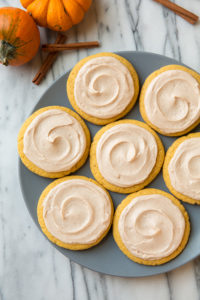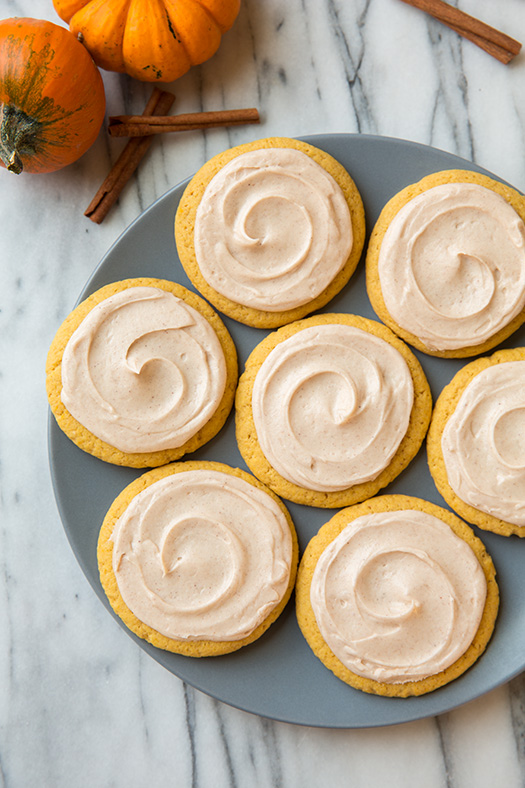 Pumpkin Sugar Cookies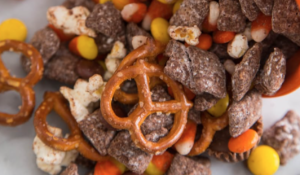 Halloween Snack Mix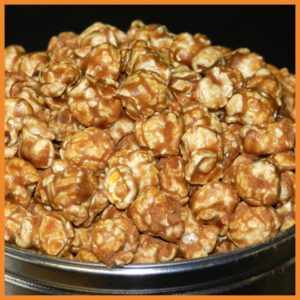 Easy Caramel Corn – recipe here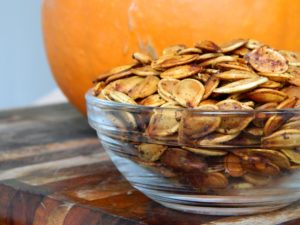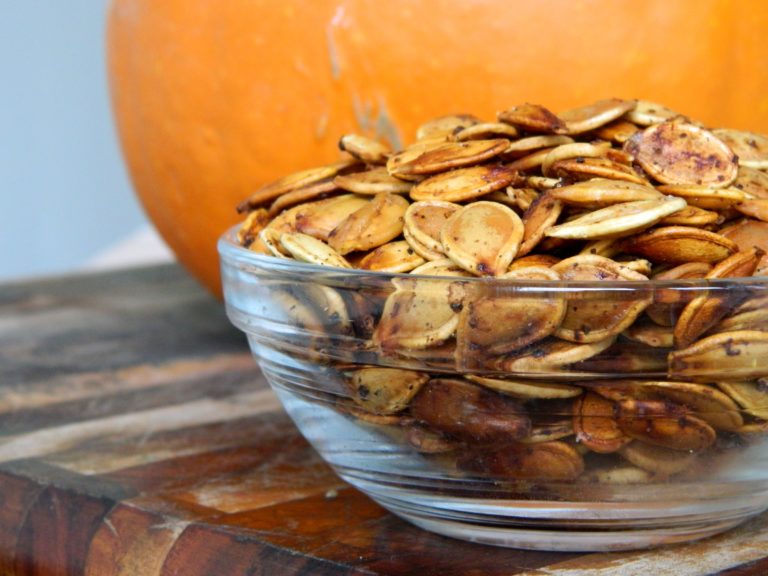 Roasted Pumpkin Seeds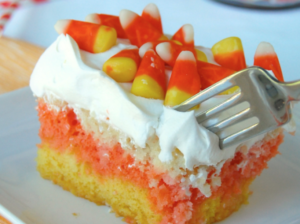 5 Ingredient Candy Corn Poke Cake –  recipe here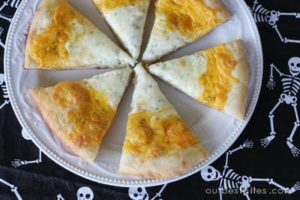 Candy Corn Pizza
Just use different colors (e.g. mozzarella and mild cheddar) of cheeses with a white sauce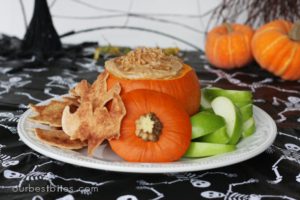 Caramel Toffe Fruit Dip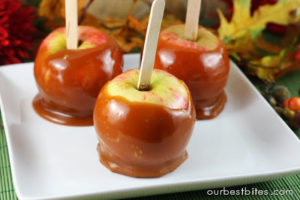 Two Ingredient Honey Caramel Apples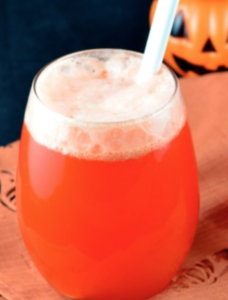 Witches Bubbly Brewed Punch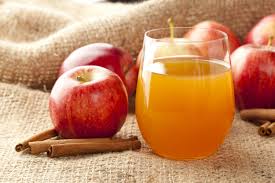 3 Ingredient Spiced Apple Cider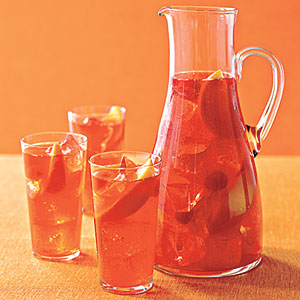 Vampire Punch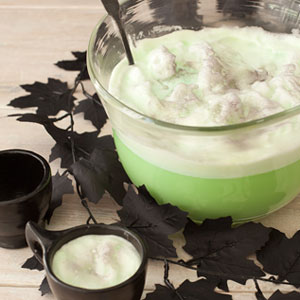 2 Ingredient Witch's Wicked Punch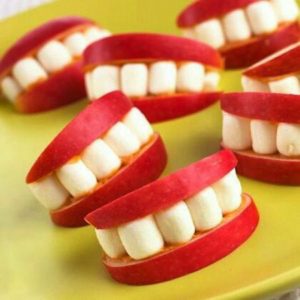 Apples + Marshmallows
Spread a little peanut butter the inside of the apple slices so the marshmellows stick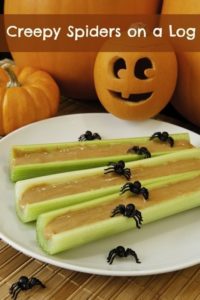 celery + peanut butter + plastic spiders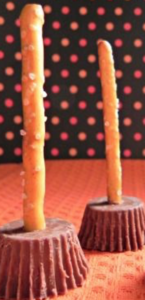 peanut butter cups + pretzels sticks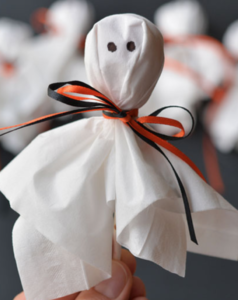 lollipops + tissue + small ribbon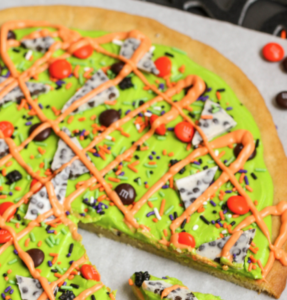 Halloween Sugar Cookie Cake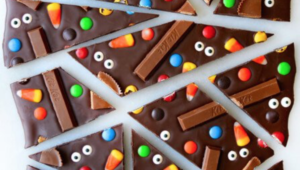 Halloween Candy Bark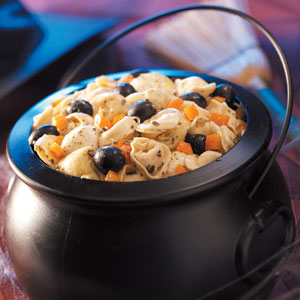 Put snacks and candy in a witch cauldron for a creepy look!
You can even add a witch label.
Dollar Tree sells cauldrons for $1
Tip: choose foods that match the colors of your tableware to make your decorations pop
Budget Friendly Halloween Alcohol
BYOB  – I highly recommend asking your guests to bring their own alcohol to the party because it will get pretty pricey trying to buy alcohol for everyone! After all, you are supplying everything else so it's a reasonable request that I'm sure your guests would be willing to do. If you insisting on buying the alcohol, here are some cost effective and festive Halloween alcoholic drink ideas. They all have less than 2 alcoholic ingredients.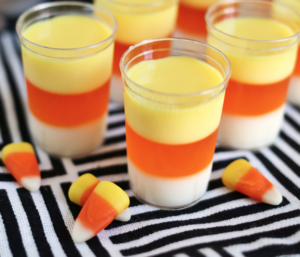 Candy Corn Jello Shots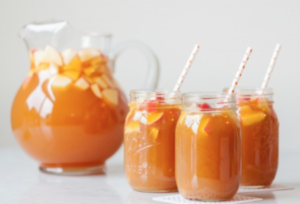 Caramel Apple Sangria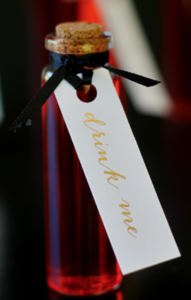 Black Widow Venom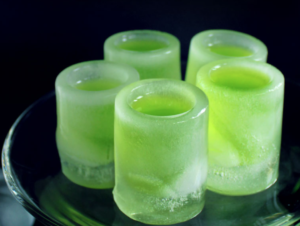 Halloween Ice Shots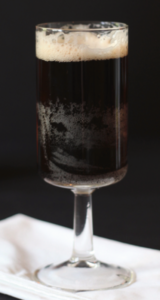 2 Ingredient Black Velvet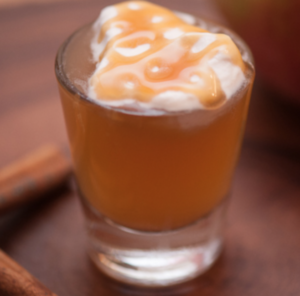 Caramel Apple Pie Shot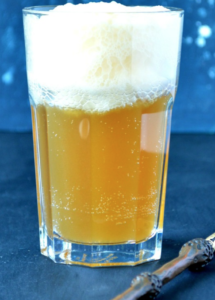 5 Ingredient Non-Alcoholic Butterbeer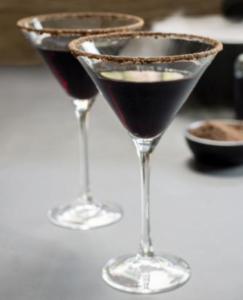 Witch's Hat Cocktail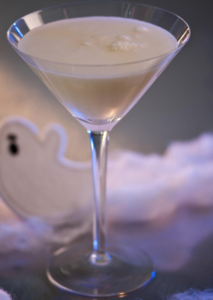 Ghost Cocktail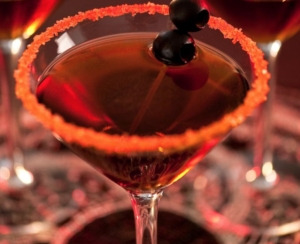 Black Devil Martini
Tip 1: If you choose to buy beer in addition to alcohol, skip the craft pumpkin and cider beers. Even though they are festive, it will cost double, if not triple, the price of regular beer. Pick whatever beer is on sale and is the cheapest. Look for deals at your local liquor store. You can add some free Halloween beer printables to make them look extra spooky!
Tip 2: You can do without the garnishes that these recipes suggest to save money.  It doesn't need to look super fancy, just taste good!
Budget Halloween Fun
Halloween Beer Pong (plastic party cups + beer + plastic ping pong eyeballs (Dollar Tree)
Horror Movie Trivia
Pumpkin Ring Toss (pumpkin + small glow stick necklaces)
Monster Mash Dance Contest
Scary Movie Character Name Game
Guess the Candies in the Jar (with a cheap prize of some sort)
Horror Movie Drinking Game
Finish My Scary Story
Bobbing for apples
Halloween Candy
The best choice is Dollar Tree. They have a large selection and every bag is only $1. You may catch some good sales at CVS/Walgreens too though so keep an eye out. Of course, the best time to get Halloween candy is after Halloween when everything is 50%-75% off.