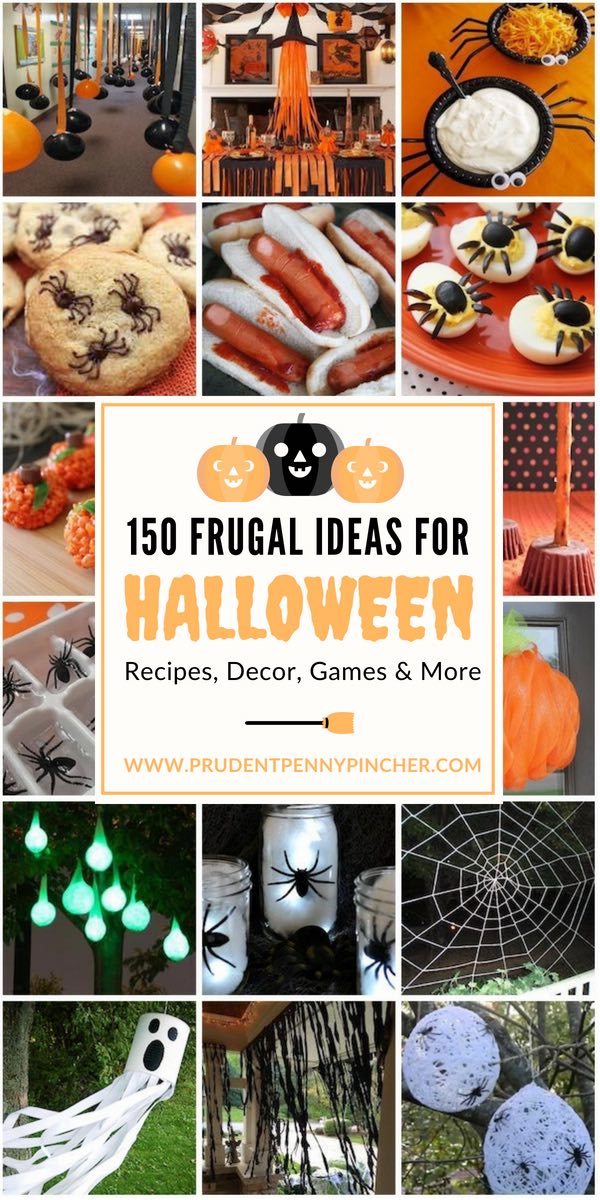 Throw the ultimate Halloween bash for less with these creative and cheap Halloween ideas. There are almost two hundred ideas for frugal Halloween decorations, party ideas, recipes, and games so that you can have fun this Halloween without breaking the bank!
Frugal Outdoor Halloween Decorations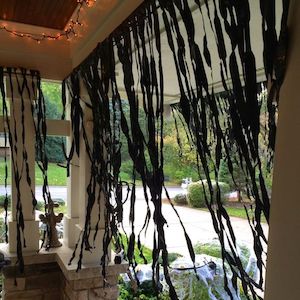 Creepy Black Curtained Porch
cheap black trash bags, double sided tape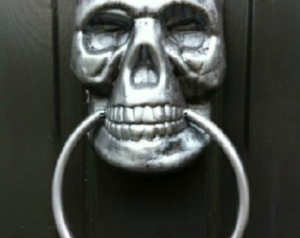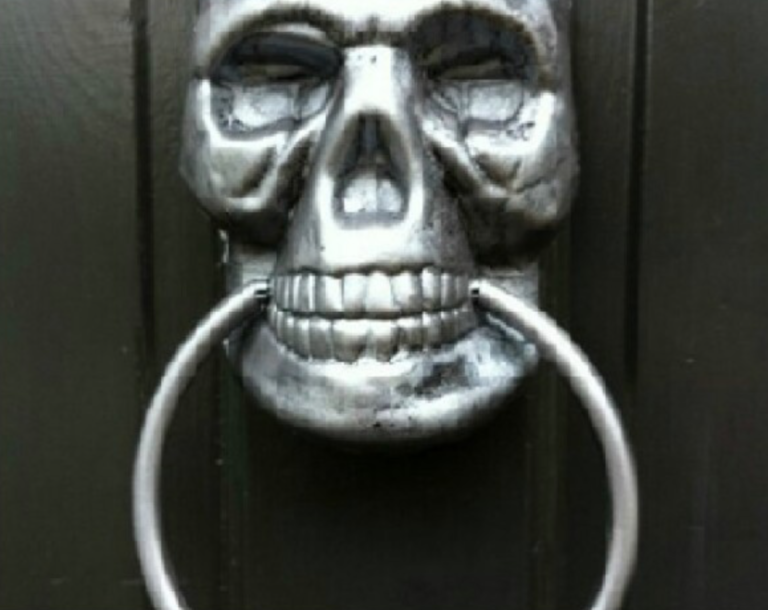 Metallic Skull Knocker
plastic skull knocker (Dollar Tree), metallic Rust-Oleum spray paint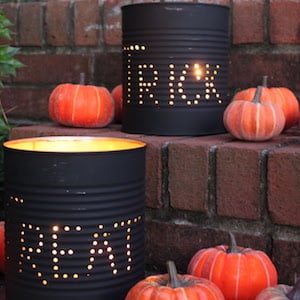 Halloween Tin Can Luminaries
Sharpie, empty tin cans, hammer & nail , paint, candles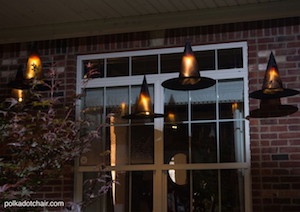 Floating Witch Hats on Porch
witch hats, fishing line, LED tea lights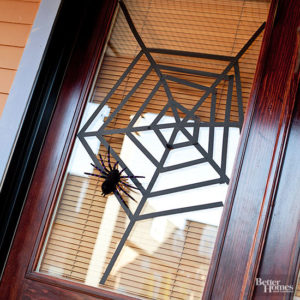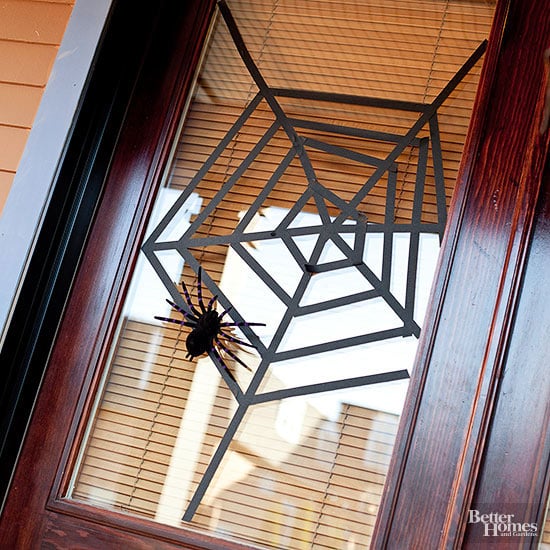 Spider Web Door  
black tape, spider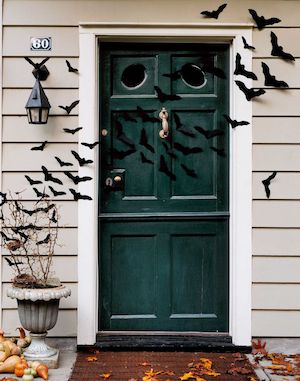 Bat-Filled Front Door
black felt, bat template, tape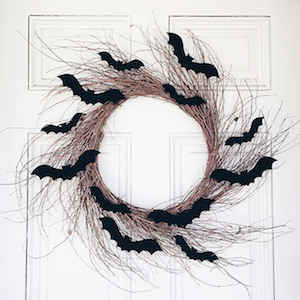 Bats Wreath 
grapevine wreath, black felt, scissors, glue gun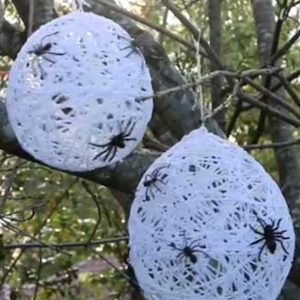 Dangling Spider Webs
white yarn, glue, balloon, plastic spiders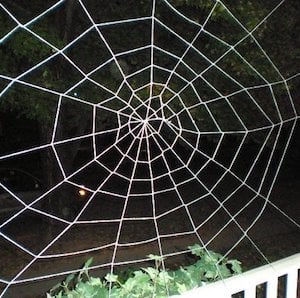 Giant Spider Web
yarn, scissors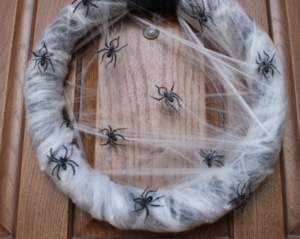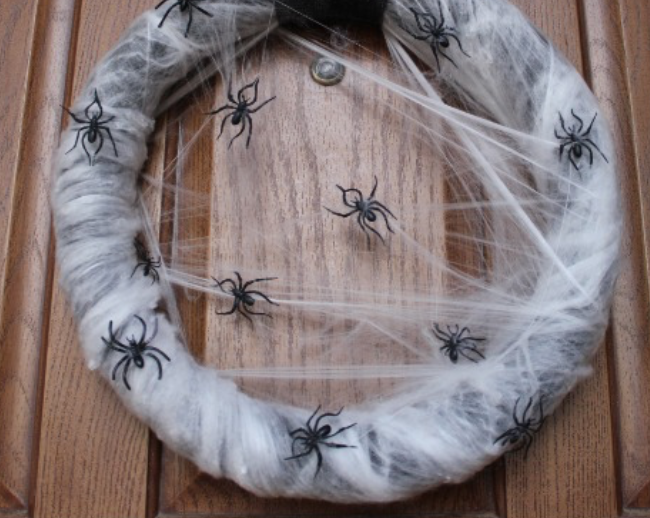 Spider Web Wreath
foam wreath, black spray paint, spiders, spider webs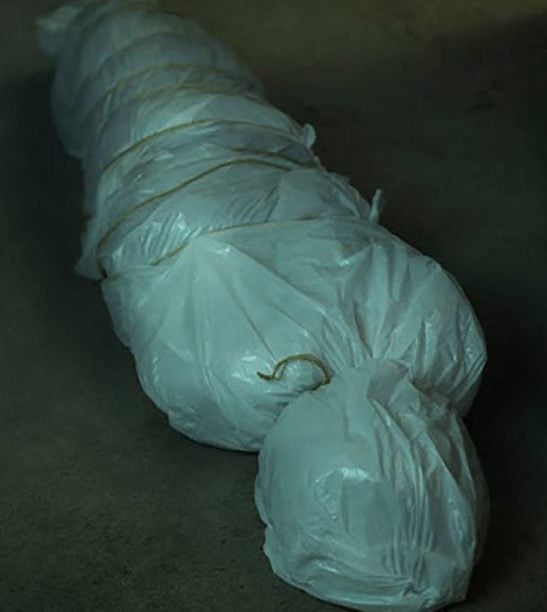 Body Bag
cheap white trash bags, twine
Create an outline of a body with trash and wrap it up in the trash bag and twine.
(Ex: use a milk jug for the head)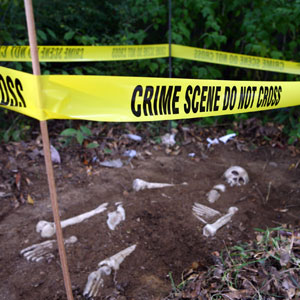 Crime Scene
crime scene tape, wood dowels, bag of bones, dirt, skull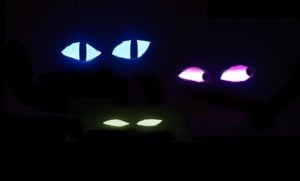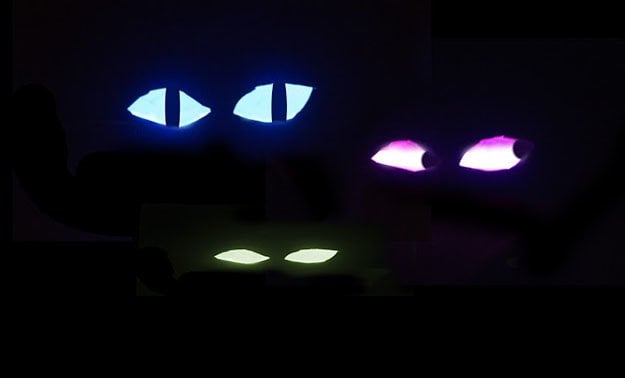 Spooky Eyes
Paper towel or toilet paper rolls, glow sticks
Cut paper towel roll in half. Cut out eye designs and put glow sticks inside.
Place in bushes for a scary effect!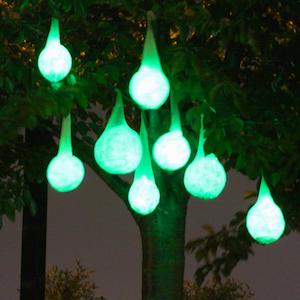 Glowing Halloween Light Pods
small balloons, coffee filters, white glue, glow sticks, string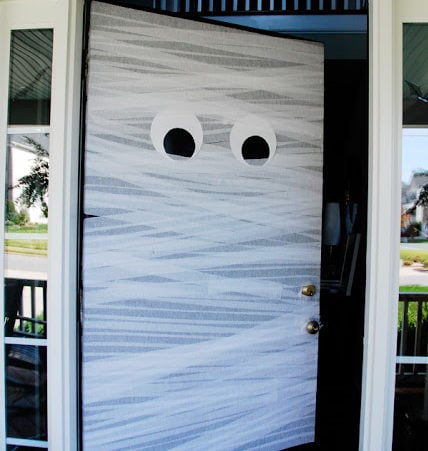 Mummy Door
white streamers, black construction paper (Walmart -$0.75), printer paper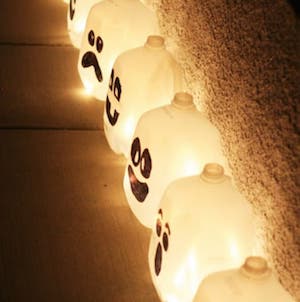 Ghost Jugs
empty milk jugs, black permanent marker (Dollar Tree), craft knife, string clear lights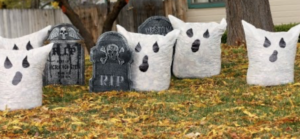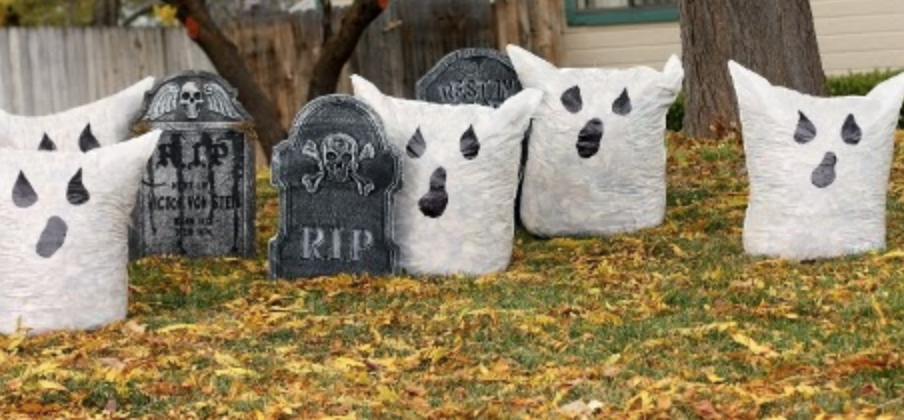 Ghost Leaf Bags
white trash bag, black permanent marker
Both items you can get at Dollar Tree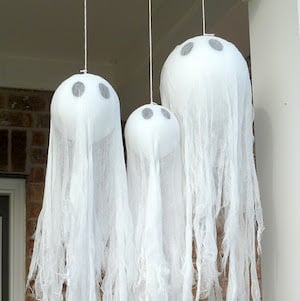 Pottery Barn Inspired Hanging Ghosts
styrofoam balls, black craft paint, cheese cloth (or creepy cloth), eye screws, E6000 Glue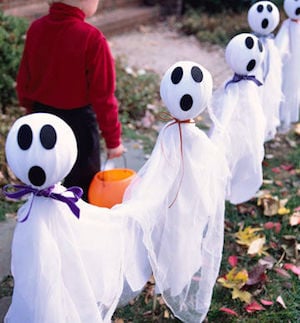 Friendly Ghosts
white foam ball, black felt or foam, ribbon
You can get everything for $1.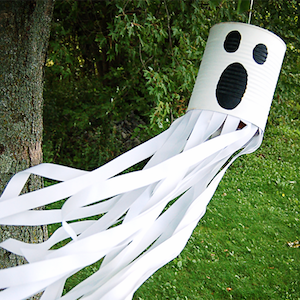 DIY Tin Can Ghost Windsock
tin can, white spray paint, black paint, white ribbon, twine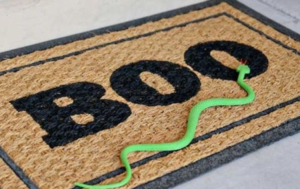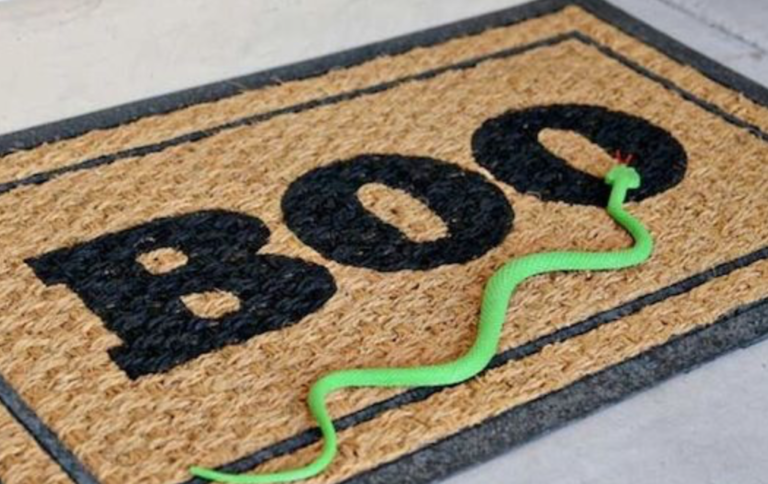 Customized Halloween Door Mat
floor mat (Dollar Tree), stencils, acrylic paint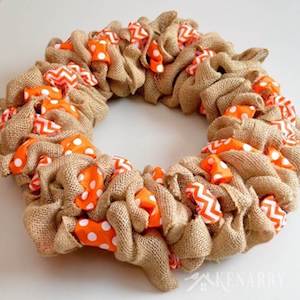 Burlap Wreath With Accent Ribbon
wide burlap ribbon, wire wreath, accent ribbons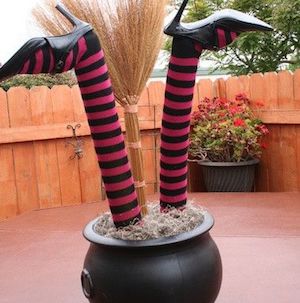 DIY Witch Legs
pool noodle (Dollar Tree),  stockings (Dollar Tree), large black heels (thrift store)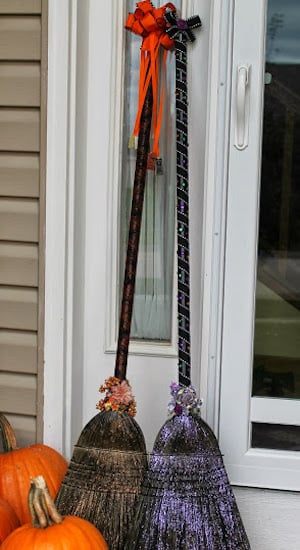 Witch Broom DIY
$1 broom, black spray paint, glitter, ribbons, gems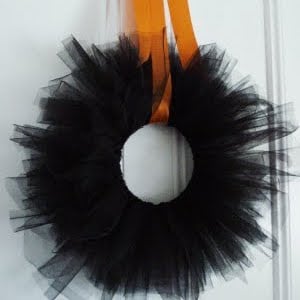 Frugal Tulle Halloween Wreath
black spray paint, foam wreath, black tulle, orange ribbon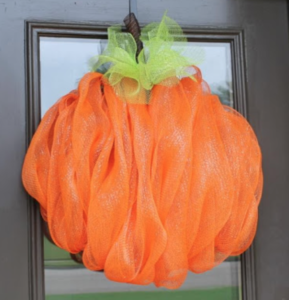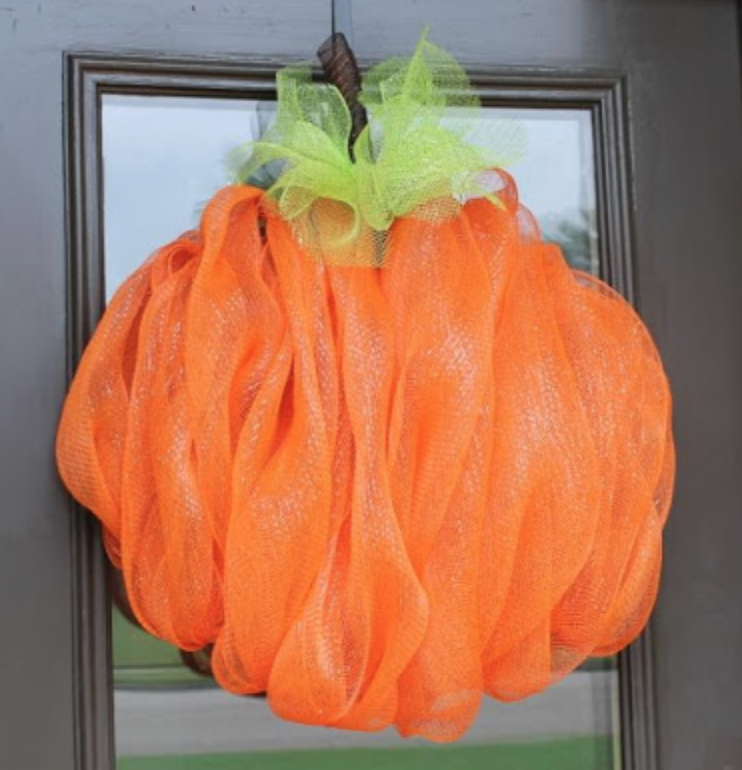 Mesh Pumpkin Wreath
wire wreath, orange mesh, green deco mesh, orange chenille stem
You can get everything at Dollar Tree. It only cost $5 to make this pumpkin wreath!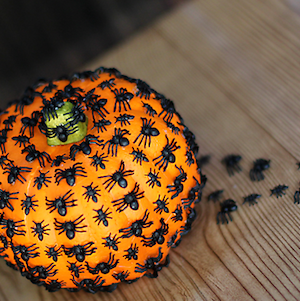 Creepy Crawly Pumpkin 
2 packs of mini creatures, foam pumpkin
Both items can be found at Dollar Tree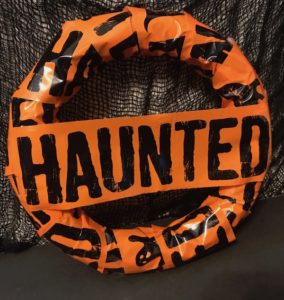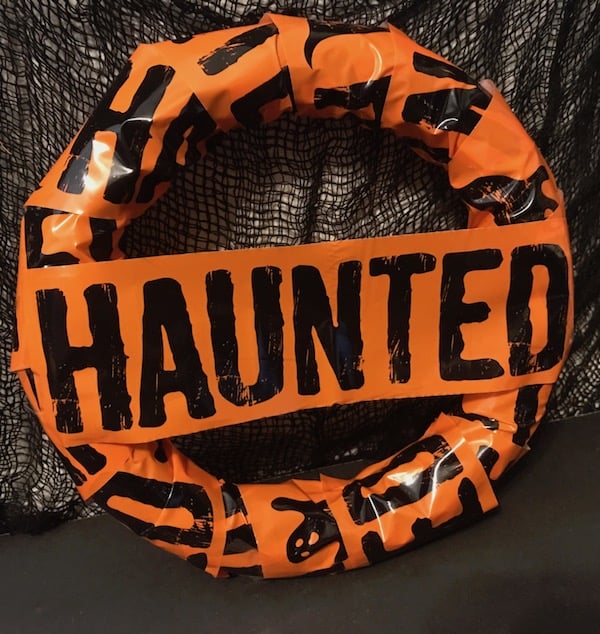 Creepy Tape Wreath
clear tape, haunted tape, foam wreath
Frugal Indoor Halloween Decorations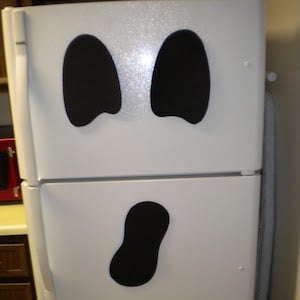 Ghost Refrigerator
black foam, circle magnets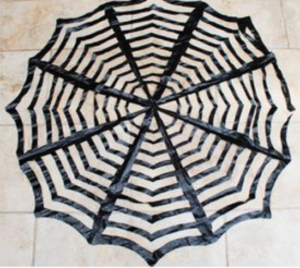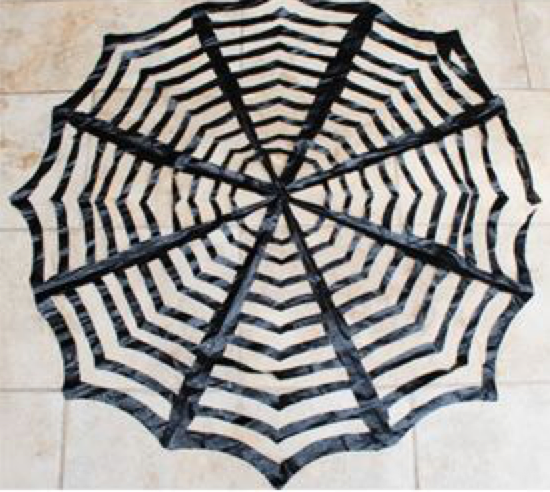 Trash Bag Spider Webs
cheap black trash bags, scissors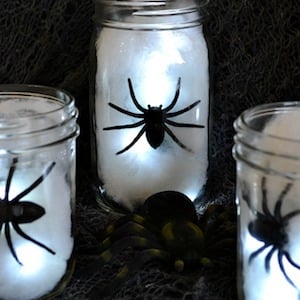 Spider Light Centerpieces
mason jar, spiderweb, plastic spiders, led tea lights
You can get all of these items at Dollar Tree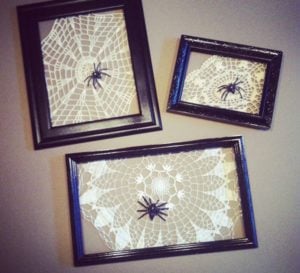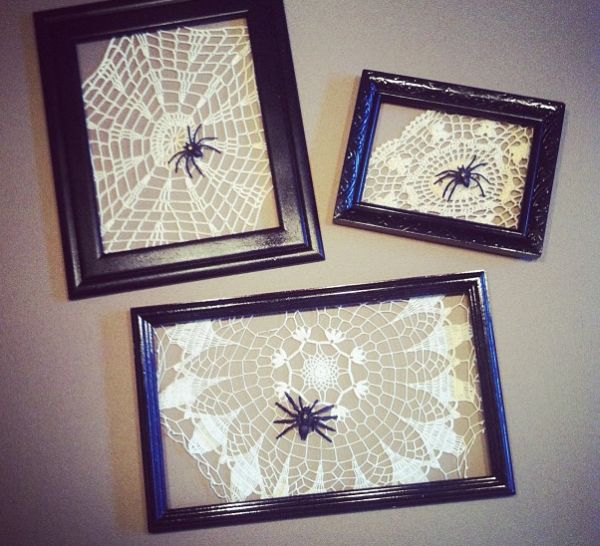 Spooky Spider Picture Frame
black picture frame, white dollies, large black spiders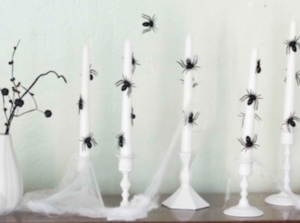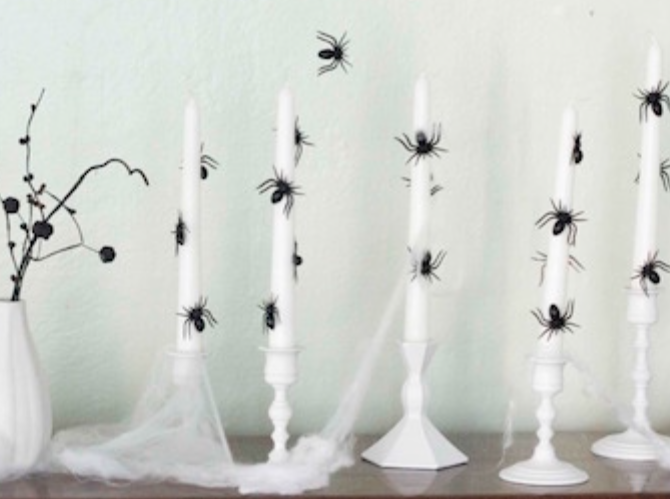 Ghostly Spider Mantel
white taper candles, glass taper candle holder, white spray paint, plastic spiders, spider webs
You can get all of these items for $1 at Dollar Tree and Walmart.
Paint the candleholders and vase white. Glue spiders to candles. Add spider webs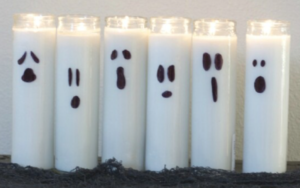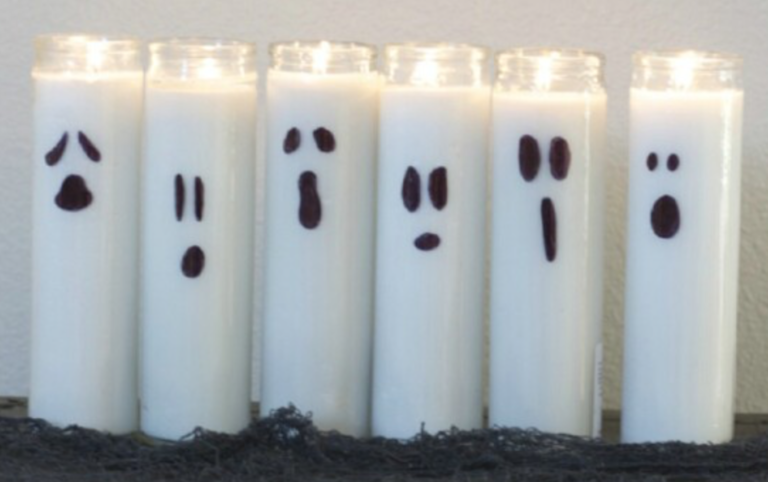 Ghost Candles
glass jar candle, 8″ (Dollar Tree), black permanent marker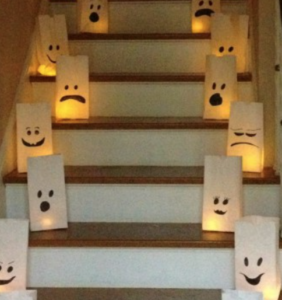 Ghost Paper Bags
white paper bags (Dollar Tree), LED tea light candles (Dollar Tree, 2 pack), black marker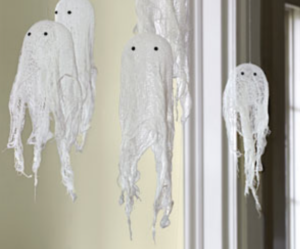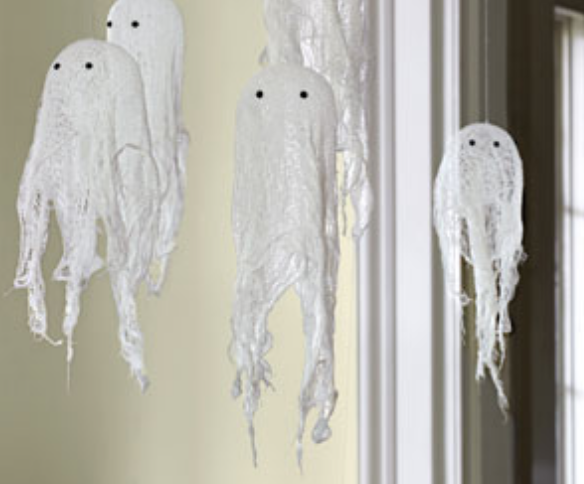 Cute Hanging Ghosts
Cheese cloth or white creepy cloth, craft balls,fishing line for hanging, black marker
You can get everything but the fishing line at Dollar Tree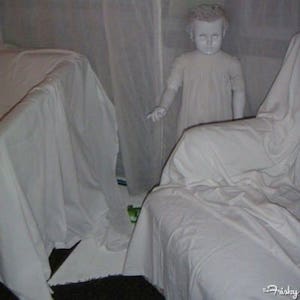 Ghostly Room
sheer white fabric, white sheets, white spray paint, doll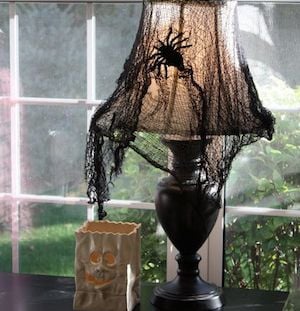 Creepy Lamp
creepy cloth, plastic spider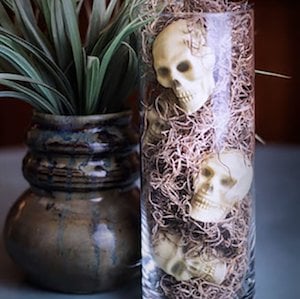 Vase of Skulls (#6)
small skeletons, tall glass vase, spanish moss
All of these are items you can get at Dollar Tree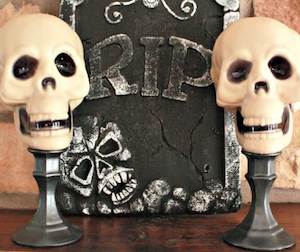 Dollar Store Skull Pedestals 
glass taper candleholder, plastic skulls, black paint
You can get the candleholder and skull at Dollar Tree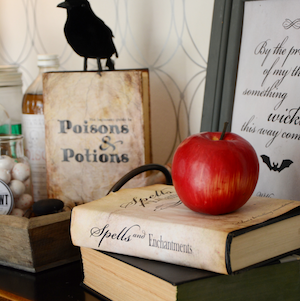 Potions Book
old books, free printable book covers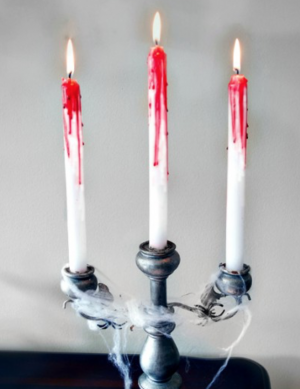 DIY Bleeding Candle
White taper candles, red taper candle
Just light the red candle and drip it over the top of the white candle.
Tip: If you don't have a candelabra, you can put the candles inside an empty wine bottle
and put a creepy printable label on the bottle.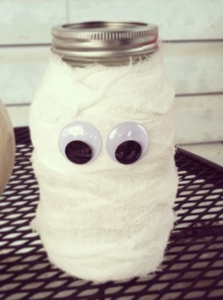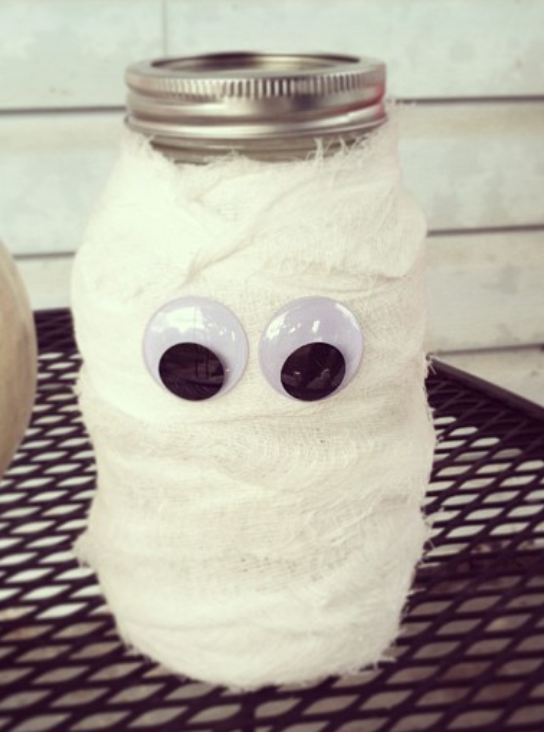 Mummy Jar
gauze, large googly eyes, mason jar
You can get all of these items at Dollar Tree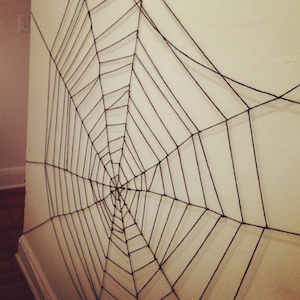 Yarn Spiderweb
yarn, scissors, scotch tape, spiders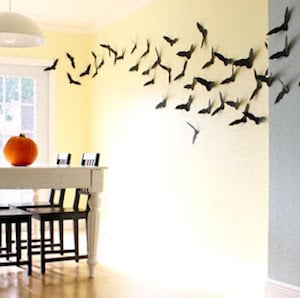 Black Bats
black construction paper (Dollar Tree), printable bat template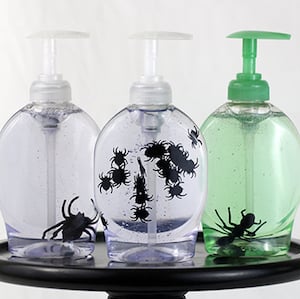 Halloween Hand Soap
confetti, mini creatures, hand soap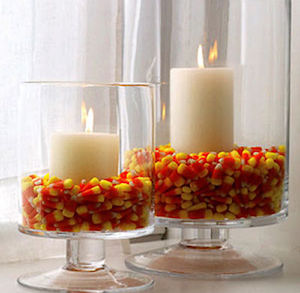 Candy Corn Candles II
tall glass candleholders, pillar candles, candy corn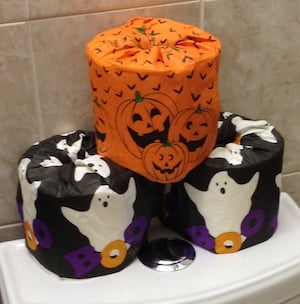 Toilet Paper Covers
Halloween napkins, toilet paper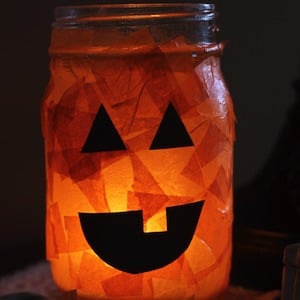 Halloween Mason Jar
mason jar, orange tissue paper, mod podge, black construction paper, sponge brush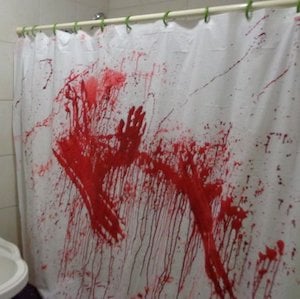 Murder Scene Bathroom
$1 shower curtain, pint of fake blood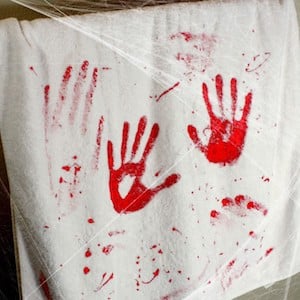 Bloody Bath Towel
$1 hand or bath towel pint of fake blood
Frugal Halloween Party Ideas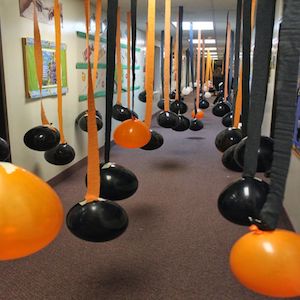 Orange and Black Balloon Streamers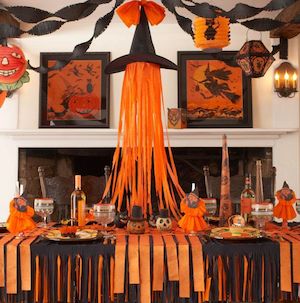 Streamer Party Decorations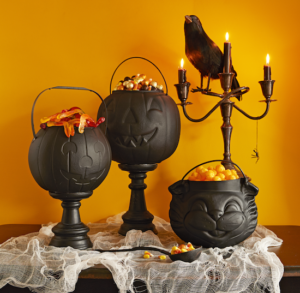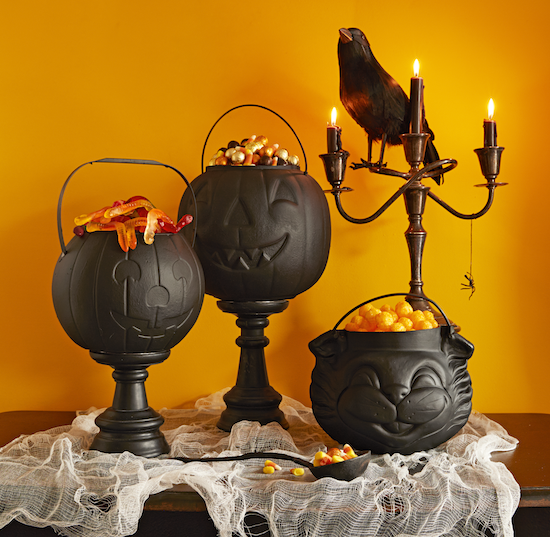 Pumpkin Cauldrons
pumpkin pails, black spray paint, creepy cloth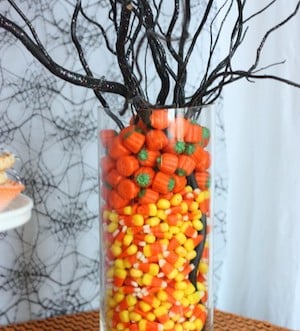 Candy Corn Centerpiece
branches, black spray paint, candy corn, candy pumpkins, glass vase, paper towel roll
Put the paper towel roll in the center of the vase and pour the candy around the roll. Then put the black spray painted branches in the middle. You could also fill it with fall colored florals from Dollar Tree.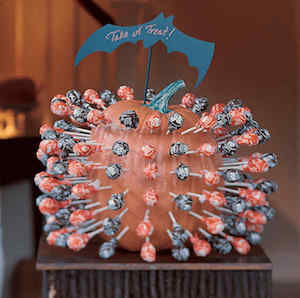 Pumpkin Lollipop Holder
pumpkin, lollipops, drill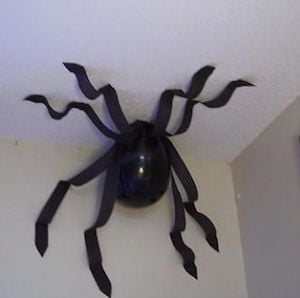 Giant Balloon Spider
large black balloon, black streamers, tape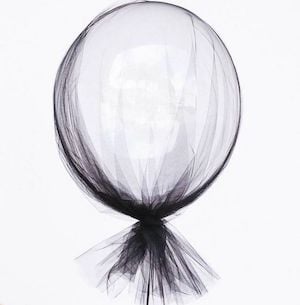 Black Tulle Balloon
tulle ribbon, clear balloon, black string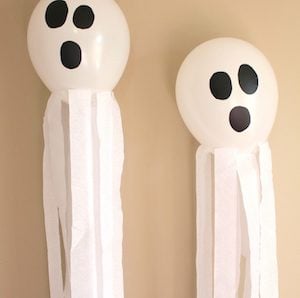 Ghost Balloons
white balloons, white streamers, black sharpie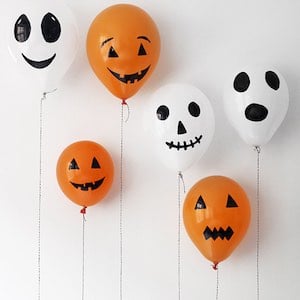 Halloween Balloons
white & orange balloons, black marker, black string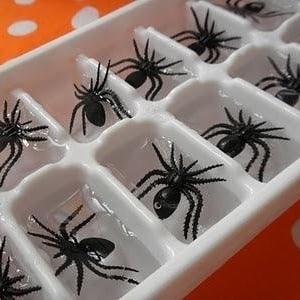 Spider Ice Cubes
ice cube trays, plastic spiders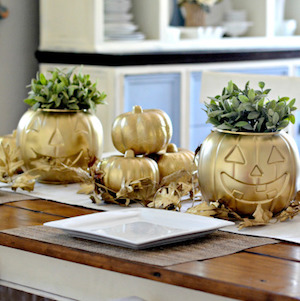 $1 Pumpkin Centerpiece
pumpkin pails, fall leaf garland, gold spray paint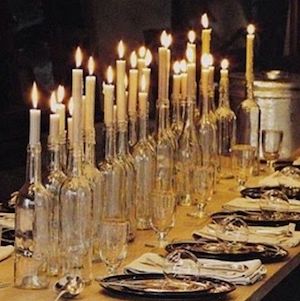 Halloween Candle Centerpiece
old wine bottles, white taper candles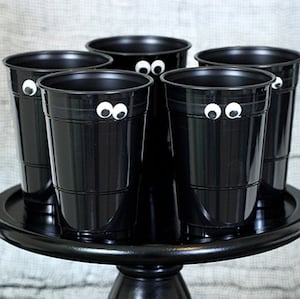 Spooky Halloween Party Cups
black party cups, googly eyes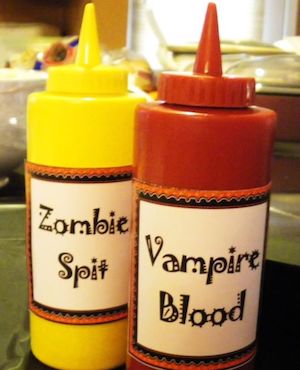 Spooky Condiment Bottles
$1 condiment bottles, printable stickers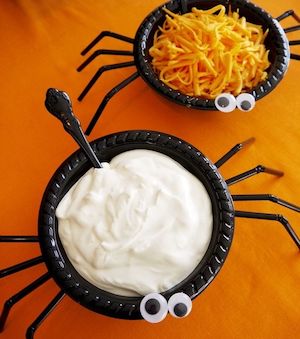 Spider Dip
black chenille stems, googly eyes, black party bowls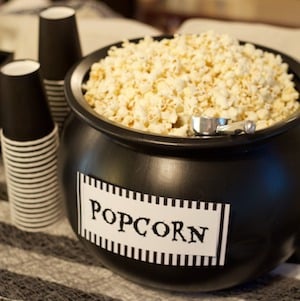 Cauldron of Snacks
$1 cauldron, popcorn, chips, crackers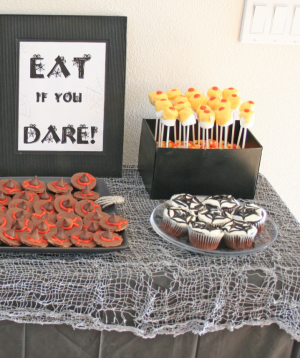 Creepy Cloth (Dollar Tree)
Add it to your table, halloween scene, lamp shades and curtains for a budget-friendly spooky touch!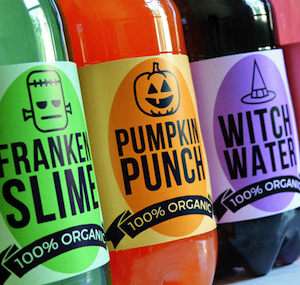 Halloween Soda Labels
$1 soda bottles, free printable labels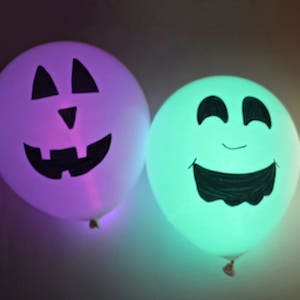 Light Up Halloween Balloons
white latex balloons, glow sticks, black sharpie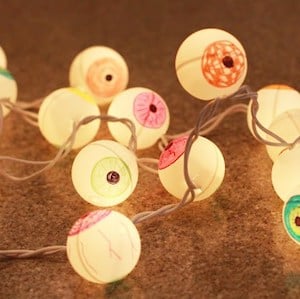 DIY Eyeball Lights
ping pong balls (Dollar Tree), sharpies, string lights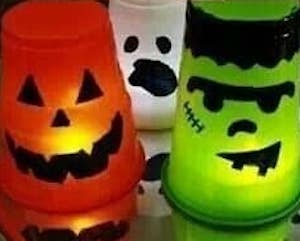 Halloween Cups
sharpie, plastic cups, glow sticks
Frugal Halloween Recipes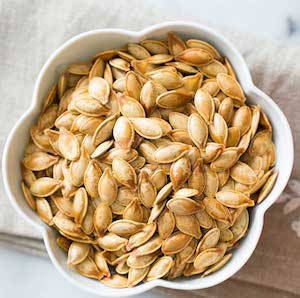 Roasted Pumpkin Seeds from Simply Recipes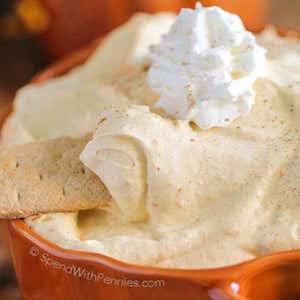 Fluffy Pumpkin Pie Dip from Spend with Pennies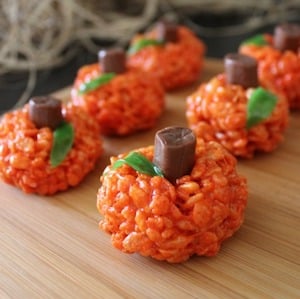 Pumpkin Rice Krispie Treats from Cincy Shopper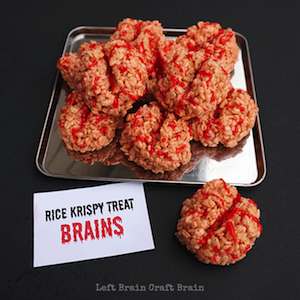 Rice Krispy Treat Brains from Left Brain Craft Brain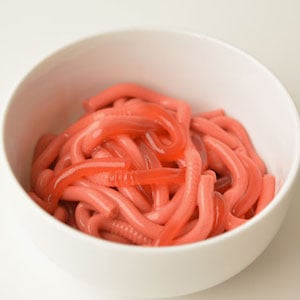 Jello Worms from One Little Project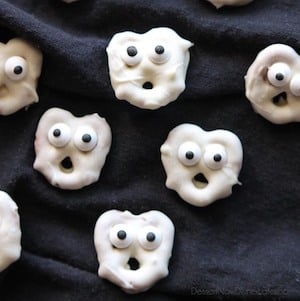 Ghost Pretzels from Dessert Now Dinner Later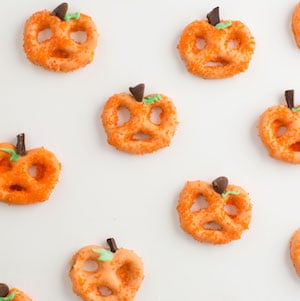 Chocolate Covered Pretzel Pumpkins from I Heart Naptime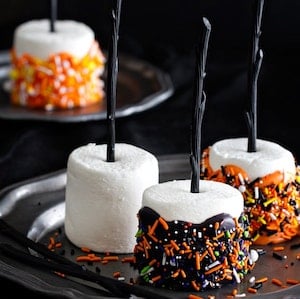 Halloween Marshmallow Pops from My Baking Addiction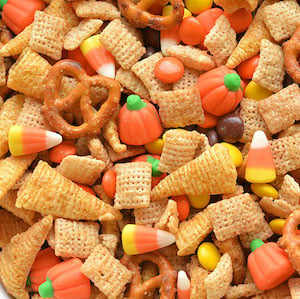 Halloween Harvest Hash Chex Mix from One Little Project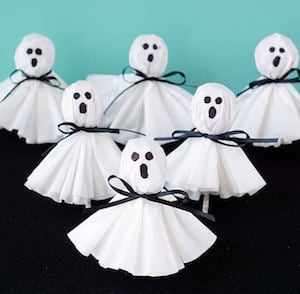 Ghost Lollipops
lollipops, coffee filters, small rubber bands, thin ribbon, black sharpie marker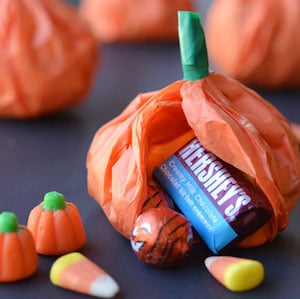 Tissue Paper Pumpkin Favors
orange tissue paper, floral tape, candy, 9″ cake pan
You can get everything at the Dollar Tree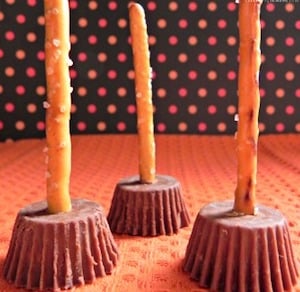 Witch Brooms from Couponing to Disney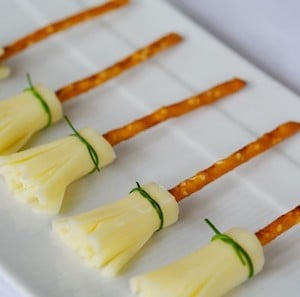 Cheese and Pretzel Broomsticks from One Little Project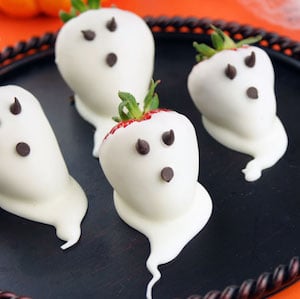 Strawberry Ghosts from Candiquick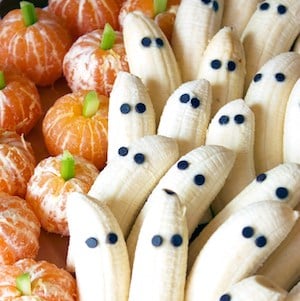 Tangerine Pumpkins & Banana Ghosts from Flo and Grace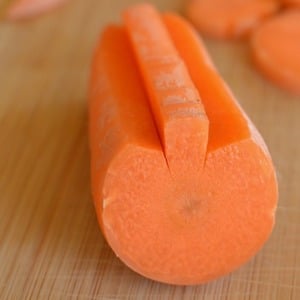 Carrot "Pumpkins" from Little Dairy on the Prairie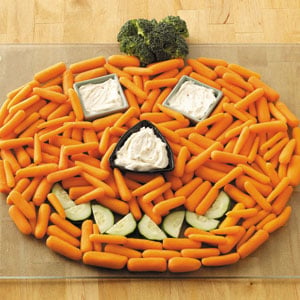 Jack O Lantern Veggie Tray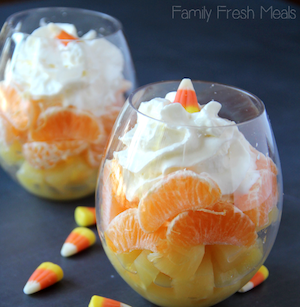 Halloween Snack Candy Corn Fruit Cocktail from Family Fresh Meals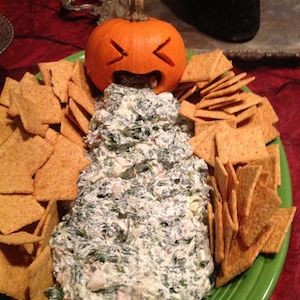 Pumpkin Spewing Dip (Source Unknown)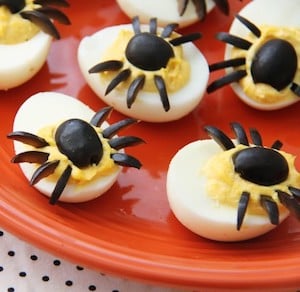 Spider Eggs from Make it Love it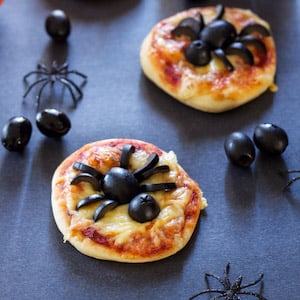 Mini Spider Pizzas from Recipe Runner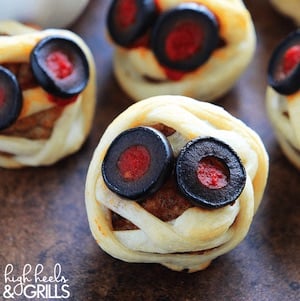 Mummy Meatballs from High Heels and Grills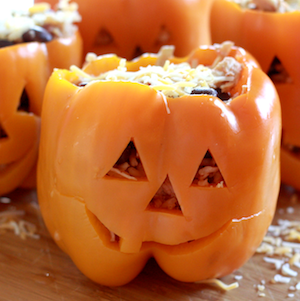 Stuffed Halloween Peppers from Everyday Jenny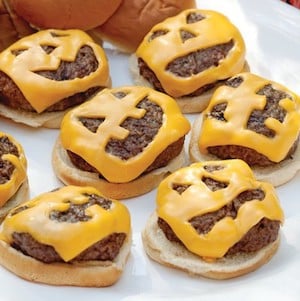 Jack O Lantern Hamburgers  (Source Unknown)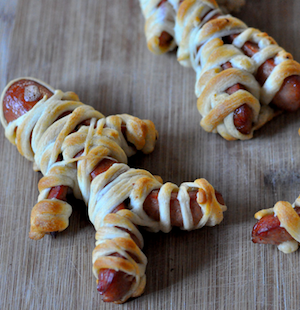 Mummy Hot Dogs from Our Ordinary Life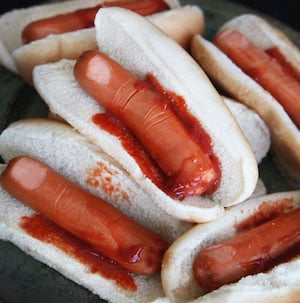 Severed Fingers In A Bun from SheKnows
These are super easy to make (and super creepy!)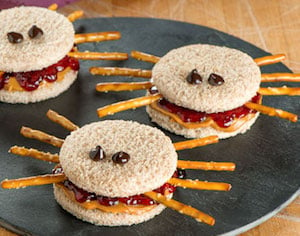 Spooky Spider PB&J from Welchs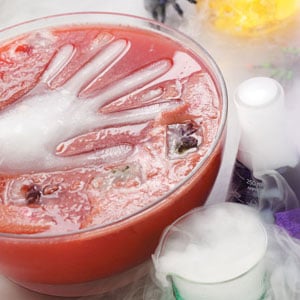 Ghoul Punch with Ice Hand from Taste of Home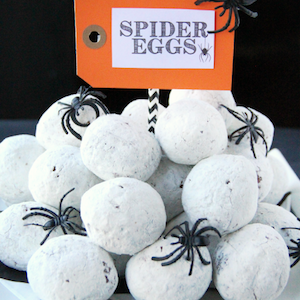 Spider Egg Donuts from Family Fresh Meals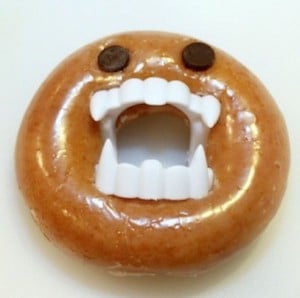 Monster Doughnuts from Thrifty Fun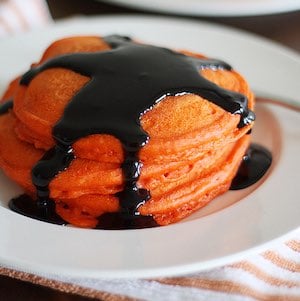 Halloween Pancakes from Girl Versus Dough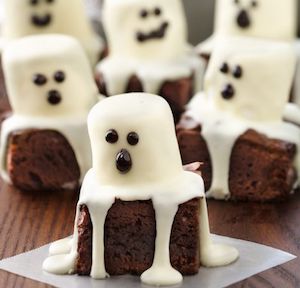 Spooky Boo Brownies from Betty Crocker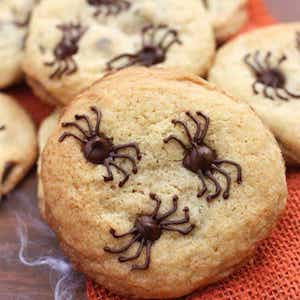 Chocolate Chip Spider Cookies from Tastes Better From Scratch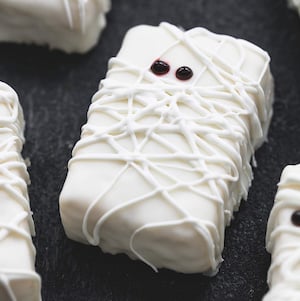 3 Ingredient Rice Krispie Treat Mummies from Creme De La Crumb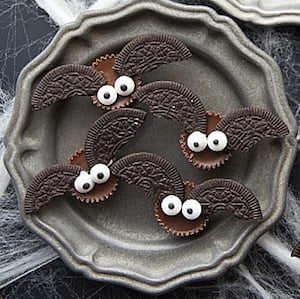 4 Ingredient Mini Bat Cookies from Chelseas Messy Apron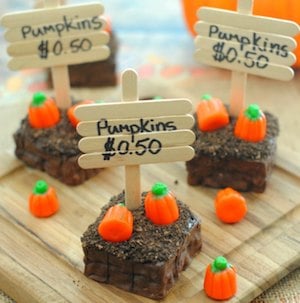 Pumpkin Patch Brownies from Mom Endeavors
Frugal Halloween Games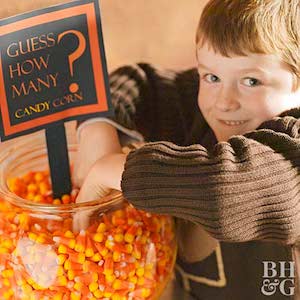 Candy Corn Guessing Game from Better Homes and Gardens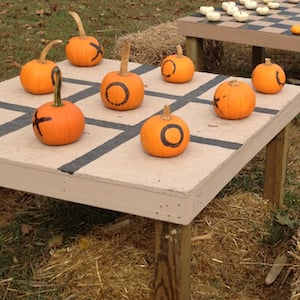 Pumpkin Tic Tack Toe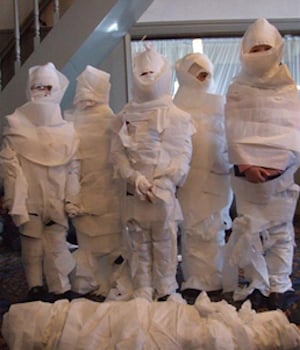 Mummy Wrapping Contest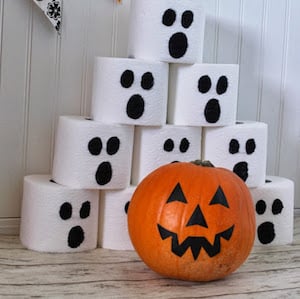 Pumpkin Bowling Using Toilet Paper from I Dig Pinterest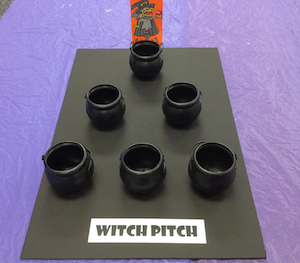 Dollar Store Witch Pitch from Campbell County Public Library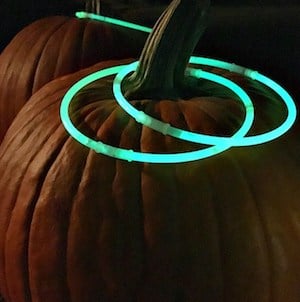 Pumpkin Ring Toss from Kid Friendly Things to Do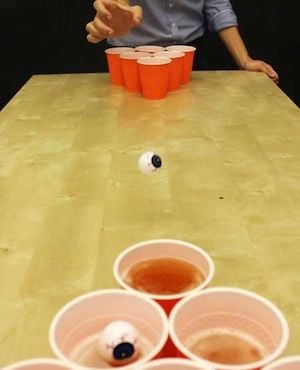 Eyeball Beer Pong
Dollar Tree has eyeball ping pong balls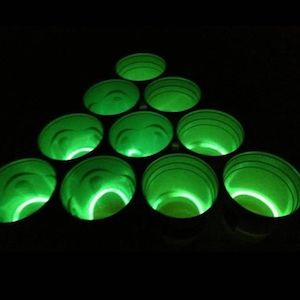 Glow in the Dark Beer Pong
Dollar Tree has the glow in the dark brackets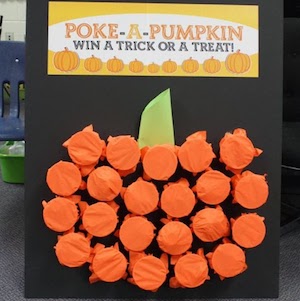 Poke A Pumpkin
orange plastic cups, orange napkins, rubber band, cheap surprises, scrap of green paper
You can get all these items at Dollar Tree