Add a splash of color and creativity to your child's first day of class with these free printable back to school coloring pages. They are free to download and print in PDF format.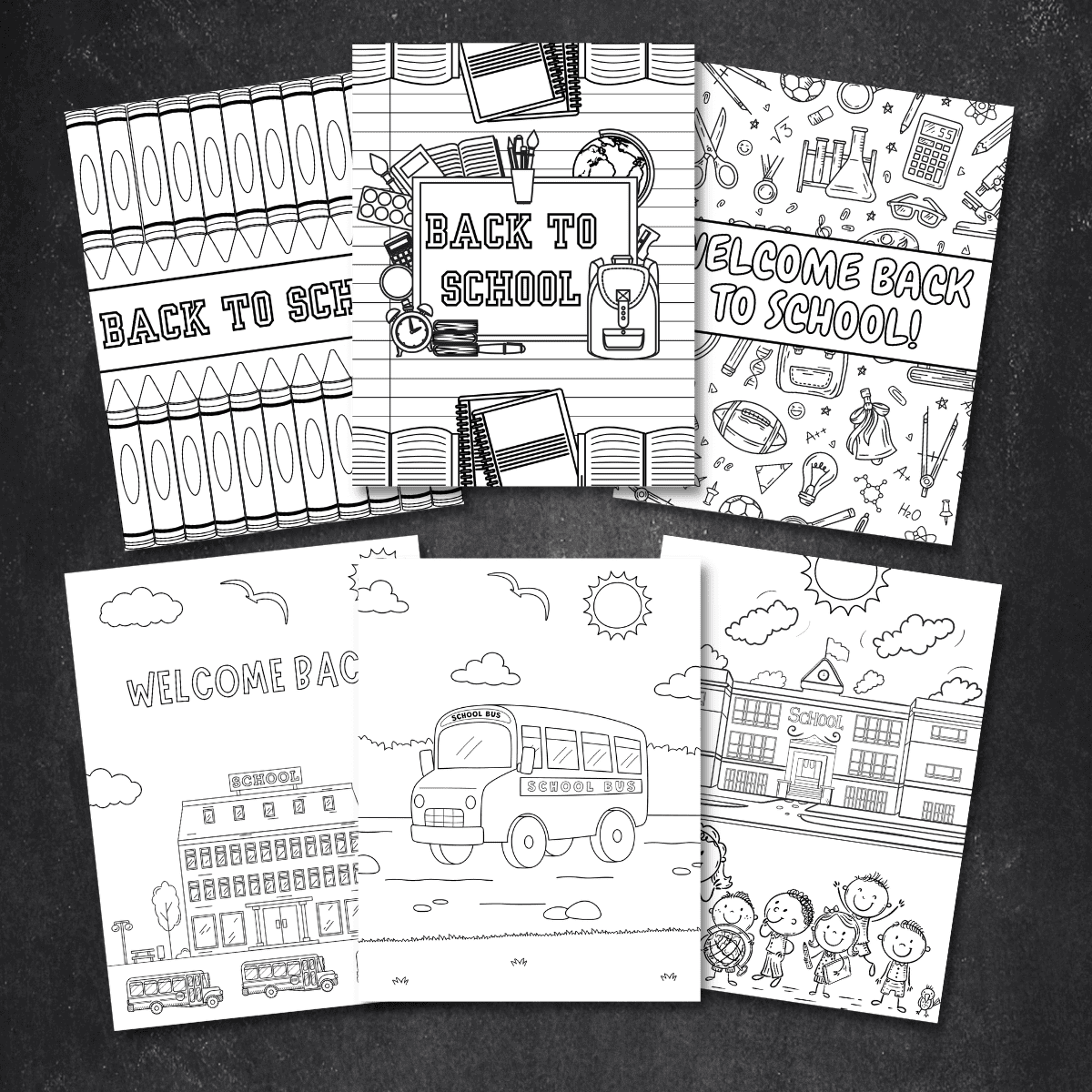 Are you ready to ignite your child's imagination and prepare them for the upcoming academic year in a fun and vibrant way? This collection of free coloring pages for kids is filled with charming school-themed images such as school supplies, buses, backpacks, classrooms, and more.
For hours of back-to-school activities, pair these pages with these back-to-school crafts or these fall crafts, fall coloring pages, and pumpkin coloring pages!
There's no better way to kickstart the new school year than with these school coloring sheets that make a great activity for kids of all ages. Whether you are looking for coloring activities for young children, such as preschoolers or toddlers, or older kids, there are plenty of different designs to choose from.
These free printables will ignite your children's creativity and enhance their fine motor skills and color recognition abilities in a fun way. You can use them to entertain your kids during the summer-to-school transition or include them in their after-school routine as a relaxing activity.
Simply select your favorite images, click the link below the image, and print them out. Then, add a set of colorful crayons, markers, or colored pencils, and let the fun begin!
Jump to:
Back to School Coloring Pages for Young Kids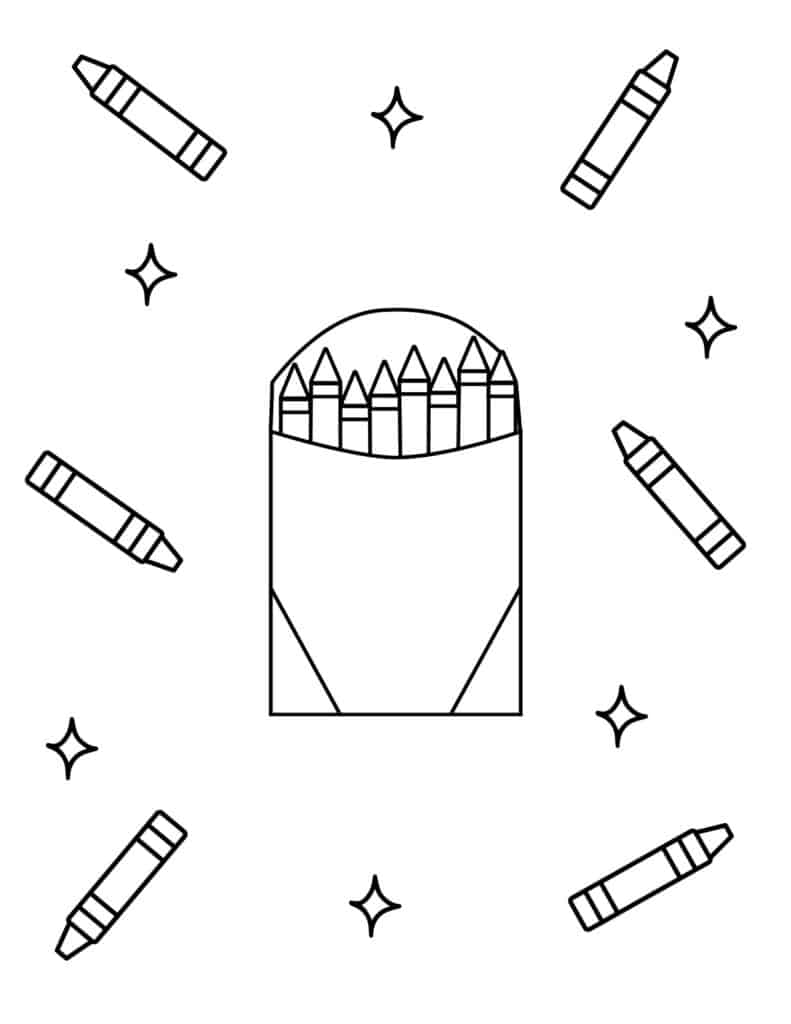 This box of crayons sheet has a vibrant display of assorted crayons. It is perfect for sparking creativity and teaching your children about different shades. They will enjoy coloring in the crayons in their favorite colors.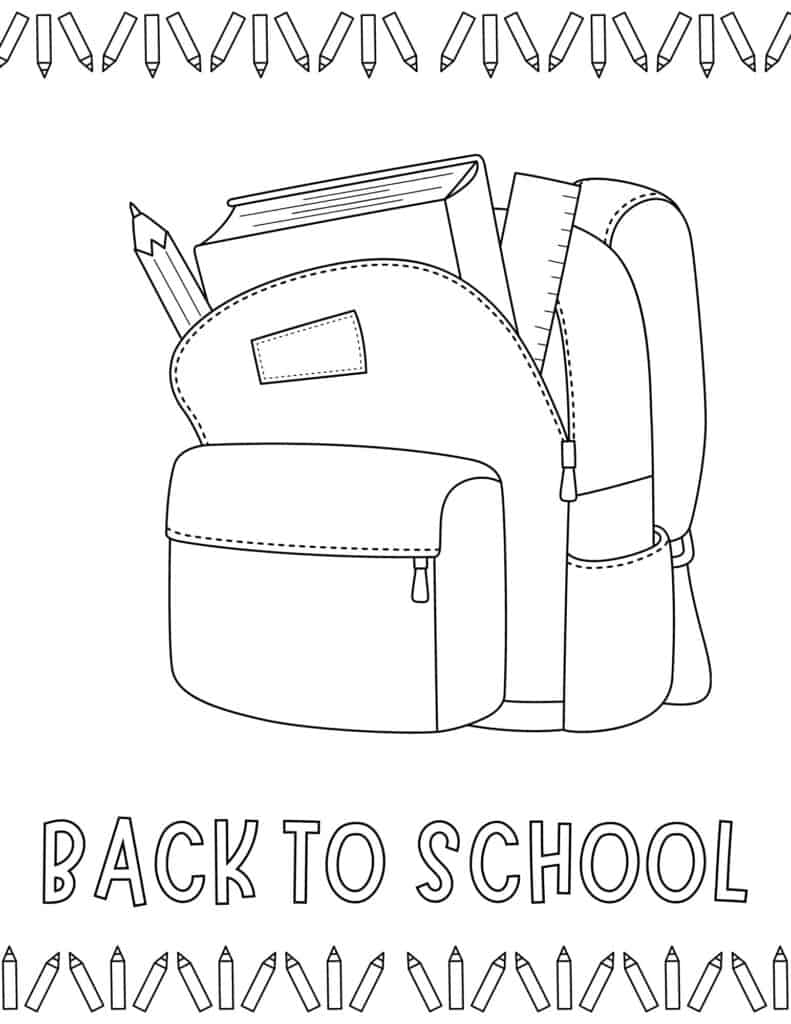 Welcome your child back to classes with our creatively designed backpack filled with essential school supplies.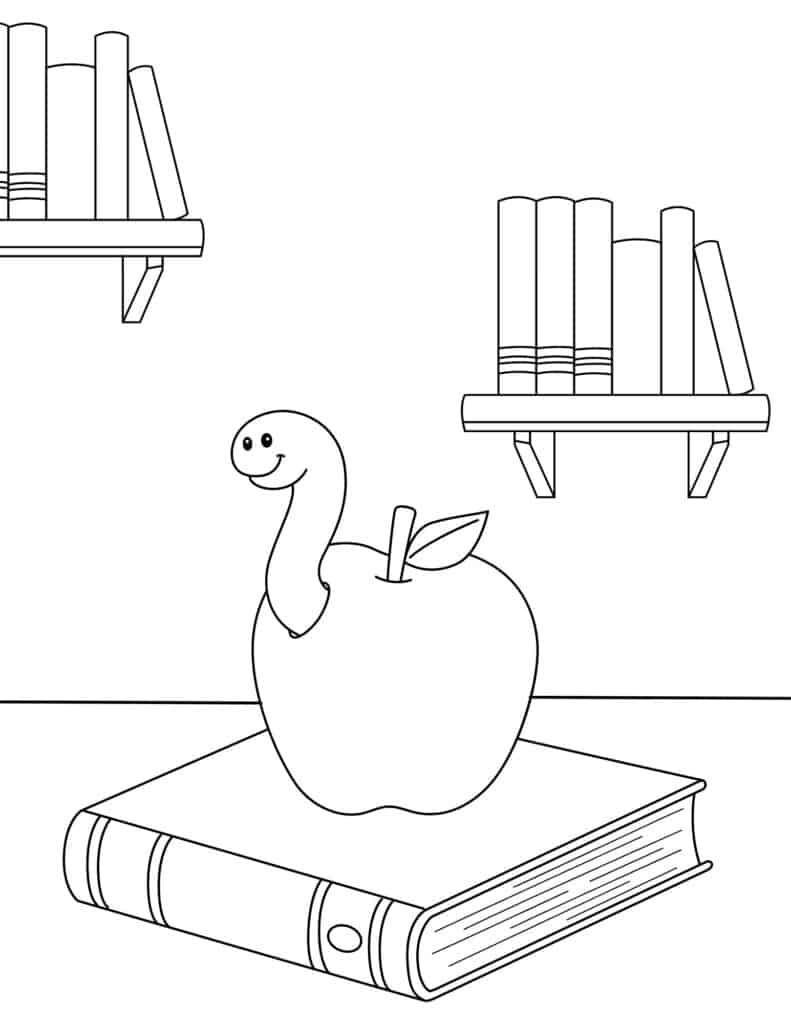 Discover the joy of books with this delightful book sheet. It shows a single book with an apple on top, complete with a cute little worm peeking out!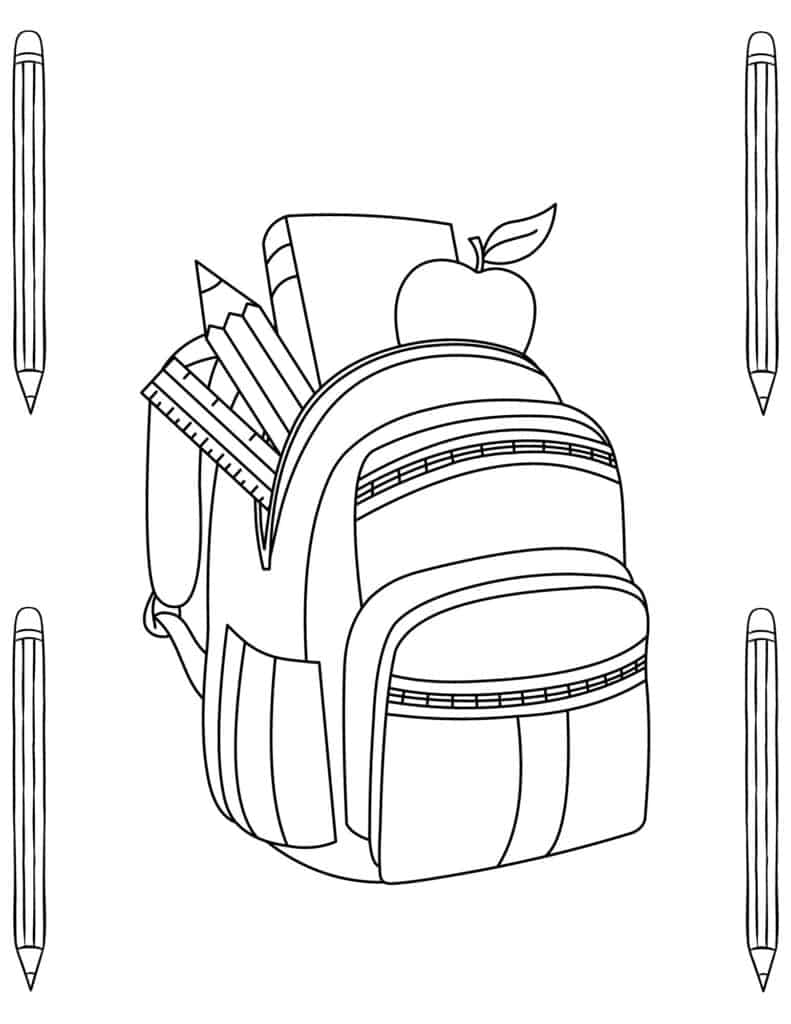 Gear up for the school year with this page, which features a backpack stuffed with supplies surrounded by a pencil border.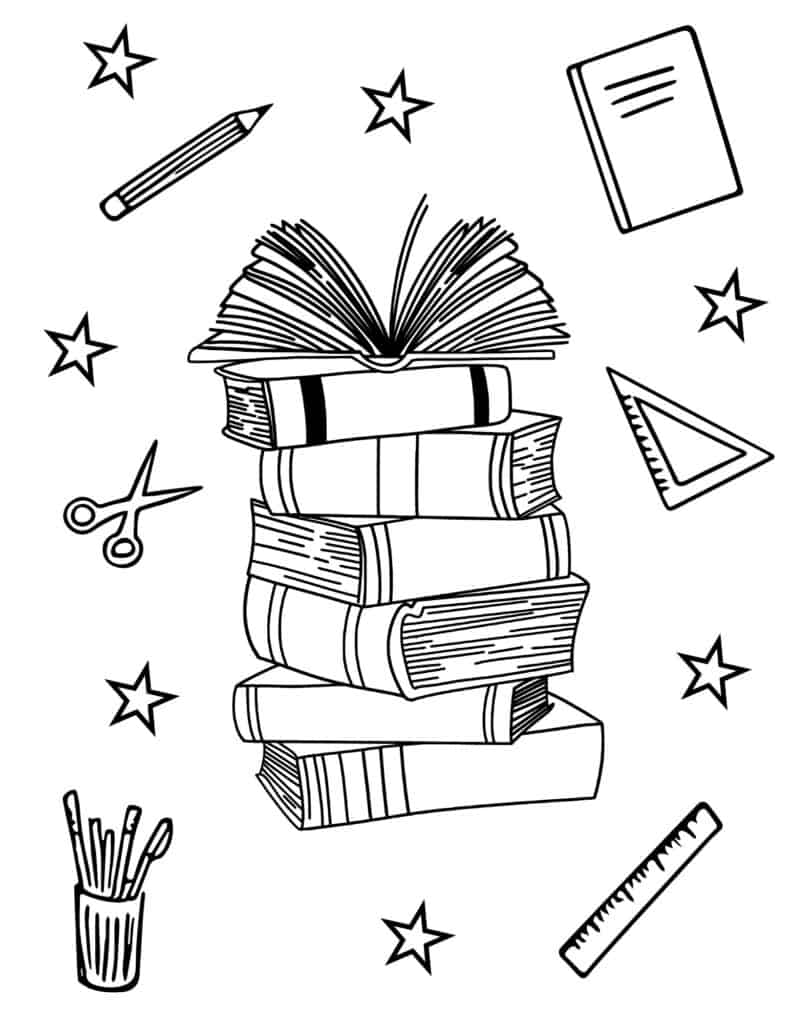 Embark on a literary adventure with this stack of books! It shows a towering pile of books set against a lively backdrop of school supplies.
This chalkboard coloring sheet features a chalkboard displaying the letters 'ABC' above a table adorned with a stack of books and a pencil cup. This classroom scene will add a sense of familiarity and excitement about the upcoming academic year.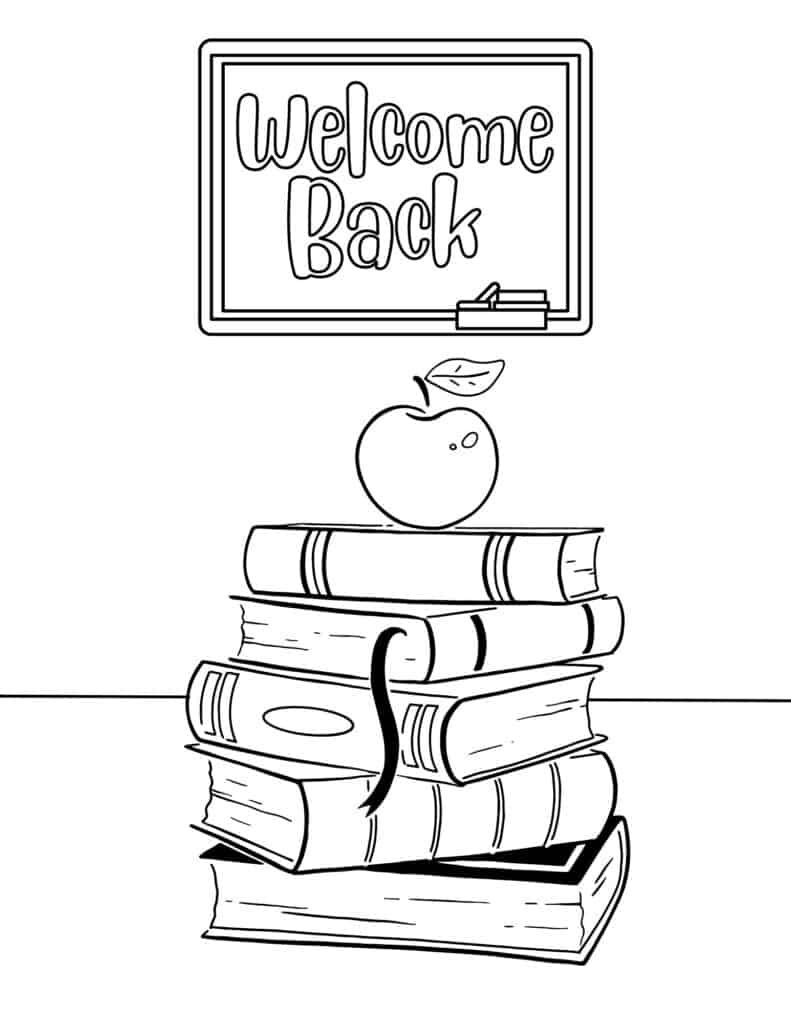 Welcome the new academic year with this inviting chalkboard page. It depicts a chalkboard with the encouraging words 'Welcome Back' above a stack of books with a classic apple on a classroom table.
Coloring Pages for Older Kids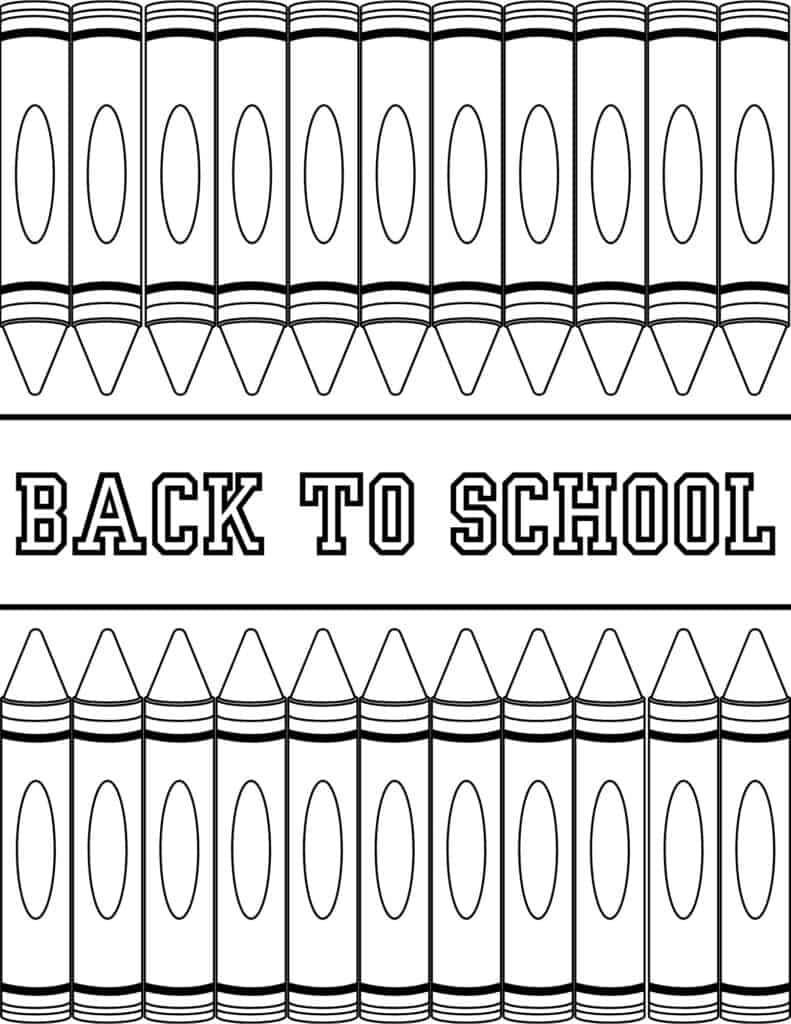 This crayon coloring sheet is surrounded by a lively border of crayons with the words 'Back to School' taking center stage.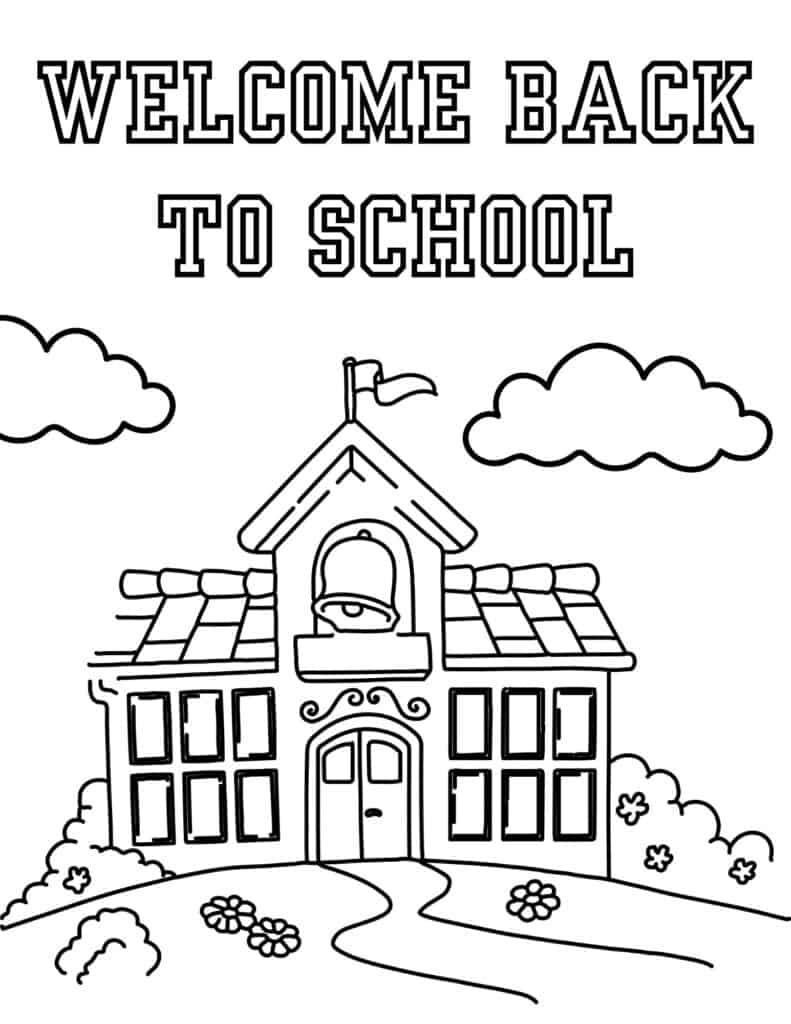 Step back in time with this charming old-fashioned schoolhouse design. This picturesque scene provides a nostalgic coloring adventure for kids of all ages.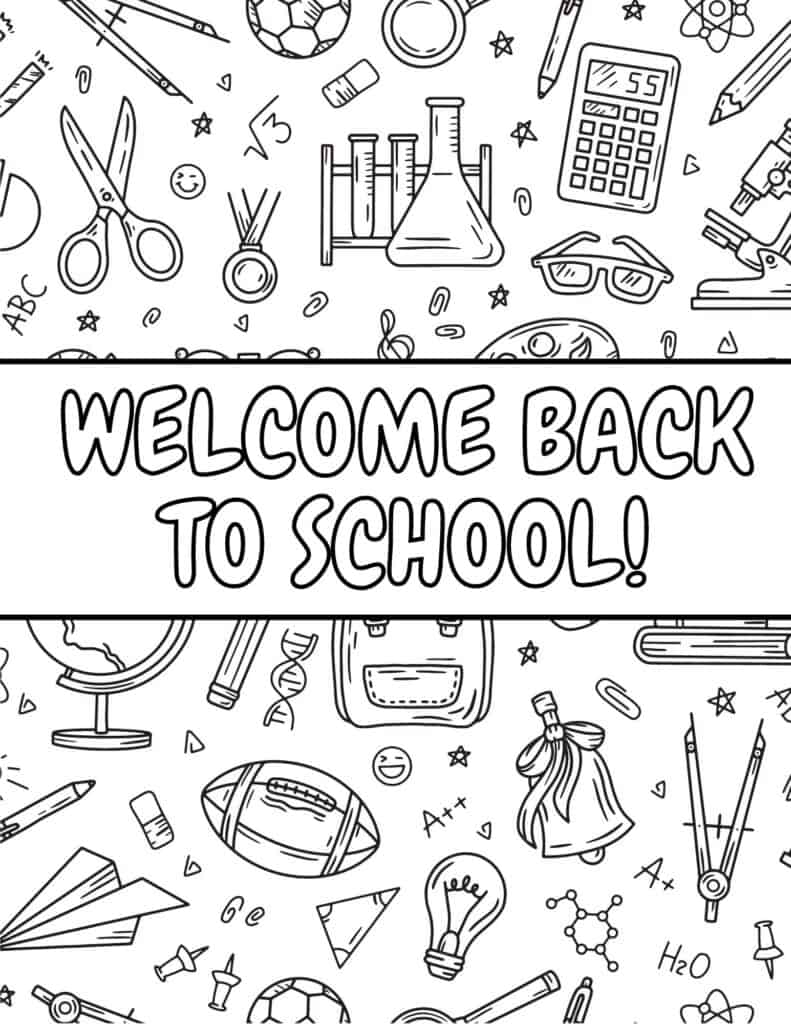 This school supplies coloring sheet is adorned with a plethora of classroom essentials as the background. It is perfect for teens and doubles as a personalized binder cover.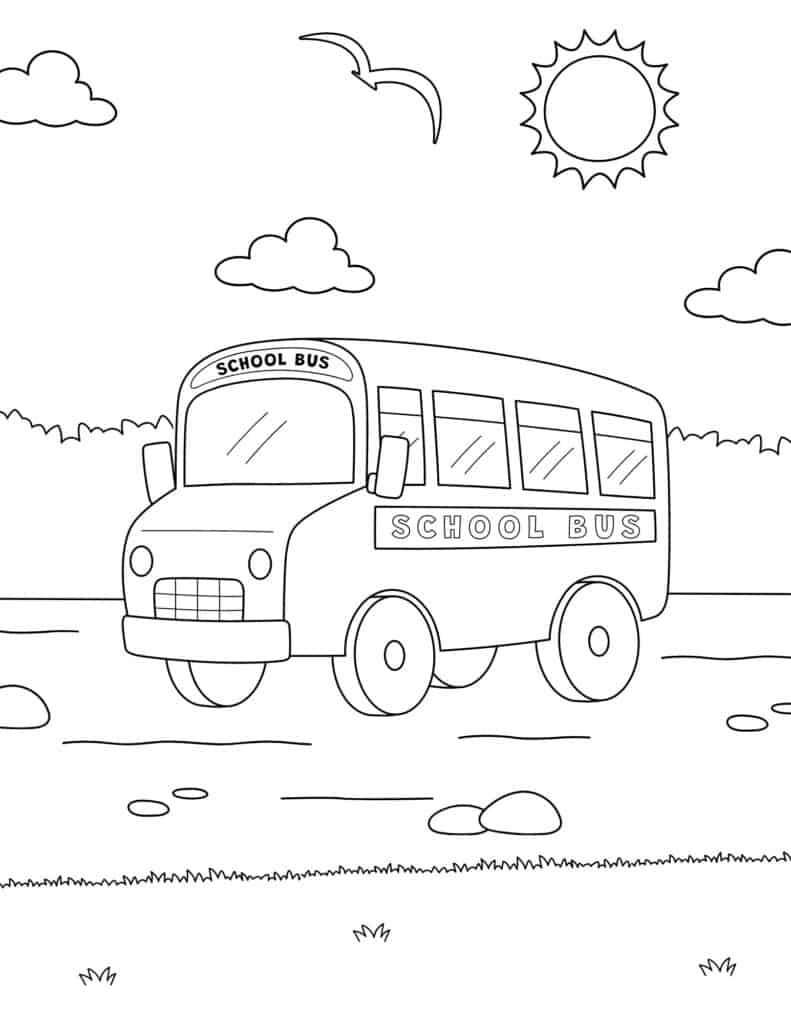 Get on board the journey to knowledge with this school bus coloring page. It shows a cute bus cruising down a scenic country road.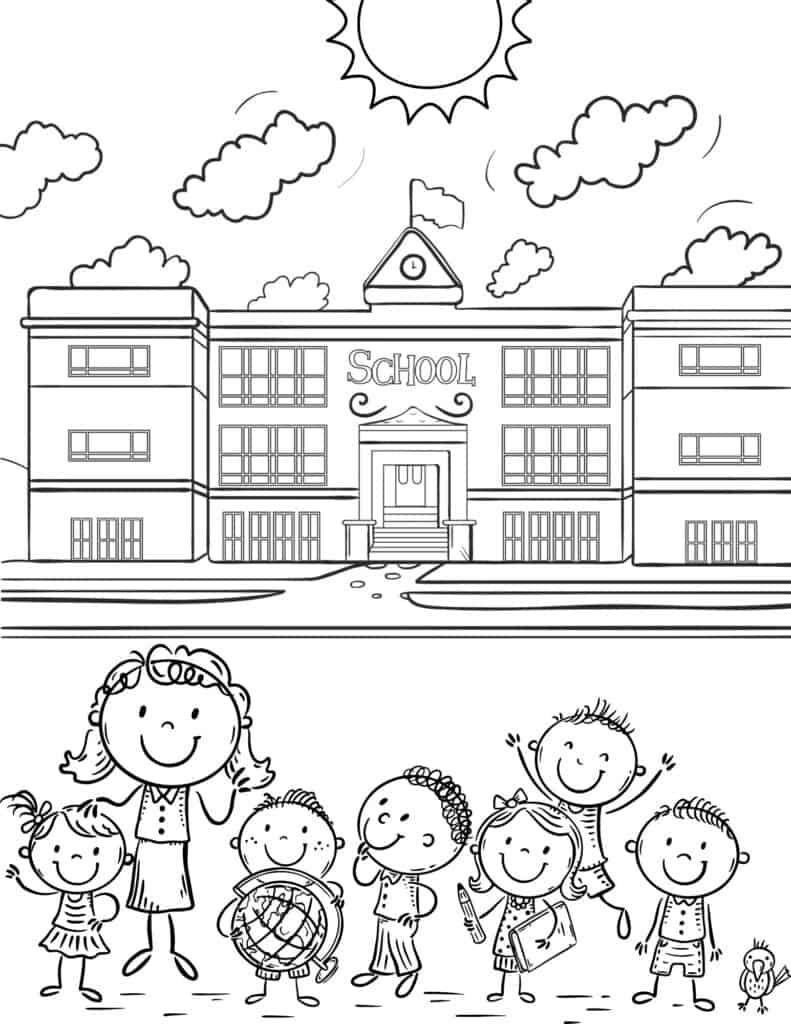 This school building illustration depicts a happy class of students and a friendly teacher, waving enthusiastically from the front of the school.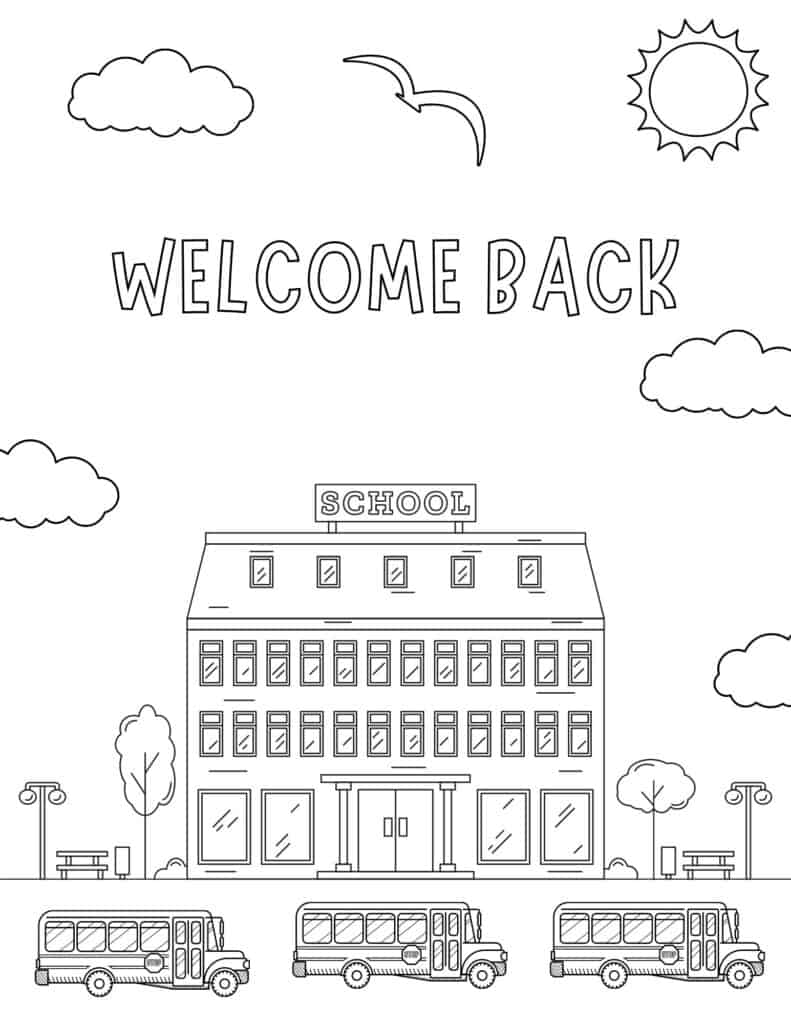 Prepare for the school bell with this page, which shows a bustling school building with buses neatly parked out front. This detailed illustration depicts a quintessential school scene.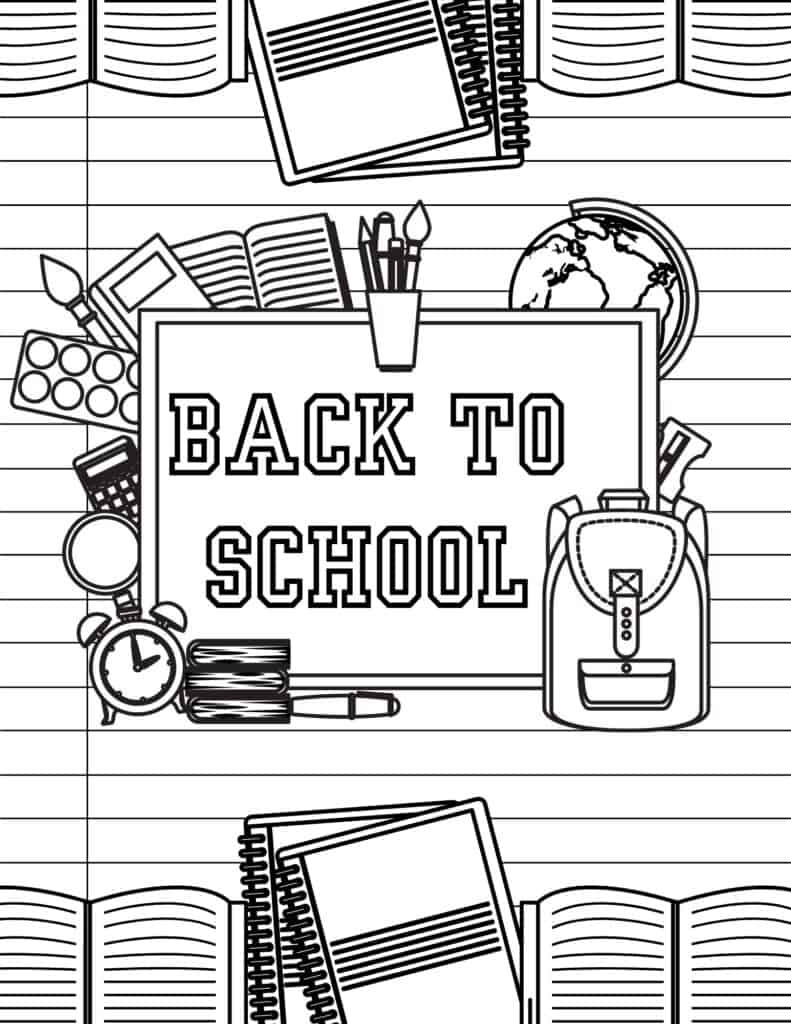 This fun chalkboard coloring sheet features school supply borders and a background of classic notebook paper.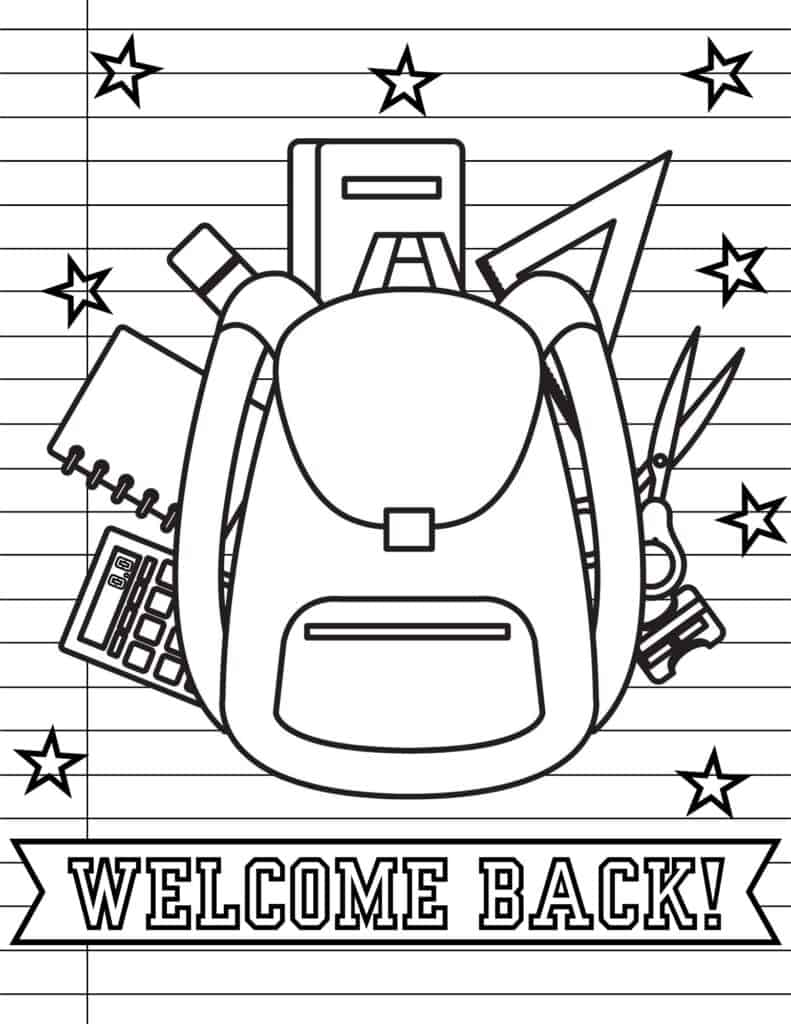 Show your back-to-school excitement with this engaging welcome-back design. It has a backpack stuffed with academic essentials against a background of notebook-lined paper.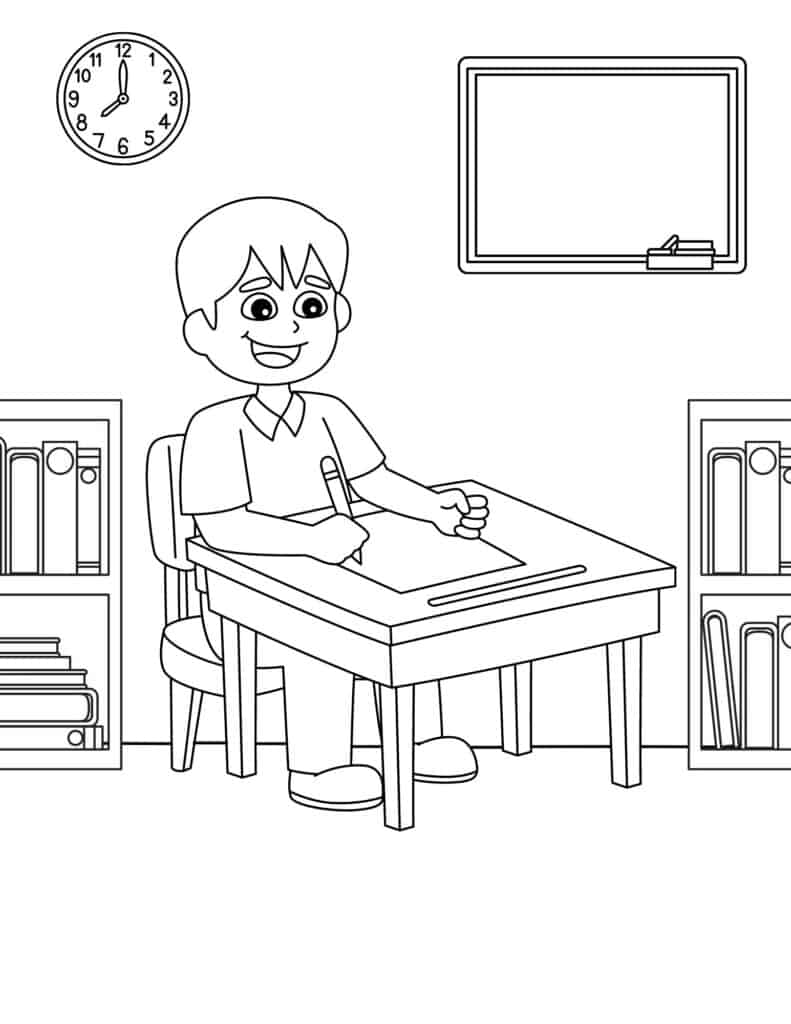 This classroom coloring page shows a studious boy sitting at a desk with rows of bookcases in the background. It paints a vivid picture of an active learning environment.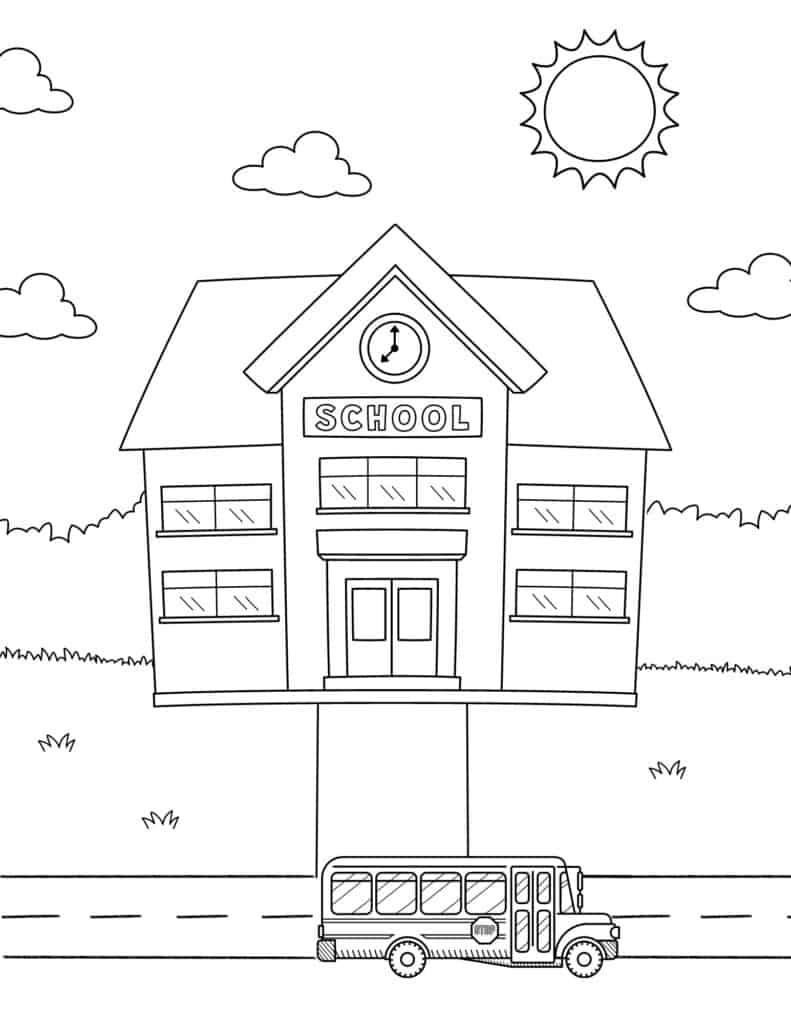 This quaint school building design with a bus parked out front provides a fun coloring experience and depicts a welcoming classroom environment.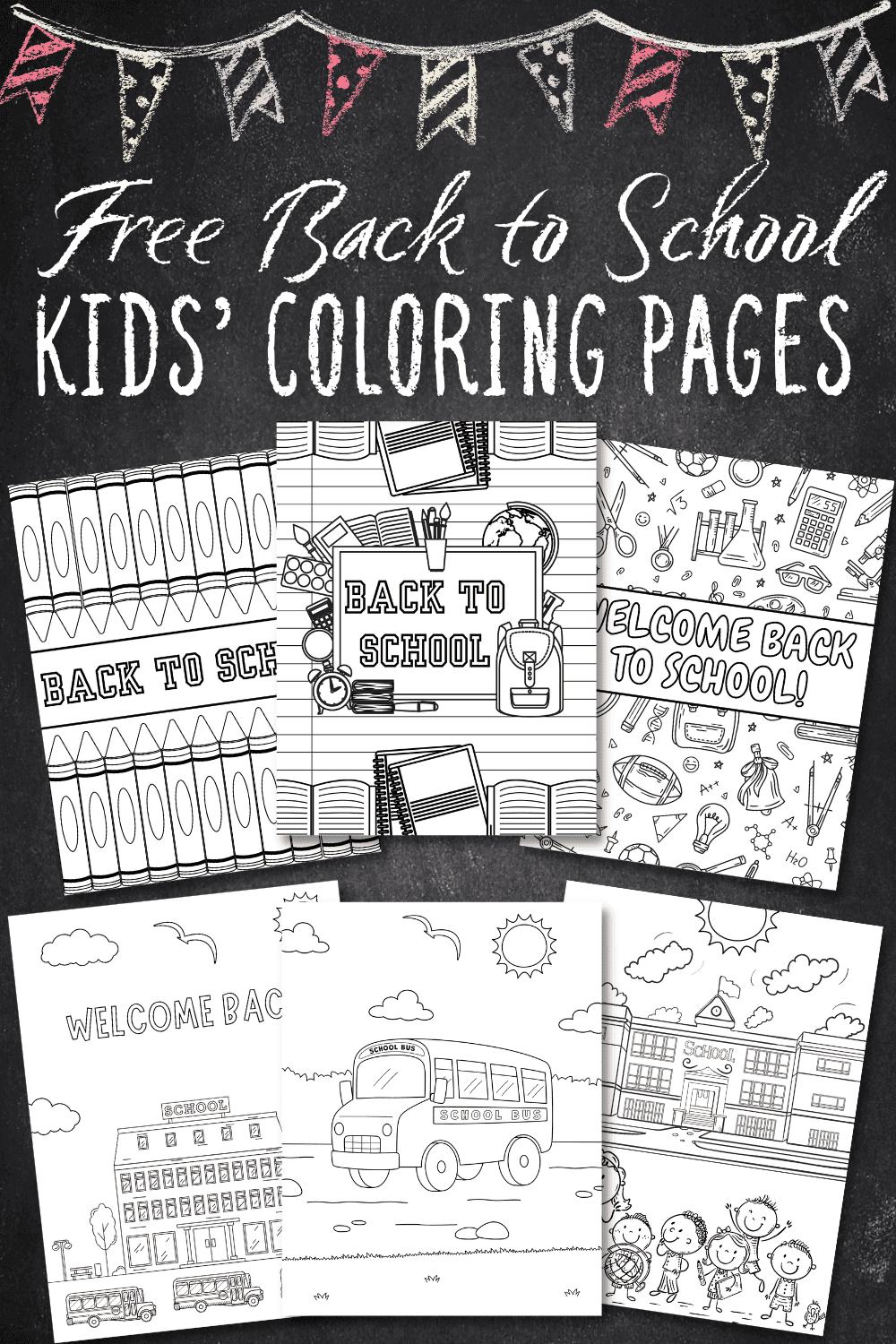 These free printable back-to-school coloring pages will make this new academic year transition fun. By merging creativity with learning, we're putting the power of colorful expression into your children's hands.
Here's to a school year filled with bright possibilities, countless learning experiences, and lots of coloring fun!
More Coloring Sheets
If you tried this coloring page or any other free printables on my website, please let me know in the 📝 comments below!
More Back-to-School Ideas
Follow me on Pinterest, Facebook, or Instagram for more inspiration on crafts, DIY, free printables, and recipes!