Celebrate autumn with these free printable pumpkin coloring pages for kids and adults to download!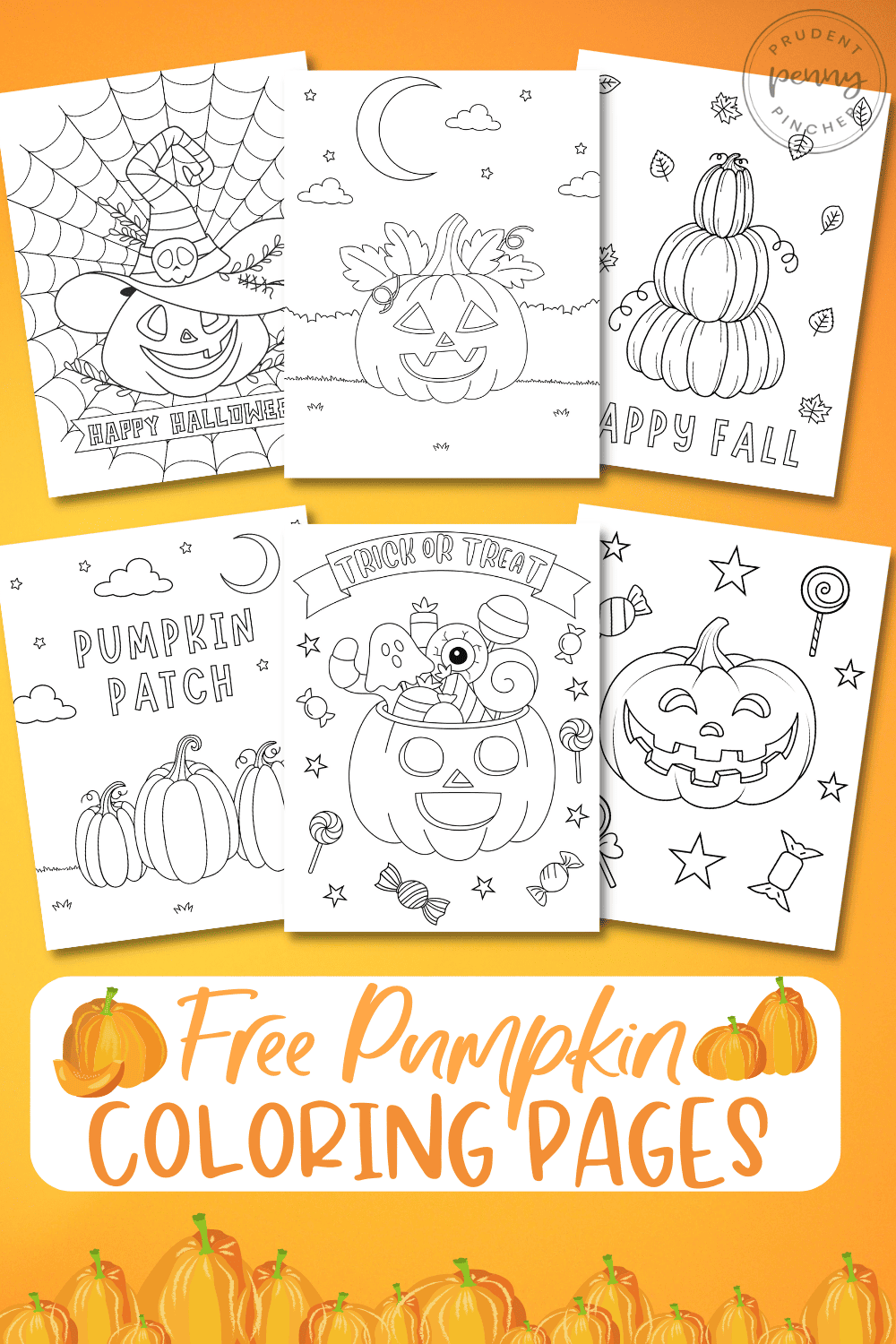 There are an assortment of pumpkin coloring sheets for Fall, Halloween, and Thanksgiving here.
Whether you are looking for free coloring pages for toddlers, preschool kids, older children, teens, or even adults, there are a variety of designs and complexity levels that cater to various skill levels and ages. They are great for a classroom setting or to use at home.
For hours of fun, pair these free printables with these Fall coloring pages, Halloween coloring pages, witch coloring pages or Thanksgiving coloring pages!

— OR —
Use them with these fun Fall crafts for kids, Halloween crafts, or even these Thanksgiving crafts
These printable templates offer a multitude of benefits for both kids and adults. For children, these coloring activities promote the development of fine motor skills, hand-eye coordination, and concentration. It encourages creativity and imagination while providing a fun and engaging activity to pass the time. Additionally, these coloring pages serve as a therapeutic and relaxing activity for adults, offering stress relief, mindfulness, and self-expression.
Jump to:
Supplies Needed
printer paper
crayons, markers, colored pencils, or other art supplies
downloadable PDF coloring page(s) of your choice
printer ink
Tips for Using Printable Coloring Pages
Choose the Right Paper: Select a high-quality paper for your coloring tools. Thick, acid-free paper with a smooth texture is ideal for preventing bleed-through and providing a sturdy surface for coloring.
Adjust Printer Settings: Before printing your coloring pages, make sure to do the following:

Select the appropriate paper type and adjust the print quality to ensure clear and crisp lines.
Ensure the page size is set to "Fit" in the settings to make sure it fits within the page.
Select the "best quality" under your printer settings.

Get Creative: Don't be afraid to add a personal touch to the coloring pages. Experiment with different color combinations and patterns. You can also add stickers, glitter, washi tape, or other accents to your page. Let your imagination run wild and make the coloring page uniquely yours.
Protect Your Work: If you plan to display or preserve your coloring sheets, consider laminating them or using protective sheets. This will keep them safe from smudges, spills, and general wear and tear, allowing you to enjoy your creations for a long time.
Pumpkin Coloring Pages for Kids
Fall Coloring Sheets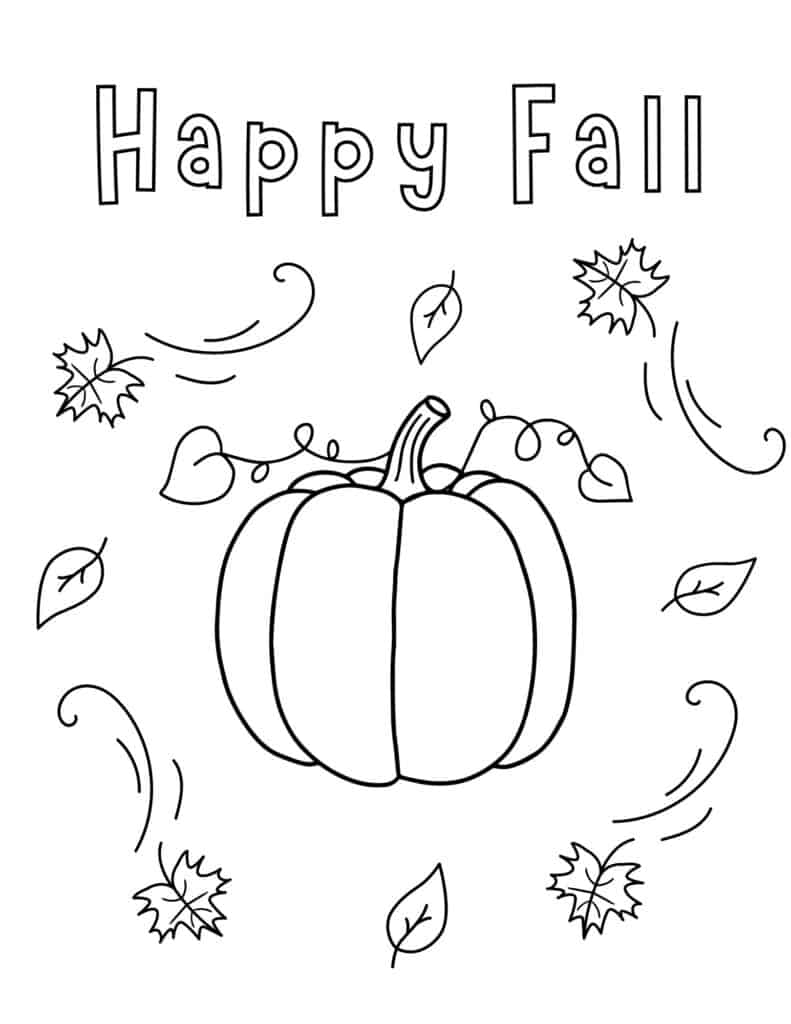 This Happy Fall page showcases a plump fall pumpkin surrounded by a swirl of fall leaves. Kids will love adding vibrant shades of red, orange, and yellow to the leaves!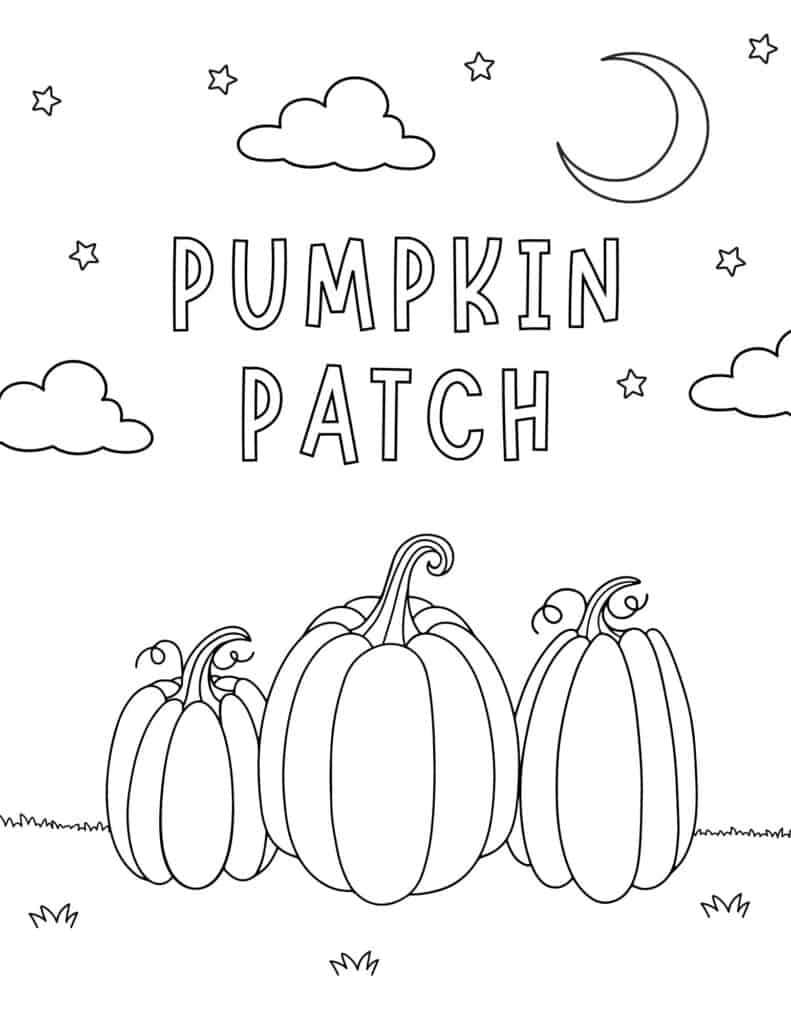 This one features a cute pumpkin patch set beneath a starlit sky, offering an exciting opportunity for kids to explore dark colors for the night sky, like dark blues and purples.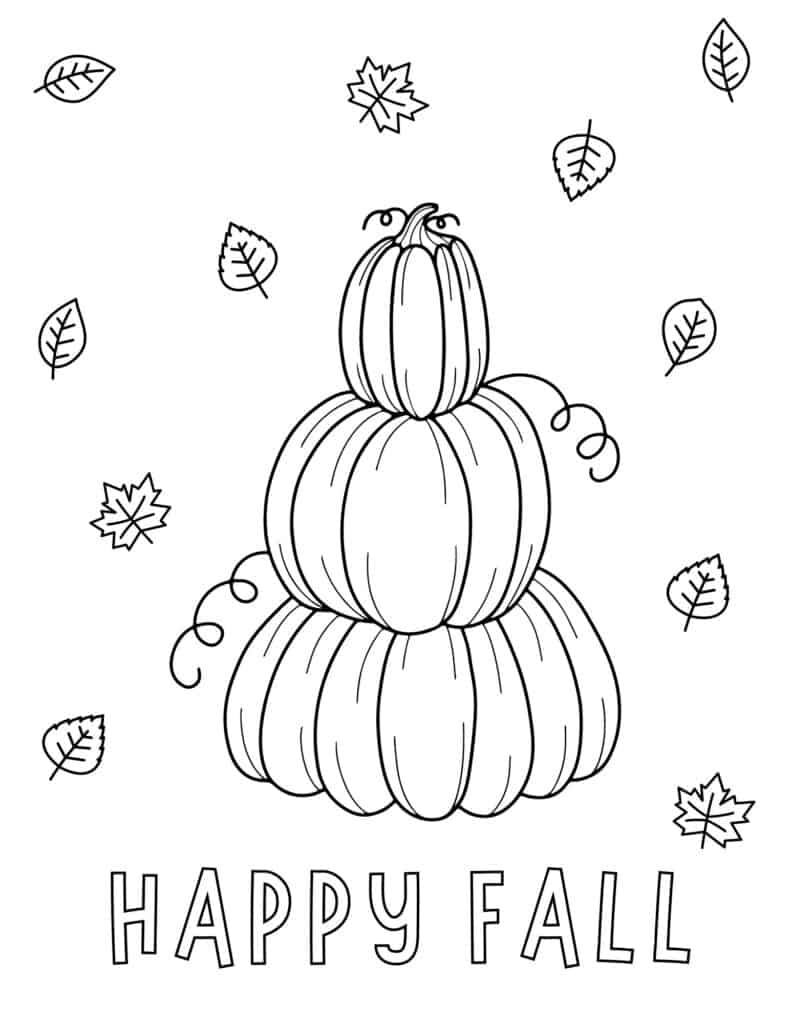 This coloring sheet shows a whimsical stack of pumpkins against a fall leaf-strewn backdrop. It's a fun and interactive way to welcome the autumn season. With plenty of blank space, there is room to add your own designs to the page.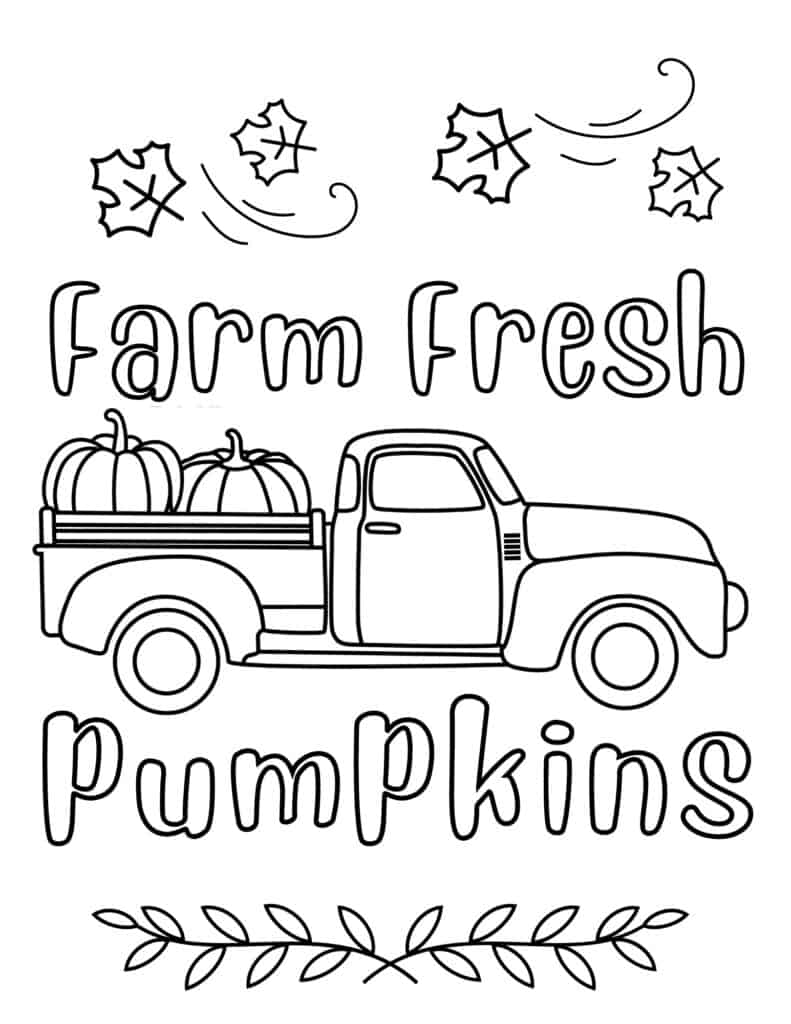 Add a rustic touch to your coloring activities with this "Farm Fresh Pumpkins" sheet, featuring a charming vintage red truck loaded with pumpkins.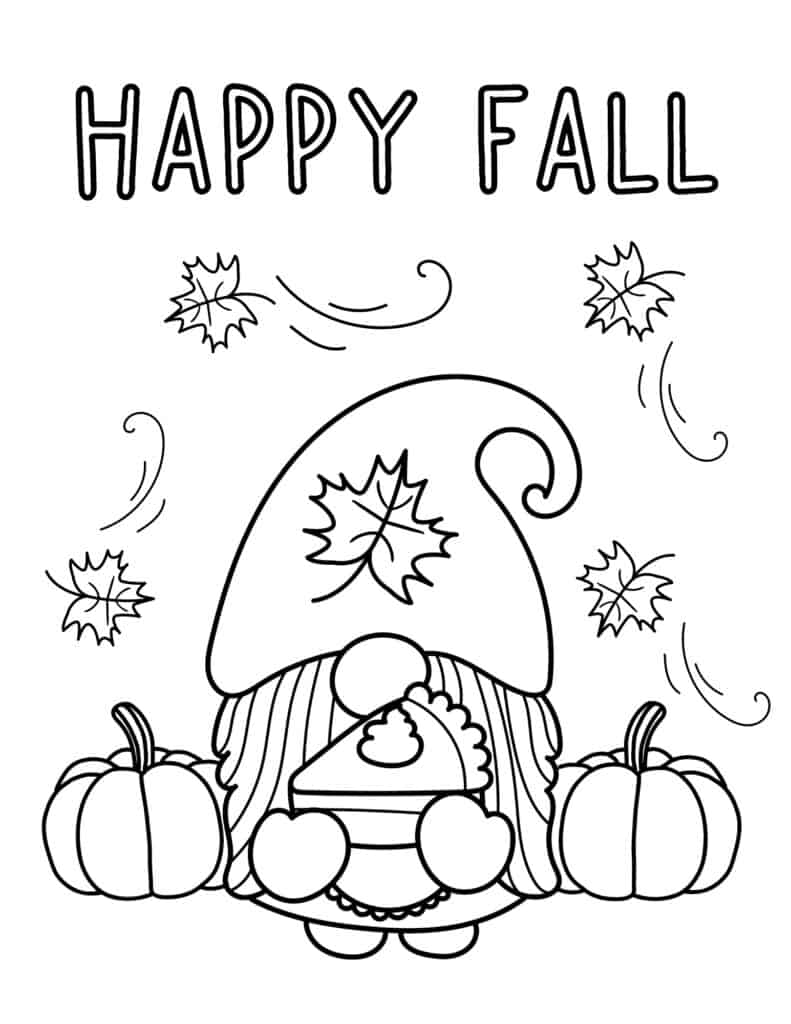 This cute gnome page features pumpkins and pumpkin pie! It would work for Fall or Thanksgiving.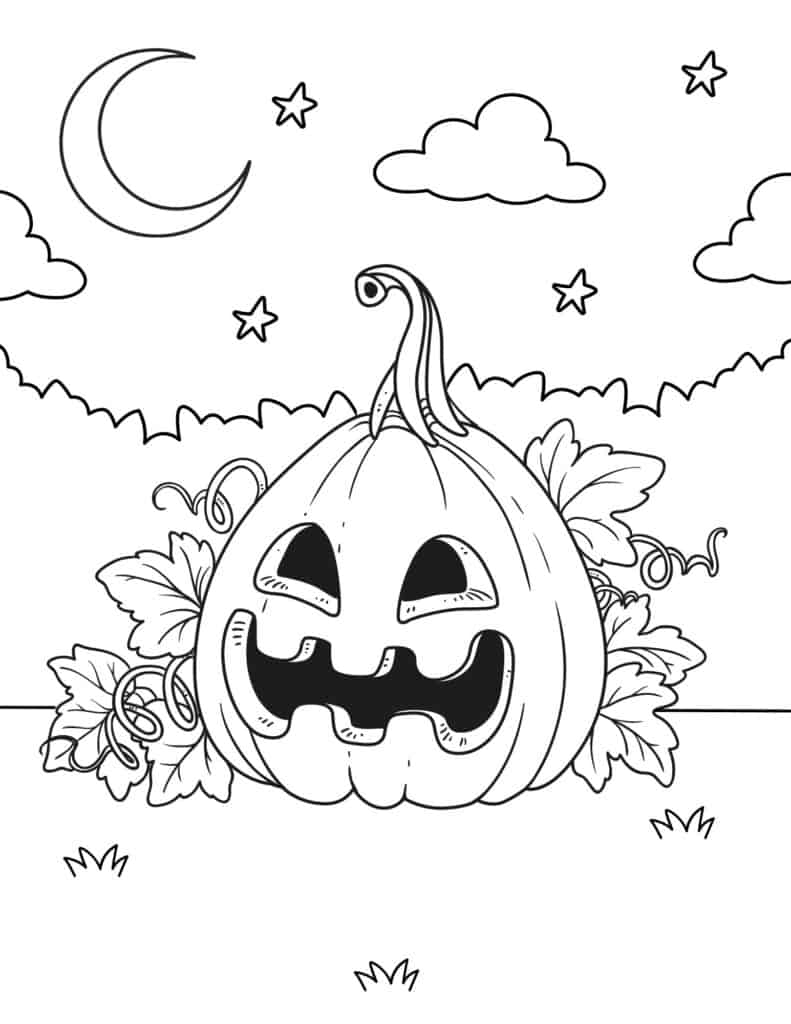 This one features a grinning carved pumpkin with vines and leaves set against a backdrop of bushes and a twinkling nighttime sky. It offers a detailed canvas for various color combinations, such as greens, oranges, blues, and purples!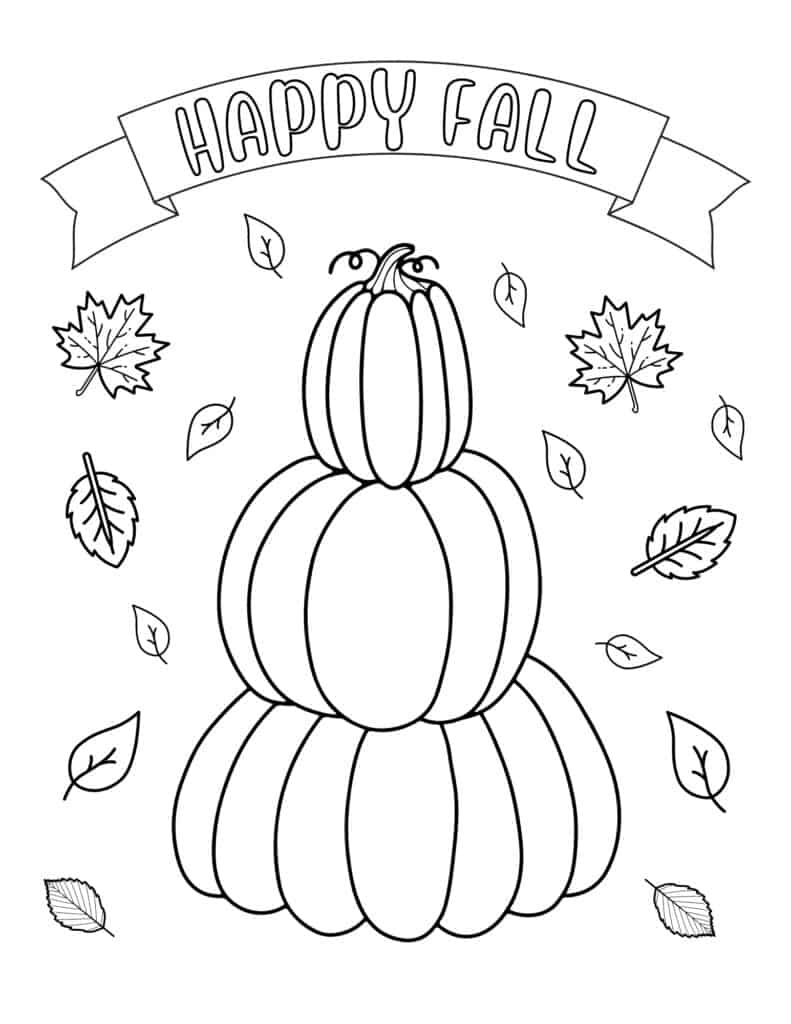 Nothing says Happy Autumn better than this coloring sheet featuring a banner and stacked pumpkins and falling leaves.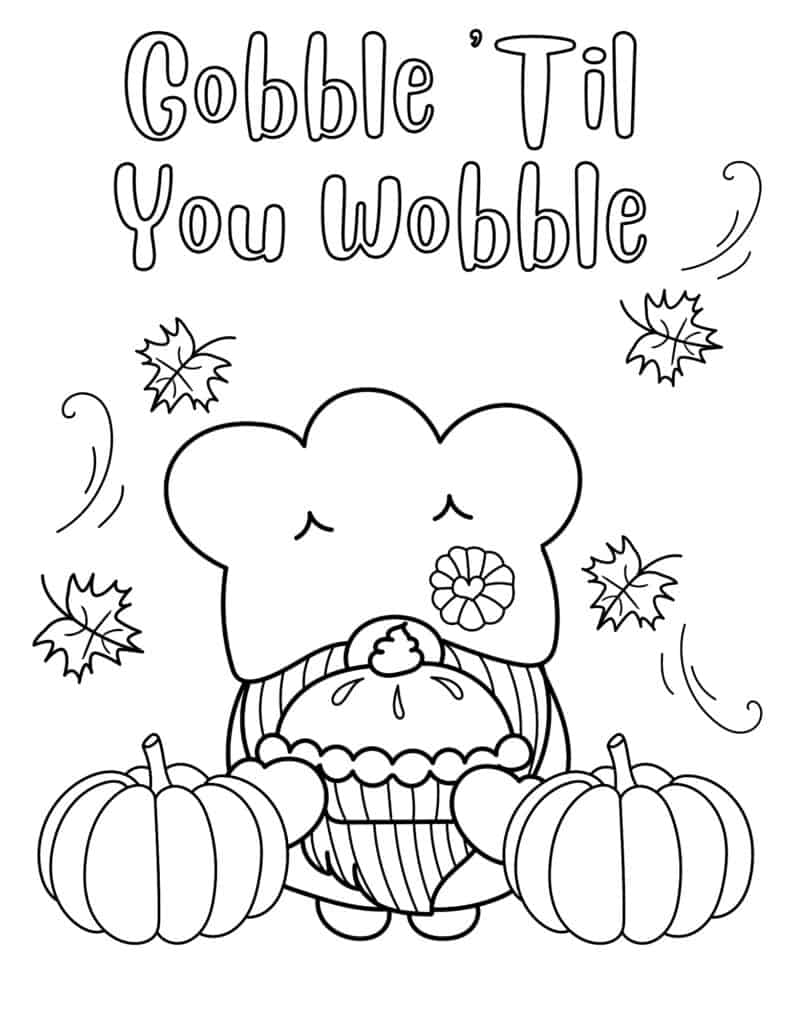 This whimsical fall gnome is holding a delicious pumpkin pie. It will get children excited about delicious fall treats and the cozy flavors of the season.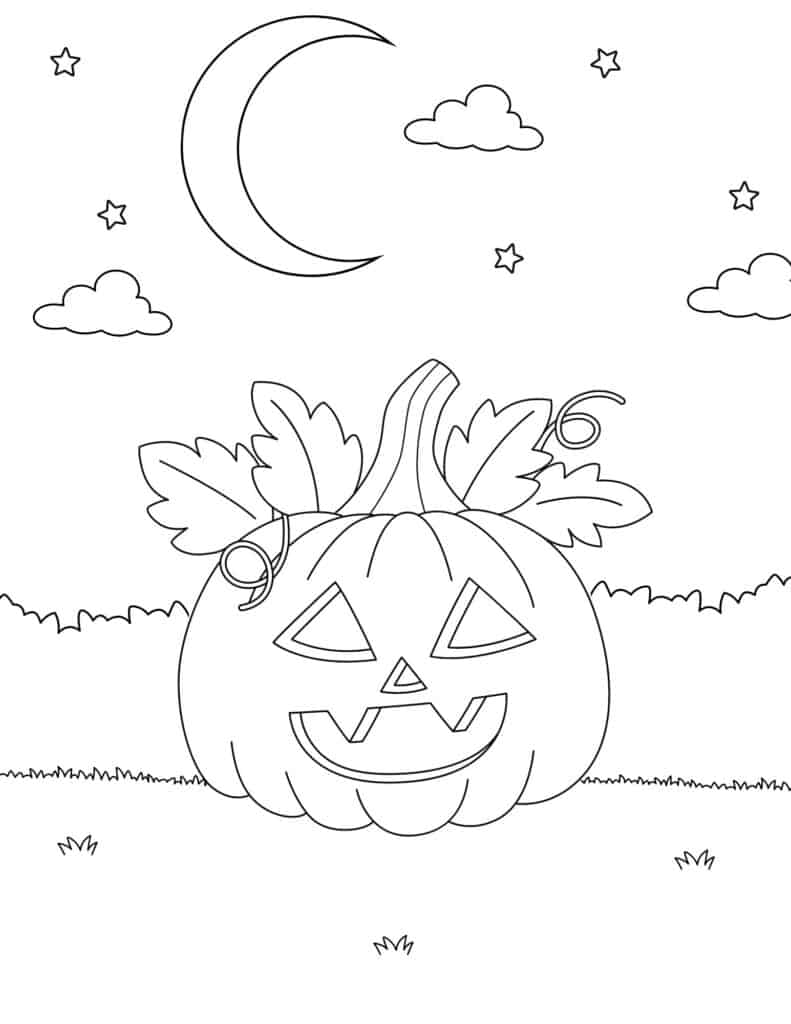 This detailed jack-o-lantern scene will offer hours of entertainment and allow your children to express their creativity while experiencing the excitement of the autumn season.
Halloween Coloring Sheets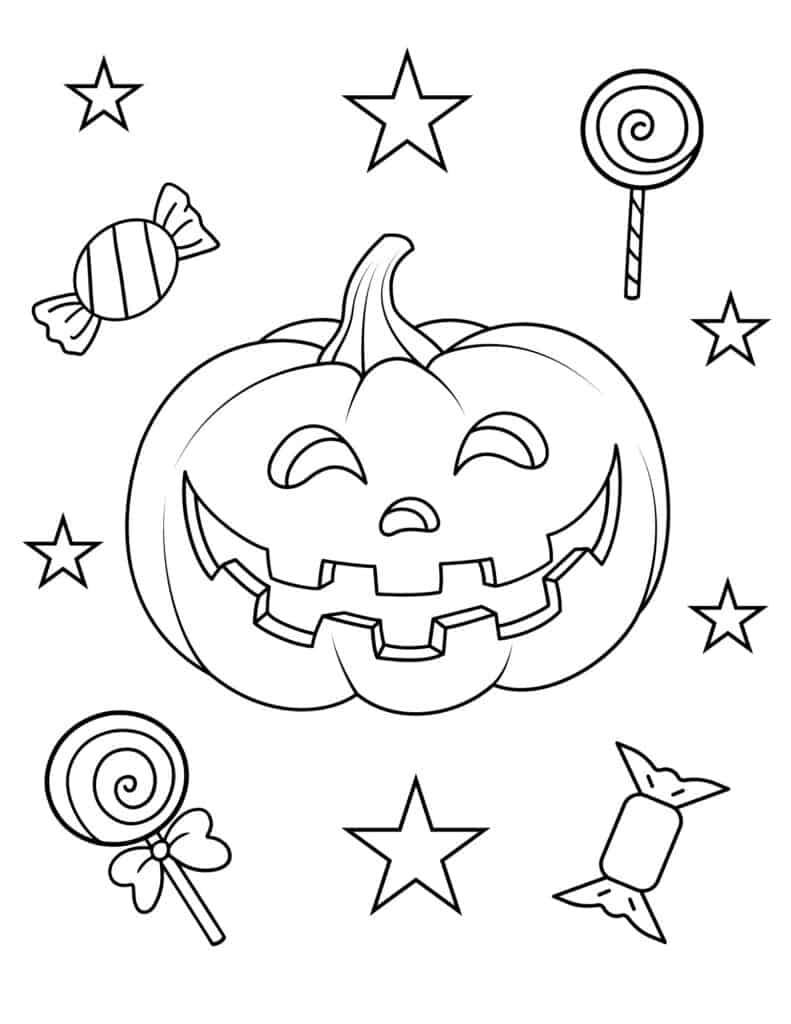 Capture the sweet excitement of the spooky season with this sheet, featuring a grinning jack-o'-lantern surrounded by a treasure trove of candies.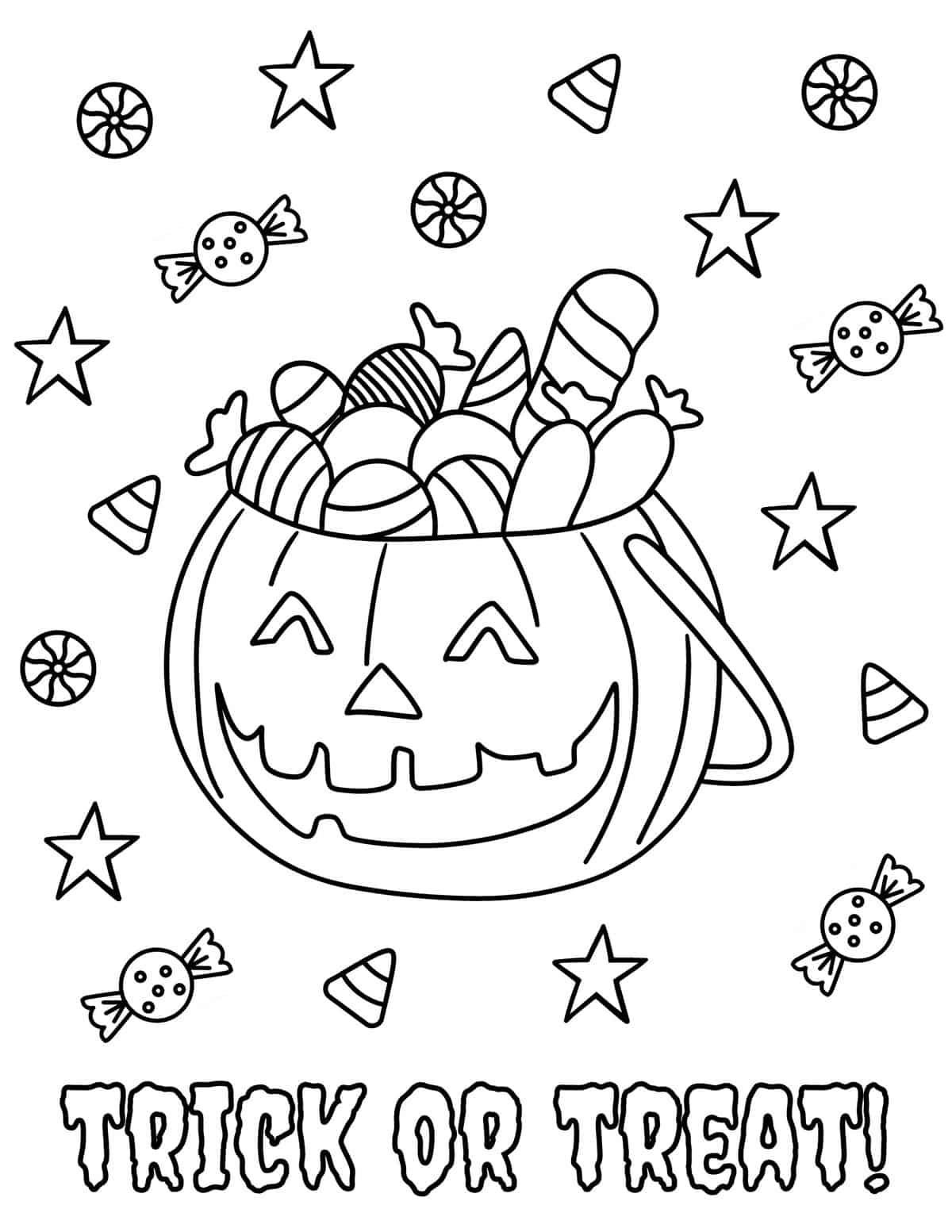 Nothing says trick or treat like a pumpkin pail full of Halloween candy! Kids with a sweet tooth will love filling in the candy corn, lollipops, and more.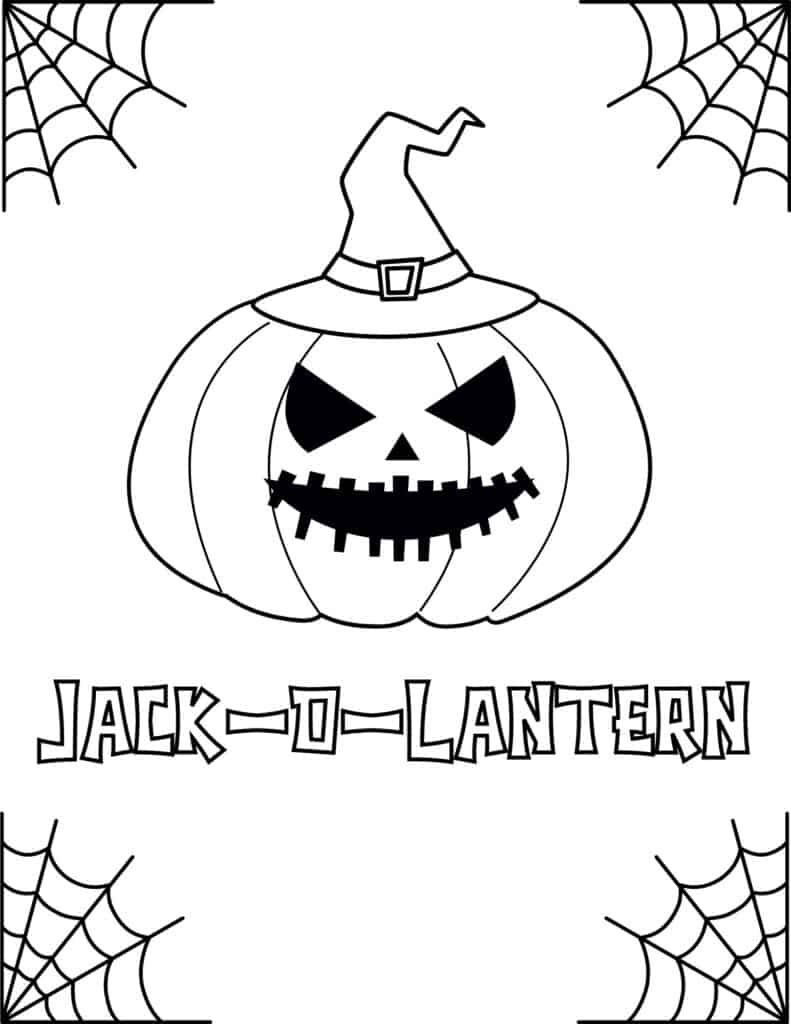 Introduce your kids to the spooky side of Halloween with this one showing a menacing jack-o'-lantern wearing a witch hat, with spider webs adorning the corners.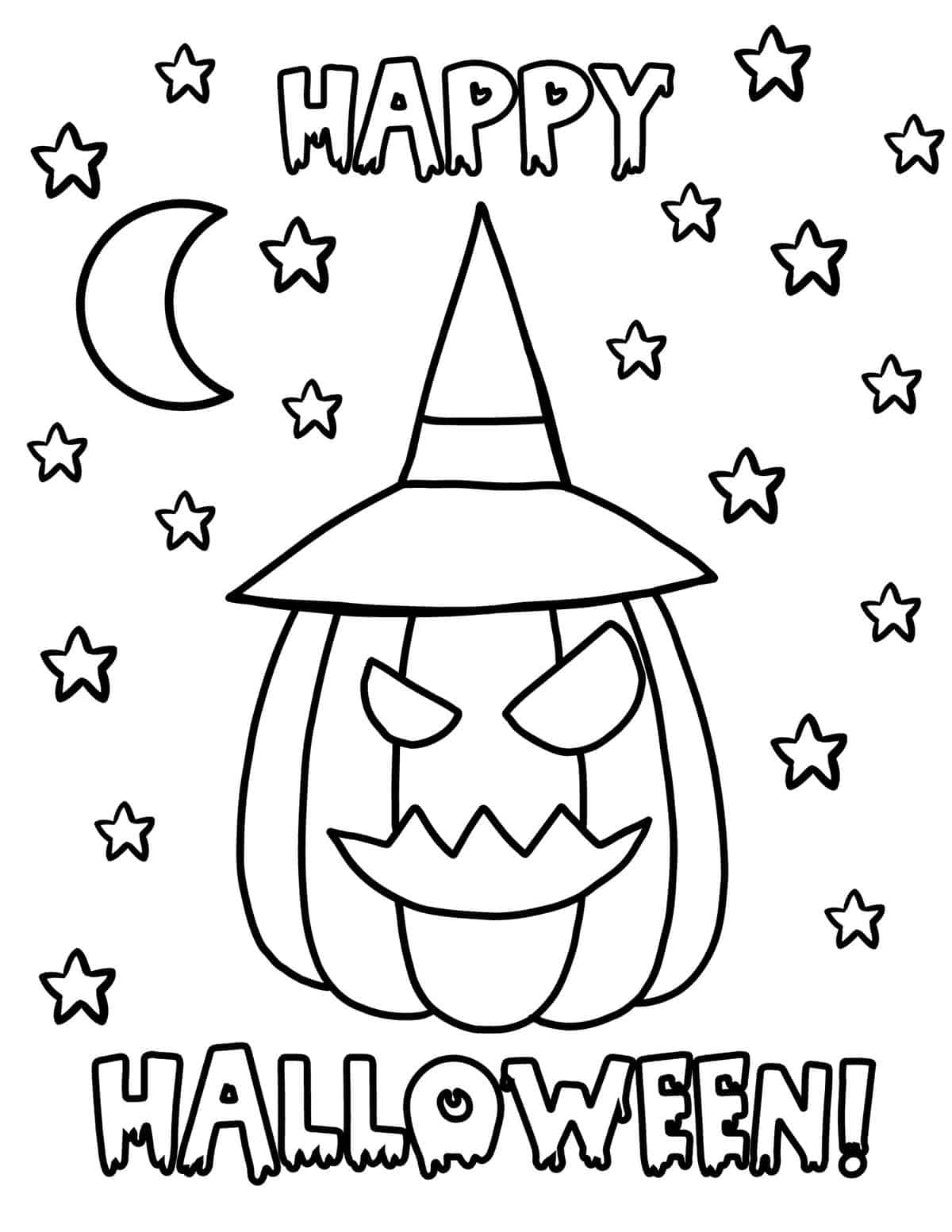 Wish a special someone a Happy Halloween with this spooky Jack O' Lantern coloring page.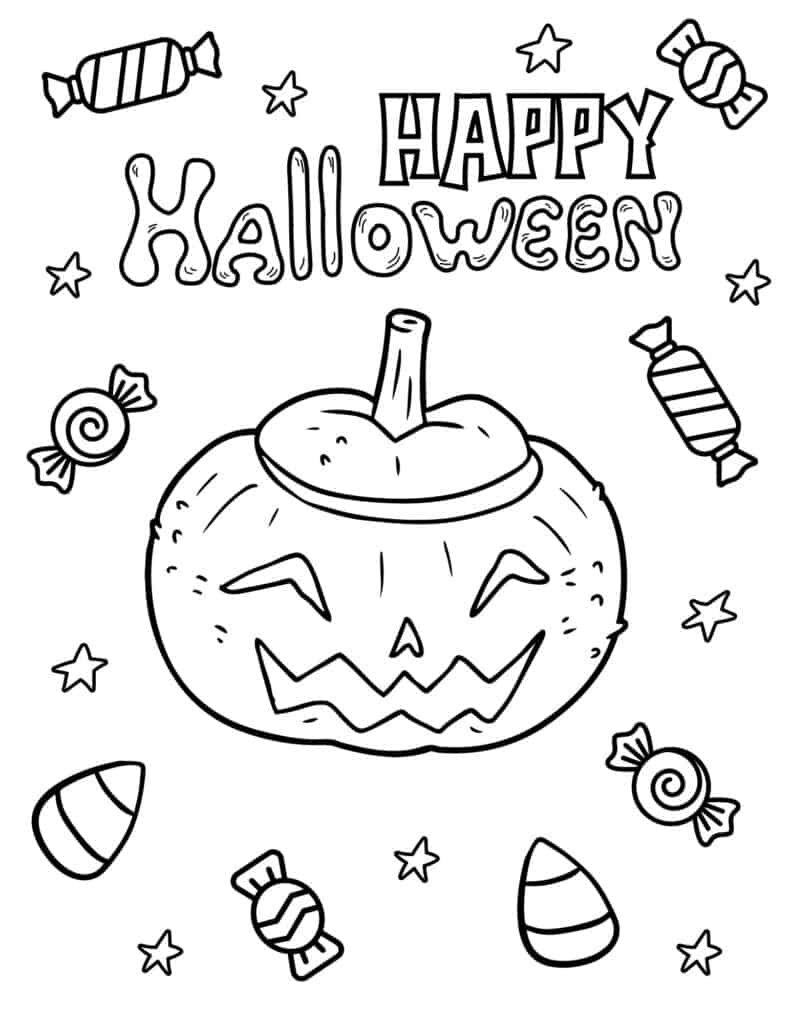 Let your little ones immerse themselves in the thrill of the spooky season with this Halloween pumpkin coloring page, which features a cheerful jack-o'-lantern surrounded by a bounty of festive candy corn and assorted candies.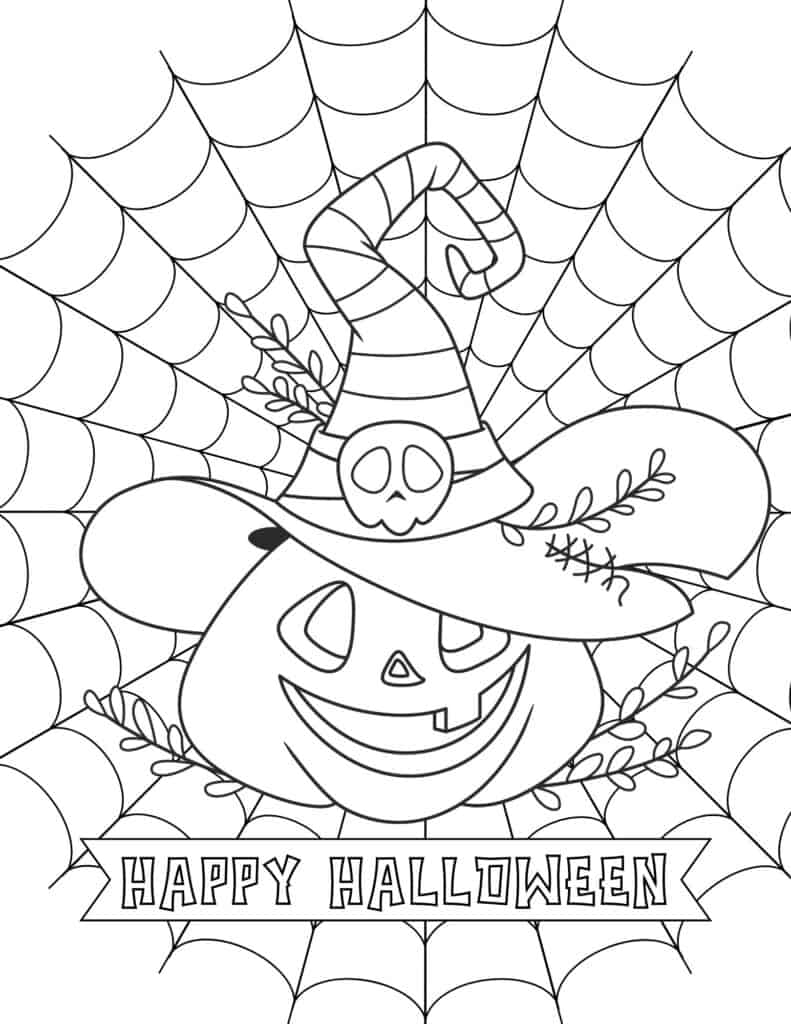 This one has a cute carved pumpkin set against a massive spider web backdrop. You can add your favorite colors to the"Happy Halloween" banner!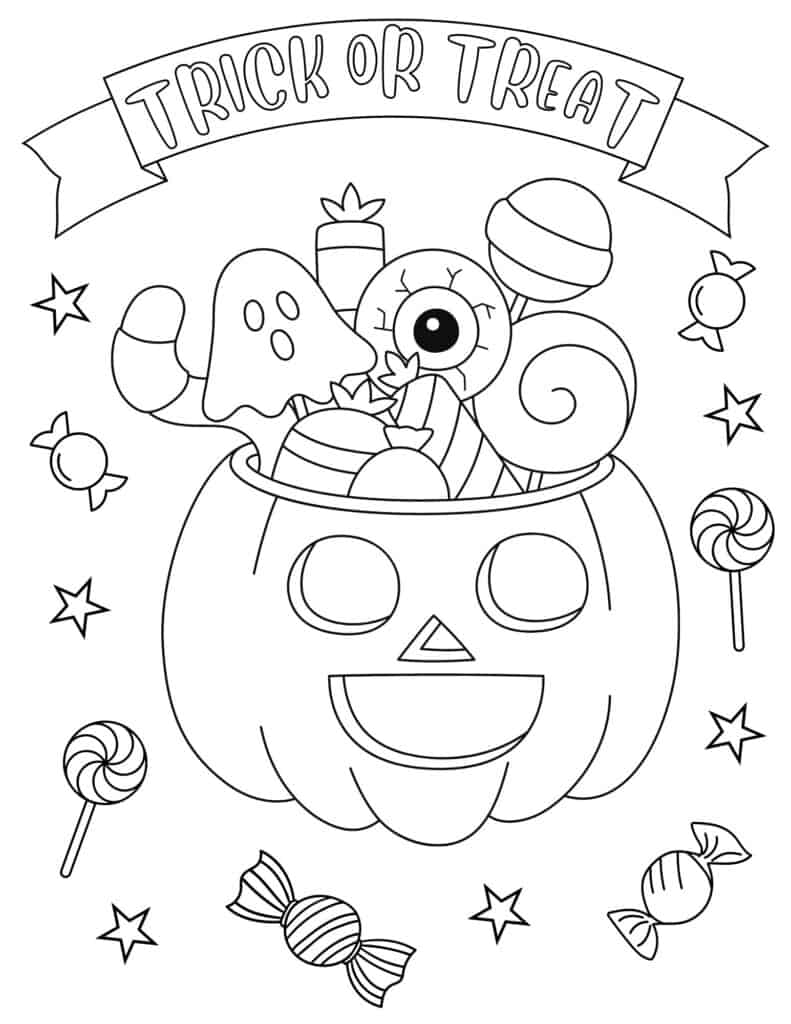 This coloring page featuring a pumpkin pail brimming with Halloween candy brings the joy of trick-or-treating to life.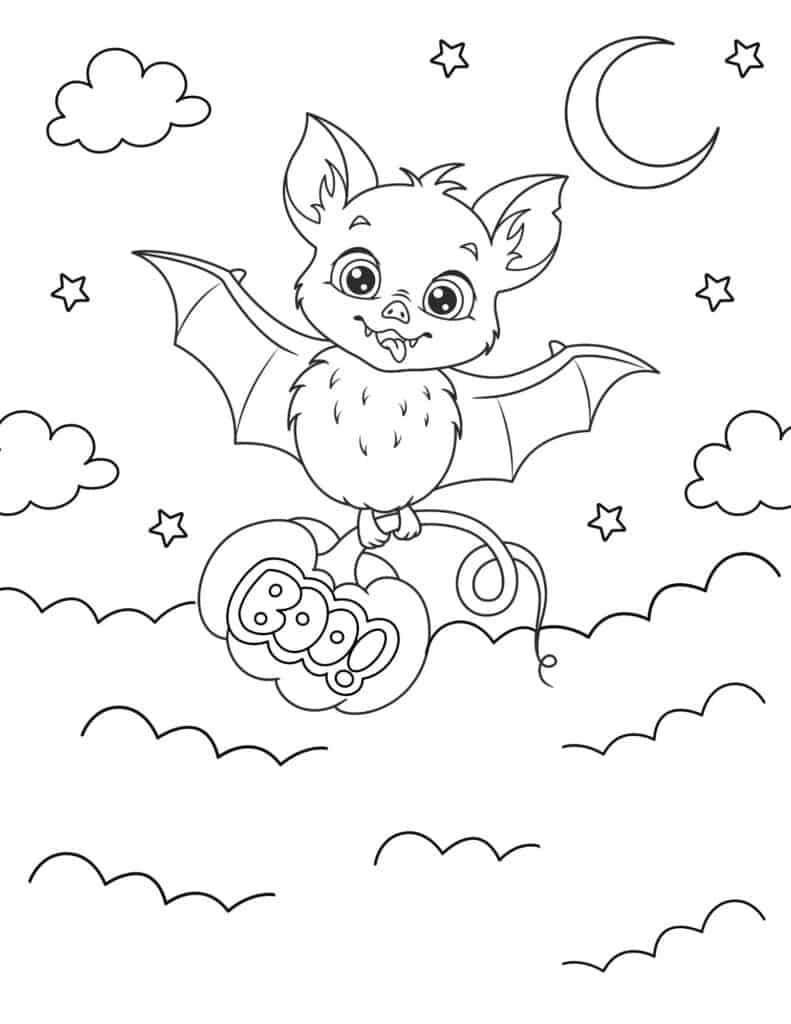 This cute bat page features a bat soaring through a cloudy night sky, holding a pumpkin decorated with the word "Boo."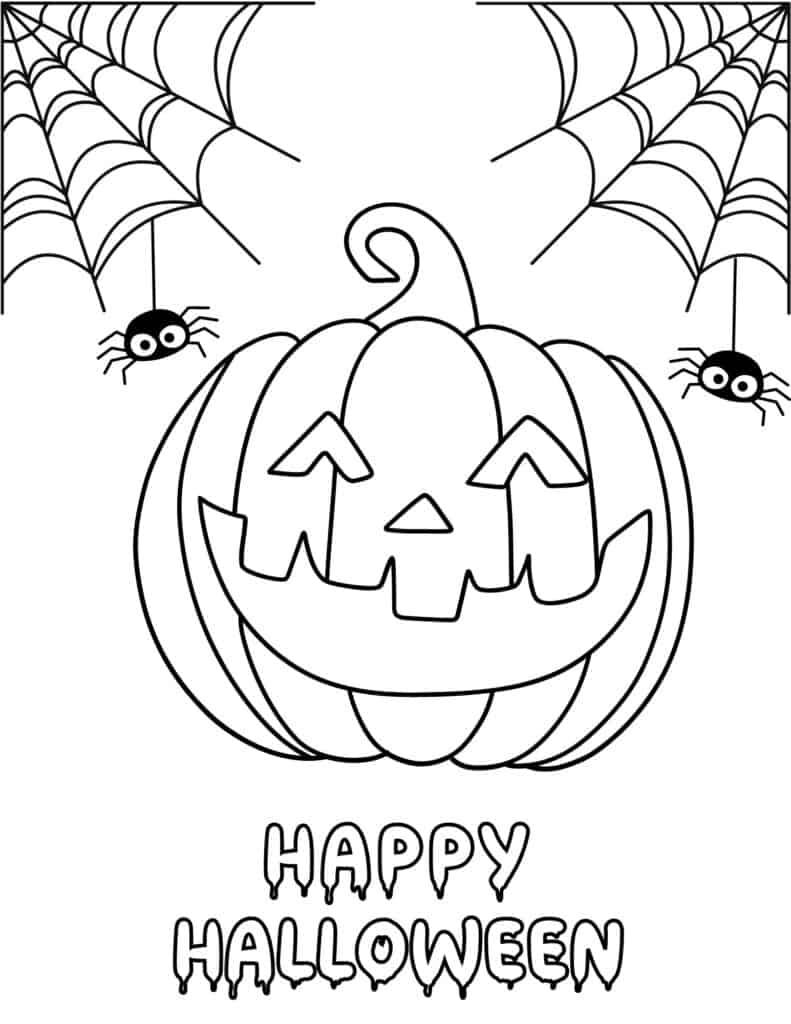 This spooky Jack-O-Lantern coloring page features a smiling jack-o'-lantern with cute spiders and their webs tucked in the corners.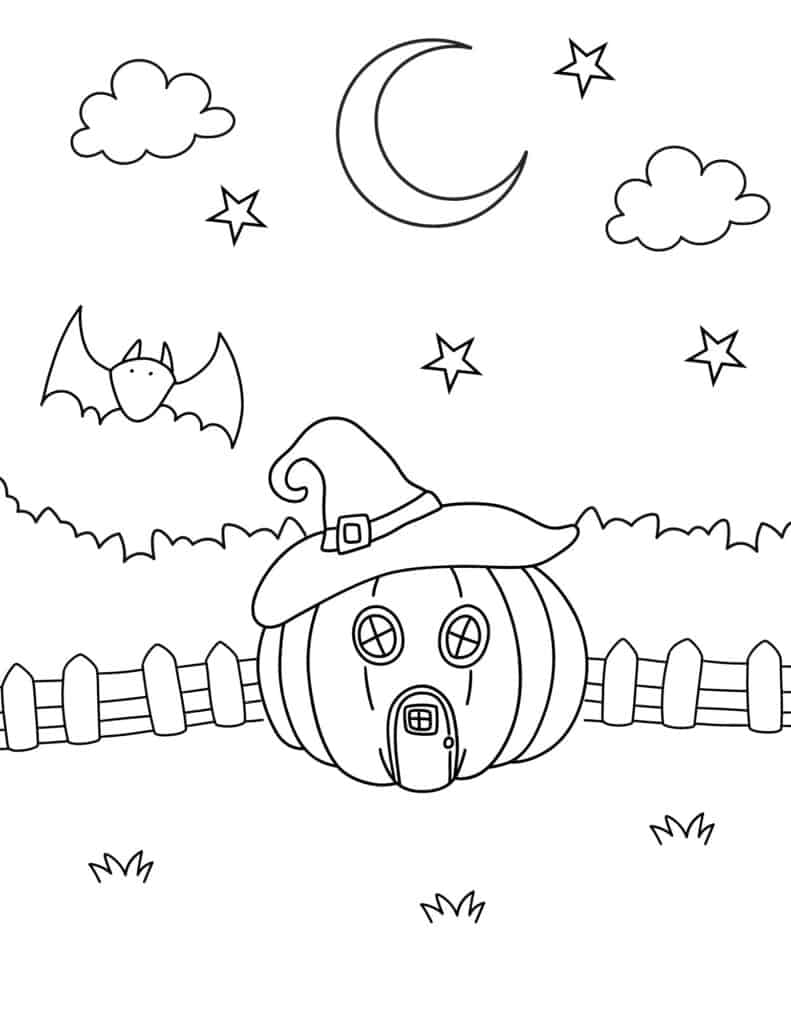 Immerse your children in a magical and whimsical world with this pumpkin fairy house, set in a forest under the night sky with twinkling stars in the background.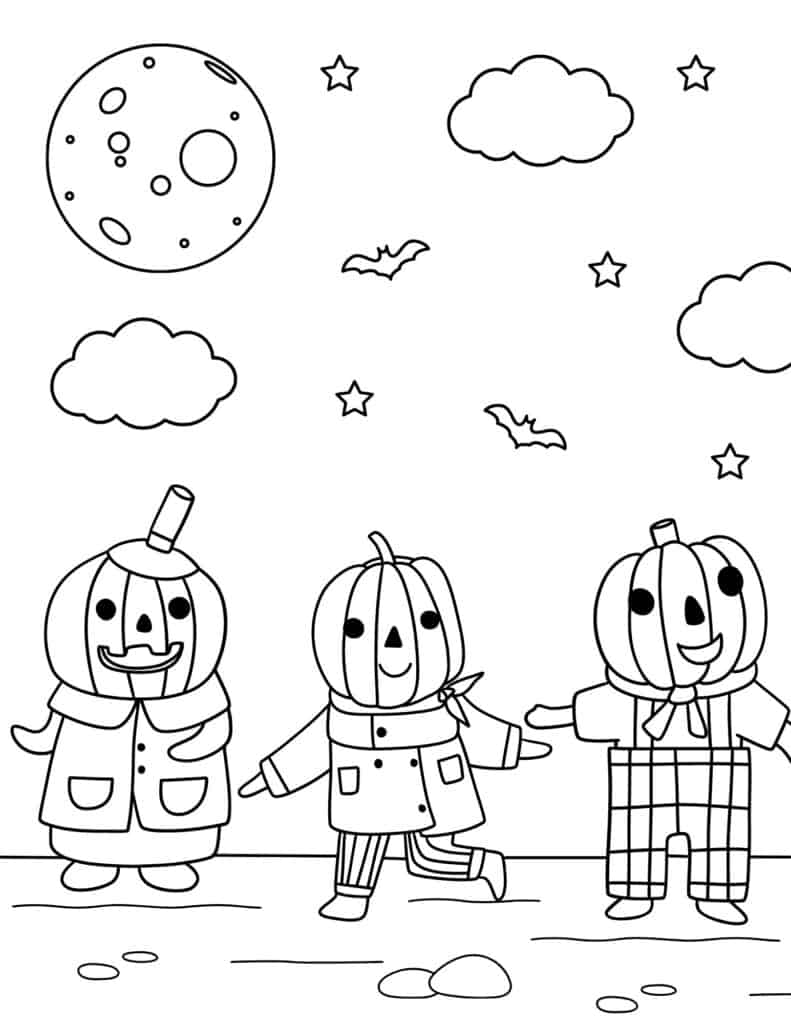 Transport your children into a vintage scene with this one featuring children wearing pumpkin head costumes. It's a great way to get kids excited about the fun, dress-up aspect of the Halloween tradition.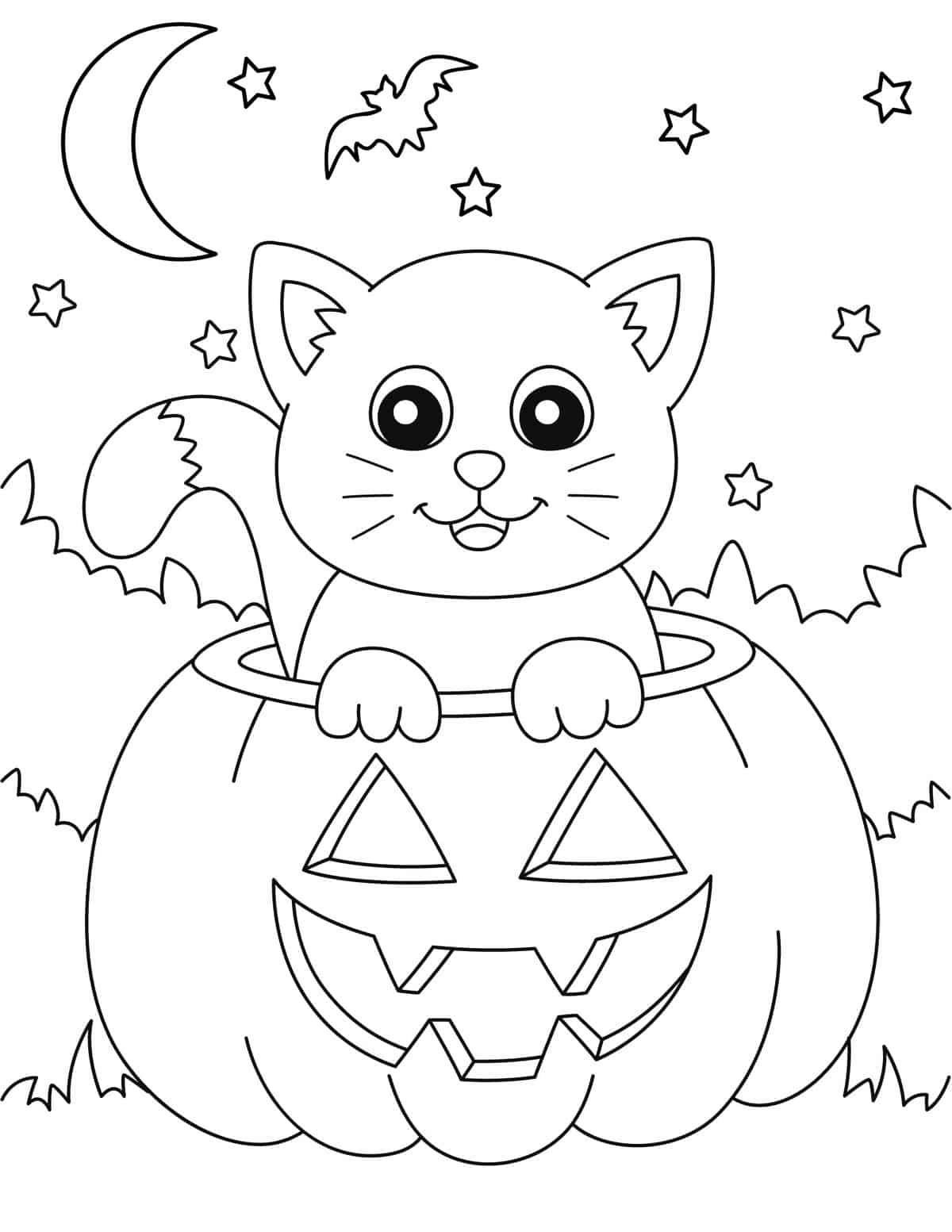 Add some color to this cute cat popping out of a pumpkin! If you love black cats and Halloween, this page will be the perfect choice!
Pumpkin Coloring Pages for Teens and Adults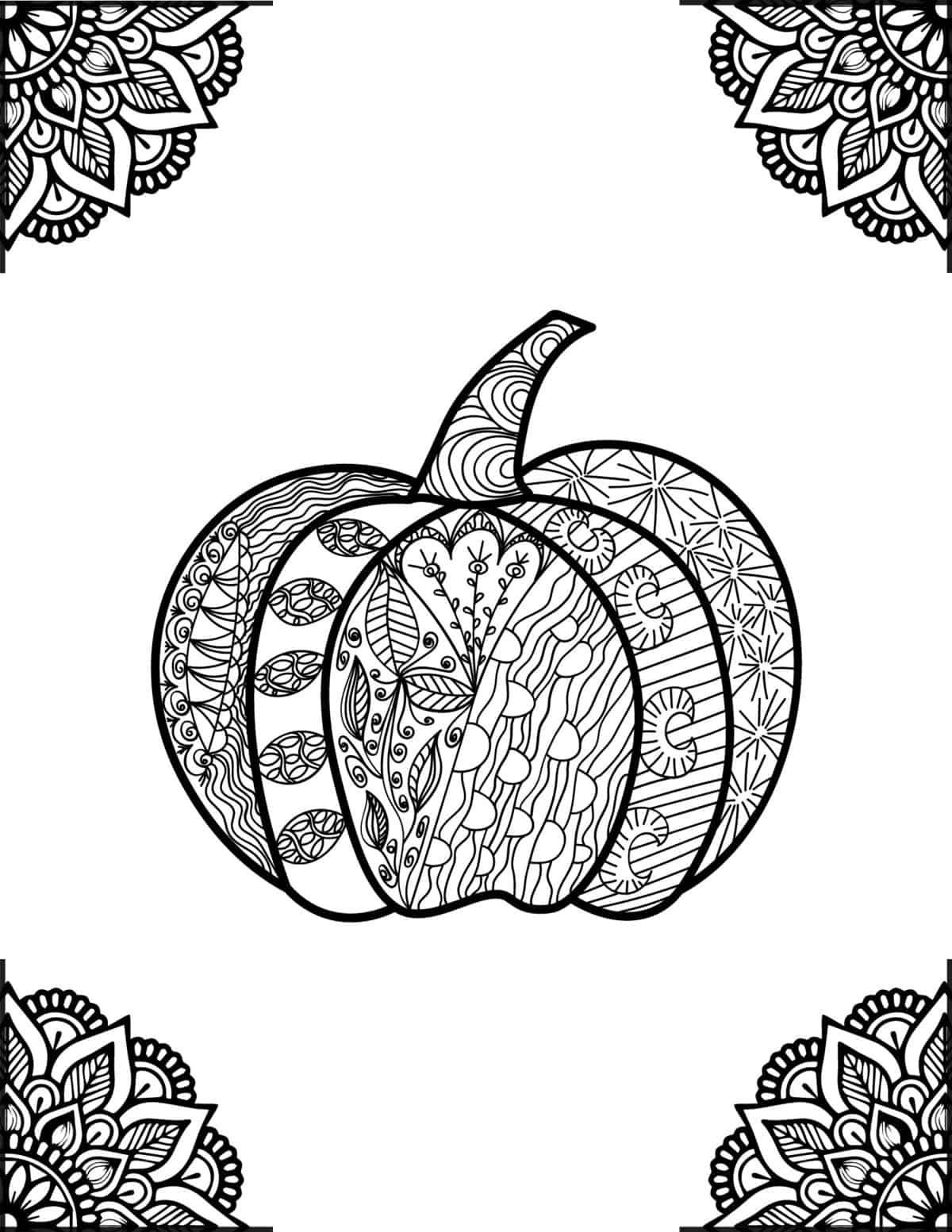 This one is beautifully designed with swirls and patterns suitable for teenagers and adults.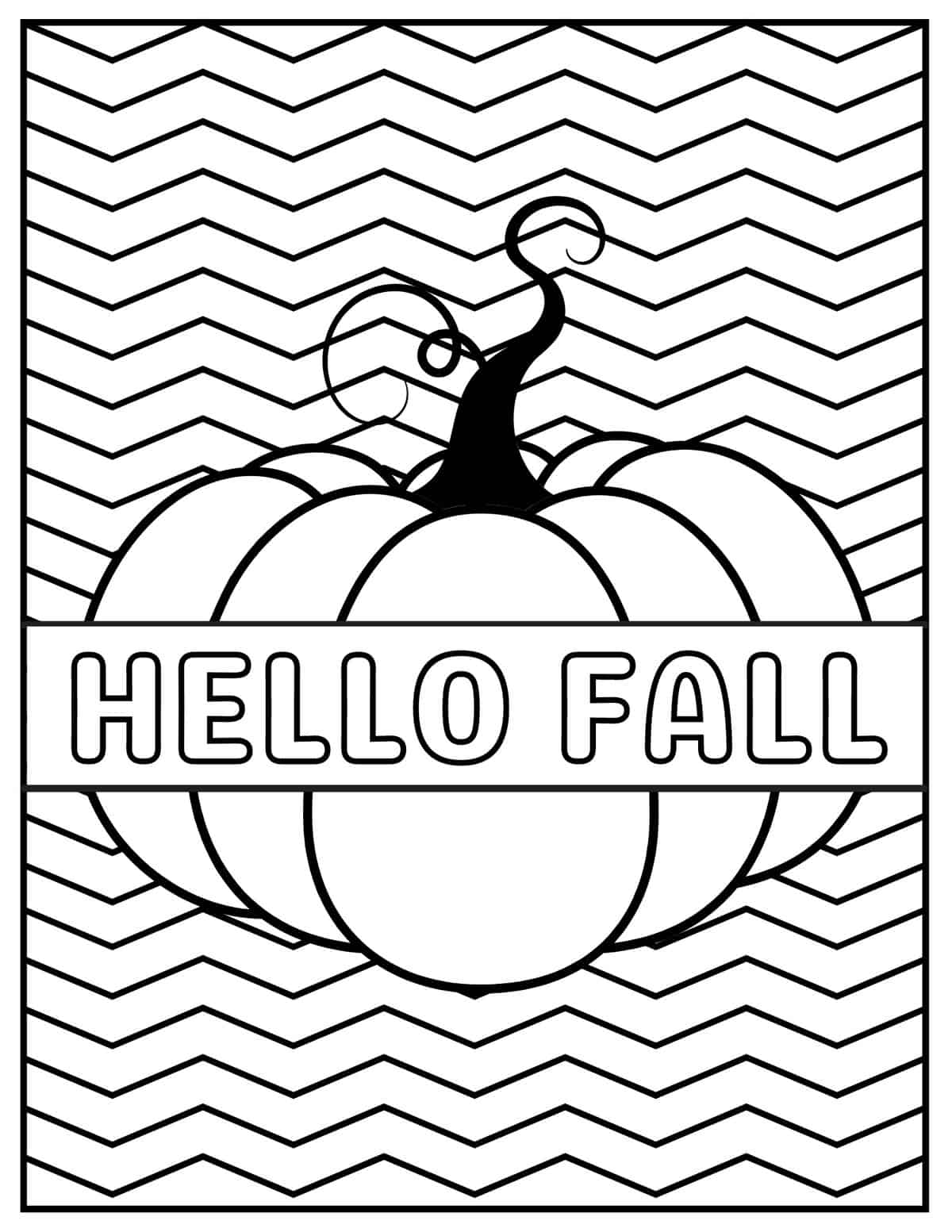 This coloring sheet has a chevron background that can be colored in with your favorite shades of fall colors. It would be a fun choice for teens. It would look great as a framed DIY fall decoration!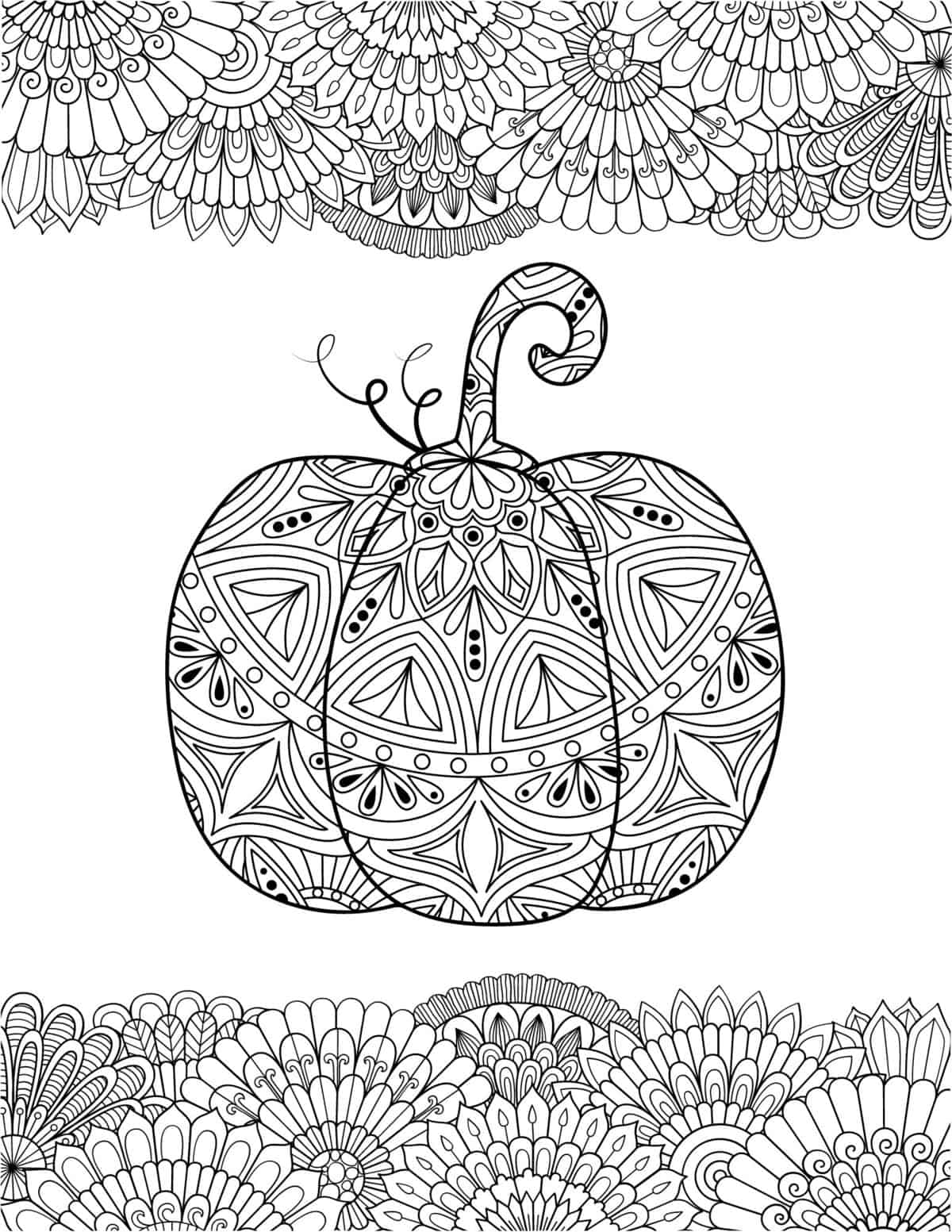 This intricate pumpkin mandala provides a wonderful outlet for stress relief, encouraging mindfulness and creativity as you color your way through the mesmerizing pumpkin details!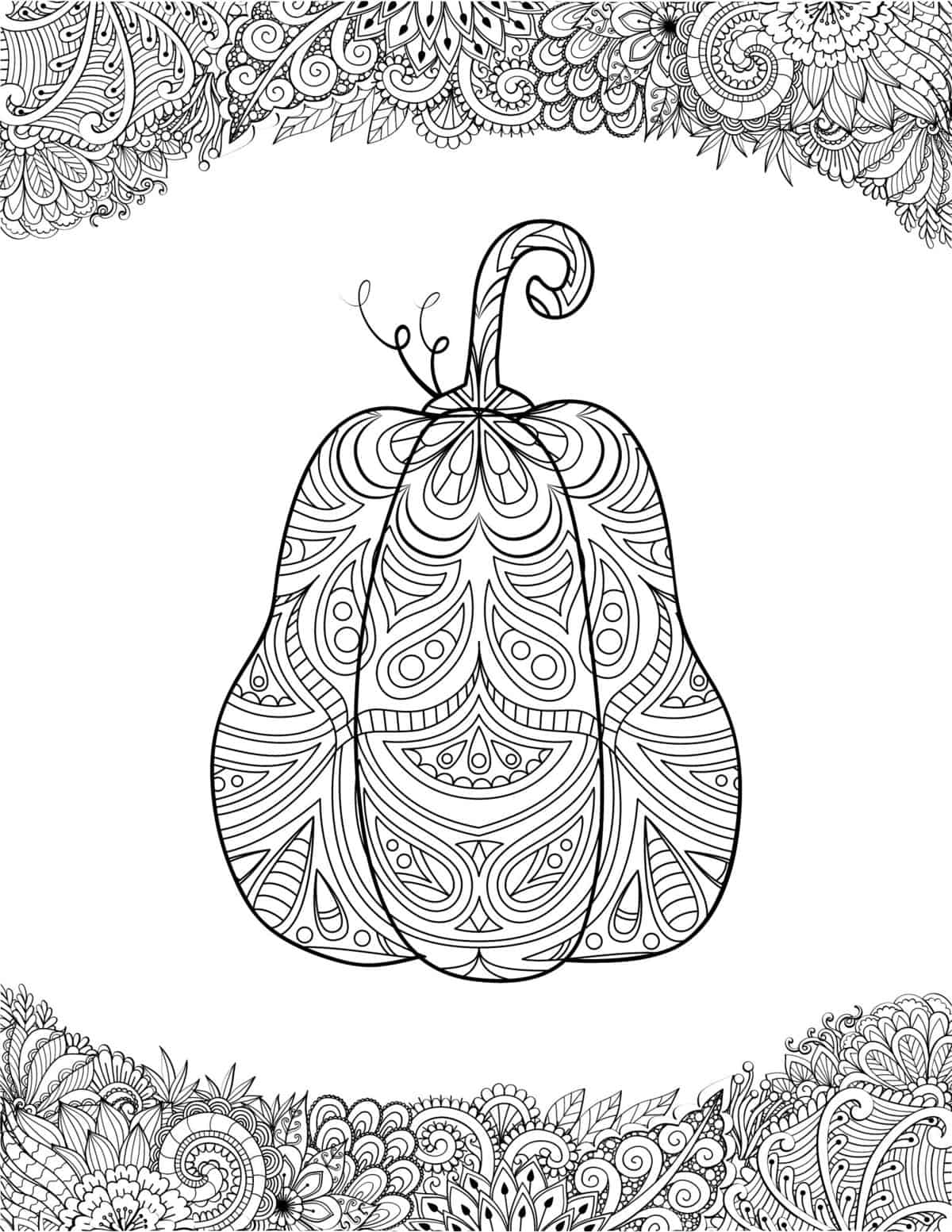 This beautifully detailed design offers a mesmerizing blend of the autumnal symbols of the pumpkin and leaves on the border, and the intricate, meditative patterns of a mandala, so get out your colored pencils and try it!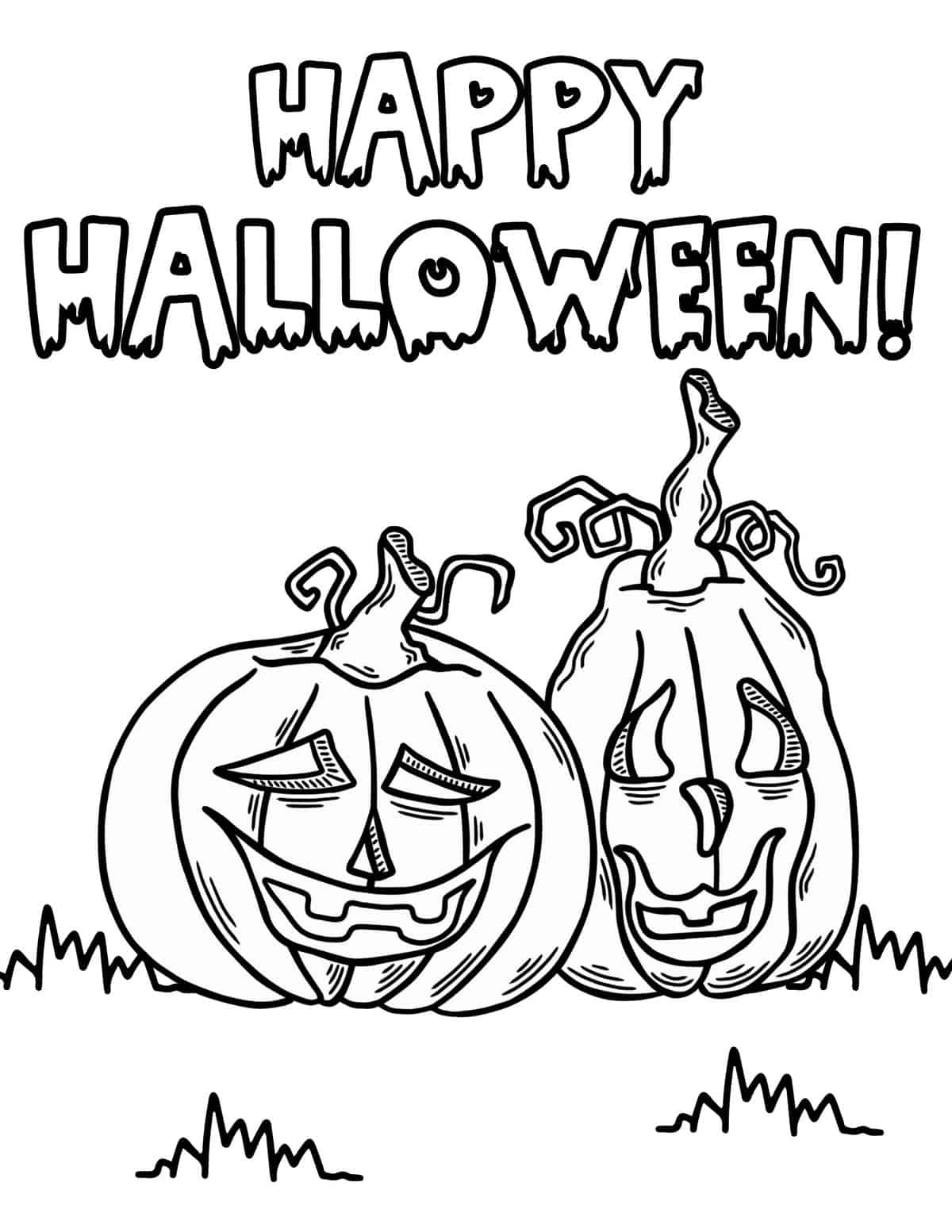 These vintage jack-o-lanterns designs make a great coloring page for teens and older kids.
If you tried one of these pumpkin coloring pages or any other coloring pages on my website, please let me know how it went in 📝 comments below!
Seasonal Coloring Pages
More Free Printables
Follow me on Pinterest, Facebook, or Instagram for more inspiration on crafts, DIY, free printables, and recipes!