These free printable St Patrick's Day Coloring Pages for kids are a fun way to celebrate March 17th!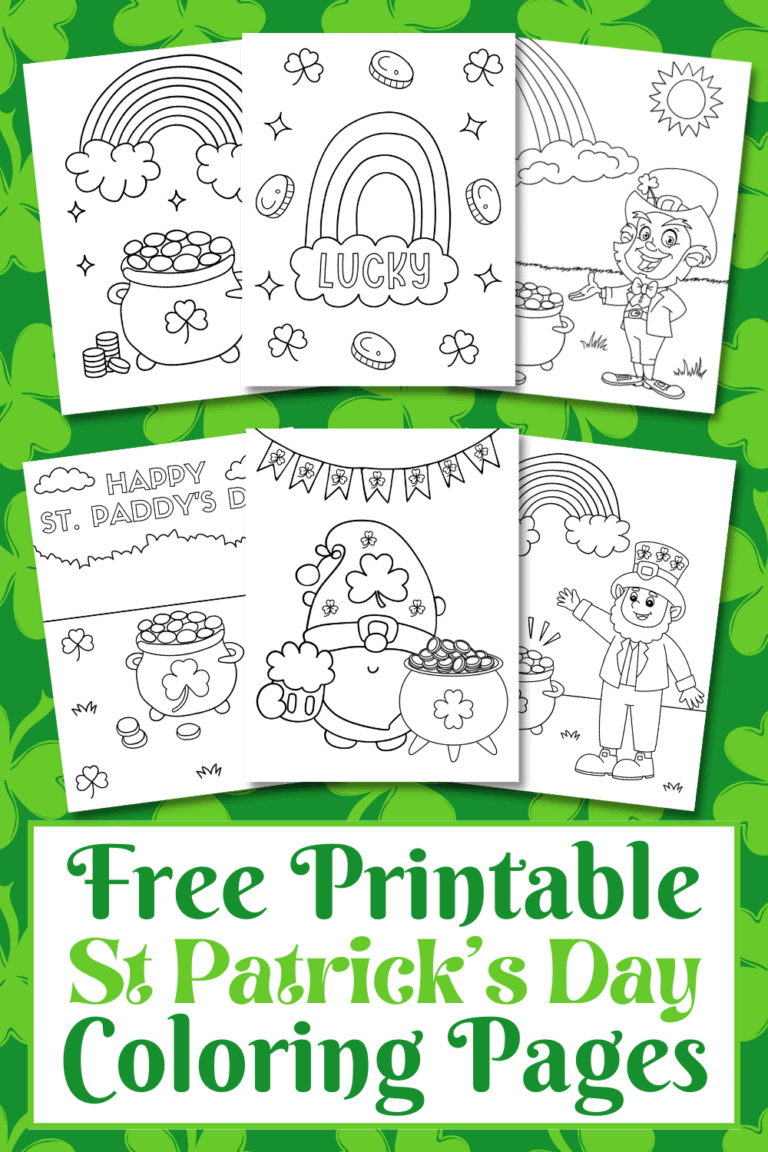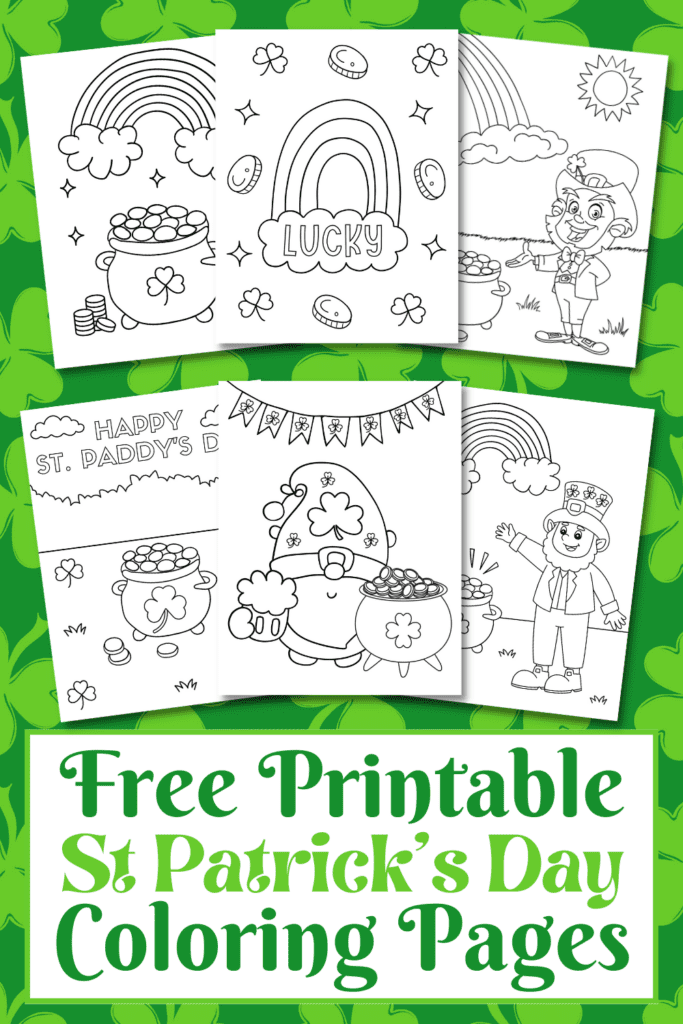 These coloring sheets feature leprechauns, shamrocks, pots of gold at the end of the rainbow, horseshoes, gold coins and many other festive St Paddy's Day themed coloring pages to choose from. There are free printables for kids of all ages, including toddlers, preschoolers, older kids, and teens.
They make a great activity for your children to let them express their creativity and imagination and help them improve their fine motor skills and hand-eye coordination. Whether you are using these free pages for a St Patrick's Day party, at school, or just a fun activity at home, your kids are sure to have hours of fun adding color to these sheets!
These coloring sheets offer a terrific educational opportunity to get kids excited for the holiday and provide them with insight into Ireland's culture, traditions, legends, and customs.
Pair these free coloring pages with these fun St Patrick's Day crafts for kids, St. Patrick's Day word search, or these creative leprechaun trap ideas!
Jump to: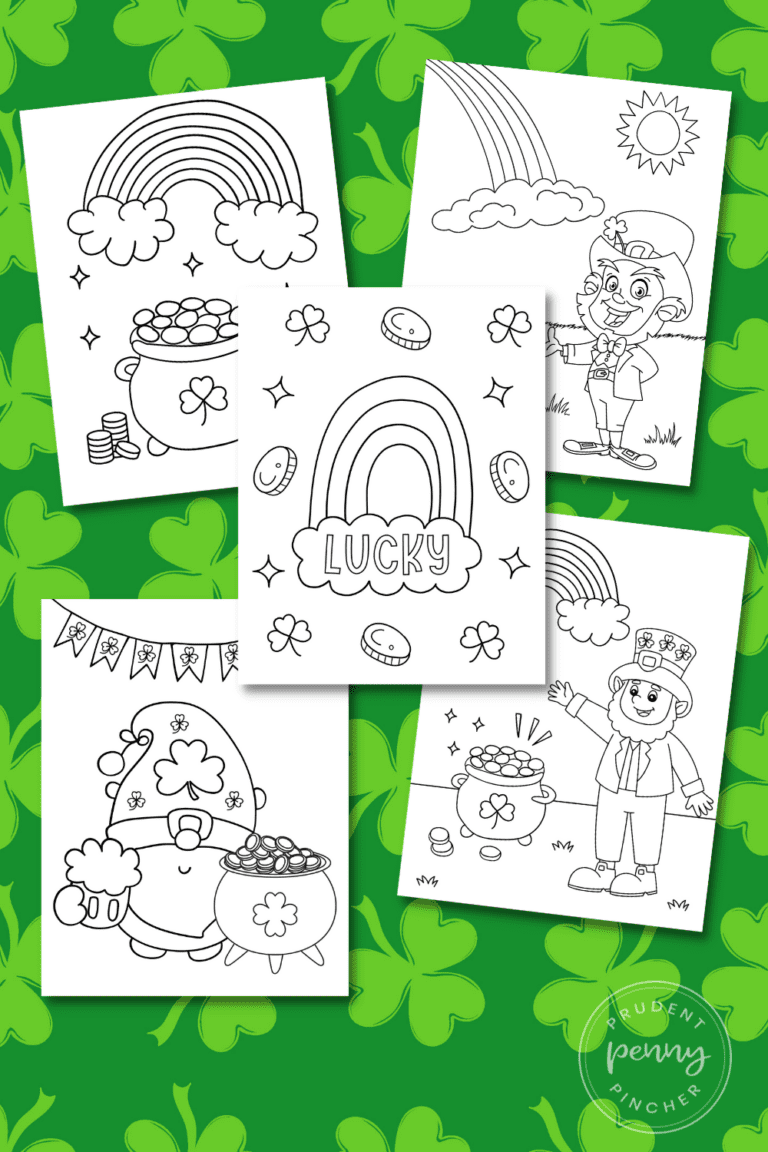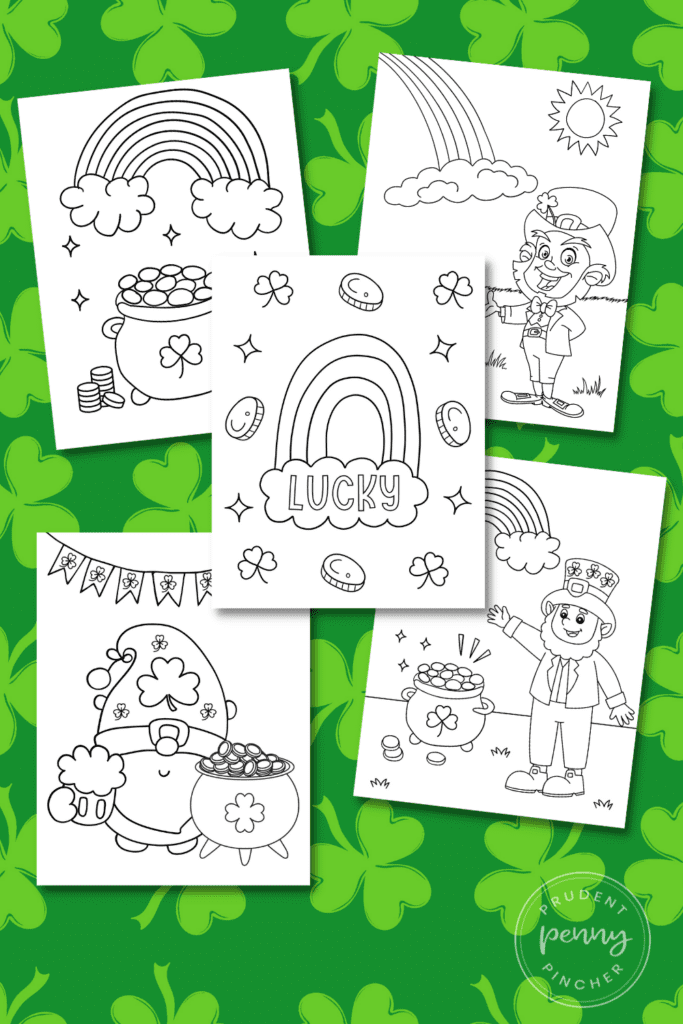 Supplies Needed
printer
printer paper
crayons, markers, colored pencils, watercolors, etc.
free PDF file to download
How to Download and Print These Sheets
Click the link below each image to open the PDF file. Alternatively, you may use the image PNG by right-clicking on the image and choosing "Save File As…"
Click the download icon in the toolbar.
Open the PDF file in Adobe Acrobat.
Go to File –> Print and make sure the page sizing is set to "Fit" and press print.
St Patrick's Day Coloring Pages
Coloring Sheets for Younger Kids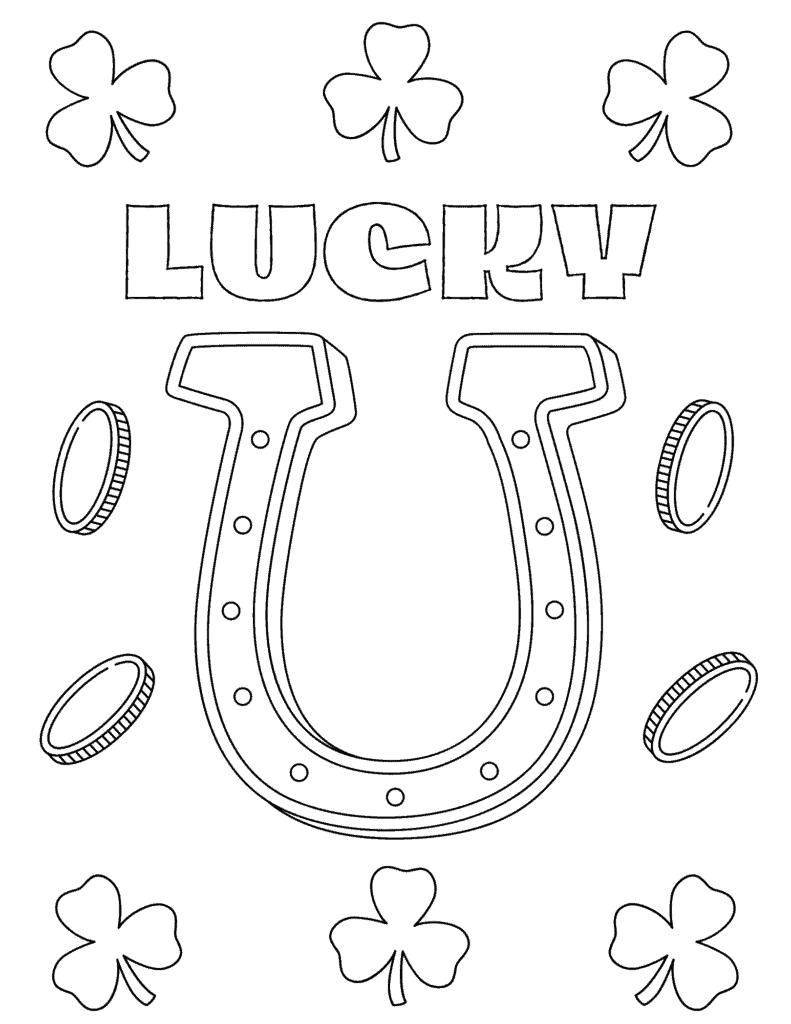 Spread the luck of the Irish with this lucky horseshoe sheet surrounded by gold coins and shamrocks! Have fun adding various shades of bright green and gold to this one.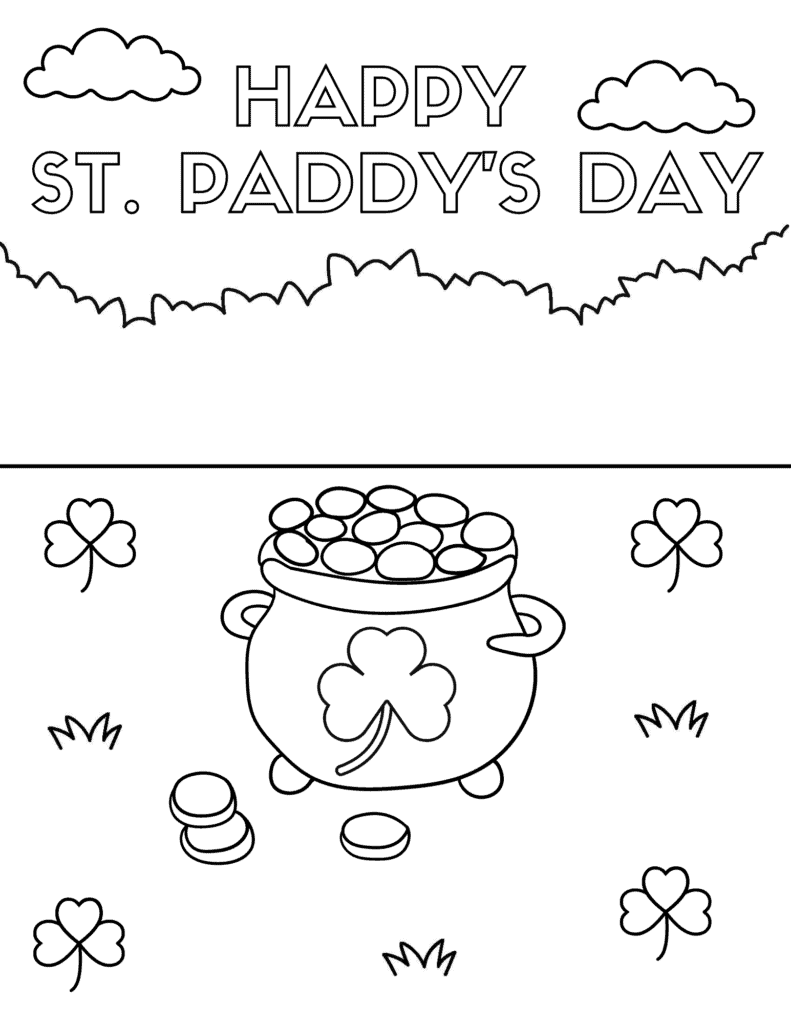 This one features a pot of gold with gold coins spilling out into a field with shamrocks. It's easy enough for younger kids to color in! There's a lot of details here, so your children will spend hours adding color to it.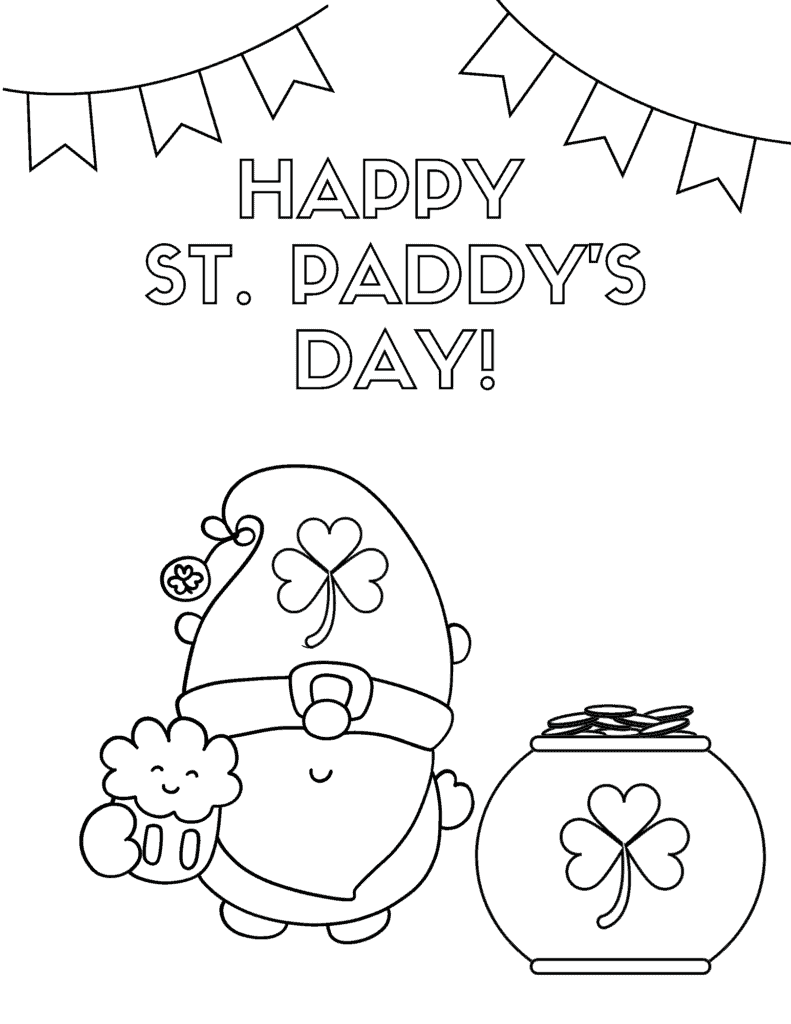 This gnome is ready for a St Patrick's Day party! It features an adorable little gnome dressed in Irish attire next to a pot of gold coins with a party banner in the background.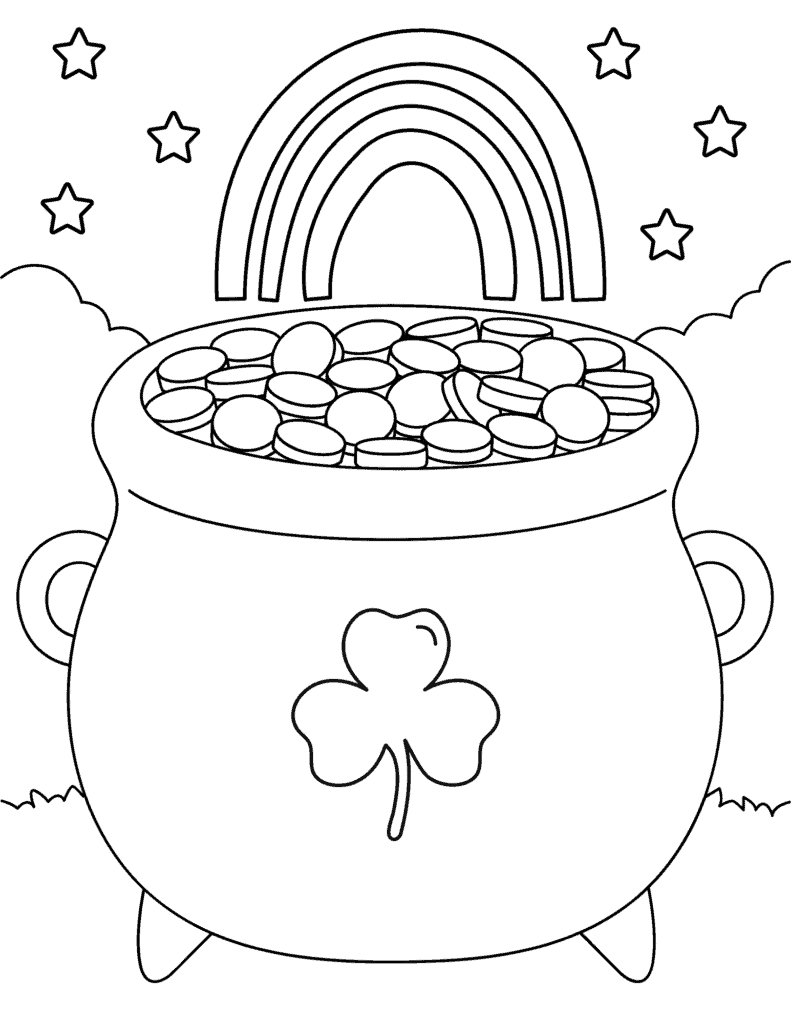 Here is a coloring sheet featuring a large pot of gold at the end of a rainbow. Younger children will have fun using their imagination to make it vibrant and colorful.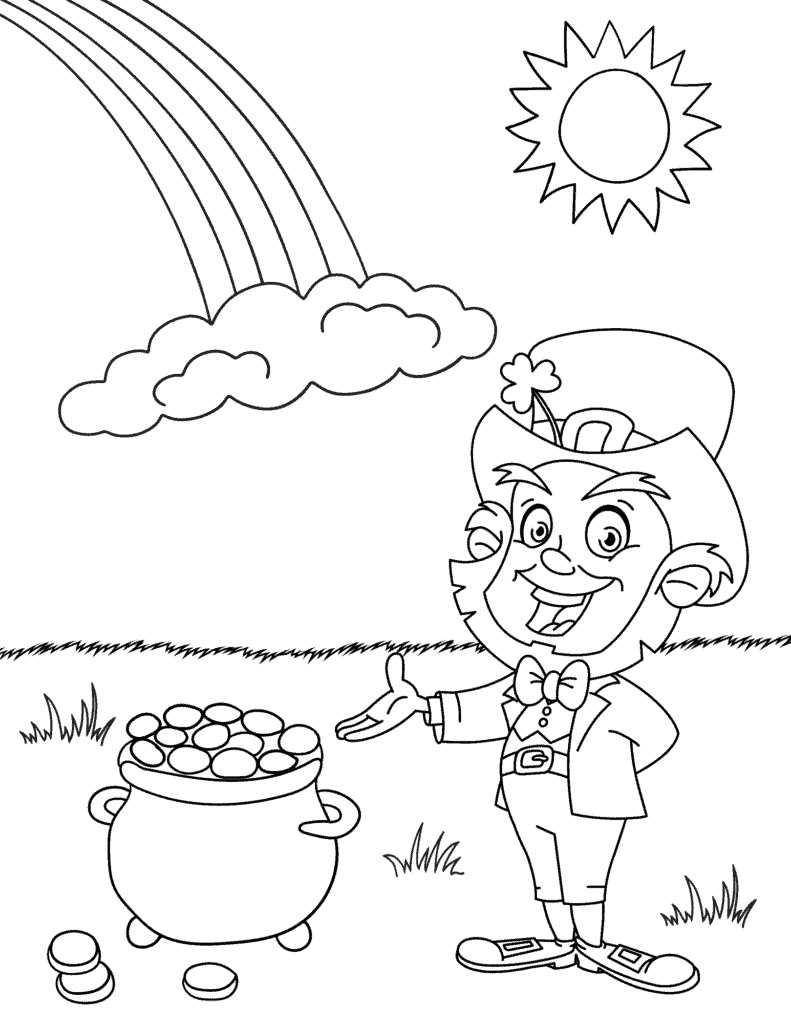 Nothing says St. Patrick's Day like a leprechaun happily showing his pot of gold with a rainbow in the distance. Kids of all ages will enjoy bringing this sheet to life.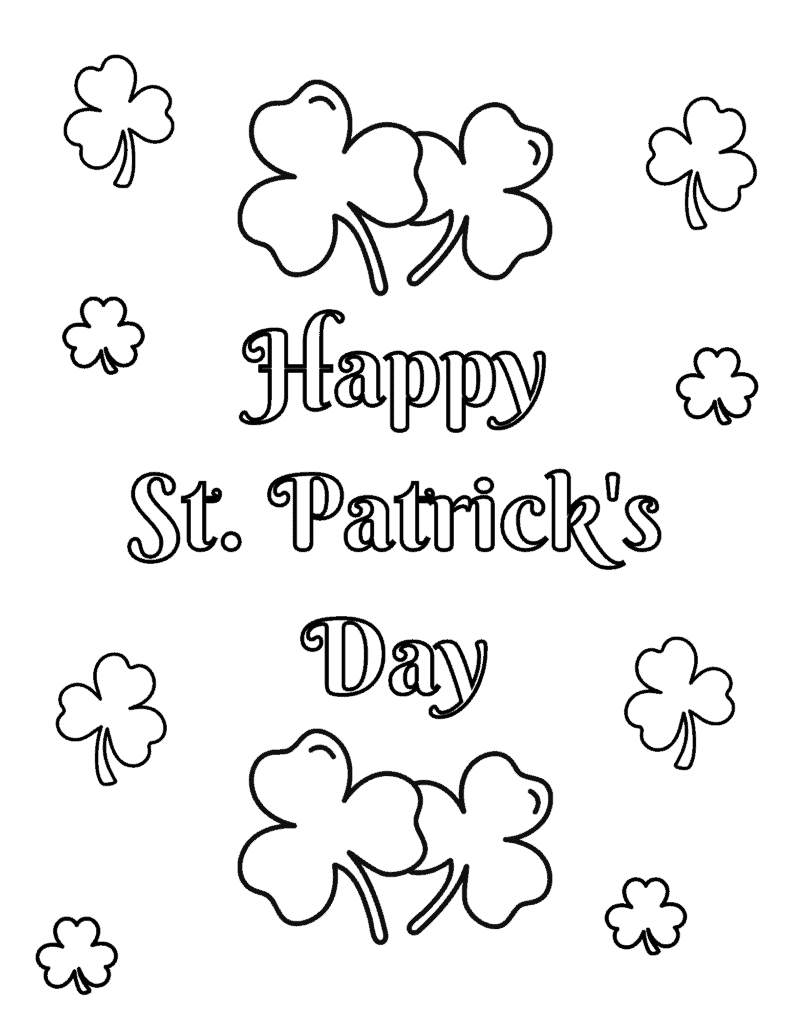 In this page, there are assorted shamrocks, which are the iconic symbol of Ireland, along with some clovers, too. It also has bold words that say "Happy" St. Patrick's Day" in the center.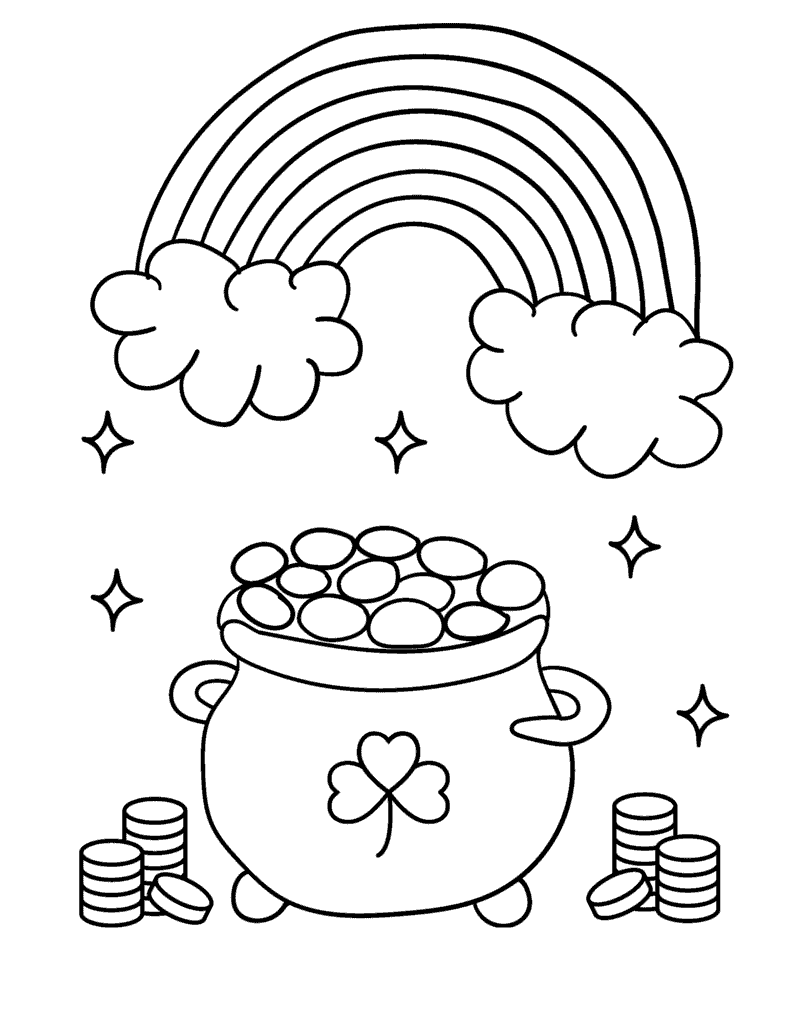 Your kids are bound to have fun adding all the colors of the rainbow to this pot of gold sheet, which features a pot of gold below a rainbow!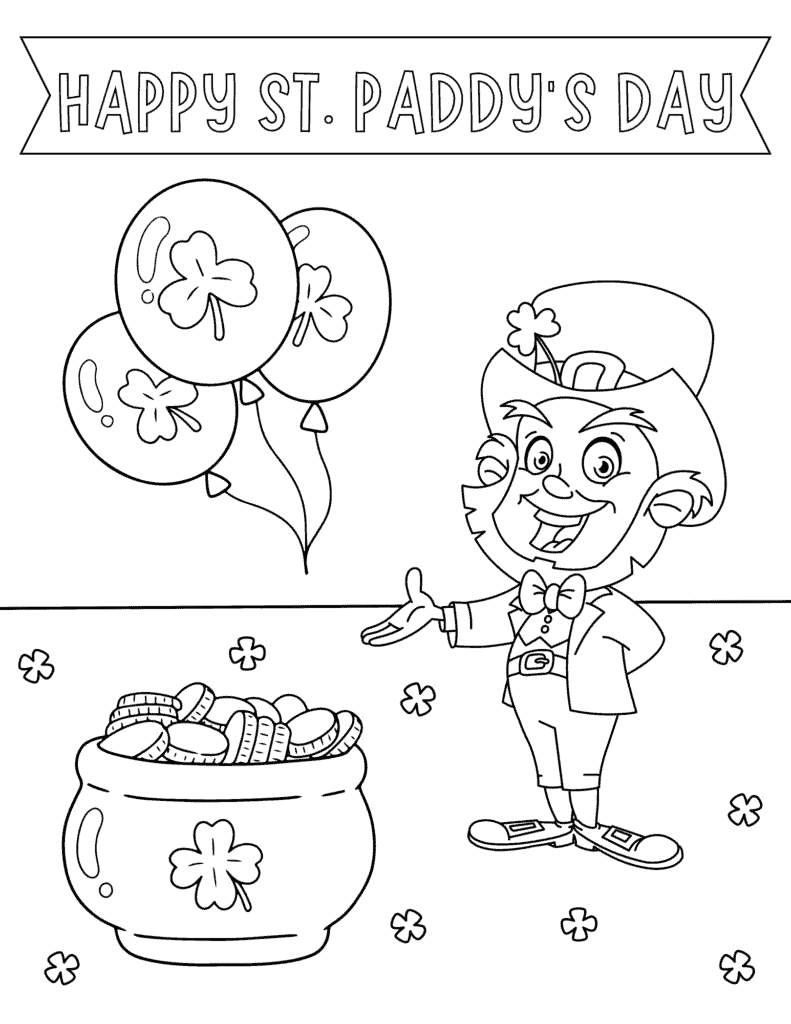 Here we have a happy leprechaun in a field of clovers with a pot of gold and some fun shamrock balloons!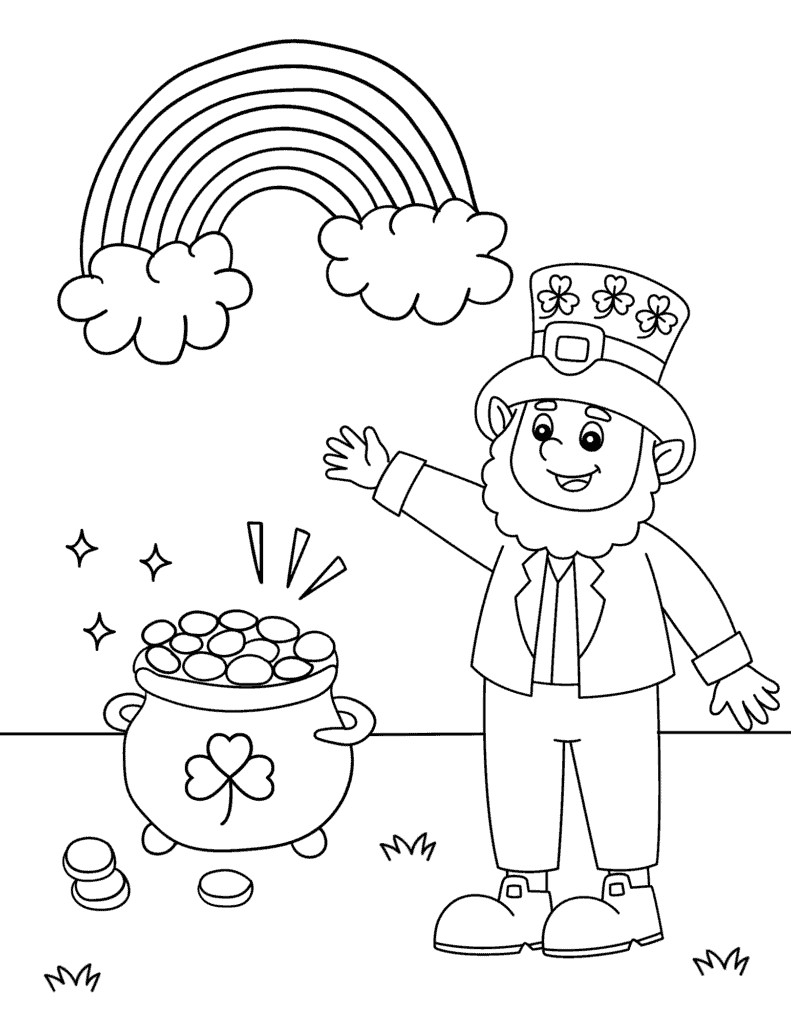 Here is a joyful leprechaun is wearing a cute leprechaun hat with shamrocks on it and is showing off the rainbow above the pot of gold.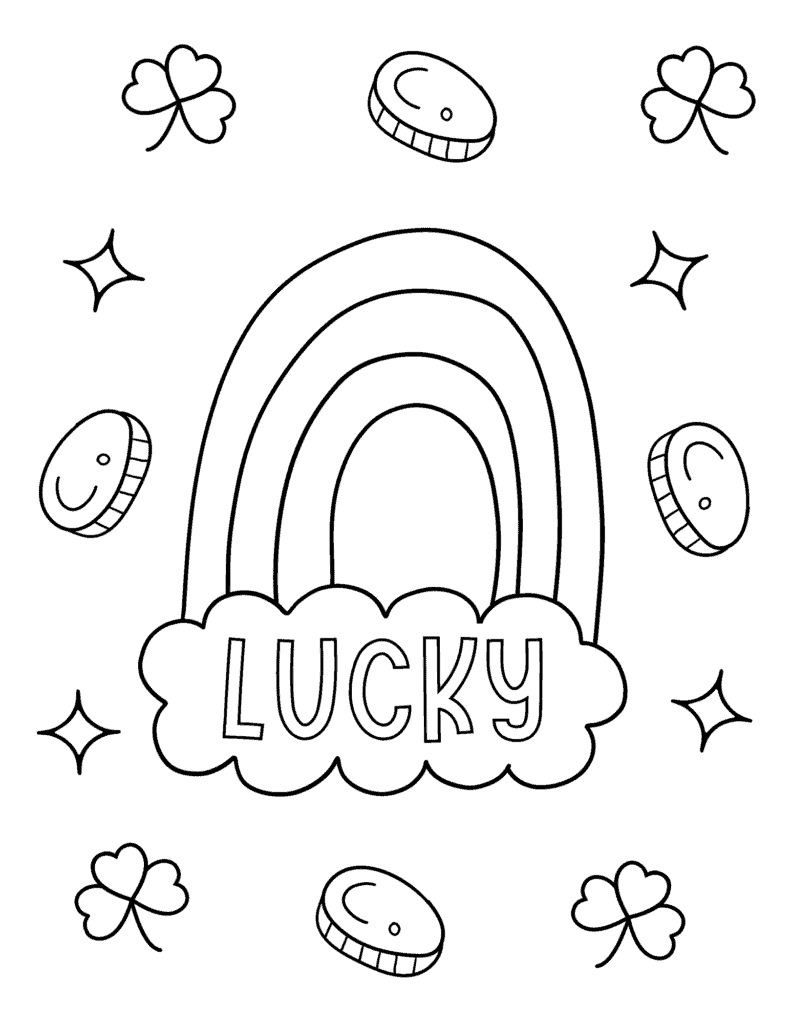 Get some luck of the Irish with this rainbow page with the word "Lucky" on it. Younger children will love this sheet!
Older Kids and Teens St Patrick's Day Coloring Pages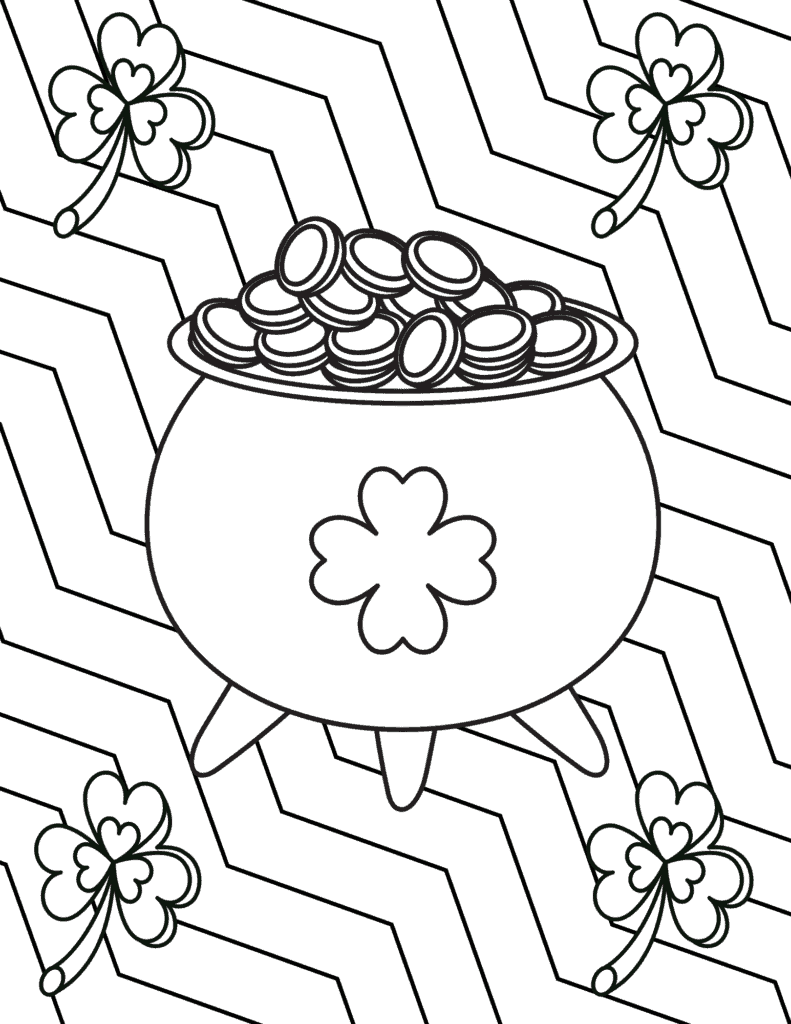 This sheet has a pot of gold in the center surrounded by four shamrocks with a chevron pattern in the background. It would look great with lighter shades of green and gold in the background. Then, use darker colors for the pot and shamrocks to make them "pop".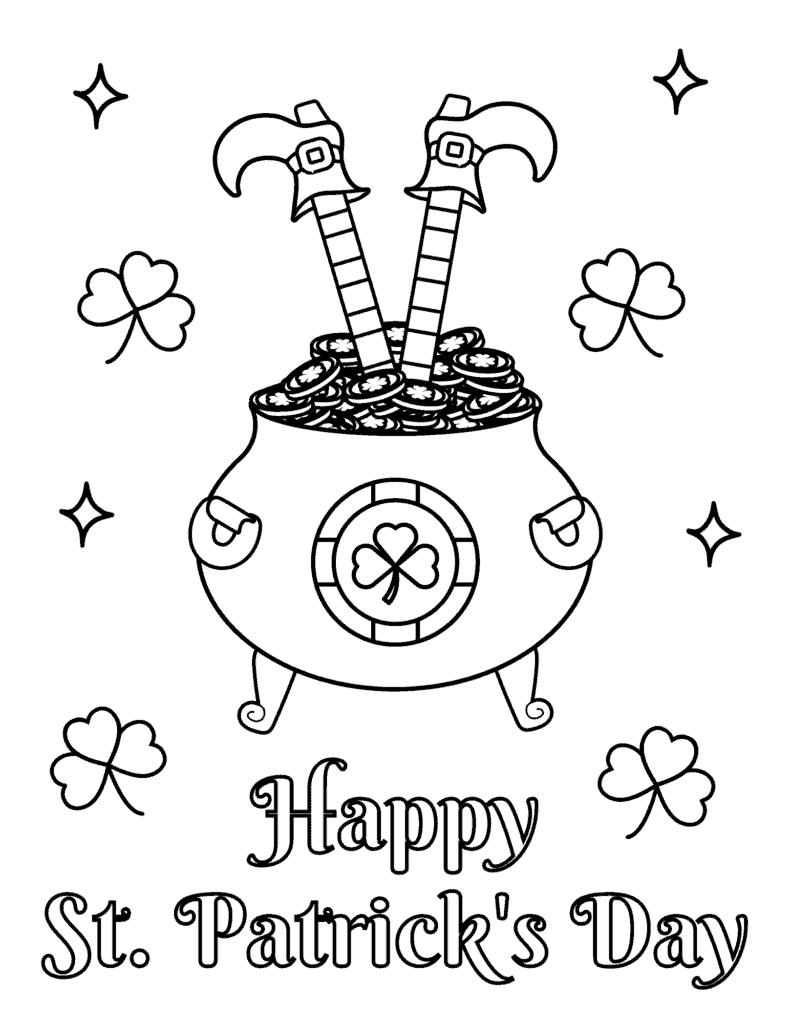 In this fun coloring page, a leprechaun is upside down in a pot of gold! Since it has lots of smaller details like the letters and coins, it is best suited for older kids, teens, or even adults.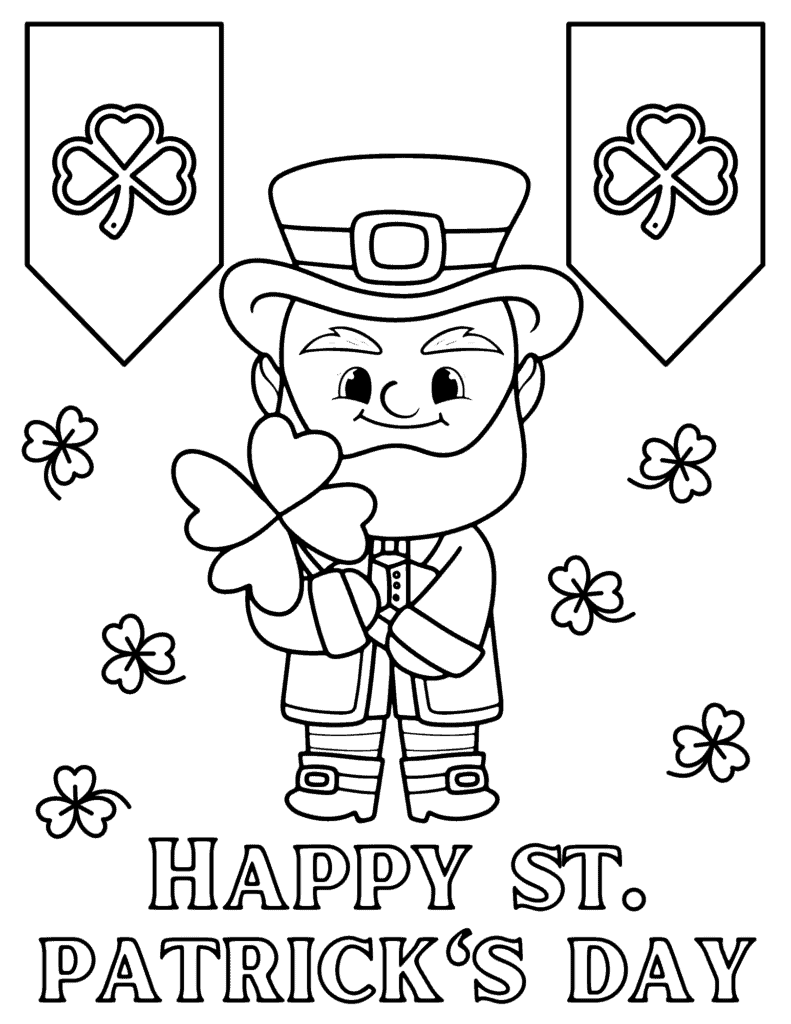 This smiling Leprechaun is wearing traditional Irish attire and holding a shamrock. He is inviting kids to have fun adding color to him! It is sure to get kids of all ages in a festive mood.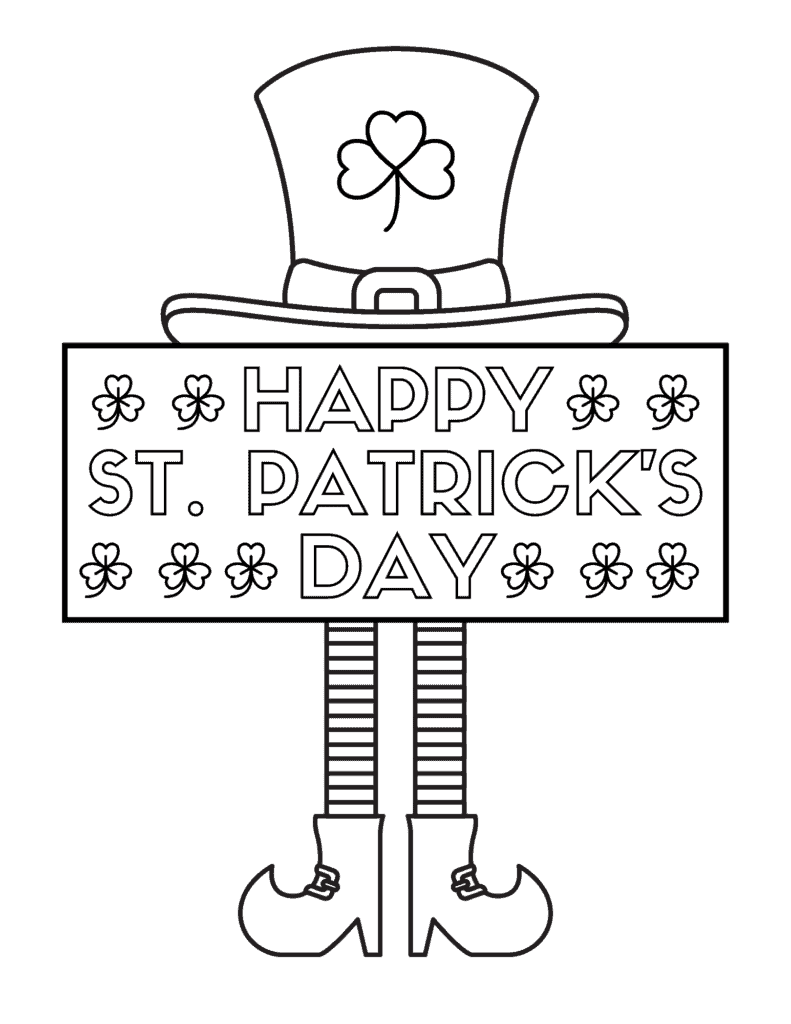 This hiding leprechaun is holding a Happy St. Patrick's Day sign. It would look great as a framed piece of decor for the home. Colored pencils would work best for this sheet.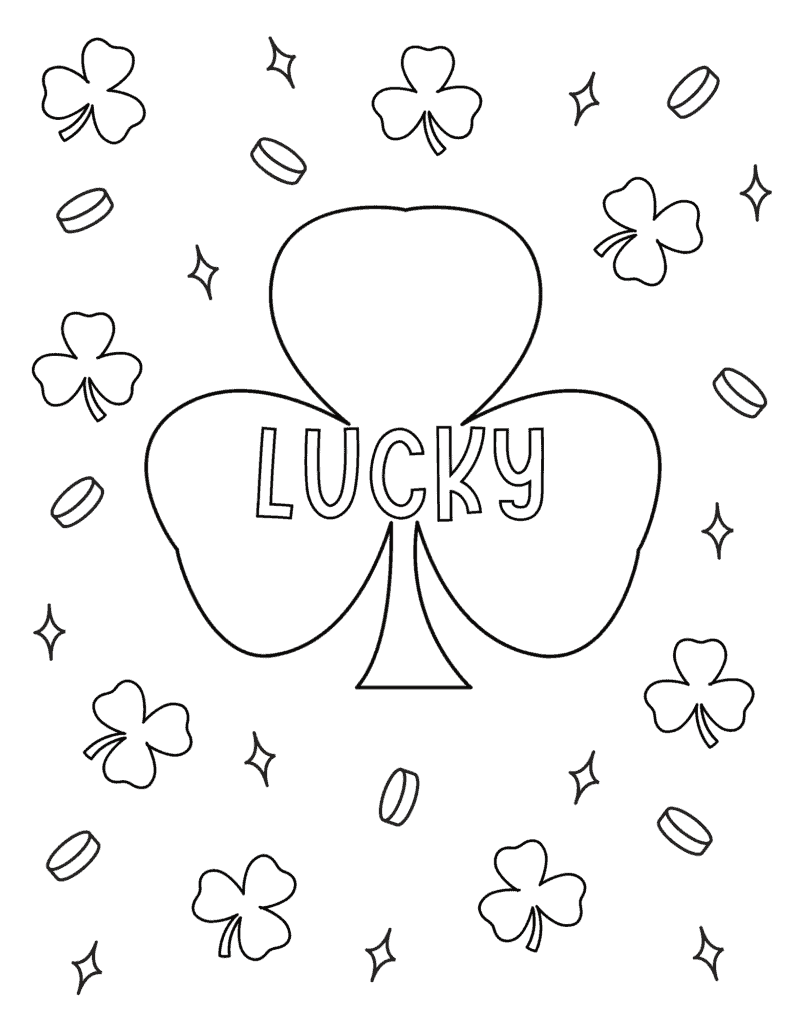 Spread the luck of the Irish with this fun coloring page featuring a large shamrock with the word "Lucky" in bold letters inside it. Have fun adding different shades of greens and golds to this one.
Here you will find a pot of gold in the middle of a field filled with clovers and mountains in the background. There's a lot to color in here, so it will provide a lot of entertainment for your kids.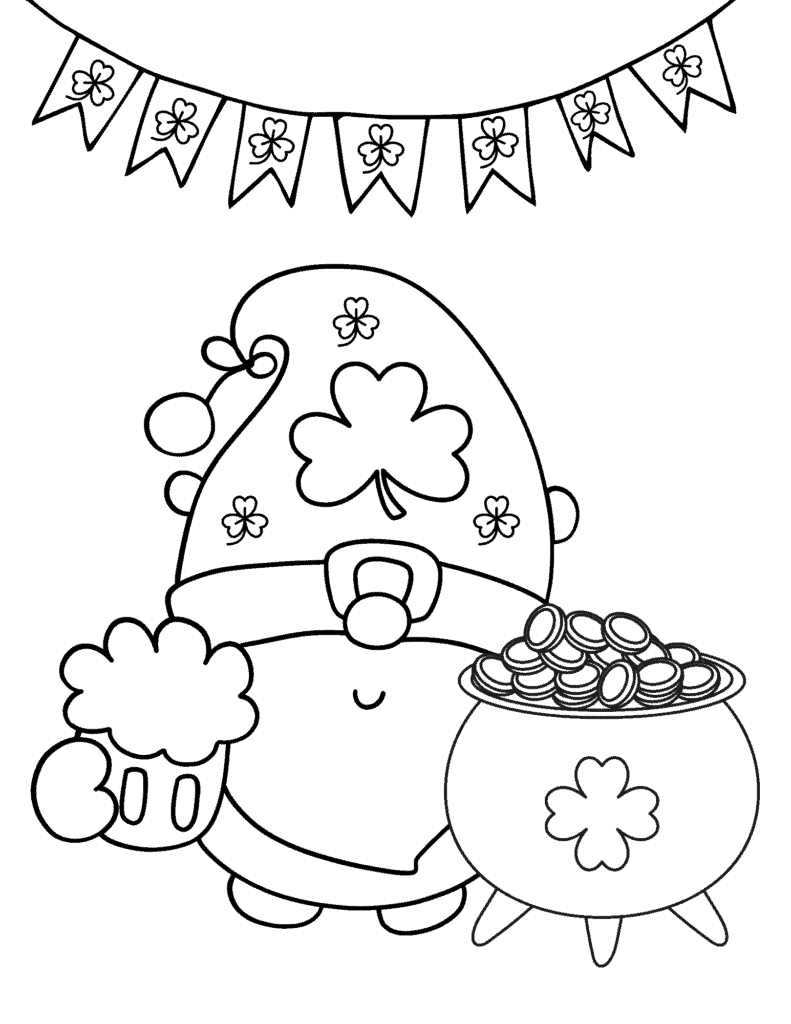 This festive St. Patrick's Day gnome is holding a mug and a pot of gold and is ready to celebrate the holiday!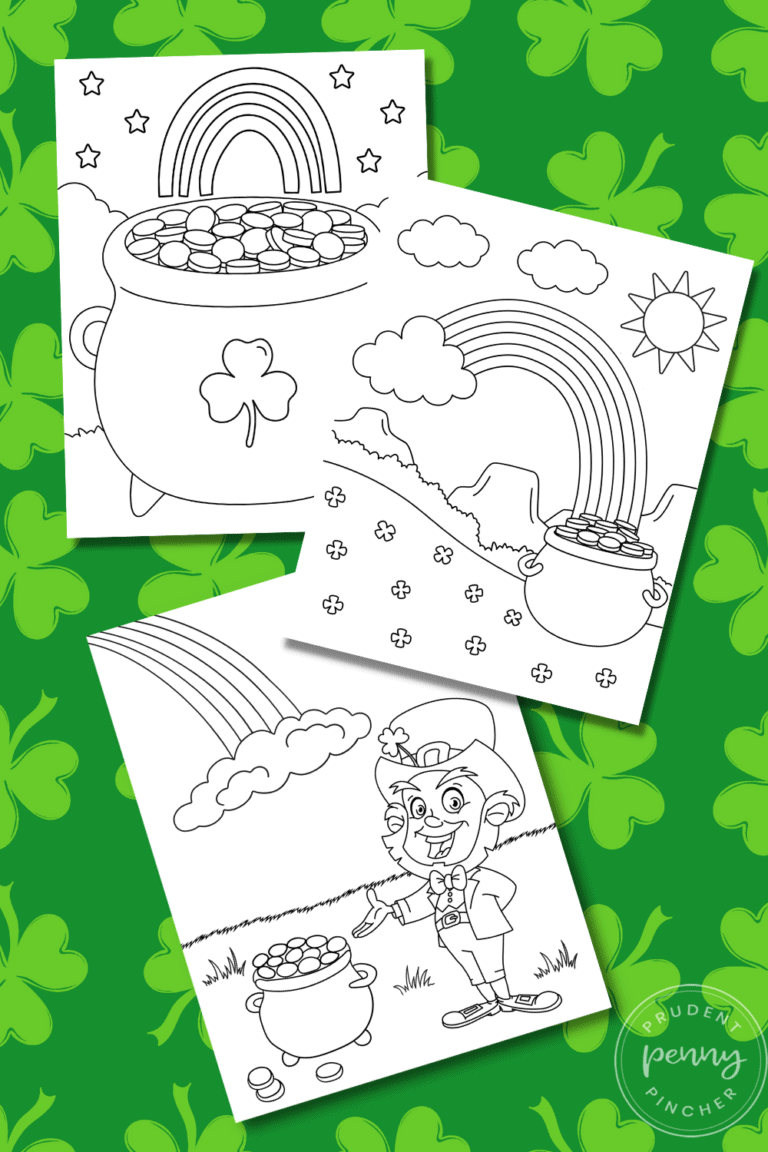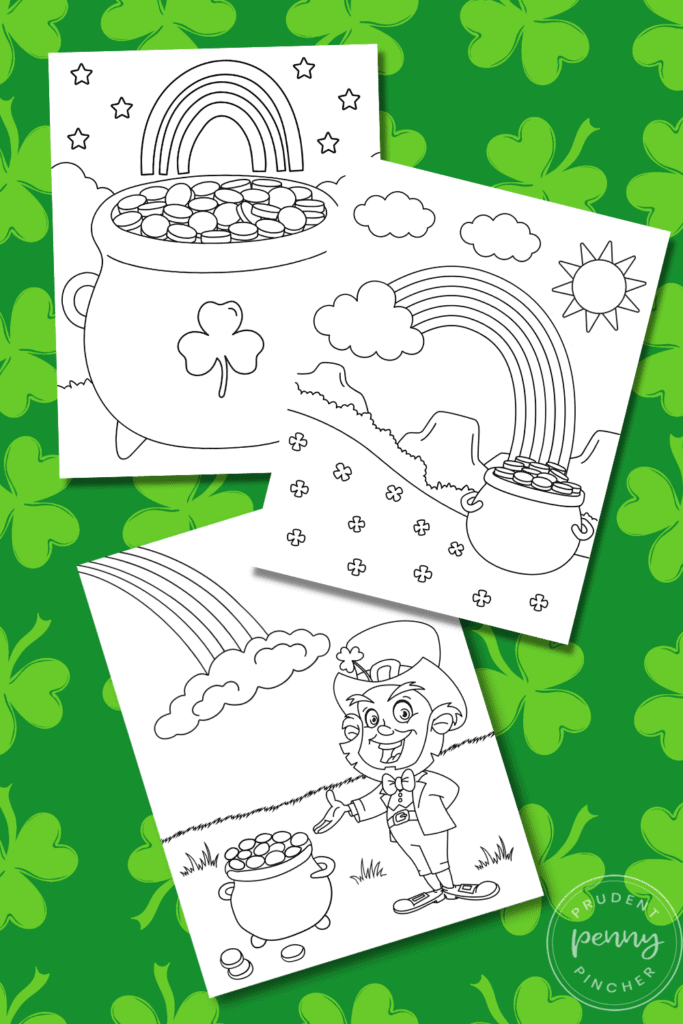 More Seasonal and Holiday Coloring Sheets
More St. Patrick's Day Ideas
If you tried one of these St. Patrick's coloring pages or any other coloring sheets on my website, please let me know how it went in 📝 comments below!
Follow me on Pinterest, Facebook, or Instagram for more inspiration on crafts, DIY, free printables, and recipes!