Celebrate our planet with these free printable Earth Day coloring pages for kids of all ages and grade levels.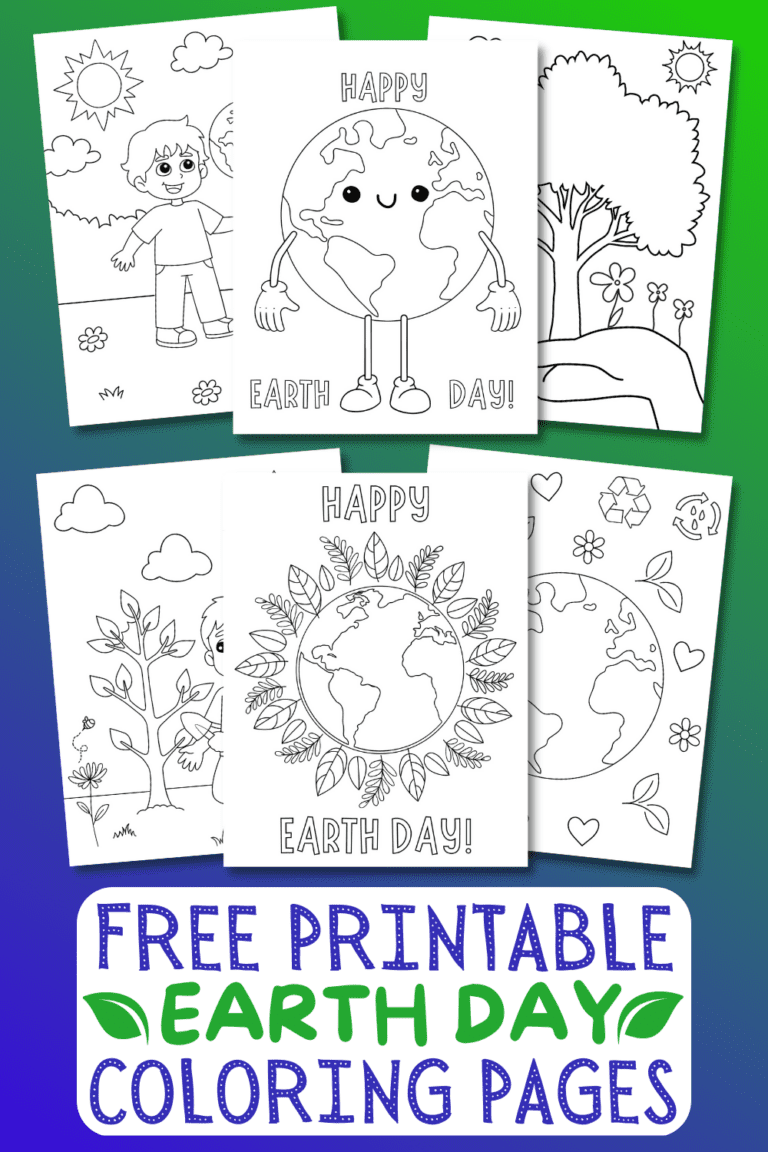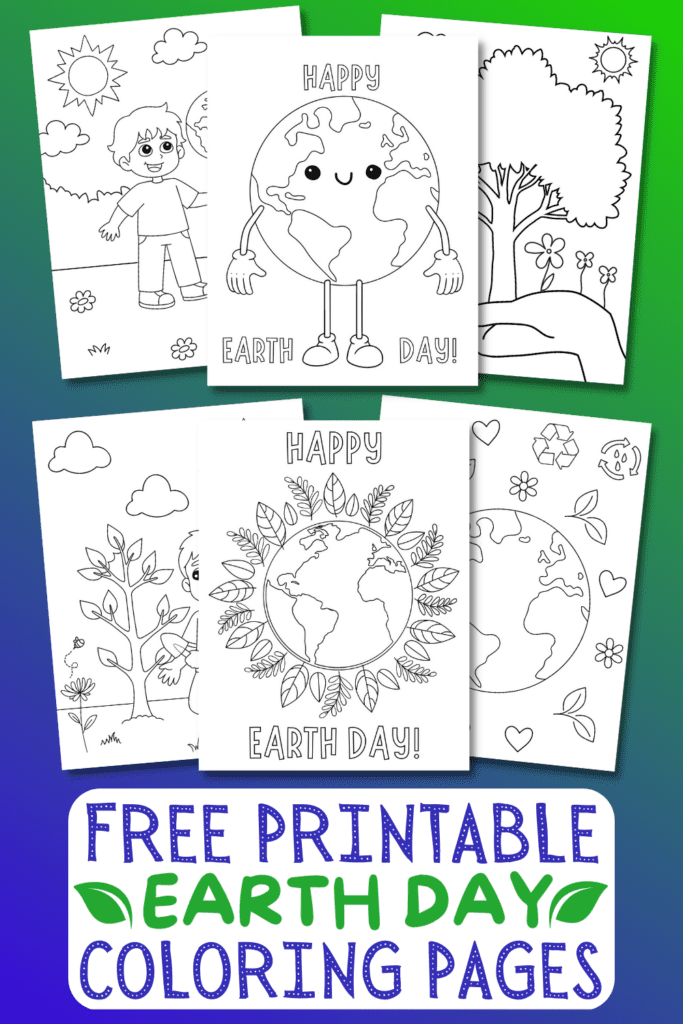 What is Earth Day?
Earth Day is an annual event that is celebrated on April 22nd globally to raise awareness about environmental issues and promote sustainability.
These coloring sheets are a fun earth day activity for kids to enjoy! Whether you are looking for simple designs for toddlers and preschoolers or more advanced ones for older kids, there are plenty of printable coloring pages to choose from.
Engaging children in fun and educational activities such as coloring pages is an excellent way to teach them about the importance of caring for the earth and its natural resources. These free printables are a great way to open a discussion with them about crucial concepts like recycling, global warming, climate change, and sustainability.
Whether you want to use these free coloring pages in the classroom as part of a lesson plan, for homeschool, or as a fun activity at home for April 22nd, there are plenty of fun coloring printables here.
These themed coloring pages feature the planet earth, plants, trees, flowers, wildlife, and much more. They will allow kids to show appreciation for the planet and encourage them to think about how they can make a difference. These designs are a great way to introduce children to the concept of environmental protection. Also, it will help them to express their creativity and develop important skills such as fine motor skills and hand-eye coordination while learning about the importance of protecting the environment for future generations.
For hours of fun, pair these coloring pages with this Earth Day word search or these fun earth day crafts!
Jump to: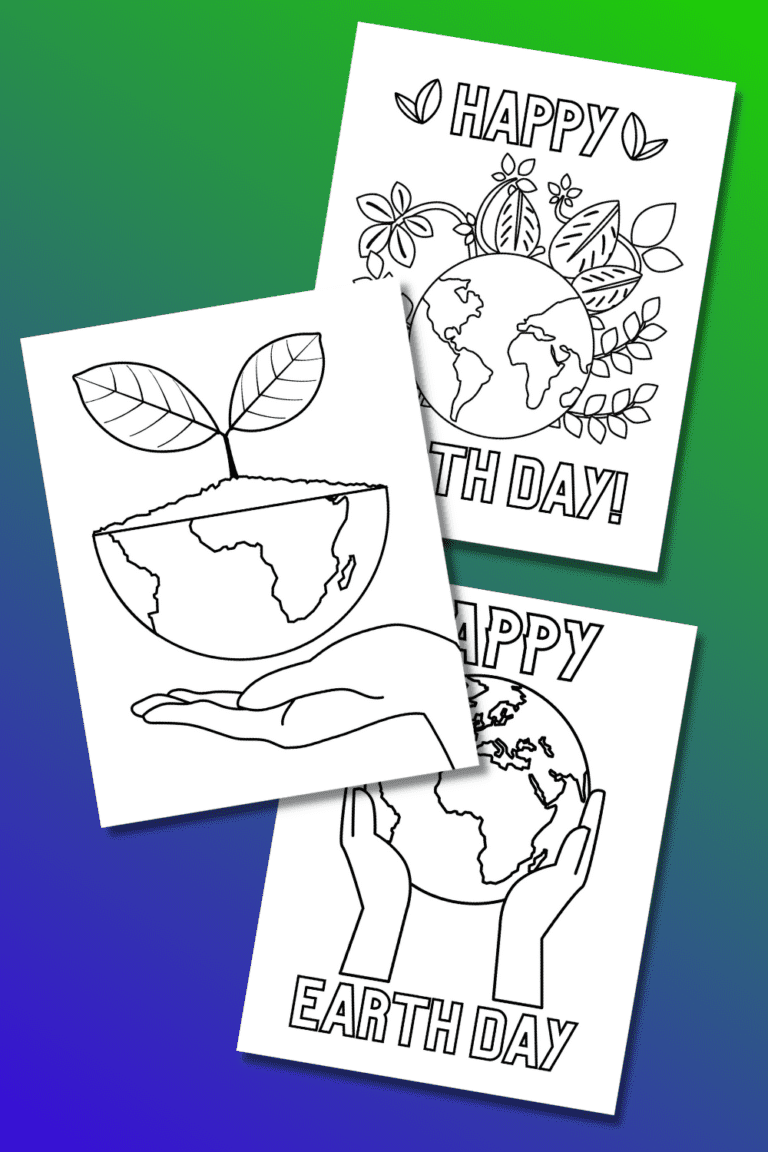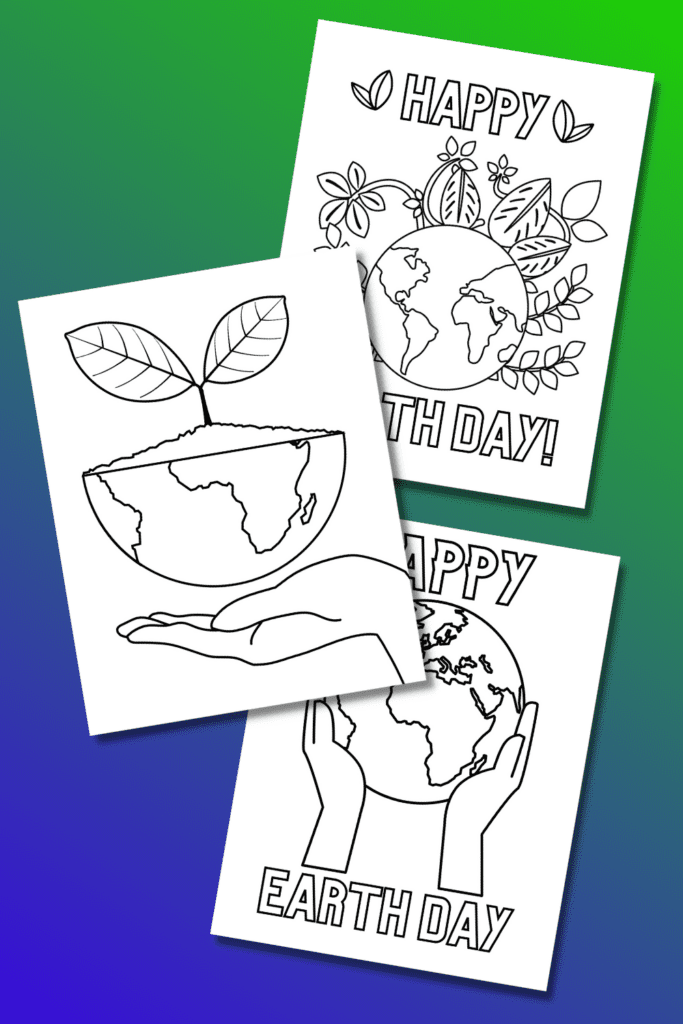 Supplies Needed:
printer
printer paper
markers, crayons, colored pencils, watercolors, etc.
PDF format file to download
How to Print and Download The Coloring Sheets
Click the URL to the PDF file.
In the toolbar, click the download button.
Download the image to a file location of your choosing.
Open the image in Preview and go to File —> Print.
Make sure the page size is set to "Fit" in the settings to ensure it will fit within the page.
Press the print button.
Earth Day Coloring Pages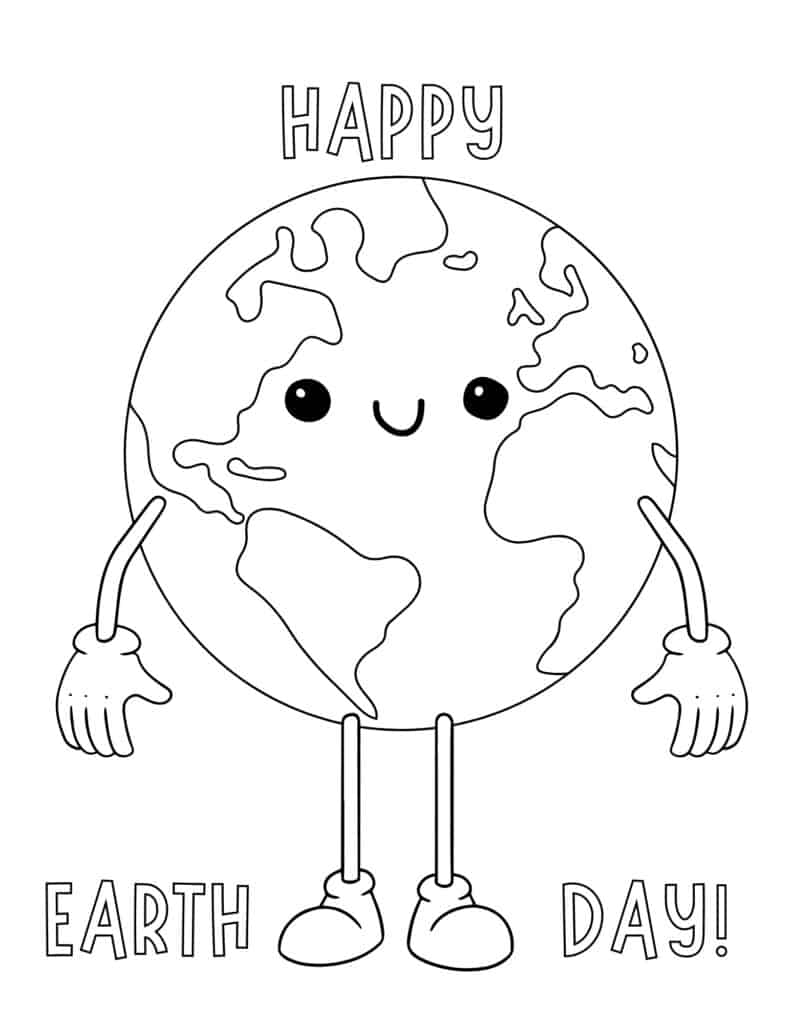 The coloring page features a friendly cartoon character with a smile on its face. Coloring this smiling globe with assorted shades of greens and blues will be an enjoyable activity for your child. Just print it out and get started!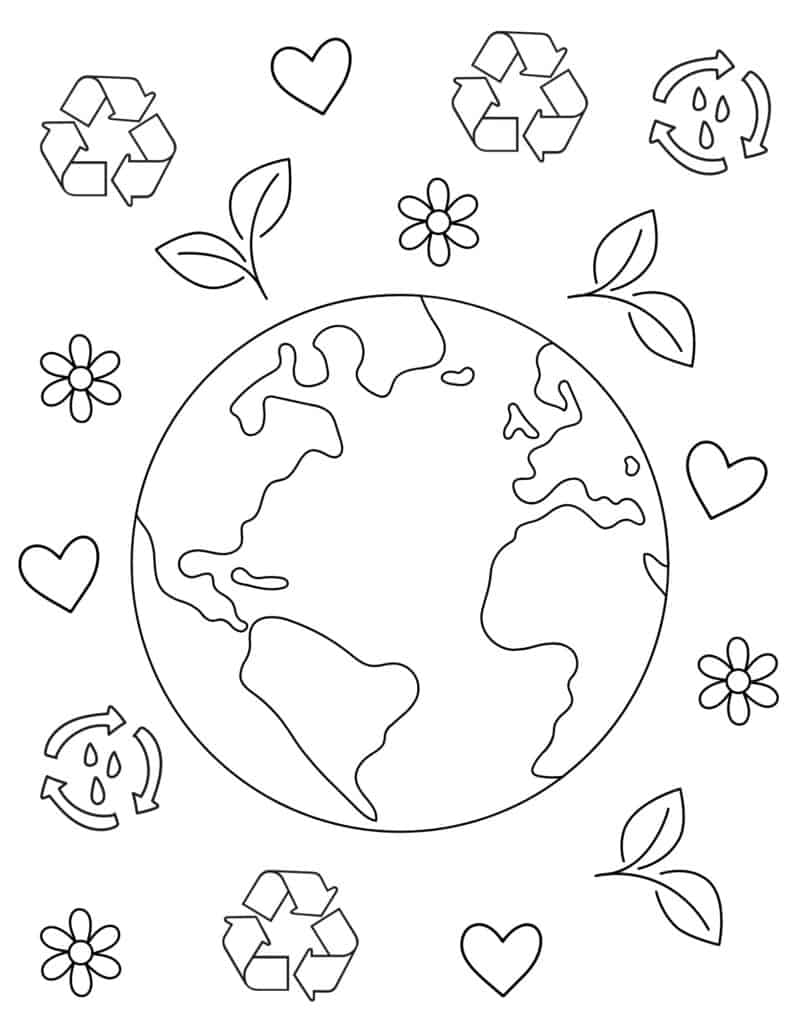 Recycle symbols, flowers, and leaves are surrounding the planet in this coloring sheet. This is an excellent page to teach children about the importance of recycling and the positive impact it can have on the planet. Children can color in the different symbols while learning about the different materials that can be recycled, such as paper, plastic, and glass.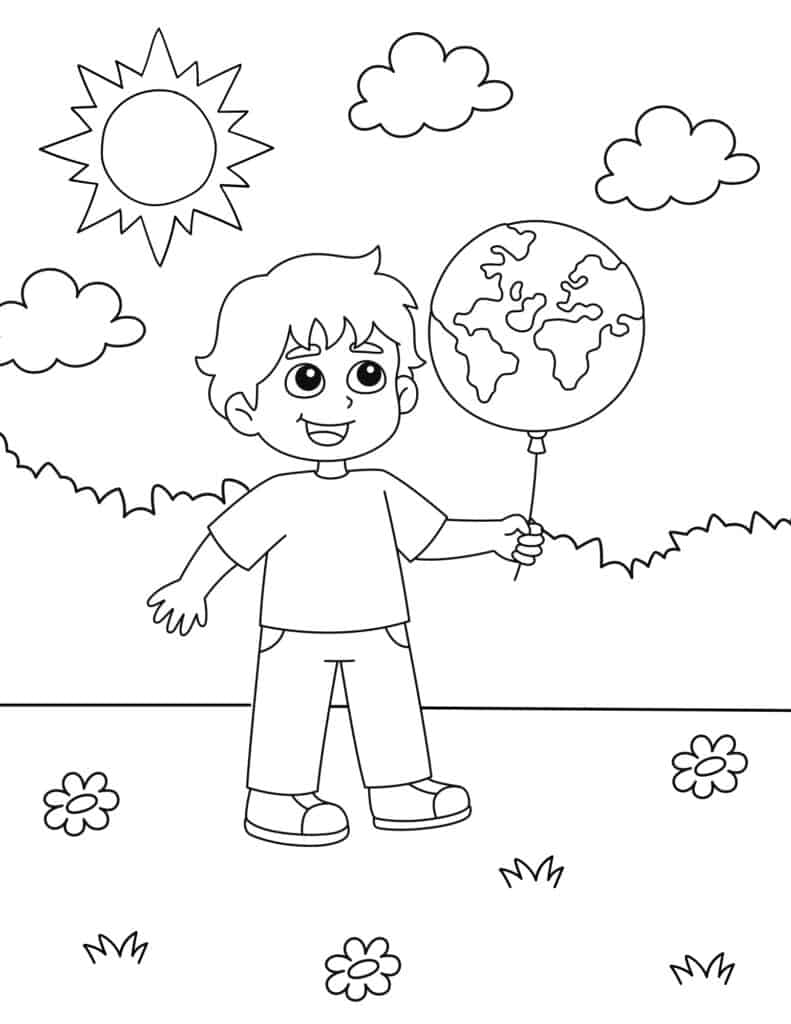 Celebrate Earth Day with this page featuring a child carrying a planet balloon in a grass-filled field with flowers. This coloring page reinforces the importance of taking care of our planet. So, let's grab some colored pencils and color in this nature scene!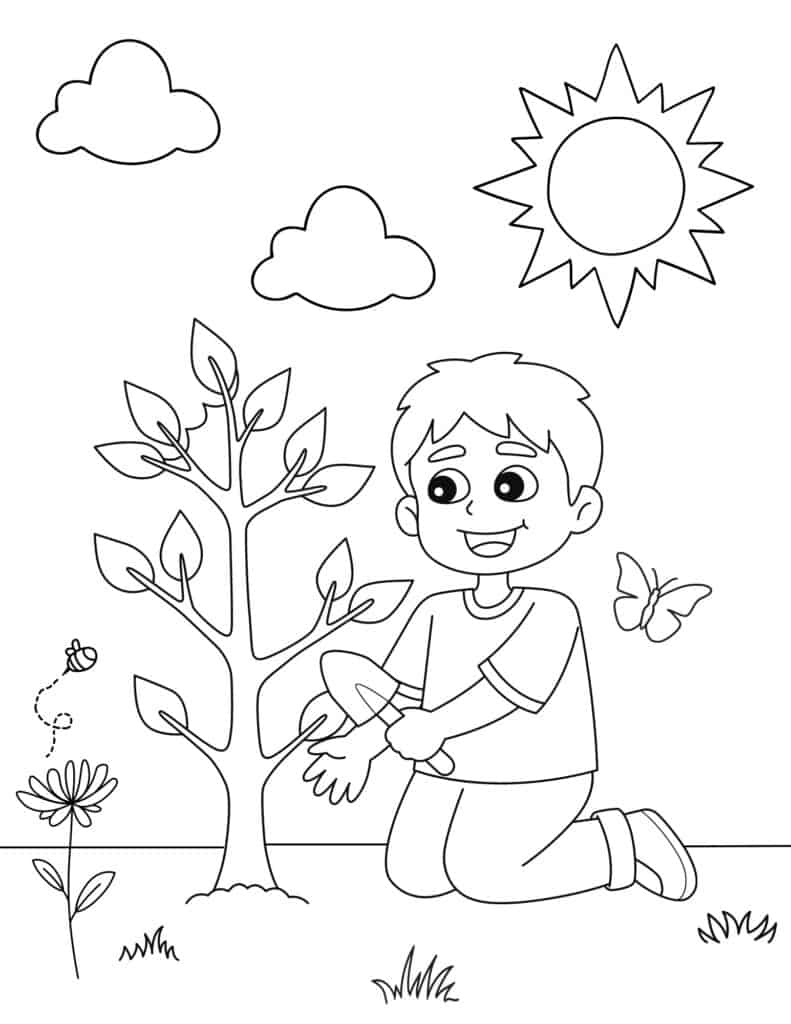 One of the easiest things we can do to demonstrate support for our planet is to plant some trees! Trees help provide fresh air and homes for animals in addition to giving us shade on warm days. In this coloring page, you can see a boy planting a tree. You can make this part of a lesson plan and teach kids how to plant trees of their own. So let's have some fun and do our part to make the Earth a better place!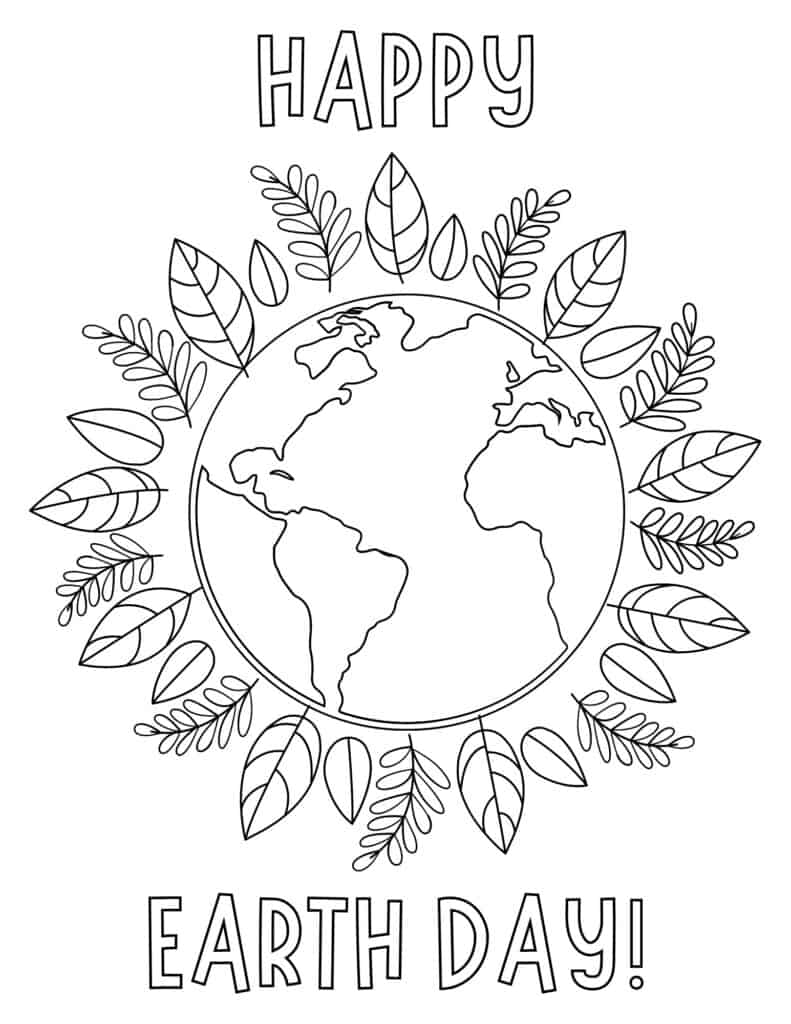 Our planet is a beautiful and amazing place, full of life, hope, and wonder. One of the best things we can do to celebrate Earth Day is to appreciate all the plants and animals that make our world so special. In this coloring sheet, you can see the Earth surrounded by a wreath of assorted leaves from different trees and plants. You can use this one to teach children the importance of planting trees and flowers during the month of April in honor of this holiday.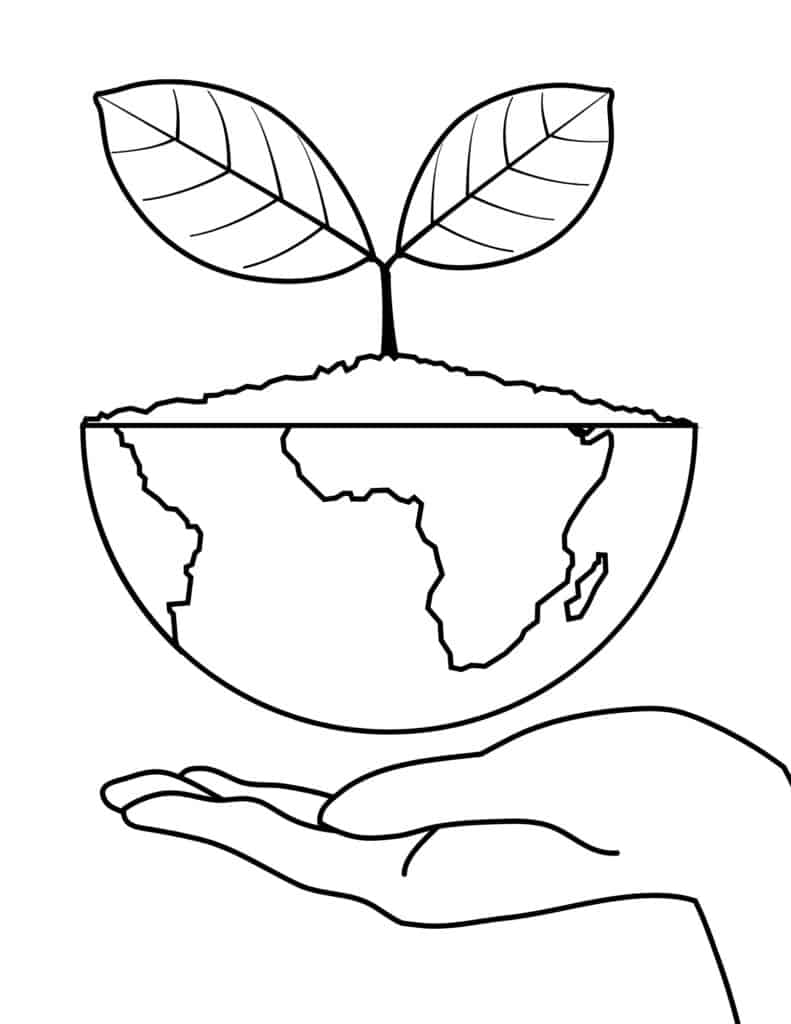 This coloring page features the earth being held in the palm of a hand, representing the importance of caring for Mother Earth. In this coloring page, you can see someone holding the Earth in the palm of their hand. It's a reminder that even small actions can have a big impact on the planet.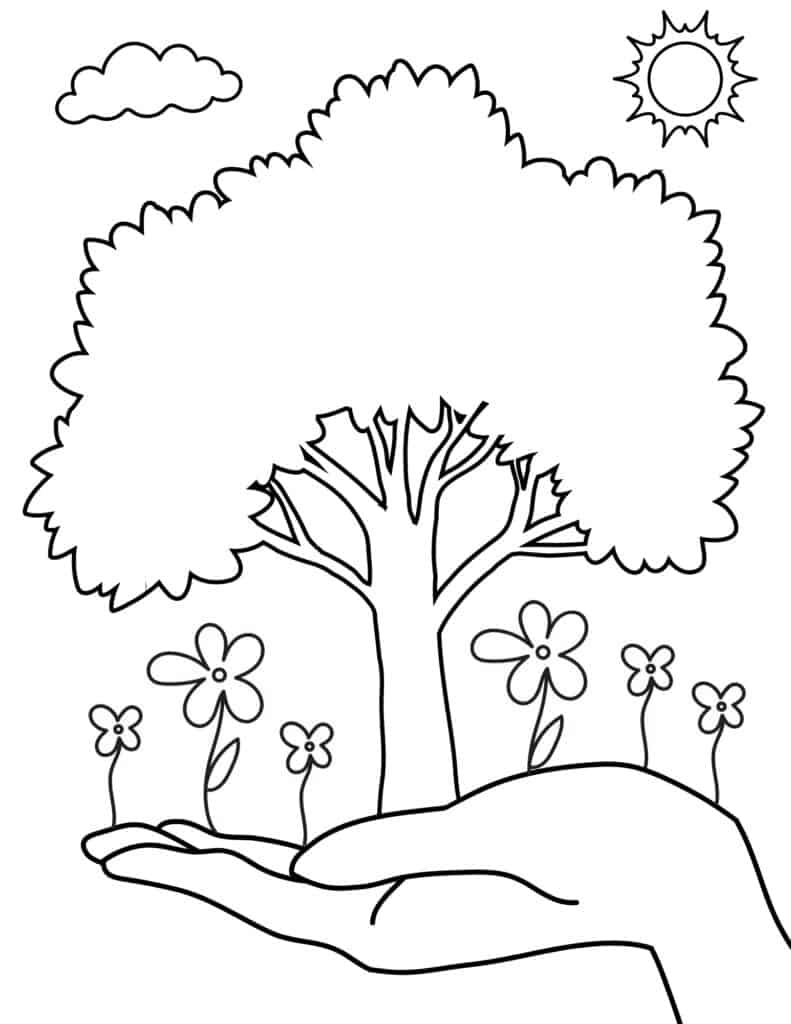 Trees and flowers are some of the most important parts of our planet, as they help to keep the air clean and fresh and provide homes for insects and animals. When we plant trees and flowers, we help to make the Earth a better place for all. So, get creative and color in this coloring sheet to show how much trees and flowers mean to you and the planet.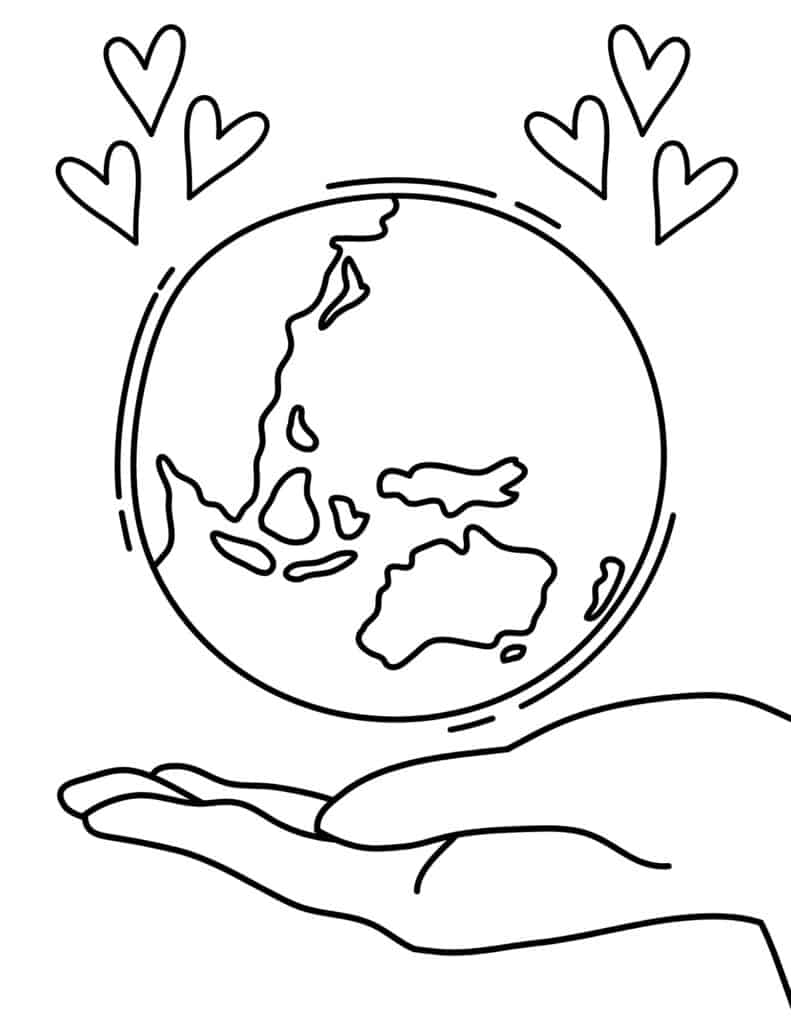 Show your love of the planet with this globe surrounded by hearts. Some simple ways you can express your love of the earth are recycling, conserving water, and reducing waste. Together, we can make a difference and help create a brighter future for our Earth!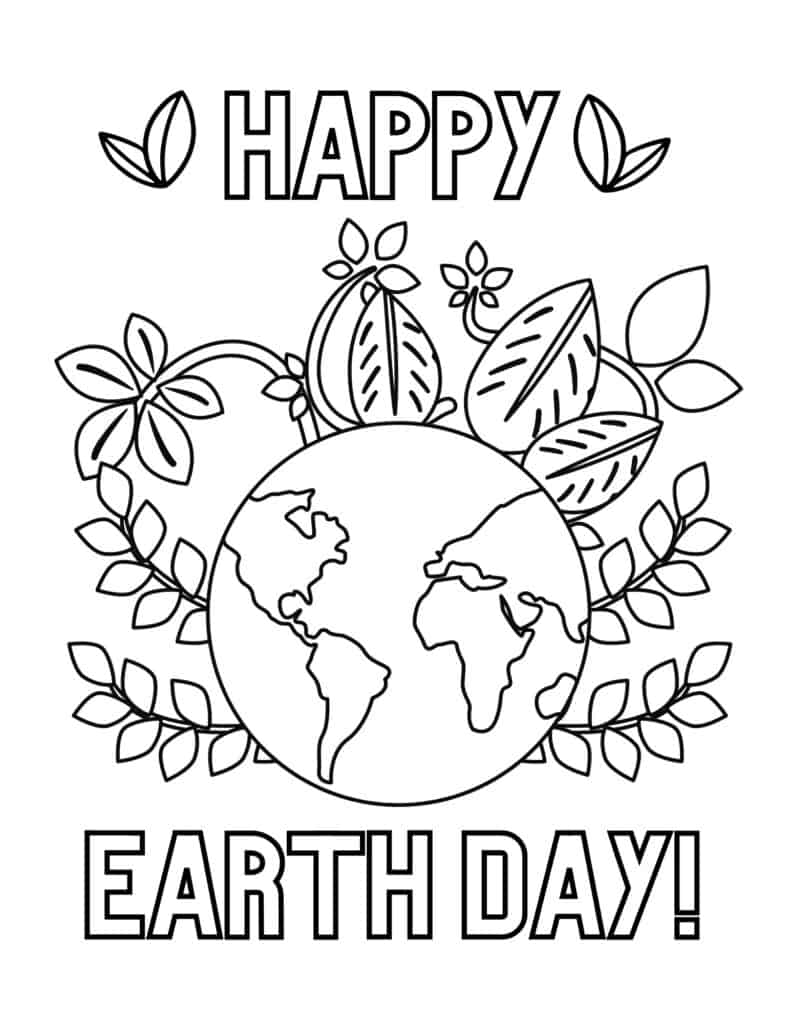 Plants and trees are vital to our earth's atmosphere, as they keep our environment healthy. Use this coloring sheet to teach kids the importance of caring for plants. Be sure to color this page with various shades of vibrant greens and blues.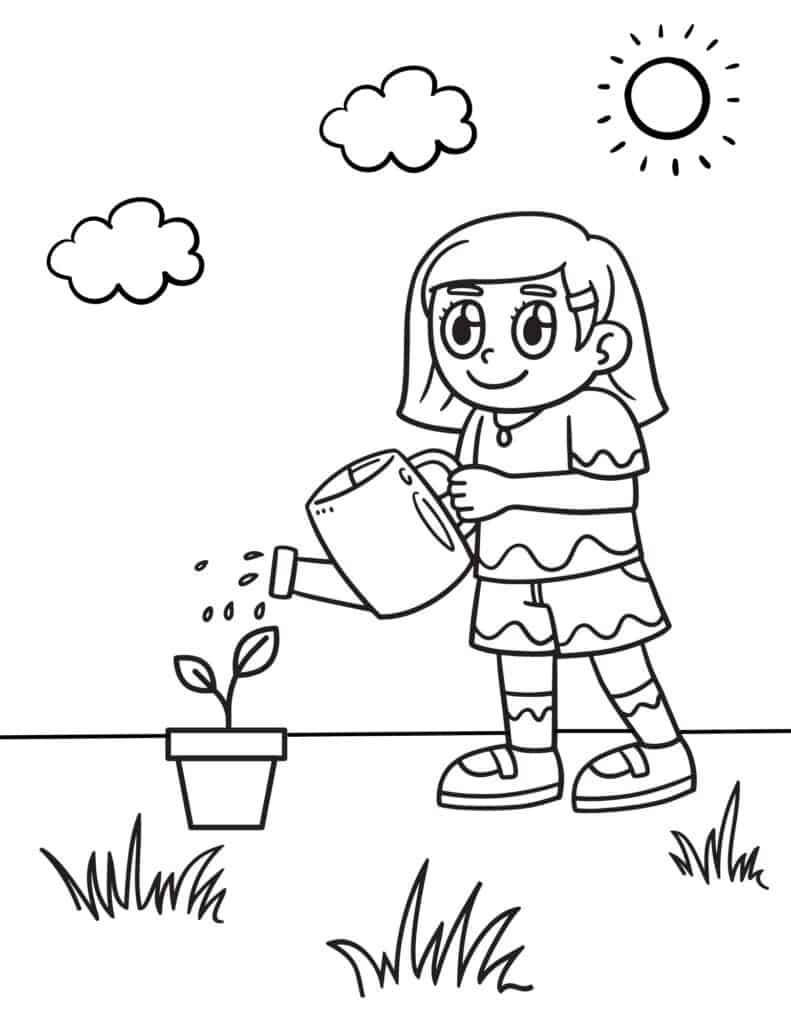 This one shows a young girl doing her part to care for our planet. She is watering a plant outdoors, nurturing it to help it to grow tall and strong. As you color on this page, think about earth day activities you can do to help our earth grow and thrive, just like this plant. Maybe you can plant a tree or start your own garden!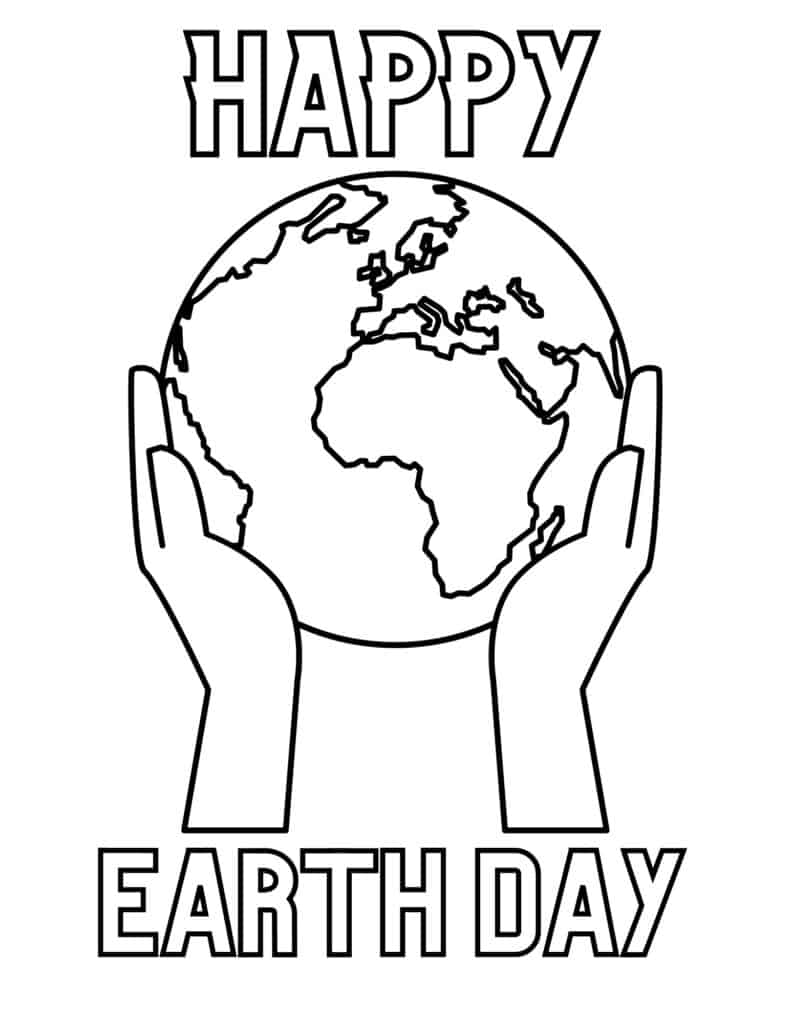 This coloring page shows a person holding our precious planet in their hands. It's a reminder that we all have a responsibility to take care of our home and protect it for the future.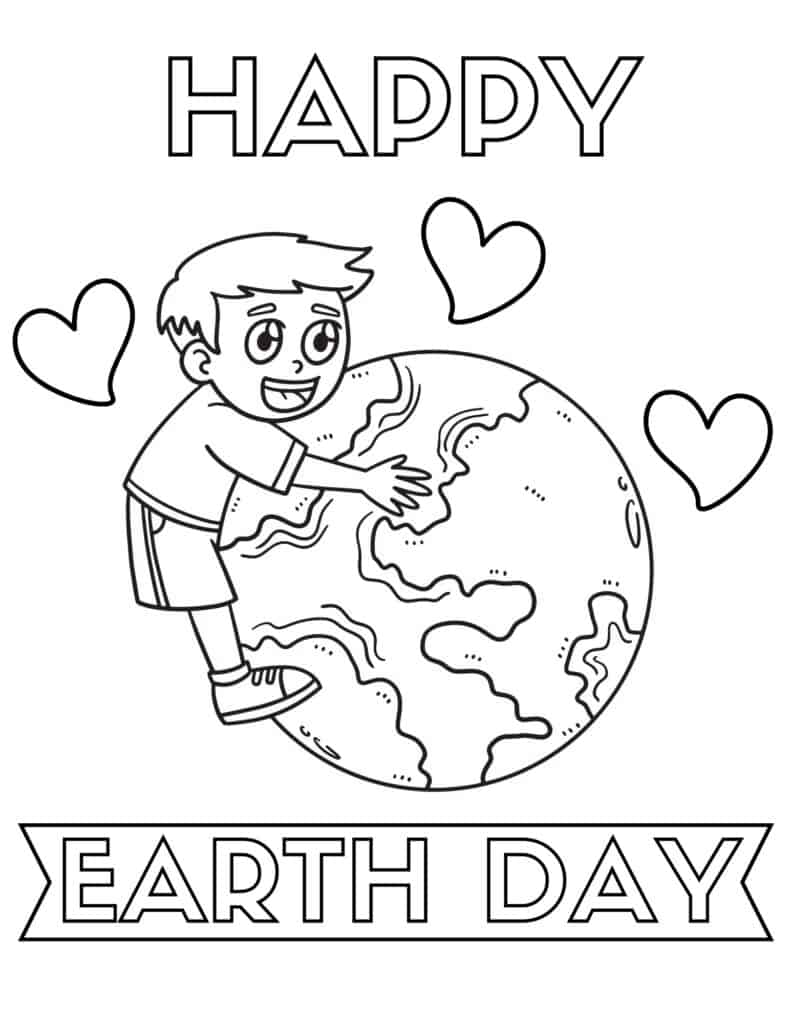 Show your love of the planet with this one featuring a young child with a big smile on his face while he hugs the earth. It's a reminder that we are all connected to the Earth. This coloring page is a great tool for starting a conversation with children about the need to reduce waste and take actions that help to conserve our natural resources. It is a simple yet powerful message that can inspire children to make a positive impact on the world around them.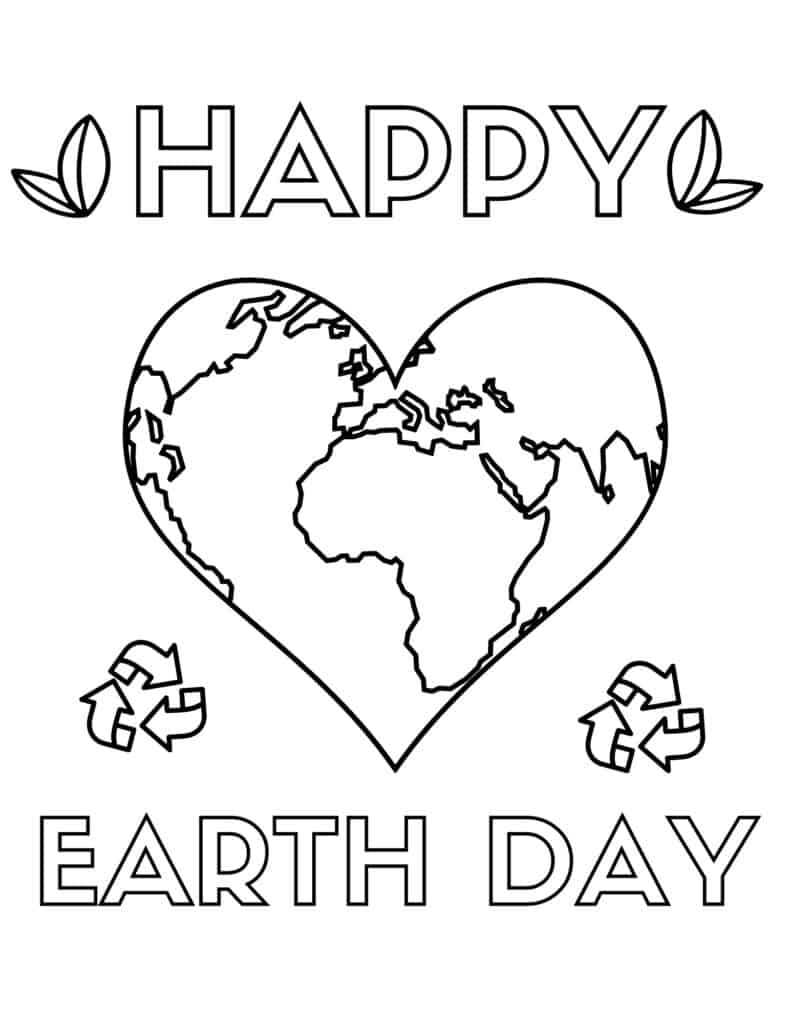 Let's celebrate our wonderful planet by adding colors to this printable. This earth day coloring sheet features a heart-shaped planet with recycling symbols with the words "Happy Earth Day." As you color, think about how you can help demonstrate support for our planet and keep it green for future generations. From recycling to reducing your carbon footprint, every little action counts!
Seasonal and Holiday Coloring Pages
More Coloring Pages
If you tried one of these Earth Day coloring pages or any other coloring pages on my website, please let me know how it went in 📝 comments below!
Follow me on Pinterest, Facebook, or Instagram for more inspiration on crafts, DIY, free printables, and recipes!