Celebrate Independence Day with one of these free 4th of July coloring pages for kids.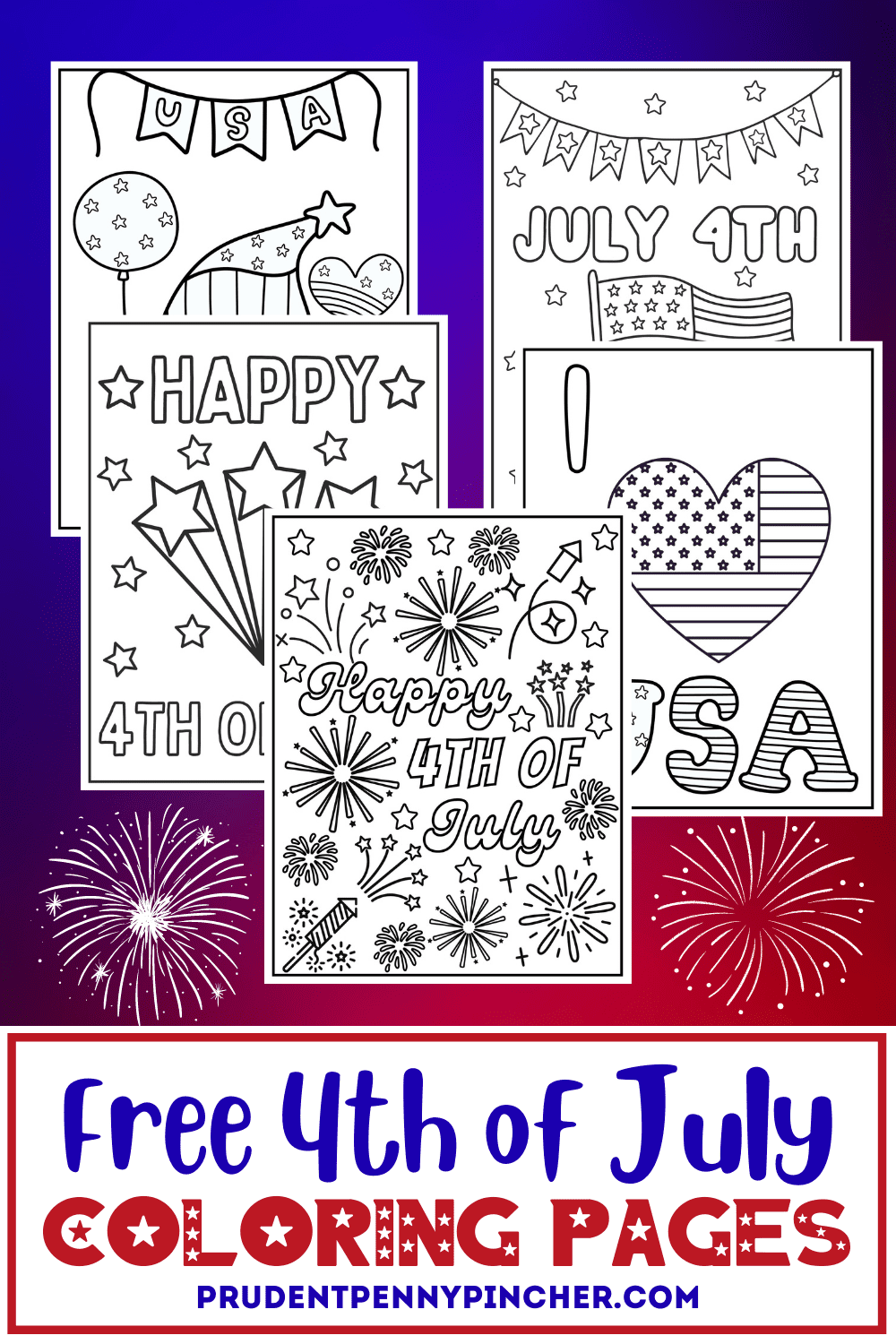 They make a fun July activity and are a great addition to a 4th of July party, picnic, barbeque, or cookout to keep the little ones entertained. From easy coloring pages for preschoolers and kindergarteners to more detailed ones for older kids and teens, there are free coloring pages for kids of all ages full of patriotic symbols such as fireworks, flags, stars and stripes.
These patriotic coloring pages are not only enjoyable but educational as well. They will improve fine motor skills, hand-eye coordination, and artistic skills in young artists. Also, they provide an engaging and interactive outlet for kids to express their creativity and imagination while learning about this federal holiday's history. Be ready to fill these 4th of July coloring sheets with vibrant shades of red, white, and blue!
Some of these free printables would be good for memorial day or veterans day as well.
For extra fun on Independence Day, pair these coloring sheets with these 4th of July crafts for kids!
Supplies Needed:
Printer
Printer paper
Art supplies such as crayons, colored pencils, markers, watercolors, etc.
Printing Instructions:
Click the image you want to print to show the full-sized image.
Right-click on the image and Click Save.
Download the image to a file location of your choosing.
Open the image in Preview and go to File —> Print.
Ensure the paper sizing is set to "Scale to Fit" and the "Best Quality" is selected.
Fun Fourth of July Coloring Pages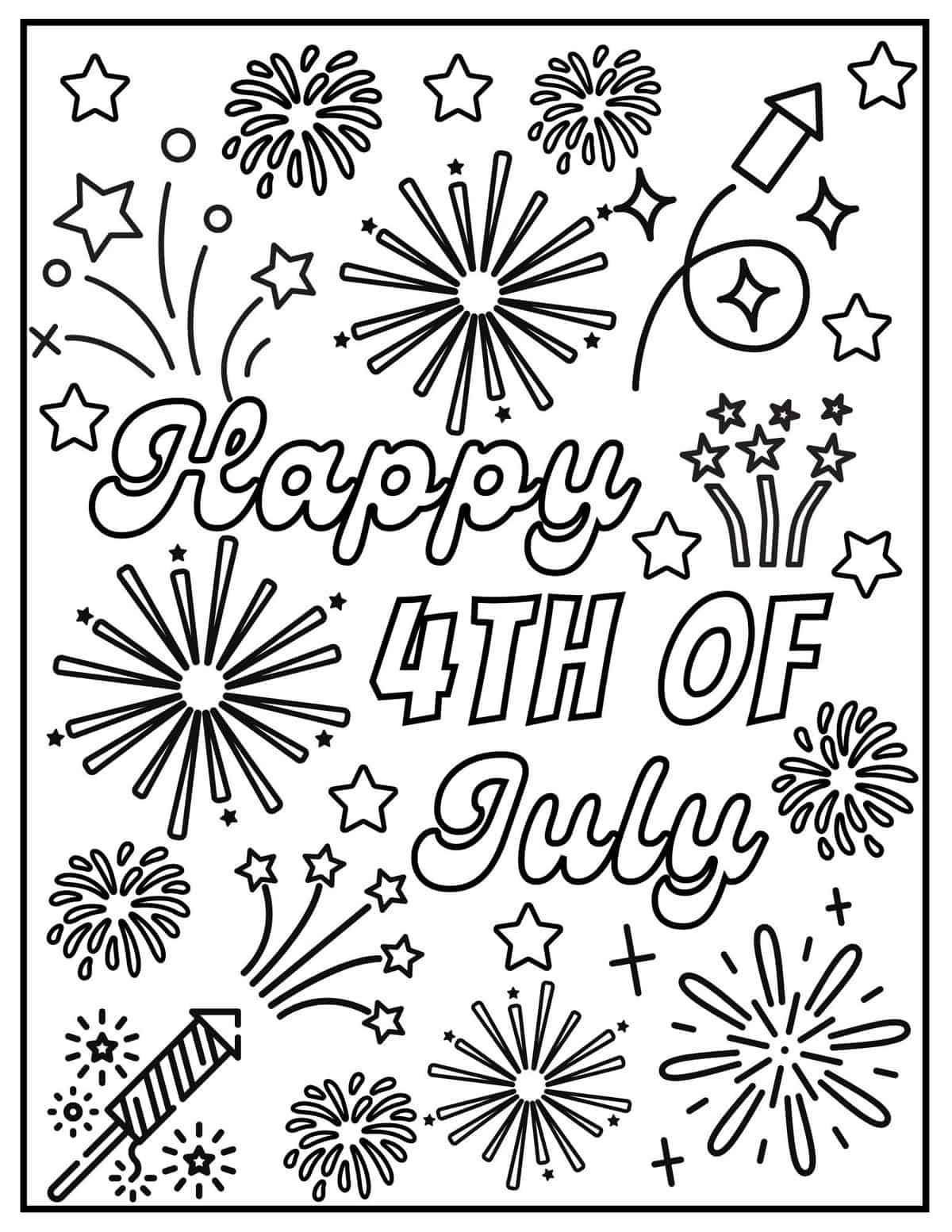 Fireworks Display
This page features beautiful fireworks of all sizes and varieties, which makes it a fun activity for developing fine motor skills. The detailed design of these fireworks provides an ample playground for kids to experiment with a medley of colors and shading techniques!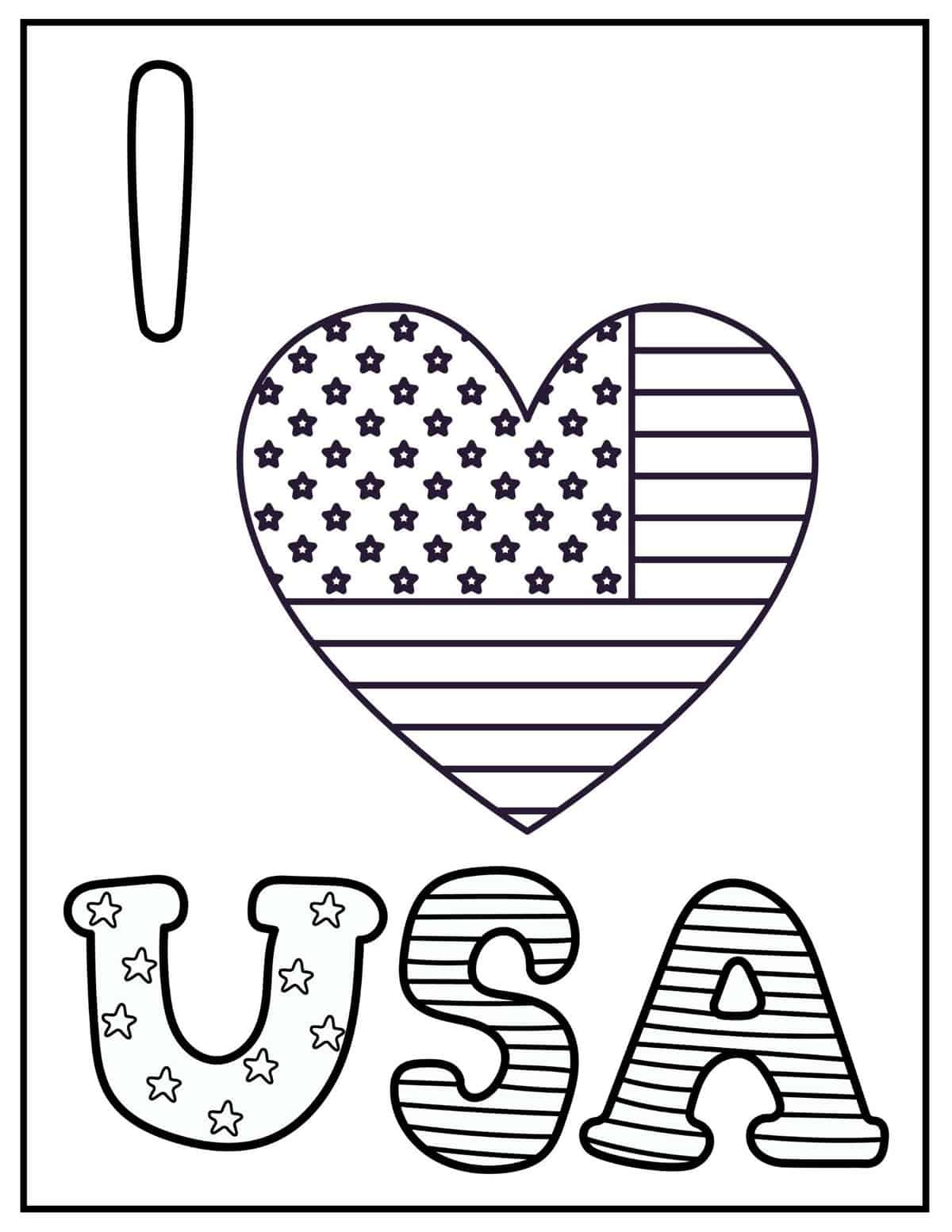 I Heart USA
Show your love for America with this "I Love USA" coloring page. This one would be great for other patriotic holidays like Labor Day and Memorial Day too!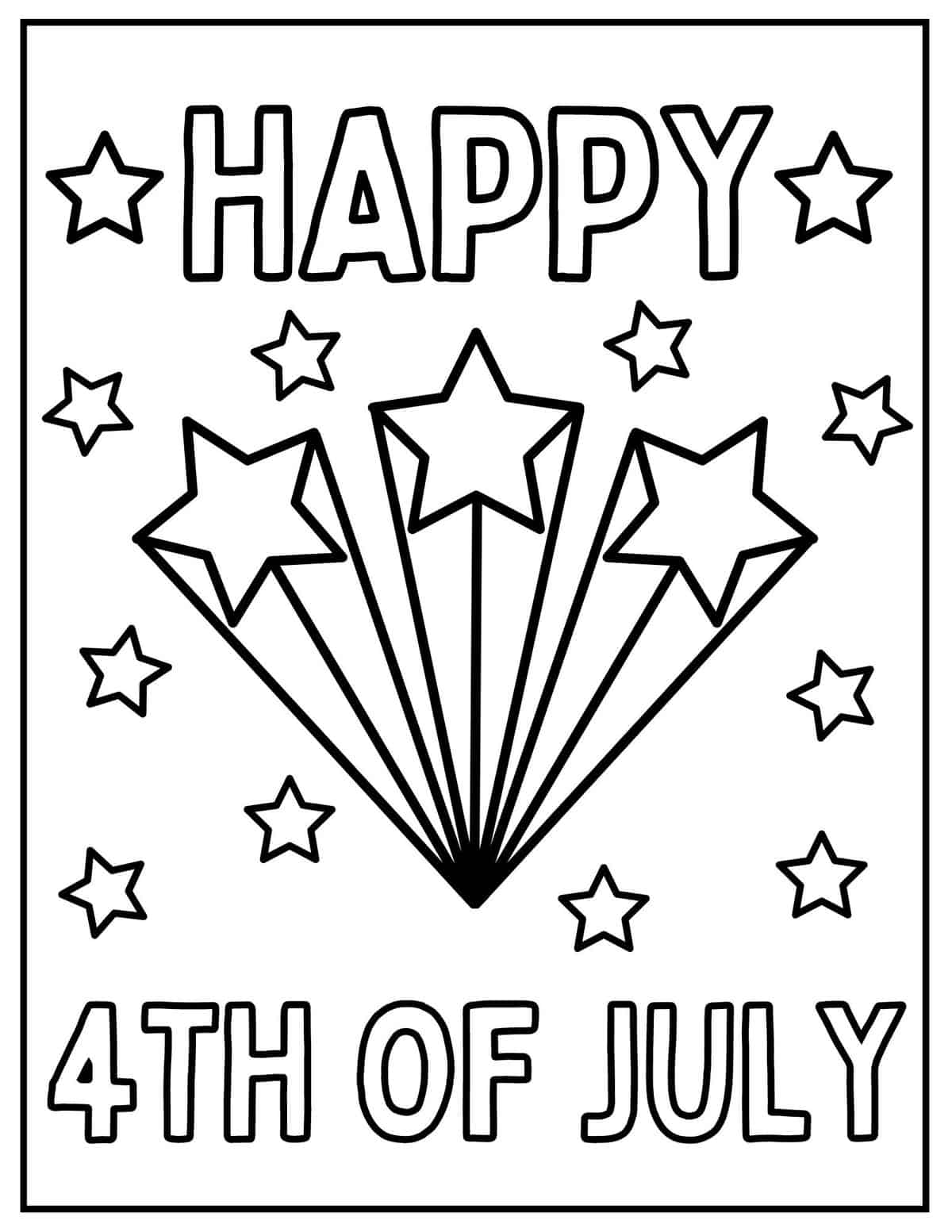 Happy 4th of July with Stars
Celebrate the patriotic spirit of the holiday with this page! There are plenty of stars to color in with brilliant shades of red, white, and blue! It is a fun coloring page for all ages.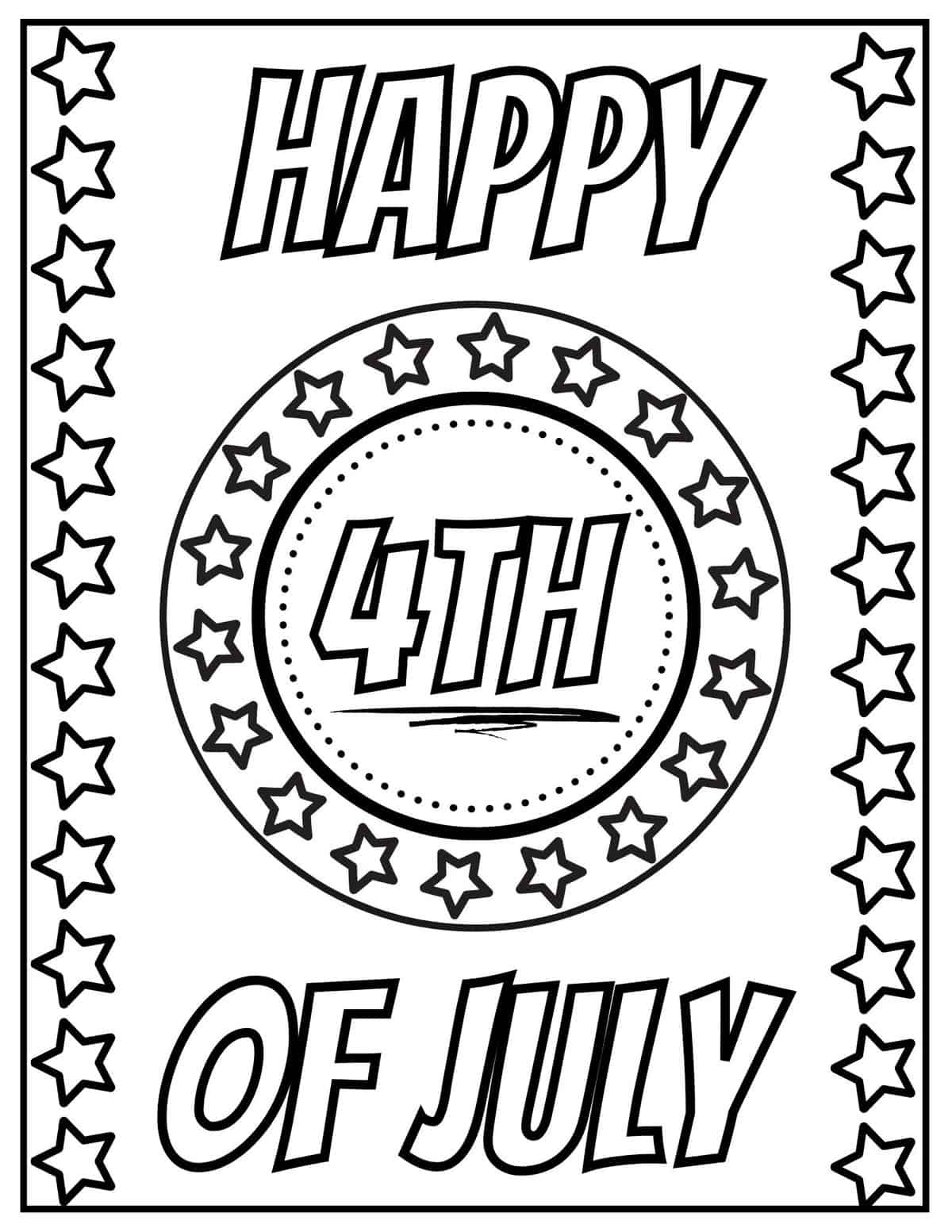 4th of July Star Border Coloring Page
Say happy independence day with this free printable Fourth of July coloring page. It allows kids to express their creativity and love for their country in a fun way. Each star can be colored with their favorite palette of colors!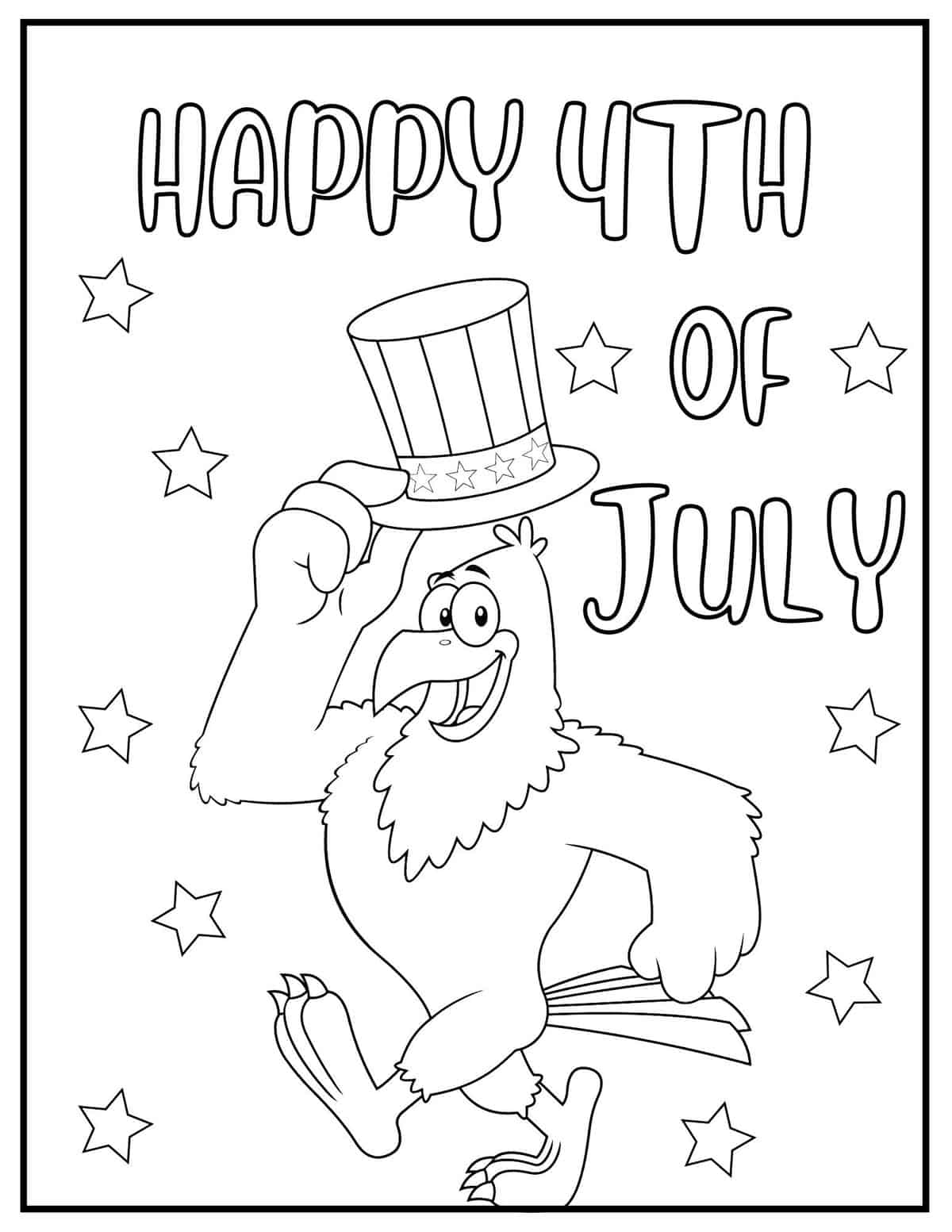 Patriotic Eagle with Uncle Sam's Hat
Kids will have much fun bringing this cute cartoon bald eagle to life by adding lots of fun colors! The eagle is wearing Uncle Sam's iconic hat and is set against a twinkling star backdrop.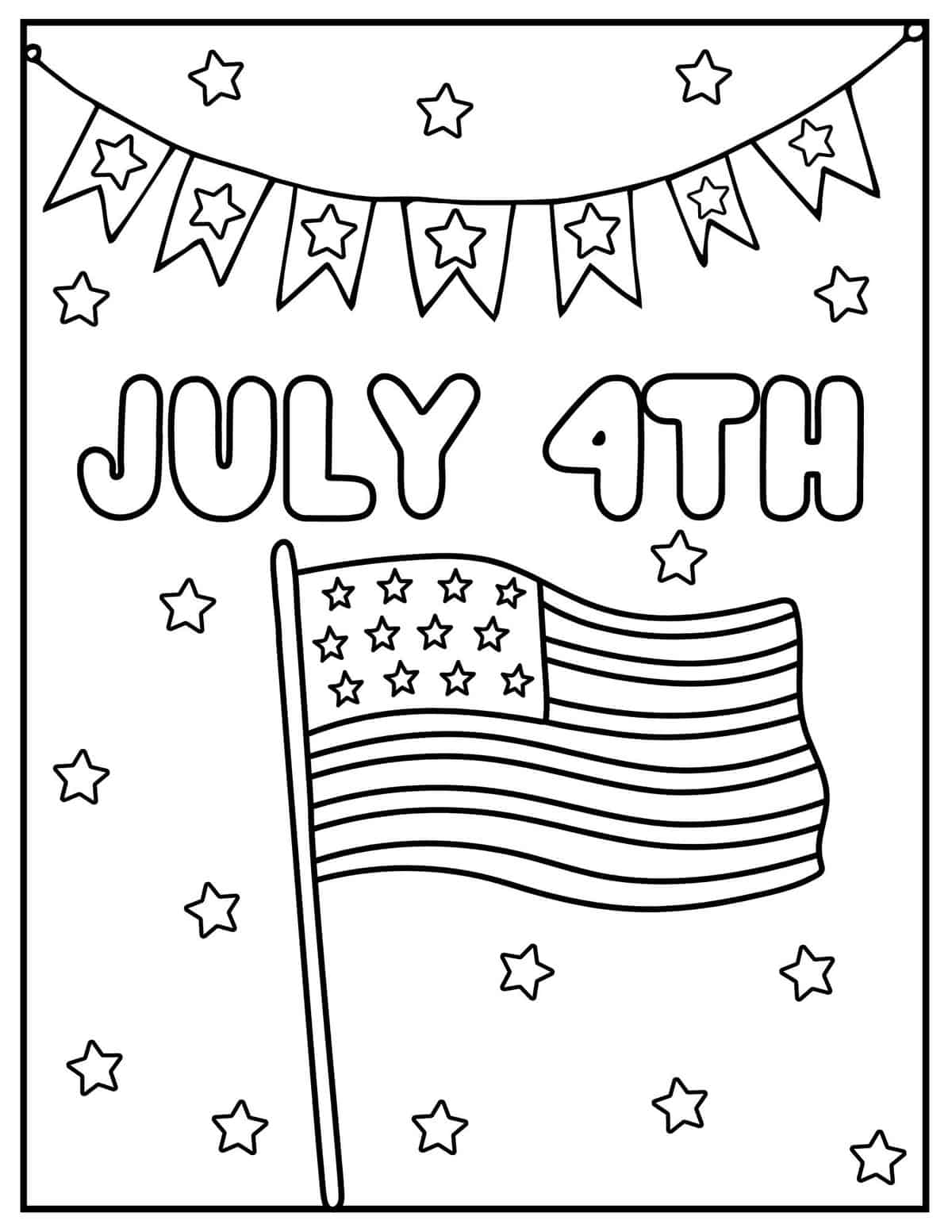 United States of America Flag
Nothing says happy independence day more than this US flag, stars, and a 4th of July banner. It shows a proud United States of America flag waving under a star-studded banner with stars twinkling in the background.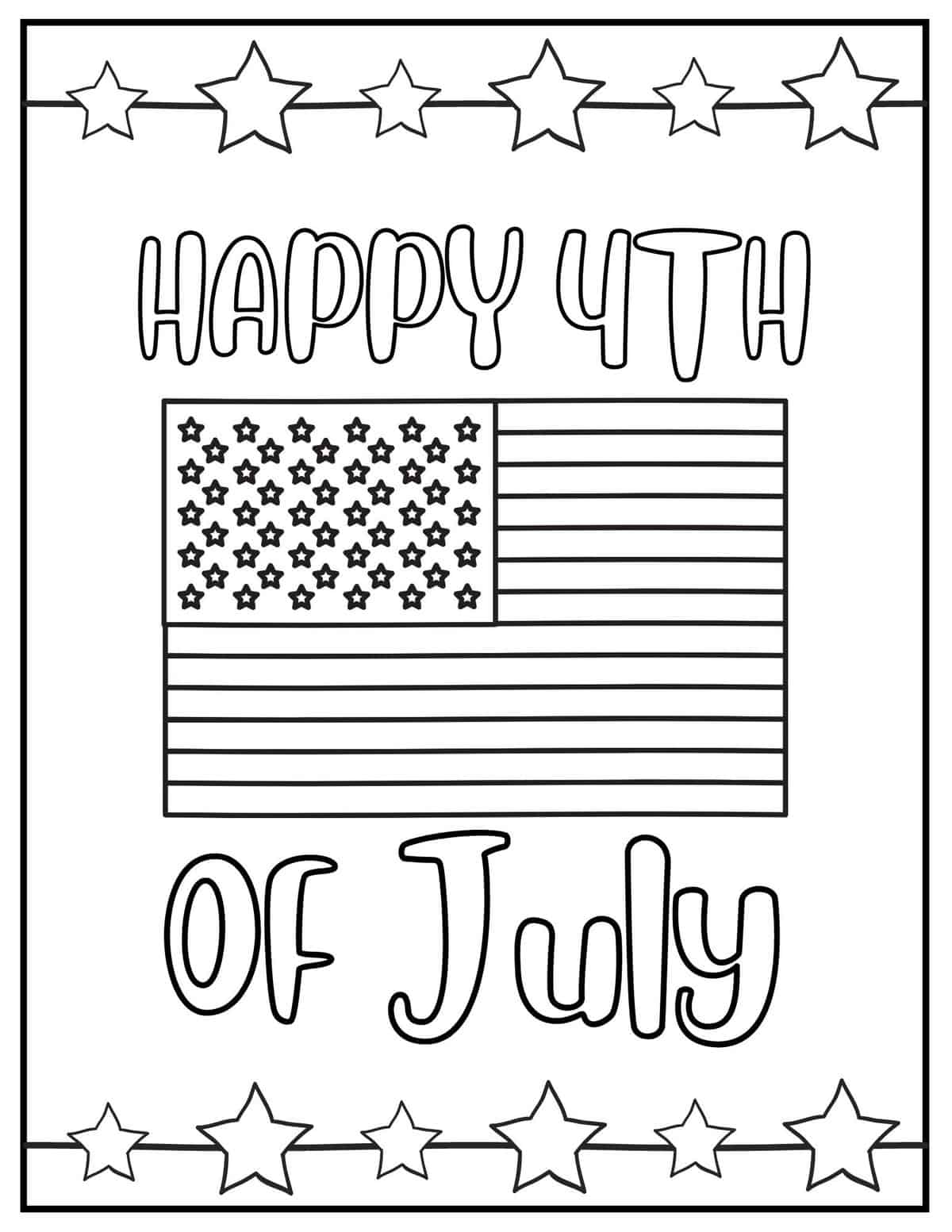 American Flag Coloring Page
This Happy 4th page features a star garland and a US flag. It is great for little artists who really want to hone their fine motor skills. This sheet is a delightful invitation for children to play with colors, filling in the flag's stars and stripes. It's a splendid way to celebrate the holiday while fostering respect for the nation's heritage.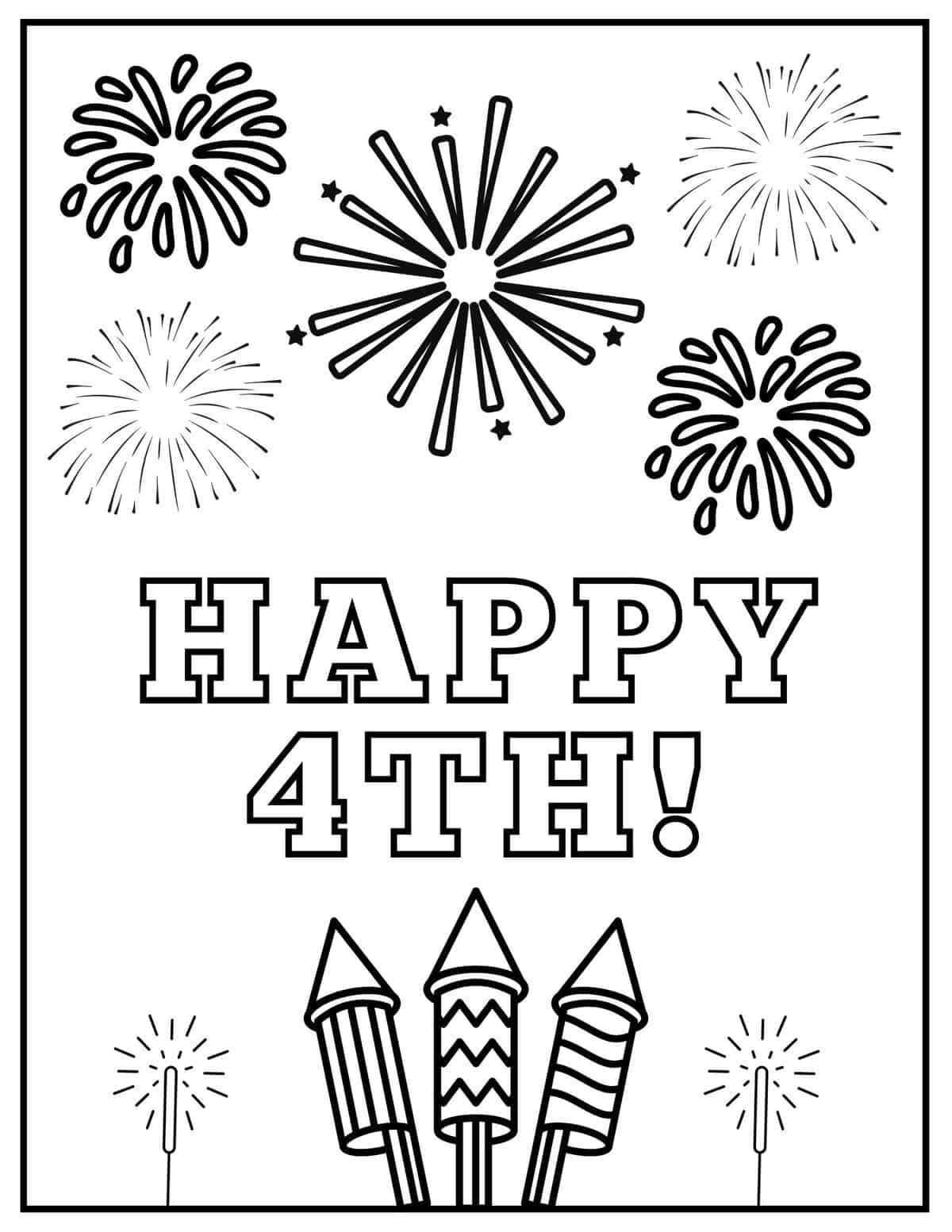 Fireworks, Firecrackers, and Sparklers
Adding color to these fireworks and sparklers will entertain the kids on the big day. They can experiment with a multitude of colors to depict the glowing fireworks and shimmering sparklers and even add some glitter for a sparkling effect!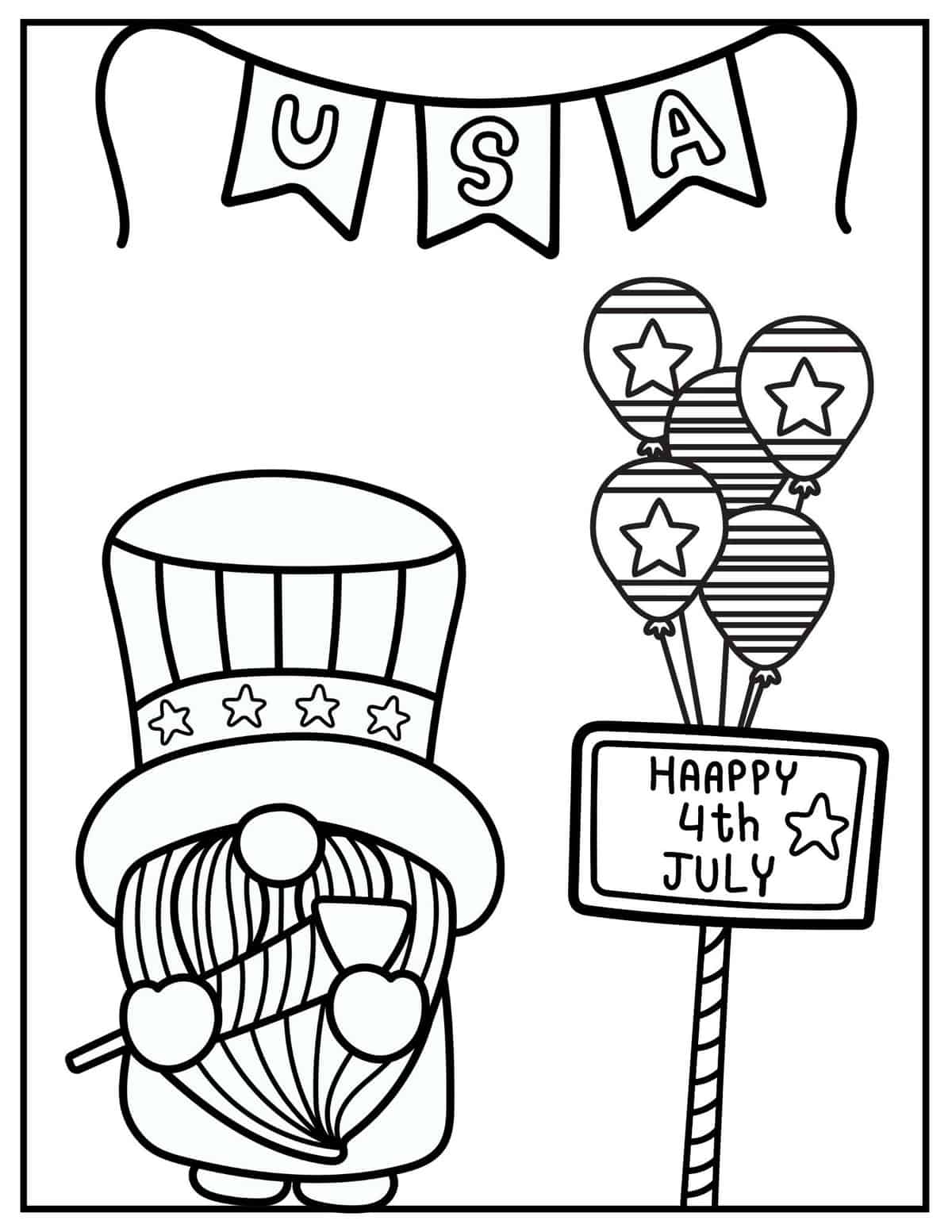 4th of July Gnome Coloring Page
Celebrate this Independence Day with a touch of whimsy with this gnome page. It features an adorable Fourth of July gnome with a USA banner overhead. Kids can color in the friendly gnome, his festive outfit, and the bold "USA" banner with their choice of colors.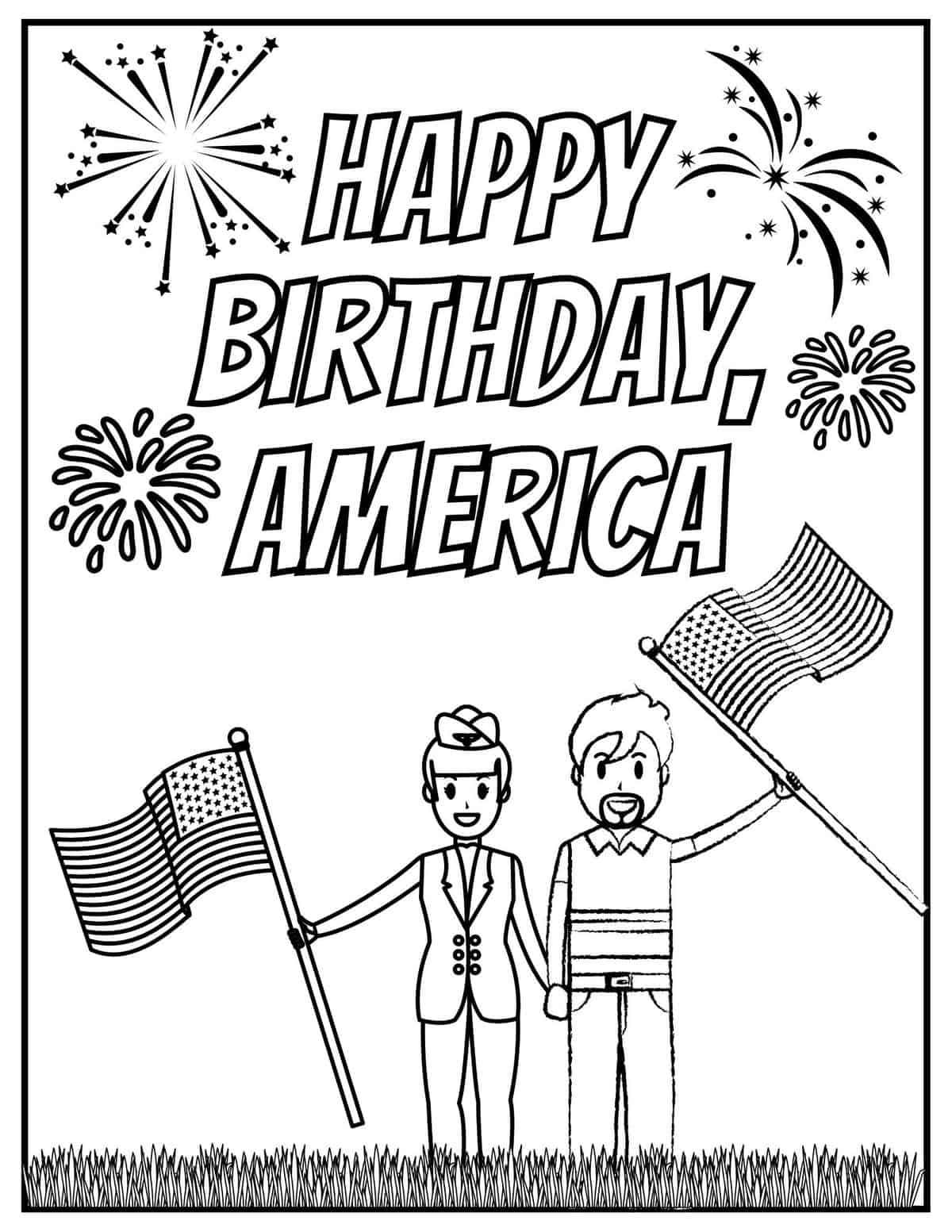 Happy Birthday America Celebration
This one features a couple holding hands, waving flags, and celebrating the 4th in the backyard with fireworks overhead. Due to all the intricate details used on this page, it would be best for older kids and teenagers.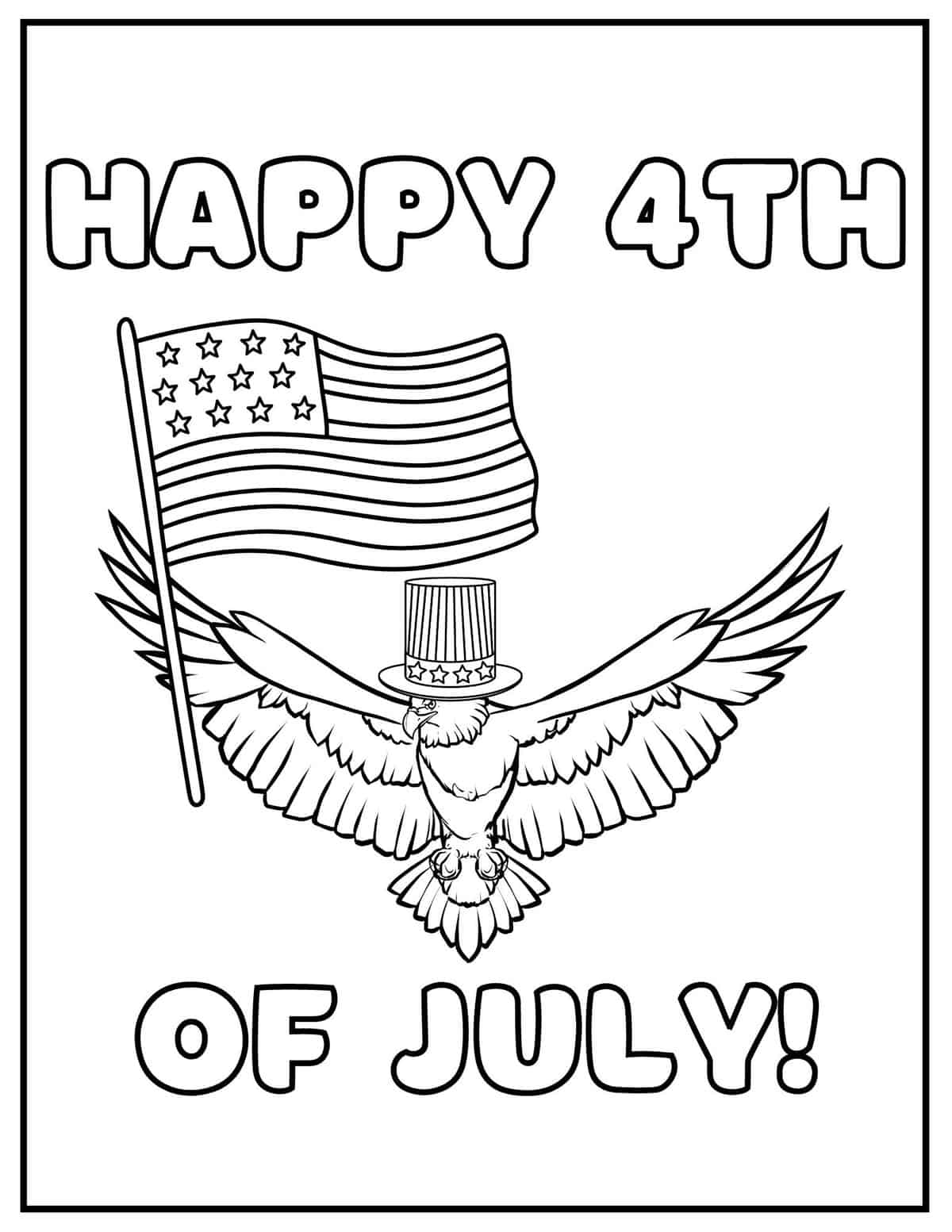 Eagle with a Patriotic Hat and Flag
Nothing says the 4th of July better than the American eagle — the national bird of the United States of America! This majestic eagle is sporting a patriotic hat and gripping a United States flag in its wings. Children are invited to bring this scene to life using their choice of vibrant shades.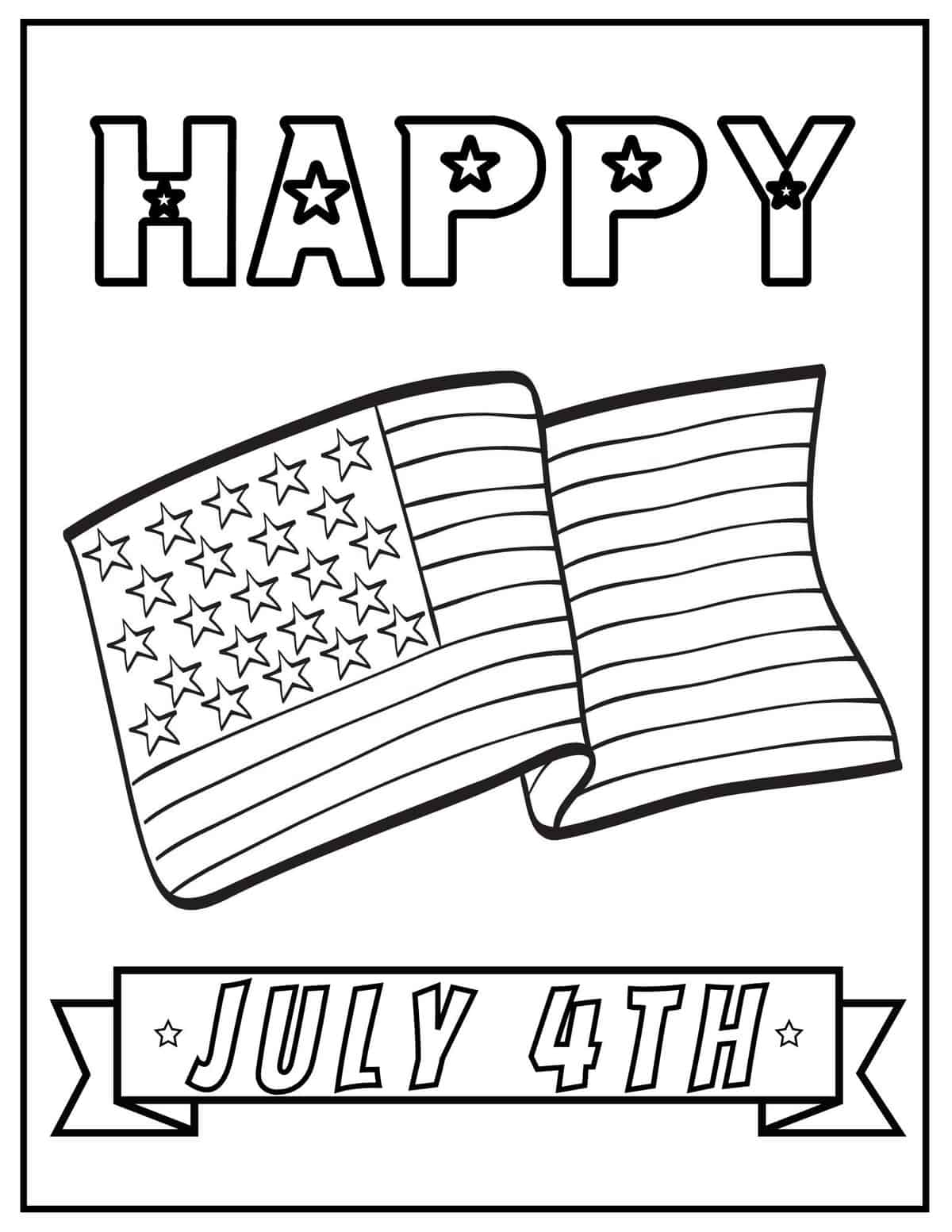 US Flag Fourth of July Coloring Page
This page has a July 4th banner and a US flag and is a great way to immerse your little ones in the patriotic spirit of Independence Day. Both younger and older kids will have a blast adding color to the flag's distinctive stars and stripes!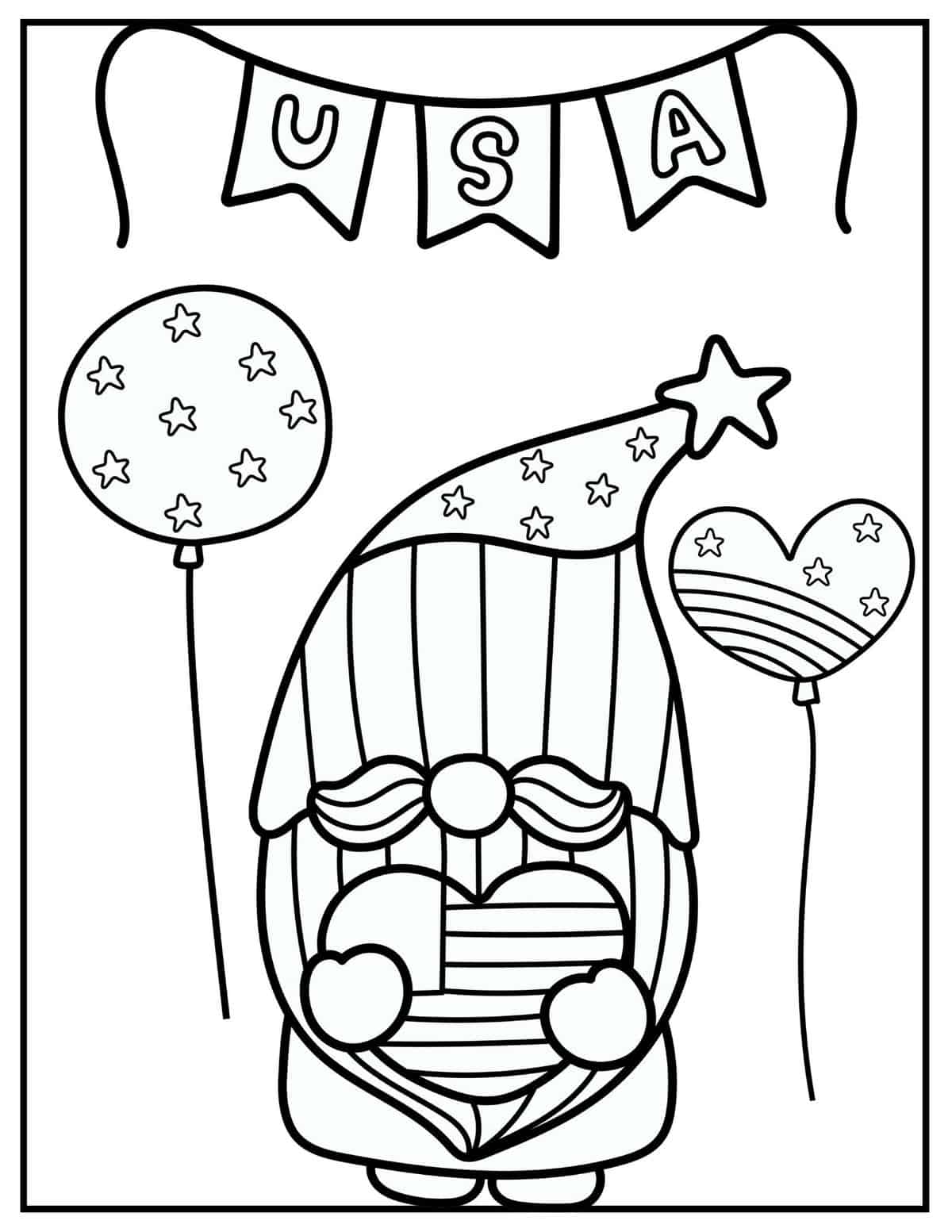 Patriotic Gnome
Another fun gnome printable page! Kids and adults will both enjoy coloring this adorable little gnome and balloons. This unique blend of fantasy and patriotism makes this a fun and engaging activity for all ages! The detailed design of the gnome and balloons also allows children to hone their fine motor skills.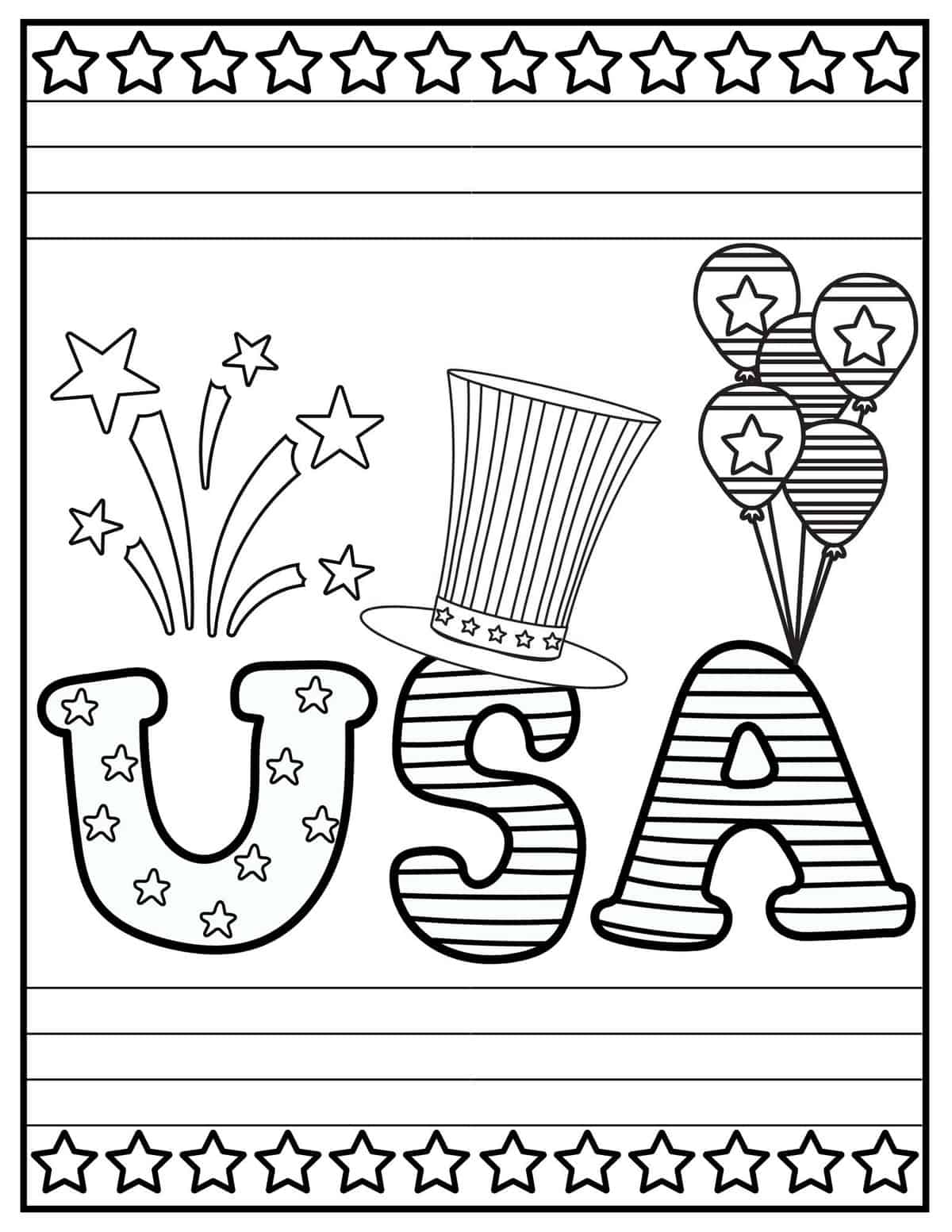 USA Stars and Stripes Printable
There's a lot to do on this page to keep the children busy for hours. Whether they want to add color to the USA word, balloons, or fill in the stars and stripes on the outside, you can color nearly the whole page.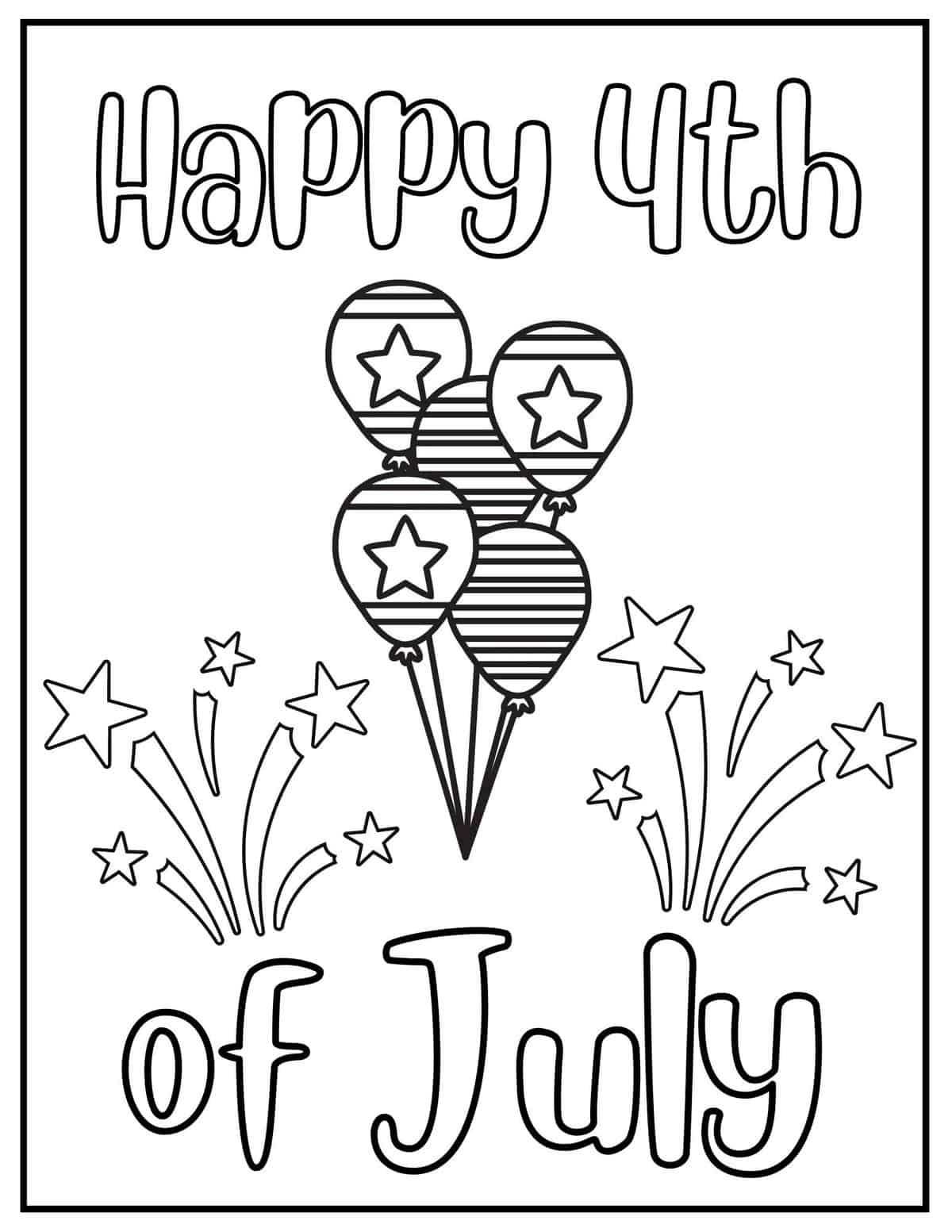 Independence Day Coloring Page
Celebrate the 4th with this one featuring patriotic themes such as fireworks, balloons, and more. The surrounding fireworks and balloons offer an excellent opportunity for kids to experiment with a spectrum of colors.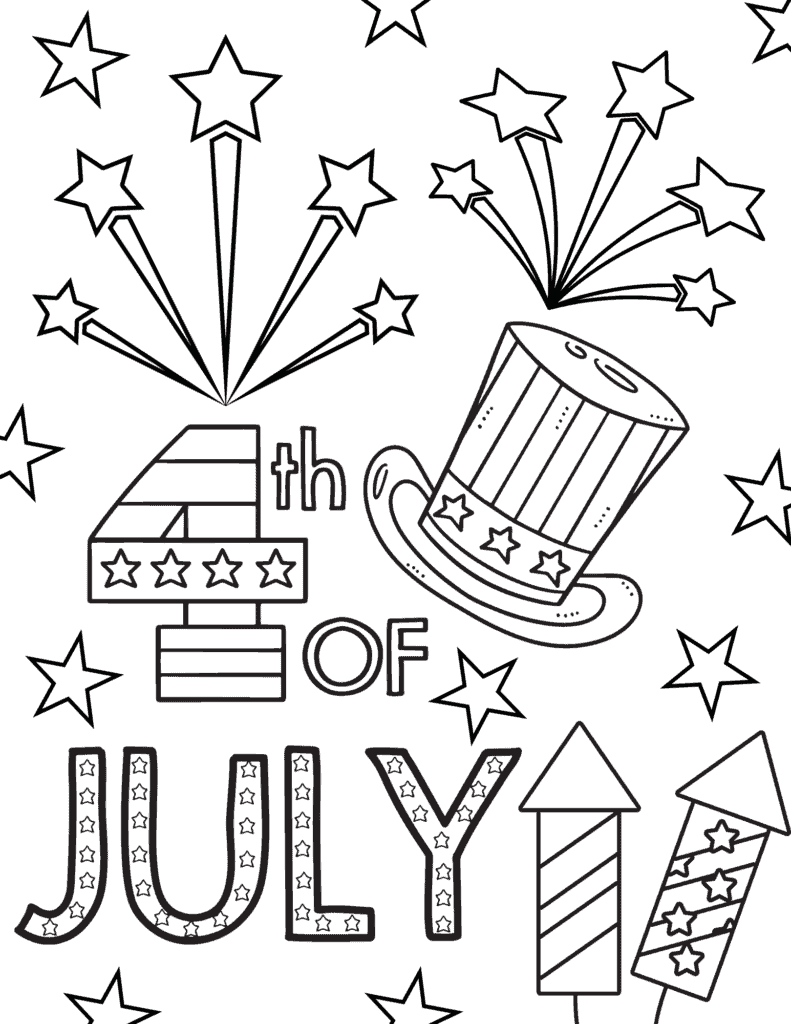 Stars, Stripes, and Fireworks
Add a sparkle to your Independence Day celebration with this one. This striking page features the phrase "4th of July," creatively formed in stars and stripes. Set against an exciting backdrop of fireworks and stars, this coloring page invites children to bring the patriotic scene to life!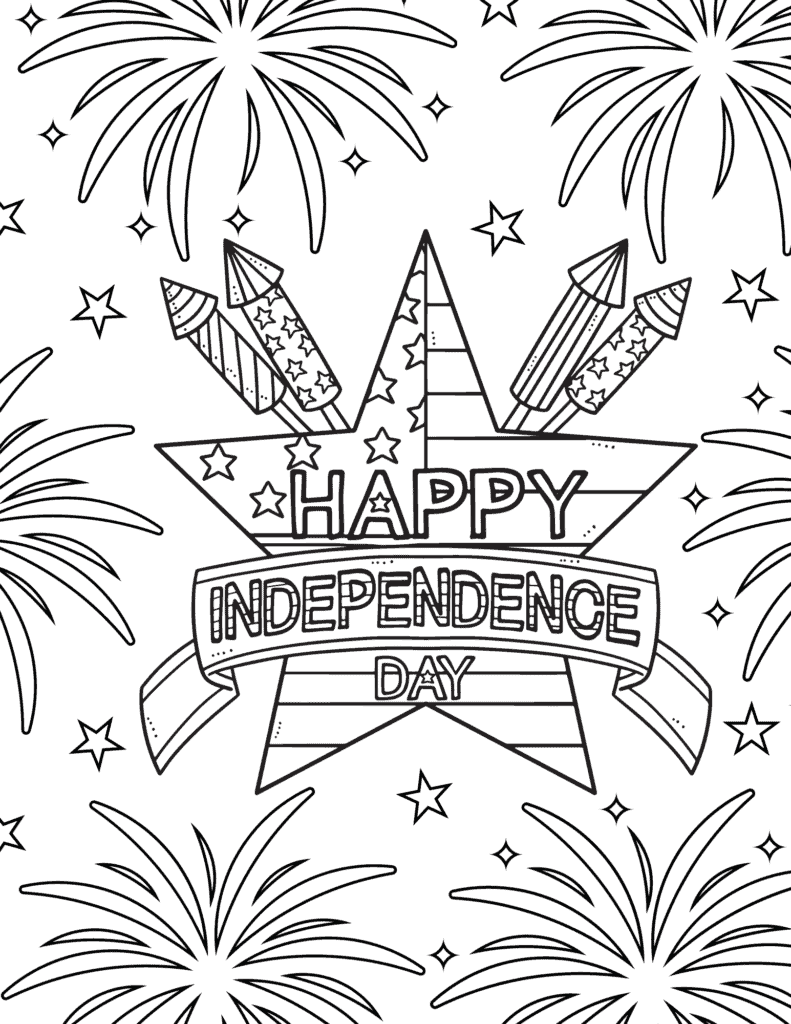 Happy Independence Day Star
Brighten up your celebration with this one, featuring a patriotic star with the phrase "Happy Independence Day," all amidst a grand spectacle of fireworks and stars. They can color the patriotic star with the traditional hues of the American flag or choose their favorite palette to make the star truly shine.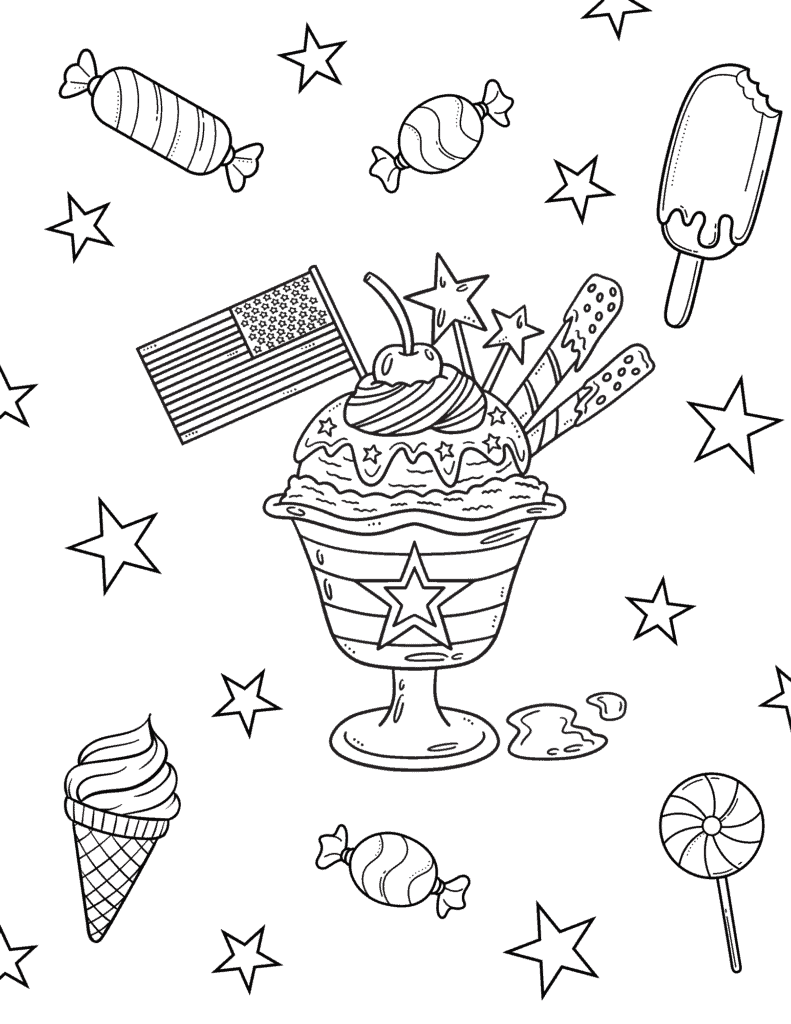 4th of July Ice Cream and Sweet Treats
This page features an assortment of 4th of July desserts such as ice cream, candy, and sweet treats, offering a fun, festive twist to the holiday's festivities. These enticing sweet treats provide a playful platform for kids to express their creativity and add a brilliant range of colors.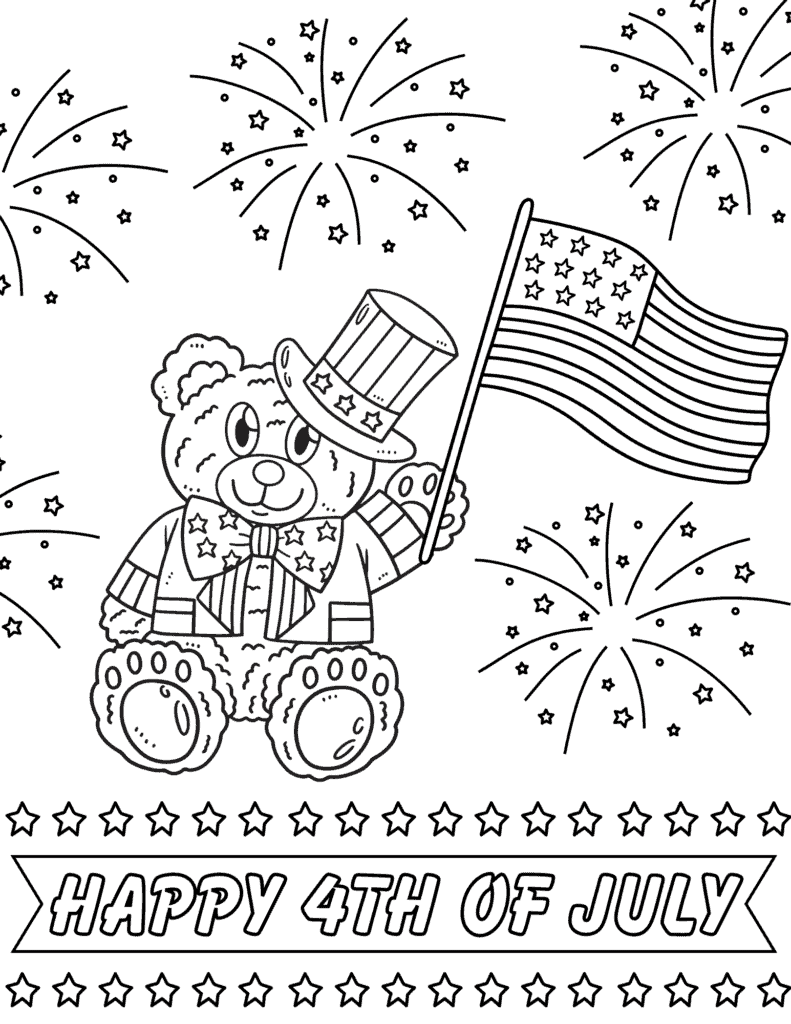 Patriotic Teddy Bear Holding a Flag
This adorable teddy bear page features a patriotic bear proudly holding an American flag set against a radiant fireworks display. A star-studded "Happy 4th of July" banner stretches across the bottom of the page, completing this cheerful scene. The backdrop of fireworks offers a fun opportunity to experiment with a plethora of colors.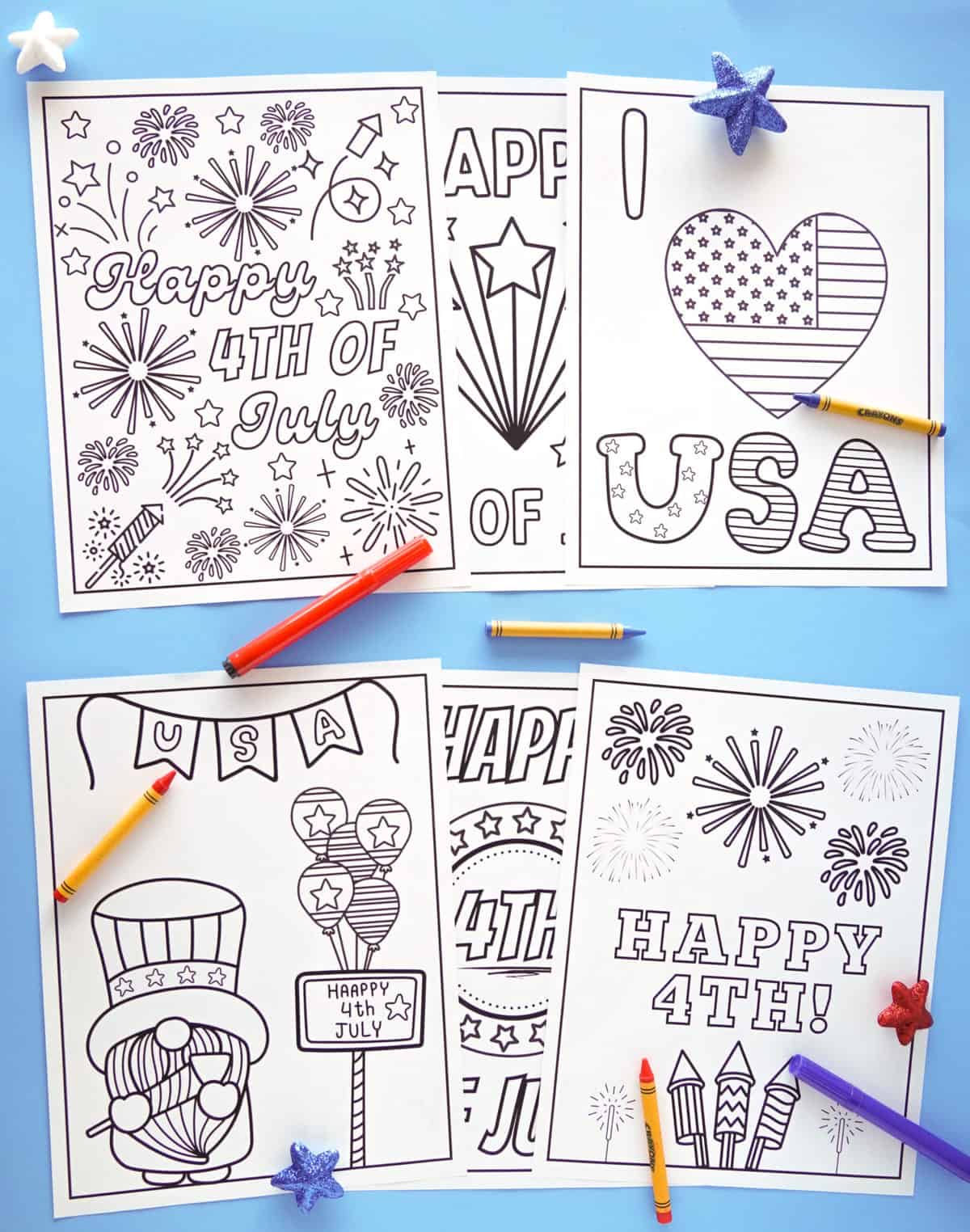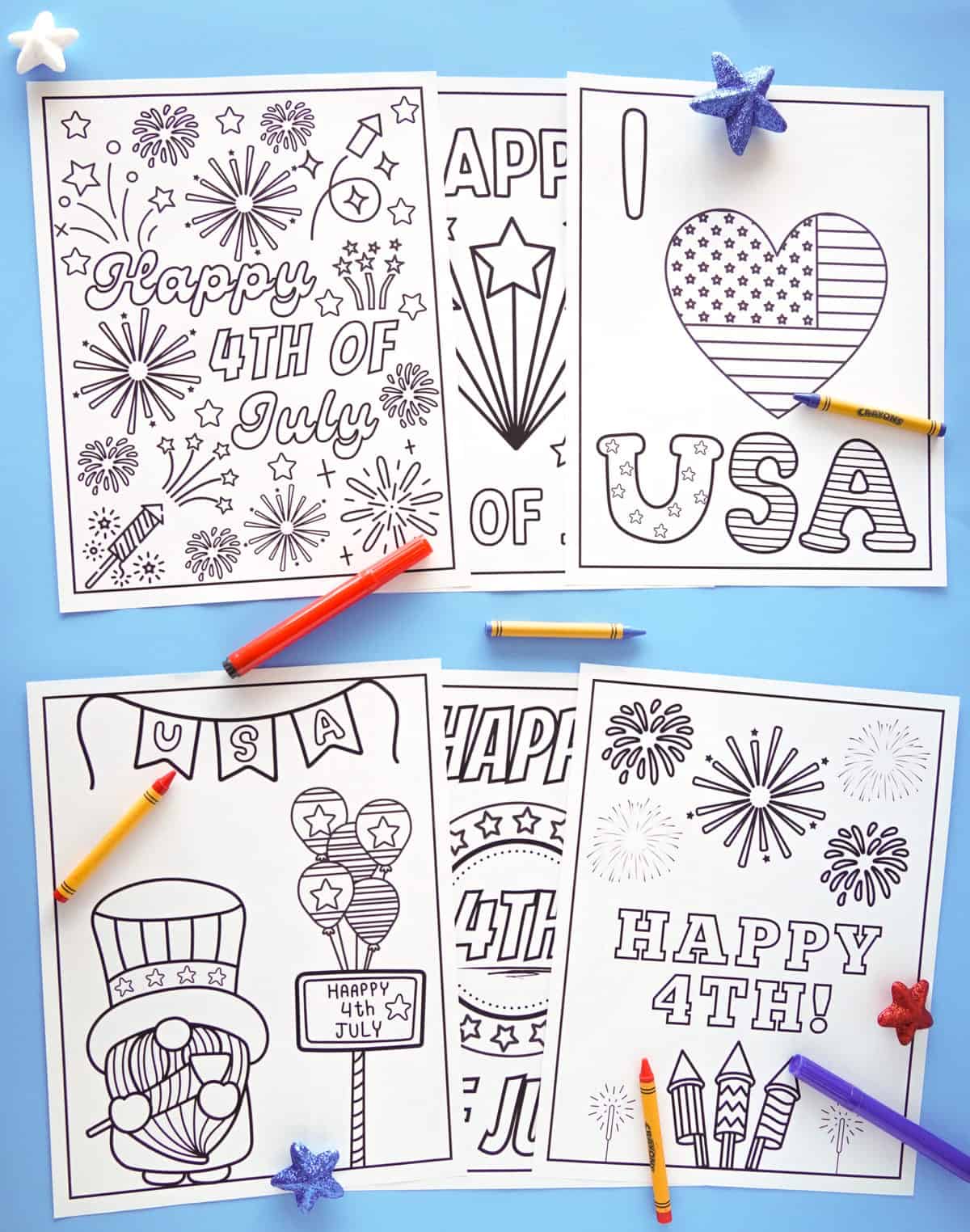 More Coloring Pages
More 4th of July Ideas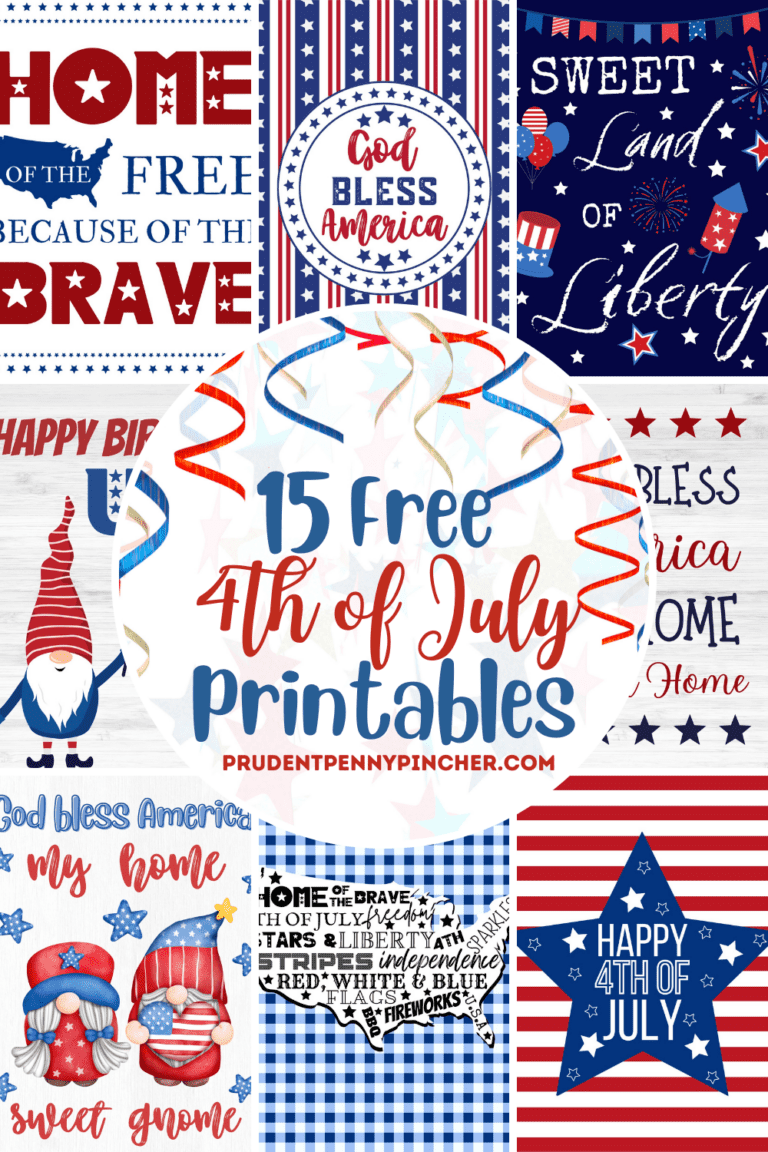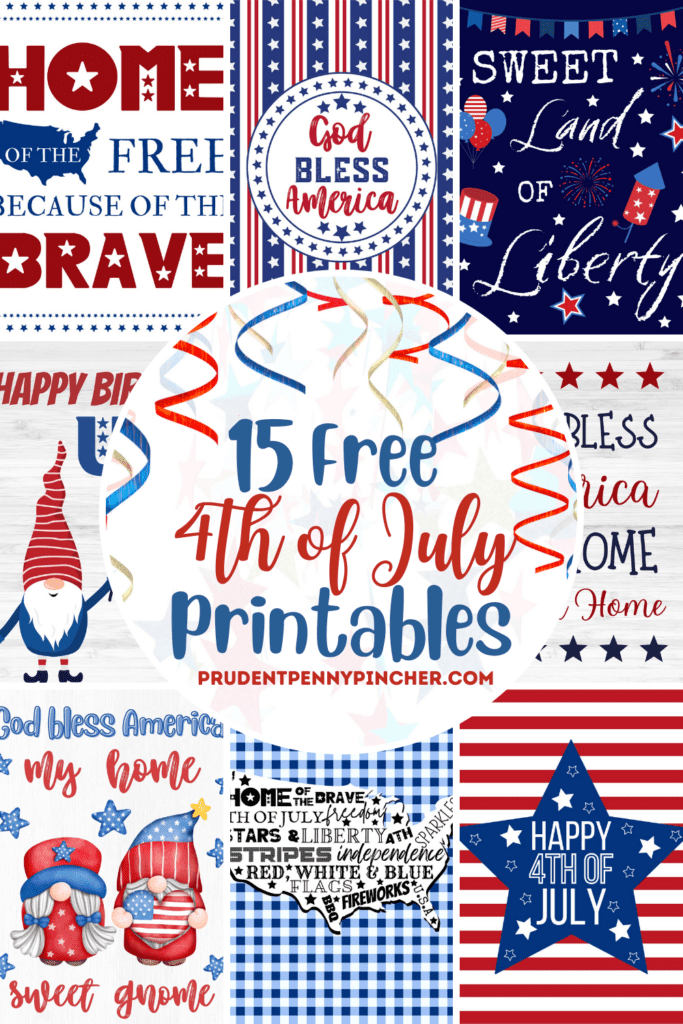 15 Free 4th of July Printables