Celebrate the season of growth and renewal with these free printable Spring Coloring Pages for kids and adults.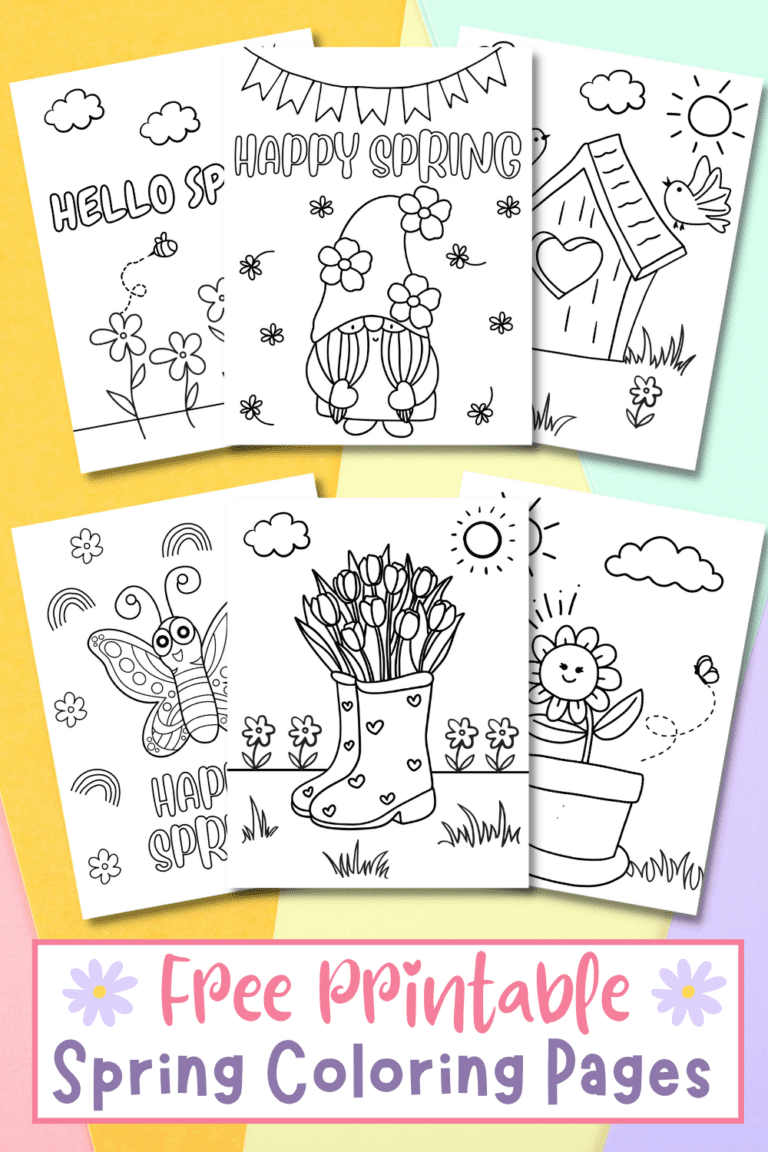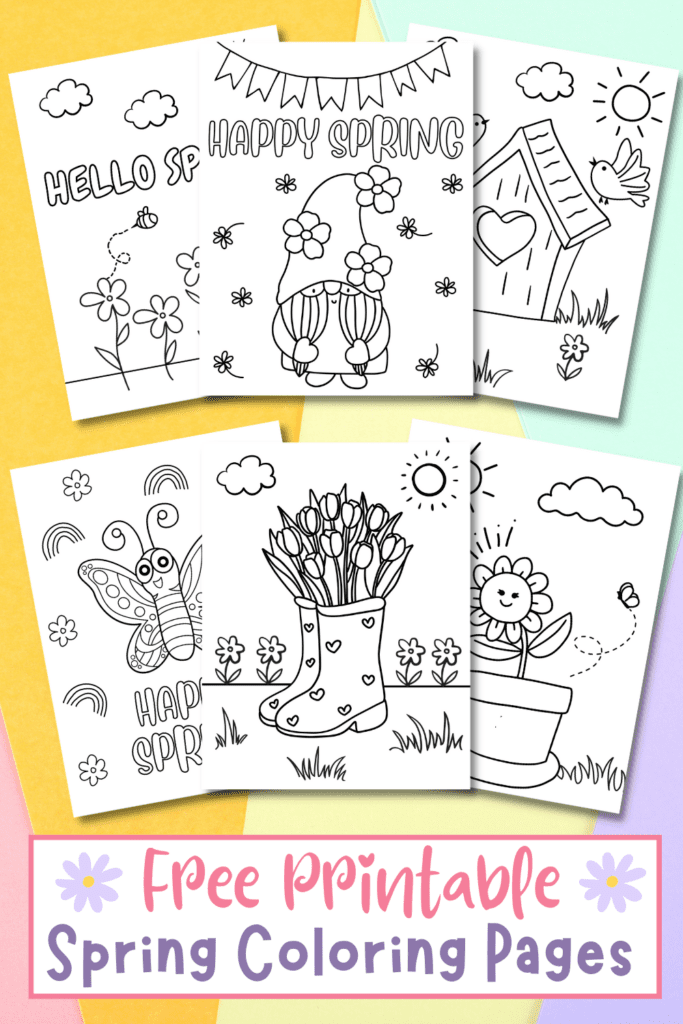 Spring has sprung! These spring coloring sheets feature assorted spring flowers, baby chicks, butterflies, birdhouses, little bumblebees, and much more. Coloring is a fun spring activity for the whole family. There are free pages for toddlers, preschoolers, older kids, teens, and even adults. Whether you want to use these free printables at home or in the school classroom, there are plenty of spring-themed coloring page ideas for kids of all ages. It's a great way to relax and express creativity and makes a perfect rainy day activity in April. So add some color to your day and grab some spring-colored crayons and markers to start coloring in these vibrant spring scenes today!
Jump to:
Supplies Needed:
printer paper or white card stock
crayons, markers, watercolors, colored pencils, etc.
PNG or printable PDF File
How to Download and Print:
Download the files by clicking the links above.
Click the download button in the toolbar at the bottom center of the page on the far right side of the toolbar.
Save the files to the folder you want.
Open the PDF File with Adobe Acrobat or another PDF reader software.
Go to File –> Print.
Spring Coloring Pages for Kids of All Ages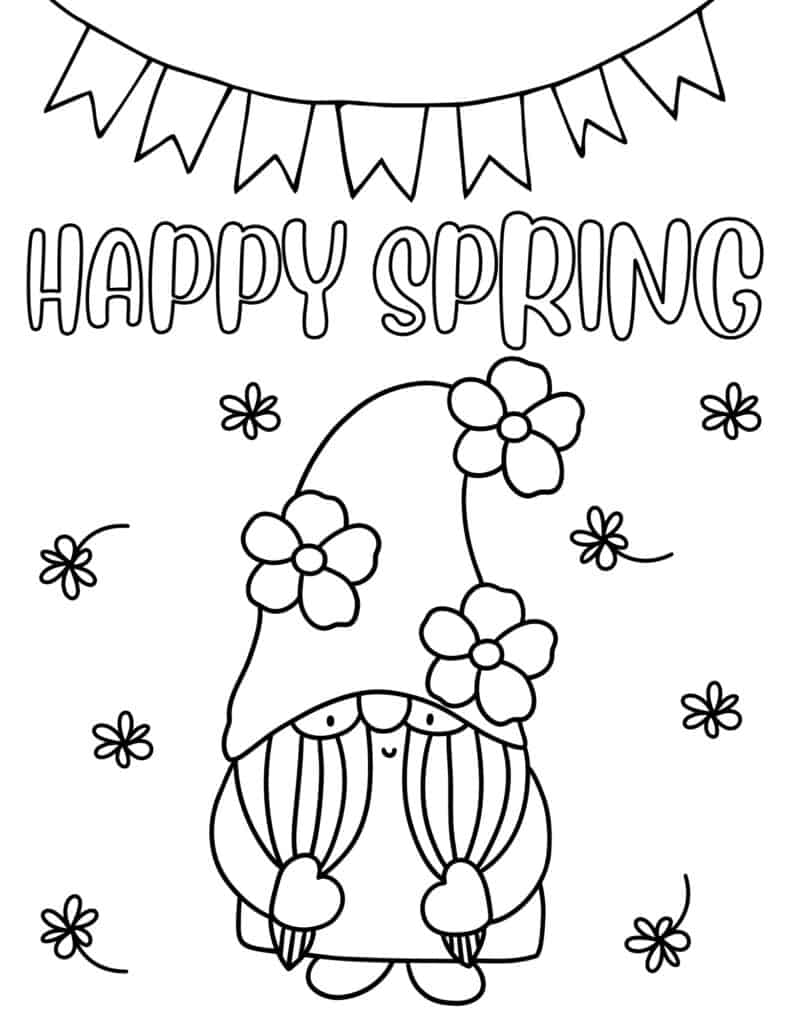 This adorable spring gnome is all ready for spring! He's got his banner out and is excited to celebrate the season.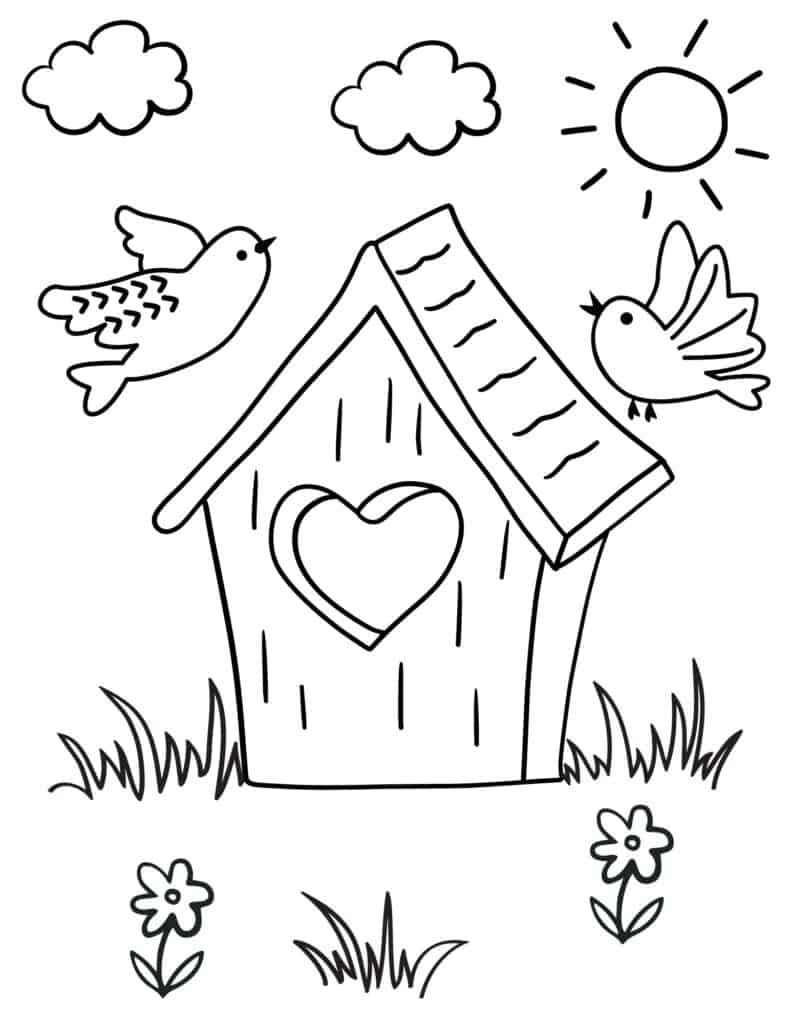 Welcome spring with this charming wooden birdhouse sitting on a patch of grass with cute little birds flying around it.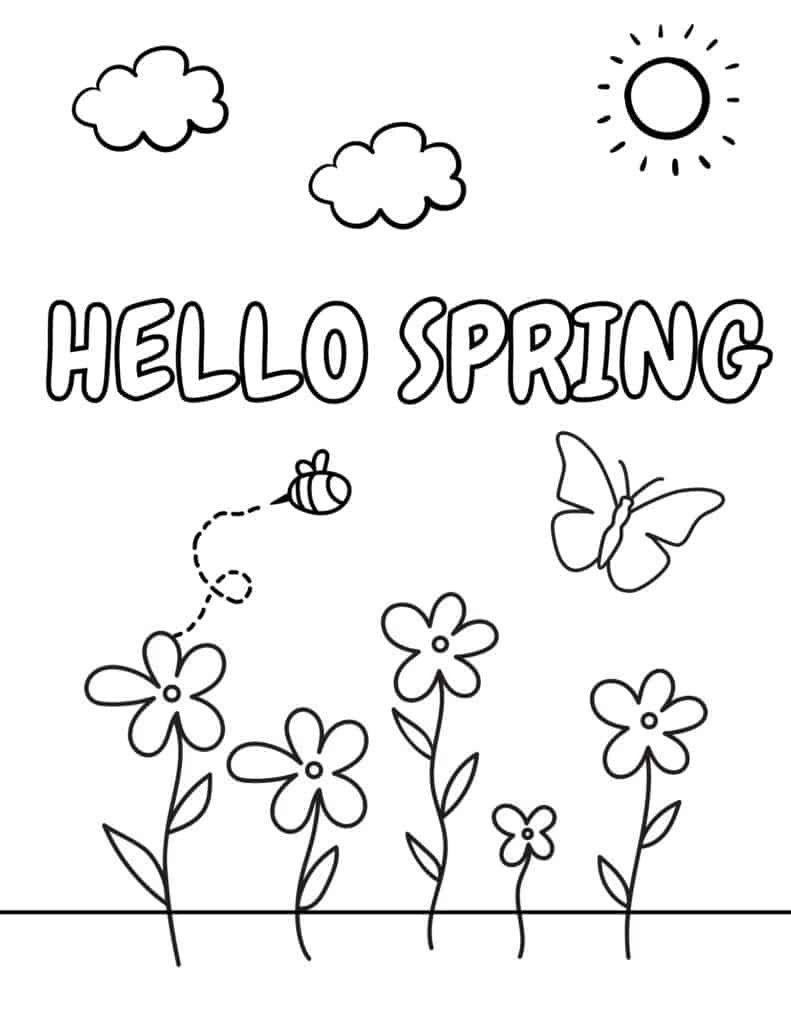 Celebrate the warmer months with this one featuring beautiful flowers, a butterfly, and a cute little bee.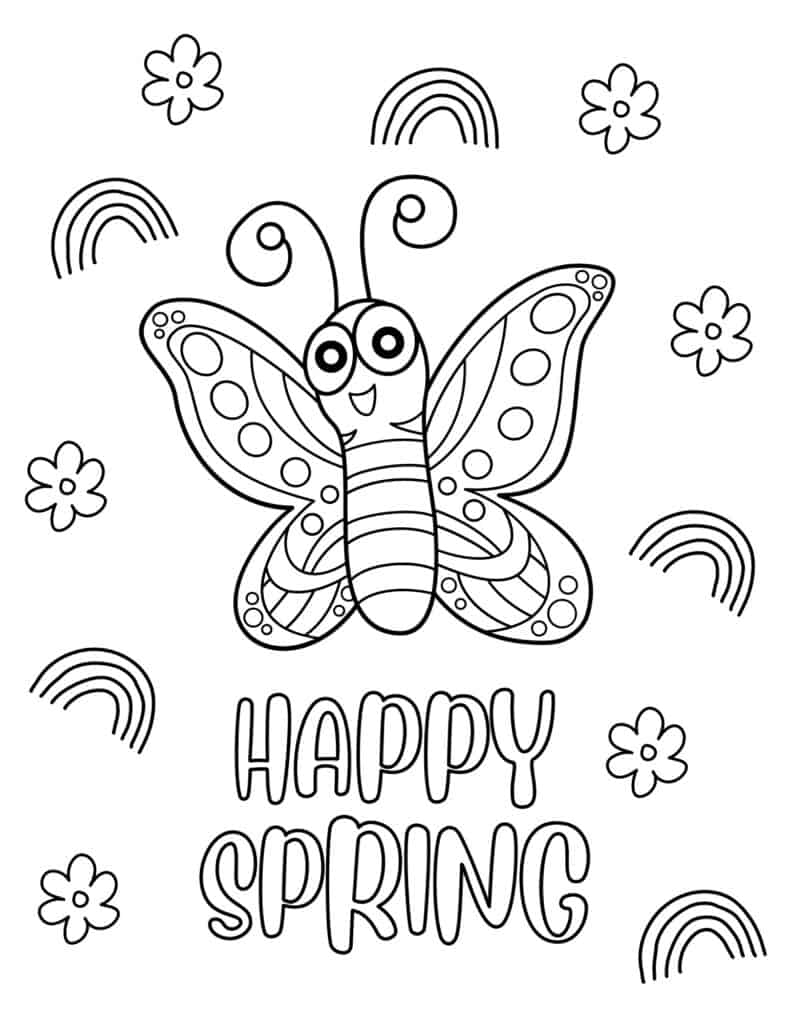 Nothing says springtime more than this colorful butterfly surrounded by little flowers and rainbows! Feel free to color the butterfly's wings all different shades of bright colors!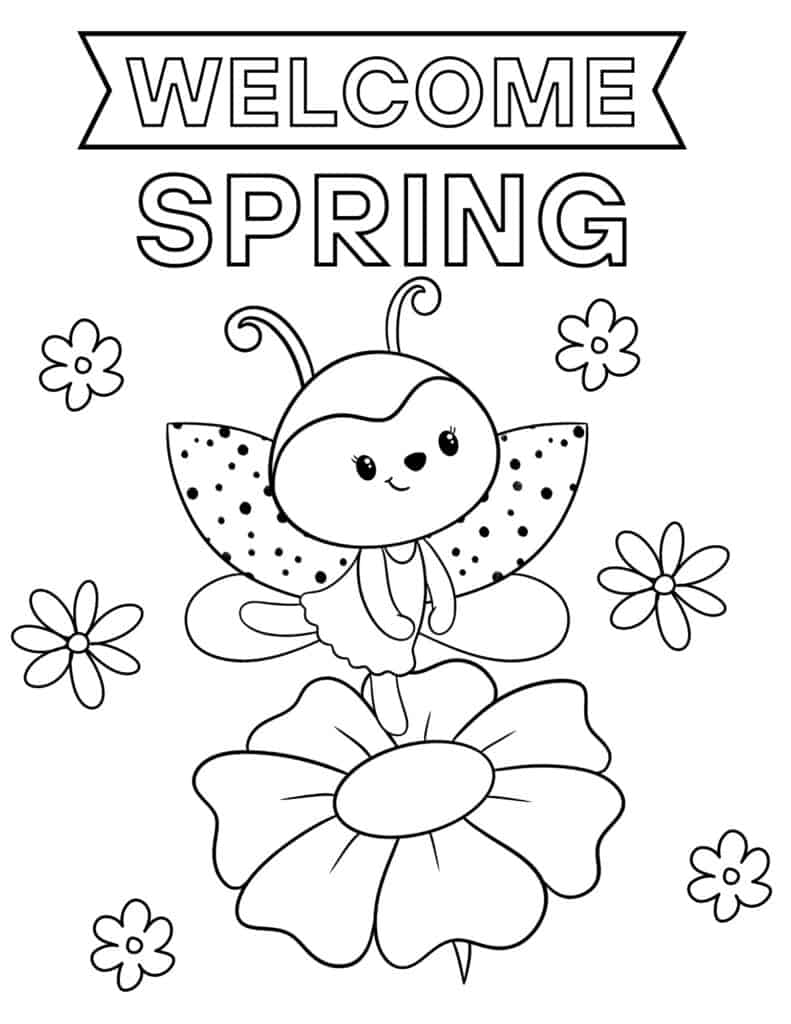 Welcome the changing seasons and sunny days with this cute little ladybug perched on a flower.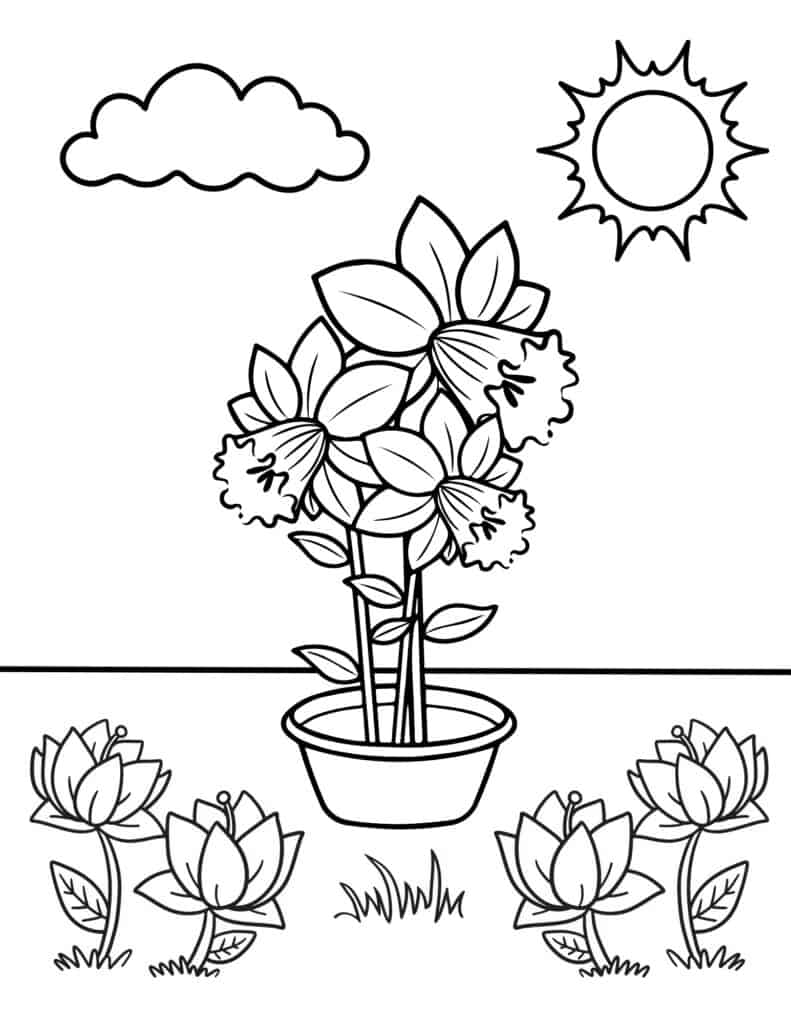 These potted daffodils are soaking in the sun's rays and growing taller! Color them pastel shades like yellow, pink, orange, or light purple.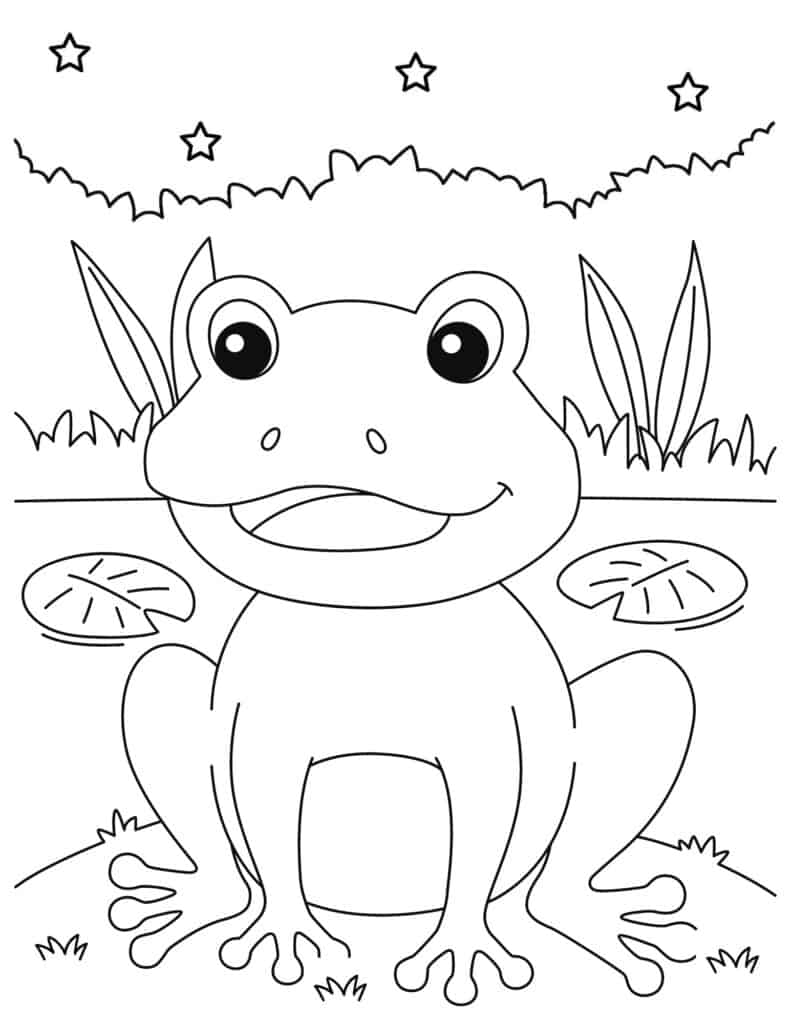 Hop into spring with this cute coloring page featuring a frog sitting near a pond. The frog is surrounded by lily pads, bushes, and spring plants, making it the perfect sheet to color in as the weather starts to warm up.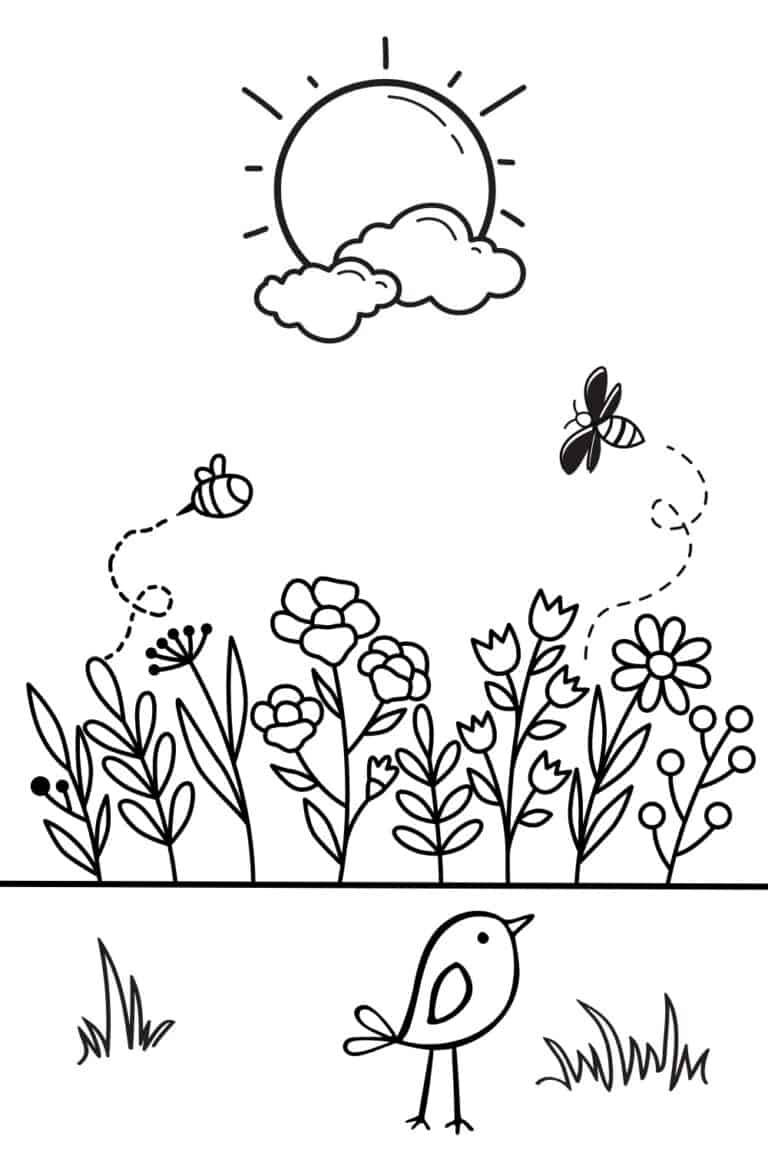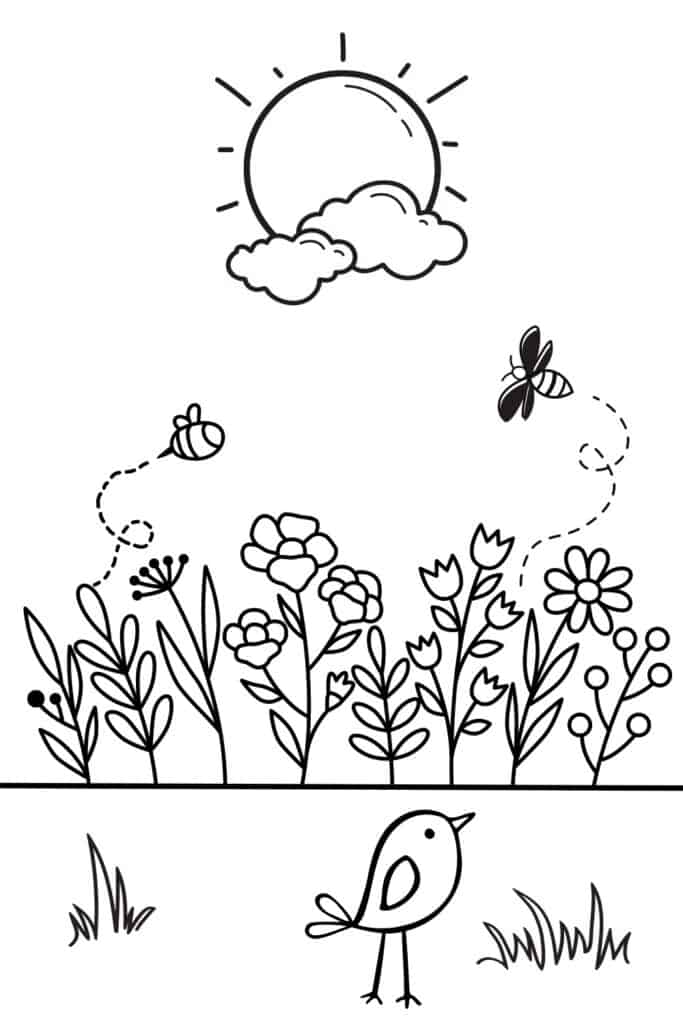 Bring the joy of spring to your coloring with this adorable baby chick page surrounded by a variety of colorful spring blooms.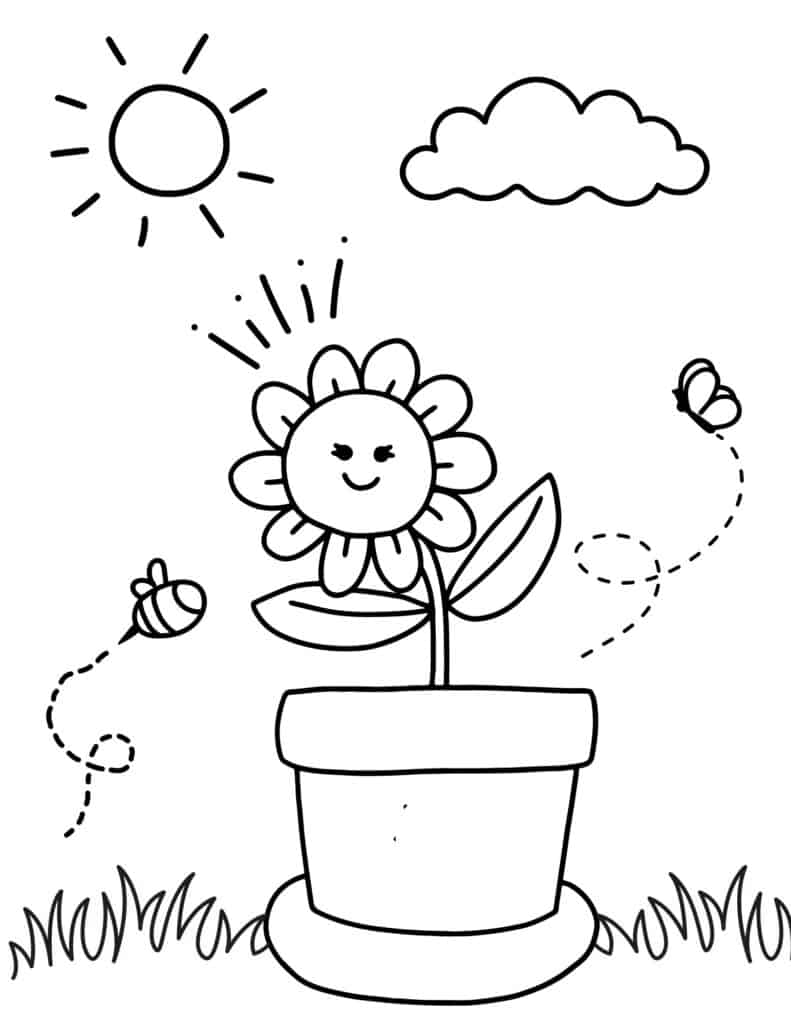 This smiling potted flower is basking in the warm sun. Color in its petals in with vibrant shades of pink and yellow to add a burst of color to the page.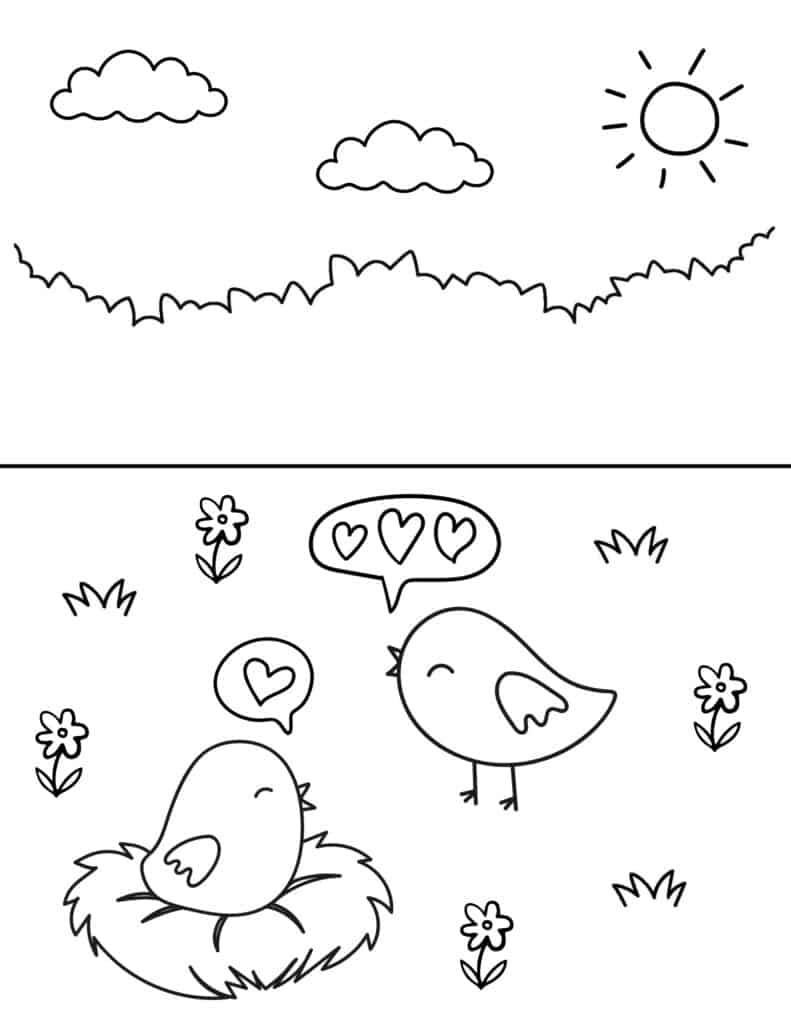 This pair of adorable little baby chicks are illustrated chirping lovingly at each other. The background is filled with grass and spring flowers, just waiting to be colored in!
Coloring Sheets for Teens and Adults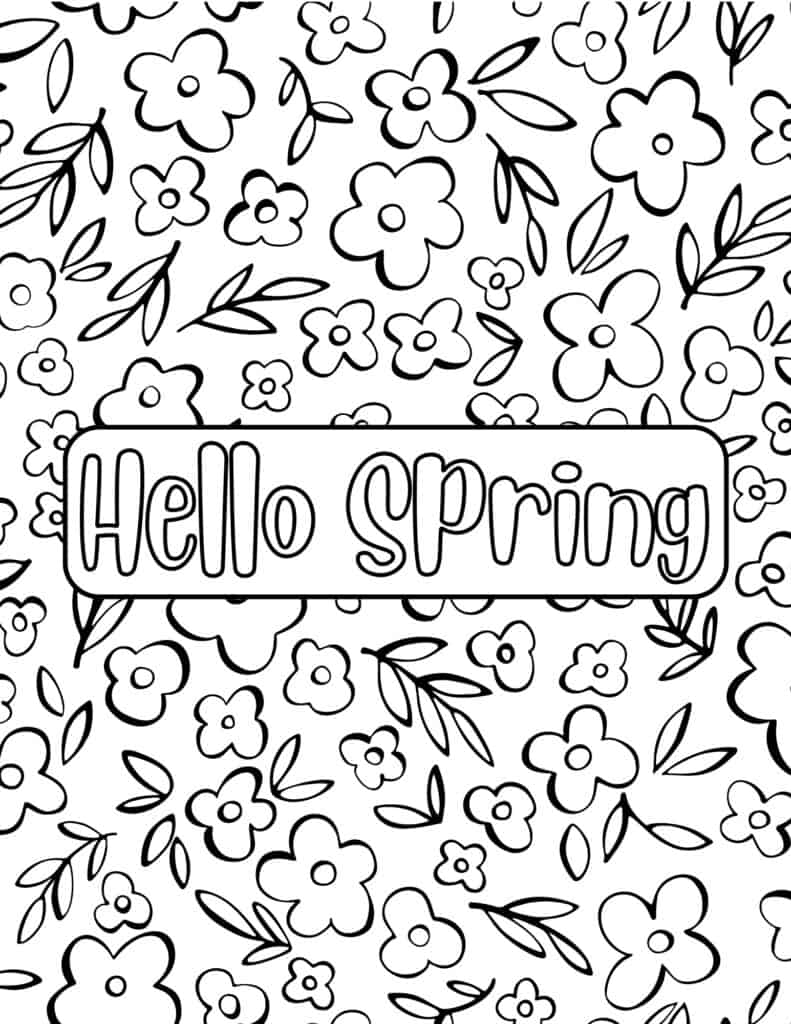 Say "Hello" to Spring with this flower-patterned background featuring a variety of doodled flowers and leaves that are just waiting to come to life with bold colors of purple, red, blue, and more!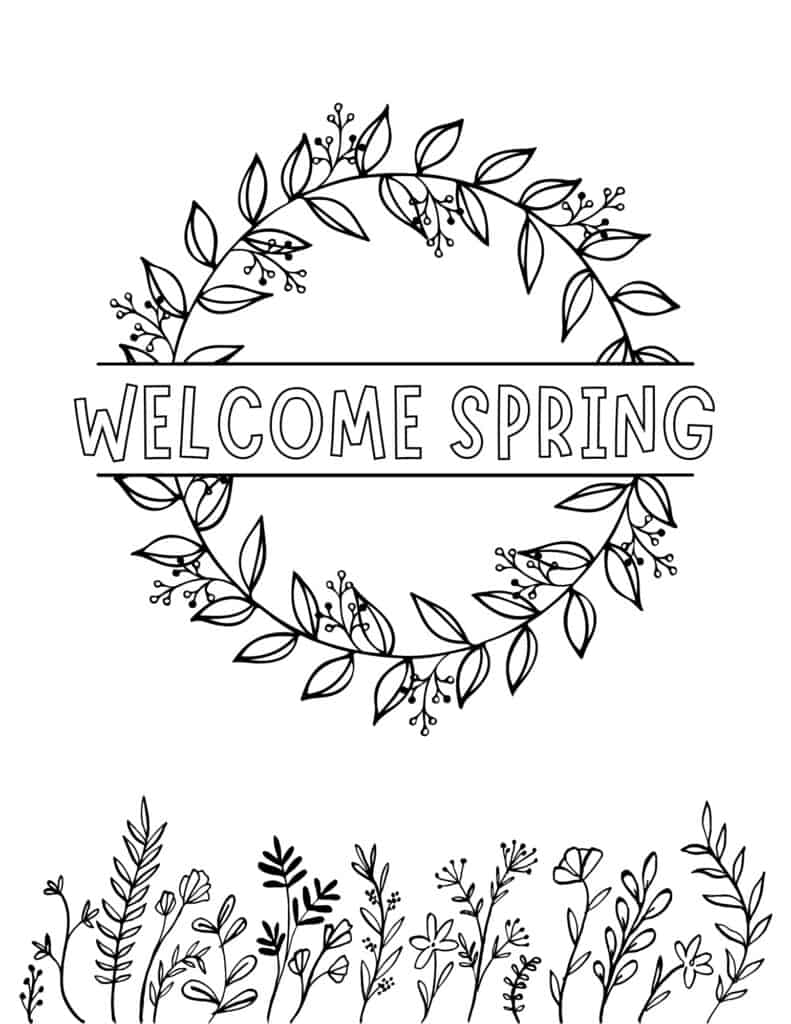 Welcome springtime into your home with this spring wreath coloring sheet that would look great as a framed sign spring decoration.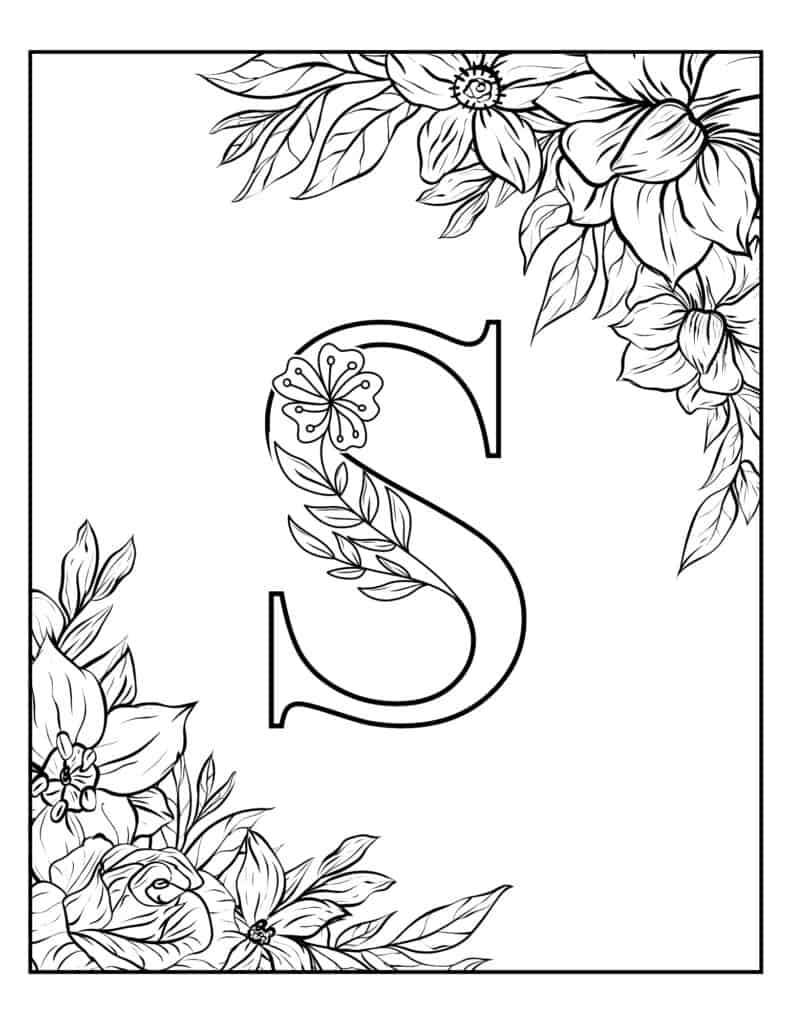 This floral monogram will add a touch of elegance to your home. This intricate design features a beautifully flourished letter at the center, surrounded by a variety of colorful flowers in the corners.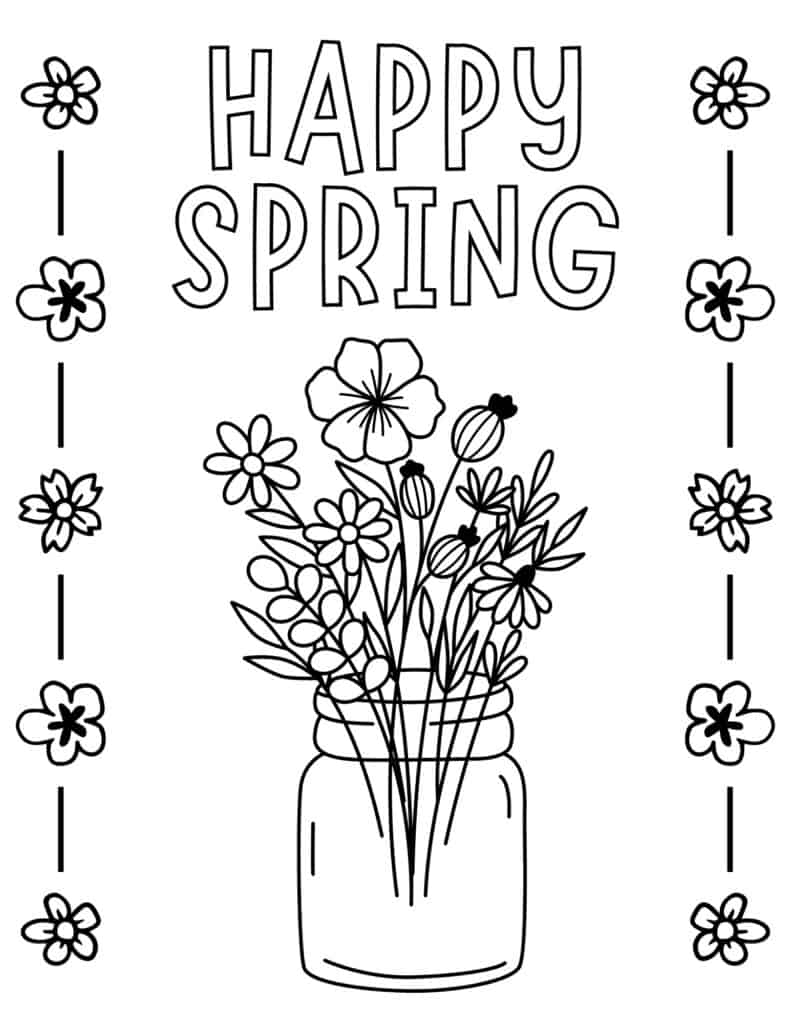 From vibrant daisies to delicate primrose, this mason jar is filled to the brim with a variety of colorful spring flowers. The vintage charm of the mason jar adds a touch of nostalgia to the coloring page.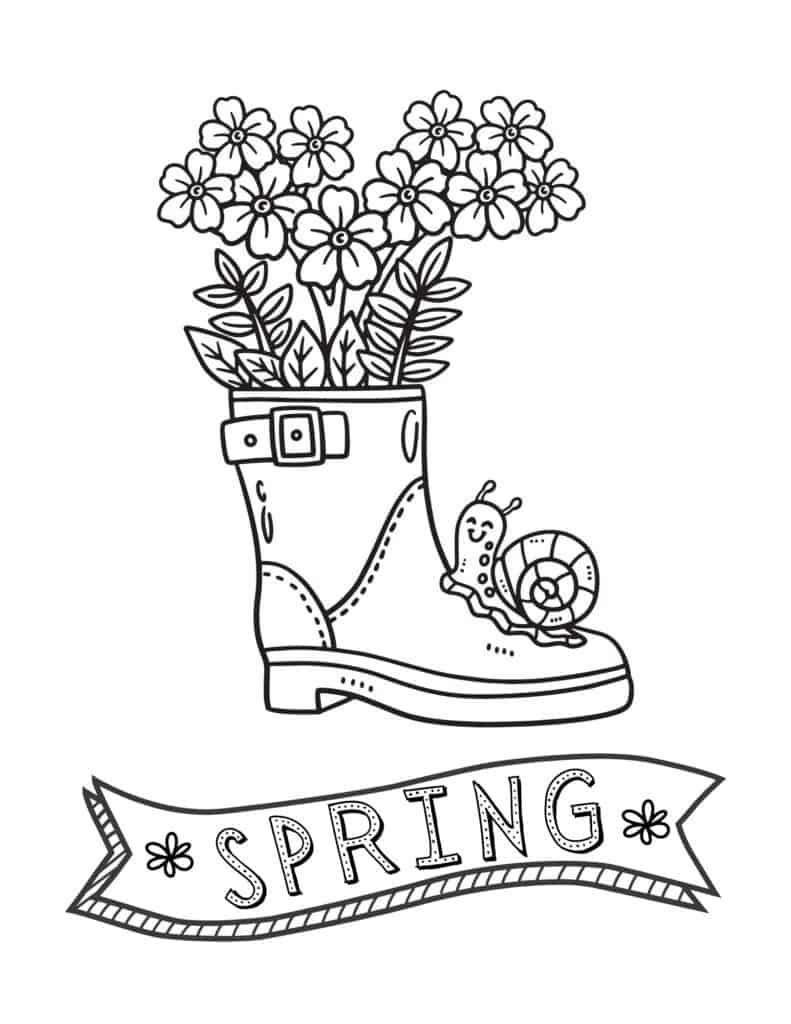 This boot filled with spring flowers will add a touch of whimsy to your coloring. The cute little snail brings some additional playfulness to the design!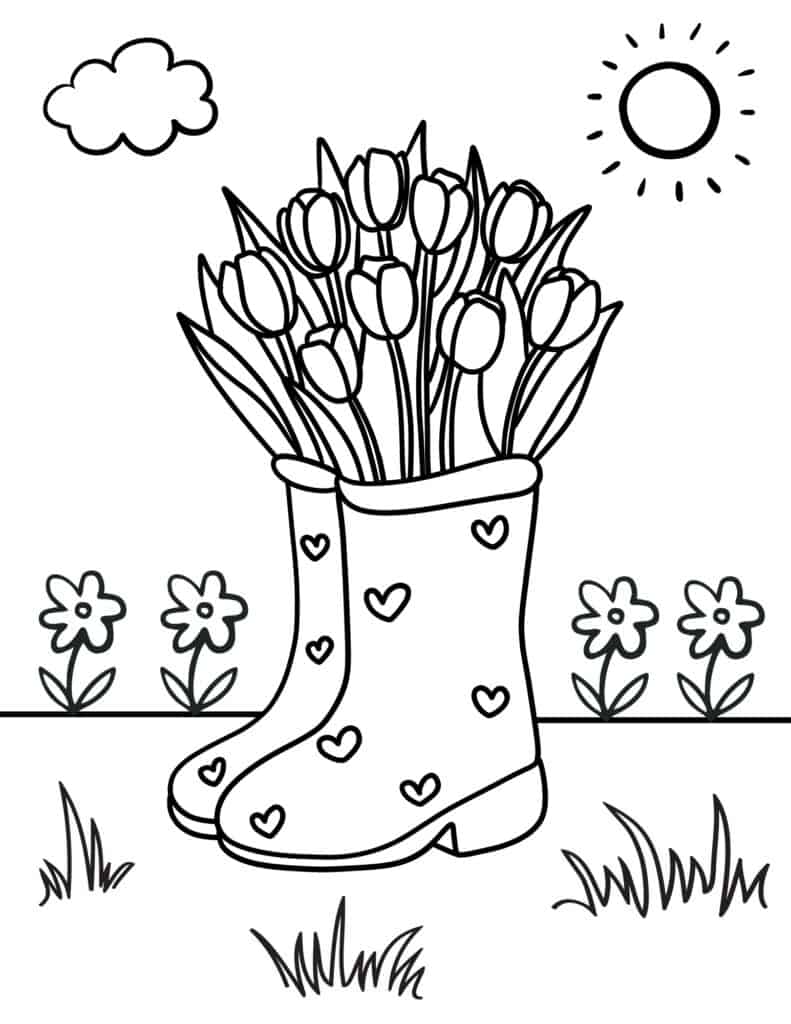 This fun design features rain boots overflowing with tulips. Enjoy coloring the tulips with bright reds, soft pinks, or bold purples!
Seasonal and Holiday Coloring Pages
Other Coloring Pages
If you tried one of these spring coloring pages or any other coloring pages on my website, please let me know how it went in 📝 comments below!
Follow me on Pinterest, Facebook, or Instagram for more inspiration on crafts, DIY, free printables, and recipes!