Show your mom how much you love her with these free Mother's Day coloring pages for kids!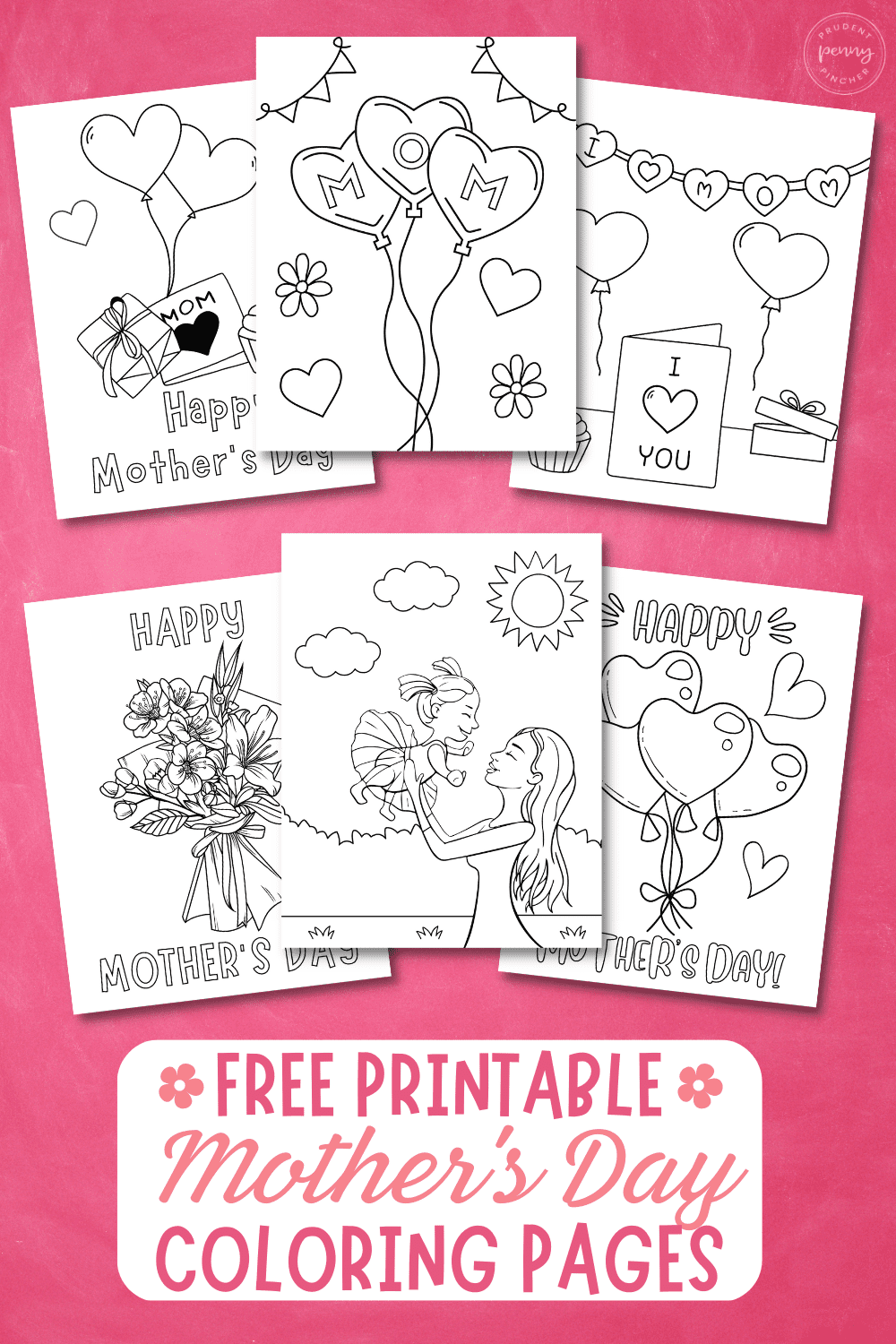 They make great printable Mother's Day cards, keepsakes, and homemade Mother's Day gifts from kids. Whether you are looking for Mother's Day coloring sheets for little kids like toddlers and preschoolers or older kids, there are plenty of free printables for children of all ages to choose from.
These Mother's Day printables feature themes such as pretty flowers, adorable teddy bears, cute hearts, balloons, special gifts, fun greeting cards, and much more. These sheets come with assorted designs, themes, and levels of difficulty so that parents and teachers can choose the ones that best suit the ages and preferences of their children.
Pair these free coloring pages with these Mother's Day crafts for kids for hours of fun!
Coloring pages are a great way to get children excited about this special day and give them a fun way to celebrate with their moms. Coloring also enhances your child's creativity and helps them improve their fine motor skills and hand-eye coordination. Not only do these printables encourage imagination and artistic skills, but they also offer an excellent opportunity to show our love and gratitude to our mothers in a special way.
Don't forget to try these Father's Day coloring pages, too!
Jump to: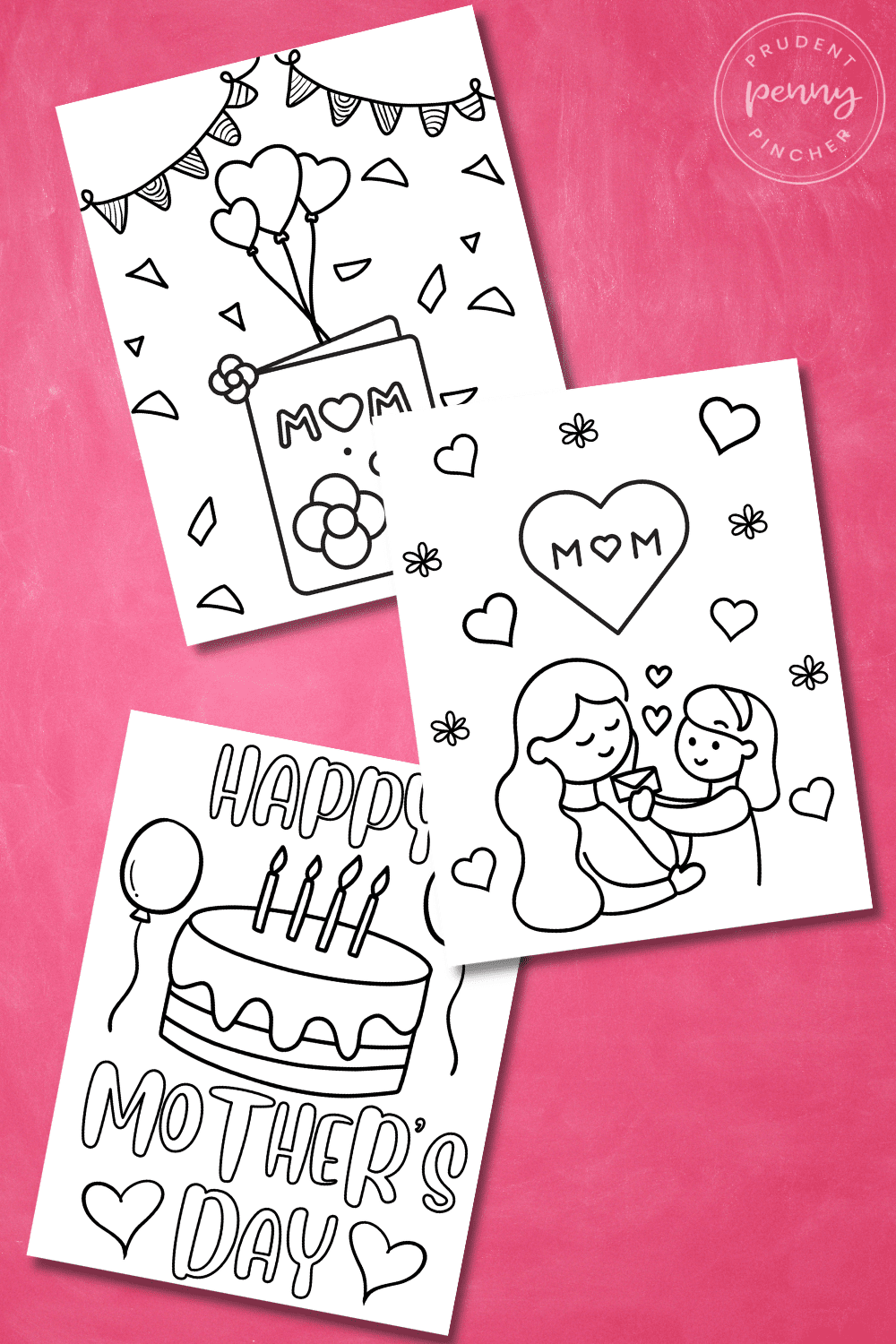 Supplies Needed
printer
printer paper
markers, crayons, colored pencils, watercolors, etc.
PDF file to download
How to Print and Download The Coloring Sheets
Click the URL to the PDF file.
In the toolbar, click the download button.
Download the image to a file location that you choose.
Open the PDF in Adobe Acrobat or another PDF viewing software.
Go to File —> Print.
Make sure the page size is set to "Fit" in the settings to ensure it will fit within the page.
Load your paper in the printer' tray and press the print button.
Mother's Day Coloring Pages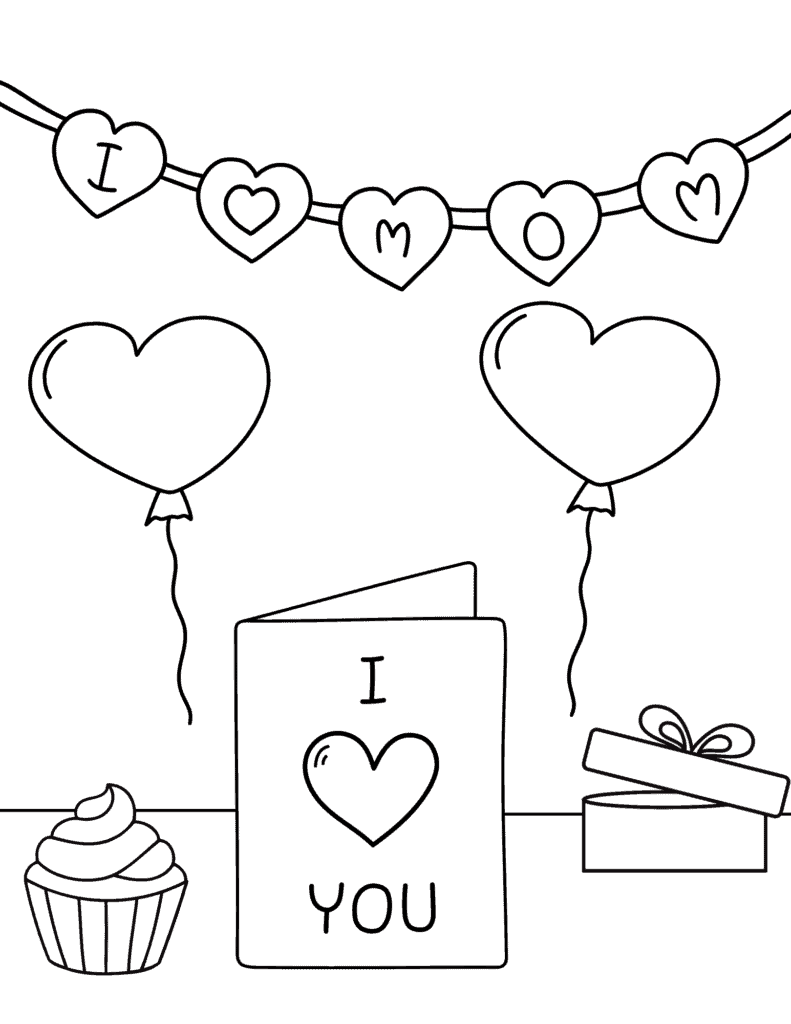 I Love You Card
This sheet features an "I Love You" card and gift surrounded by heart-shaped balloons and a banner that says "I Love Mom." Kids can use their creativity to add their own personal touches to the card and gift, such as drawing pictures or writing messages to express their love and appreciation for their moms.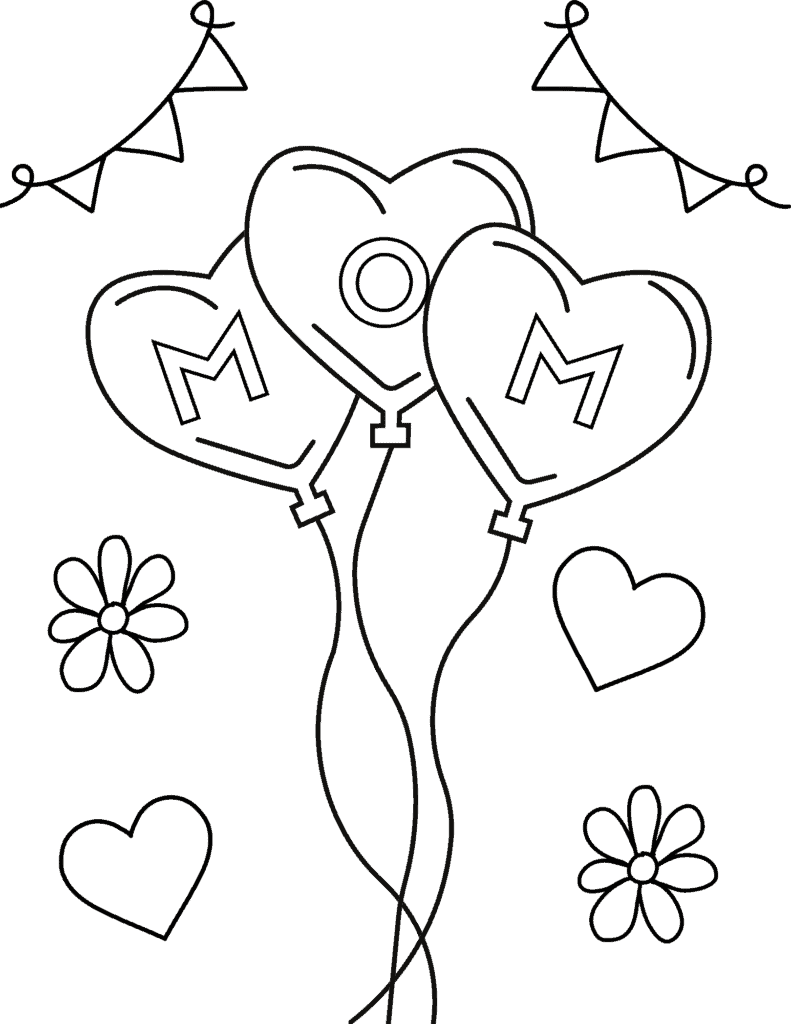 Mom Heart Balloons
This page features a banner and heart-shaped balloons that spells out "Mom" with flowers and hearts in the background. Children can get creative by customizing the banner and hearts with patterns to make it extra special.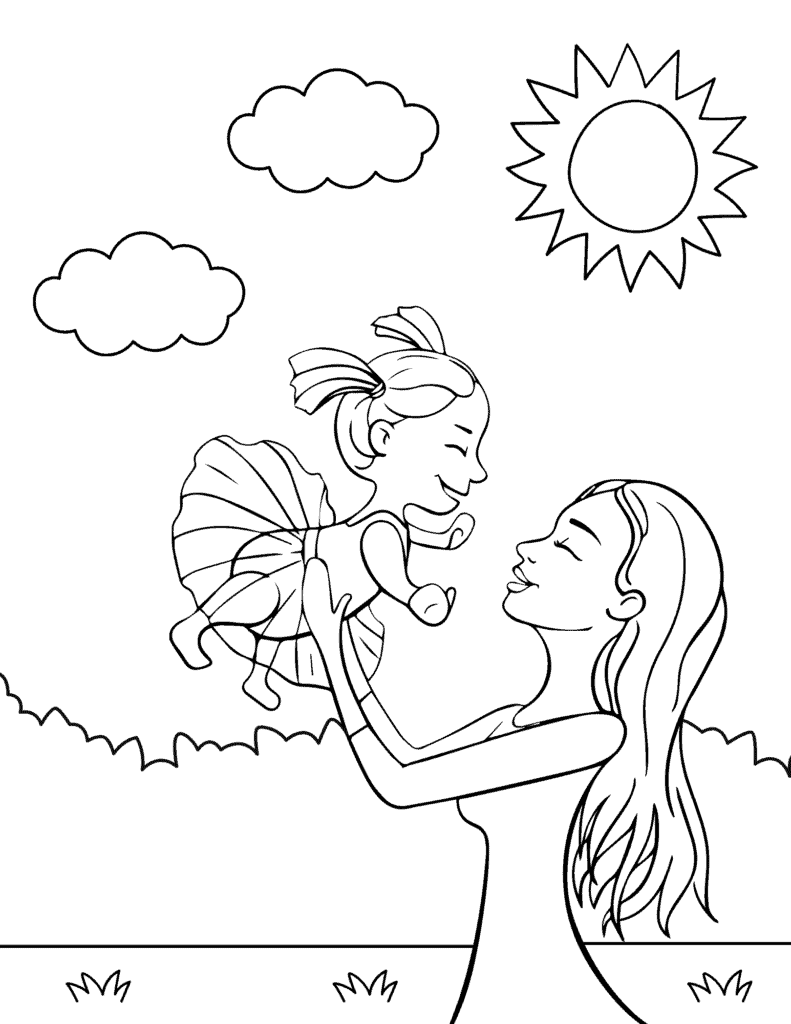 Mom Holding Baby Girl
This page depicts a happy mother holding her excited baby girl high in the air with the sun shining down on them. Kids can make the scene come to life by adding tons of vibrant colors to it. It is a great way for children to celebrate the special bond between a mother and her child.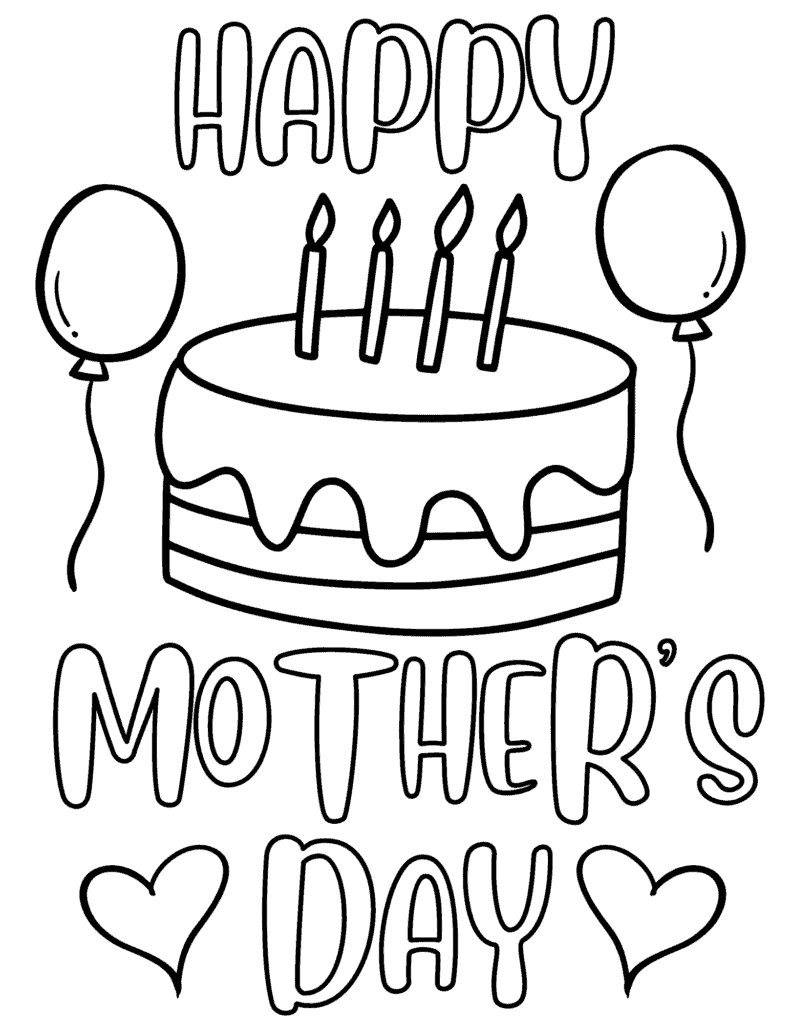 Happy Mother's Day Cake
Celebrate your mom with this cake coloring page! This one features a beautifully decorated cake with balloons on either side, perfect for kids to color and personalize for their moms. The cake is adorned with frosting and candles. Children can use their mom's favorite colors to decorate the cake! It is a fun way for kids to show their moms how much they love and appreciate them.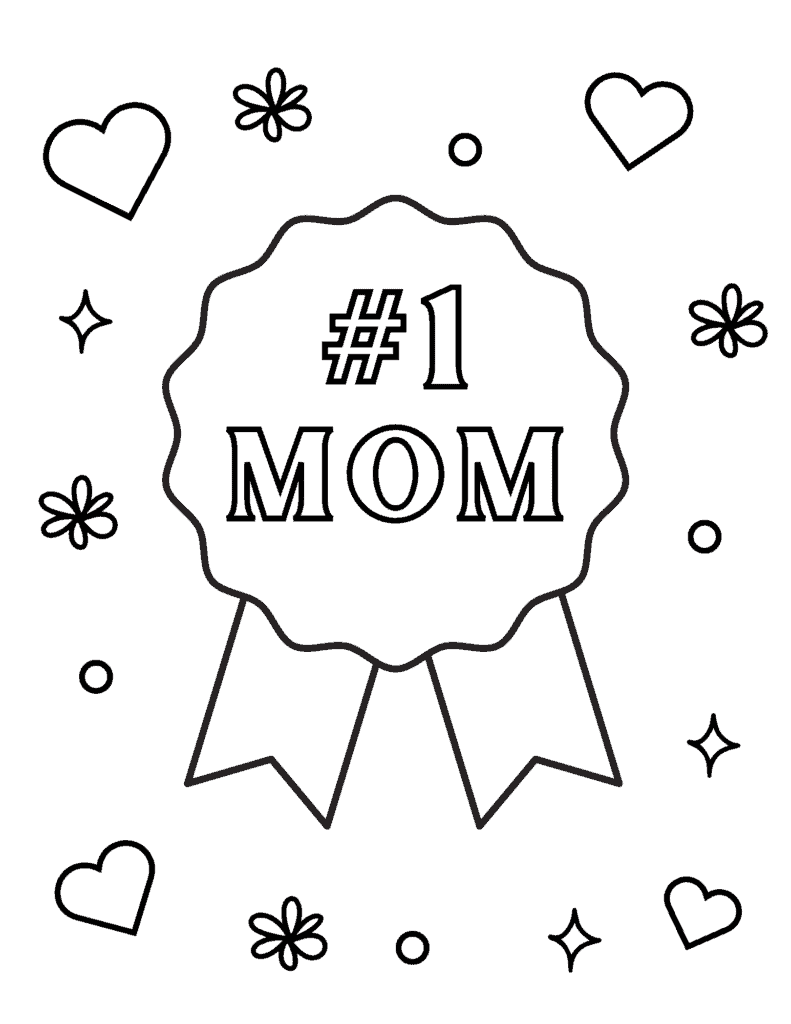 #1 Mom Trophy Award Ribbon
Show your mother she's the best with this cute ribbon sheet. The words "#1 Mom" are written boldly across the center of this award. Kids can use their creativity to make the ribbon colorful and vibrant!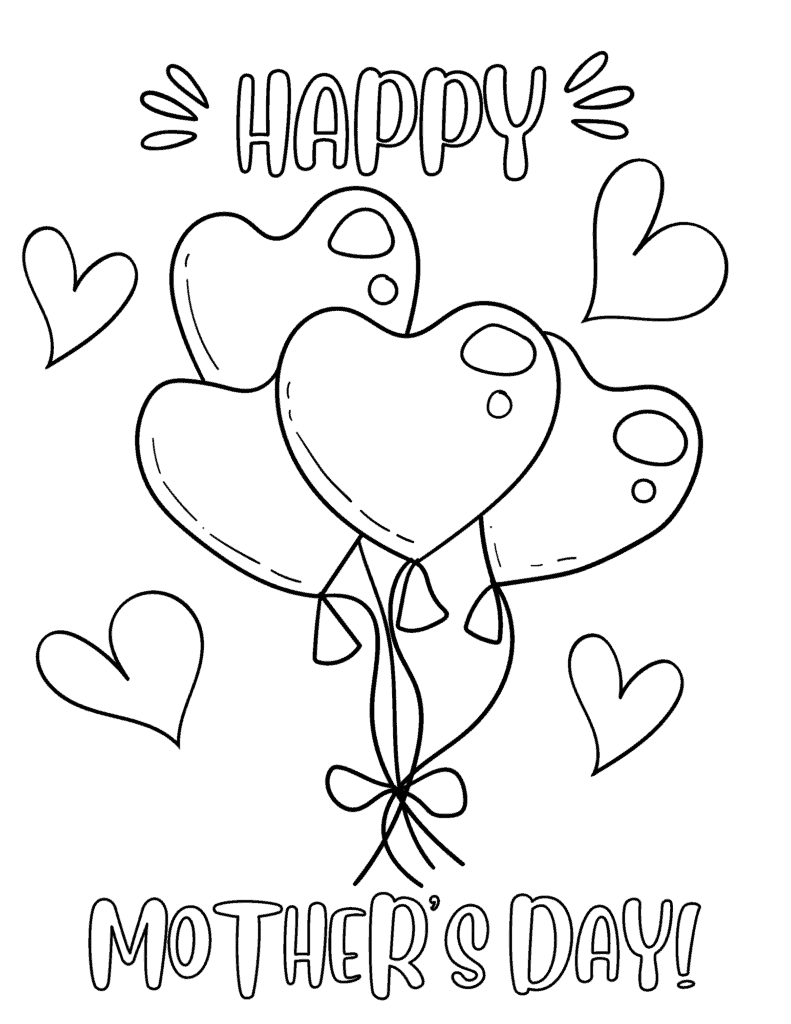 Happy Mother's Day Coloring Page
Surprise your mom with this special one that features a bouquet of heart-shaped balloons and the words "Happy Mother's Day" in big letters, which are surrounded by large hearts. It is a perfect choice to show your mother how much you cherish her!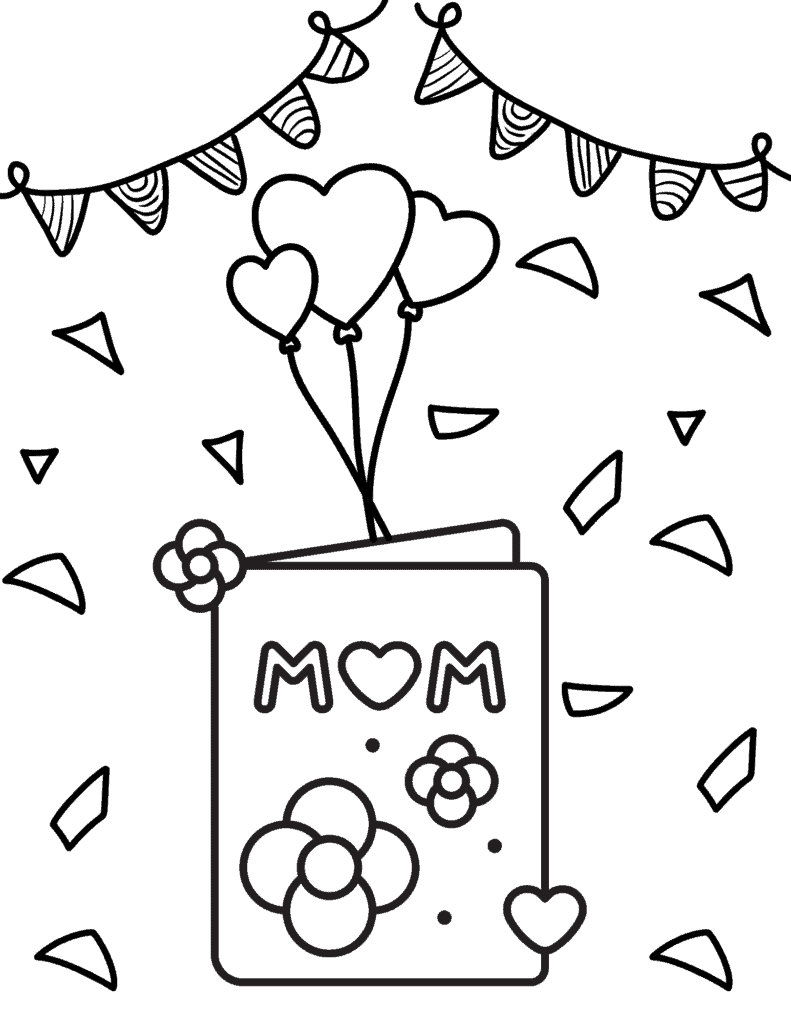 Mom Greeting Card
This greeting card sheet makes a great gift for your mother! It is surrounded by confetti and has banners hanging above that can be colored in with all different shades of bright and fun colors, creating a cheerful and celebratory backdrop for the card.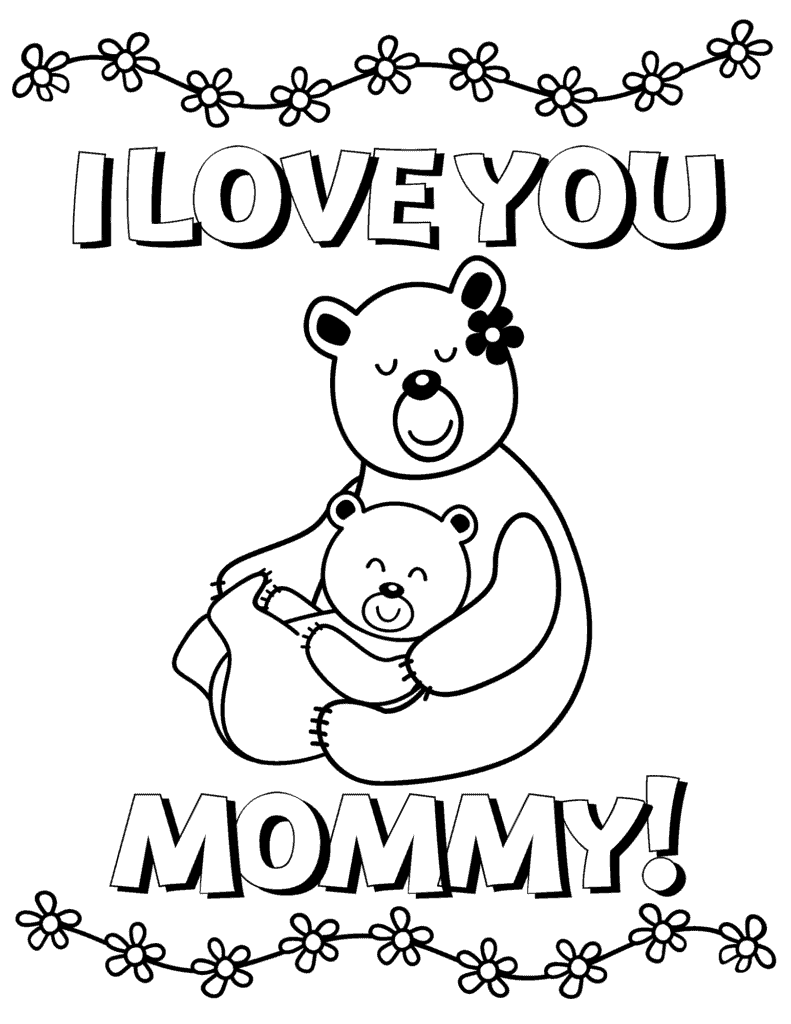 Teddy Bears Coloring Sheet
This one features an adorable teddy bear mother and child, hugging each other, with the words "I love you, Mommy." Children can color the flower garlands in their favorite colors to add their own personal touches to the scene.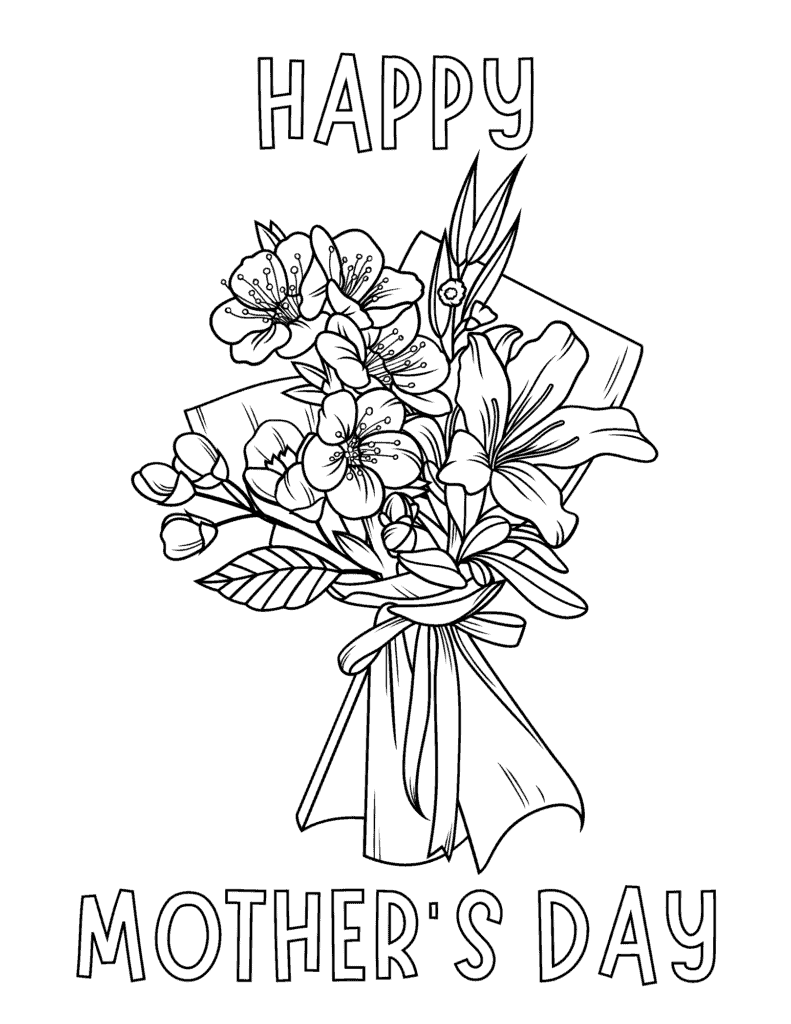 Flower Bouquet
This beautiful flower bouquet can be colored in with any combination of colors, allowing children to get creative and make the bouquet truly unique. It would make a great homemade Mother's Day Card for kids to give to their moms.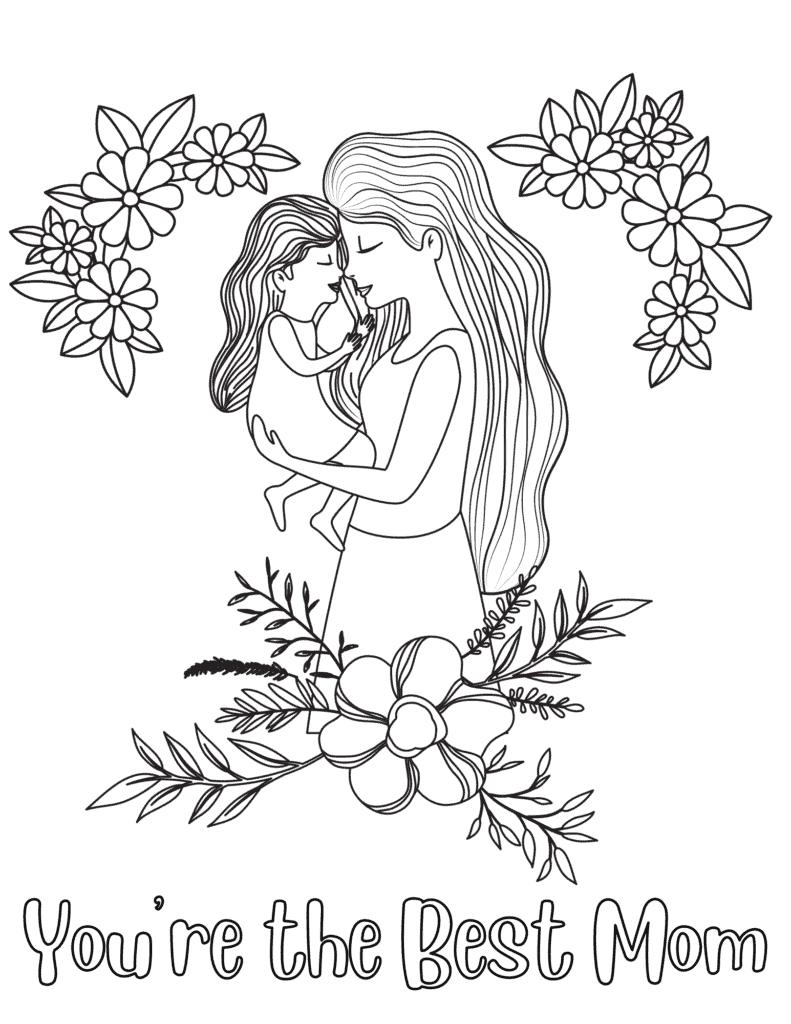 You're The Best Mom
A loving mother is holding her precious baby surrounded by beautiful flowers for this coloring page. The words "You're the Best Mom" are written below them. It is a perfect choice for children to color and gift to their mothers as a heartfelt present on the holiday.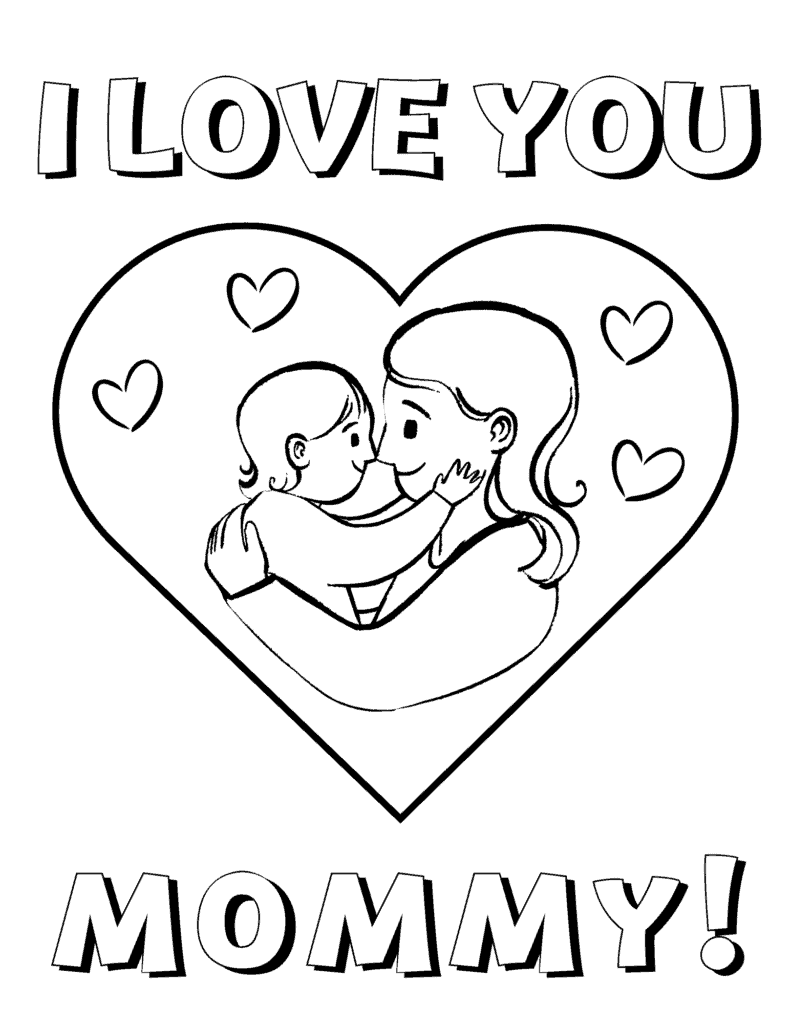 I Love You, Mommy!
This coloring sheet depicts a heartwarming display of a mother holding her baby. They are looking at each other with tenderness and affection. The words "I Love You, Mommy" are written in bold serving as a sweet reminder of the special bond between a mother and her child.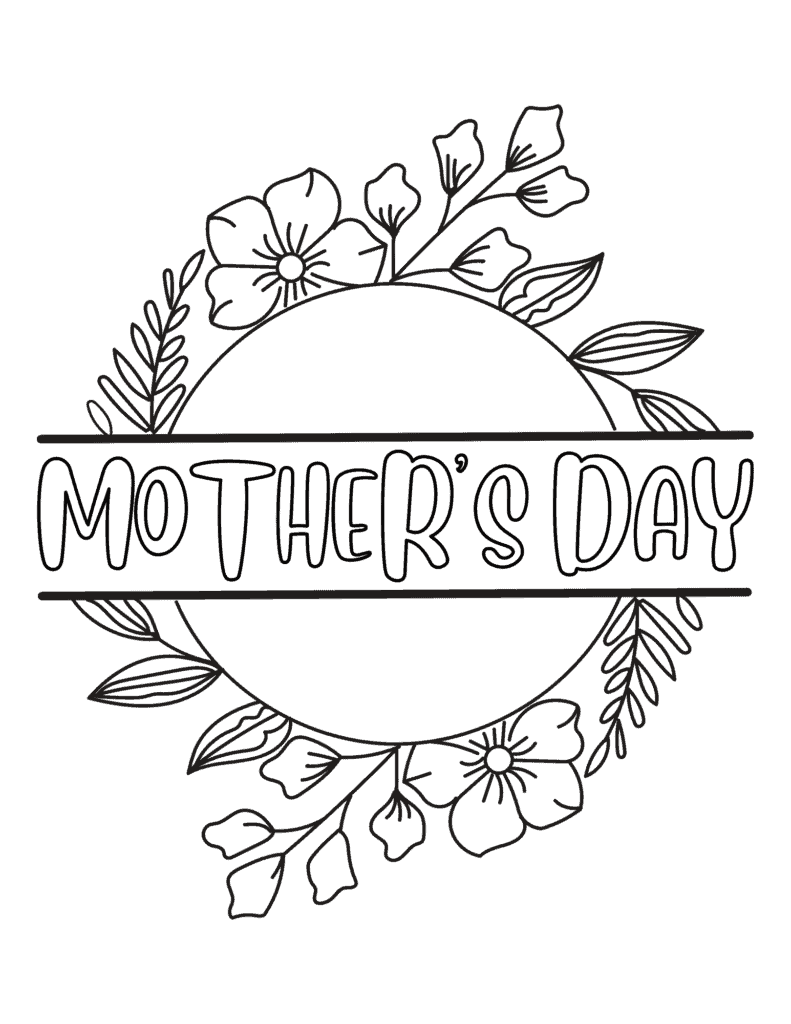 Floral Wreath
This coloring page features a beautiful floral wreath with various flowers and leaves for kids to color in. Children can use their creativity to make the flowers and leaves any color they choose, creating a special tribute to their beloved moms. It would make a wonderful card to give to her. Just add a heartfelt message on the other side of the paper!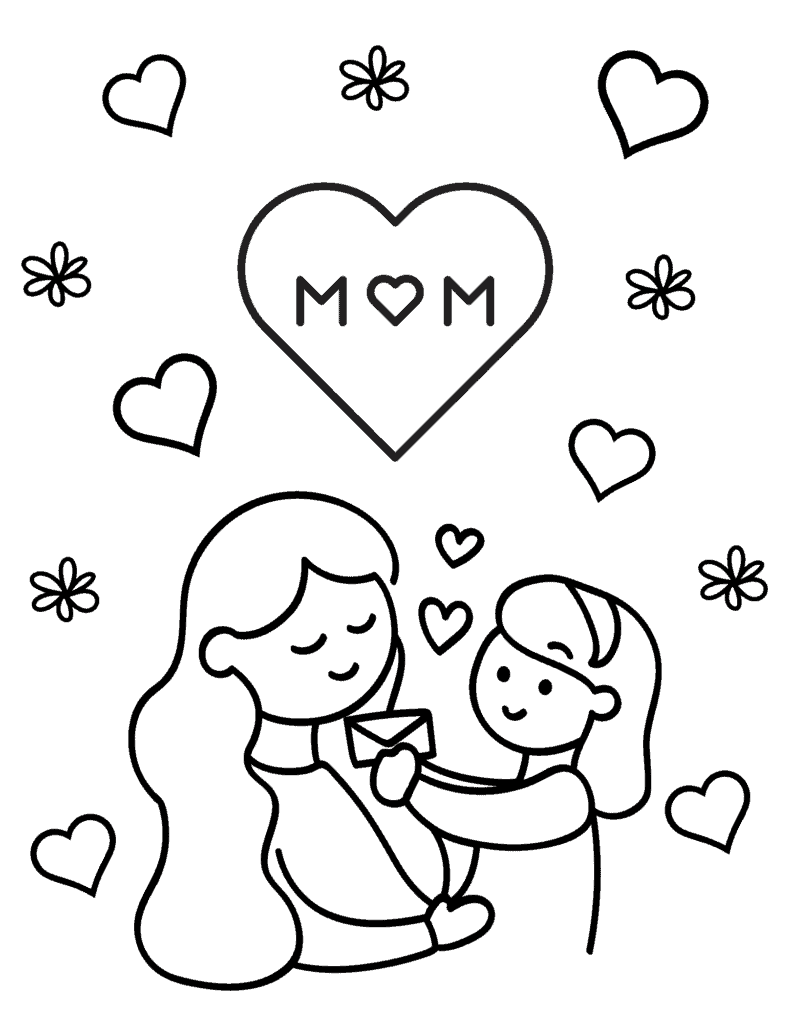 Child Giving a Mother's Day Card to Her Mom
This one depicts a touching scene of a child giving a handmade Mother's Day card to her mother. The child is smiling as she presents the card to her mom. The background of the coloring page is decorated with flowers and hearts, adding a touch of tenderness to the image. It makes a thoughtful, handmade gift for kids to give to their mothers.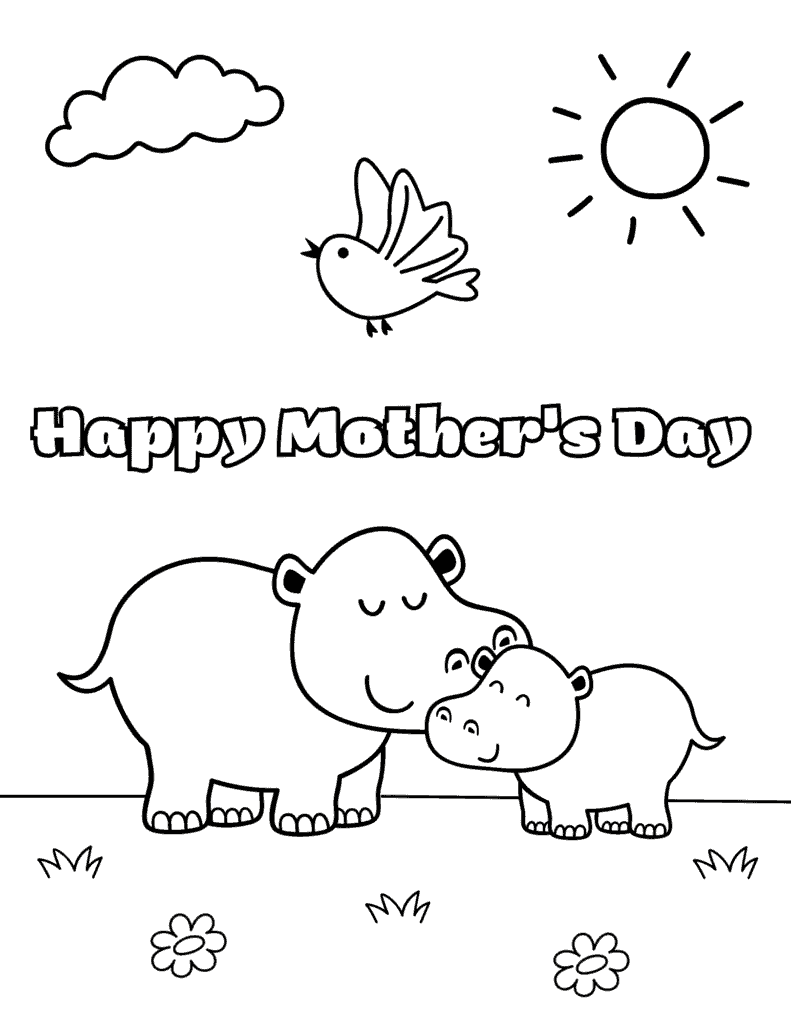 Cute Mother and Baby Hippos
This one features a heartwarming scene with a happy mother hippo and her adorable baby in a field surrounded by vibrant flowers and grass with the warm sun shining down on them. With its endearing design, this page is sure to bring a smile to any mom's face!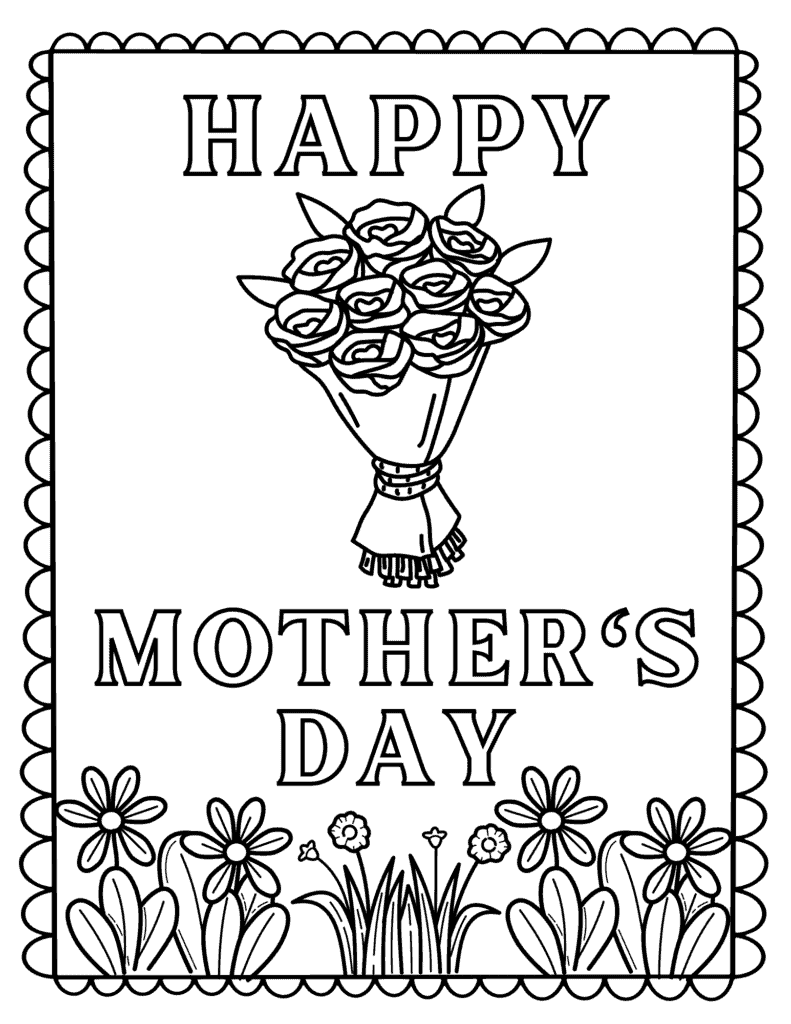 Happy Mother's Day Coloring Page
This gorgeous bouquet of flowers is a special tribute to all the amazing moms out there. Kids can use their imagination to color the flowers and borders in any colors they would like to make it a truly personalized gift for their mothers.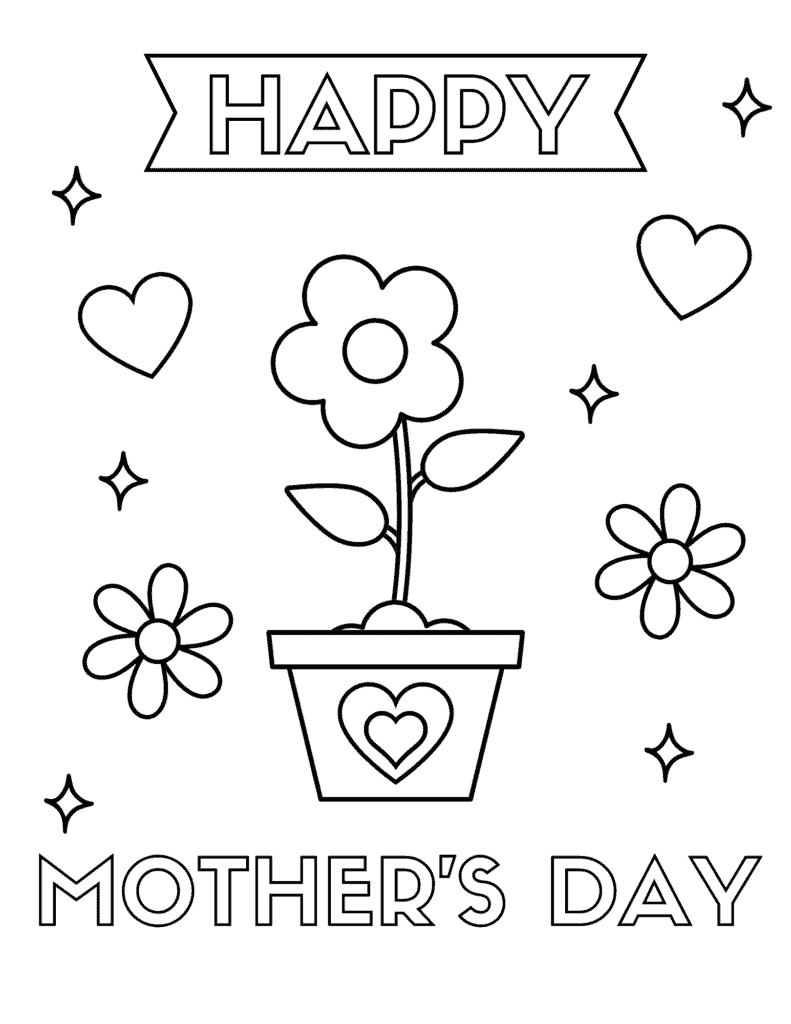 Potted Flower
This coloring sheet features a beautiful potted flower with cute hearts and flowers around it. Once your kids are done adding color to it, they can give it to mom as a present for Mother's Day!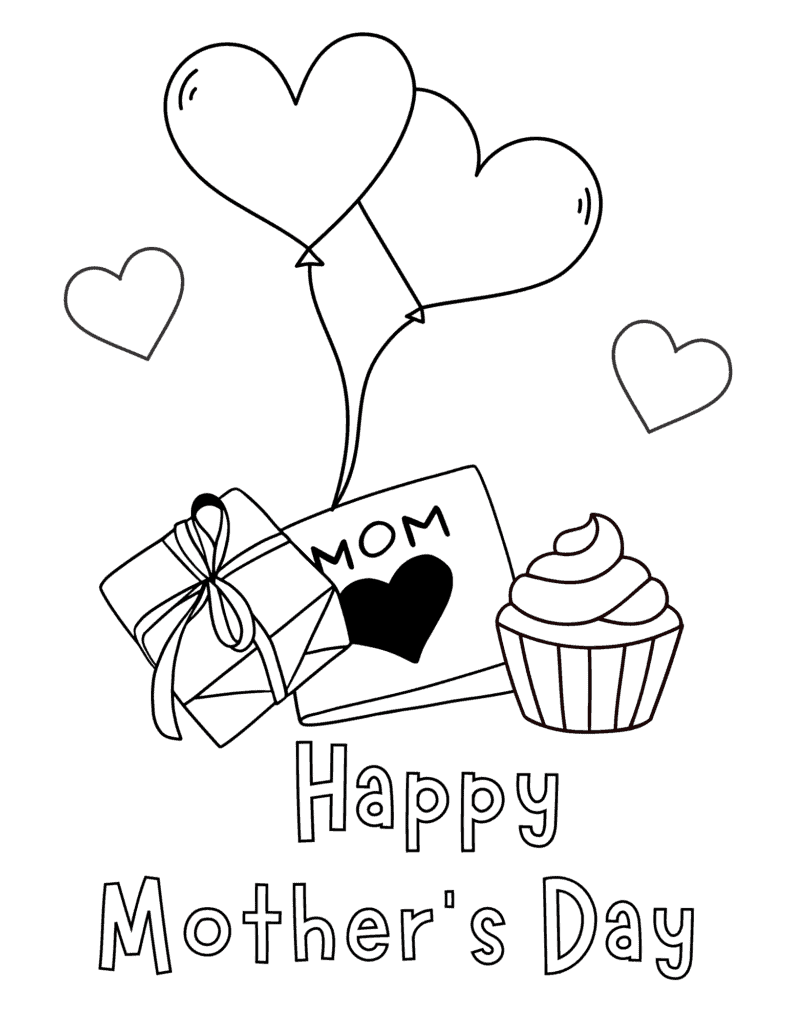 Mother's Day Gifts Coloring Sheet
Make something special for your mom with this one featuring a bow-wrapped gift, a cute card, heart-shaped balloons, and a delicious cupcake with the words "Happy Mother's Day" written below them. Turn this into a cute greeting card for mom by writing a sweet message to mom on the back.
More Holiday Coloring Pages for Kids and Adults
More Mother's Day Ideas