Show your dad how much you love him with these free Father's Day coloring pages for kids!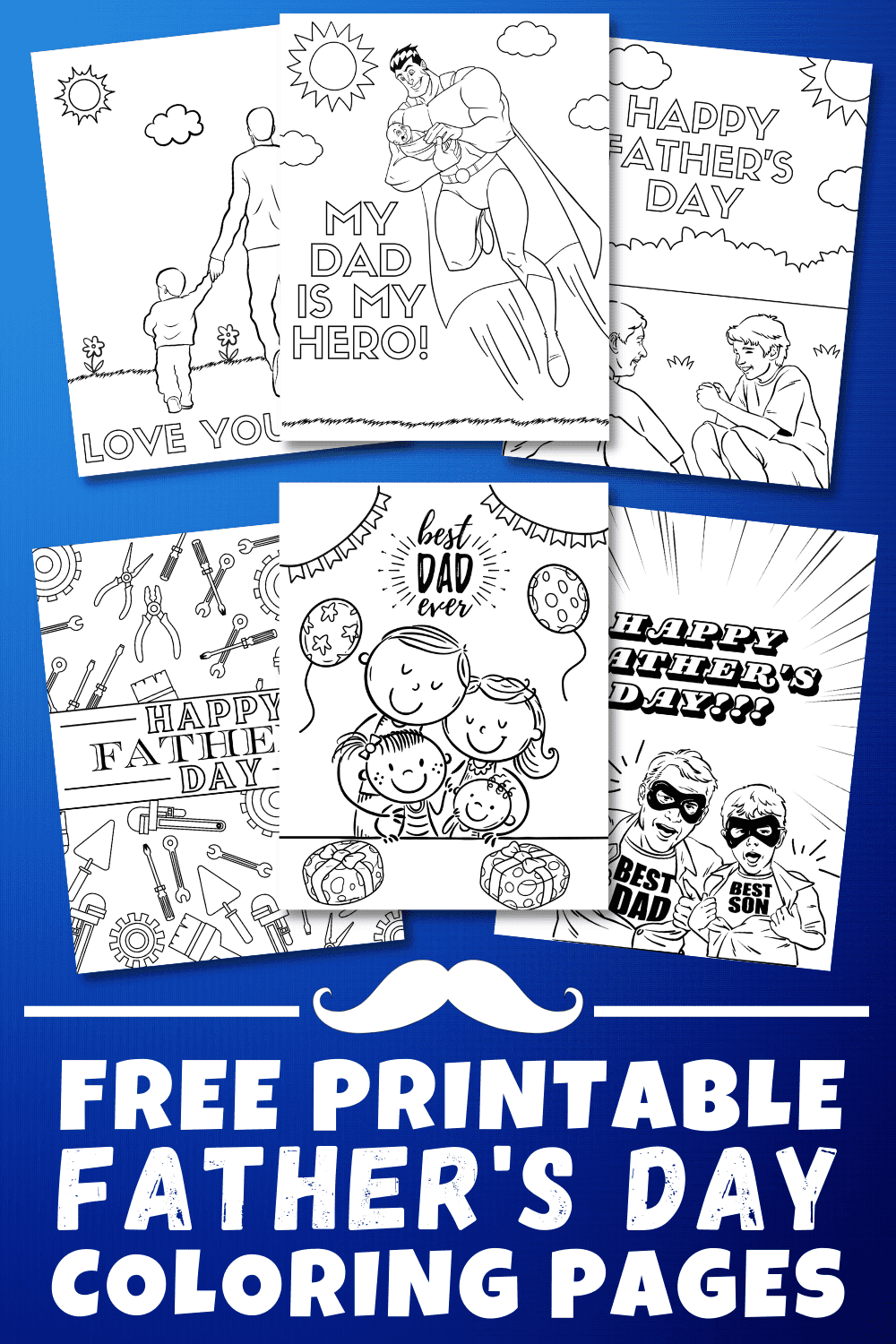 They make great printable Father's Day cards, keepsakes, and homemade gifts for your dad. Whether you are looking for Father's Day coloring sheets for little kids like toddlers and preschoolers or older kids and teens, there are plenty of free printables for kids of all ages to choose from. Nothing says "Happy Father's Day" like a colorful drawing from your kids made with love. These free coloring sheets will make the extra holiday special for all the dads and is a fun way for kids to show their affection and gratitude.
These free Father's Day coloring pages feature various designs and themes, ranging from superhero dads and award trophies for him to illustrations that reflect his interests, like tools and ties. They celebrate the unique bond between dads and their kids. It's a great activity that allows kids to explore their creativity and improve their fine motor skills.
Pair these free coloring pages with these Father's Day crafts for kids for hours of fun!
Whether you're a parent looking for something fun to do with your kids or a teacher looking for a classroom activity, these printable coloring pages are sure to be a hit for children of all age groups.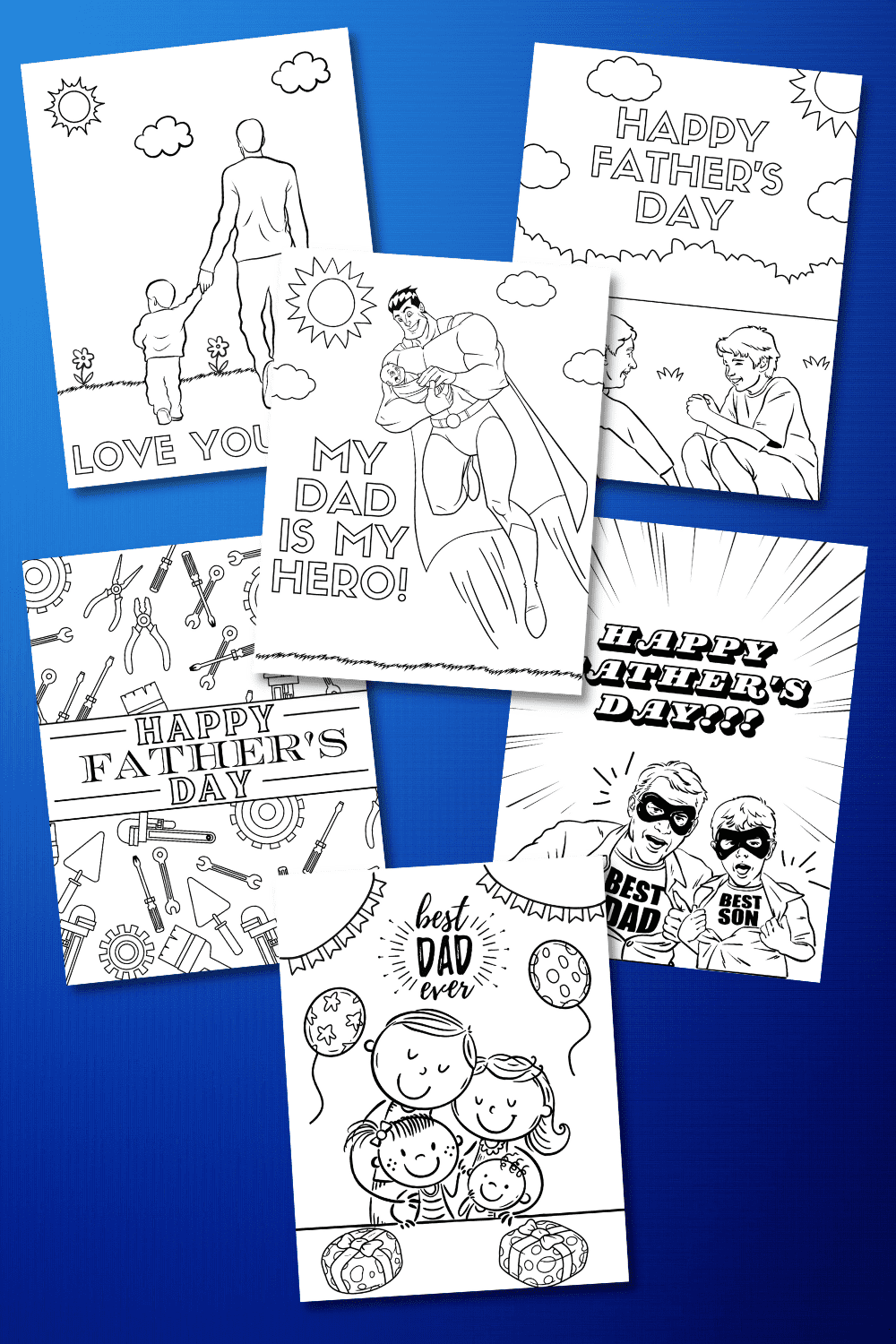 Supplies Needed
printer
paper
Markers, crayons, colored pencils, watercolors, etc.
PDF file to download
How to Print and Download The Coloring Sheets
Click the URL to the PDF file.
In the toolbar, click the download button.
Download the image to a file location that you choose.
Open the PDF in Adobe Acrobat or another PDF viewer software.
Go to File —> Print.
Make sure the page size is set to "Fit" in the settings to ensure it will fit within the page.
Load your paper in the printer's tray and press the print button.
Father's Day Coloring Pages
Easy Coloring Sheets for Younger Kids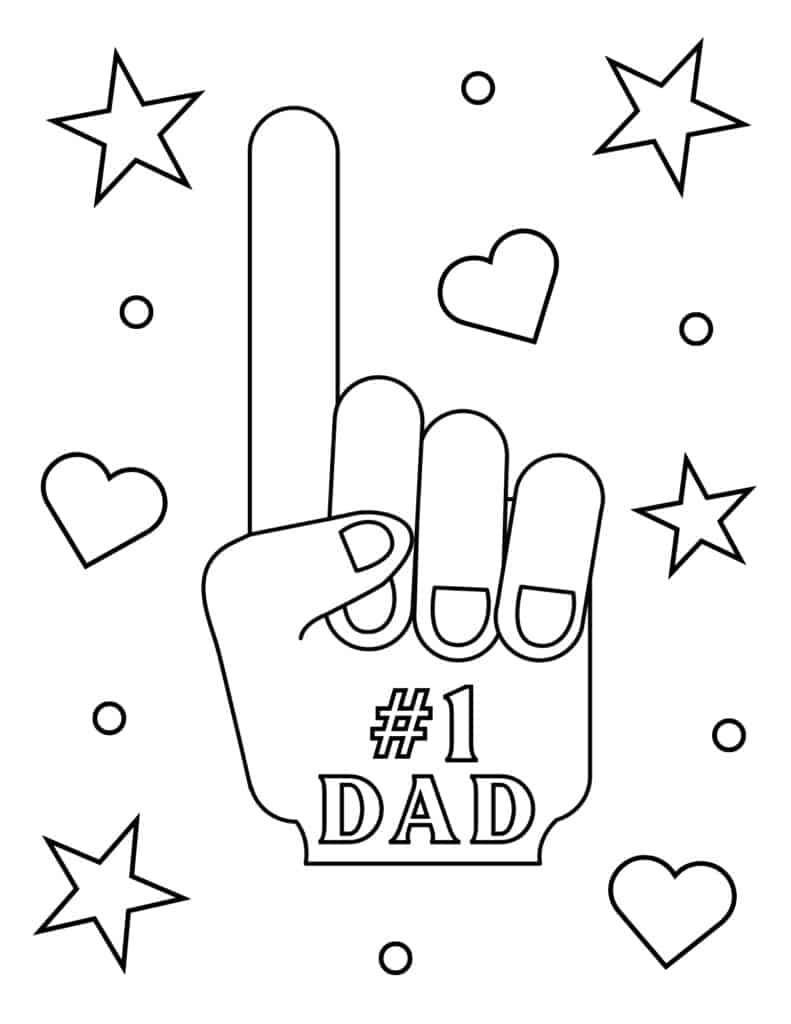 This one has "#1 Dad" in large letters and a #1 fan hand to let their father know his kids are his #1 fan. It is a simple coloring sheet with large elements that will make it easy for younger kids to color in.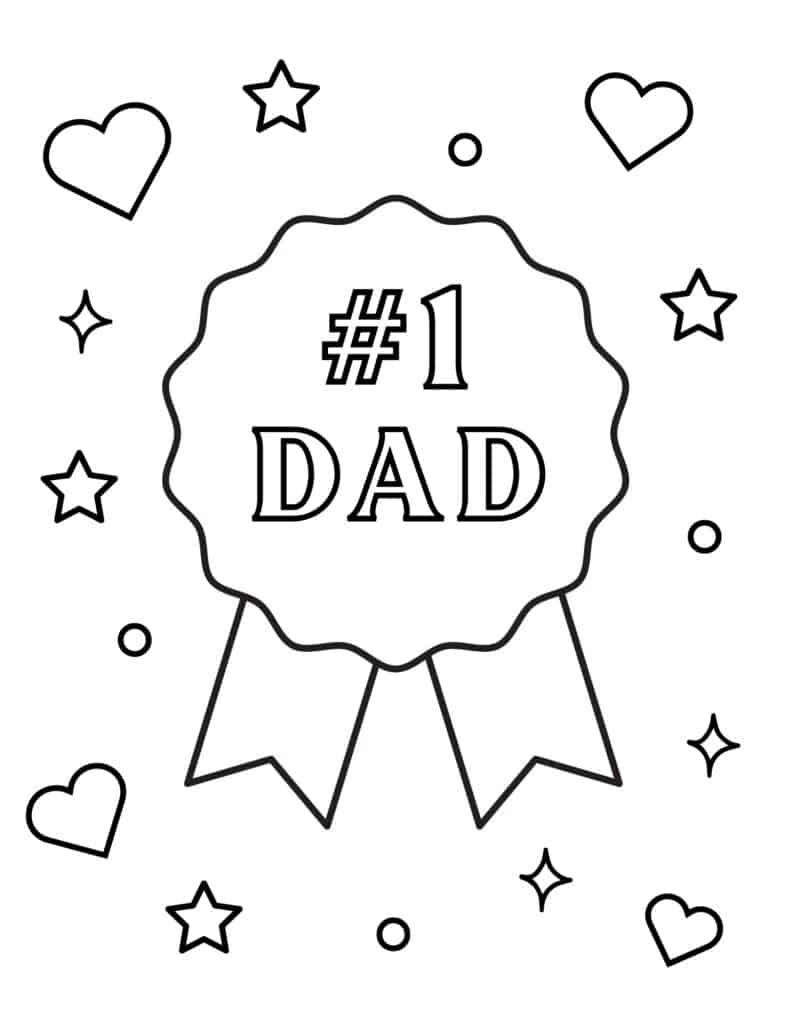 Show your father how much you love him by presenting him with this coloring page featuring a #1 dad award ribbon with stars and hearts in the background. It would make a great homemade Father's Day card.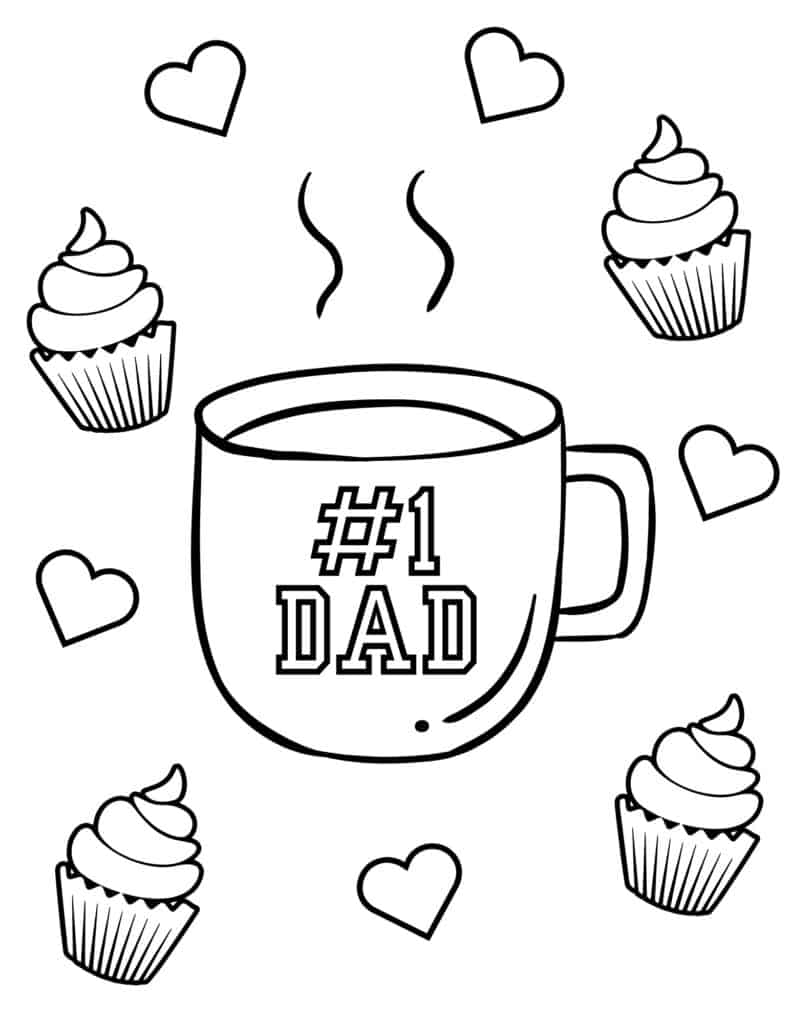 Is your father a coffee and sweet treats lover? If so, he will surely love this #1 dad mug surrounded by cupcakes and hearts.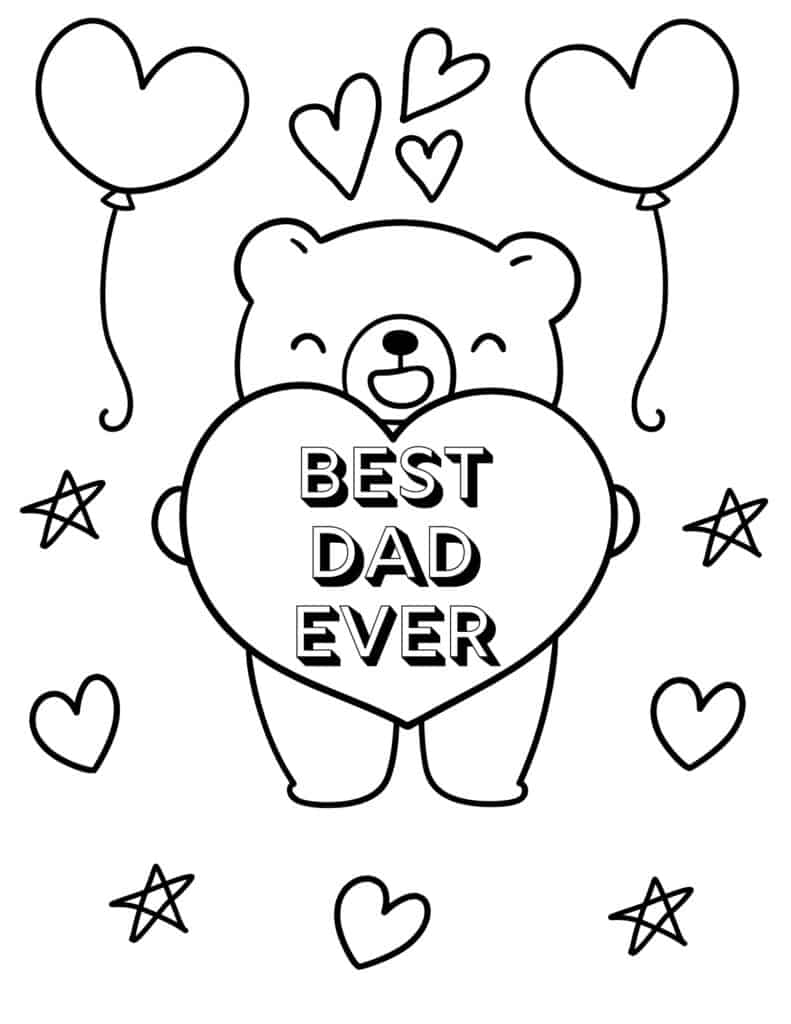 This teddy bear holds a big heart that says, "Best Dad Ever." It makes a thoughtful and sweet gift to your dad for this special occassion!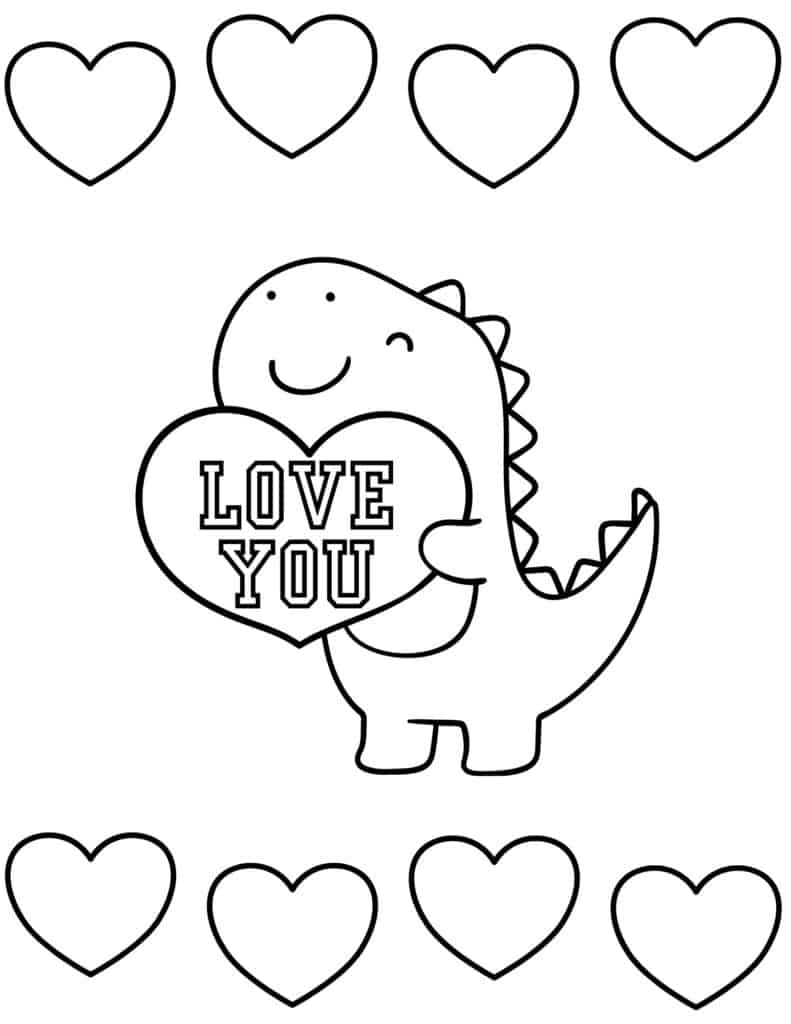 This printable coloring sheet shows a cute and cuddly dinosaur holding a heart sign that reads "Love You."So break out the crayons and markers, and let your little ones get creative with this fun and festive design.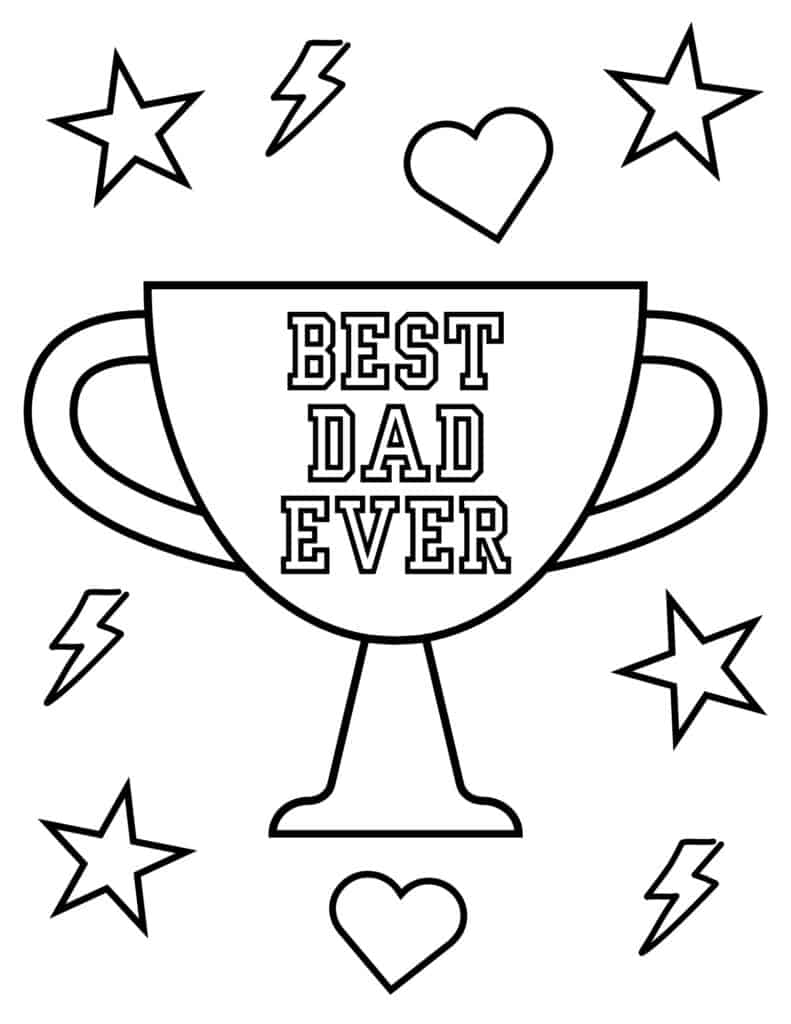 This one has an award trophy with "Best Dad Ever" on it, perfect for showing your dad how much you appreciate him. Kids can get creative with colors and designs to make this page special for their dad.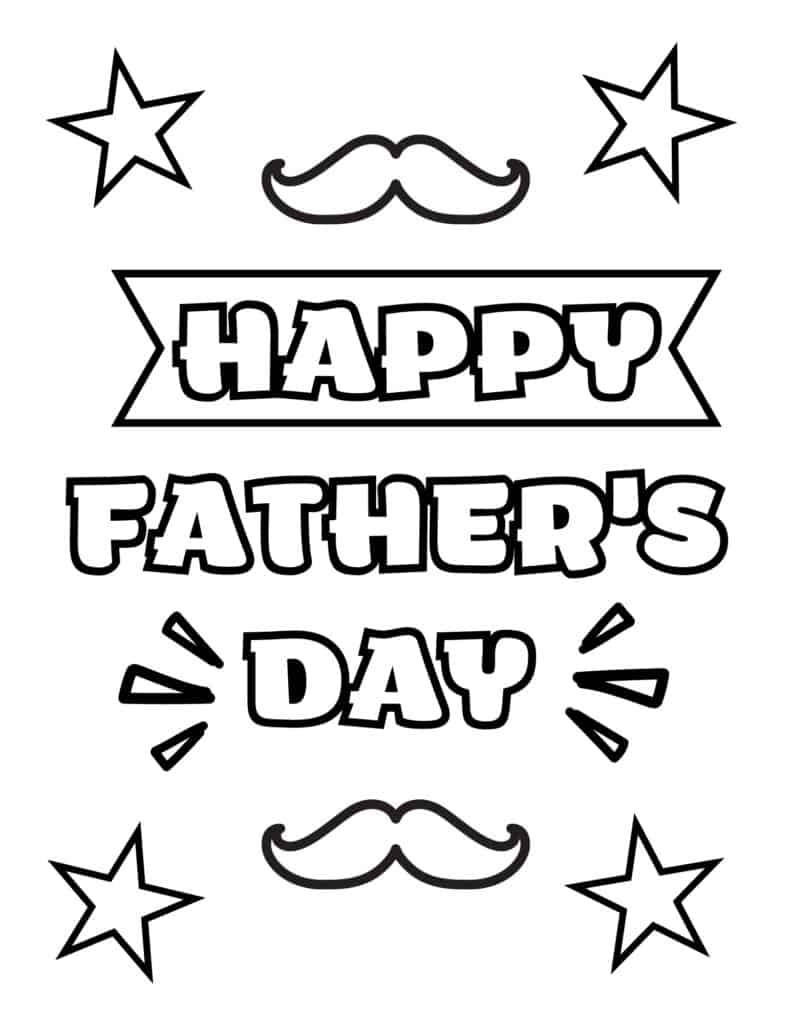 This Happy Father's Day coloring page features simple design elements, making it ideal for toddlers and preschoolers.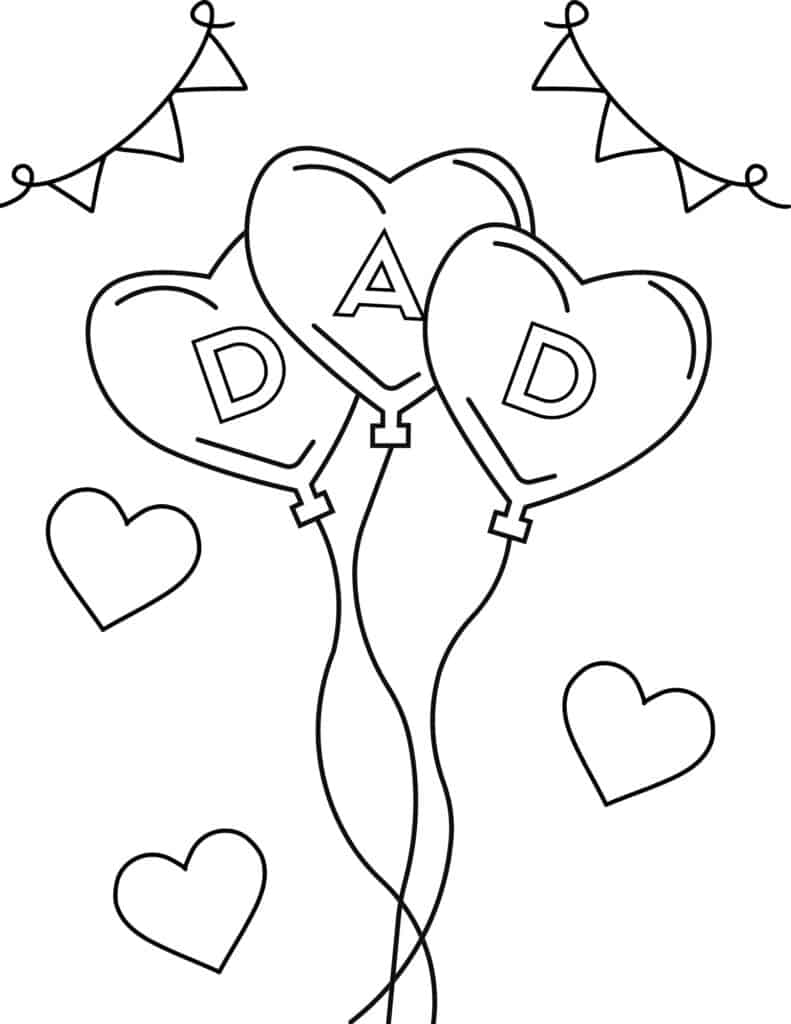 This design has heart-shaped balloons that spell out "Dad." Grab your crayons, markers, or colored pencils, and let your little ones unleash their imagination on this heart-filled scene.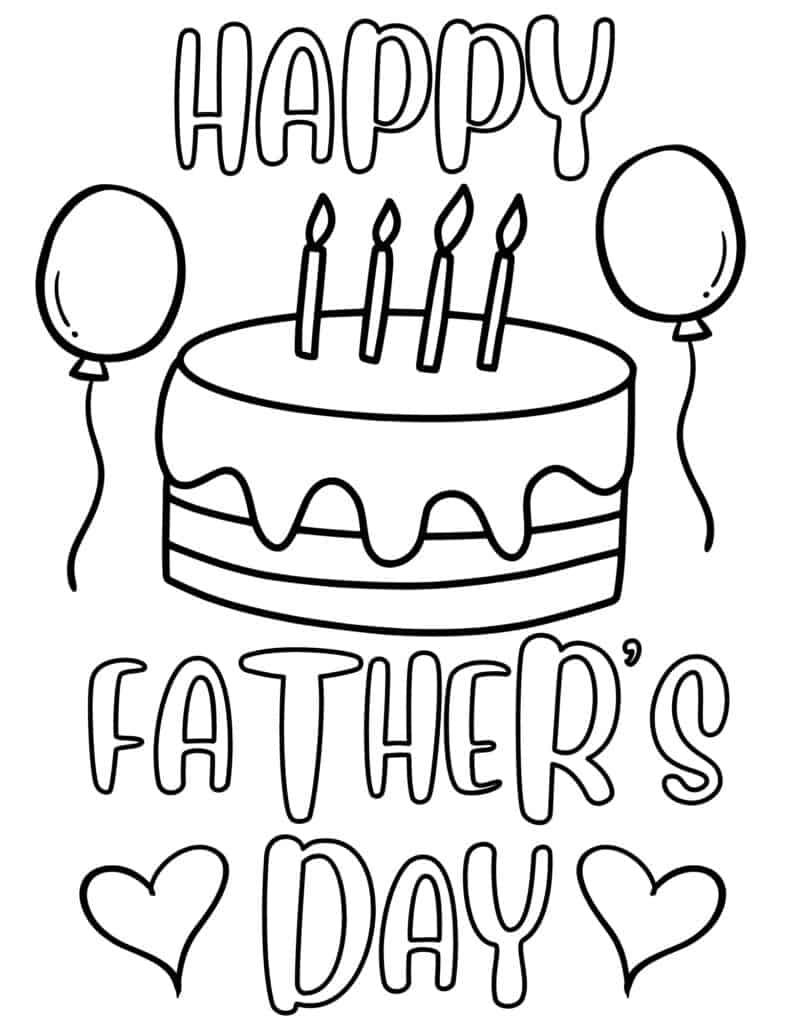 This page features "Happy Father's Day" in bold letters, surrounded by colorful balloons and a delicious-looking cake. Whether it's a gift or a fun bonding activity, this printable is sure to bring a smile to your dad's face.
Coloring Pages for Older Children and Teens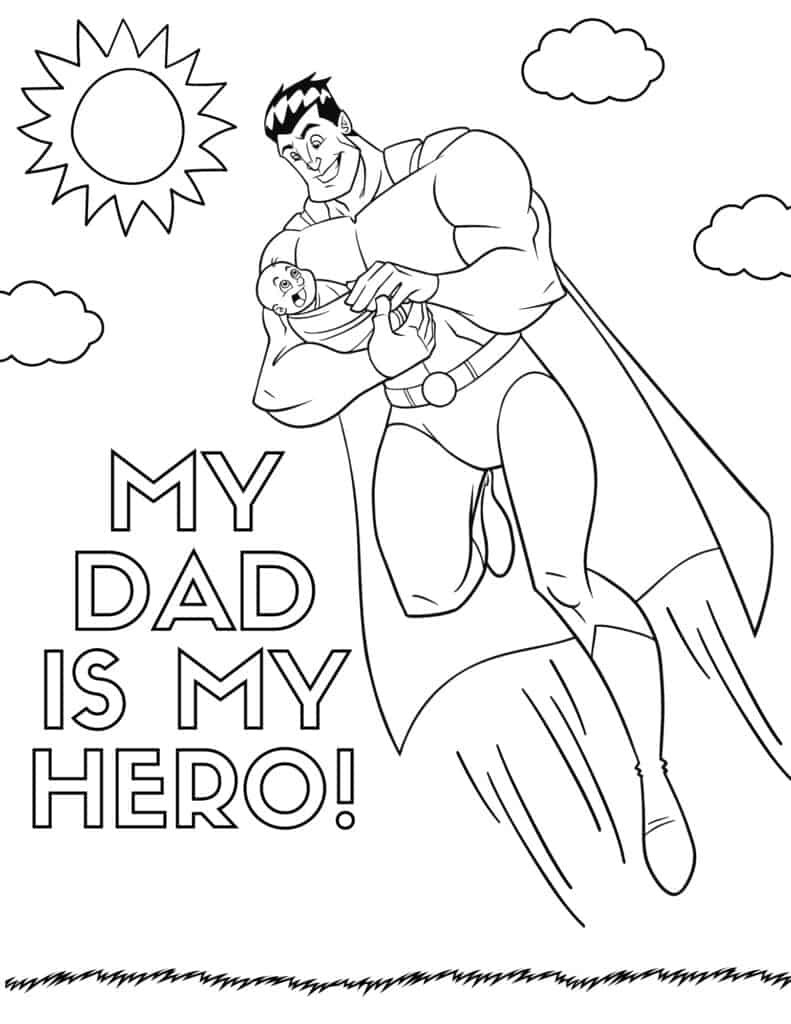 This one shows a heroic figure in a cape, flying with a child. The phrase "My dad is my hero" is prominently displayed.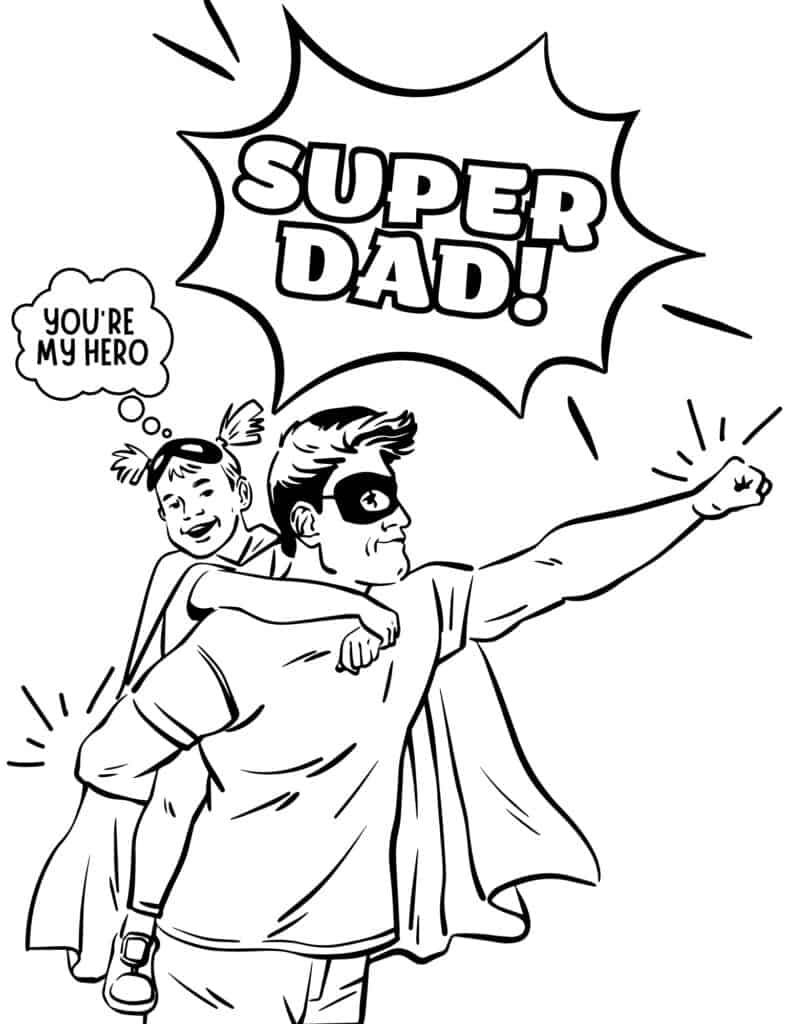 This fun sheet features a dad wearing a superhero cape and the words "Super Dad" written in a comic book style. Children can use their favorite colors to bring this image to life!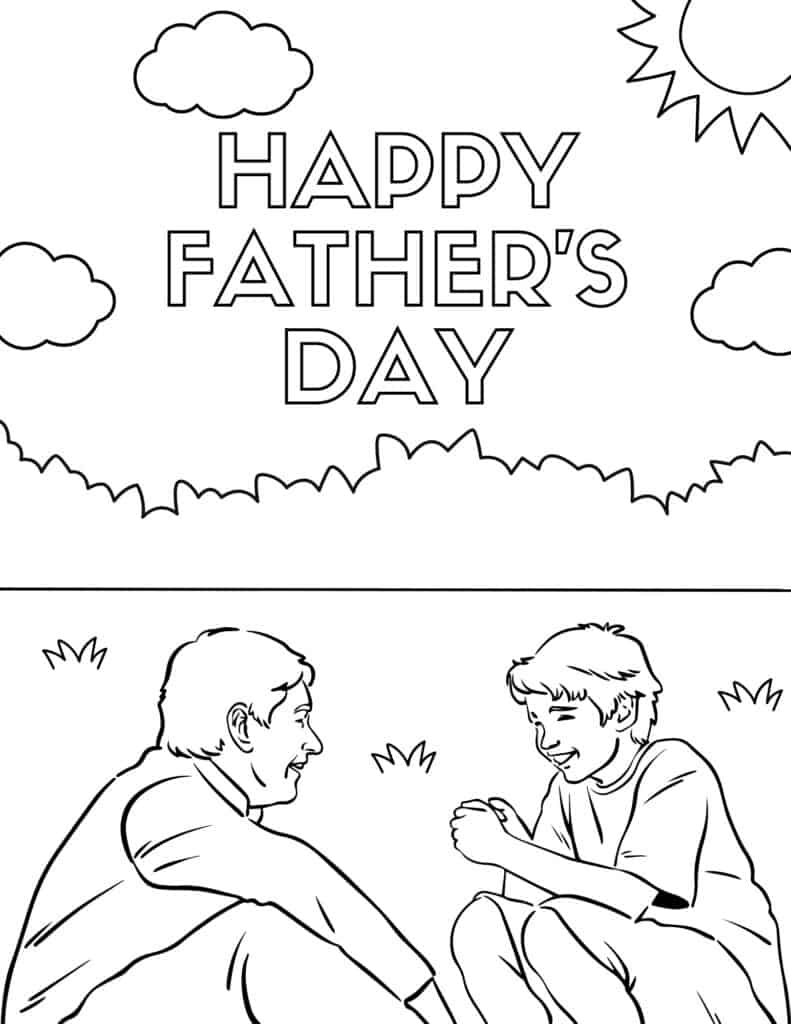 This heartwarming illustration shows a father and son sitting in the grass, happily conversing. Kids will love coloring in this detailed scene!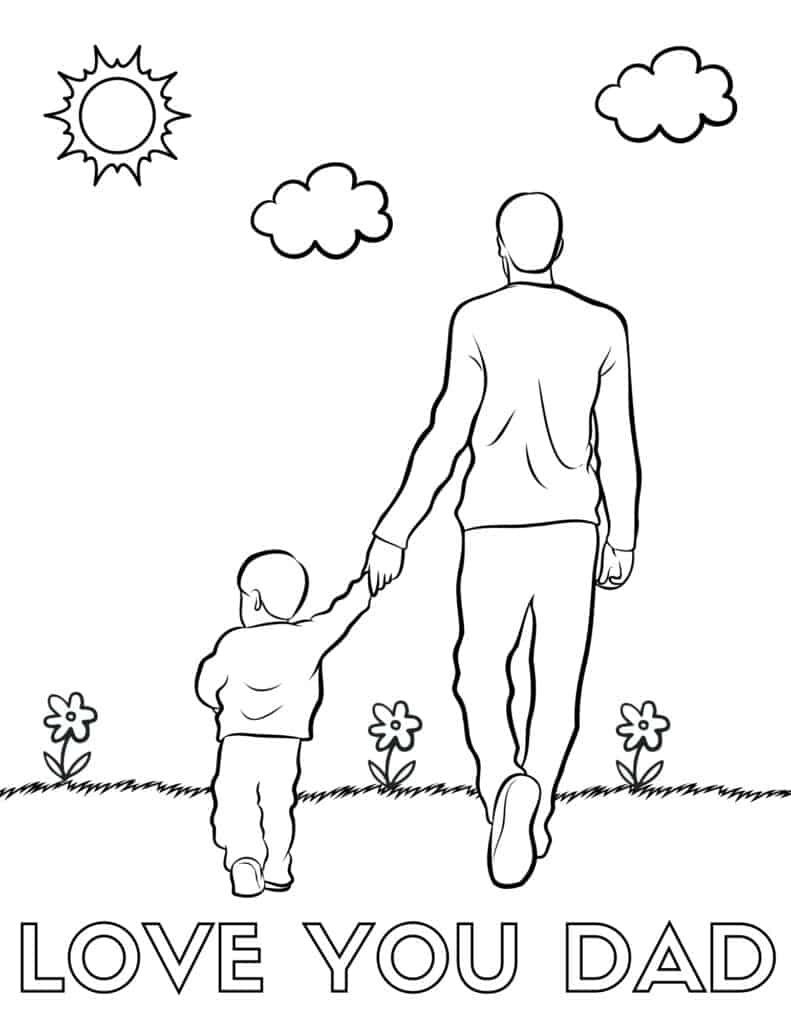 The page features a heartwarming illustration of a father and his young son holding hands and walking through a field.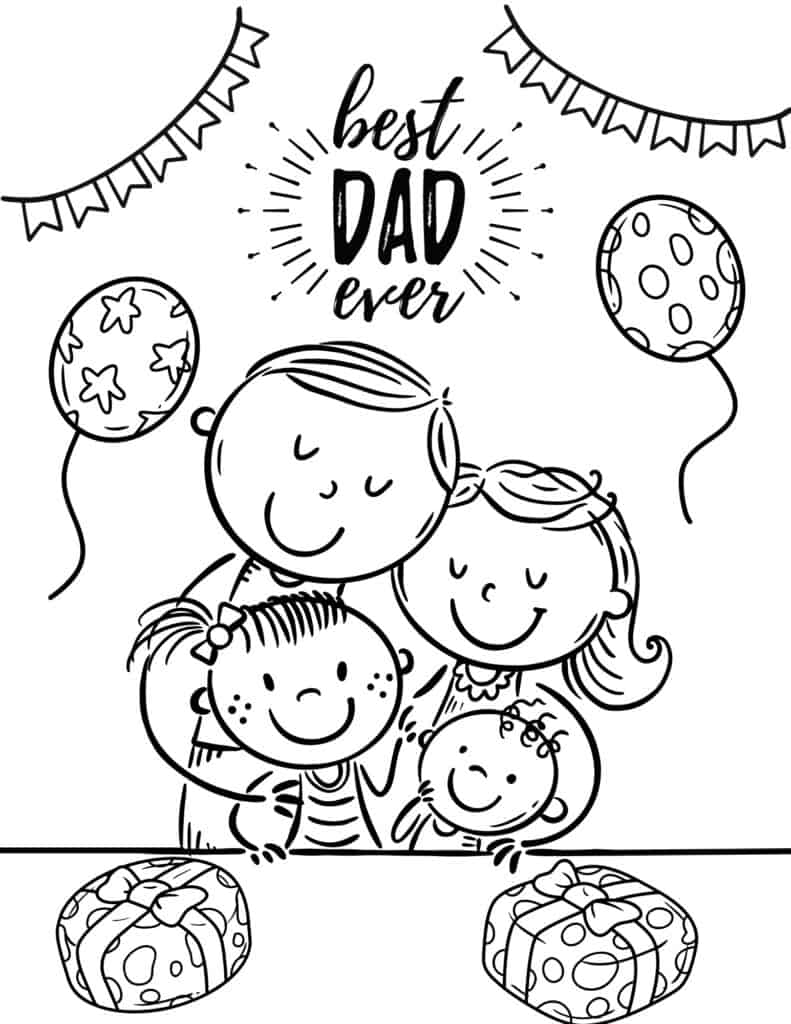 This coloring sheet depicts a father surrounded by his family at a Father's Day party. It is filled with festive elements like balloons, banners, and gifts, adding to the joyful atmosphere of the occasion.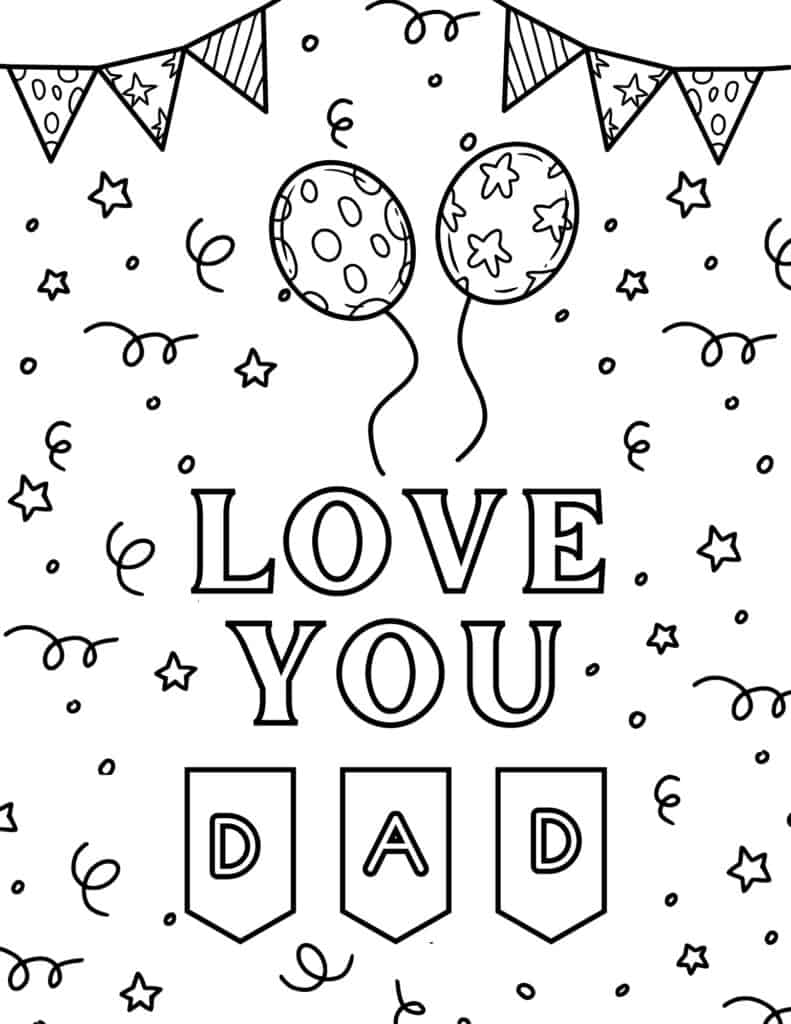 Say "I Love You" to your dad with this fun and festive sheet featuring banners, balloons, and confetti. This sheet is a great way to celebrate your dad on this special occasion!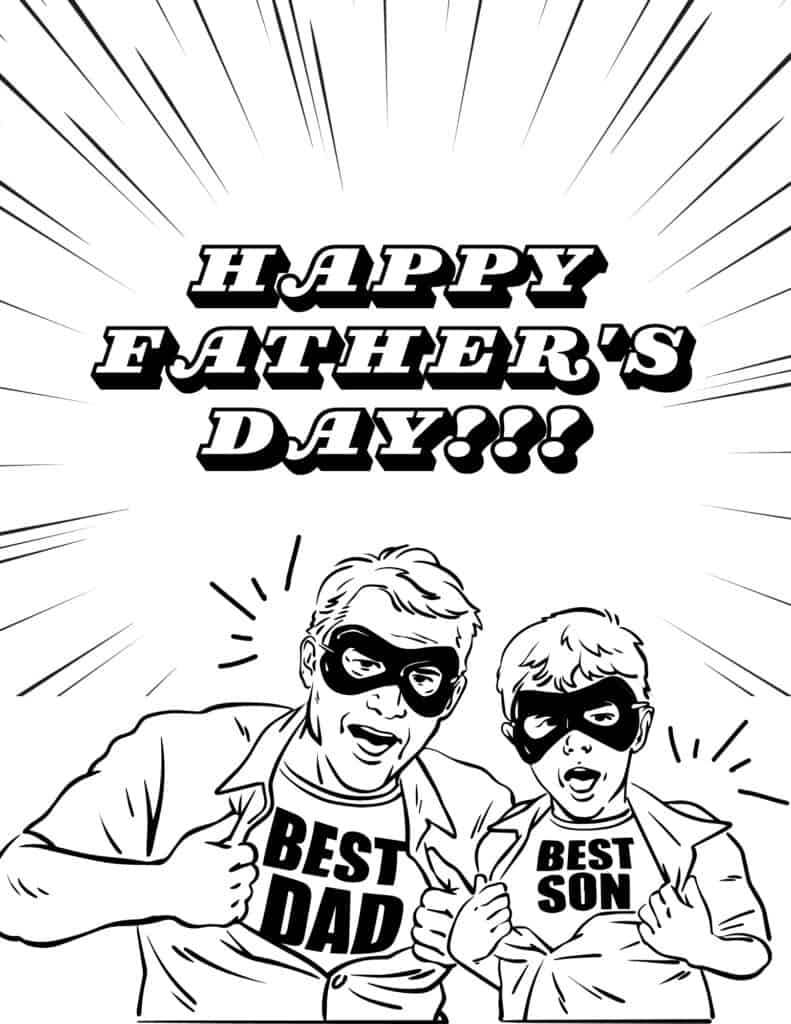 This one is perfect for kids who think their dad is a superhero. The page has a fun comic-book-style illustration of a dad wearing a superhero mask with a shirt that says "Best Dad."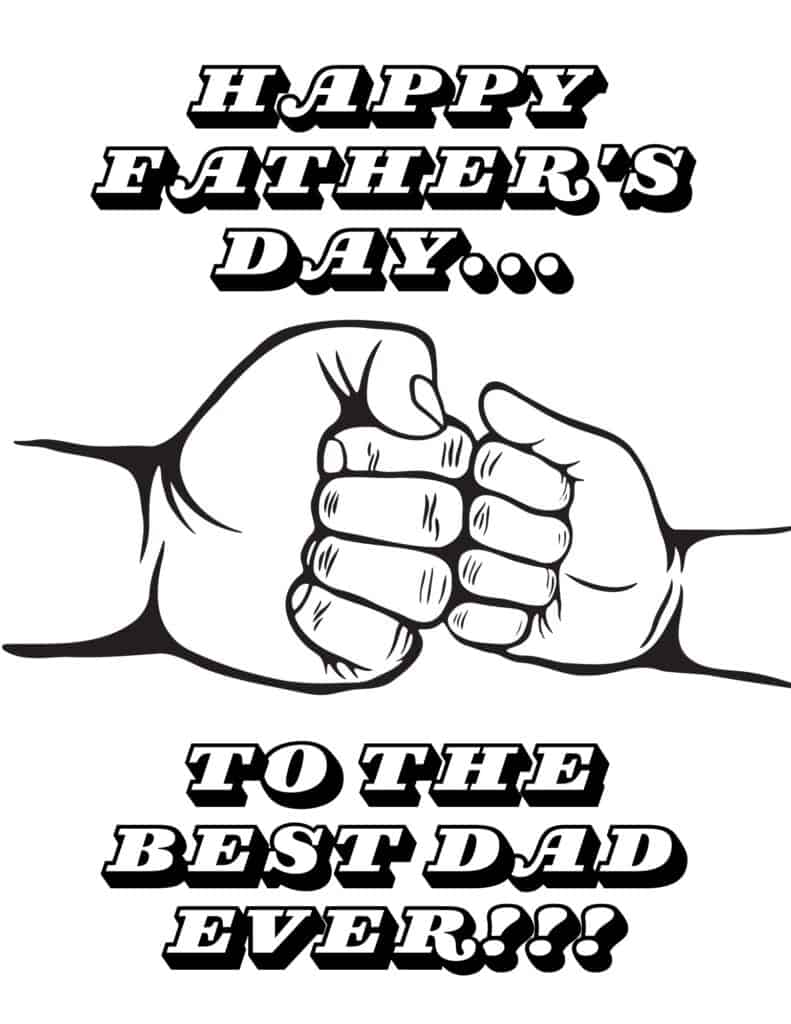 This one shows a father and son fist-bumping, with the phrase "Happy Father's Day to the Best Dad Ever" written boldly.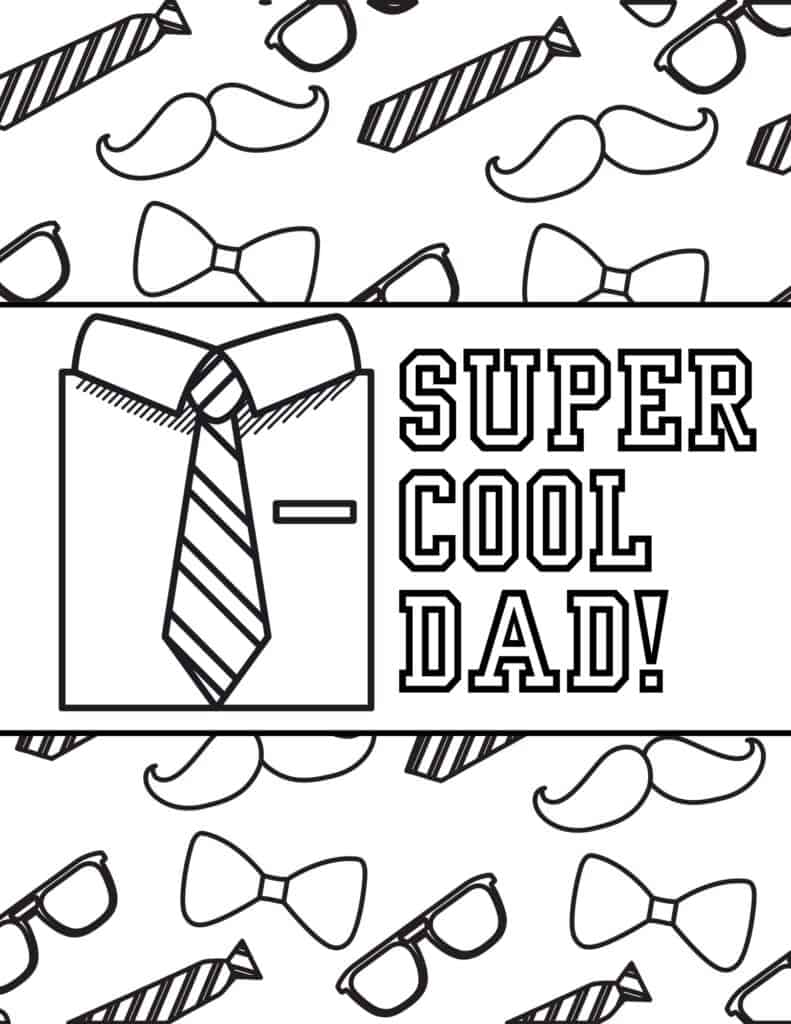 This design is playful yet classic, making it an excellent gift idea that's sure to put a smile on any super cool dad's face.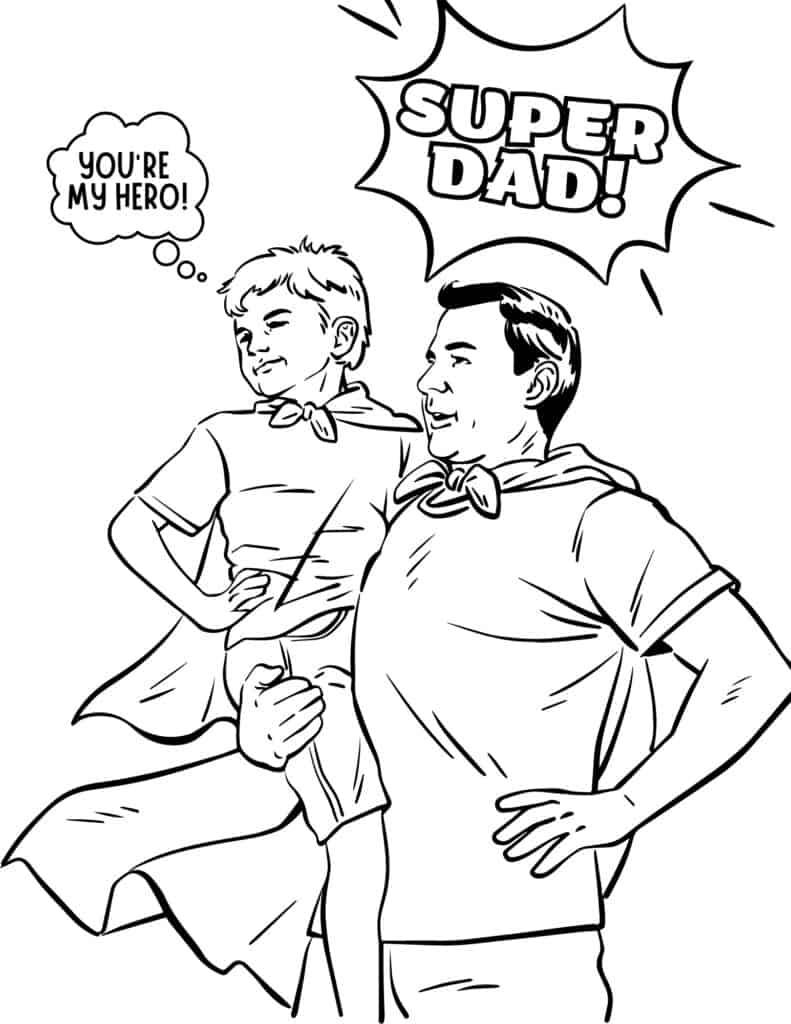 This coloring page is a fun and playful way for kids to show their appreciation for their dad's superhero-like qualities and to celebrate the occassion in a fun way.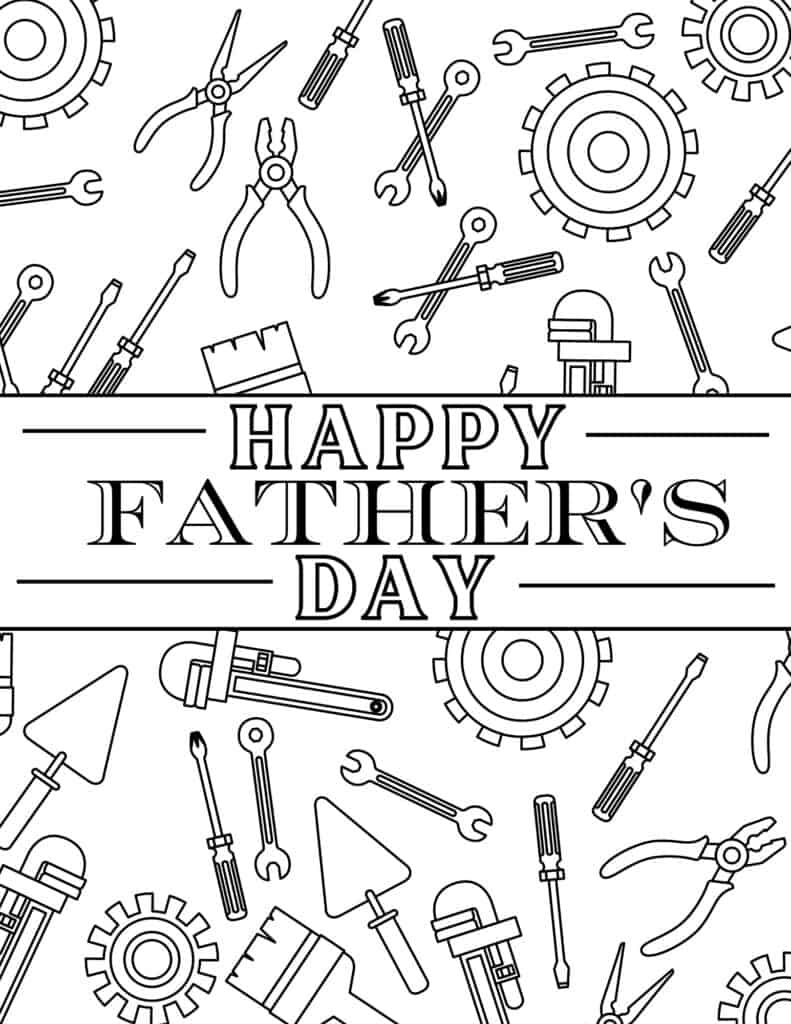 Does your father love tools and building things? If so, this one is a great way for kids to show that they value his skills and hard work around the house.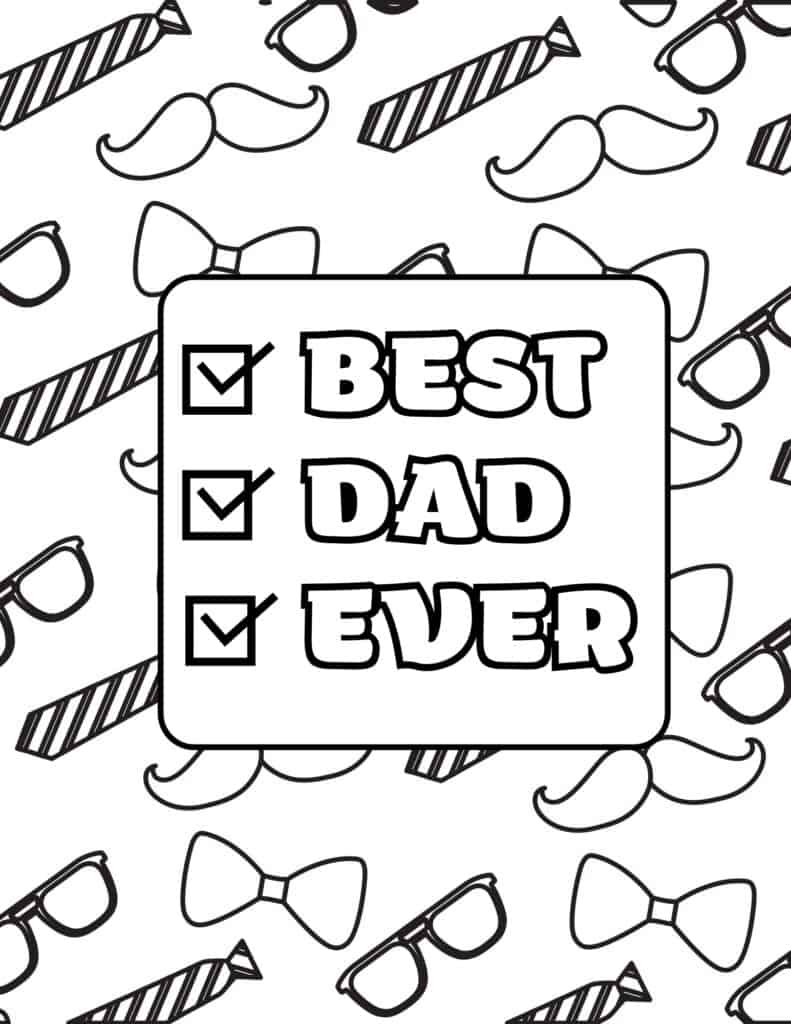 This one features a fun and playful design, with glasses, mustaches, and ties in the background, giving it a classic and stylish look that will put a smile on your dad's face.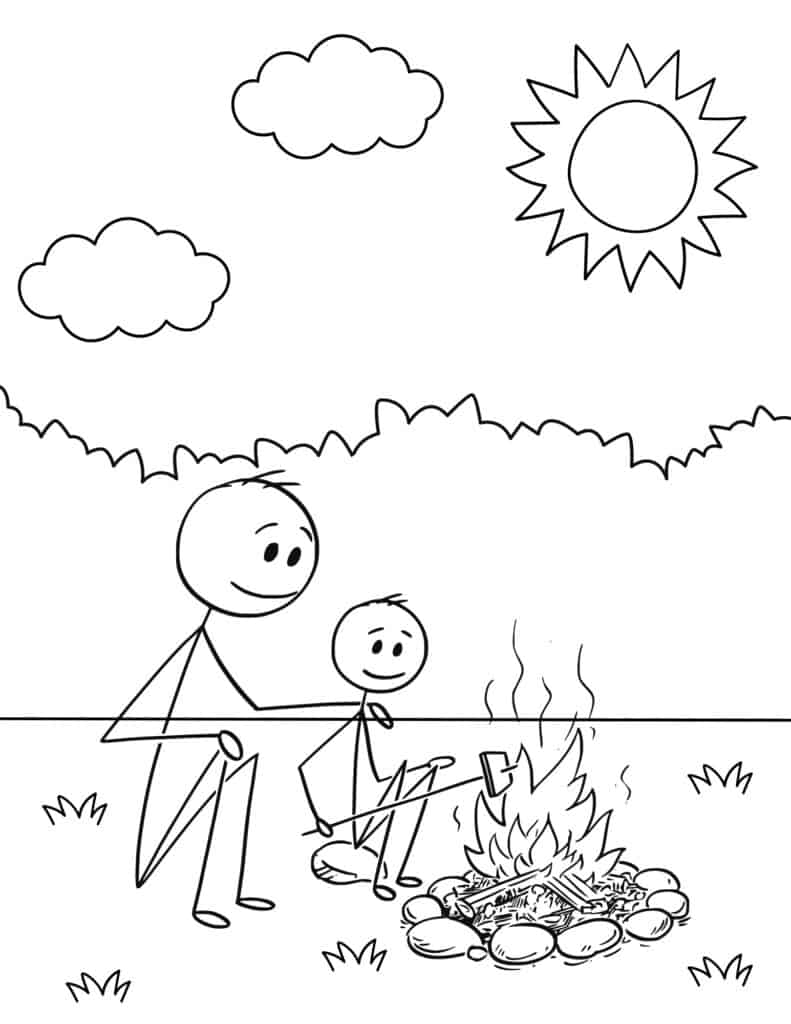 This printable Father's Day coloring page is perfect for children who love camping and spending time outdoors with their fathers. It shows a father and son stick figure duo camping in the woods and making s'mores over a fire.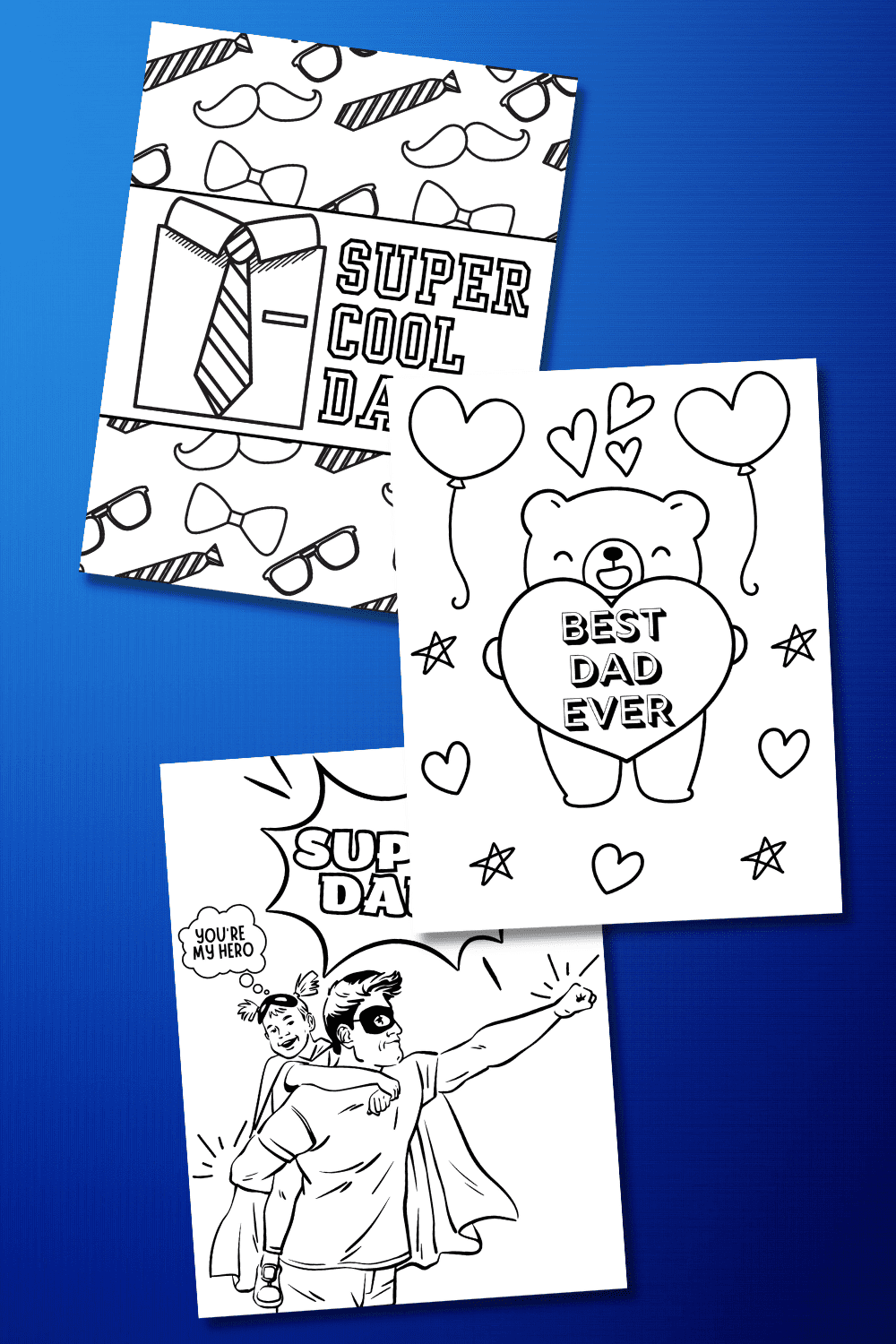 More Holiday Coloring Sheets for Kids and Adults
More Father's Day Ideas