Keep your children entertained this holiday season with these free Christmas Coloring Pages for Kids of all ages!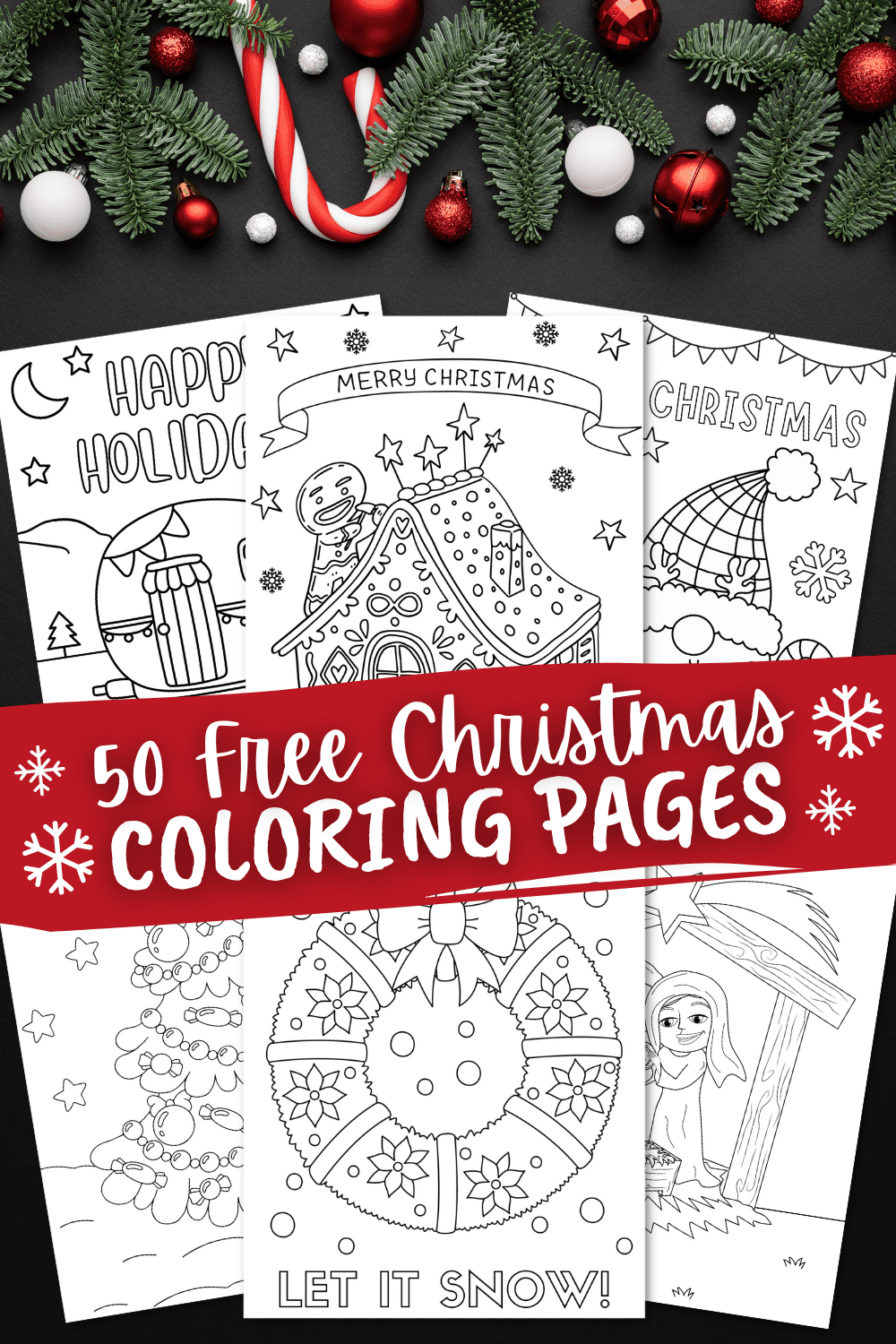 This huge selection of free Christmas coloring sheets features holiday favorites like Santa Claus, snowmen, Christmas trees, and much more that will provide hours of fun for the kids!
There are coloring pages for all ages, including preschoolers, toddlers, elementary school-aged children, and older kids, so regardless of your little one's age, you are sure to find some age-appropriate Christmas printables here!
Pair these free pages with these Christmas crafts for kids for a fun-filled holiday season for your children!
Supplies Needed:
printer
printer paper
free printable Christmas coloring pages (high-quality PDF format)

Please note that these printables are for personal, non-commercial use only.
How to Download These Christmas Coloring Pages
Click the link for each one of the pages you want to download.

You can click the image to open the printable PDF format -OR- the link in the paragraph below each image.

Click the download button in the toolbar at the bottom of the page. It's the button on the far right.
Save the file to your computer in the folder that you want to.
How to Print These Free Printables
Open in Adobe Reader or another PDF viewer of your choice.
Load printer paper into your printer's paper tray.
Go to File –> Print. Open your printer settings or printing preferences. The printing settings will vary based on your printer, but ensure the print quality is set to the "Best" setting before printing.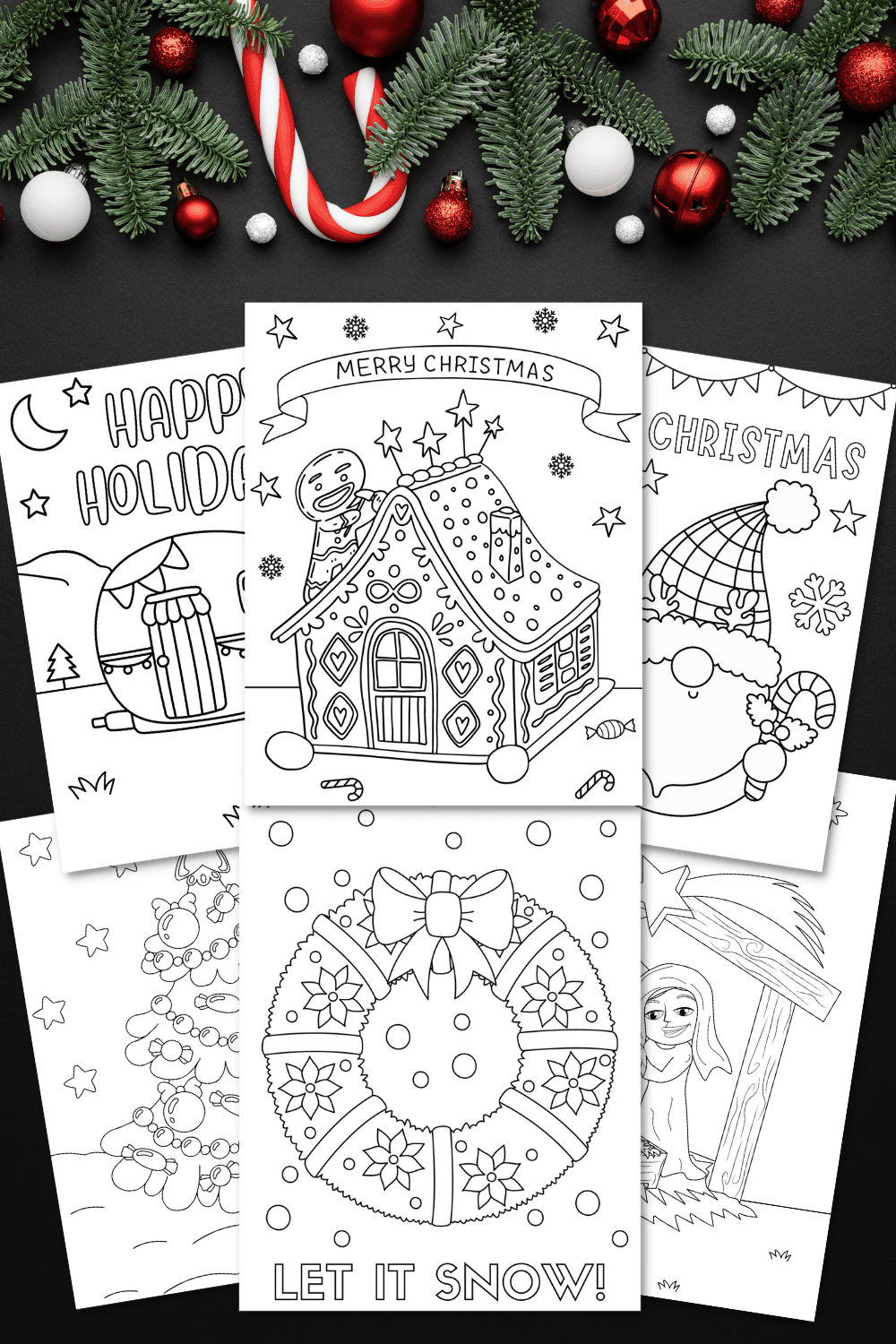 CLICK THE IMAGES TO DOWNLOAD THE PDF FILES!
Santa Coloring Sheets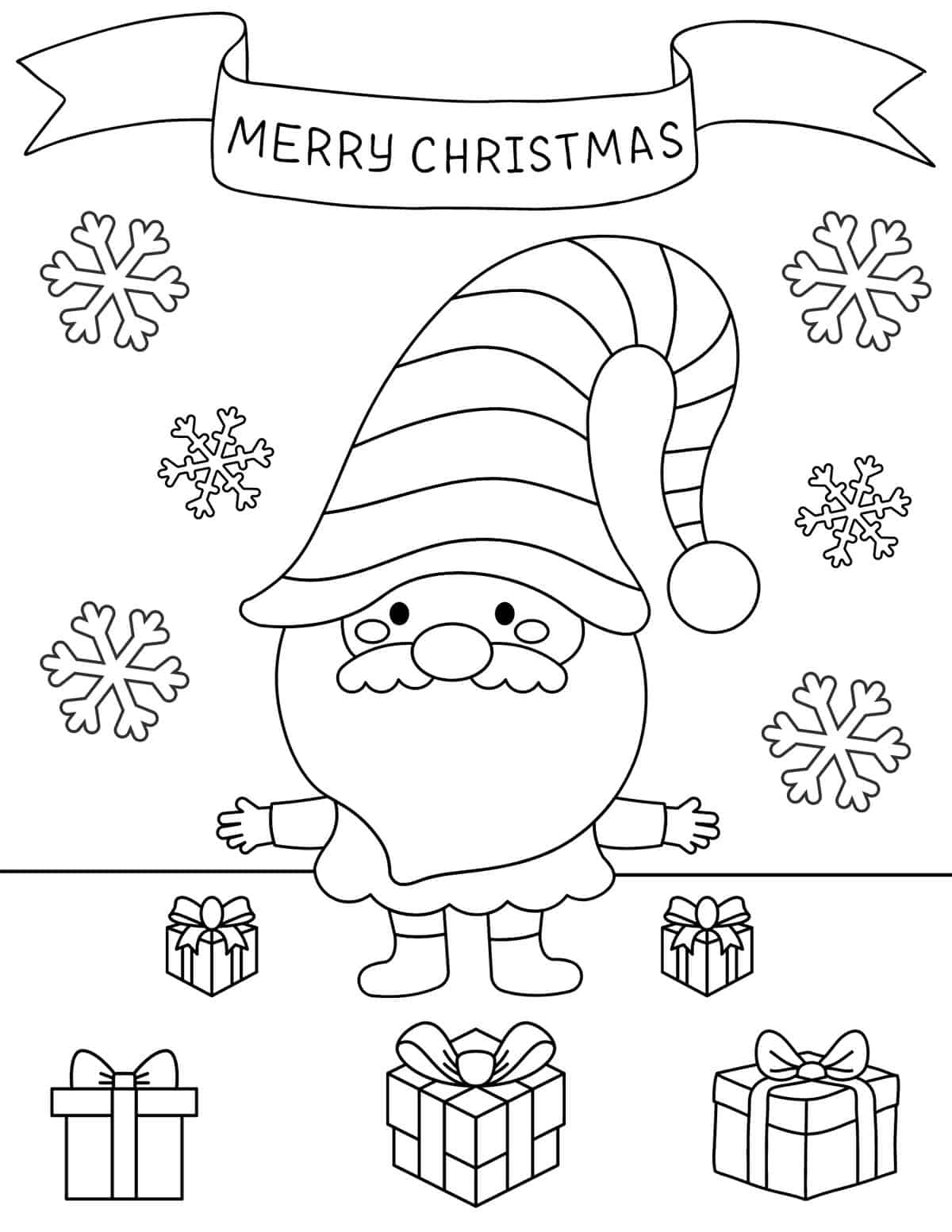 This page features Santa Claus surrounded by presents, making it the perfect activity for your little ones on Christmas Eve to get them extra excited to open their gifts the next morning!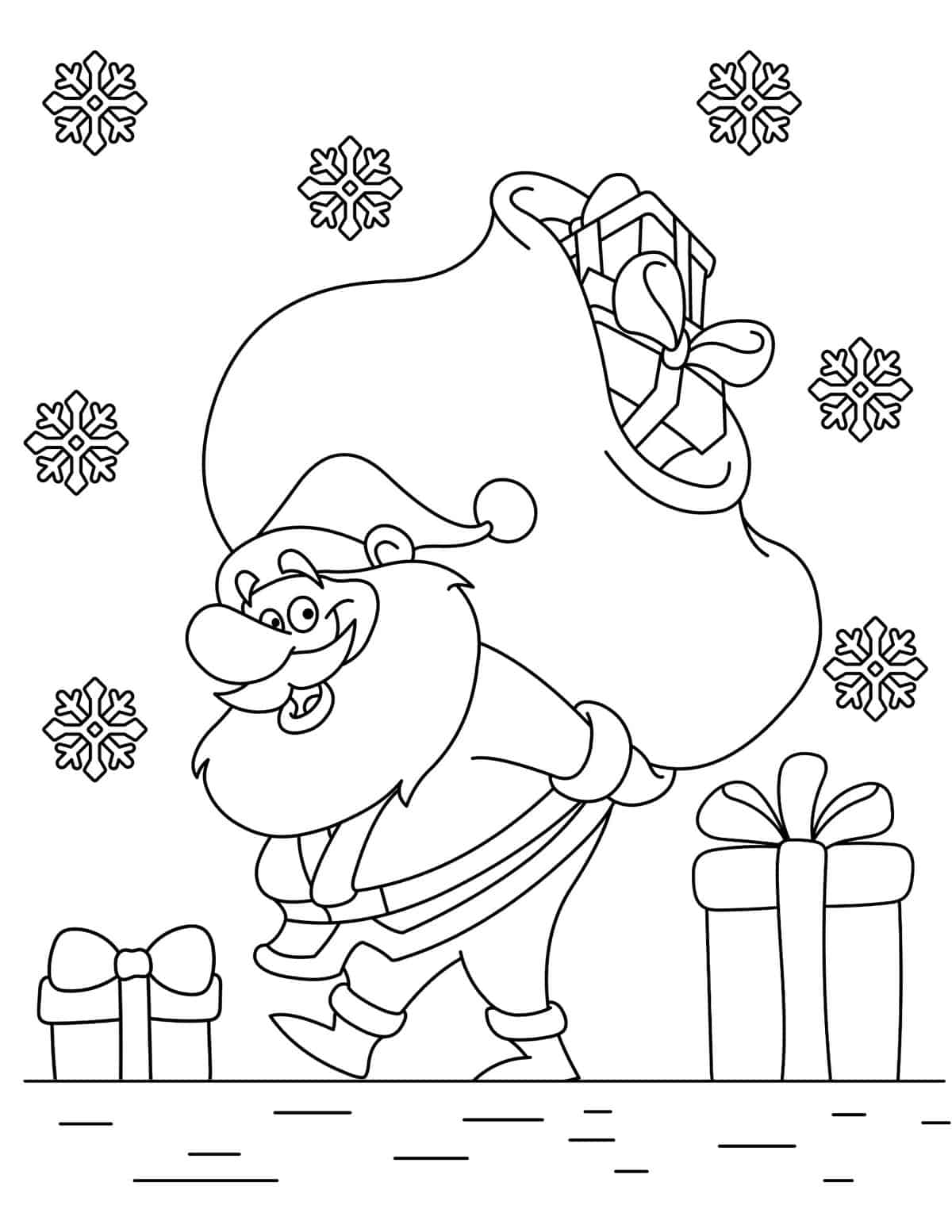 Santa Claus is carrying a sack of presents over his shoulder to deliver them to all the good little girls and boys! It will bring holiday cheer to any child who colors it.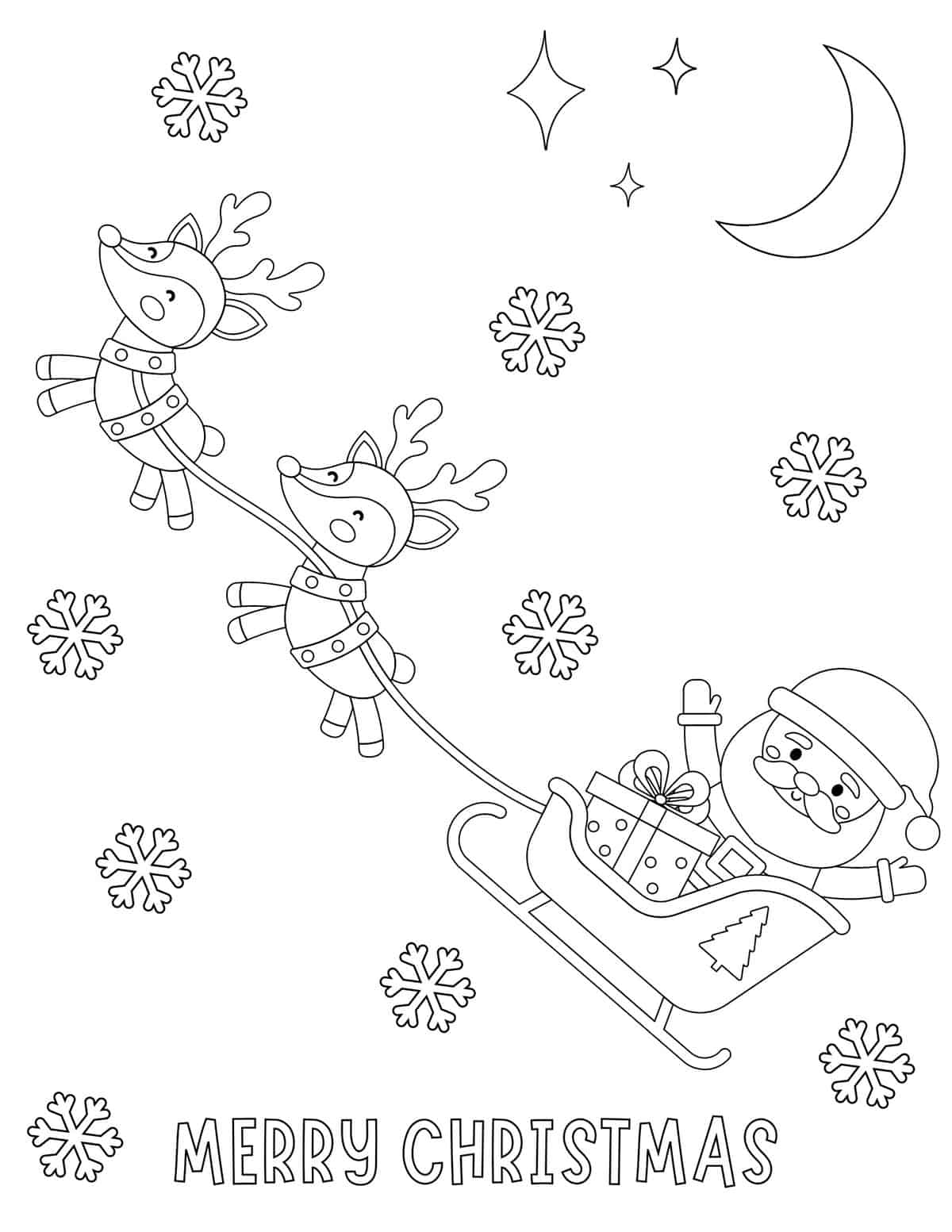 One of the most iconic images of the season is Santa Claus on his sleigh, surrounded by his team of flying reindeer, delivering gifts to children around the world. This coloring page captures that scene perfectly!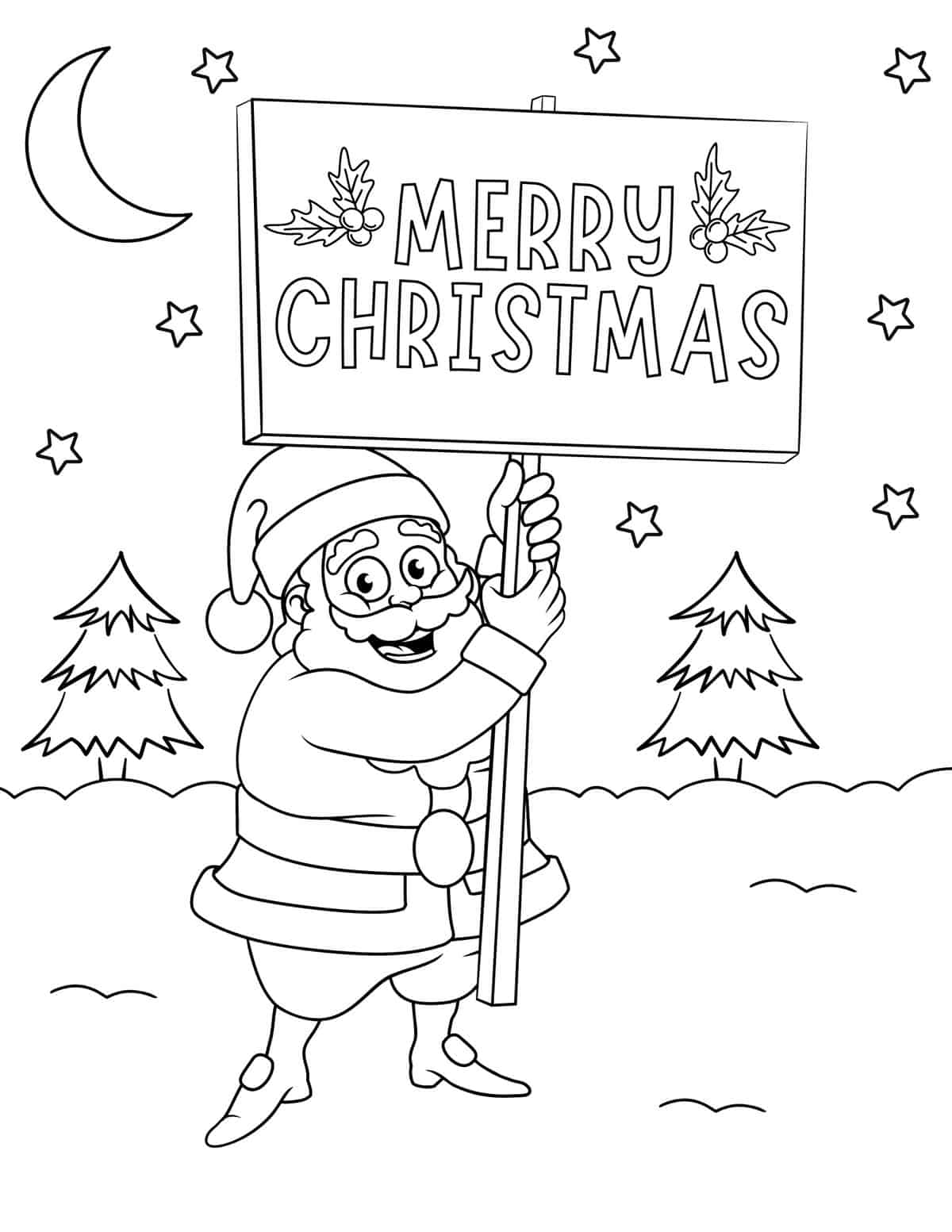 Santa Claus is coming to town! This page features a cartoon Santa in the North Pole, holding a sign that says "Merry Christmas." Kids will love coloring in Santa's red suit and black boots. It will definitely get them into the Christmas spirit!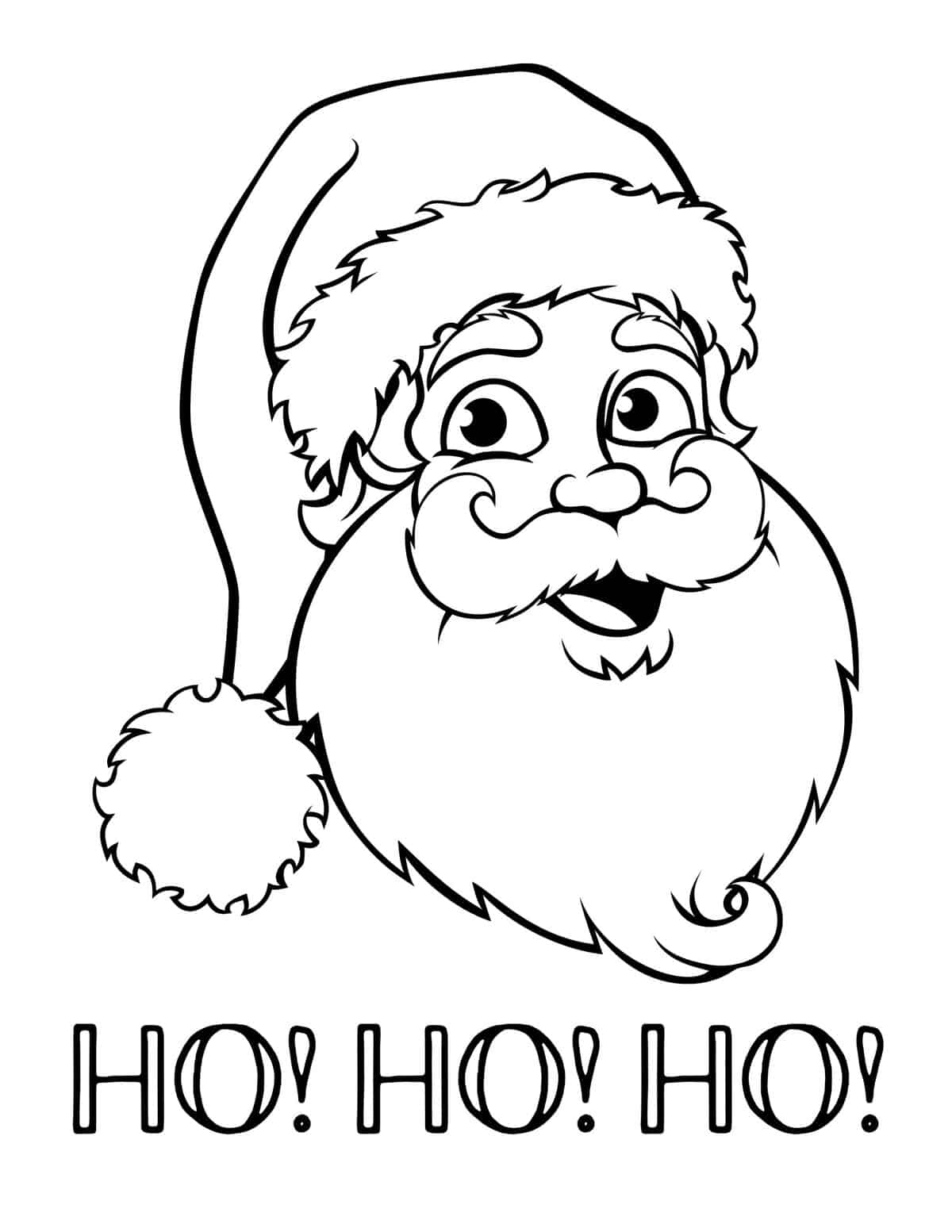 This sheet features a jolly Santa Claus with the phrase "Ho! Ho! Ho!" below his head. It is This sheet is sure to be a hit with the younger kids especially since it has such a simplistic design that will be easy for them to color in.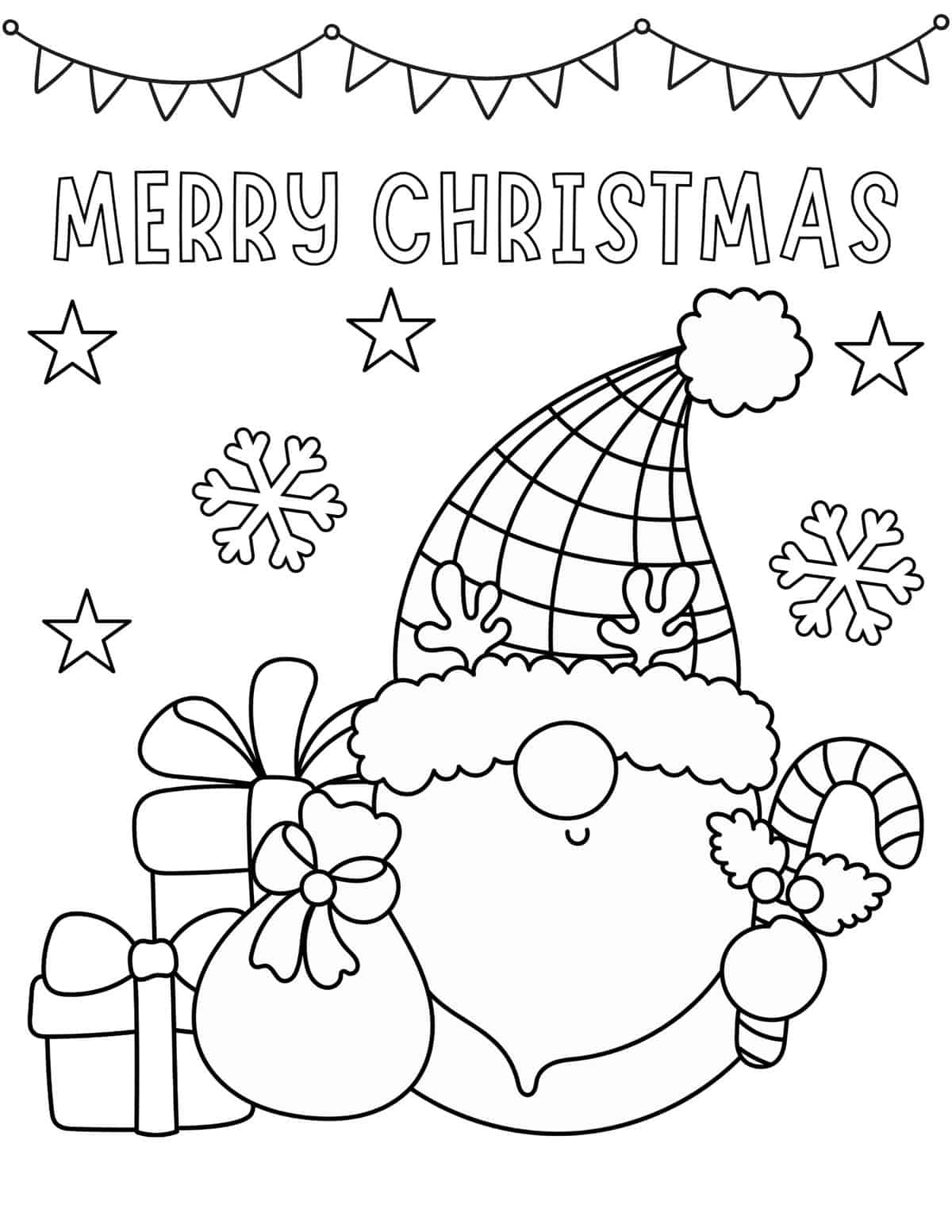 What could be more festive than Santa holding presents to give to children? With all the details here, adding color to this sheet will be a fun and festive activity that will keep your kids busy for a while!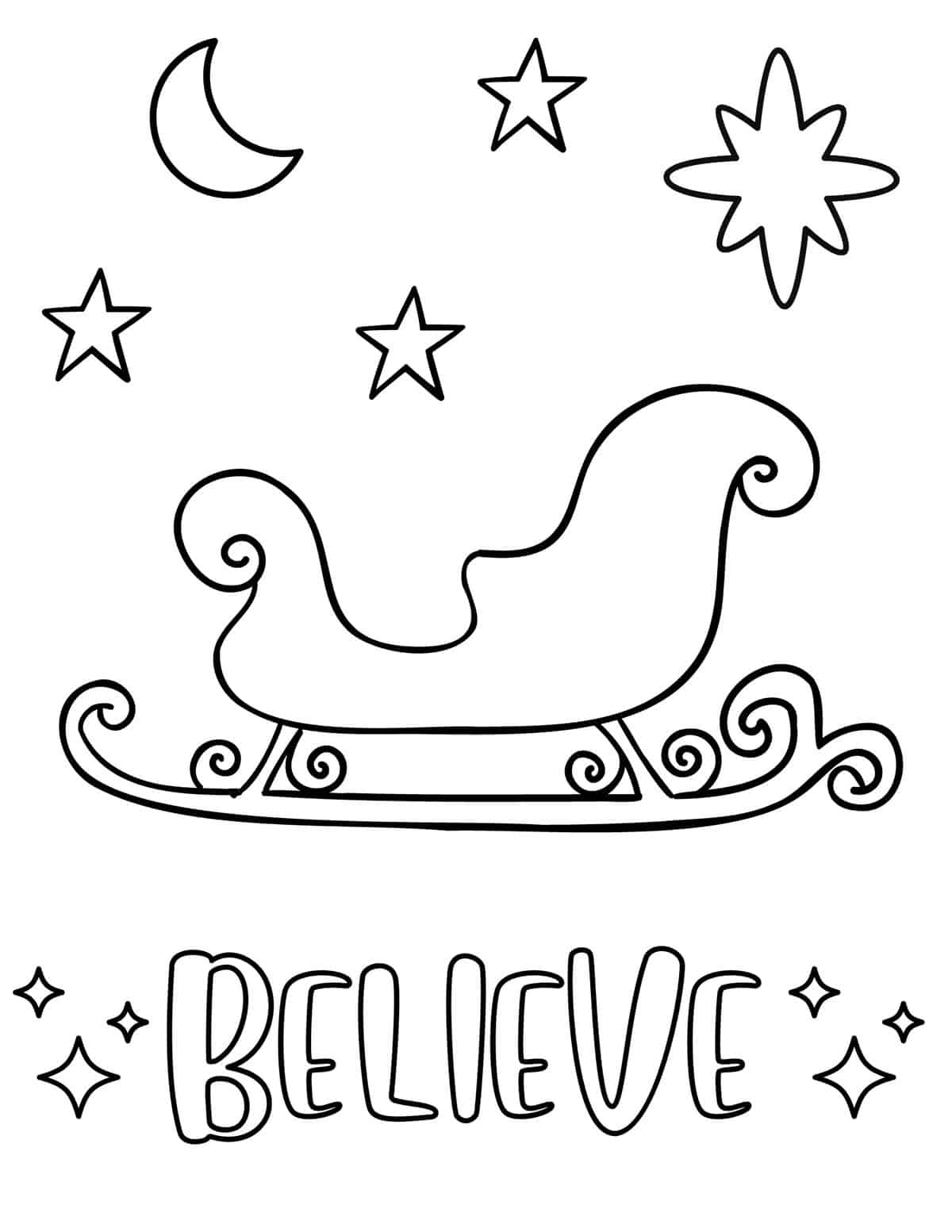 Christmas is a time of year when we believe in magic, and this easy Santa Sled page will inspire children to believe in the magic of the season. It is a perfect choice for toddlers and preschoolers.
Christmas Tree Coloring Pages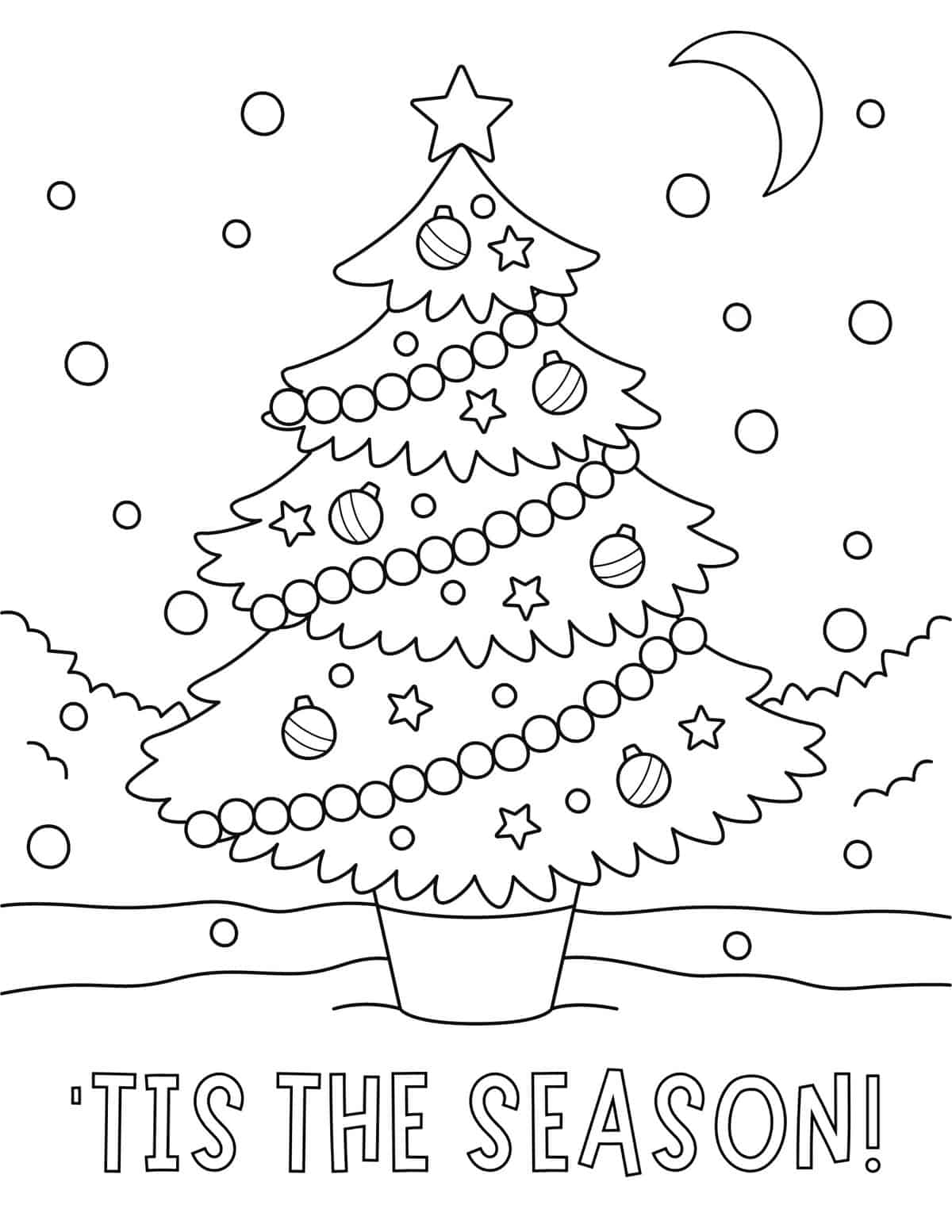 'Tis the season for all things Christmas, and what better way to celebrate the holiday than decorating this Christmas tree in the snow? Kids of all ages will have fun adding color to the garland, ornaments, and background elements. It is sure to keep your little ones busy for hours!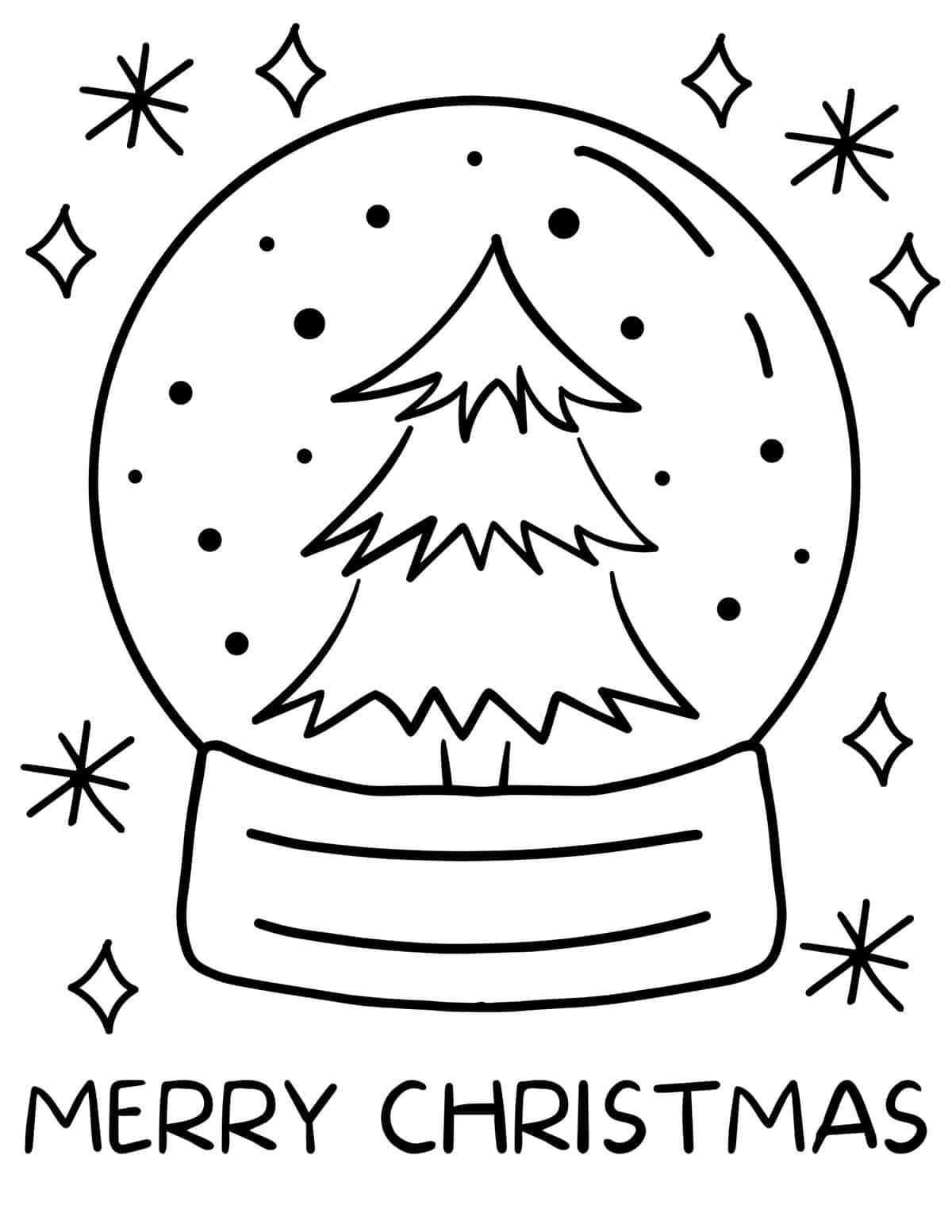 This coloring sheet depicts a snow globe with a beautiful tree inside. It is an easy one that is suitable for kids of all ages. They can even draw their own ornaments and garlands on the tree.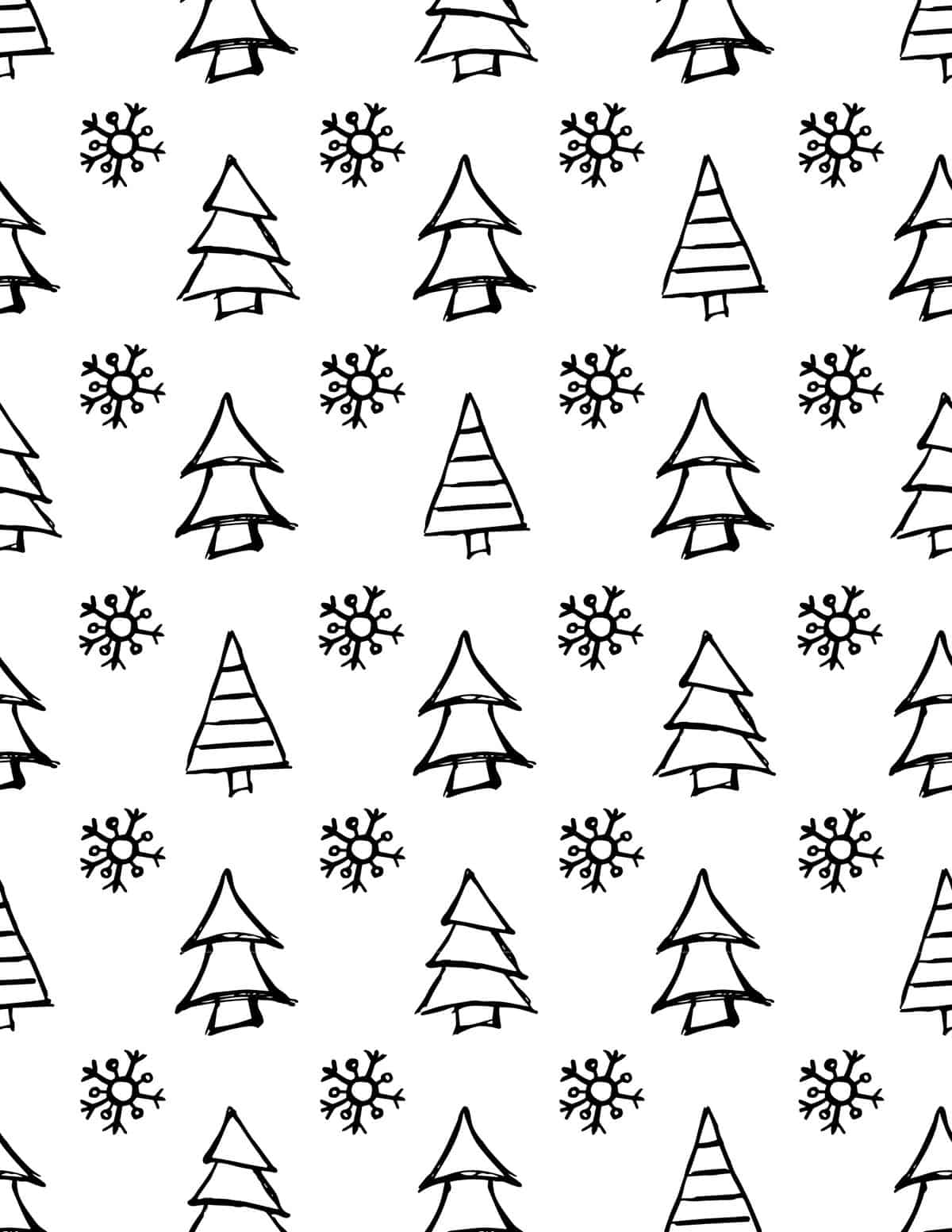 These patterned Christmas trees are perfect for getting your children into the holiday spirit! They will have fun filling in the various trees with whatever colors they like, and they can even add their own little details to them.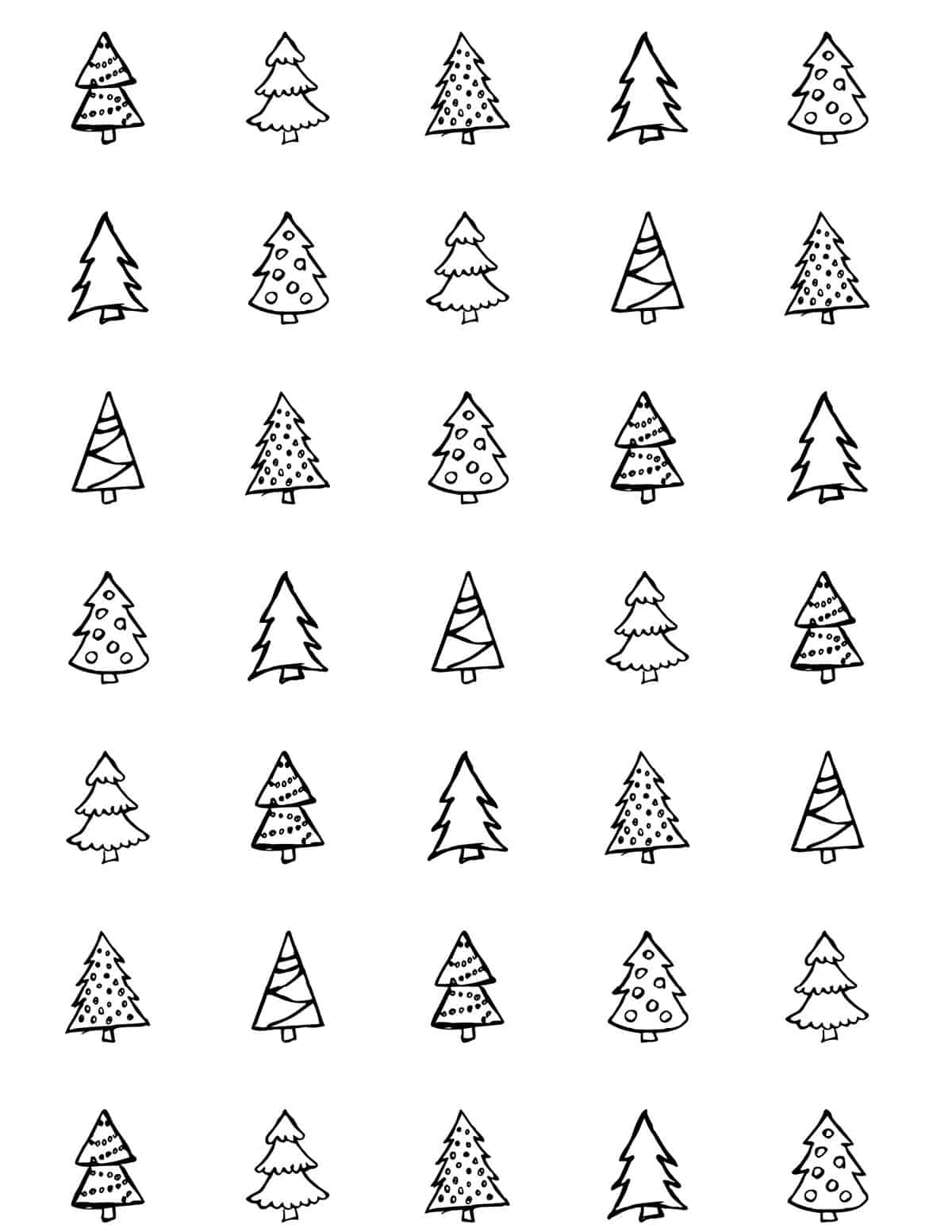 This one has an assortment of patterns on the trees so that your kids can try coloring them in different colors and shades to see which one they like the best! The page is best suited for older kids since the trees are small and require fine motor skills.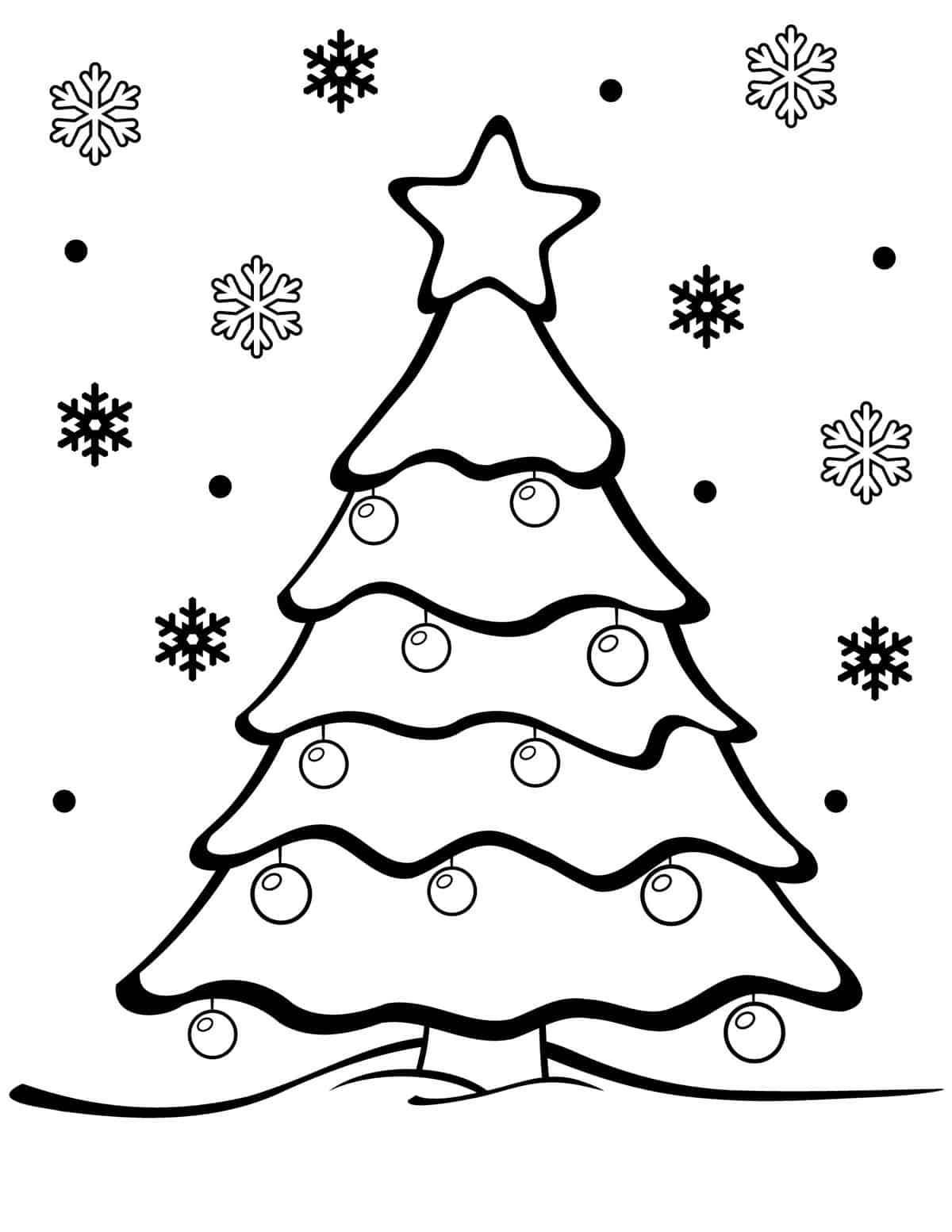 This sheet is perfect for kids who love Christmas trees! The tree is covered in ornaments to decorate and color in. There is even space to add your own ornaments or garlands.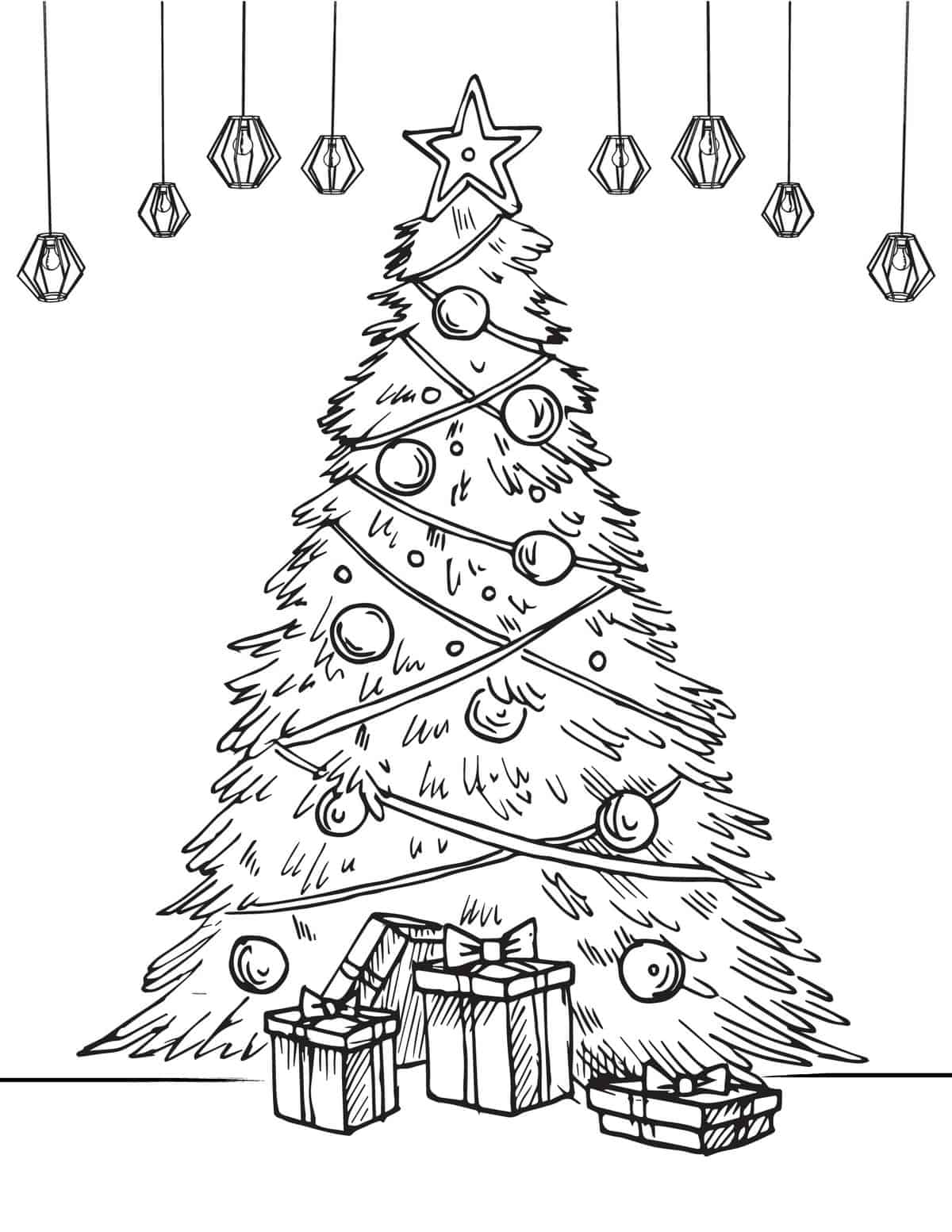 This hand-sketched coloring sheet includes a holiday tree that is decorated with festive ornaments, a beautiful garland, and topped off with a big star! All the detail here makes it ideal for older kids and even teens.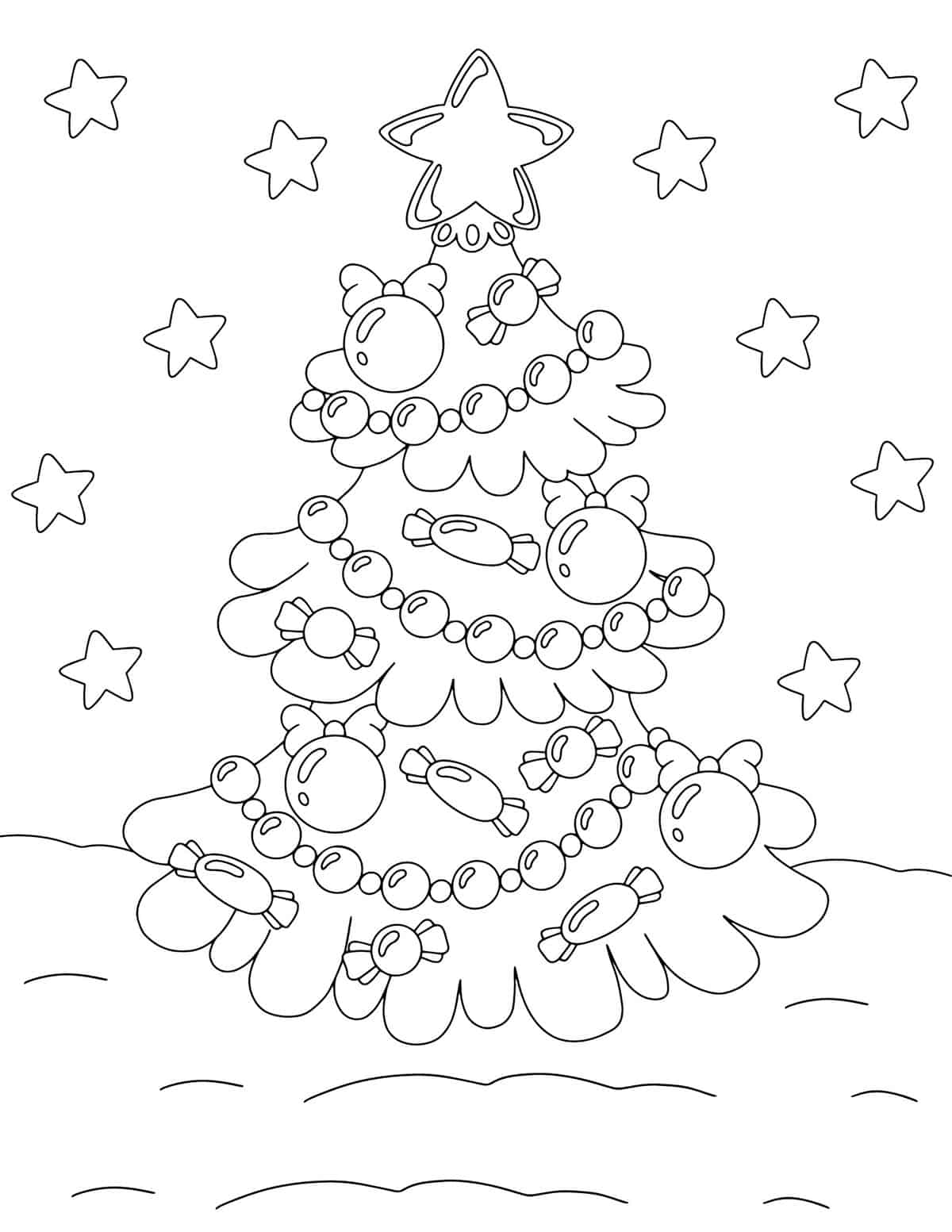 This Christmas tree in the snow is the perfect activity for a snow day to keep your kids entertained while stuck indoors! It features a beautifully decorated Christmas tree surrounded by snow. Kids will love adding their own colors to the scene.
Snowman Coloring Sheets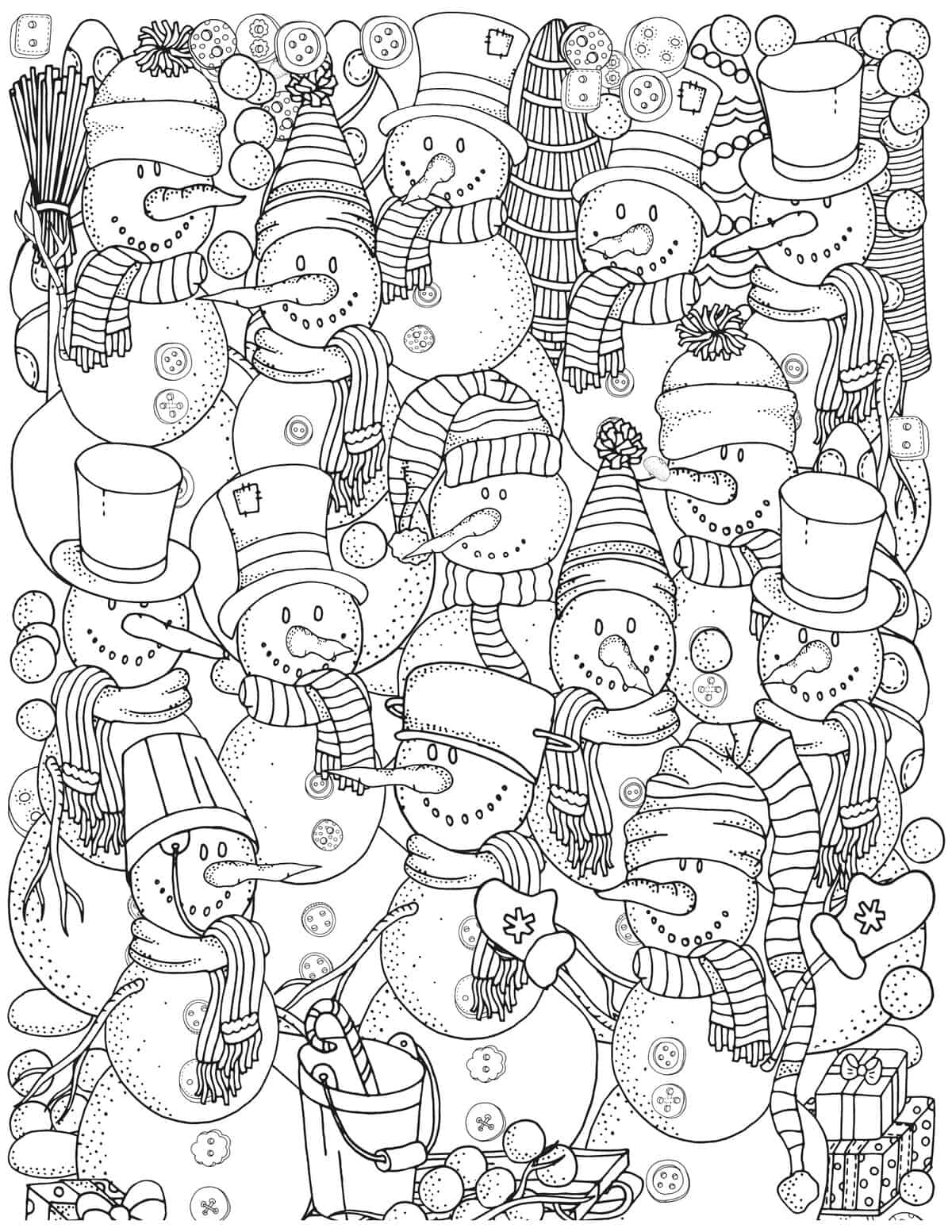 This page features a bunch of different snowmen, each with its own unique features. Kids will enjoy seeking out their differences and using their favorite colors to give them life.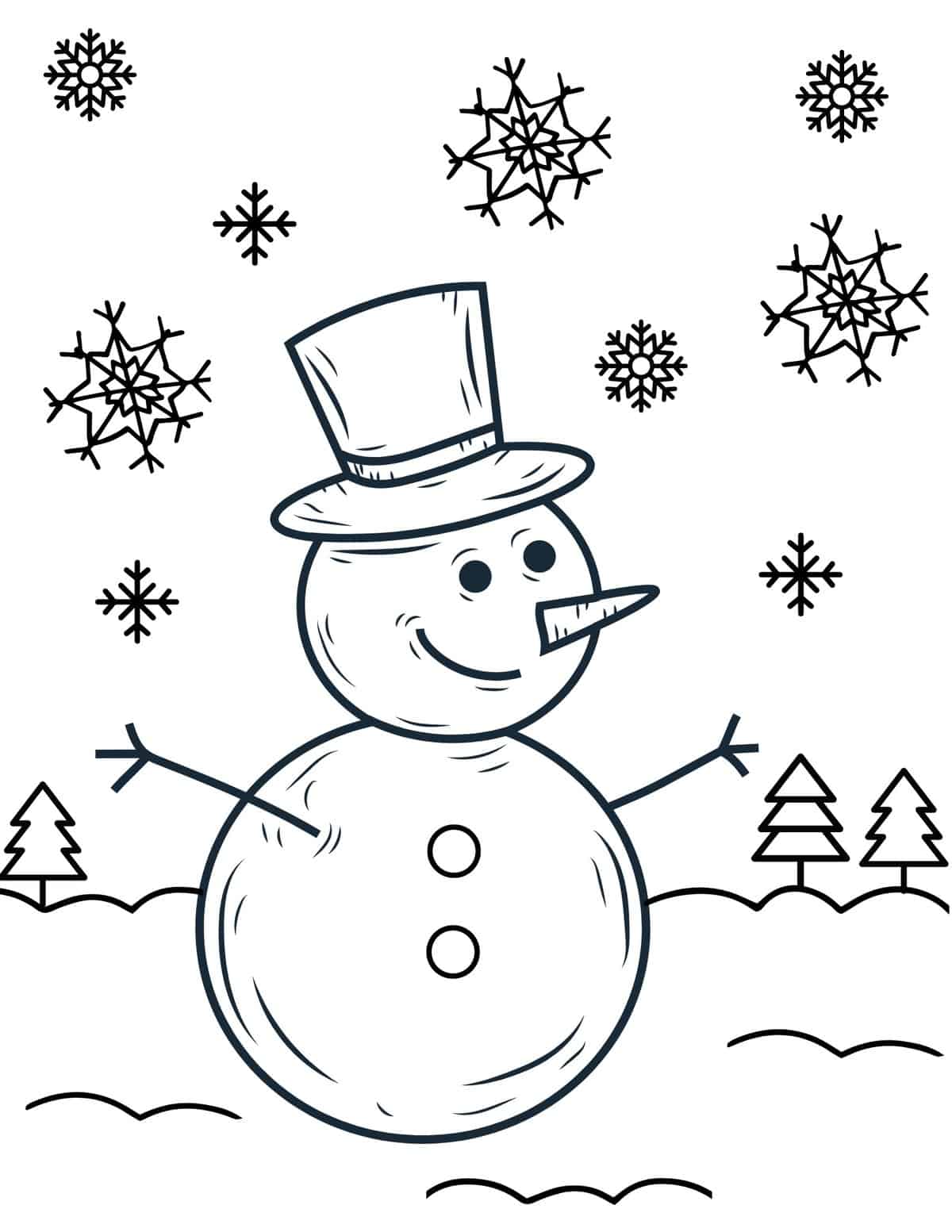 Get kids excited about building a snowman by letting them add color to this snowman coloring page! It's a fun way for kids to celebrate the arrival of wintertime.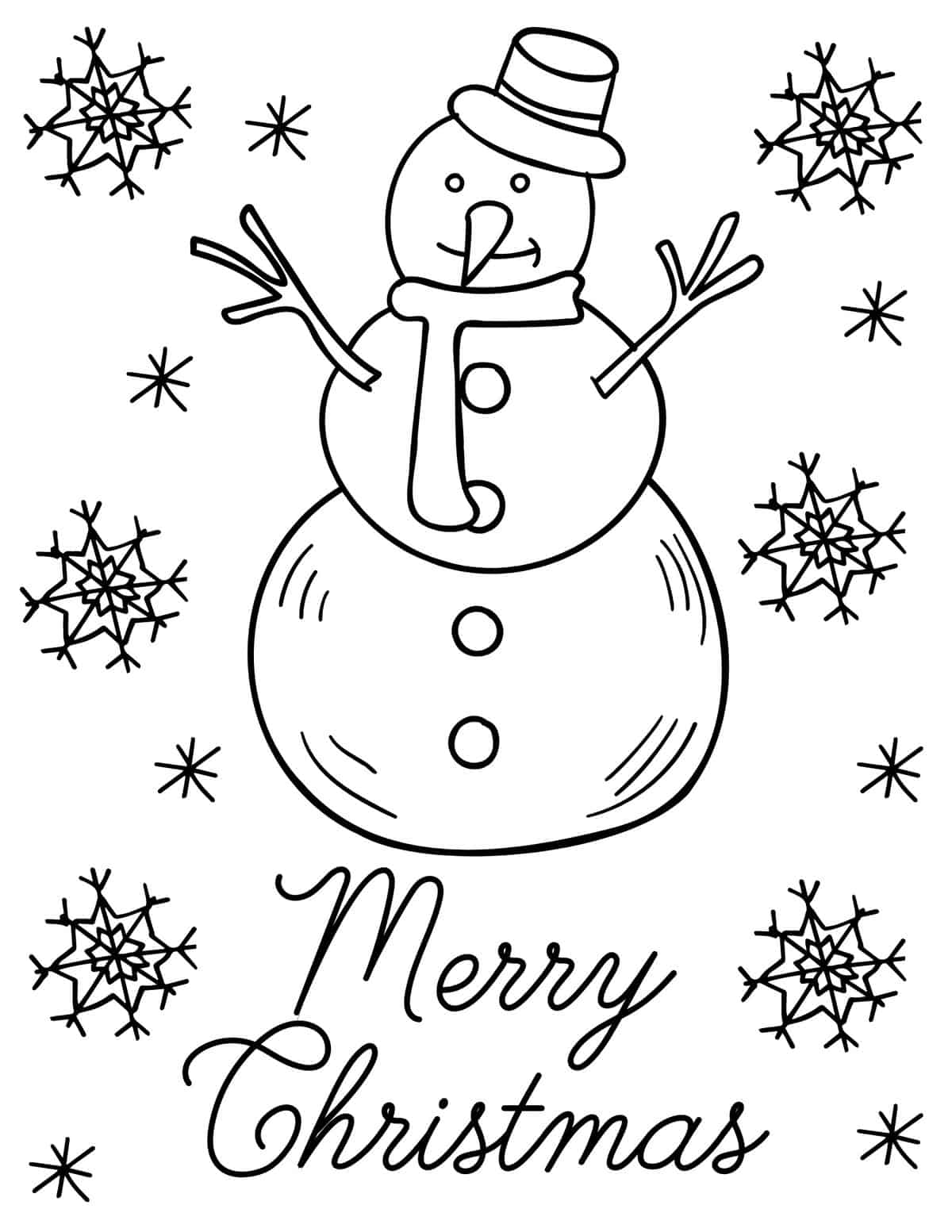 Looking for a fun holiday sheet? Why not try out this snowman page? Simply print out the sheet and let the little ones go to town with their crayons or markers. They will have a good time adding color to the scarf, buttons, and hat!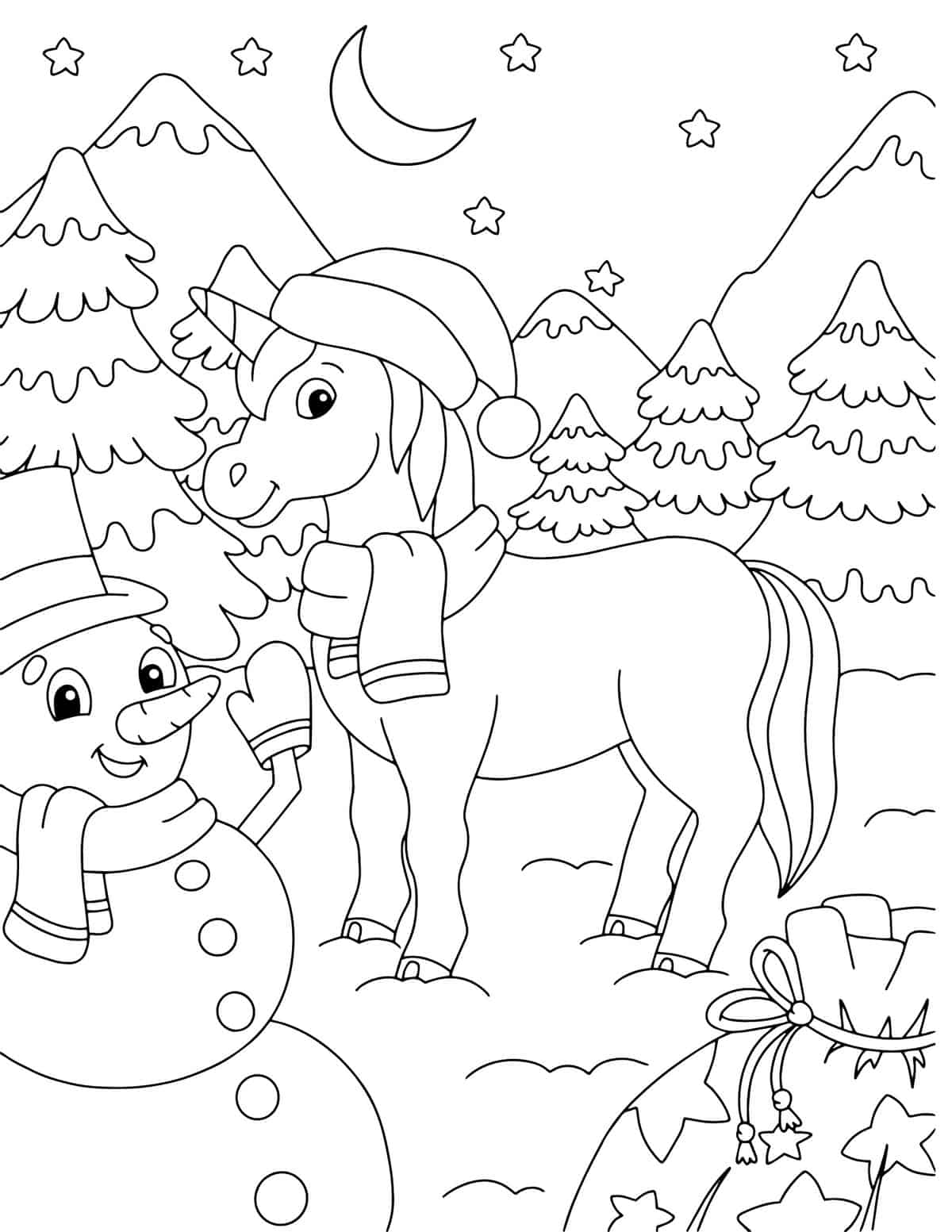 Add some color to this fun snowman and unicorn sheet! It will keep your kids entertained for quite a while. When they're done, they'll have a beautiful piece of art to display at home or school.
Christmas Gifts and Stockings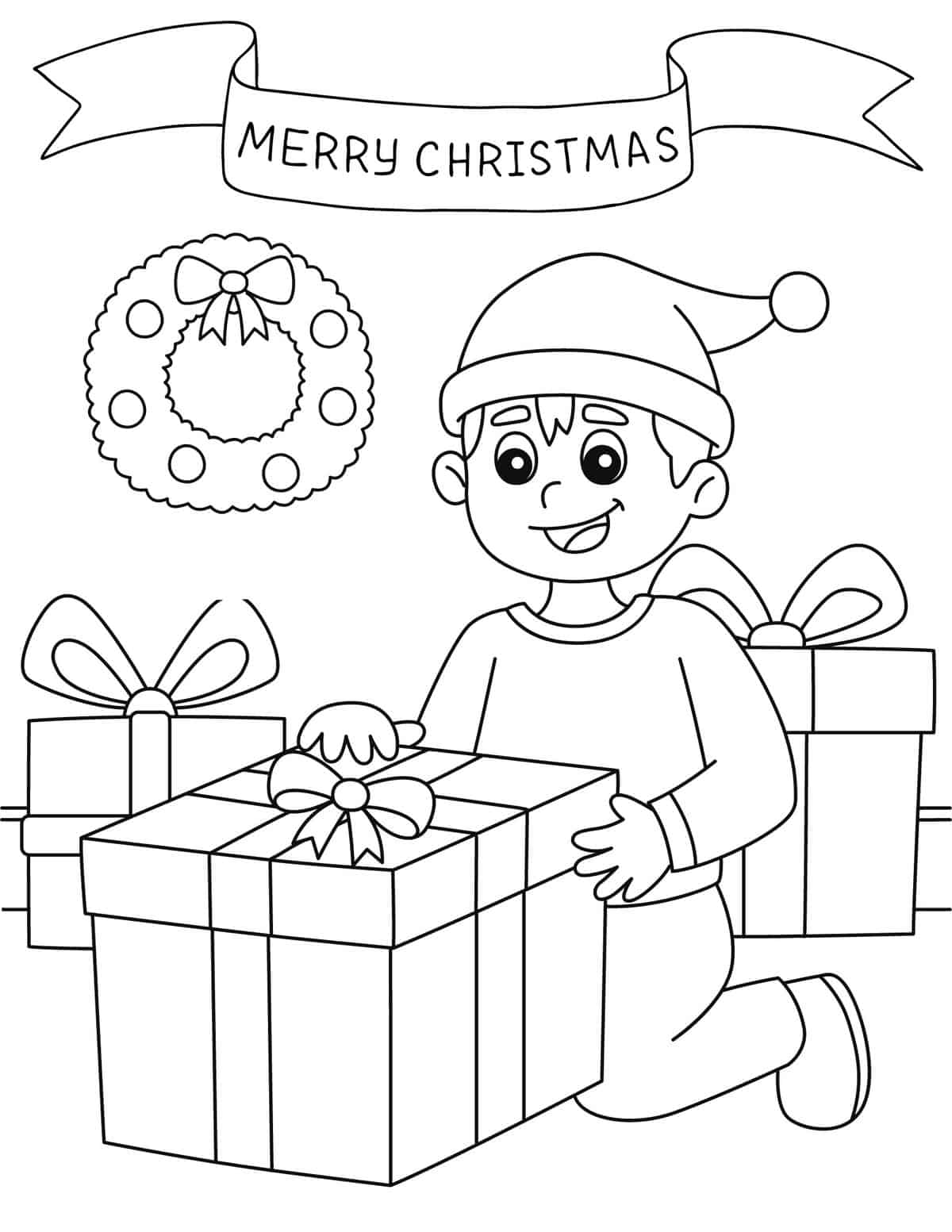 Who doesn't love opening presents? This one featuring a boy opening up his gifts will surely get your little one excited about Christmas morning! Since it's an easy one, it's a great option for elementary school-aged children.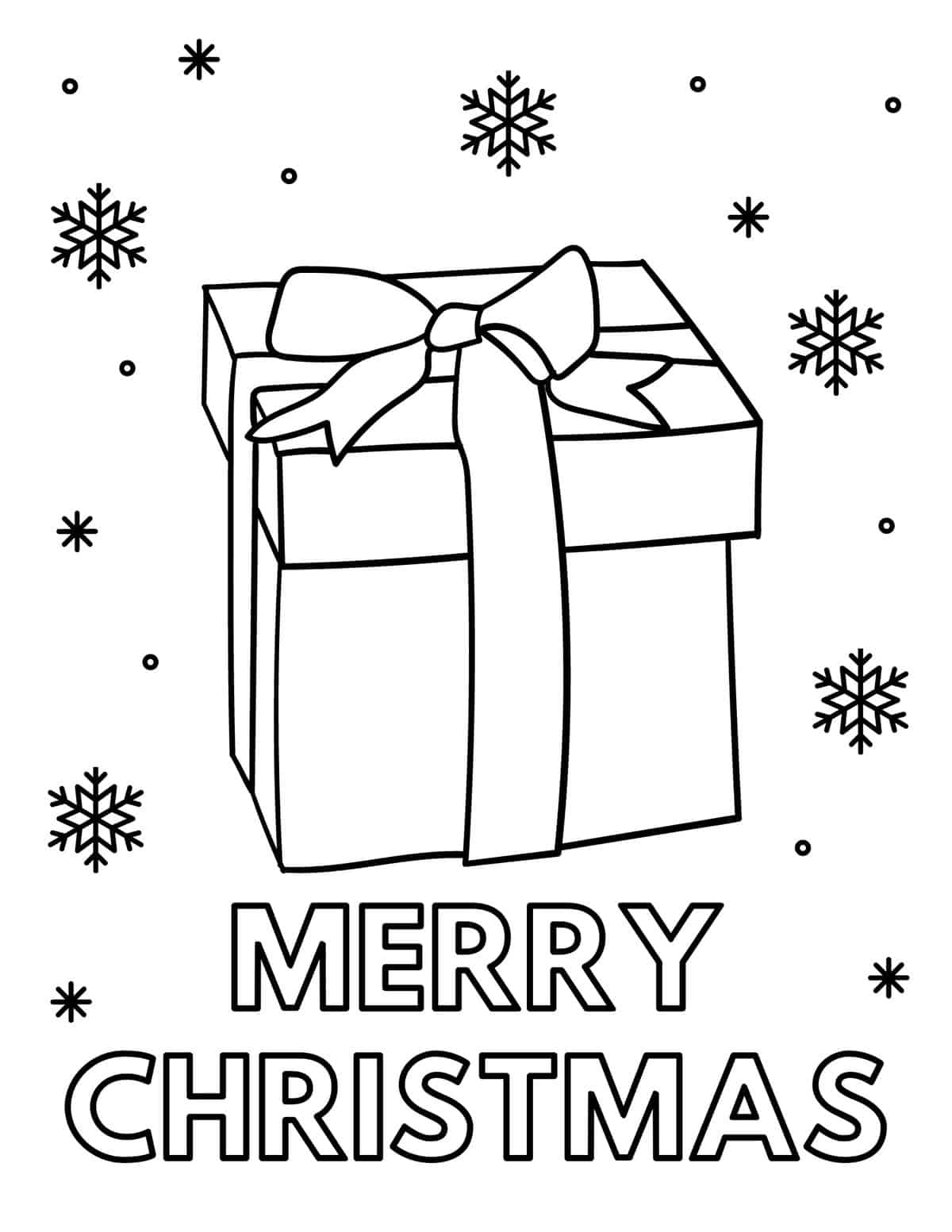 This festive coloring page features a gift, complete with a bow and ribbon! Your kids will have loads of fun adding patterns to the gift paper, color to it, and even adding their own little snowflakes or doodles in the background. Don't forget to color in words too!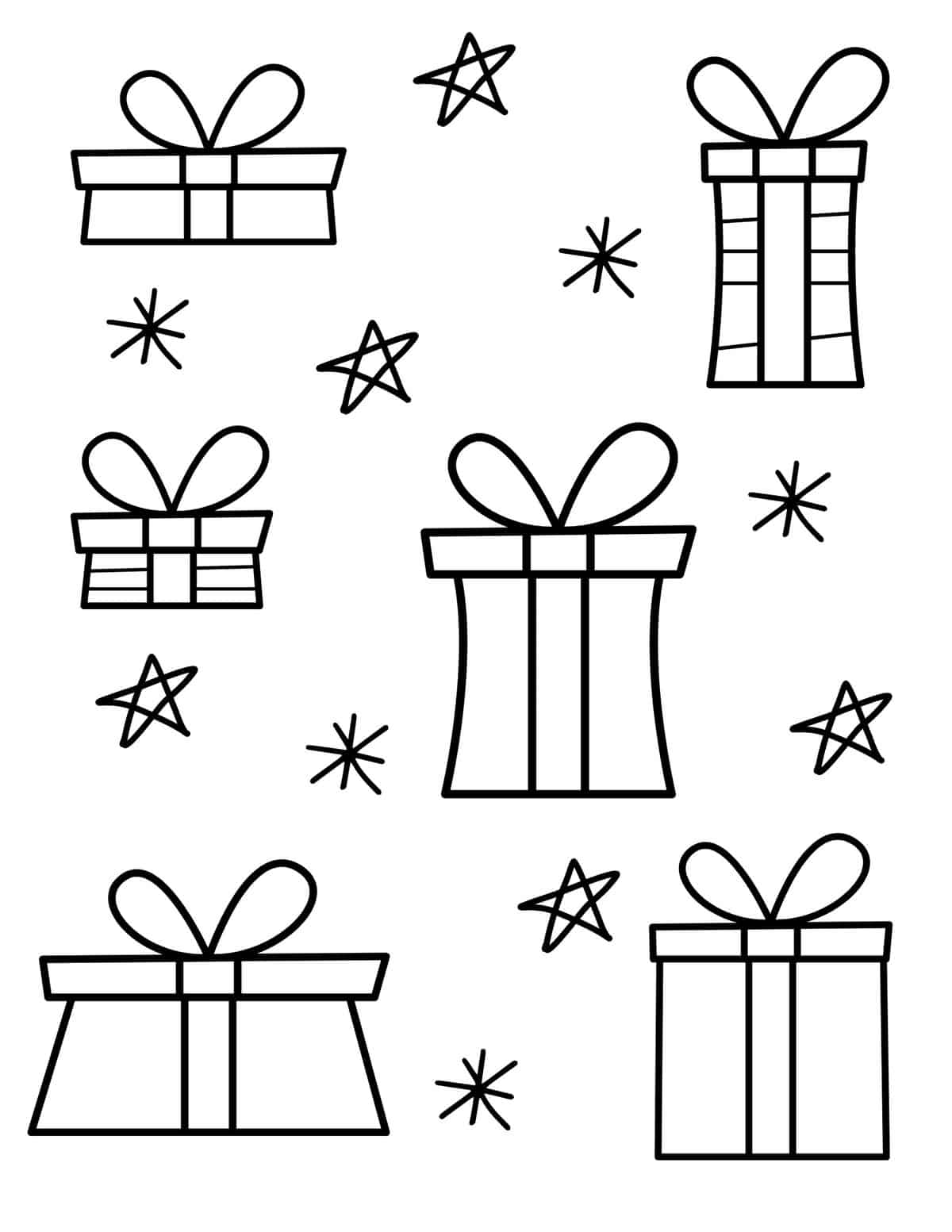 This coloring page features a variety of different Christmas gifts. You could have your kids give the presents different patterns and designs for an added challenge! They'll love adding their own personal touch to this fun coloring sheet.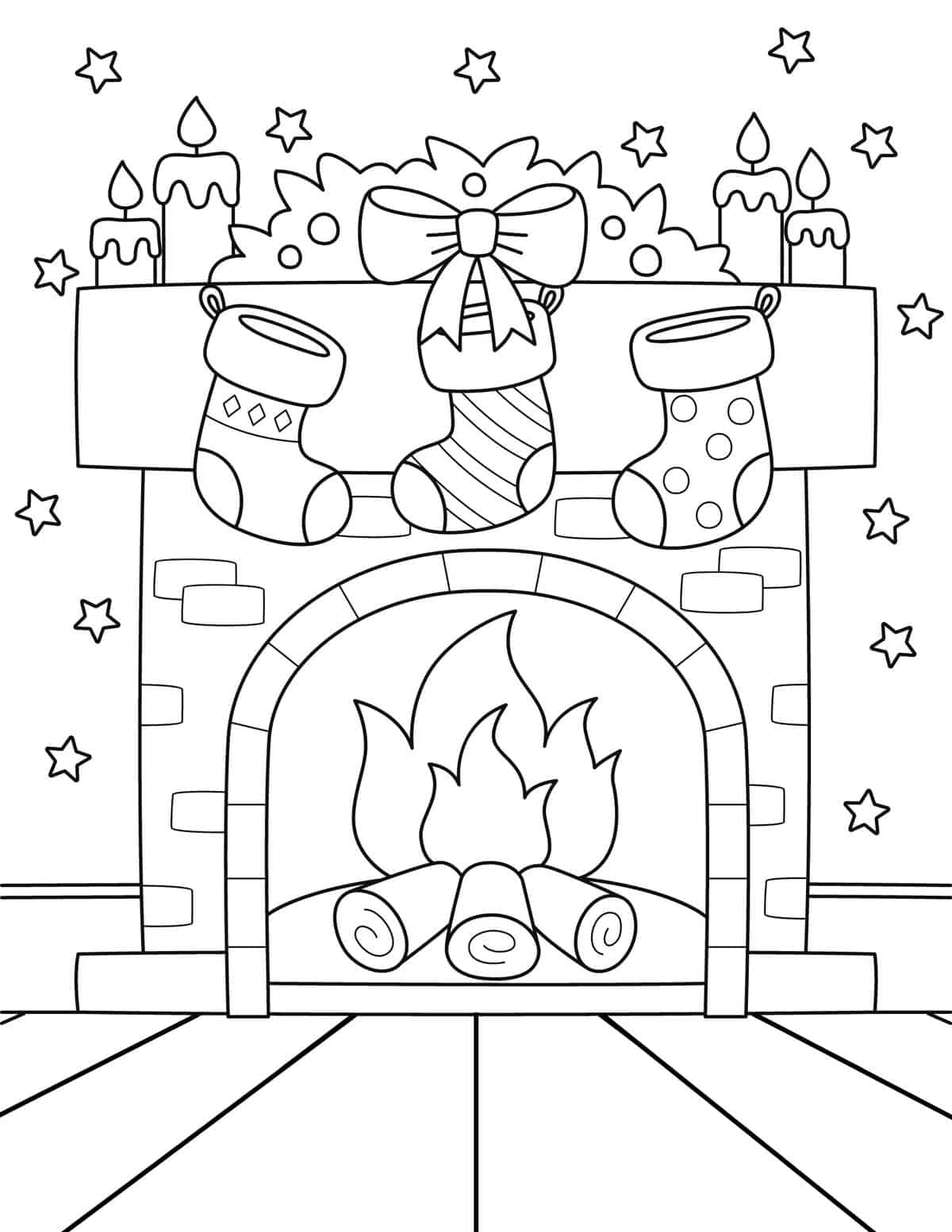 This one features a cozy fireplace with a decorated mantel and stockings hanging from it. There is a lot of detail to color in here that will keep your children entertained with hours of fun!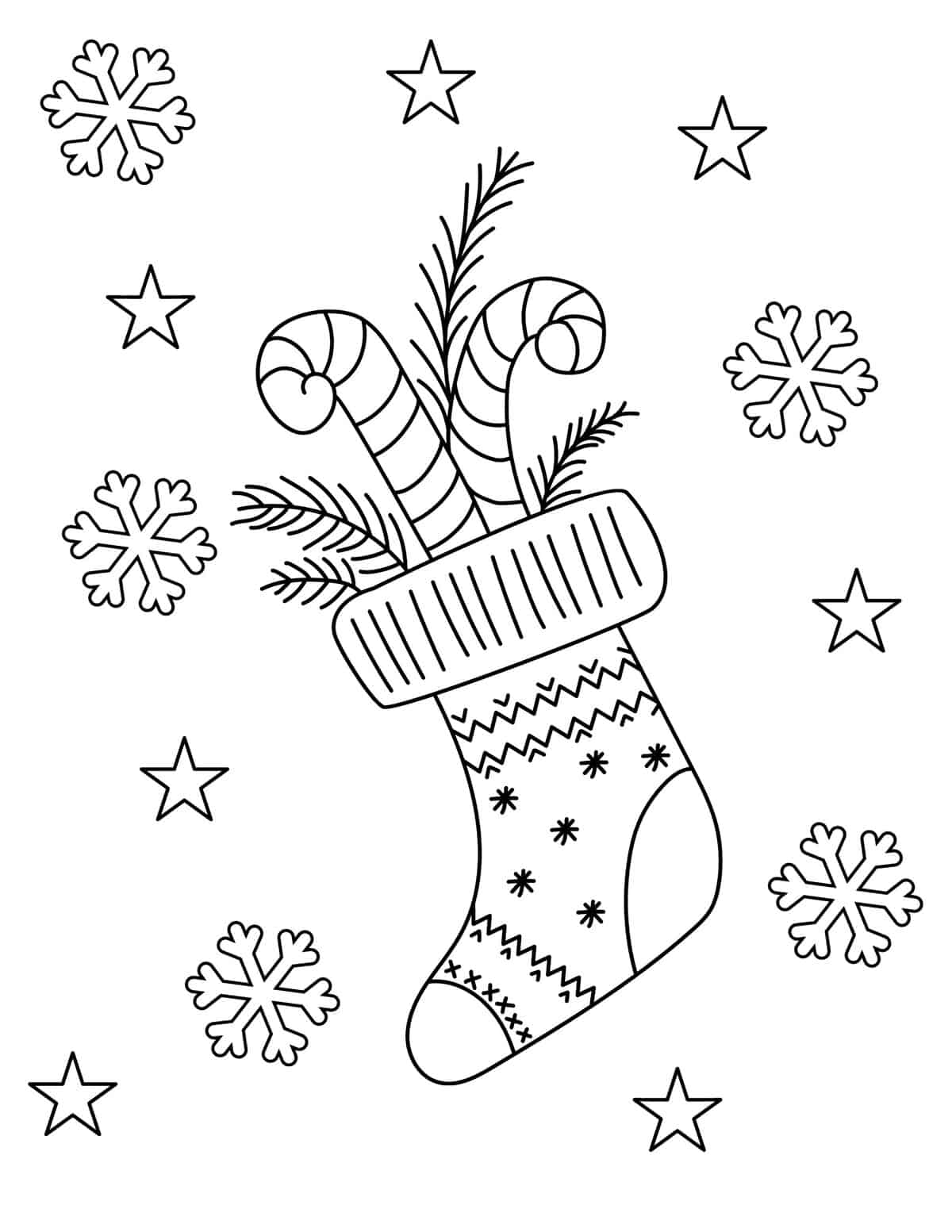 This Stocking filled with candy canes would make an excellent page to give as a gift or a card to a loved one once it is complete!
Christmas Woodland Animal Pages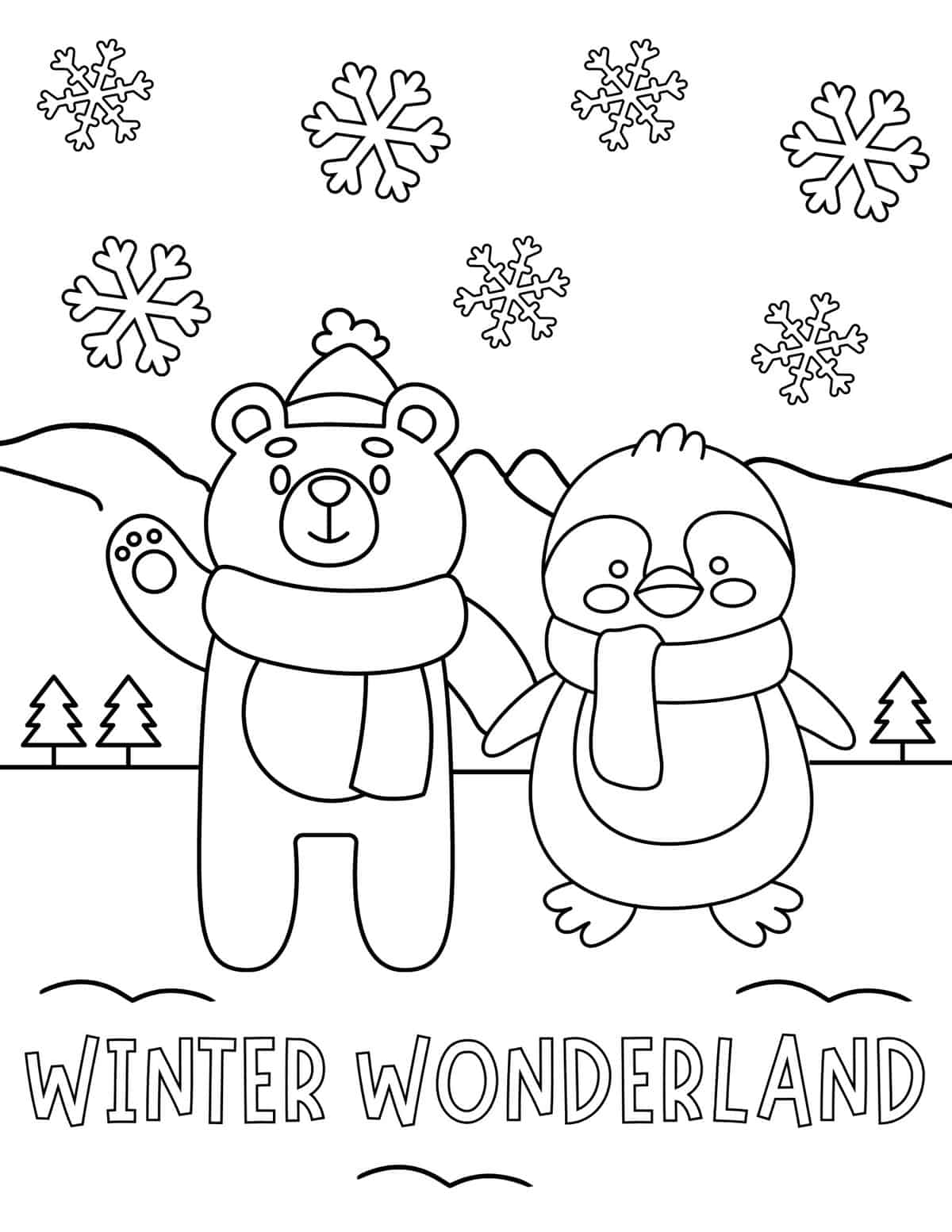 This one is one of my favorite pages! It features an adorable bear and penguin dressed up in scarves and hats, holding hands and enjoying the winter weather. It is a fun option for kids of all ages!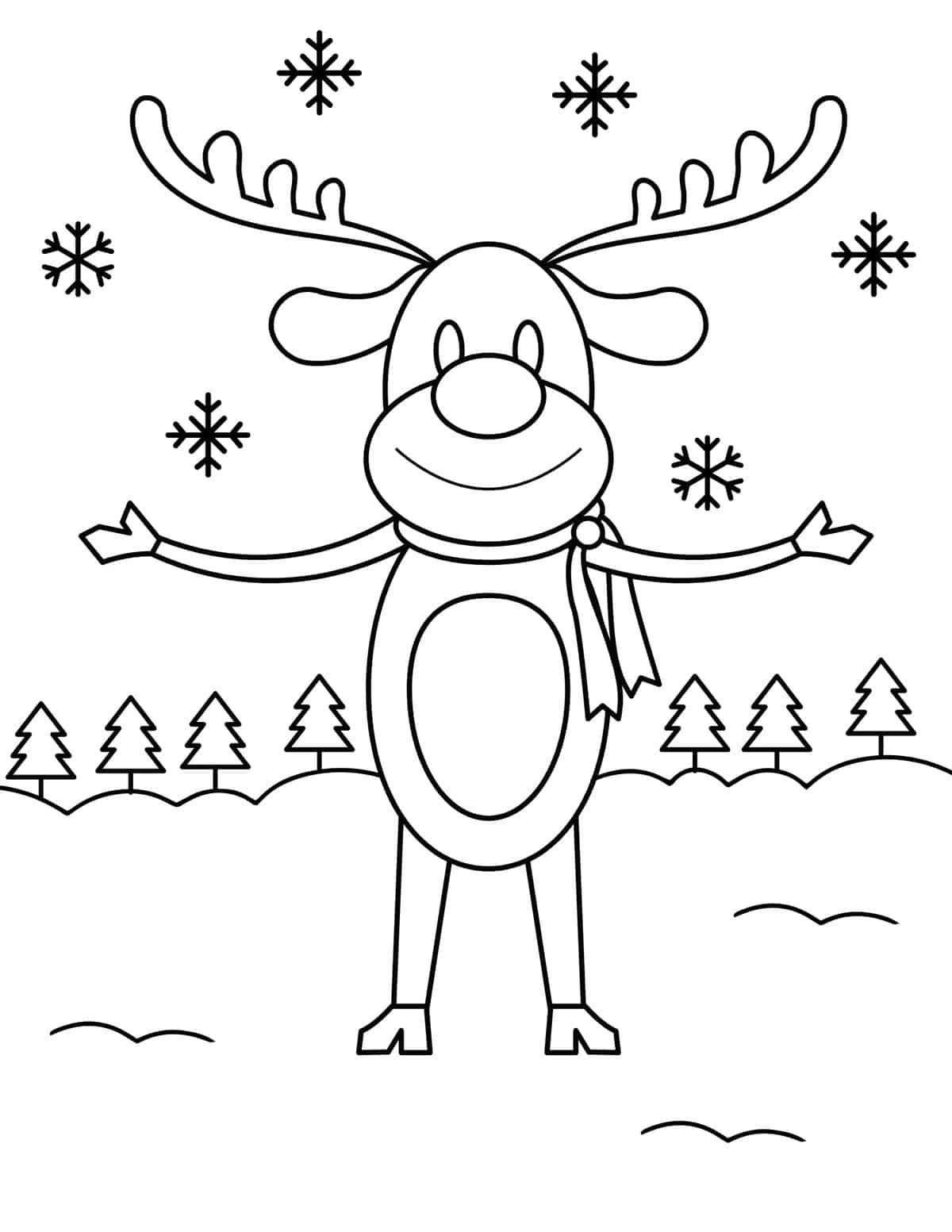 This cute reindeer outdoors in the snow will surely be a hit with your child and will get them excited about winter and the holidays!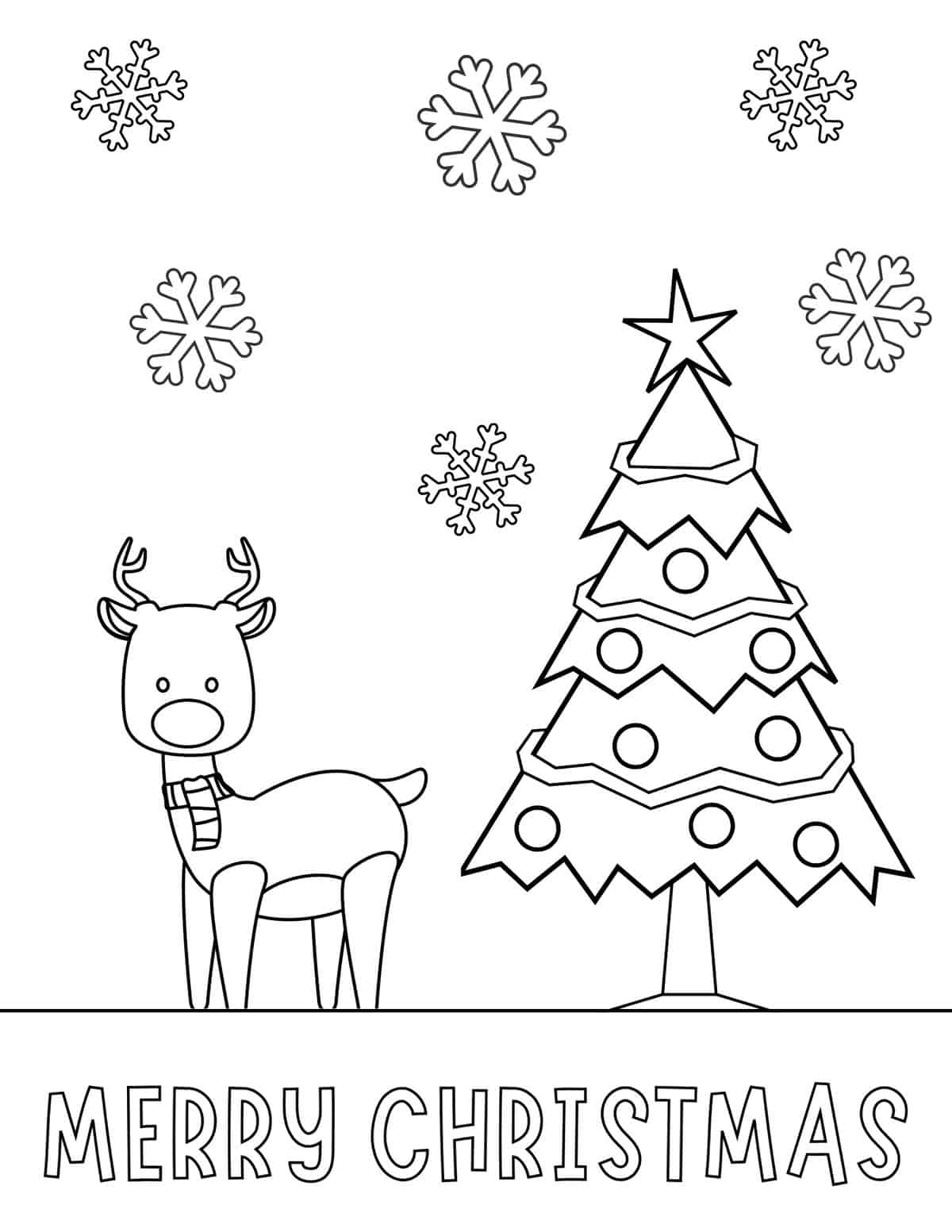 Let your children bring this picture to life with colored pencils or crayons! Younger kids will love adding color to this simple yet adorable reindeer and tree.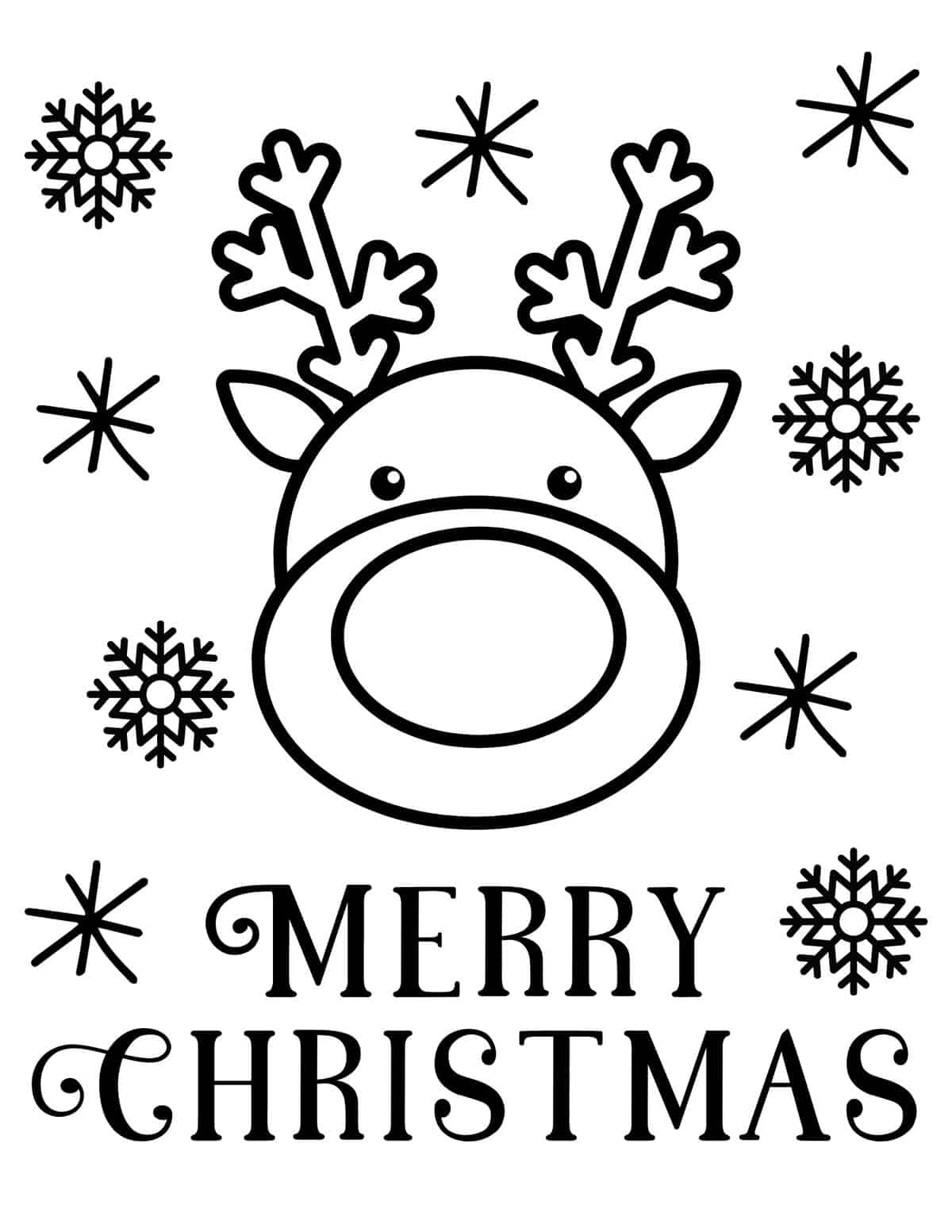 It's everyone's favorite reindeer! Rudolph! Preschoolers and toddlers will love adding color to this simple reindeer sheet. It is a quick activity that is perfect for short breaks.
Christmas Candy and Gingerbread Men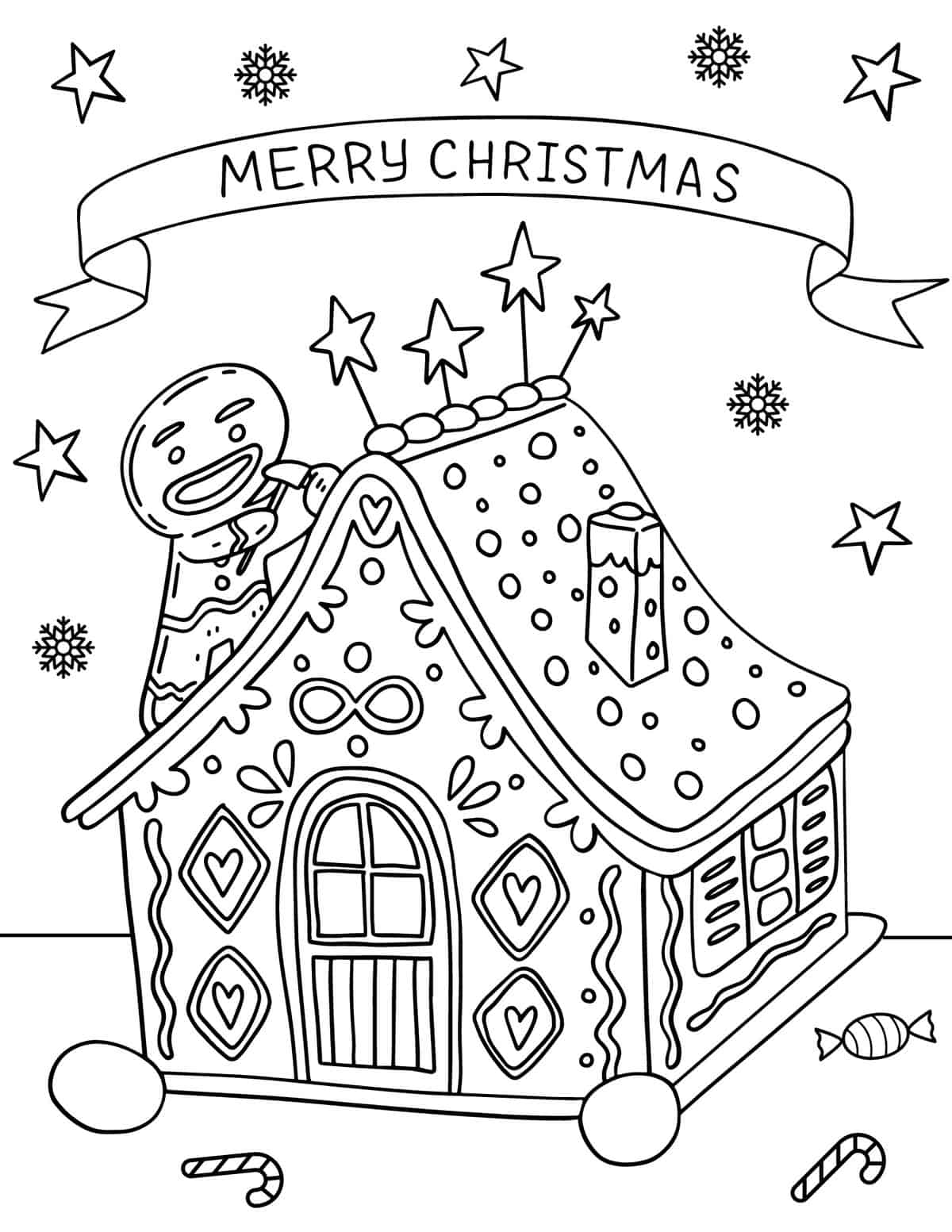 Planning to build a gingerbread house over the holidays? This coloring page is the perfect activity to do beforehand to get your kids excited about it and give them ideas for decorating it!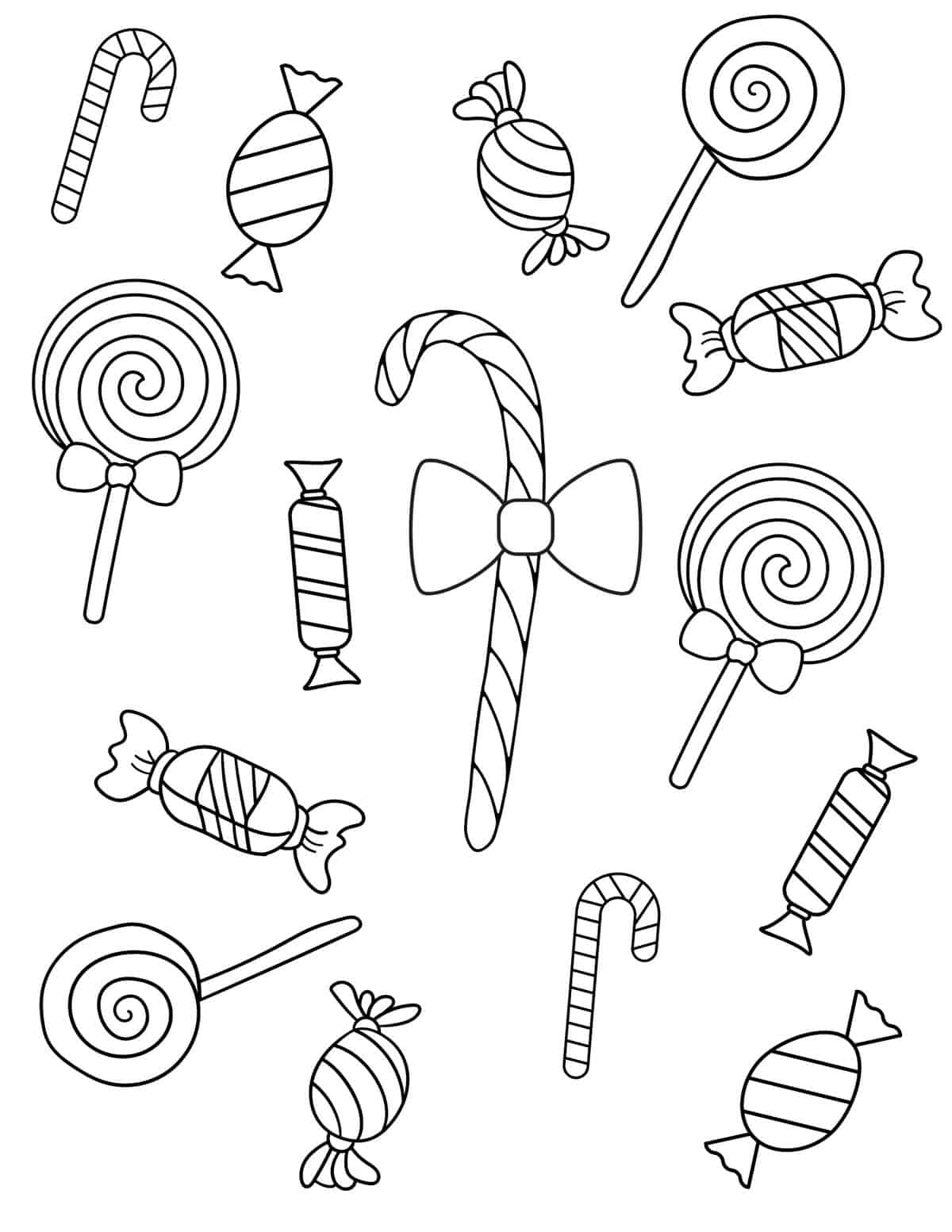 What kid doesn't love candy? This one features a variety of Christmas candies, including candy canes, lollipops, and more that kids will enjoy adding vibrant colors to.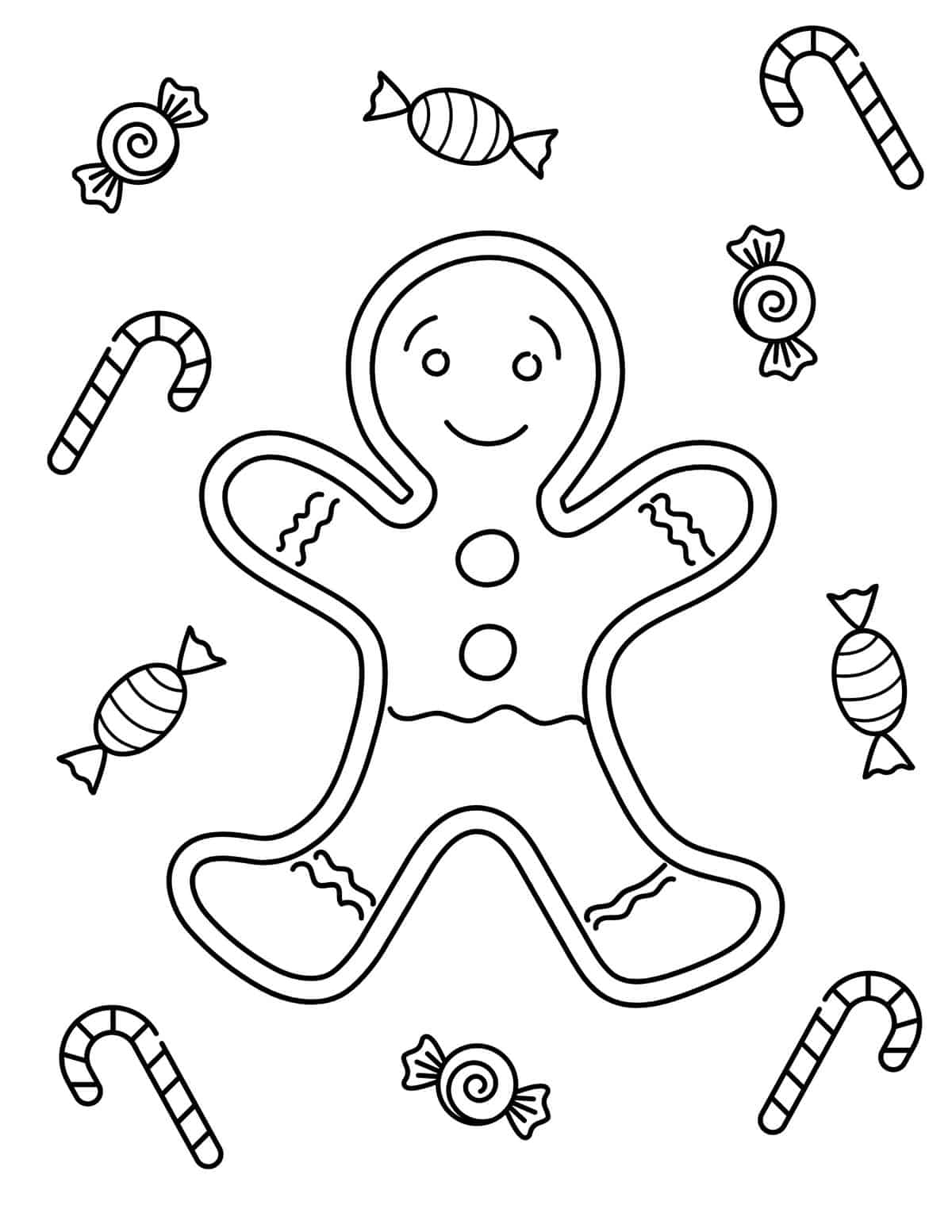 The coloring page features a gingerbread man surrounded by an assortment of yummy candies and candy canes. It's a good choice for preschoolers and elementary school children.
Christian Christmas Coloring Sheets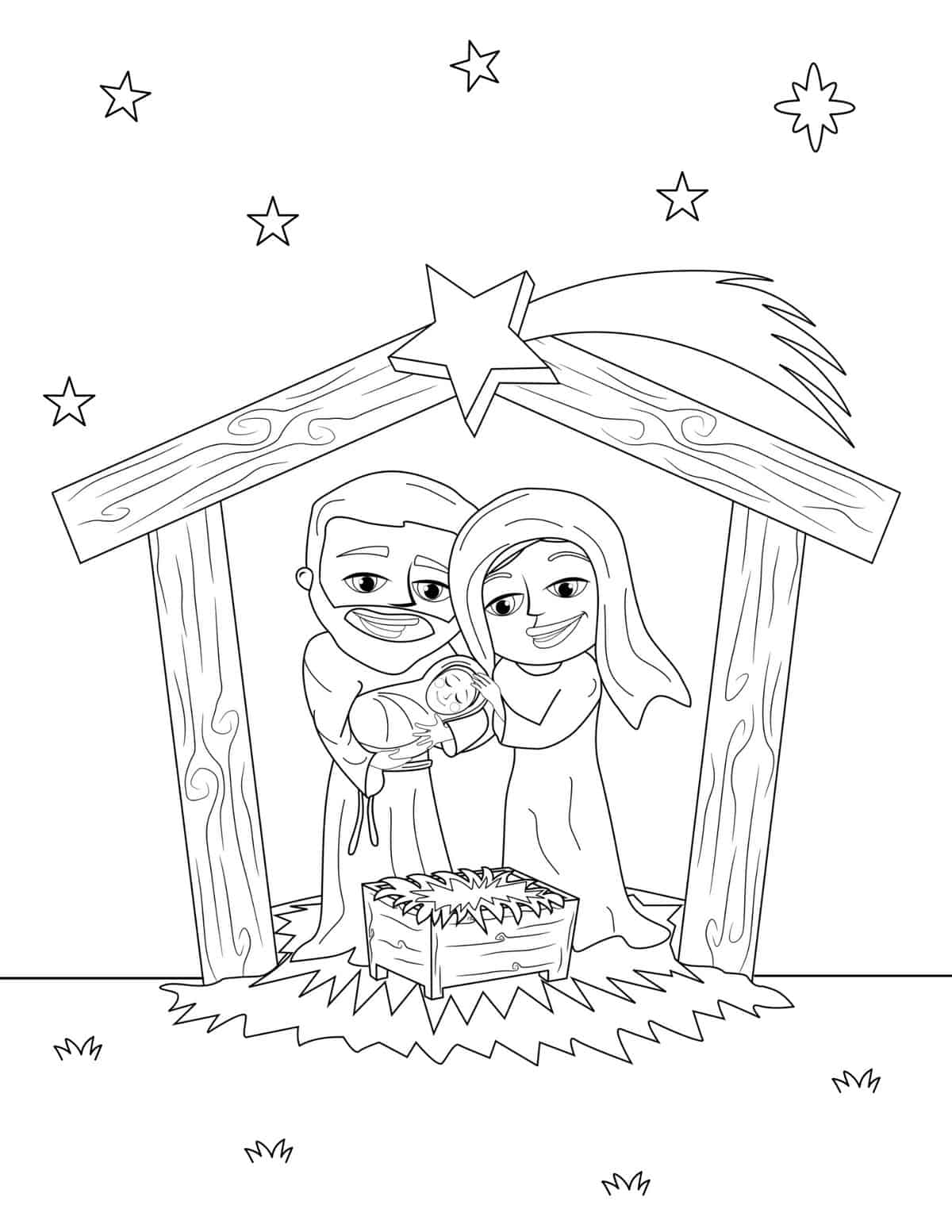 This Christian coloring page features a nativity scene with Mary, Joseph, and baby Jesus in the stable. Teach your children about the origins of the holiday and give them this page as a fun supplemental activity.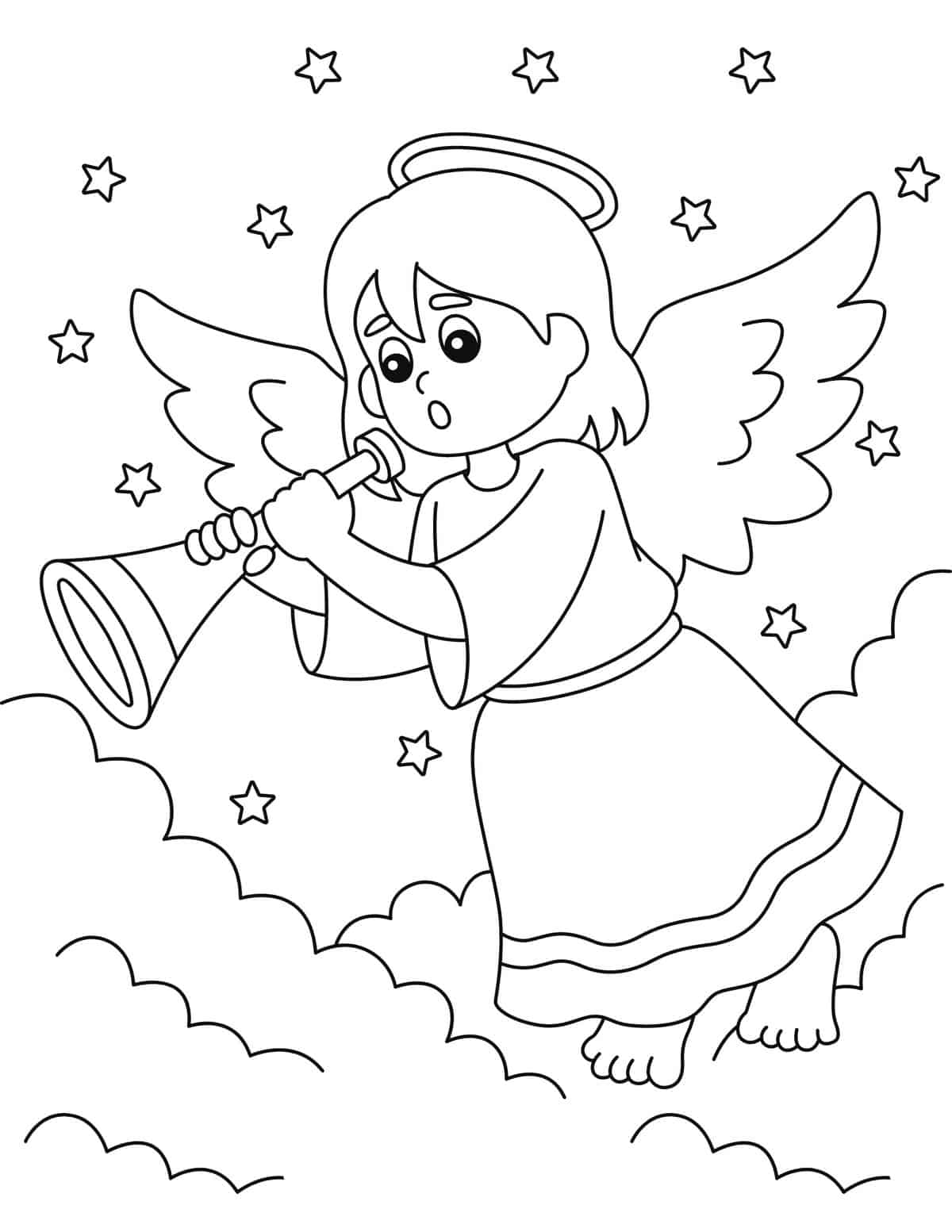 This coloring page features an angel playing the trumpet. It's a great way to remind your children of the real reason why we celebrate Christmas!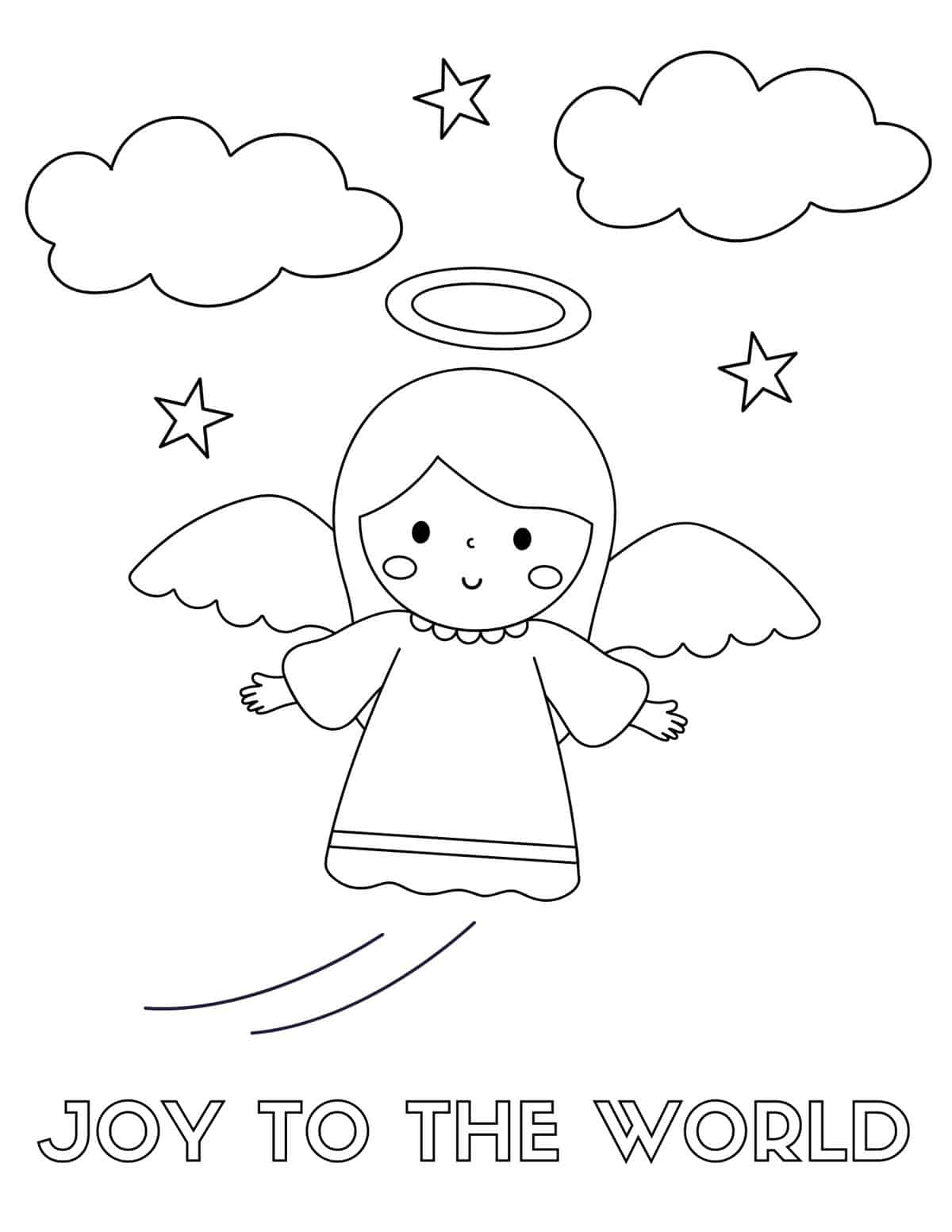 Top off fun Christian Holiday activities with this angelic coloring page. It's suitable for toddlers and preschoolers!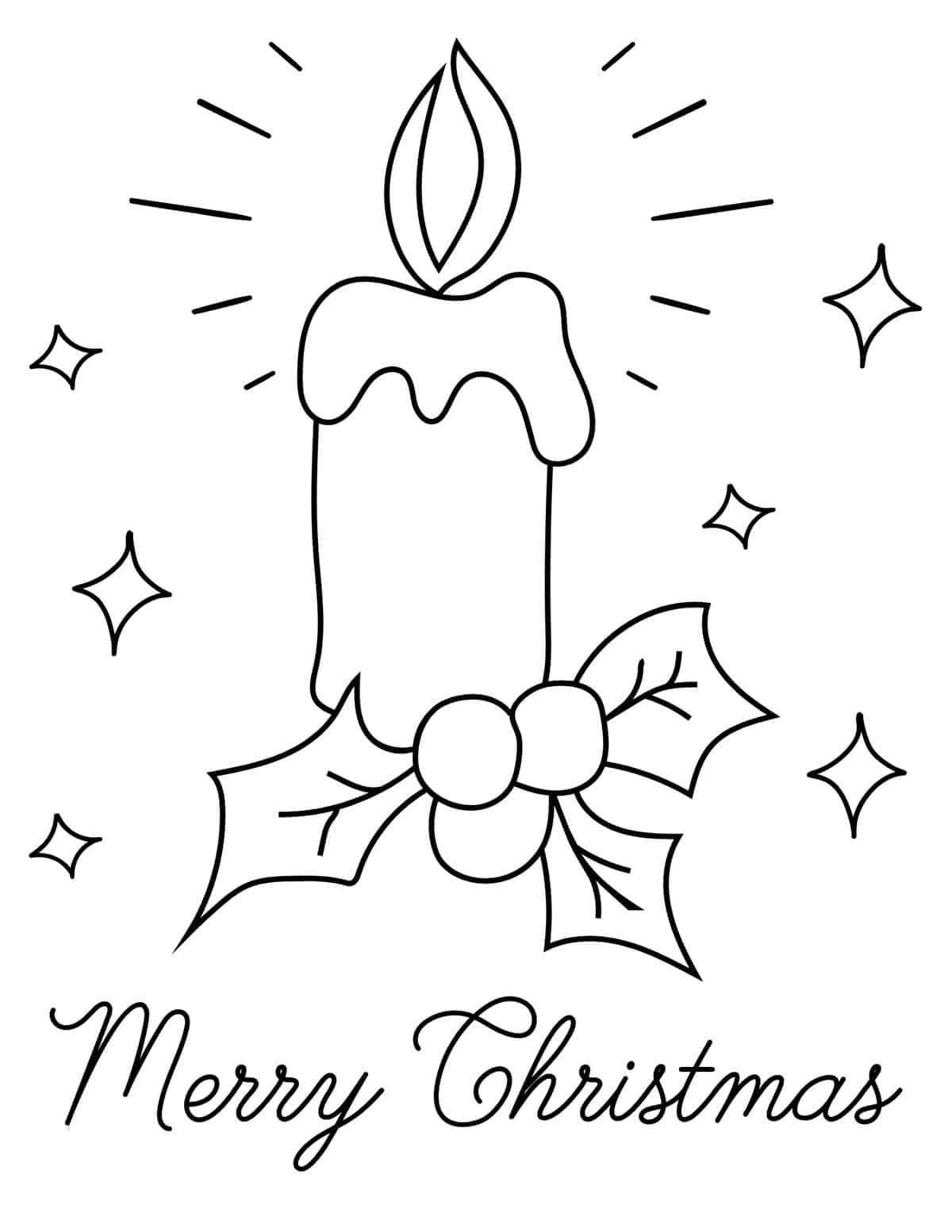 This classic Christmas candle with holly and stars in the background will provide your children with some relaxing holiday fun!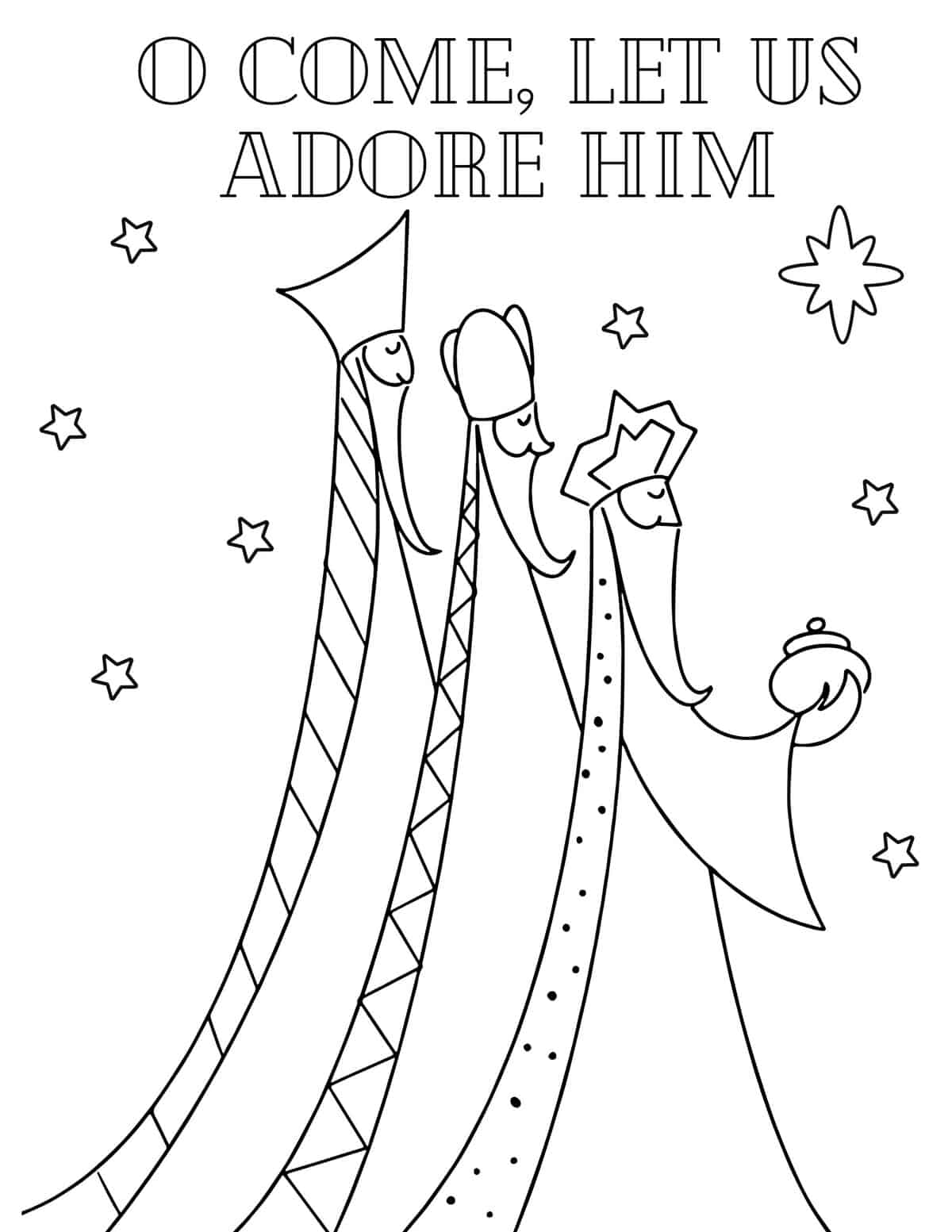 Celebrate the real reason for the season with this page showing the Three Kings bearing the gifts. It makes an excellent Sunday school activity for kids of all ages.
Christmas Wreaths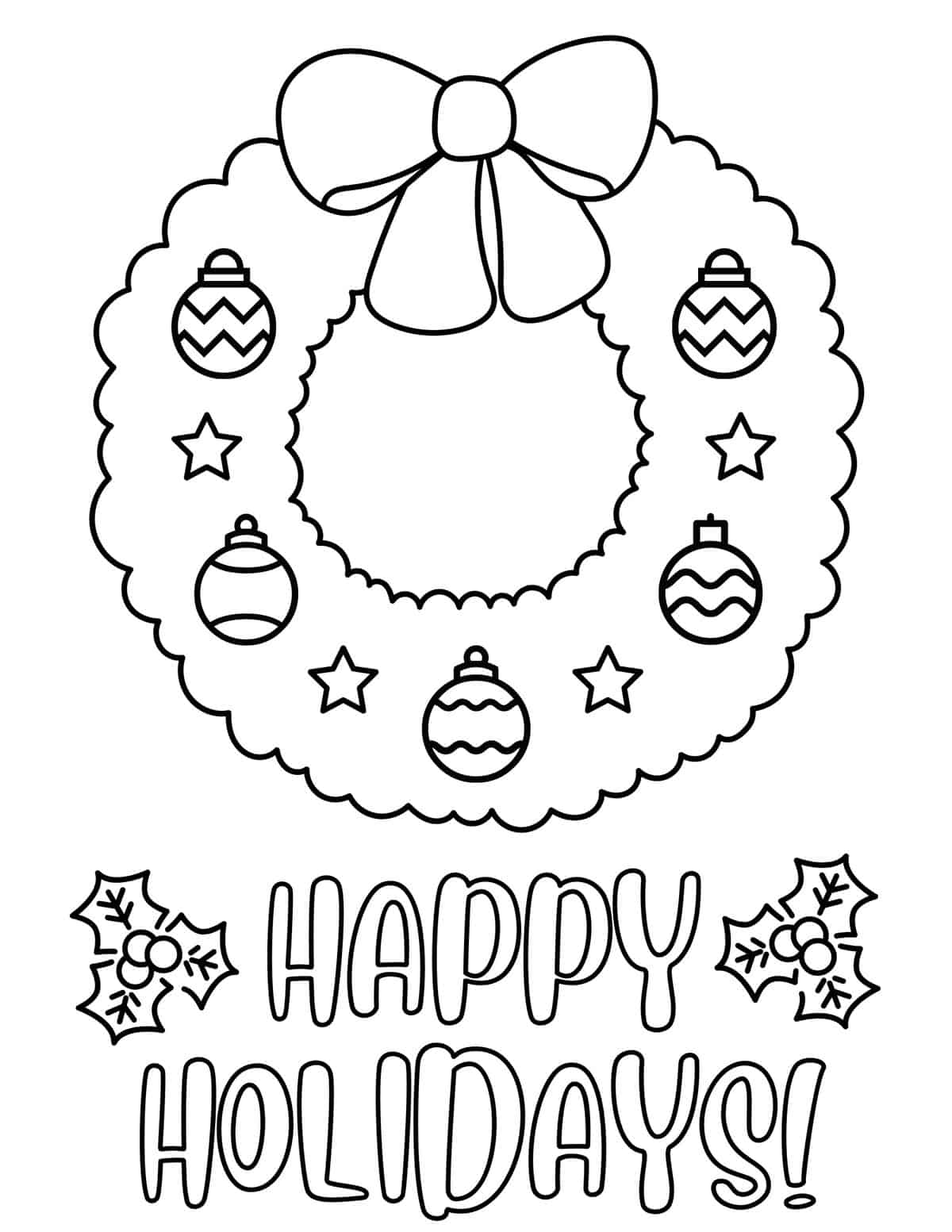 Christmas wreath coloring pages are a fun and festive way for kids to celebrate the holiday season. The wreath is decorated with stars, ornaments, and a big red bow.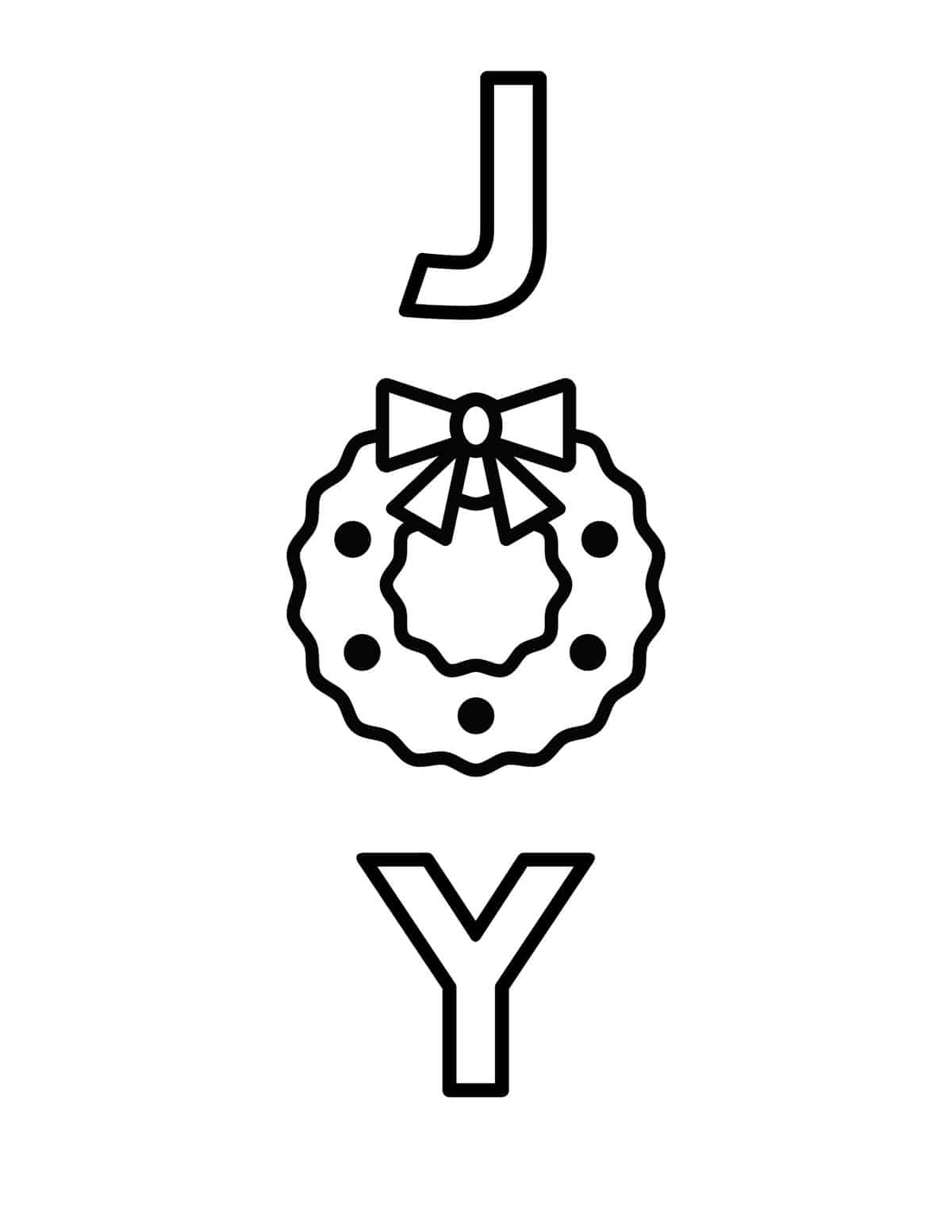 This is a simple one perfect for toddlers and preschoolers to teach them about letters and shapes. It is a perfect choice for younger kids who love Christmas and want to get into the spirit of the season.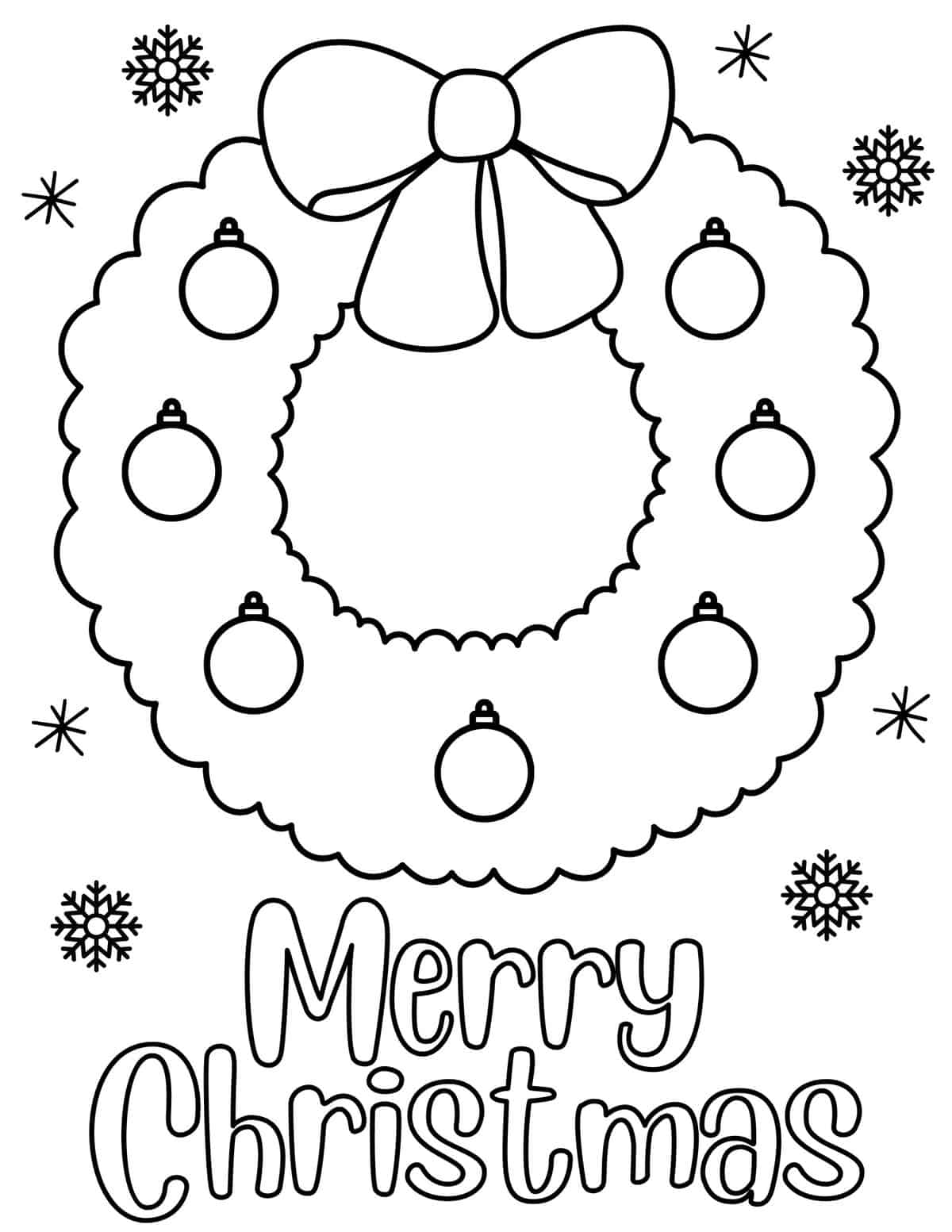 Kids of all ages will love filling this wreath in with shades of red, green, and gold. Plus, they can add their own creative touch to the ornaments with this classic design.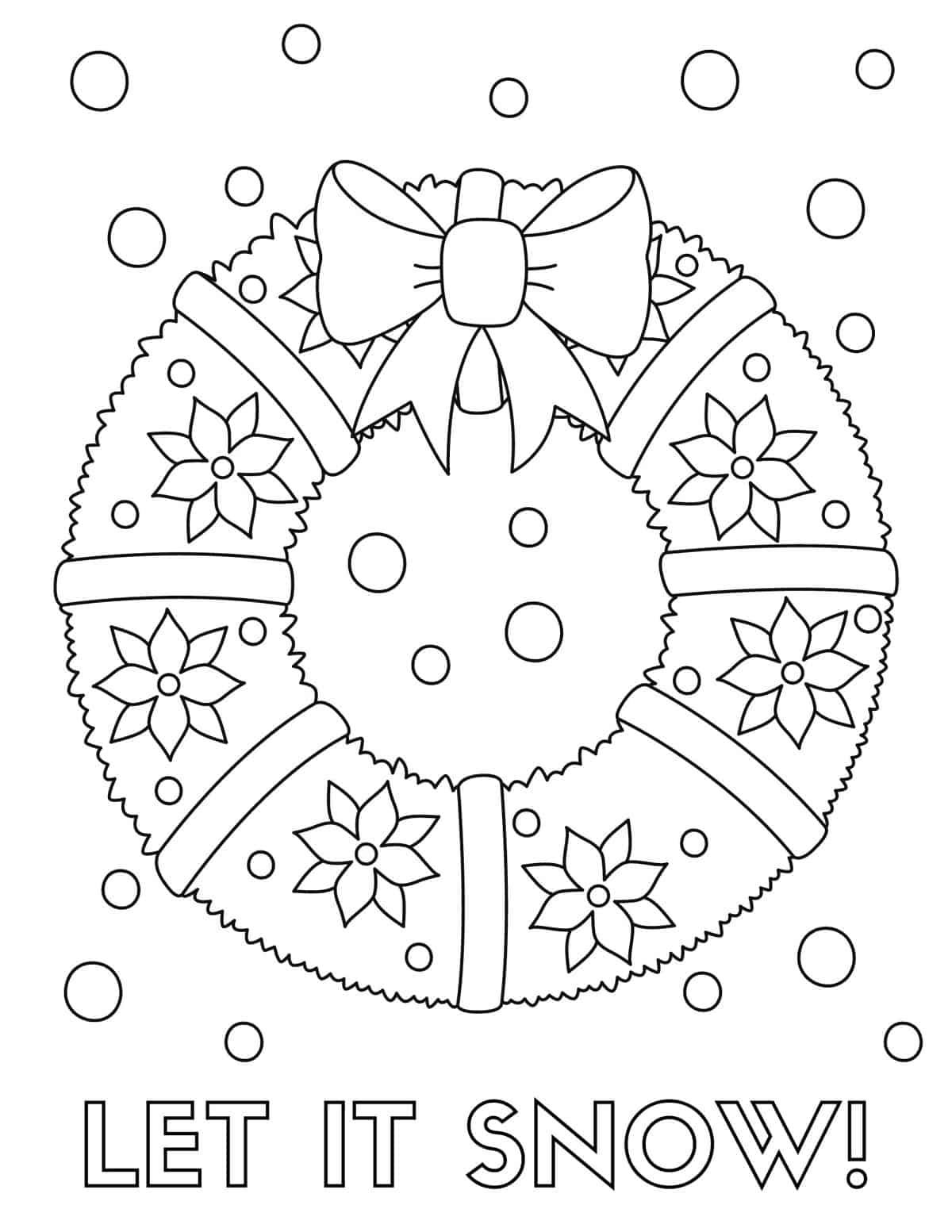 Let it snow! This simple poinsettia wreath has a snowy background to really get you in the holiday spirit. So grab some markers or colored pencils and get started!
Other Christmas Coloring Pages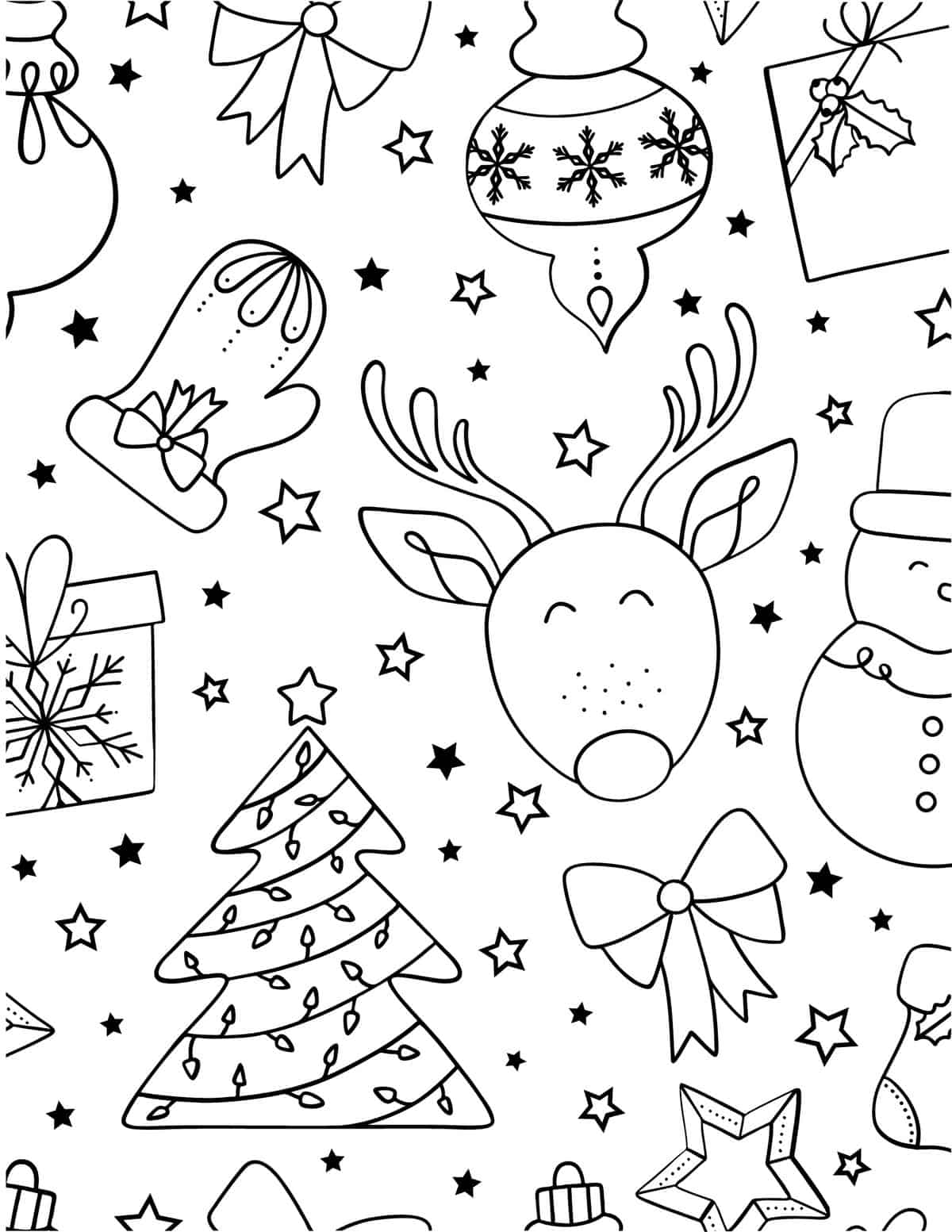 There are tons of assorted Holiday doodles here to keep older kids or teens entertained for a while!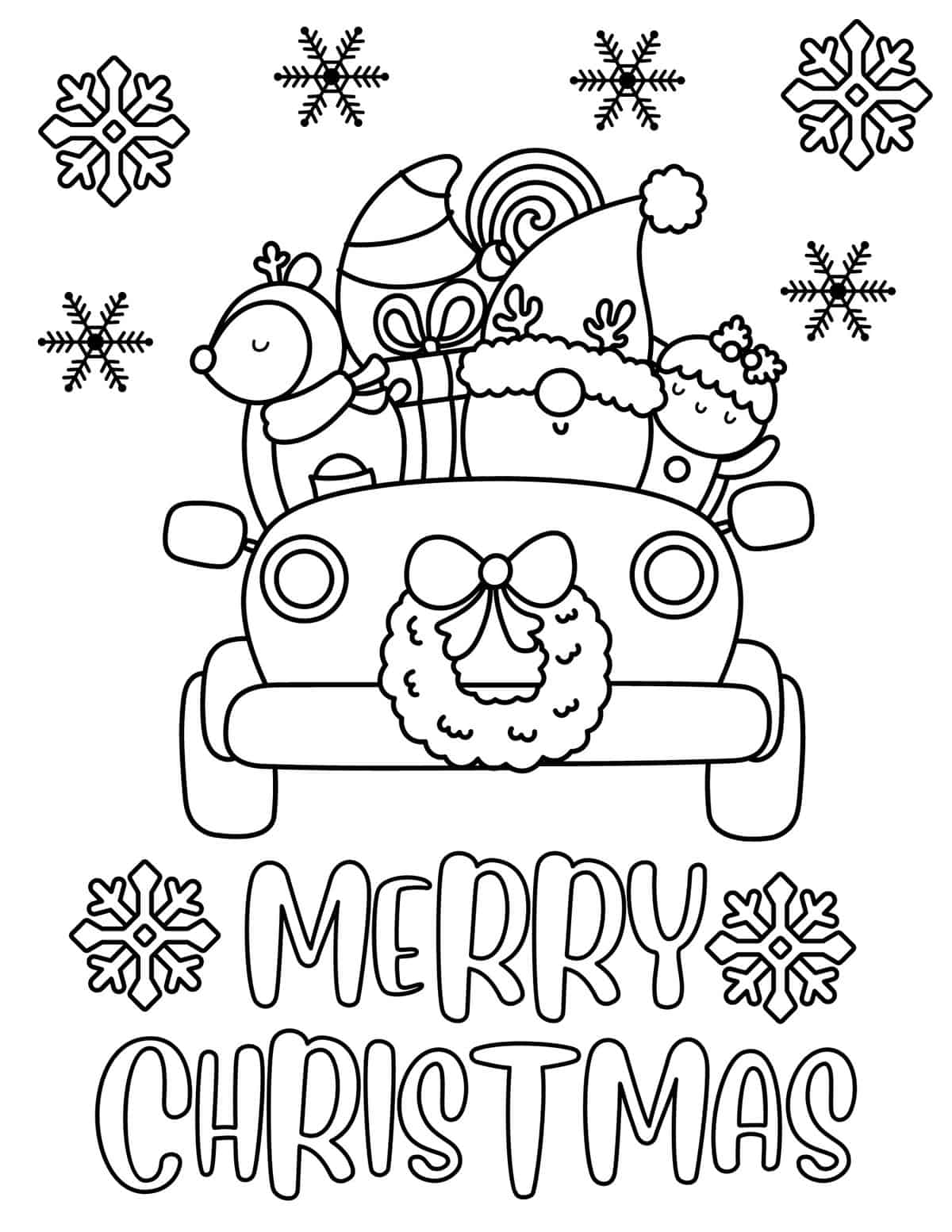 This cute gnome and his friends are driving home with Christmas gifts. Your little ones will love spending time bringing this page to life with color.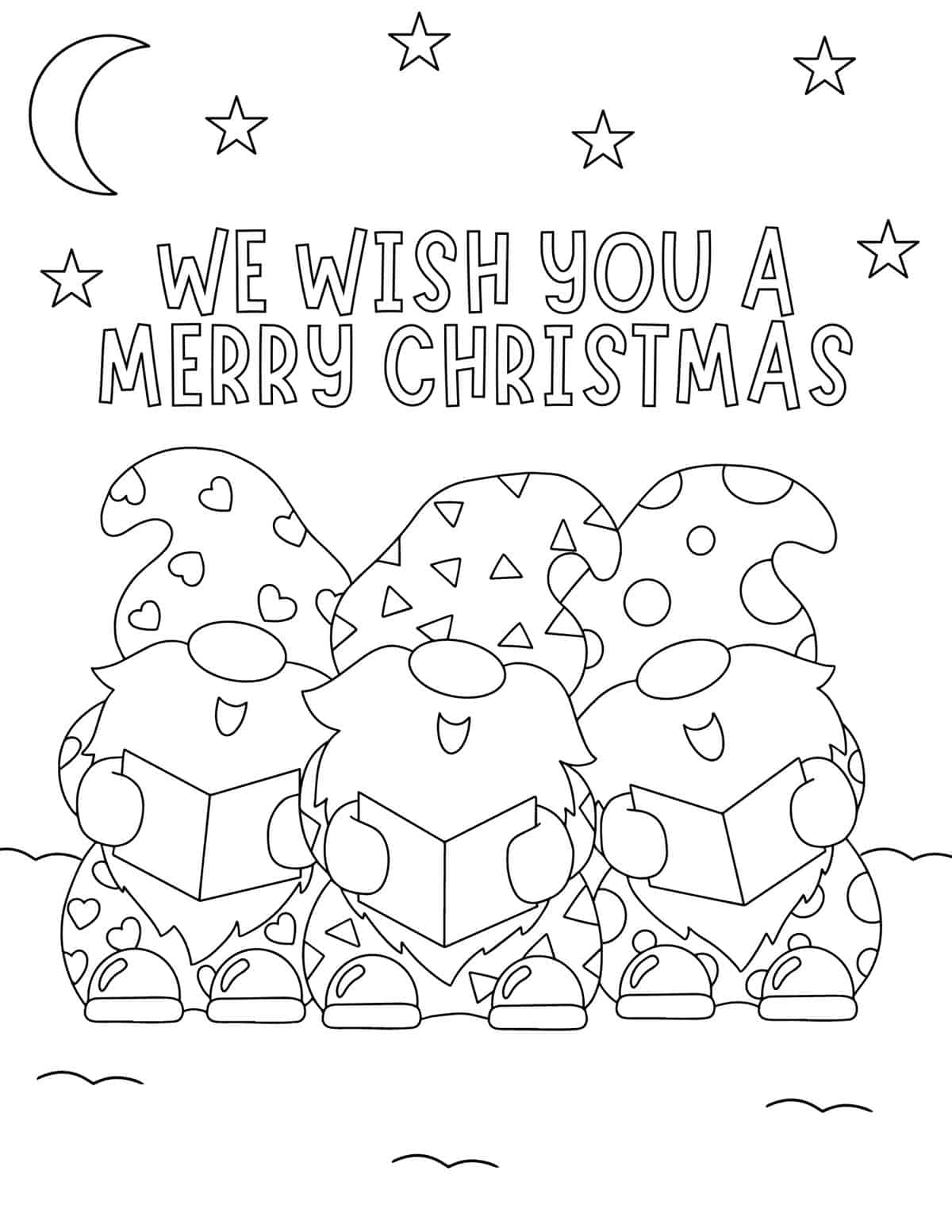 These adorable gnomes are singing carols in the snow. What better way to wish your friends and family a merry Christmas than having your kids color this in and send it as a Christmas card?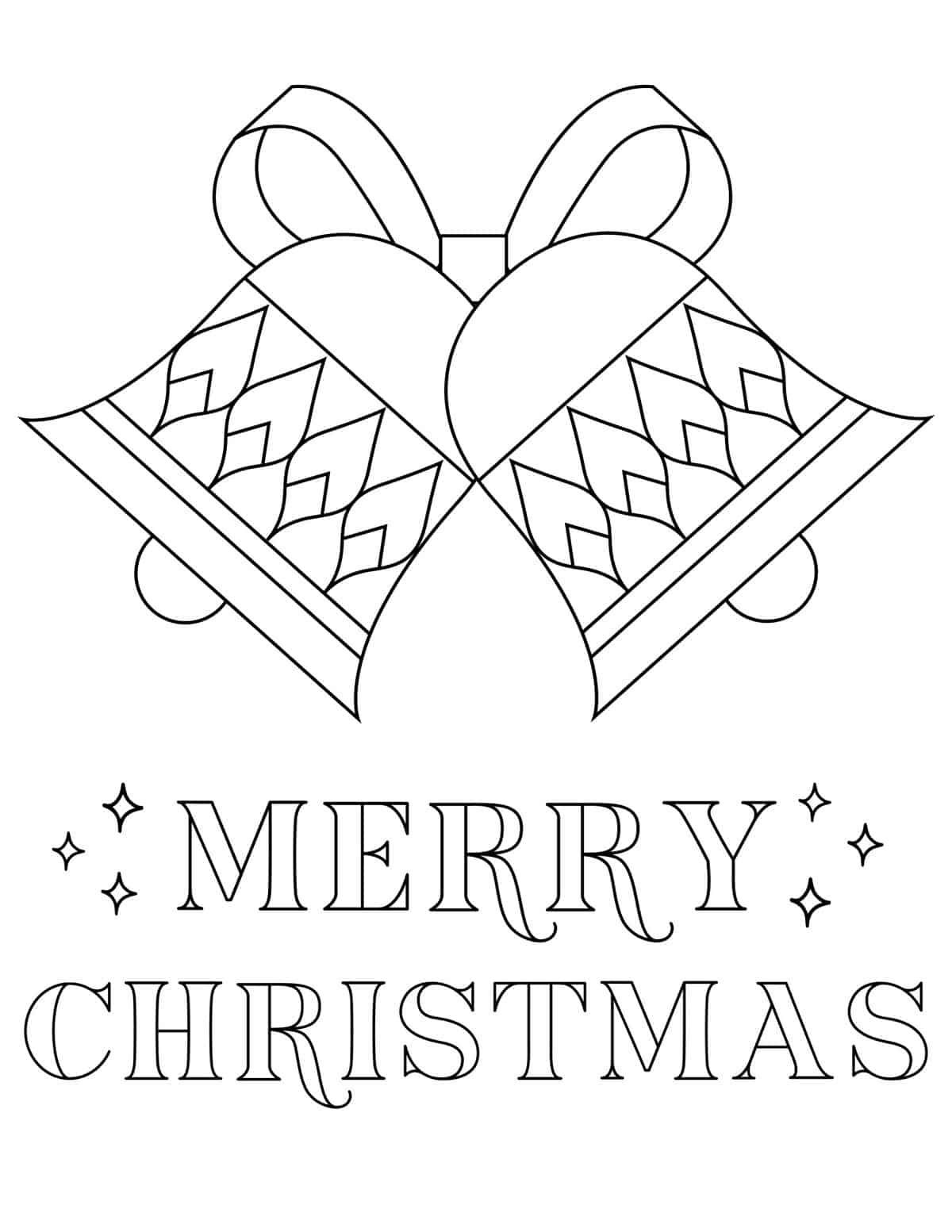 The elegant design of these bells makes this page an ideal decoration to display on your fridge or to give as a homemade Christmas card to friends and family!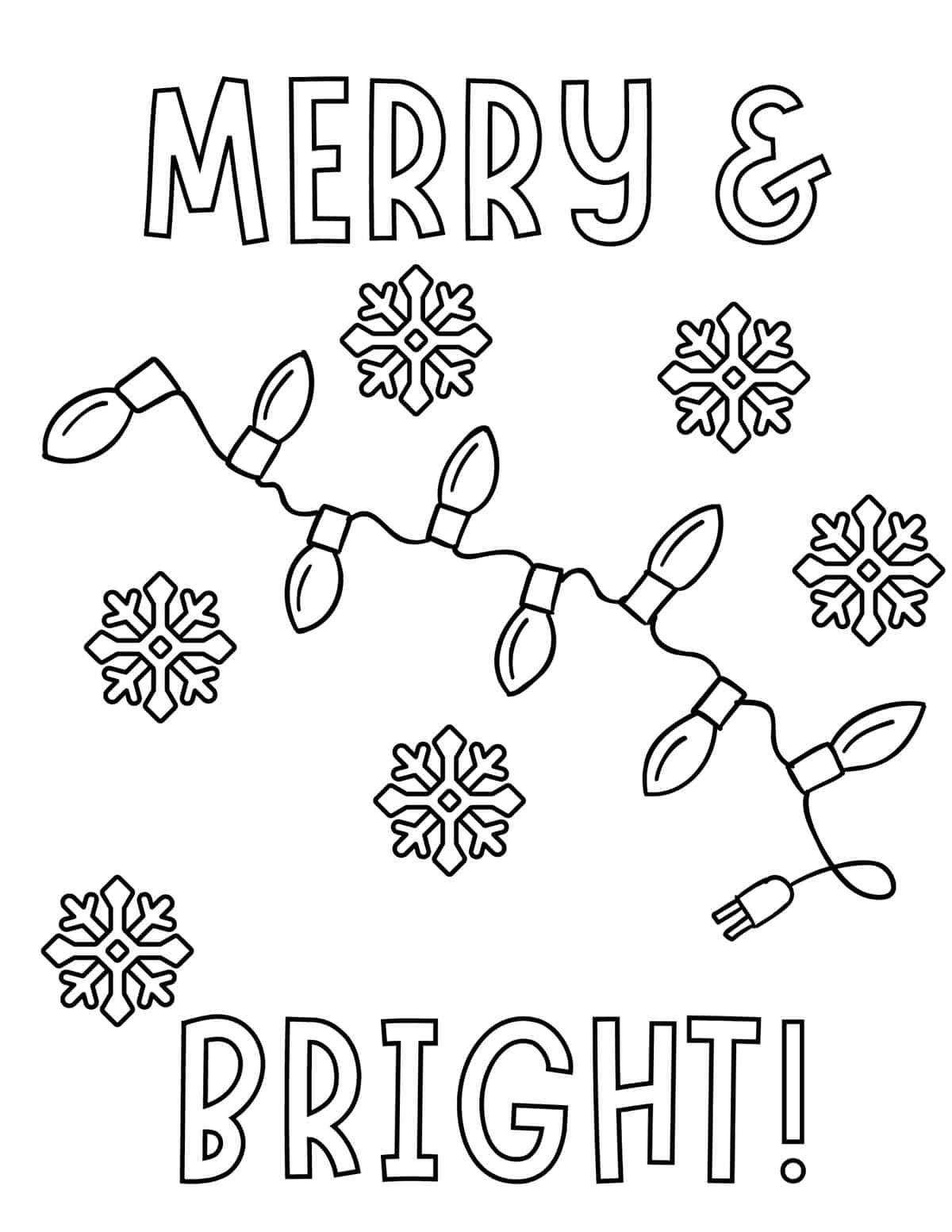 This page is sure to get you feeling merry and bright! So grab some crayons or coloring pencils and get ready to have some fun coloring the lights and words in with all kinds of festive colors!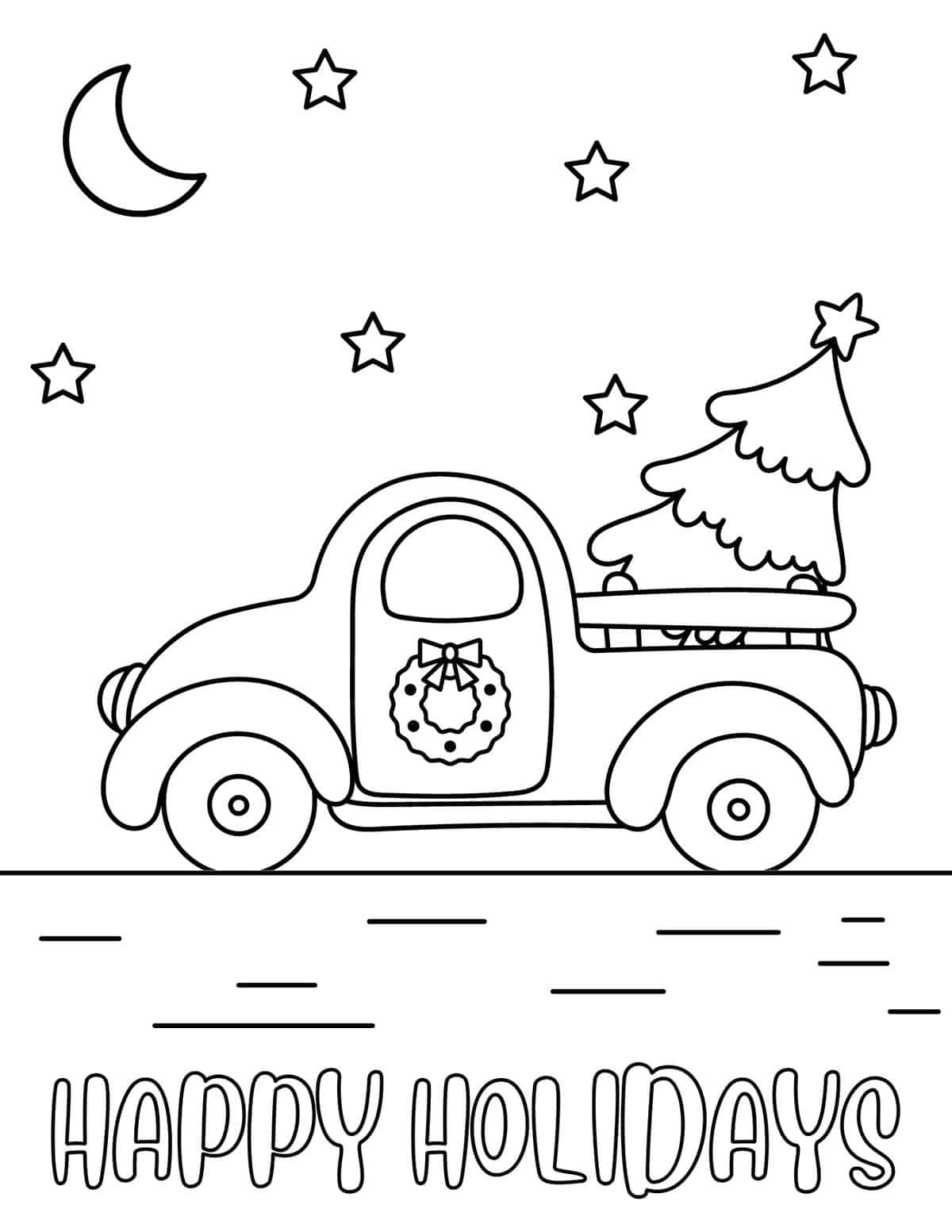 This charming page features a cute truck loaded up with a tree, ready to bring some holiday cheer to your home. After they're done coloring it, hang their artwork up for everyone to see!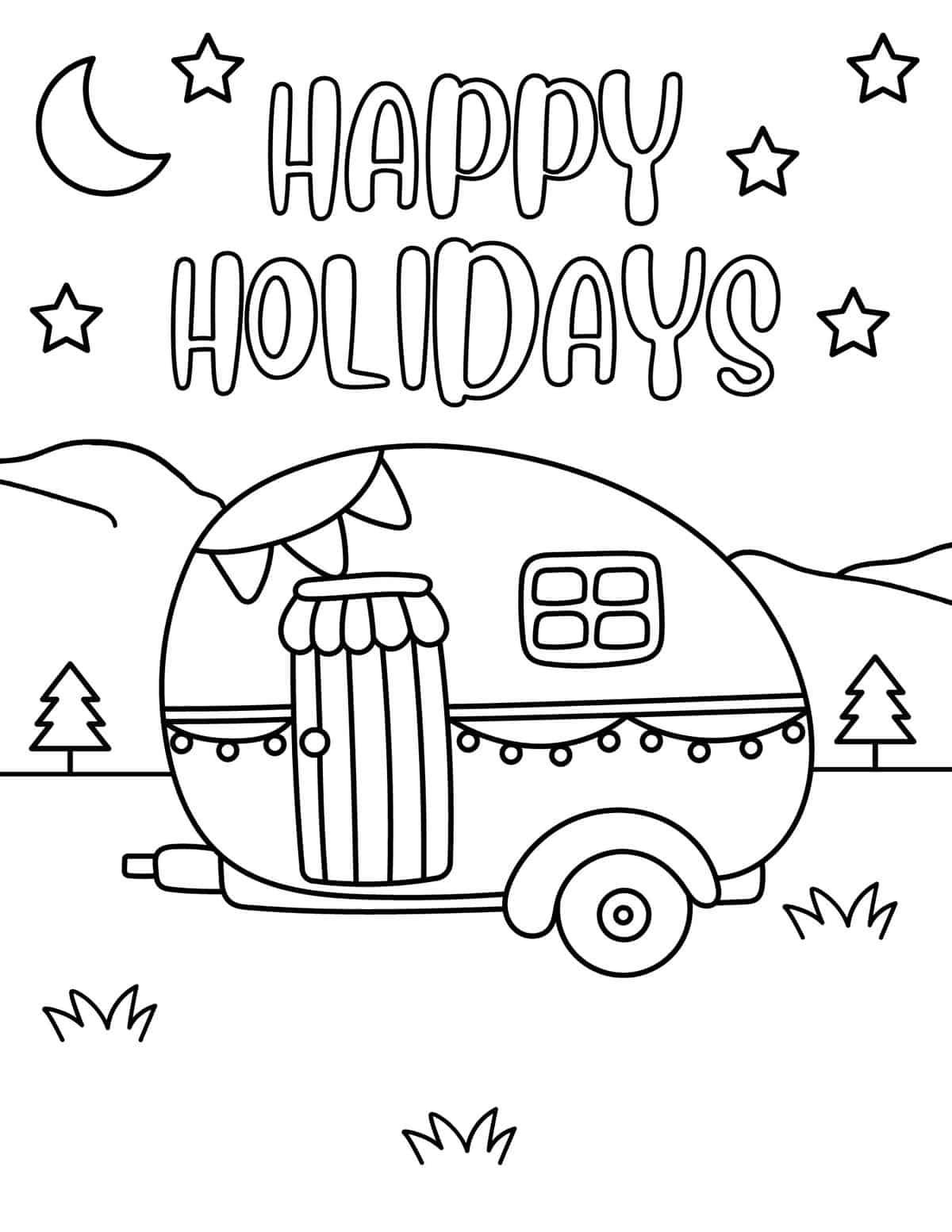 Both kids and adults will have tons of fun adding color to this vintage Holiday camper decorated with Christmas lights and parked in the mountains!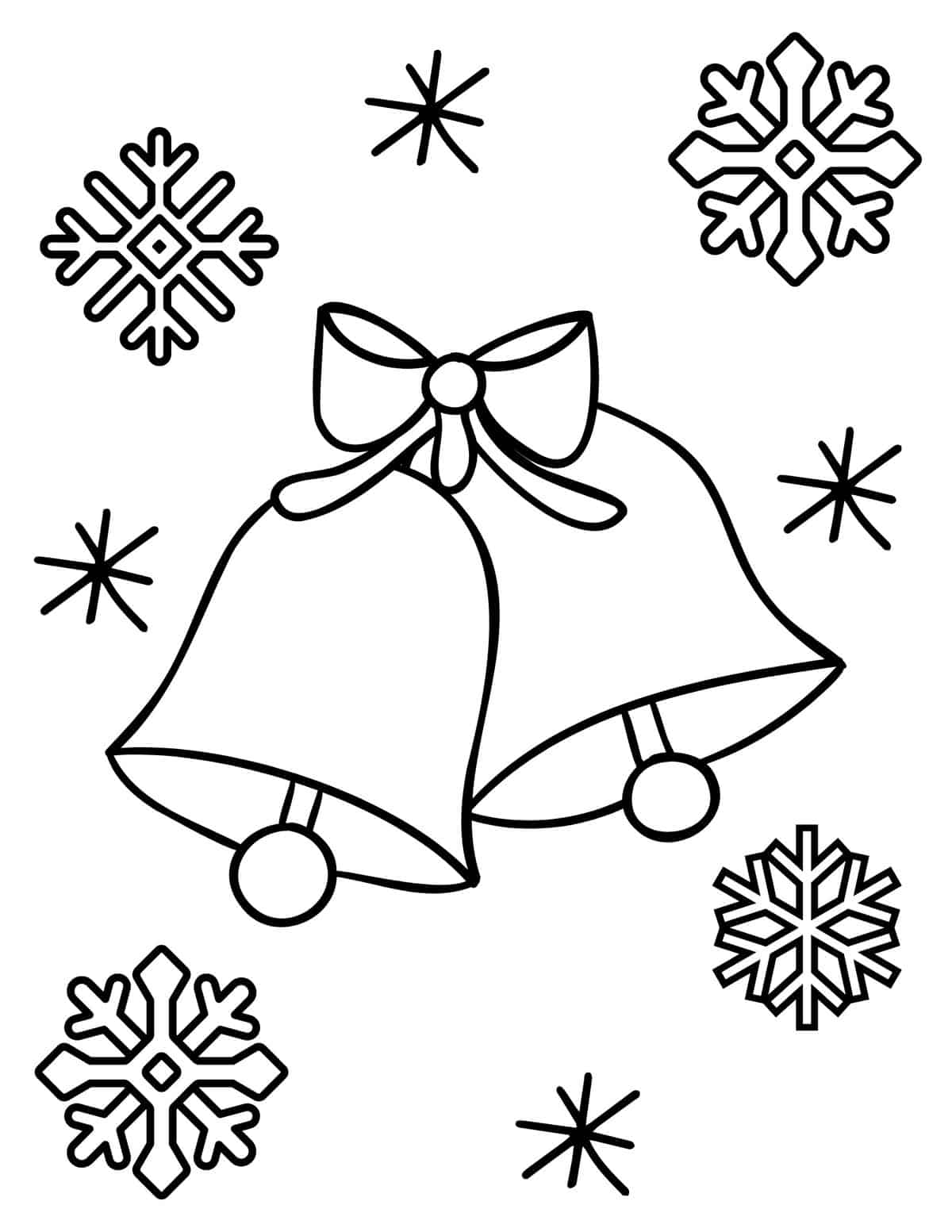 This sheet featuring a classic image of silver bells with a bow is ready to be brought to life with vibrant colors, so grab some crayons and get started!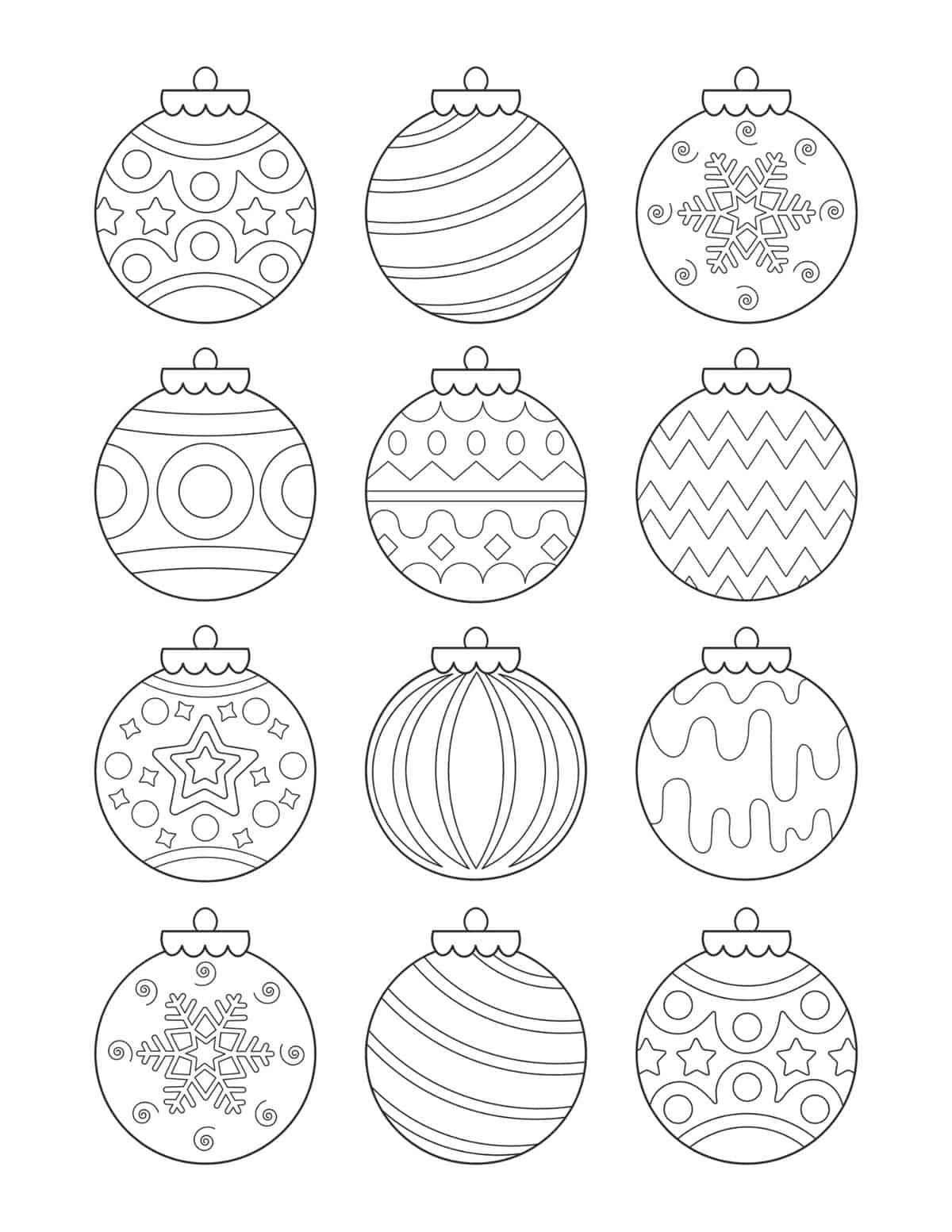 Try adding color to this huge variety of festive ornaments! With all the finer details here, it would be best suited for older kids, teens, and even adults.
Related Posts
If you're looking for more coloring fun, be sure to check out our other coloring pages below. We have a whole collection of seasonal and holiday coloring pages!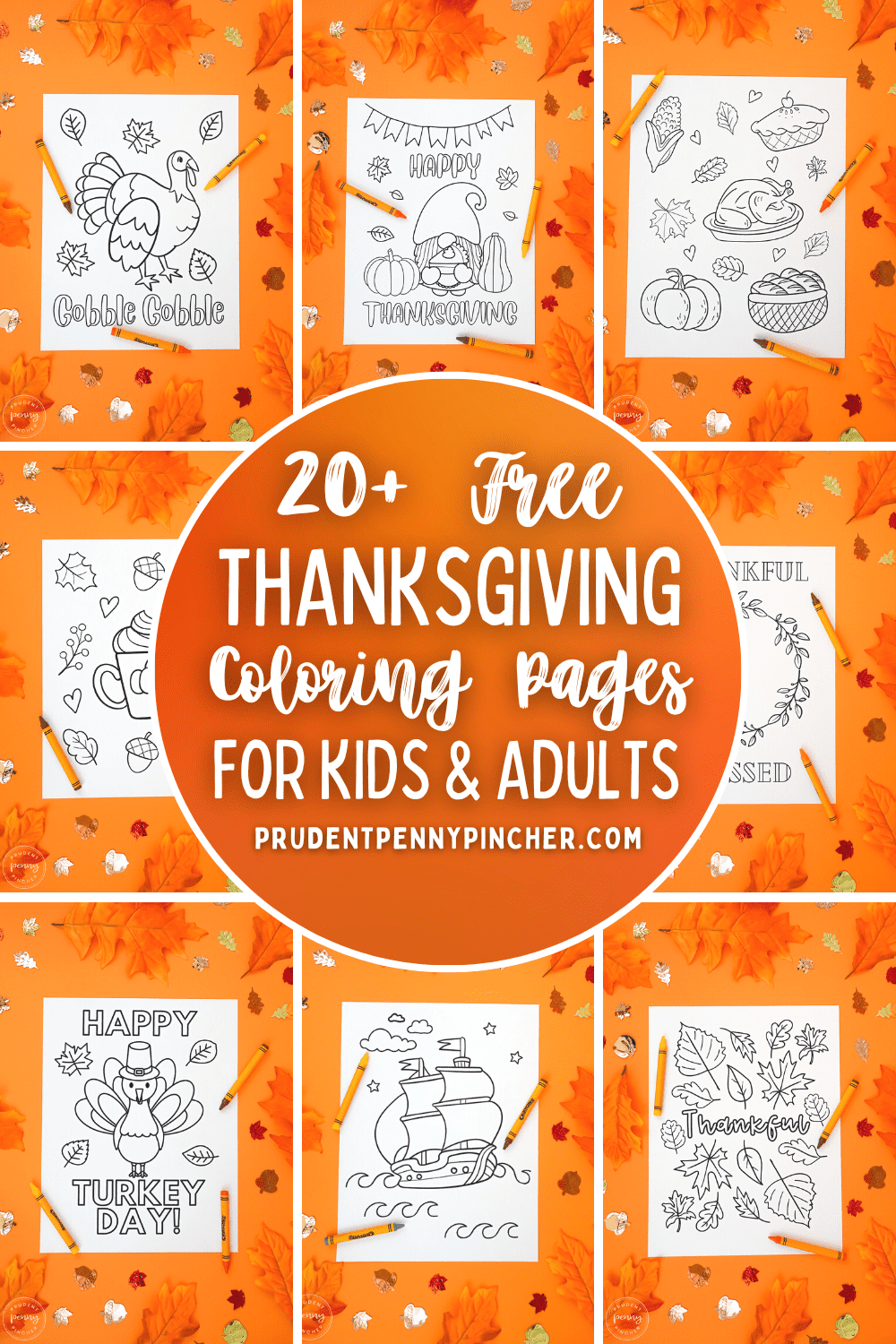 20 Free Thanksgiving Coloring Pages for Kids and Adults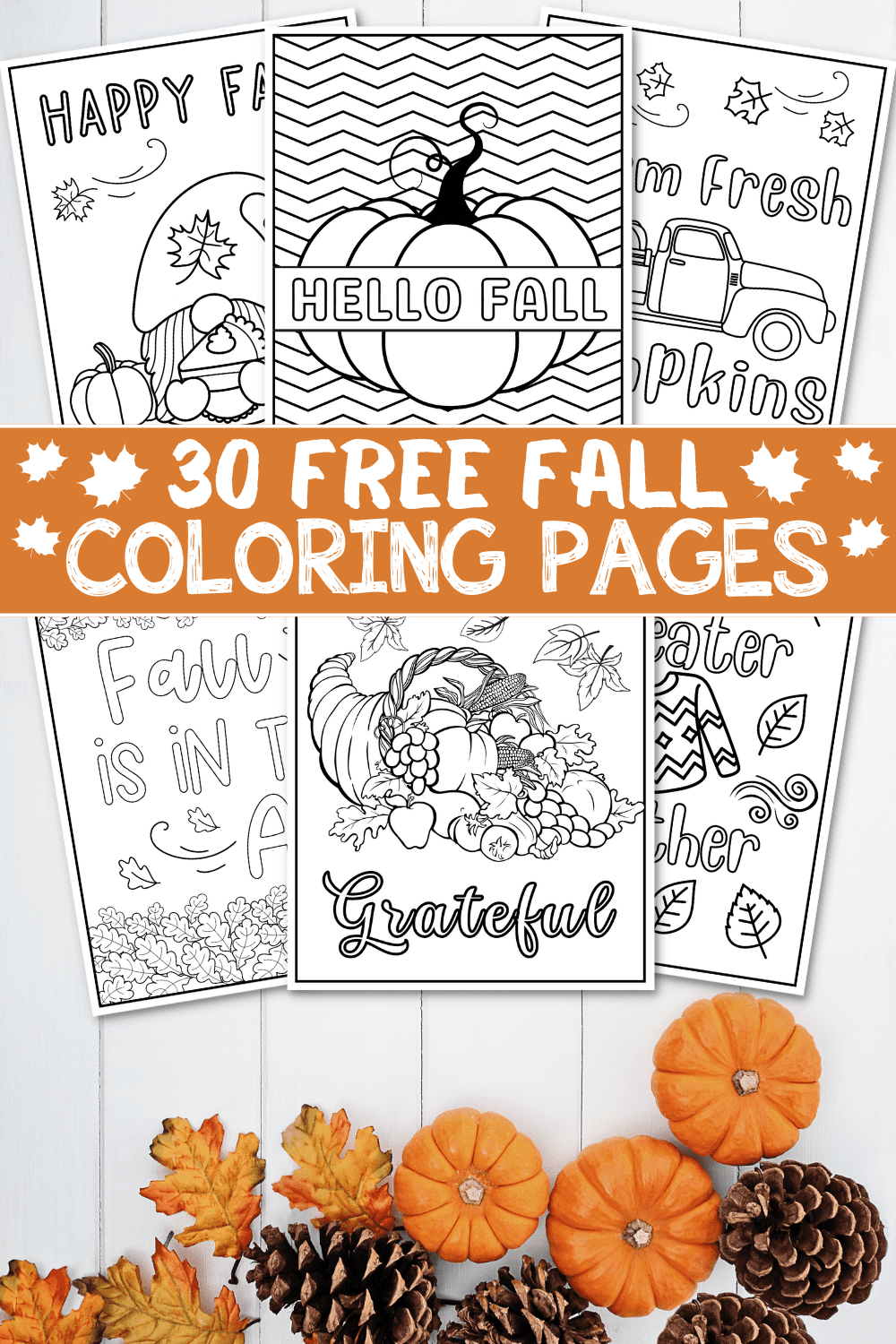 30 Free Printable Fall Coloring Sheets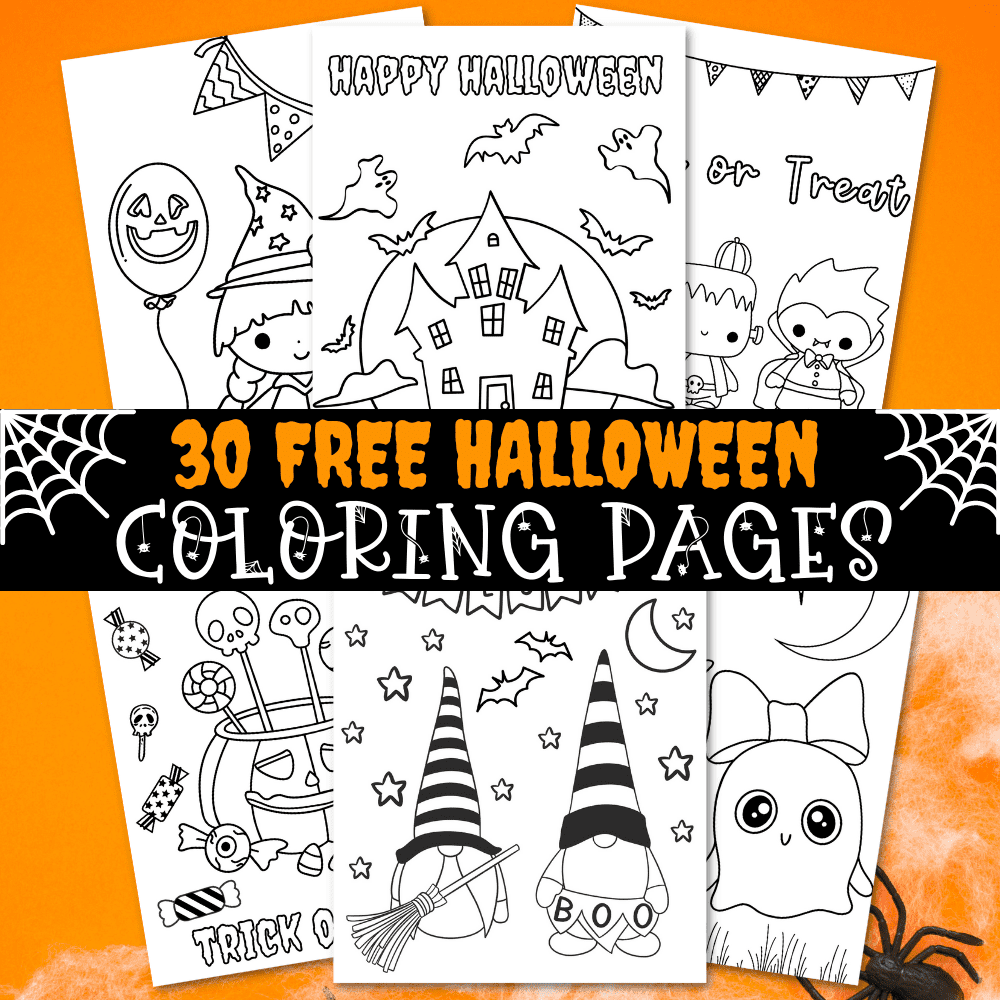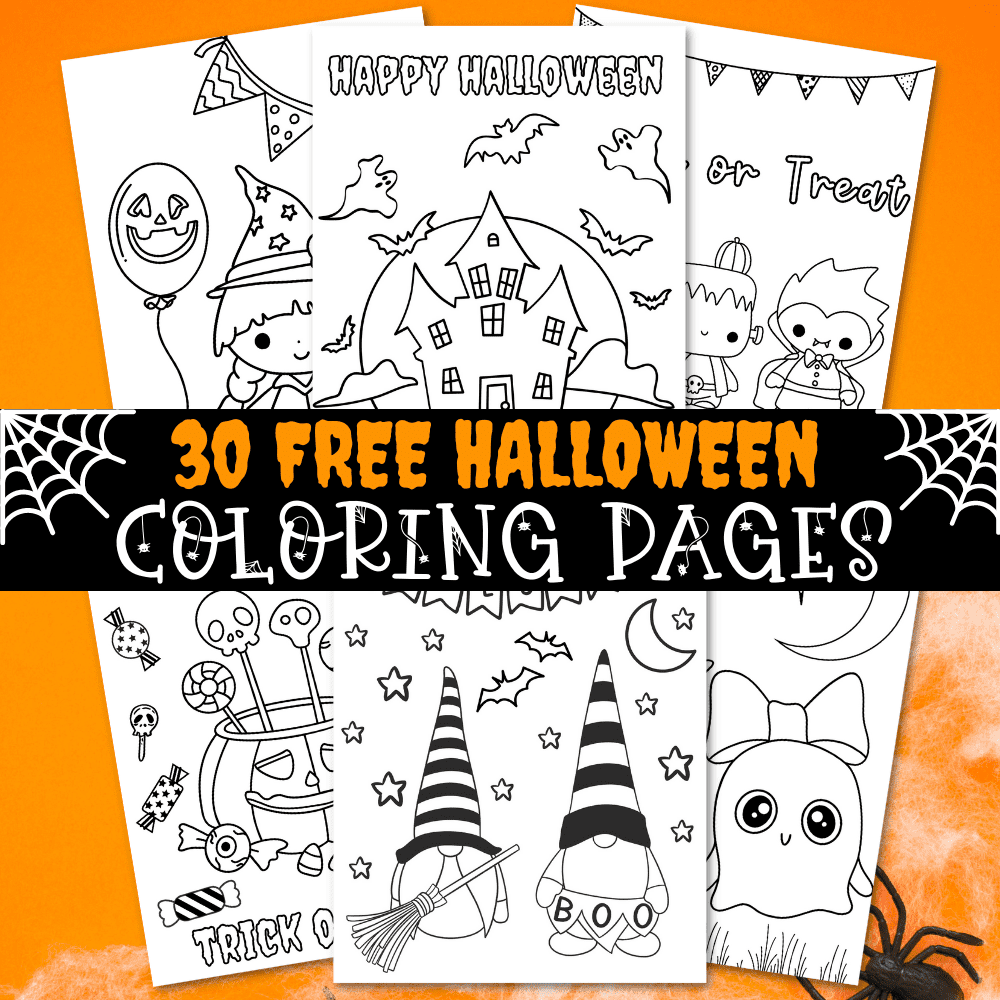 30 Free Halloween Pages