Looking for a fun and free Christmas activity for kids and adults? Grab this free Christmas word search printable. There are three different difficulty levels of puzzles to choose from (easy, medium, and hard)!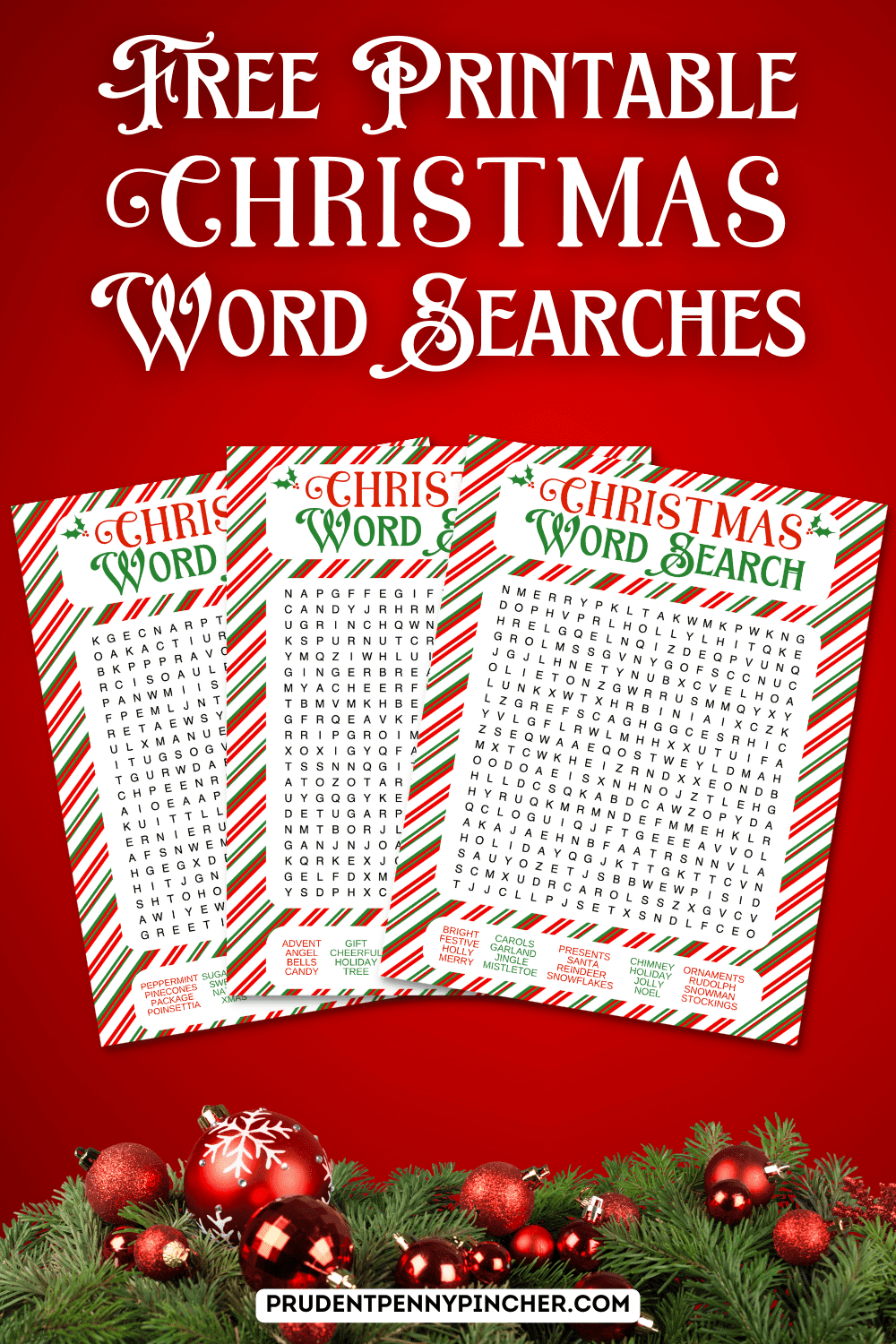 This free Christmas printable will surely be a hit with all ages. This Christmas game is a great way to get into the holiday spirit! All you need to do is print it out and enjoy searching for over 20 Christmas-themed words in each puzzle. Whether you are using it for a Christmas party, school event, educational activity for classroom use, or just at home as a fun activity for the holiday season, everyone will have a jolly-good time finding all the words in this festive Christmas word search!
For hours of endless holiday fun, pair the word search with this fun Christmas bingo printable, free holiday coloring pages, or these easy Christmas crafts for all ages!
What's Included
There are three different word search templates available to download. Each Christmas puzzle includes a list of words used at the bottom of the worksheet. There is also a corresponding answer key with all the words found for each puzzle. They are available in two formats: PNG and PDF format. Please note that these free printables are for personal use only and NOT commercial use.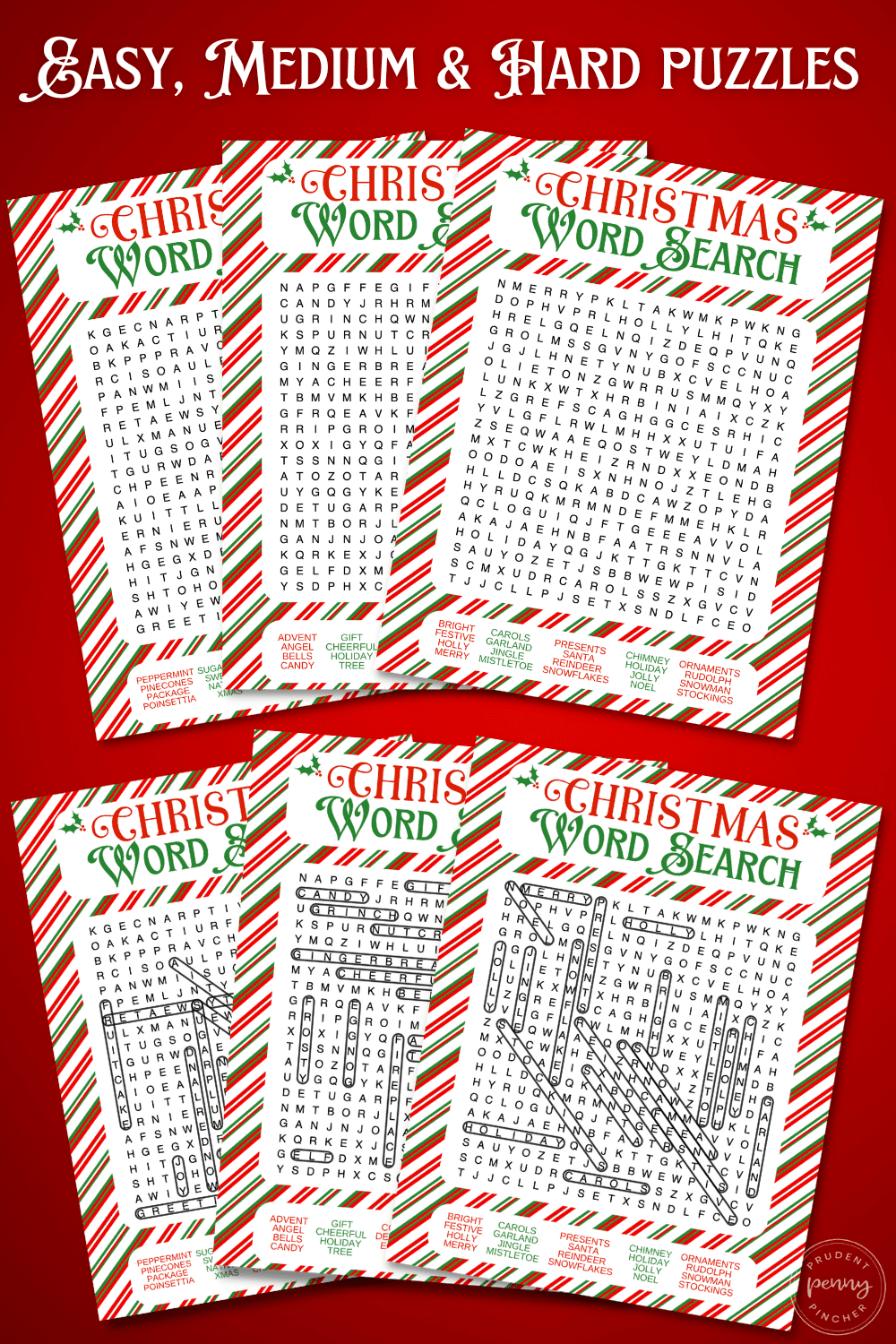 Christmas Word Search Supplies Needed
cardstock (at least 65 lb) or printer paper. Cardstock will offer the best quality, so I highly recommend it.
a writing utensil such as a pencil, pen, marker, highlighter, or even a crayon
free files (the differences between the versions are explained below)
How to Download and View the Word Search Printable
Download the files by clicking the links above.
Click the download button on the right side of the screen for the PNGs in Google Drive. For the PDFs, click the download button in the toolbar at the bottom center of the page. The button is on the far right side of the toolbar.
Save the files to the folder you want.
Open the file in your photo viewer for PNG. Open the PDF file with Adobe Acrobat or another PDF reader software.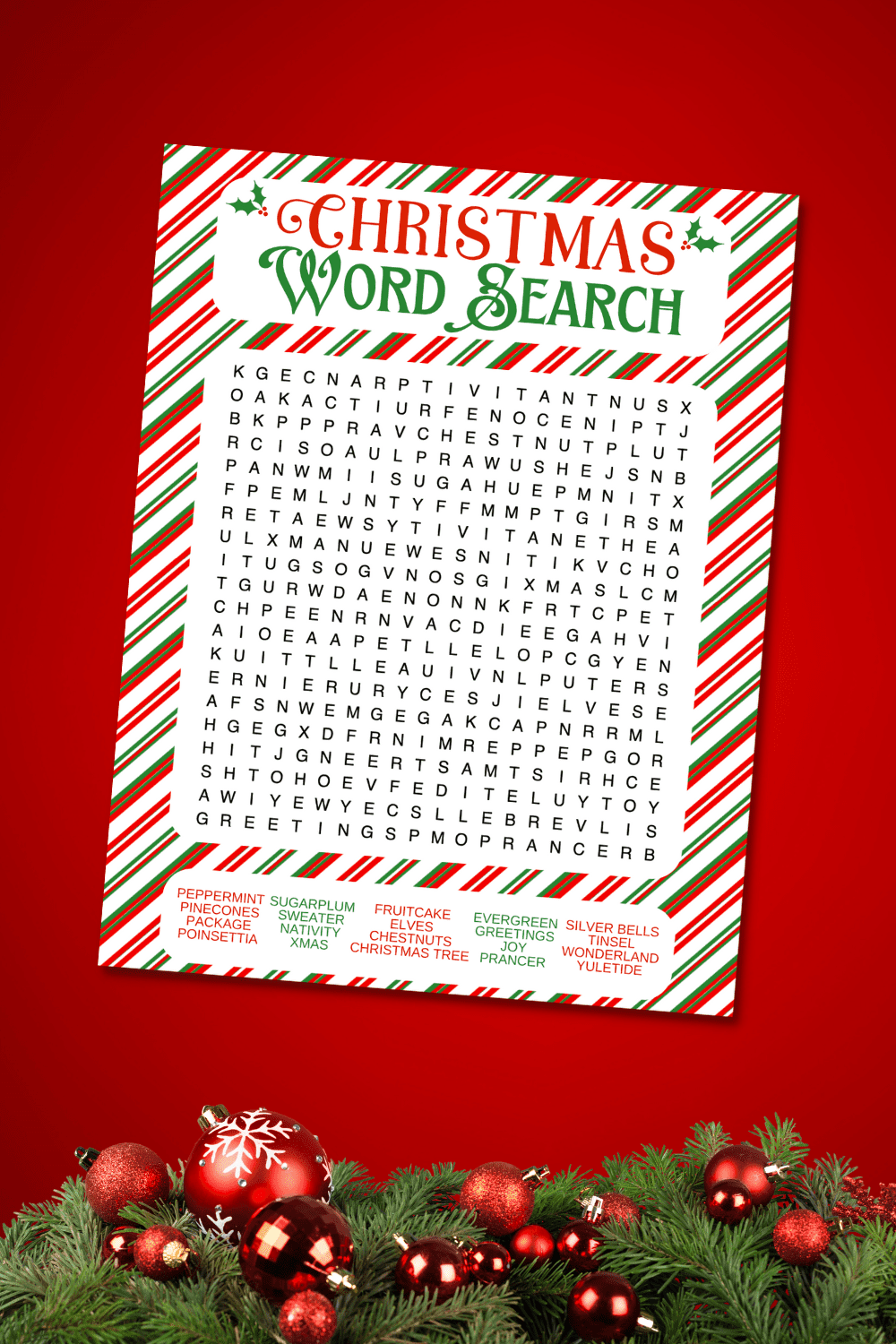 How to Print
Load the cardstock or printer paper into your printer's paper tray. If you are using cardstock:

Find the Paper Settings option. The location will vary depending on your OS (either under Properties (PC) or Presets (iOS)). This will allow you to select various media types that your printer can handle.
Go to Paper Type –> Card Stock.

Go to File –> Print. Open your printer settings or printing preferences. The printing settings will vary based on your printer, but ensure the print quality is set to the "Best" setting before printing.
In the print dialogue box, be sure to select "Fit" from the printer settings.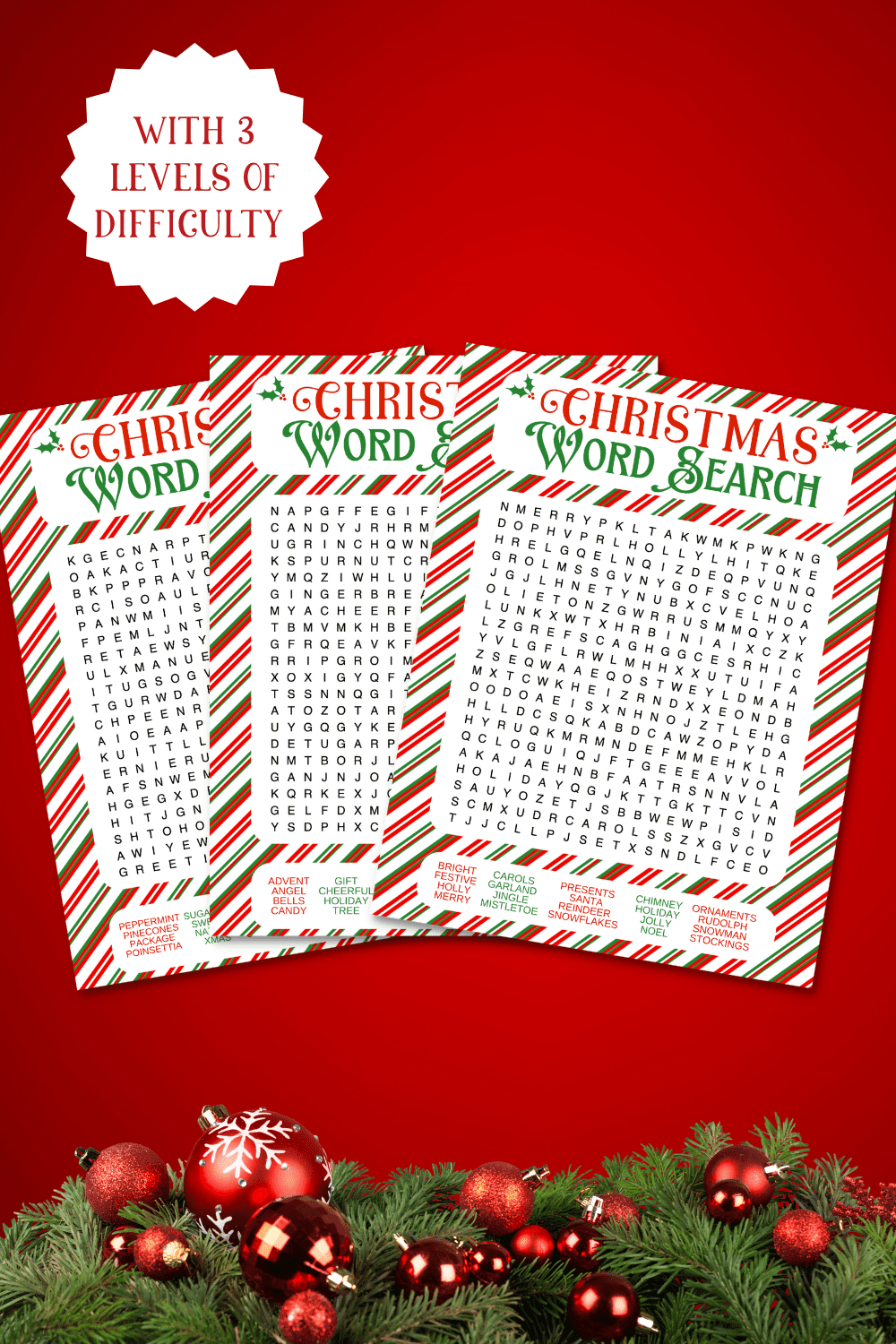 Instructions for How to Play this Christmas Word Search
What is a word search? It is a game in which players attempt to find all of the words hidden in a square grid of letters. It is commonly referred to as word find or seek as well.
The rules for playing a word search game are very simple to understand! The goal is to locate all the hidden words in the grid. The words included in the puzzle are located at the bottom of the sheet. The words are spelled in one of several possible directions depending on difficulty level(horizontally, vertically, or diagonally), and in some cases, they can be forward or backward too. For example, you could have horizontal words that are spelled backward or diagonal words spelled forward. In the hard word search, the words can even overlap with each other! Once you find one of the words, simply circle or highlight them until you find them all. If you can't find a particular word, you can refer to the answer key provided.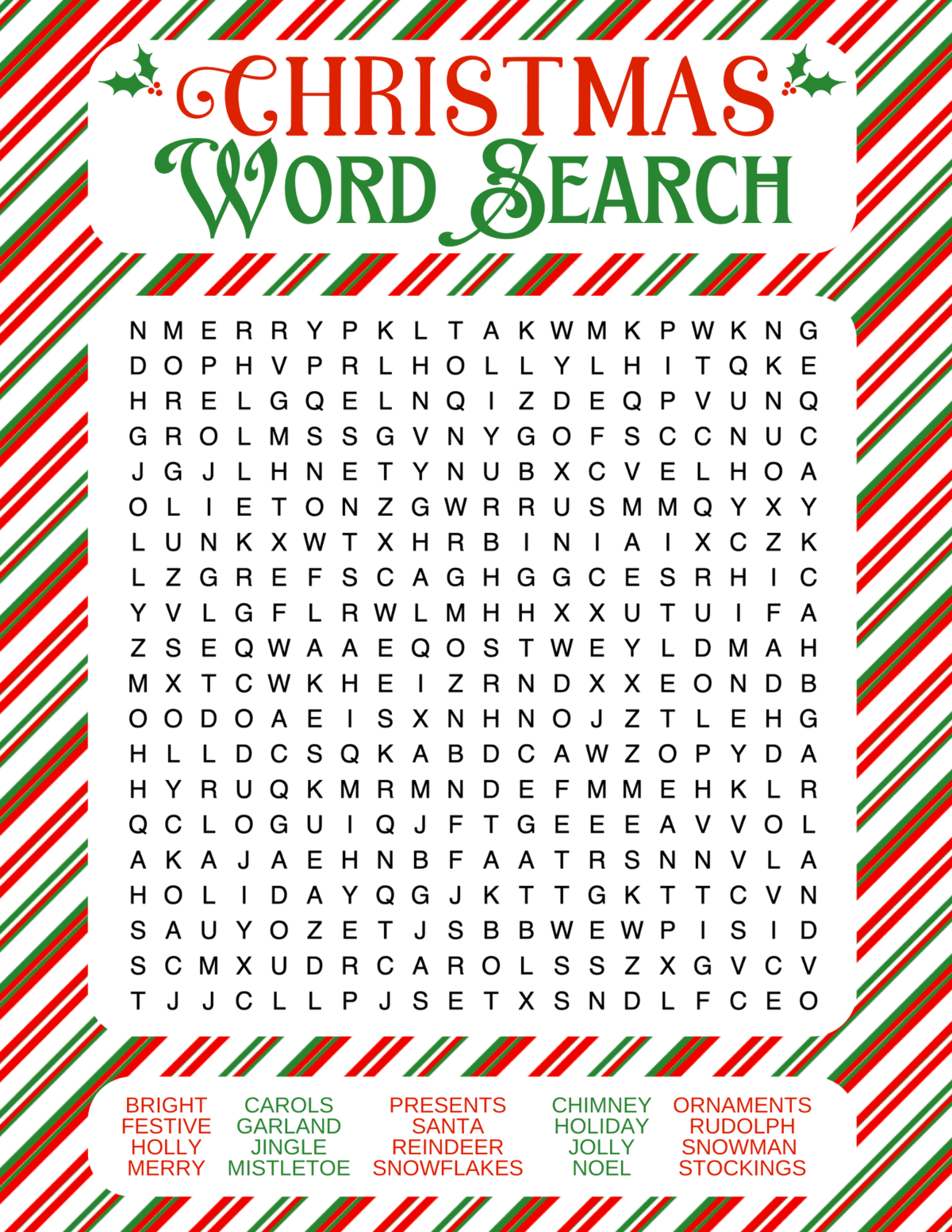 Difficulty Levels
There are three different difficulty levels (easy, medium, and hard) available to download. Below are the details and rules for each difficulty level to help you find the puzzle most appropriate for you or your kids.
Easy Christmas Word Search:
This version places words left-to-right or top-down. The remainder of the puzzle is filled with any letters of the alphabet. No words are allowed to overlap. This one is a great activity for younger kids. It will also help them learn Christmas vocabulary words.
Medium Difficulty Puzzle:
This one places words left-to-right, top-down, or the two diagonals from left to right. The remainder of the puzzle is filled with any letters of the alphabet. No words are overlapping for this one, either. This puzzle would be a good choice for older kids and teens.
Hard Word Search:
It places words in any of the eight possible directions (four compass directions and four diagonals). The remainder of the puzzle is filled with letters of the alphabet that are from your words (making it harder to find the words). Some words overlap with each other. It also sprinkles in occasional short pieces of words from your word list, creating decoy partial ones to throw you off the track as you look for the real words. This puzzle is great for adults who are looking for a challenge!
Quick Tips for Success
Focus on one word at a time.
Scan each row.
Use your finger to help guide your search.
Start by searching for the first three letters and prefixes.
For tricky words, focus on the less-common pair of letters, especially suffixes.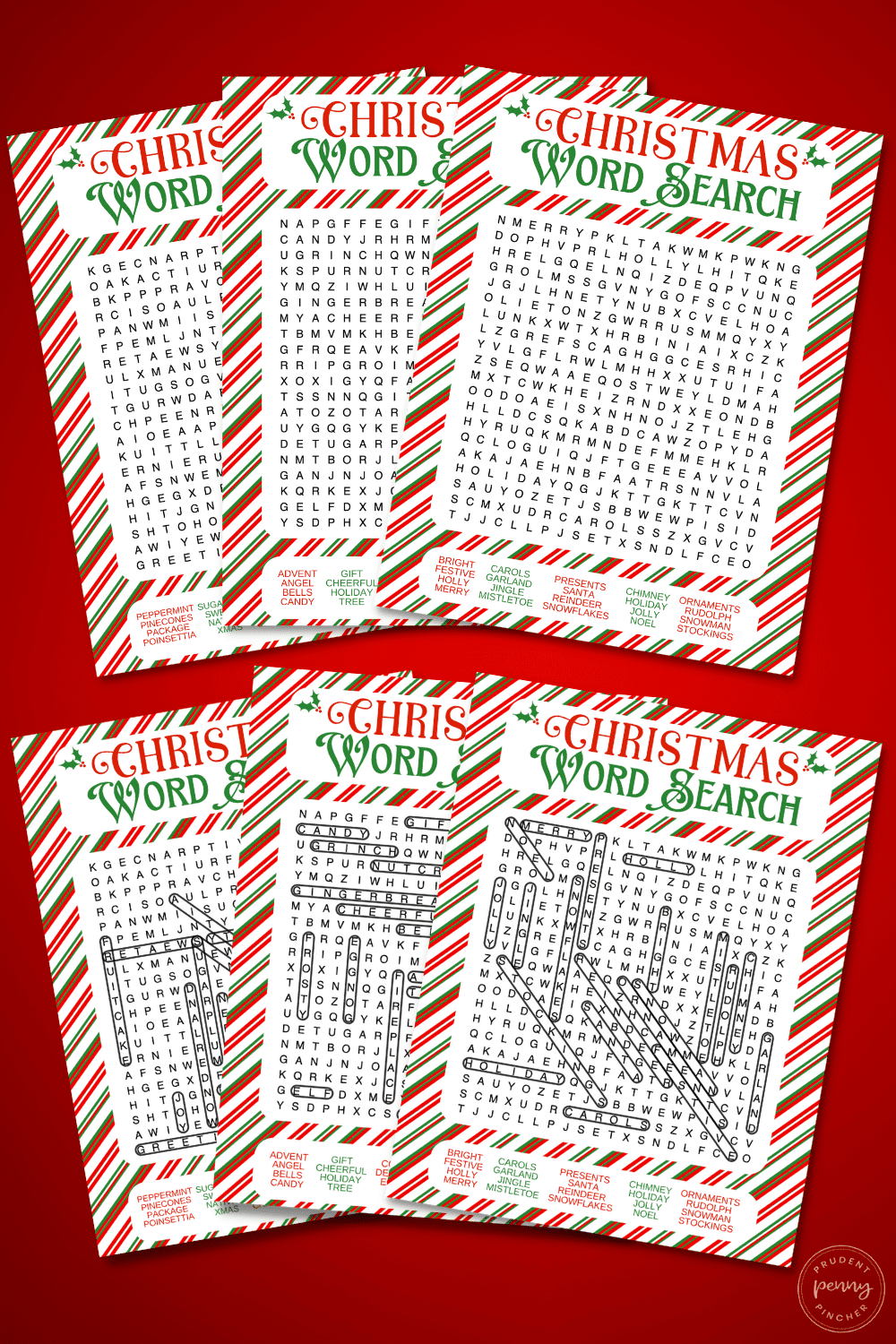 Christmas Word Lists
There are a total of 20 festive holiday word ideas located in each free printable Christmas word search puzzle! They aren't at any particular difficulty level — only the puzzle itself is.
Easy Difficulty Puzzle Word List:
Advent
Angel
Bells
Candy
Gift
Cheerful
Holiday
Tree
Cookies
December
Eggnog
Elf
Fireplace
Frosty
Gingerbread
Tidings
Grinch
Icicle
North Pole
Nutcracker
Medium Difficulty Words:
Chimney
Reindeer
Holly
Ornaments
Mistletoe
Rudolph
Carols
Santa
Merry
Holiday
Presents
Jingle
Bright
Jolly
Festive
Stockings
Snowflakes
Snowman
Noel
Garland
Hard Difficulty Word List:
Peppermint
Pinecones
Package
Poinsettia
Sugarplum
Sweater
Nativity
Xmas
Fruitcake
Elves
Chestnuts
Christmas tree
Evergreen
Greetings
Joy
Prancer
Silver bells
Tinsel
Wonderland
Yuletide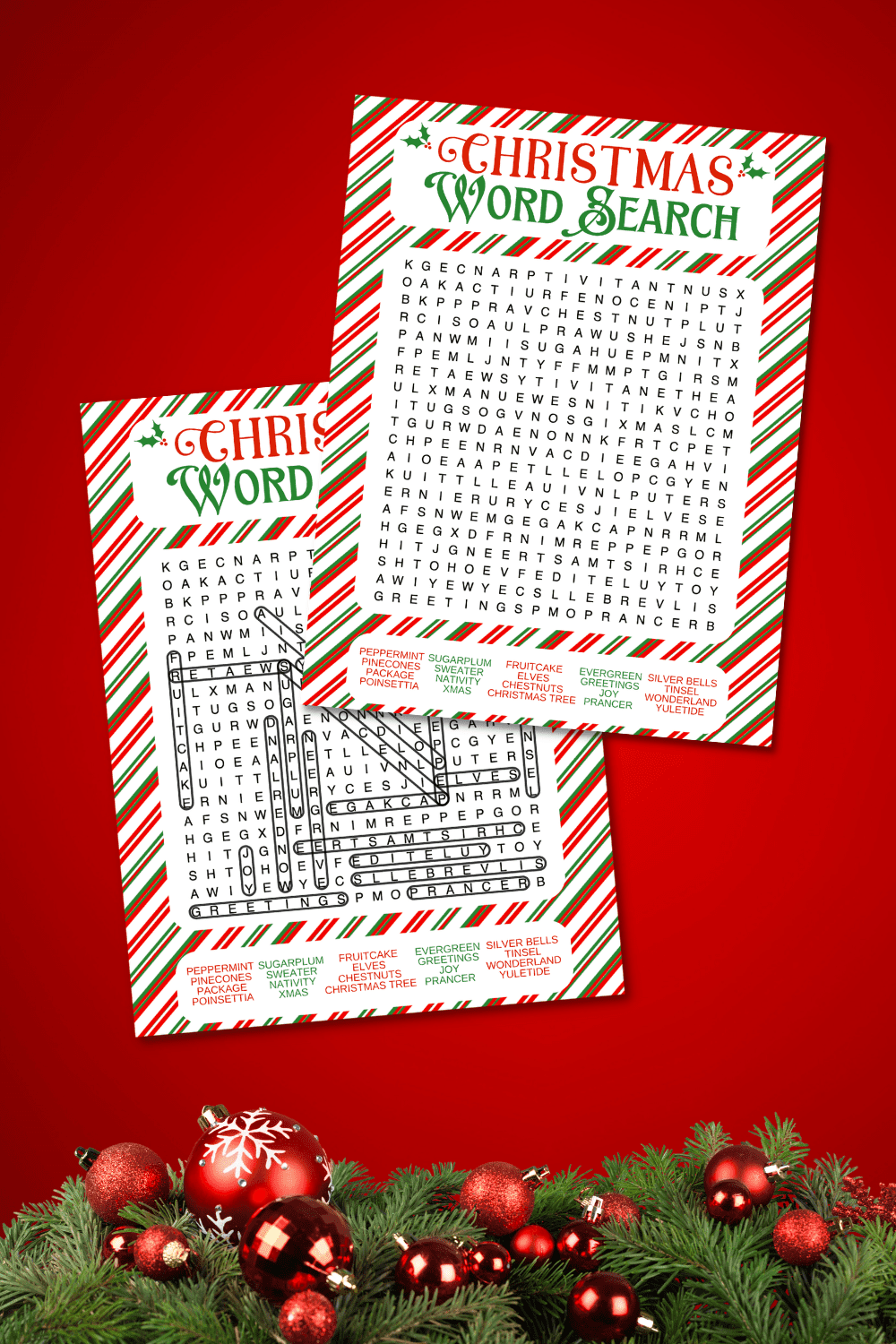 More Christmas Printables
More Holiday Word Search Puzzles