Keep the kids entertained on Independence Day with this Free Printable 4th of July Word Search with an answer sheet!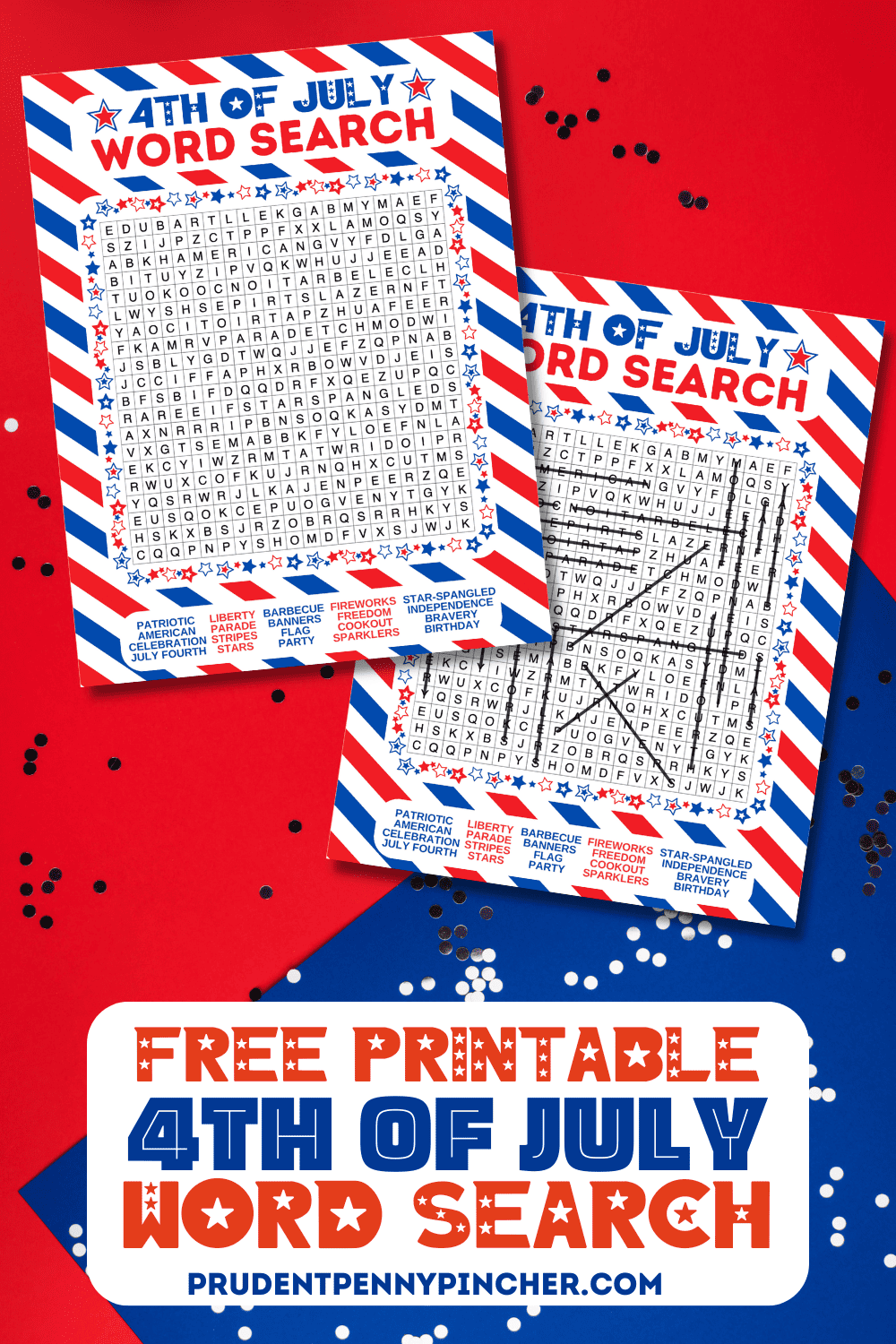 This patriotic puzzle is a perfect activity to celebrate America and keep your little ones entertained while simultaneously teaching them about the country's history and holiday traditions. The word search features 20 Independence Day themed words. It is a medium difficulty puzzle that is designed to suit kids of all ages, with easy-to-read print and a colorful, eye-catching design.
This free printable is easy to download and print. As long as it's for personal use, you may print out as many copies as you'd like, so it's perfect for Fourth of July parties, celebrations, summer camp, and classrooms. You can turn the word search into a friendly competition for groups.
This Fourth of July word search is not only a ton of fun for kiddos, but it is also a great educational tool. The hidden words serve as conversation starters to educate kids about the history and significance of the holiday. It will help your child improve their spelling and vocabulary and enhance their problem-solving skills, memory retention, and word recognition.
Pair this free printable 4th of July word search with these 4th of July crafts and kids' coloring pages for hours of entertainment!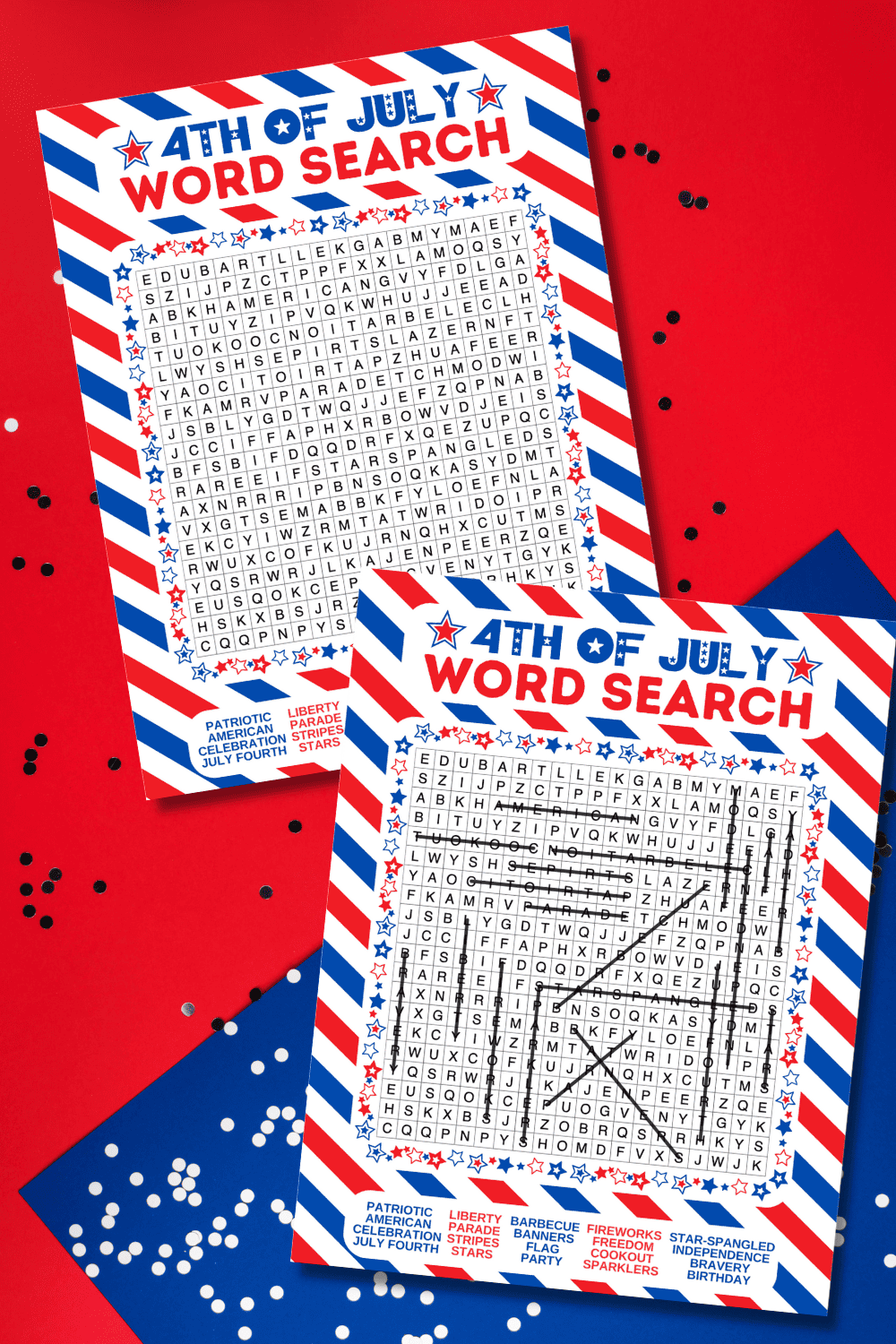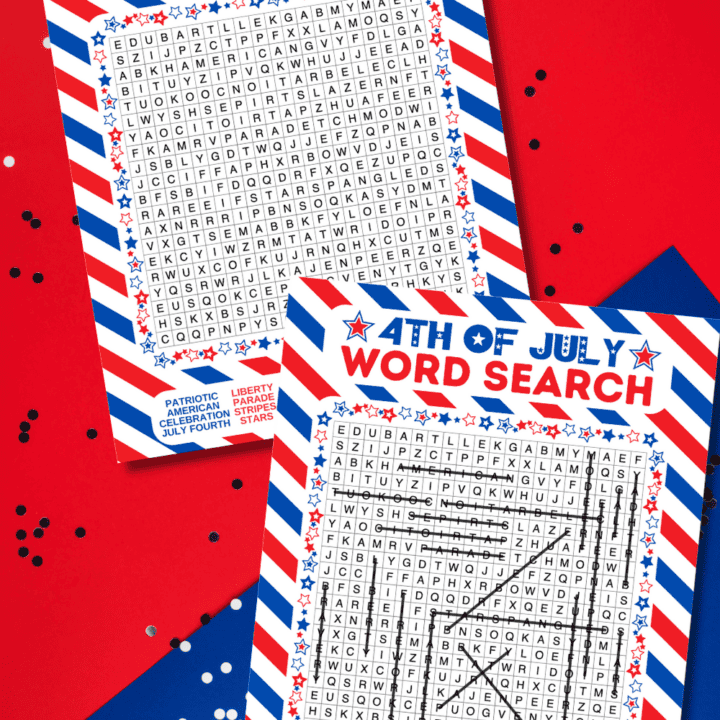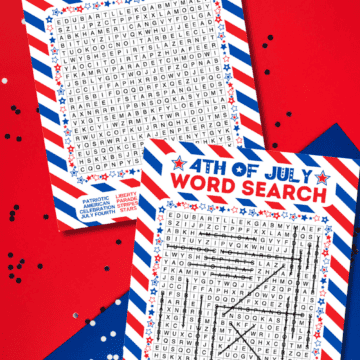 How to Download and Print This 4th of July Word Search
a tutorial for how to download and print this Earth Day word search puzzle
Equipment
writing utensil

such as a pencils, pens, markers, highlighters, or crayons

printer
Instructions
How to Download
Download the word search by clicking the download button in the toolbar below. It will automatically save to your browser's default downloads folder.

Open the file in Adobe Acrobat or another PDF viewing software.
How to Print
Load the cardstock or printer paper into your printer's paper tray.

Find the Paper Settings option. Select Paper Type –> Card Stock.

Go to File –> Print. Open your printer settings or printing preferences. The printing settings will vary based on your printer, but ensure the print quality is set to the "Best" setting before printing.

In the print dialogue box, be sure to select "Fit" from the paper size settings.
4th of July Word List
There are twenty patriotic terms included in this printable puzzle.
Patriotic
American
Star-spangled
Party
Bravery
Birthday
Fireworks
Freedom
Celebration
Cookout
Barbecue
Banners
Flag
Independence
July Fourth
Liberty
Parade
Stars
Stripes
Sparklers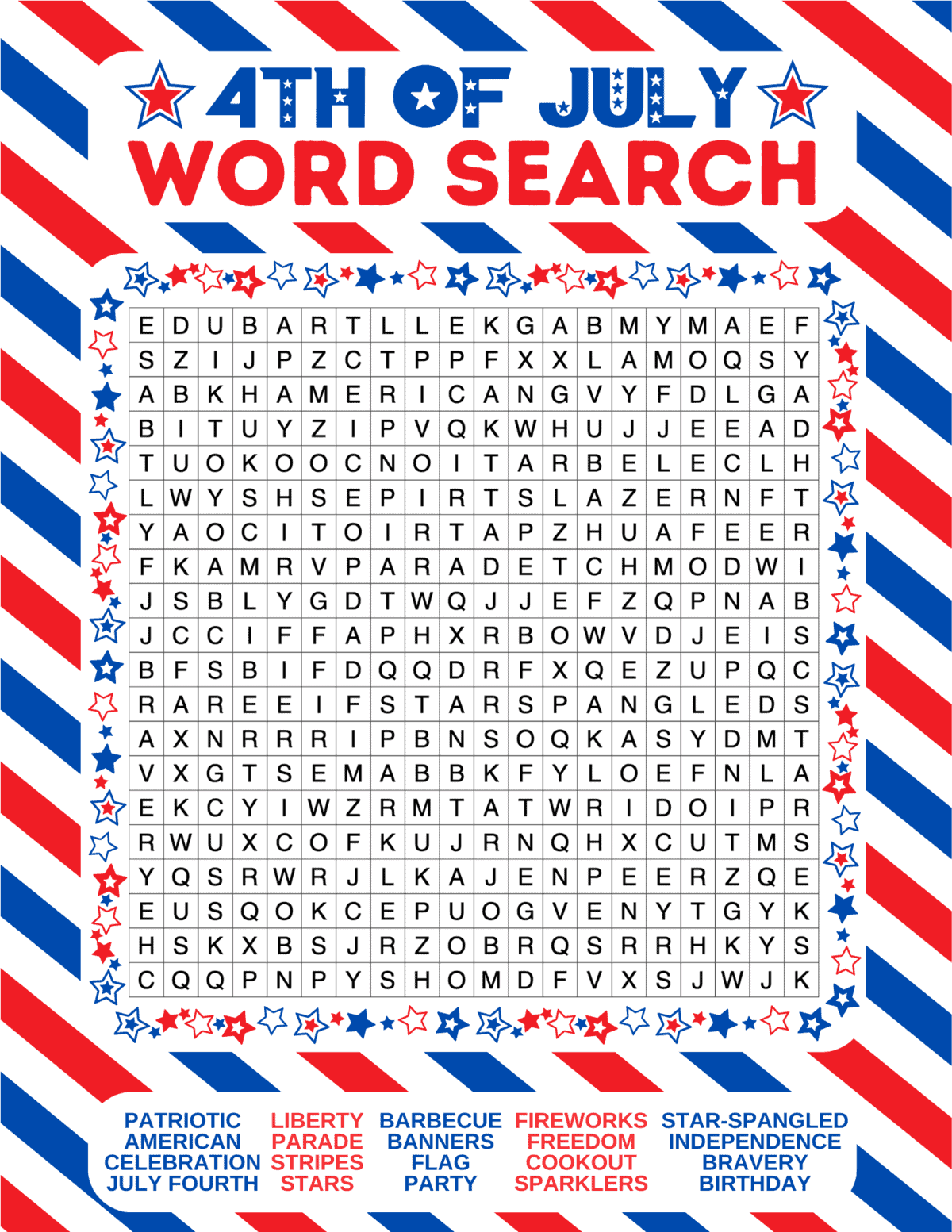 How to Play This 4th of July Word Search Puzzle
These word search printables aim to find all the hidden words in the grid. The words included in the puzzle are provided in a word bank at the bottom of the sheet. This printable puzzle places words left-to-right, top-down, or the two diagonals from left to right. The remainder of the puzzle is filled with random letters in the alphabet. No words overlap to make it an easy activity for kids. Once you find one of the words, circle or highlight them until you find them all. You may refer to the answer key provided if you can't find a word.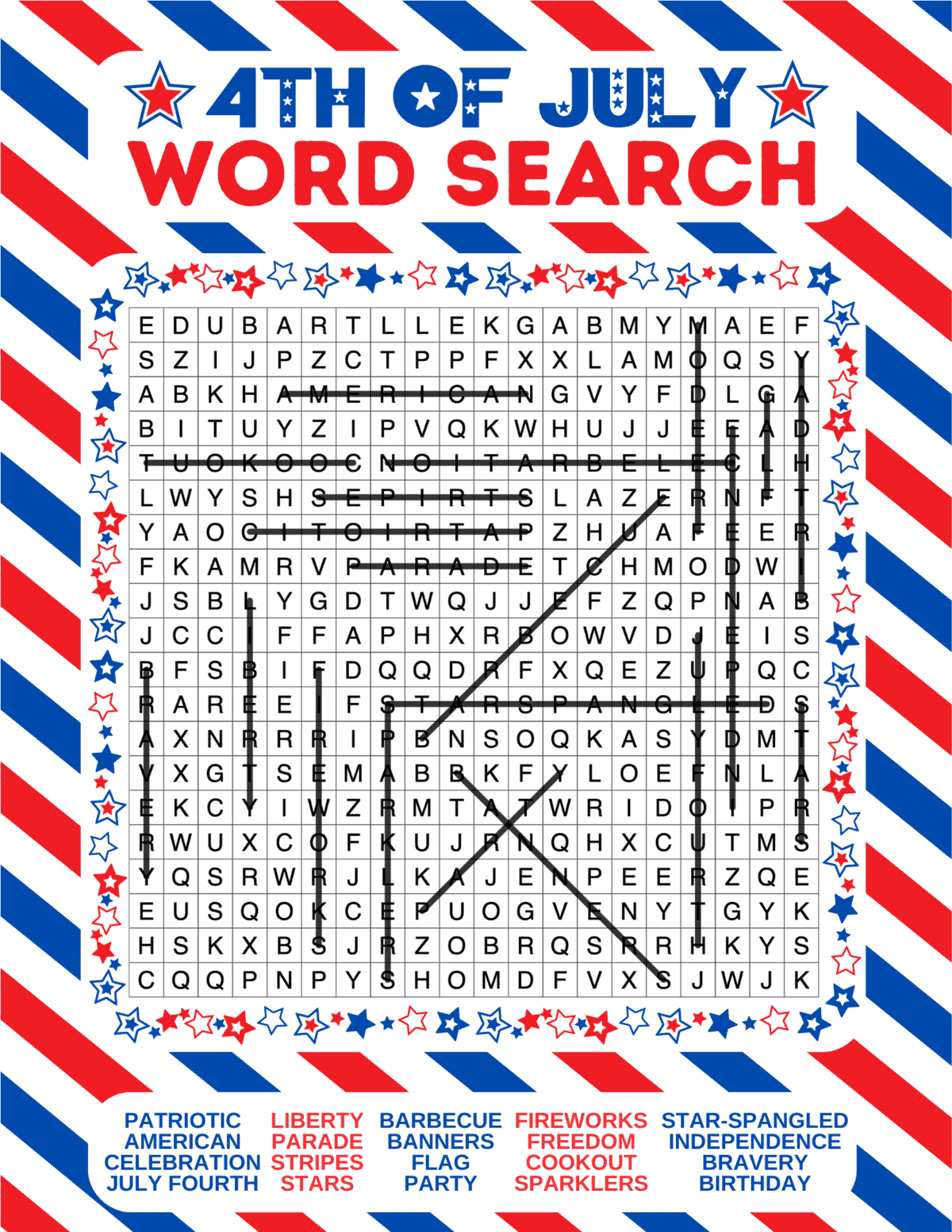 How to Make the Game Competitive

Creating a competitive atmosphere around a word search activity can be a fun way to engage and motivate a group of kids. Here are a few ways to do that:
Timed Challenges: Set a timer and see who can find the most words within a certain time limit. It could be 5 minutes or however long you think is appropriate for the group's age and skill level. The one who finds the most words when the timer runs out is the winner.
First to Finish: The most straightforward way to make a word search competitive is by seeing who can finish first. The winner is the first to find all the words and correctly circle them.
Relay Race: Divide the group into teams. The first member of each team starts the word search, and after finding one word, they pass it on to the next team member, who then finds the next word. This continues until a team finishes the entire word search. The first team to complete the word search wins.
To make things even more fun, try offering prizes for the winner! Here are some prize ideas that you can find at the dollar store:
Patriotic Stickers
Red, White, and Blue Accessories such as sunglasses, hats, headbands, necklaces, etc.
American Flag Puzzles
Coloring Books
Patriotic Plush Toys
Red, White, and Blue Glow Stick Wands
Craft Kits
Red, White, and Blue Candy
Patriotic Pencils, Pencils, or Notepads
Happy 4th, and happy searching!
More Seasonal and Holiday Word Searches
More 4th of July Fun