Looking for a fun and free Halloween activity? Grab this free Halloween word search printable!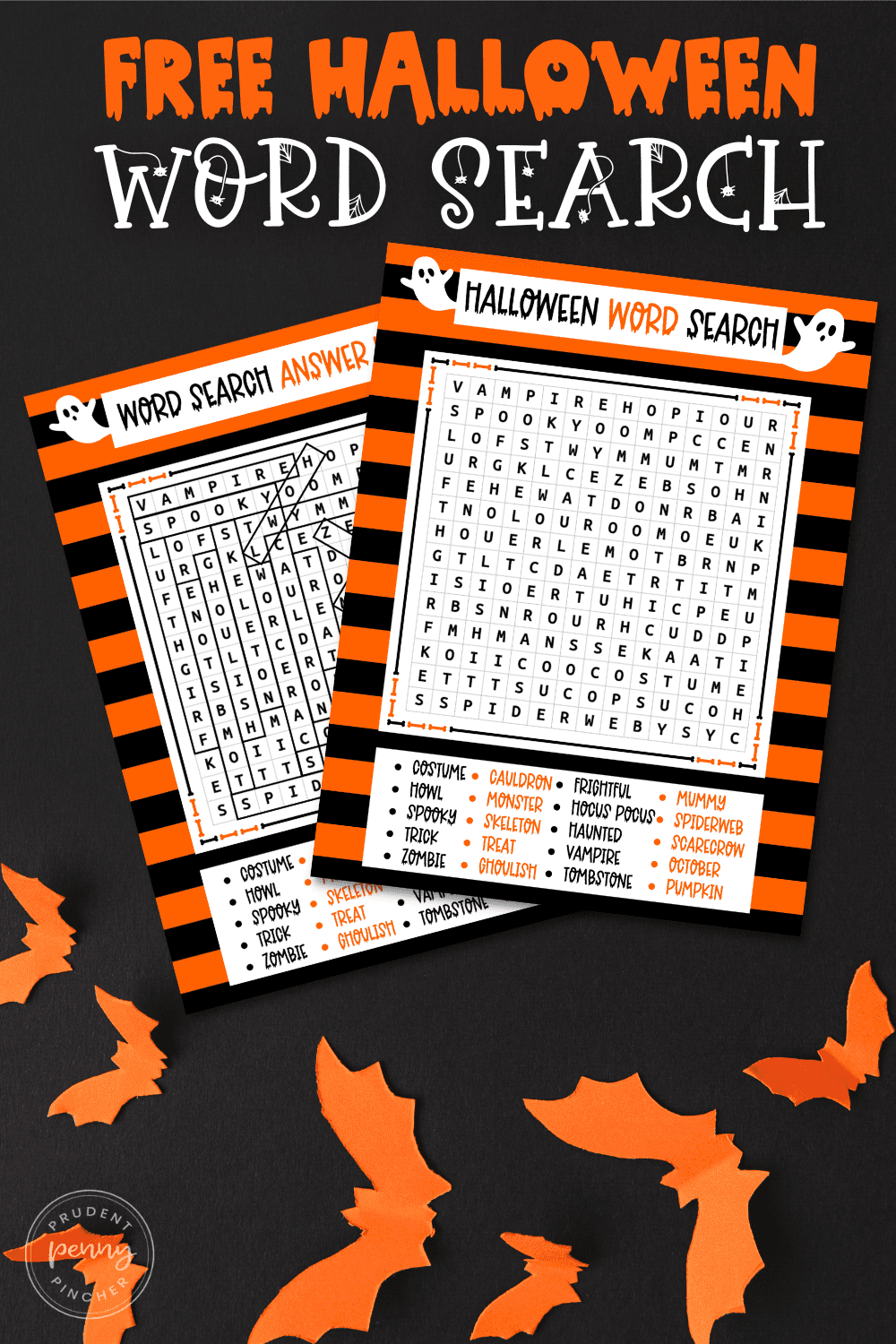 This free printable will surely be a hit for all ages, especially kids. It is a great way to get into the spooky spirit! All you need to do is print it out and enjoy searching for over 20 fun words. Whether you are using it for a Halloween party, school event, educational activity for classroom use, or just at home as a fun activity for the Halloween season, everyone will have a spooktacular time finding all the words in this spooky Halloween word search!
For extra Halloween fun, pair it with this fun Halloween bingo printable!
What's Included
one word search printable, which includes a list of words used at the bottom of the worksheet
one answer key with all the words found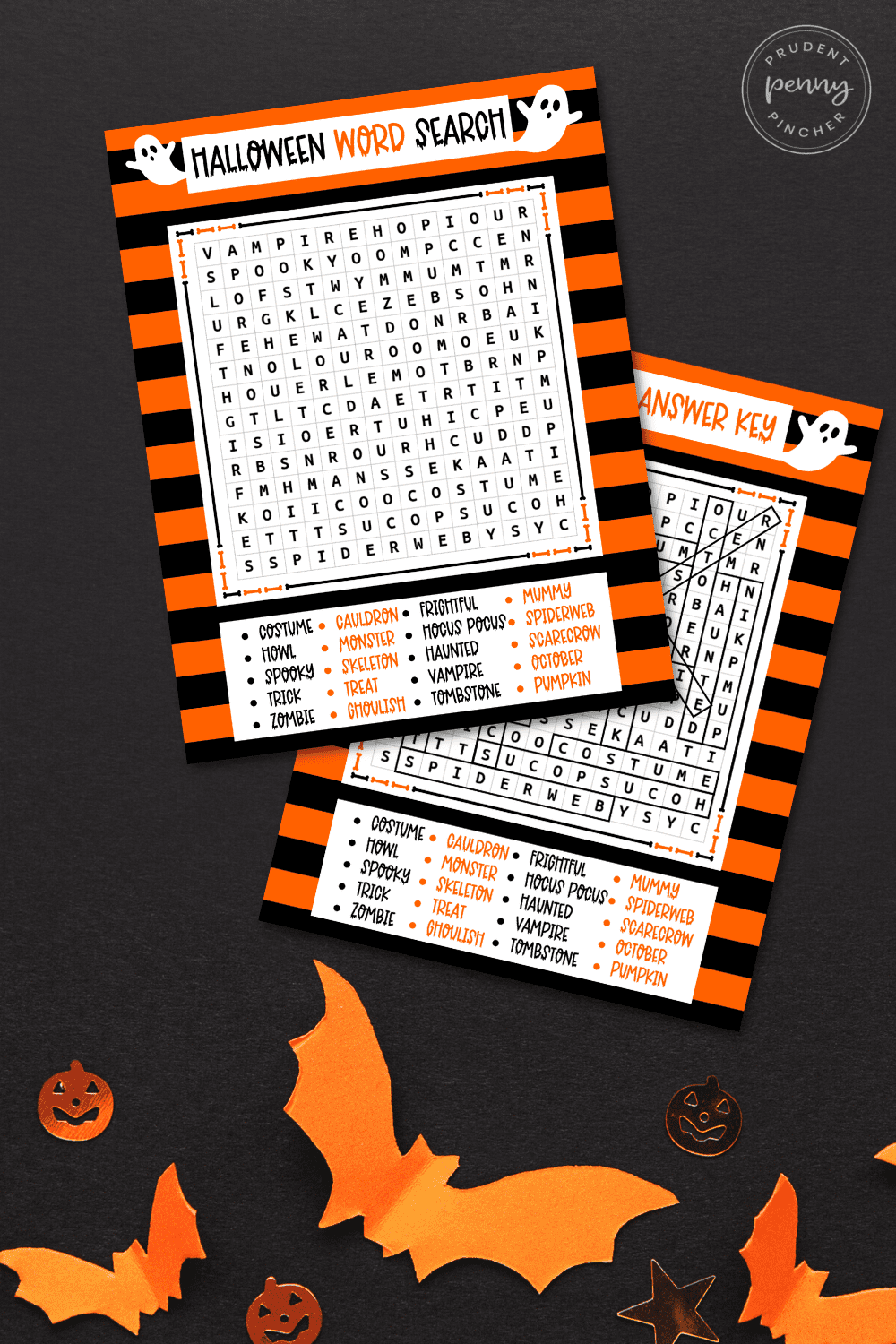 Halloween Word Search Supplies Needed
two sheets of cardstock (at least 65 lb) or printer paper. I highly recommend using cardstock for these printables to ensure the best quality.
a writing utensil such as a pencil, pen, marker, highlighter or crayon
Difficulty Level
This free printable puzzle is a medium/intermediate difficulty level, which makes it a fun Halloween word search for middle schoolers, older kids, teens, and even adults. There are only a few diagonal and backward hidden words in this puzzle for an extra challenge for the younger kids. The words chosen are age-appropriate for children and are easy for them to understand.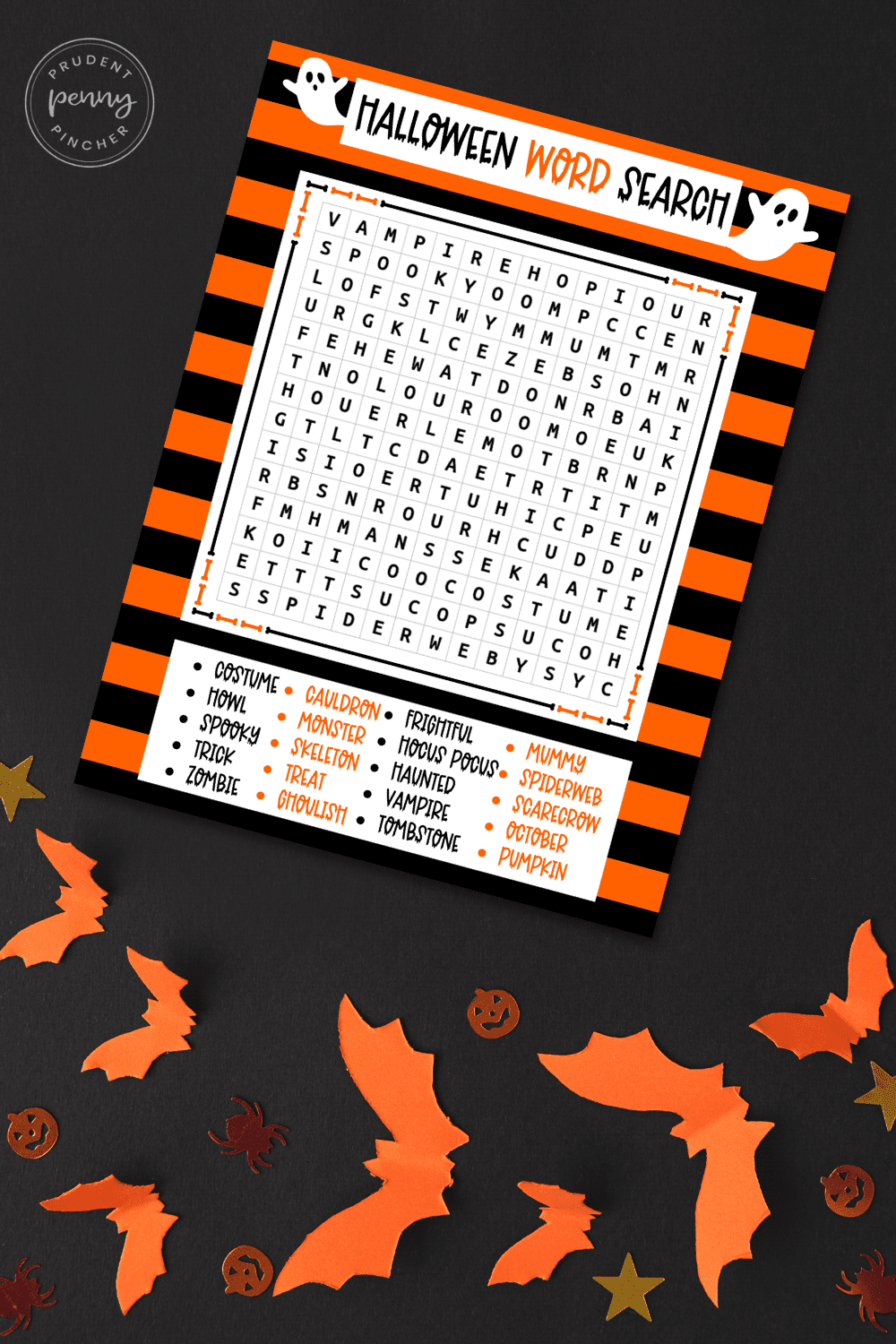 How to Download and View the Word Search Printable
Select the files you want to save
Click the download button on the right side of the screen.
Save the files to the folder you want.
Open the file in your photo viewer (for PNG). For your PDF file, open it with Adobe Acrobat or another PDF reader software.
How to Print
Load the cardstock or printer paper into your printer's paper tray. If you are using cardstock:

Find the Paper Settings option. The location will vary depending on your OS (either under Properties (PC) or Presets (iOS)). This will allow you to select various media types that your printer can handle.
Go to Paper Type –> Card Stock.

Go to File –> Print. Open your printer settings or printing preferences. The printing settings will vary based on your printer, but ensure the print quality is set to the "Best" setting before printing.
Instructions for How to Play this Halloween Word Search
What is a word search? It is a game in which players attempt to find all of the words hidden in a square grid of letters. It is commonly referred to as word find or seek as well.
The rules for playing a word search game are very simple to understand! The goal is to locate all the hidden words in the grid. The words included in the puzzle are located at the bottom of the sheet. The words are spelled in one of several possible directions (horizontally, vertically, or diagonally), and they can be forward or backward. For example, you could have horizontal words that are spelled backward or diagonal words spelled forward. Once you find one of the words, simply circle or highlight them until you find them all. If you can't find a particular word, you can refer to the answer key.
Tips for Success
Focus on one word at a time.
Start by searching for the first three letters and prefixes.
For tricky words, focus on the less-common pair of letters, especially suffixes.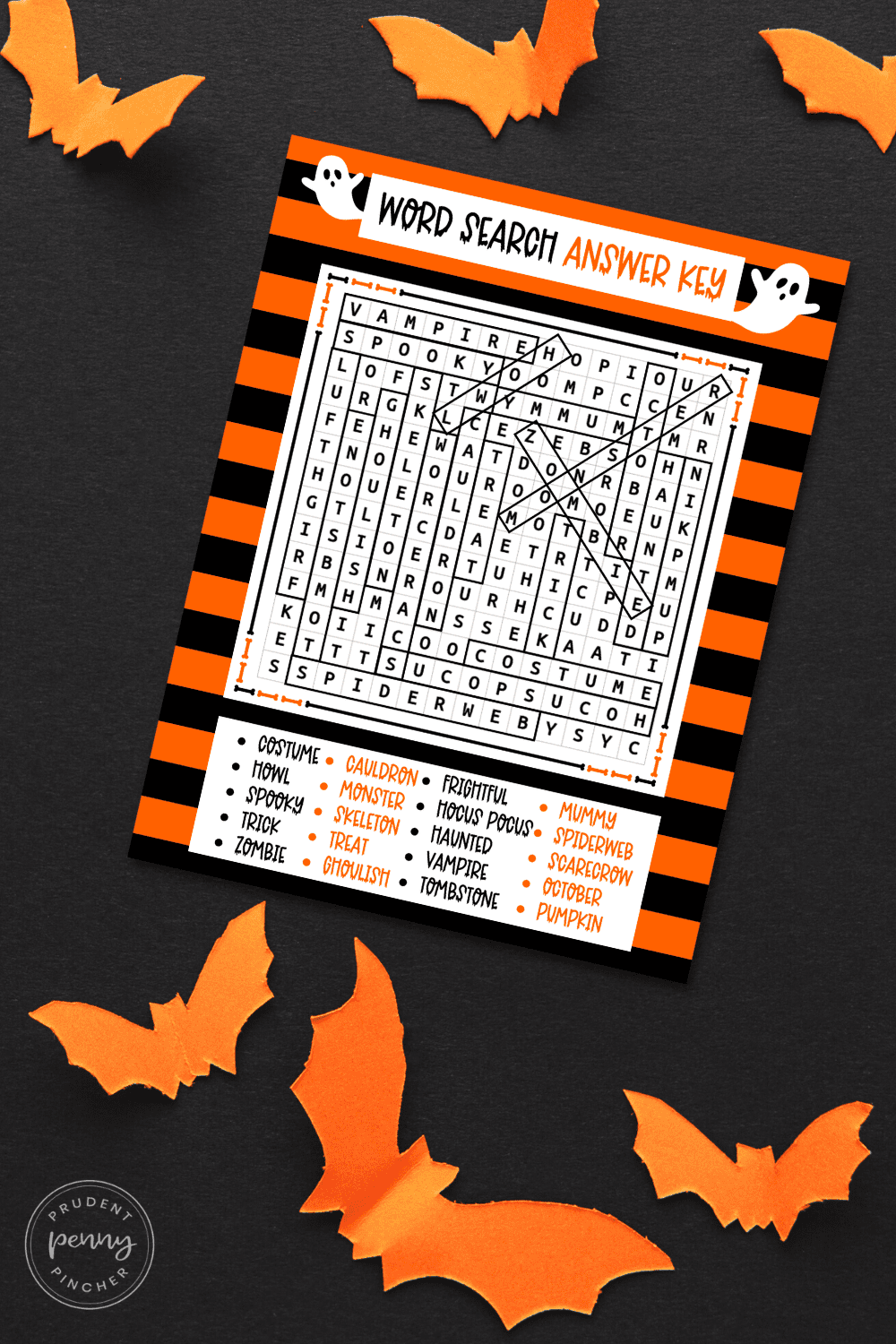 Word Lists
There are a total of 20 spooky Halloween-themed words located in this free printable Halloween word search puzzle!
costume
howl
spooky
trick
zombie
cauldron
monster
skeleton
treat
ghoulish
mummy
spiderweb
scarecrow
October
pumpkin
frightful
hocus pocus
haunted
vampire
tombstone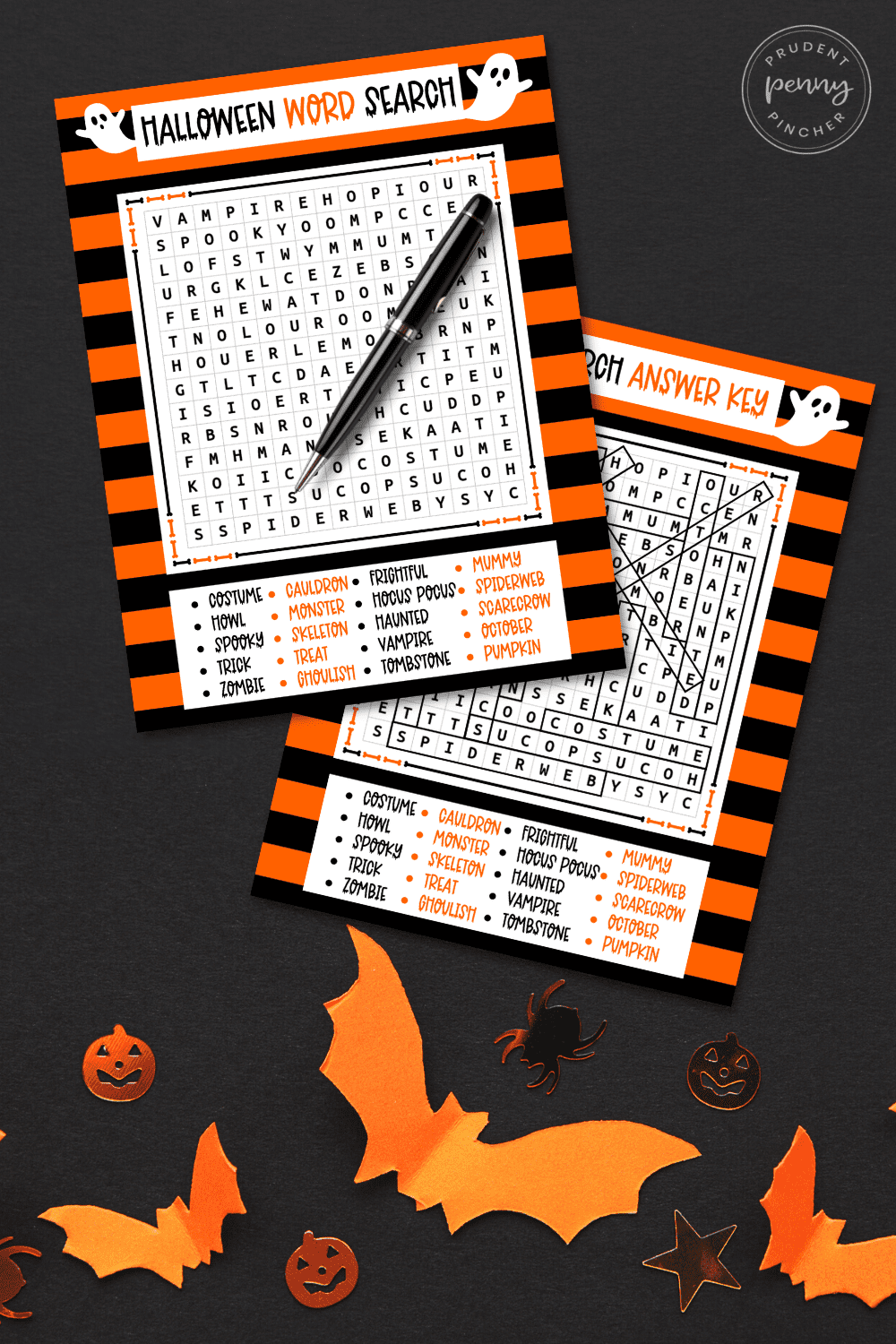 More Halloween Fun
More Holiday Word Seach Puzzles