Looking for a spooktacularly fun Halloween activity for kids of all ages? Grab this free printable Halloween word scramble game that includes an answer key.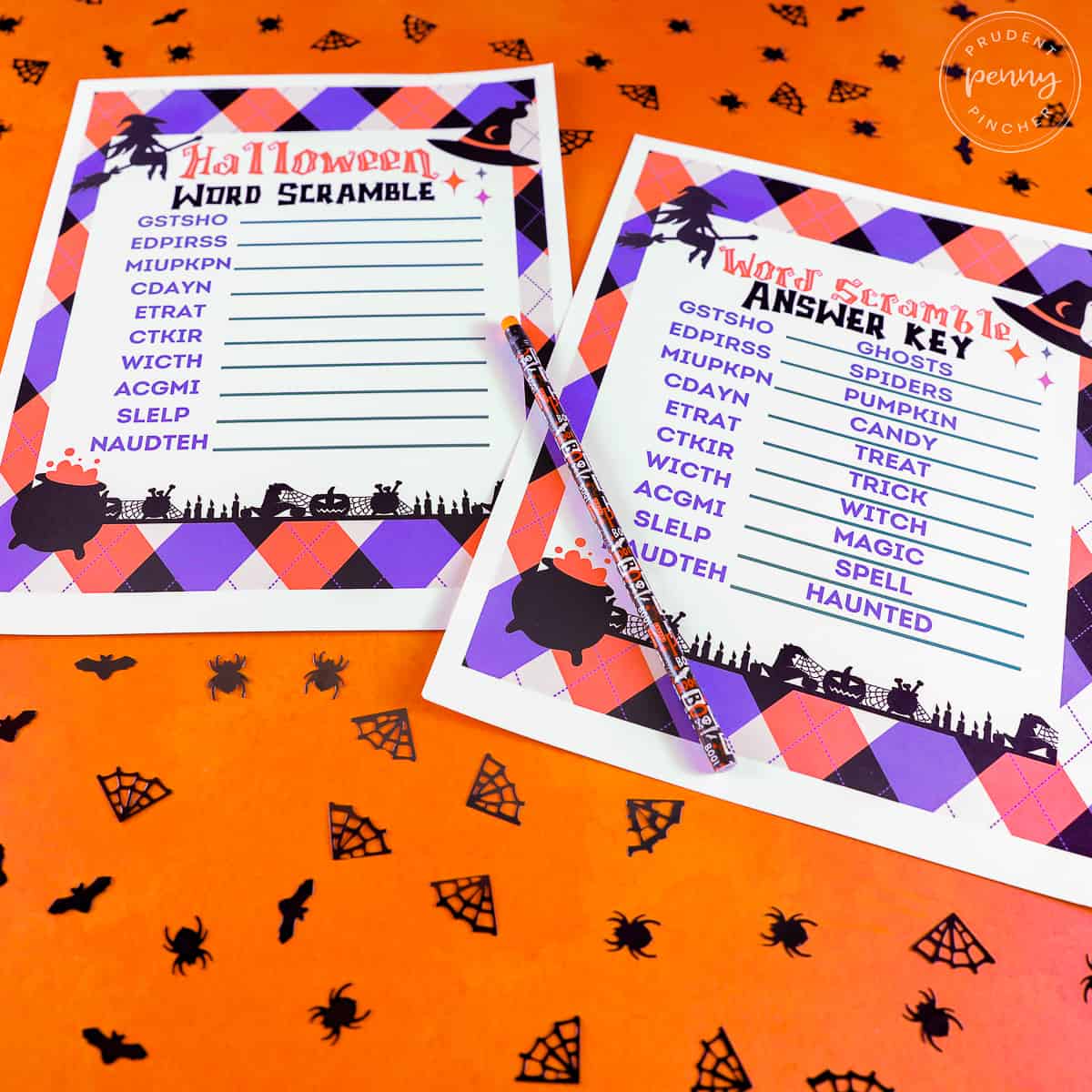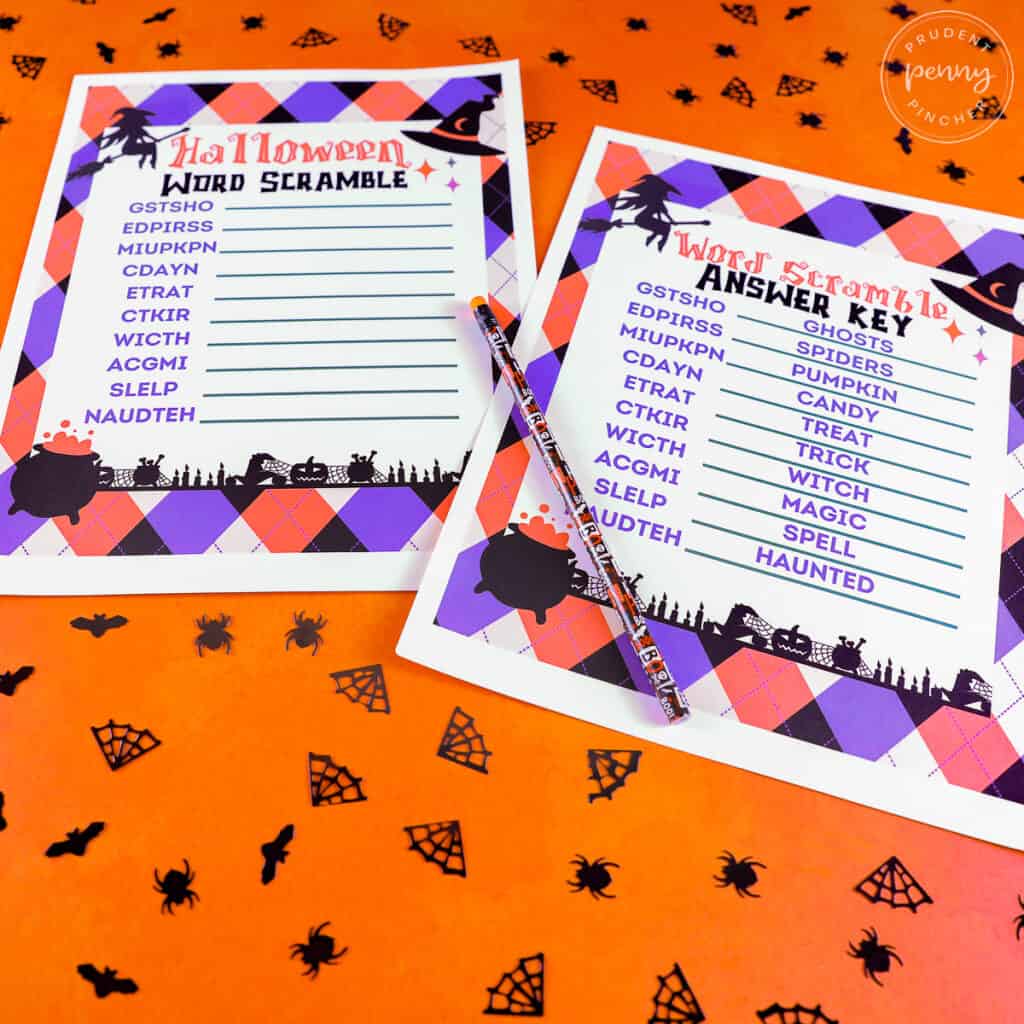 Add some spooky fun to your Halloween celebration with this free printable Halloween game. It is perfect for children of all ages. It's entertaining and educational, helping to enhance kids' problem-solving skills, vocabulary, and spelling. Whether you want to use this in the classroom, at home, or at a kids' Halloween party, it's a great activity for October! It's a medium-difficulty puzzle that is good for all ages, including elementary school-aged kids and older kids.
This Halloween printable is completely free to download and print. It is witch themed and includes a witch's hat, cauldron, and other Halloween-themed illustrations. This fun word puzzle is a surefire way to get your kids into the Halloween spirit.
Want more Halloween fun? Check out these spooktacular activities for kids: Halloween word search, Halloween coloring pages, Halloween crafts, witch coloring pages, and this free Halloween bingo printable.
Jump to: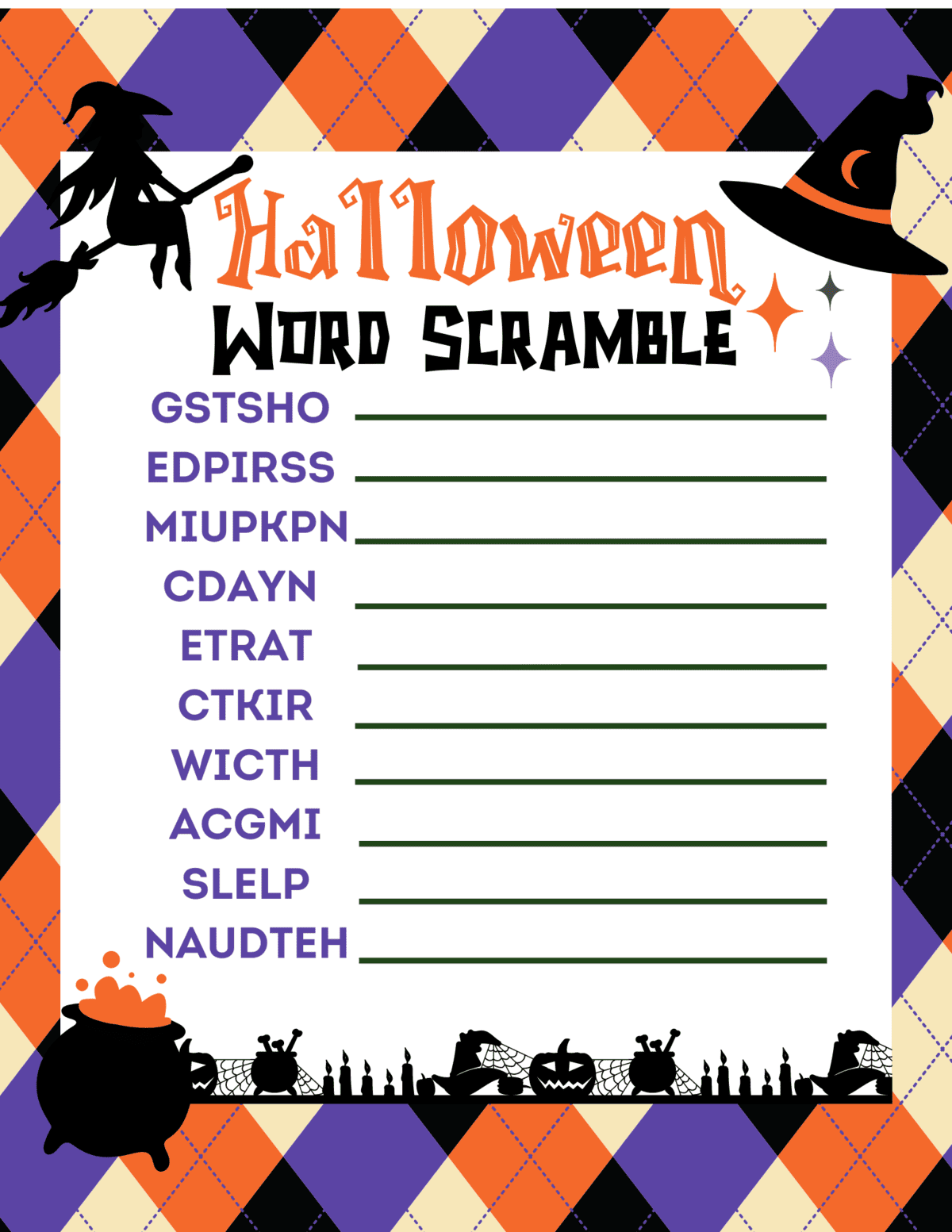 How to Play the Halloween Word Scramble Game
This game is an exciting and educational activity designed with a spooky twist. A set of letters is randomly ordered, and the goal is to unscramble the Halloween-themed words. The words can range from simple ones like "spell" and "trick" to more complex words like "pumpkin" and "haunted."
Tips and Tricks to Unscramble Words
Anagram Technique: Kids can write down the scrambled letters in a different order. Seeing the letters in a new arrangement can sometimes trigger word recognition.
Break It Down: Encourage kids to look for smaller words within the scramble of words, such as prefixes or suffixes. Finding these smaller pieces can help them figure out the entire word.
Letter Patterns: Help them understand the frequency of certain letters in words. For example, 'e' is the most common letter in English and often follows a consonant.
Look for Pairs: Certain letters frequently appear together in words (like 'th,' 'ch,' 'sh'). Looking for these types of pairs might help them.
Work in Teams and let kids solve the puzzle together instead of individually.
First and Last Letters: Research suggests that the position of the first and last letter in a word is critical for our ability to recognize it. Encourage kids to experiment with different letters at the beginning and end of the word.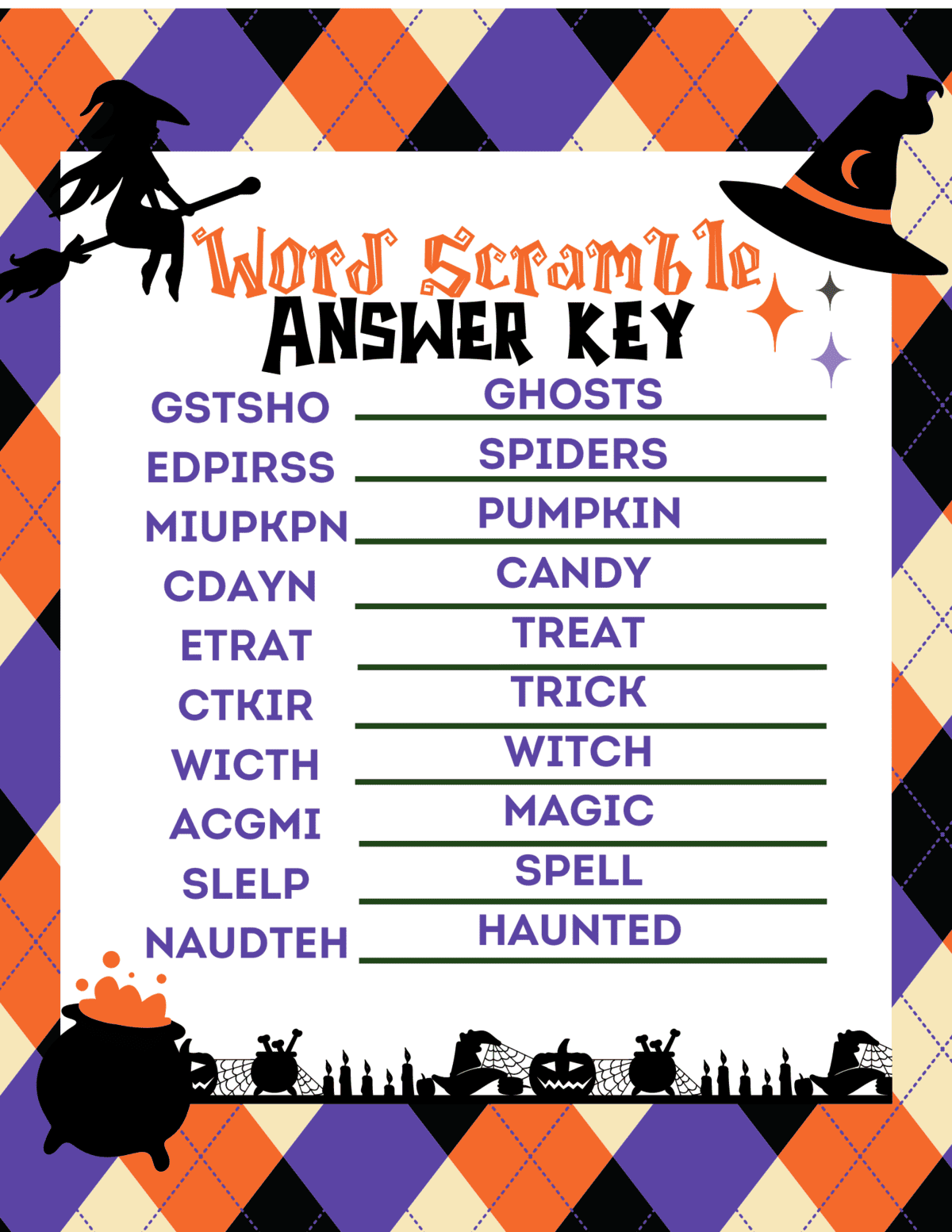 Halloween Word List
There are ten Halloween words in this list for your child to unscramble. They range from easy four-letter words to harder seven-letter words, so there is a variety for children of all ages.
ghosts
spiders
pumpkin
candy
treat
trick
witch
spell
magic
haunted
Making the Game Challenging
Adding some extra challenge to the Halloween word scramble game can make it even more enjoyable, especially if you plan to incorporate the game into a Halloween party or gathering. Here are some ideas for how to do that:
Set a timer for a specific period, for instance, 10 or 15 minutes, to make the game more challenging.
For a group: whoever unscrambles all the words first wins a prize! Prize ideas are down below.
Divide kids into groups. Each correctly unscrambled word earns the team a point. The team with the most points wins the game!
Halloween Themed Prizes
party favors
Halloween pencils or pens
stickers
plastic vampire teeth
small trick-or-treating candy bags
spider rings
mini puzzles
Halloween candy
wind up hopping toys
mini plastic pumpkins or cauldrons filled with candy
slime (for kids)
spooky stickers
Halloween book
plastic insects like snacks or spiders
pencils and mini pens
spooky stamps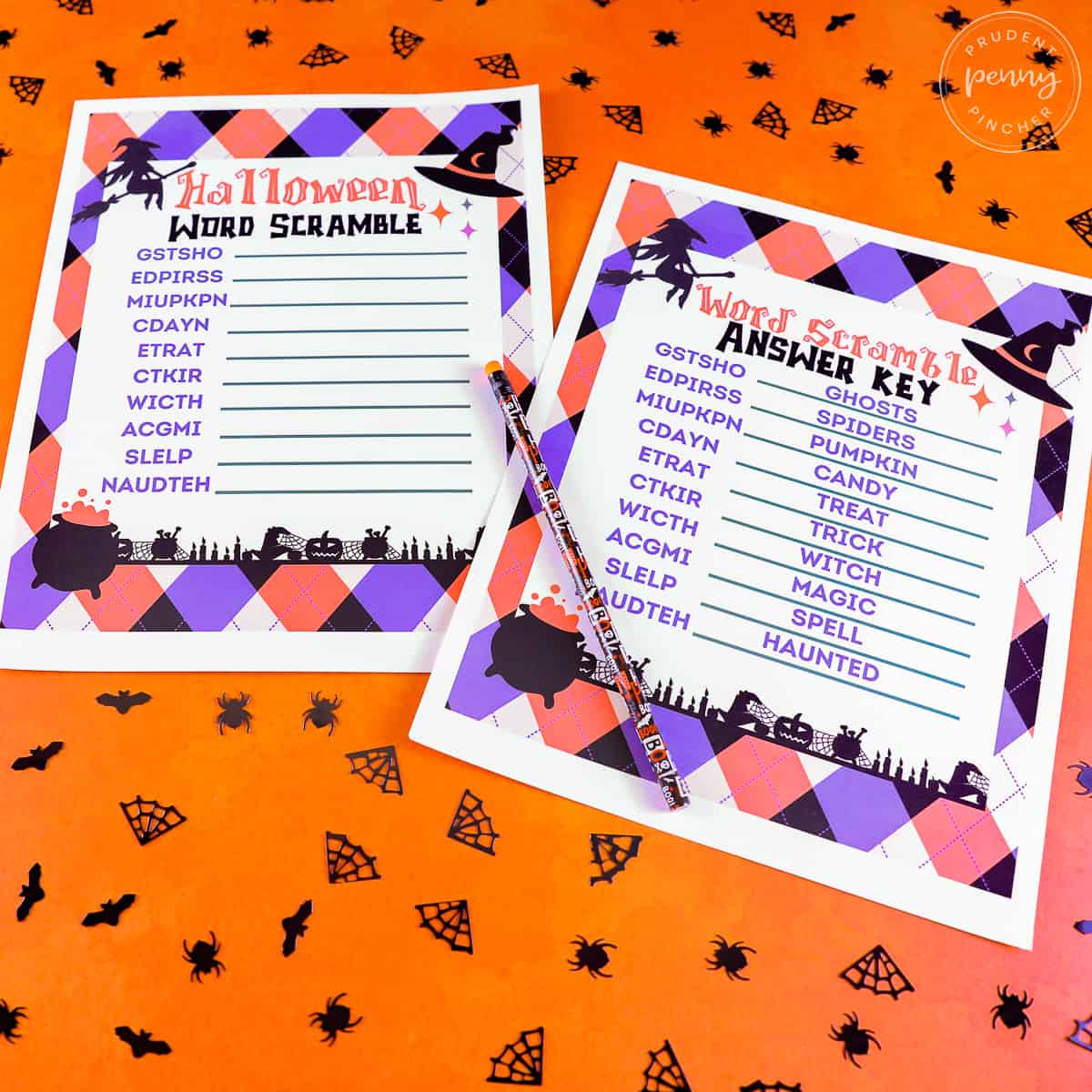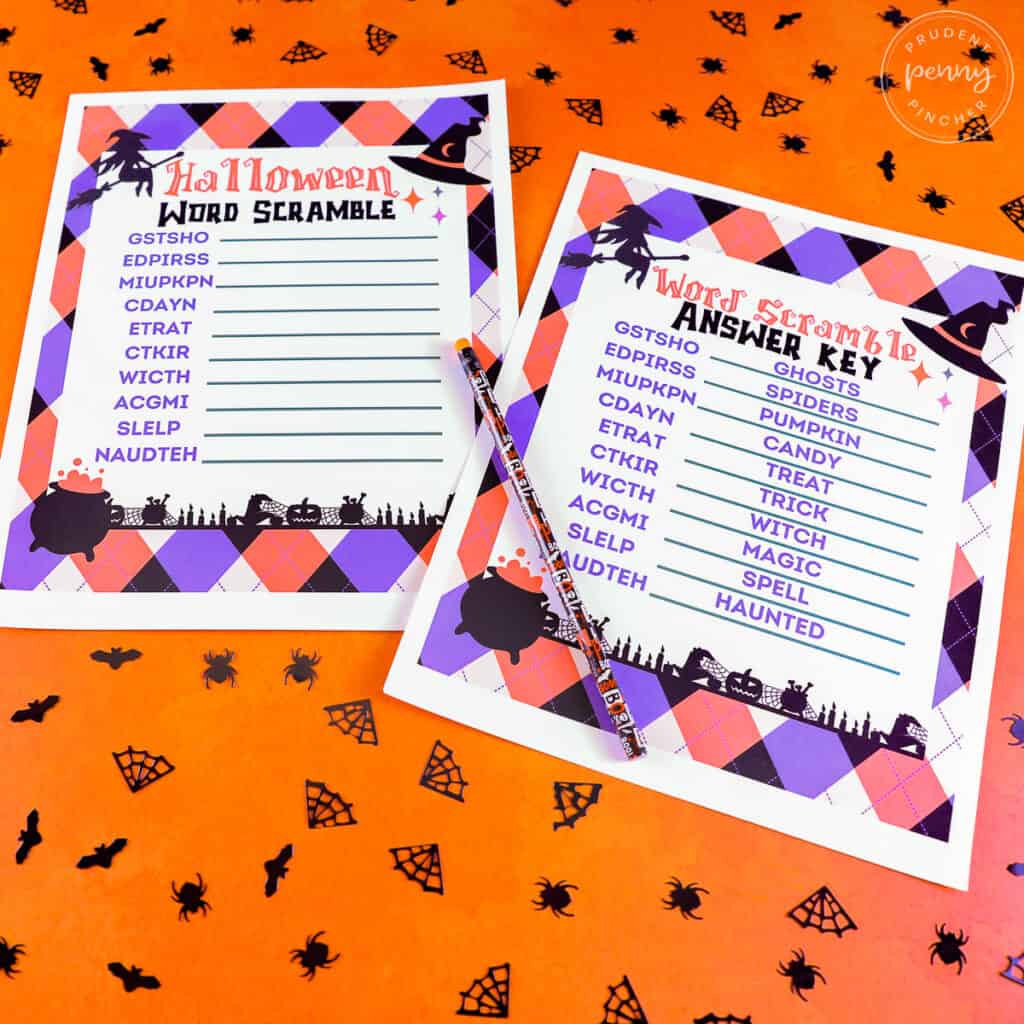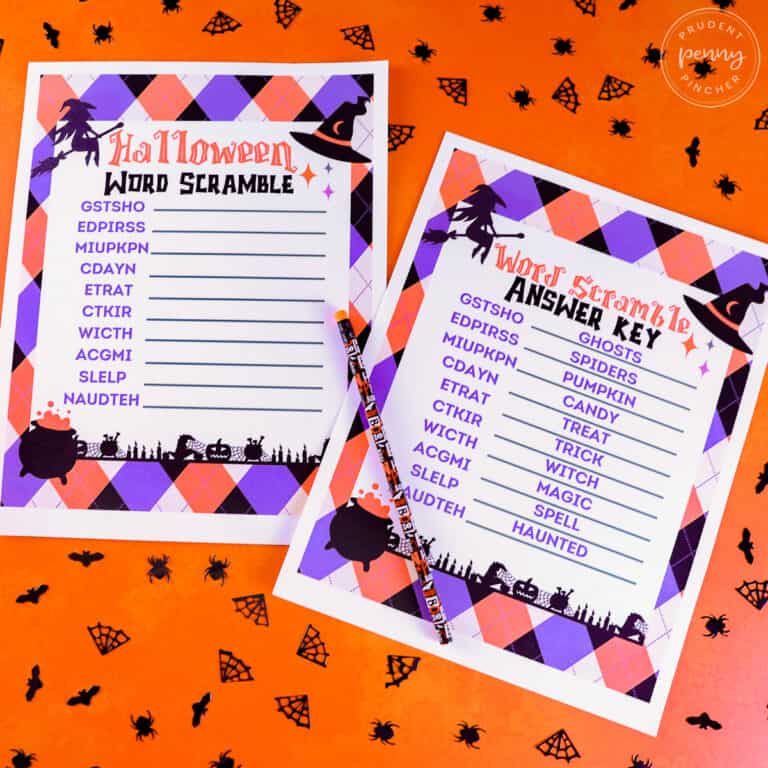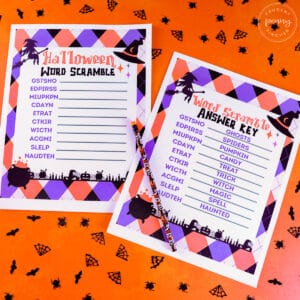 How to Download and Print This Halloween Word Scramble
a tutorial for how to download and print this word puzzle game
Equipment
writing utensil

such as a pencil, pen, marker, crayon, or colored pencil.

printer
Instructions
How to Download
Click the download link above to access the digital file and save the file to your computer.

Open the file in Adobe Acrobat or another PDF viewing software.
How to Print
Load the cardstock or printer paper into your printer's paper tray.

Find the Paper Settings option. Select your Paper Type. If you are using cardstock, select the cardstock option on your printer.

Go to File —> Print.

Select "Fit" from the paper size settings.

Click the printer settings at the bottom of the window.

A printer setup dialogue box will open. Under the Media and Quality settings, ensure the quality is set to the "Best" setting before printing.

Press the Print button.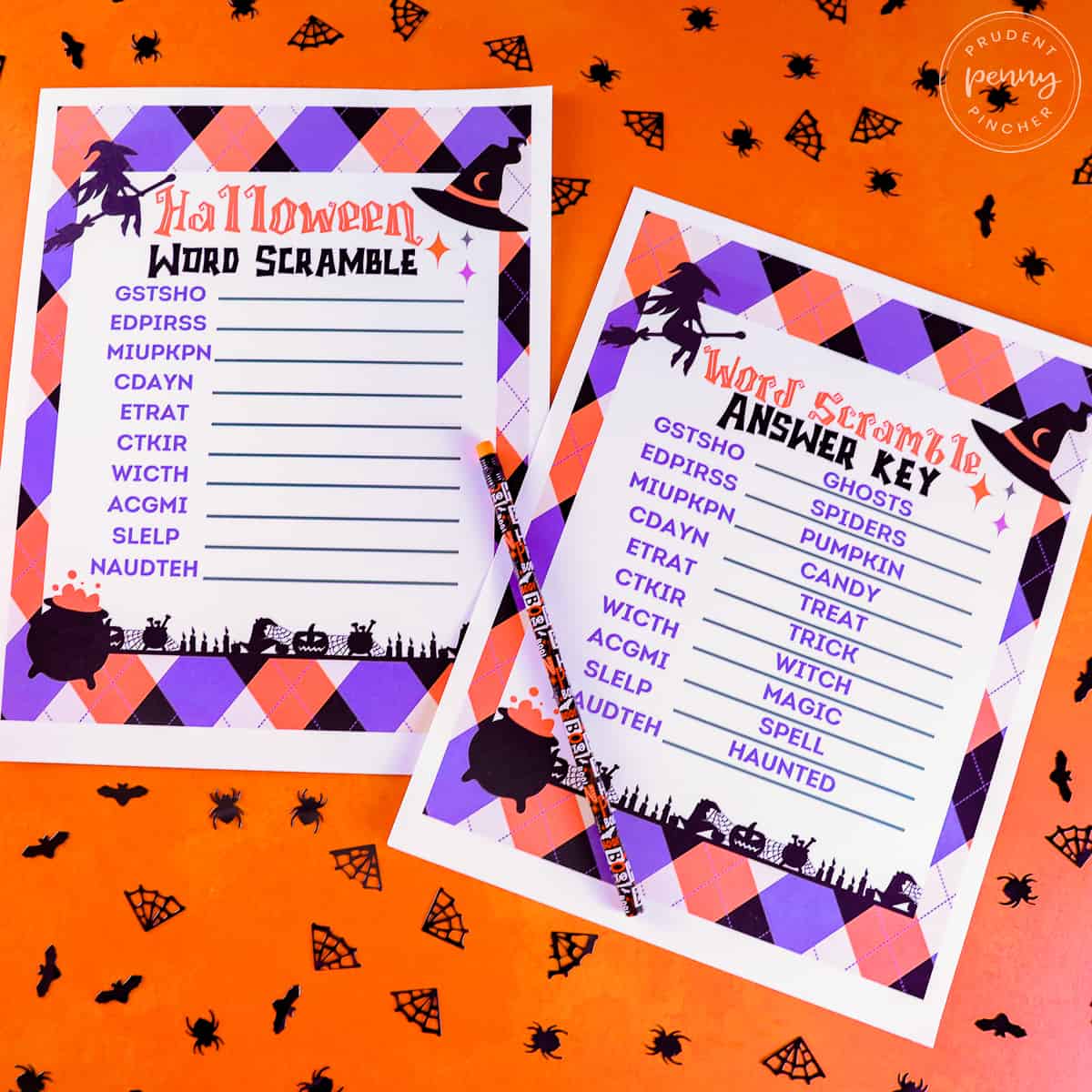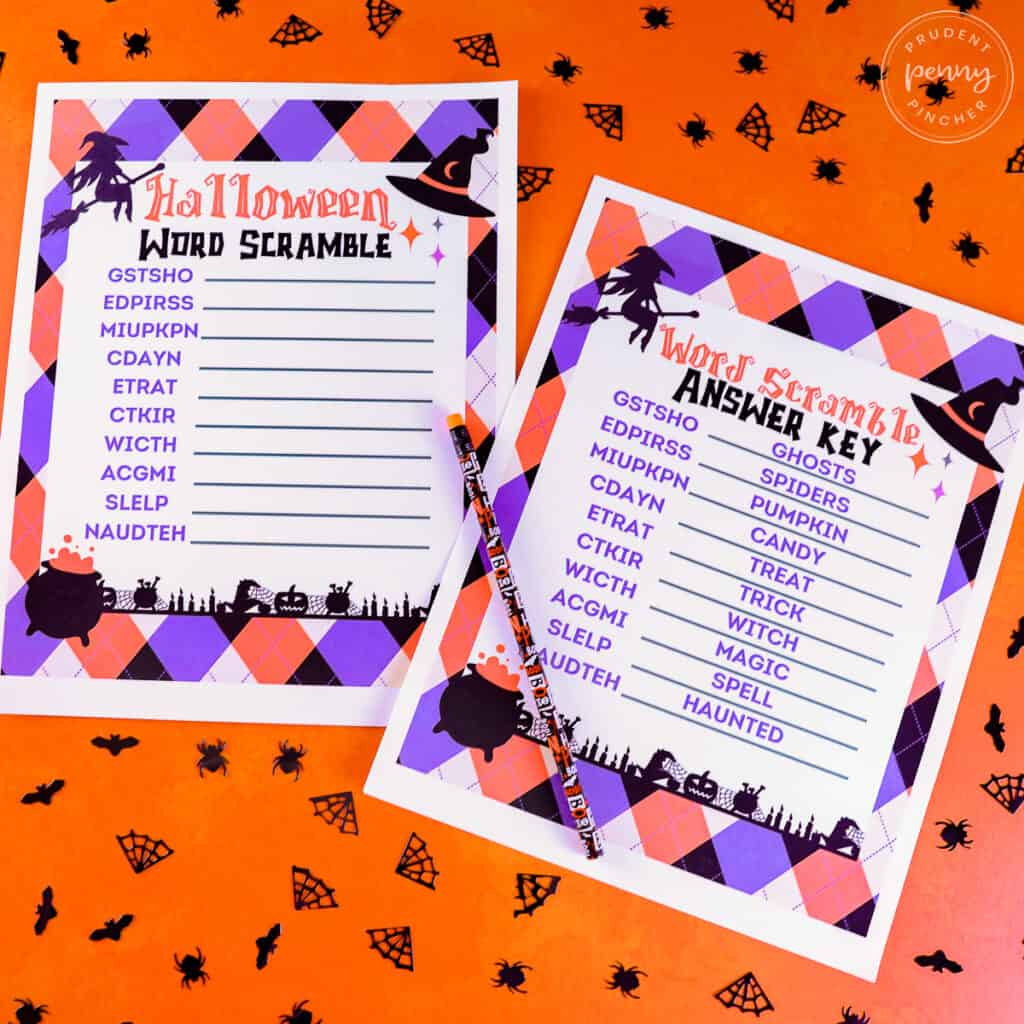 More Halloween Ideas
More Word Games
Follow me on Pinterest, Facebook, or Instagram for more inspiration on crafts, DIY, free printables, and recipes!
If you tried this free word scramble game or any other free printable on my website, please leave a 📝 comment below and let me know how it went!