Looking for a fun autumn activity for kids and adults? Grab one of these free fall word search printables with different designs and difficulty levels. Each puzzle includes an answer key.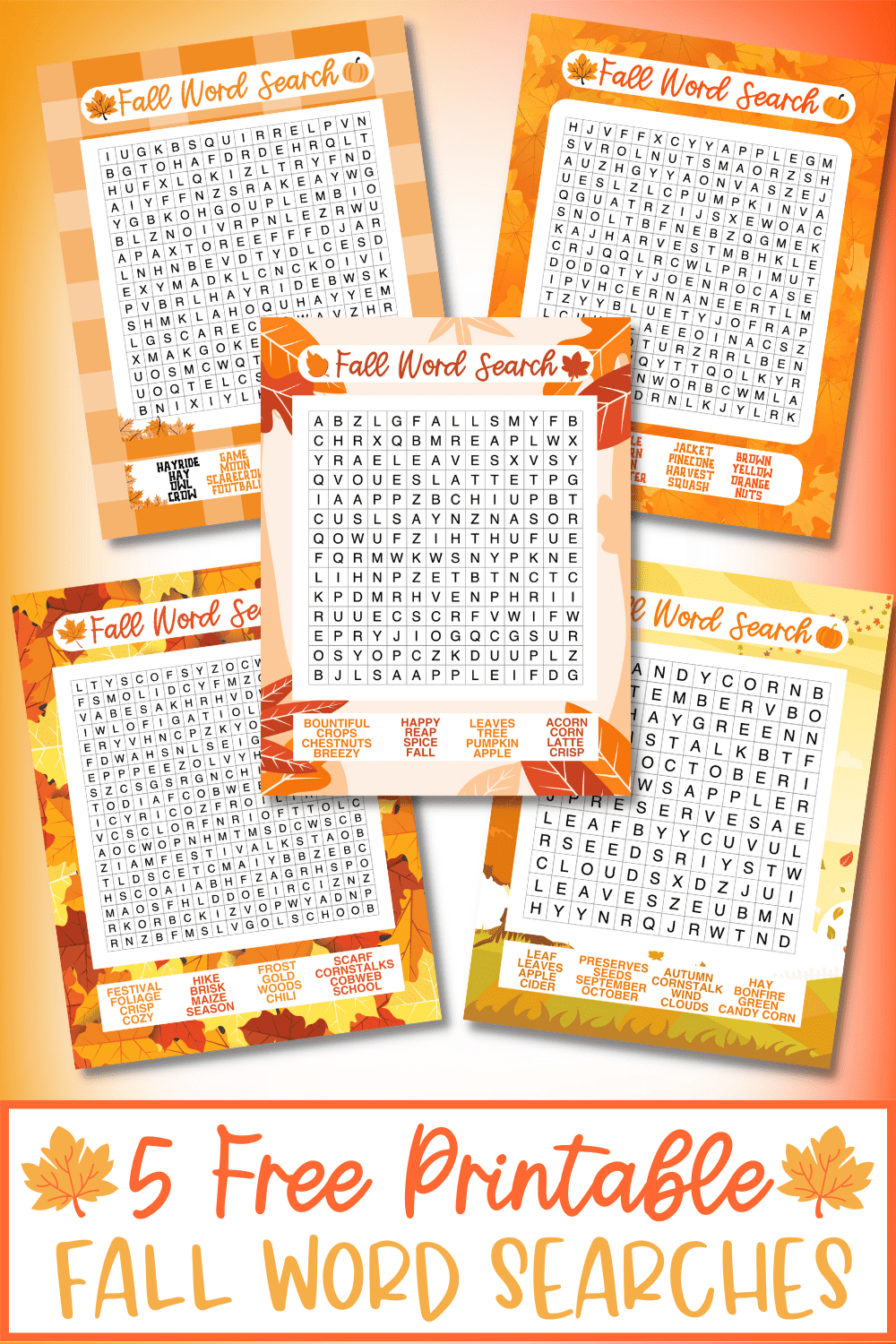 As the leaves change and the chilly air sets in, there's nothing quite like curling up with a good word search to celebrate the season. These free printables are the perfect way to embrace the spirit of autumn.
Whether you're a child or an adult, you will enjoy these fun fall word puzzle activities. There are four skill levels: easy, medium, hard, and harder, so they are perfect for all ages. They make a great Thanksgiving activity for children and adults.
These fall word searches aren't just a fun activity; they are also educational and help improve cognitive development. For kids, they enhance vocabulary, spelling, and memory skills. They are also great for stress relief and help improve brain function for adults.
Whether you're in a classroom setting, at a family gathering, or just looking for a cozy indoor activity on a chilly day, these themed word searches are brimming with fall-related words, and will provide tons of entertainment for all.
If you are looking for other fun fall activities, try these fall crafts, fall coloring pages, thanksgiving coloring pages, turkey crafts, or pumpkin coloring pages.
Jump to:
How to Play
In a word search puzzle, there's a grid full of random letters and a list of hidden words to find within this grid.
Your task is to locate each word from the list within the grid. The words can be arranged horizontally, vertically, or diagonally. They can also be forwards or backward, depending on the game's difficulty level. There are easy, medium, and hard puzzles to choose from here.
To play, simply scan the grid, line by line or in blocks, looking for the first letter of the word you're trying to find. See the tips and tricks section below for more suggestions on how to make finding the words easier.
Once you've spotted the first letter, look at the adjacent letters to see if they form the word you're looking for.
If you've correctly found a word from the list, circle it, highlight it, or draw a line through it. Continue this process until you've found and marked all the words from the list in the grid. You can refer to the answer key if you get stuck!
Tips and Tricks
Start with Longer Words: The longer the word, the easier it is to spot since it covers more grid space.
Look for Unusual Letters: Words containing distinctive or less frequently used letters (like Q, X, Z, J, K, V) stand out more in the grid.
Use a Ruler or Straight Edge: A straight edge can help you focus on one line at a time.
Search for One Word at a Time: Focus on finding a specific word before moving on to the next.
Scan Horizontally and Vertically: Scan each row from left to right, then each column from top to bottom. This systematic method ensures you don't miss any section of the grid.
Fall Word Search Puzzles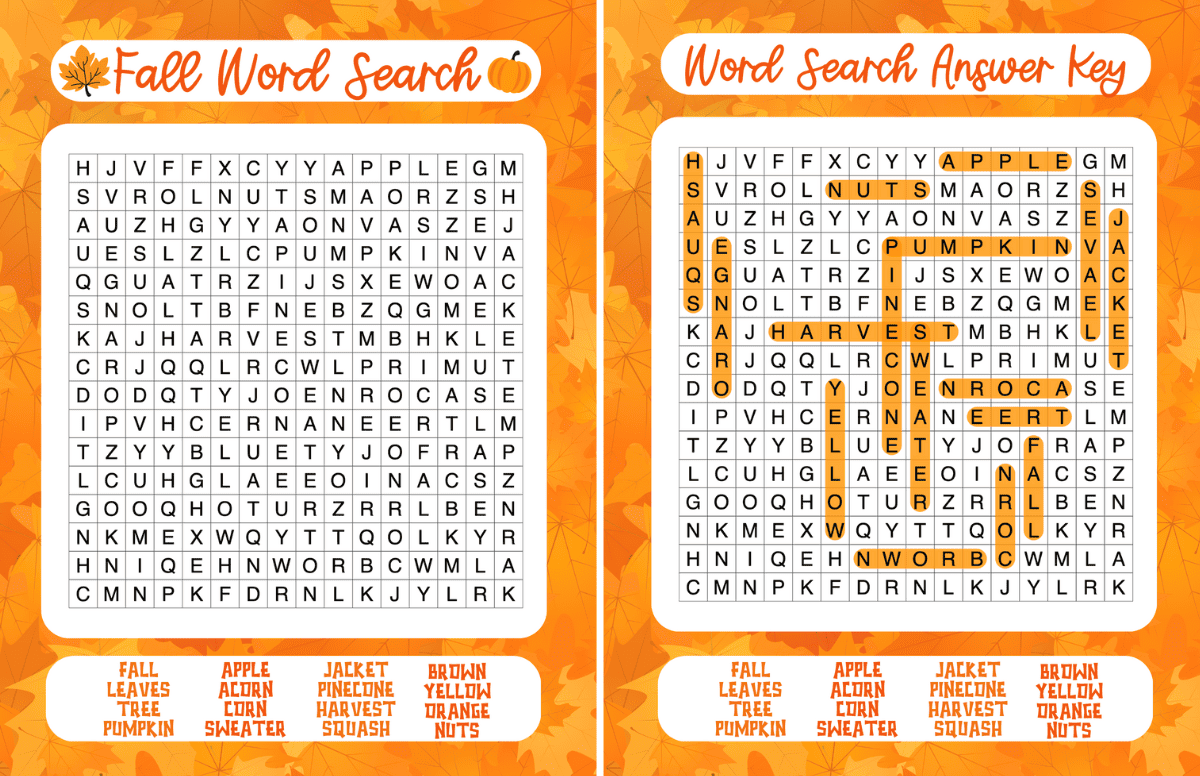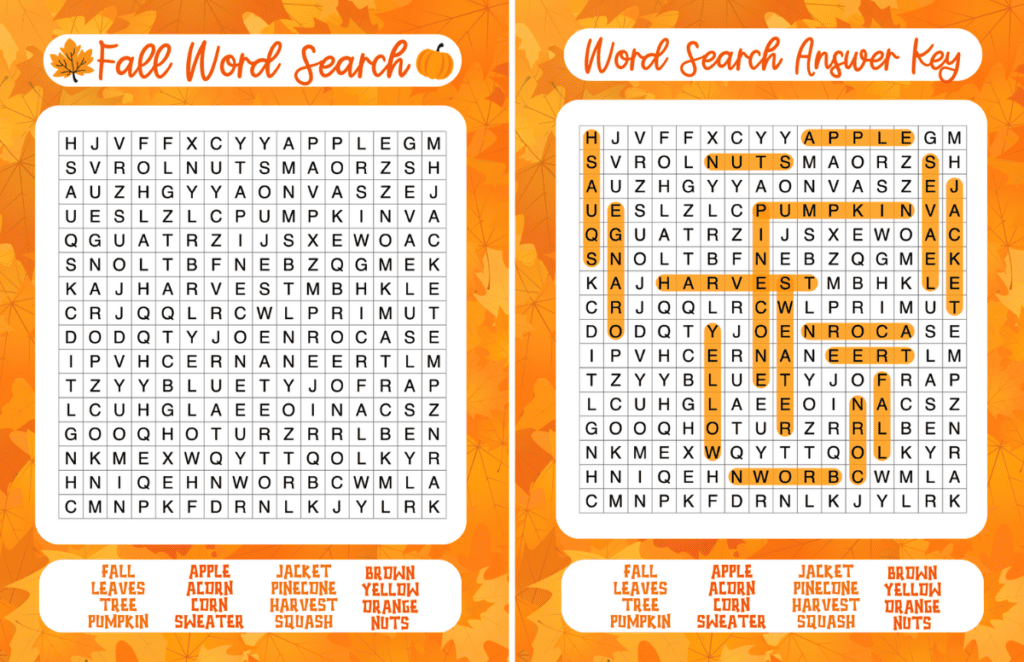 Fall Leaves Word Puzzle
Skill Level: Hard. It places words in 6 of the 8 possible directions (four compass directions and two left-to-right diagonals.) The remainder of the puzzle is filled with any letters of the alphabet. A few words are allowed to overlap.
Age Group: This one is a great choice for teenagers or adults. There's also a "harder" difficulty level puzzle below if you want more of a challenge.
Fall Word List:
Fall Leaves
Tree
Pumpkin
Brown
Yellow
Orange
Nuts
Apple
Acorn
Corn
Sweater
Jacket
Pinecone
Harvest
Squash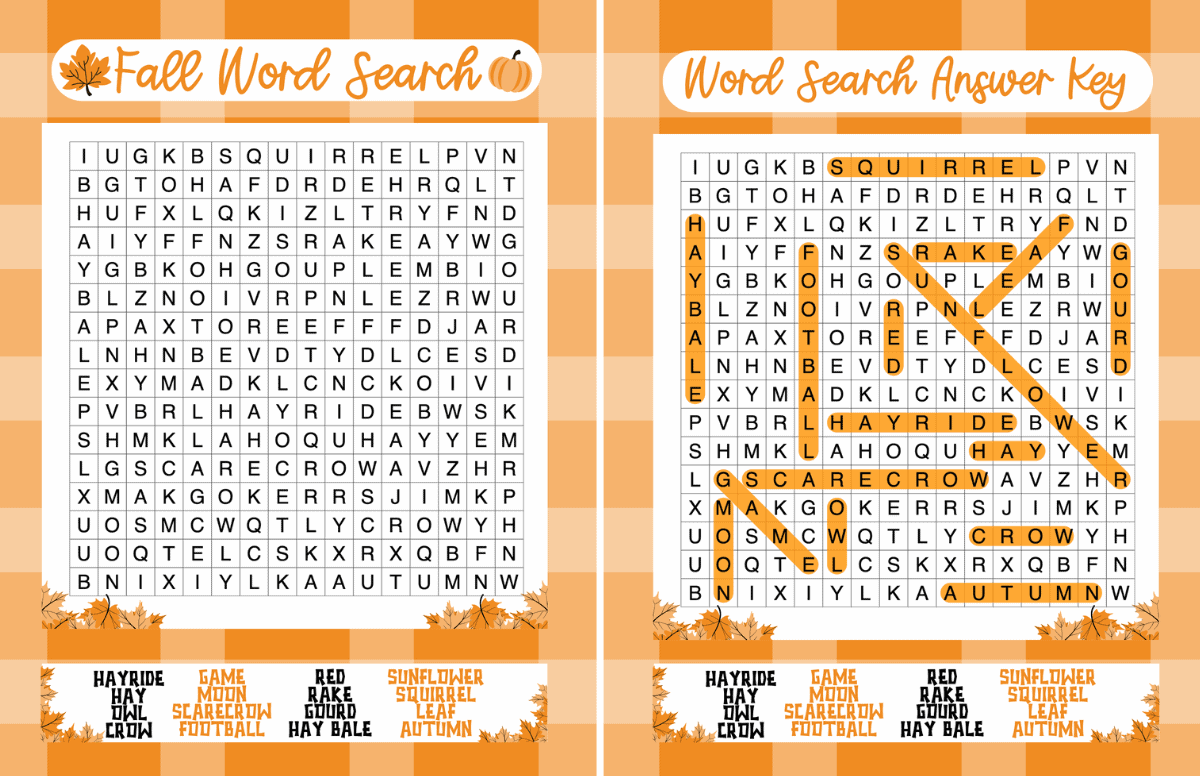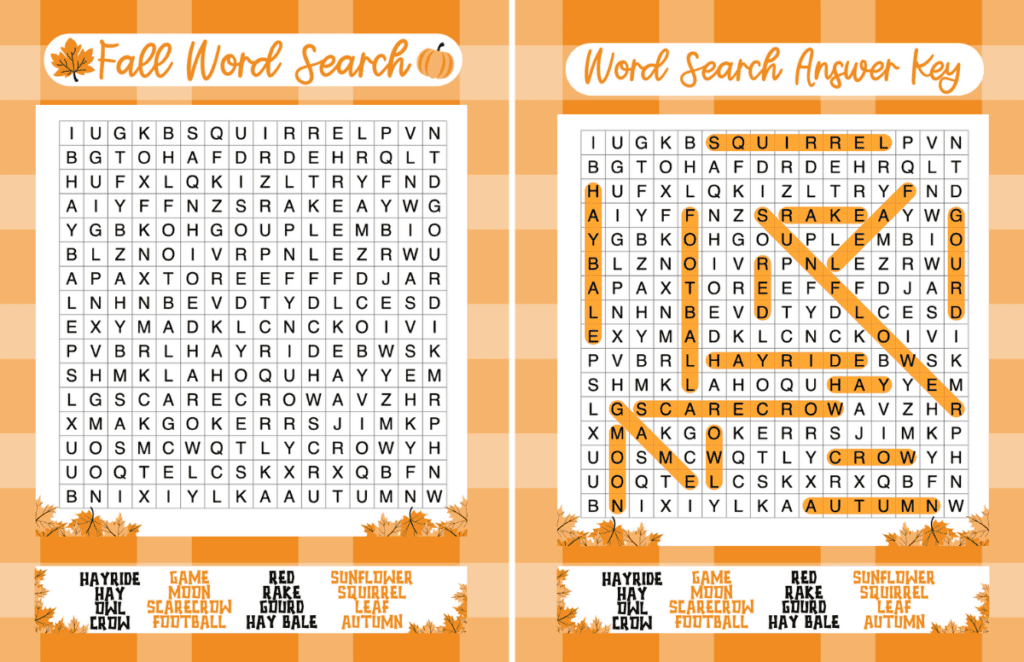 Buffalo Check Fall Puzzle
Difficulty Level: Medium. Words are arranged either horizontally from left to right, vertically from top to bottom, or diagonally from the left-hand side to the right. There are no overlapping words in this puzzle.
Age Group: This puzzle is an excellent pick for older children or teenagers.
Word Bank:
Red
Rake
Gourd
Hay Bale
Game
Moon
Scarecrow
Football
Hayride
Hay
Owl
Crow
Sunflower
Leaf
Squirrel
Autumn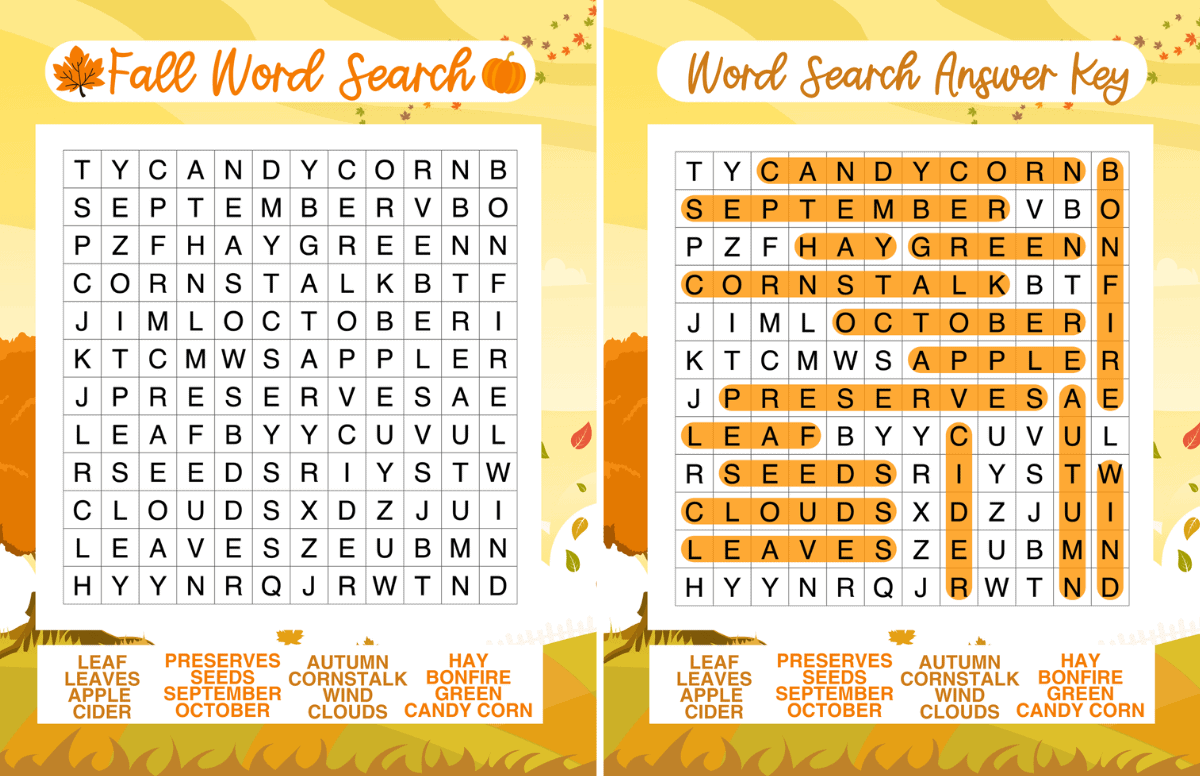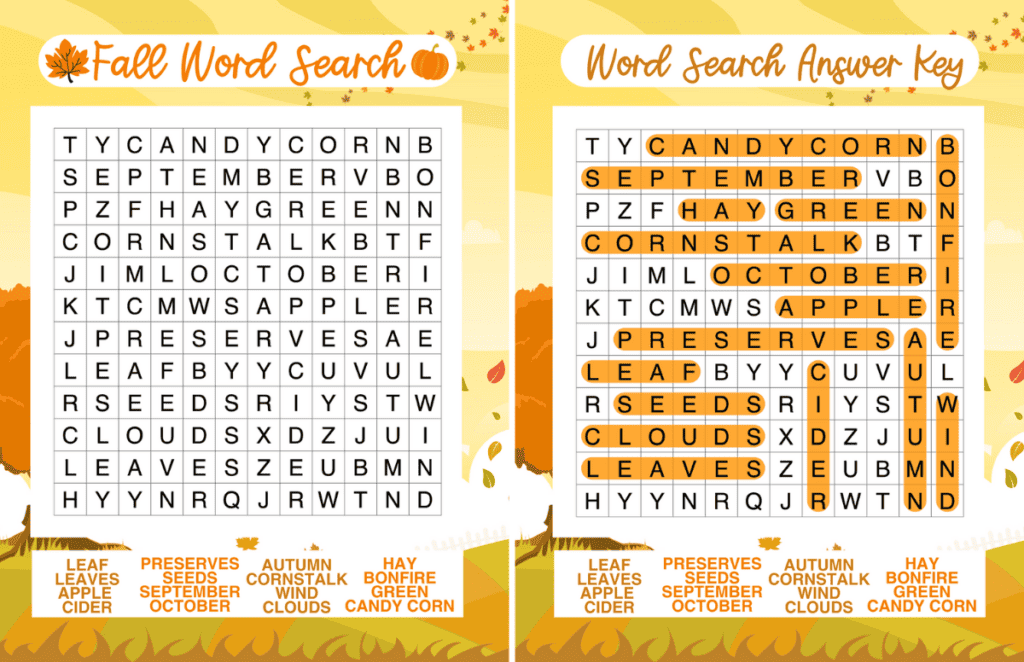 Autumn Word Search
Skill Level: Easy Word Search – Words are arranged either from left to right or top to bottom; there are none overlapping.
Age Group: This one is perfect for younger kids, such as elementary school students.
Fall Word Bank:
Autumn
Cornstalk
Wind
Clouds
Seeds
September
October
Leaf
Preserves
Leaves
Apple
Cider
Hay
Bonfire
Green
Candy Corn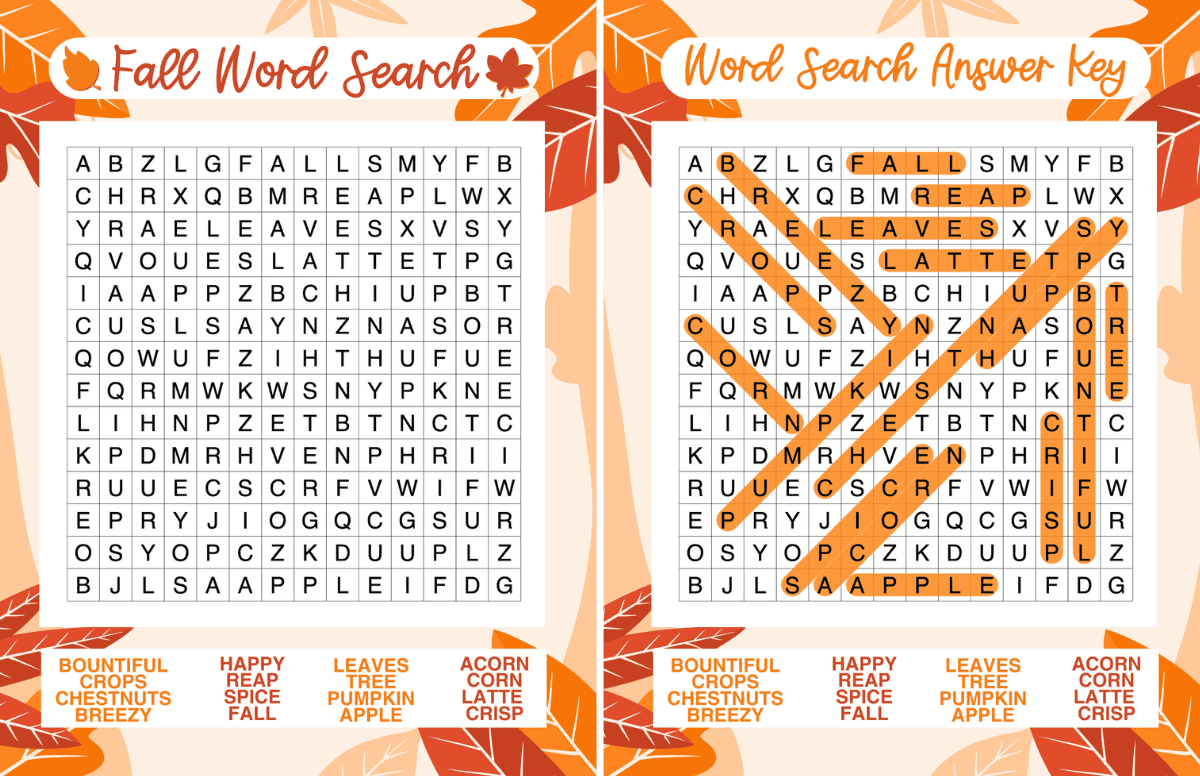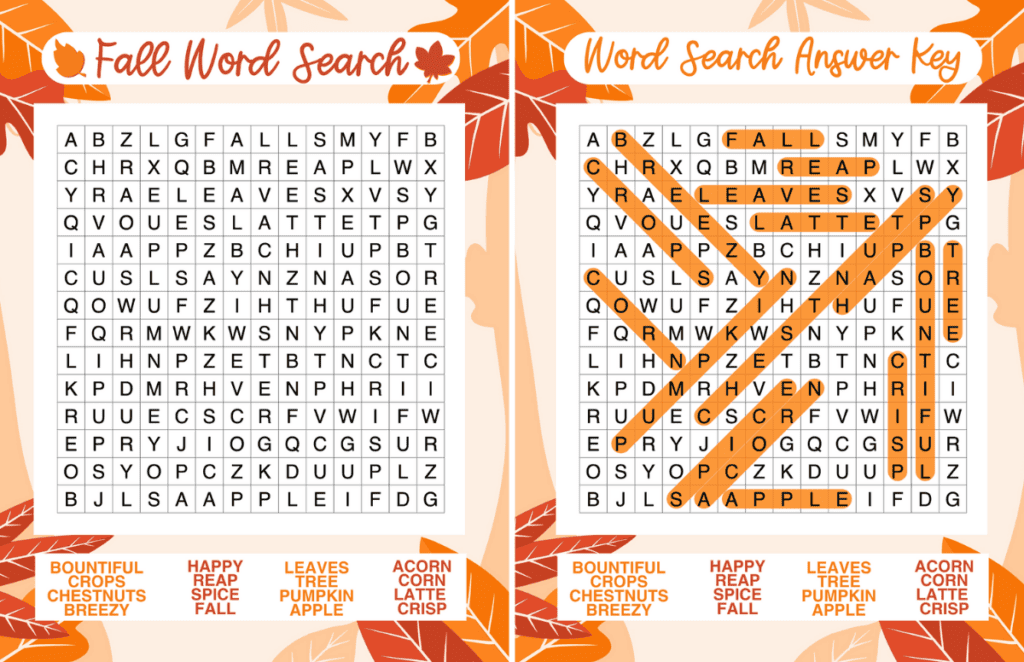 Fall Leaves Word Search
Difficulty Level: Medium – Positions words in a left-to-right, top-down manner, or along the two diagonals moving from left to right. None of the words are allowed to overlap.
Age Group: This printable puzzle is an excellent choice for older kids or teens.
Fall Words:
Leaves
Tree
Pumpkin
Apple
Happy
Reap
Spice
Fall
Bountiful
Crops
Chestnuts
Breezy
Acorn
Corn
Latte
Crisp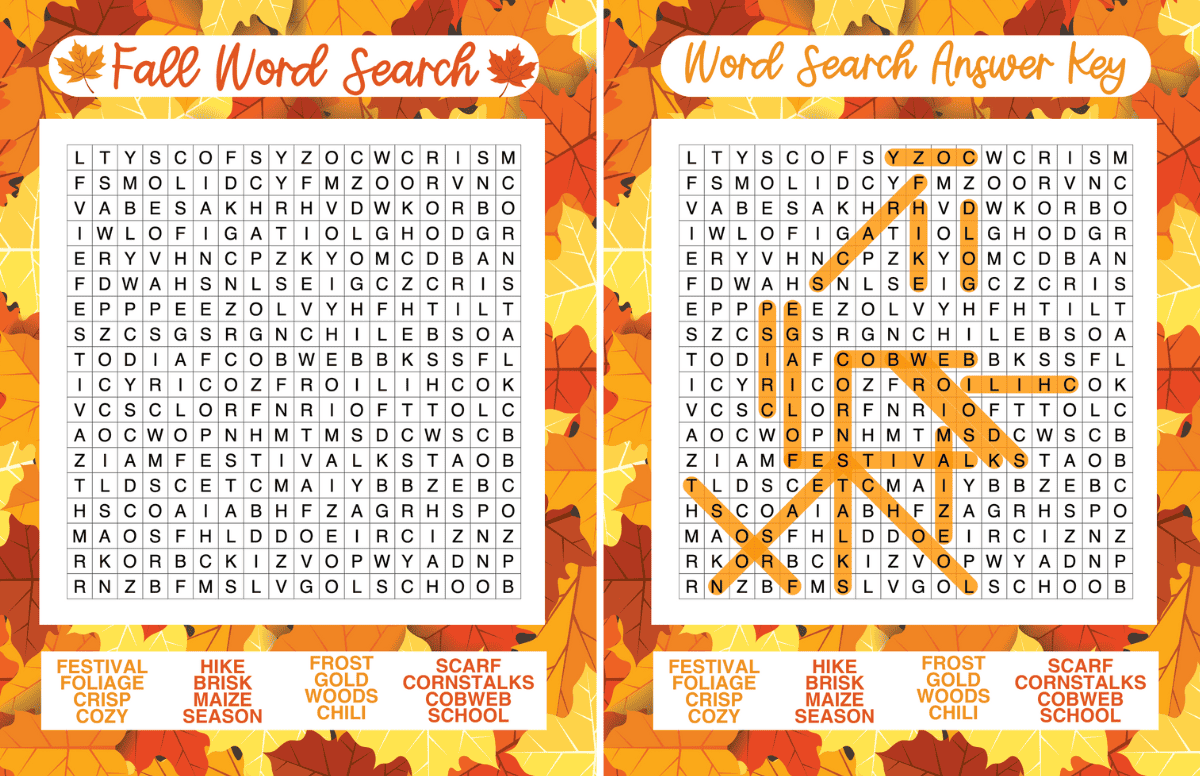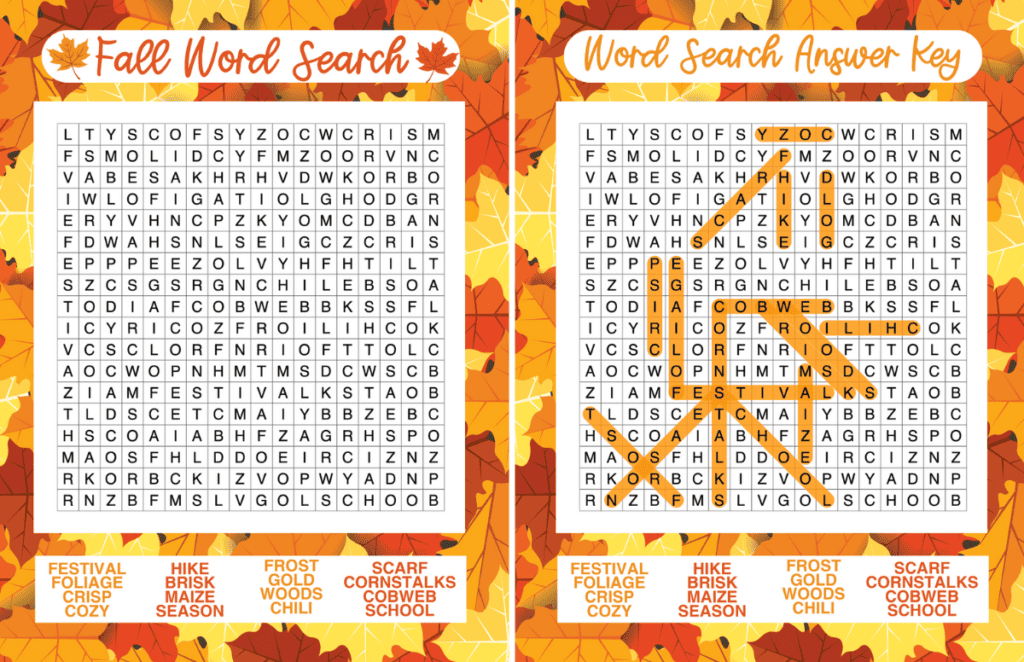 Fall Leaves Puzzle
Level of Difficulty: Harder – It positions hidden words in any of the eight possible orientations. The unoccupied areas of the puzzle are then filled with either letters extracted from your chosen words (thus increasing the difficulty in identifying the words). Some of the words will overlap. Additionally, it sporadically embeds short fragments of words from your list, generating misleading "partial word decoys" that distract those attempting to solve the puzzle as they search for the words.
Age Group: This is the most challenging puzzle for adults wanting a real challenge!
Fall-Themed Words Included:
Foliage
Crisp
Cozy
Scarf
Cornstalks
Frost
Gold
Woods
Chili
Hike
Brisk
Maize
Season
Festival
Cobweb
School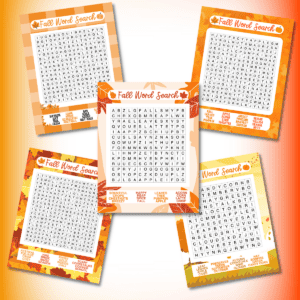 How to Download and Print These Fall Word Searches
a tutorial for how to download and print these fall word searches
Equipment
writing utensil

such as a pencils, pens, markers, highlighters, or crayons

printer
Instructions
How to Download
Download the word search by clicking the download button in the toolbar below. The file will be saved automatically to the default download directory set by your browser.

Open the file in Adobe Acrobat or another PDF viewing software.
How to Print
Load the cardstock or printer paper into your printer's paper tray.

Find the Paper Settings option. Select your Paper Type. If you are using cardstock, select the cardstock option on your printer.

Navigate to the "File" menu and select "Print." From there, access your printer's settings or preferences. While these settings will differ depending on your specific printer, it's important to ensure the print quality is configured to the highest or "Best" setting before initiating the printing process.

In the print dialogue box, be sure to select "Fit" from the paper size settings.
More Word Searches
More Fall Printables
If you tried one of these fall word searches or any other printable activities on my website, please leave a 🌟 star rating and let me know how it went in 📝 comments below!
Follow me on Pinterest, Facebook, or Instagram for more inspiration on crafts, DIY, free printables, and recipes!