Celebrate the season of growth and renewal with this free printable spring word search puzzle that includes an answer key. This free word puzzle is a fun activity for kids.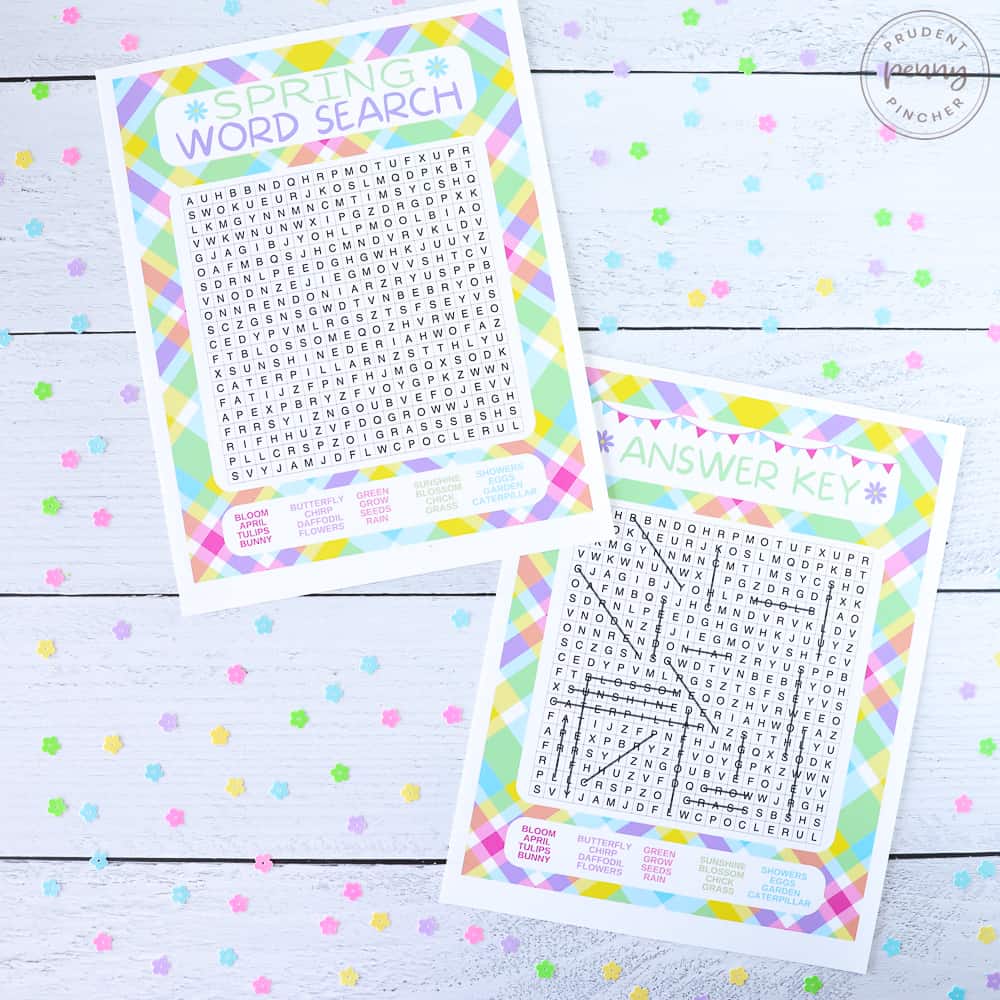 It is a medium-difficulty level puzzle that is perfect for kids of all ages, including younger kids and older children alike. This free printable will keep kids busy during spring break, rainy days in April, and warmer weather months. It features 20 fun spring words like flowers, Easter eggs, even gardening words.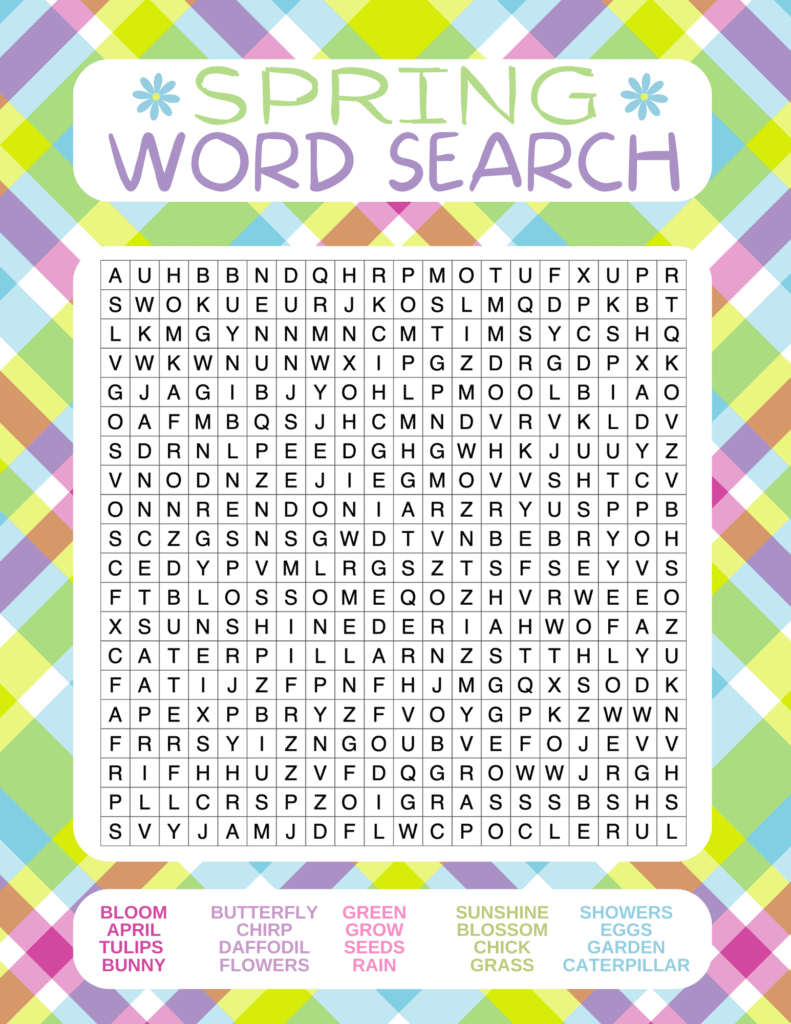 Word searches are a great way to improve your vocabulary, boost your memory and cognitive skills, and have a good time. If you're looking for a fun and educational activity to do with your kids or simply looking for a way to relax and unwind during this time of year, this activity is an excellent choice.
Not only are spring word searches a fun way to pass the time, but they can also be used as an educational tool for students. By doing a word search puzzle, you can help your children or students learn new words related to the season and improve their spelling skills. Word searches can be incorporated into lesson plans or used as a fun activity during playtime. So, whether you're looking for a fun way to pass the time or an educational tool for the classroom, a word search free printable is a great choice to download for kids and adults alike.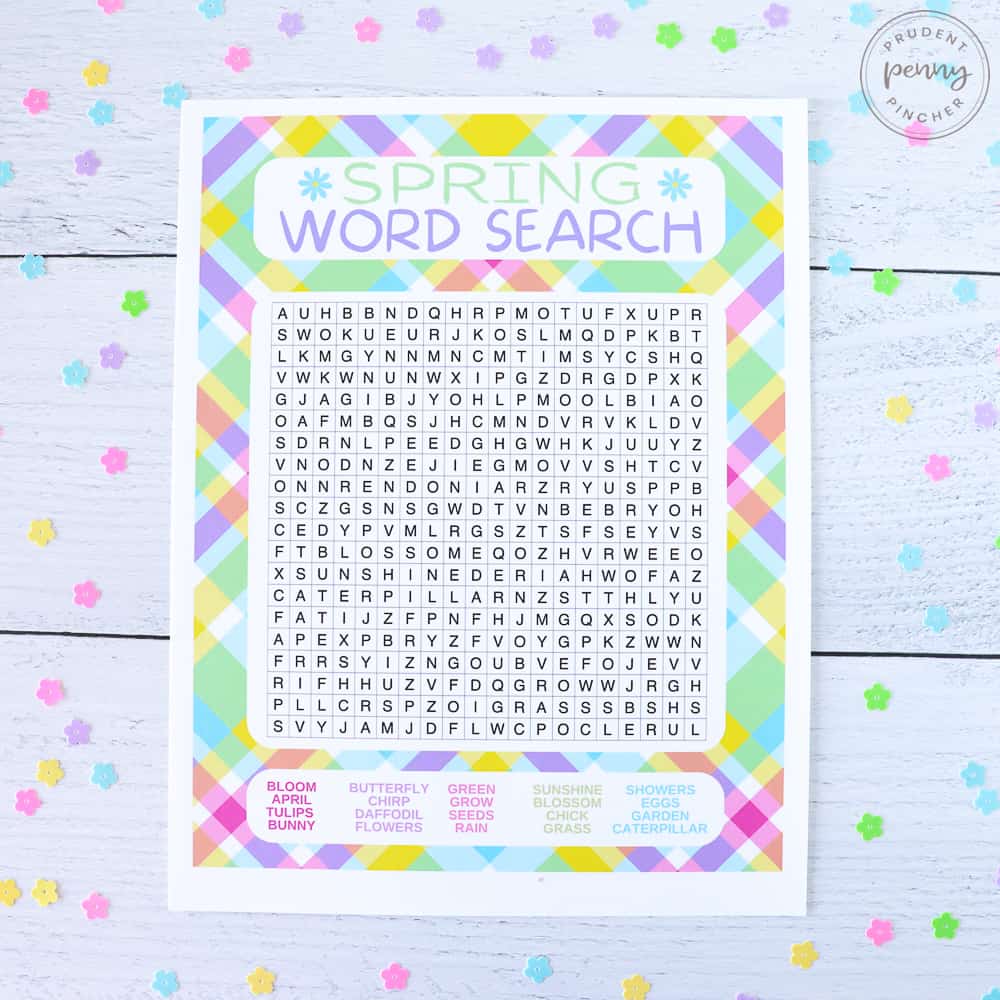 What's Included in This Spring Word Search Puzzle?
This PDF file includes one easy word search puzzle with 20 springtime words to find and a corresponding answer key.
>> Download it here <<
Spring Words in the Puzzle
April
tulips
bunny
butterfly
chirp
daffodil
flowers
green
grow
seeds
rain
sunshine
blossom
chick
grass
showers
Eggs
garden
caterpillar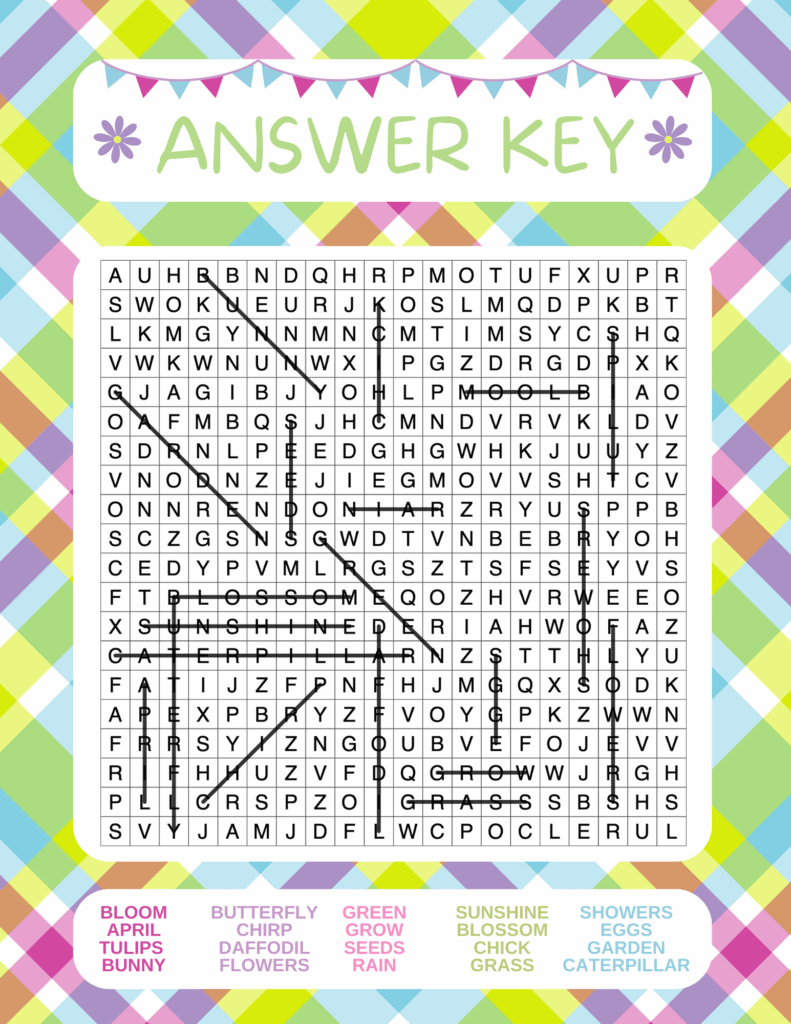 How to Download This Spring Word Search
Open the file by clicking this download link.
Download the PDF file by clicking the download button on the toolbar.
Save the files to the folder you want.
Open the file with Adobe Acrobat or another PDF reader software.
Printing Instructions
Load the cardstock or printer paper into your printer's paper tray. Make sure to select the paper format as card stock in your printer's settings.
After opening the file in your PDF reader software, go to File –> Print. Ensure the print quality is set to the "Best" setting and select "Fit" from the printer settings so the document will fit on paper properly.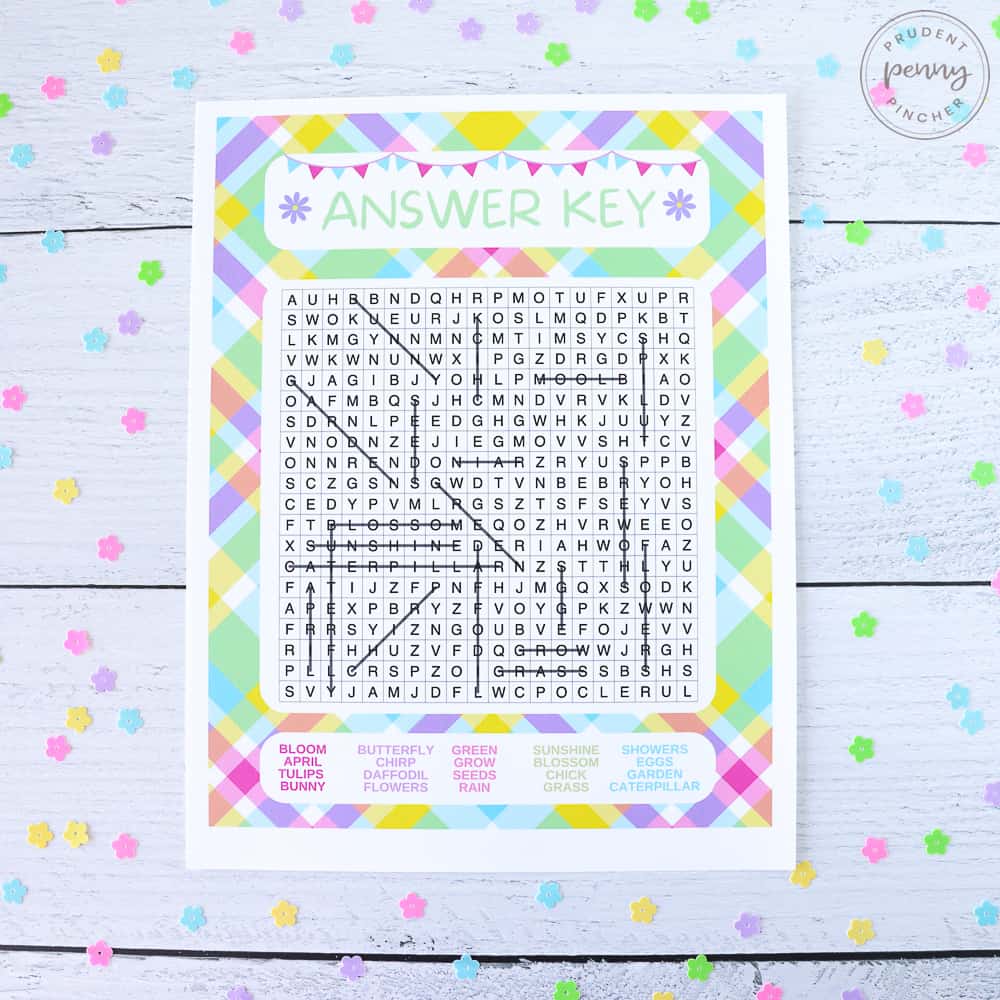 How to Play
The spring word search puzzle consists of a grid of letters arranged in a square shape. Your objective is to find specific words hidden within the grid of letters. These words can be arranged horizontally, vertically, diagonally, forwards, or backward. However, no words overlap to make it an easy activity for kids. To begin, scan the puzzle to find any letters that might form one of the words on the list. When you find a word, circle the letters that make it up, either by drawing a line around them or highlighting them with a marker or pen. Continue searching for words until you have found all of them on the list. If you can't find a particular word, refer to the answer key provided.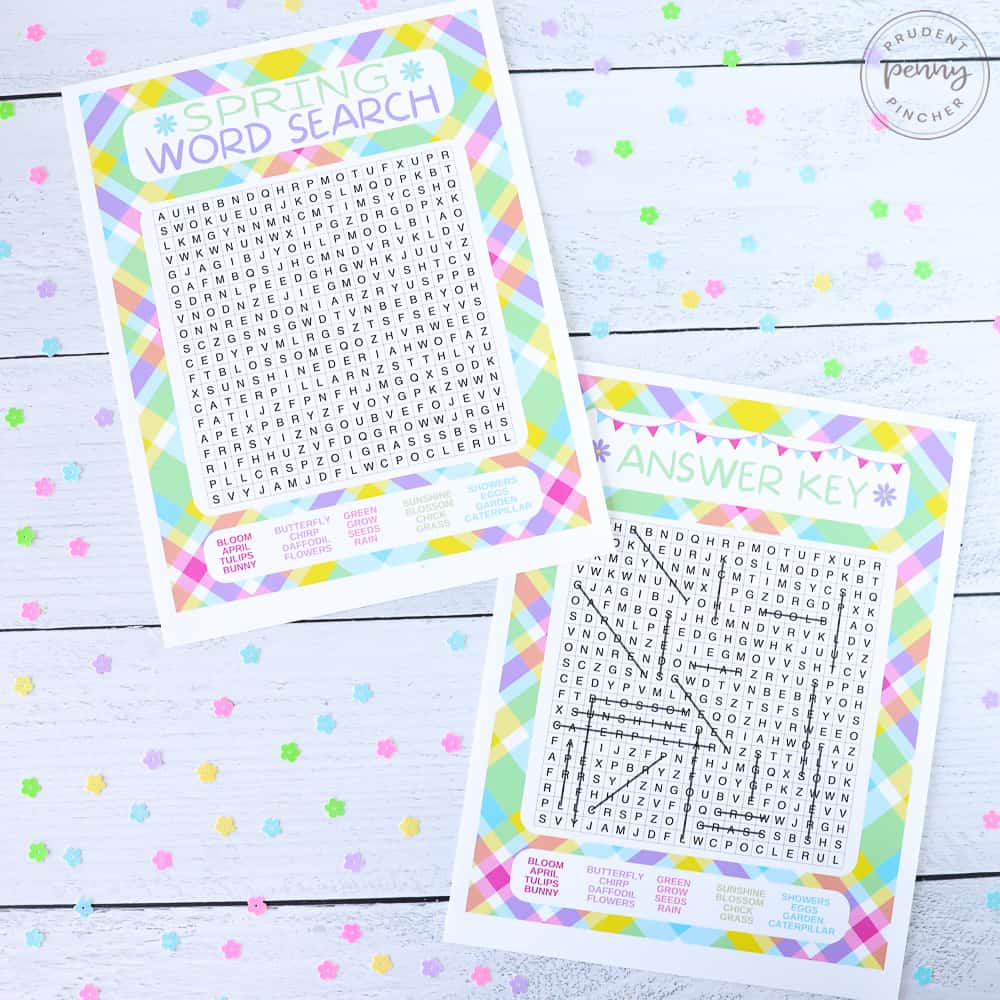 More Holiday Word Searches
Other Spring and Easter Ideas