Keep everyone entertained on turkey day with this set of ten free thanksgiving bingo printables. It is a fun game for kids and adults to play!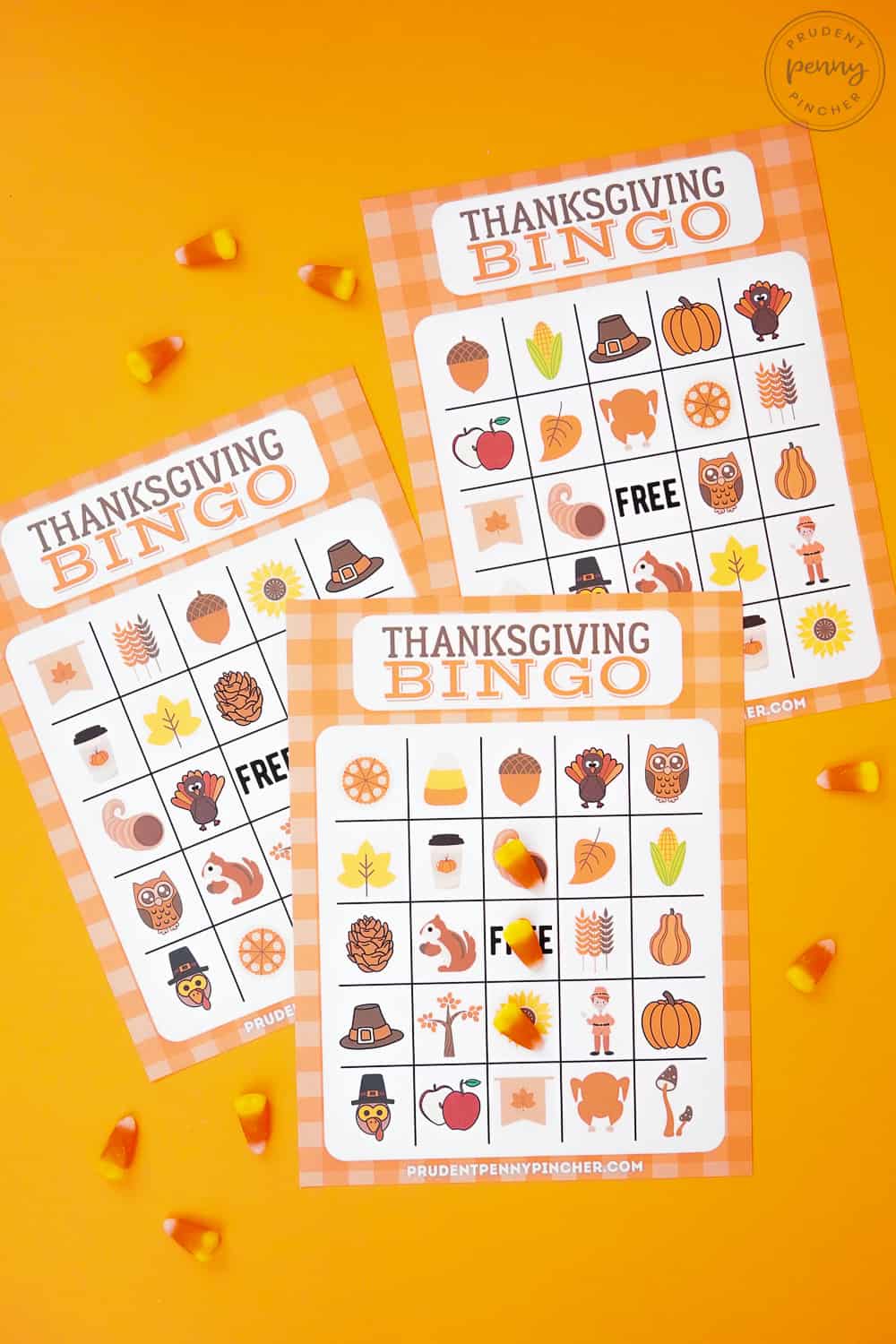 Pass the time while you're waiting for the turkey to come out of the oven with this fun printable. This game is always a hit with all age groups because it is simple to play and yet enjoyable for everyone. It is an excellent choice for families, parties, and the classroom!
Pair this fun game with these thanksgiving coloring pages and thanksgiving crafts for hours of entertainment for your little ones!
What's Included:
high-quality PDF file, which includes:

Ten sets of different cards with 25 Thanksgiving-themed symbols and images like turkeys, pilgrims, pumpkins, fall leaves, and more!
One set of matching calling cards to cut out

Please note, these printables are for personal use only!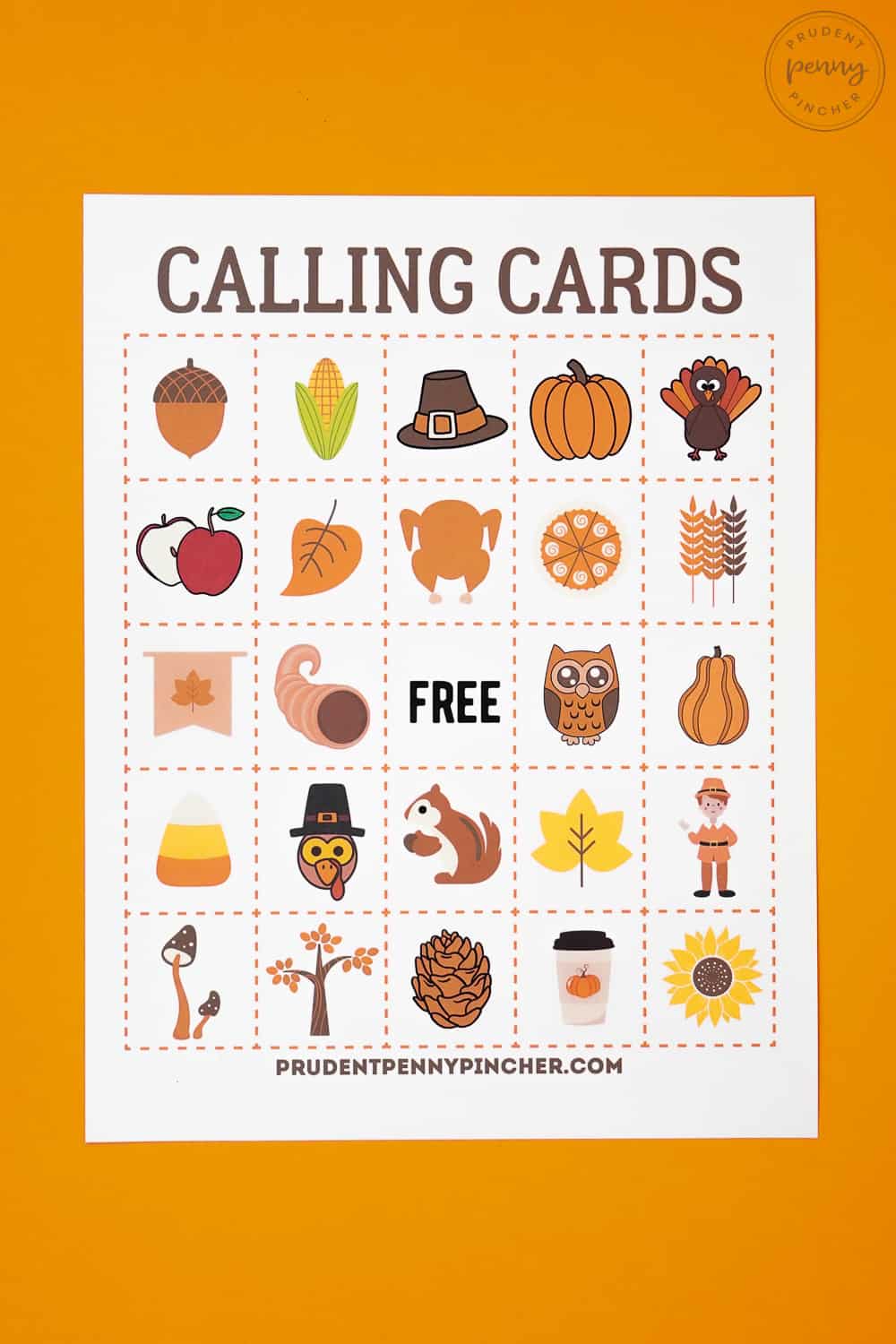 Supplies Needed for These Thanksgiving Bingo Printables:
Inkjet Printer
Cardstock (65 lb or higher)

I highly recommend cardstock for the best quality of these printable bingo sheets. However, if you don't have any, then printer paper will also work, but it won't be as durable.

scissors or paper trimmer
Bingo markers (See below for some fun ideas!)
Prizes (optional)
Bingo pot (optional)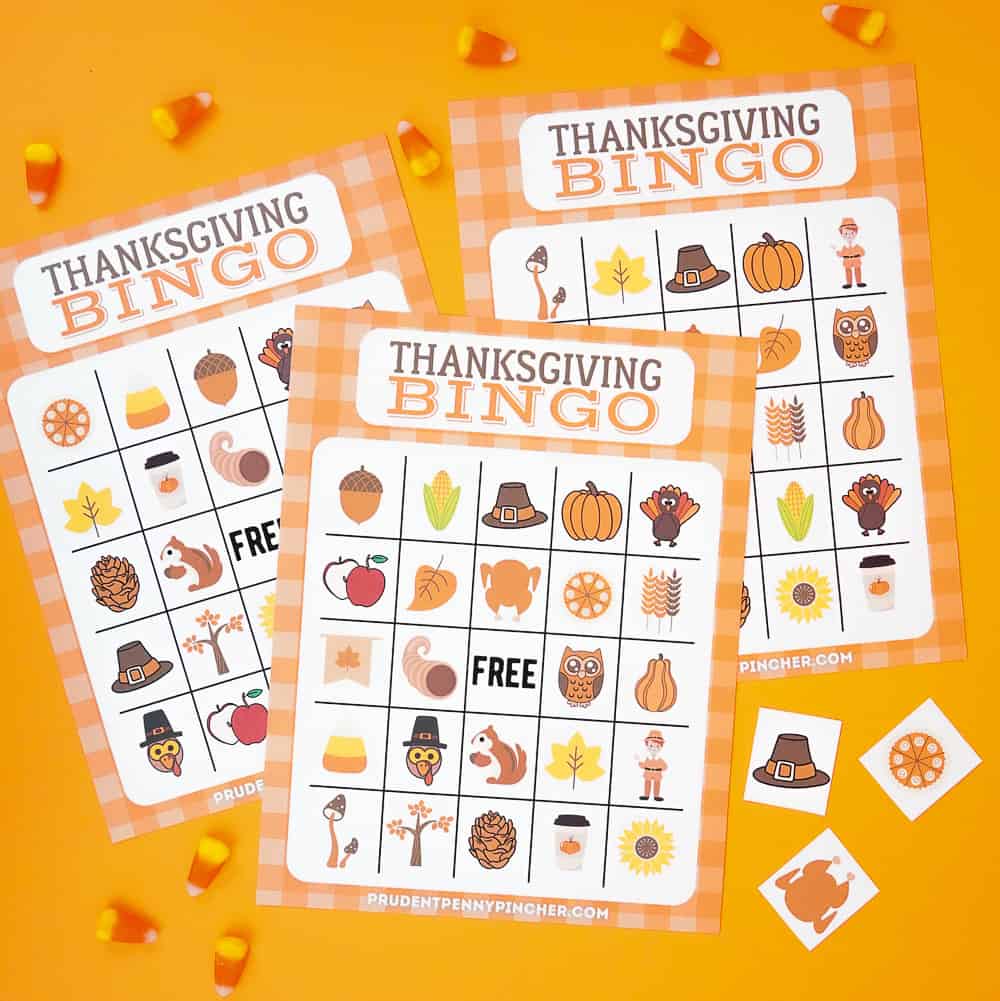 How to Download and Print the Printables
Download the PDF file from above by clicking the download link and then clicking the download icon on the bottom right of the toolbar.
Save the files on your computer.
Open the file with Adobe Acrobat or another PDF reader software of your choosing.
Go to File –> Print. Open your printer settings or printing preferences.
Ensure the "Scale to Fit" or "Fit" option is selected so that part of the cards won't be cut off.
The printing settings will vary based on your printer, but make sure the print quality to its "Best" setting before printing.
Load cardstock or printer paper in your printer's tray.
Make sure you select the proper paper type in your printer's settings.
Press the print button.
Cut out the calling cards using scissors or a paper cutter (for more accurate results).
Trim the edges off of the bingo cards (optional).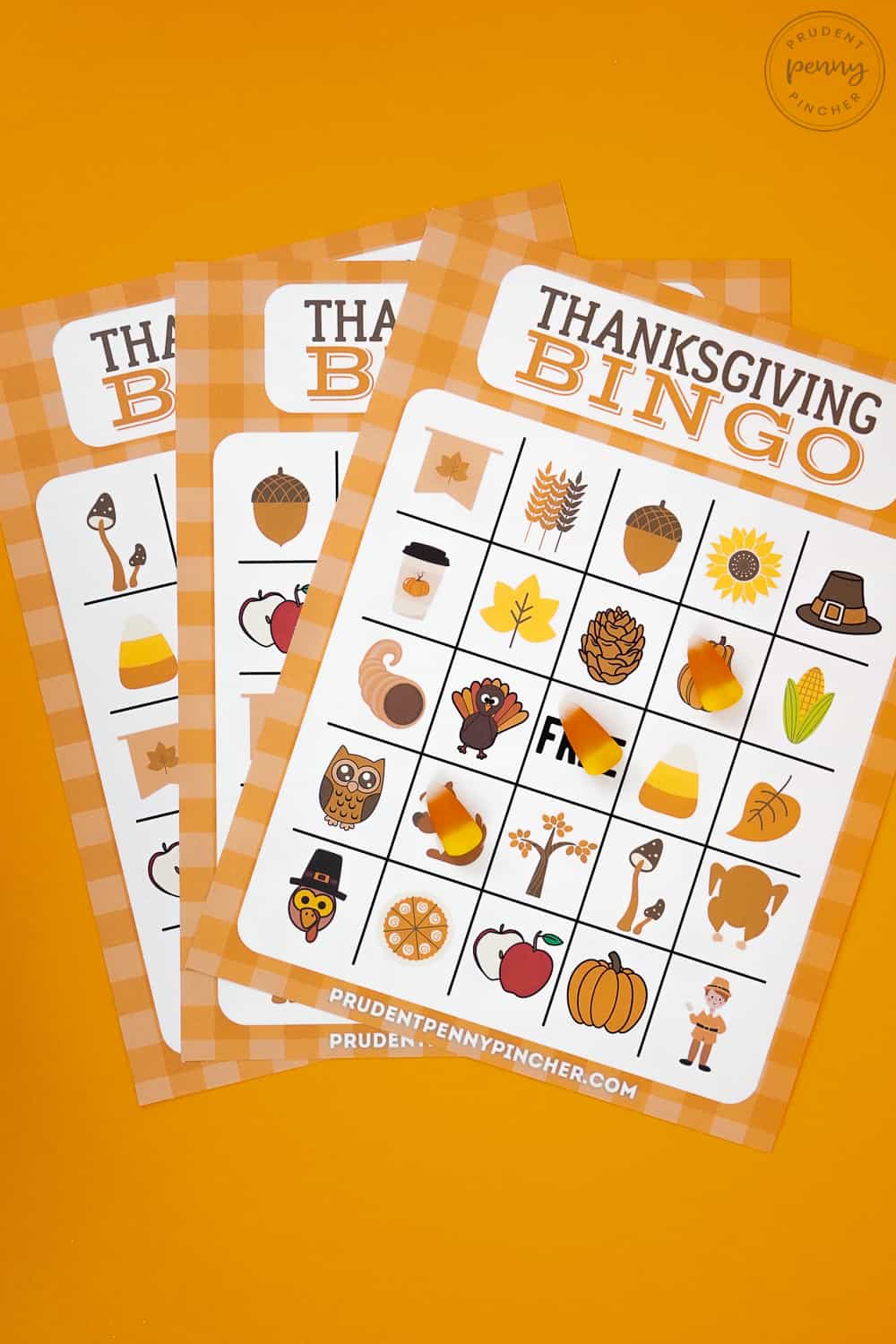 How to Play Thanksgiving Bingo
Download and print the free printables.

There should be one bingo card for each person playing and the call sheet.
Up to 10 people can play with this Thanksgiving bingo printable.
After printing them, you can laminate the bingo cards so that you can reuse them!

Cut out each icon on the calling card paper and put the squares into your bingo pot. See below for fun pot ideas!
Give each person a different bingo card.
The caller should pull out one icon and describe it to everyone.
Add a marker on top of each called icon. See below for marker ideas.
To get bingo, you must have a marker placed all the way across the board with either a horizontal, diagonal, or vertical line.
Once one of those patterns is made on a card, the person with that card calls out "Bingo." Alternatively, you can shout Thanksgiving words like "gobble gobble" or "pumpkin pie" instead to make it more festive for the big day.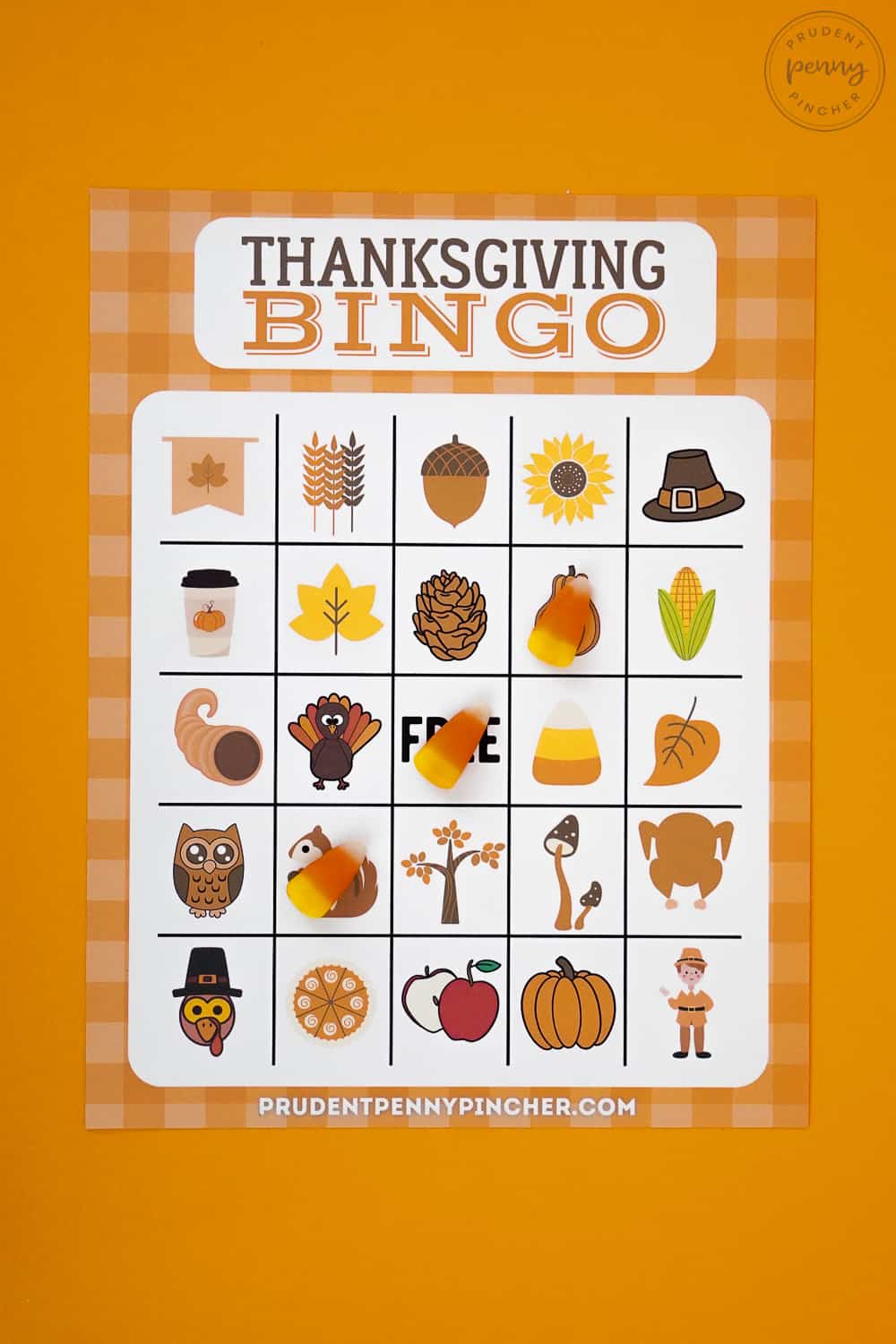 Marker Ideas
Dollar Tree is a great place to find fun markers for your game! However, you don't necessarily need to buy anything. You can just hole punch some paper dots, cut up some paper squares, or simply use whatever small items you have on hand!
Fall Harvest M&Ms
candy corn
pumpkin candies
Hershey kisses
beads
orange or black buttons
table scatter
small faux fall leaves
mini pumpkins
foam table scatter
orange and brown rhinestones
faux acorns
marshmallows
gold stars
bingo chips
pennies
popcorn

Bingo Pot Ideas
The dollar store has a lot of great ideas that would make your bingo pot extra festive on a budget!
plastic fall leaf dish
harvest pie plates
fall paper bowls
plastic pumpkin tray
decorative thanksgiving cardbox boxes
metal harvest tin pails
pumpkin storage bins
harvest paper bags
Also, you can just shuffle the cards, place them upside down, and pick one if you don't want to spend money on a pot and don't have anything on hand.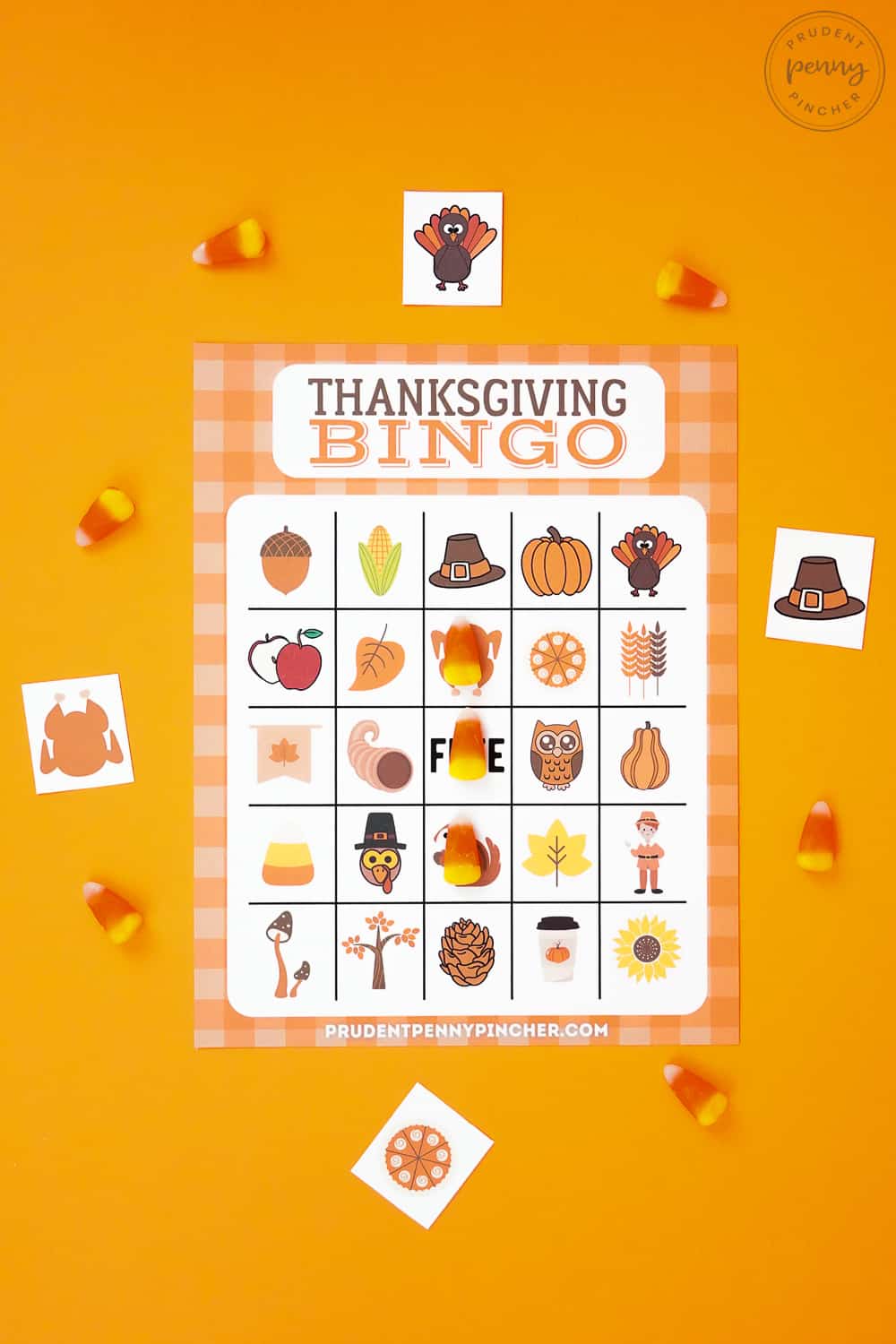 Fun Thanksgiving Bingo Prize Ideas
To make things even more fun, try offering prizes for the winner!
Even though giving out prizes is optional, it definitely adds excitement to the game, especially for the kids! Here are some examples of cheap prize ideas that you can find at Dollar Tree:
fall treat bags filled with candy
pencils and mini pens
small stuffed turkey animal
fall candle
fall stickers
harvest snack mix cups
thanksgiving cookies
fall cracker toys
Dollar tree fall signs or small thanksgiving decor ideas
art, craft and activity kits for kids
fall paper glasses
Related Posts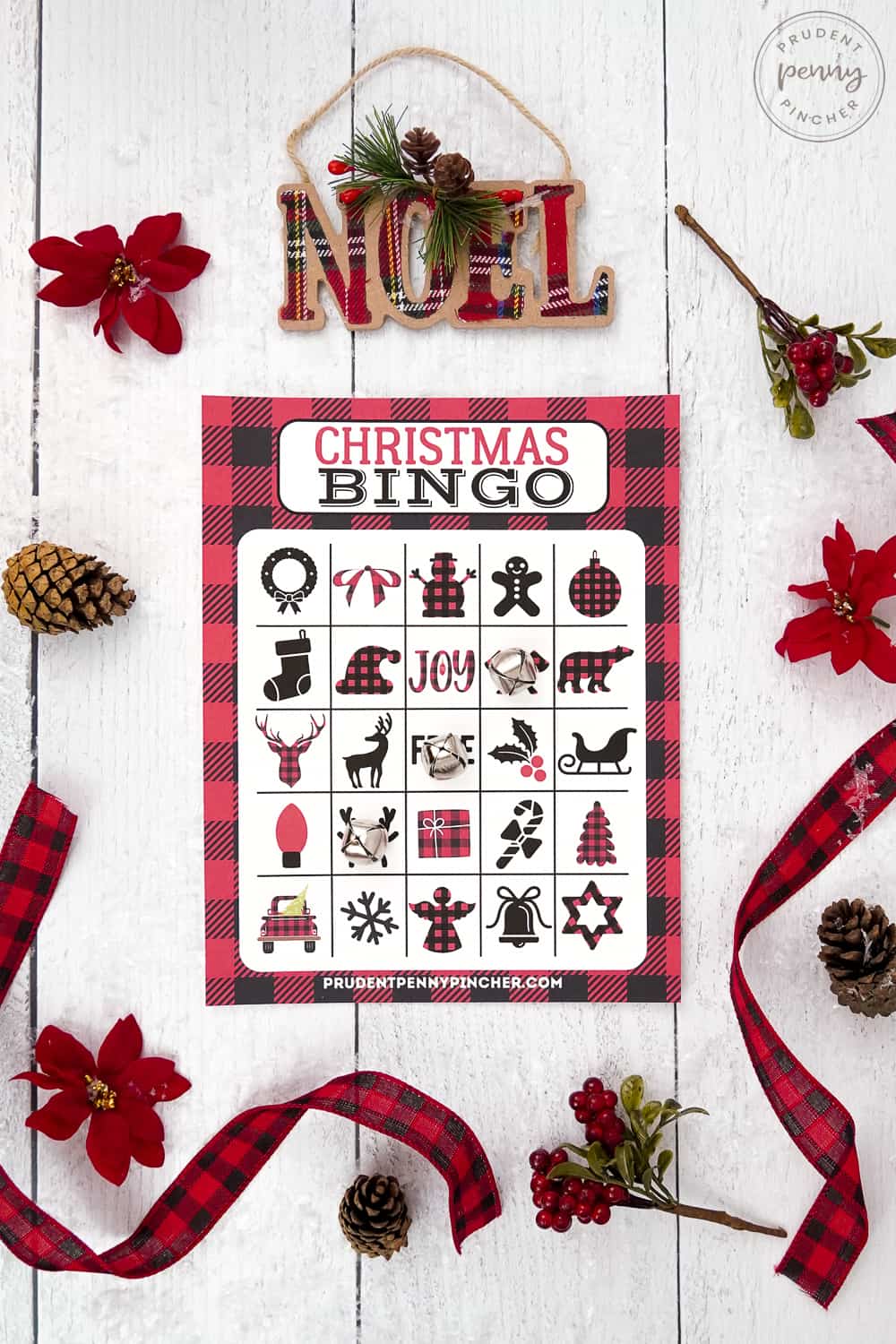 Christmas Bingo Printable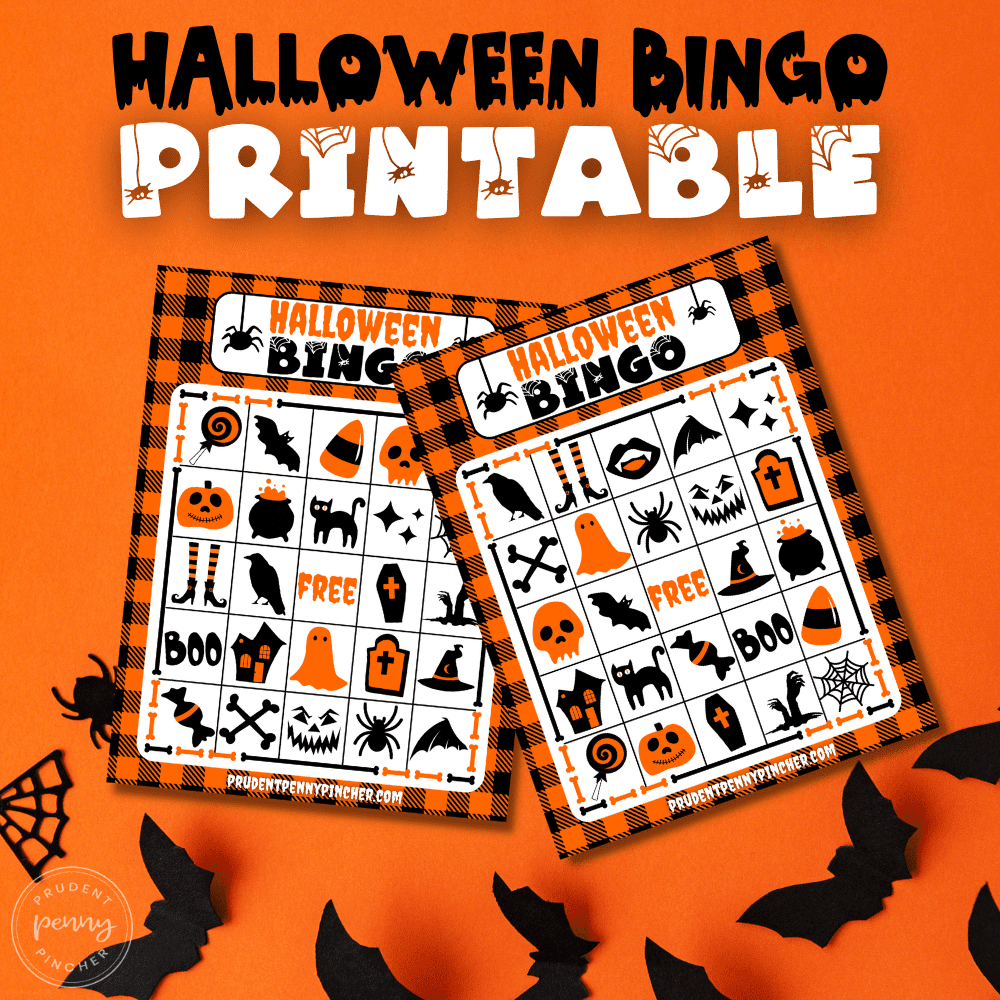 Free Halloween Bingo Printable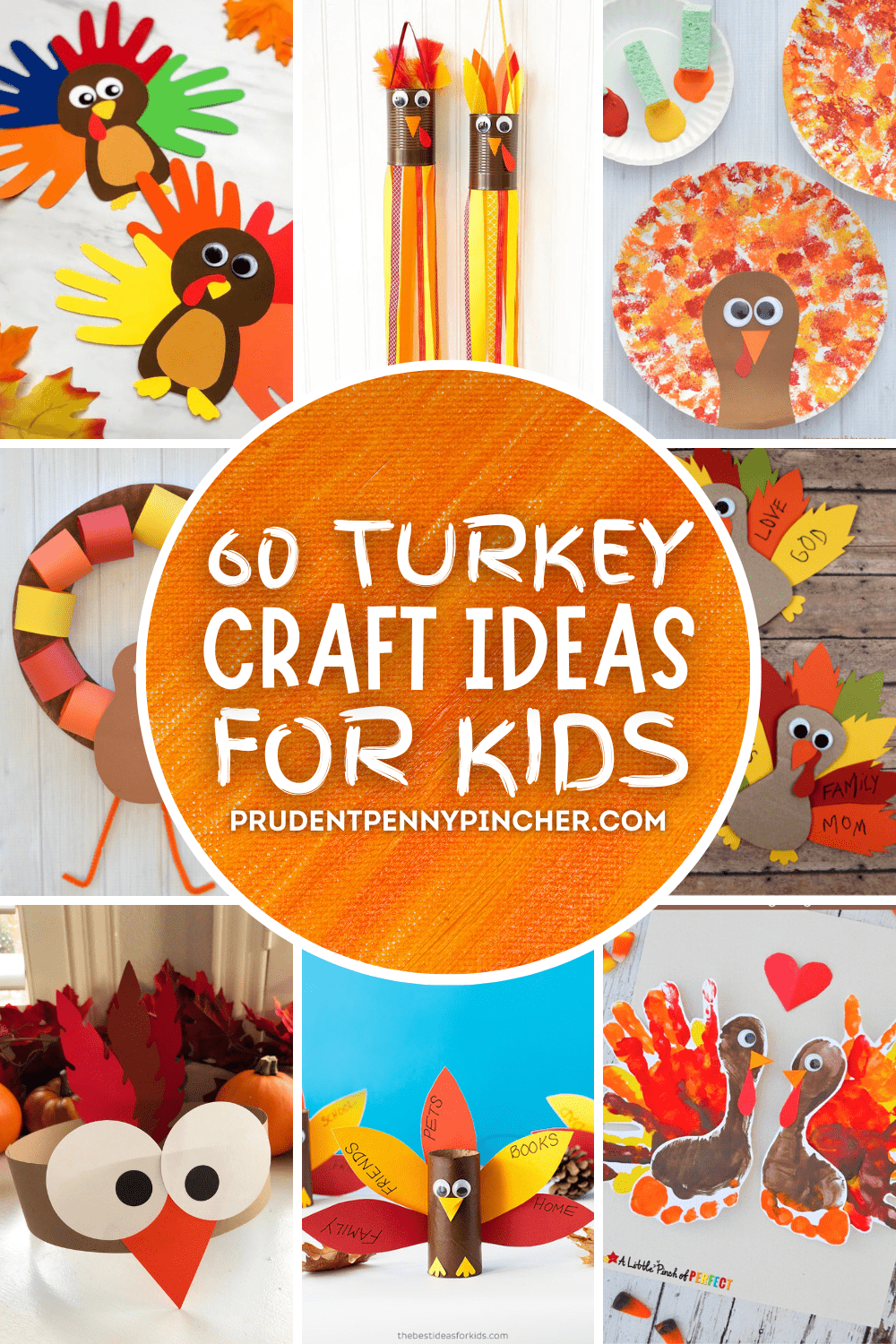 60 Fun Turkey Crafts for Kids