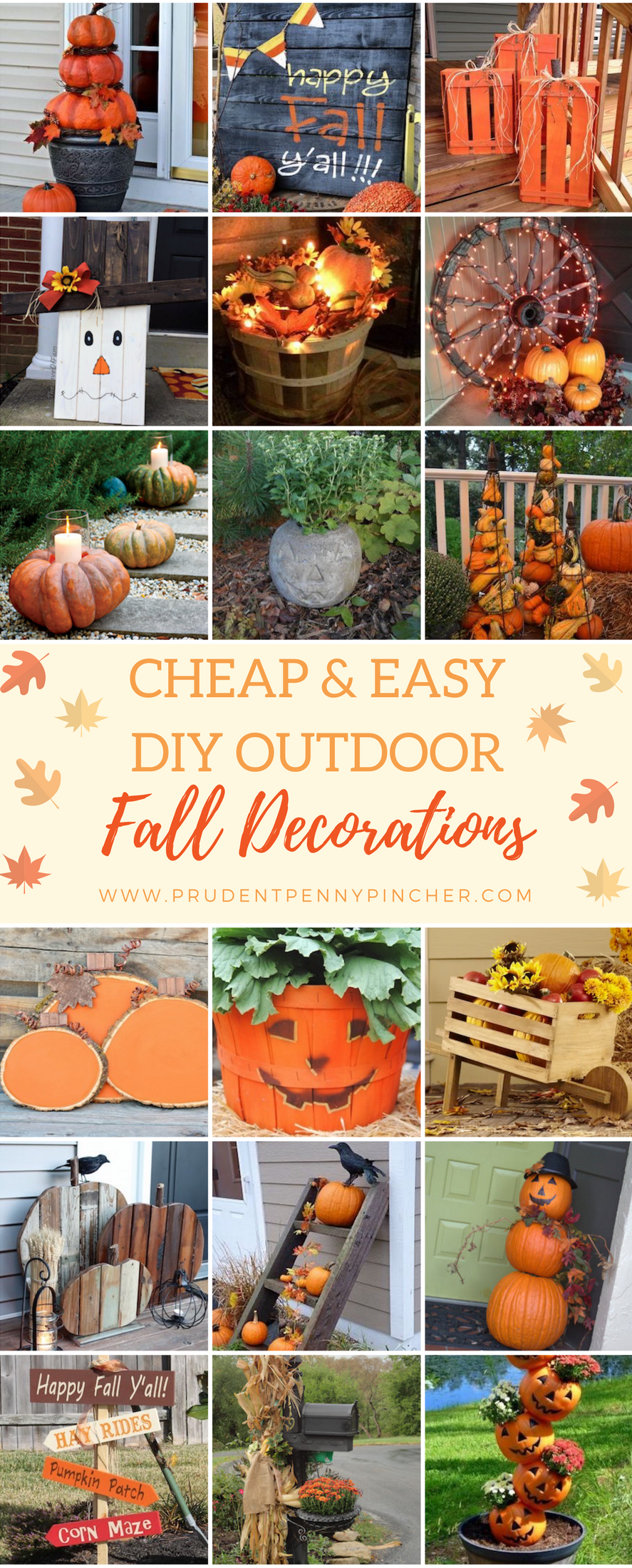 Get your yard ready for Fall with these cheap and easy outdoor fall decor ideas.  Whether it's a yard, garden, or porch display, you're sure to find beautiful fall inspiration for your home here.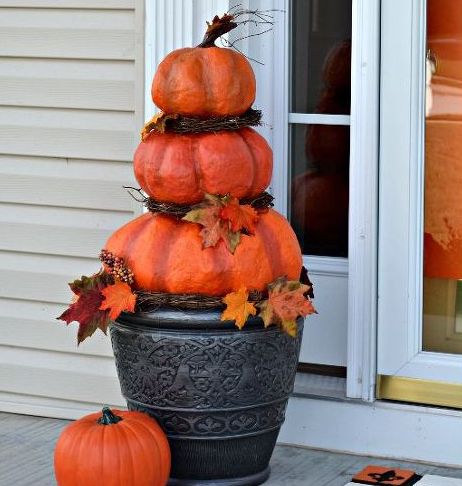 DIY Outdoor Pumpkins
trash bag + plastic bags + newspaper + tape + latex paint + urethane + pipe + urn + grapevine + fall leaf garland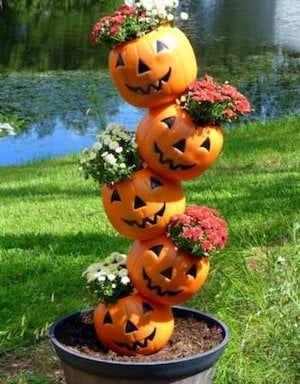 Tipsy Pumpkins
$1 pumpkin pails + drill + metal rod + metal rod + potting soil + mums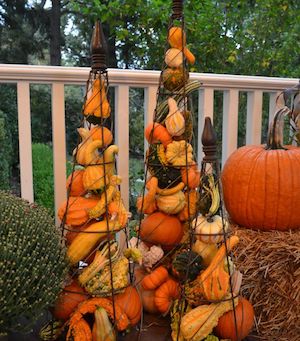 Pumpkin and Gourd Tree
tomato cage + packs of fake pumpkins and gourds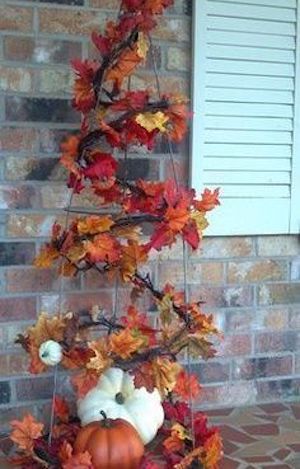 Fall Leaf Tree
fall leaf garlands + tomato cage + orange string lights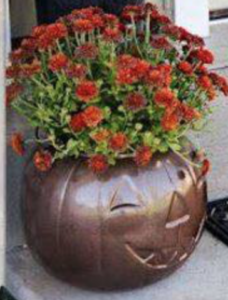 Pumpkin Pail with Mums
$1 pumpkin pail (Walmart or Target – $1) + 1 can of spray paint + mums ($5 at Walmart)
Don't forget to poke holes in the bottom so you can water your flowers.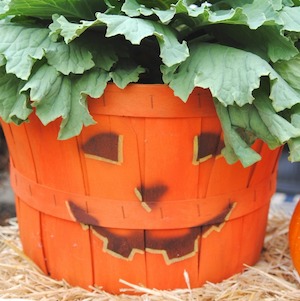 Pumpkin Basket
bushel basket + craft paint + flowers or plants of your choice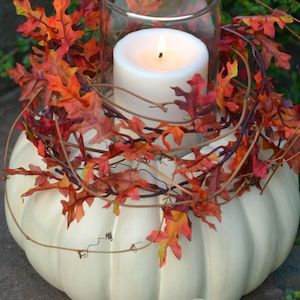 Candle Pumpkin
craft pumpkin + glass cylinder candle holder + fall leaf garland + grapevine garland + pillar candle
You can get the candleholder, leaf garland and pillar candle at Dollar Tree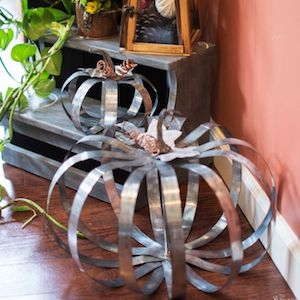 Pottery Barn Inspired Metal Pumpkins
galvanized metal strap + galvanized hex nuts +  threaded rod  + Aluminum lawn edging + vine-wrapped wire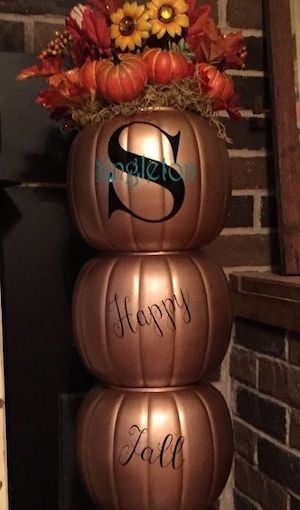 Pumpkin Topiary
$1 plastic pumpkins +  spray paint + rocks +  vinyl letters + styrofoam  + hot glue gun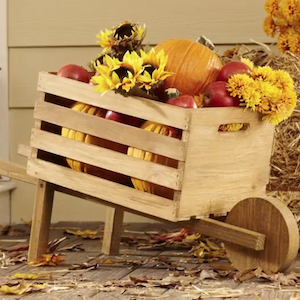 DIY Rustic Wheelbarrow
wood crate + prime kiln-dried board + wood square end baluster + wood round dowel + screws + tools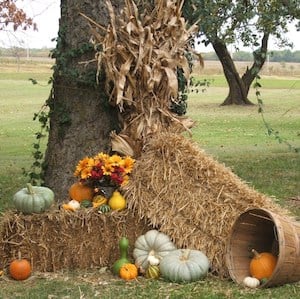 Hay Bales Fake Display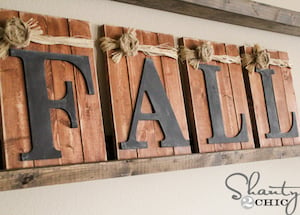 DIY Chalkboard Sign
wood + saw + wood glue + nails and hammer + wood stain + wood letters + chalkboard paint + burlap + raffia
You can get the burlap and raffia at Dollar Tree and the paint and letters at Walmart for a good price.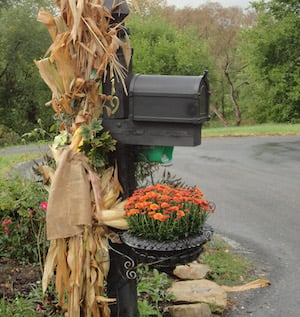 Corn Stalk Mailbox
Corn stalks + fake fruits + mums + burlap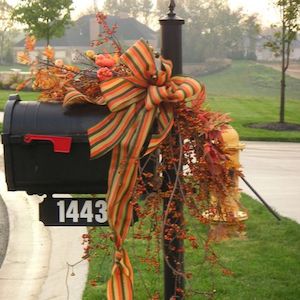 Fall Berries and Bow Mailbox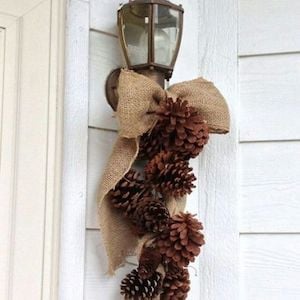 Pinecone and Burlap Ribbon for Lamp
burlap ribbon + pinecones + floral wire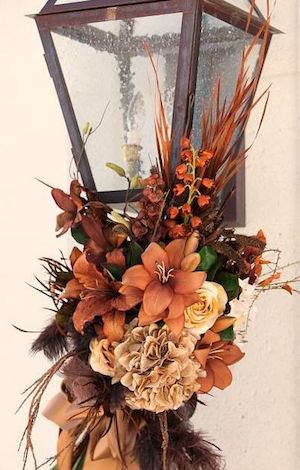 Fall Floral Lamp
assorted fall floral sprays and picks + ribbon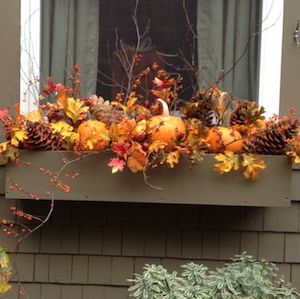 Fall Window Box
pinecones + berry garlands + maple leaf garland + mini pumpkins + fake fall florals (optional)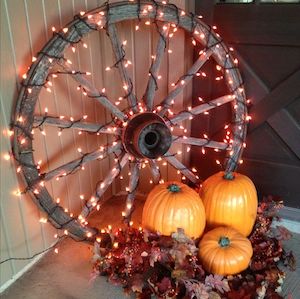 Fall Wagon Wheel Display
If you happen to have an extra wagon wheel lying around, then this would be a cheap idea that would give your fall decor a rustic touch. You may be able to find one for free on Craigslist or cheap at a used home improvement store.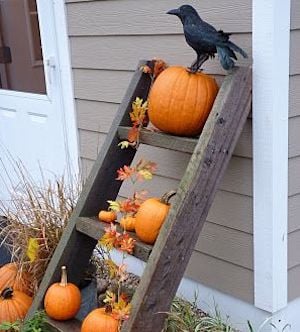 Pumpkin Ladder
ladder + assorted pumpkins. + fall leaf garland + fake crow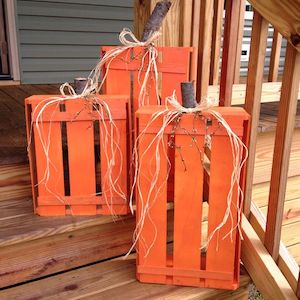 DIY Wood Crate Pumpkins
3 different size wood crates + Orange paint + corn husk ribbon + branch stem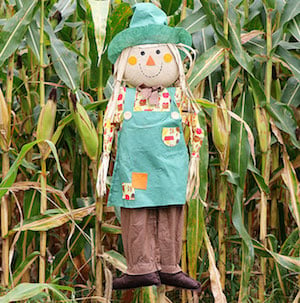 DIY Scarecrow
shirt + pants + hat + scrap fabric + safety pins + twine + raffia + marker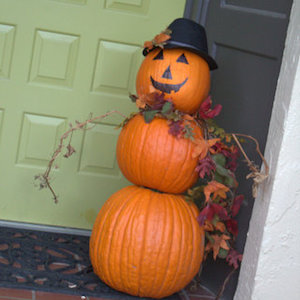 Pumpkin Man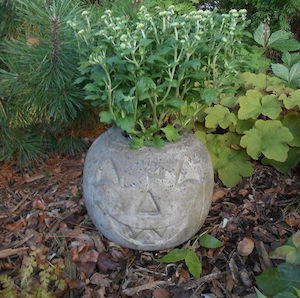 DIY Concrete Pumpkin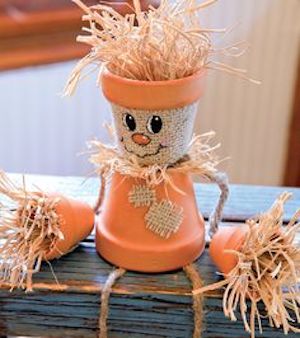 DIY Terracotta Scarecrow
Terracotta pots + Twine + Burlap + Straw +  Markers + Glue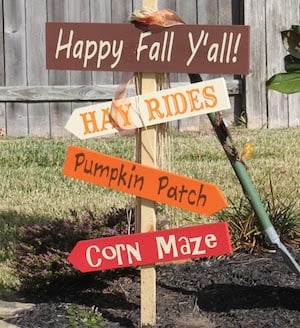 Fall Yard Stakes
stakes + wood post + outdoor craft paint + stencils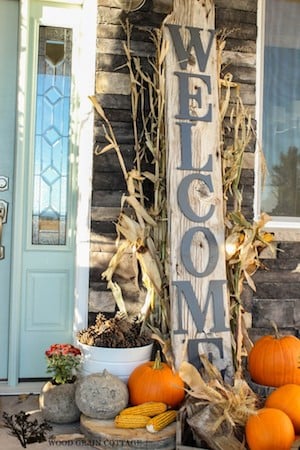 Welcome Fall Sign 
pallet wood + large wood letters + black acrylic paint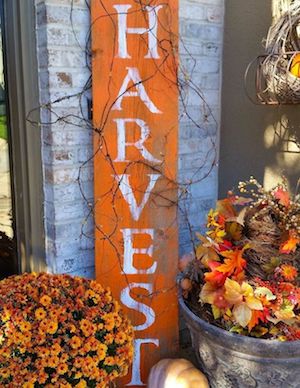 Harvest Sign
wood  + large stencils + orange sample paint + white acrylic paint
You can get pallet or reclaimed wood for free for this project if you check Craigslist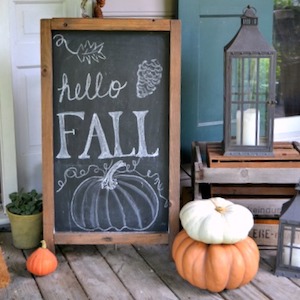 Chalkboard Welcome Sign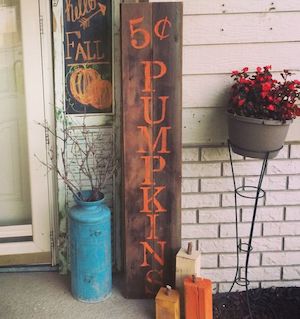 Pumpkin Pallet Sign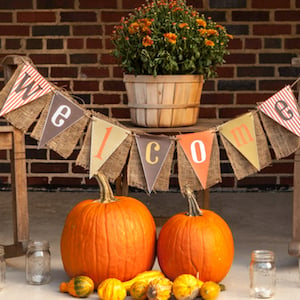 Welcome Porch Table
banner + mums + pumpkins and gourds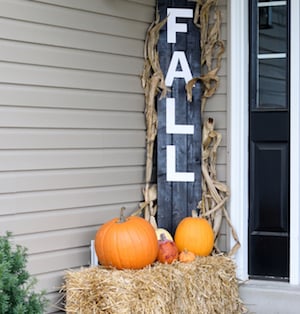 Fall Pallet Sign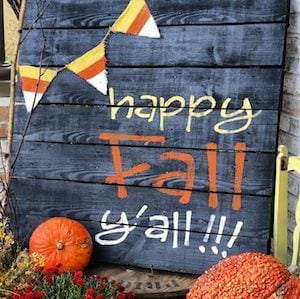 Happy Fall Pallet Sign
pallet + black paint + adhesive spray + stencils + burlap banner + acrylic paint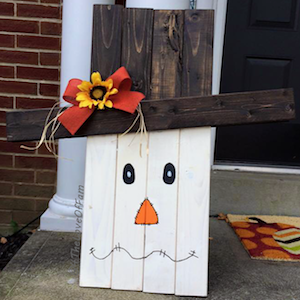 DIY Reversible Scarecrow To Snowman Pallet
pallet + paint/stain + paint pens + sealer + ribbon + raffia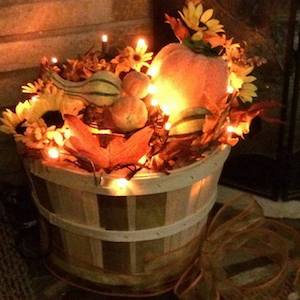 Fall Basket
bushel basket + fall leaves garland + 20 count string lights + $1 plastic pumpkins and gourds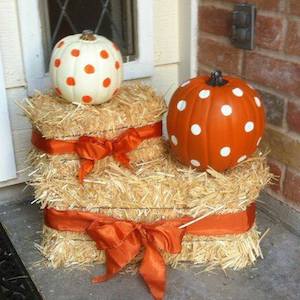 Polka Dot Pumpkin Porch Display
wide orange ribbon + small and large hay bale + two pumpkins + acrylic paint + stencils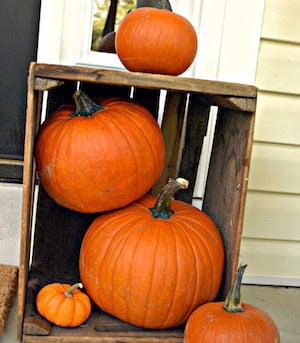 Pumpkin Crate 
Various sized pumpkins + wood crate + wood stain
You can get the crates for under $5 at Walmart or for cheaper at thrift stores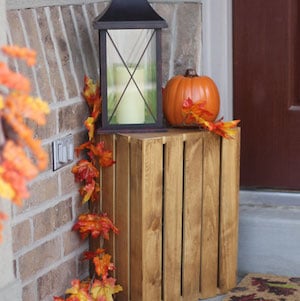 Fall Crate with Lantern and Pumpkins
lantern  + LED pillar candle + wood crate + $1 plastic pumpkin + $1 fall leaves garland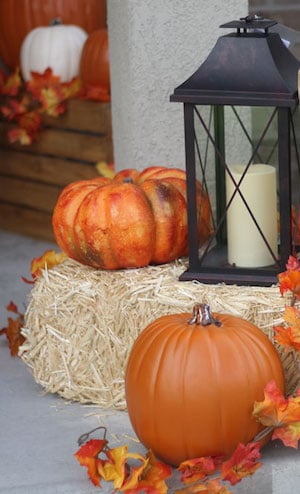 Fall Hay Display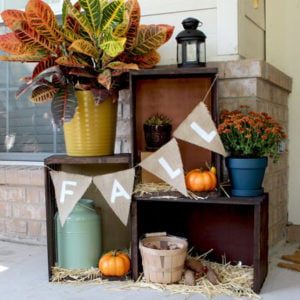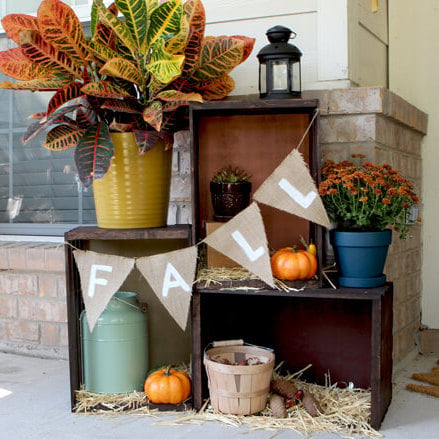 Fall Crate Display
wood crates + wood stain + sample paint + plywood (for backing)
For banner:  burlap banner + stencils + white craft paint + twine
To save money, you could even do the base with drawers from thrift store instead of crates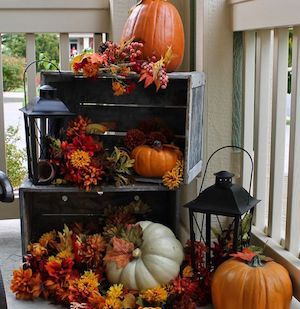 Fall Crate Display II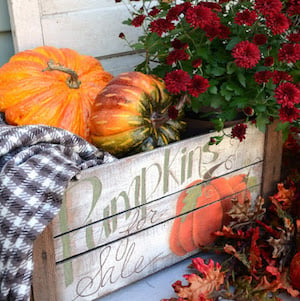 Distressed Pumpkin Crate for Fall
wood crate + carbon paper (for tracing design) + pencil + acrylic paints + sandpaper + sealant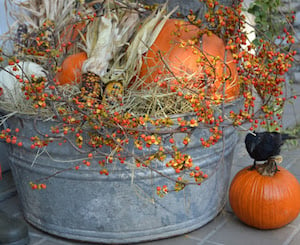 Fall Tub Arrangement
galvanized tub + hay + pumpkins + corn + berry vines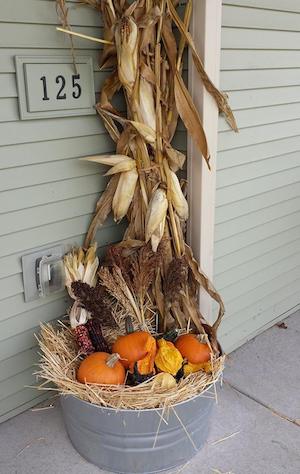 Fall Harvest Tub II
large galvanized tub + hay + pumpkins & gourds +  corn  + corn stalks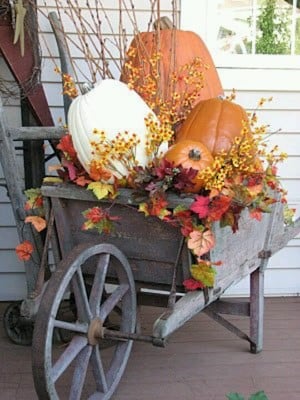 Fall Harvest Wheelbarrow
Great project if you happen to already have a wheelbarrow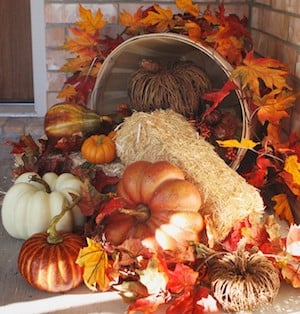 Overflowing Fall Bushel Basket
assorted fake pumpkins + small bale of hay + fall leave garland + bushel basket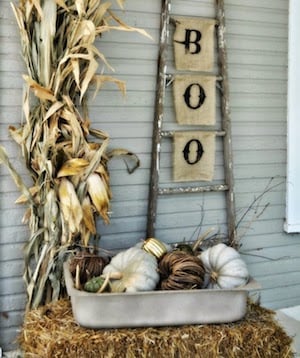 Vintage Fall Porch
corn stalks + hay + old sink  + gray spray paint + assorted pumpkins
For the BOO ladder: wood trim + hammer + nails + stencils + burlap + black acrylic paint
here is a tutorial for how to make the ladder for under $15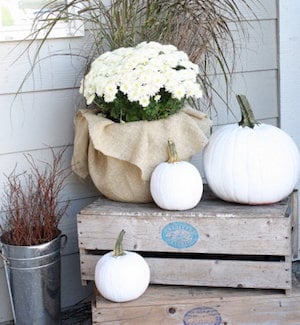 Neutral Fall Crate Display
craft pumpkins + white paint + crates + burlap + mums + twine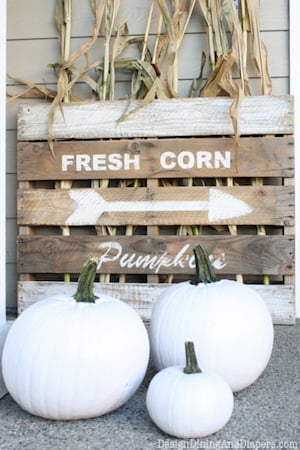 Neutral Front Porch
pallet + letter and arrow stencils + white acrylic paint + corn stalks + pumpkins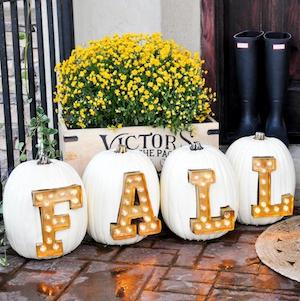 DIY Marquee Light Letter Pumpkins
marquee light letters + pumpkins
You can save.a lot of money if you make the marquee lights instead of buy them.
Here is a tutorial for how to DIY them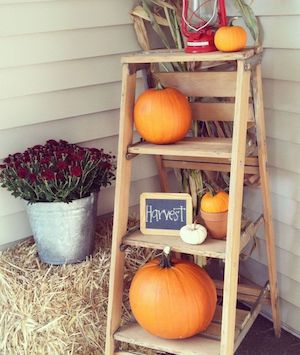 Wood Ladder Fall Decor Idea
All you need is a basic ladder and you can decorate it with whatever fall decor items that you have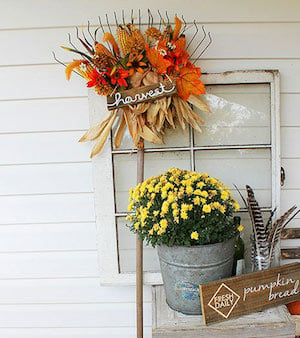 Harvest Rake Decorating Idea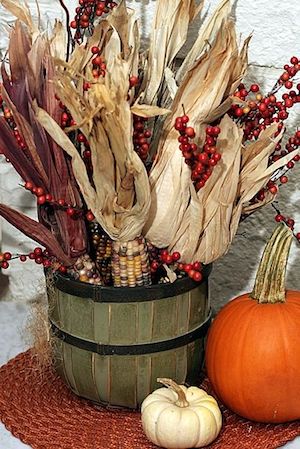 Corn Bushel Basket
fall berry stems + dried corn + bushel basket + black and gray craft paint
Related Posts


50 Dollar Store Fall Decor DIY Ideas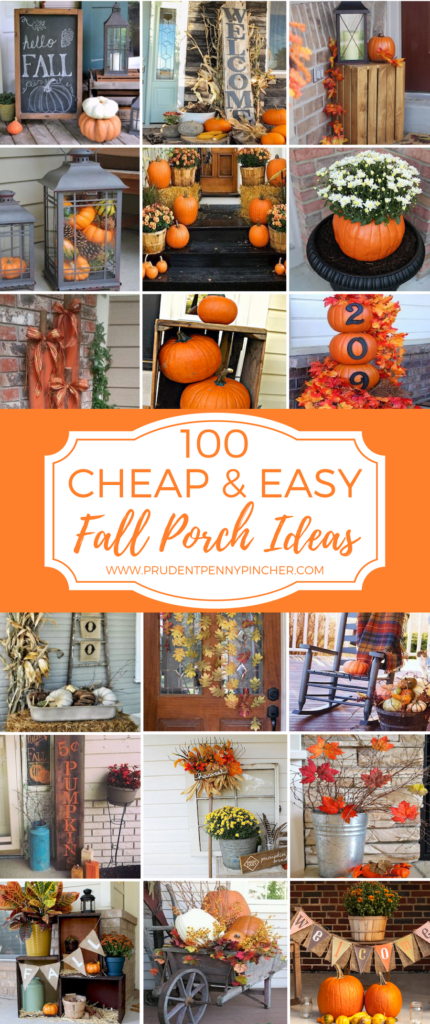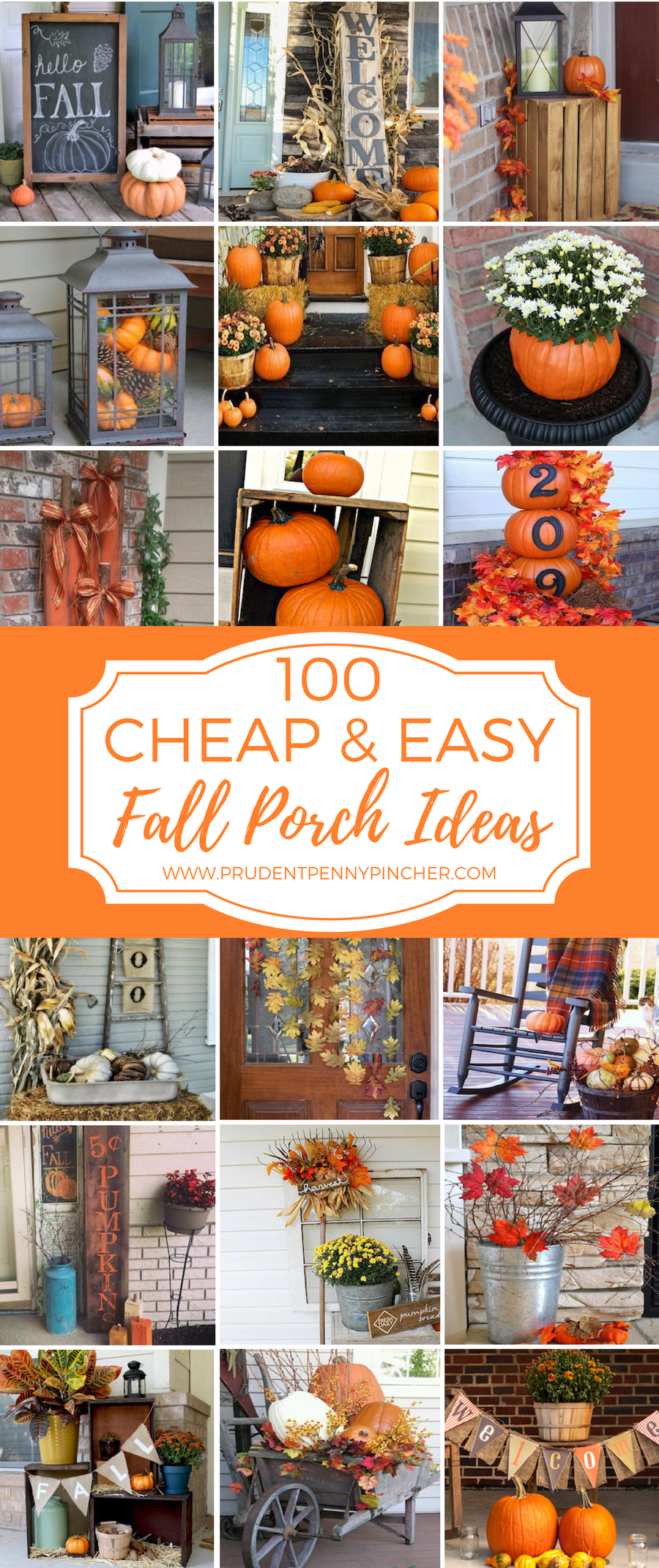 100 Cheap & Easy Fall Porch Ideas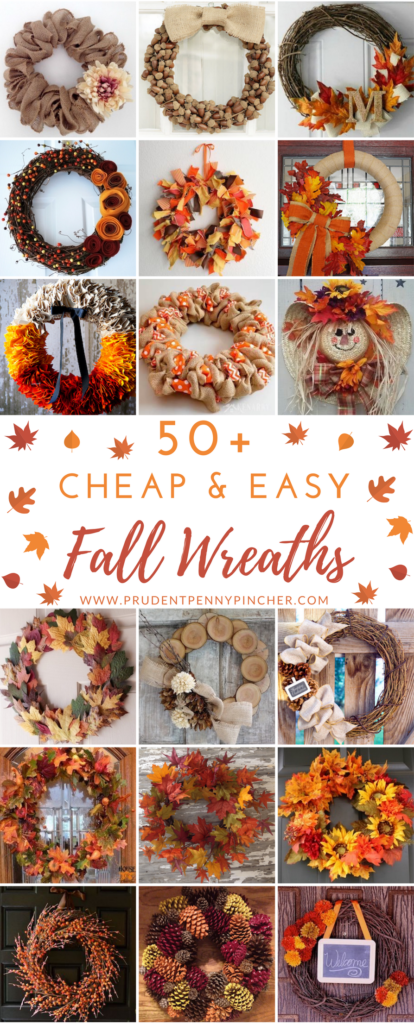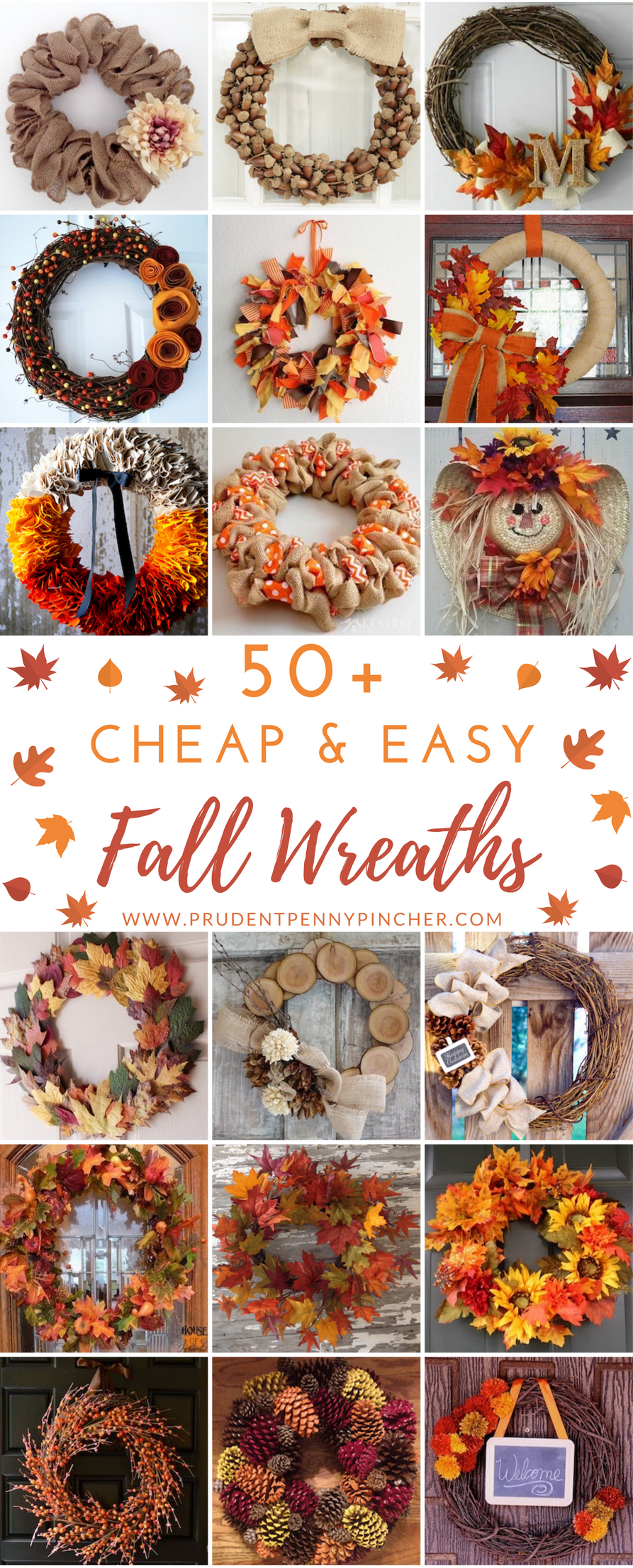 50 Cheap & Easy DIY Fall Wreaths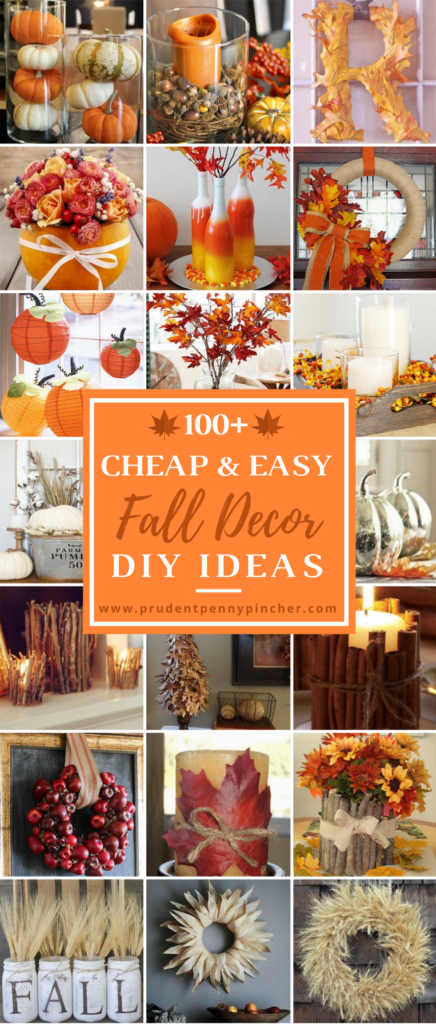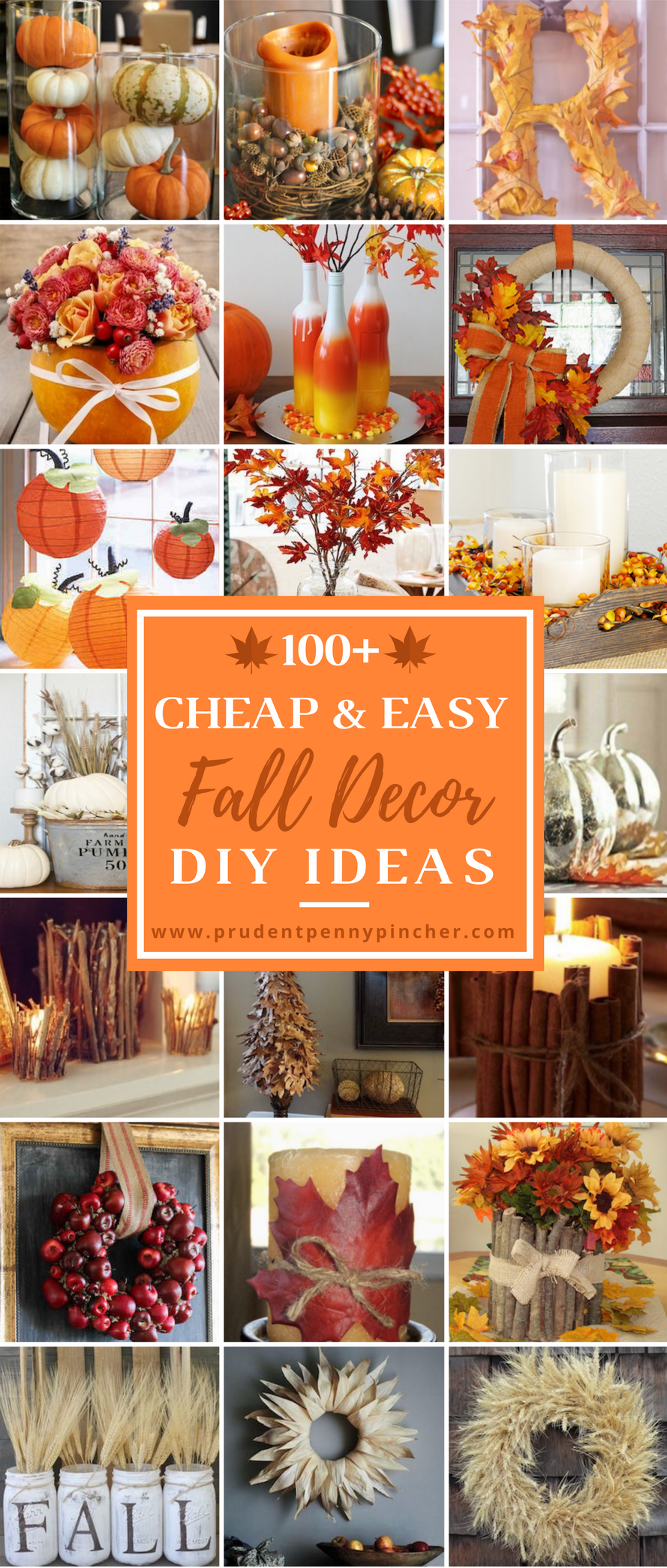 100 Cheap & Easy Fall Decorations

50 Rustic Fall Decor DIY Ideas