Celebrate everything autumn with these fun and creative fall crafts. From pumpkin crafts to mason jar crafts, there's something here for every crafter (beginner to expert) so grab a pumpkin spice latte and get to crafting!
Pumpkin Fall Crafts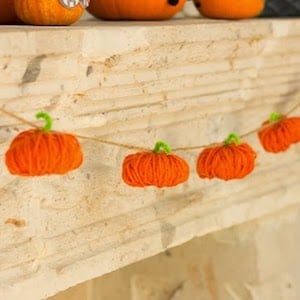 Yarn Pumpkin Garland
orange yarn, green pipe cleaners, twine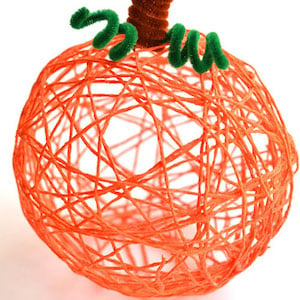 Yarn Pumpkins
orange yarn, white glue, balloon, brown & green pipe cleaner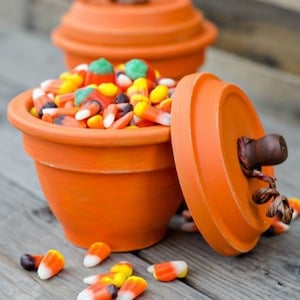 Terracotta Pumpkins
terracotta pot & lid, acrylic paint, adhesive, wooden knobs, coiled floral wire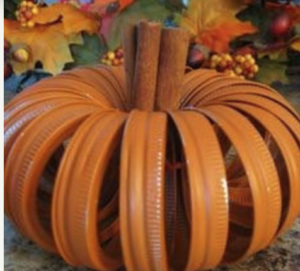 Mason Jar Lid Pumpkin
cinnamon sticks, mason jar lids with bands, orange spray paint, orange yarn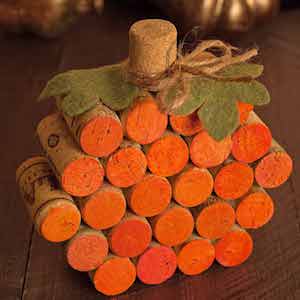 Wine Cork Pumpkin 
wine corks, orange acrylic paint, glue gun, green felt, twine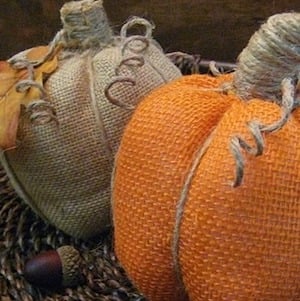 Easy No-Sew Burlap Pumpkins
burlap, twine, polyfill stuffing, rubber bands, mod podge, faux leaves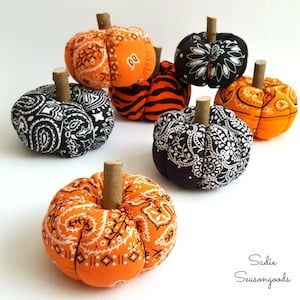 Halloween Bandana Pumpkins
bandanas (Dollar Tree),  embroidery floss,  polyfil, needle & thread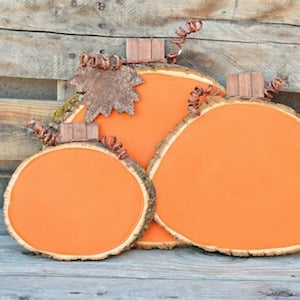 Painted Wood Slice Pumpkins
wooden plaques, acrylic paints, coiled floral wire, wire cutters, wood sticks, glue gun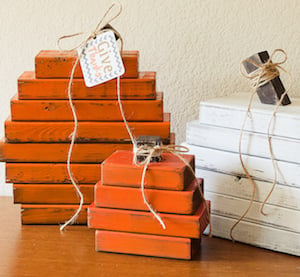 Rustic Wood Pumpkins
wood scraps,  wood glue, clamps, sandpaper, paint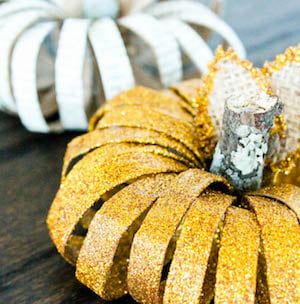 Paper Roll Pumpkins
paper toll roll, decorating material, twine, cinnamon sticks, burlap scraps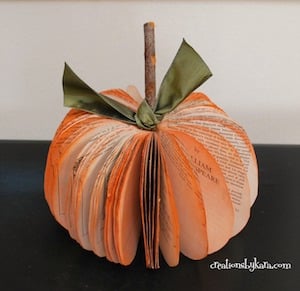 Book Page Pumpkin 
book, spray paint, stick forested, ribbon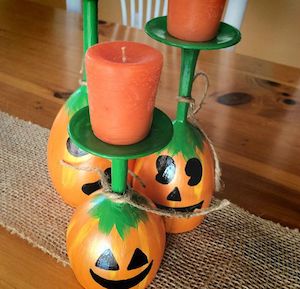 DIY Pumpkin Wine Glasses
orange, green, yellow & blank paint, paint brushes, wine glasses, hemp rope, orange pillar candles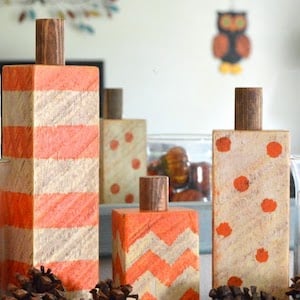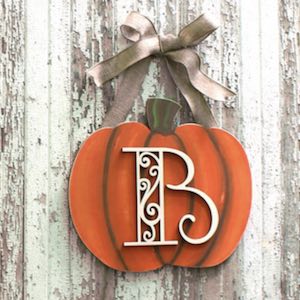 Pumpkin Monogram Wreath
chipboard pumpkin, craft paint, sand paper, ribbon, craft glue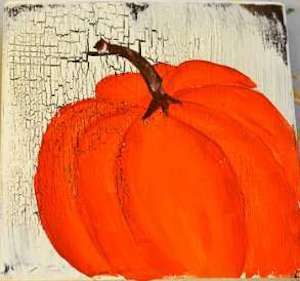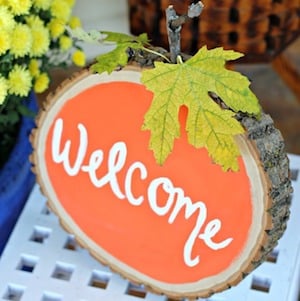 Pumpkin Tree Stump 
wood stump plaque, orange & white craft paint, 1/2″ wooden dowel, drill and and 1/2″ drill bit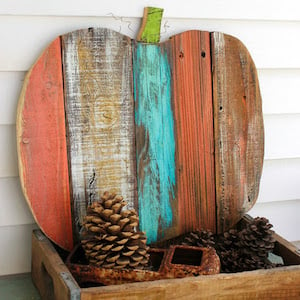 Scrappy Pumpkin
scrap wood, chalk. jigsaw, thin boards, wood screws, wire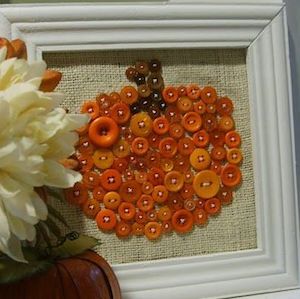 Pumpkin Button Art 
picture frame, burlap, various sized orange & brown buttons, super glue,  embroidery floss, needle, white craft paint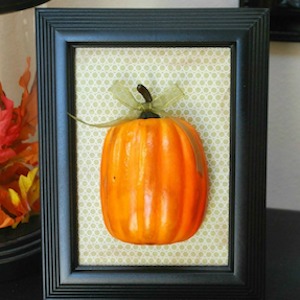 Framed Plastic Pumpkin
$1 plastic pumpkin, orange spray paint, brown acrylic paint, black frame, scrapbook paper,  ribbon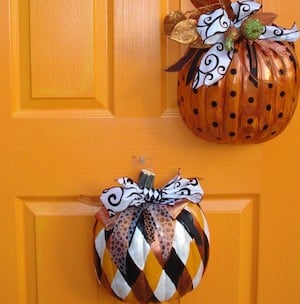 Pumpkin Door Decor
$1 plastic pumpkin, craft paint, tissue paper, mod podge, halloween ribbons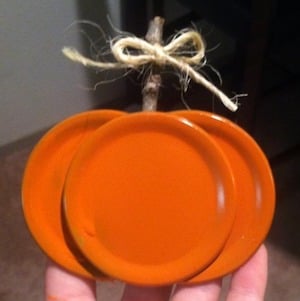 Pumpkin Craft With Mason Jar Lid
mason jar lids, orange spray paint, twine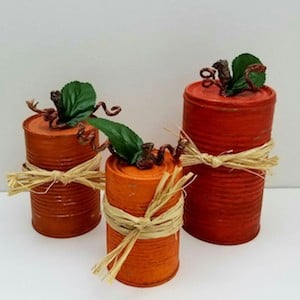 Easy Diy Tin Can Pumpkins
tin can, nail, twigs, green floral leaves, wire, acrylic paint, raffia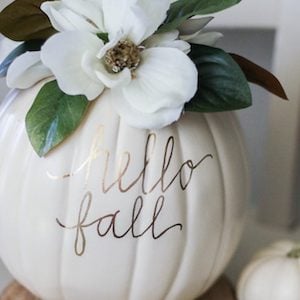 Magnolia Pumpkin
faux white pumpkin, faux magnolia leaves and blooms, glue gun, paint pen, mini gold beads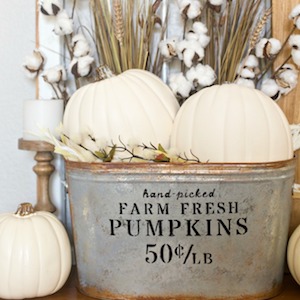 DIY Farmhouse Pumpkin Bucket
galvanized steel bucket + brown, gray and black paint + paint pouncer + stencils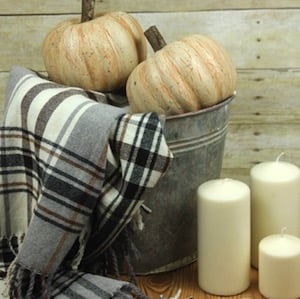 Distressed Pumpkins
glue, acrylic paint, brown & black craft paint, small wooden branches, glue gun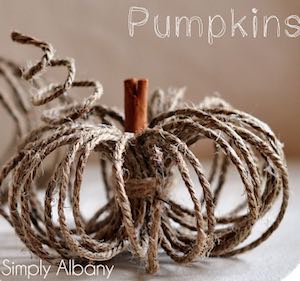 Twine Pumpkins
twine, white school glue, drinking glass, saran wrap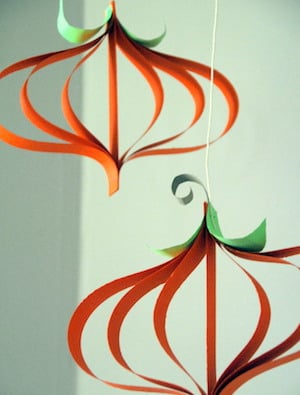 Paper Pumpkin
orange, green & brown construction paper, stapler and staples, string, scissors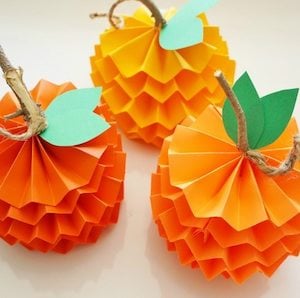 Paper Pumpkins
patterned paper, paper cutter, double sided tape, glue gun, sticks, twine, scissors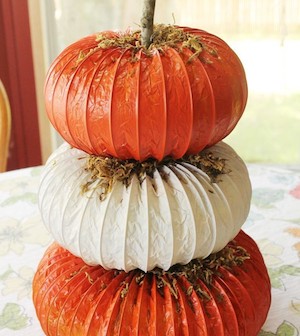 Dryer Vent Pumpkins
dryer vent hose, orange  & cream spray paint, stick, moss, glue gun, wire cutters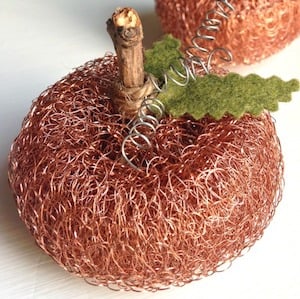 Scrub Pad Pumpkins
copper scrubbing pads, sticks, green felt, twine, wire, glue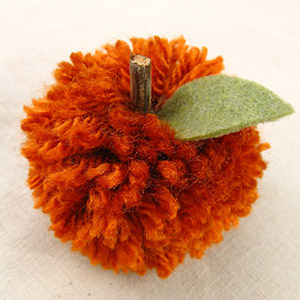 Pom Pom Pumpkins
orange yarn, green felt, twig,  glue gun, wire cutter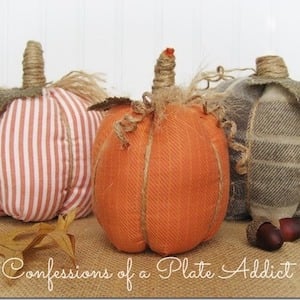 Easy No-Sew Shirt Pumpkins
long-sleeved shirt, twine, rubber bands, fiberfill, mod podge, scissors, foam brush, burlap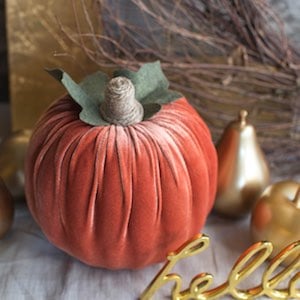 Velvet Pumpkin 
velvet fabric, foam pumpkin, glue gun, craft knife, scissors, twine, green felt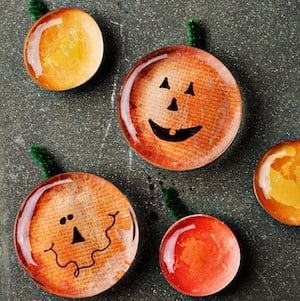 Pumpkin Magnets
decorative paper, mod podge, glass rocks, sharpie, magnets, pipe cleaners,  glue gun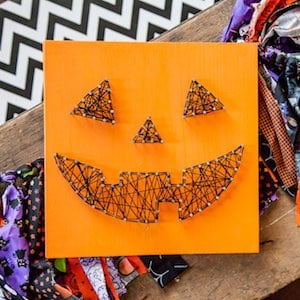 Jack-O-Lantern String Art
wood sign, orange paint, paint brush, hammer, nails, black string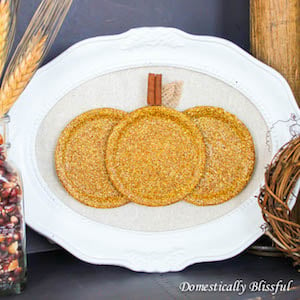 Sparkling Gold Mason Jar Lid Pumpkins
mason jar lids, glitter, mod podge, scrapbook paper, cinnamon stick, burlap, glue gun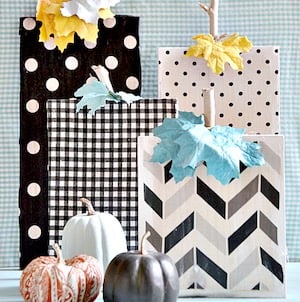 Fabric Pumpkins
fabric, wood, outdoor mod podge, stick, faux leaves
Leaves & Pinecone Fall Crafts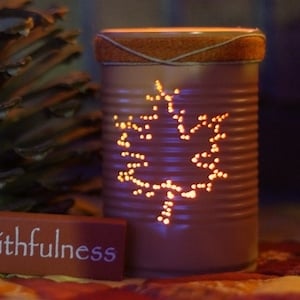 Fall Luminary Craft
. empty tin can, a straight nail, leaf template, hammer, tea light, spray paint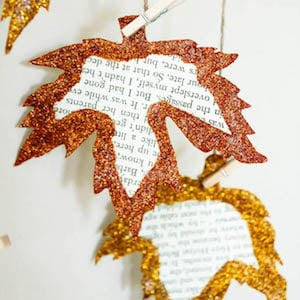 Book Page Fall Leaves 
book pages, highlighter, mod podge, fine glitter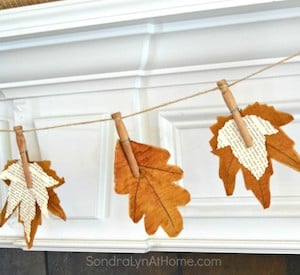 Fall Leaves Banner
fall leaves, twine, book page leaves, clothespins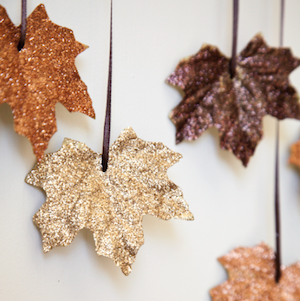 Glittery Fall Leaves Garland
pack of fall leaves, ribbon, glitter, glue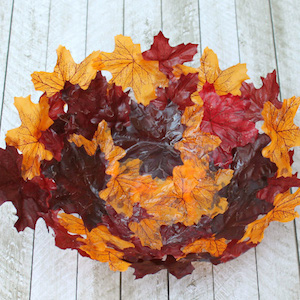 Leaf Bowl DIY Craft
artificial maple leaves, plastic bowl, mod podge, krylon triple thick glaze, plastic wrap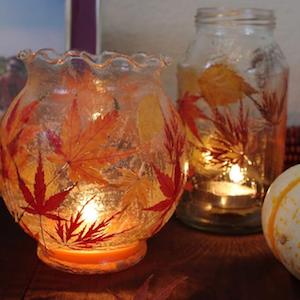 Fall Leaf Lanterns 
glass globe, mod podge, fall leaves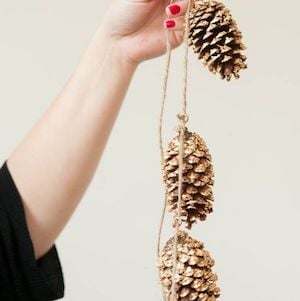 Pinecone Garland
pinecones, twine, mod podge, gold glitter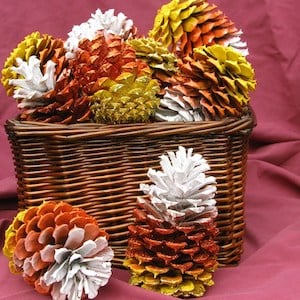 DIY Candy Corn Pine Cones
spray paint (white, orange & yellow), spray sealant, mod podge, glitter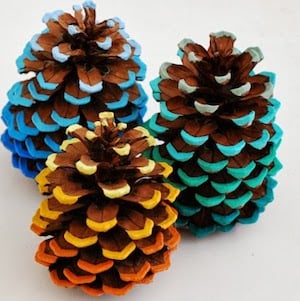 Ombre Pine Cones
pinecone, acrylic paint, angled paint brush, old toothbrush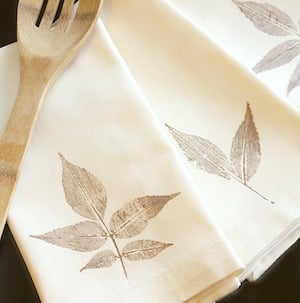 Leaf Stamped Napkins
leaves, napkins, craft paint, rolling pin, paper towel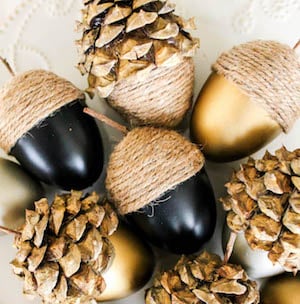 DIY Fall Acorns
easter eggs, spray paint, twine, pinecones, glue gun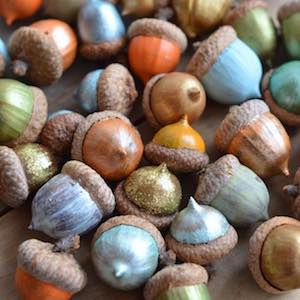 Painted Acorns 
acorns, acrylic paints, aluminum foil
Scarecrow Fall Crafts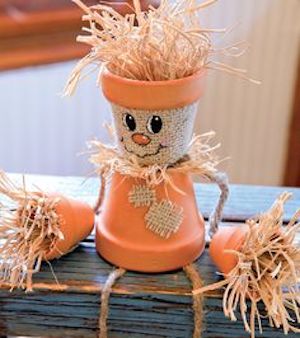 DIY Terracotta Scarecrow
terracotta pots, twine, burlap, straw,  markers, glue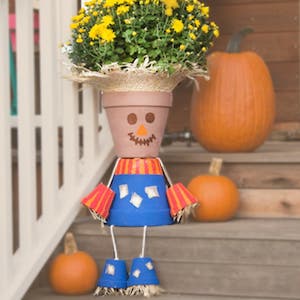 Flower Pot Scarecrow 
flower pots, tan, brown, orange, red & blue craft paint, waterproof sealant, flowers, straw hat, jute rope, industrial glue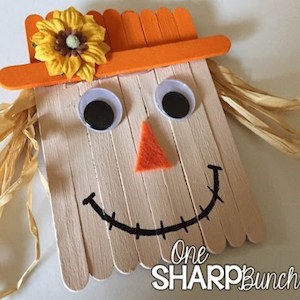 Popsicle Stick Scarecrow
popsicle sticks, paint, raffia, googly eyes, orange felt, fall flower, hot glue gun
This craft is more for kids, but its just so cute that I had to include it!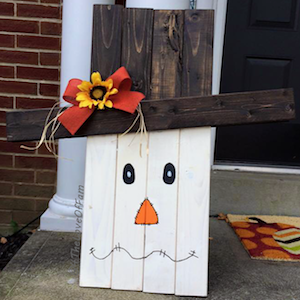 DIY Reversible Scarecrow To Snowman Pallet
pallet, paint/stain, paint pens, sealer, ribbon, raffia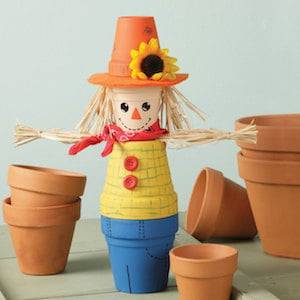 Clay Pot Scarecrow
clay pots, acrylic paint, wood buttons, raffia, orange felt, sunflower, bandanna, wood dowel,  E-6000
Mason Jar Fall Crafts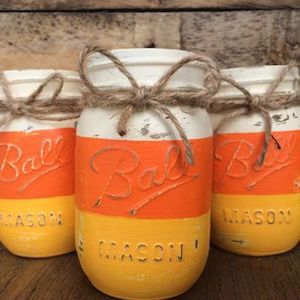 Candy Corn Mason Jars
mason jars, craft paints (white, yellow & orange), painter's tape, twine, sandpaper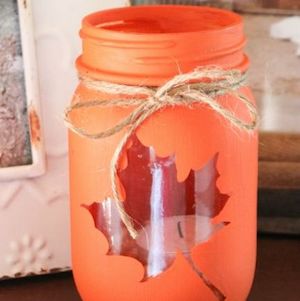 Mason Jar Fall Luminary
mason jar, adhesive vinyl, orange paint, twine, tea light candle
You can get the jar, twine and candles at Dollar Tree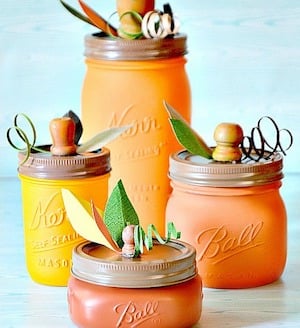 Pumpkin Mason Jars
mason jars, brown spray paint , orange acrylic paint & brown acrylic paint, fall colors card stock, wood pegs, embossing tools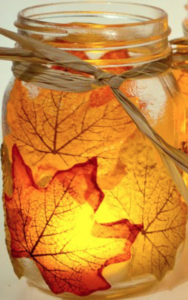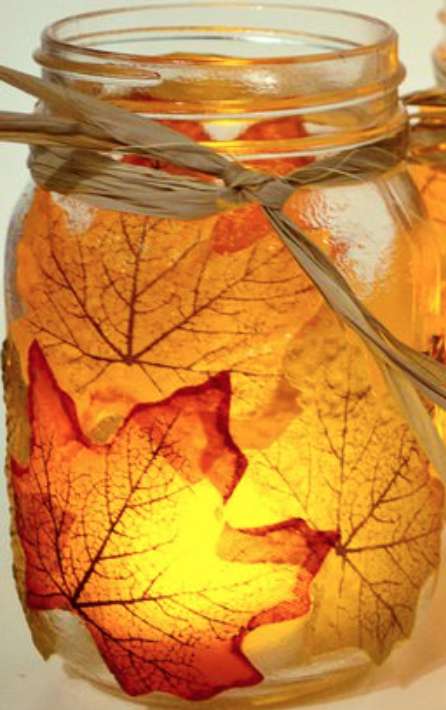 Maple Candle Jar
mason jar,, maple leaves pack (Dollar Tree), twine, glue gun or mod podge
Adhering the leaves to the jar is done easier with Mod Podge, but a glue gun worked fine for me when I made this.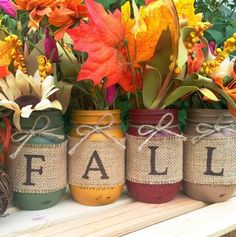 Fall Mason Jars (source unknown)
fall colored & black acrylic paint, mason jars, burlap ribbon, stencils, twine, $1 fall flowers, glue gun, sandpaper
Paint the mason jars fall colors. Distress with sandpaper if you wish to. Measure the burlap you need to fit around the mason jars and cut. Make four strips. Stencil the letters on the burlap ribbon with black paint (paint under newspaper or paper plate). Glue the burlap around the mason jar. Tie twine around neck of jar. Fill with flowers.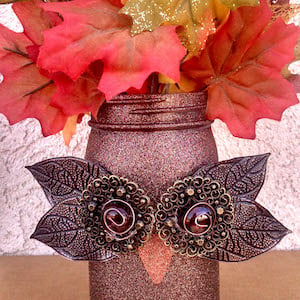 Fall Owl Mason Jar Craft 
mason jars, glitter spray paint , metal leaves, glass marbles, wire, metal sheet for beak, metal findings, $1 flowers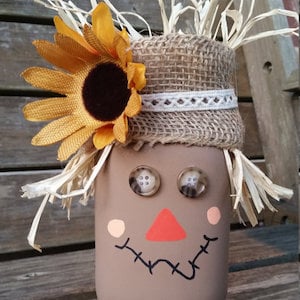 Scarecrow Mason Jar (source unknown)
mason jar, brown chalky paint, buttons, craft paints for face, sharpie for mouth, natural raffia, glue gun, burlap ribbon with lace trip, faux sunflower
You can get everything but the craft paints at Dollar Tree.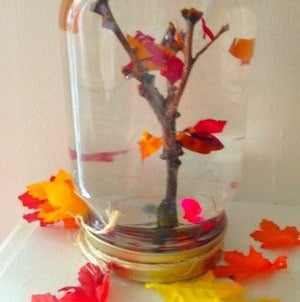 Maple Tree Leaf Globe
mason jar, glue gun, twigs, twine, silk leaves, fall colored confetti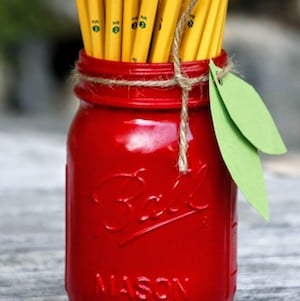 Apple Mason Jar Craft
mason jars, red spray paint, green card stock, twine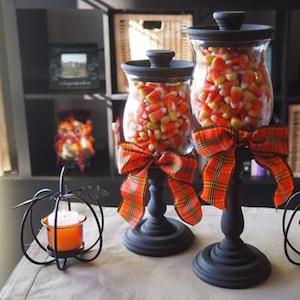 Fall Candy Corn Jars 
terra cotta saucers, glass vases, wooden candlesticks, wooden knobs, acrylic paint, glue gun, ribbon, candy corn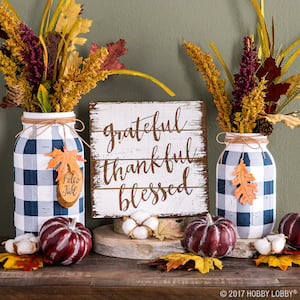 Buffalo Check Mason Jar DIY
mason jars, white chalky paint, painter's tape, dark blue, gray & black acrylic paint, wood tags, sandpaper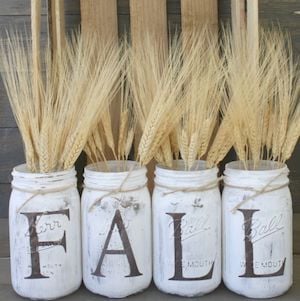 Rustic Fall Mason Jars Centerpiece
mason jars,  acrylic paint (brown & white), twine, vinyl stickers or stencils for letters, wheat stalk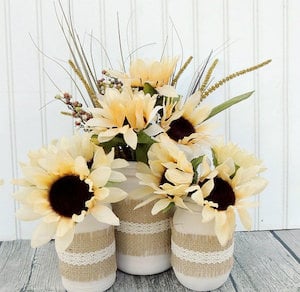 Fall Sunflower Jars
empty jars, chalk paint, burlap ribbon, lace trim, fake sunflowers and "grass"
All of these items can be purchased at Dollar Tree except for the chalk paint
Other Fall Crafts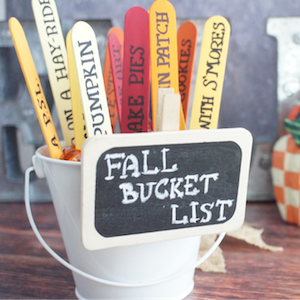 Fall Bucket List
small tin bucket, large popsicle sticks, fall filler, clip-on chalk board sign, chalk, sharpie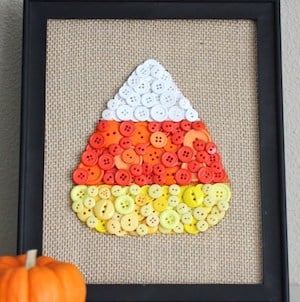 Candy Corn Button Art
buttons, burlap, frame,  acrylic paint, mod podge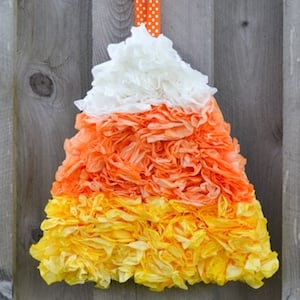 Coffee Filter Candy Corn 
coffee filters, food color, cardboard, glue gun, ribbon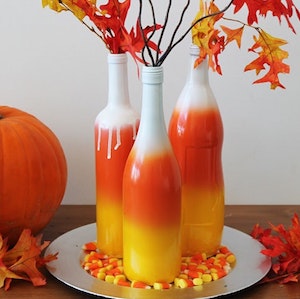 Candy Corn Bottle Centerpiece
empty wine bottles, spray paint, candy corn, silver serving tray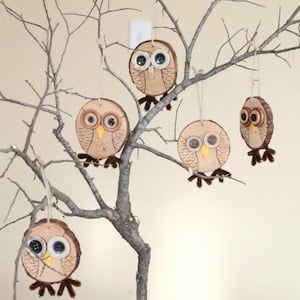 Owl Tree with Handmade Ornaments
wood slice ornaments, wood-look buttons, yellow felt, brown pipe cleaners, hot glue, wood burning tool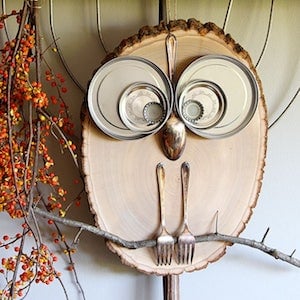 DIY Wood Slice Owl
wood slice, sawtooth picture frame hanger,  jar lids, pop bottle caps, serving spoon, forks, branch, e6000 glue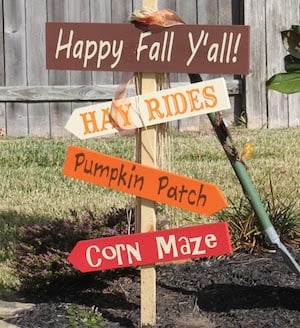 Fall Yard Stakes
stakes, wood post, outdoor craft paint, stencils, spray paint in fall colors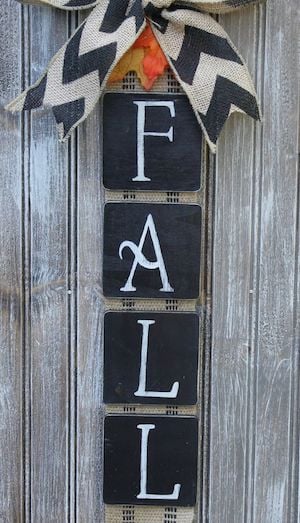 Fall Door Hanger
wood squares, black acrylic paint, letter stencils, wide wired burlap ribbon, glue gun, faux leaves