Get crafty with these fun DIY crafts for adults. From mason jar crafts to paper crafts, there are plenty of easy craft projects for inspiration.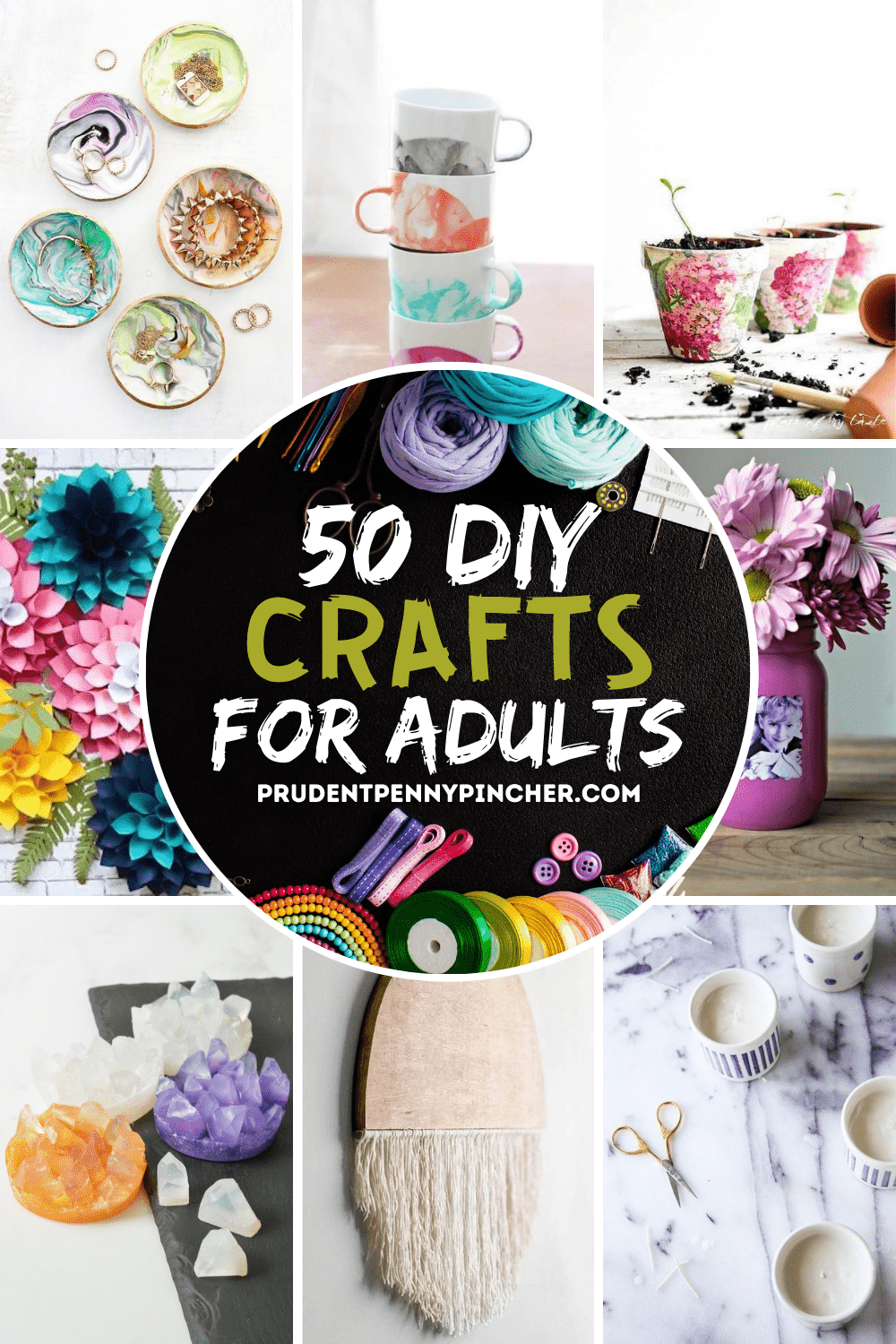 These DIY crafts range from quick, fun projects to more complex, time-consuming pieces that provide an opportunity to tap into your inner artisan. Whether you are looking for easy adult crafts for beginners or more advanced crafts, there are many different ideas, regardless of your skill level.
Crafting isn't only a fun pastime and a way to create unique DIY home decor and handmade gifts. The beauty of these DIY projects is that they allow you to personalize them and add a touch of your own creativity and personality to every project. You can turn ordinary materials into extraordinary masterpieces with the simple power of imagination and some elbow grease.
In this blog post, you'll find an array of craft projects that cater to a wide range of interests and skill levels. From handcrafted jewelry and homemade candles to intricate paper crafts and repurposed furniture, these adult crafts will inspire and help you on your DIY journey.
If you want budget-friendly crafts to sell for profit, try these dollar tree crafts to make and sell!
Before you get started, here are some expert tips to help you make the most out of your DIY crafting experience:
Start Small: If you're new to crafting, don't overwhelm yourself with a large, complex project. Start with something small and manageable to build your confidence and skills.
Patience is Key: Crafting is a process, and some projects take longer than others. Remember to take your time, follow instructions, and don't rush the process.
Experiment and Personalize: Don't be afraid to add your own personal touch to your crafts. Change the colors, add embellishments or accents (like bows, glitter, floral picks, etc.), or alter the design to make it yours.
Enjoy the Process: The most important aspect of DIY crafts is to enjoy the process. Crafting can be therapeutic and rewarding, so remember to have fun and enjoy the journey, even if the final product isn't perfect.
So, prepare to roll up your sleeves, unleash your creativity, and let's get crafting!
Jump to:
Glassware and Planter DIY Crafts for Adults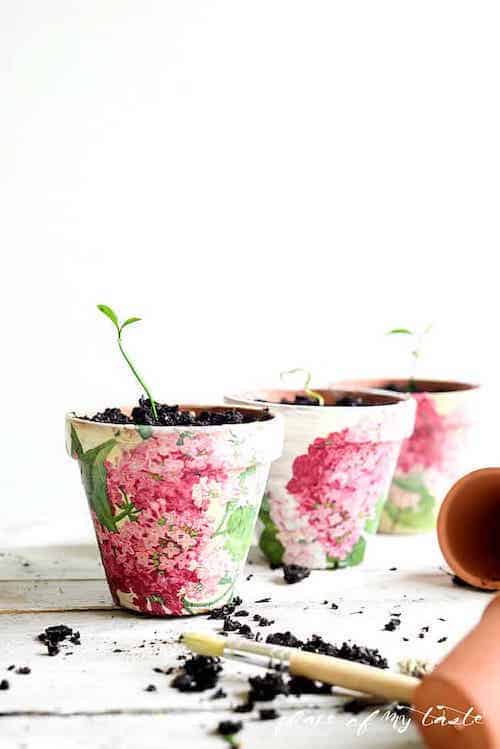 Decorative Napkins Decoupage Pots from Place of My Taste
Add brightness to your home with these terra cotta pots made from decorative napkins. This is easily a customizable adult craft project because you can add any pattern, print, or style of napkins to change the look and make it your own!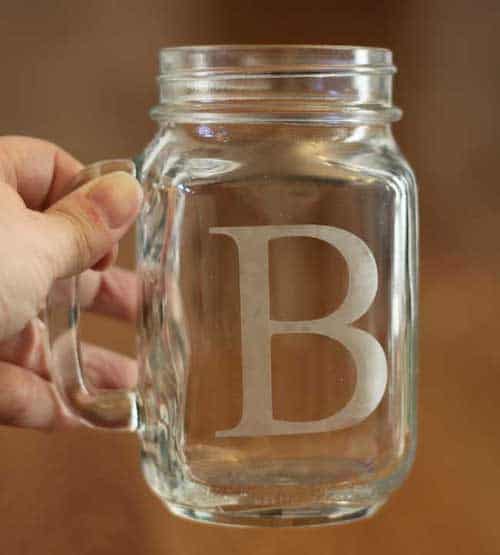 DIY Etched Mason Jar Glasses from Sometimes Homemade
These glasses make a great personalized gift idea for someone special in your life. It is a straightforward etching process with a detailed step-by-step tutorial to help you make it yourself.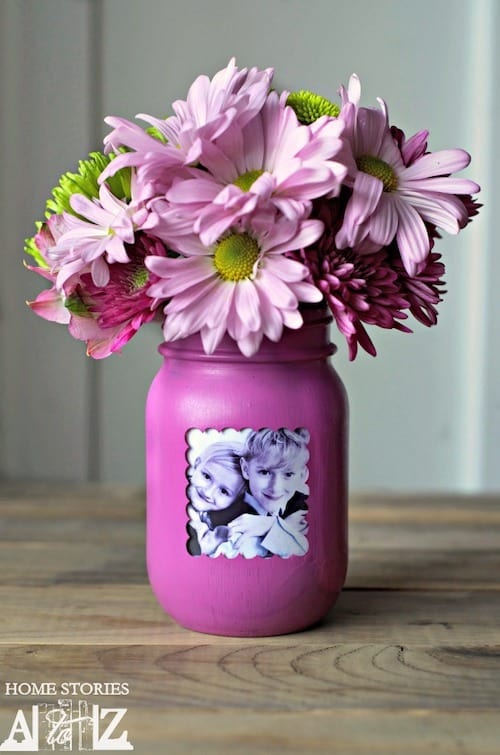 Mason Jar Picture Frame Vase from Home Stories A to Z
Upcycle a mason jar into this cute vase with a picture frame. It makes a thoughtful DIY gift for family or friends. Add some flowers or a LED candle inside to complete the look.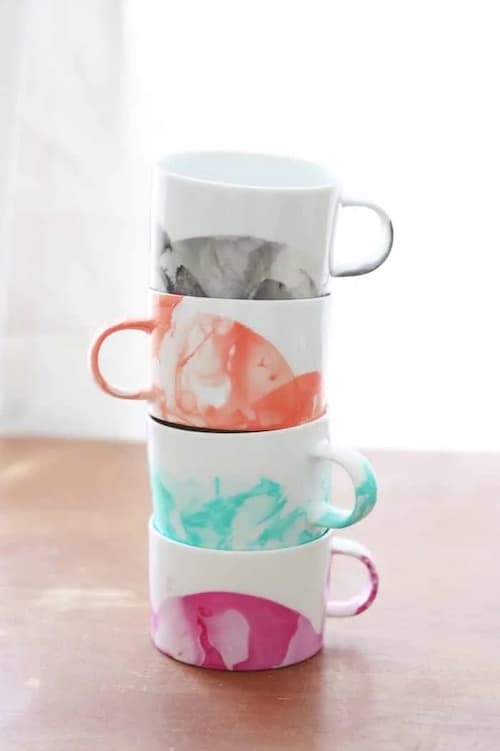 Marbled Mugs from DIY Candy
These fantastic mugs are made with marbled nail polish and cost less than a dollar each! There is an endless variety of color combinations to use on your cups. Be sure to seal them with dishwasher-safe mod podge after you are done.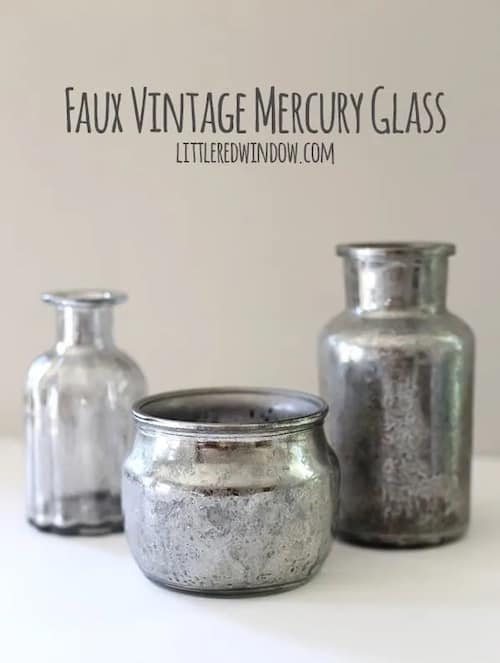 Faux Vintage Mercury Glass from Little Red Window
Make your vintage mercury glass on a budget with this easy DIY idea that will allow you to turn basic Dollar Tree glassware into something gorgeous. This fun project only requires simple steps to make your glasses look vintage!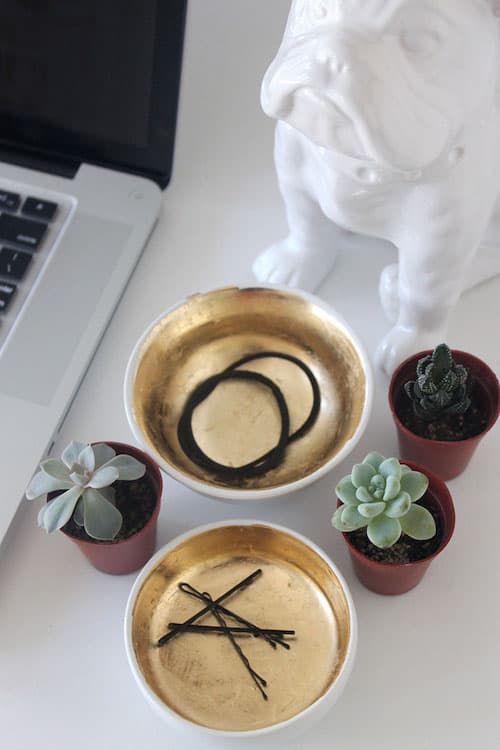 Gold Leaf Bowl from Why Don't You Make Me
Give a boring bowl a classy makeover with this stunning gold-lined bowl. All you need is a gold leaf kit and to follow her simple tutorial.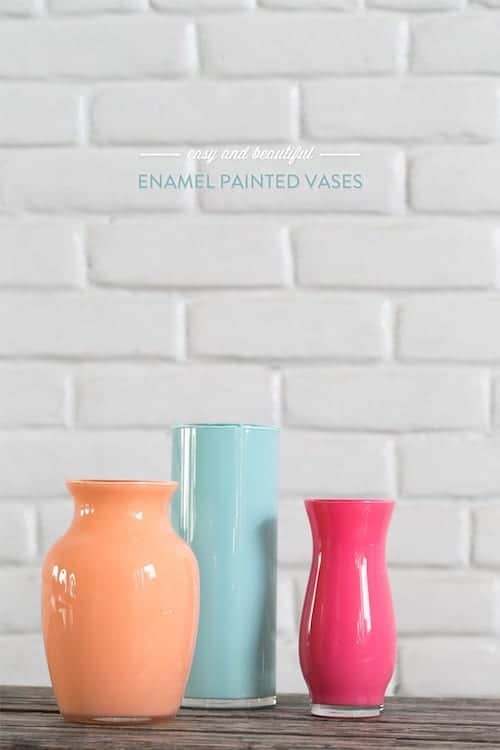 Enamel Painted Vase from Sugar and Charm
These DIY vases are budget-friendly and easy to make. You can even use Dollar Tree vases to make them. They will look cute on a shelf, table, or as a centerpiece. All you need to do is add some complimentary faux flowers.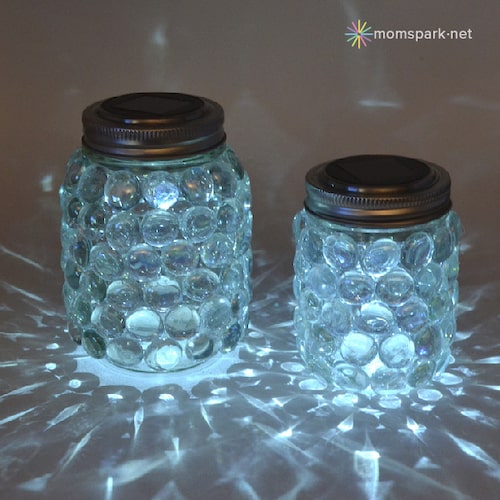 Mason Jar Luminaries from Mom Spark
Make beautiful glowing luminaries with a few dollar-store supplies. They are a great idea for interior lighting.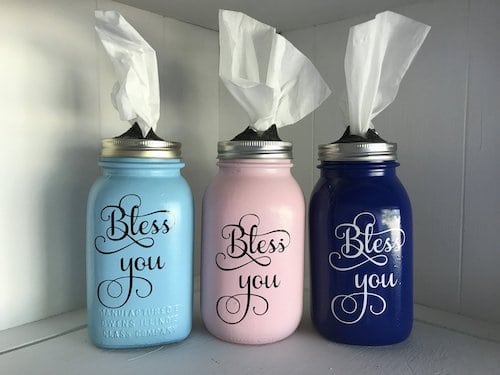 Mason Jar Tissue Dispenser from Day to Day Adventures
Transform your mason jars into these super cute tissue dispensers. This mason jar craft project for adults will also show you a great method of painting them so they don't chip over time!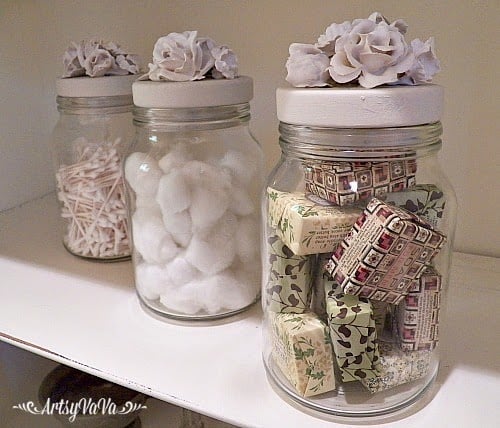 Plaster Flower Jars from Artsy VaVa
These creative jar toppers are made with plaster of pairs and faux flowers. They make great storage jars for the bathroom!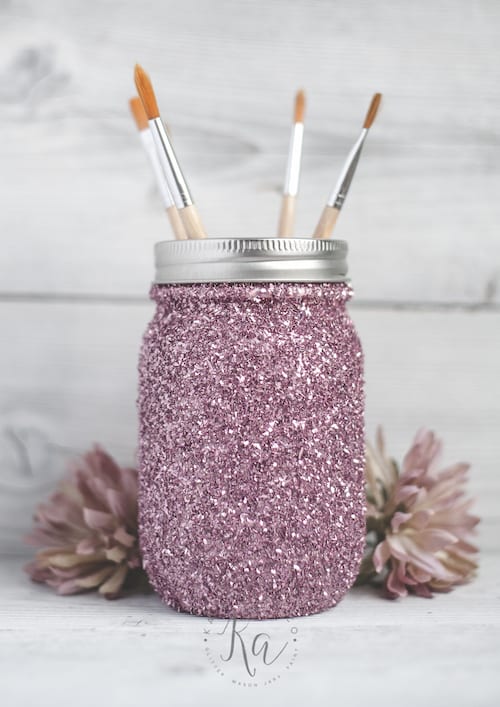 DIY Glitter Jars from KA Styles
These sparkling glitter jars are a creative craft for adults to do. There are a lot of color choices and patterns that you can use with these jars to make them your own. They would look great as centerpieces with flowers or storage jars.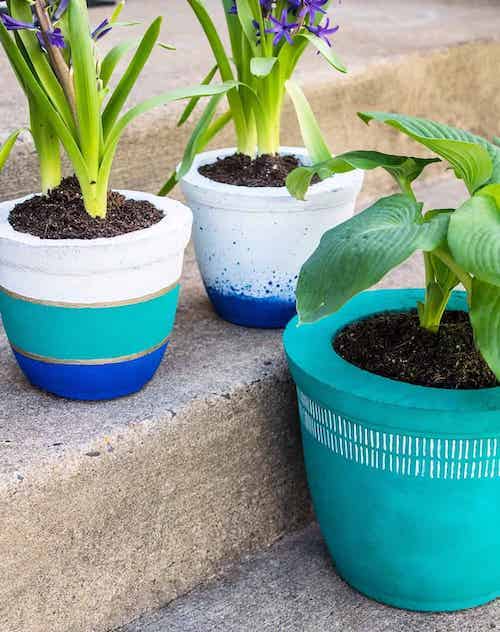 Concrete Flower Pot Planters from Craving Some Creativity
Add some color to your outdoor space with these painted concrete planters. These plant pots are made with super inexpensive cement and are self-watering.
DIY Home Decor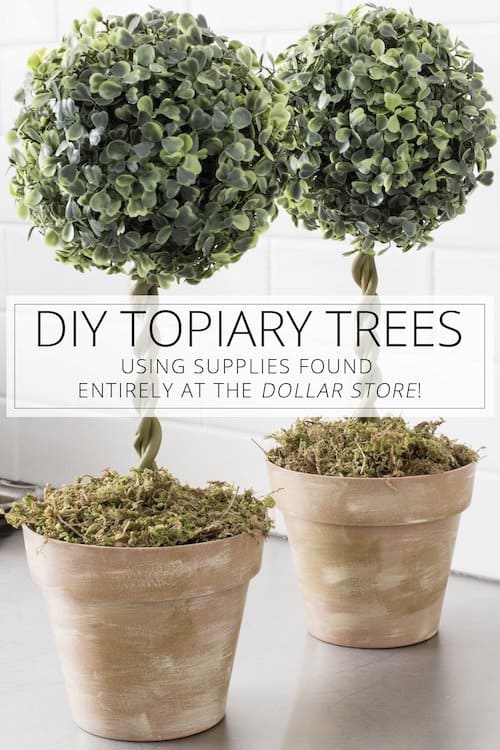 Topiary Trees from AKA Designs
You can make these beautiful topiary trees with a handful of dollar-store supplies. It only costs about $5 to make, so you can get high-end-looking decor in your home without the high price tag!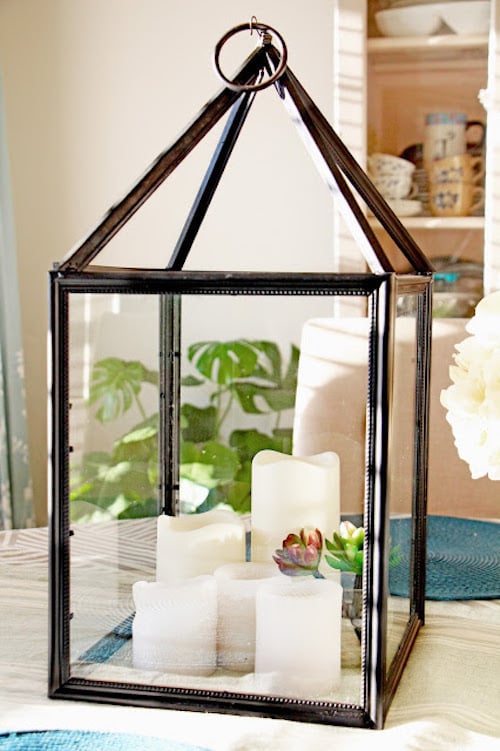 Picture Frames Candleholder from Grosgrain
Make DIY hurricane lanterns out of dollar store picture frames. This lantern is a great centerpiece for your dining room table or wedding centerpiece! Just add some candles inside, and voila! You have a classy-looking candleholder on a budget.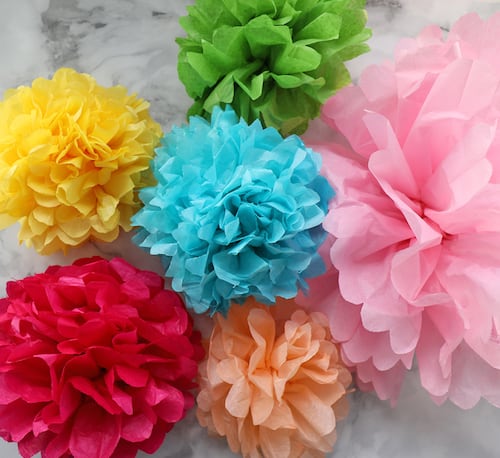 Tissue Paper Flowers from The Craft Patch
These paper flowers are so much fun to make. You can make pom poms with them, hang large ones on the wall, create garlands, and much more. They are great as party decorations or cheap DIY wedding decorations.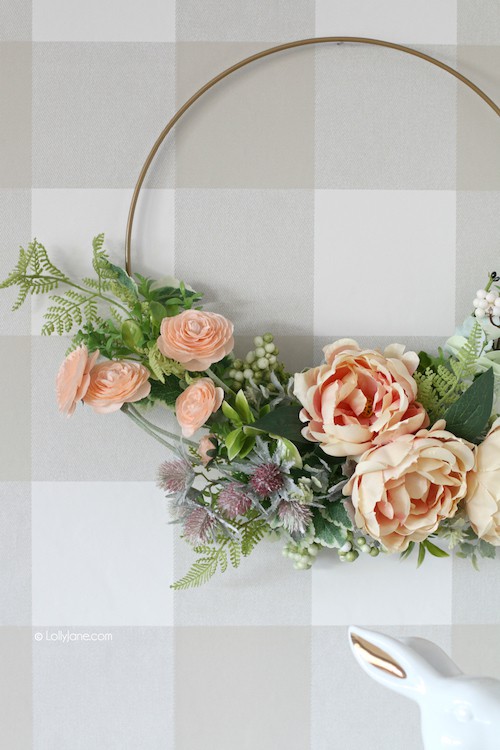 DIY Modern Flower Wreath from Lolly Jane
Turn an embroidery hoop into a gorgeous DIY summer wreath. This is a super easy and quick DIY project that will brighten up your front door or mantel.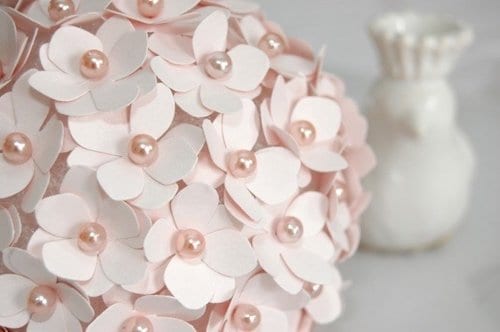 Pomander Flower Ball from Pizzazzerie
These kissing balls made from paper flowers make incredible decorations for parties and weddings. You can either hang them or use them as centerpieces on top of candle holders. They are simple to make, yet elegant!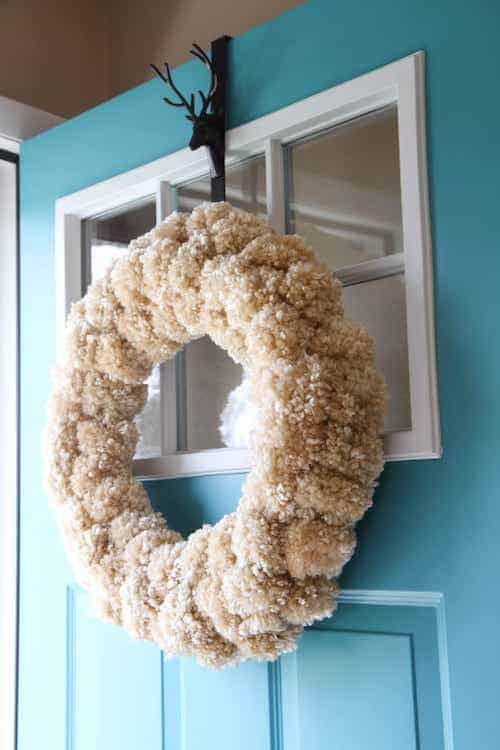 Yarn Pom Pom Wreath from Mom Advice
This adorable wreath is an Anthropologie knock-off. You can either add seasonal colors or just keep it neutral all year round. While this project takes a while, the final effect is lovely.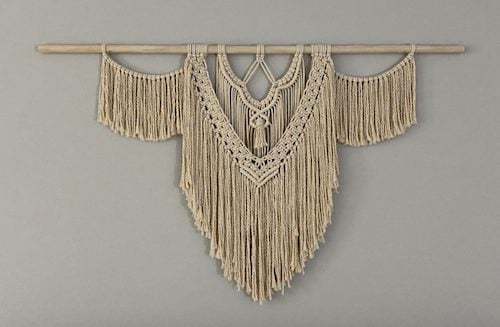 DIY Macrame Wall Hanging from Marching North
Make this boho wall art with this easy macrame wall-hanging tutorial. Not only is it beautiful, but it's a really simple and quick craft for adults to make.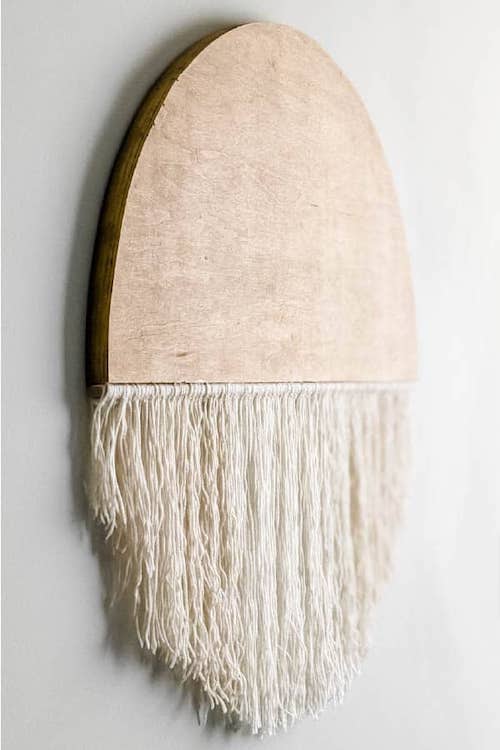 DIY Boho Wall Art from Crafted by the Hunts
Skip paying for overpriced wall art and make this super cute modern boho wall hanging, which only costs $10 in supplies! It's a fun wood craft using plywood, stain, and yarn.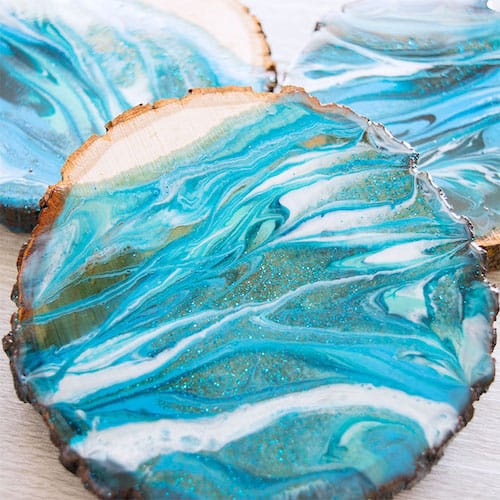 Marbled Resin Coasters from Resin Crafts
Turn some wood slices into a dazzling DIY coaster using resin to create depths of layers and patterns that make it look 3D!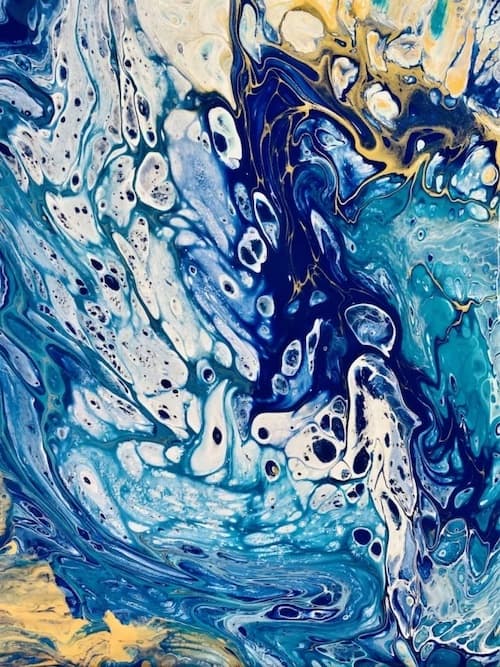 Acrylic Pouring Canvas Art from Step-by-Step Painting
Acrylic pouring painting will create unique and abstract wall art. The actual process of doing pour painting is mesmerizing and fun!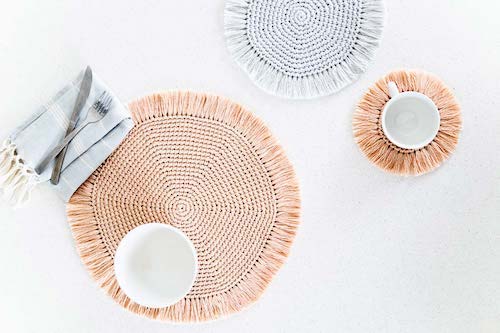 Beginner Boho Crochet Coasters from For the Frills
Create a cute crochet coaster with fringe! These modern Boho Coasters are easy and quick to crochet, so they're a perfect beginner crochet project.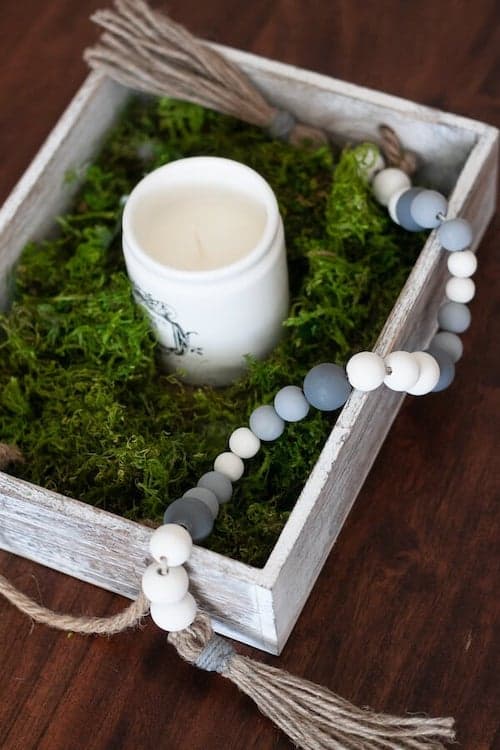 Wood Bead Garland from The Savvy Sparrow
This wood bead garland will look great with farmhouse decor and add to your tiered tray decor. They're very easy to make and customizable for holidays. She also includes a great tip for how to paint your beads easily.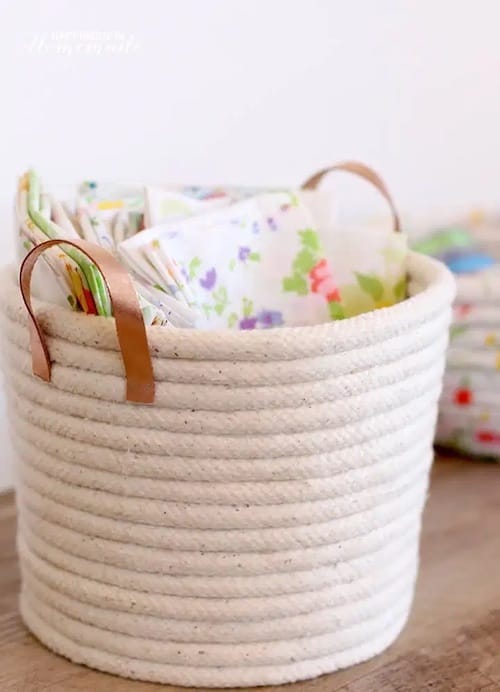 No-Sew Rope Basket from Happiness is Homemade
Give your basket a chic makeover on a budget. All you need is rope and some glue. You can even make these baskets using dollar store bins or baskets.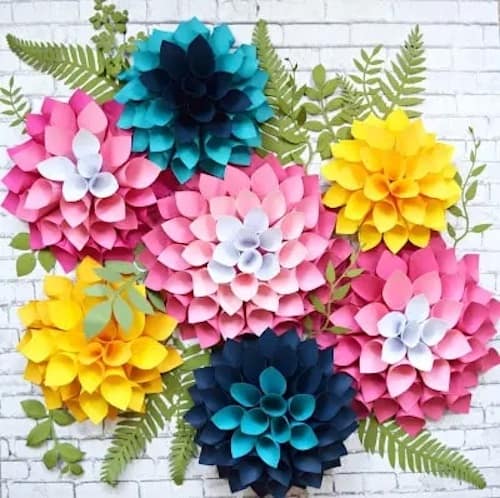 Giant Dahlia Paper Flowers from Abbi Kirsten Collections
This paper flower craft will create a stunning backdrop for your walls. It will look great for both home and party decor. These wallflowers are beginner-proof and kid-friendly!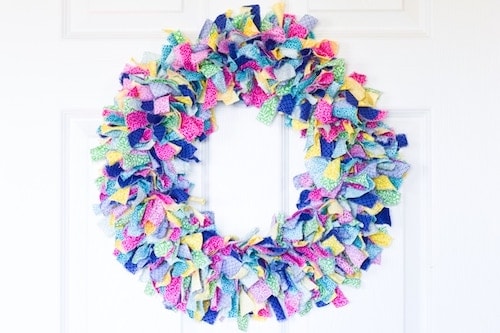 Fabric Rag Wreath from Typically Simple
Use up your fabric scraps with this rag wreath. It adds a pop of color and texture to your front door! You can switch up the fabrics for every season too.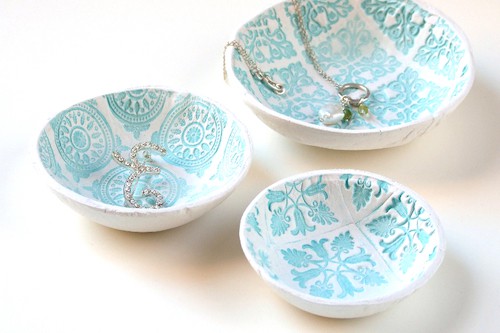 Stamped Clay Bowls from Gathering Beauty
Make your own beautiful stamped clay bowls using air dry clay. Not only is it strong and durable, but no firing or baking is required.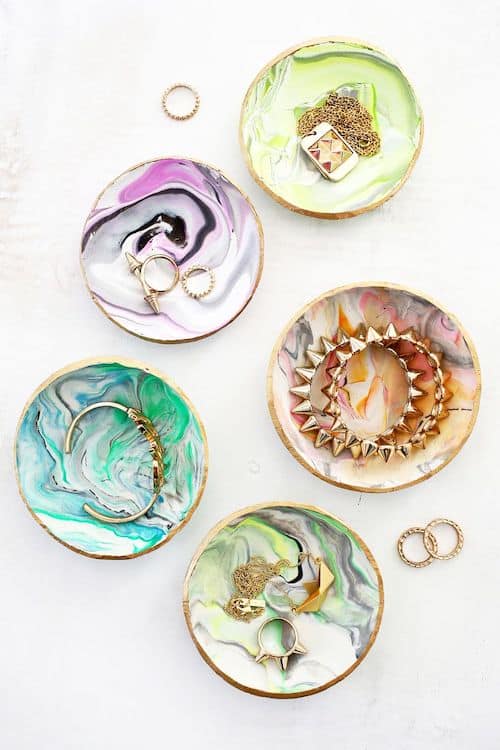 Marbled Clay Ring Dish from A Beautiful Mess
These ring dishes are cheap and easy to make. This craft project uses simple oven-bake clay to make these gorgeous dishes.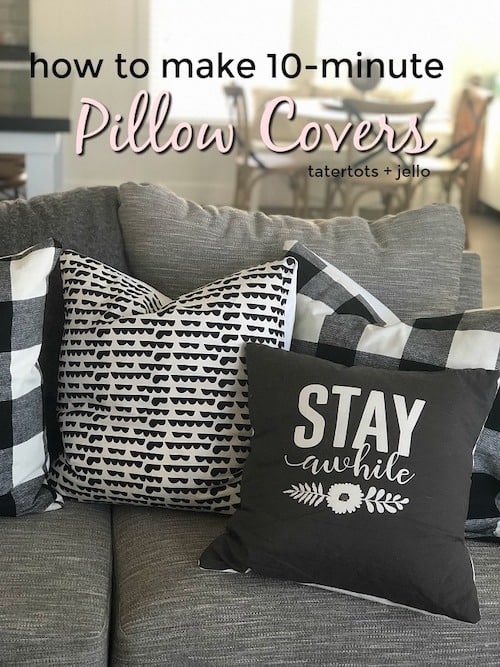 Easy DIY Pillow Covers from Something Turquoise
Give your pillows a makeover and switch up your covers with this easy step-by-step tutorial you can make with a sewing machine. They are made out of drop cloth and stencils.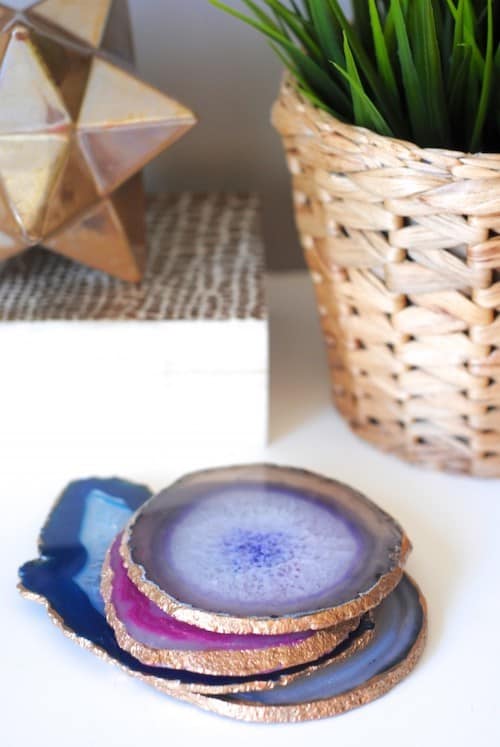 Gilded Edge Agate Coasters from Making Lemonade
These beautiful DIY coasters look high-end. It only takes under 5 minutes to make and costs $8 in supplies! They also make great DIY Mother's Day gift.
Other DIY Crafts for Adults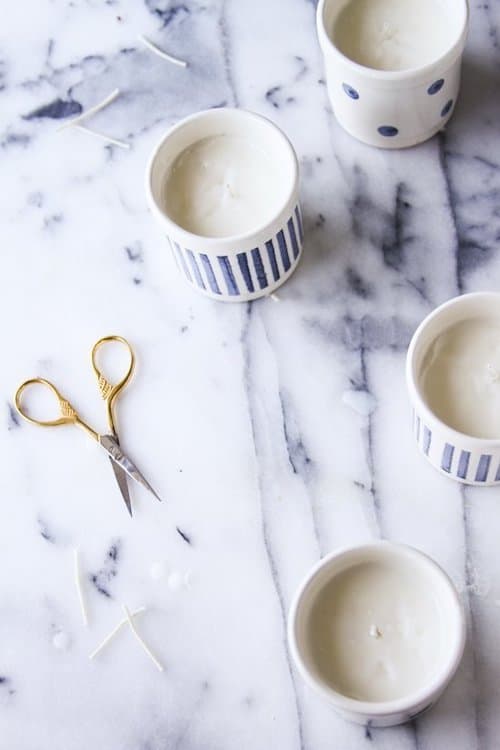 DIY Soy Candles from Paper and Stitches
Once you learn how to make these candles, you won't stop because they're so fun to make! They make great DIY Christmas gifts!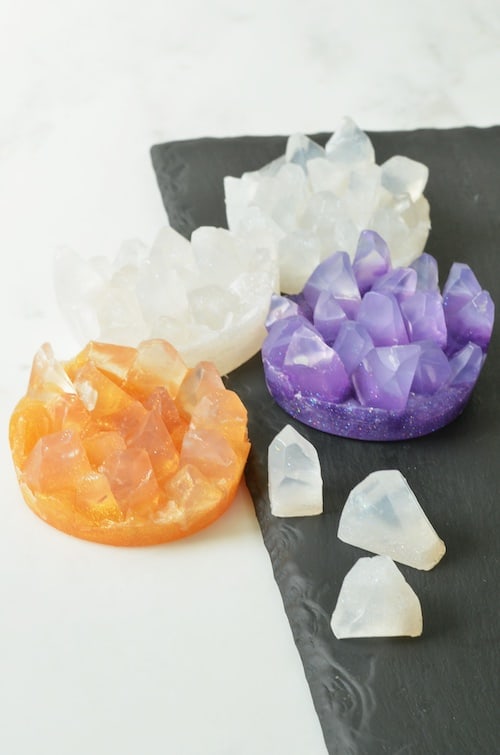 Crystal Soap from A Beautiful Mess
Make your enchanting crystal soaps! They make excellent gifts or guest bathroom decorations. These soaps look gorgeous displayed in decorative soap dishes.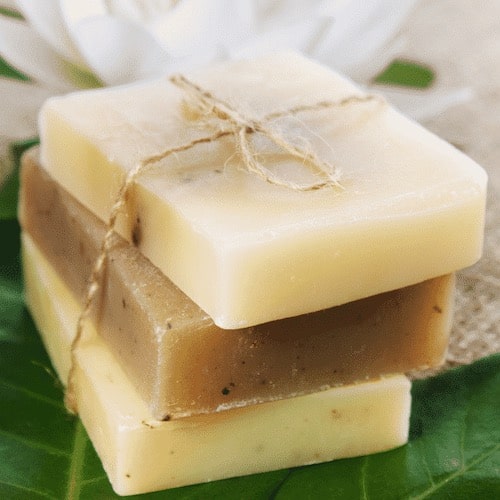 Easy Soap Without Lye from Brown Thumb Mama
This is a lye-free soap tutorial that is fun to do with your kids. You can easily customize what scents and colors you want. It uses an easy melt-and-pour soapmaking process that is great for beginners.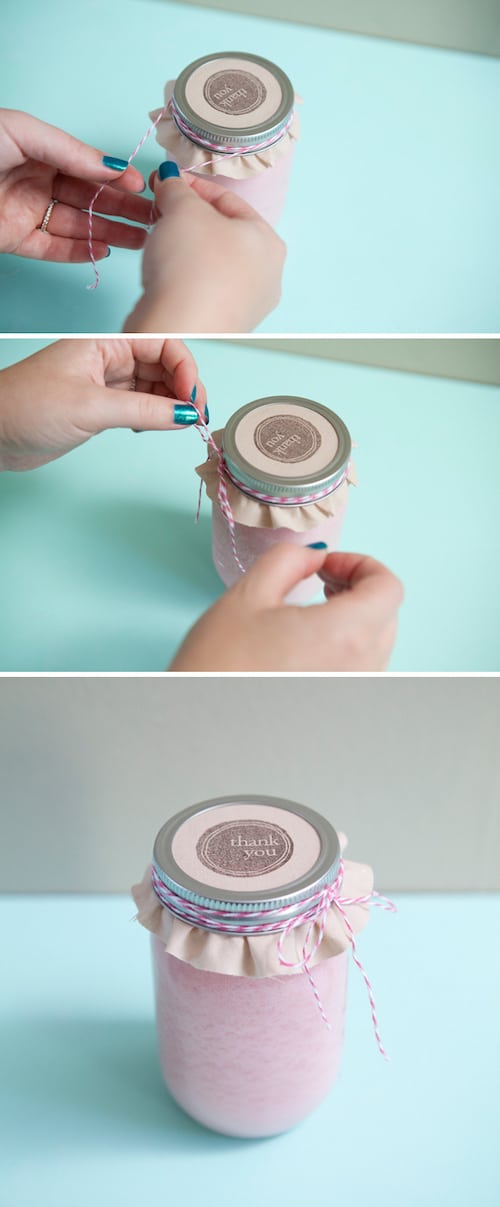 DIY Poured Mason Jar Candles from Something Turquoise
This simple step-by-step tutorial will walk you through creating your own mason jar candles! They make a great DIY gift and are easy to customize for the occasion because you can switch up the scents and colors.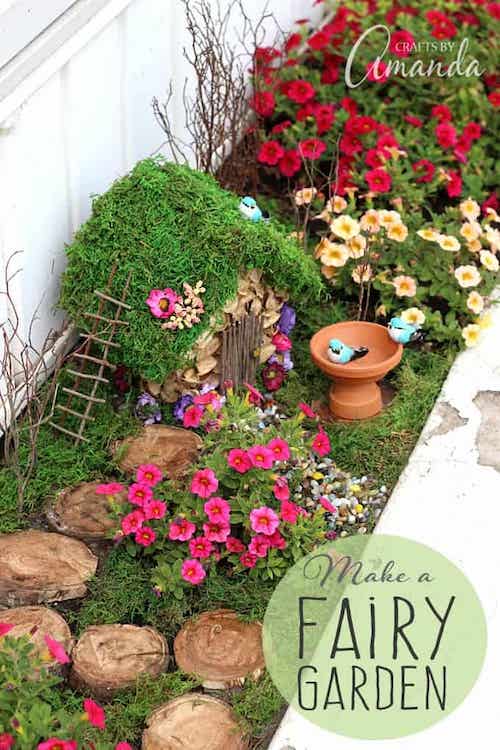 Fairy Garden from Crafts by Amanda
Start a whimsical fairy garden of your own on a budget! It's made from a cheap wooden birdhouse and natural materials. This fairy house makes a great spring or summer craft for adults.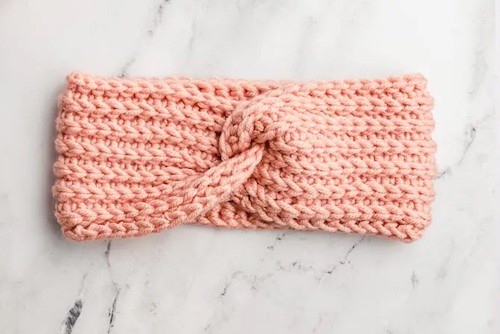 Twisted Crochet Headband from Sarah Maker
This crochet headband pattern is not only beautiful but functional too. It will keep your ears warm and toasty in the colder months. Plus, the headband has a super cute knit-look stitch pattern!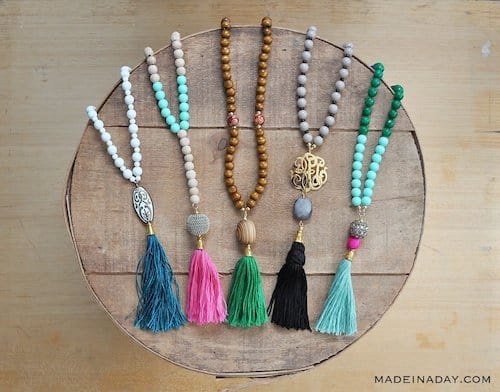 DIY Beaded Tassel Necklaces from Made in a Day
This jewelry-making project will show you how to make DIY Necklaces in three different ways.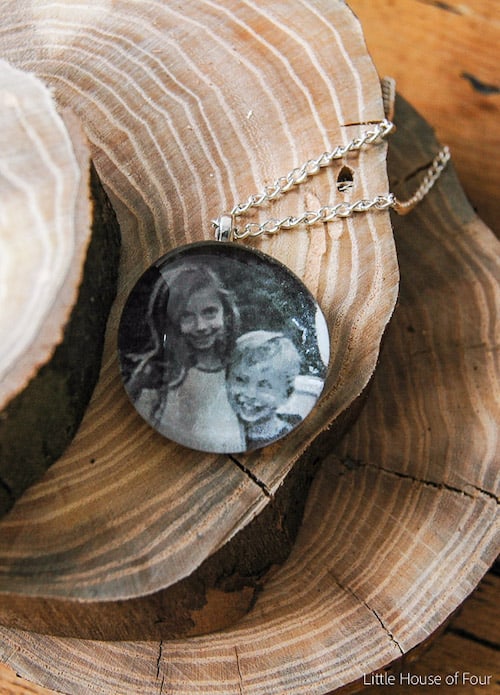 Dollar Tree Personalized Glass Bead Necklace from Little House of Flour
Transform a glass stone from the dollar store into a personalized pendant necklace that makes a thoughtful gift for friends and family on a budget.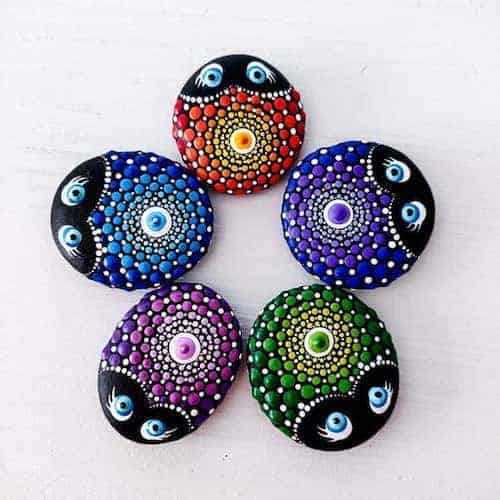 Easy Ladybug Dot Mandala Painted Rocks from The Things Well Made
Get into the painted rock trend and paint this beginner-friendly mandala rock. The rock painting tutorial is really easy to follow, with lots of pictures included.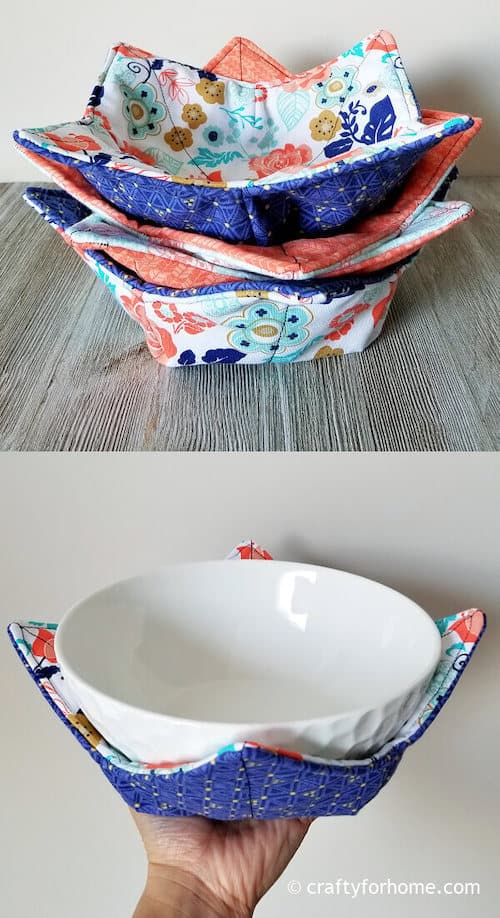 Easy Soup Bowl Cozy Sewing Project from Crafty For Home
This is an easy sewing project for the kitchen. It only takes less than an hour to make. It is made from quilting cotton fabric.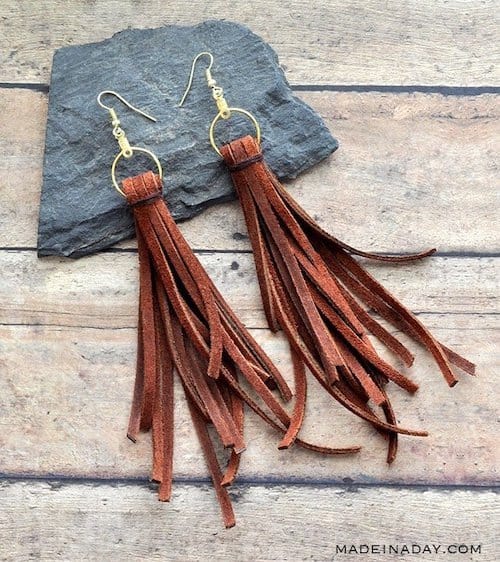 Fringe Earrings from Made in a Day
Create these trendy boho fringe DIY earrings on a budget with only a few basic jewelry craft supplies. They also make a wonderful gift for a fashion lover in your life.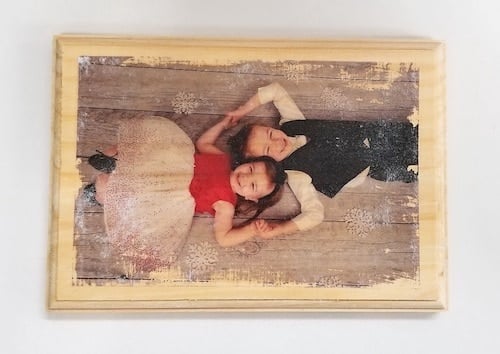 Wood Photo Transfer Keepsake Craft from S&S Blog
Learn how to transfer a photo to wood with this DIY craft project. It makes a great keepsake or fabulous gift for special occasions.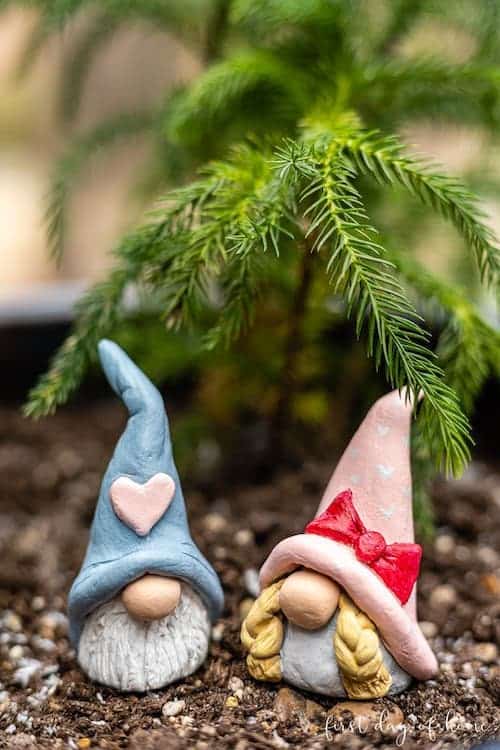 Air Dry Clay Gnomes from First Day of Home
Use air-dry clay to make your own super cute gnome figurines. Kids and adults alike would enjoy making this fun craft.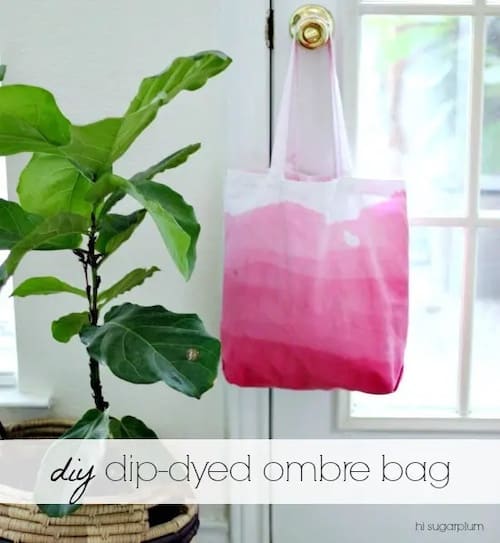 Ombre Tote from Hi Sugarplum
Dip a tote in dye to create a stunning and unique ombre bag! It's a great way to upcycle a boring tote and transform it into a cute and stylish bag.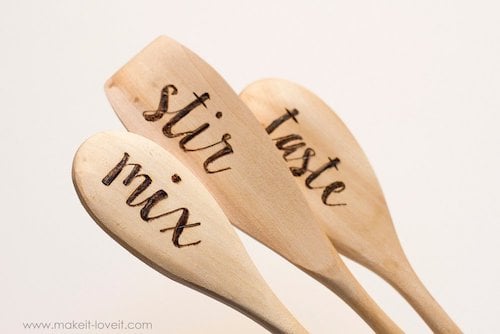 Etched Wood Spoons from Make it & Love it
This wood etching craft makes a great hostess gift for Christmas. It's another quick and simple adult craft project for beginners.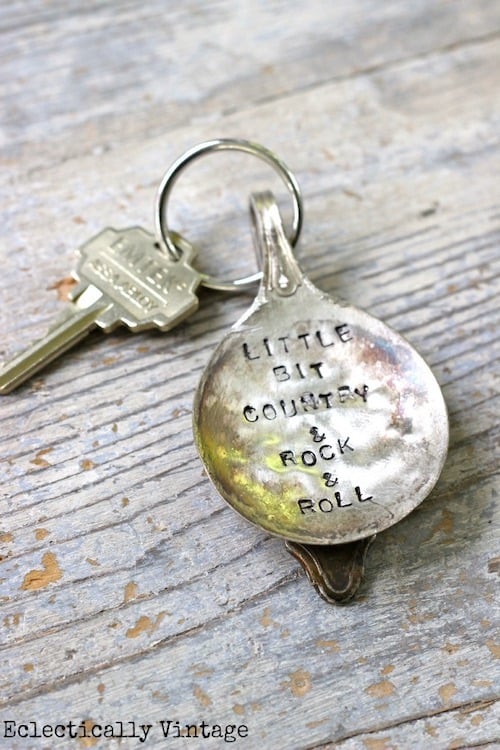 Stamped Silverware Keychain from Kelly Elko
This tutorial will teach you how to stamp silverware. These vintage keychains make great gifts too!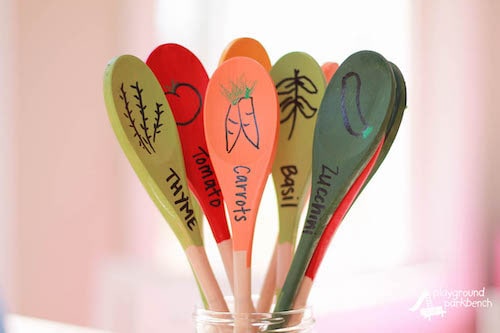 Garden Markers from Playground Park Bench
Turn some wooden spoons into cute painted garden markers inspired by Lois Ehlert's garden set.
I hope you've found a project (or two, or three!) that resonates with your personal style and creative aspirations. Whether you're a crafting beginner or a seasoned DIY enthusiast, don't be afraid to try new things, make mistakes, and above all, have fun.
Don't forget to share your masterpieces with me. I can't wait to see what incredible things you create!
Seasonal Crafts for Adults
If you tried one of these DIY crafts or any other craft on my website, please leave a 📝 comment below and let me know how it went!