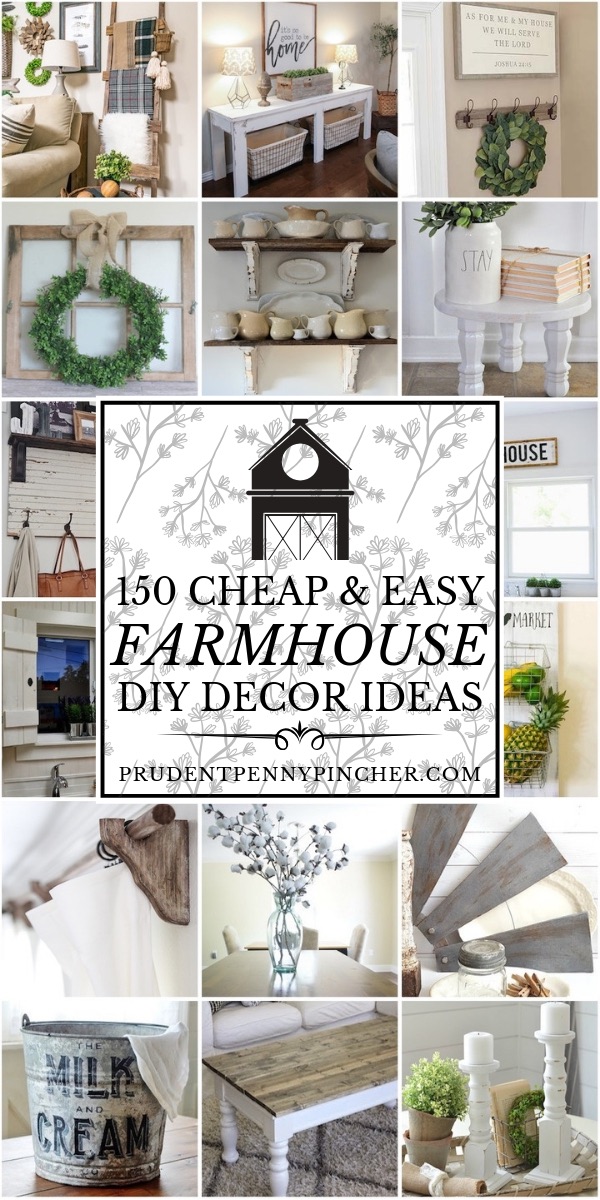 Save money with these DIY farmhouse decor ideas! From furniture to home accents and organization ideas, there are over a hundred projects to choose from. Not only are these DIY ideas are easy on the wallet, they are also easy to make. You can complete most of these projects in less than a day.
For most of these DIY farmhouse decor ideas, you will need basic tools and equipment such as:


I won't re-list these items below to save space, but you will need some of these tools and supplies for all of these projects. If you are just planning on doing one or two projects, you can rent the more expensive tools (e.g. saws and sander) at a Home Depot or Lowes to save money or borrow from friends, family or neighbors.
You can get most of the items required for these DIY farmhouse decor ideas at places like thrift stores or Habitat for Humanity and you can get pallet wood for free on Craigslist..
Bathroom DIY Farmhouse Decor Ideas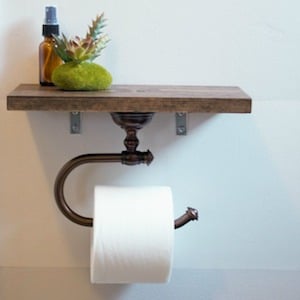 Toilet Paper Holder and Shelf
bronze toilet paper holder + scrap wood + wood stain & polyurethane + corner brackets and screws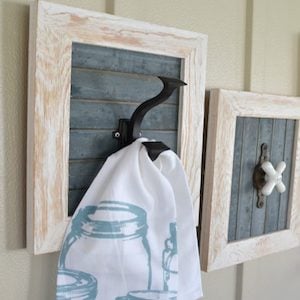 DIY Farmhouse Bathroom Hooks
white rustic frames + hooks + picture hanger + stable gun + drill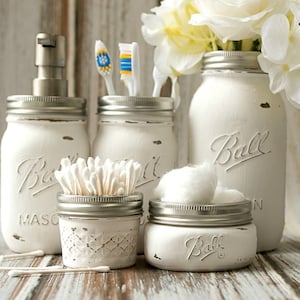 Mason Jar Bathroom Set
mason jars + white paint + clear coat sealant + mason jar soap lid converter kit + mason jar flower frog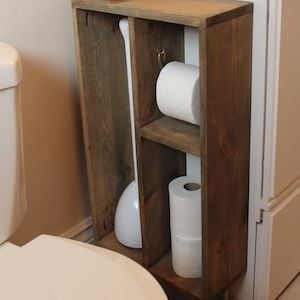 DIY Side Vanity Storage Unit
wood boards + Kreg jig + screws + wood stain + furniture legs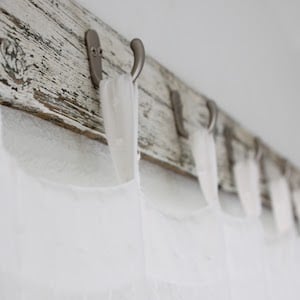 DIY Farmhouse Style Shower Curtains
wood scrap + IKEA curtains + hooks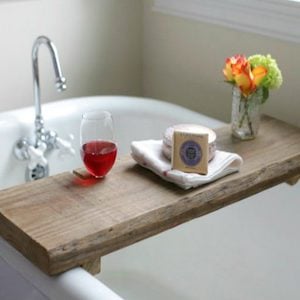 Rustic Bath Caddy
reclaimed wood board + saw  + sandpaper + wood screws + drill + waterproofer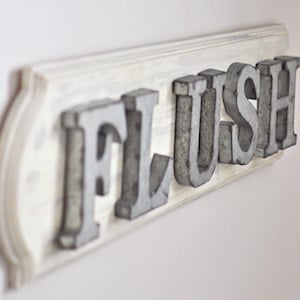 Flush Sign
chalk paint + wax + wood + metal letters + sanding block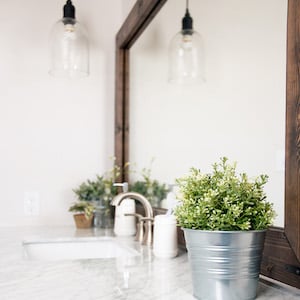 Framed Wood Bathroom Mirror
wood + saw + staple gun & staples  + wood glue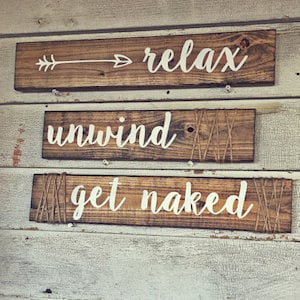 Rustic Bathroom Signs
pallet wood + wood stain + white acrylic paint + stencils + twine + white paint marker (for arrow)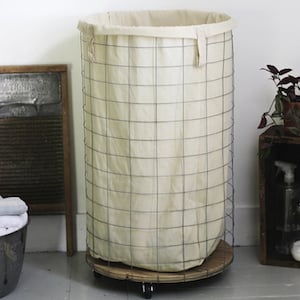 Wire Laundry Hamper
wood round + welded wire + screws + washers + caster wheels + gage wire + laundry bag + wire cutter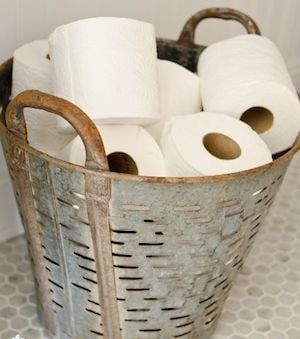 Olive Basket Toilet Paper Holder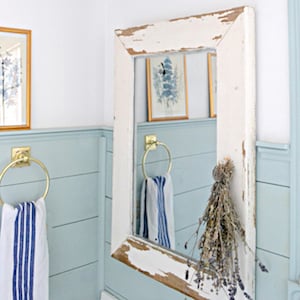 Window Farmhouse Mirror
window with glass + Mirror Effect Spray Paint + hanging hardware + white caulk + black spray paint ($1 – Walmart)
You can get the window at Habitat for Humanity for less than $5
---
Kitchen DIY Farmhouse Decor Ideas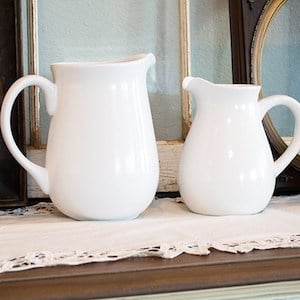 Farmhouse Thrift Store Pitcher Makeover
white primer + white lacquer + thrift store pitchers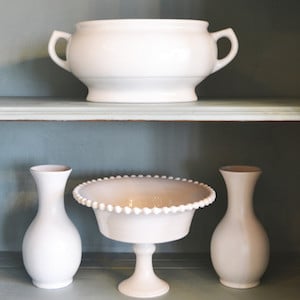 Thrift Store Farmhouse Decorative Plates and Vases
gloss white spray paint and premier in one + e600 glue + thrift store plates, jars and candleholders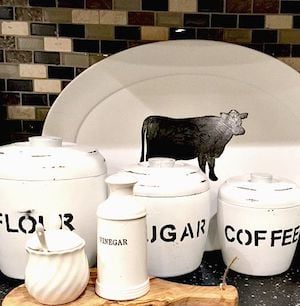 Farmhouse Thrift Store Swag
thrift store canisters + white spray paint + stencils + black acrylic paint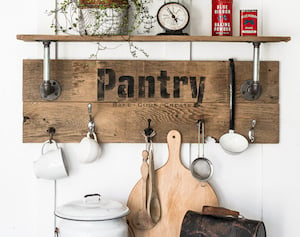 Pallet Pantry Sign
pipe fittings + paint + stencil brush + stencils + various hooks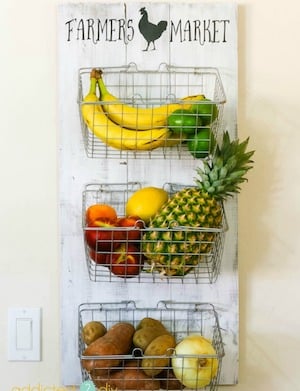 DIY Farmhouse Produce Rack
wood scraps + paint sticks + wood glue + white paint + adhesive vinyl + wire baskets + screws + picture hanger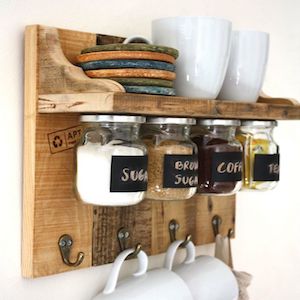 Rustic Kitchen Cabinet 
wood pallet (free on craigslist)+ decorative hooks + jars with metal lids + screws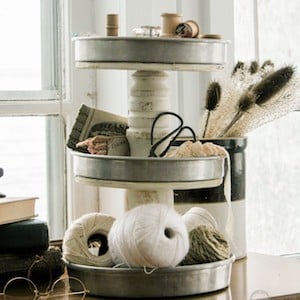 Tiered Stand
table legs +  3 cake pans + plywood circle  + paint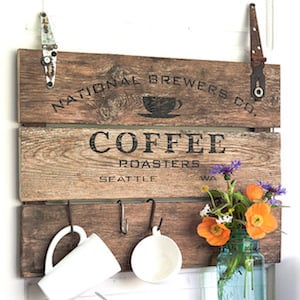 Coffee Plank Sign
fence planks + coffee and letter stencils + black acrylic paint  + s hooks + hinges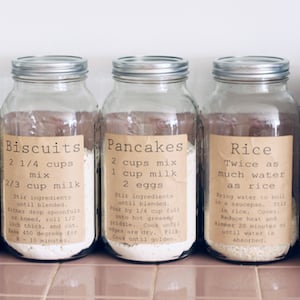 Vintage Pantry Labels
mason jars + free printables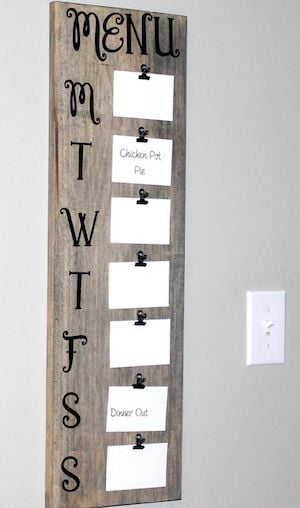 Rustic Menu Board
vinyl letter stickers + wood board + wood stain + hinge clips + index cards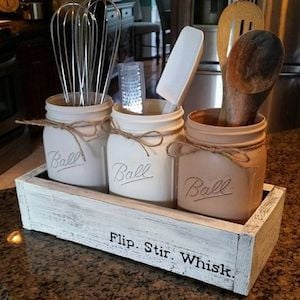 Kitchen Utensil Holder
mason jars + wood box + twine + stencils + craft paints in various colors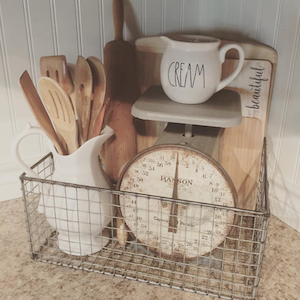 Farmhouse Kitchen Organization
wire basket + wooden utensils + white ceramic containers + black marker + scale
Most of these items can be found at thrift stores.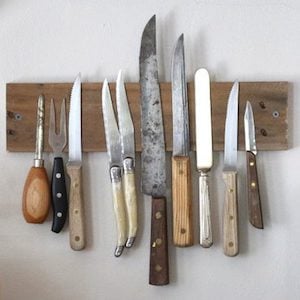 Rustic Wall Rack for Knives
wood board +  round ceramic magnets + gel adhesive + wall mounting screws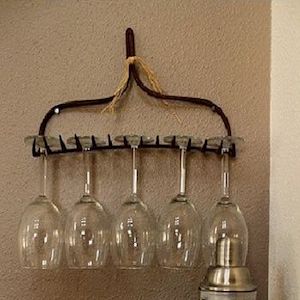 Wine Rack (Source Unknown)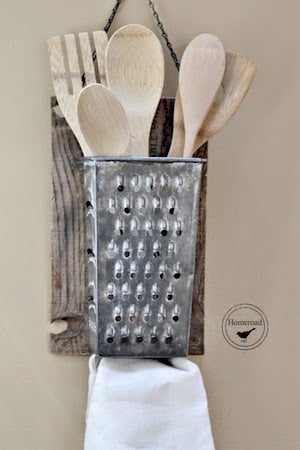 Vintage Cheese Grater Organizer
reclaimed wood + chain + old cheese grater (thrift store) + wooden utensils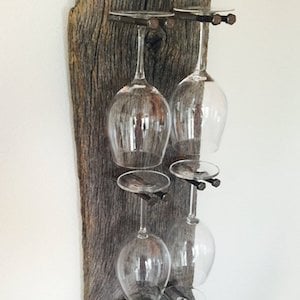 Wine Glass Holder
reclaimed wood board + nails + wine glasses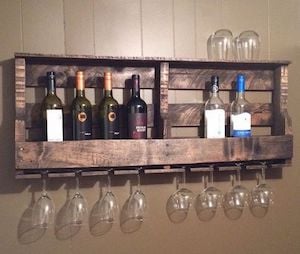 Pallet Wine Rack
paint or stain + heavy duty hooks + pallet wood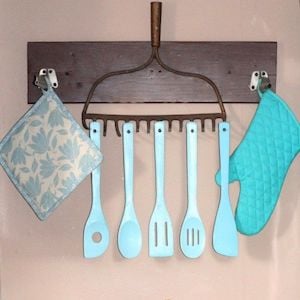 Kitchen Utensil Holder
small hooks + old rake + wood board + wood stain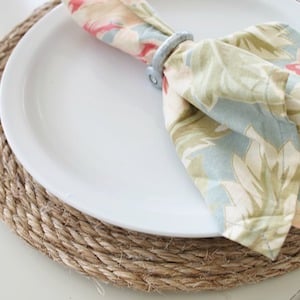 Rope Placement (or coaster)
jute rope + hot glue gun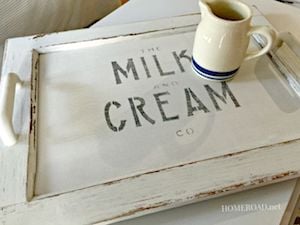 Cabinet Door Serving Tray
cabinet door + wood handles + white paint + sandpaper + stencils + black acrylic paint
You can get the cabinet door at Habitat for Humanity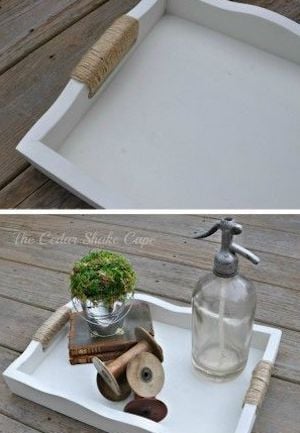 Thrift Store Tray Makeover
twine + white paint + thrift store tray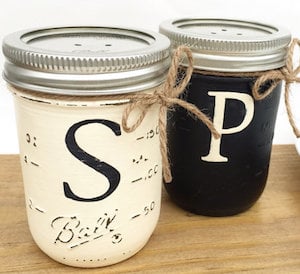 Salt and Pepper Shaker
mason jars + acrylic paint + stencil + twine + drill + sandpaper
---
Furniture DIY Farmhouse Decor Ideas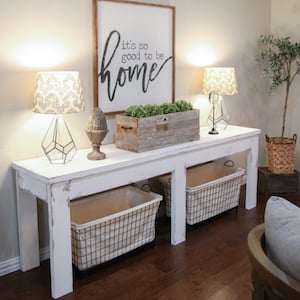 $40 Farmhouse Console Table
8 2×6 boards + dark walnut stain + white chalk paint + Vaseline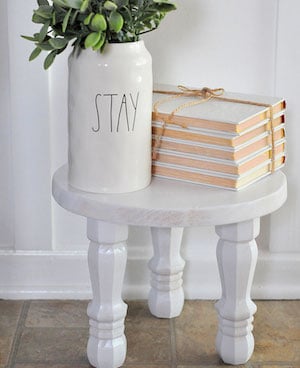 DIY $15 Milk Stool
wood table legs + round pressed boards + white enamel paint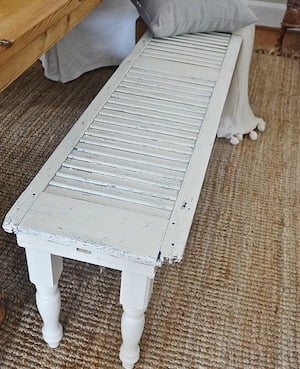 DIY Shutter Bench
antique shutter + baseboard + legs + leg anchors + wood trim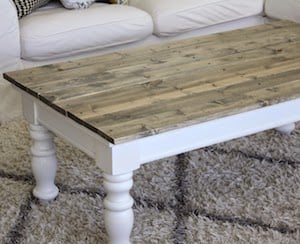 DIY Farmhouse Coffee Table
thrift store coffee table + pine boards + white paint + wood stain + polyurethane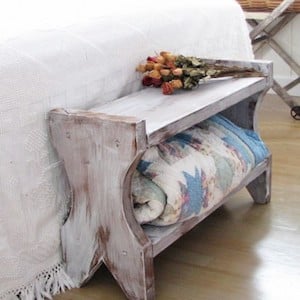 $20 DIY Farmhouse Bench
pine board  + quick square + carpenter's square + cardboard + oval picture frame + 3/8″ wood plugs + stain and/or paint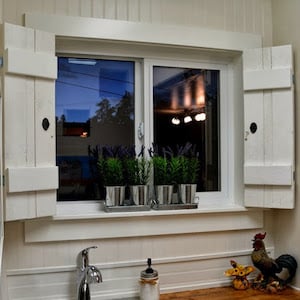 $10 DIY Farmhouse Shutters
butt hinges + 2 1x4s + 2 1x2s + 2 knobs + white paint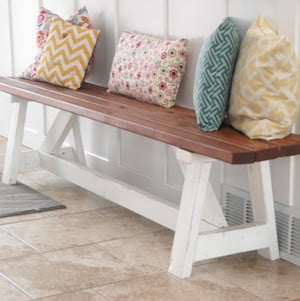 DIY Farmhouse Bench
7- 2×4 studs + 2.5 inch grabber screws + 2.5 inch pocket hole screws + wood glue + wood filler + stain or paint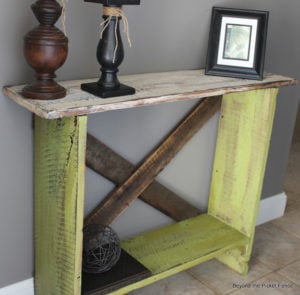 Pallet Sofa Table
green and white paint + pallet wood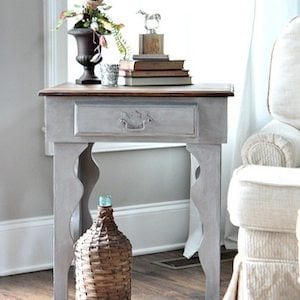 Farmhouse Side Table
old wood thrift store side table + sand paper + dark walnut stain + dark wax + paint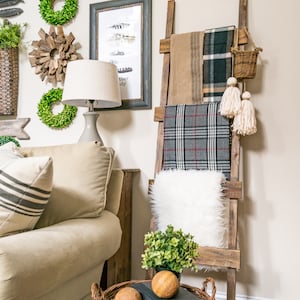 $20 Farmhouse Ladder
3 wood boards +  wood screws + drill + saw + black paint + wood stain
---
Storage & Organization DIY Farmhouse Decor Ideas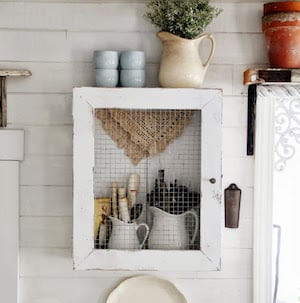 Farmhouse Cabinet 
wood crate + wood frame + white chalk paint + chicken wire + staple gun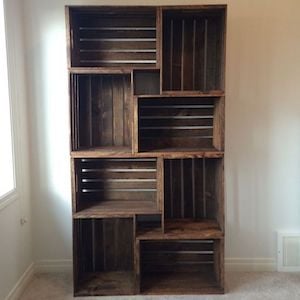 DIY Crate Bookshelf
wood crates + sandpaper + stain + L bracket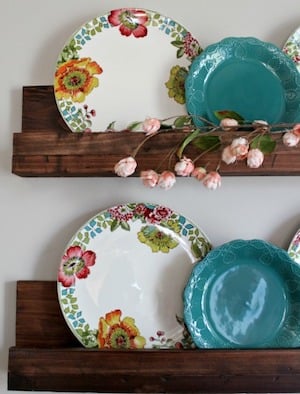 Simple Ledge Shelf 
wood boards + wood screws + stain or paint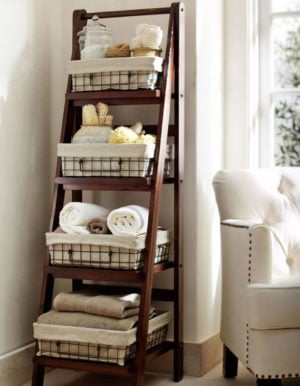 Ladder Storage (Source Unknown)
ladder + wood stain + baskets + fabric (for basket lining)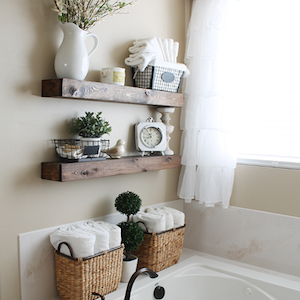 DIY Floating Shelves
wood + nail gun & nails + wood glue + stain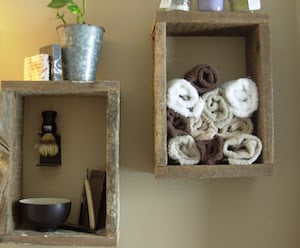 Rustic Shadow Box Shelves 
wood boards + nails + hammer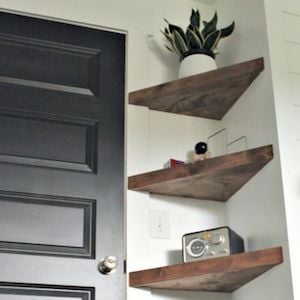 Floating Corner Shelves (Source Unknown)
plywood + wood stain + putty + wood screws + nails Here is a tutorial for a similar project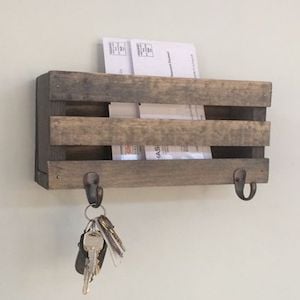 Rustic Mail Holder
pallet wood + hooks + wood stain + sander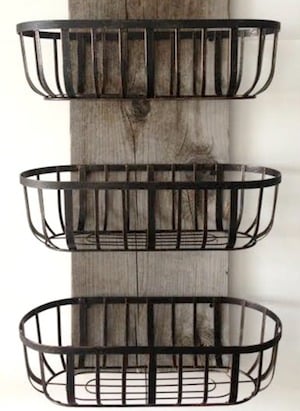 Wire Basket Organizer
3 baskets + wooden panel + screws. + 3M Command Damage-Free Picture Hanging Strips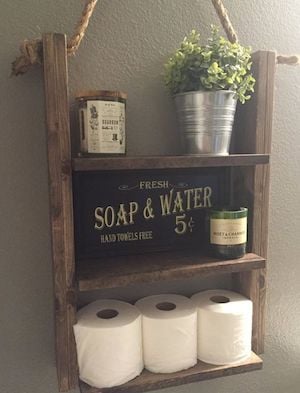 Farmhouse Styled Ladder Shelf
wood boards + stain and sealant + wood screws + rope + wall hook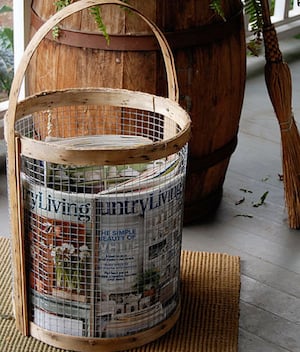 Magazine Holder Basket
peach basket + round cork mat + twine + glue gun + wood screws + chicken wire + paint sticks + wire snips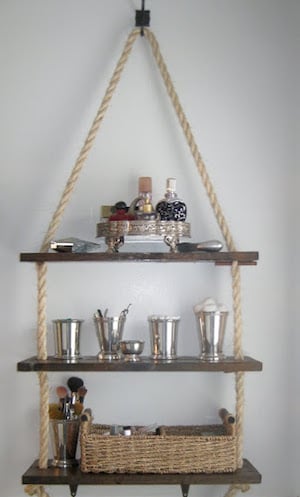 DIY Hanging Storage 
wood shelves + wood dowels + drill + hook +  brackets + wood stain + polyurethane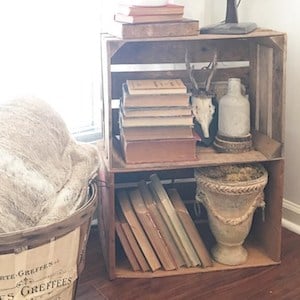 Small Crate Bookcase
2 wood crates + wood stain + wood screws + bracket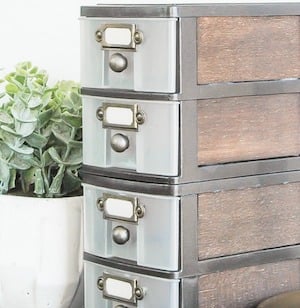 Dollar Store DIY Industrial Farmhouse Storage Drawers
dollar store drawers  + spray paint  + metal labels + antique fasteners  + balsa wood + wood furniture buttons + stain + wood adhesive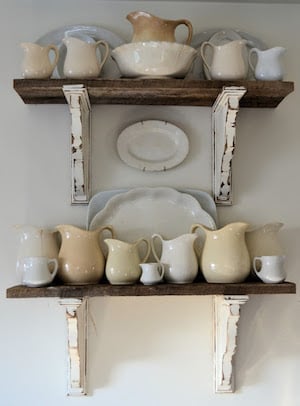 Barn Wood Shelves
unfinished brackets + wood stain + white paint + barn wood boards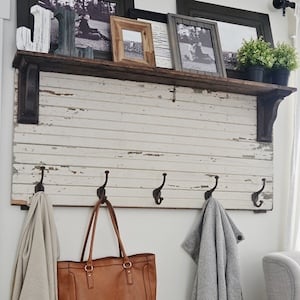 DIY Farmhouse Entryway Coat Rack
wood brackets + wood board (for shelf) + barn or pallet wood + wood stain +  white paint + hooks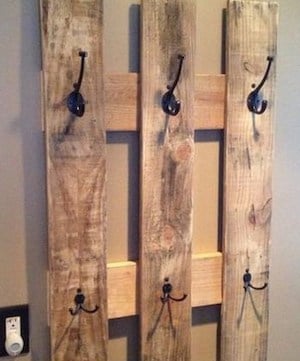 DIY Rustic Rack
pallet + hooks
---
Lighting and Candles DIY Farmhouse Decor Ideas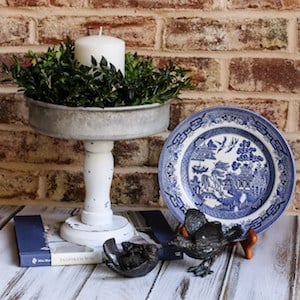 Farmhouse Candle Holder
candle stick + thrift store cake pans + white satin finish spray paint + E600 adhesive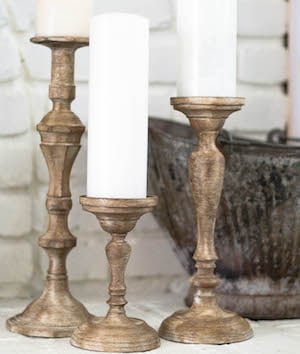 DIY Candle Holders
thrift store candle holders + white spray paint + brown wax or stain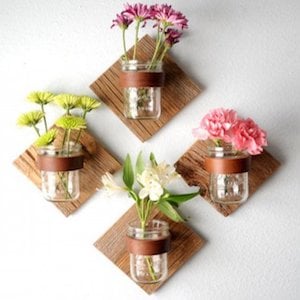 DIY Rustic Mason Jar Scones
mason jar + leather strap + reclaimed wood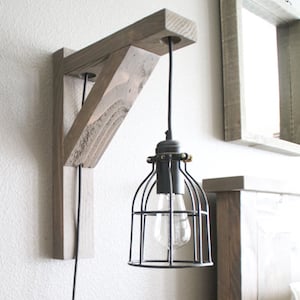 DIY Corbel Sconce Light
pendant light + light cage+  2×4 stud + wood chisel  + wood stain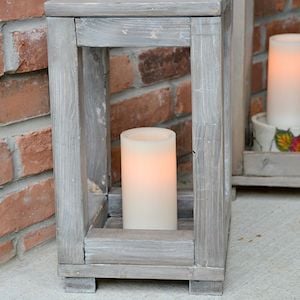 DIY Wood Lantern
various sized wood boards + screws  + wood glue + stain/paint + mitre saw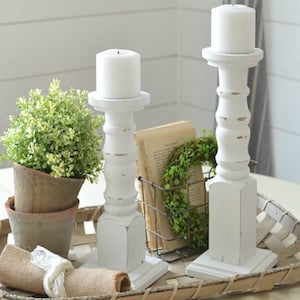 DIY Chalk Paint Candlesticks
spindles + wood pieces (craft store) + wood screws + chalk paint + candles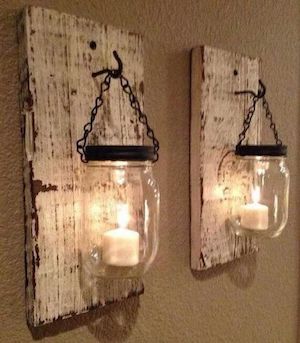 Mason Jar Candle Scone (Source Unknown)
white acrylic paint + small chain + hook + mason jars + votive candles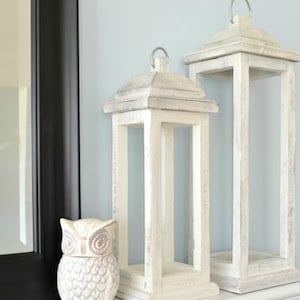 DIY Farmhouse Wood Lanterns
wood scraps and pallet wood + wood glue + nail gun + white paint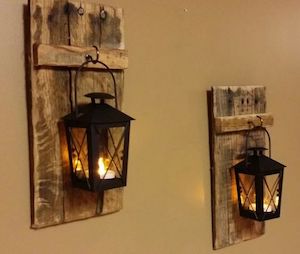 Pallet Lantern (Source Unknown)
natural stain + hook + lantern + tealight candles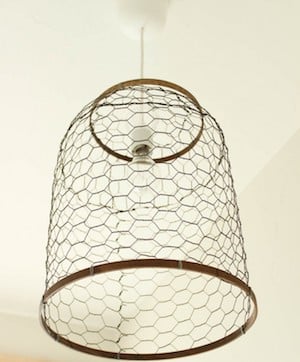 Chicken Wire DIY Farmhouse Light
embroidery hoop + stain + chicken wire + wire cutters + spray paint + wire hanger + wire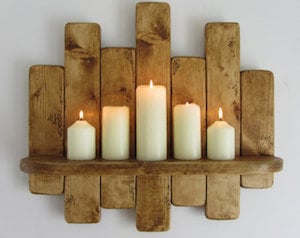 Candle Wall Shelf (Source Unknown)
pallet wood + various sized pillar candles
---
Art and Mirror DIY Farmhouse Decor Ideas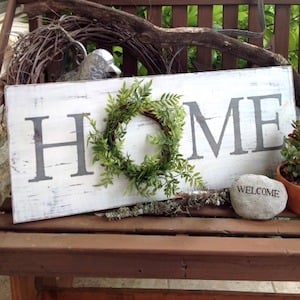 Farmhouse Home Sign
pine board + wood stain + white paint + printed letters + hot glue gun + greenery + grapevine wreath
You can get the last two items at Dollar Tree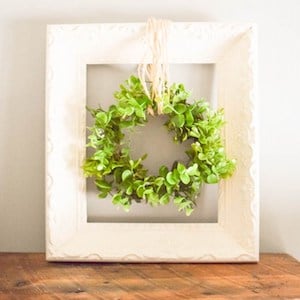 Farmhouse Upcycled Frame and Wreath
wood frame + white craft paint + grapevine wreath + faux sprigs + twine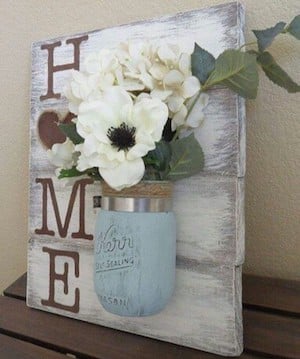 Home Sign (Source Unknown)
hose clamps + chalk paint (white and pastel blue) + stencils + brown acrylic paint + fake flowers + jute twine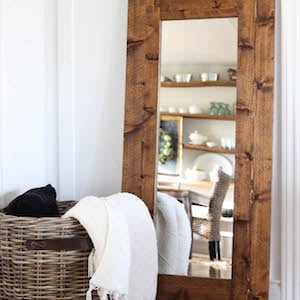 Wood Framed Mirror
Mirror (thrift store) + fence picket boards + flooring underlayment + stain and wax + nails + wood glue + cutting equipment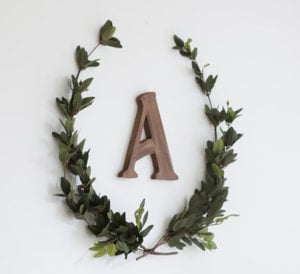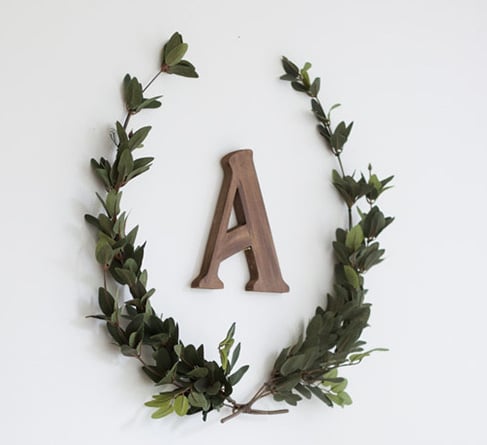 DIY Laurel Wreath
greenery branches + floral wire + wood letter + wood stain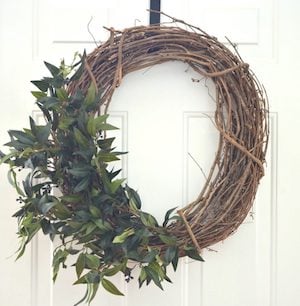 DIY Farmhouse Style Wreath
grapevine wreath  + faux greenery + wire cutters + wreath door hanger
You can get all of these items at Dollar Tree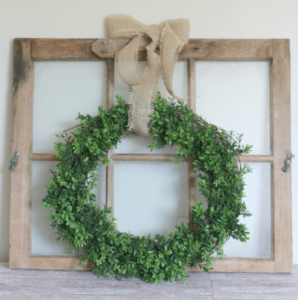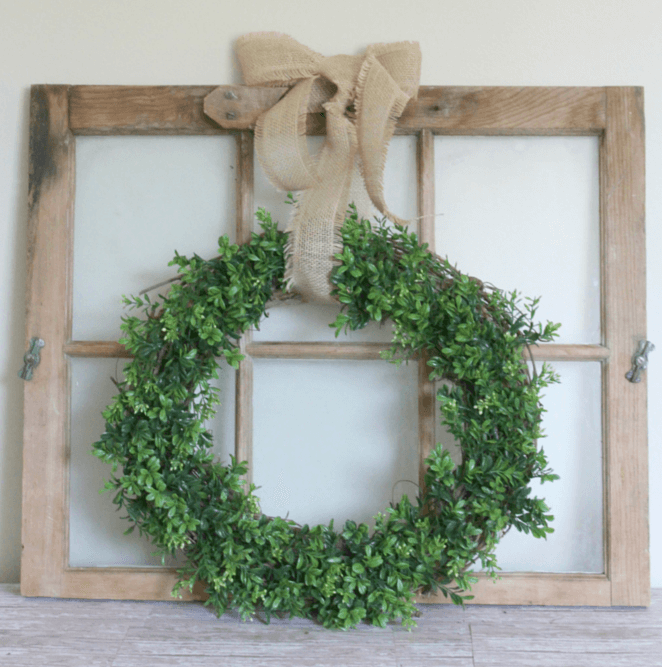 DIY Farmhouse Boxwood Wreath
grapevine wreath + garland of greenery + hot glue gun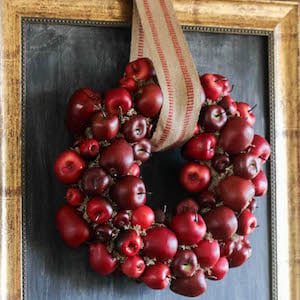 DIY Apple Wreath
styrofoam wreath + burlap Strips + hot glue gun + faux apples +  moss
You can get everything at Dollar Tree (except the glue gun)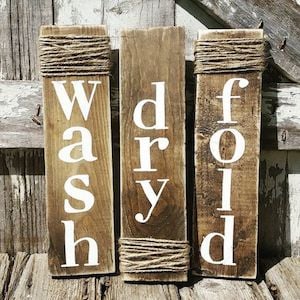 Rustic Laundry Wall Signs (Source Unknown)
wood planks + wood stain + letter stencils + white acrylic paint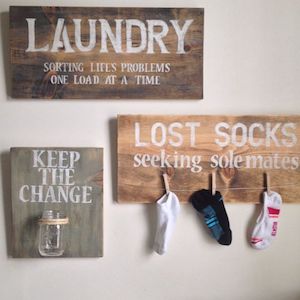 Rustic Laundry Wall Decor
large stencils + white paint + wood stains + wood boards + mason jar  + clothespins + twine + glue gun + wall hanging hardware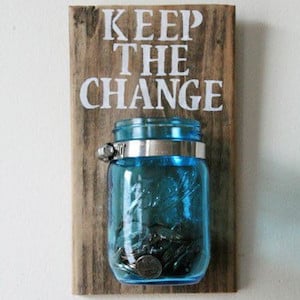 Keep The Change Sign
small wood board + stain + stencils + acrylic paint + mason jar + hose clamp + screws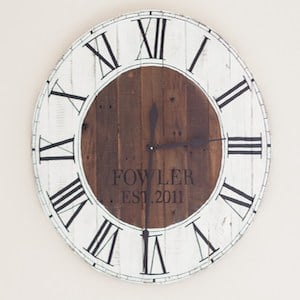 DIY Pallet Wood Farmhouse Clock
pallet wood + twine + wood stain + white paint + clock hands and movement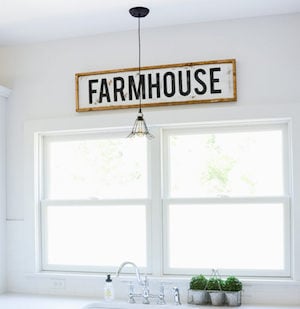 DIY Framed Wood Farmhouse Sign
1×8 board + white latex paint + stain  + 1×2 furring strips + stencils + black paint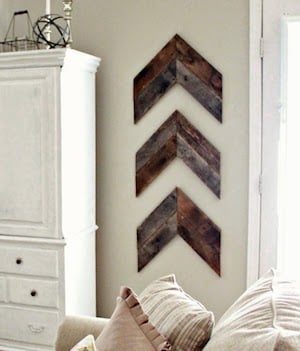 DIY Wooden Arrows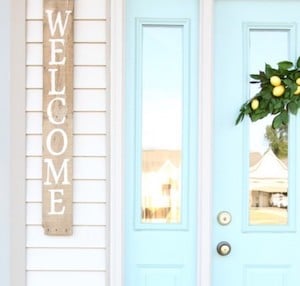 Welcome Sign
stencils + paint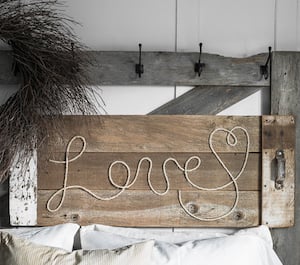 Reclaimed Wood Rope Sign
reclaimed wood + heavy twine + chalk + sketching paper + glue gun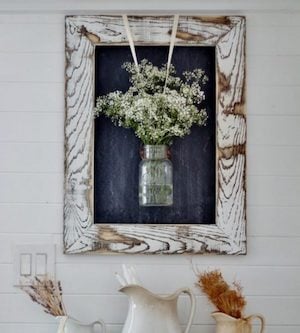 DIY Farmhouse Rustic Wooden Frame
furring strip + lauan plywood +wood stain + white paint + chalkboard paint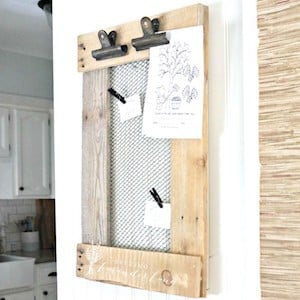 DIY Farmhouse Message Board
pallet wood + wood glue + clips + chicken wire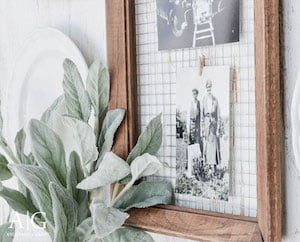 Farmhouse Picture Frame
wood frame + hardware cloth + wood stain + mini clothespins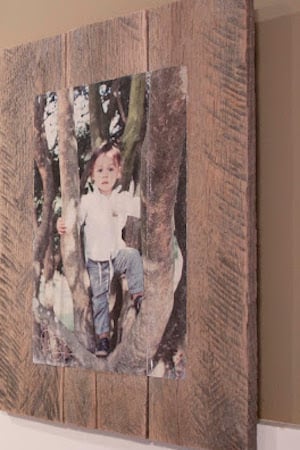 Pallet Photo Frames
mod podge + printed picture (from laser printer)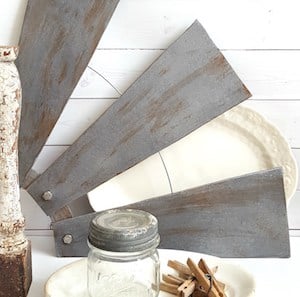 DIY Farmhouse Style Salvaged Windmill Decor
old ceiling fan blades (thrift store) + floral craft ring + industrial-looking nuts and bolts + aged metallic spray paint + brown craft paint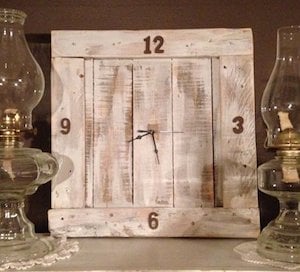 Pallet Wall Clock (Source Unknown)
clock parts (take apart a thrift store clock) + numbers + white paint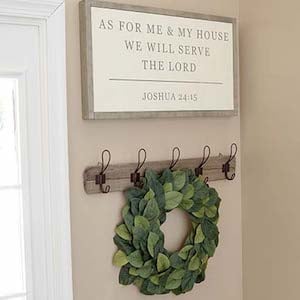 DIY Painted Canvas Farmhouse Sign
Silhouette Portrait or Cameo + vinyl + 10×20″ canvas + craft paint
---
Flowers and Planters DIY Farmhouse Decor Ideas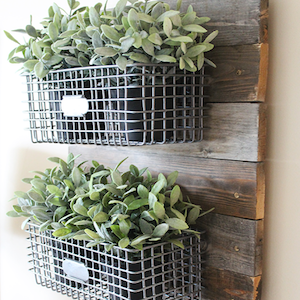 Hanging Wire Baskets
wood + d ring + wire baskets ($1.50 each at Walmart) + greenery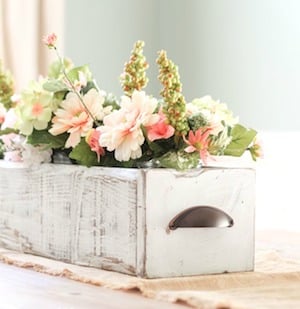 Farmhouse Wooden Box
wood pieces and boards + stain and/or paint + clear wax + handles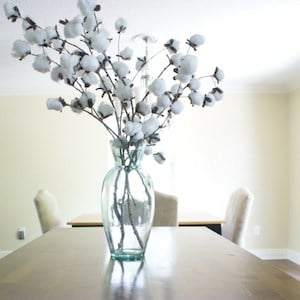 Farmhouse DIY Cotton Stems
branches + cotton balls + glue gun + pine cones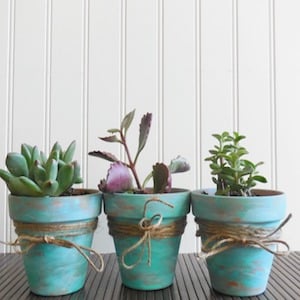 Rustic Succulent Pots
terra cotta pots + white and aqua acrylic paint + twine + succulents + potting soil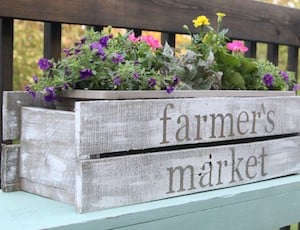 Pallet Planter Box II
plastic planter's box + stencils + black acrylic paint + polycrylic sealer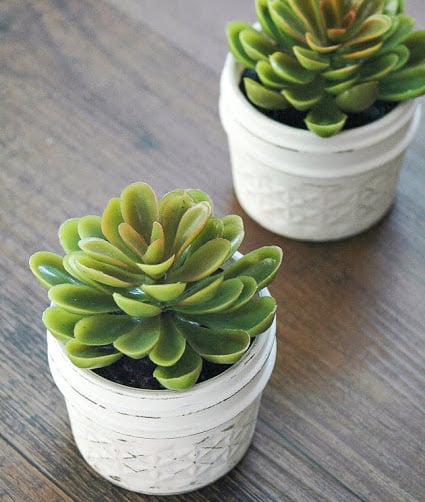 Dollar Store Succulent Jars
jelly jars + chalk paint + fake succulents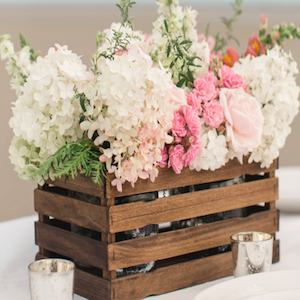 Paint Stick Basket
square dowel + paint stir sticks + staples and staple gun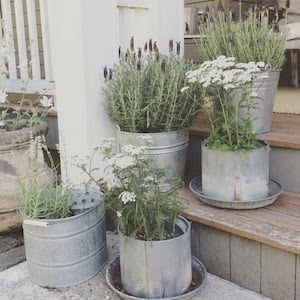 Galvanized Bucket Planters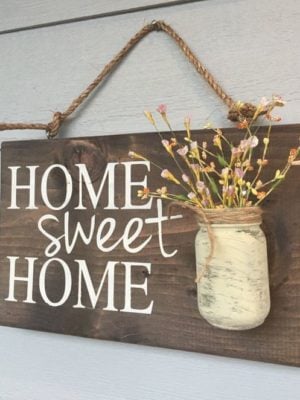 Home Sweet Home Sign
small wood board + wood stain + stencils + acrylic paint + mason jar +  twine + rope + flowers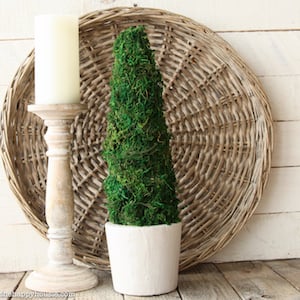 DIY Farmhouse Style Moss Topiary Tree
green foam cone + sheet moss + glue + 1 bamboo barbecue skewer + smooth finish + putty knife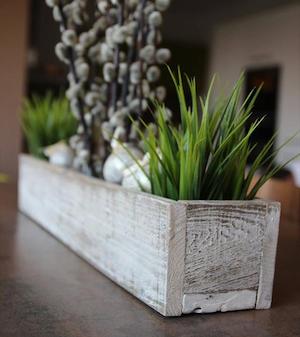 Pallet Centerpiece
white paint + assorted plants and flowers + pallet wood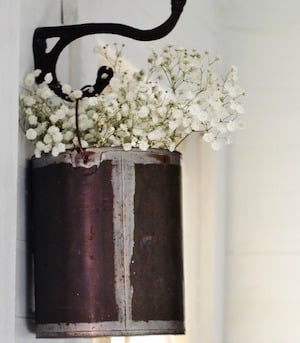 Repurposed Paint Can Flower Holder 
empty paint can + potting soil + flowers + hanging bracket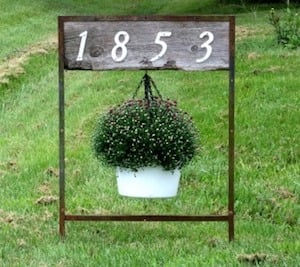 House Number Sign Hanging Planter
old wood + numbers + potted flowers + old realtor sign
---
Other DIY Farmhouse Decor Ideas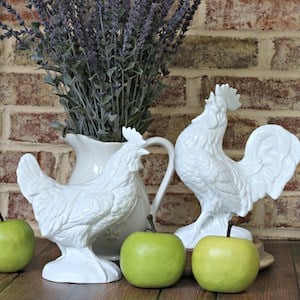 Thrift Store Rooster Makeover
thrift store ceramic roosters + white spray paint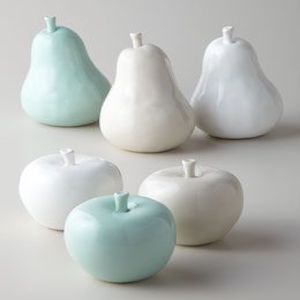 Elegant Fruit (no tutorial link)
high gloss spray paint + fake fruit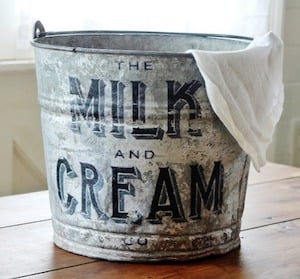 Galvanized Bucket Makeover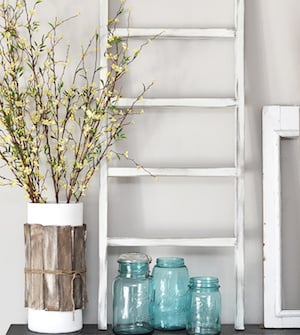 DIY Mini Wooden Ladder
2 6ft 1×2's + stain + paint + sanding block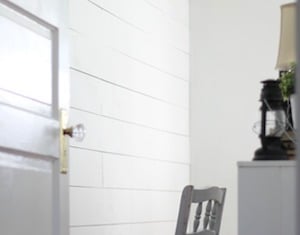 Cheap and Easy Shiplap Wall
8 and 4 ft boards + white paint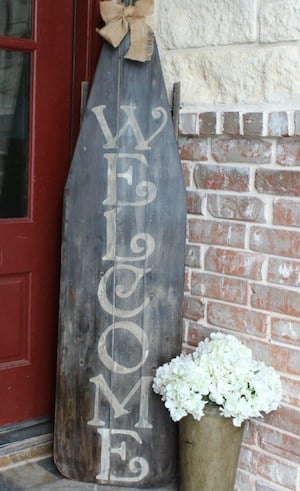 Welcome Sign 
chalk + white paint pen + iron board + wood stain + burlap ribbon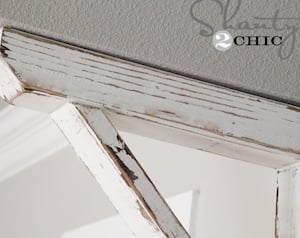 DIY Rustic Corbel
2×4's + wood screws + wood stain + vaseline  + latex paint (optional) + wood putty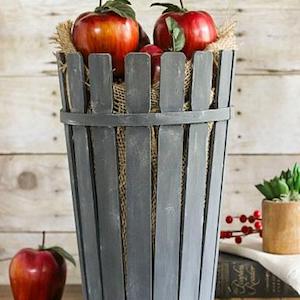 DIY Paint Sticks Bushel Basket
chalk paint + 16 paint sticks + embroidery hoops + foam board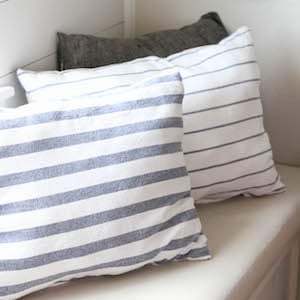 DIY Farmhouse Tea Towel Pillows 
tea towels + sewing machine + white thread + polyfil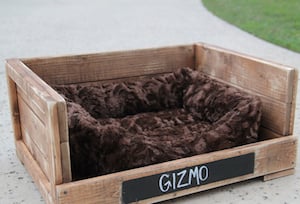 DIY Rustic Pet Bed
furring strips + pine board + wood stain + chalkboard + chalk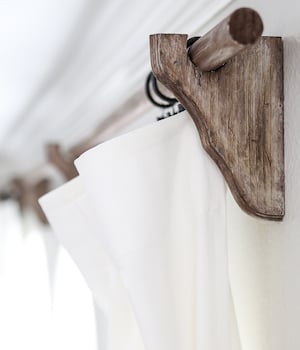 DIY Wood Curtains
wood brackets + 1 1/4″ wood dowel  + 1 1/2 to 2″ hole saw +  wire brush + Minwax + chalk paint