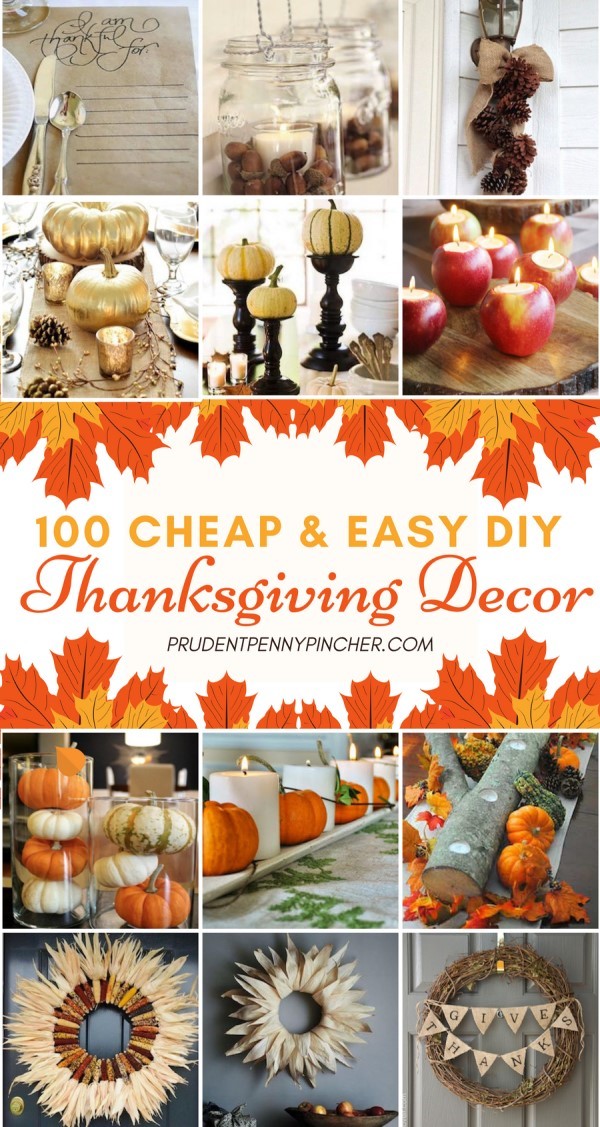 These cheap and easy Thanksgiving decorations will spruce up your home and your Thanksgiving table. There are Thanksgiving centerpieces, mantel displays, candles, wreaths, table settings and much more! These festive decorations are sure to impress your guests.
The trick to affordable Thanksgiving decorations is to use your natural surroundings. Do you have pine trees and maple trees in your backyard? Then use them in your decorations! If you can find cheap pumpkins, gourds, apples or cranberries, then buy them to use for your Thanksgiving decor and work with what you have in your home already (vases, candleholders, jars, etc.).
Items You Can Get at Dollar Tree:
glass vases, jars and bottles
glass candleholders
candles (tea light, votive, pillar, jar and more)
twine and raffia
maple leaves
acorns
burlap
Kraft paper
ribbons
fall florals
wreath forms (wire, foam, willow, etc.)
crafting supplies (Mod Podge, glitter, spray adhesive)
picture frames
Crafting Supplies You May Need:
glue gun and glue sticks
scissors
craft knife
acrylic paint ($0.50 per bottle at Walmart)
spray paint ($1-$3 at Walmart)
paint brushes
Mod Podge
stencils
Home Accent Thanksgiving Decorations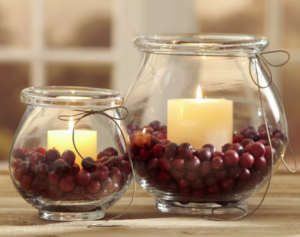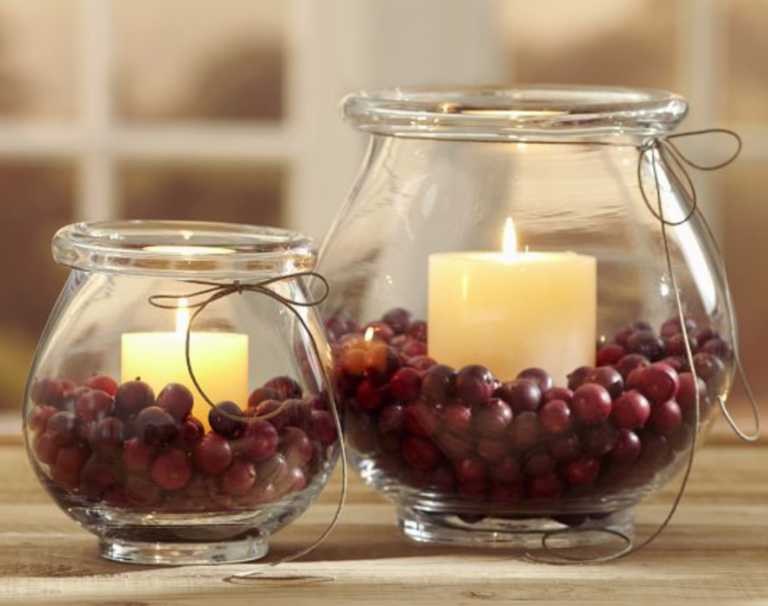 Cranberry Filler Candleholder
glass bowl candleholder  + vanilla pillar candle + cranberries + twine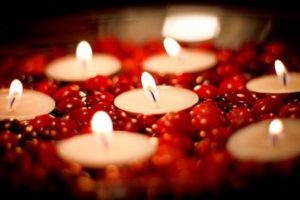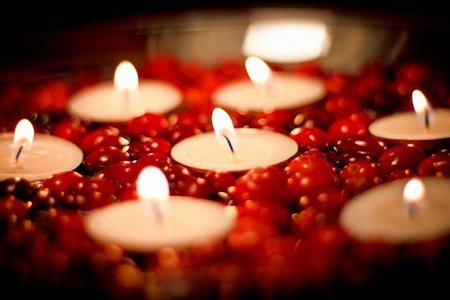 Floating Candles in Cranberry Water
glass bowl + water + cranberries + tea light candles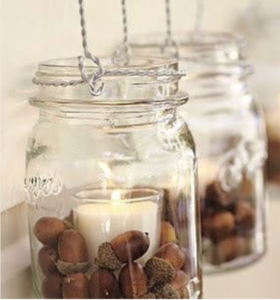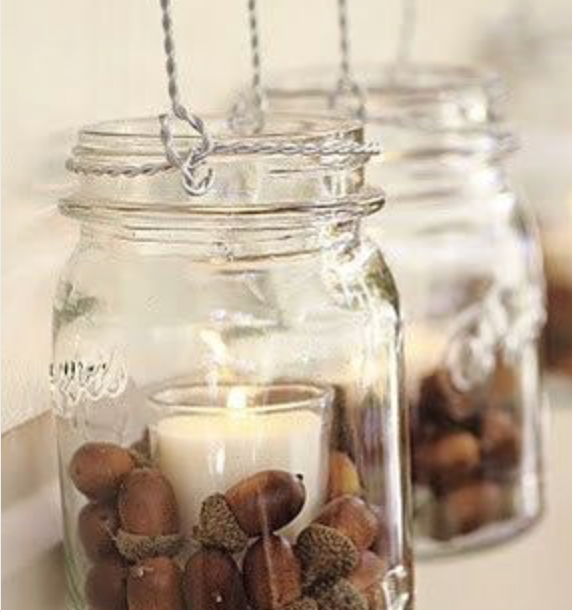 Acorn Mason Jar Candleholder
mason jar with metal handle  + white votive candle + acorns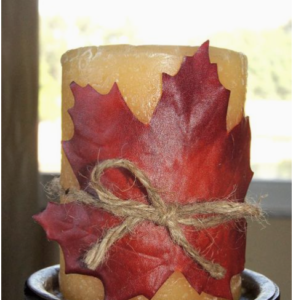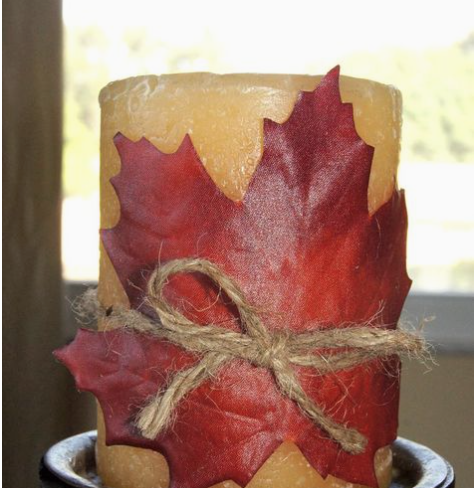 Maple Leaf Twine Wrapped Candle
pillar candle  + twine  + large maple leaf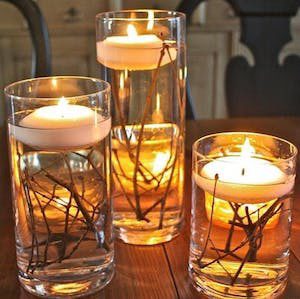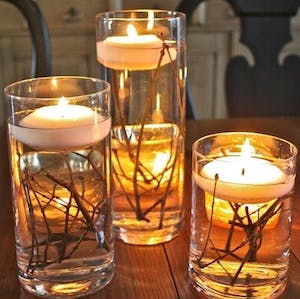 Floating Candles
cylinder vase + sticks + floating candles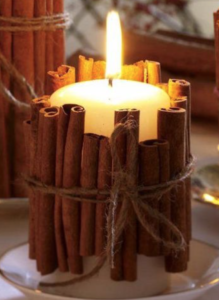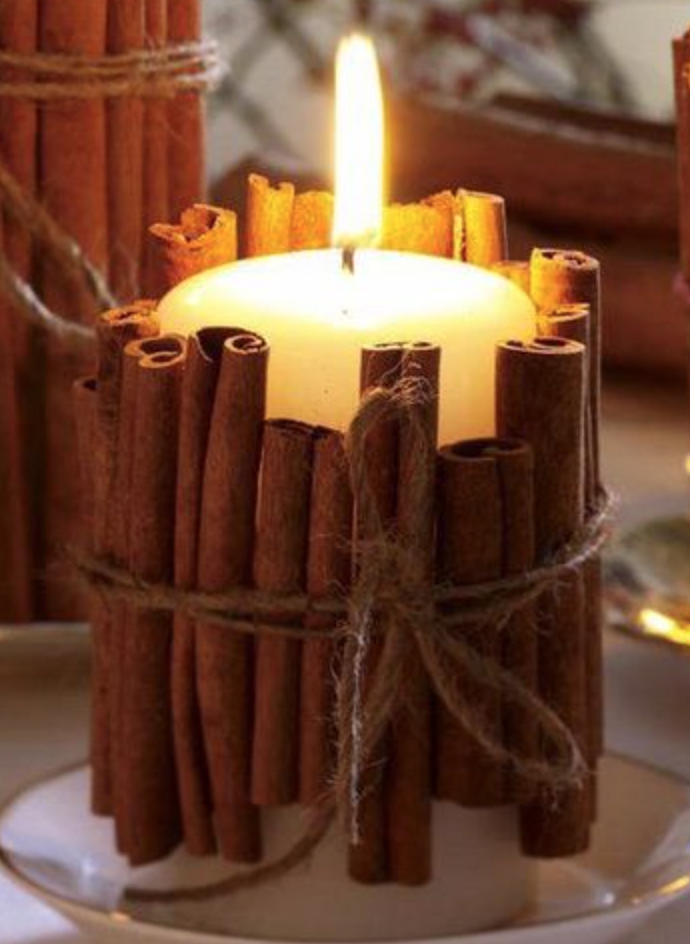 Cinnamon Candle
cinnamon sticks + twine + small pillar candle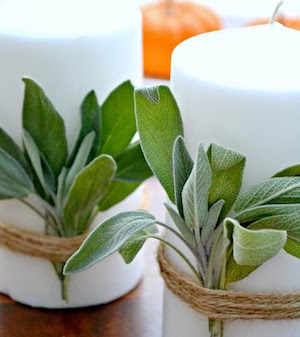 Sage Candles 
sage + white pillar candles + twine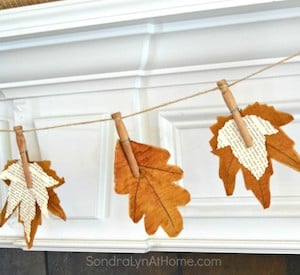 Fall Leaves Banner
fall leaves + twine + book page leaves + clothespins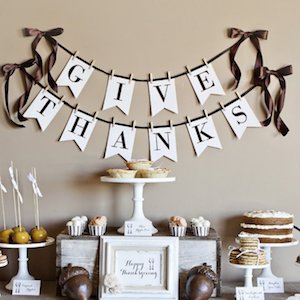 Give Thanks Free Printable Banner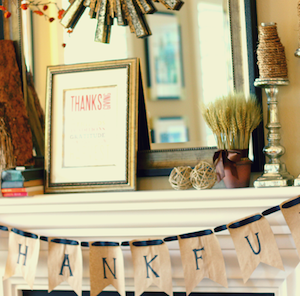 Be Thankful Banner
brown lunch bags + a black marker + black ribbon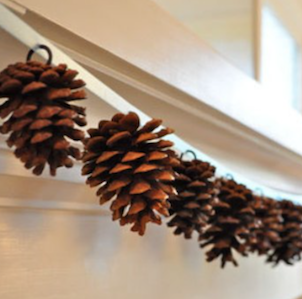 Pinecone Garland
pinecones + ribbon + o rings + hole punch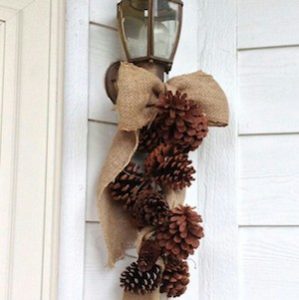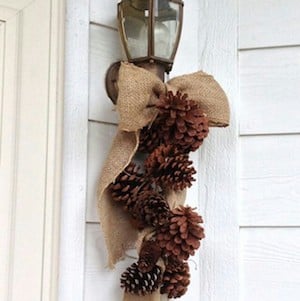 Hanging Pinecones
burlap ribbon + pinecones + floral wire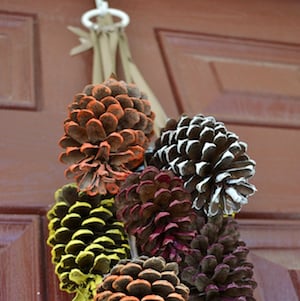 DIY Hanging Pinecones
pinecones + acrylic paint + wire + ribbons +  hoop for hanging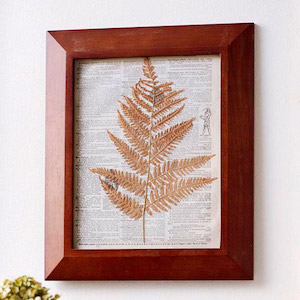 Framed Leaf
fern branch +  old books + Mod Podge + picture frame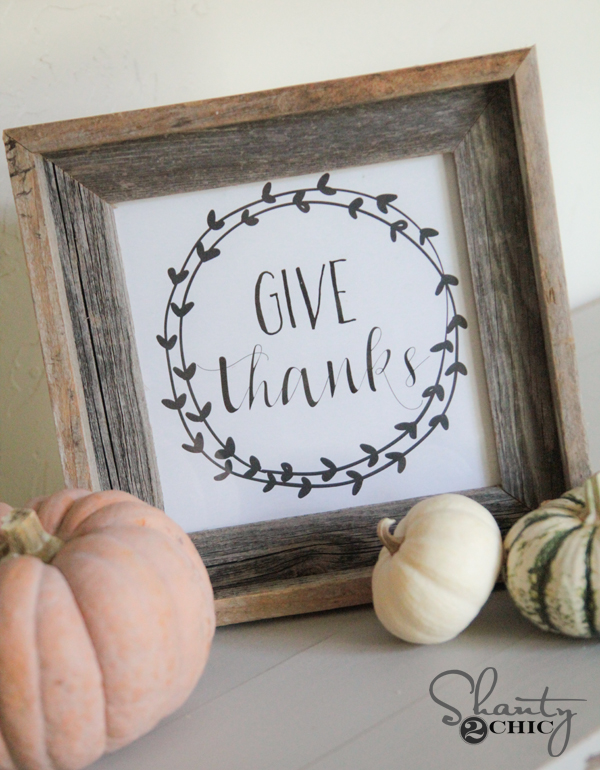 Give Thanks Printable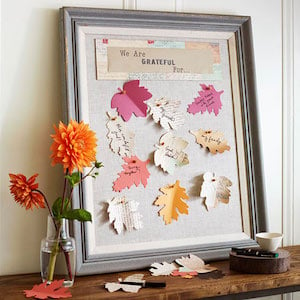 Gratitude Board
assorted paper + push pins + linen-covered cork board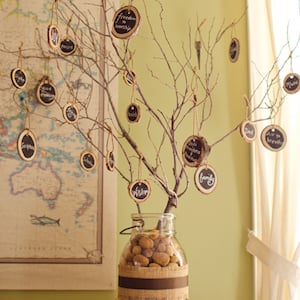 The Thankful Tree
sticks + wooden chalkboard tags + chalk + gallon jar + nuts + burlap + ribbon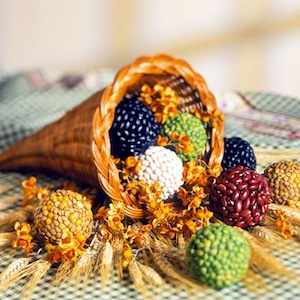 Abundance Seed Balls
foam balls + a variety of beans and seeds + paint
.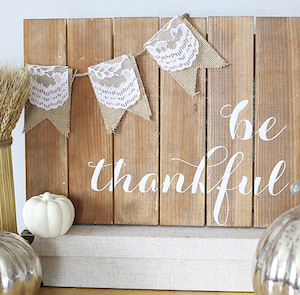 Be Thankful Wood Sign
wood & stain + nails + burlap ribbon + lace + twine + white paint + letter stickers or stencils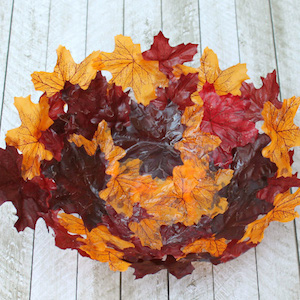 Leaf Bowl 
pack of maple leaves + plastic bowl + Mod Podge + Krylon Triple Thick Glaze
Wreath Thanksgiving Decorations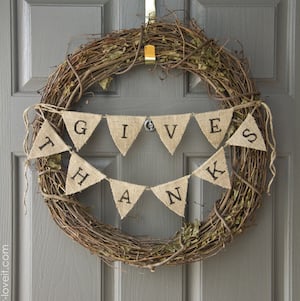 Give Thanks Wreath
grapevine wreath + burlap + black acrylic paint + glue gun + twine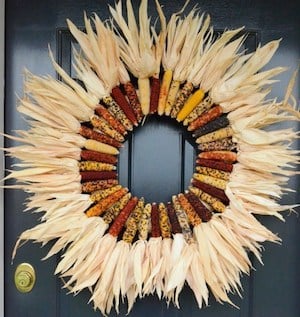 Indian Corn Wreath
mini indian corns + straw wreath + hot glue gun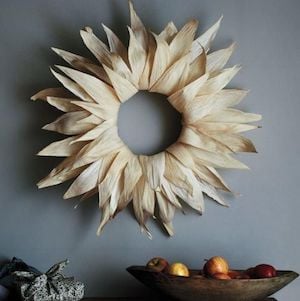 Corn-Husk Wreath
corn husks + straw wreath + T pins + glue gun
You can get the t pins at a hardware store for $3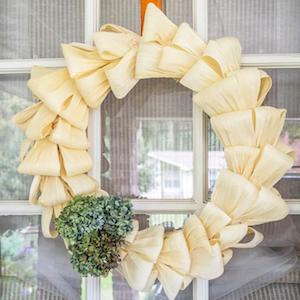 Corn Husk Wreath
dried corn husks + a straw wreath + u-pins + dried flowers + ribbon (for hanging)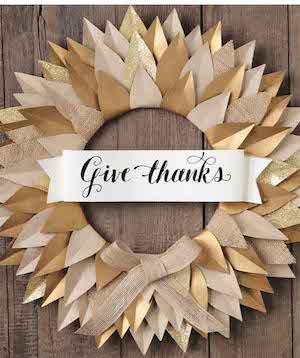 Give Thanks Wreath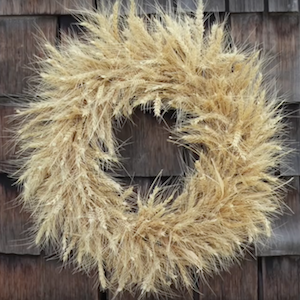 DIY $5 Fall Wheat Wreath
wire wreath + paddle wire +wire cutters + wheat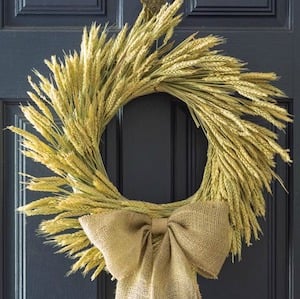 DIY Fall Wheat Wreath II
straw wreath + wide burlap ribbon + floral pins + 5-6 bundles of wheat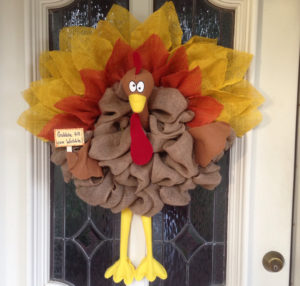 Turkey Wreath
burlap+ wire wreath + autumn tulle ribbons + brown, red and yellow felt for body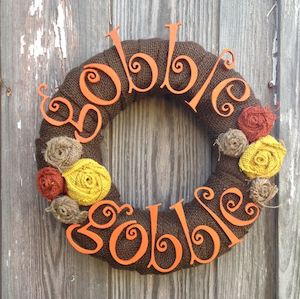 Gobble Wreath
foam wreath + brown burlap ribbon + letters +orange acrylic paint + burlap for flowers
Here is a tutorial for how to make the burlap flowers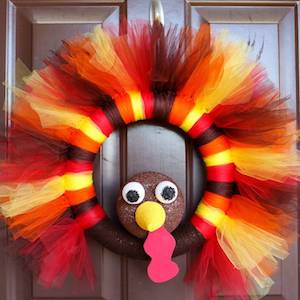 DIY Turkey Tulle Wreath
foam wreath + acrylic paint + foam ball + foam cone + red foam sheet  + brown yarn  + tulle
You can get all the foam items at Dollar Tree.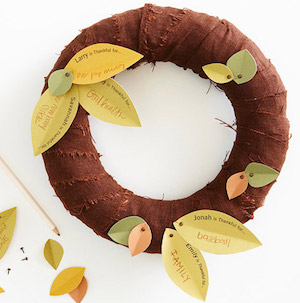 Wreath of Thanks
brown burlap + foam wreath + pins + free printable leaf template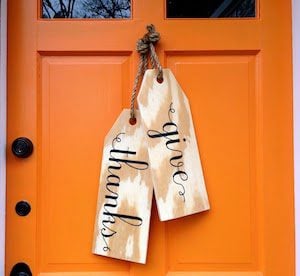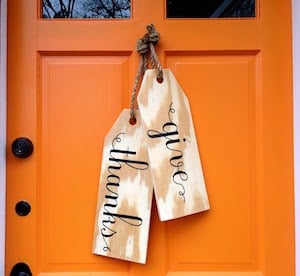 Giant Thanksgiving Wood Tags
plywood + clear semi-gloss poly  + jute rope + clear monofilament + black paint
---
Centerpiece Thanksgiving Decorations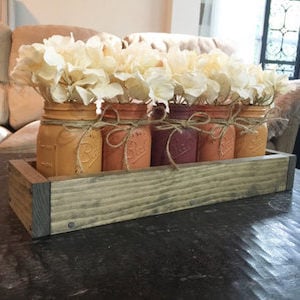 Fall Mason Jar Centerpiece
Assorted fall color acrylic paints + twine + mason jars + fake flowers + floral foam (optional)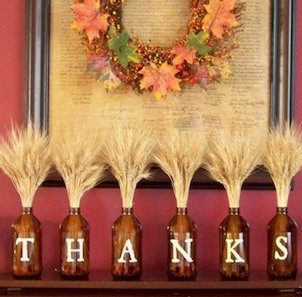 Thanks Bottle Centerpiece
wood letters + acrylic paint + brown spray paint + glass bottles + wheat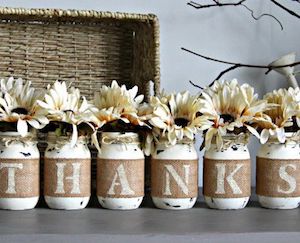 Thanks Mason Jars
mason jars + burlap ribbon + chalk paint + acrylic paint & stencils for letters + fall florals
You can get the jars, ribbon and florals at Dollar Tree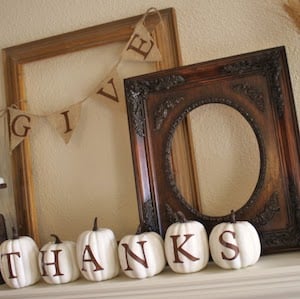 Give Thanks Mantel Centerpiece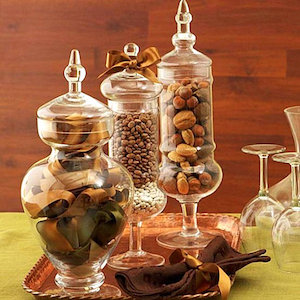 Apothecary Jars of Nuts and Beans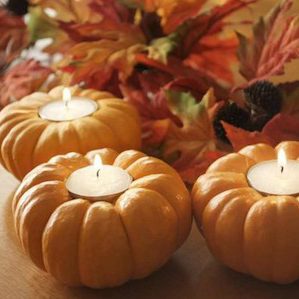 Pumpkin Candleholders
melon baller + tea light candles + mini pumpkins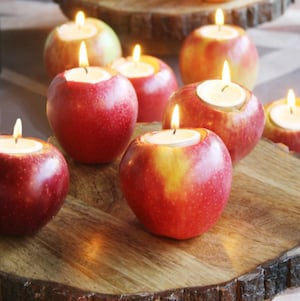 Apple Tea Light Candles
lemon juice (preservation) + tea light candles + apples + melon baller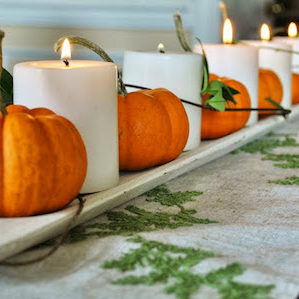 Pumpkin and Candle Centerpiece
Mini Pumpkins + White Pillar Candle + Candle Tray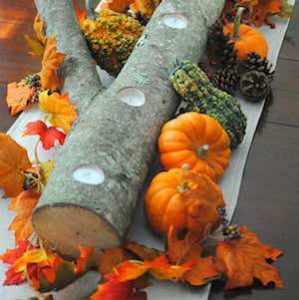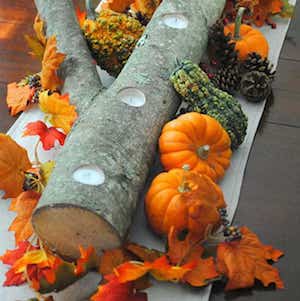 Log Candle Centerpiece
drill with large drill bit + tea light candles + mini pumpkins + maple leaf garland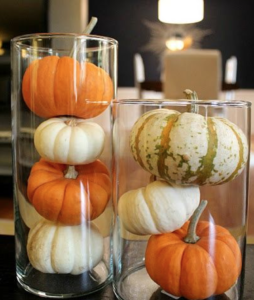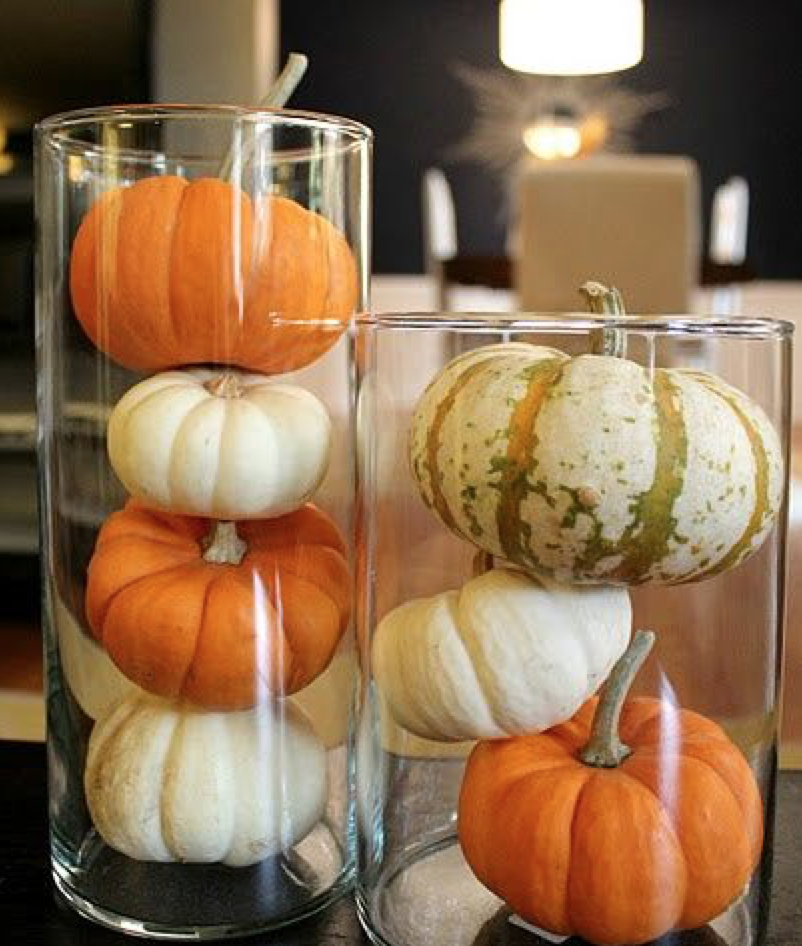 Mini Pumpkins Vase
mini pumpkins  + large glass vases (Goodwill – $2-3)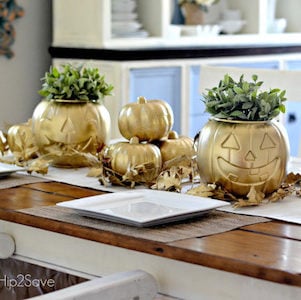 Gold Pumpkin Pail Centerpiece 
pumpkin pails + foam pumpkins + maple leaves + gold spray paint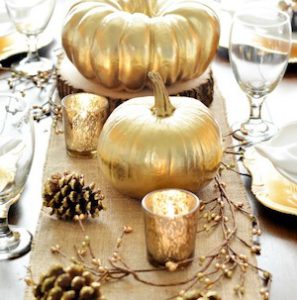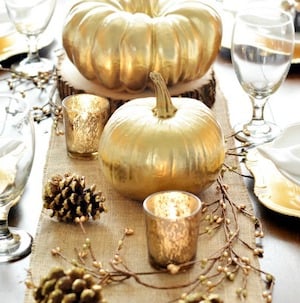 Thanksgiving Inspired Gold Table Decor
craft pumpkins  + burlap table runner + votive holders + pinecones + gold Christmas garland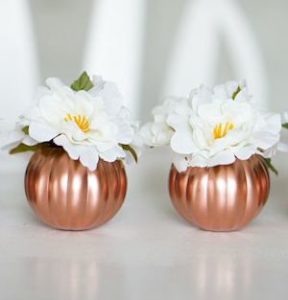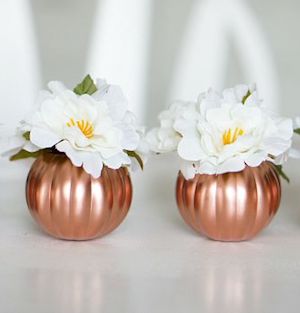 Copper Pumpkin Centerpiece
dollar store plastic pumpkin pails + faux  flowers + spray paint + rice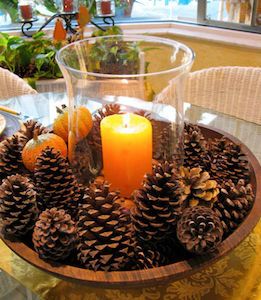 Pinecone Centerpiece
wood salad bowl + pinecones + glass jar + pillar candle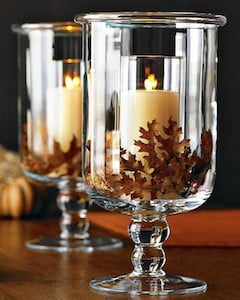 Maple Leaf Candleholder
You can make your own hurricane candleholder for $2. Here is the tutorial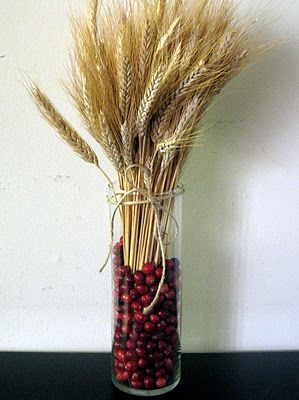 Wheat and Cranberry Vase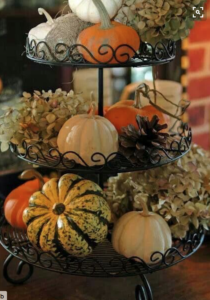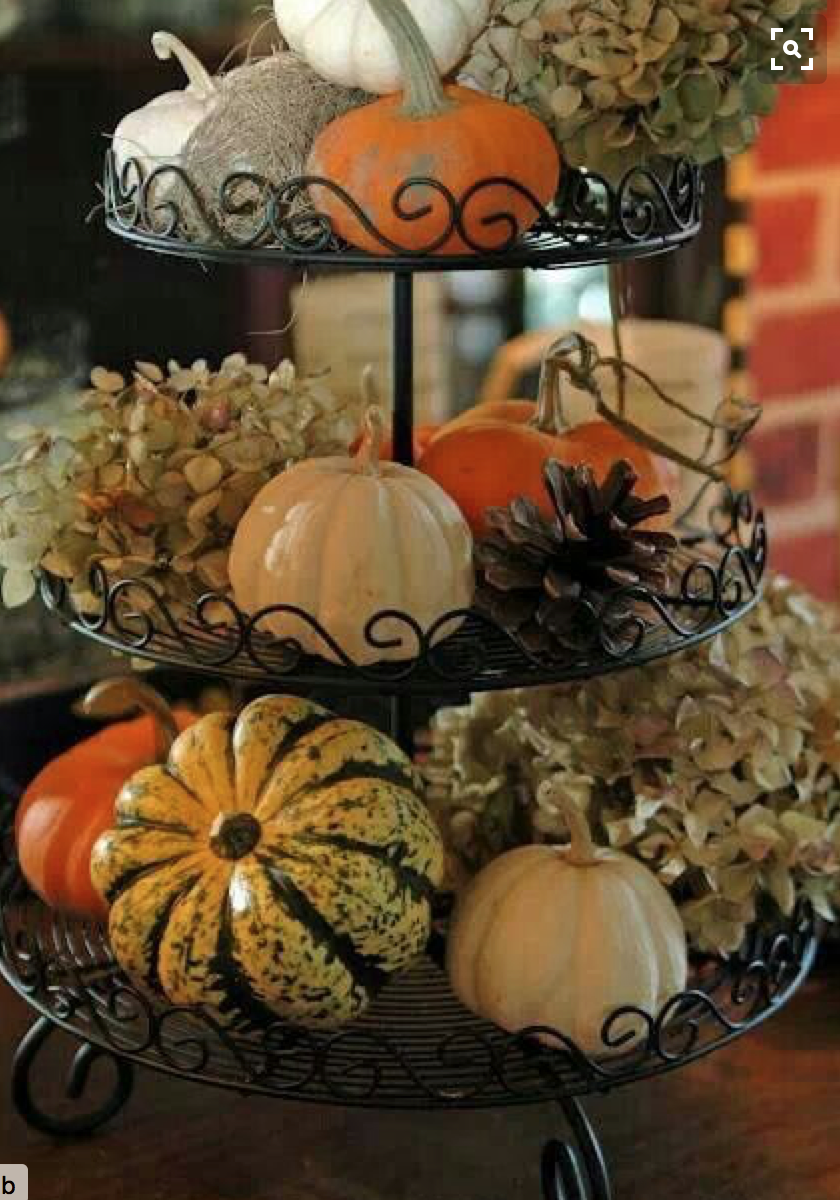 Pumpkin Basket
Black Fruit Basket (Thrift Store – Goodwill – $3) + Polyfoam Pumpkin and Gourds (Dollar Tree or Walmart)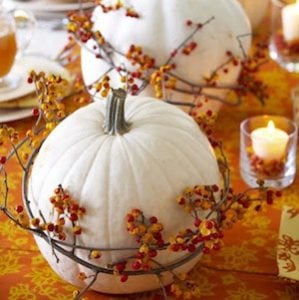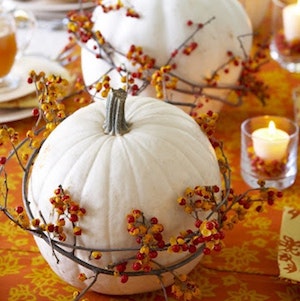 Bittersweet Berry Vine Pumpkins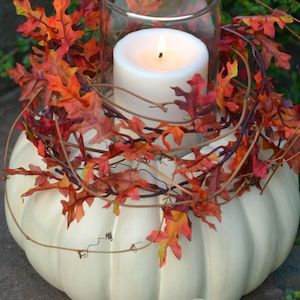 Pumpkin Candleholder
craft pumpkin + fall leaf garland + white pillar candle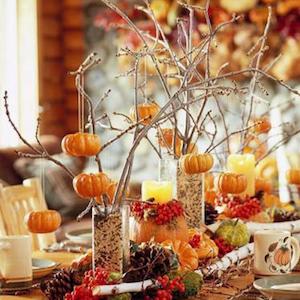 Mini Pumpkin Tree
Cylindrical vases + birdseed + branches + mini pumpkins + twine
You can get the vase and twine at Dollar Tree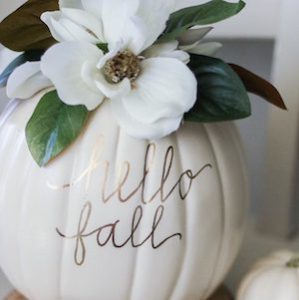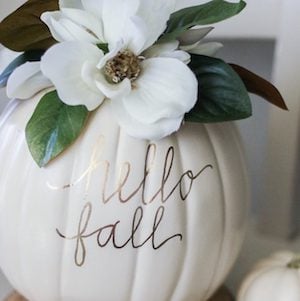 DIY Magnolia Pumpkin
craft pumpkin + faux magnolia flower + glue gun + gold metallic paint pen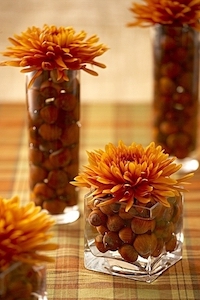 Acorns & Mums
vases and candleholders + acorns + orange mums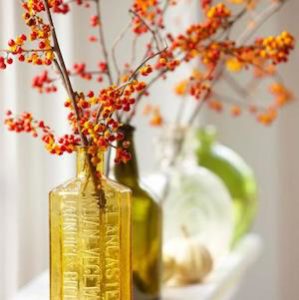 Bittersweet Berries in a Vase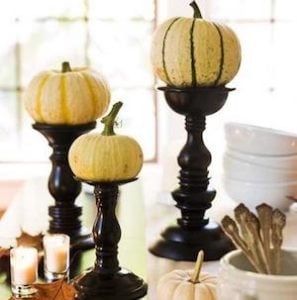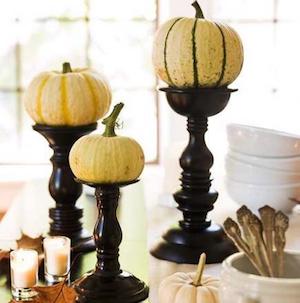 Mini Pumpkins on Candlesticks
You can get wood candlesticks for under $2 at thrift stores and spray paint them any color you want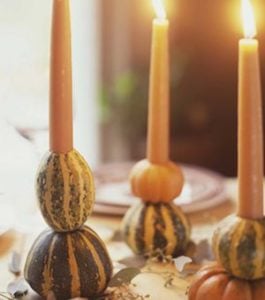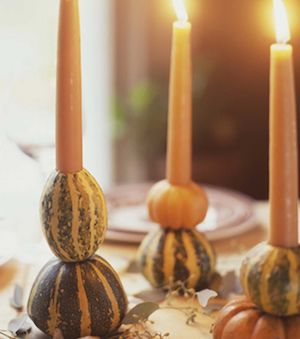 Hollowed Out Gourd Candlesticks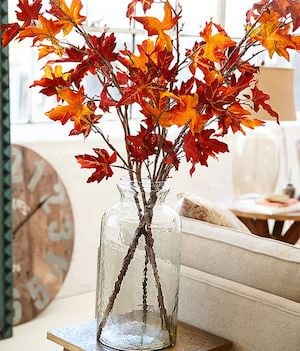 Fall Leaf Vase
Sticks (Free) + Maple Leaves (Dollar Tree) + Glass Vase (Dollar Tree)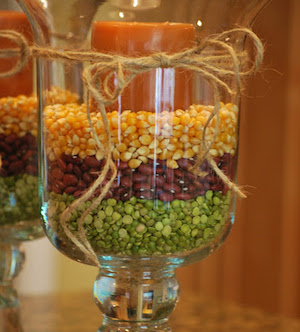 Thanksgiving Vase
split pea kernels + popcorn kernels  + dry beans + twine + orange pillar candle + glass vase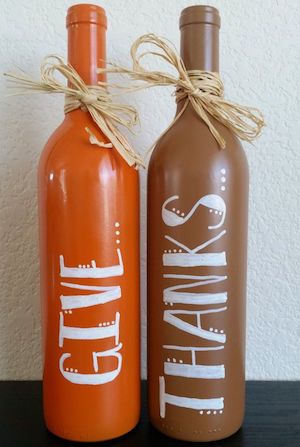 Give Thanks Bottles
acrylic paints + letter stencils + wine bottles + raffia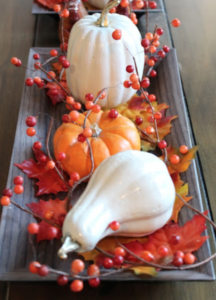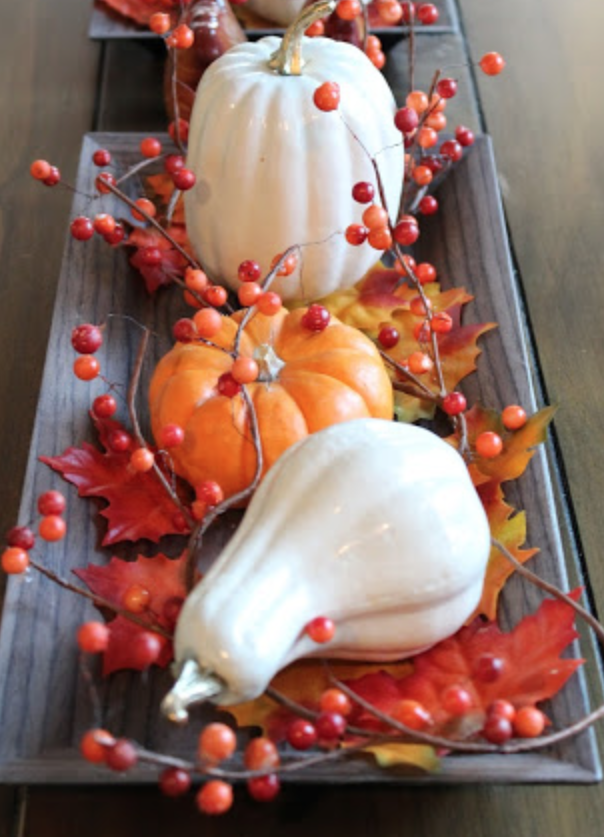 Pumpkin and Fall Berry Tray Centerpiece
Foam Pumpkins and Gourds (Dollar Tree) + Fall Berries (Dollar Tree) + Maple Leaf Pack (Dollar Tree) + Candle Tray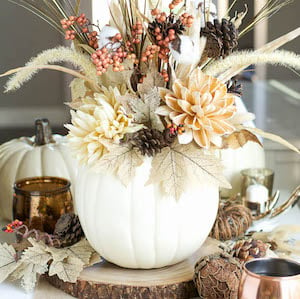 DIY Pumpkin Vase Centerpiece
Faux pumpkin + Styrofoam block + Fall florals + Hot glue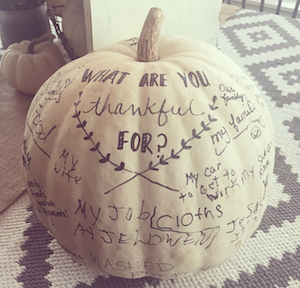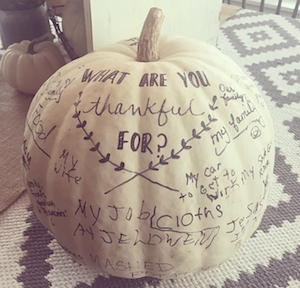 Thankful Pumpkin Centerpiece
white craft pumpkin + black Sharpie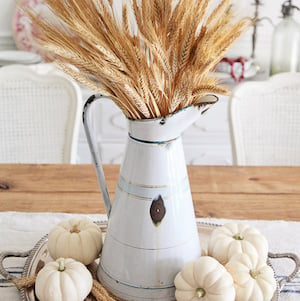 Wheat Pitcher Centerpiece
white pitcher + wheat + mini pumpkins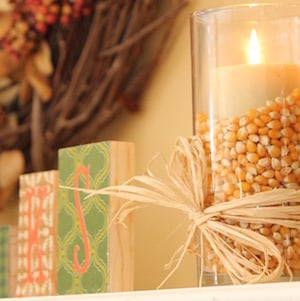 Dollar Tree Thanksgiving Candle
glass vase + popcorn kernels + natural raffia + pillar candle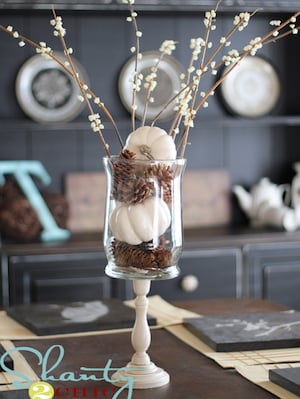 White Pumpkins and Pine Cones
pine cones + acorns + fake pumpkins + candleholder + glass vase + fall stems
You can get a candleholder and vase at Dollar Tree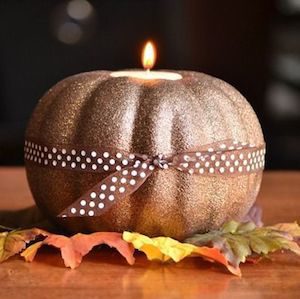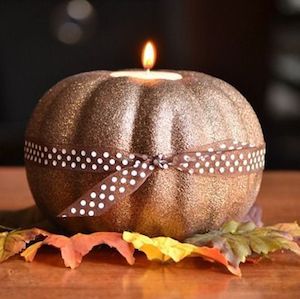 Glittered Pumpkin Centerpiece
foam pumpkin + glitter blast spray paint + drill with large drill bit + tea light candle + clear spray
---
Table Thanksgiving Decorations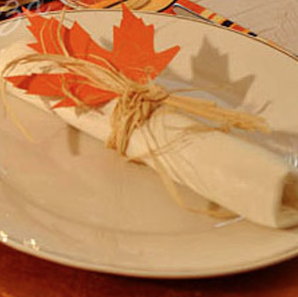 Maple Leaf Napkin
raffia + napkin + maple leaf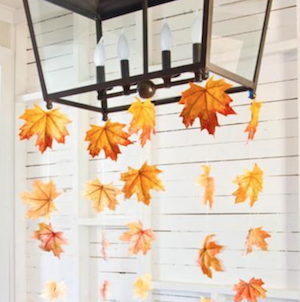 Hanging Leaves Garland
fishing line + fall leaves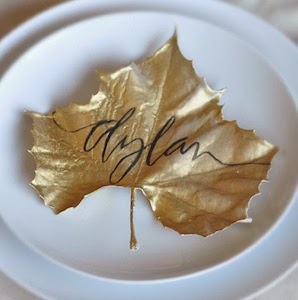 Maple Leaf Placecard
large maple leaf + gold spray paint + black Sharpie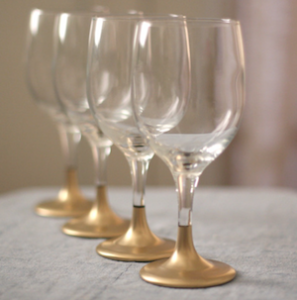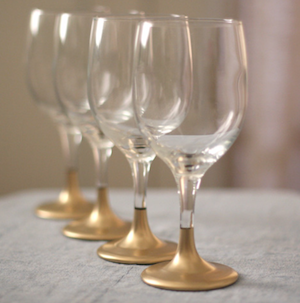 Gold Dipped Holiday Glasses
Gold Spray Paint + Masking Tape + Wine Glasses
Only thing you can't get at Dollar Tree is the gold spray paint, but you can get it at Walmart for $3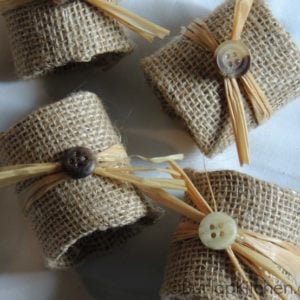 Burlap Napkin
paper towel rolls +burlap + mod podge + buttons + raffia + hot glue gun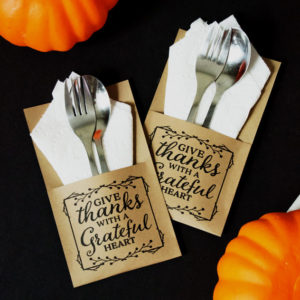 Printable Give Thanks Utensil Holders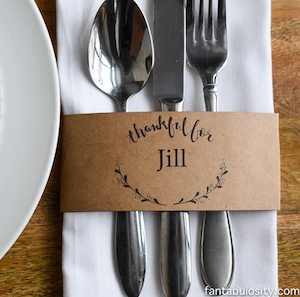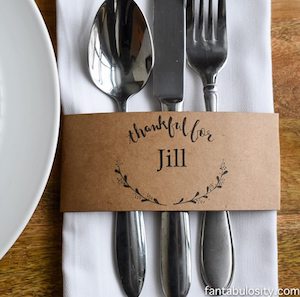 Give Thanks Place Cards
kraft-colored card stock + hole punch + thin ribbon + free printable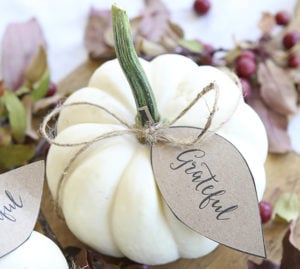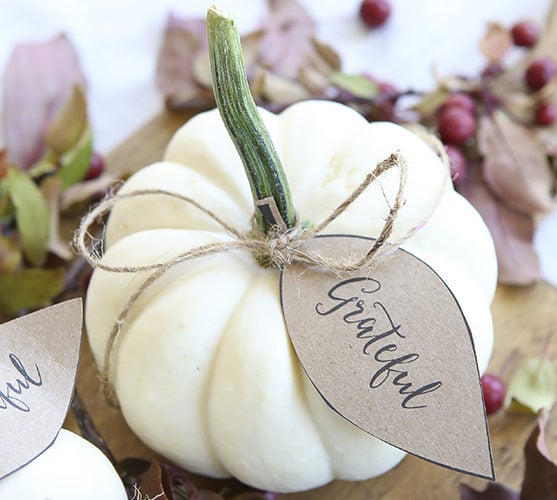 Pumpkin Leaves Free Printable
mini pumpkins + Kraft paper + twine + pen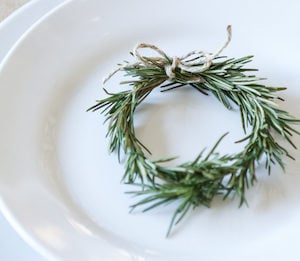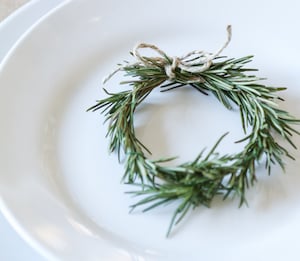 Rosemary Wreath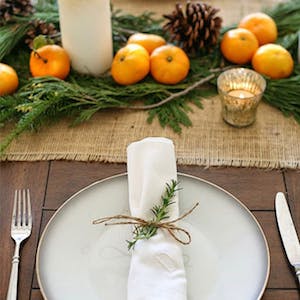 Holiday Table Idea
burlap runner + pine branches + pinecones + mandarin oranges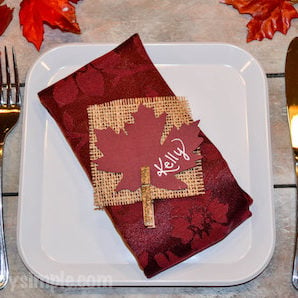 Thanksgiving Place Card
Burlap + Card stock + White Sharpie + Small Clothespins + Glue  + Glitter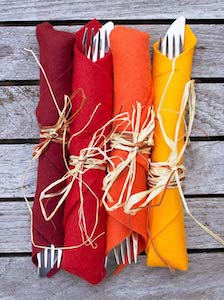 Raffia Wrapped Fall Colored Napkins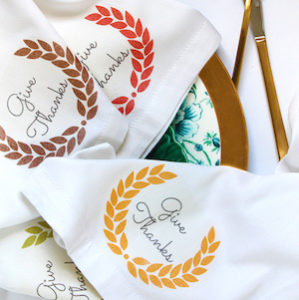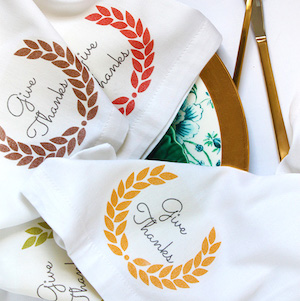 Thanksgiving Printable Napkins
 white cotton napkins + printable iron on transfer sheets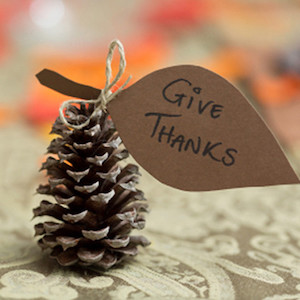 Thankful Pine Cones
small pine cone + brown paper bags + twine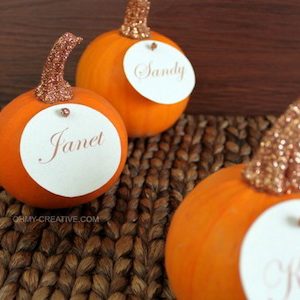 Pumpkin Placeholders
mini pumpkins + circle punch + straight pins + glitter + mod podge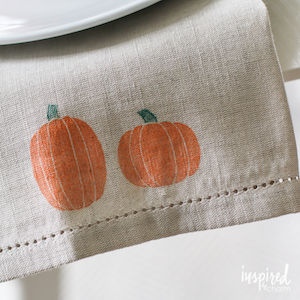 Pumpkin Stamped Napkin
Cotton napkins + Stamps + Pigment ink stamp pads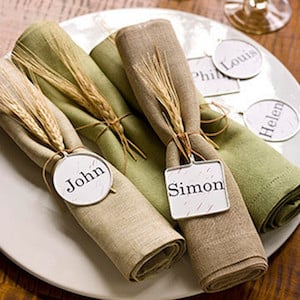 Natural Thanksgiving Napkins
wheat + twine + placecards + cloth napkins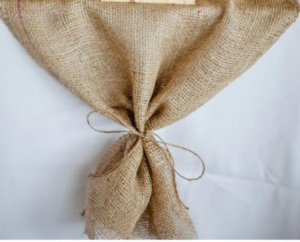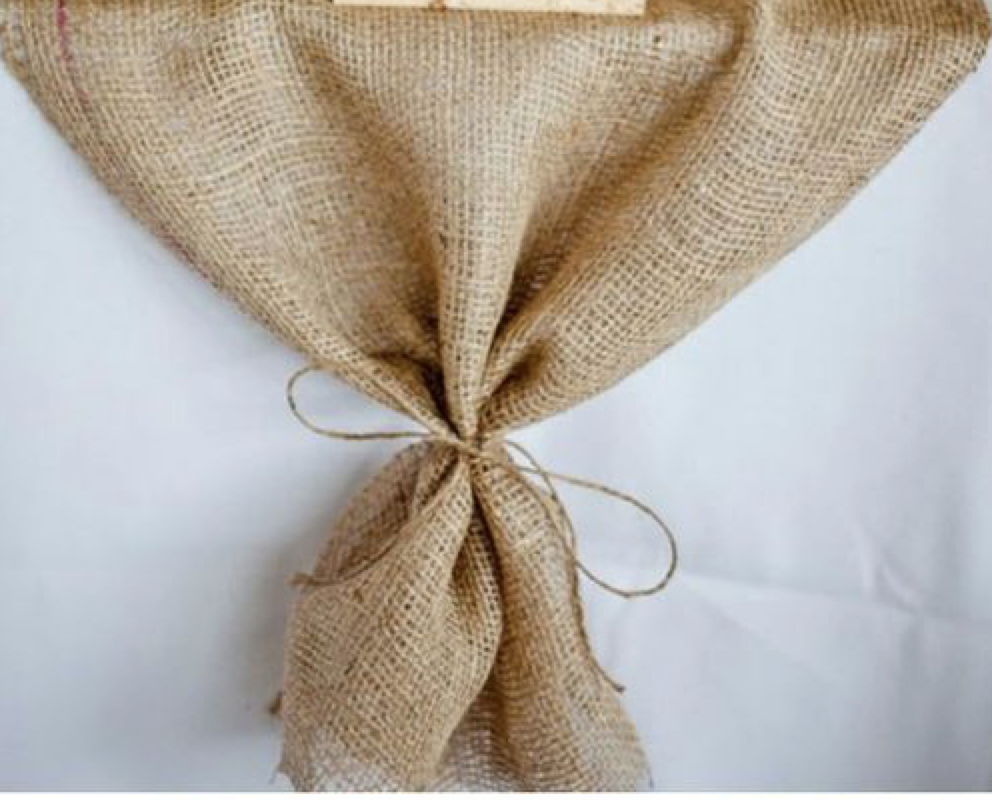 Burlap Table Cloth
White Table Cloth ($9 to $15, depending on size) + Burlap Cloth ($1.99/yd at Jo Ann) + Twine (Dollar Tree)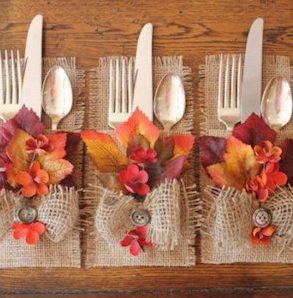 Burlap Utensil Holder
burlap ribbon + button + artificial maple leaves + glue gun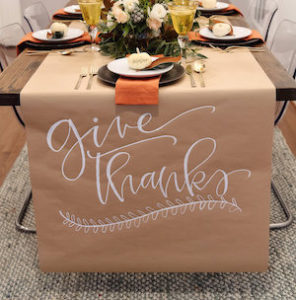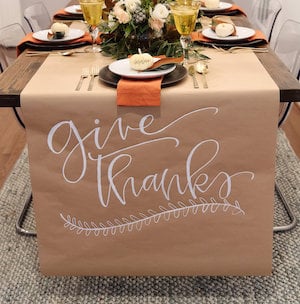 Give Thanks Table Runner
kraft paper + white paint pen