Celebrate Turkey Day with these fun free Thanksgiving Coloring Pages for kids and adults!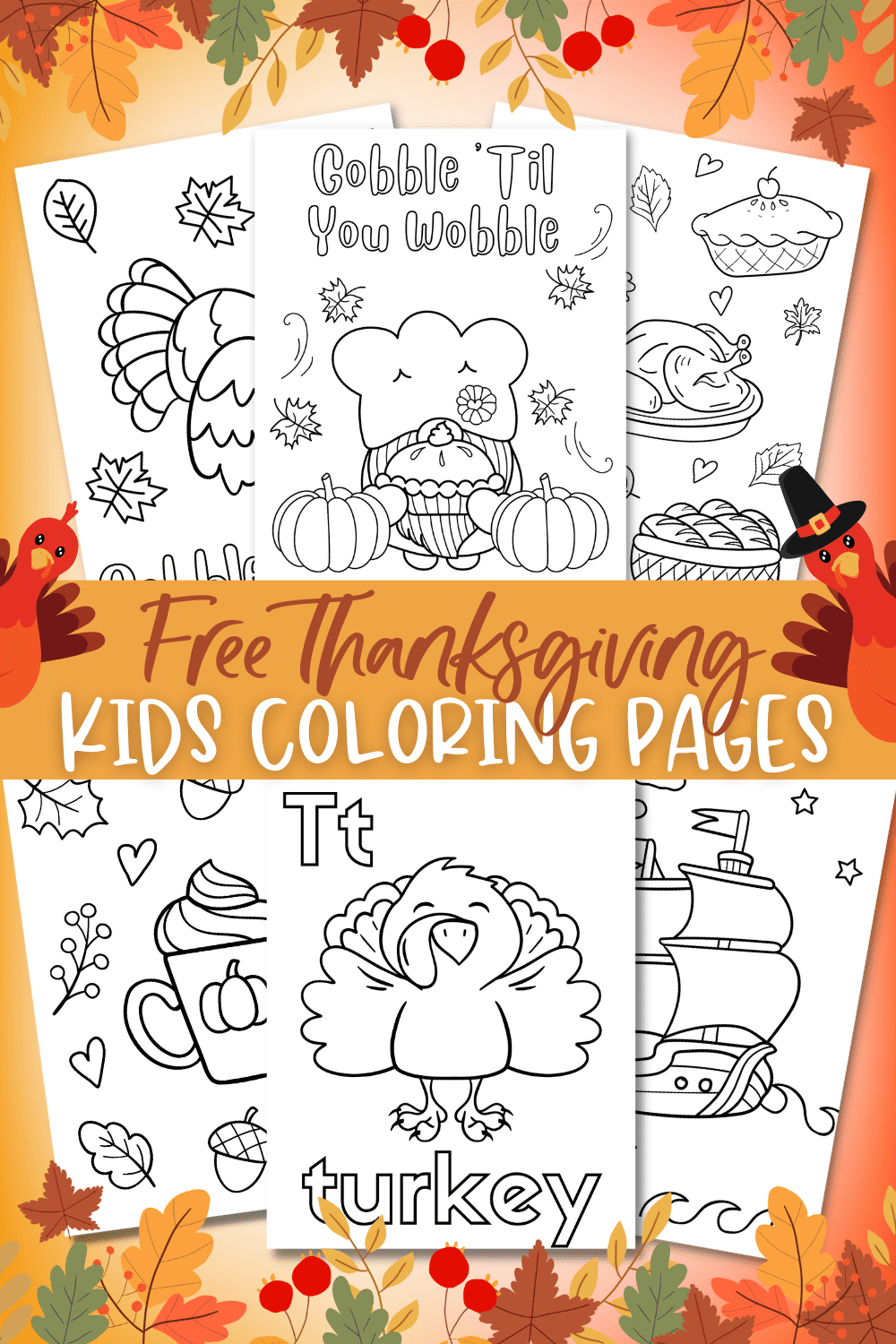 From turkey coloring pages to pumpkin coloring pages, there are plenty of fall coloring pages that are the perfect Thanksgiving activity for all ages. They are a great way to keep everyone entertained and engaged during the fall season.
There are free coloring pages for all age groups so that you will find something for every skill level! These printable Thanksgiving coloring sheets feature pumpkins, gourds, turkeys, pilgrims, cornucopias, and more.
Whether you are looking for basic coloring pages for younger kids like toddlers and preschoolers or more detailed designs for older kids, teens, and even adults, they will add a fun touch to your festivities.
These printables offer many benefits for both kids and adults. For children, these activities promote the development of fine motor skills, hand-eye coordination, and concentration. It encourages creativity and imagination while providing a fun activity to pass the time. Additionally, these sheets serve as a stress-relieving and relaxing activity for adults.
Pair these free pages with these Thanksgiving crafts for kids, turkey crafts, and this Thanksgiving bingo printable for tons of festive fun on the big day!
Jump to:
Supplies Needed
printer
printer paper
free printable coloring pages (high-quality PDF format)
How to Download These Coloring Pages
Click the Download button for each one of the pages you want to download. The file format is printable PDFs.
Save the file to your computer in the folder that you want to.
How to Print These Free Printables
Open in Adobe Reader or another PDF viewer of your choice.
Load printer paper into your printer's paper tray.
Go to File —> Print.
Set the page sizing to "Fit."
Click the printer button at the bottom. A printer setup dialogue box will open.
Under media and quality, set the quality to "Best."
Press the print button.
Thanksgiving Turkey Coloring Pages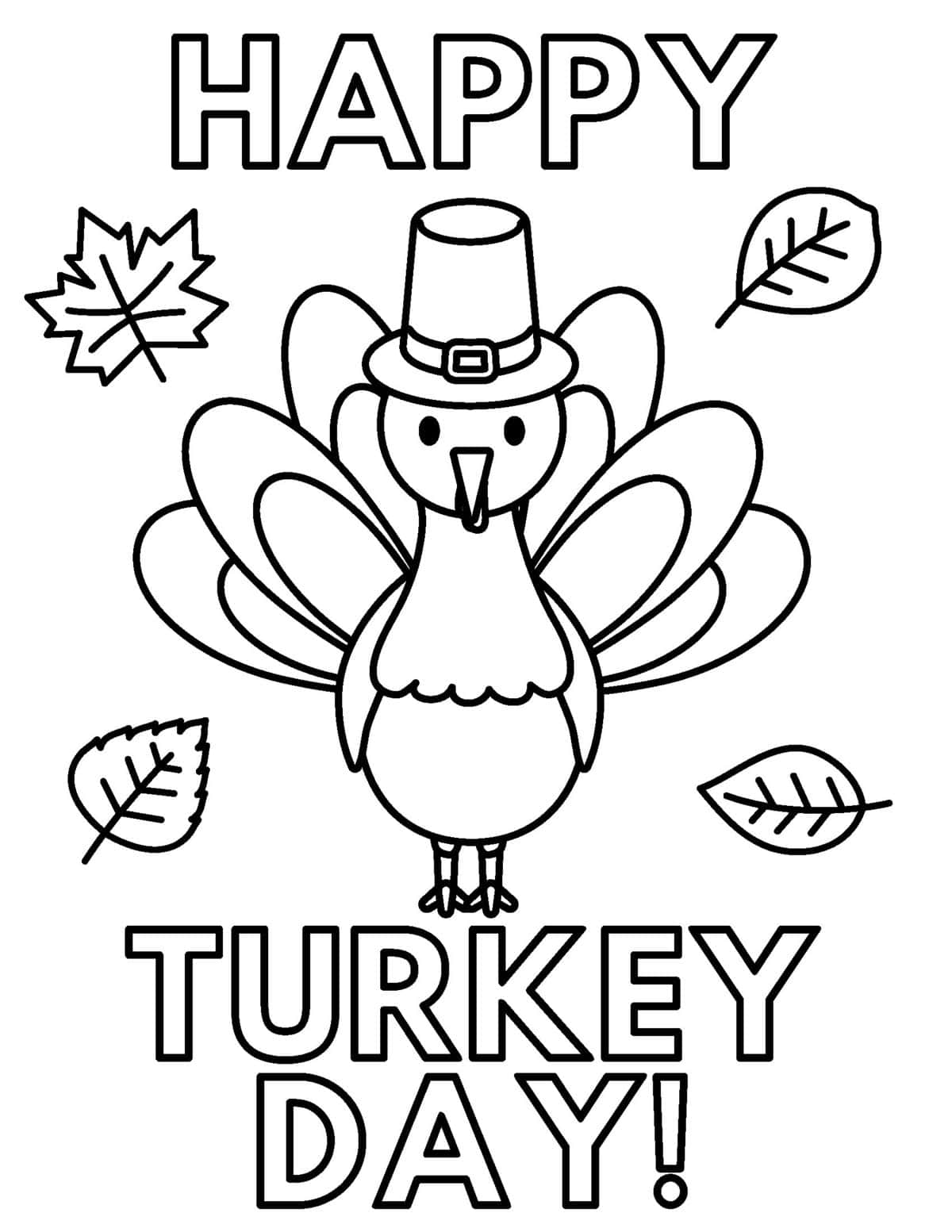 This one features a festive turkey wearing a pilgrim's hat. He's all ready for some fun Thanksgiving festivities!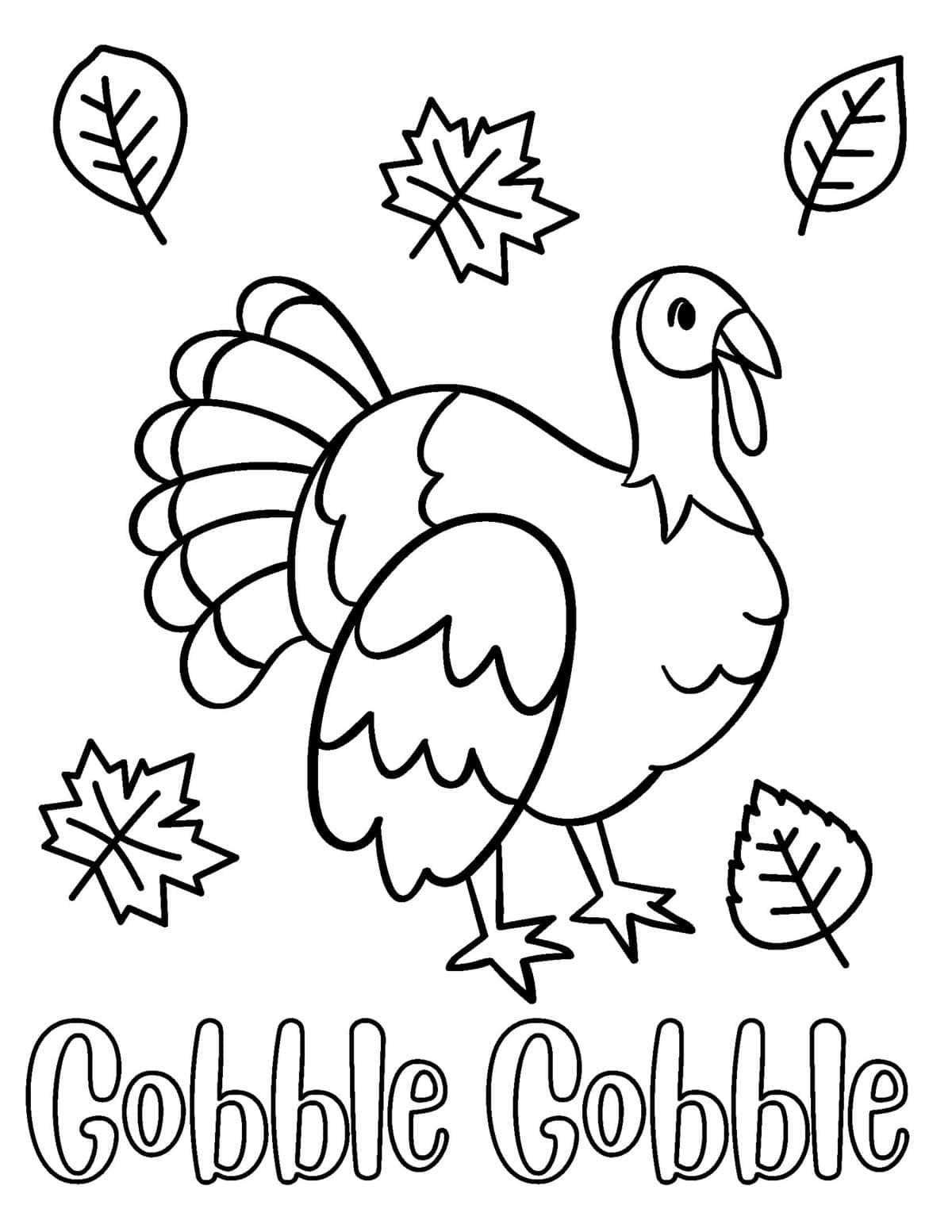 This adorable turkey, whose playful "Gobble Gobble" greeting, will surely get your kiddos into the Thanksgiving spirit.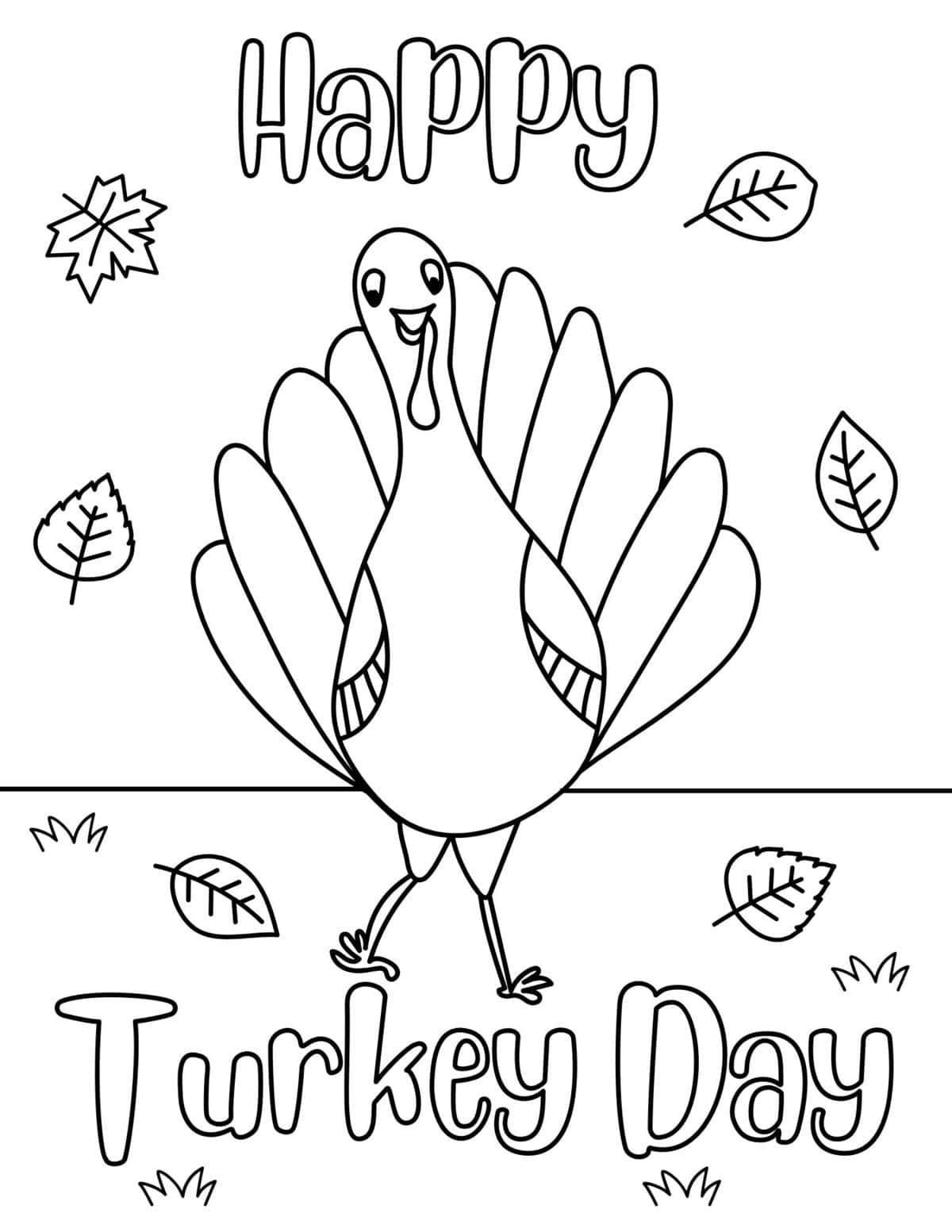 Let the colors of Thanksgiving come alive with this happy cartoon turkey. The images on this page invite a burst of autumn hues, ready to be eagerly filled in by your kiddos.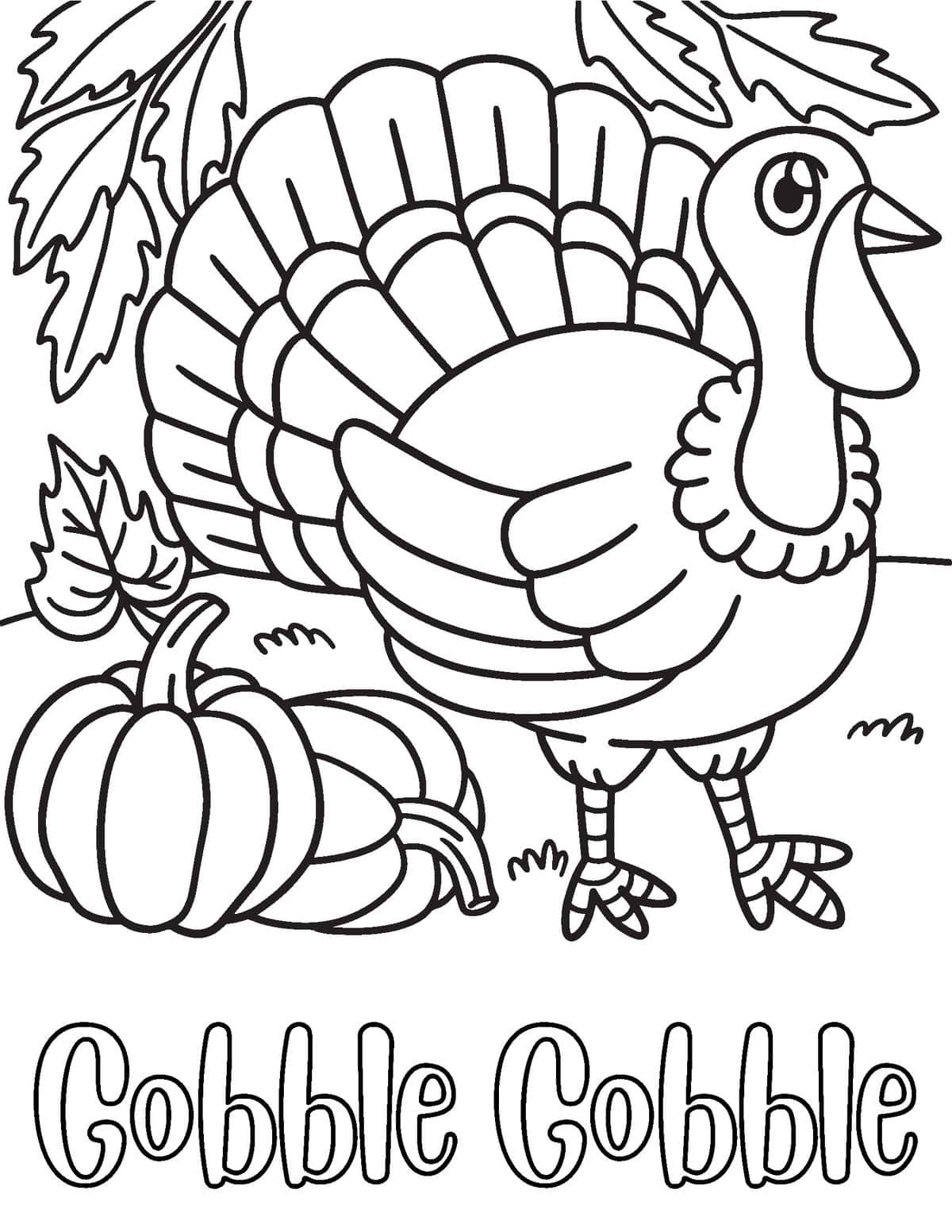 Turkey in a Field with Pumpkins
This sheet is a cornucopia of creative expression, from the turkey's plump feathers to the giant pumpkins beside him and autumn leaves in the background.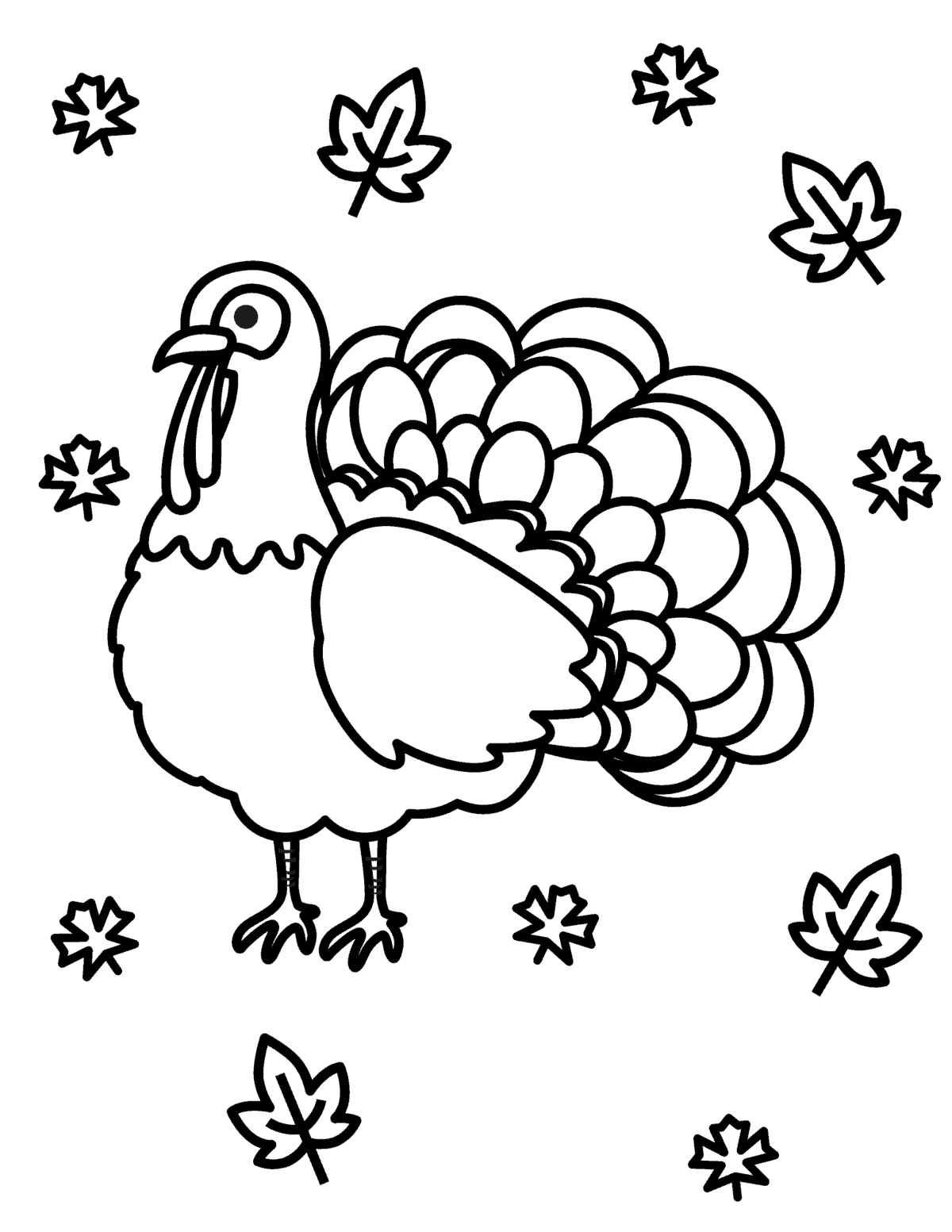 Simple Turkey with Falling Leaves
This friendly turkey and flurry of fall leaves are all set to be colored with a kaleidoscope of autumn colors by eager little artists!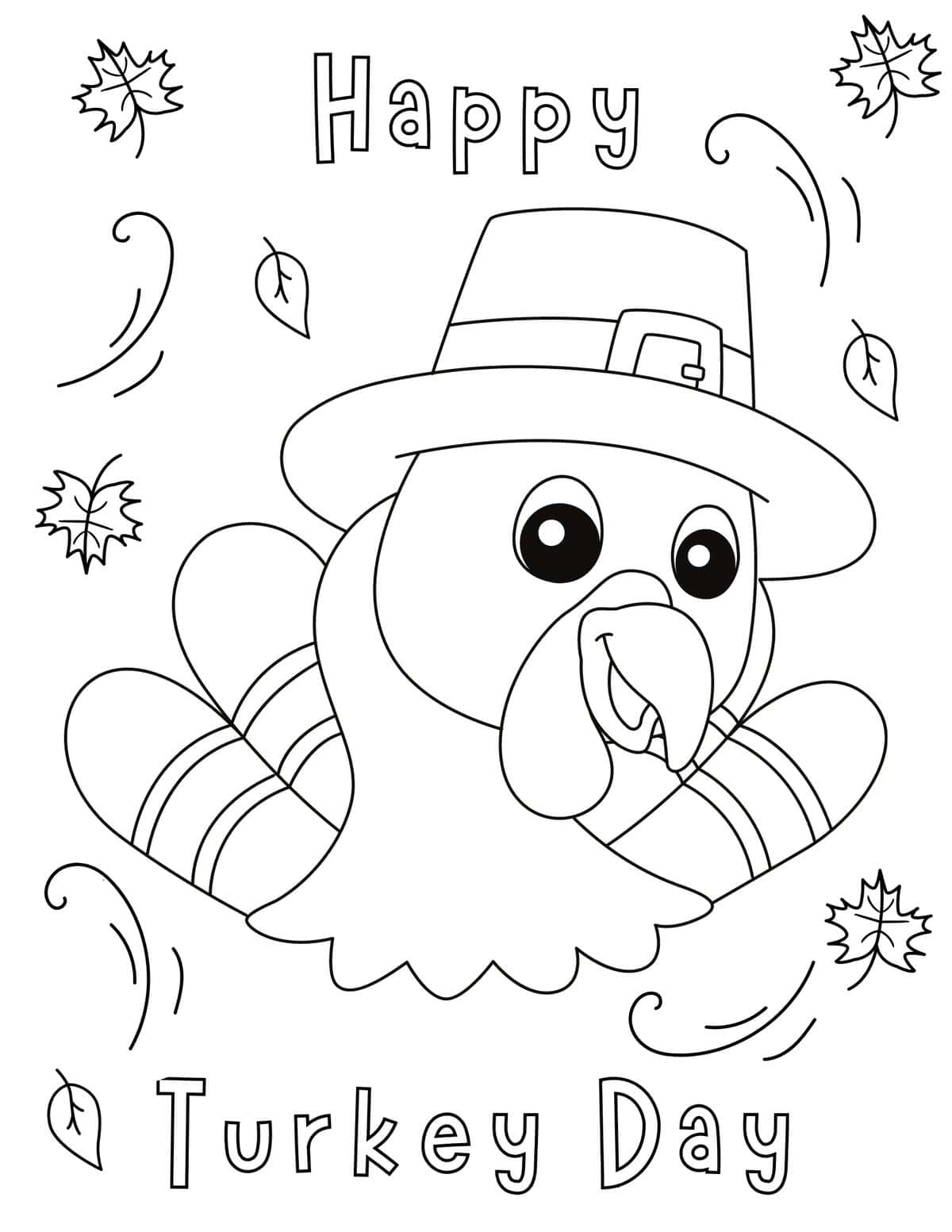 This cute turkey wearing a stylish pilgrim hat is all wide-eyed and ready for your kids to color him with a parade of Thanksgiving colors like browns, oranges, and tans.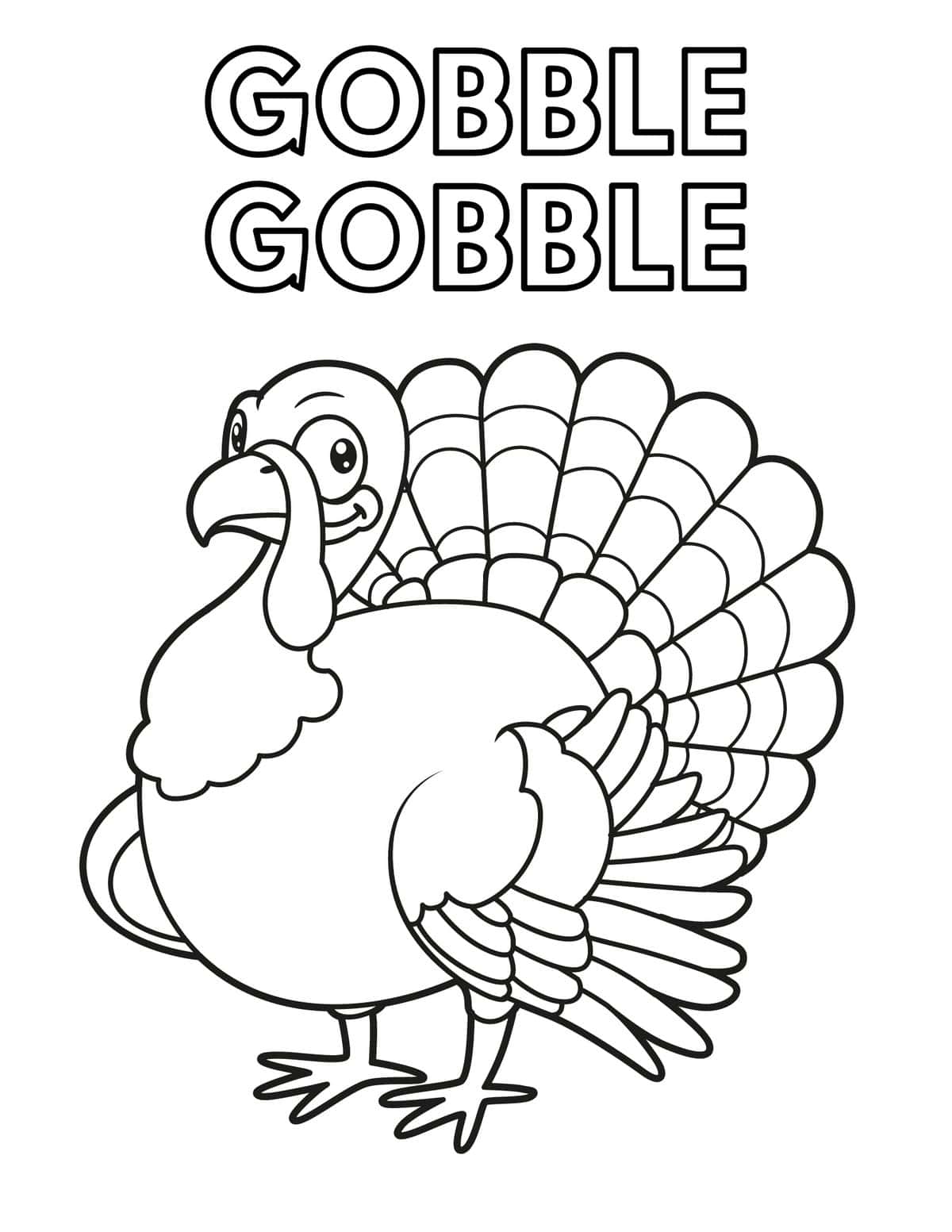 This adorable turkey is awaiting a splash of autumn hues for its long and plump feathers. It's a perfect choice for kids to express their Thanksgiving excitement!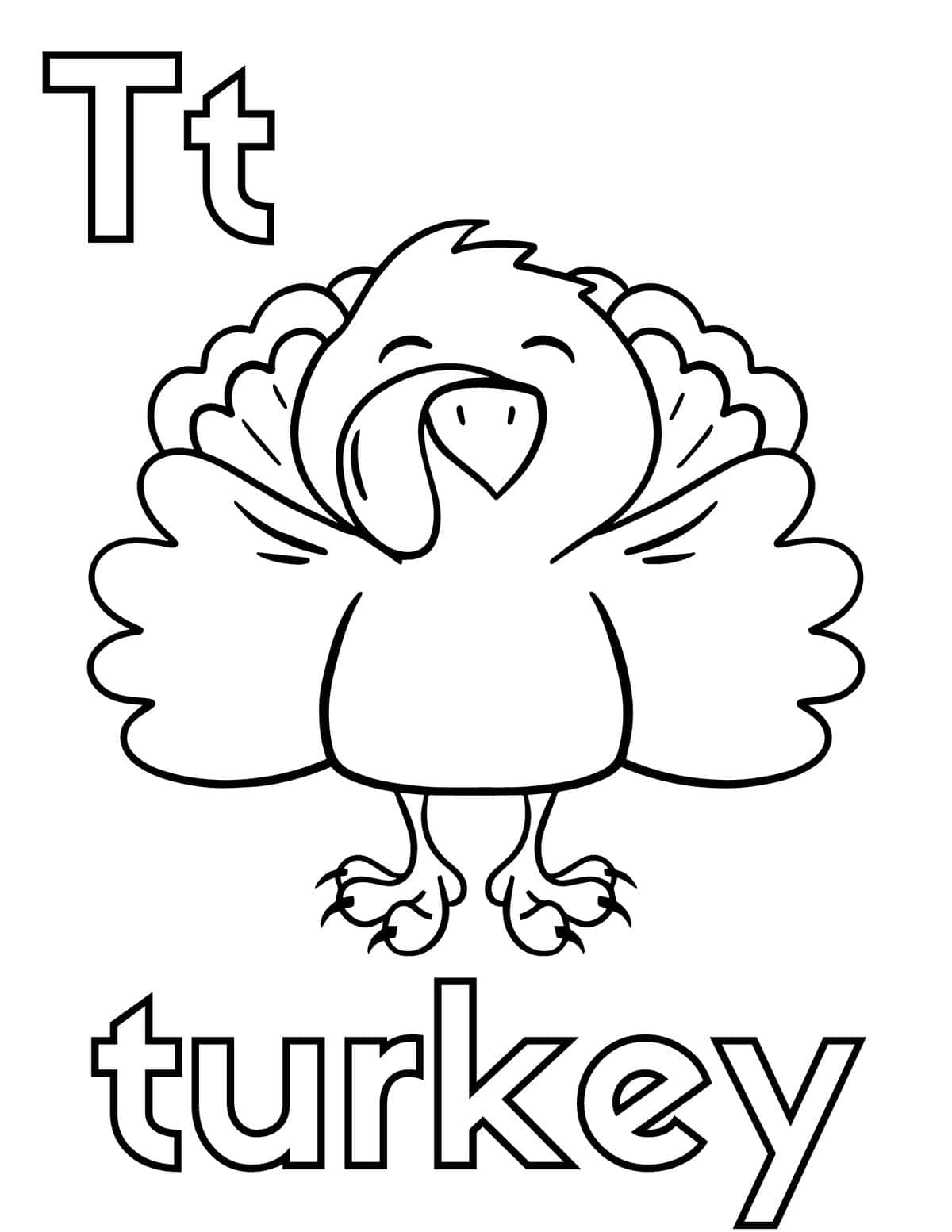 This one is perfect for tiny tots learning their letters. It will invite their small hands to explore Thanksgiving and the alphabet simultaneously!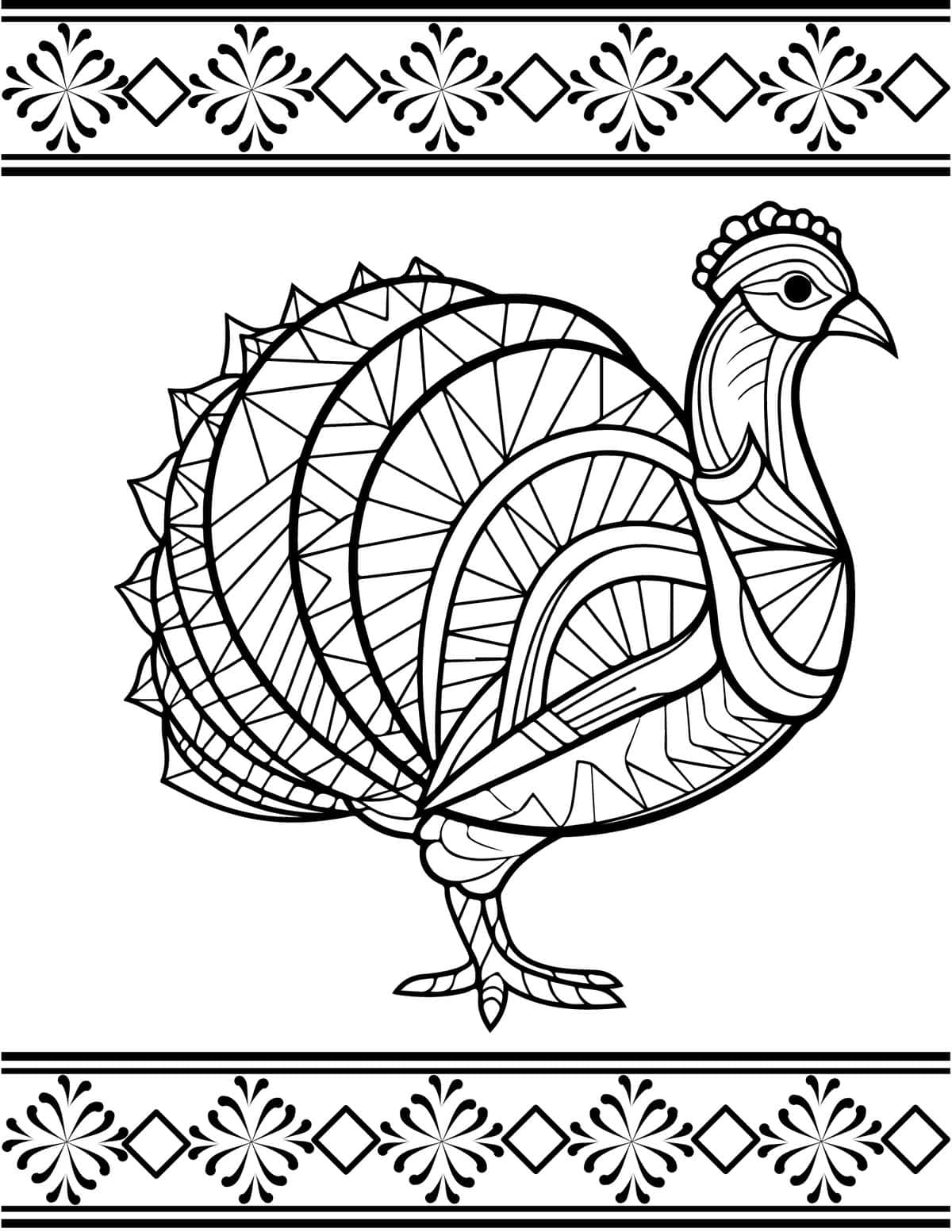 This intricate mandala turkey with mesmerizing patterns offers a tranquil retreat for adults and teens to unwind with Thanksgiving-themed art therapy.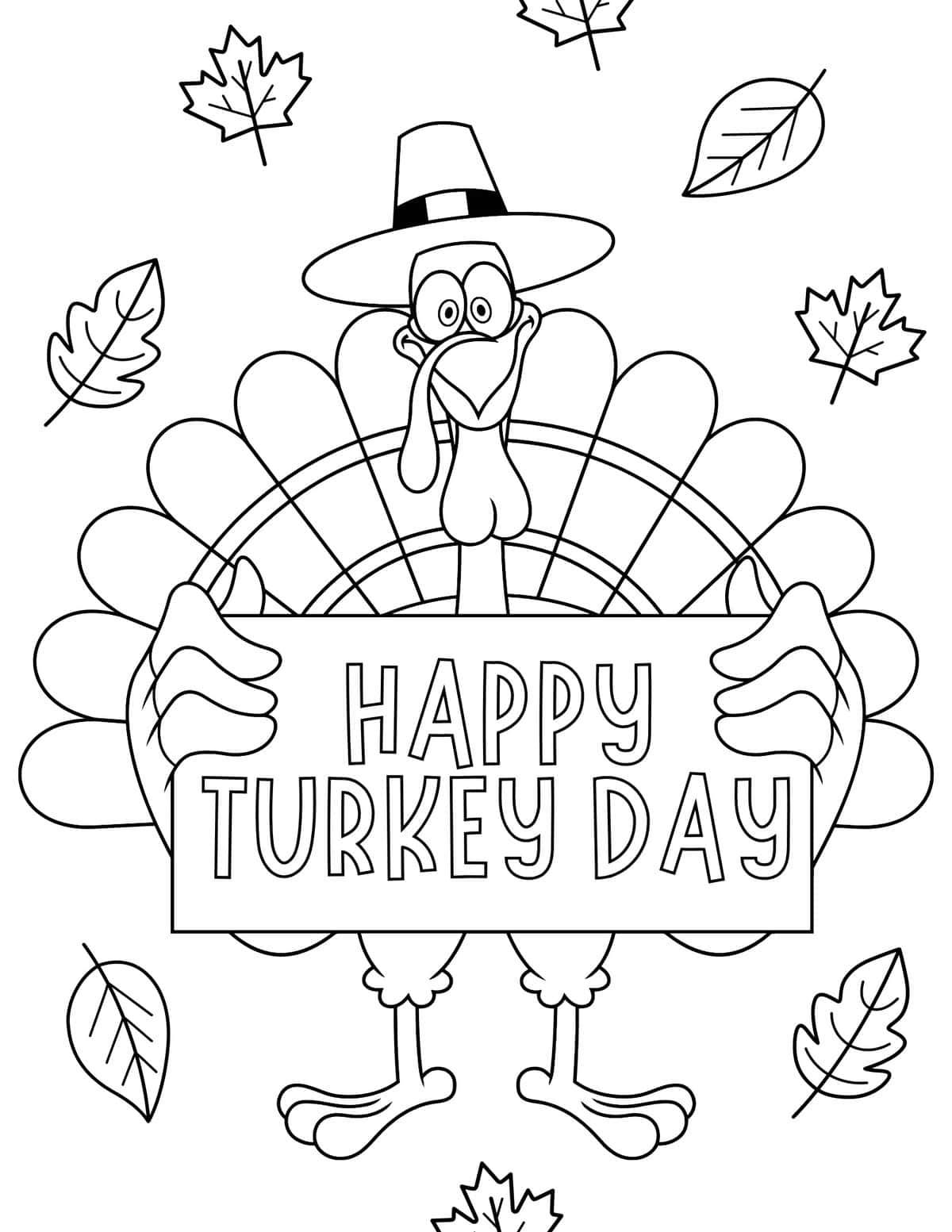 This whimsical turkey is humorously holding a sign that reads "Happy Turkey Day." Surrounded by a flurry of autumn leaves, it's a page that combines fun and festivity.
Thanksgiving Food Coloring Pages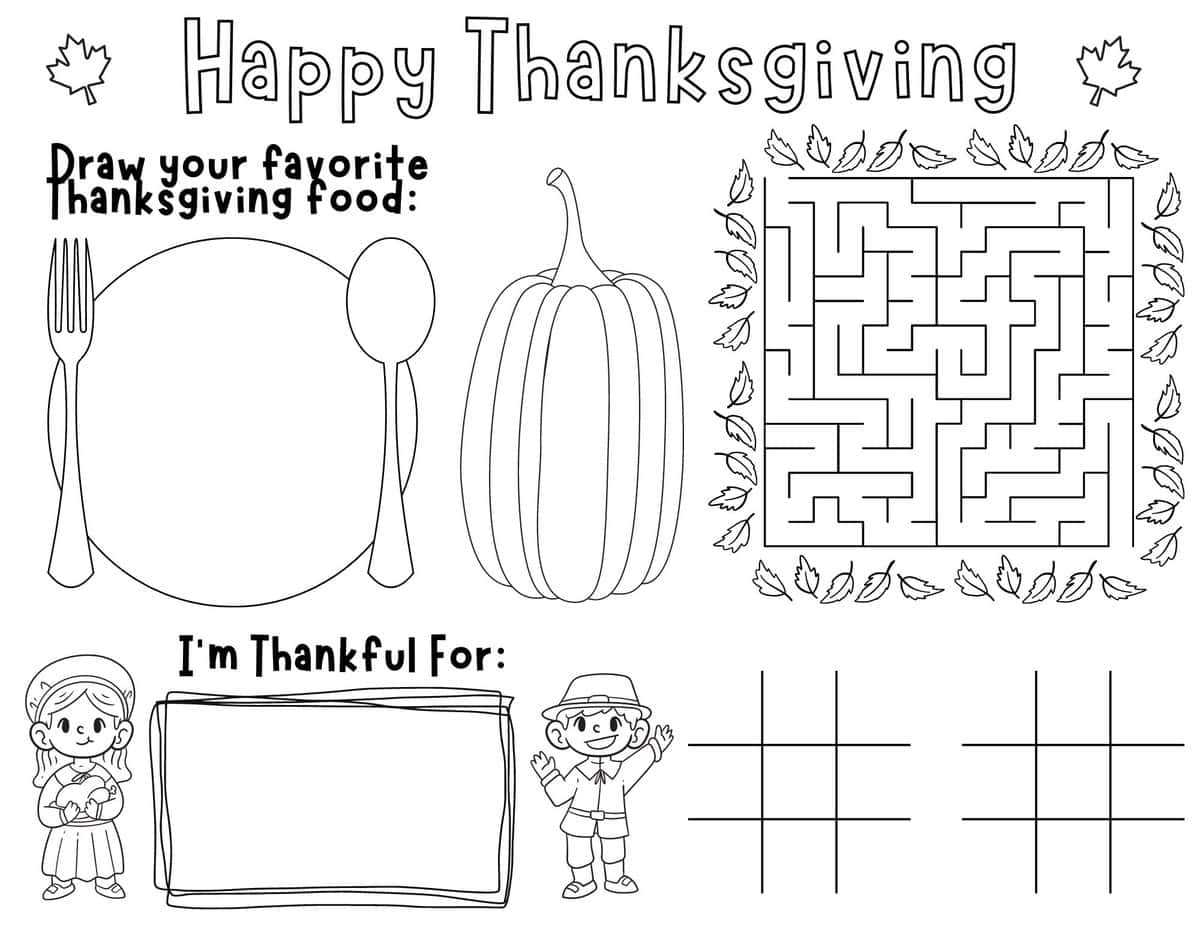 This Thanksgiving placemat serves up a smorgasbord of activities for the kids at the dinner table. With a space to draw their favorite Thanksgiving dish, a thankful reflection area, a challenging maze, and classic tic-tac-toe games, it's sure to keep the little ones engaged at the dinner table.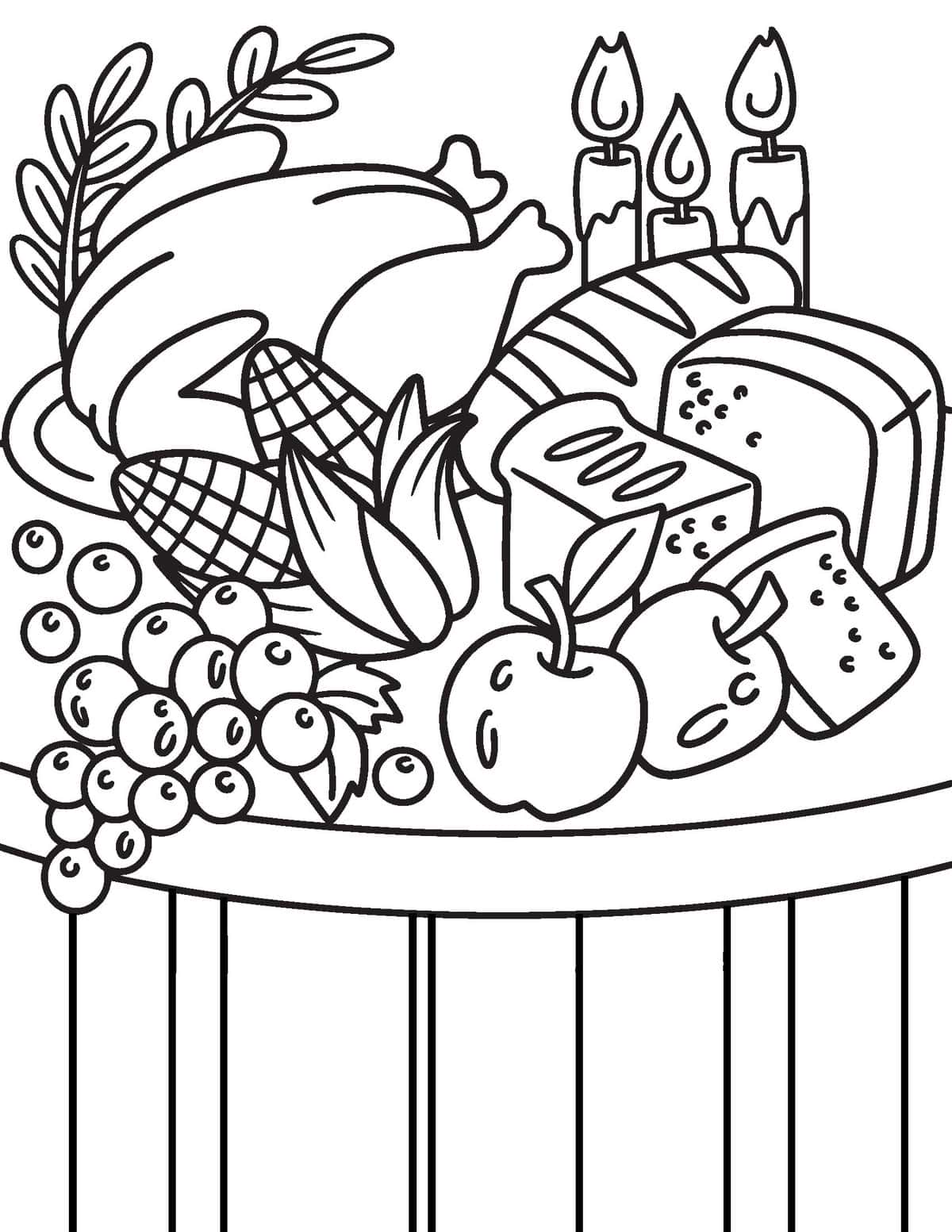 Here is a cornucopia of Thanksgiving delights featuring a bountiful feast waiting for a splash of colors. It's a perfect activity before dinner to get your kids in the mood for all the delicious food that awaits!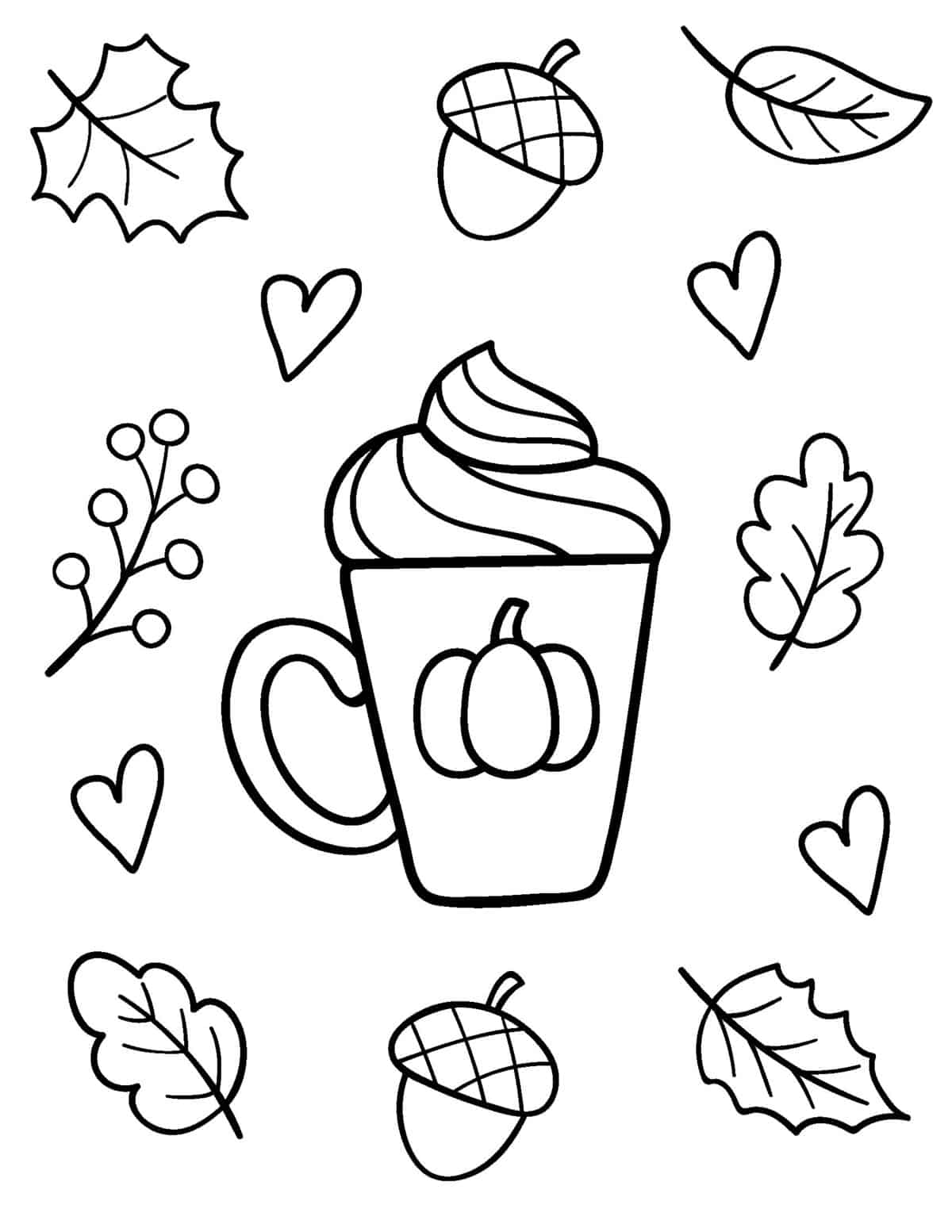 Embrace the essence of fall with this fun pumpkin spice latte sheet, complete with a whipped cream topping and a pumpkin design.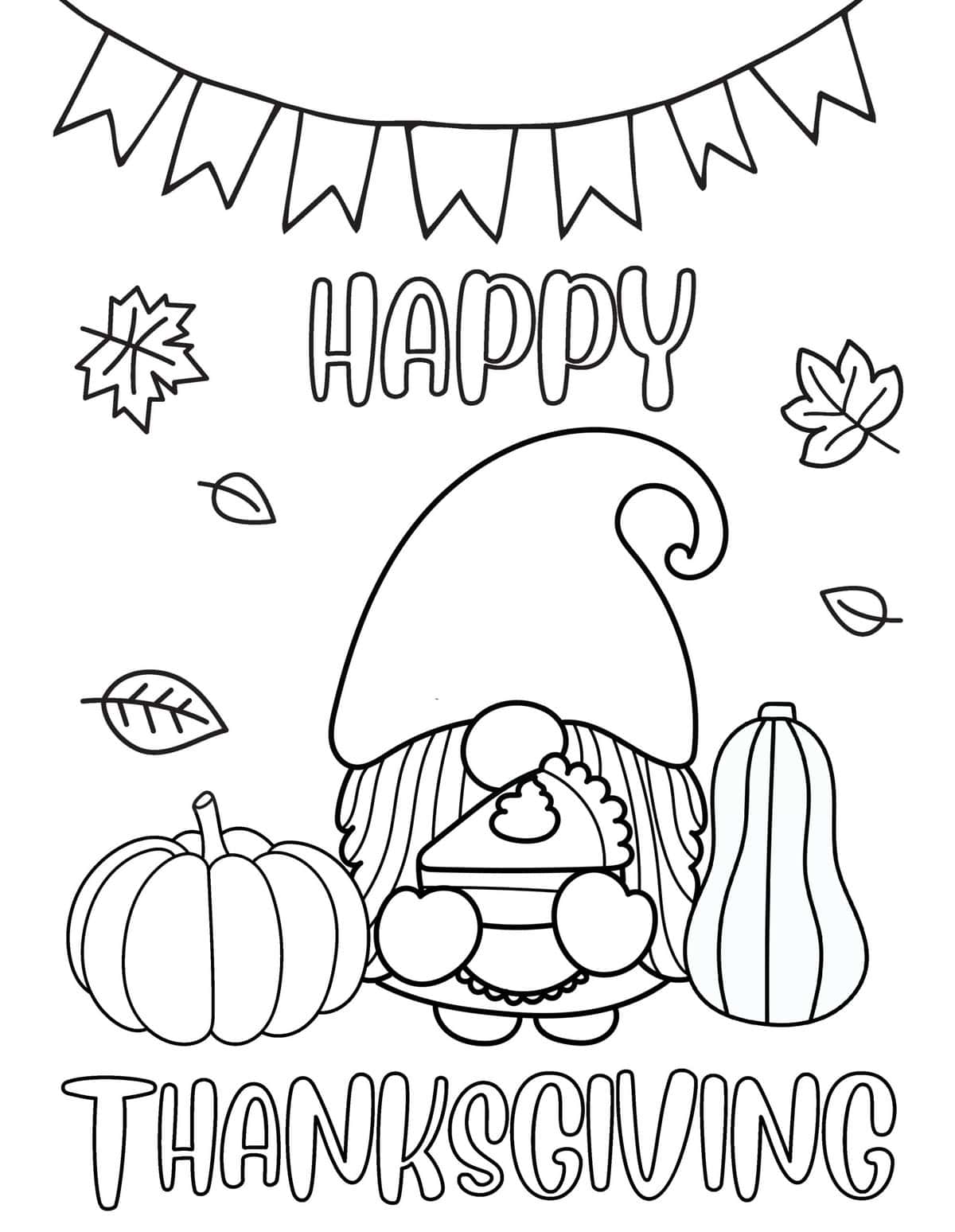 This festive page features a charming gnome and pumpkins. It's a whimsical scene that captures the heartwarming and playful side of Thanksgiving.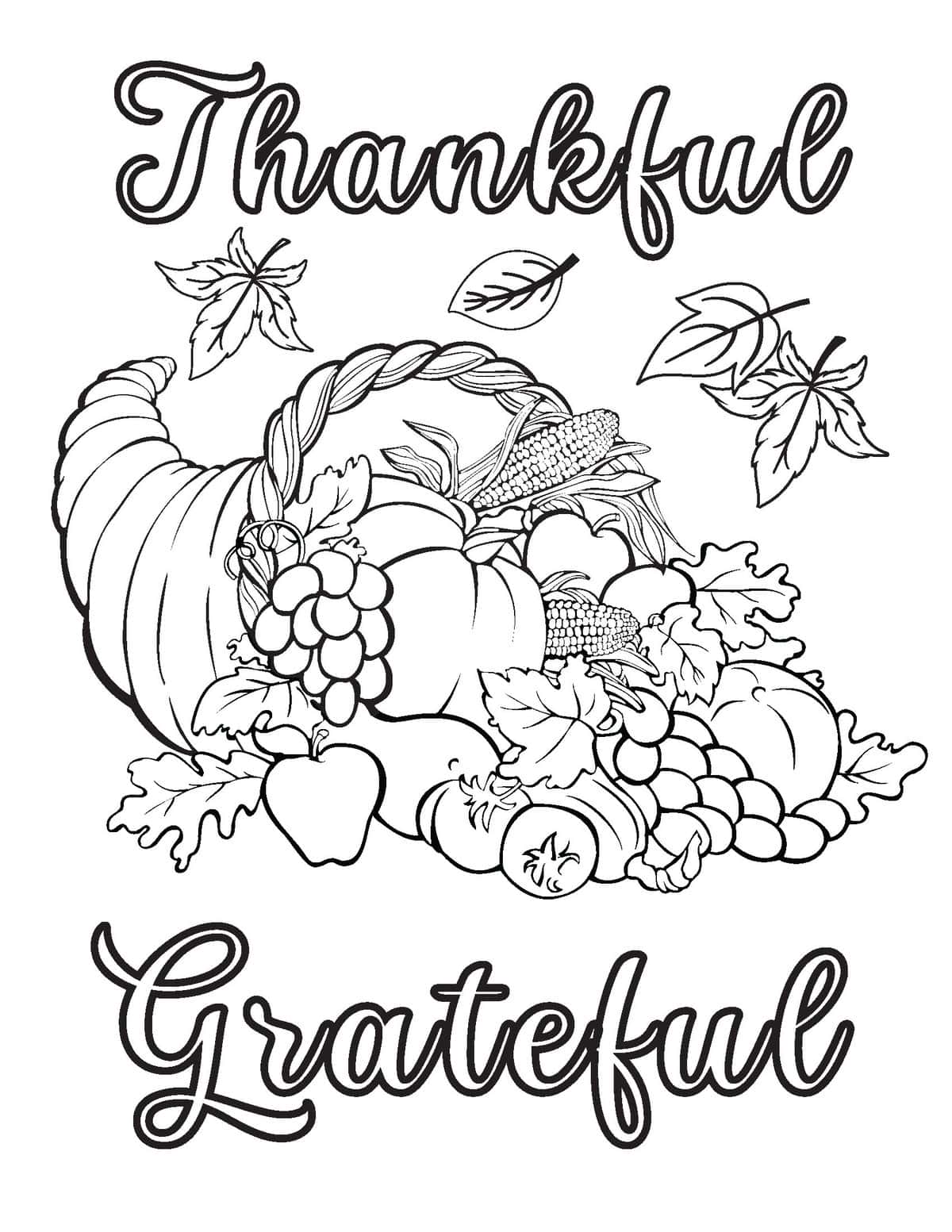 This cornucopia is overflowing with the harvest's bounty. It's a good choice for older kids, teens, and even adults.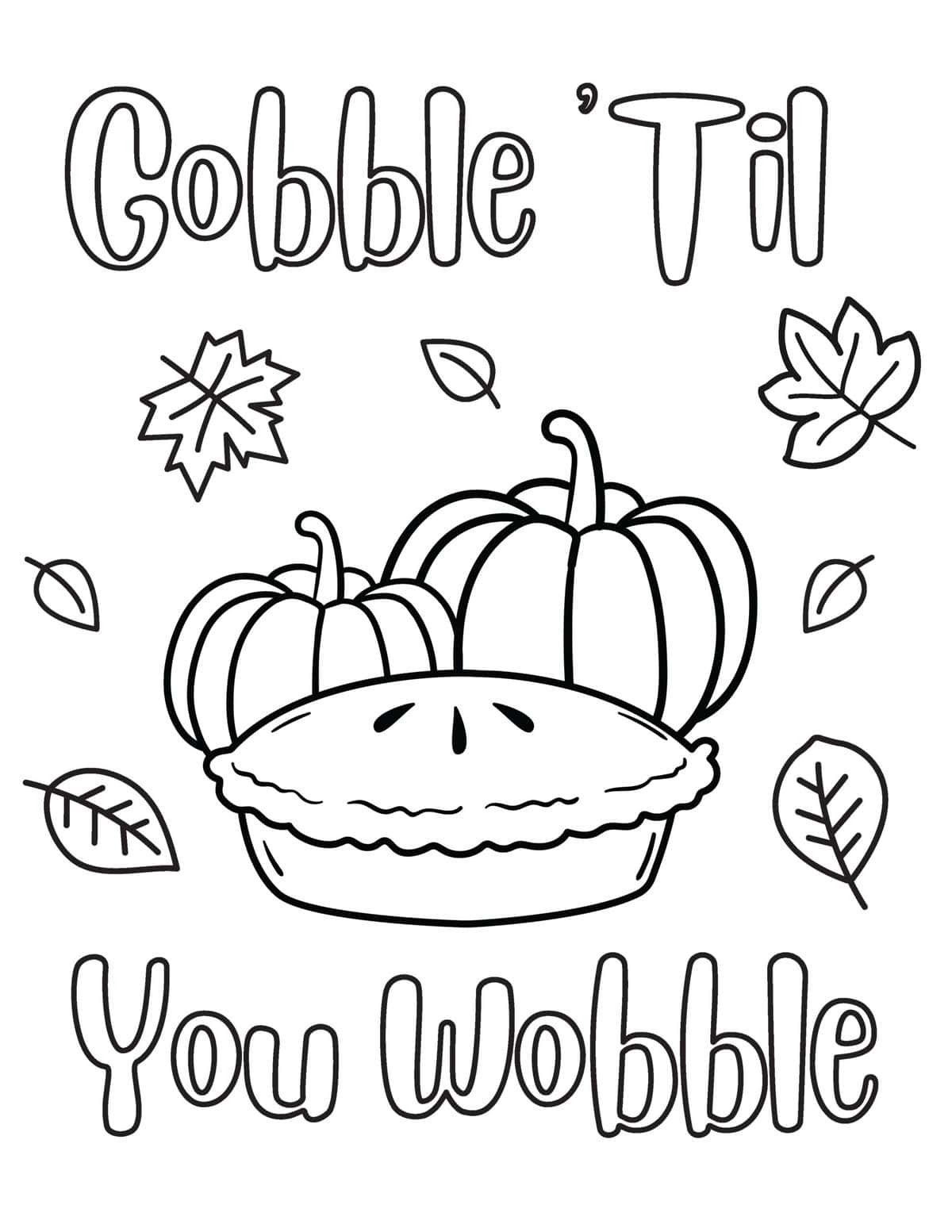 This playful "Gobble 'Til You Wobble" page has a large pumpkin pie and is ready for a dash of festive fall colors. It's perfect for kids of all ages to enjoy before the big feast leaves them happily wobbling away from the dinner table.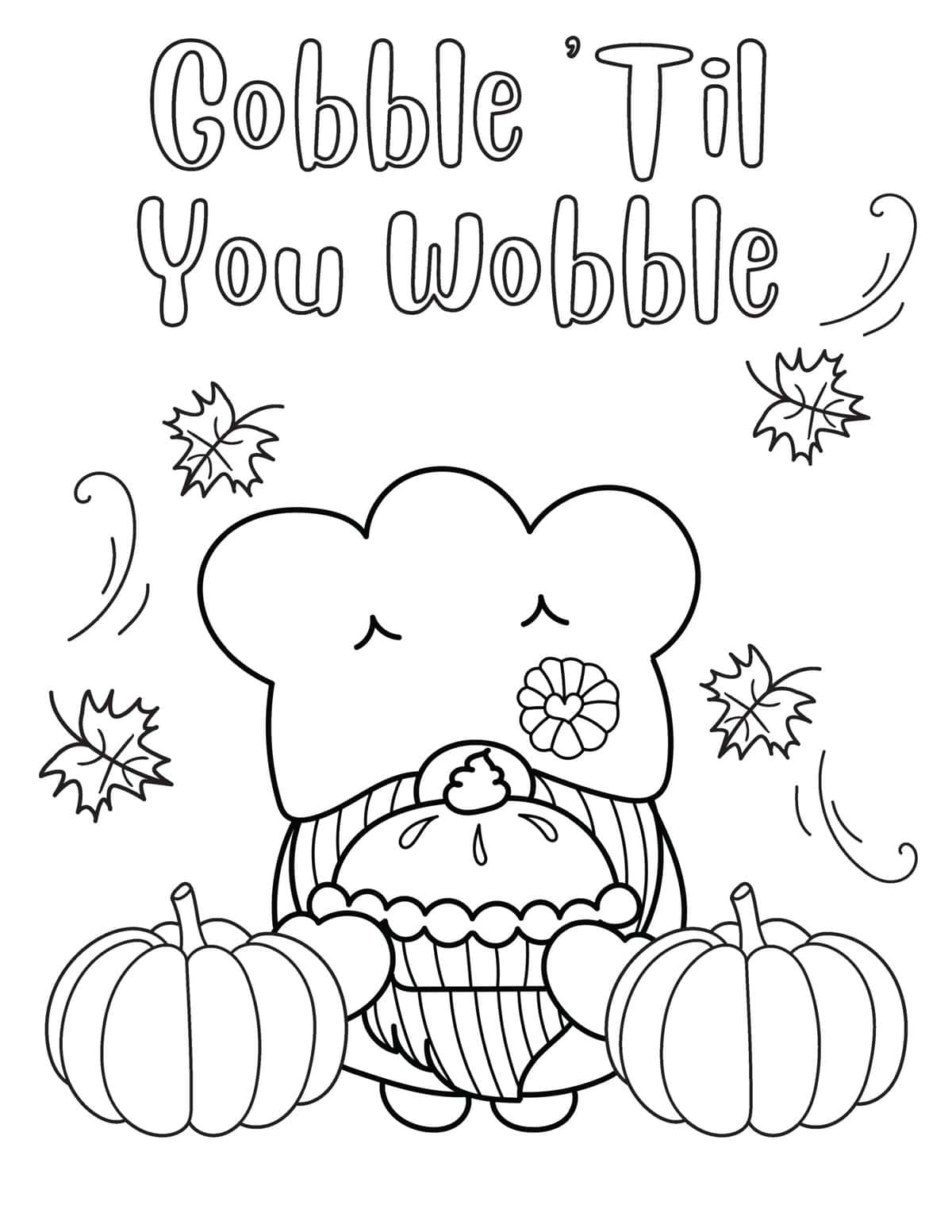 Thanksgiving Gnome with a Pumpkin Pie
This playful scene combines the whimsy of cute gnomes and some delicious pumpkin pie. It's set against a backdrop of pumpkins and fall leaves.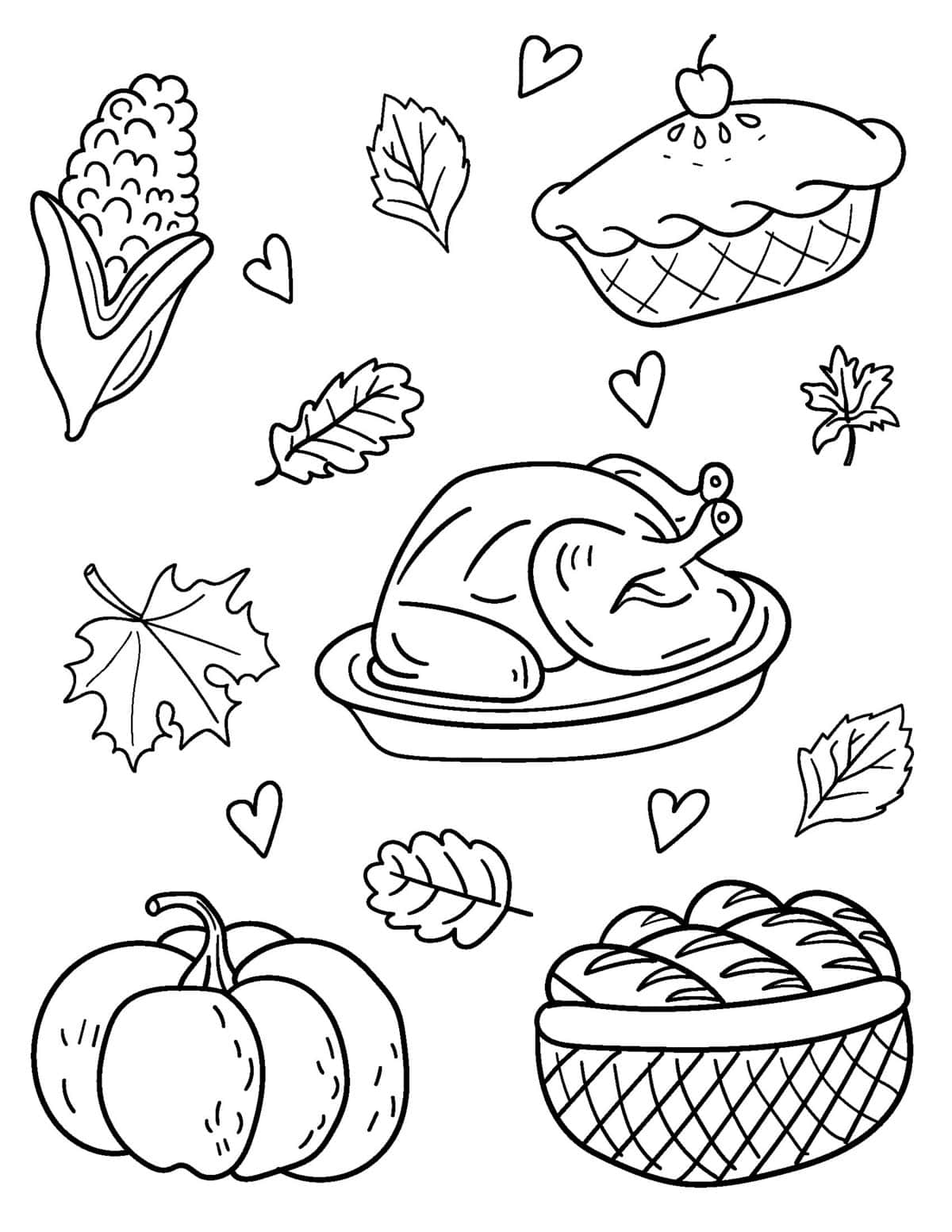 Savor the spirit of the season with this delightful page that features the stars of Thanksgiving dinner: a turkey, corn, pumpkin pie, and a basket of bread.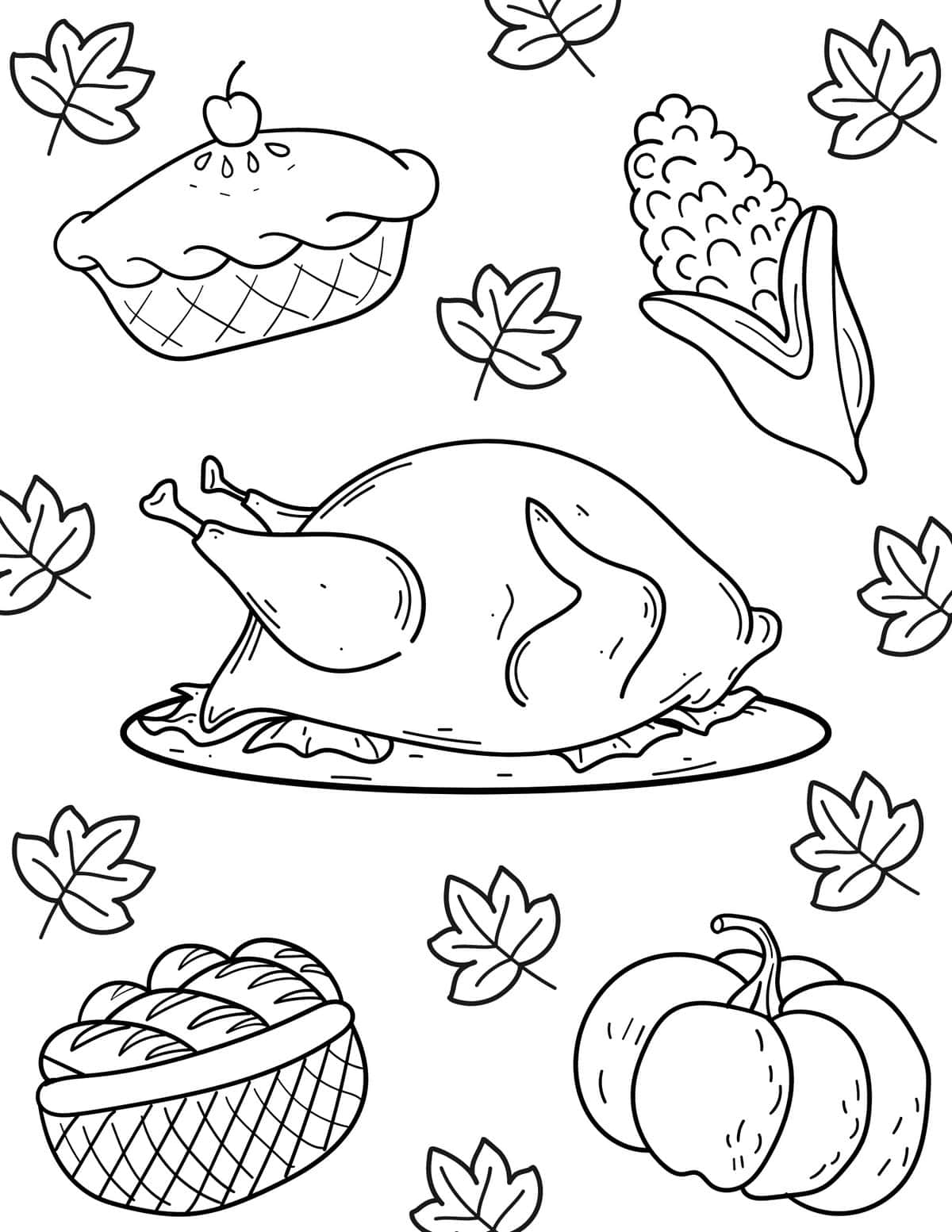 Set the scene for a festive feast with this appetizing sheet, showcasing turkey, corn on the cob, pumpkin pie, bread, and a pumpkin.
Other Thanksgiving Coloring Pages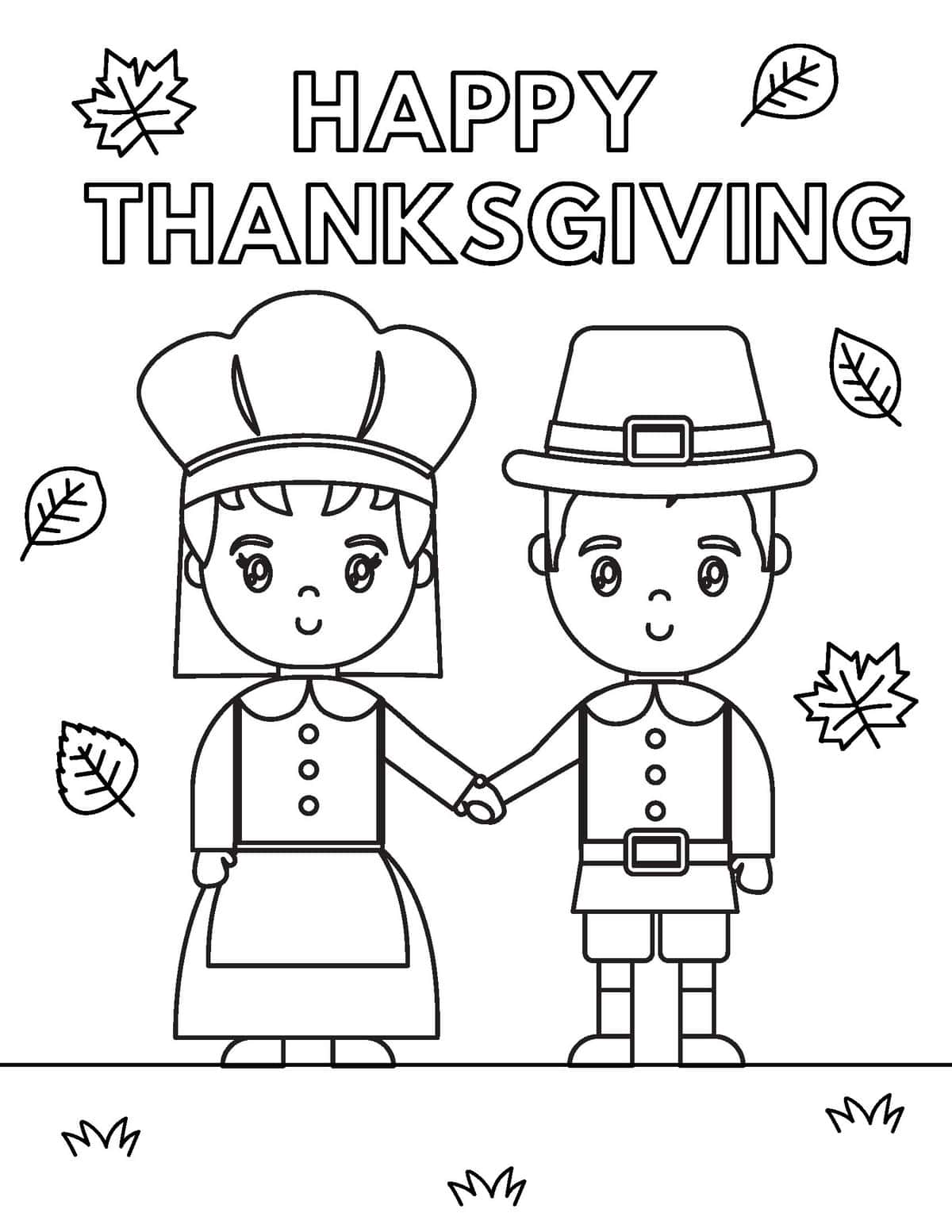 Celebrate the spirit of Thanksgiving with this page, featuring a pair of children dressed in traditional Pilgrim attire, holding hands in friendship.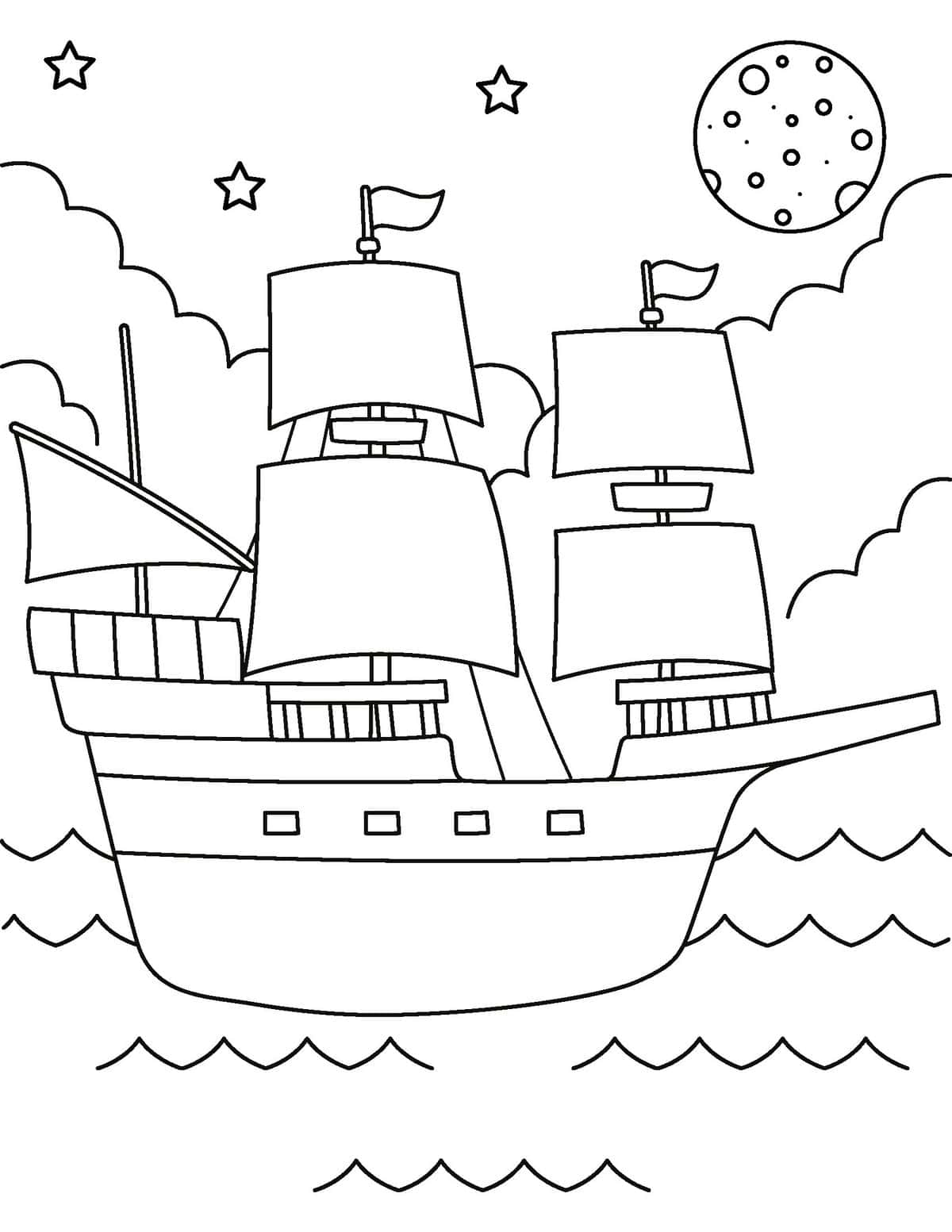 Set sail with a coloring sheet that pays homage to the Mayflower, the iconic vessel that carried the Pilgrims to the New World. This sheet is a creative way to connect with the history of the holiday.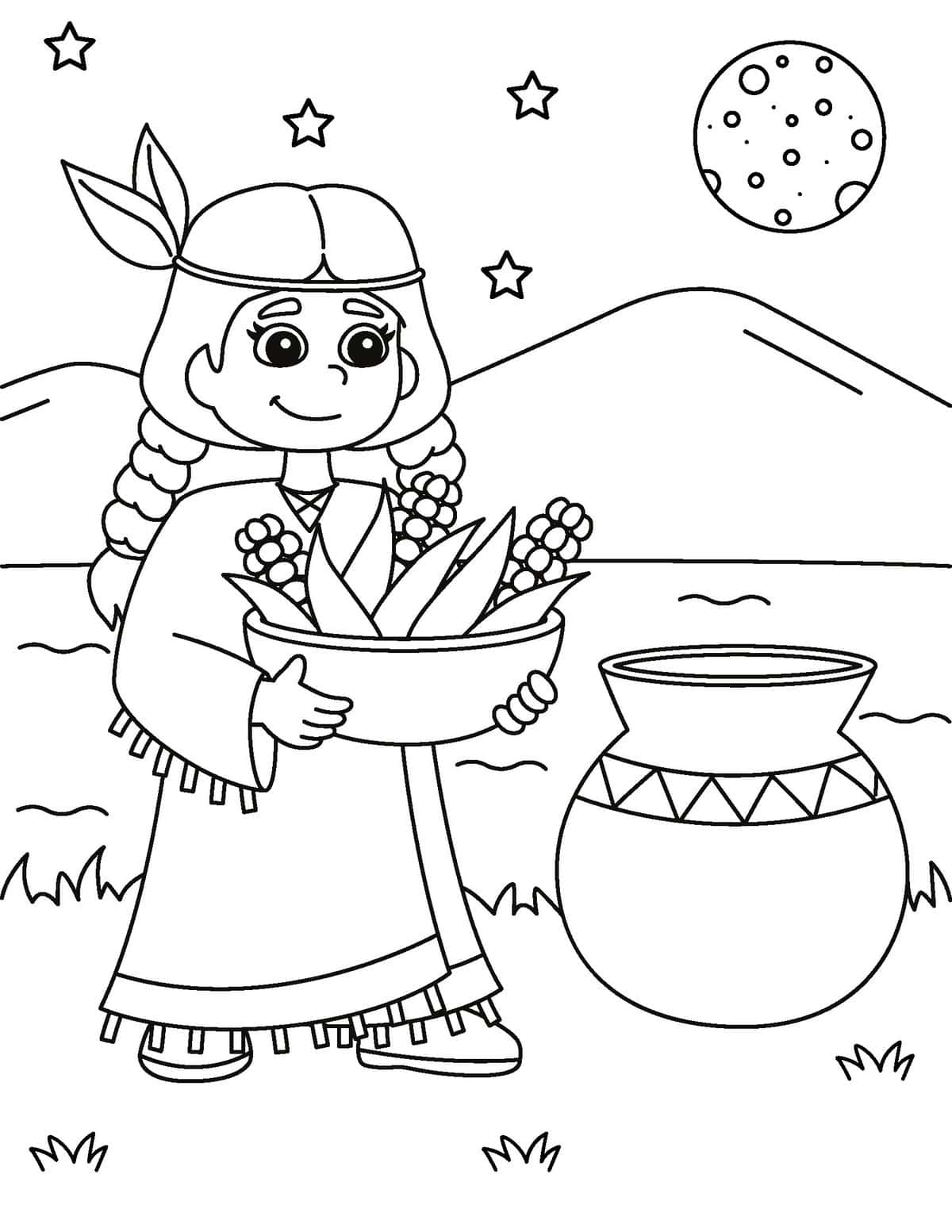 Journey back to the first Thanksgiving with this page featuring a Native American girl holding a bountiful harvest basket of corn.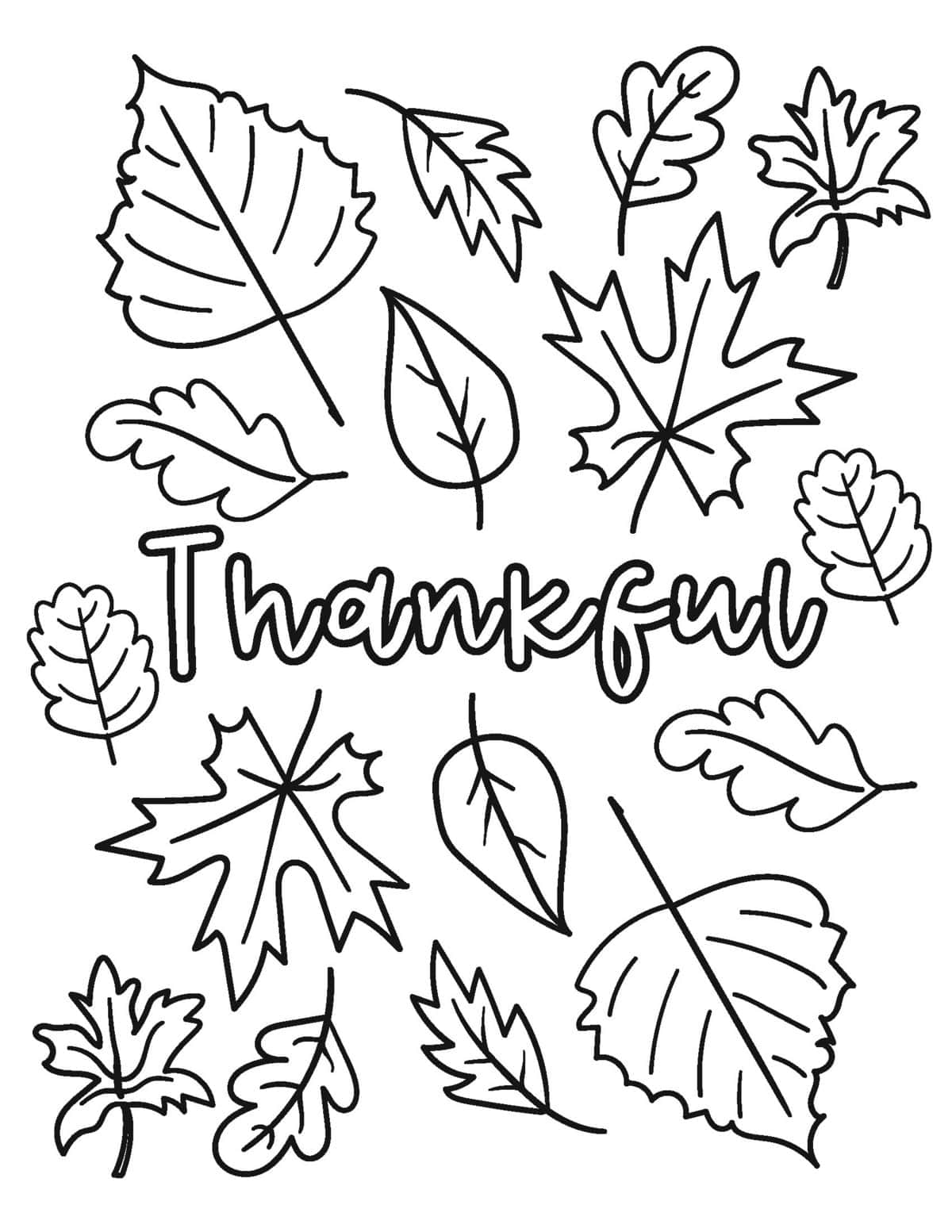 Thankful Fall Leaves Coloring Page
This coloring page is a beautiful reminder to give thanks, featuring an assortment of fall leaves swirling around the word "Thankful."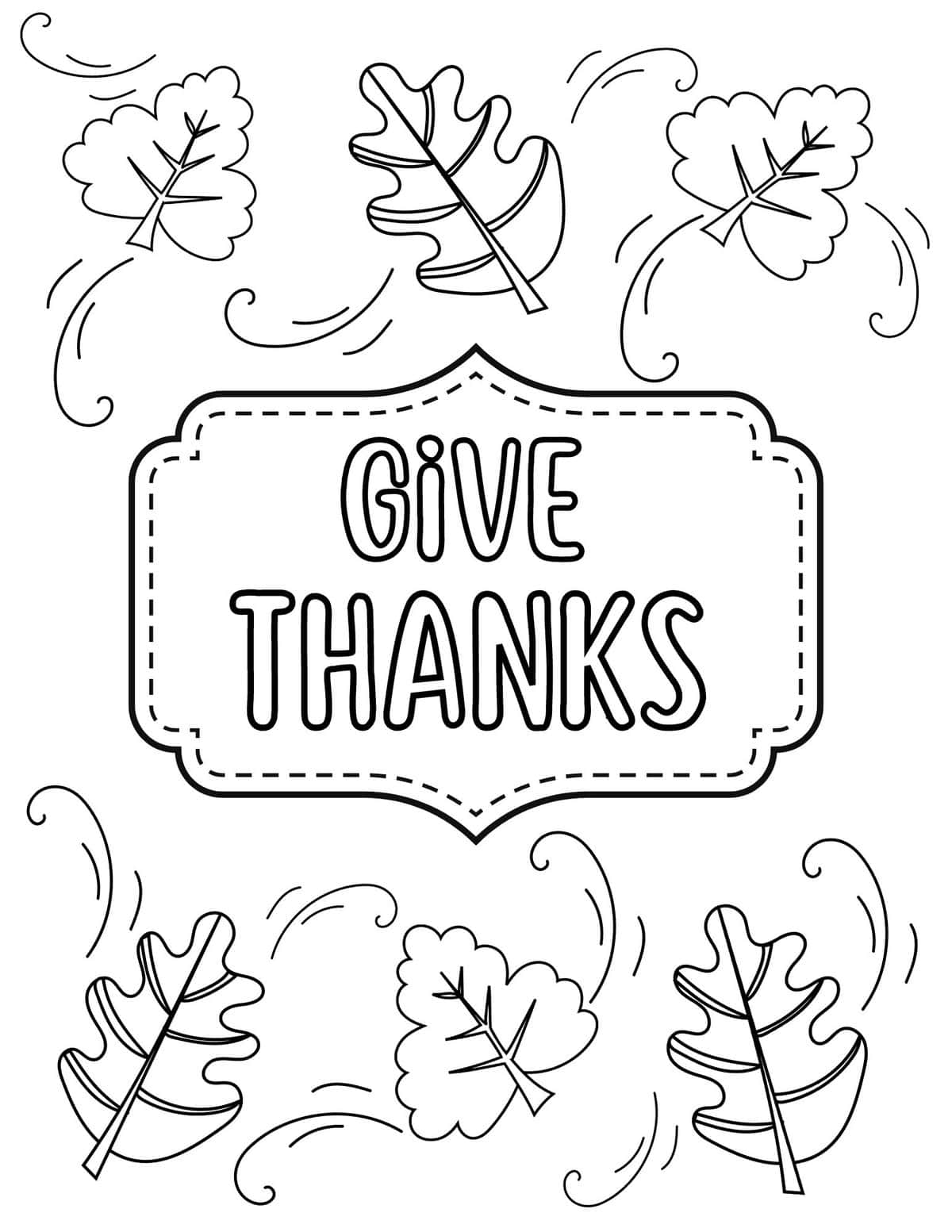 Express your thankfulness and get into the spirit of the season with this one that has fall leaves dancing in the chilly breeze and the message "Give Thanks."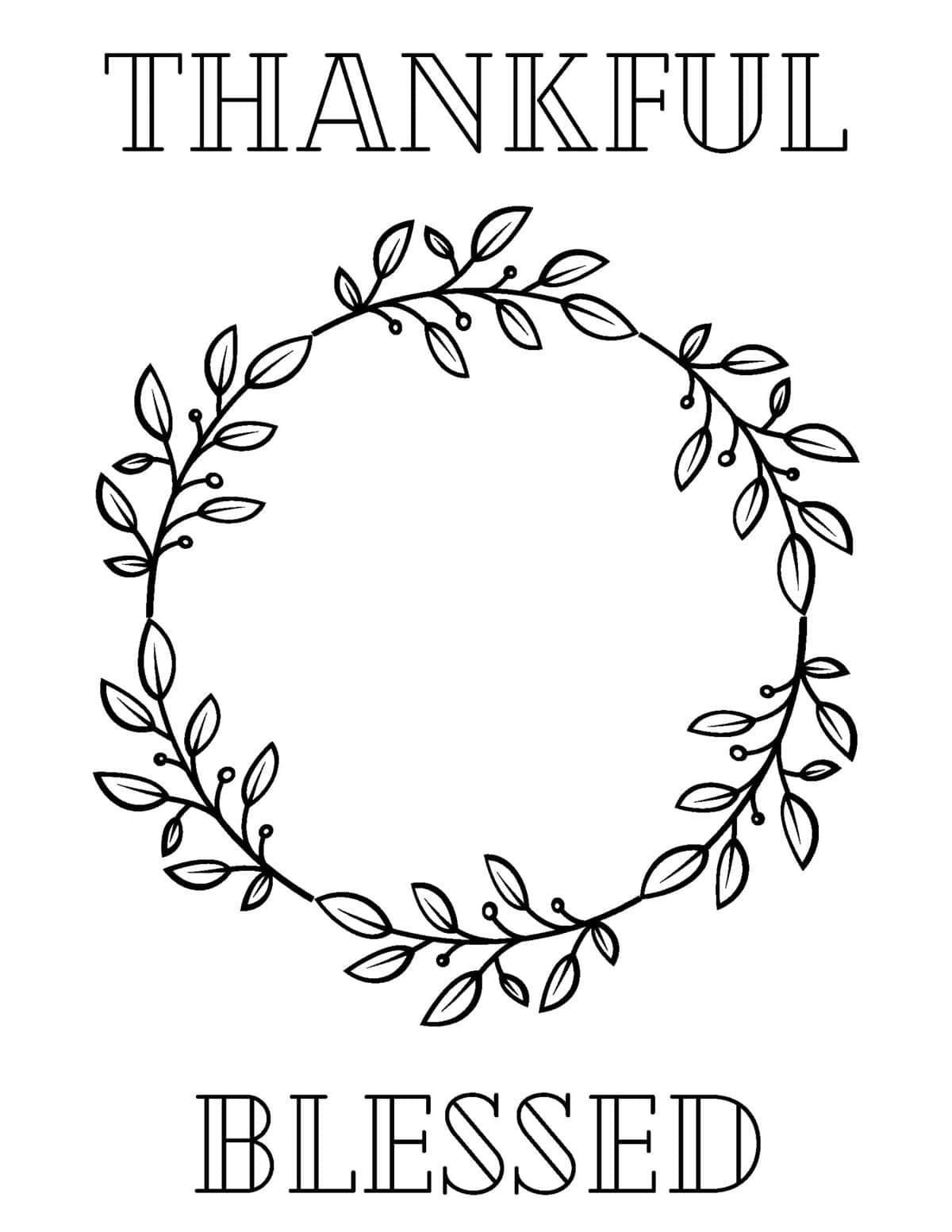 This simple wreath design would look great as framed art on your dinner table as a DIY Thanksgiving decoration.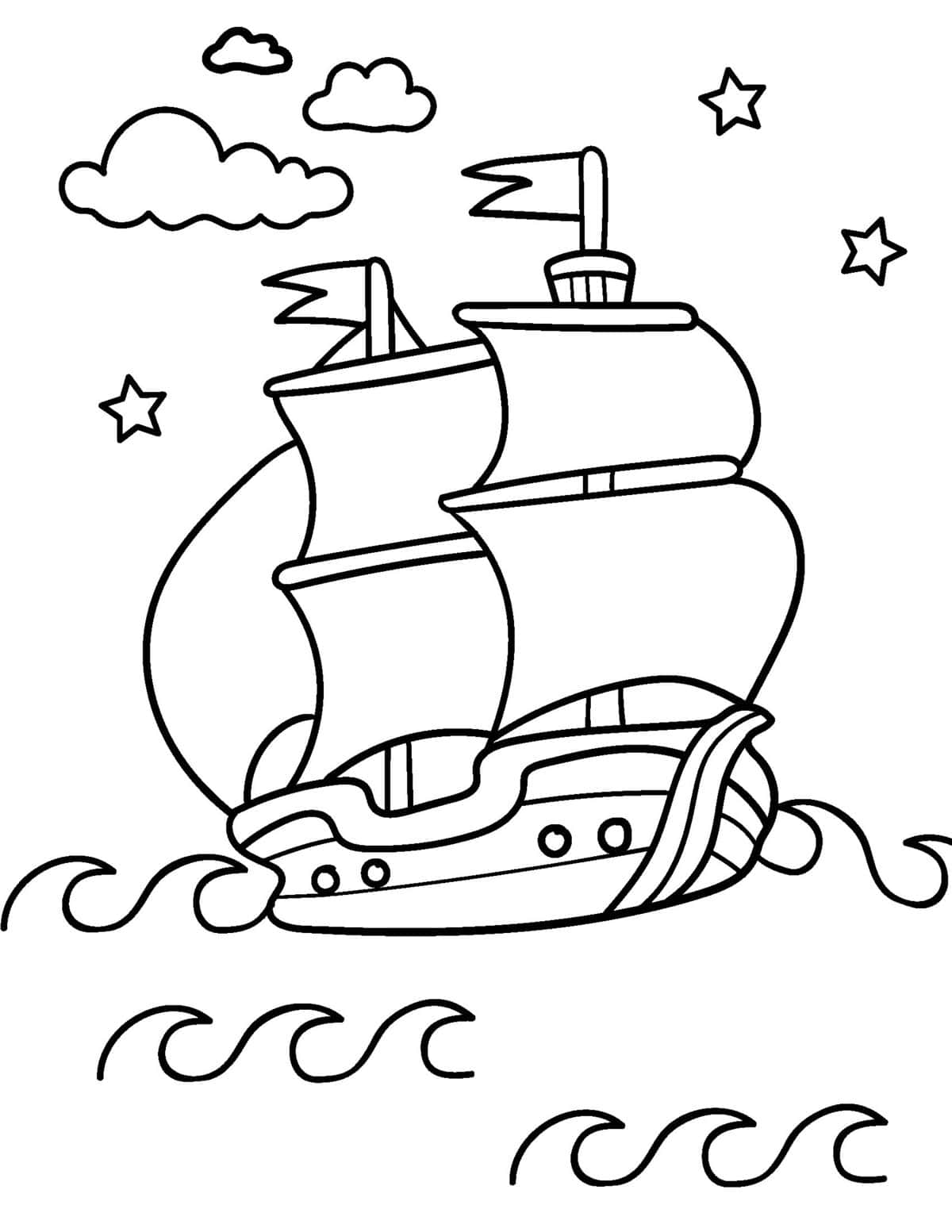 Embark on a historical voyage with this Mayflower ship sailing across the rolling waves towards the New World. It's an artistic journey through time, celebrating the spirit of exploration and the beginnings of the tradition.
More Coloring Pages
More Printable Activities