Celebrate Turkey Day with these fun free Thanksgiving Coloring Pages for kids and adults!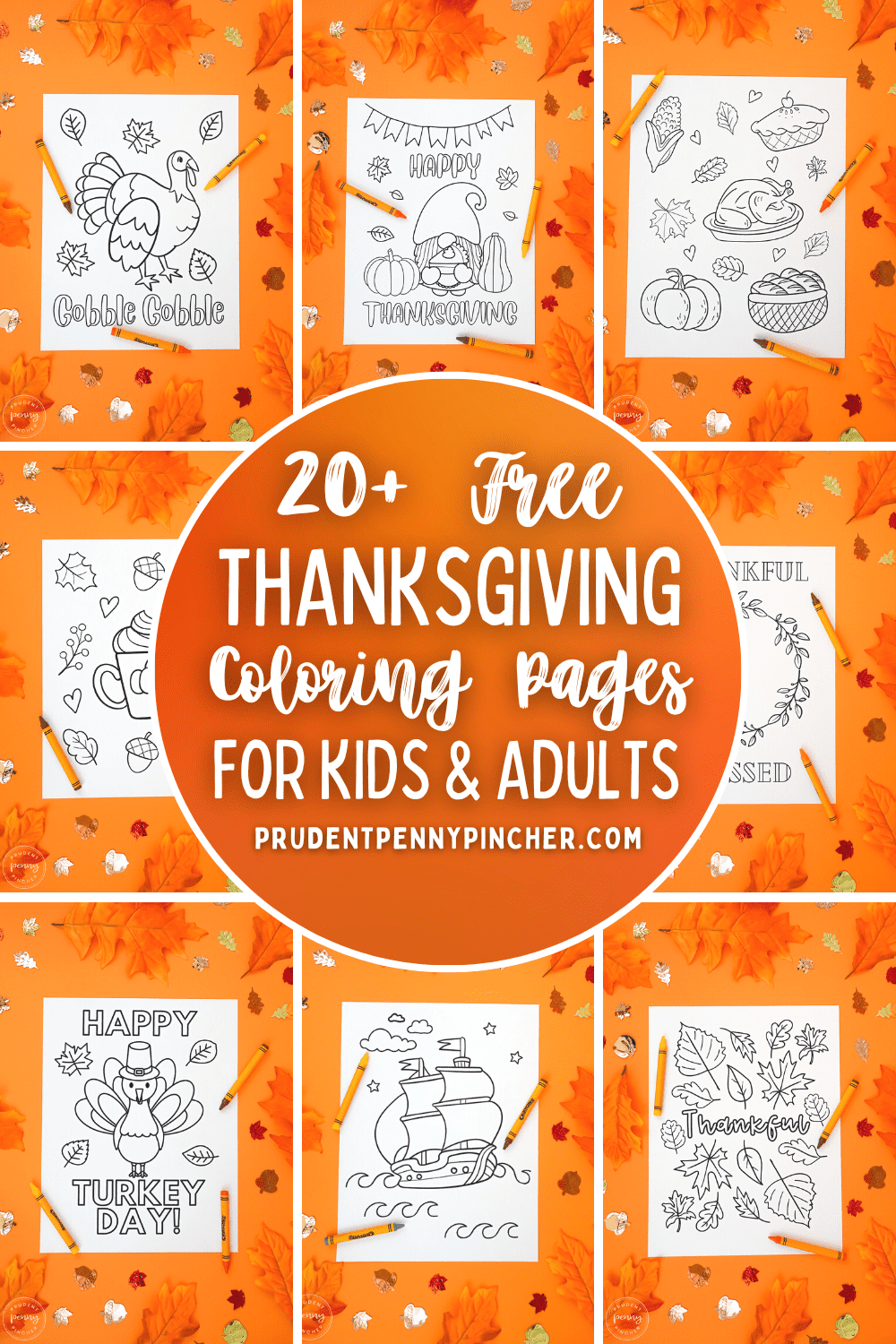 These fall coloring sheets are the perfect Thanksgiving activity. They are a great way to keep kids entertained and engaged during the fall season. Coloring activities can also help promote learning and fine motor skills.
There are fall coloring pages for all age groups, so you are sure to find something for every skill level! These printable Thanksgiving coloring sheets feature pumpkins, gourds, turkeys, pilgrims, cornucopias, and much more.
Pair these free pages with these Thanksgiving crafts for kids for a fun-filled Turkey day for the little ones!
Supplies Needed:
printer
printer paper
free printable thanksgiving coloring pages (high-quality PDF format)
How to Download These Thanksgiving Coloring Pages
Click the link for each one of the pages you want to download. The file format is printable PDFs.
Click the download button in the toolbar at the bottom of the page. It's the button on the far right.
Save the file to your computer in the folder that you want to.
How to Print These Free Printables
Open in Adobe Reader or another PDF viewer of your choice.
Load printer paper into your printer's paper tray.
Go to File –> Print. Open your printer settings or printing preferences. The printing settings will vary based on your printer, but ensure the print quality is set to the "Best" setting before printing.
Thanksgiving Turkey Coloring Pages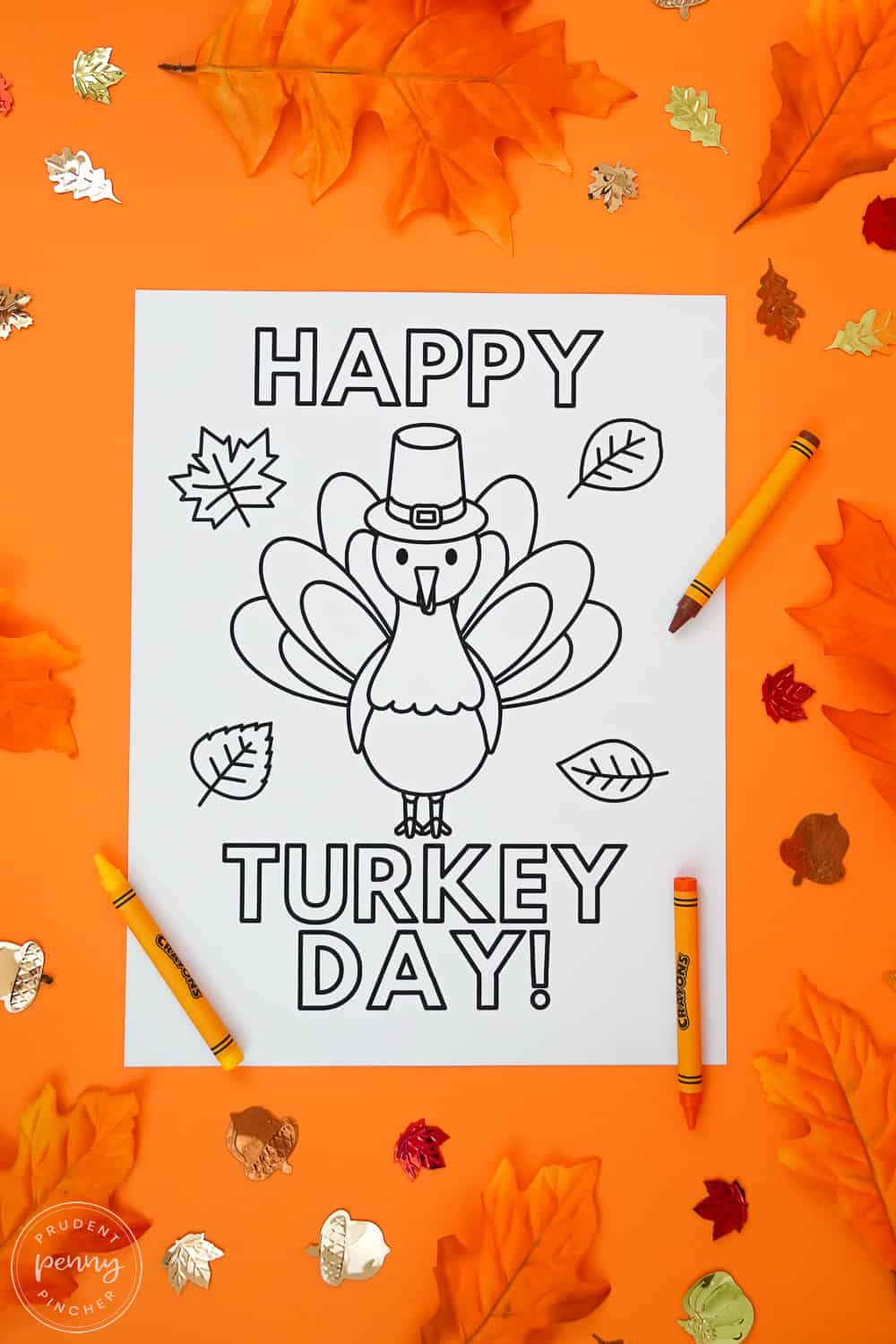 This adorable turkey is wearing a pilgrim hat and is all ready for the big day! Print out this Happy Turkey Day coloring page. Your kids enjoy adding color to it! This one is particularly a good choice for toddlers since it uses simple outlines that are easy to color in.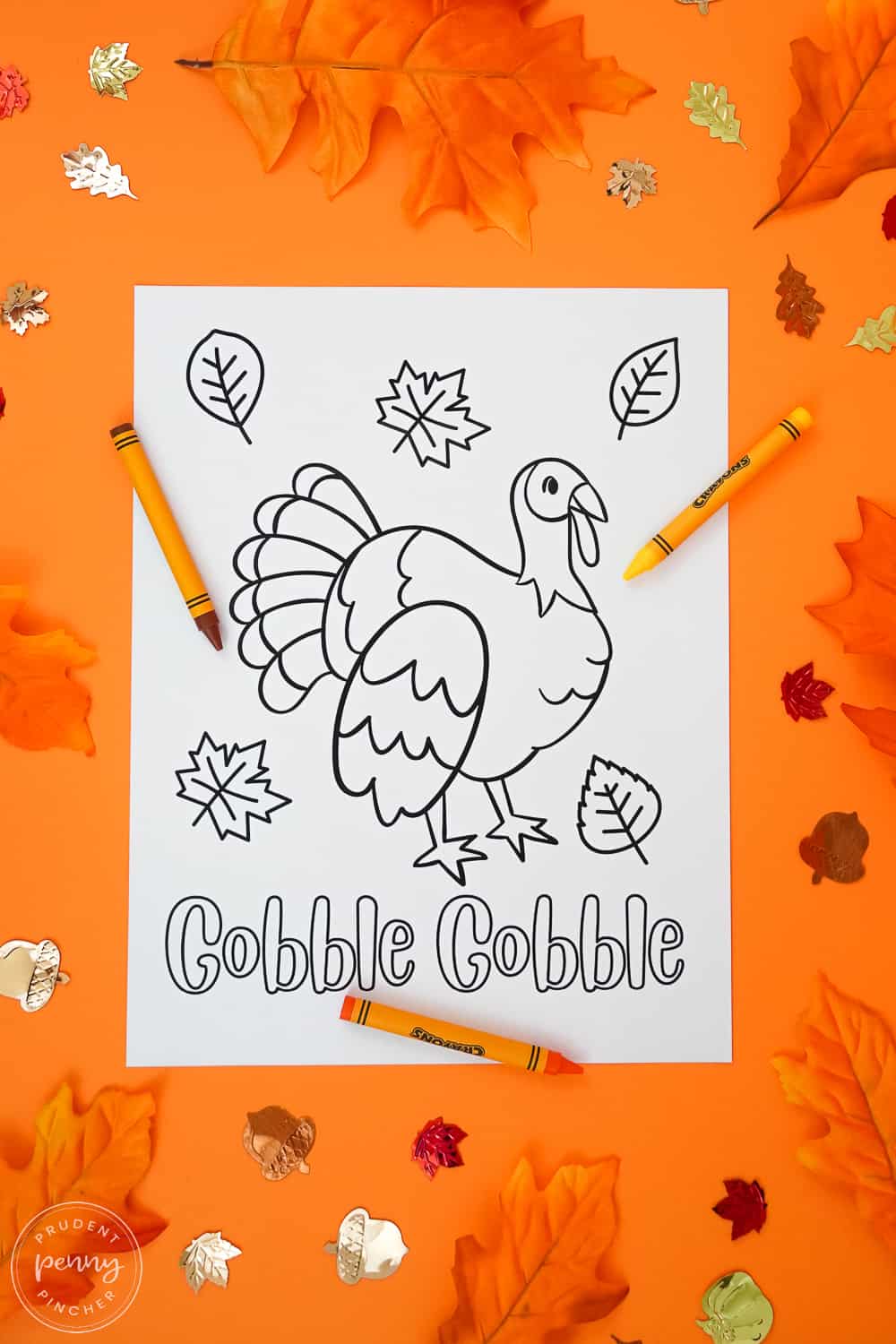 Coloring in this beautiful turkey and all the fall leaves using traditional fall shades like reds, oranges, and yellows will really make this sheet pop with vibrant colors! It makes a fun activity for preschoolers and even younger kids in elementary school!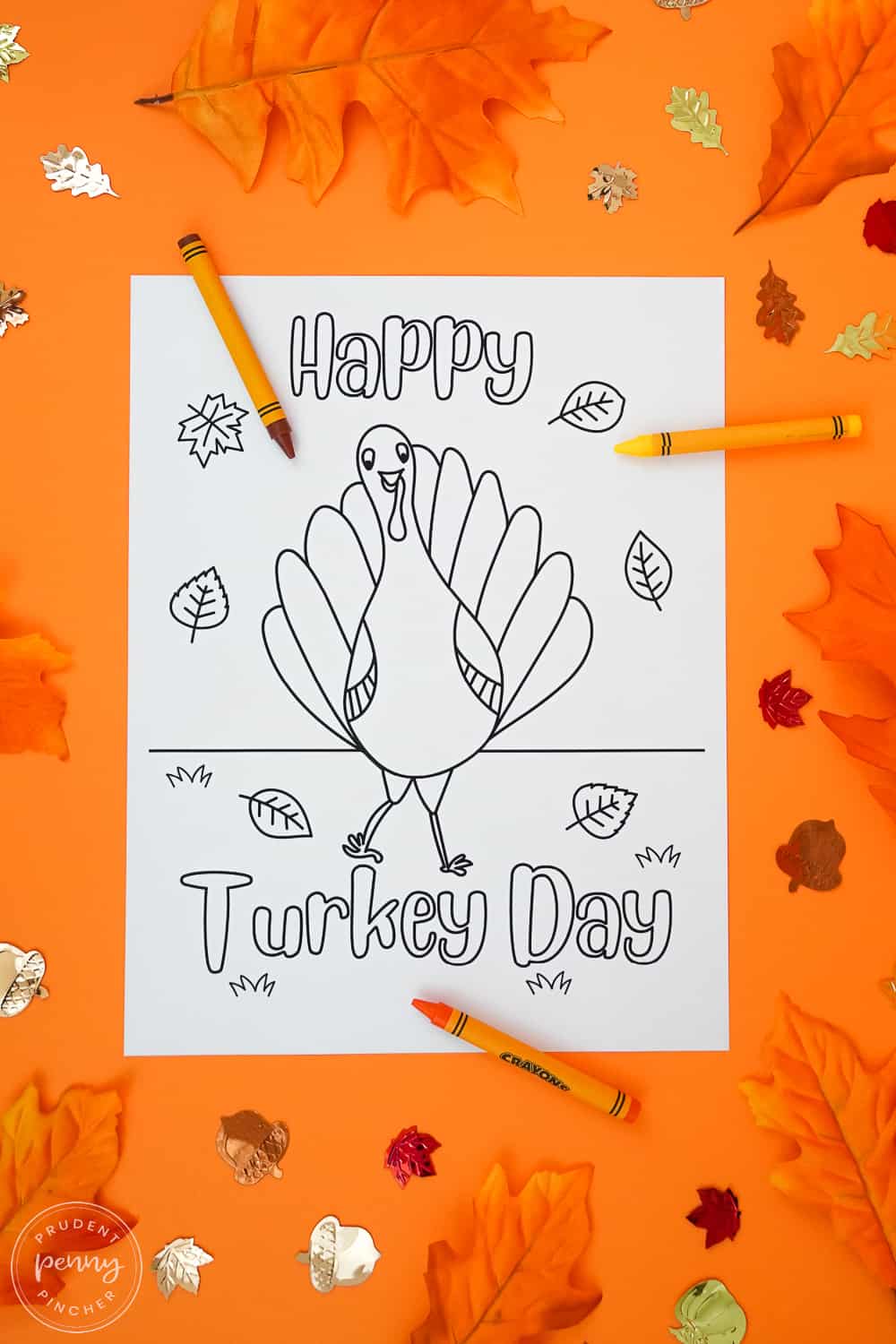 This particular coloring page shows a turkey outdoors in the chilly autumn weather with leaves falling in the background. It will be a huge hit with younger kids due to its simplicity.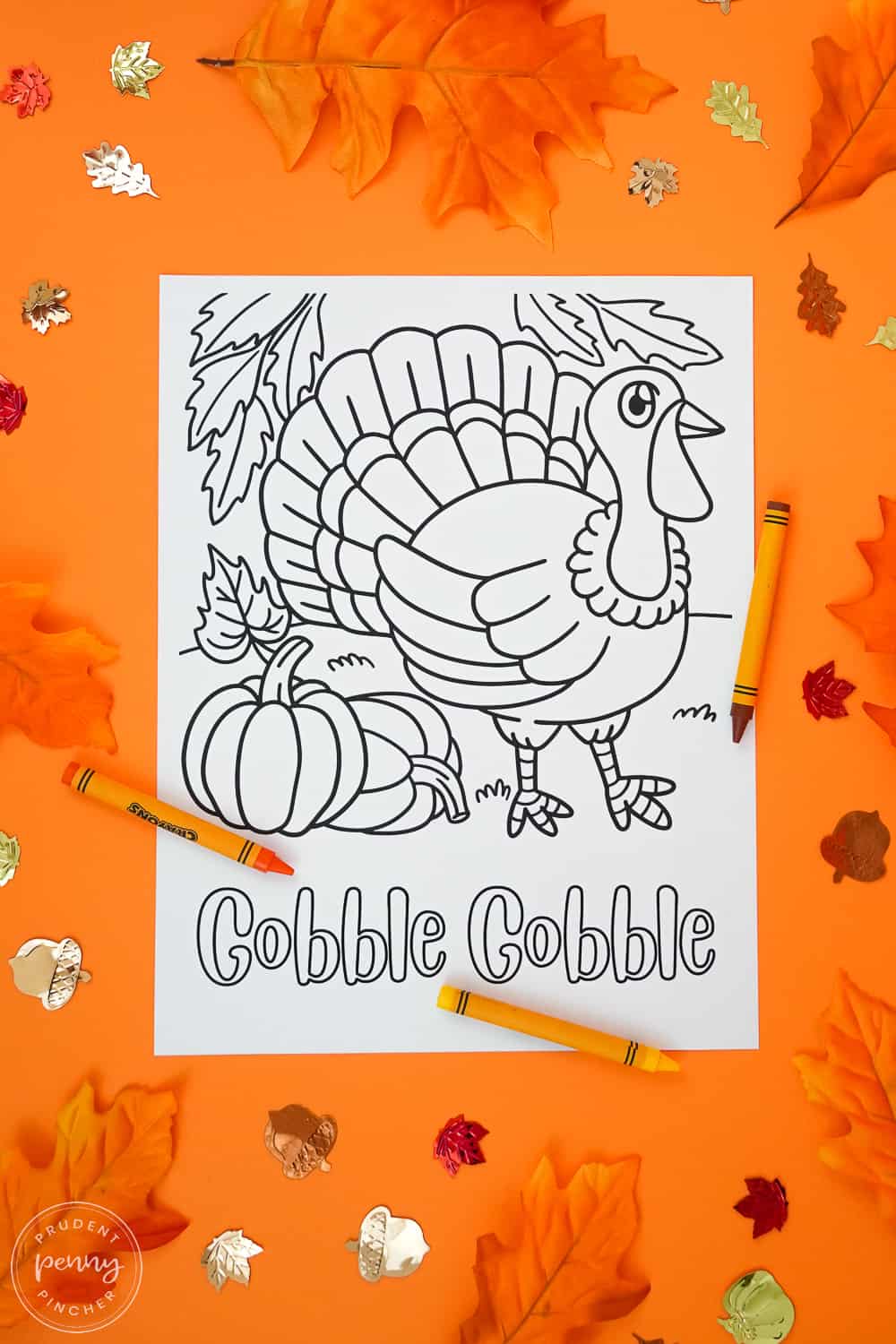 This page features an adorable turkey and some pumpkins with the words "Gobble Gobble" beneath it. It is perfect for getting kids into the holiday spirit. Add some color to the turkey's feathers, or get creative and design your own pattern on the feathers. Whatever you do, make sure to have lots of fun!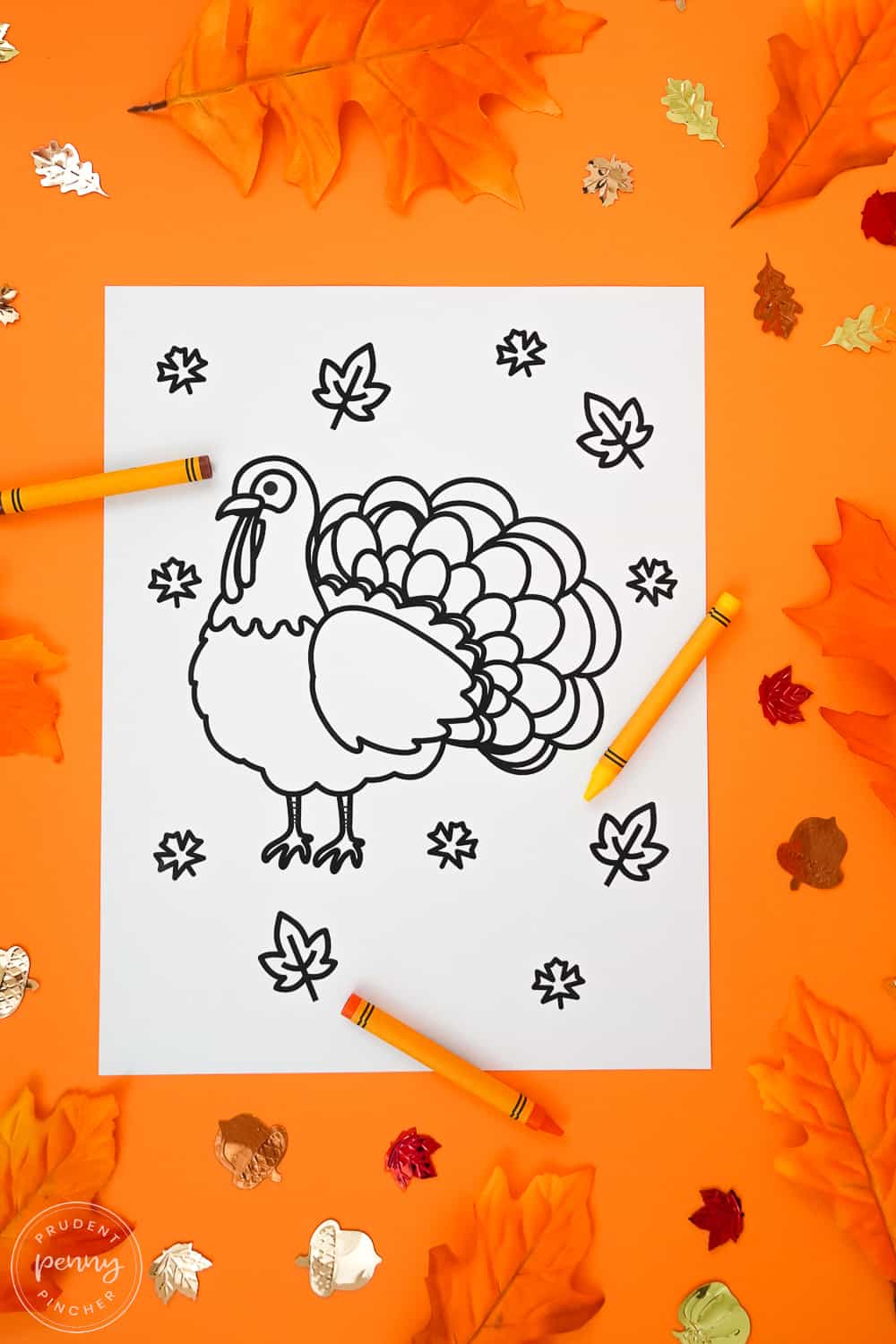 This boldly drawn turkey is a great option for the little ones! The basic design makes it perfect for a quick coloring activity before the big dinner!
Thanksgiving Food Coloring Pages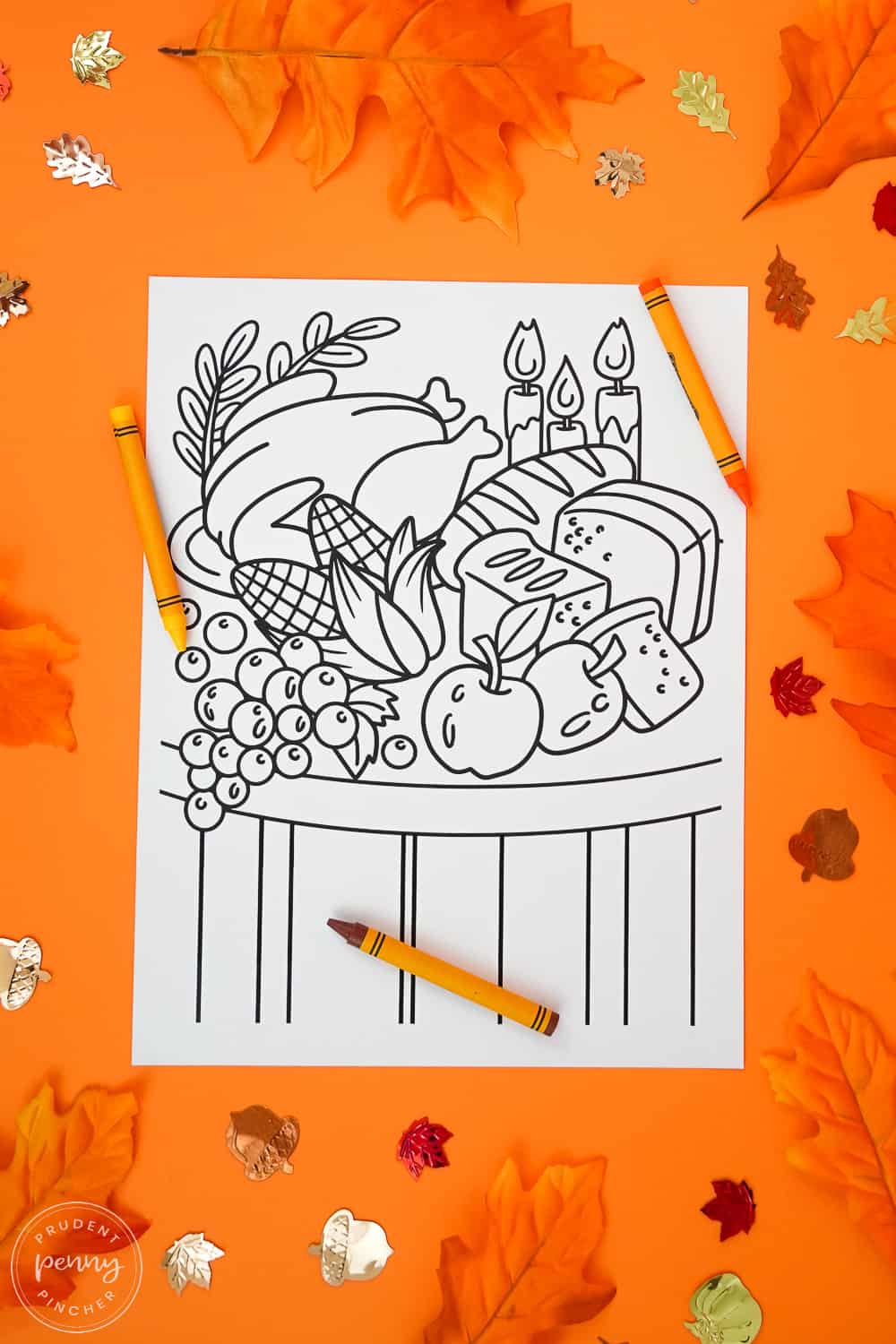 Get excited about dinner with this coloring sheet that features a delicious feast on the dinner table. Turkey, corn, apples, and dinner rolls are all included here. There's plenty of room for to add your own personal touches too. So break out the crayons or markers and have some fun!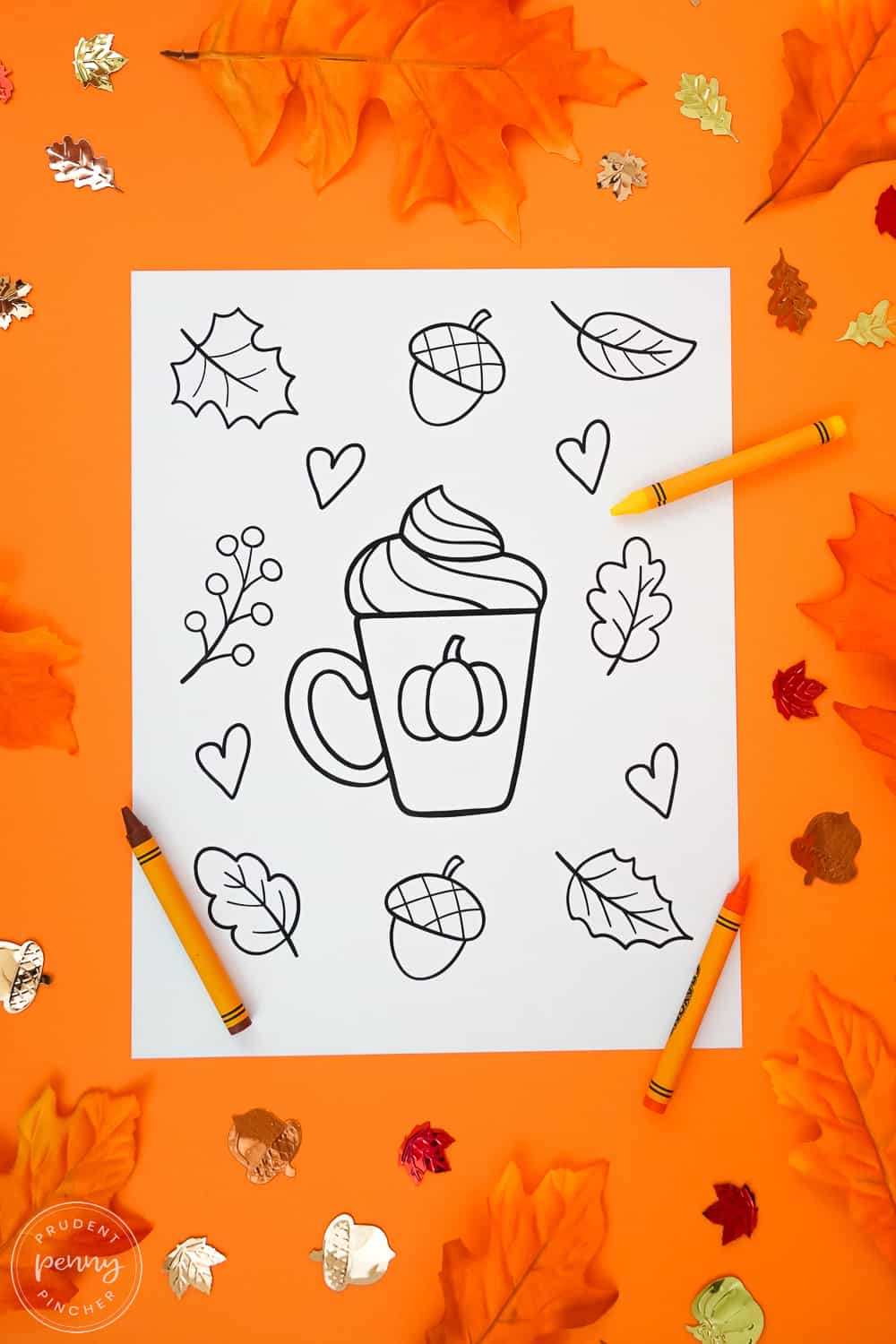 If you are a pumpkin spice latte fan, then you are going to love this coloring sheet! Obviously, this one is best suited for adults and is a great way to de-stress with this relaxing and easy activity. Watercolors would look amazing with this one!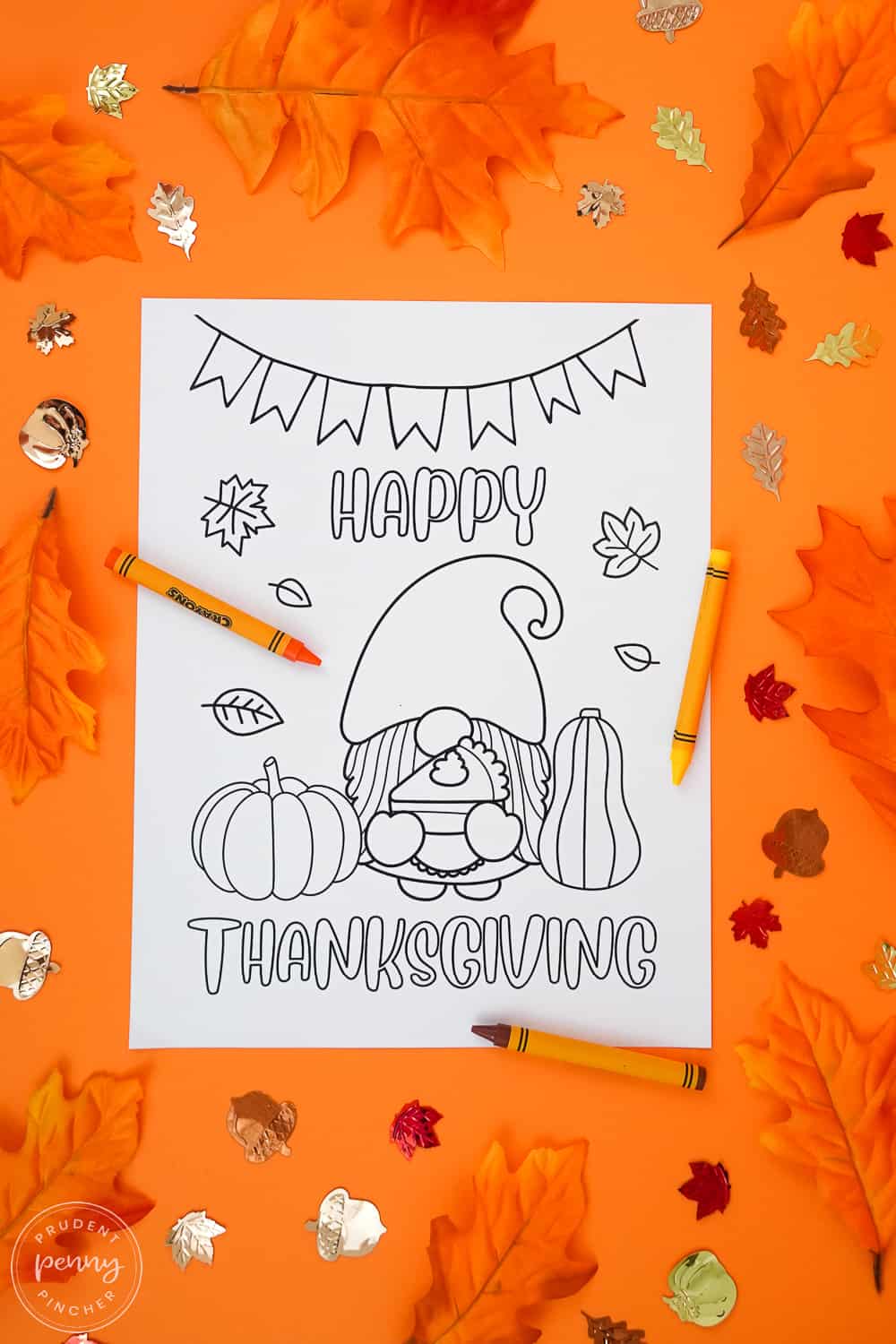 This adorable gnome is wishing you Happy Thanksgiving while holding a pumpkin pie, just for you! It is a great choice for older kids, teens, and adults. There is space to decorate his hat with patterns, doodles, and more for added fun!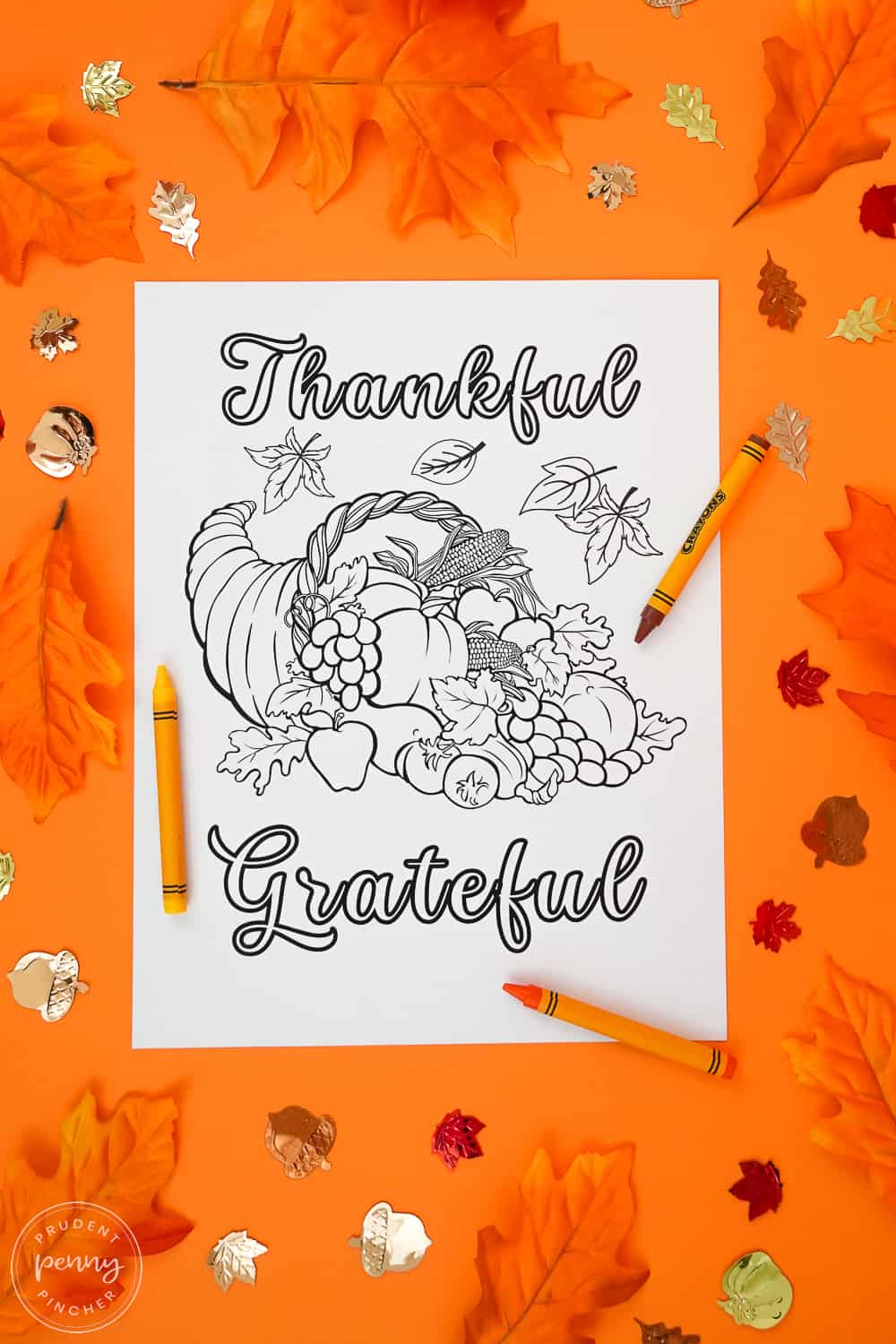 Give thanks for all the blessings in our lives by coloring in this beautiful cornucopia stuffed with the bounties of the harvest season, like corn, pumpkins, apples, and fall leaves.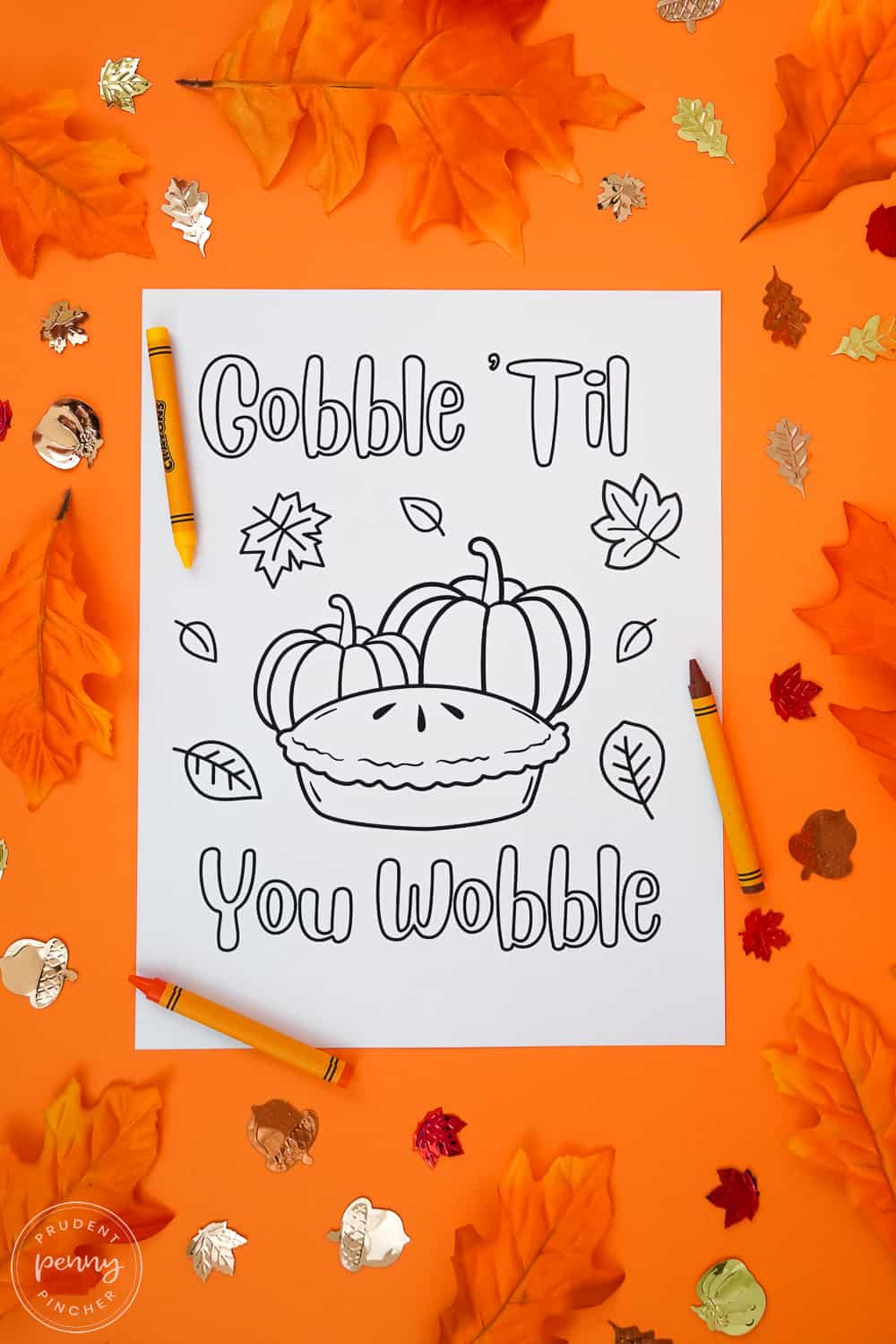 Who doesn't love some pumpkin pie!? This one will be a huge hit for everyone — from kids to adults!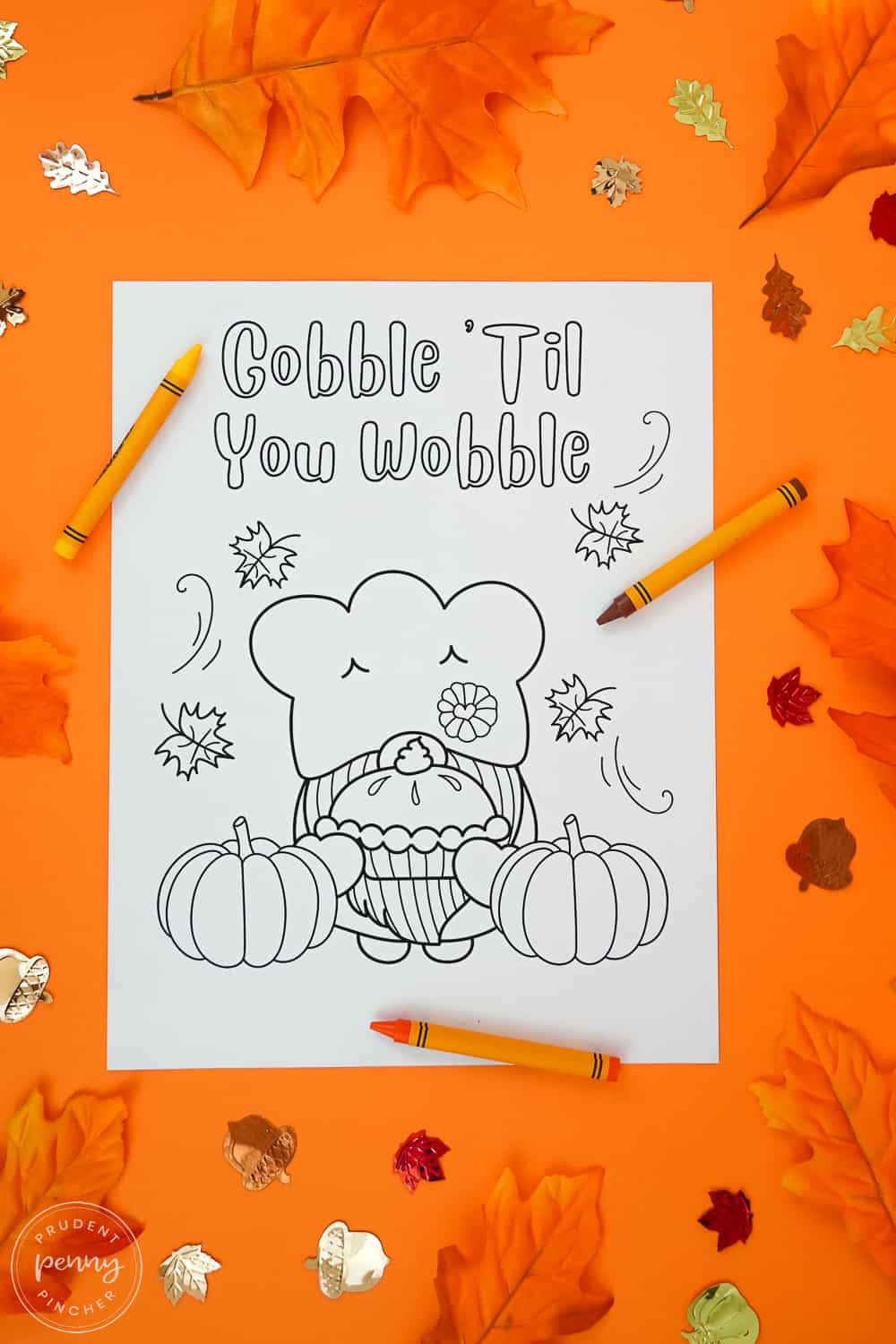 This adorable gnome baked a yummy pumpkin pie for Thanksgiving dinner! Adults, as well as kids, will enjoy coloring in the details on this one.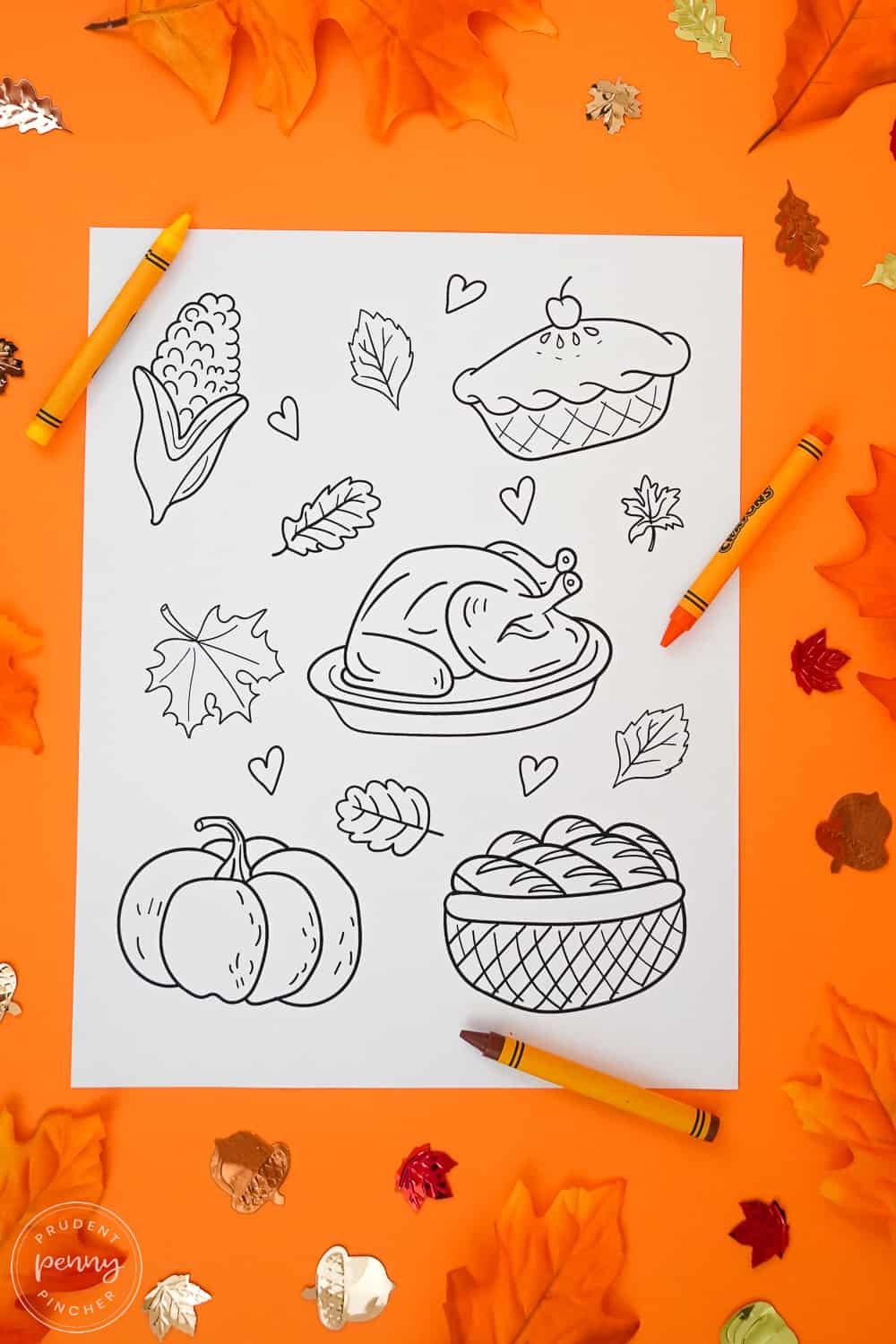 This sheet is the perfect way for your little ones to look forward to dinner on the big day! It features a traditional feast, complete with all the food that they love, like Roast turkey, pumpkin pie, freshly baked bread, and corn. This one will be a hit with kids of all ages!
Other Thanksgiving Coloring Pages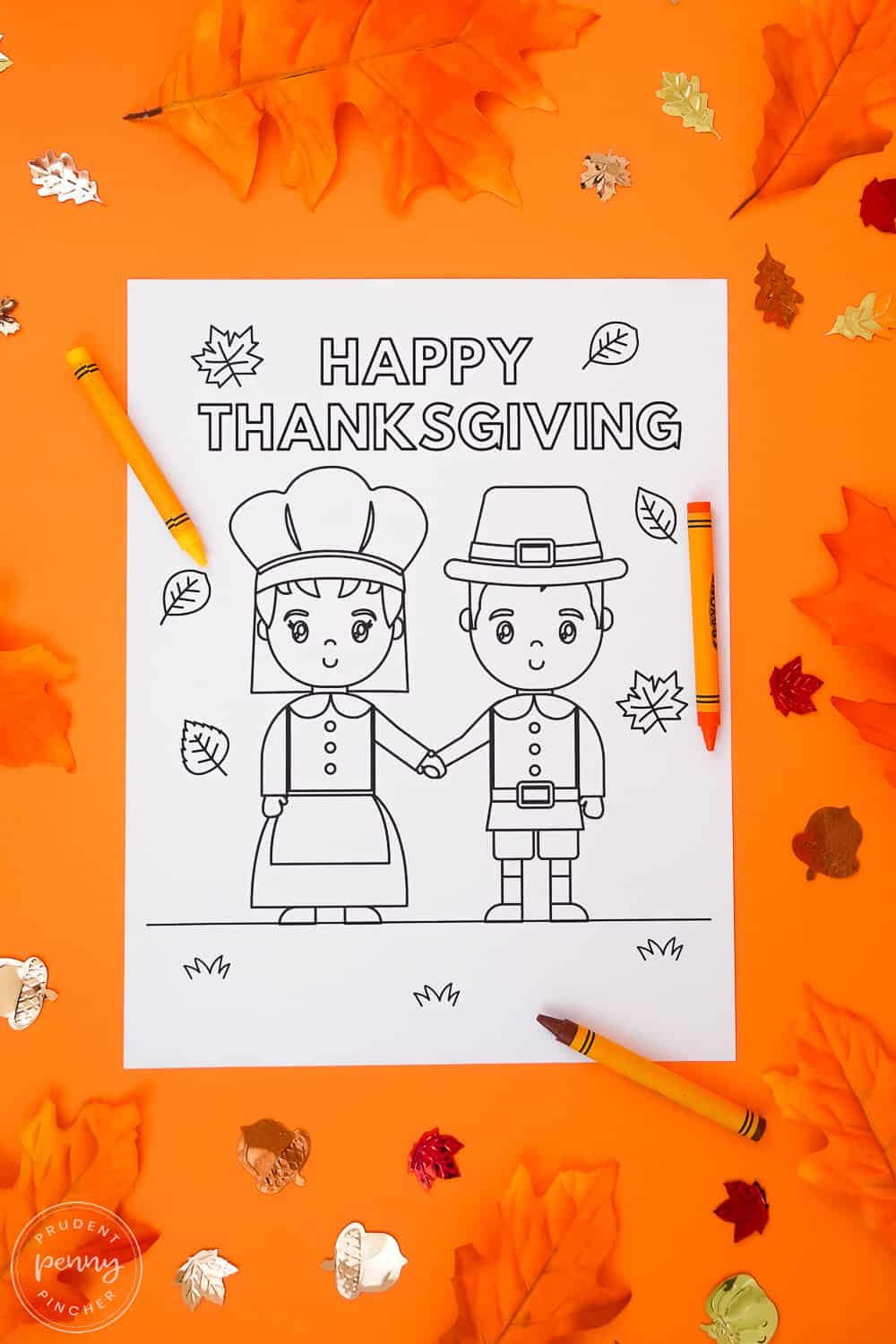 Enjoy a coloring sheet that celebrates the holiday's history and showcases the signature clothing style of the era. Teach your kids about the origins of the holiday and give this printable as a fun activity afterward!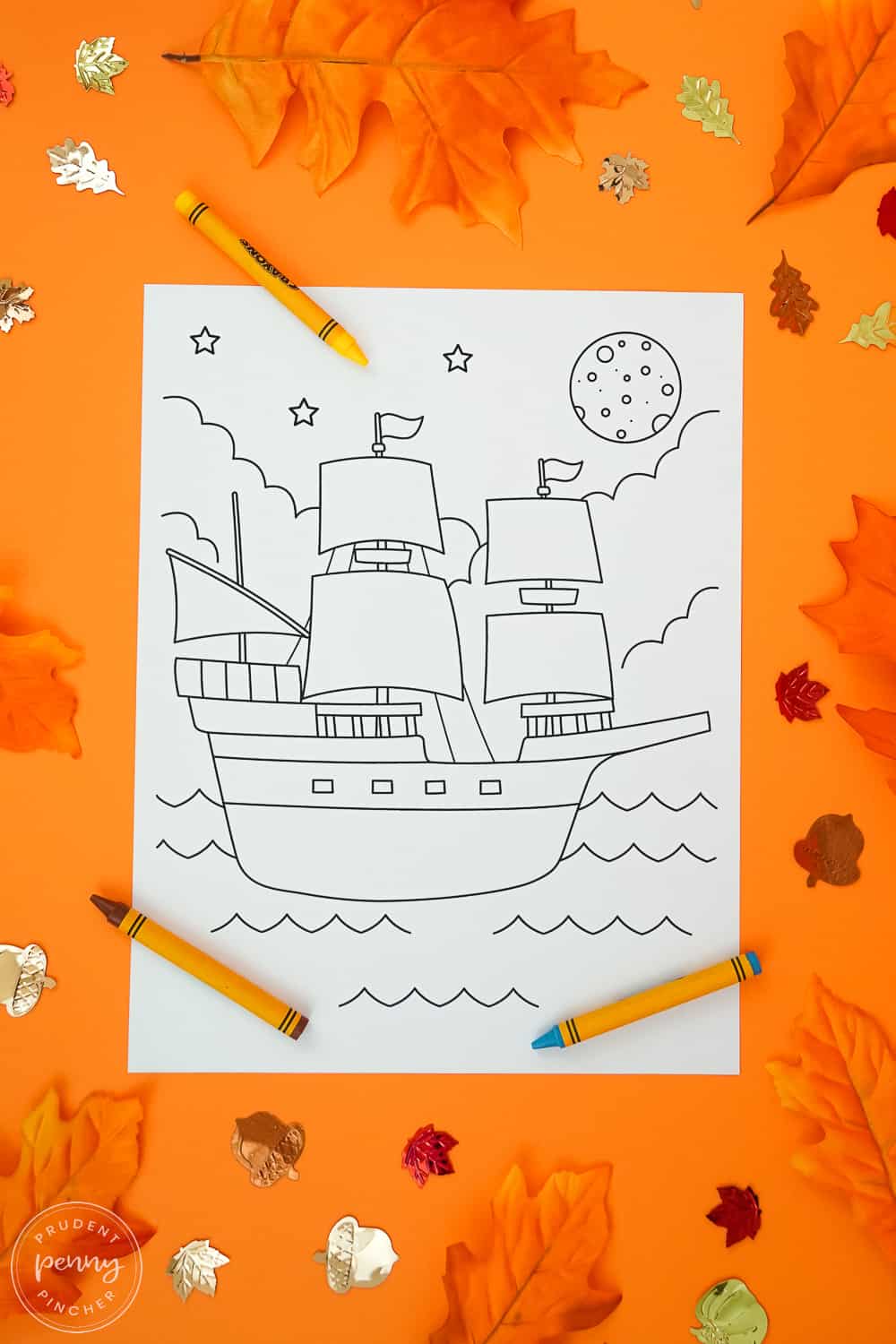 Celebrate Thanksgiving with this one that features the Mayflower sailing to the New World with the Pilgrims on board. Your kids can learn about the holiday's history while they color in fun pictures.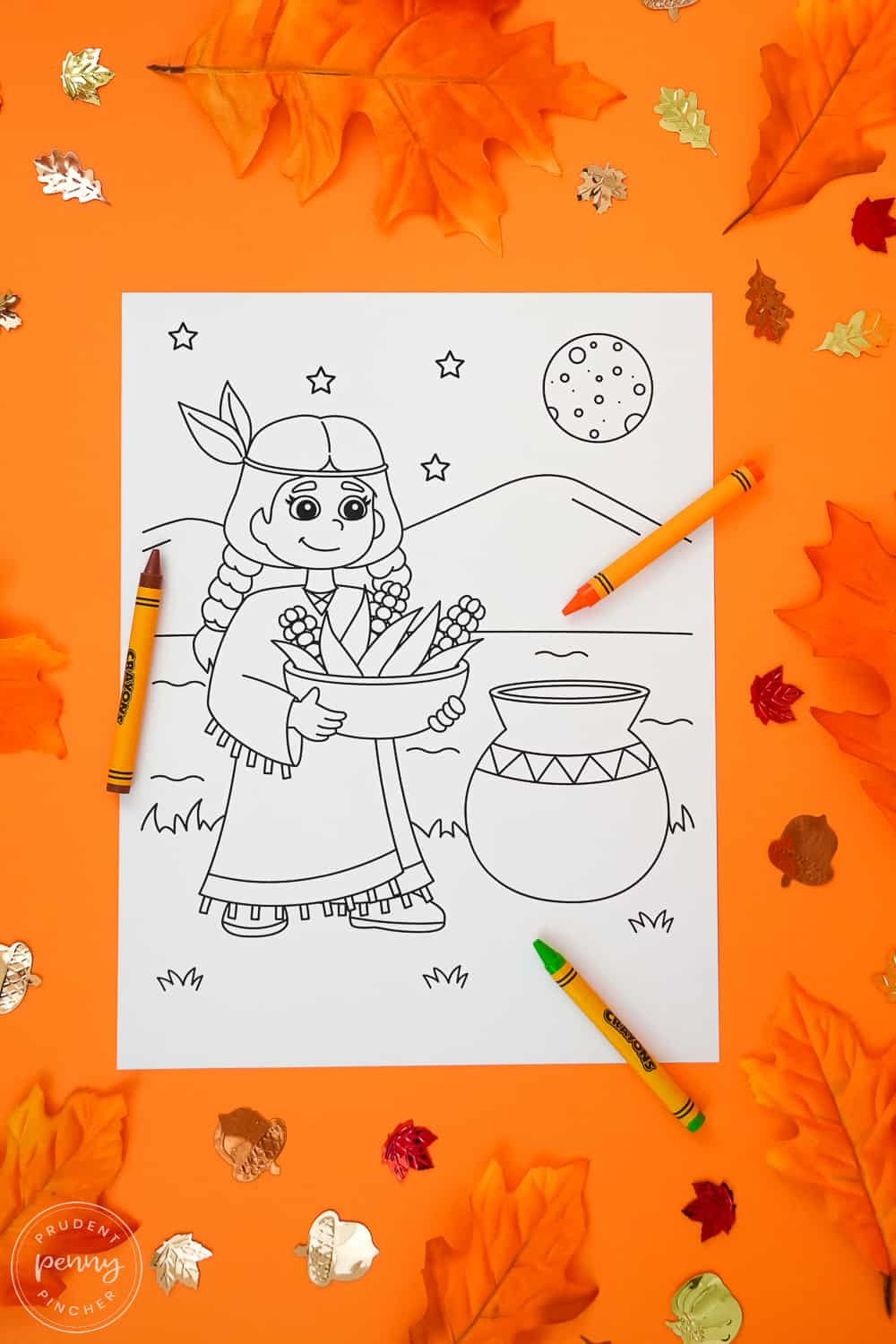 This one shows a scene of a Native American harvesting corn in a field to prepare for the first Thanksgiving! Another great coloring sheet to teach kids about Thanksgiving and its meaning.
Once you are done coloring this thankful page with fall leaves, hang it up as a reminder of what you're thankful for this year, or give it to someone special who you are thankful for. You can even add their name at the bottom!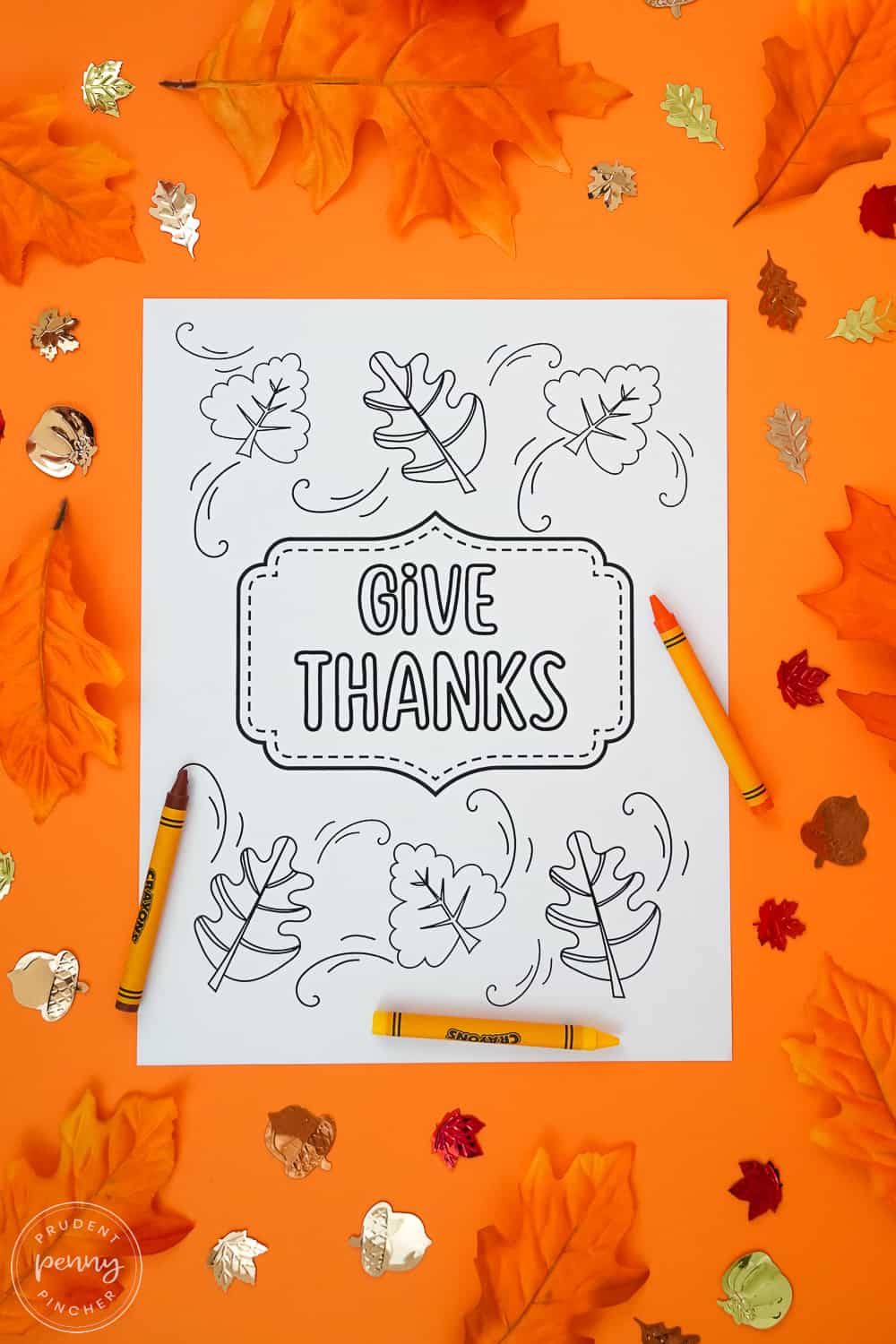 Express your thanks with this sheet that would make a great decoration to hang up on the fridge or frame for the holiday season!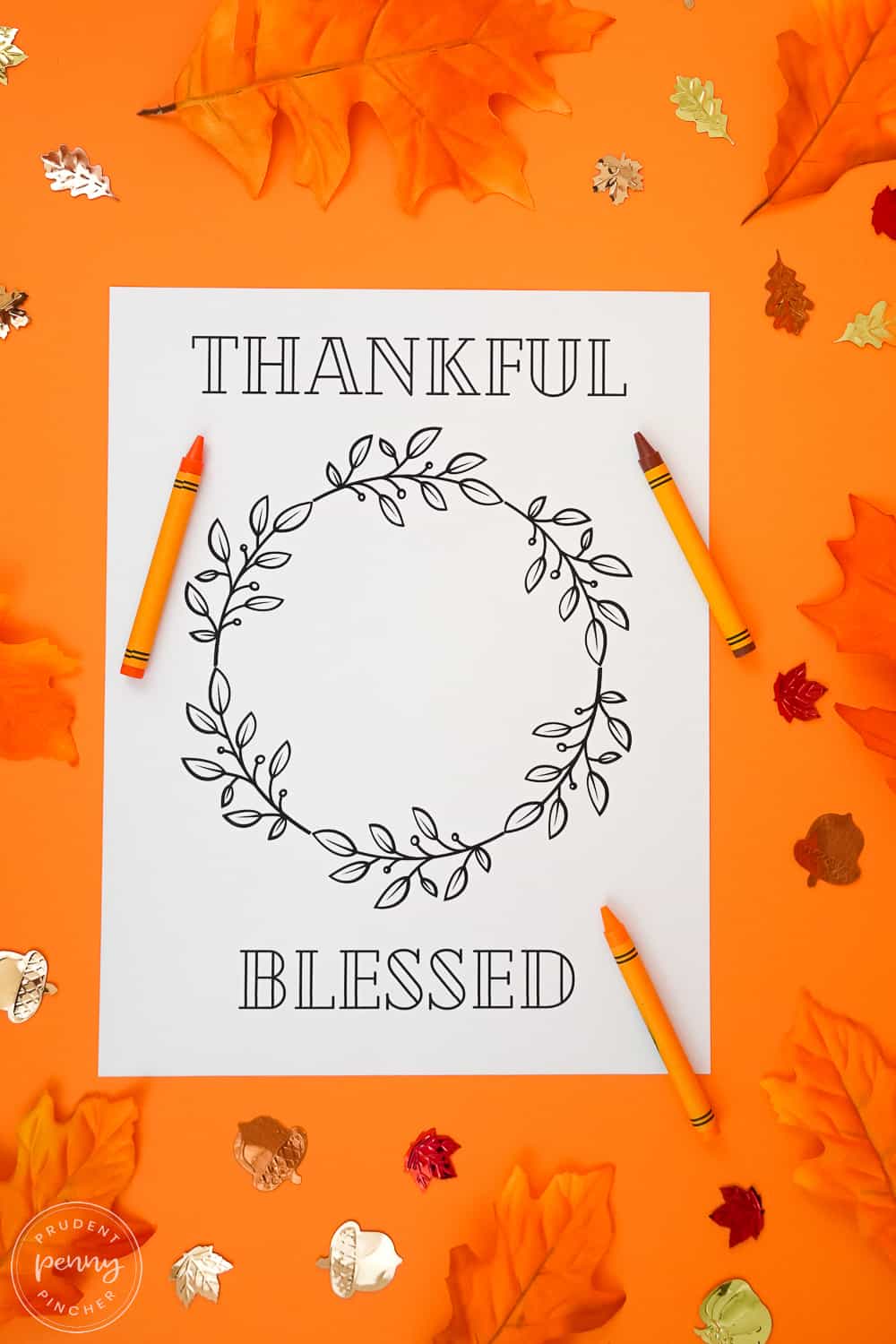 Thanksgiving is a time to give thanks for all the blessings in our lives. What better way to do that than with this sheet featuring a harvest wreath and the words "Thankful and Blessed." It can be used to decorate for Thanksgiving and the holiday season.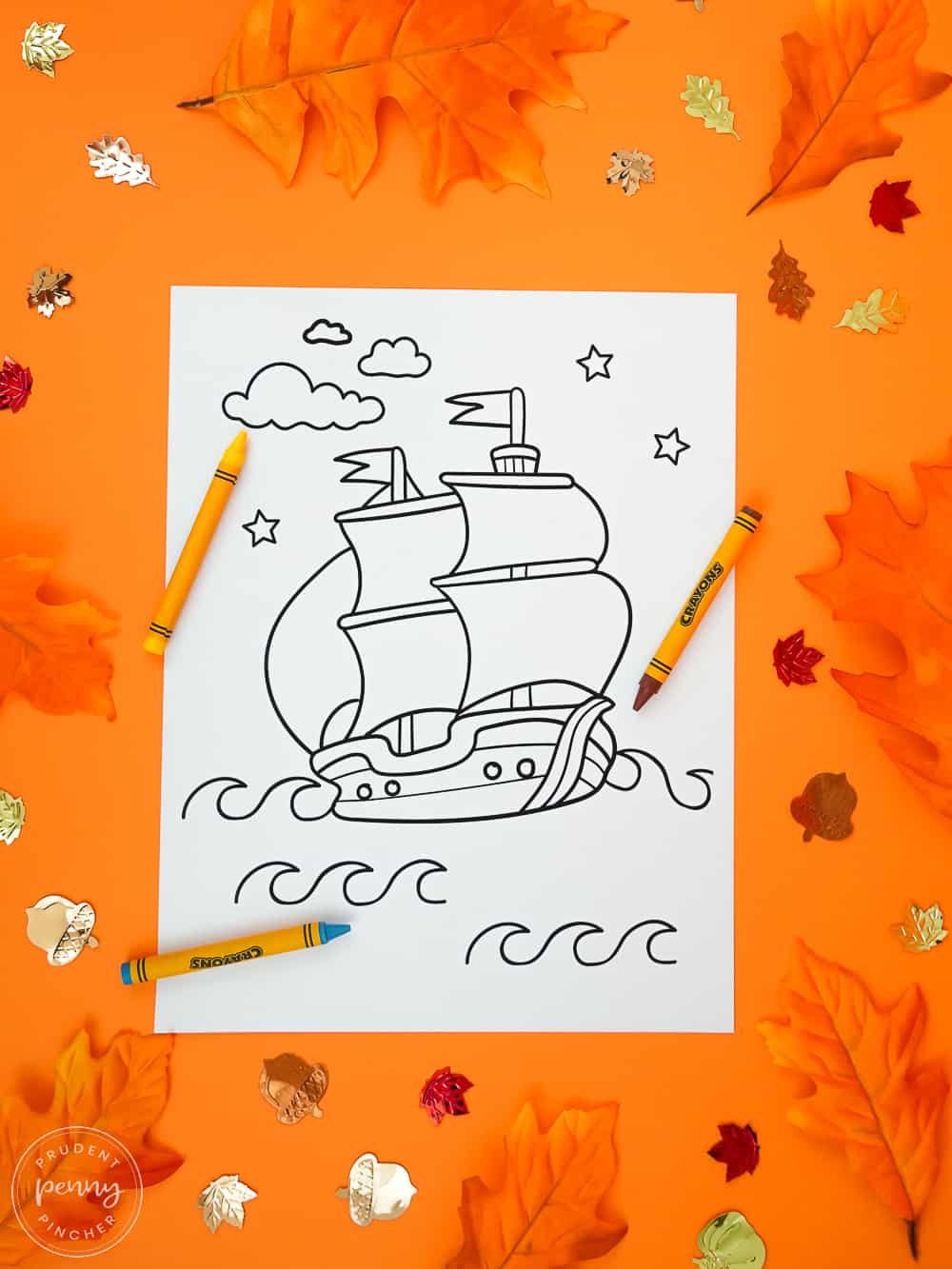 Teach your kids about the Pilgrim's journey on the Mayflower to America while they have fun adding color to this Thanksgiving coloring page.
Related Posts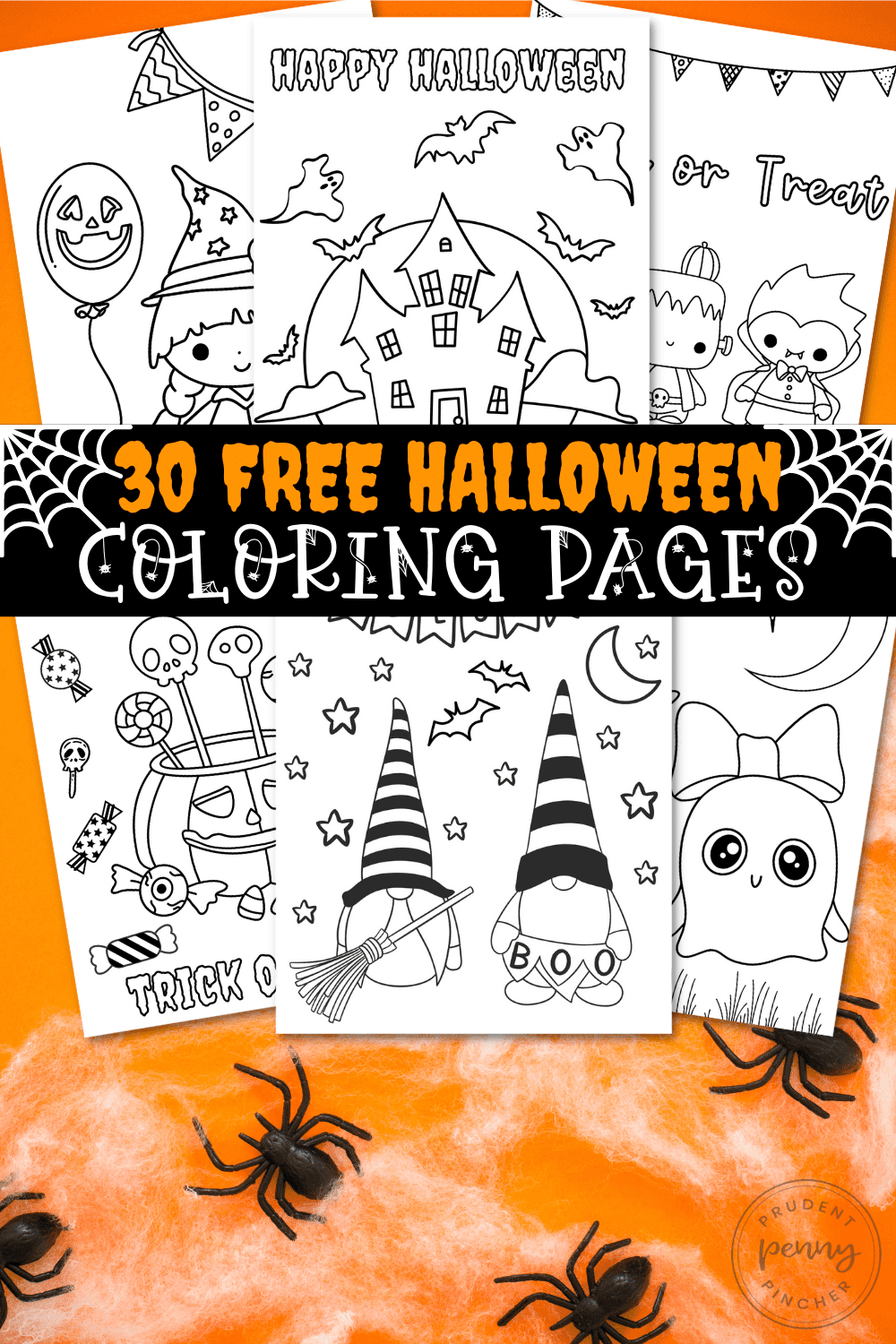 30 Free Halloween Coloring Pages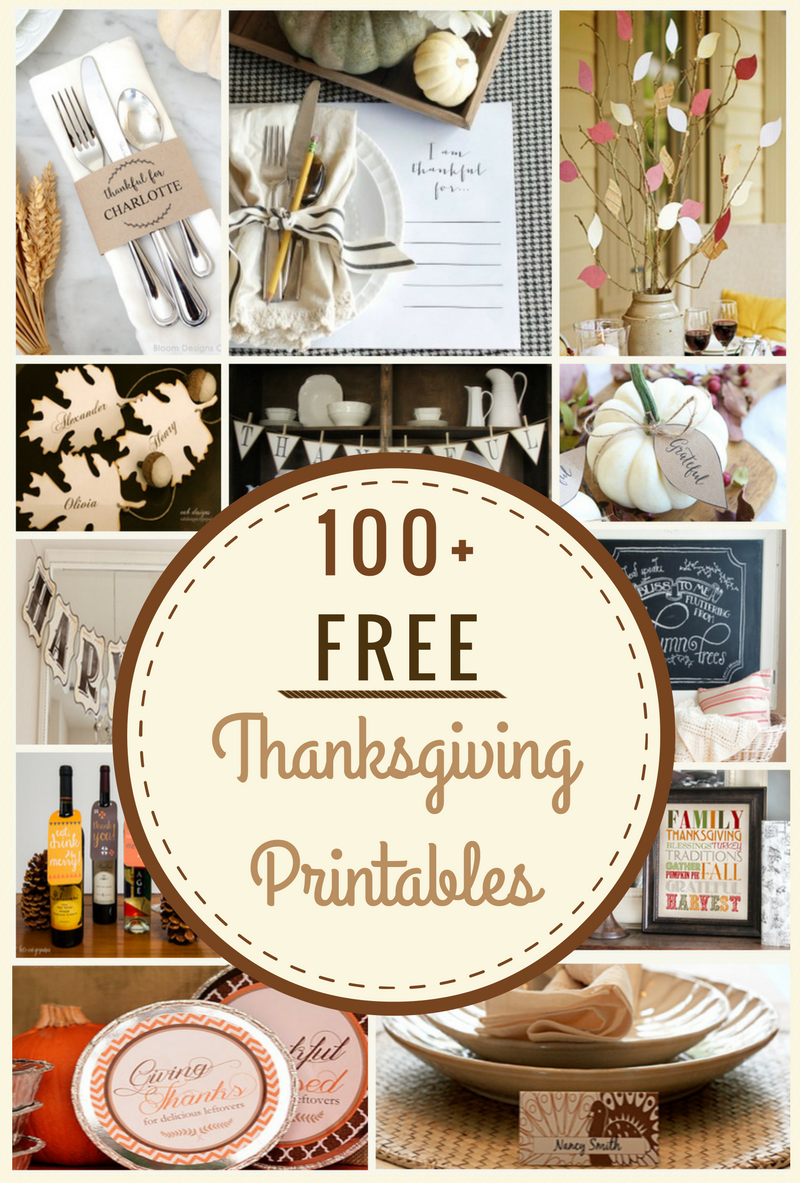 100 Free Thanksgiving Printables
Looking for more Thanksgiving ideas? Be sure to check out all my Thanksgiving posts, which include crafts, recipes, DIY projects, decoration ideas, and more!