Looking for a spooktacular Halloween activity for kids? Download these free printable ghost coloring pages!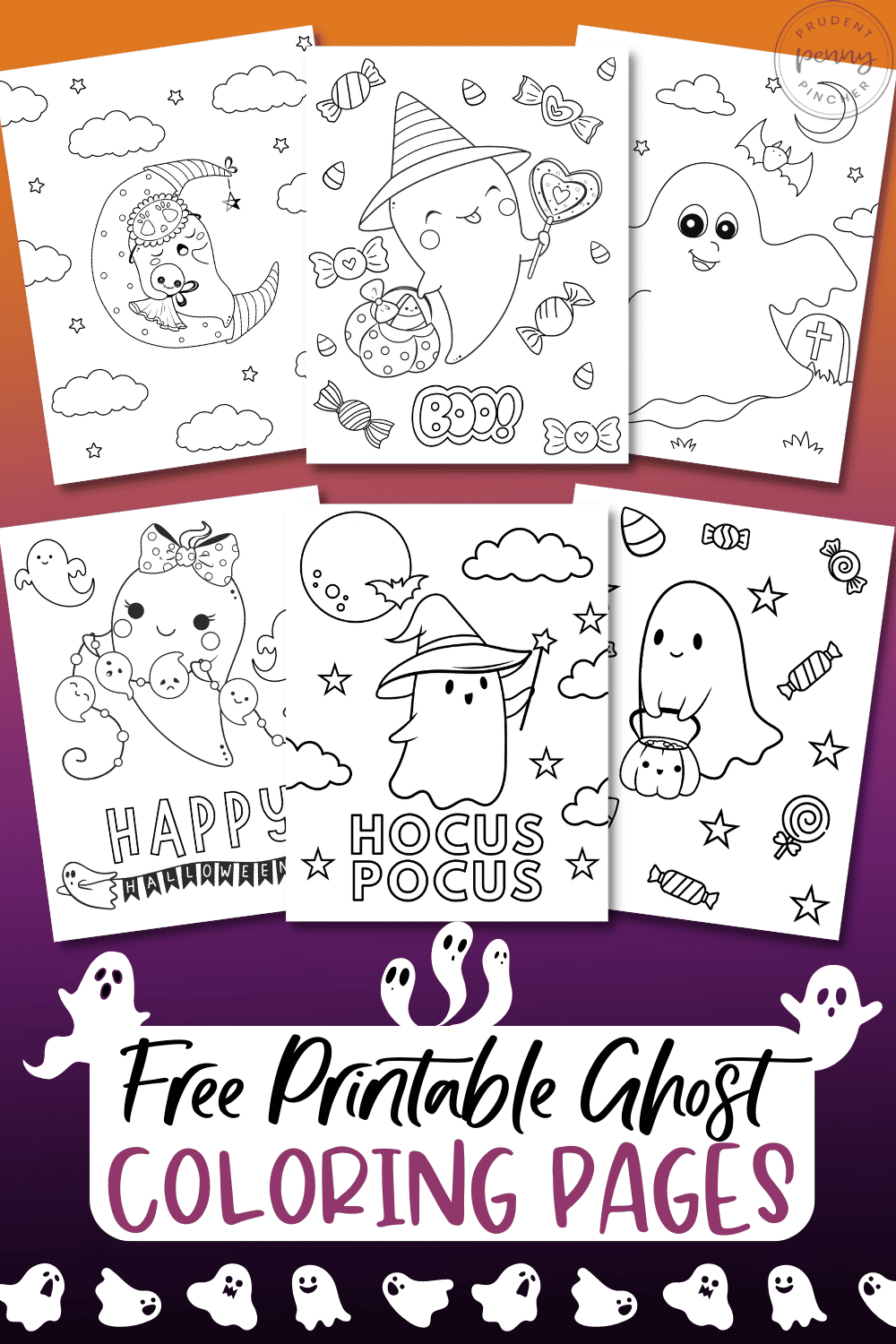 These BOO-ti-ful ghost coloring sheets are suitable for kids of all ages. They are designed to entertain your little ones while waiting for trick-or-treating time.
From cute ghosts for toddlers and preschoolers to creepy ghosts for older kids and teens, these free printable coloring pages promise hours of ghostly fun for different skill levels and ages!
Whether you want to use this at home, in the classroom, or at a Halloween party, these free printable coloring pages will surely be a big hit with your little ghouls.
Coloring is not only a fun Halloween activity for children, but it is also educational because it enhances creativity, imagination, fine motor skills, color recognition, and artistic expression.
For more Halloween coloring pages, check out these pumpkin coloring pages and witch coloring pages!
Jump to:
For more spooky fun, try these activities: Halloween crafts for kids, Halloween bingo printable, Halloween word scramble, or Halloween word search printables.
Supplies Needed
crayons
markers (optional)
colored pencils (optional)
watercolors/paint (optional)
printer paper or cardstock
downloadable PDF files
printer
How to Download and Print
To Download:
Click the download link.
Save the file to your computer.
To Print:
Open the file in Adobe Acrobat or another PDF software.
Go to File —> Print.
Set the page sizing to "Fit."
Click the printer button at the bottom. A printer setup dialogue box will open. Under media and quality, set the quality to "Best."
Press the print button. Your pages should now start printing.
Ghost Coloring Pages for Younger Kids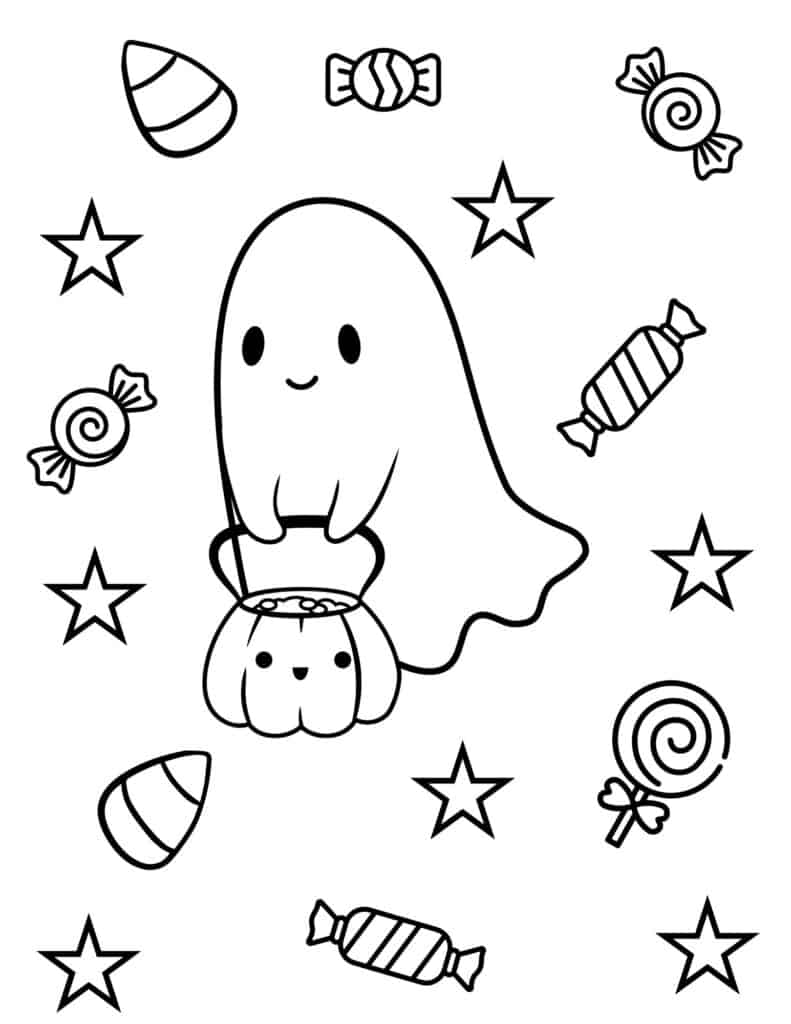 This friendly ghost is carrying a pumpkin pail brimming with Halloween candy. It is set against a backdrop of assorted candies. This coloring sheet allows kids to play with a vibrant palette of colors!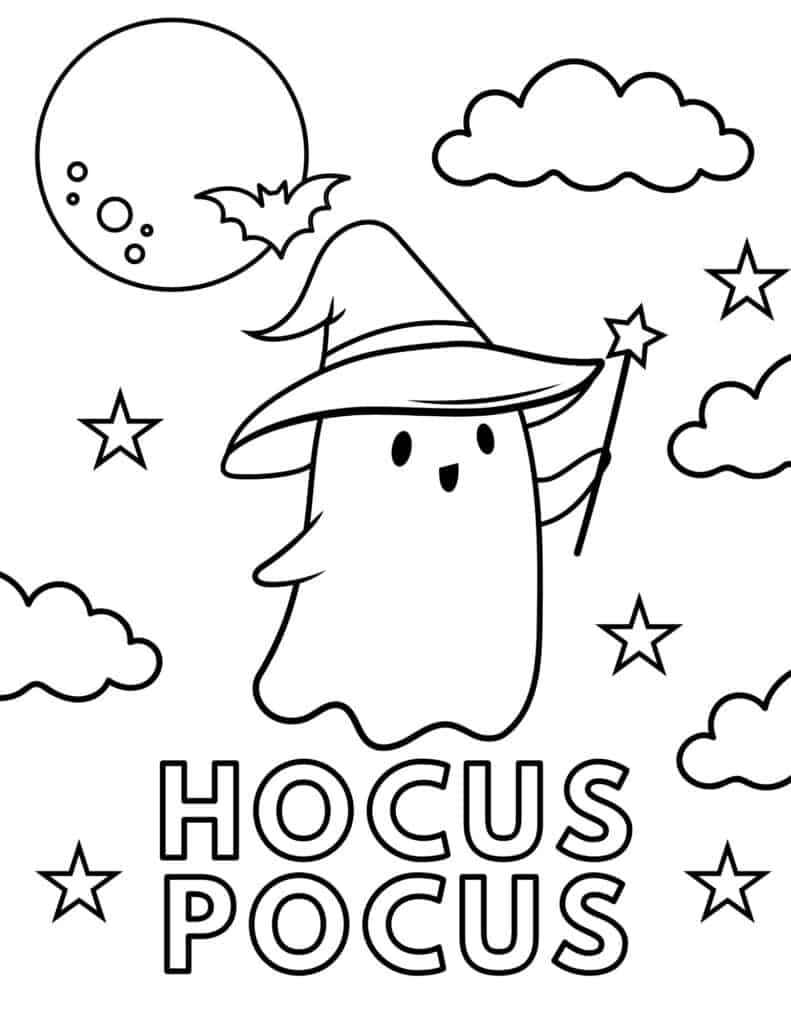 This enchanting coloring sheet shows a cute little witch ghost waving a wand, casting magic all around with the phrase 'Hocus Pocus' on the bottom of the page.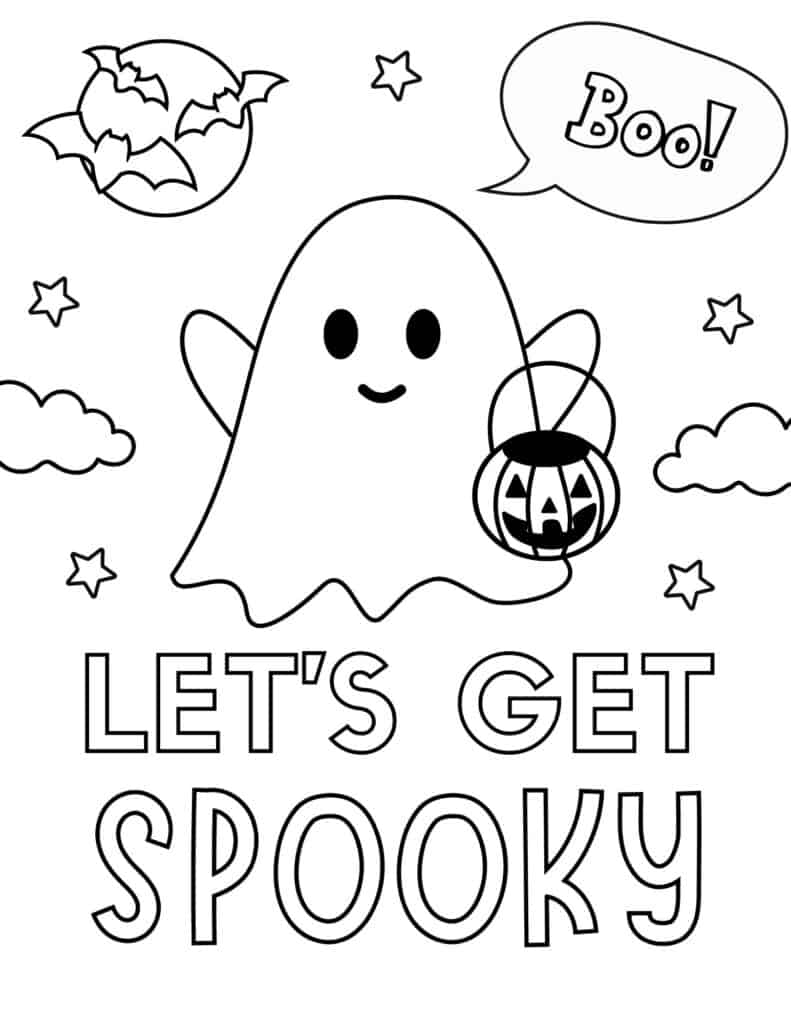 Let's get spooky! This adorable little ghost is excitedly exclaiming, "boo!" while floating in the night sky.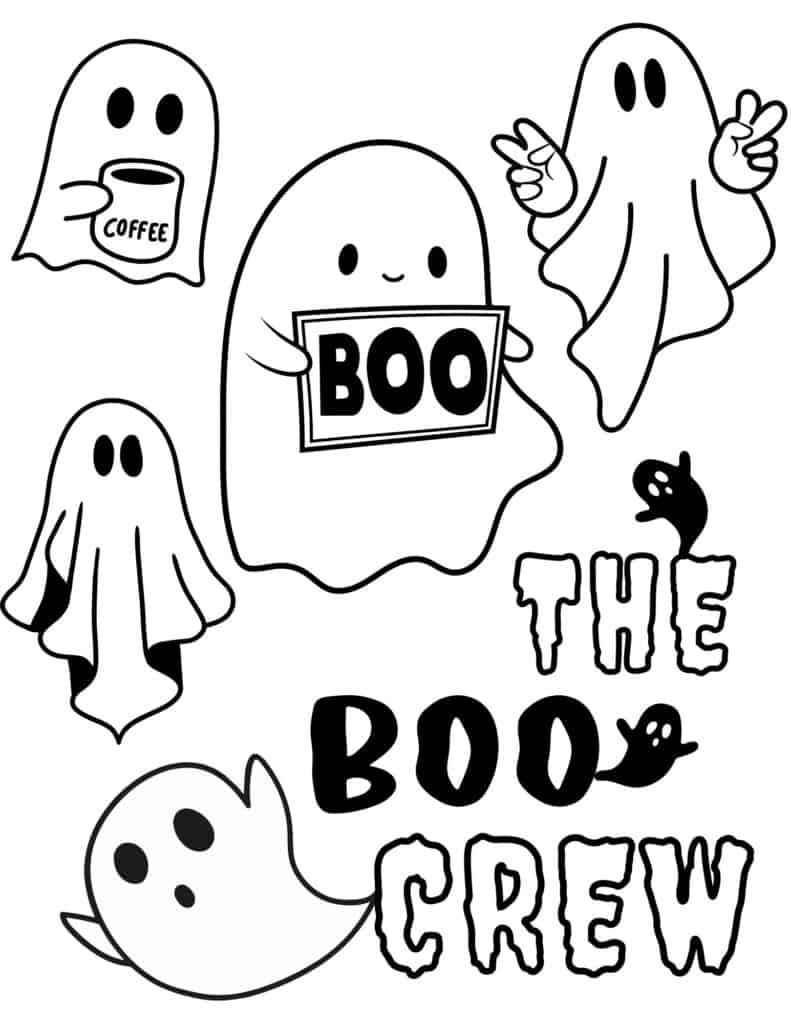 This 'Boo Crew' coloring page has a variety of friendly ghost characters. It will give your kids an exciting opportunity to bring this crew to life with a burst of different colors.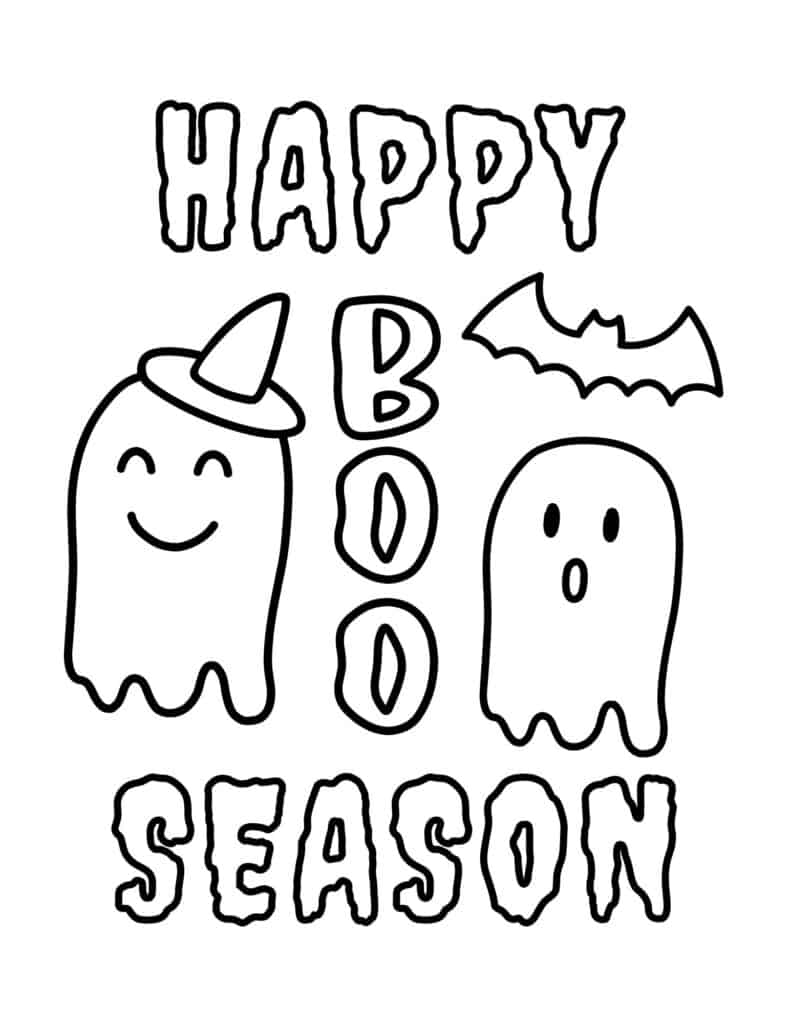 Happy boo season! This one is perfect for little kids like toddlers and preschoolers due to its simple and large design illustrations.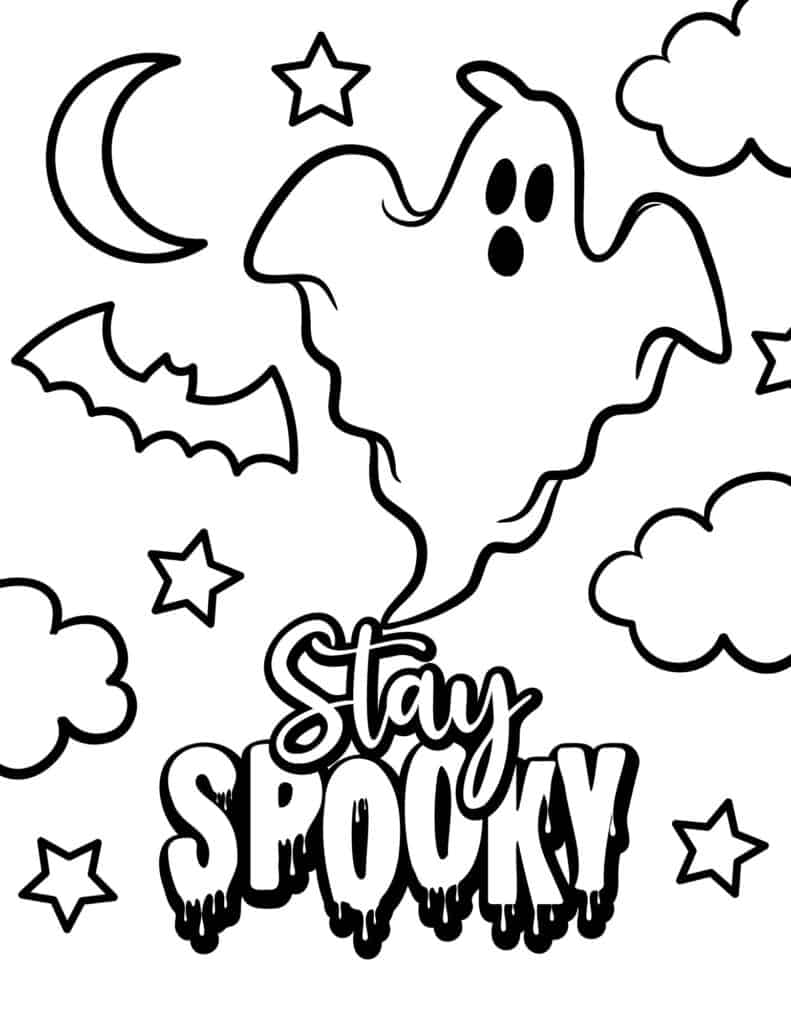 This one features an easy ghost to draw with the night sky in the background and the words 'stay spooky' below.
Ghost Coloring Pages for Older Kids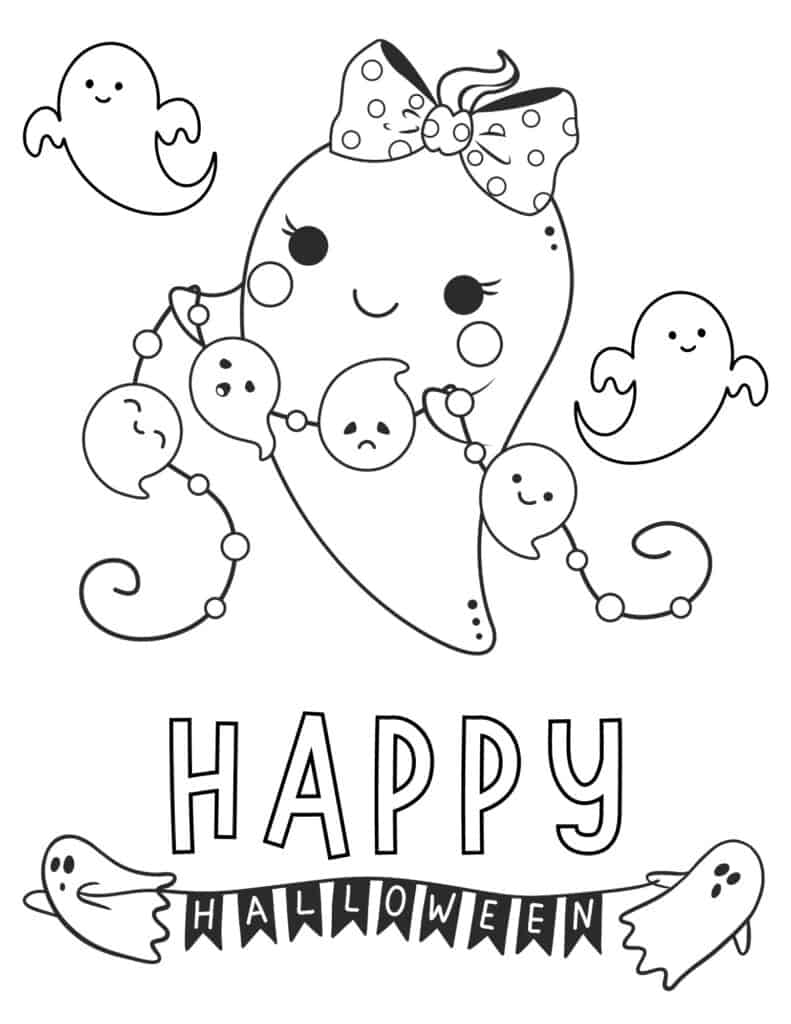 This cute little girl ghost and her friends are ready to hang their ghost garland for their Halloween party!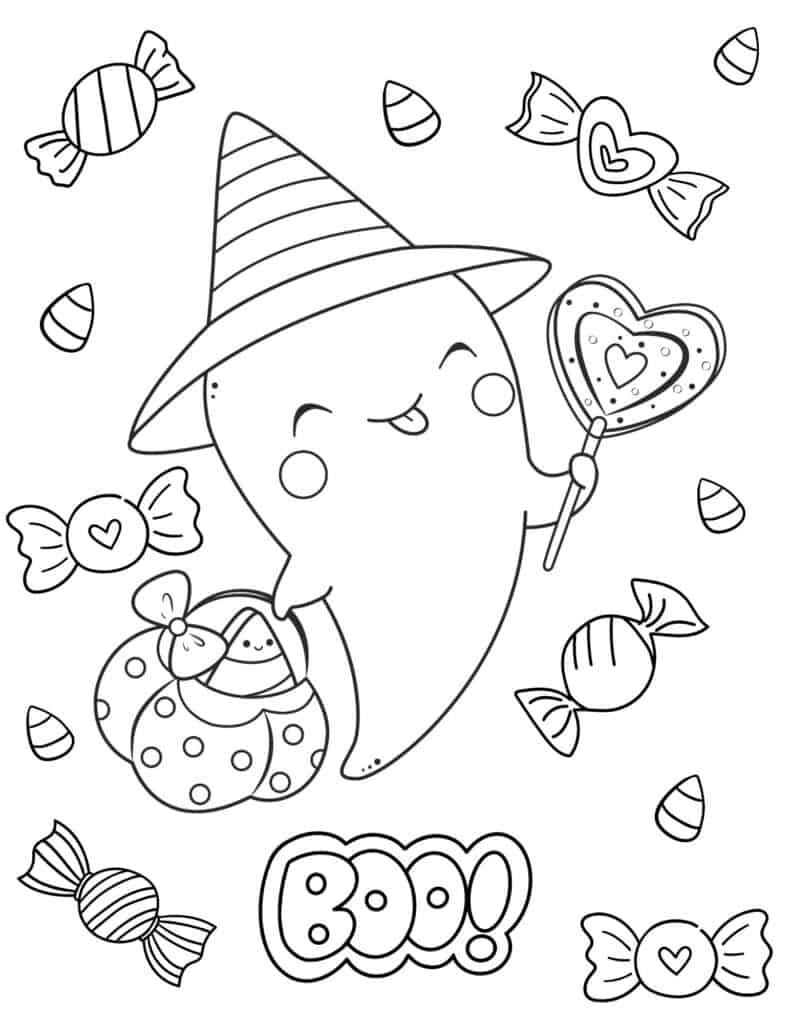 This silly ghost is playfully sticking out its tongue, holding a lollipop and a pumpkin pail stuffed full of Halloween candy! It is sure to get your kids in the trick-or-treating mood!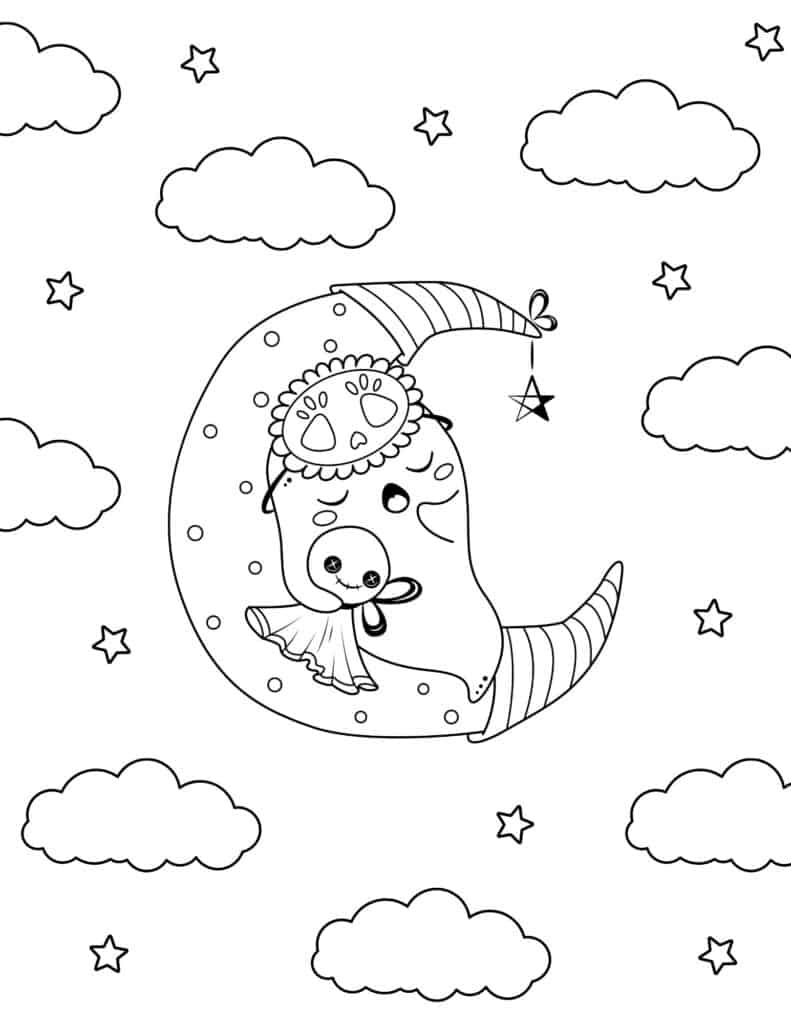 In this whimsical coloring page, there's a sleepy ghost who is yawning while resting on the moon, surrounded by twinkling stars and fluffy clouds.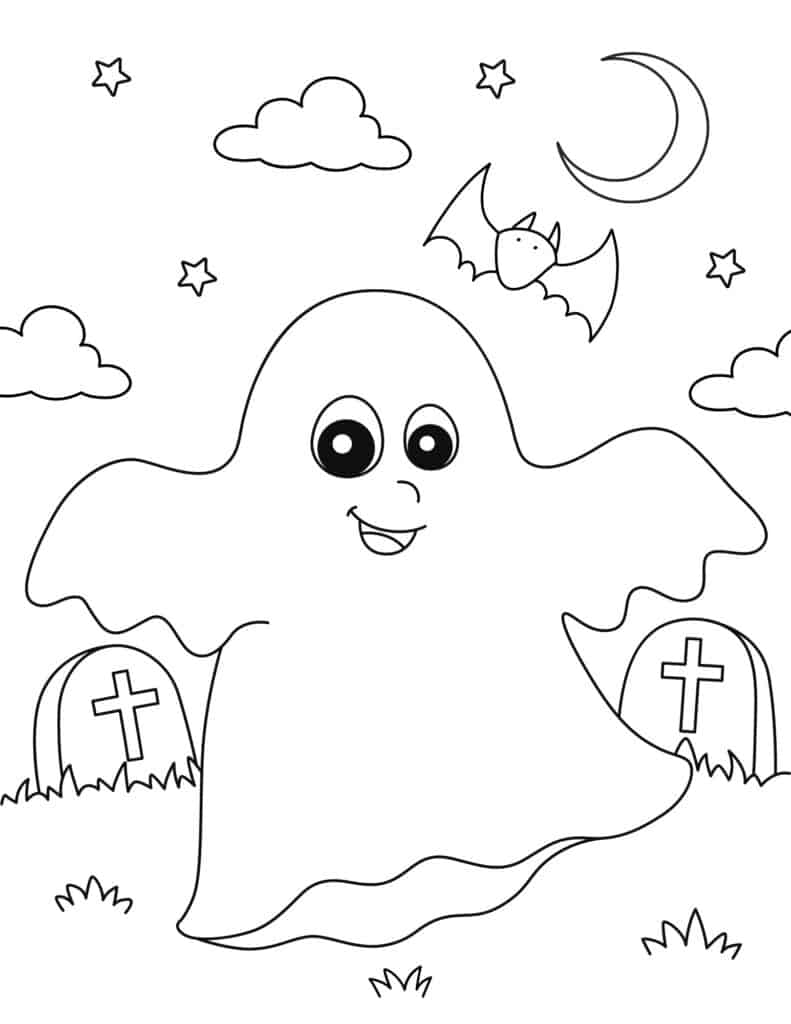 This cute, friendly ghost is dancing playfully in a graveyard. Feel free to color in the ghost with your favorite color or add a spooky pattern of colors to it!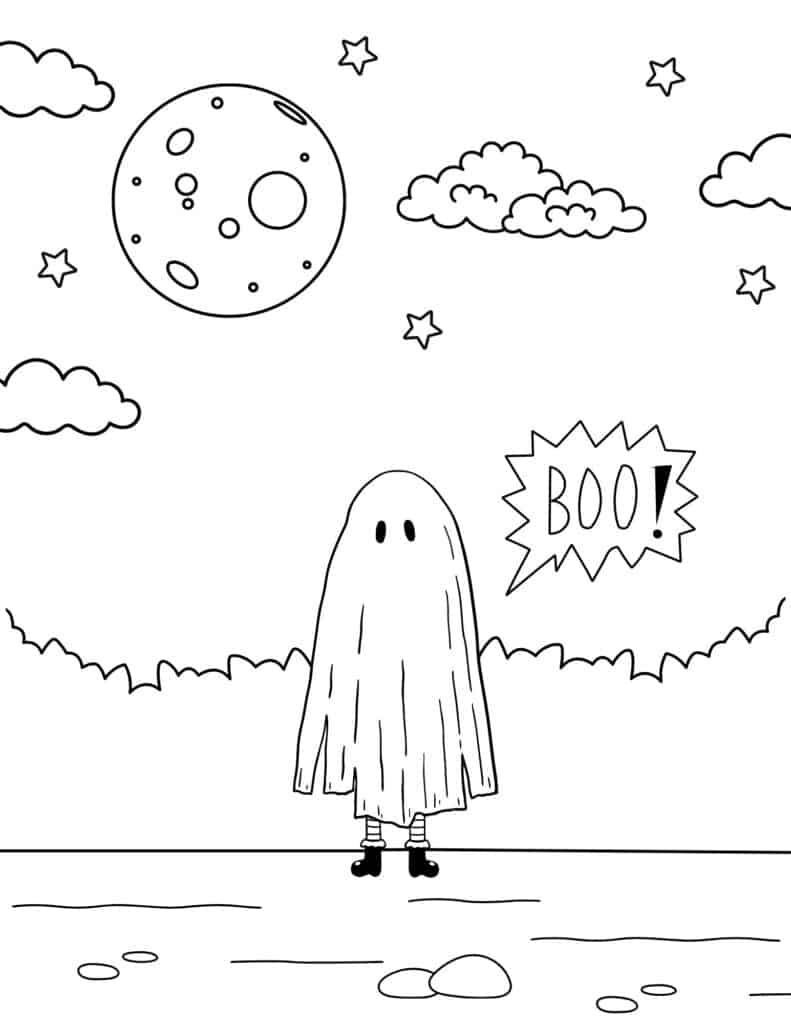 Boo! This child is wearing a ghost Halloween costume. It perfectly captures the thrill of dressing up for Halloween and presents a detailed canvas for your young ones to color.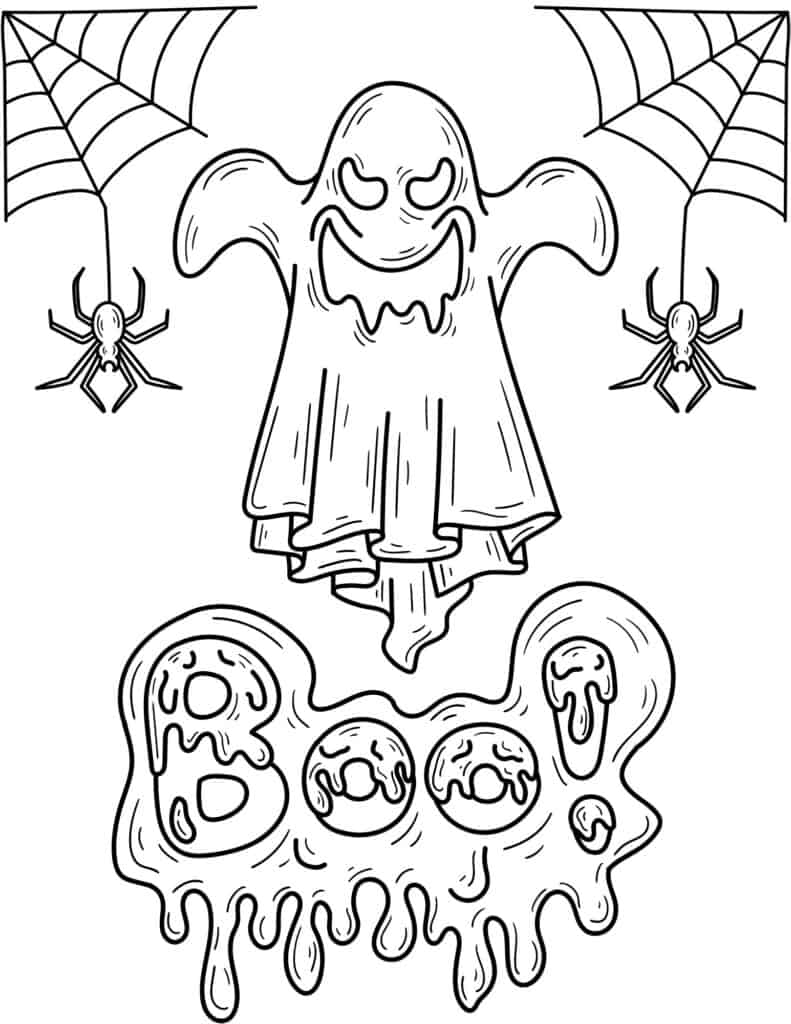 Step into the spine-chilling side of Halloween with this spooky ghost coloring page, presenting a creepy ghost that will thrill the daring and older color enthusiasts.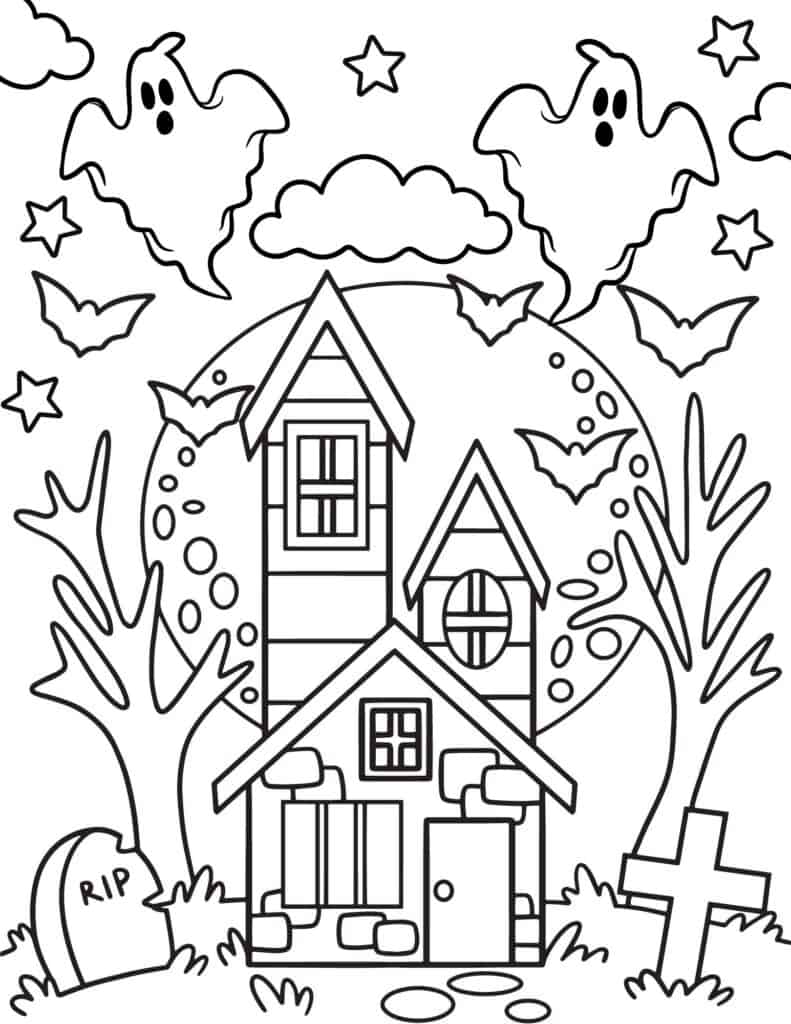 Go on a spooky artistic adventure with this haunted house coloring page with an eerie graveyard and a pair of scary ghosts soaring above the nighttime sky.
More Halloween Fun for Kids
Coloring Pages for Kids
Free Halloween Printables
If you tried one of these ghost coloring pages or any other coloring pages on my website, please let me know how it went in 📝 comments below!
Follow me on Pinterest, Facebook, or Instagram for more inspiration on crafts, DIY, free printables, and recipes!