Celebrate Halloween by decorating your car with one of these easy and fun Halloween Trunk or Treat ideas for kids.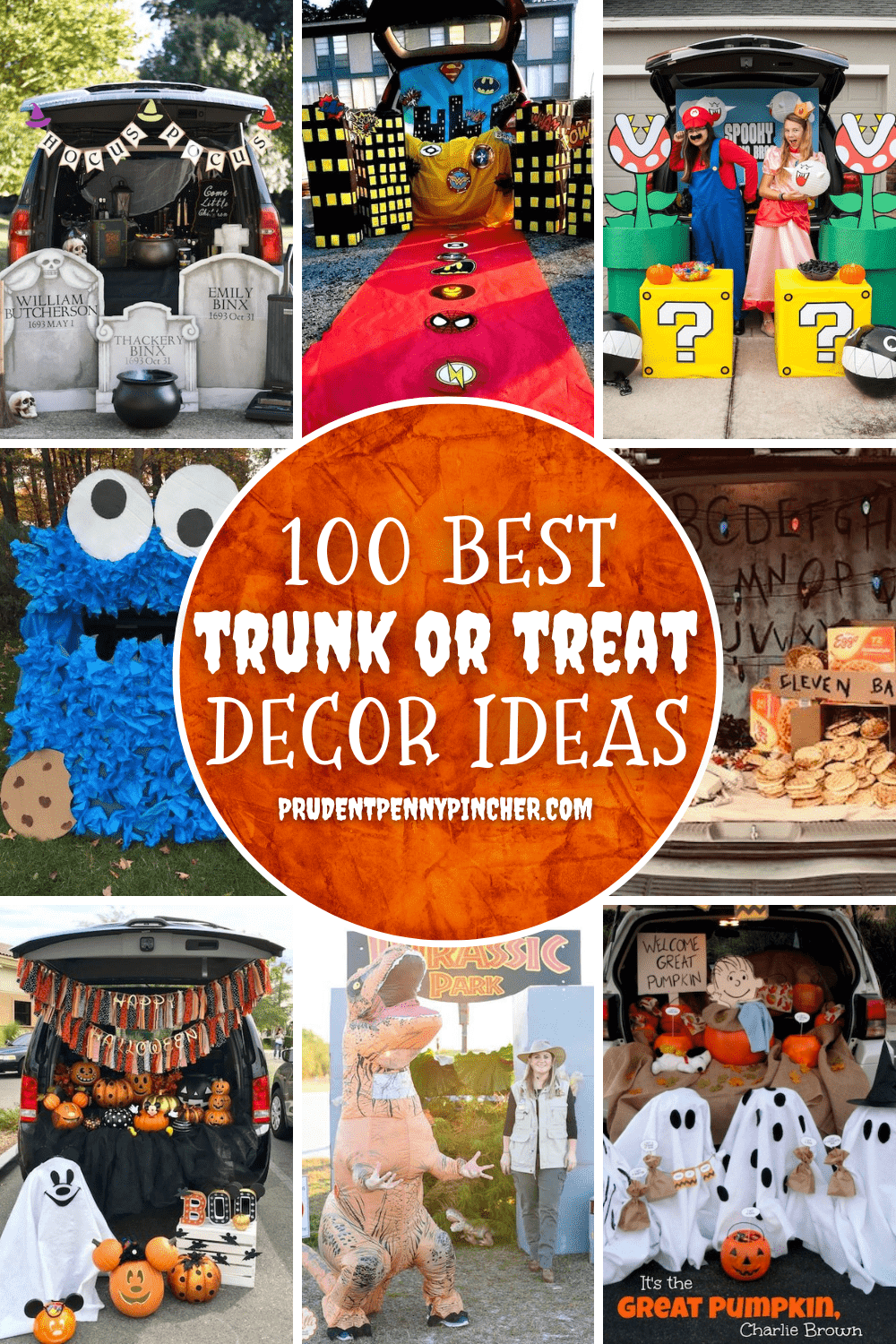 There are over a hundred DIY Halloween decorations for inspiration here that trick-or-treaters will love! Whether you are looking for easy, last-minute decor ideas or ideas to wow the crowd on Halloween, you will find some of everything here that is sure to make your car's trunk the talk of the town!
There are dozens of Halloween themes ranging from cute ones like Disney and kid-friendly movies to scary ideas for older kids.
Don't forget to pair these ideas with these DIY Halloween costumes, too. There are Halloween costumes for kids and adults!
Jump to:
What is Trunk or Treat?
It is an easy and safe way for kids to participate in trick-or-treating. Parents will gather in a parking lot with the trunks of their vehicles decorated for Halloween and give out Halloween candy to the kids. Typically, churches, schools, and organizations host these events. It's a fun way for kids to celebrate Halloween in a safe environment inside their community. It's also a more convenient way to trick or treat in areas and neighborhoods that are spread apart.
Buckle up as we rev up your halloween spirit with these creative and unique trunk or treat ideas for inspiration!
Movie and TV Themed Trunk or Treat Ideas
Disney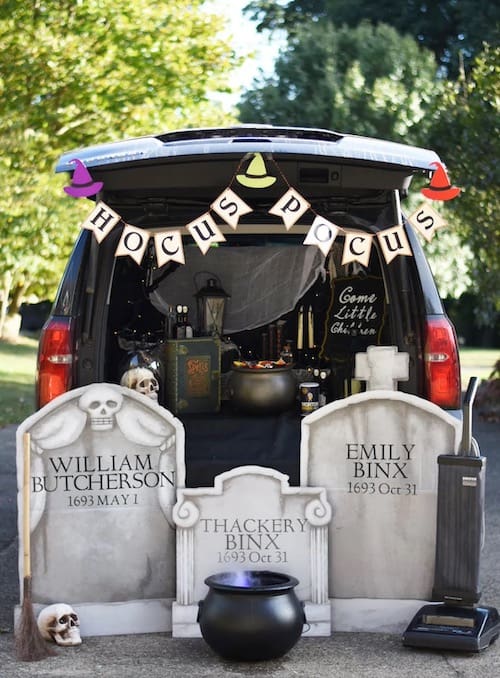 Create an amazing Hocus Pocus Trunk this year. It includes some free printable banners and SVG files to help you make this project with your Cricut.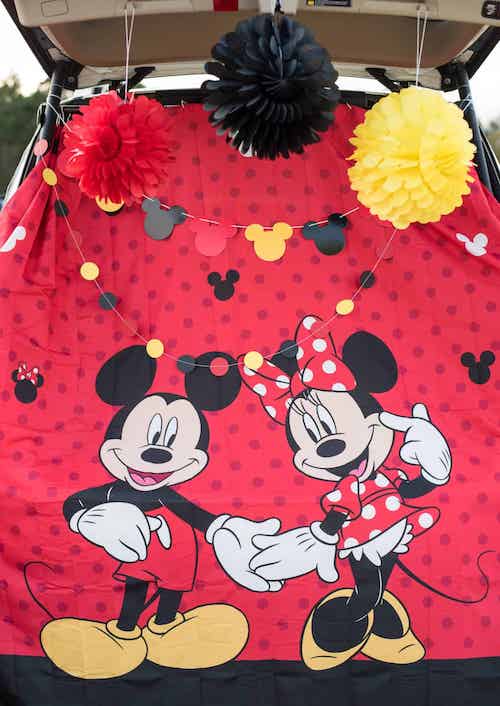 This Mickey and Minnie one is super cute and really easy to make! A Mickey & Minnie shower curtain is used as the backdrop. Add a few colorful pompoms and a garland, and you're done.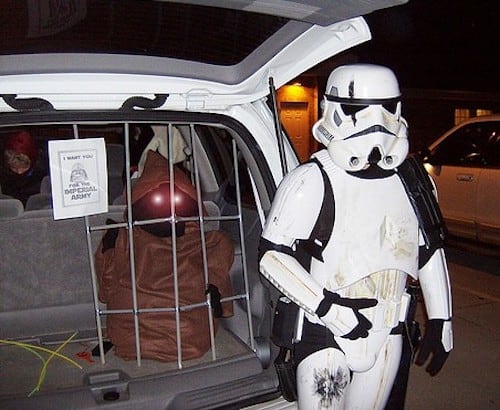 If you want an easy Star Wars-themed idea, this one certainly qualifies!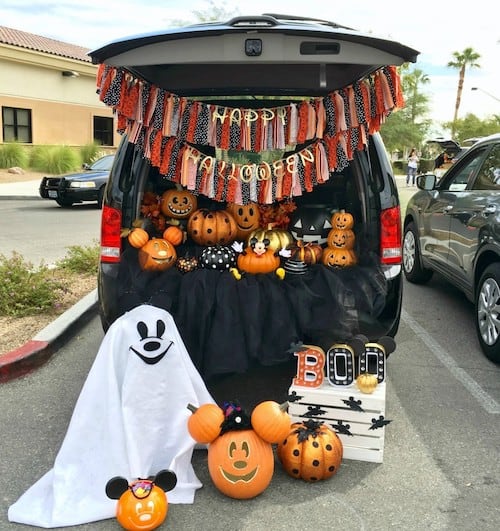 Nothing says trick or treat better than this Halloween Mickey and Minnie idea. You can create this look by making a fabric scrap banner and adding black and orange pumpkin decorations. You can also carve some foam pumpkins to resemble Mickey and Minnie and add smaller pumpkins as ears.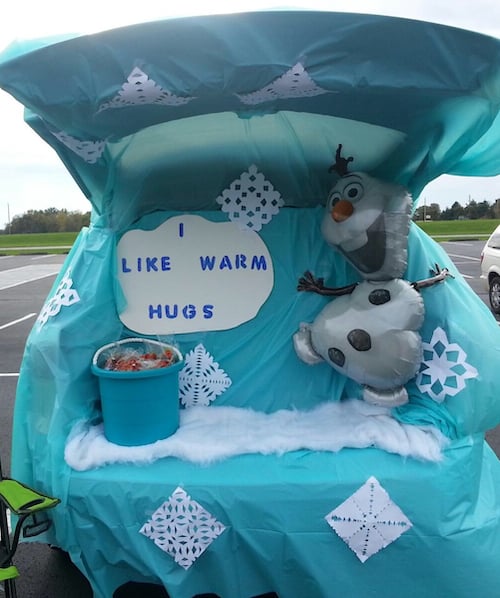 This Disney Frozen-themed trunk or treat couldn't be simpler (or cheaper). All you need is some Dollar Tree plastic tablecloths, paper snowflakes, and an Olaf balloon!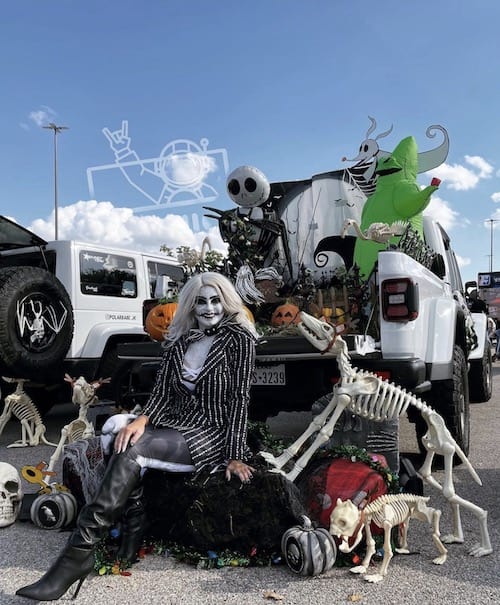 If you have a ton of Nightmare Before Christmas decor, this is the perfect project for you.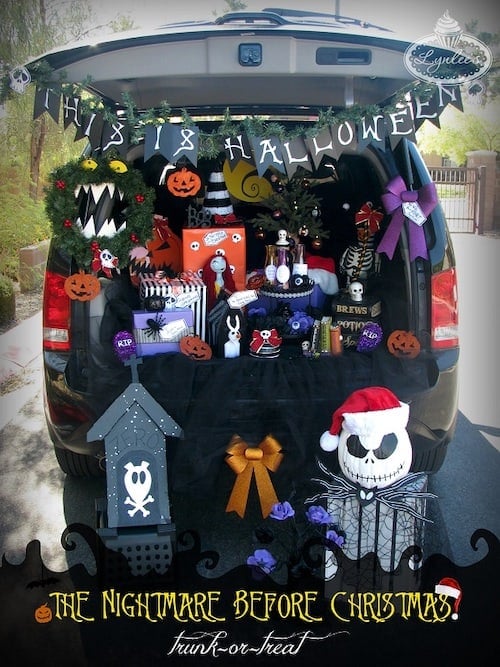 This Nightmare Before Christmas Trunk incorporates elements from the movie and some DIY printables to tie it all together.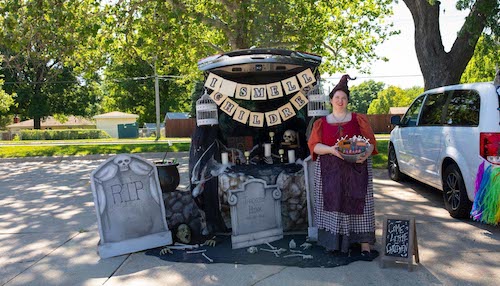 Spooky decor ideas like old books, skeletons, candles, tombstones, and creepy spider webs are used to make this Hocus Pocus Inspired one. Finish the look with a printable "I Smell Children" banner.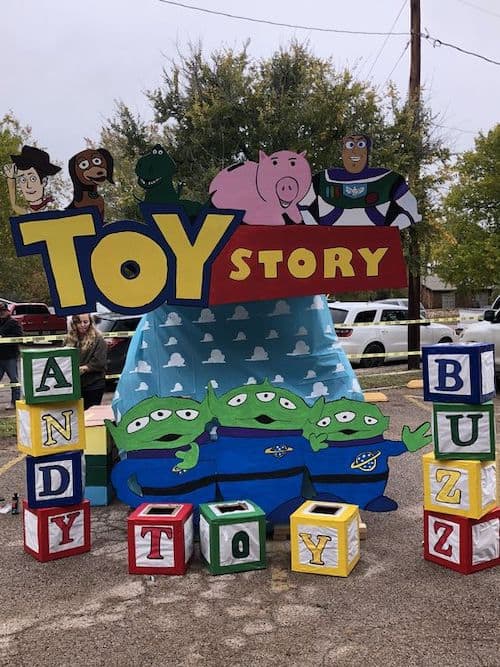 If you are up for a challenge, make an elaborate Toy Story trunk! The sign is made out of foam, and then it is painted and cut out. The letters are made out of cardboard boxes covered with paper and tape.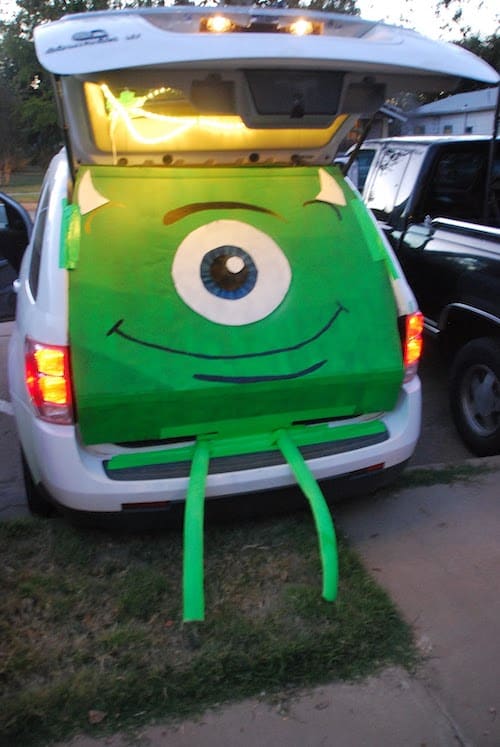 Spray paint a big piece of cardboard green and draw on some facial features for this super easy Monsters, Inc idea.
Other Movie and TV Trunk or Treat Ideas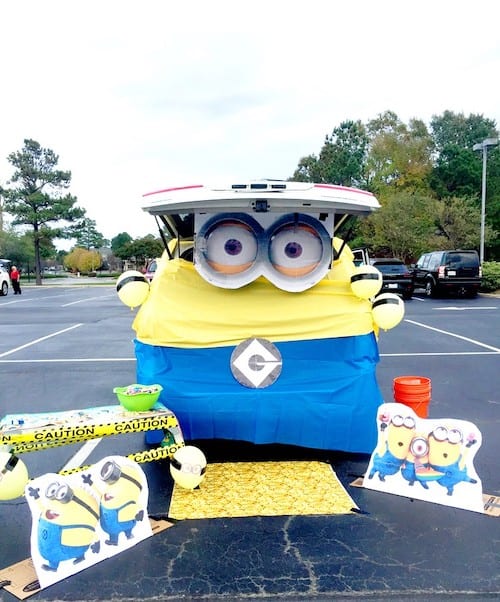 This Minion Trunk is really easy to make! It is created with blue and yellow tablecloths and cardboard cutouts.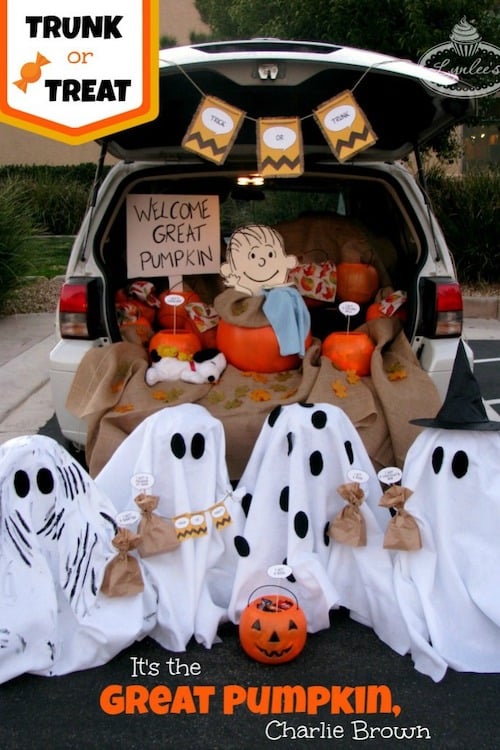 It's the Great Pumpkin, Charlie Brown!
Construct a faux pumpkin patch with some cheap plastic pumpkins. Then, make the ghosts with chicken wire and cover them with white fabric.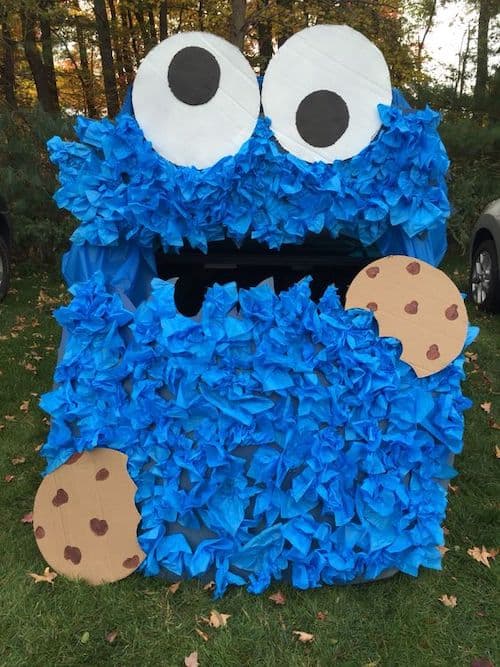 Create this giant cookie monster with a large piece of blue spray-painted cardboard. Then, crumble up some blue tissue paper and glue it on.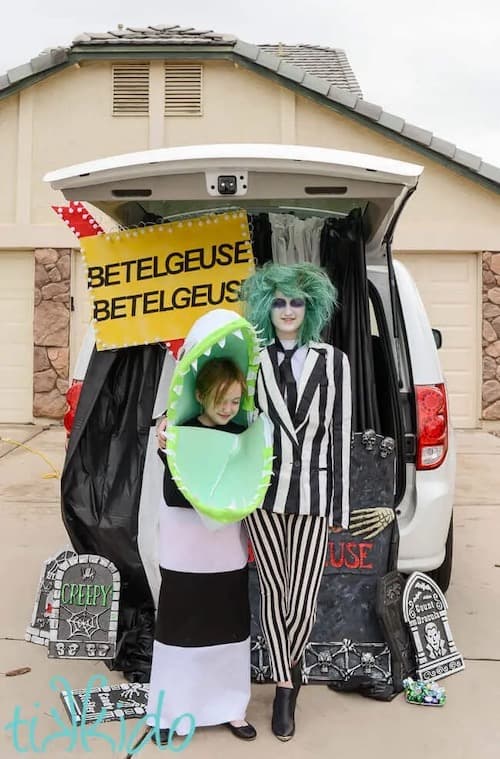 This is a version of Beetlejuice's iconic gravesite, complete with a blinking, lit sign. The headstone prop is made with dollar store plastic Halloween decorations and a black foam board. The marquee sign is constructed with a foam board and LED globe lights.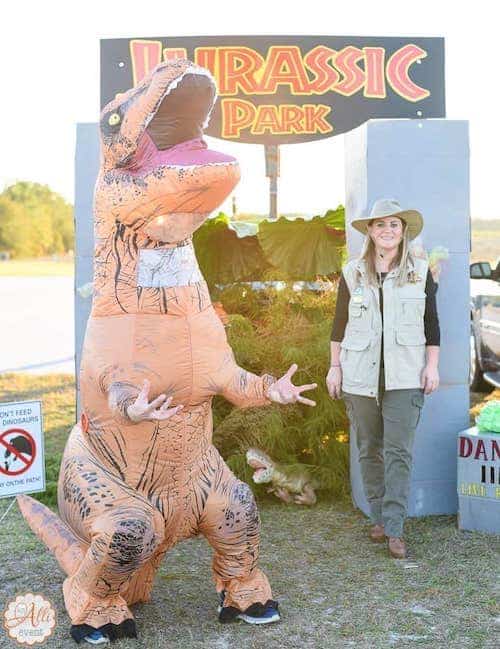 With a giant inflatable dinosaur and an exceptionally detailed park "entrance," this Jurassic Park theme is sure to be a big hit with everyone.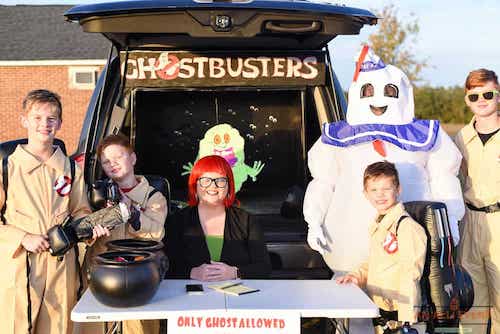 Take the Ghostbusters theme to the max with this fun DIY idea.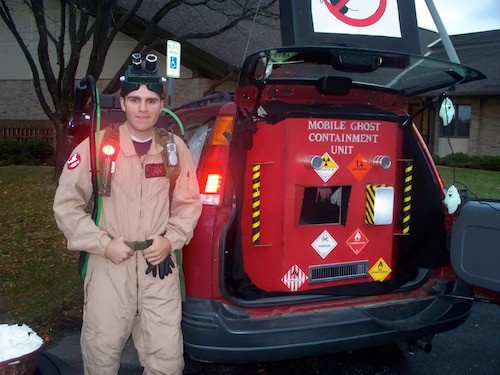 Make an epic Ghostbusters trunk with this Instructables project that includes instructions for the proton pack, sign, and ghost containment unit.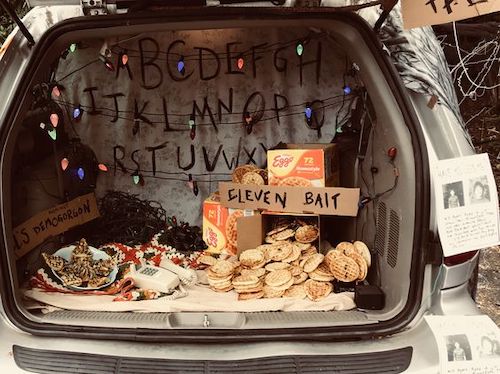 This easy Stranger Things trunk is made with a Goodwill tapestry, some Christmas lights, and cardboard signs.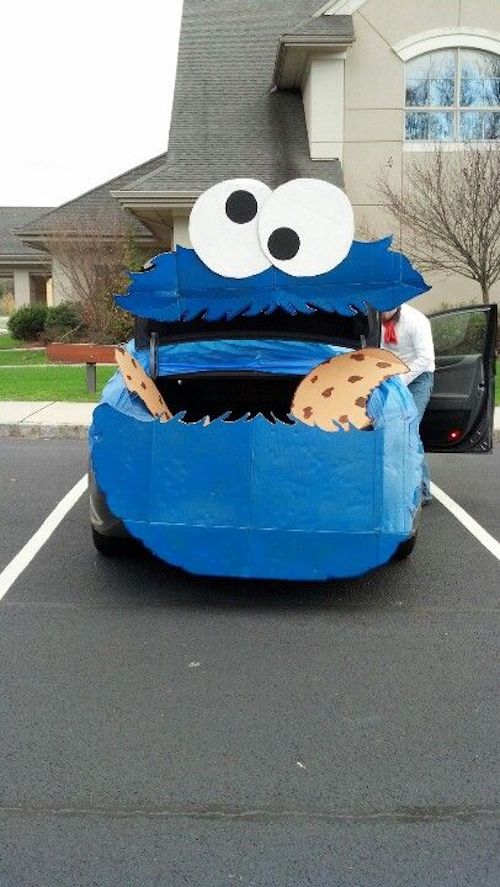 Create a simple and cute cookie monster with some spray-painted blue cardboard. (source unknown)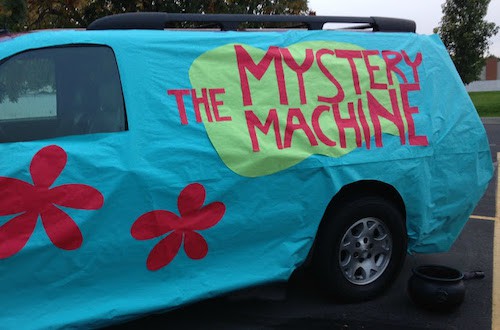 Transform a boring van into the Scooby Doo Mystery Machine. It is made with blue, green, and red paper!
Book Themed Ideas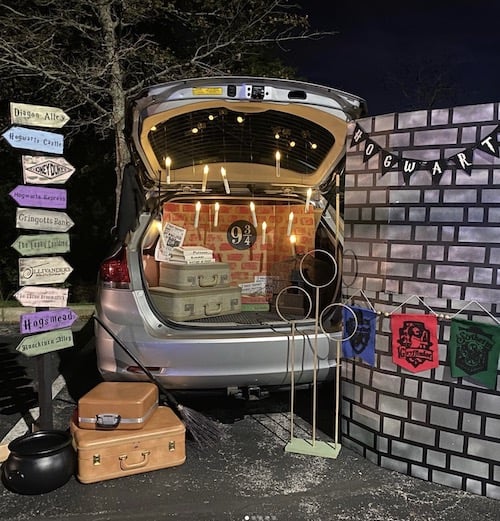 This AMAZING Hogwarts-themed trunk or treat idea has some serious Harry Potter vibes that all the kids and adults will love!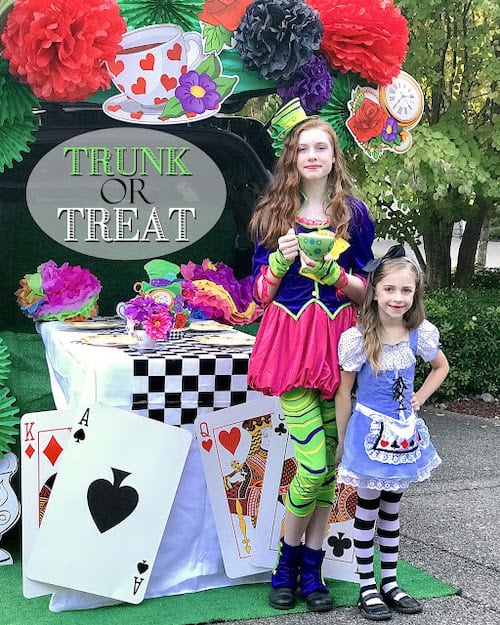 Have a Mad Hatter Tea Party in style with this whimsical and fun Alice in Wonderland theme! It is made with colorful tissue puffs, giant tea party-inspired cutouts, and green tissue fans.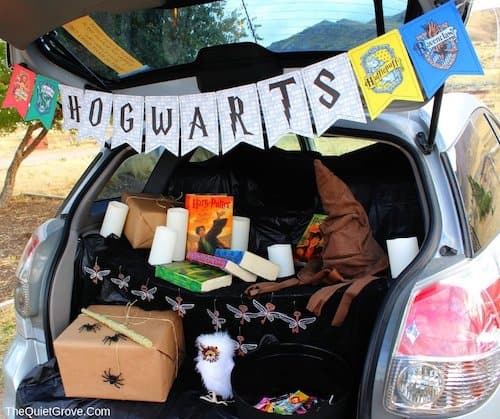 Calling all Harry Potter fans, this Hogwarts theme is for you! It includes a DIY free printable banner and Flying Keys SVG files.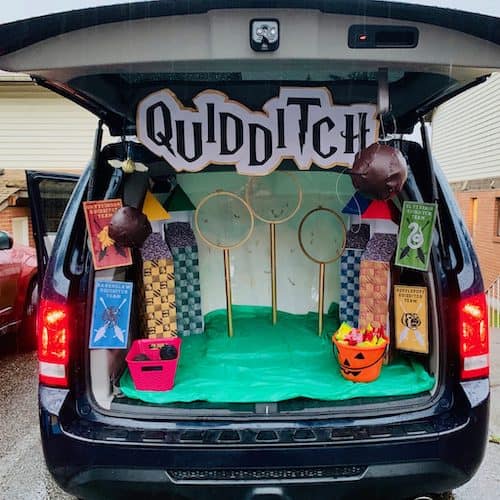 Here is a detailed tutorial on making the DIY viewing stands and quidditch goal posts for this Harry Potter Trunk or Treat idea.
Animal Theme Ideas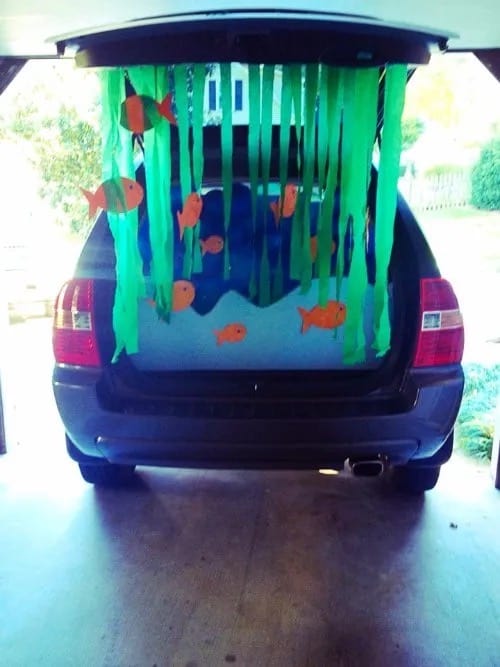 This under-the-sea theme is made with party streamers and poster board fish and waves. (source unknown)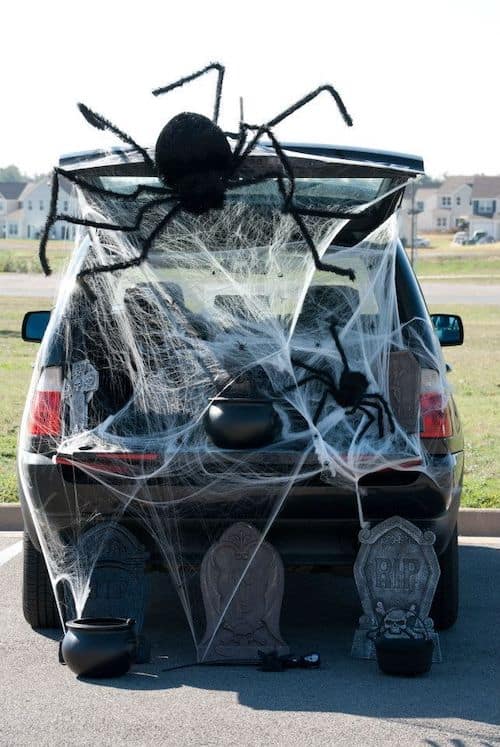 Attach some giant spiders to your car. Then, add some faux spiderwebs and tombstones, and you are good to go! (source unknown)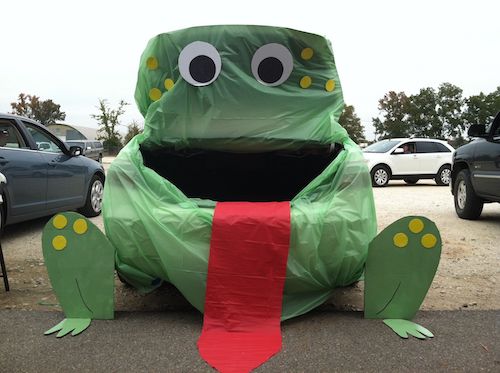 This giant frog is made with a green and red plastic tablecloth and some green and yellow poster board. (source unknown)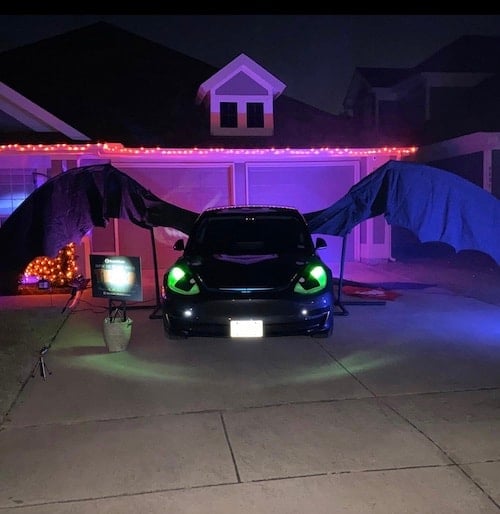 Transform your Telsa into a giant bat with this cool car Halloween costume. Its eyes even glow!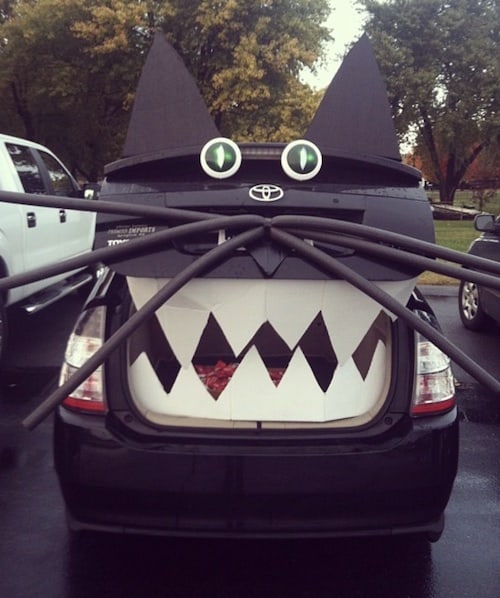 If you have a small black car, you can transform it into a Black Cat pretty easily with just some basic supplies like foam tubes, closet push lights, and black-painted cardboard.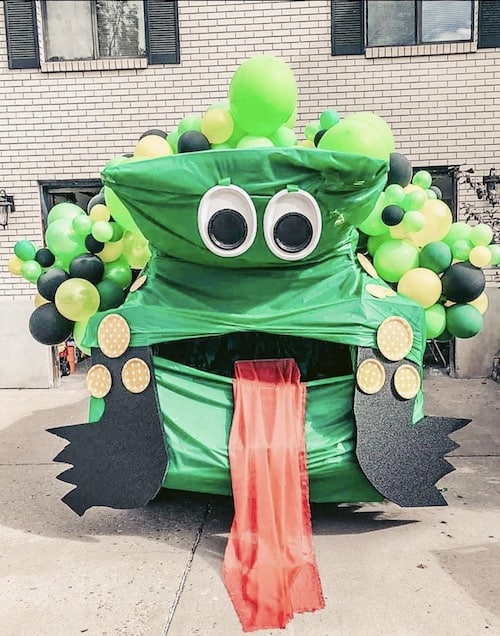 This Trunk-or-Treat is hoppin'. It is made with assorted balloons, a green tablecloth, paper plate eyes, and foam feet.
Food and Drink-Themed Ideas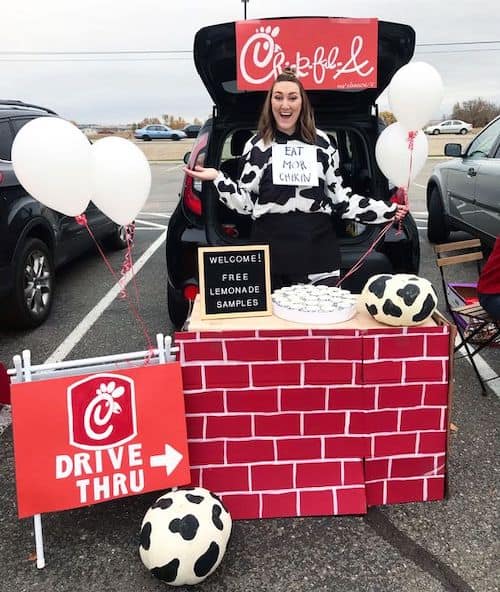 This idea is perfect for those Chick-Fil-A lovers out there. It is made with poster board and cardboard.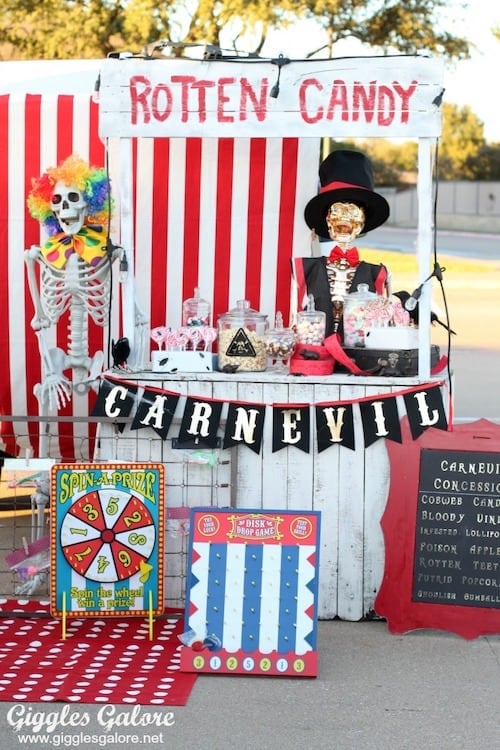 Ladies and gentlemen, step right up to the CarnEVIL Rotten Candy Stand. This one would be an excellent choice for older kids like teens!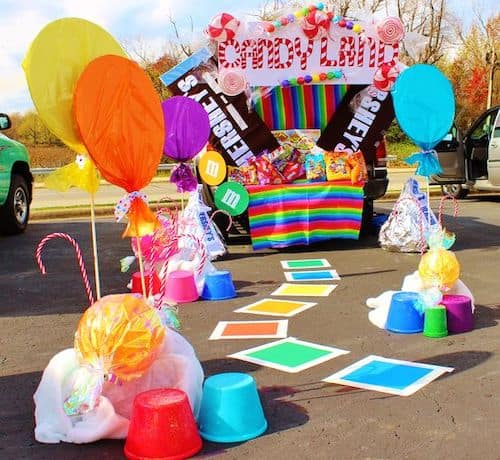 This colorful and spectacular Candy Land will surely attract all the trick-or-treaters and help you win the competition!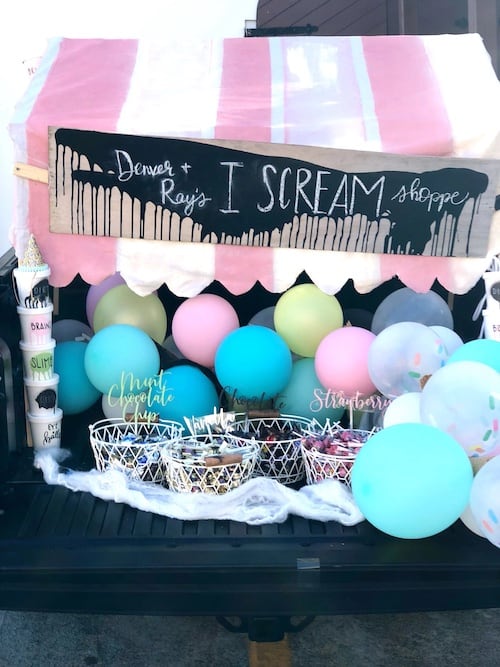 Whimsical and fun describes this I Scream Shoppe perfectly. The faux ice cream flavors like dirt, brains, and slime give it a creepy feel that kids will get a kick out of.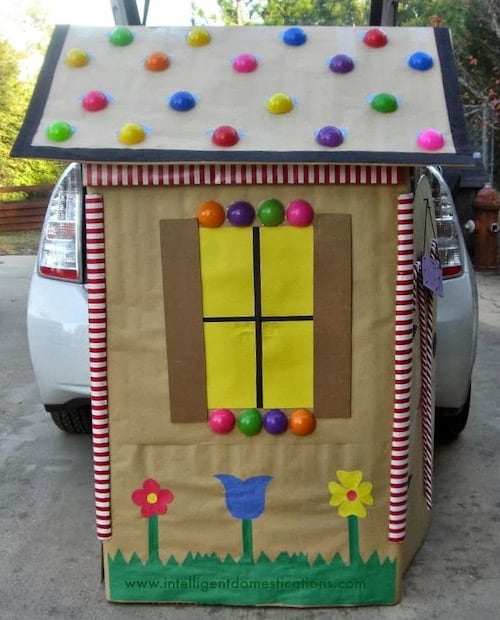 Make your own candy cottage by dressing up a stove box or any other big box!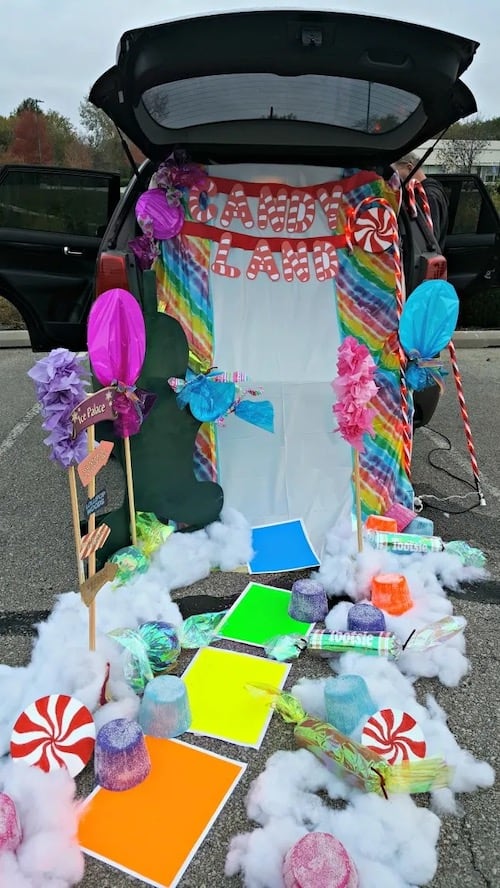 Check out this colorful candy land trunk! The candies are made with cheap dollar store supplies and covered with cellophane, and the gumdrops are plastic buckets covered with salt.
Spooky and Scary Trunk Ideas for Older Kids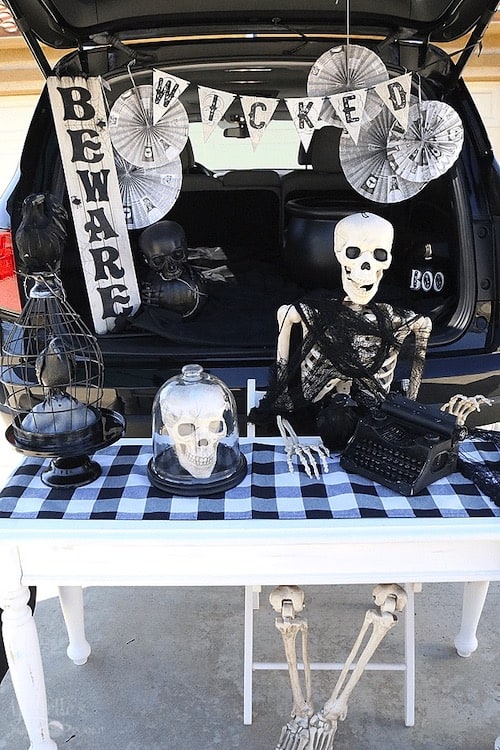 This "Working Dead" theme is a creative trunk or treat idea that is made with party decor, skeletons, crows, and creepy cloth.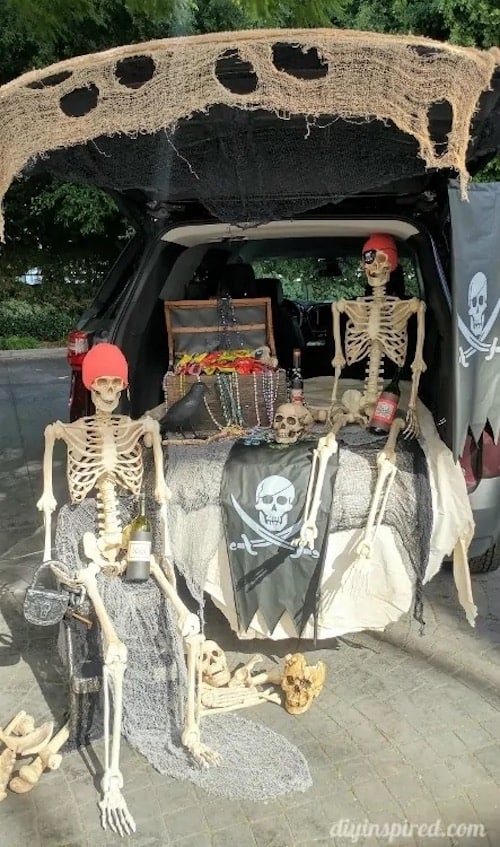 Make this spooky and awesome Pirates of the Caribbean trunk. You only need to add some life-sized skeletons, bones, treasure chests, and gold coins. Be sure it is appropriate for the age group, though!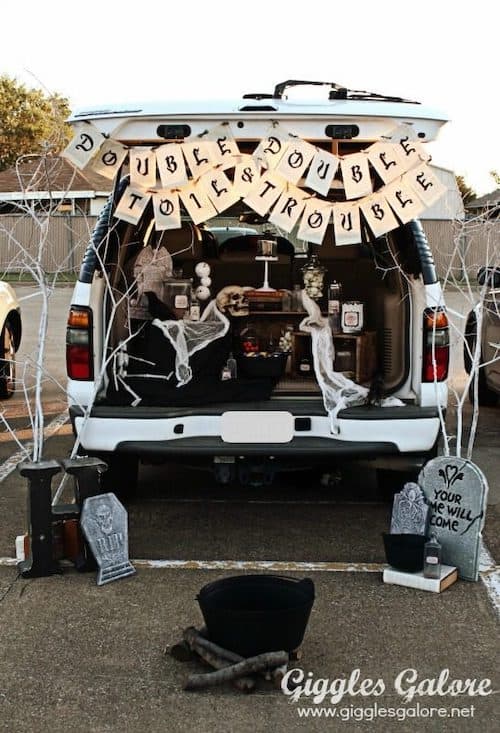 Create a haunted trunk with this Double Double Toil and Trouble setup. This witch theme requires some spooky decorations like creepy cloth, skeletons, old bottles, and jars, tombstones, and a cute homemade banner made from old book pages.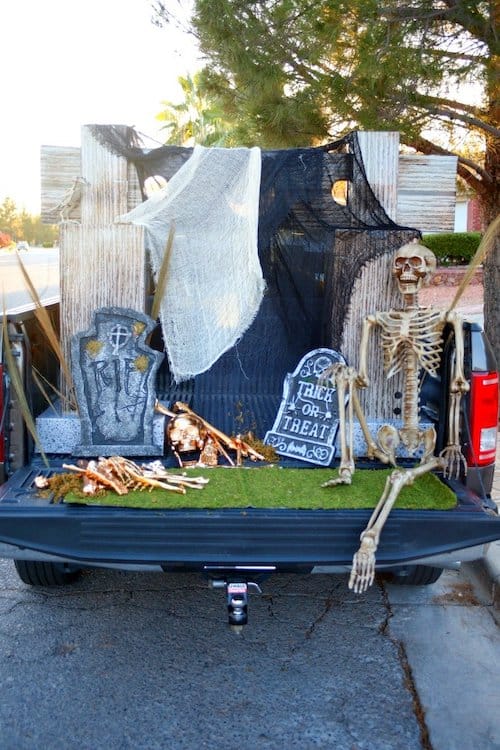 Glam up your spooky decorations with some gold spray-painted bones and skeletons! Then, finish the look with tombstones, faux grass, and creepy cloth in the background.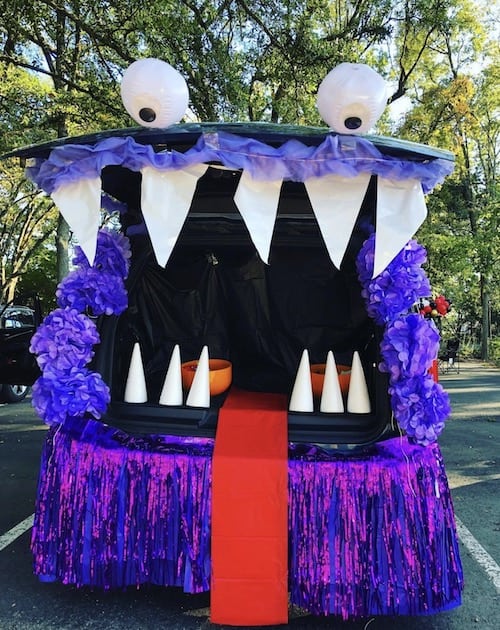 This adorable Purple Monster was made from an easy-to-put-together Oriental Trading Kit!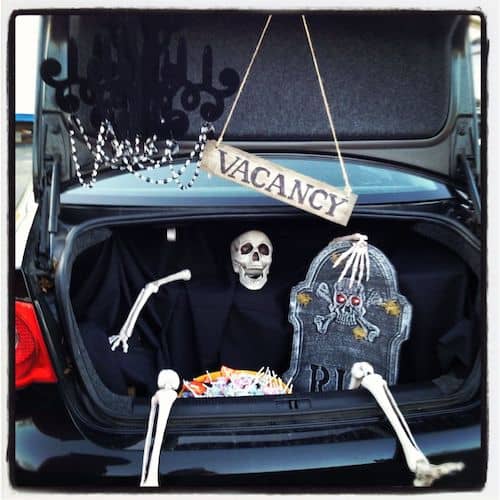 There is a vacancy in this creepy trunk grave! It has skeleton parts, a DIY sign, a tombstone, and a black cloth backdrop. (source unknown)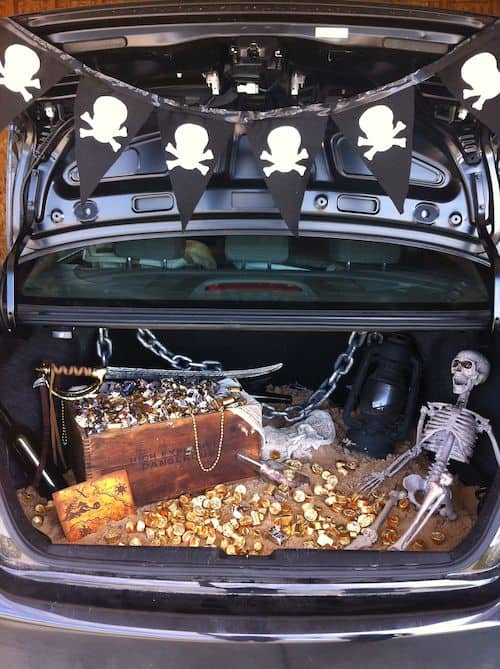 Add some gold coins, a skeleton, a thrift store chest, a banner, and some spooky chains to create this Pirate Treasure Chest. (source unknown)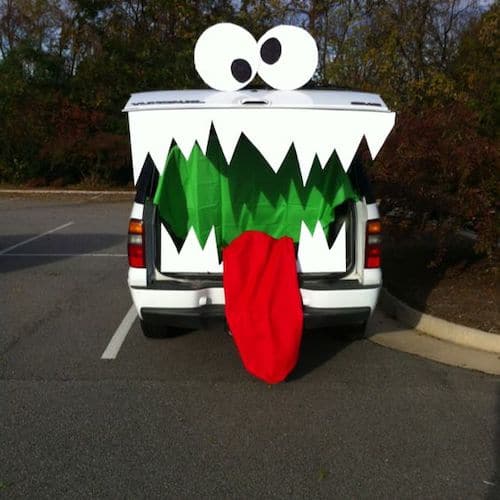 Make this cute trunk monster with some poster board, a green backdrop, and a fabric tongue.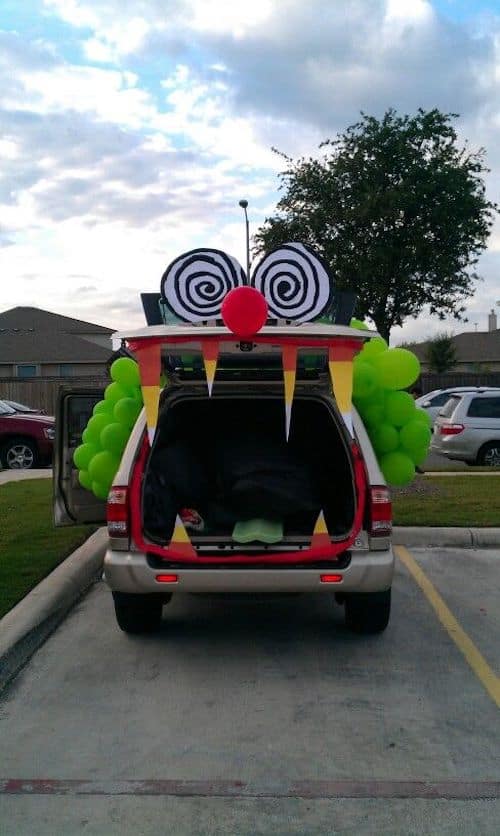 Create a creepy clown with some cardboard, paint, and markers. Then, cluster together some green balloons for the hair. (source unknown)
Kid-Friendly and Christian Trunk or Treat Ideas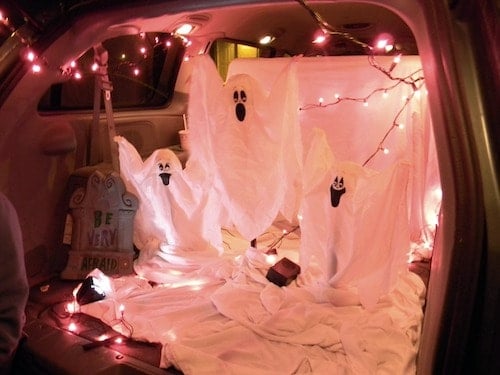 Whip up this one with some dollar store ghosts, string lights, and white sheets as a backdrop. It's a super cheap and easy idea!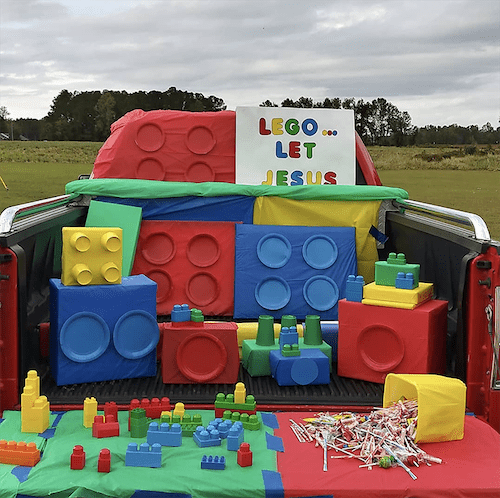 This Christian-themed Lego truck is made with cardboard boxes covered with colored plastic tablecloths and various-sized paper plates.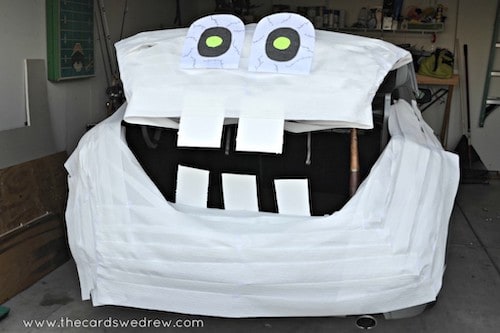 This DIY Mummy is made with toilet paper and tape and comes together quickly!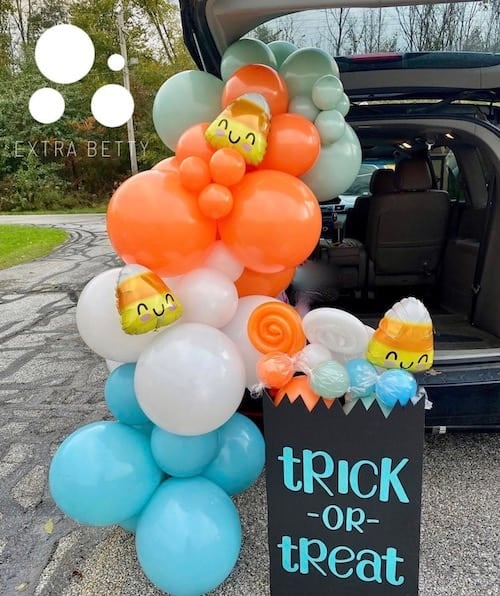 Style some balloons in fun colors and make a trick-or-treat bag out of a foam board!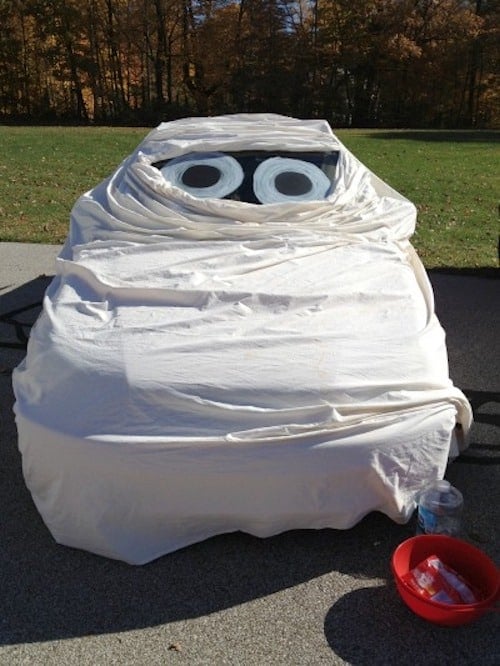 If you are looking for a last-minute project, this is it! You only need a sheet and some wash-off markers to make this mummy. (source unknown)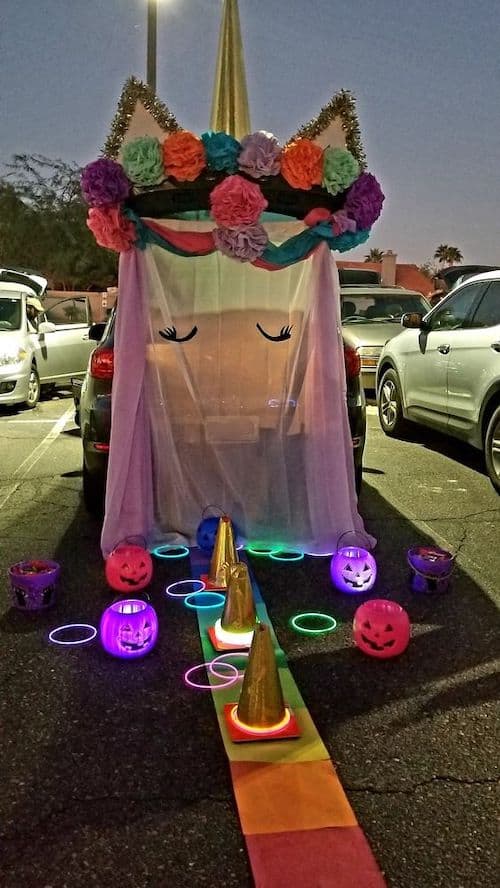 Make this adorable unicorn with some dollar store pom poms, garland, gold-painted poster board, and a sheer white sheet.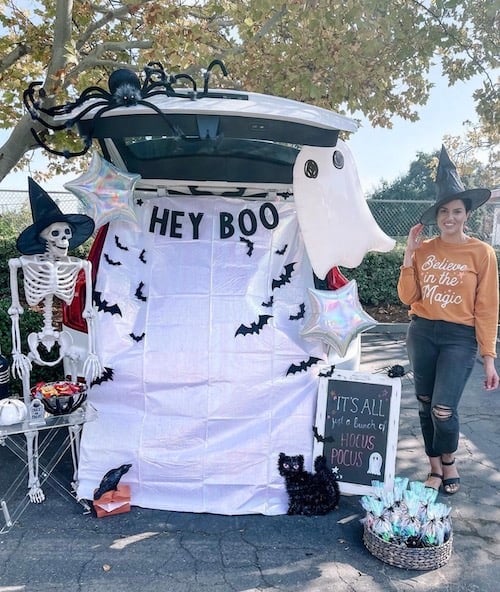 Trunk or treat yourself with this easy ghost-themed one. Add a white table cover and a few bats, and you have an instant photo booth and treat station.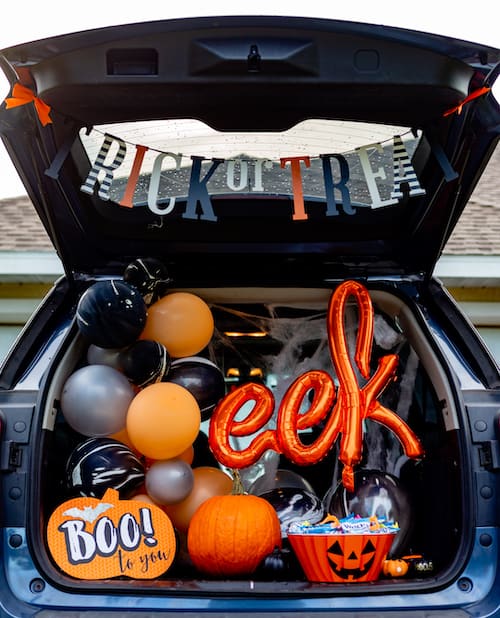 To make your decorations stand out, bigger is better. This one is a great way to add a lot of style without exceeding your budget by using a cheap banner, balloons, and faux spiderwebs.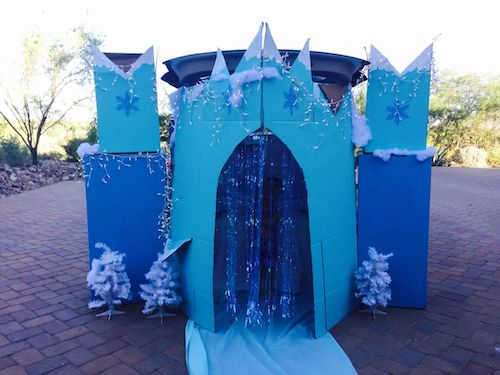 Transform some cardboard into a magic princess castle. Add some blue foil streamers, mini trees, icicle lights, and cotton balls as faux snow to complete the look. (source unknown)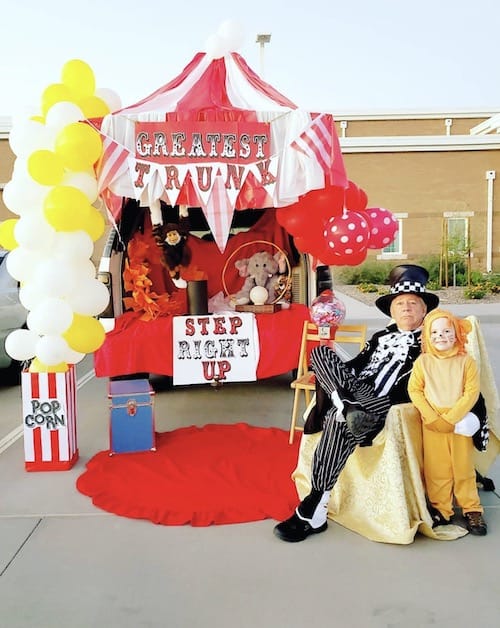 Step right up to the greatest trunk circus! The tent is made with red and white dollar store tablecloths!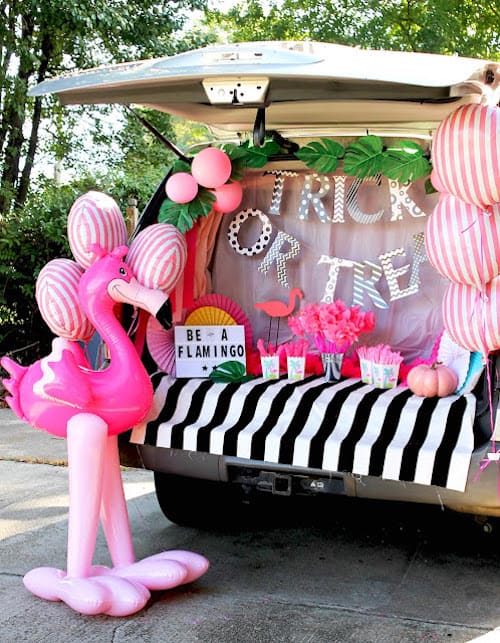 Decorate your trunk with these fun and tropical flamingo-themed decor ideas! It is made with a black and white banner and table cloth with some pops of color like paper rosettes, tropical leaf garland, pink feather boa, blow-up flamingo, and striped balloons.
Comics, Video Games, and Other Trunk or Treat Ideas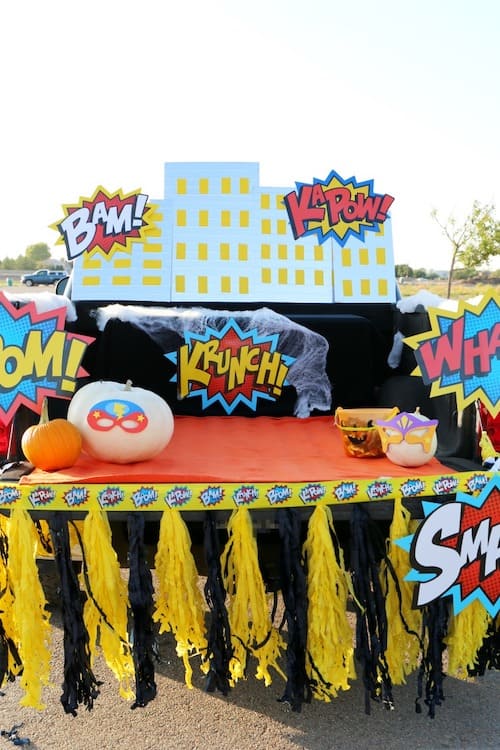 This superhero idea only takes 10 minutes to put together and looks spectacular. It's a great choice for an easy last-minute project. It includes instructions for a DIY Skyline too!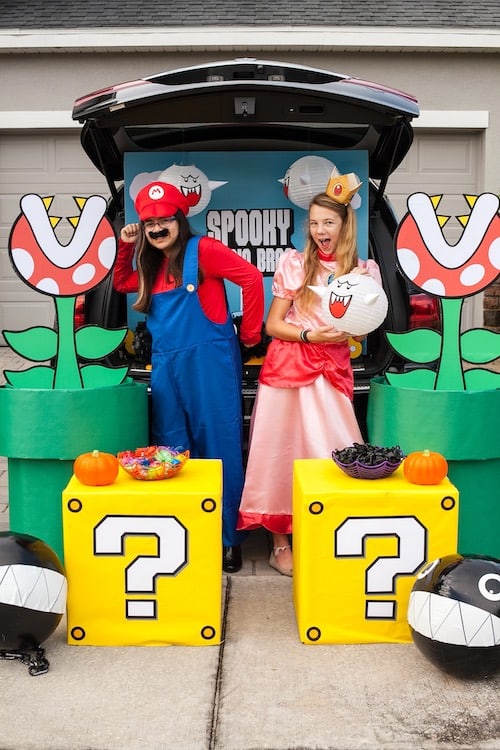 For all those video game enthusiasts, this impressive Mario Brothers trunk is a perfect choice! It is made with inexpensive items like cardboard boxes, spray-painted beach balls, and printables!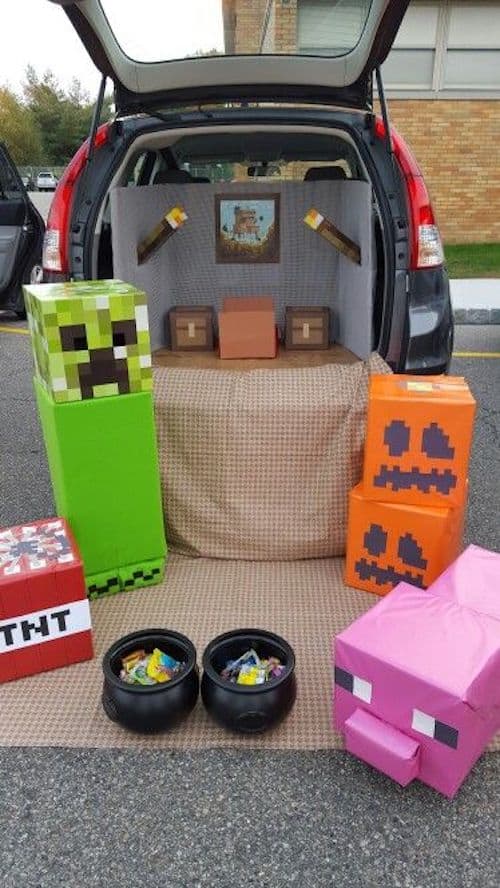 If you have extra boxes, this Minecraft trunk will be easy to make. All you need to do is add colored paper and print some faces. (source unknown)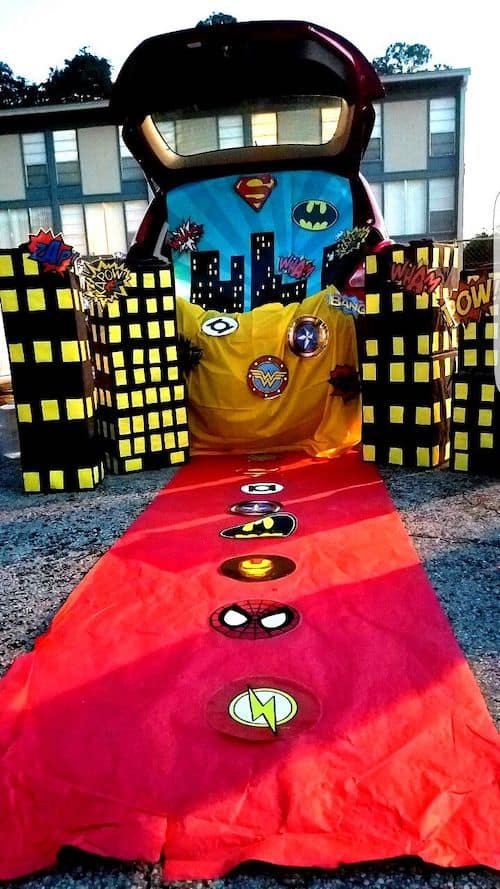 This Superhero one is quite elaborate! The city is made with science fair boards, and the large symbols are printouts. You are sure to win the Trunk or Treat contest with this one! (source unknown)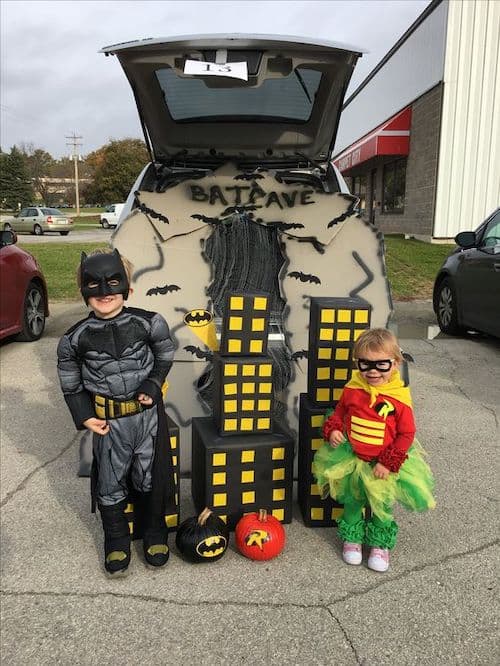 Everyone is sure to love this Batman and Robin bat cave theme. Painted cardboard and boxes are used to make it!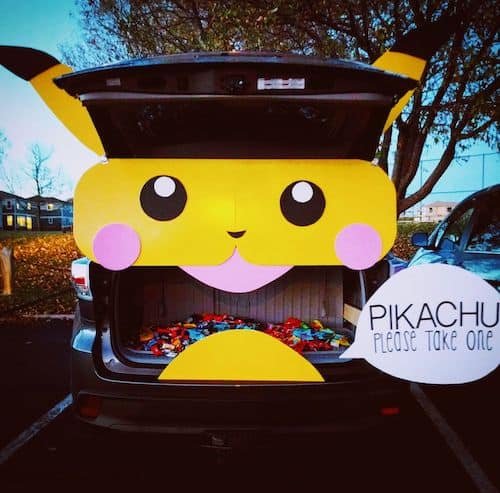 If you are a Pokemon fan, you can easily create a giant Pikachu with some poster board! (source unknown)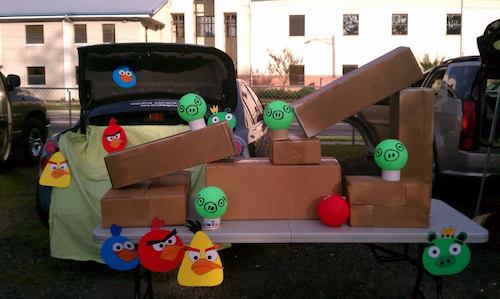 Trunk or Treat Angry Birds Edition! The small "kick balls" for all of the green pigs. The birds are made out of out of poster board. The "wooden" pieces are all spray-painted boxes.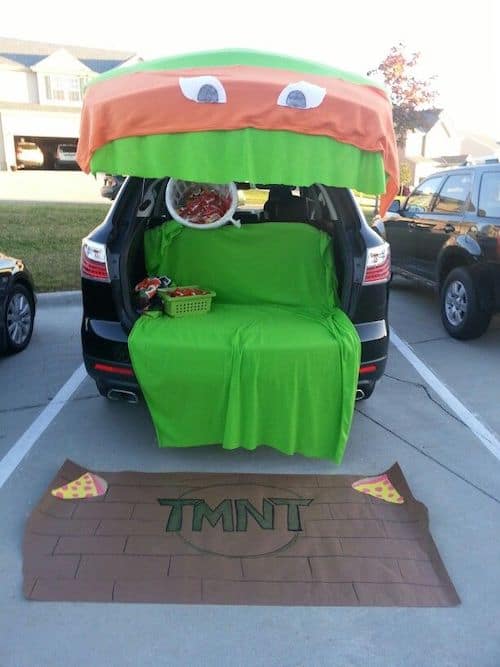 The turtle is constructed with green and orange fabric, and the TMNT mat is decorated kraft paper. (source unknown)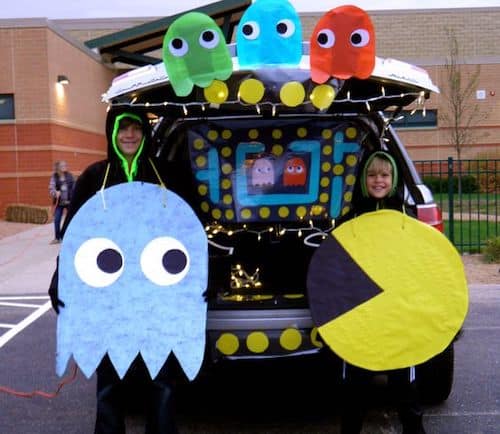 This Pac-Man game theme will be a huge success. Add some Pac-Man music to your speakers for an extra nice touch!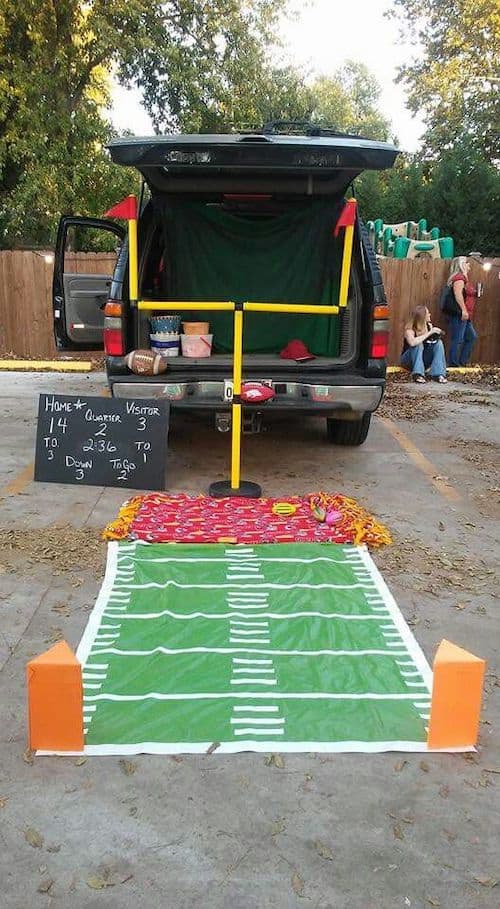 Football fans will love creating this one. The football field is a plastic tablecloth, and the goalpost is made with some pipes and joints!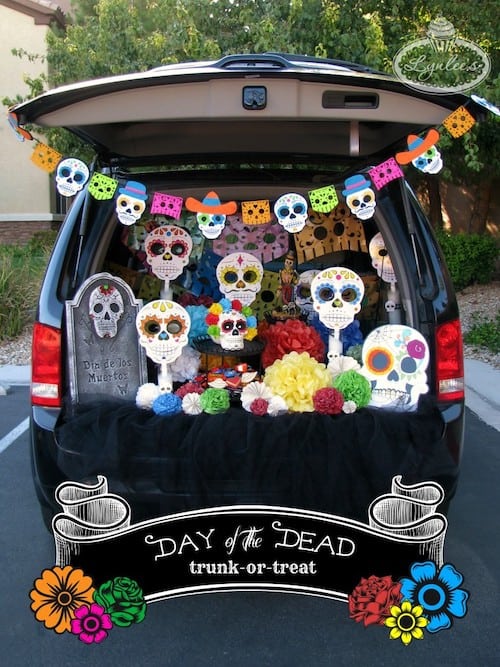 This trunk or treat idea is a perfect choice for those who celebrate the Day of the Dead! It is made with a kit from Oriental Trading Company but can easily be DIYed with dollar tree supplies.
FAQs
What makes a good trunk or treat?
A successful trunk or treat event combines creativity and community engagement.
Creative Themes and Decorations: The trunk of your car becomes your canvas. The best trunk or treats feature unique themes, vibrant decorations, and maybe even interactive elements for kids. Think of popular movies, books, or even pun-intended ideas!
Community Involvement: Encourage a large group of participants to join in on the festivities. Whether it's a neighborhood families, churches, local businesses, or community groups, the more decorated trunks, the merrier! It also helps if there's a panel of judges to select the best-decorated trunk and have prizes for the winner(s) like halloween themed gift baskets.
What do I do at a trunk or treat?
If you're attending a trunk or treat, the experience is quite similar to traditional trick-or-treating, but in a smaller area.
Arrive in Costume: Just like regular trick-or-treating, kids (and even adults!) are encouraged to come dressed in their favorite costumes.
Visit Decorated Trunks: Walk from car to car, admiring the decorations and themes.
Collect Treats: As you visit each car, you'll be given Halloween treats to place in your bag or bucket.
Participate in Activities: Some trunk or treat events will have additional activities, like face painting, games, or even a costume contest. Enjoy all the Halloween festivities!
More Halloween Decorating Ideas
Follow me on Pinterest, Facebook, or Instagram for more inspiration on crafts, DIY, free printables, and recipes!