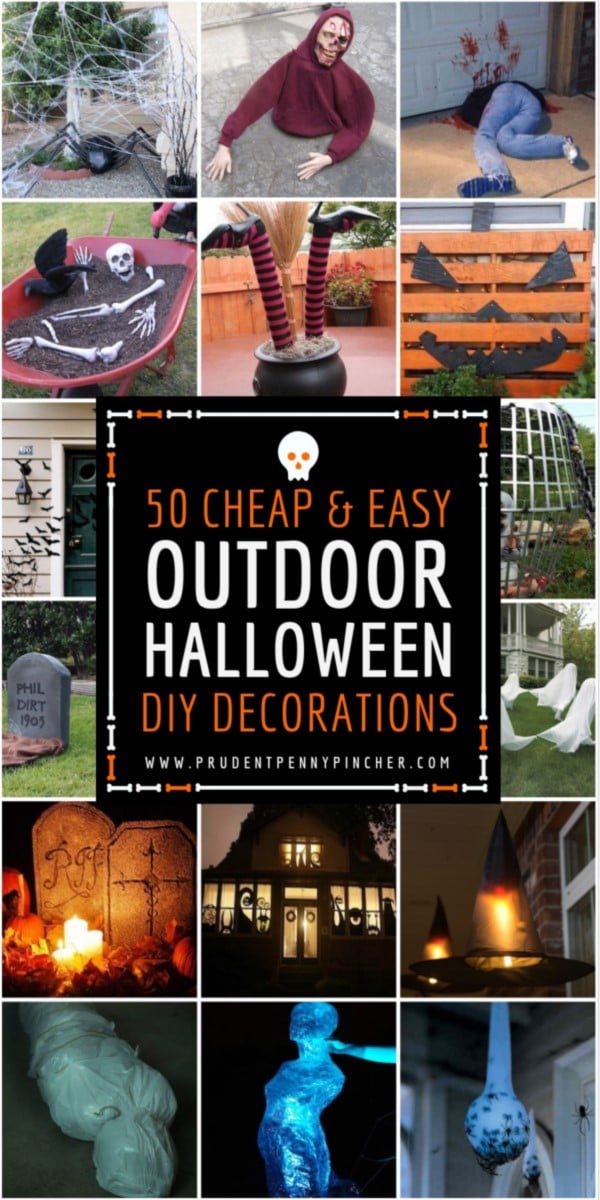 Save some money by making your own outdoor Halloween decorations this year. I've rounded up the best Halloween DIY decor ideas that are cheap and easy to make so that you can give your home a spooktacular makeover without breaking the bank.
Skeleton, Body, and Graveyard Outdoor Halloween Decor Ideas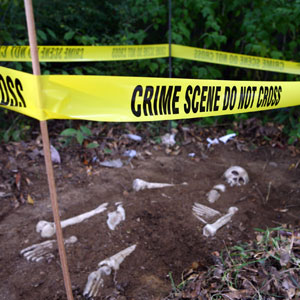 Crime Scene
crime scene tape (Dollar Tree) + thin wooden yard stakes + bag of bones (Dollar Tree) + skull (Dollar Tree)
Tip: You can "age" the bones with gray and black acrylic paint by applying streaks and lightly wiping it off.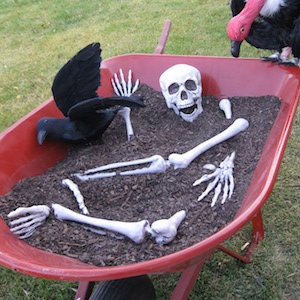 Skeleton in Wheelbarrow
wheelbarrow + dirt + skeleton head + bag of bones + fake bird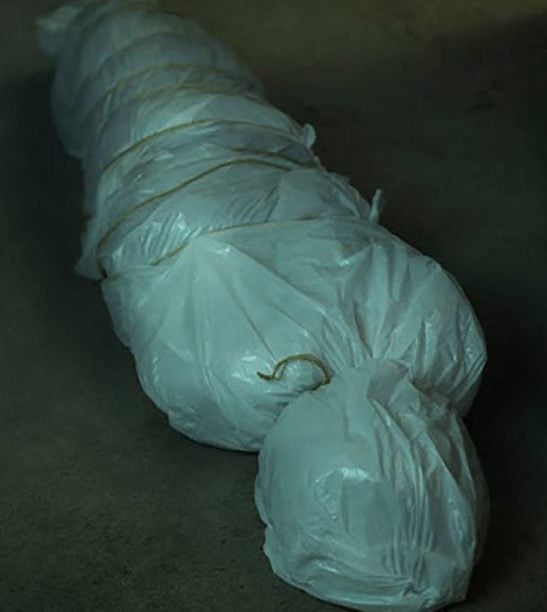 Body Bag
cheap white trash bags (Dollar Tree) + rope or twine (Dollar Tree)
Create an outline of a body with trash and wrap it up in the trash bag and rope.
(Ex: use a milk jug for the head)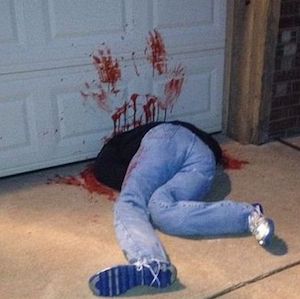 Garage Door Victim
shirt + pants + shoes + straw, plastic bag or newspaper filling + blood
You can get the clothes at the thrift store for cheap if you don't have any extra clothes around the house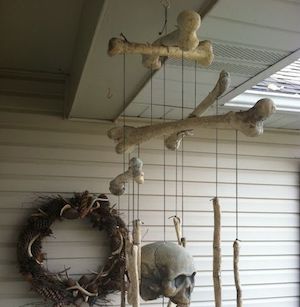 Bone Mobile
bag of plastic bones + plastic skull + fishing line + hook + black acrylic paint (to age the bones)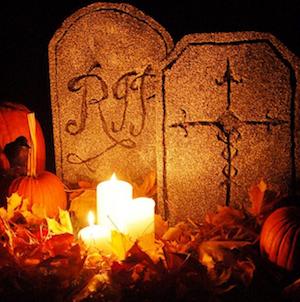 Foam Halloween Tombstones
floral Styrofoam sheet +  knife + marker + black spray paint + dark gray and white acrylic paint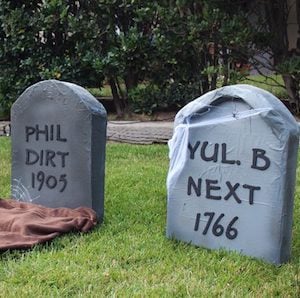 Cardboard Tombstones
cardboard boxes + sand + stencils + newspaper + decoupage glue + spray paint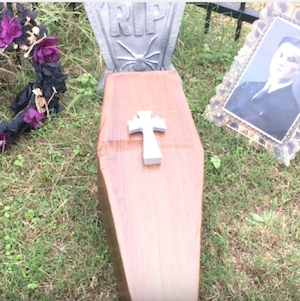 DIY Dollar Store Cardboard Coffin
cardboard boxes + wood contact paper + spray paint + $1 cross
---
Zombie Outdoor Halloween Decor Ideas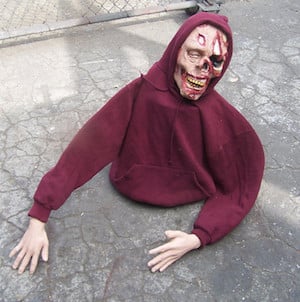 Halloween Zombies with Buckets
bucket + wire + duct tape +  PVC pipe + hooded sweatshirt  + 2 fake hands + 1 fake head + drill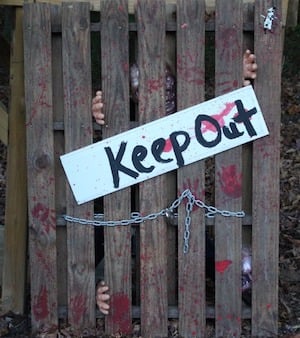 Zombie Pallet Gate
pallet + skeleton or zombie + blood + chain + sign
You can get the pallet for free on Craigslist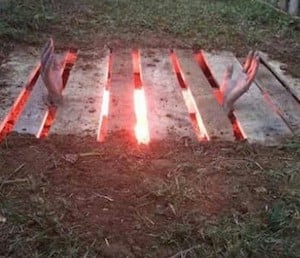 Pallet Trapped Door
pallet + red light + 2 fake hands + shovel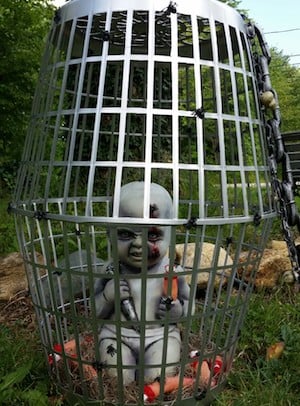 Zombie Cage
laundry baskets + zombie + floral moss + bag of fingers + tape + spiders
You can get the laundry basket, moss, fingers and spiders at Dollar Tree
---
Spiders, Cats & Bats Outdoor Halloween Decor Ideas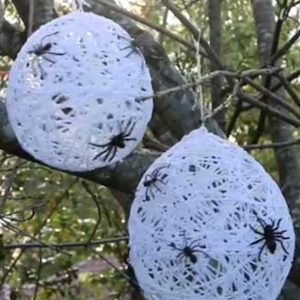 Dangling Spider Webs
yarn (white) + glue + balloon + plastic spiders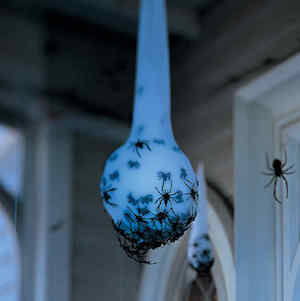 Spider Egg Sac
foam egg + white batting + white stocking + plastic spiders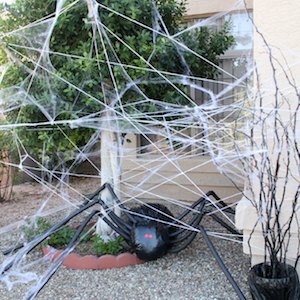 Giant Spiders in Web
clothesline + pipe insulation + pvc elbow joints + 2 mini red reflectors  + black tape + black spray paint + black trash bags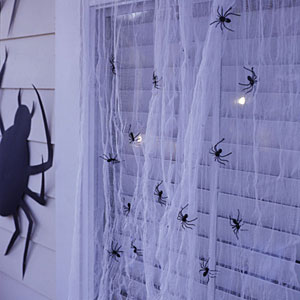 Eerie Cobwebs
cheesecloth +  plastic spiders+double-sided tape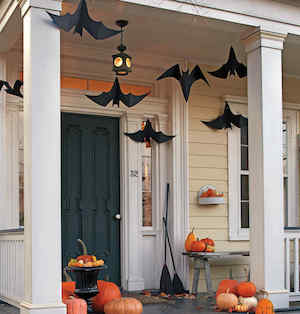 Hanging Bats
bat template + black paper + bone folder + painters' tape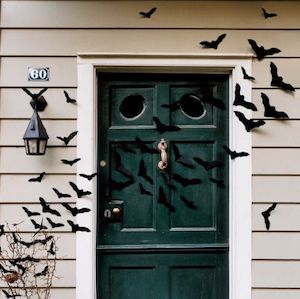 Bat-Filled Front Door
black felt + bat template + tape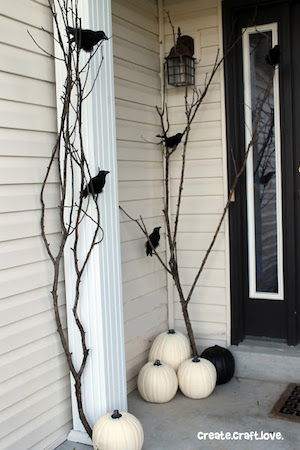 Raven Porch
branches + mini crows or ravens + pumpkins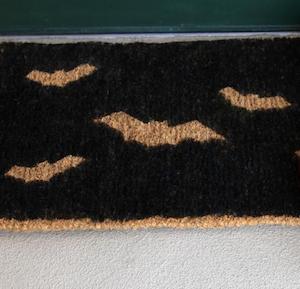 Stenciled Bat Doormat 
one plain doormat + black textile paint + painter's tape + a marker or pencil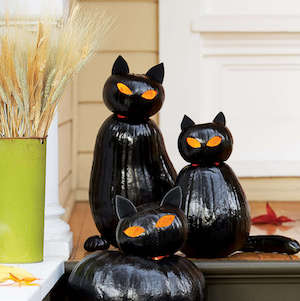 Black Cat Pumpkins
small and large pumpkin + mini pumpkin + cucumber, black felt + battery operated tea light candles + black spray paint
Monsters & Spooky Eyes Outdoor Halloween Decor Ideas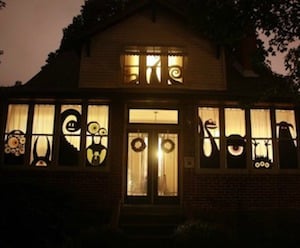 Halloween Monster Silhouette 
contact paper + tissue paper + modge podge + cardboard + black paint + duct tape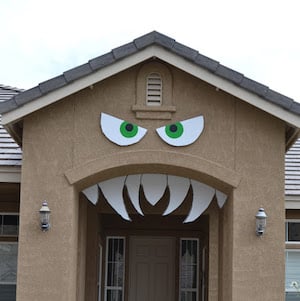 House Monster
foam board + white paint. + acrylic paint + screws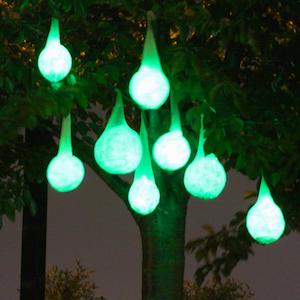 Glowing Halloween Light Pods
small balloons + coffee filters + white glue + glow sticks + string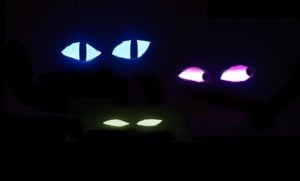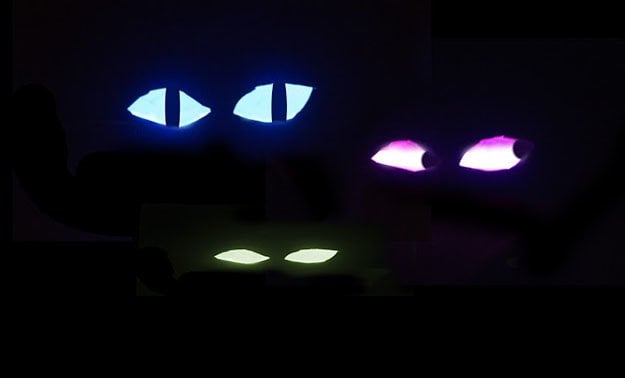 Spooky Eyes
Paper towel or toilet paper rolls + glow sticks (Dollar Tree)
Cut paper towel roll in half. Cut out eye designs and put glow sticks inside.
Place in bushes for a scary effect!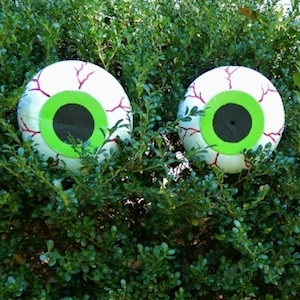 Spooky Bush Eyes
$1 pumpkin pails + white spray paint + black & red acrylic paint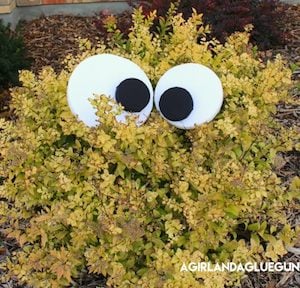 Yard Monster
foam discs + glue gun + white and black knit fabric
---
Ghost Outdoor Halloween Decor Ideas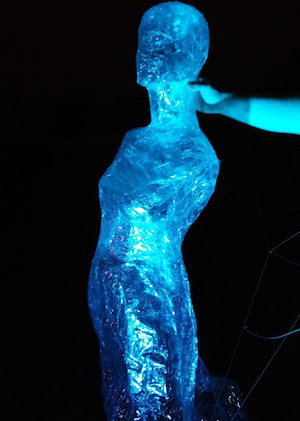 Easy Packing Tape Ghost
plastic dress forms + styrofoam head + clear plastic packing tape + plastic wrap  + black light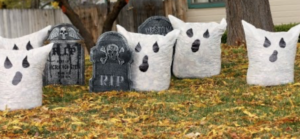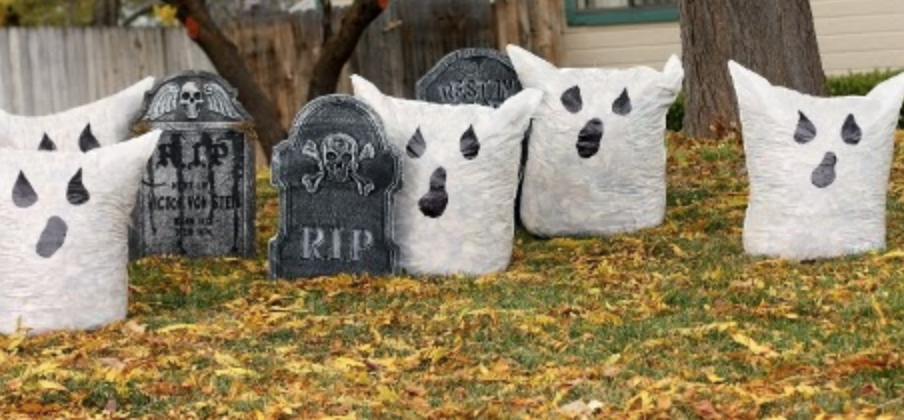 Ghost Leaf Bags
white trash bag + black permanent marker
Both items you can get at Dollar Tree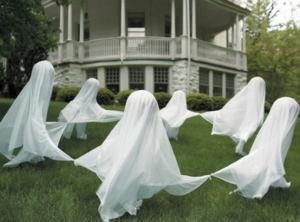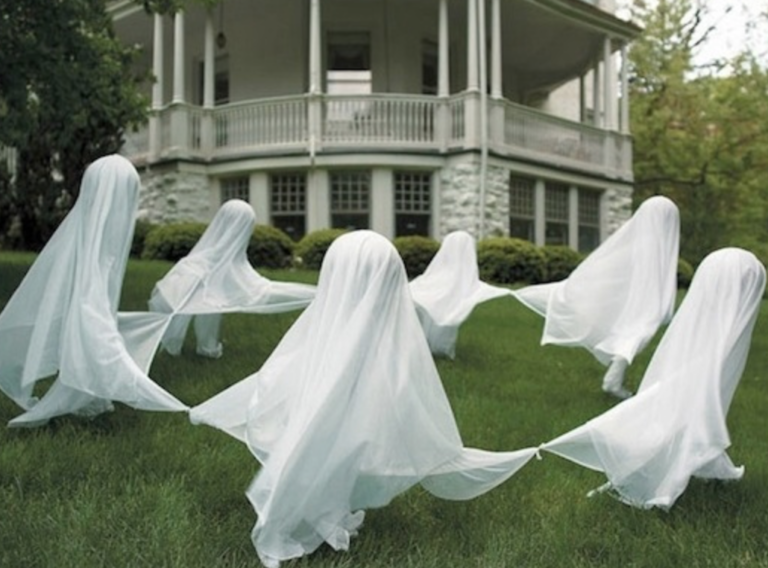 Yard Ghosts
styrofoam balls (Dollar Tree) + lawn stakes ($4 for 12 at Home Depot) + lightweight white fabric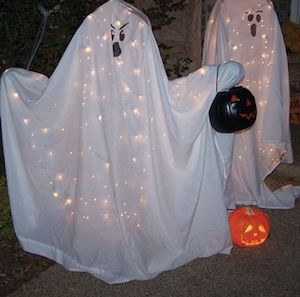 Tomato Cage Ghost
tomato cage + tape + net lights + old sheet or curtain + black marker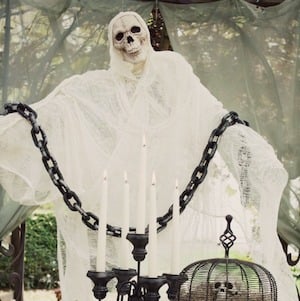 DIY Chicken Wire Cheesecloth Ghost
cheesecloth + chicken wire + spray adhesive + wire + $1 skull + cup hook + fishing line + S-hook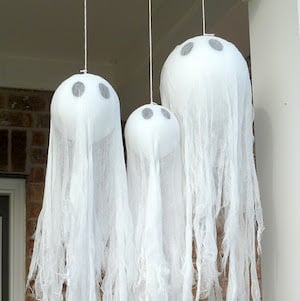 Pottery Barn Inspired Hanging Ghosts
styrofoam balls + black craft paint + cheese cloth + eye screws + E6000 Glue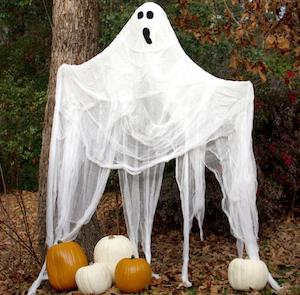 Levitating Ghost
cheesecloth + foam balls + yardsticks + hammer & nails + liquid starch + black felt + glue + needle + paint pole
You could use white creepy cloth instead of cheese cloth. You can get it at Dollar Tree along with the foam balls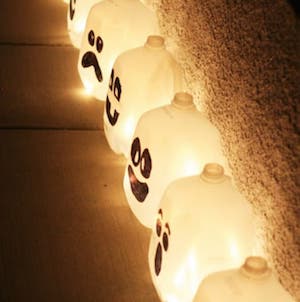 Ghost Jugs
empty milk jugs + black permanent marker (Dollar Tree) + craft knife + string clear lights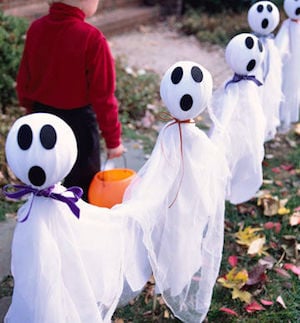 Friendly Ghosts
white foam ball (Dollar Tree) + Black Felt or Foam (Dollar Tree) + Wood Dowel (Walmart – $1.50) + Ribbon (Dollar Tree)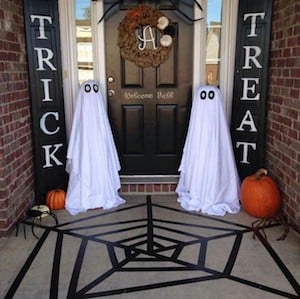 Ghost Front Porch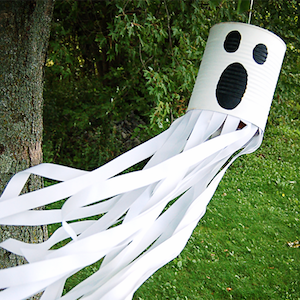 DIY Tin Can Ghost Windsock
tin can + white spray paint + black paint + white ribbon + twine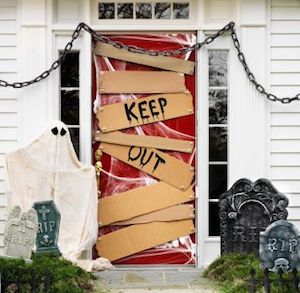 Keep Out Door
spider webs + cardboard + black craft paint + double sided tape
---
Pumpkins & Witches Outdoor Halloween Decor Ideas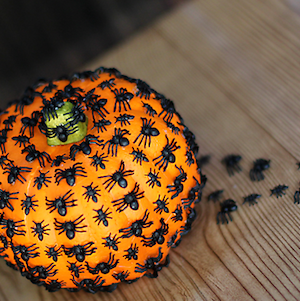 Creepy Crawly Pumpkin 
2 packs of mini creatures + foam pumpkin
Both items can be found at Dollar Tree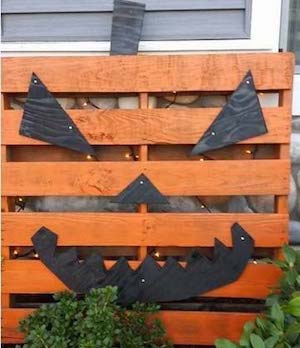 Pumpkin Pallet
pallet + orange paint + scrap plywood + black spray paint + saw + nails
You could also use something other than plywood for the pumpkin facial features if you don't have a saw.
Also, you can get the pallet free on Craigslist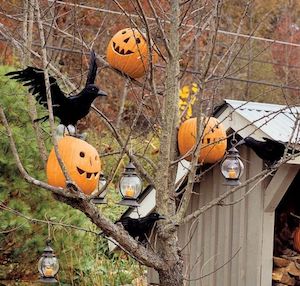 Decorated Tree Branches
$1 jack-o'-lanterns +  faux black crows +  mini LED lanterns or you could put Dollar Tree battery operated tea-light  candles in the pumpkins for lighting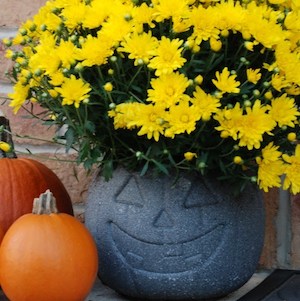 Concrete Pumpkin Planter 
$1 pumpkin pail + spray primer + stone-look spray paint + clear sealer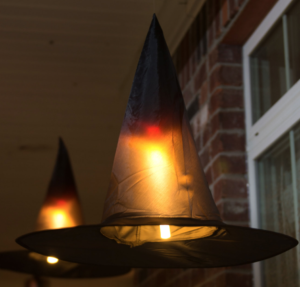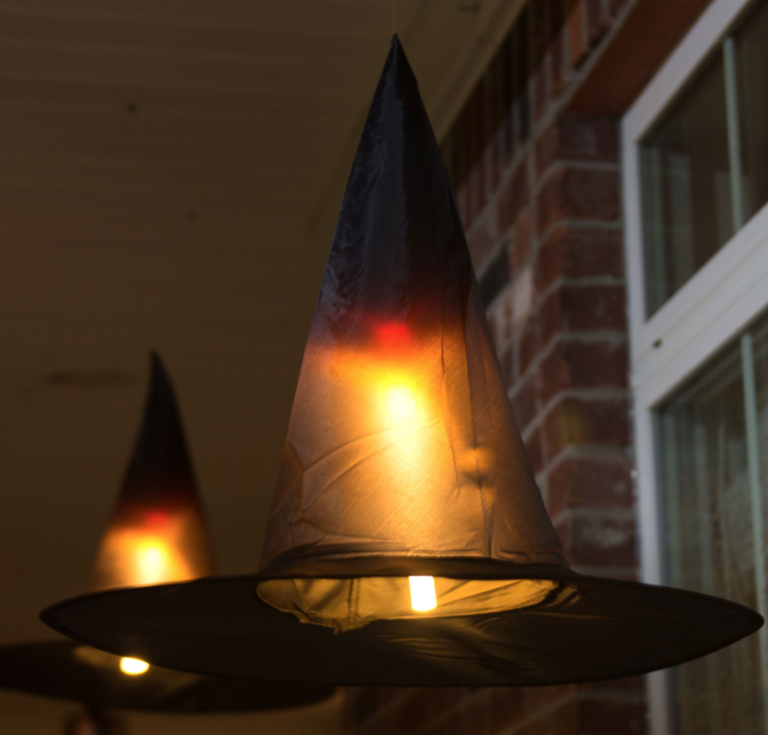 Floating Witch Hats
witch hat (Dollar Tree) + glow stick (Dollar Tree) + safety pins (Dollar Tree) + fishing line + hooks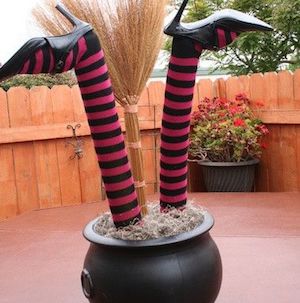 DIY Witch Legs
pool noodle (Dollar Tree) +  stockings (Dollar Tree) + large black heels (thrift store)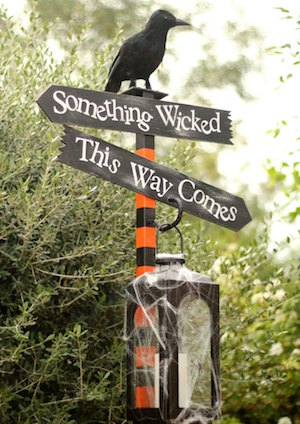 DIY Halloween Spooky Lantern Sign Post
wooden post + wood boards + orange & black duct tape + spray paint + vinyl letters + wood boards + nails +  LED candle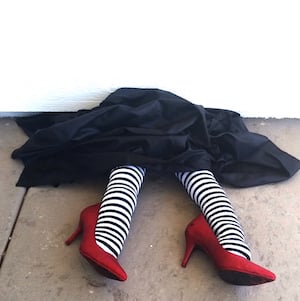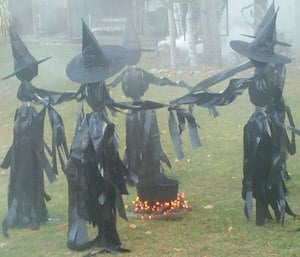 Trash Bag Witches
black trash bags + foam shapes + long garden stake + witch hat + black ribbon
You can do the same thing with white trash bags to make ghosts
---
Other Outdoor Halloween Decor Ideas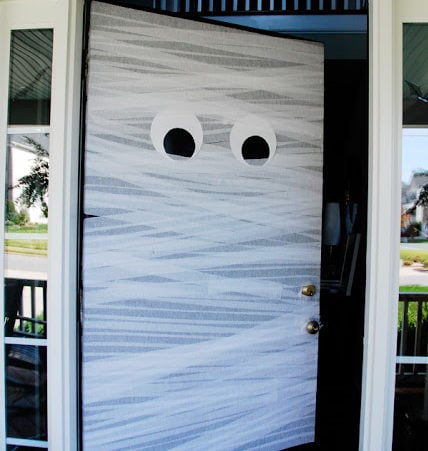 Mummy Door
white streamers (Dollar Tree – 2pk) + black construction paper (Walmart -$0.75) + printer paper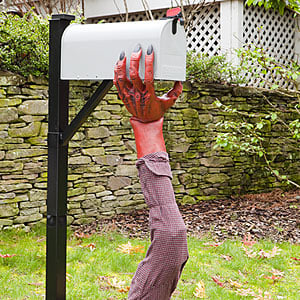 Halloween Mailbox Monster
shoelaces + pipe insulation  + duct tape + shirt + monster glove + wooden dowel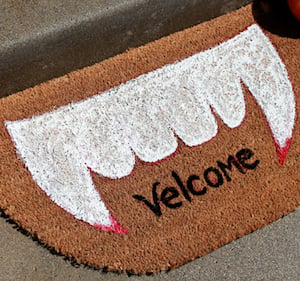 Spooky Welcome Mat
basic doormat + craft knife + cutting mat + sharpie + acrylic paint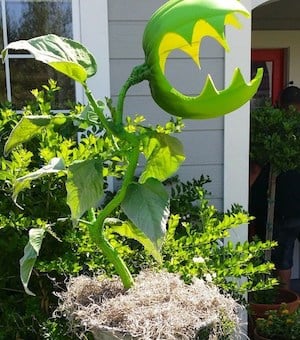 Man Eating Plant
tree branch + flower pot  + spray foam insulation + fake pumpkin + green spray paint + fake leaves + moss
Related Posts


100 Cheap & Easy Halloween Decor DIY Ideas


75 Best Halloween Wreaths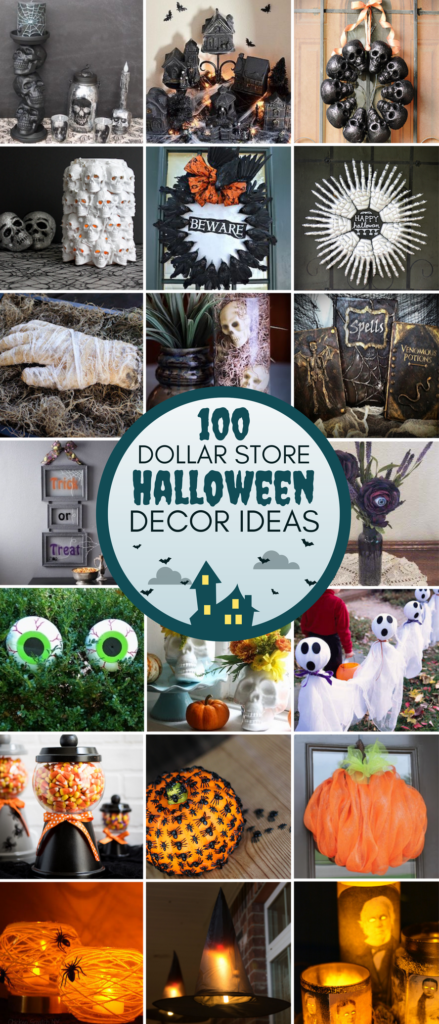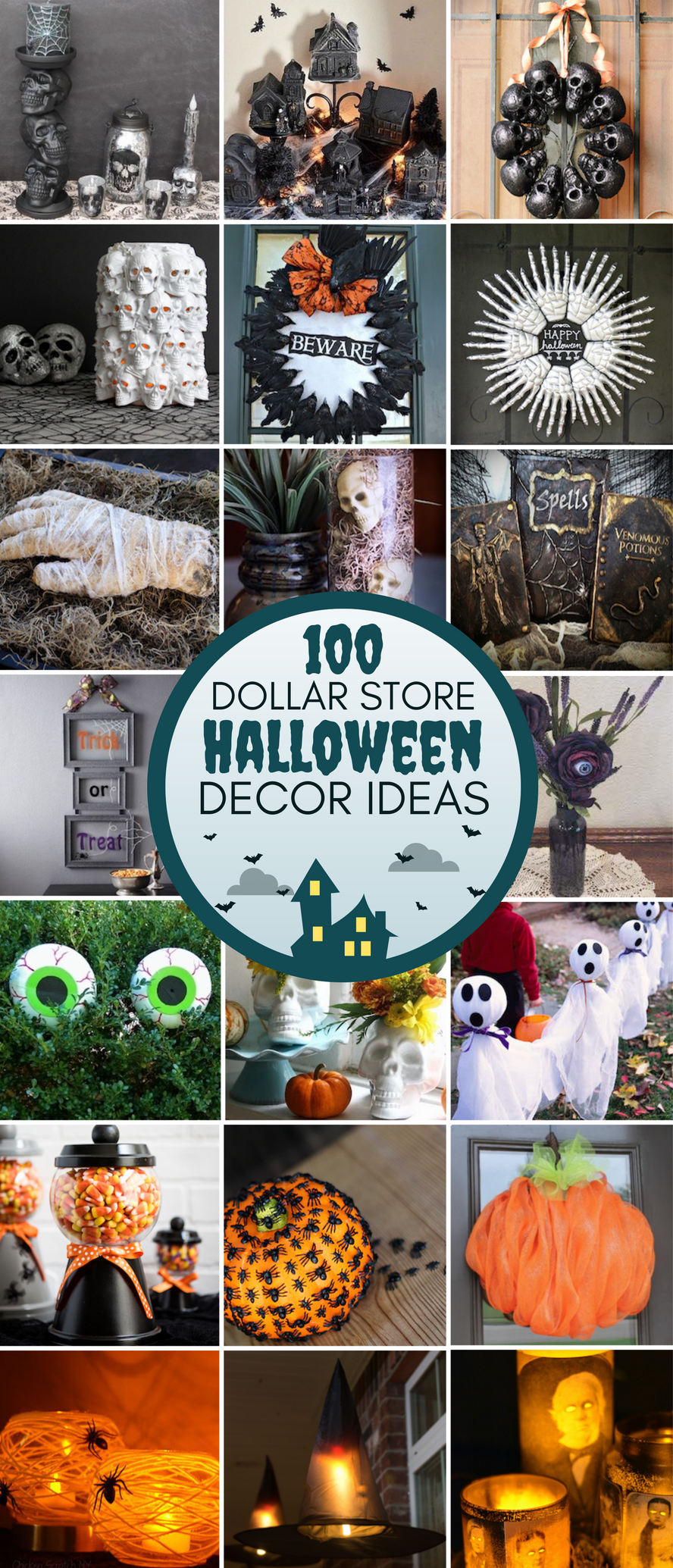 100 Dollar Store Halloween Decor Ideas