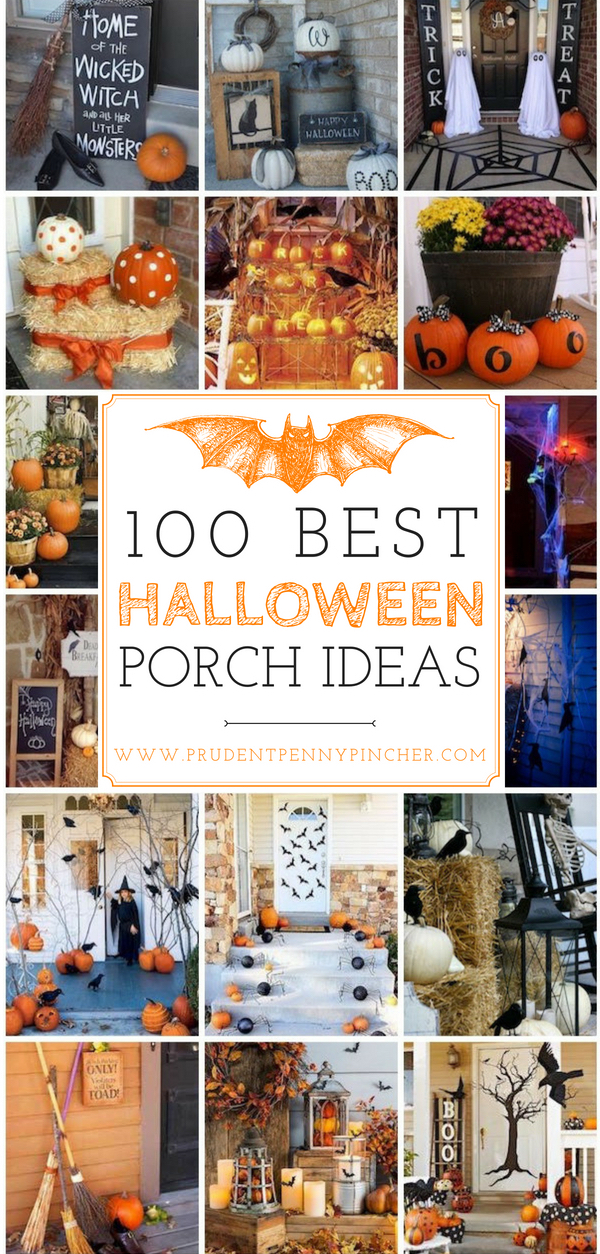 Dress up your porch for Halloween with these creative and spooktacular Halloween porch decor ideas, which include ghosts, spiders, crows, skeletons, witches and much more! There are over a hundred ideas to give you inspiration. These eerie and cute Halloween porch decorations will definitely impress your neighbors and trick-or-treaters.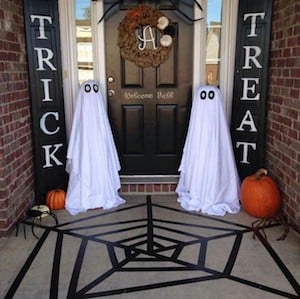 Ghost Front Porch (source unknown)
For ghosts: tomato cages, white fabric, black and white felt for ghost eyes, fabric glue, wire
Everything else: black duct tape, two wood boards, black spray paint, stencils, white acrylic paint, pumpkins
Here is a tutorial for how to make the ghosts.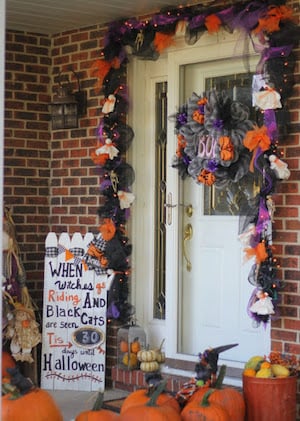 Picket Fence Halloween Display
picket fence, white spray paint, silver tray, chalkboard paint, acrylic paints, stencils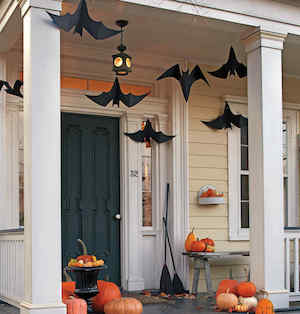 Hanging Bats
bat template, black paper, bone folder. painters' tape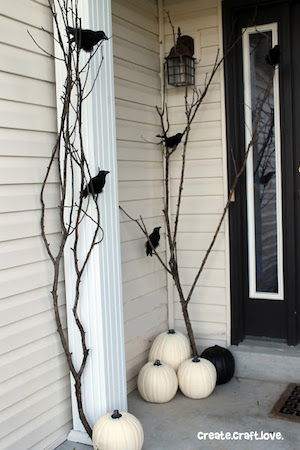 Raven Porch
branches, mini crows or ravens, pumpkins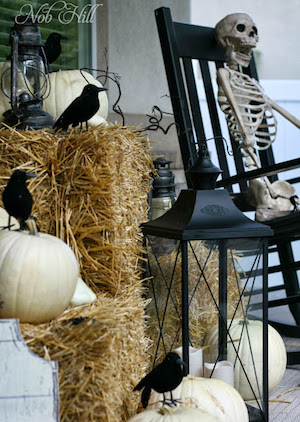 Crow Front Porch 
crows, hay, rocking chair, skeleton, various sized lanterns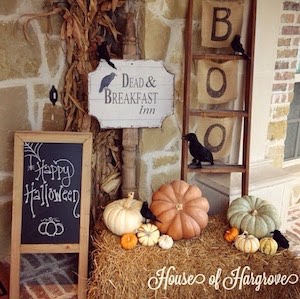 Halloween Porch
pumpkins, corn stalks, hay bale, chalkboard sign,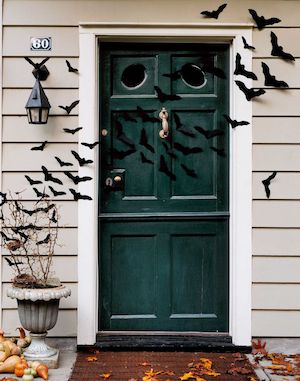 Bat-Filled Front Door
black felt, bat template, tape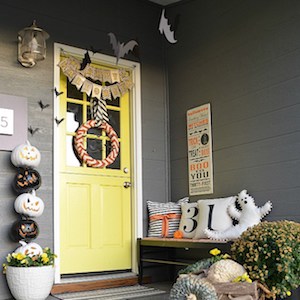 Stacked Pumpkin Topiary Porch 
halloween lighted pumpkins, wood dowel, pot, flowers, spray paint, primer, extension cord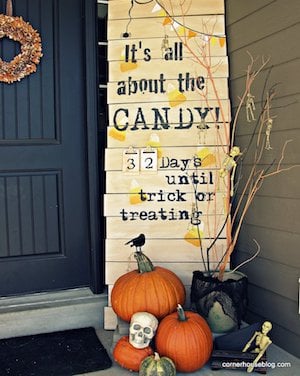 Halloween Candy Porch
wood fence posts, nails & hammer, paint (white, black, yellow, orange), cardstock, clip boards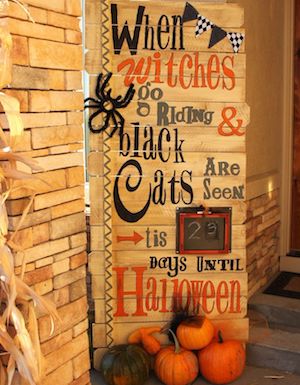 Pallet Countdown Halloween Sign (source unknown)
wood board, black and orange acrylic paints, letter stencils, chalkboard paint & chalk, accents like banner & spider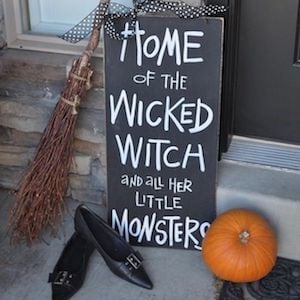 Wicked Witch Porch (source unknown)
wood board, black spray paint, letter stencils, white acrylic paint, broom, witch shoes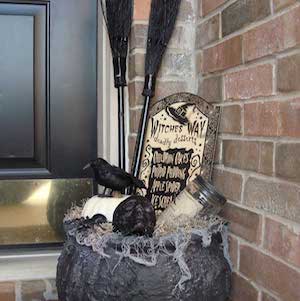 Witch Cauldron for Entryway
cauldron, creepy cloth, moss, skull, black bird, witch brooms, creepy jars, moss, witch sign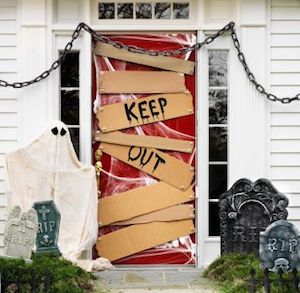 Keep Out Door
spider webs, cardboard, black craft paint, double sided tape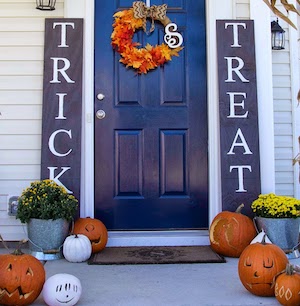 Trick or Treat Porch
plywood, Valspar Blackstrap, cardstock,  tape, white craft paint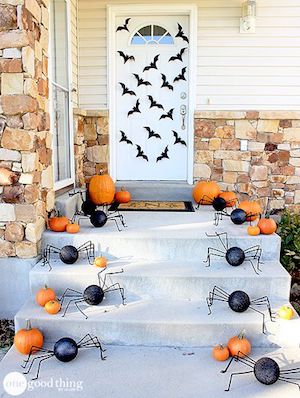 Spiders & Bats Porch
foam balls, black spray paint, pipe cleaners, pumpkins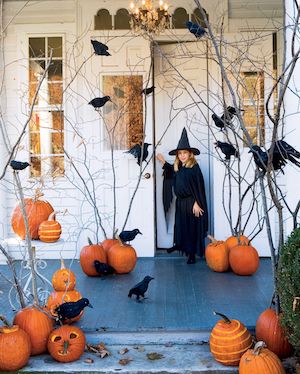 Ravens and Pumpkins Porch
black birds, glue gun, branches, pumpkins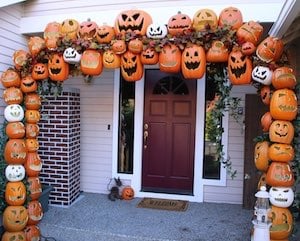 Pumpkin Archway for Porch
faux pumpkins, pvc pipes and connectors, wire, rebar, kraft paper, fall leaf garland
This one is a lot of work and very expensive, but definitely looks cool. Maybe if you got the faux pumpkins after halloween for 75% off, it wouldn't be too expensive!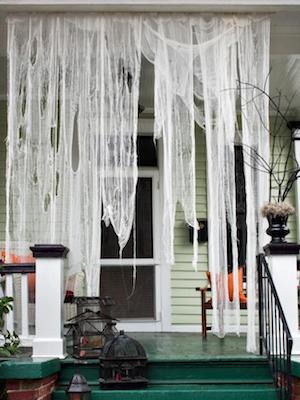 Ghostly Porch
cheesecloth, poplar strips, staple gun, saw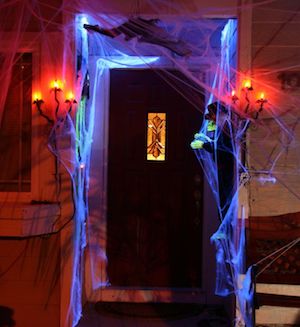 Glow in the Dark Spider Webs
spider webs, black lights, faux candelabra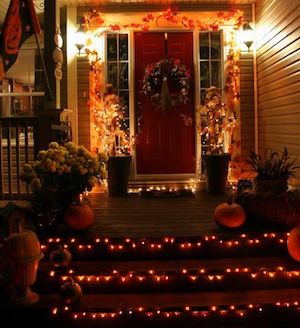 Halloween Lit Up Stairs (source unknown)
fall garlands for doorway, orange lights, pumpkins, potted fall plants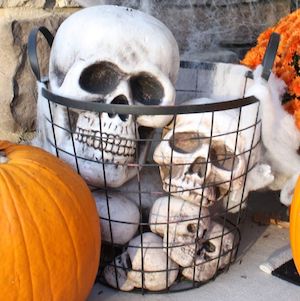 Skulls in a Basket (source unknown)
wire basket, various sized skulls, pumpkins, spider webs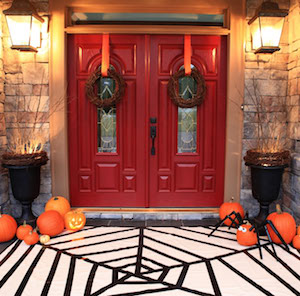 Archnoporch
pumpkins, grapevine wreaths, branches, urns,  outdoorsprinkler parts, Easter eggs & black marker for the spider pumpkins, black duct or electrical tape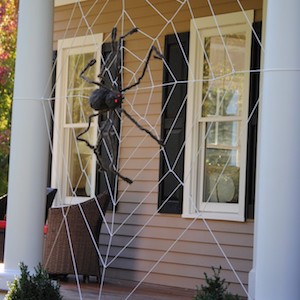 Tangled Web Front Porch
clothes line, ceiling hooks, large spider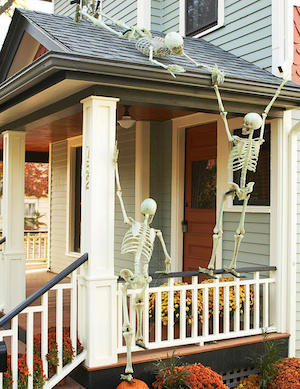 Skeletons Climbing Front Porch
life size skeletons, fishing line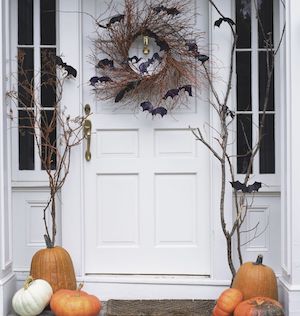 Simple Bat Wreath Porch
branches, felt bats, pumpkins, bat wreath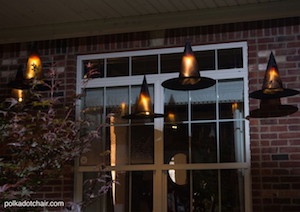 Floating Witch Hats on Porch
witch hats, fishing line, LED tea lights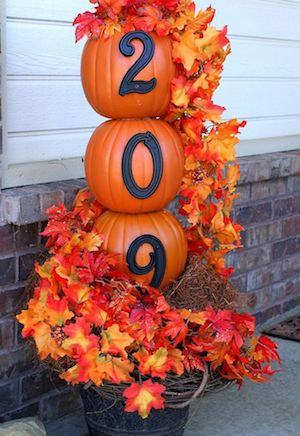 Pumpkin Topiary 
house numbers, fake pumpkins, fall leaf garlands, moss, grapevine wreath, flower pot
You can get the garlands, moss and grapevine wreath at Dollar Tree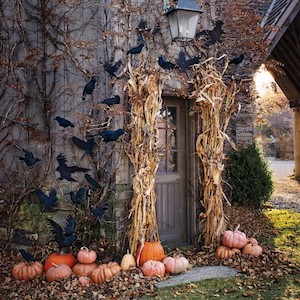 Creepy Bird Porch
dried corn stalks, faux pumpkins, fake black birds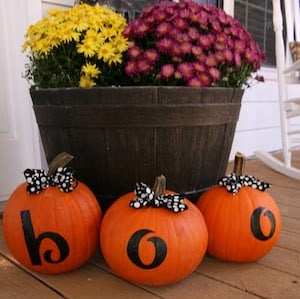 Boo Pumpkins and Mums
small pumpkins, stencils, black acrylic paint, halloween ribbons, barrel planter, assorted mums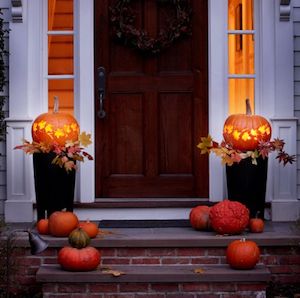 Pumpkin Lantern Front Porch
carved pumpkins, fall garland, urns, carious fake pumpkins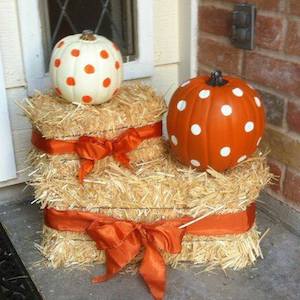 Polka Dot Pumpkin Porch Display
wide orange ribbon, small and large hay bale, two pumpkins, acrylic paint, stencils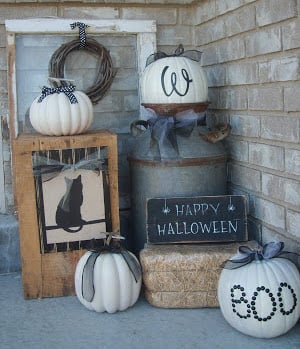 Farmhouse Halloween Porch
galvanized unique milk jug, white pumpkins, chalkboard sign, bale of hay, old window pane, grapevine wreath,  large wood crate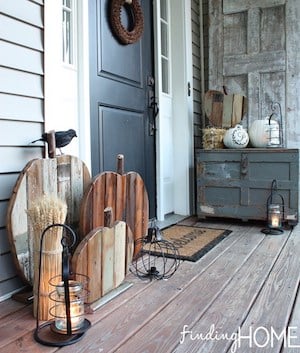 Reclaimed Wood Pumpkin Porch
plywood, reclaimed wood, wood glue, nails, screws, sandpaper, hanger bolts, stain, wax, sealer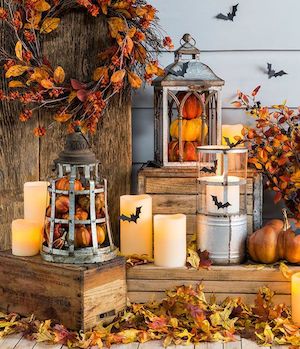 Spooky Candle Porch Display
LED pillar candles, crates, lanterns, mini pumpkins, paper bats, fall leaves
You can get the LED candles and fake mini pumpkins at Dollar Tree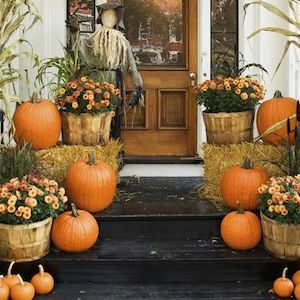 Orange Mums and Pumpkins
assorted pumpkins, bushel baskets, mums, hay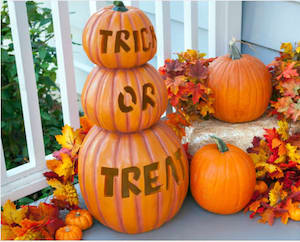 Trick or Treat Pumpkins
small medium & large pumpkins carved with the words trick or treat, fall garlands, small hale bay, faux pumpkins, mini pumpkins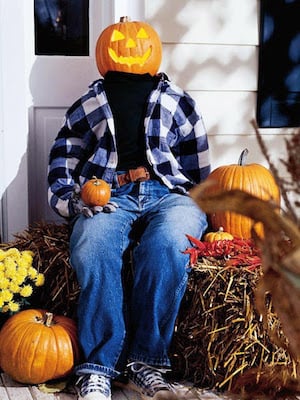 Pumpkin Person Sitting on Porch
pumpkins, hay bale, clothing, straw to stuff clothing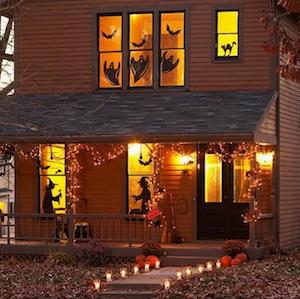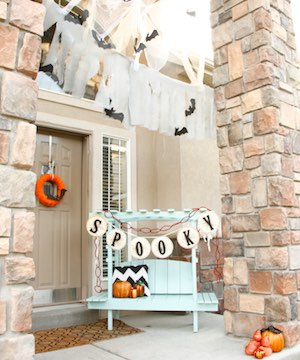 Festive Halloween Porch
tulle in gray & white, black cardstock, pumpkins, wreaths, banners, hooks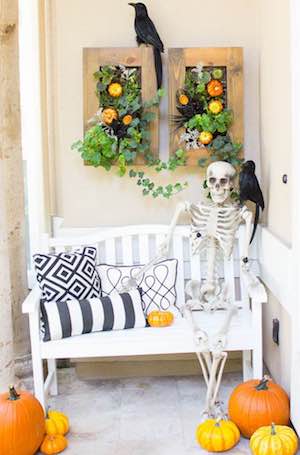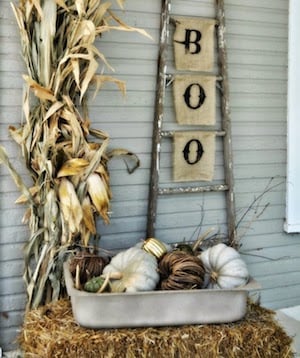 Vintage Halloween Porch
corn stalks + hay + old sink  + gray spray paint + assorted pumpkins
For the BOO ladder: wood trim + hammer + nails + stencils + burlap + black acrylic paint
here is a tutorial for how to make the ladder for under $15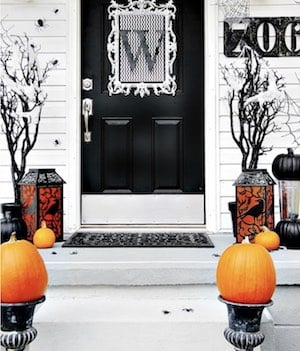 Inexpensive Halloween Porch Decorations
branches, black spray paint, spiderwebs, monogrammed door hanger, spiders, black vinyl cut outs for lanterns, urns, faux pumpkins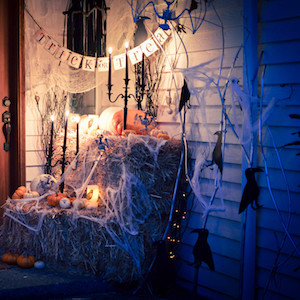 Spooky Front Porch
banner, candelabra, black candles, spiderwebs, pumpkins, black birds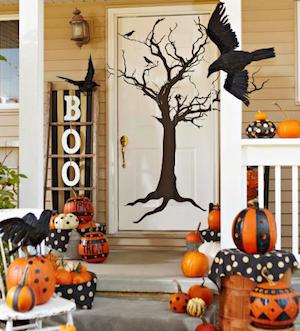 Spooky Front Porch
removable tree decal, various sized painted pumpkins, mini pumpkins, faux black birds, $5 DIY ladder, striped fabric, large wood letters, white craft paint, yarn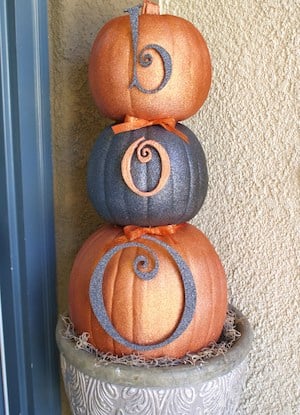 Pumpkin Topiary  
foam pumpkins, wood letters, orange & black glitter blast spray paint, glue gun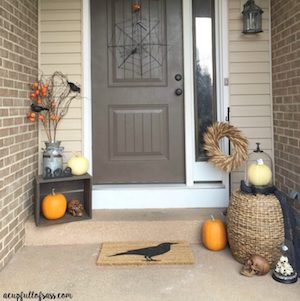 Front Porch with Crows
galvanized milk can, crate, boo sign, faux pumpkins & skull, pumpkin branches, black birds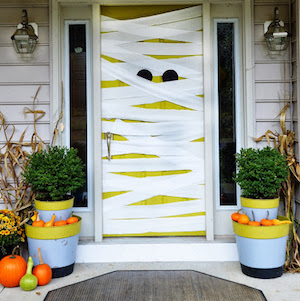 Mummy Front Porch
strips of white fabric, tape, tiered planters for mini pumpkins and greenery, dried corn stalks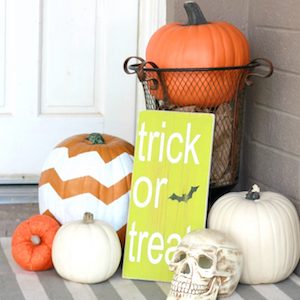 Easy Halloween Porch
assorted fake pumpkins, plywood, wood board, stencils, green, white & black paint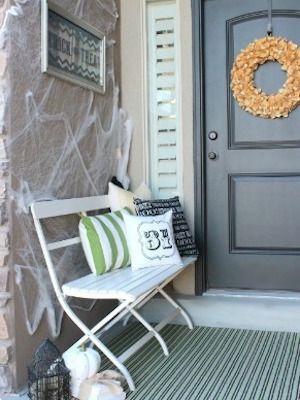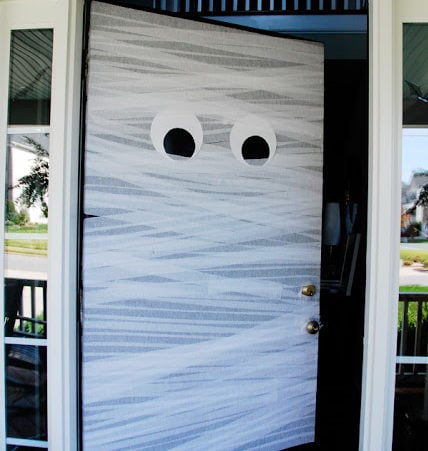 Mummy Door
white streamers (Dollar Tree – 2pk) + black construction paper (Walmart -$0.75) + printer paper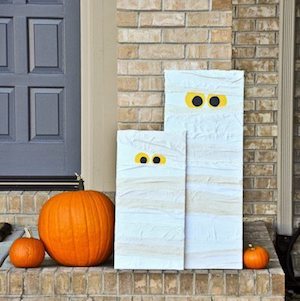 Front Porch Mummies
wooden board, white spray paint, Mod Podge Outdoor, white fabric, yellow and black paper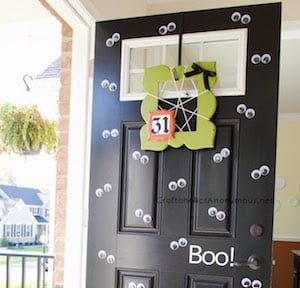 Googly Eye Front Door
large googly eyes, restickable dots, "Boo!" decal, Halloween spider web frame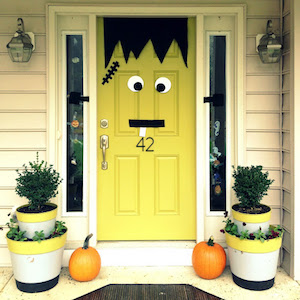 Frankenstein Porch
black felt, white yardstick, pumpkins, tiered planters with fall plants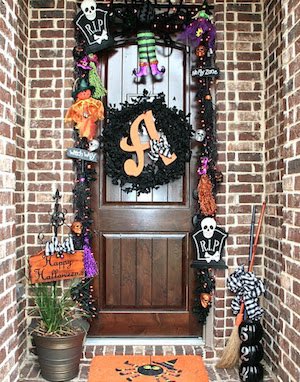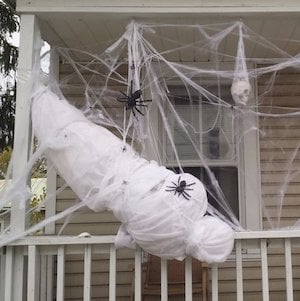 Life-Sized Spider Victim
white trash bags, clear packing tape, spider webs, sheer white fabric, hanging hardware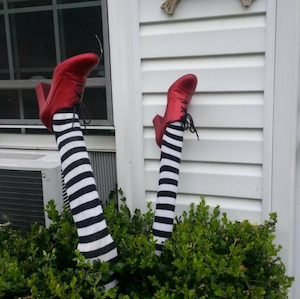 Wicked Witch Legs
chicken wire, cardboard, mod podge, spray paint, old pair of shoes, scrap wood, long black & white stock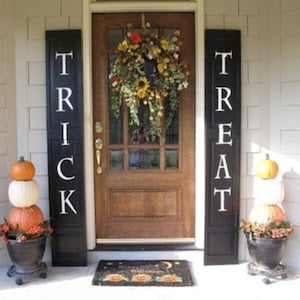 Trick or Treat Porch
wood board, black spray paint, large letter stencils, white acrylic paint, pumpkin topiaries in urns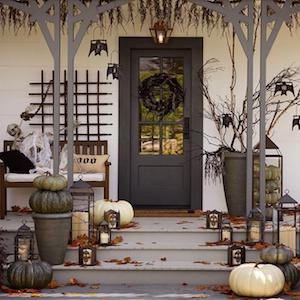 Vintage Halloween Front Porch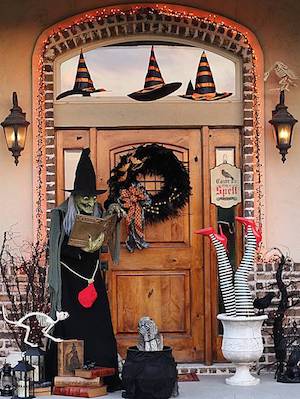 Witchy Front Porch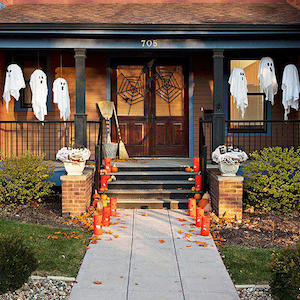 Ghost Porch
lanterns, cardstock cut with faces, pumpkins & gourds, planters, ghosts (plastic bowls,fishing line, cheesecloth, black felt), electrical tape, witch brooms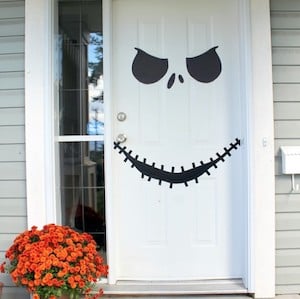 Jack Skellington Door 
black paper, black electrical tape, door template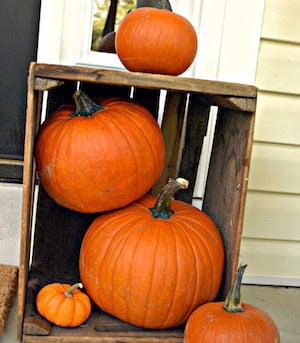 Pumpkin Crate 
pumpkins, wood crate, wood stain
You can get the crates for under $5 at Walmart or for cheaper at thrift stores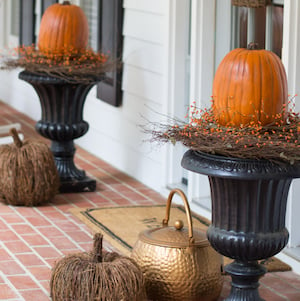 Pumpkin Topiary
black urn, grapevine wreath, bittersweet springs, large fake pumpkins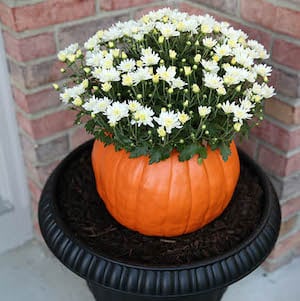 DIY Pumpkin Flower Pot
pumpkin, flowers, urn, mulch, knife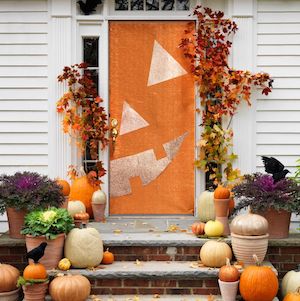 Pumpkin Patch Porch
orange gift wrapping paper, double-sided tape, gold glitter gift wrapping paper, pumpkins, leaf branches, fishing line, spray glue, glitter, plants & planters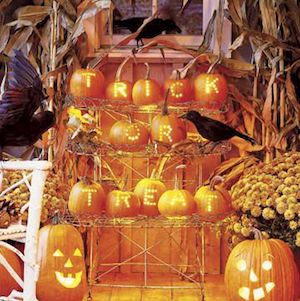 Trick or Treat Ladder for Porch
faux pumpkins, dried corn stalks, black birds, led tea lights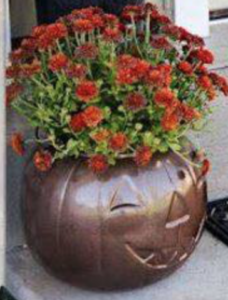 Pumpkin Pail with Mums
jack o lantern treat pail, spray paint, mums (about $5 at Walmart).
Don't forget to poke holes in the bottom so you can water your flowers.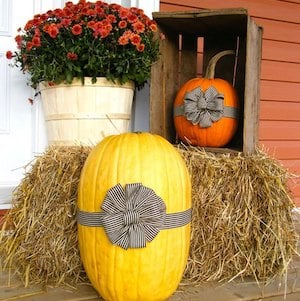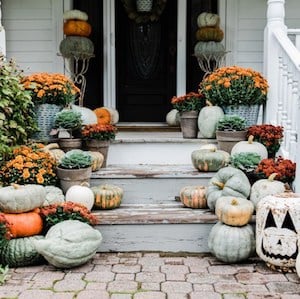 Rustic Halloween Farmhouse Steps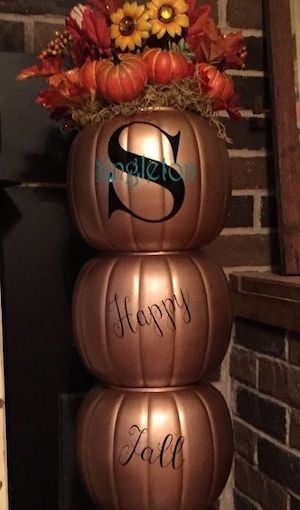 Pumpkin Topiary
$1 plastic pumpkins,  spray paint,  rocks,  vinyl letters, styrofoam, hot glue gun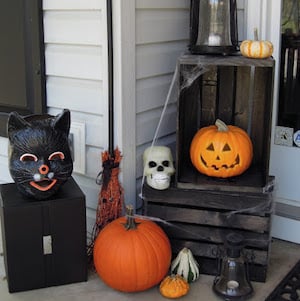 Halloween Porch Display
Crate, black spray paint, spiderwebs, some pumpkins, skull, lanterns, etc
Halloween Porch Lighting
wire, grapevine garlands, Christmas lights, fall leaf garlands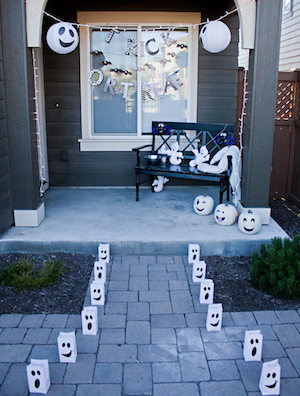 Ghost Front Porch
white paper bags, white sand, black marker, led tea lights, pumpkins, white acrylic paint, white paper lanterns. white string lights, banner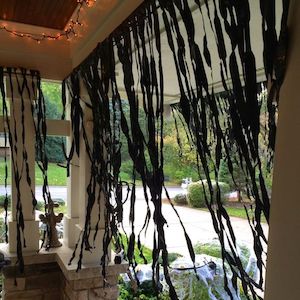 Creepy Black Curtained Porch
cheap black trash bags, double sided tape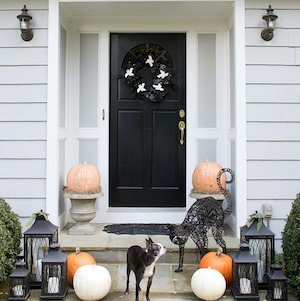 Simple Halloween Porch
pumpkins, lanterns, black cat decoration, black wreath