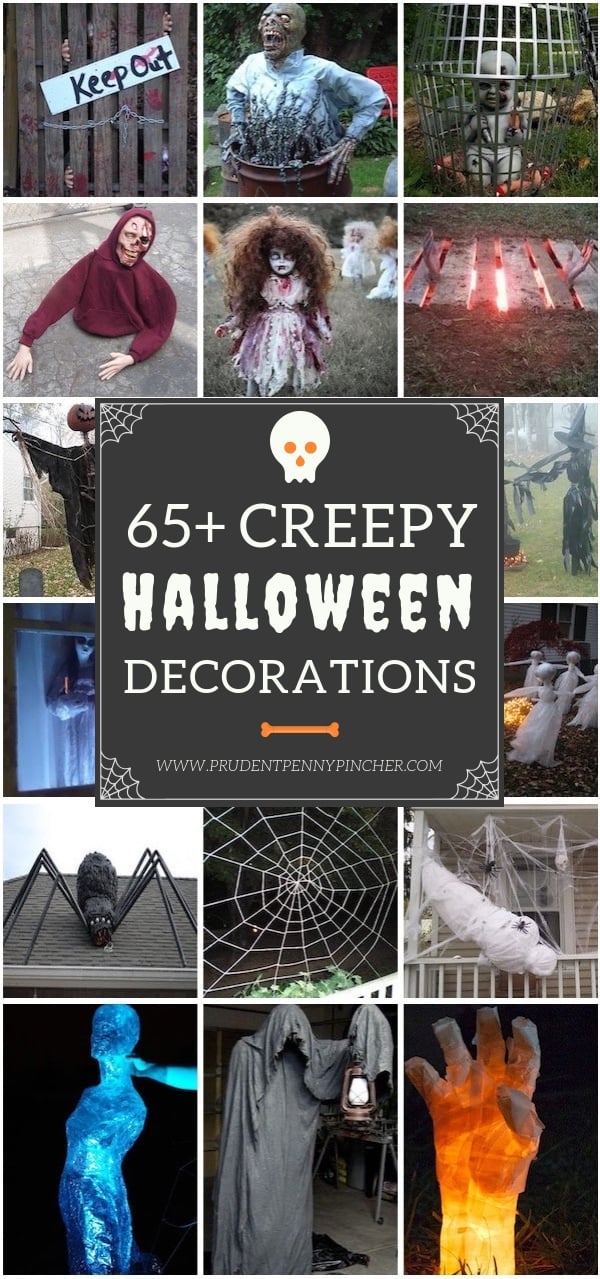 Give your neighbors a spook with these creepy and creative DIY Halloween decorations. There are DIY ghosts, zombies, monsters, body parts and much more! Some of these DIY halloween props are super easy to make for those who want something quick and cheap and some projects are more time-consuming for Halloween enthusiasts who want a challenge.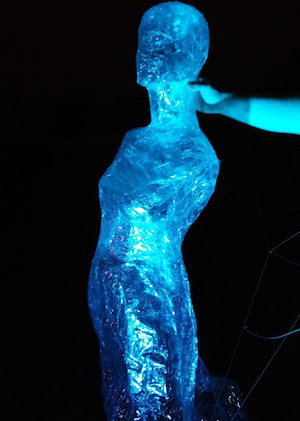 Easy Packing Tape Ghost
plastic dress forms, styrofoam head, clear plastic packing tape, plastic wrap, black light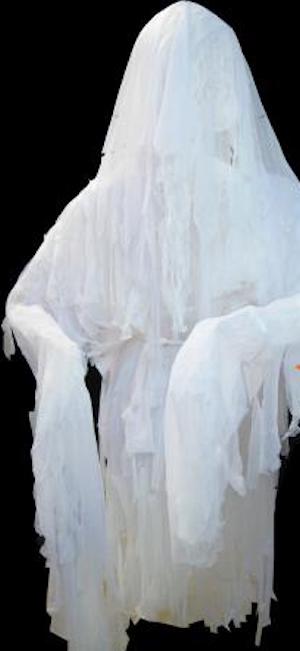 Chicken Wire Ghost
chicken wire, gloves, cheesecloth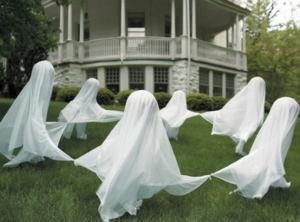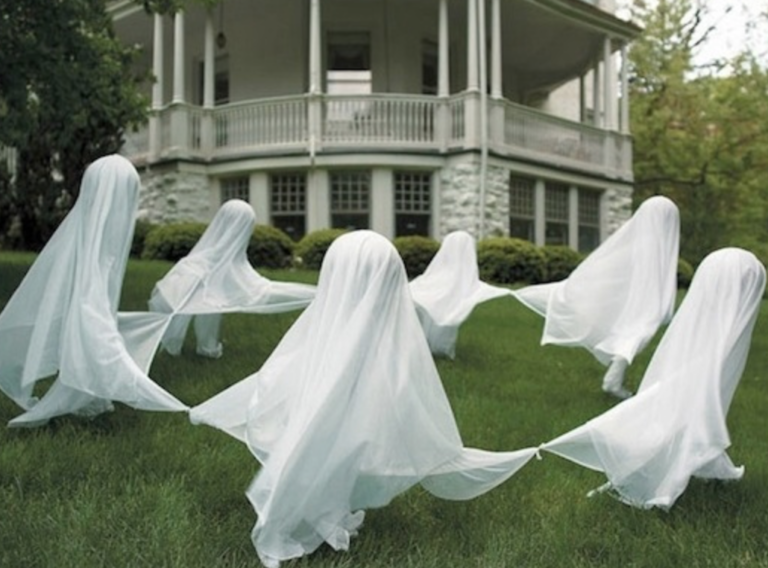 Yard Ghosts
styrofoam balls, lawn stakes, lightweight white fabric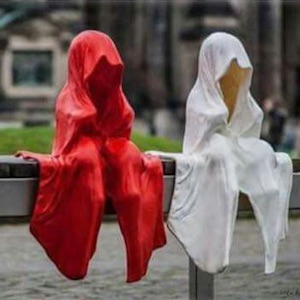 Creepy Ghosts (source unknown)
doll, fabric, fabric stiffening spray
Get a doll and drape fabric around it. Spray with Aleene's Fabric Quick Stiffening Spray and remove doll once its dry.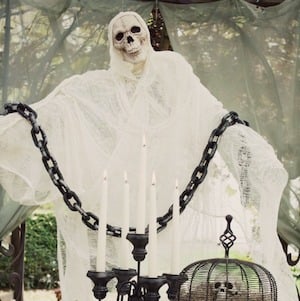 DIY Chicken Wire Cheesecloth Ghost
cheesecloth, chicken wire, spray adhesive, wire, $1 skull, cup hook, fishing line, S-hook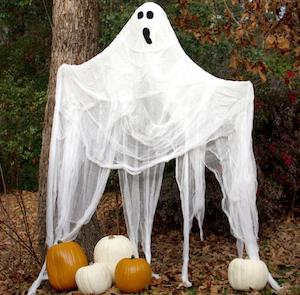 Levitating Ghost
cheesecloth, foam balls, yardsticks, liquid starch, black felt, glue, needle, paint pole
You could use white creepy cloth instead of cheese cloth. You can get it at Dollar Tree along with the foam balls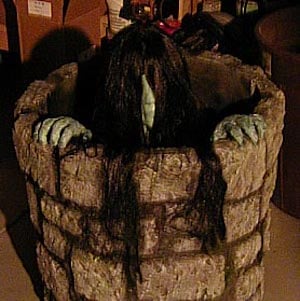 The Ring Prop
plastic garbage bucket, foam, liquid nails, spray foam, Monster Mud, thin sculpting wire, glue gun, masking tape, latex,  tissue paper, latex paint, black wig, styrofoam head, pvc pipe, chicken wire, night shirt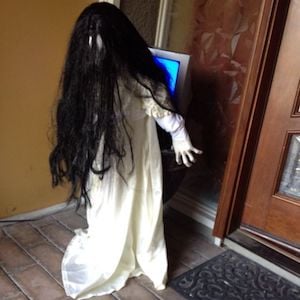 Samara from The Ring
white foam head, witch wig, child's white dress, arms from party city, old television, traffic cone, wooden stick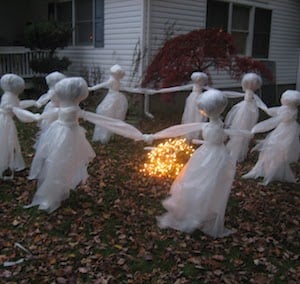 Lawn Ghosts
plastic drop cloths, white paper, newspaper, rebar, clear packing tape, white Christmas lights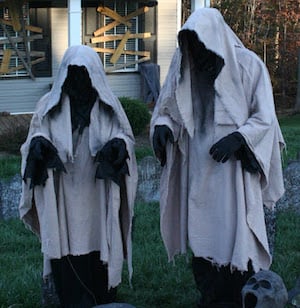 Creepy Ghosts
drop cloths, dye, black fabric, wooden frame, chicken wire, paper mâché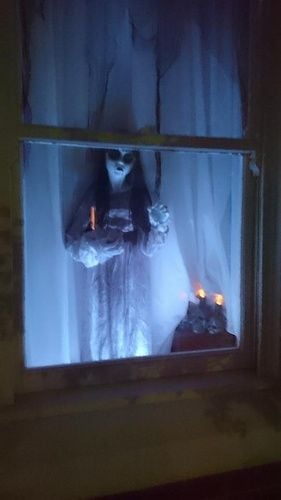 Ghost in Window
No tutorial, but very cool and wouldn't be hard to figure out.
You could use the idea down below to make this.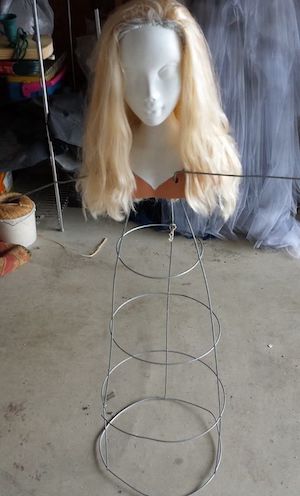 Easy DIY Ghost
foam head, tomato cage, night gown, light underneath the gown
Spider & Monster Halloween Props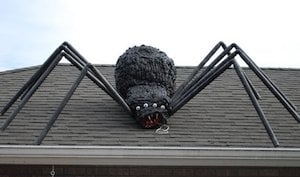 Giant Spider
pvc pipe, fittings, pins, foam insulation, black spray paint, pvc pipe primer,  duct tape, spray foam insulation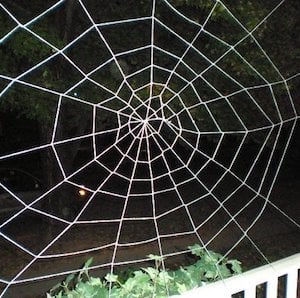 Giant Spider Web
yarn, scissors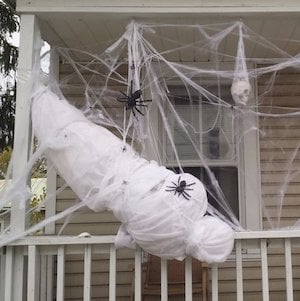 Life-Sized Spider Victim
white trash bags, clear packing tape, spider webs, sheer white fabric, hanging hardware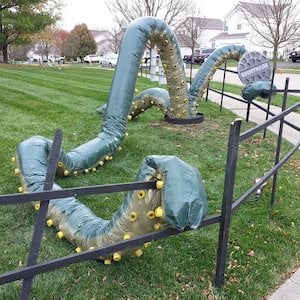 Giant Tentacle Monster
plywood, foam board, lumber, steel studs, vinyl trim, flex duct, foam pipe insulation, screws, caulk, liquid nails, paint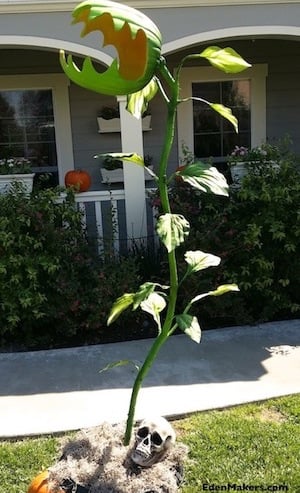 7-Foot "Man-Eating Monster Plant"
tree branch, flower pot, spray foam insulation, artificial pumpkin, spray paint, silk or faux leaves, hot glue, pumpkin carver
Body Part Halloween Props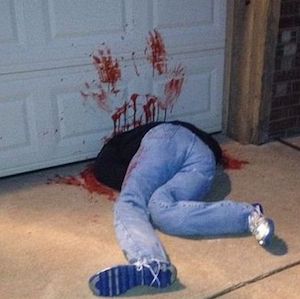 Garage Door Victim
shirt, pants, shoes, straw, plastic bag or newspaper filling, blood
You can get the clothes at the thrift store for cheap if you don't have any extra clothes around the house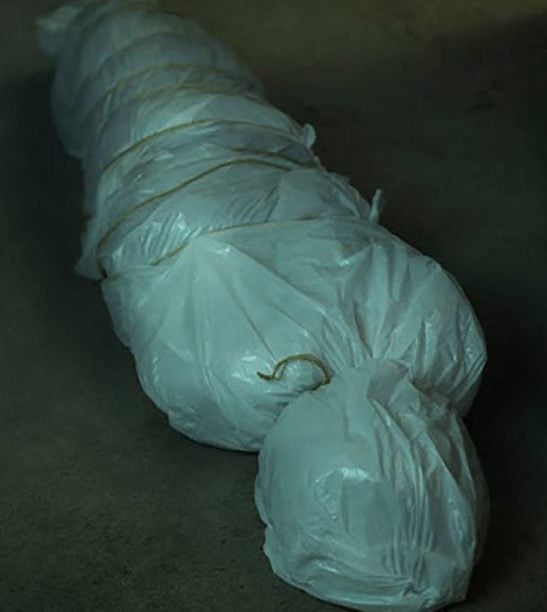 Body Bag
cheap white trash bags rope or twine
Create an outline of a body with trash and wrap it up in the trash bag and rope.
(Ex: use a milk jug for the head)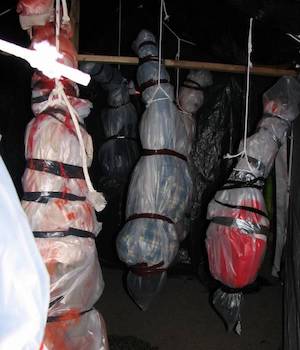 Budget Bodies in Bags
packing foam, plastic bags, spray paint, duct tape
DIY Halloween Severed Head
craft foam display head, fabric stiffener, cheese cloth, mod podge hard coat, black ink pad, foam pad, jute twine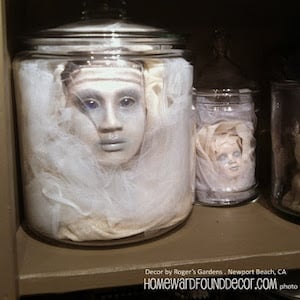 Heads in Jars
baby doll heads, gray paints, gauze or netting, glass canister jars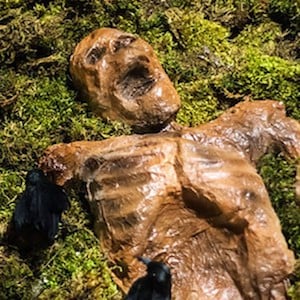 DIY Decayed Corpse
plastic skeleton, tin foil, tissue paper, spray paint, paper-mâché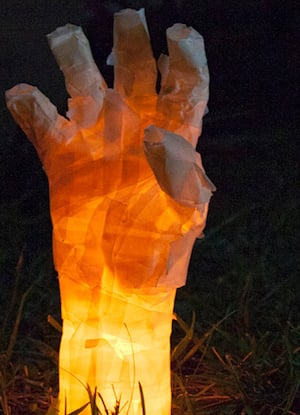 Masking Tape Hand
masking tape, straw, scissors, glow stick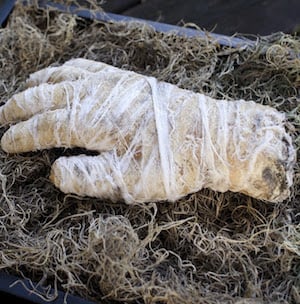 Mummy Hand 
$1 plastic hand + cheesecloth  + brown & black paint + paper towels + coffee grounds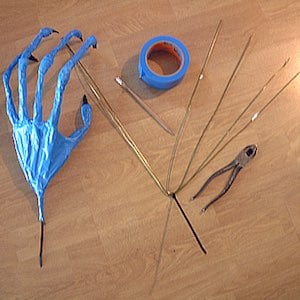 Creepy Hands
painter's tape, wire, wire cutters, paint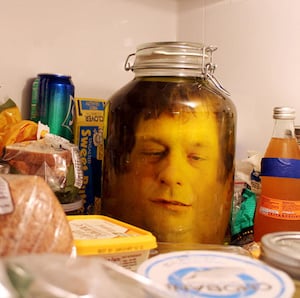 Head in a Jar
jar, food coloring, printer, photo editing software
Zombie Halloween Props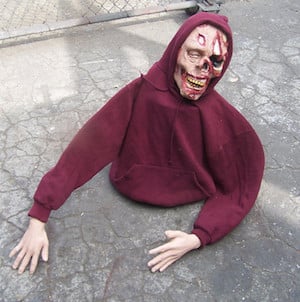 Halloween Zombies with Buckets
bucket, wire, duct tape, PVC pipe, hooded sweatshirt,fake hands, fake head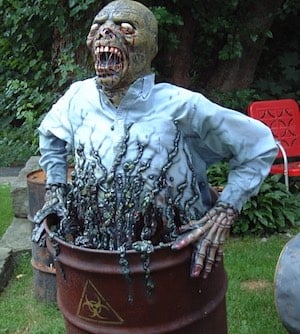 Acid Bath Zombie
old oil drum, creepy mask, can of spray foam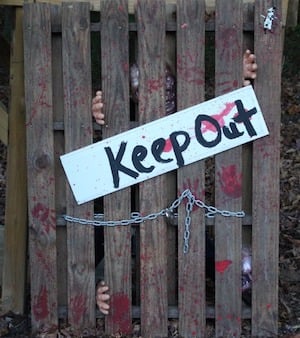 Zombie Pallet Gate
pallet, skeleton or zombie, blood, chain, sign
You can get the pallet for free on Craigslist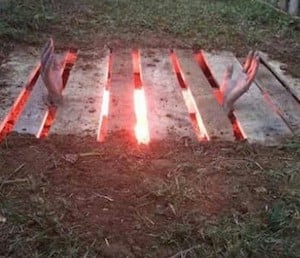 Pallet Trapped Door
pallet, red light, fake hands, shovel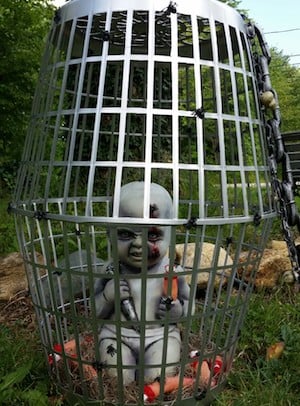 Zombie Cage
$1 laundry baskets, zombie, floral moss, bag of fingers, tape, spiders
You can get the laundry basket, moss, fingers and spiders at Dollar Tree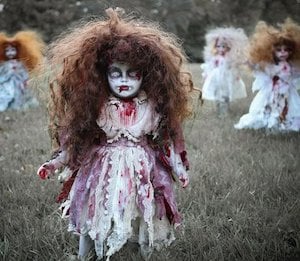 Zombie Dolls
dolls, cheap face paint, fake blood, white spray paint, fire starter, plastic bag, drop cloth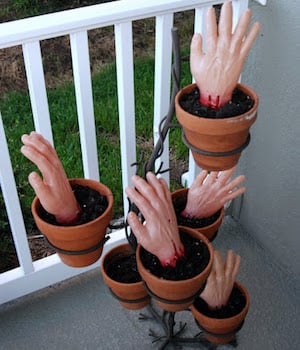 Zombie Plated Hands
severed hands, skewers, cheap flower pots, soil
Other Halloween Props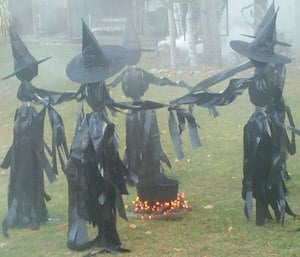 Trash Bag Witches
black trash bags, foam shapes, long garden stake, witch hat, black ribbon
You can do the same thing with white trash bags to make ghosts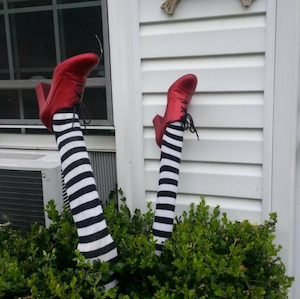 Wicked Witch Legs
chicken wire, cardboard, mod podge, spray paint, old pair of shoes, scrap wood, long black & white stock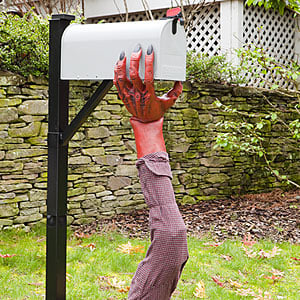 Halloween Mailbox Monster
shoelaces, pipe insulation, duct tape, shirt, monster glove, wooden dowel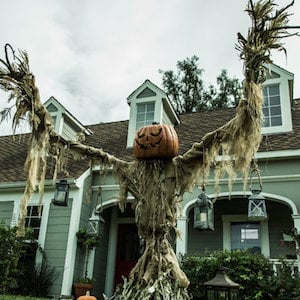 DIY Giant Scarecrow
pvc pipes, connectors, stakes, screws, zip ties, burlap, rope, straw, led lanterns, plastic pumpkin head, led light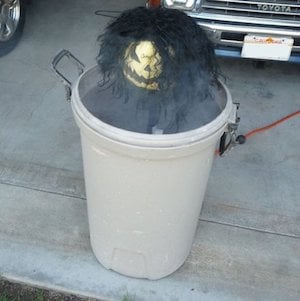 Halloween Pop Up Prop
pvc pipe, pvc cap, pvc elbow, thread air chuck, npt thread extension pipes & adapters, heat shrink tubing, garbage can, pvc adhesive, plywood, wood dowel, hose clamp, halloween mask, wireless remotely operated switch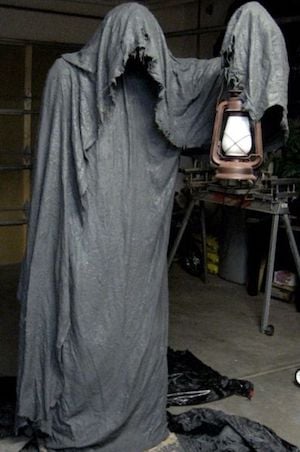 Monster Mud Reaper
pvc elbows, cross, adapter, pipe & cap, chicken wire, steel flange & pipe, brackets, mdf board, burlap, black paint, masonary sealer, stone spray paint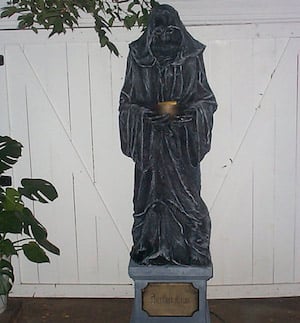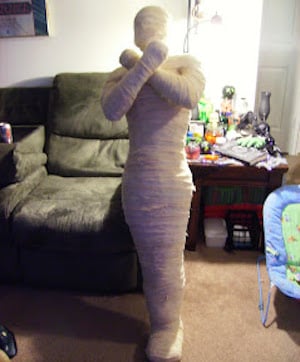 Life Size Mummy
duct tape, trash bags, yard stick, rolled gauze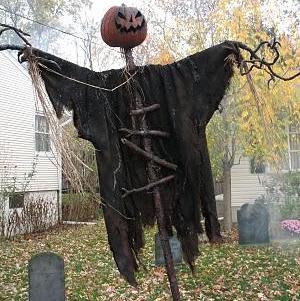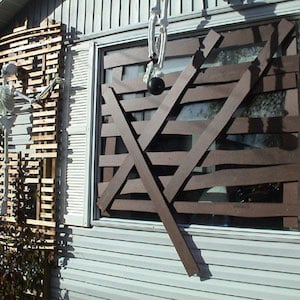 Fake Boarded Up Windows
polystyrene, brown exterior latex, velcro tape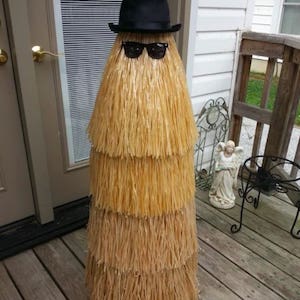 Cousin It (source unknown)
Tomato cage, grass skirts from the Dollar Store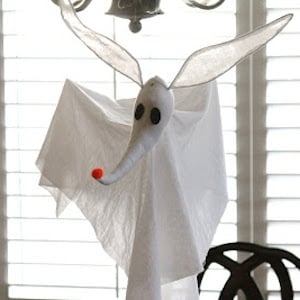 Accessories for Halloween Props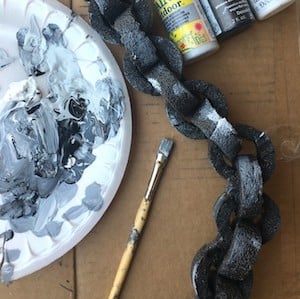 DIY Faux Chains
pipe insulation, craft paints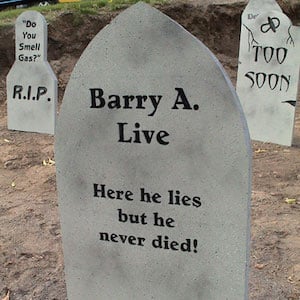 Quick and Dirty Tombstones
pink extruded polystyrene, copper wire, box cutter, Hotwire, stone spray paint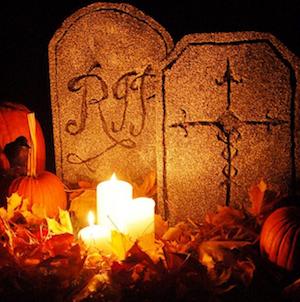 Foam Halloween Tombstones
floral Styrofoam sheet +  knife + marker + black spray paint + dark gray and white acrylic paint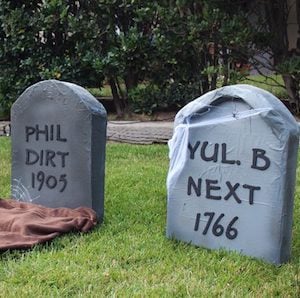 Cardboard Tombstones
cardboard boxes + sand + stencils + newspaper + decoupage glue + spray paint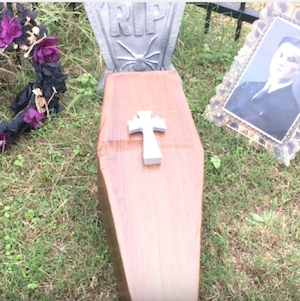 DIY Dollar Store Cardboard Coffin
cardboard boxes + wood contact paper + spray paint + $1 cross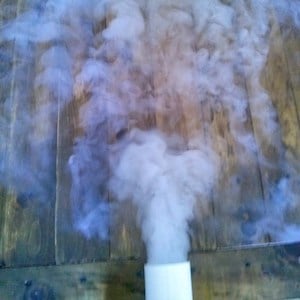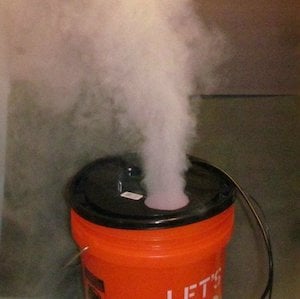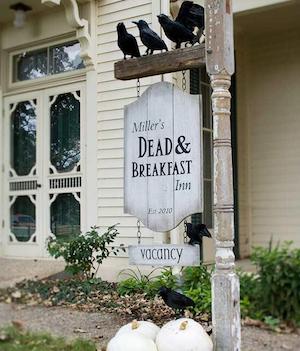 Bed and Breakfast Halloween Sign
wood boards, vintage freestanding signpost, exterior latex paint, tracing paper, graphite transfer paper, craft paint, eye hooks, chain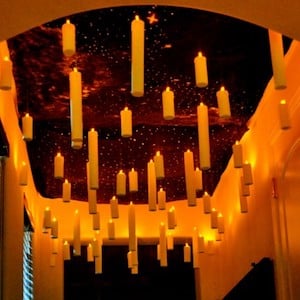 Floating Candles (image source)
Tip: instead of cutting out foam to look like candle wax, use a hot glue gun to put the wax design on each candle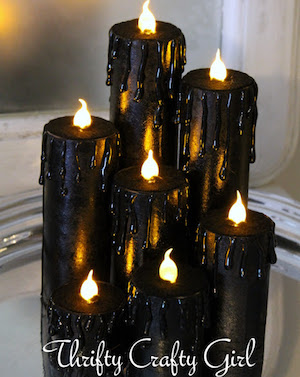 Faux Black Candles
toilet paper rolls, LED tealights, glue gun, black spray paint