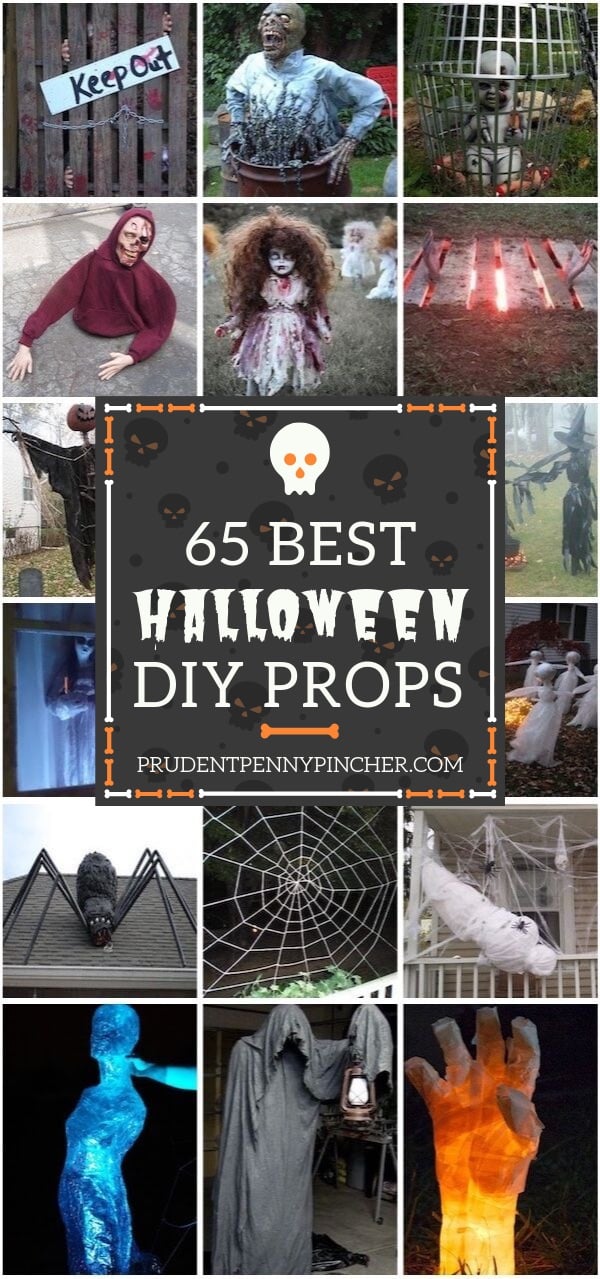 Give your neighbors a spook with these creepy and creative DIY Halloween props. There are DIY ghosts, zombies, monsters, body parts and much more! Some of these DIY halloween props are super easy to make for those who want something quick and cheap and some projects are more time-consuming for Halloween enthusiasts who want a challenge.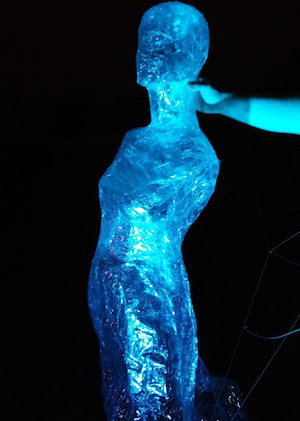 Easy Packing Tape Ghost from Crazy Green Thumbs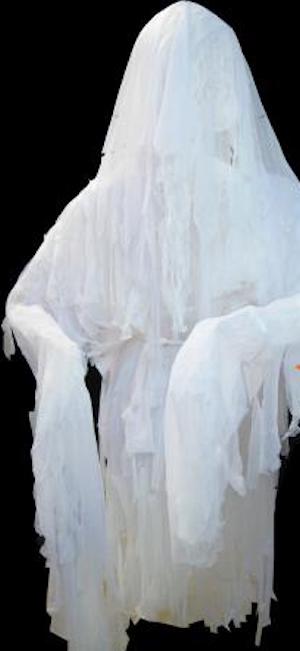 Chicken Wire Ghost from DIY Network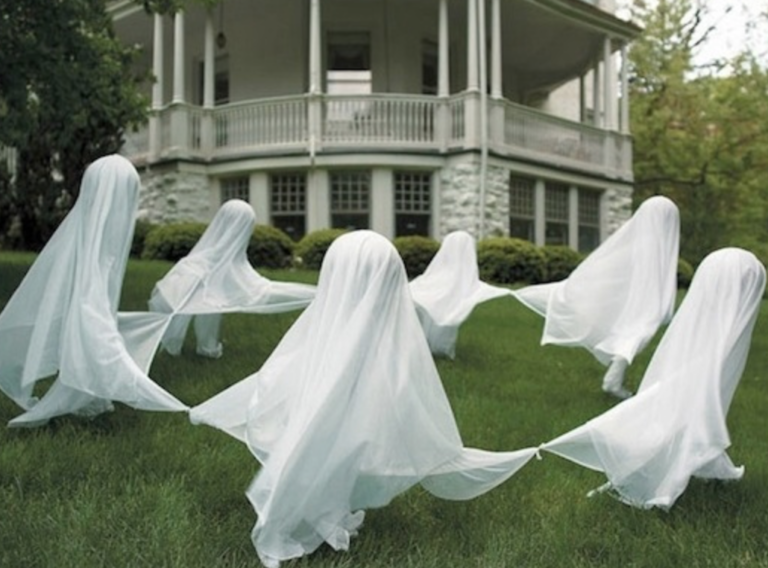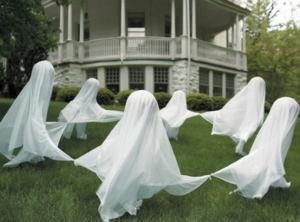 Yard Ghosts from Listotic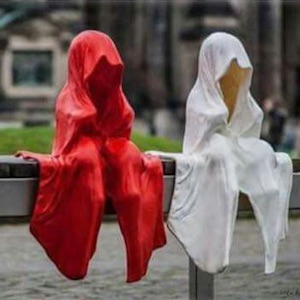 Creepy Ghosts (source unknown)
doll, fabric, fabric stiffening spray
Get a doll and drape fabric around it. Spray with Aleene's Fabric Quick Stiffening Spray and remove doll once its dry.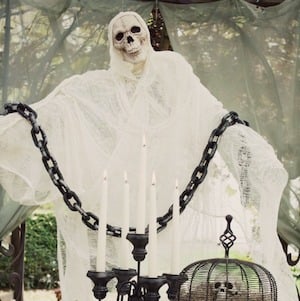 DIY Chicken Wire Cheesecloth Ghost from DIY Show Off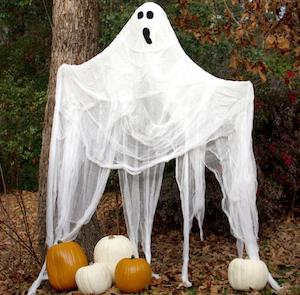 Levitating Ghost from HGTV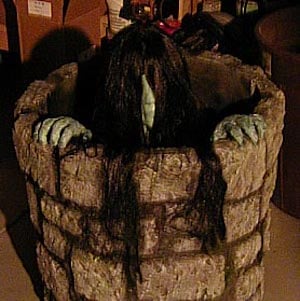 The Ring Prop from Lothar's Lair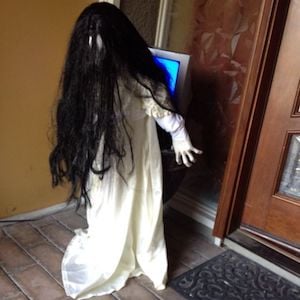 Samara from The Ring from Pinterest
white foam head, witch wig, child's white dress, arms from party city, old television, traffic cone, wooden stick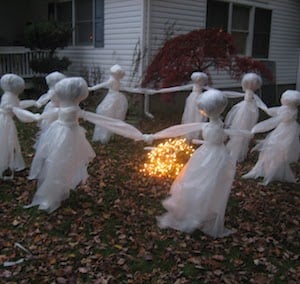 Lawn Ghosts from Pink Pixie Forest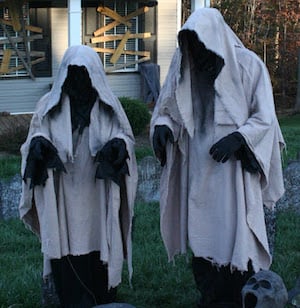 Creepy Ghosts from Grim Hollow Haunt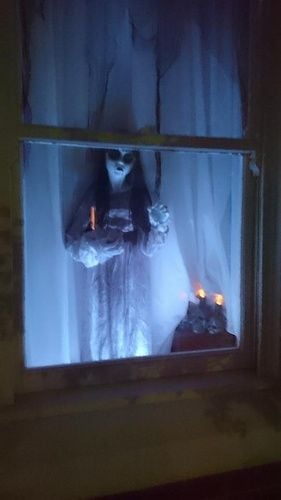 Ghost in Window
No tutorial, but very cool and wouldn't be hard to figure out.
You could use the idea down below to make this.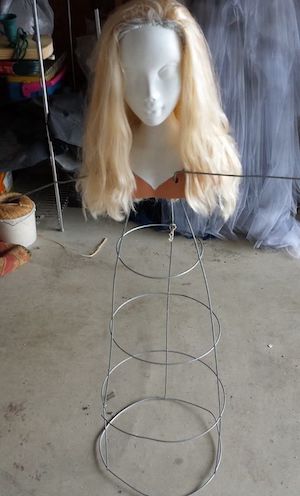 Easy DIY Ghost from Pinterest
foam head, tomato cage, night gown, light underneath the gown
Spider & Monster Halloween Props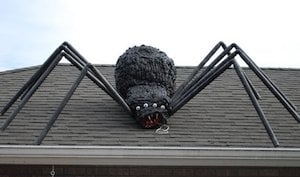 Giant Spider (source unknown)
pvc pipe, fittings, pins, foam insulation, black spray paint, pvc pipe primer, duct tape, spray foam insulation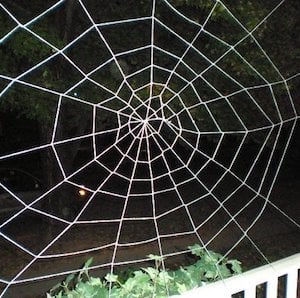 Giant Spider Web from Instructables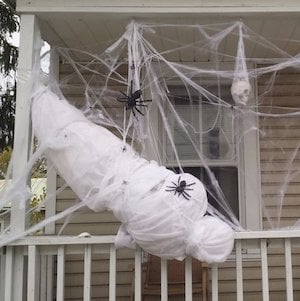 Person Caught in Spiderweb from Instructables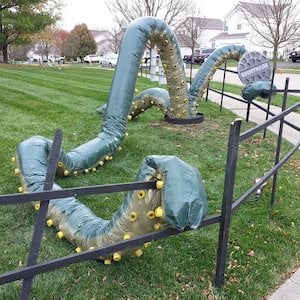 Giant Tentacle Monster from Instructables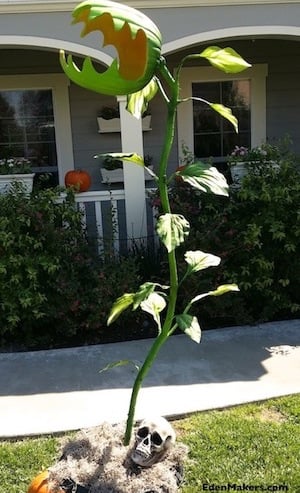 7-Foot Monster Plant from Eden Maker's
Body Part Halloween Props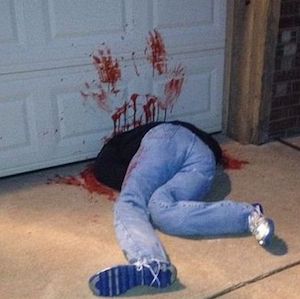 Person Under Garage Door (source unknown)
shirt, pants, shoes, straw, plastic bag or newspaper filling, blood
You can get the clothes at the thrift store for cheap if you don't have any extra clothes around the house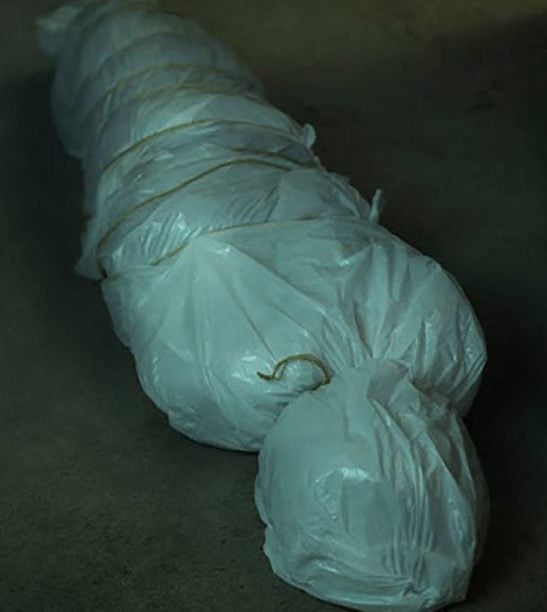 Body Bag (source unknown)
cheap white trash bags rope or twine
Create an outline of a body with trash and wrap it up in the trash bag and rope.
(Ex: use a milk jug for the head)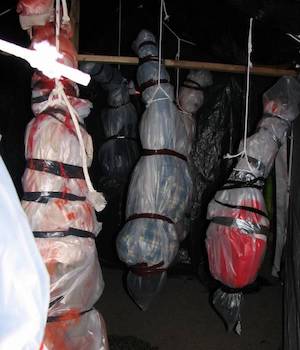 Hanging Bodiess from Haunt Forum
DIY Halloween Head from Crafts Unleashed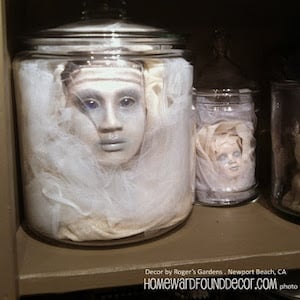 Heads in Jars from Homeward Found Decor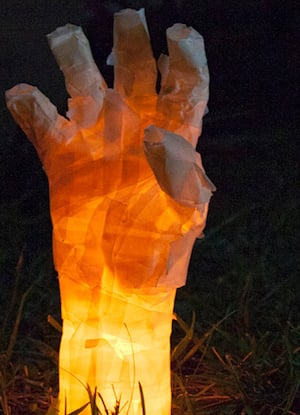 Masking Tape Hand from Wholesale Halloween Costumes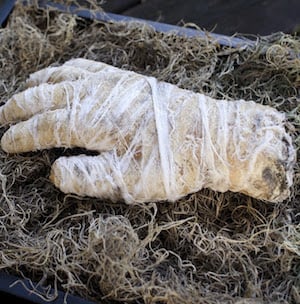 Mummy Hand from Through My Looking Glass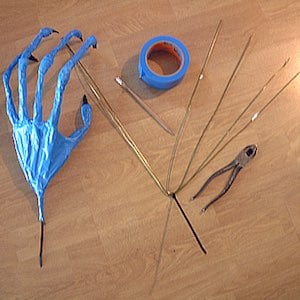 Creepy Hands (source unknown)
painter's tape, wire, wire cutters, paint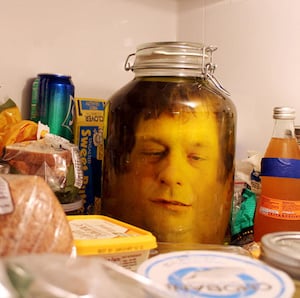 Head in a Jar from Handimania
Zombie Halloween Props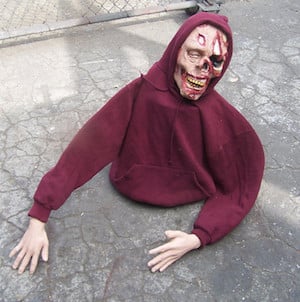 Halloween Zombies with Buckets from Dapper Cadaver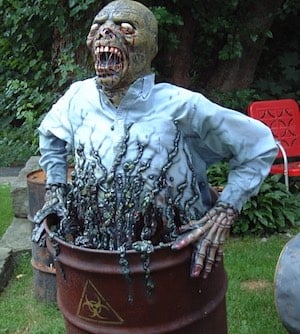 Pop Out Zombie from Brewster Yard Haunt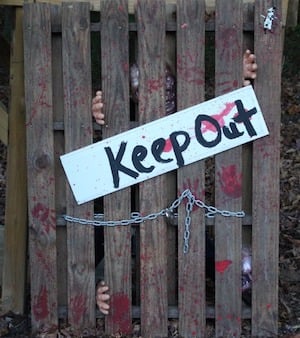 Zombie Pallet Gate from Atta Girl Says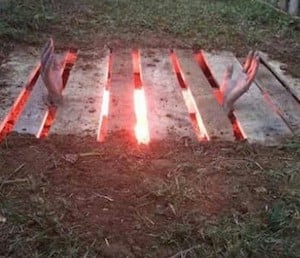 Pallet Trapped Door from Pinterest
pallet, red light, fake hands, shovel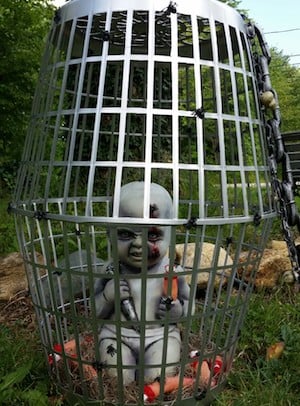 Zombie Cage (source unknown)
$1 laundry baskets, zombie, floral moss, bag of fingers, tape, spiders
You can get the laundry basket, moss, fingers and spiders at Dollar Tree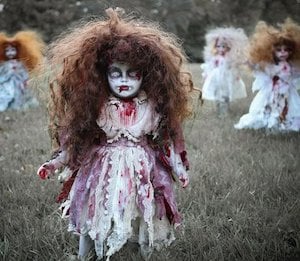 Zombie Dolls from Instructables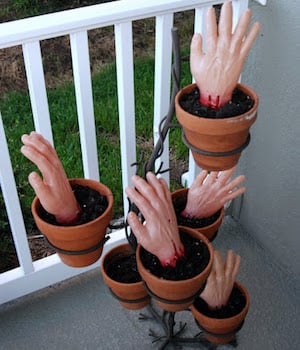 Zombie Plated Hands from Sew Woodsy
Other Halloween Props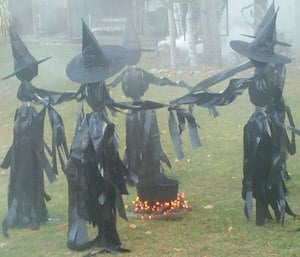 Trash Bag Witches from Rowan Everleigh (via Pinterest)
black trash bags, foam shapes, long garden stake, witch hat, black ribbon
You can do the same thing with white trash bags to make ghosts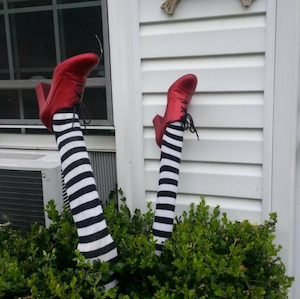 Wicked Witch Legs from Grillo Designs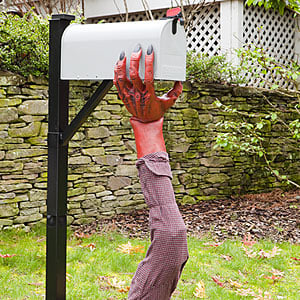 Halloween Mailbox Monster from All You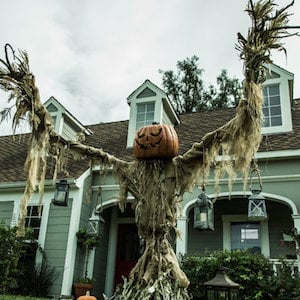 DIY Giant Scarecrow from Hallmark Channel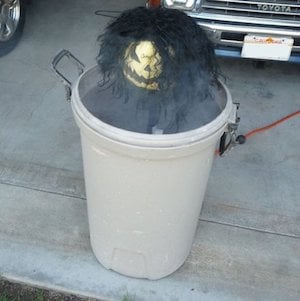 Halloween Pop Up Prop from Instructables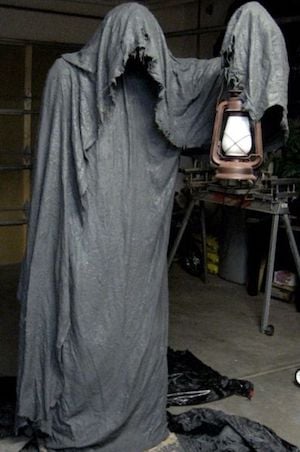 Monster Mud Reaper from Halloween Forum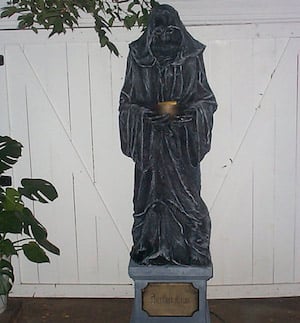 Merlin's Reaper Stone from Haunter's Hang Out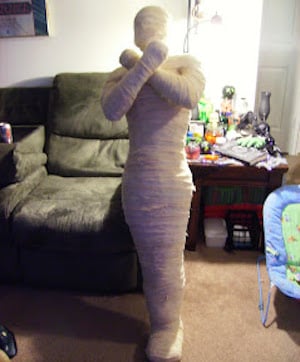 Life Size Mummy from Crafty Mommy and Me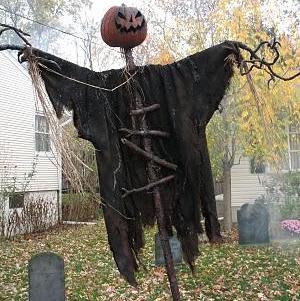 Halloween Monster from Civ's Legend of Sleepy Hallow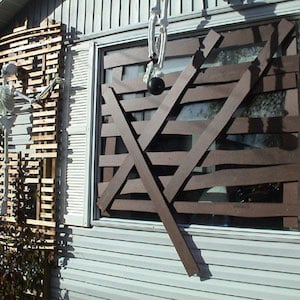 Fake Boarded Up Windows from Haunted Yards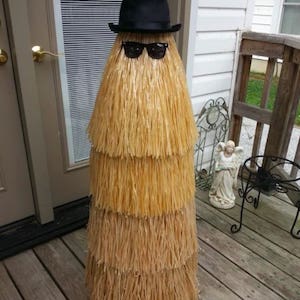 Cousin It (source unknown)
Tomato cage, grass skirts from the Dollar Store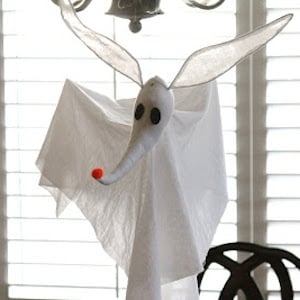 Zero the Dog from Scrap Happens
Accessories for Halloween Props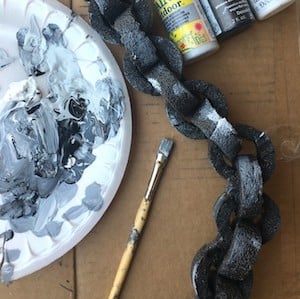 DIY Faux Chains from Ribbons and Glue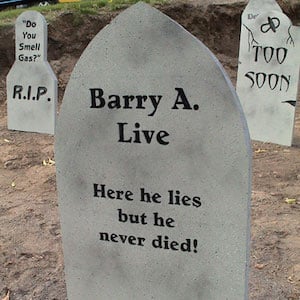 Quick and Dirty Tombstones from Haunted Yards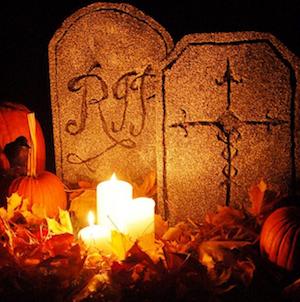 Foam Halloween Tombstones (source unknown)
floral Styrofoam sheet + knife + marker + black spray paint + dark gray and white acrylic paint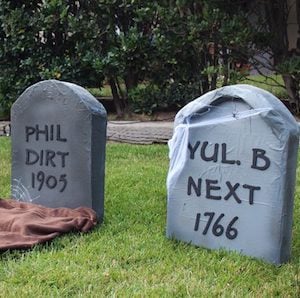 Cardboard Tombstones from eHow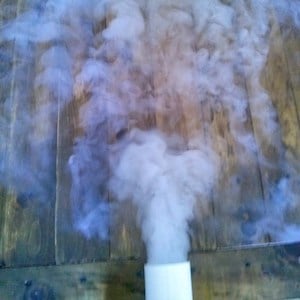 $20 DIY Fog Machine from TeeDiddlyDee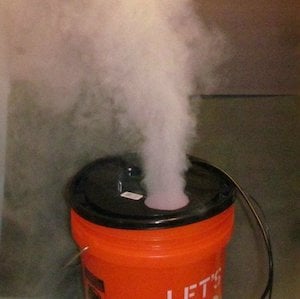 Water Only Fog Machine from Instructables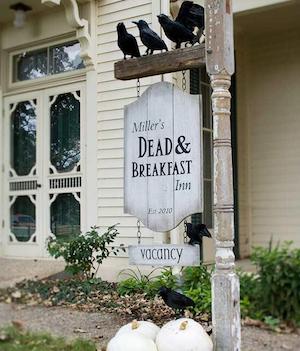 Bed and Breakfast Halloween Sign from BHG.com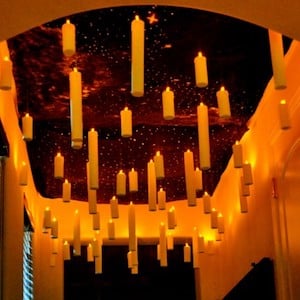 Floating Candles (source unknown)
Tip: instead of cutting out foam to look like candle wax, use a hot glue gun to put the wax design on each candle
---
Related Posts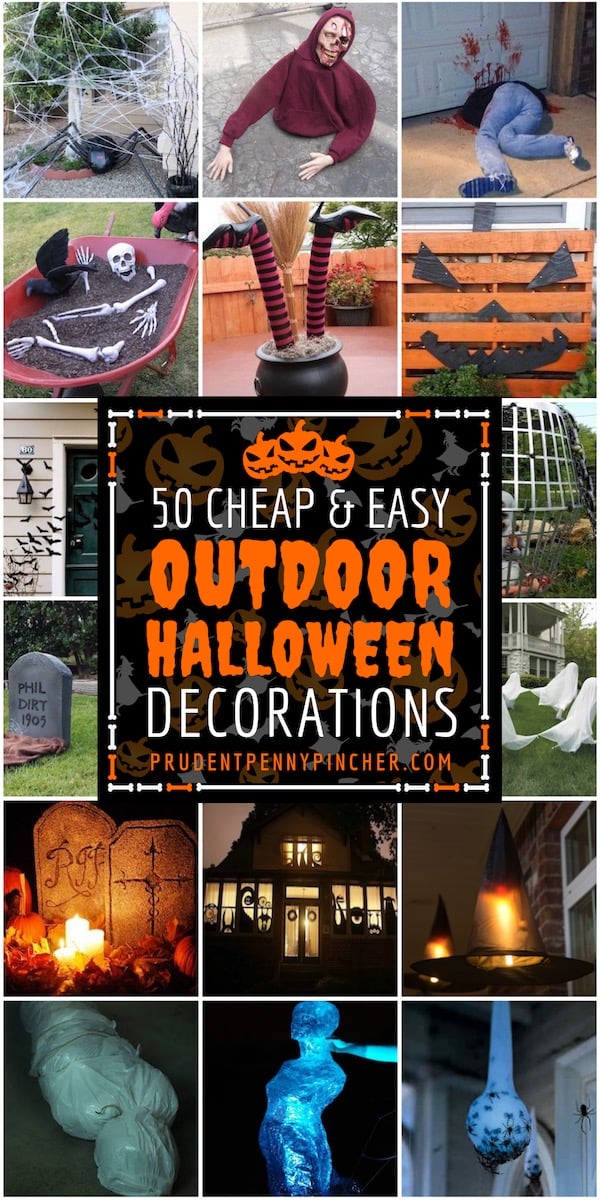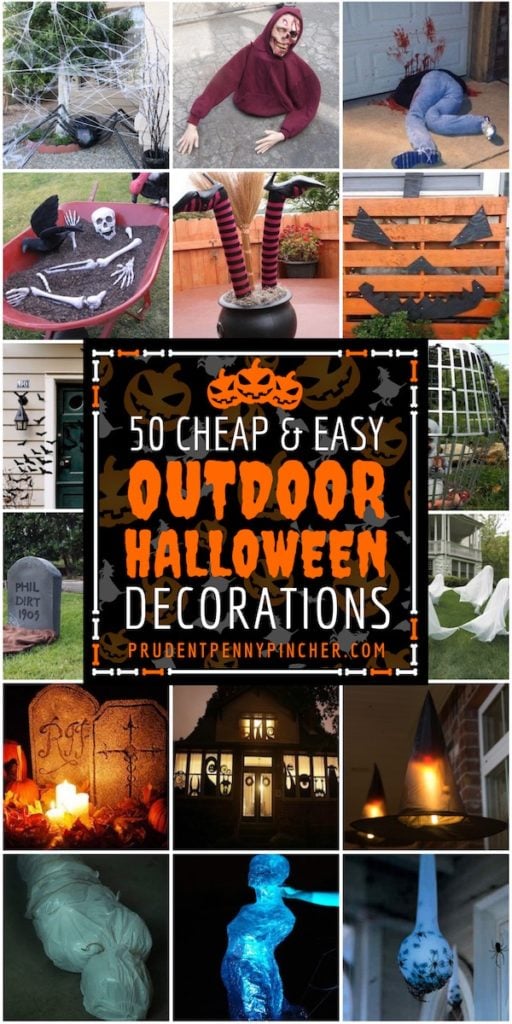 50 Cheap & Easy Outdoor Halloween Decorations