Why pay $50 or more on a Halloween costume that you would only wear once when you can make your own costume for a lot less. Plus, homemade costumes are creative and unique. You won't have to worry about running into someone with the exact same costume on! These cheap and easy DIY halloween costumes include women, couples, children and teen ideas. Also, keep in mind that you can get the clothing for these costumes at thrift stores for great prices!
Women's Halloween Costume Ideas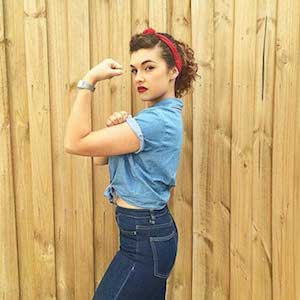 Rosie Riveter
jeans, button down jean shirt, red bandana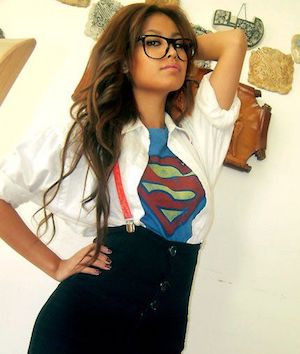 Supergirl Costume
white button down shirt, high waisted pencil skirt, super girl shirt, black rimmed glasses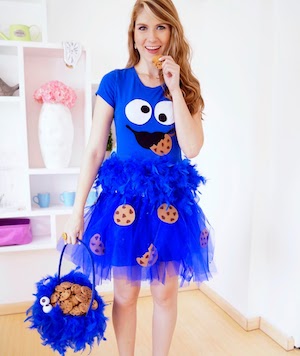 Cookie Monster Costume
blue dress, blue fabric, elastic, fabric glue, and felt in black, white, dark brown, and light brown.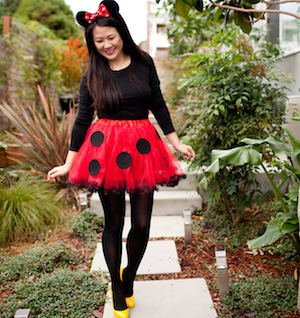 Minnie Mouse
Minnie ears, felt, red tutu (or skirt), black shirt, tacky glue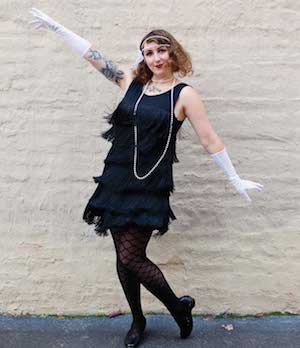 Flapper Girl
pearl beads, feather clip, sparkly barrette ,elastic cord, black dress, fringe, white gloves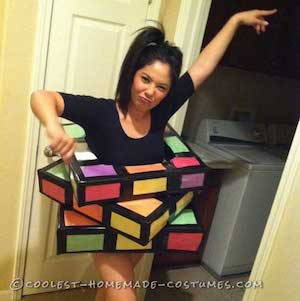 Rubik Cube
cardboard  boxes, colored construction paper, black duct tape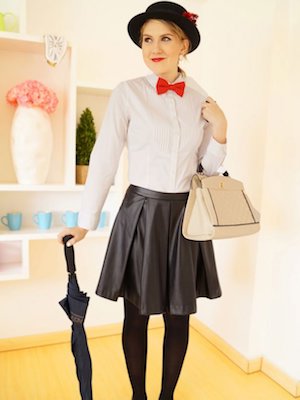 Mary Poppins
black skirt, white button down shirt, red bow, black derby hat, umbrella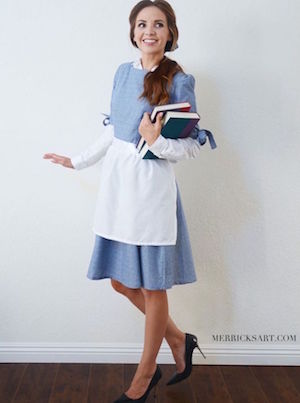 Belle Costume
blue dress, apron , white long sleeves collared shirt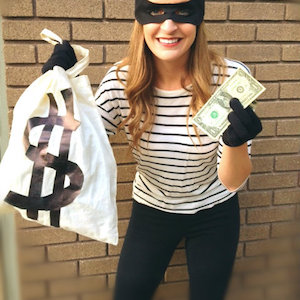 Bank Robber
plastic trash bag, black electrical tape, black striped shirt, black leggings, black gloves,  beanie, & eye mask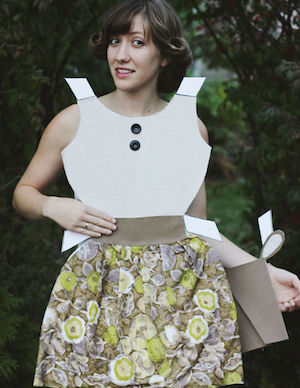 Paper Doll Costume
foam board, X-Acto knife, fabric, glue gun, marker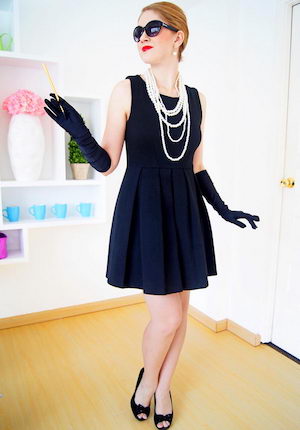 DIY Audrey Hepburn
little black dress, black gloves, pearl necklaces, black sunglasses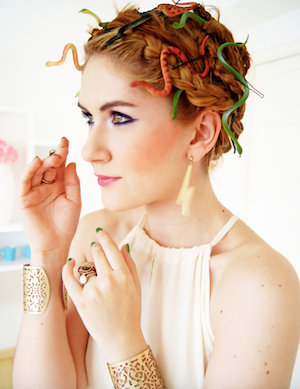 Medusa 
white dress, metallic sandals, gold accessories, bobby pins, rubber snakes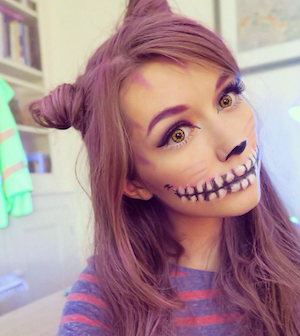 Cheshire Cat
purple hair color spray, purple striped shirt, black and white makeup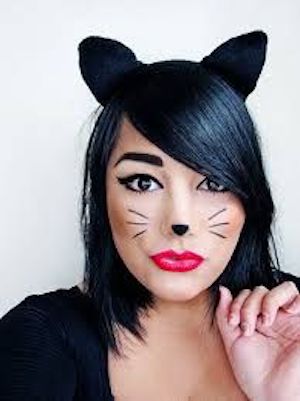 DIY Cat Costume
cat ear headband, cat makeup, black outfit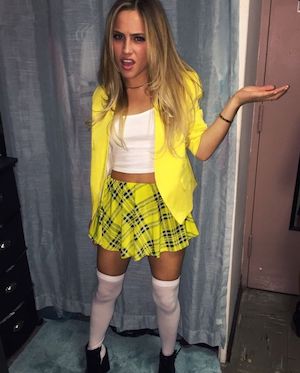 Clueless Costume
knee high stockings, yellow plaid skirt white camisole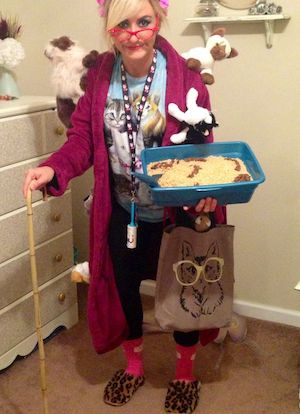 Crazy Cat Lady
robe, stuffed cats, slippers, pajamas, cane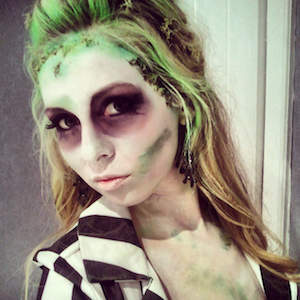 Beetlejuice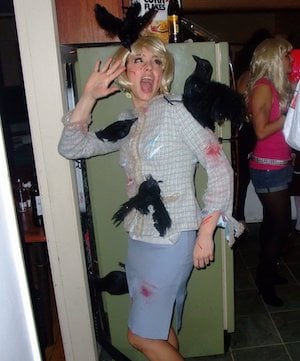 Birds Movie Costume
pencil skirt, blouse, blonde wig, mini crows, glue gun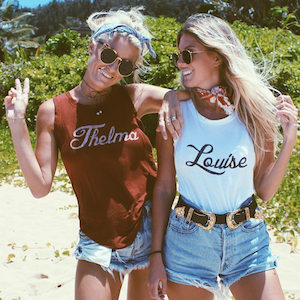 Thelma and Louise
jean shorts, tank tops, iron on letters, sun glasses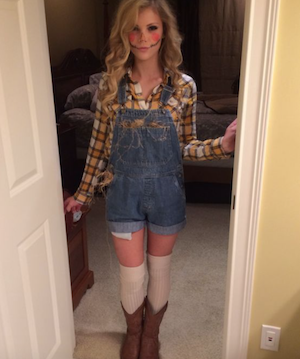 Scarecrow
jean overalls, plaid shirt, knee high socks, boots, scarecrow makeup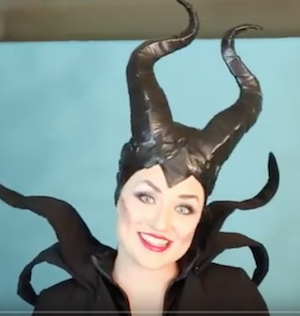 DIY Maleficent Horns
Balloon, Packaging tape, Latex glue, glue gun, Black spray paint, Vinyl leather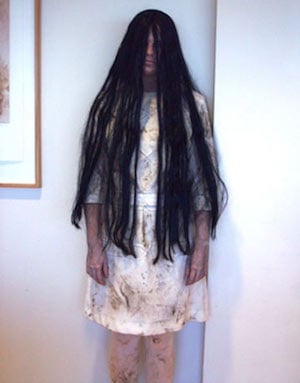 Samara from "The Ring"
old fashioned white dress + long black wig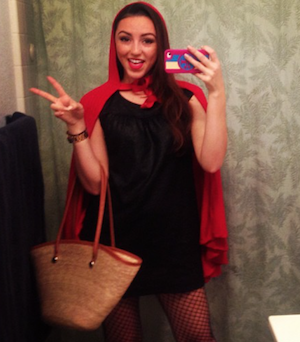 Little Red Riding Hood
red cape, black clothes, tote straw handbags or basket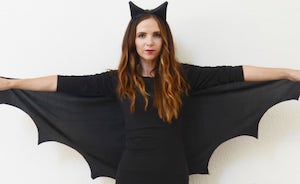 DIY Bat Costume
black fabric, 1/8-inch elastic, headband, thick black fabric, hot glue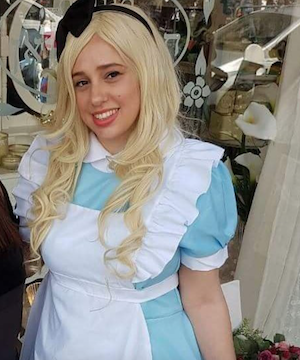 Alice in Wonderland
blue dress, apron, blonde wig , black bow headband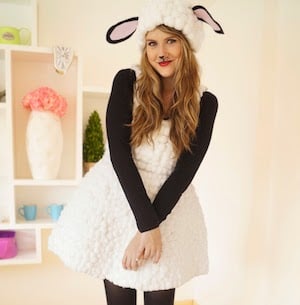 Homemade Lamb Costume
white dress, fabric glue, cotton balls, black tights,  long sleeve black shirt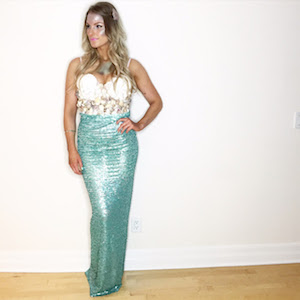 DIY Inexpensive Mermaid Costume
sequin skirt + shells + corset + hot glue gun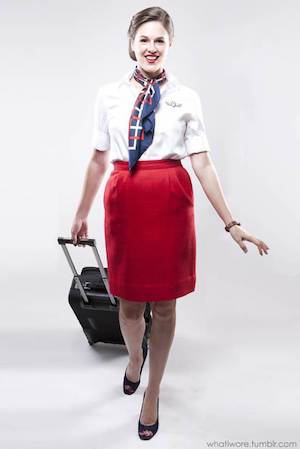 Flight Attendant
white button down shirt, navy or red skirt, silk neck scarf, wing pin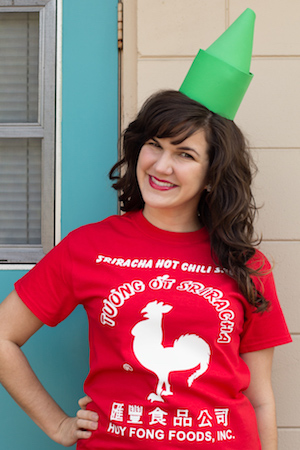 DIY Sriracha Costume
red t-shirt, green craft foam, iron-on transfer paper, printable template
Couples Halloween Costume Ideas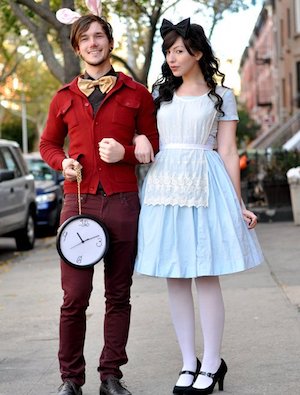 Alice in Wonderland Costume Ideas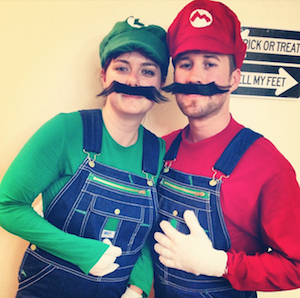 Mario and Luigi
overalls, fake moustaches, white gloves, train hat, and red and green shirts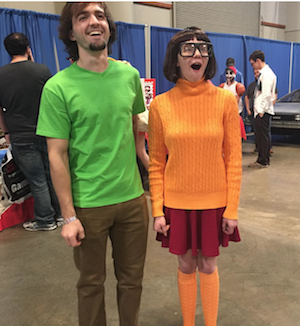 Scooby Doo Costumes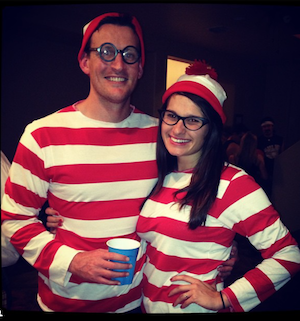 Waldo Costumes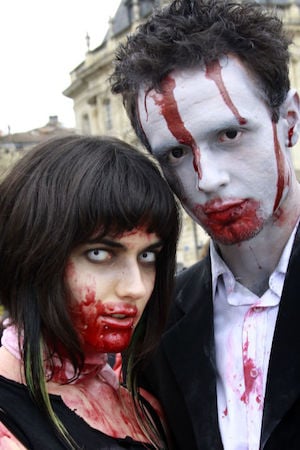 Zombie Couple
fake blood, makeup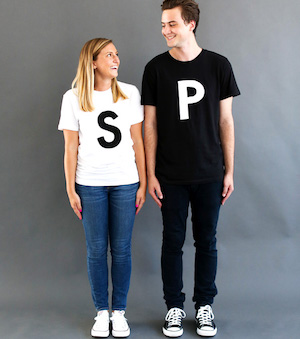 Salt and Pepper
white T-shirt,  black T-shirt and corresponding colored shoes, white & black felt (for letters)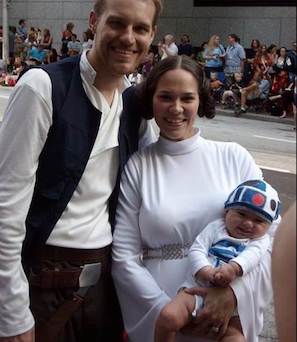 Luke Skywalker and Princess Leia
turtle neck white dress, white belt, black vest, white shirt, black paints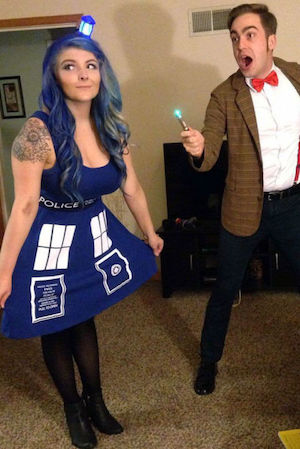 Doctor Who and Tardis
Tardis dress, blue hair dye, black stockings, bow tie and spenders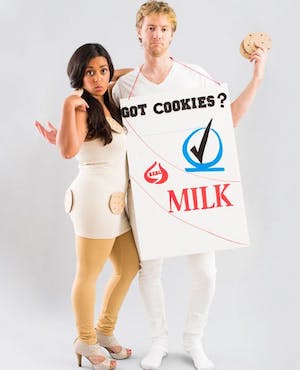 Cookies and Milk
nude tights, cardboard cookies, white t-shirt and pants, white foam core, markers, letter stickers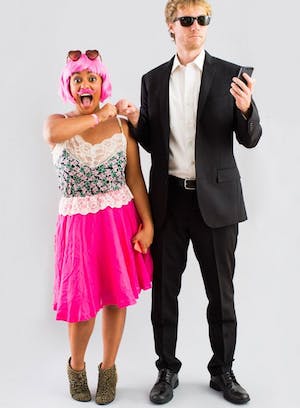 Lyft and Uber
hot pink wig, hot pink mustache, hot pink dress, black suit, black sunglasses
You could even add Uber and Lyft decals to your outfits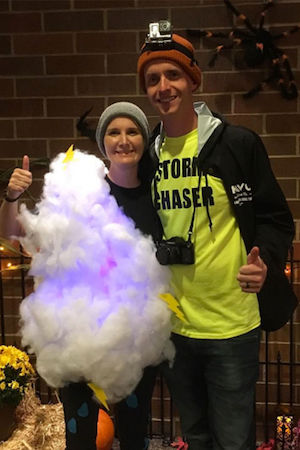 Storm and Chaser
polyfill stuffing, iron on letters, t-shirt
Here is a tutorial for how to make a t-shirt with text
Teenage and 20's Halloween Costume Ideas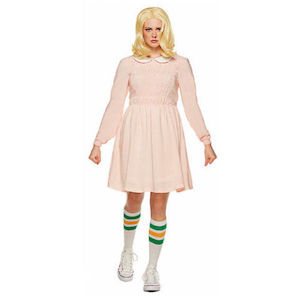 Eleven from Stranger Things
pink dress + striped socks + blonde wig + sneakers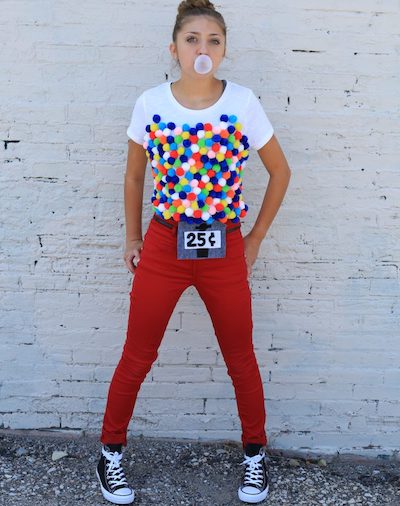 Gumball Machine Costume
red skinny jeans, white shirt, pom pots, glue gun, black felt, safety pin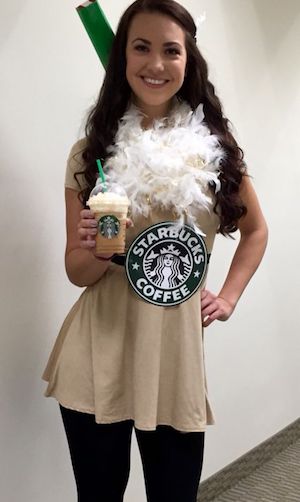 Starbucks Coffee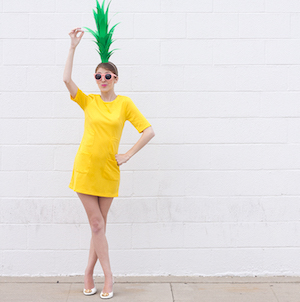 Pineapple Costume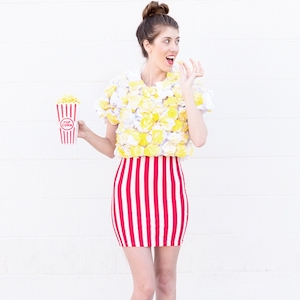 Popcorn Costume
red skirt, white duct tape, white copy paper, yellow spray pain, white t-shirt, glue gun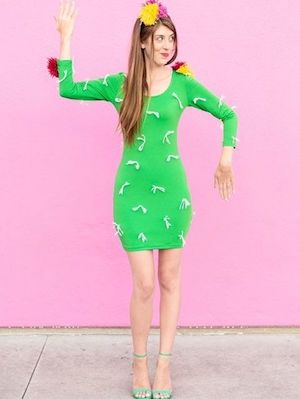 Cactus Costume
green dress, yarn, fake flowers, headband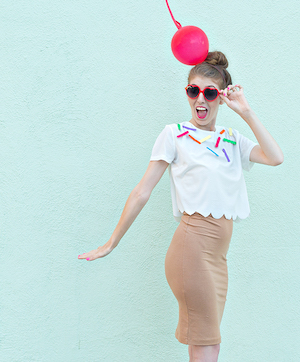 DIY Ice Cream Cone
white shirt + tan dress + yardstick + fishing line + needle + red balloon + bobby pins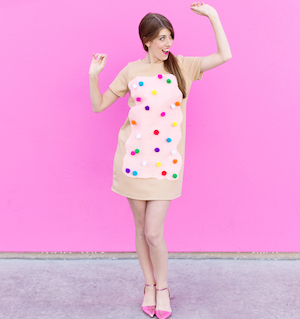 DIY Pop Tart Costume
tan dress, pom pom sprinkles with removable velcro dots, pink felt, hem tape and removable velcro dots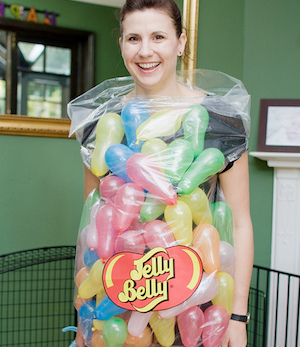 Bag of Jelly Bellies
mini-balloons + sharpie + large clear plastic recycling bag + jelly bean printable sticker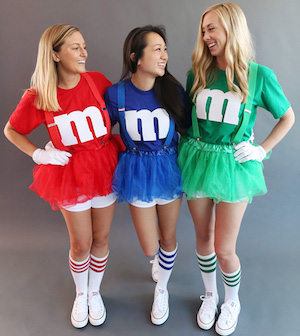 M&M Costume
white gloves, solid-colored tutus, suspenders, striped knee-high socks, solid-colored T-shirts, white felt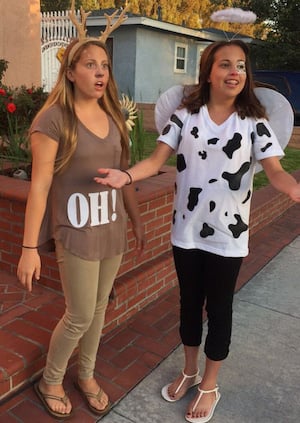 Deer and Cow Costumes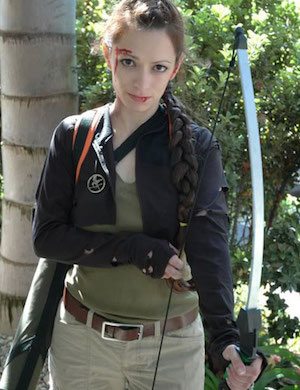 Hunger Games Costume
braid, the Mockingjay pin, bow & arrows, black jacket, green camisole, olive jeans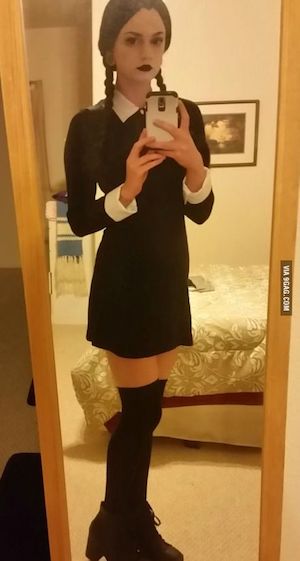 Wednesday Costume
black dress + black knee highs + boots + white collared shirt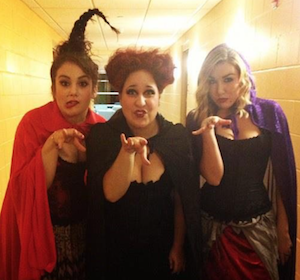 Hocus Pocus Witches
capes + corset + skirt + wig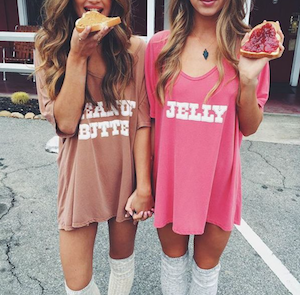 Peanut Butter and Jelly
long shirts (or shirt dresses), iron on letters, knee high socks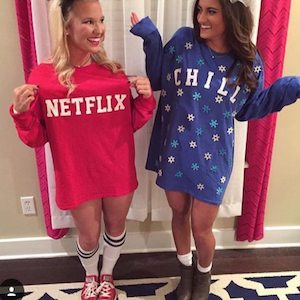 Netflix and Chill
long shirts, iron on letters, snowflake stencil, blue and white acrylic paint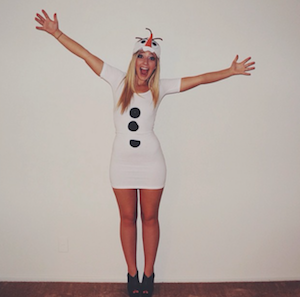 Olaf from Frozen
white body con dress, black and orange felt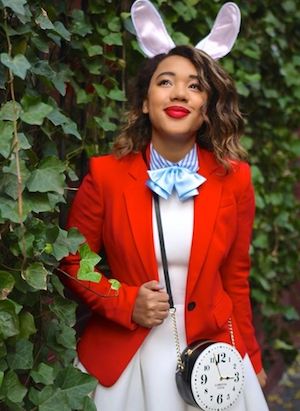 White Rabbit
white dress, red blazer, blue bow, bunny ears, clock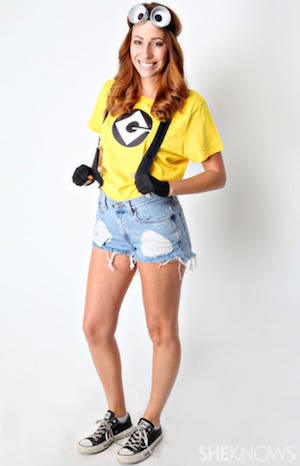 Despicable Me Costume 
yellow T-shirt, denim shorts, black suspenders, black gloves, black headband, plastic foam cups, pins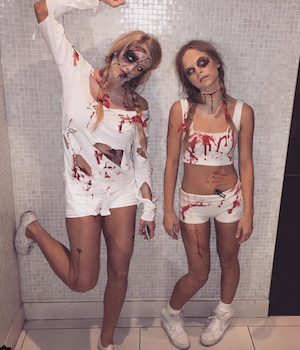 Zombies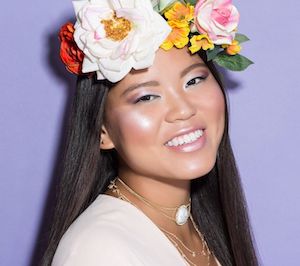 Snapchat Flower Crown Filter
floral wire, fake flowers, flower tape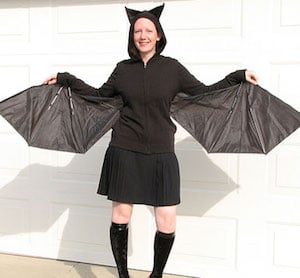 Bat Costume
umbrella, hooded zippered sweatshirt, black dress, needle & thread, pins, pliers, wire cutter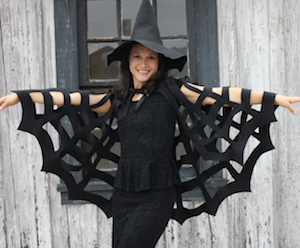 No-Sew Halloween Spiderweb Cape
fleece fabric,  sidewalk chalk, 1 yard of ribbon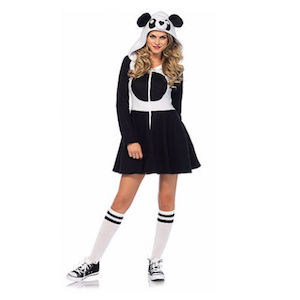 Panda Costume
white hoodie shirt, black skirt, black & white felt, fabric glue
All you need to do is make a large black circle for the belly, and smaller circles for the ears, eyes and nose. Then glue on to the hoodie with fabric glue. Use printable shapes or circular objects to trace circle pattern (bowls, cups, etc).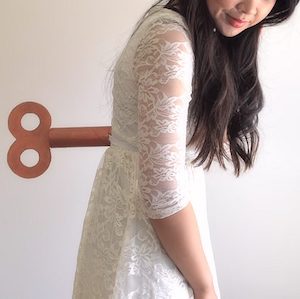 Wind Up Key Costume
scrap cardboard, metallic acrylic paint, masking tape, thread, sewing elastic, paper towel tube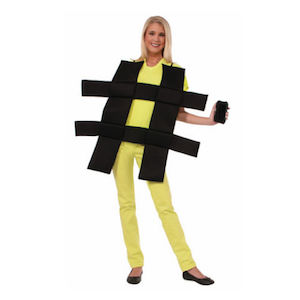 Hashtag
large cardboard, utility knife, black spray paint, yellow outfit, fabric glue or adhesive Velcro
Make the hashtag out of cardboard. Trace pattern and cut out with a knife then spray paint black.
Children and Baby Halloween Costume Ideas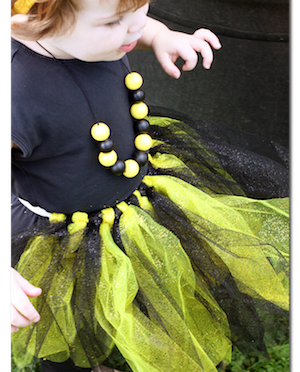 Bee Costume
black tee and leggings, bee bobble headband, elastic, sparkle tulle, wooden beads, yellow and black craft paint, string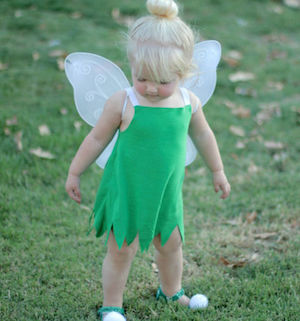 DIY Toddler Tinker Bell Costume
green knit fabric, white elastic, white shoes, green paint, white pom poms, glue gun, fairy wings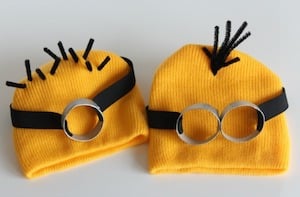 Last Minute Despicable Me Minion Costume
yellow beanie, black pipe cleaner,  paper towel tube, silver paint, black elastic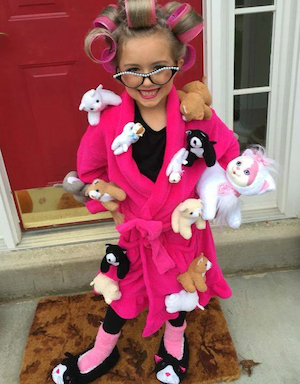 Crazy Cat Lady Halloween Costume
robe, stuffed cats, cat slippers, hair rollers, horned frame glasses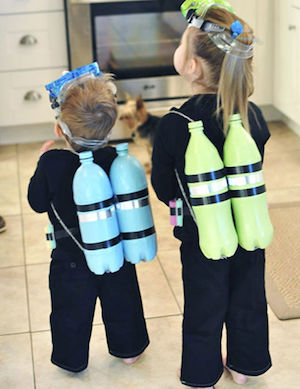 DIY Scuba Diver Costume
black shirt & pants, 2 litter bottles, rope, spray paint, sponge hair curlers, metal pail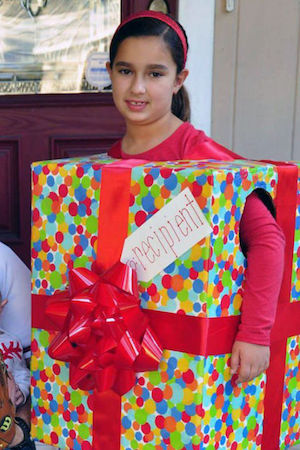 Present Costume
big cardboard box, wrapping paper, ribbon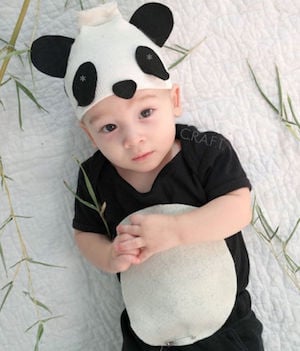 Panda Bear Baby
black onesie, black pants, White hat, black & white felt, glue gun, safety pins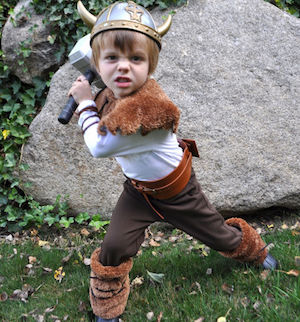 Viking Costume
fuzzy toilet seat cover, leather lace, viking hat, Thor hammer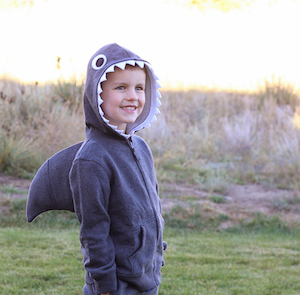 Simple Shark Costume
grey hooded sweatshirt &sSweatpants,  plastic canvas, White felt, black felt, batting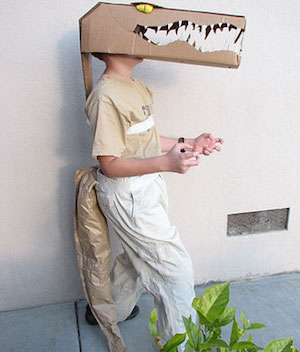 Crocodile
cardboard box, butcher paper, tissue paper, tape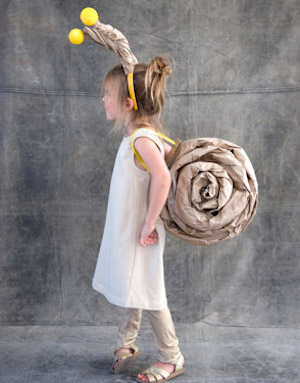 Snail Costume
brown kraft paper, masking tape, headband, styrofoam balls, ribbon, glue gun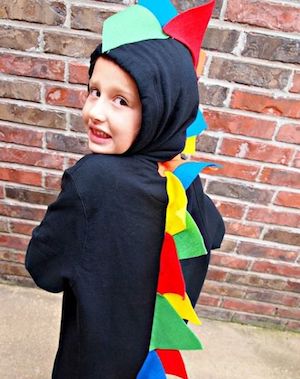 No Sew Dinosaur Costume
a hoodie, felt, glue gun, paper triangle (to use for a pattern)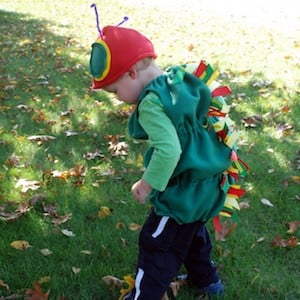 Very Hungry Caterpillar Costume
Ribbon, Green fleece, Red fleece for hat, yellow felt, Elastic
You will need a sewing machine for this project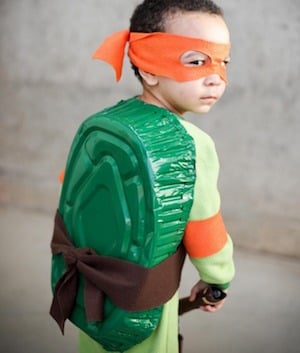 Easy Teenage Mutant Ninja Turtle Costume
green pajamas, tan, orange & brown felt, oval roasting pan, green spray paint, nunchucks, fabric tape, velcro tape, glue gun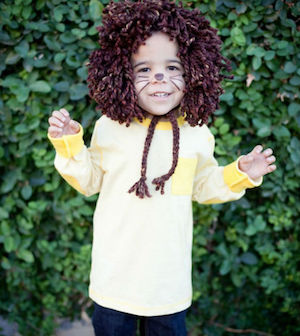 No-Sew Kids Lion Halloween Costume
yellow shirt, yarn (fluffy, multi-colored), scissors, brown eyeliner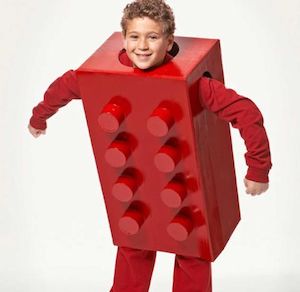 Lego Costume
cardboard box, utility knife, wood glue, craft boxes, glossy spray-paint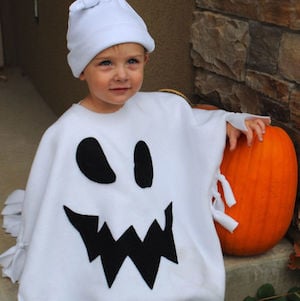 No-Sew Ghost Costume
white fleece, black felt,  fabric glue, sewing scissors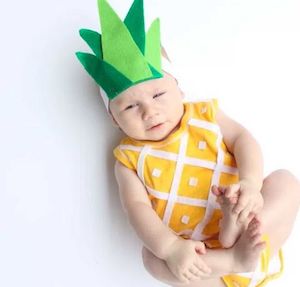 Handmade Pineapple Baby Costume
yellow onesie, white felt, glue gun, elastic, green felt, thin cardboard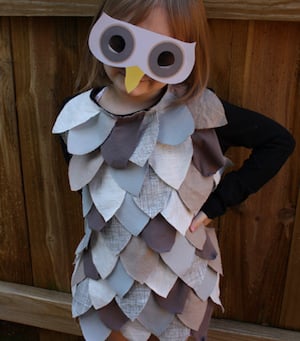 Kids' Owl Costume
dark tee, fabric scraps, fabric glue, card stock, children's sunglasses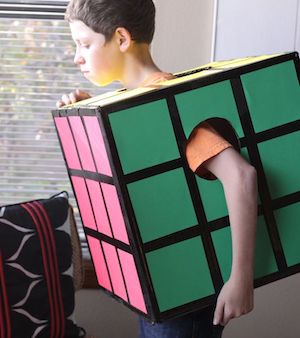 Rubik's Cube
18″ cubed box, box cutter, packing tape,  black spray paint, multicolored cardstock, double sided tape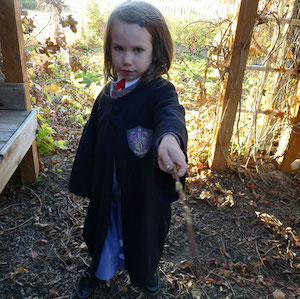 DIY Harry Potter Wizard Robe 
oversize t-shirt, black button, black thread, iron-on hogwarts patch, glue gun