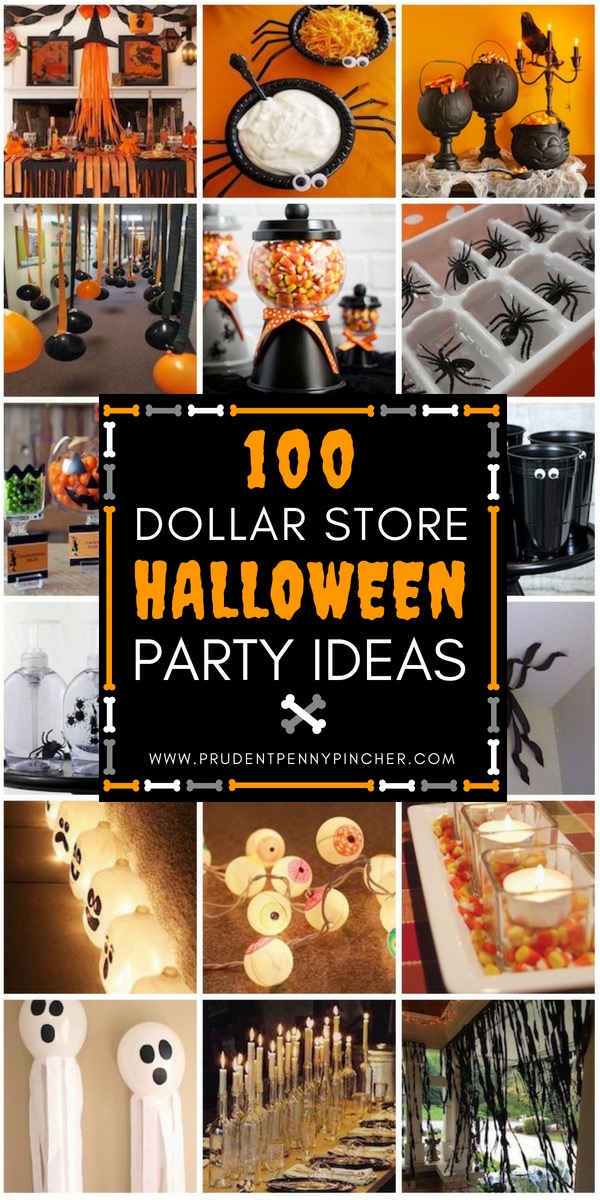 Throw a halloween party for less with these dollar store halloween party ideas. From halloween party decorations to Halloween party favors and game ideas, there's a hundred creative DIY ideas to choose from that won't break the bank.
Things You Can Get at Dollar Tree:
black & orange party supplies

utensils, plates, cups, table covers, bowls, napkins

candles
glass candleholders
streamers
balloons
serveware/drinkware
craft supplies
halloween decor
& much more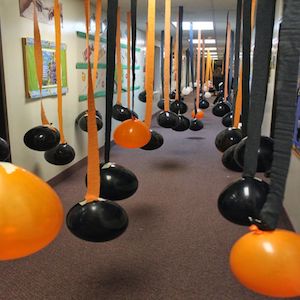 Orange and Black Balloon Streamers (source unknown)
orange & black balloons, orange & black streamers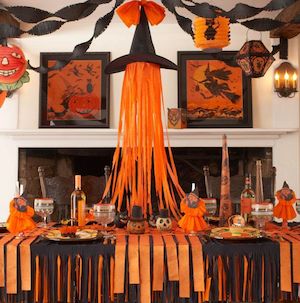 Streamer Halloween Party Decorations
orange & black streamers, witch hat, ribbons, paper lanterns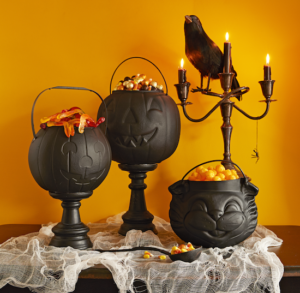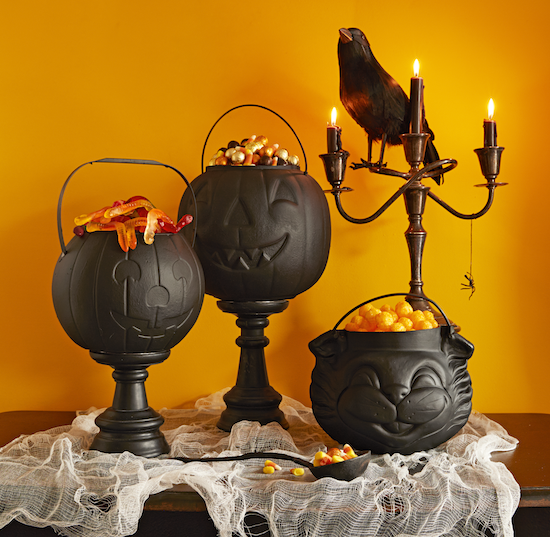 Pumpkin Cauldrons
pumpkin pails, black spray paint, creepy cloth
You can get all these things for $1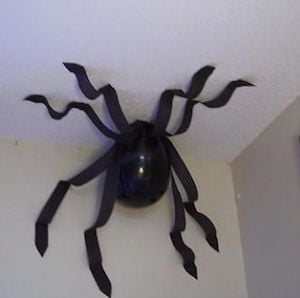 Giant Balloon Spider
large black balloon, black streamers, tape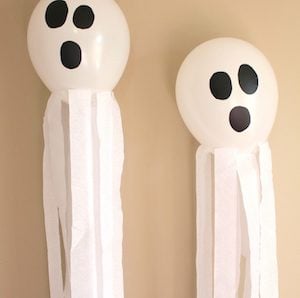 Ghost Balloons
white balloons, white streamers, black sharpie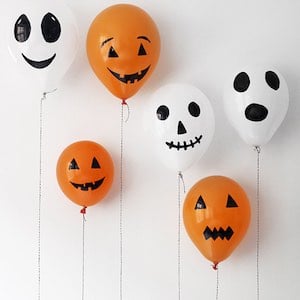 Halloween Balloons
white & orange balloons, black marker, black string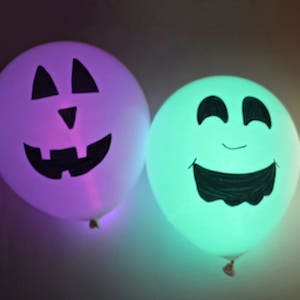 Light Up Halloween Balloons
white latex balloons, glow sticks, black sharpie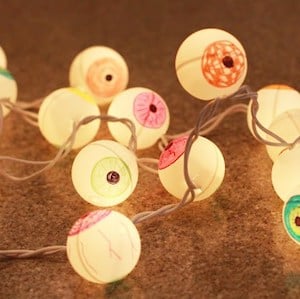 DIY Eyeball Lights
$1 ping pong balls, sharpies, string lights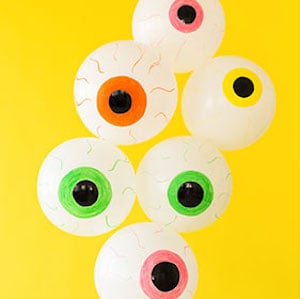 Eyeball Balloons
$1 white balloons, clear tape, paint markers, $1 curling ribbon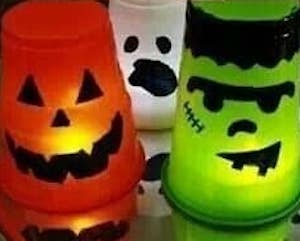 Halloween Cups
sharpie (or adhesive vinyl), plastic cups, glow sticks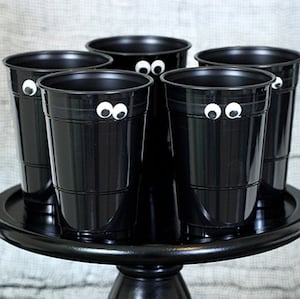 Spooky Halloween Party Cups
black party cups, googly eyes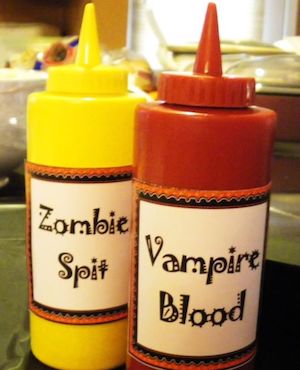 Spooky Condiment Bottles
$1 condiment bottles, printable stickers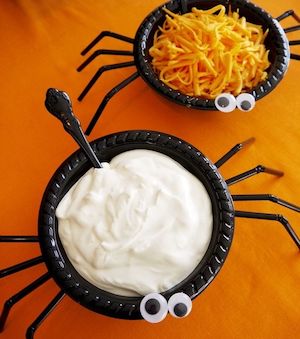 Spider Dip
black flexible straws, googly eyes, black party bowls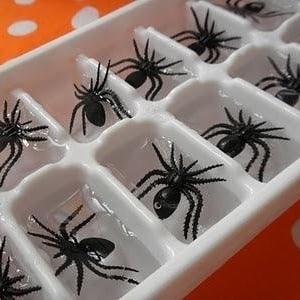 Spider Ice Cubes
ice cube trays, plastic spiders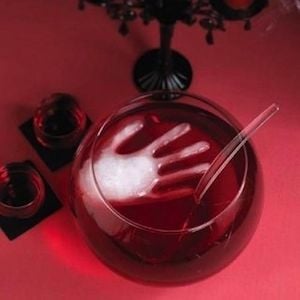 Frozen Hand Fruit Punch
All you need is gloves, rubber band and water!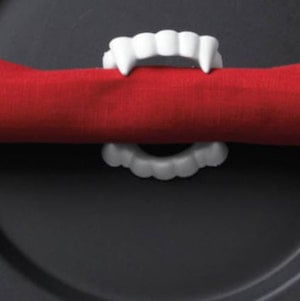 Fang Napkins
$1 plastic fangs, red napkins, black paper plates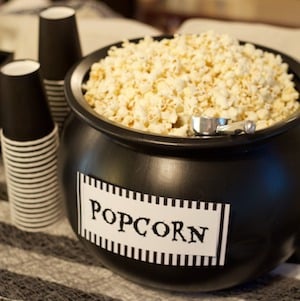 Cauldron of Snacks
$1 cauldron, popcorn, chips, crackers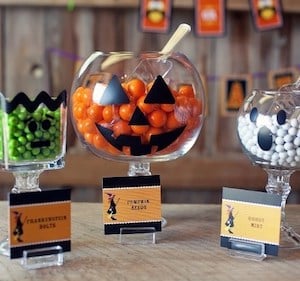 Monster Candy Jars
$1 glass taper candleholders, $1 glass candleholders, adhesive vinyl, candy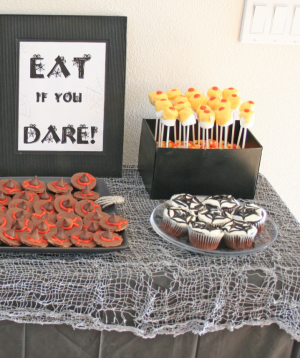 Creepy Cloth (Dollar Tree)
Add it to your table, halloween scene, lamp shades and curtains for a budget-friendly spooky touch!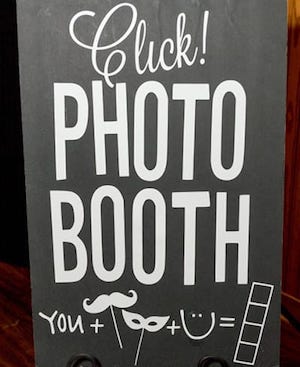 Photo Booth Sign
$1 black foam board, letter stickers or white paint pen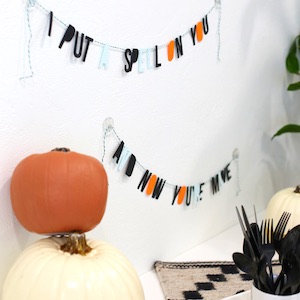 DIY Halloween Banner
$1 construction paper, scissors, $1 baker's twine, clear tape
You can print the letters out from the computer, trace them onto colored paper with a pencil and cut them out.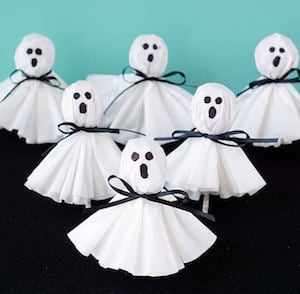 Ghost Lollipops
lollipops, coffee filters, small rubber bands, thin ribbon, black sharpie marker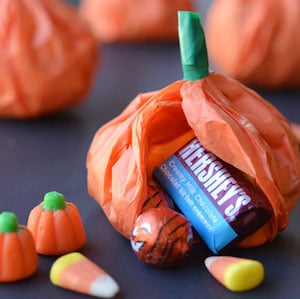 Tissue Paper Pumpkin Favors
orange tissue paper, floral tape, candy, 9″ cake pan
You can get everything at the Dollar Tree
Indoor Dollar Store Halloween Party Decorations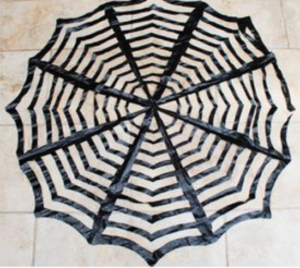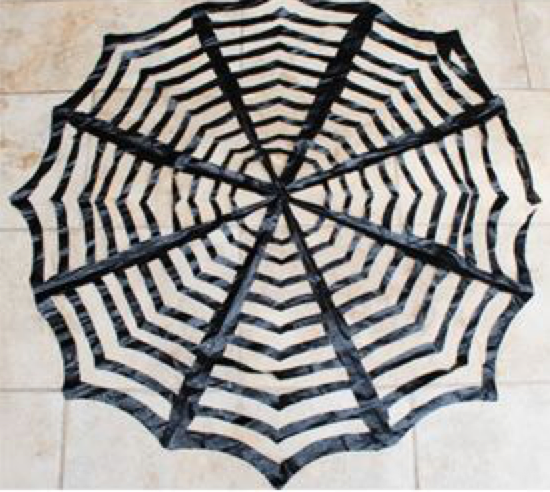 Trash Bag Spider Webs
cheap black trash bags, scissors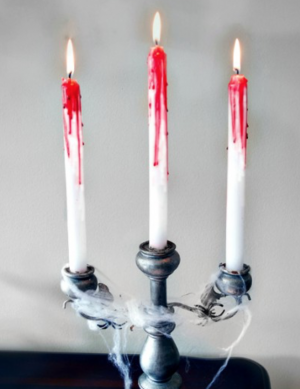 DIY Bleeding Candle
white taper candles, red taper candle
Just light the red candle and drip it over the top of the white candle.
Tip: If you don't have a candelabra, you can put the candles inside an empty wine bottle
and put a creepy printable label on the bottle.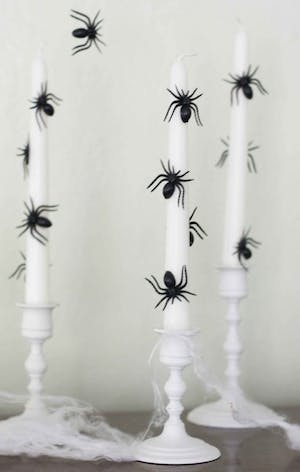 Spider Candles (source unknown)
$1 glass taper candleholders, white spray paint, spider webs with plastic spiders, $1 white taper candles, 2pk
You can get all of these items for $1 each.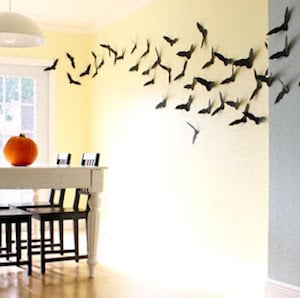 Black Bats
black construction paper, printable bat template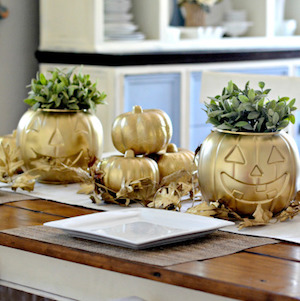 $1 Pumpkin Centerpiece
pumpkin pails, fall leaf garland, gold spray paint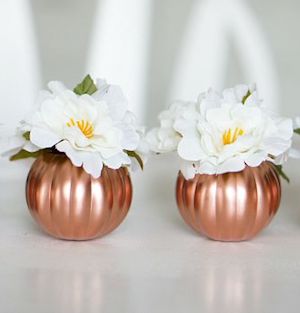 Copper Pumpkins Fall Centerpiece
$1 plastic pumpkin pails, fake flowers, copper spray paint, rice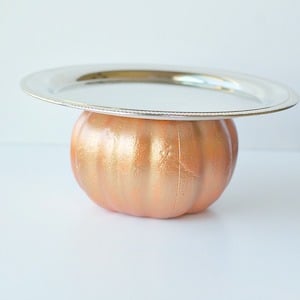 Pumpkin Serving Platter
$1 foam pumpkin, $1 silver charger,  glue gun, copper paint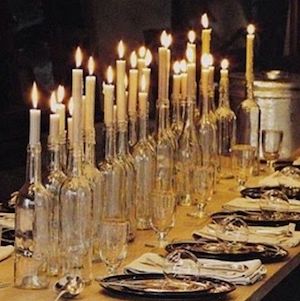 Halloween Candle Centerpiece
old wine bottles, white taper candles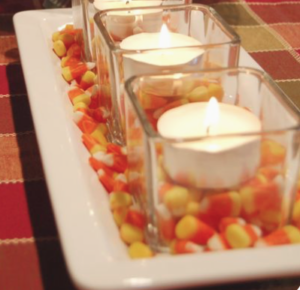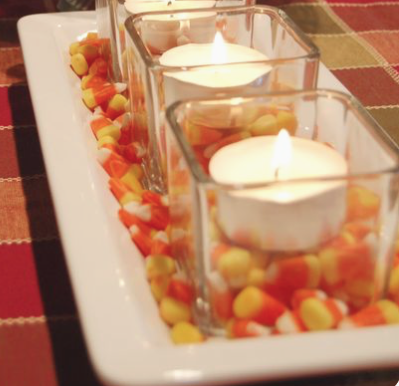 Candy Corn Candles
candy corn, $1 glass candleholder, tea light candles, candle tray
You can get everything but the candle tray at Dollar Tree.
You could find a similar tray at a thrift store for a couple dollars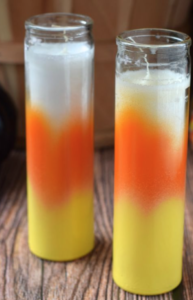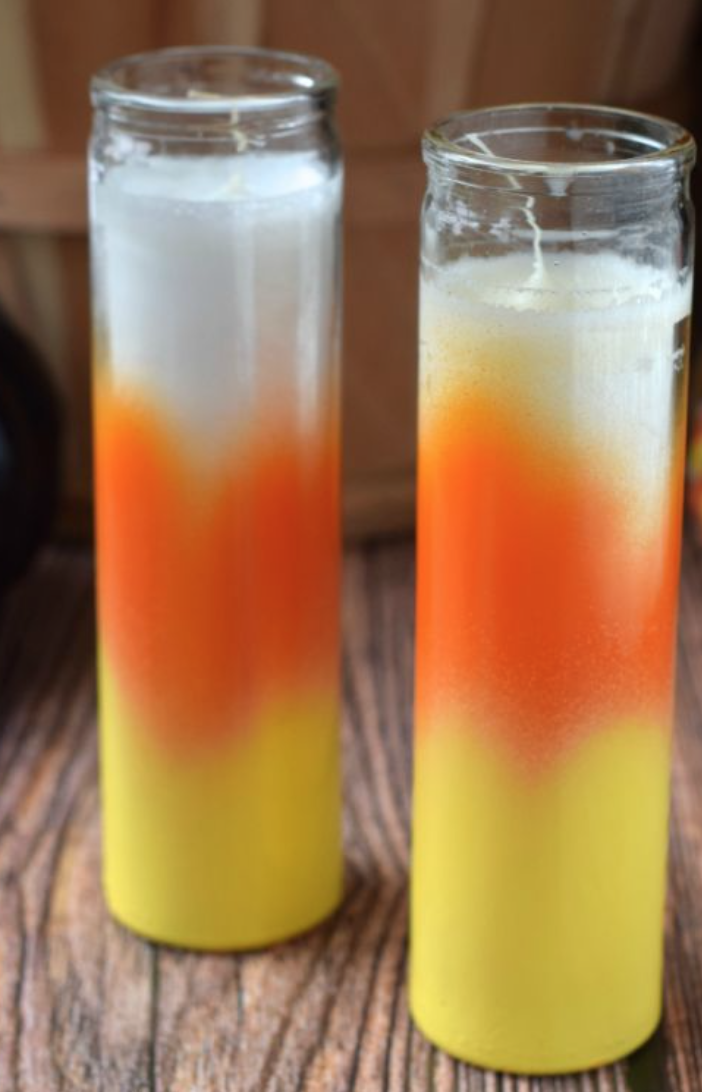 Candy Corn Spray Painted Jar Candle
$1 glass jar candles, orange and yellow spray paint
You can get the spray paint for around $1.50 each at Walmart.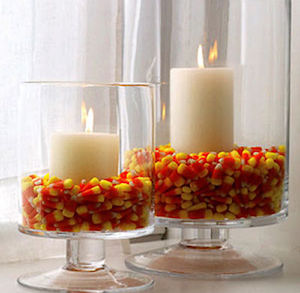 Candy Corn Candles II
tall glass candleholders, pillar candles, candy corn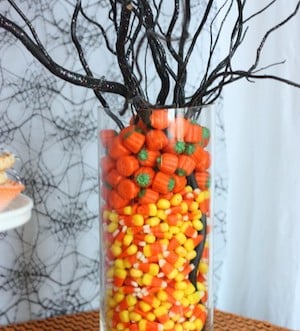 Candy Corn Centerpiece
branches, black spray paint, candy corn, candy pumpkins, glass vase, paper towel roll
Put the paper towel roll in the center of the vase and pour the candy around the roll. Then put the black spray painted branches in the middle. You could also fill it with fall colored florals from Dollar Tree.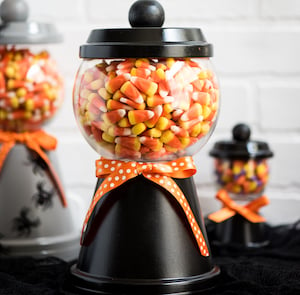 Candy Jar DIY
round glass candleholder, terra cotta pot & saucer, wooden knob, black paint, ribbon
Even though you can't get the pot, saucer and knob at Dollar Tree, you can get them for $1 or less at Walmart or a home improvement store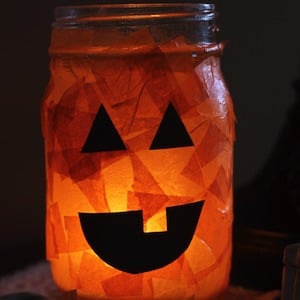 Halloween Mason Jar
mason jar, orange tissue paper, mod podge, black construction paper, sponge brush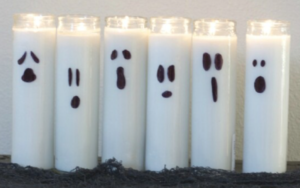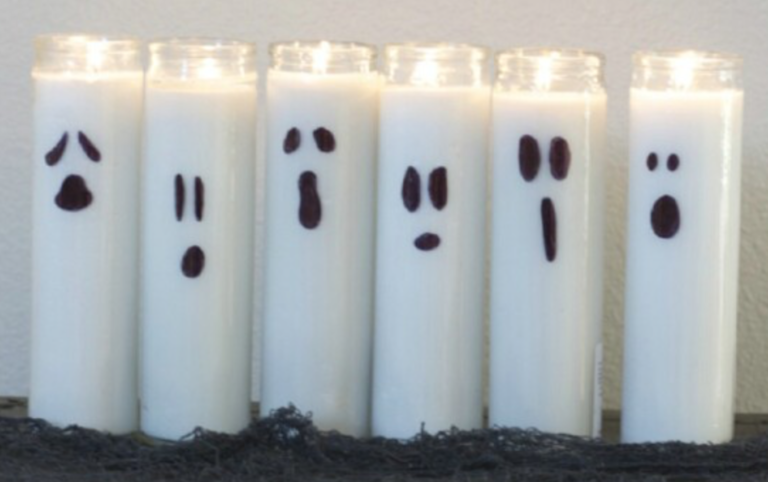 Ghost Candles
$1 glass jar candles, black permanent marker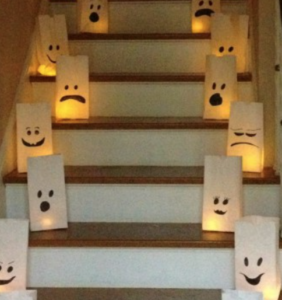 Ghost Paper Bags
white paper bags, $1 LED tea light candles, black marker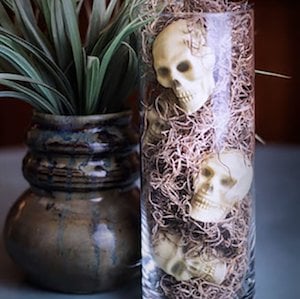 Vase of Skulls (#6)
small skeletons, tall glass vase, spanish moss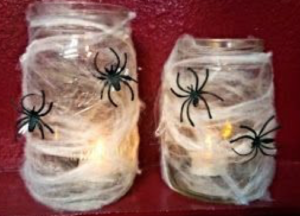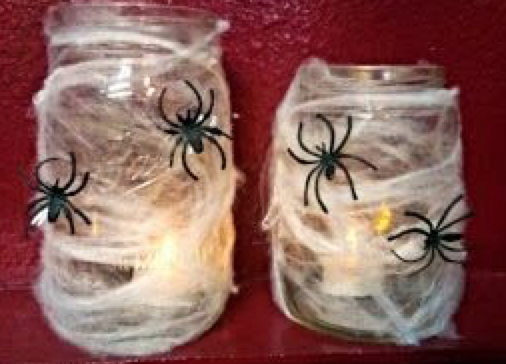 Spider Web Mason Jar
webs with spiders, battery operated tealight candle, mason jar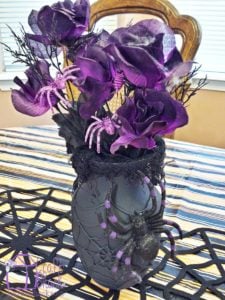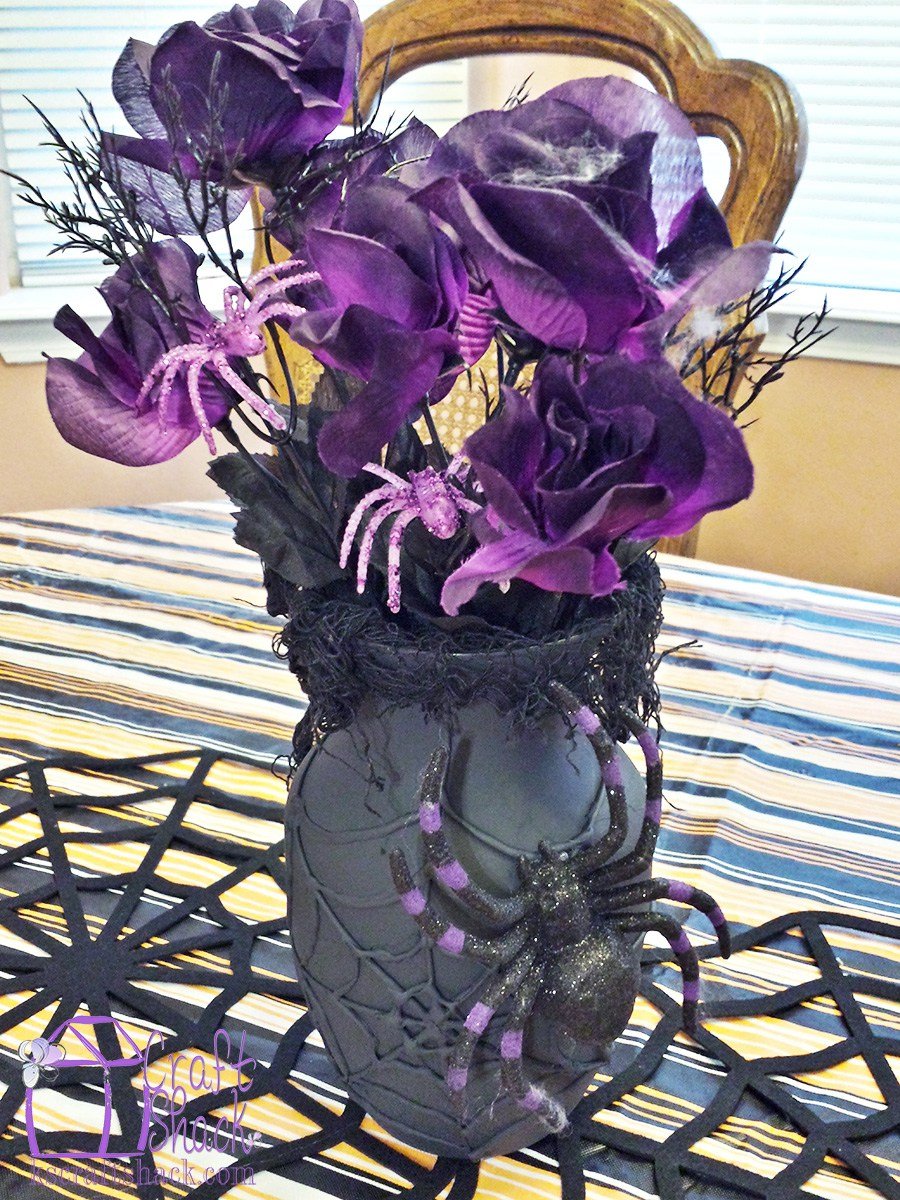 Spooky Halloween Vase
small glass vase, black spray paint, hot glue
It does require some drawing skill for the spider web detail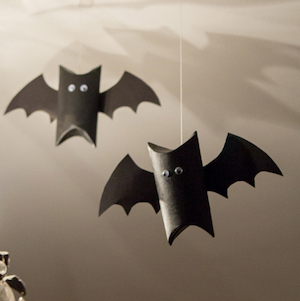 Toilet Paper Roll Bats
empty toilet paper roll, black paint, black construction paper, googly eyes
Bathroom Dollar Store Halloween Party Decorations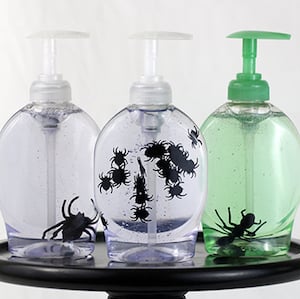 Halloween Hand Soap
confetti, mini creatures, hand soap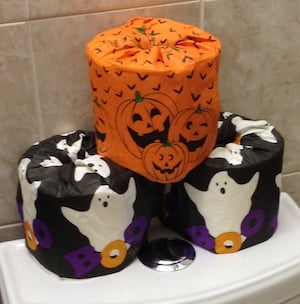 Toilet Paper Covers
Halloween napkins, toilet paper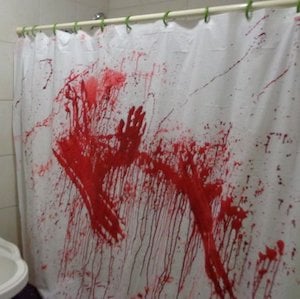 Murder Scene Bathroom
$1 shower curtain, pint of fake blood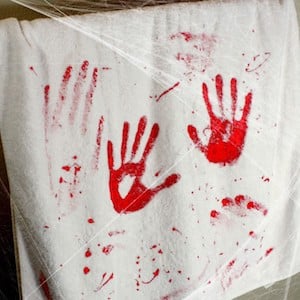 Bloody Bath Towel
$1 hand or bath towel pint of fake blood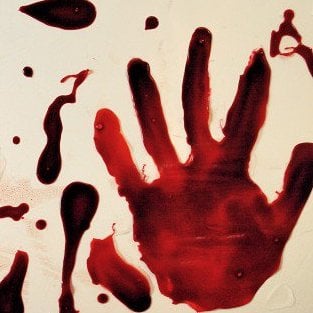 Bloody Handprint 
craft glue, food coloring, plastic wrap, wax paper, tape
You can get everything but the food coloring at Dollar Tree
Outdoor Dollar Store Halloween Party Decorations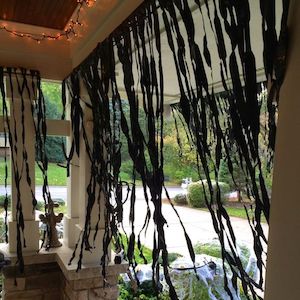 Creepy Black Curtained Porch
cheap black trash bags, double sided tape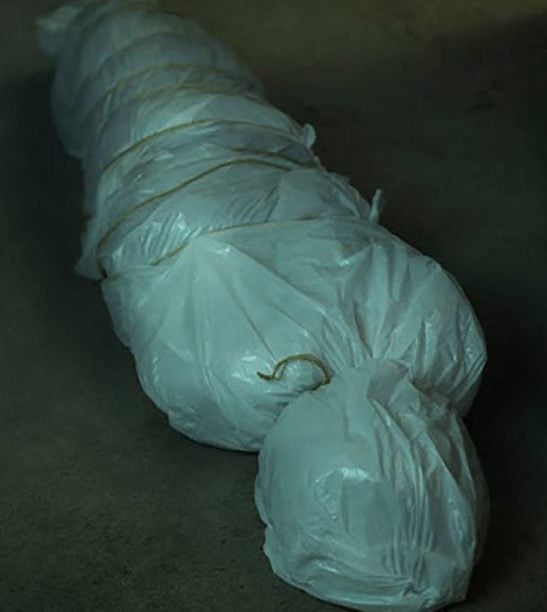 Body Bag
cheap white trash bags, twine
Create an outline of a body with trash and wrap it up in the trash bag and twine.
(Ex: use a milk jug for the head)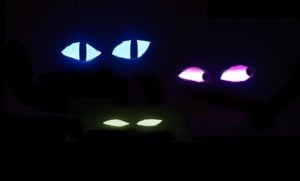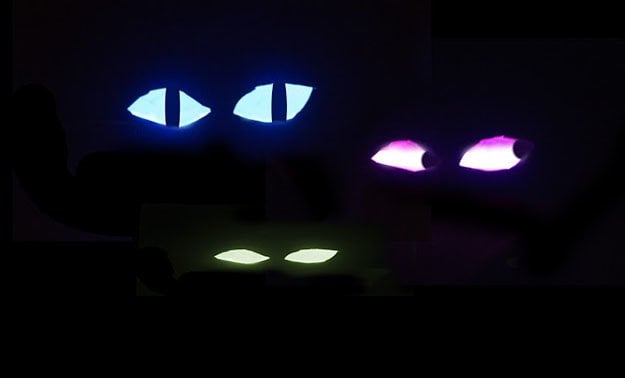 Spooky Eyes
Paper towel or toilet paper rolls, glow sticks
Cut paper towel roll in half. Cut out eye designs and put glow sticks inside.
Place in bushes for a scary effect!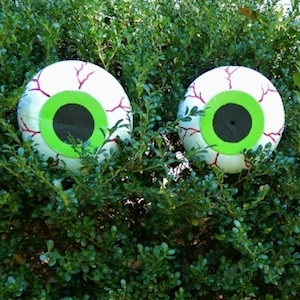 Spooky Bush Eyes
$1 pumpkin pails, white spray paint, black & red acrylic paint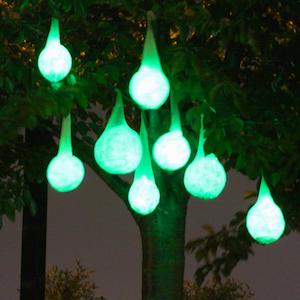 Glowing Halloween Light Pods
small balloons, coffee filters, white glue, glow sticks, string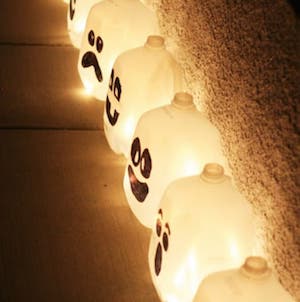 Ghost Jugs
empty milk jugs, black permanent marker, craft knife, string clear lights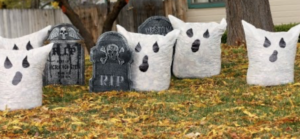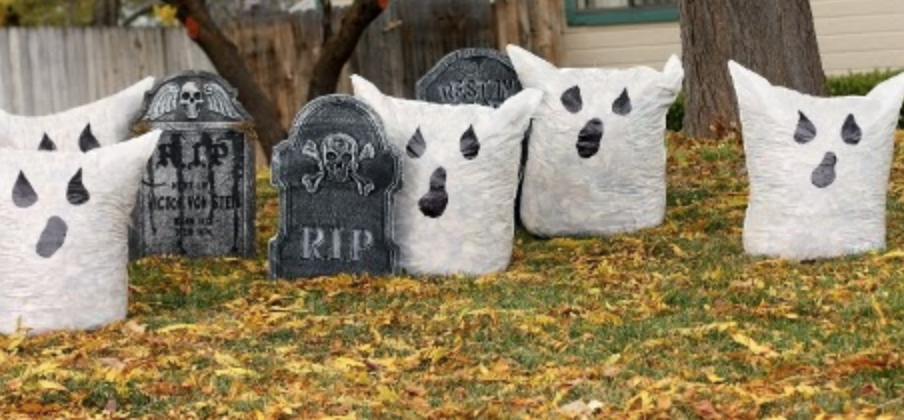 Ghost Leaf Bags
white trash bag, black permanent marker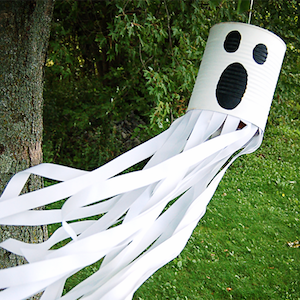 DIY Tin Can Ghost Windsock
tin can, white spray paint, black paint, white ribbon, twine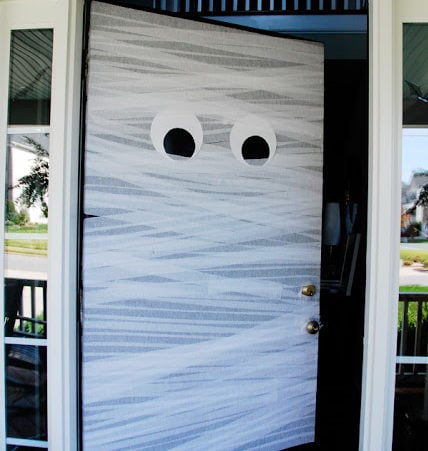 Mummy Door
white streamers, black construction paper (Walmart -$0.75), printer paper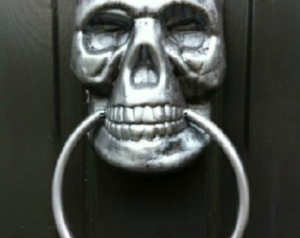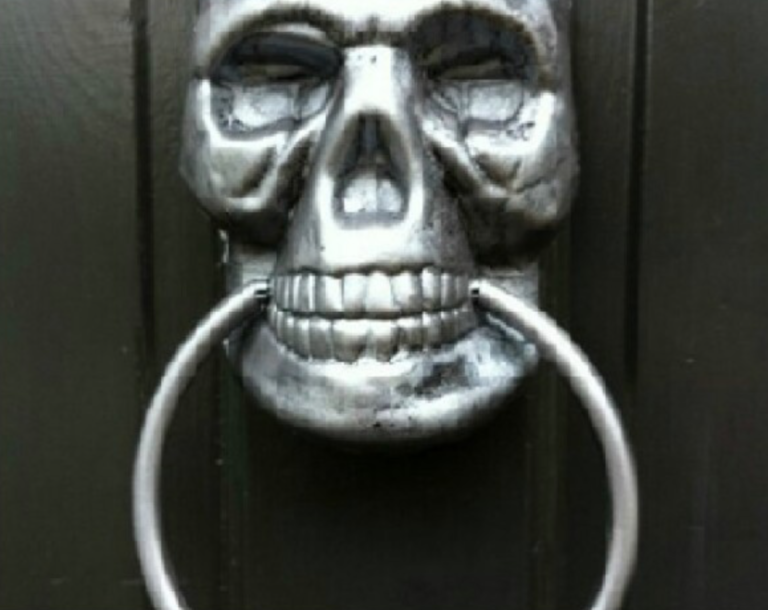 Metallic Skull Knocker
$1 plastic skull knocker, metallic Rust-Oleum spray paint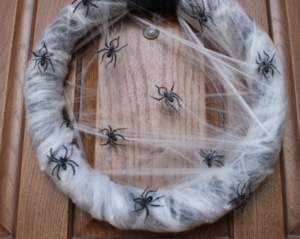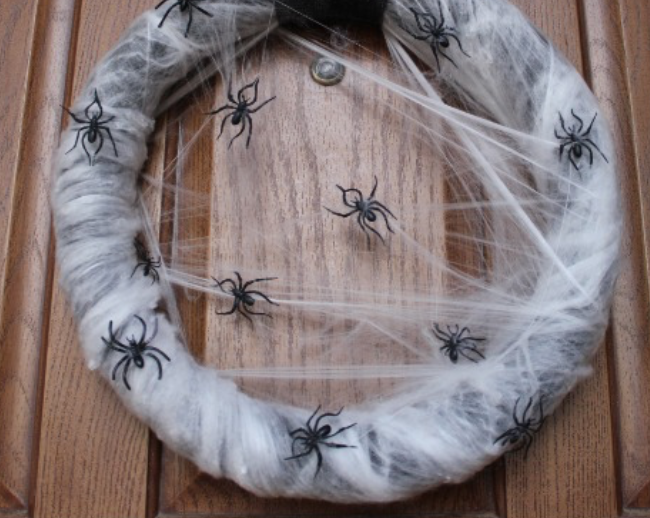 Spider Web Wreath
foam wreath, black spray paint, spiders, spider webs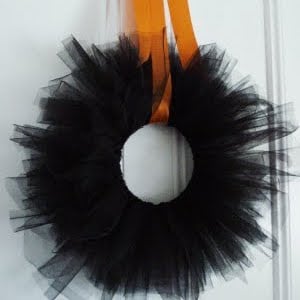 Frugal Tulle Halloween Wreath
black spray paint, foam wreath, black tulle, orange ribbon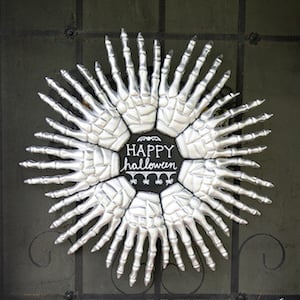 Skeleton Hands Halloween Wreath
plastic skeleton hands, silver spray paint, chalkboard circle, chalk marker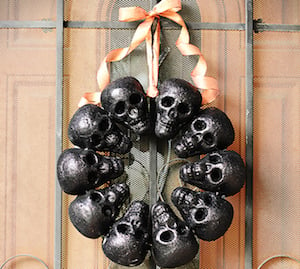 Halloween Skull Wreath
$1 foam mini skulls, wire, hot glue & gun, ribbon (Dollar Tree)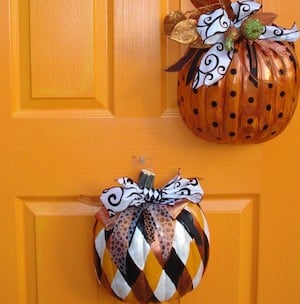 Pumpkin Door Decor
$1 plastic pumpkin, craft paint, tissue paper, mod podge, halloween ribbons
You can get the pumpkin, tissue paper, and halloween ribbons at Dollar Tree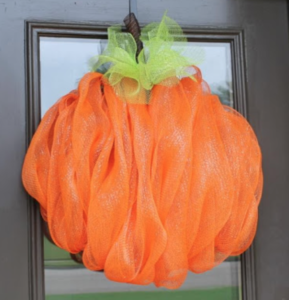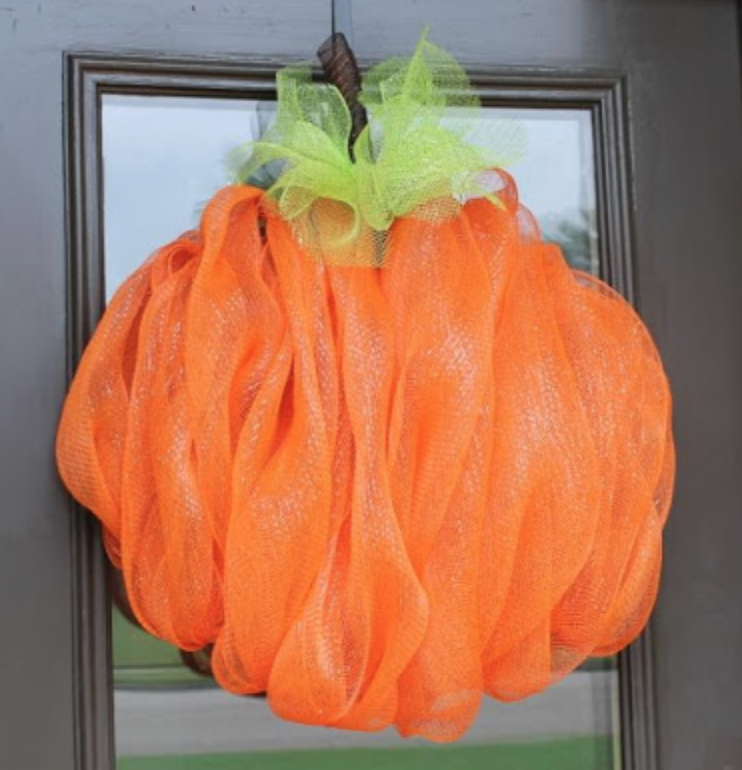 Mesh Pumpkin Wreath
wire wreath, orange mesh, green deco mesh, orange chenille stem
You can get everything at Dollar Tree. It only cost $5 to make this pumpkin wreath!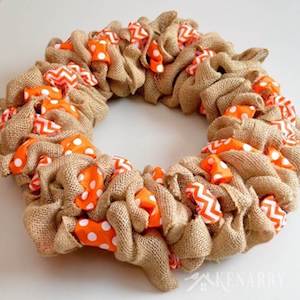 Burlap Wreath With Accent Ribbon
wide burlap ribbon, wire wreath, accent ribbons
Dollar Store Halloween Party Games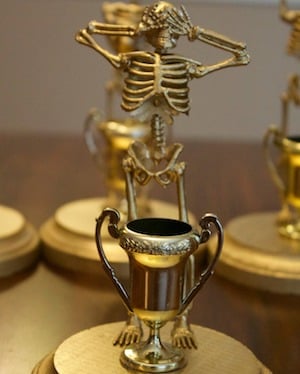 DIY Halloween Costume Content Trophy
$1 plastic skeletons, $1 plastic golden trophies, wood plaque, gold spray paint, glue gun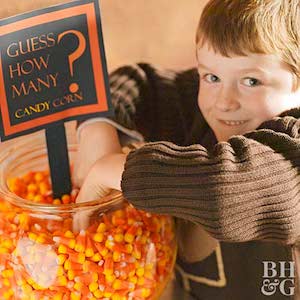 Candy Corn Guessing Game
large glass bowl, candy corn, stake ($0.75 at Walmart), printable sign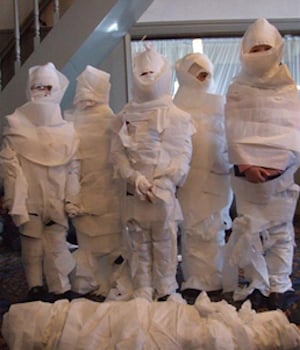 Mummy Wrapping Contest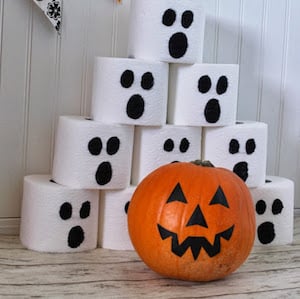 Pumpkin Bowling Using Toilet Paper from I Dig Pinterest
cheap toilet paper, sharpie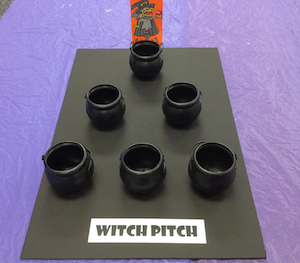 Dollar Store Witch Pitch from Campbell County Public Library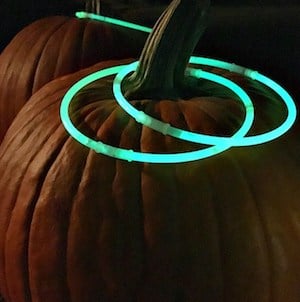 Pumpkin Ring Toss from Kid Friendly Things to Do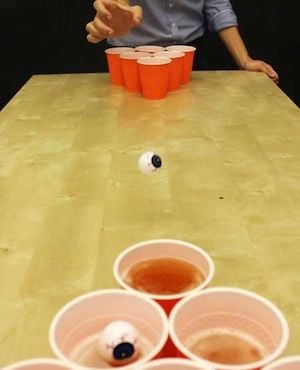 Eyeball Beer Pong
$1 eyeball ping pong balls, plastic cups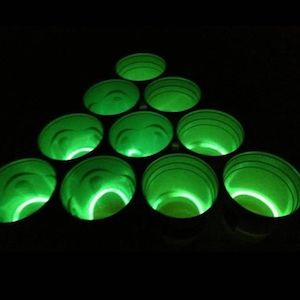 Glow in the Dark Beer Pong
glow in the dark brackets, plastic cups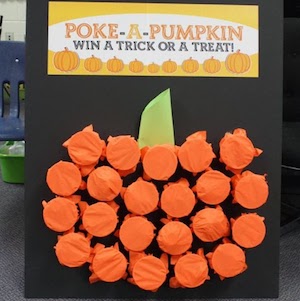 Poke A Pumpkin
orange plastic cups, orange napkins, rubber band, cheap surprises, scrap of green paper
You can get all these items at Dollar Tree