Spread some Halloween cheer with these Free You've Been Booed Printable signs.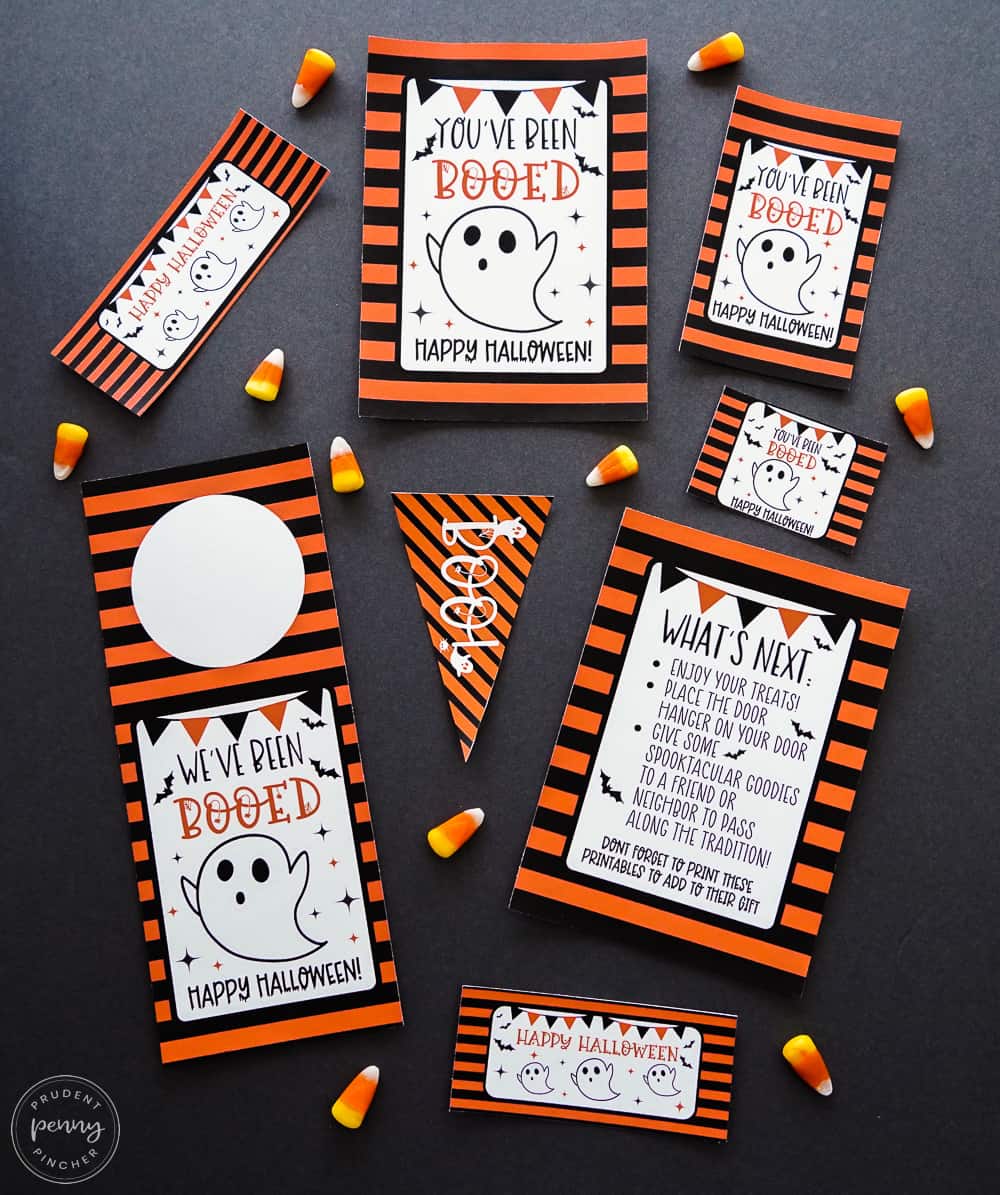 Halloween is just around the corner! While we all love trick-or-treating, making fun Halloween crafts, and indulging in some Halloween treats, there's another fun way to get into the Halloween spirit—Booing your neighbors!
Give your neighbors, community, or friends a boo basket, and include these free Halloween printables. These free printables will add that extra pinch of spookiness to your gift and make your boo-basket the talk of the neighborhood! This post also includes some fun gift ideas and gives an in-depth tutorial on how to assemble your basket.
When the holidays roll around, don't forget to try the Christmas version, too: You've Been Elfed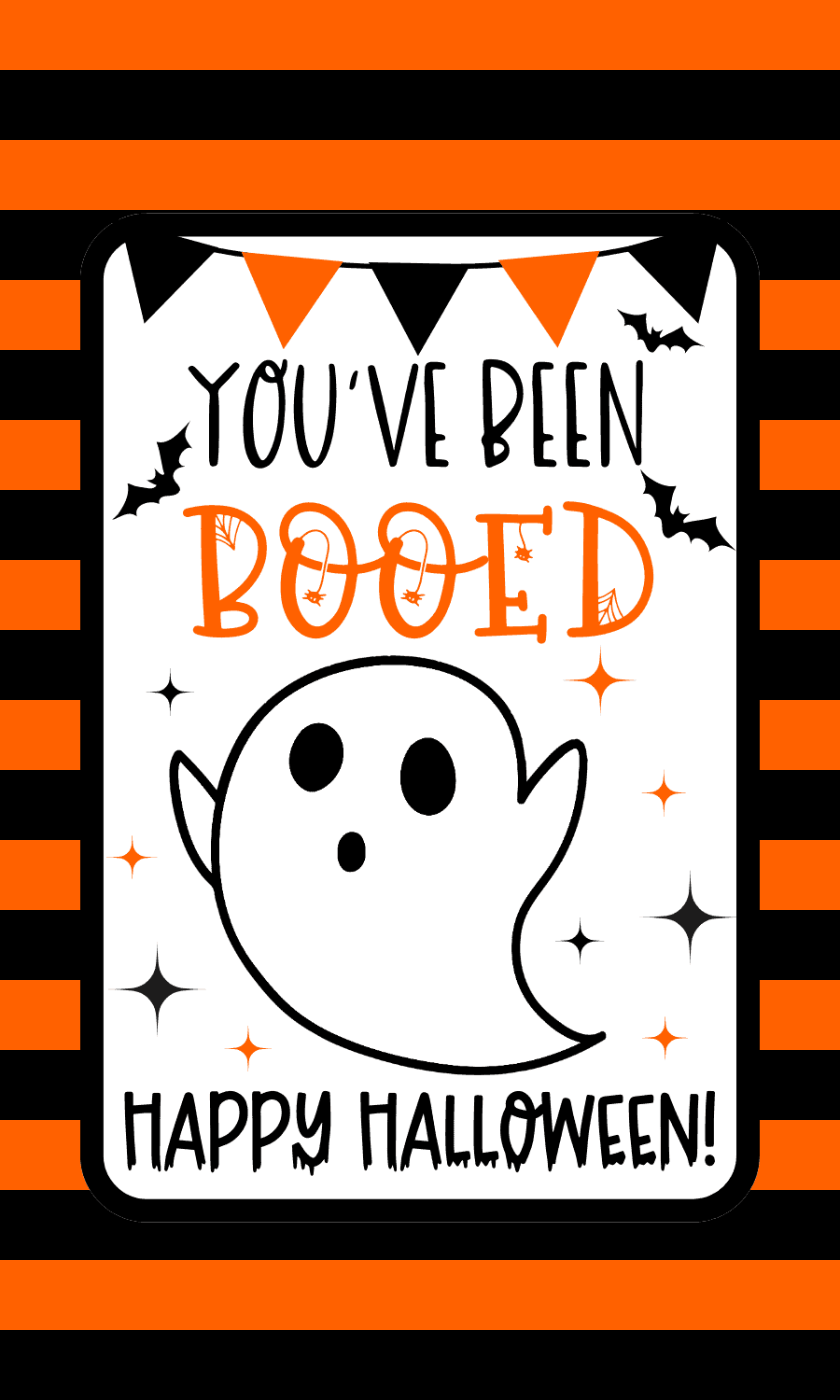 Jump to:
What is it, and How Do You Participate?
You've Been Booed is a fun Halloween tradition to spread spooky cheer within your neighborhood or community around Halloween time. The concept is simple – secretly deliver (by ringing the doorbell and leaving before they open the door — AKA the doorbell ditch) a Halloween-themed goodie bag to your neighbor's front door, along with a note explaining the "You've Been Booed" tradition. Your neighbor should then do the same for two other households. If you've been booed, you should also use the door hanger included here so that others will know you've already been booed.
The chain continues through the month of October until the whole neighborhood or community has received a visit from the "Boo Fairy"! Not only is this a great way to get to know your neighbors, but it's also a great way to get into the Halloween spirit. Kids especially love this fun activity! Plus, who doesn't love getting some extra goodies during the spooky season? It is an excellent Halloween surprise for those getting gifted!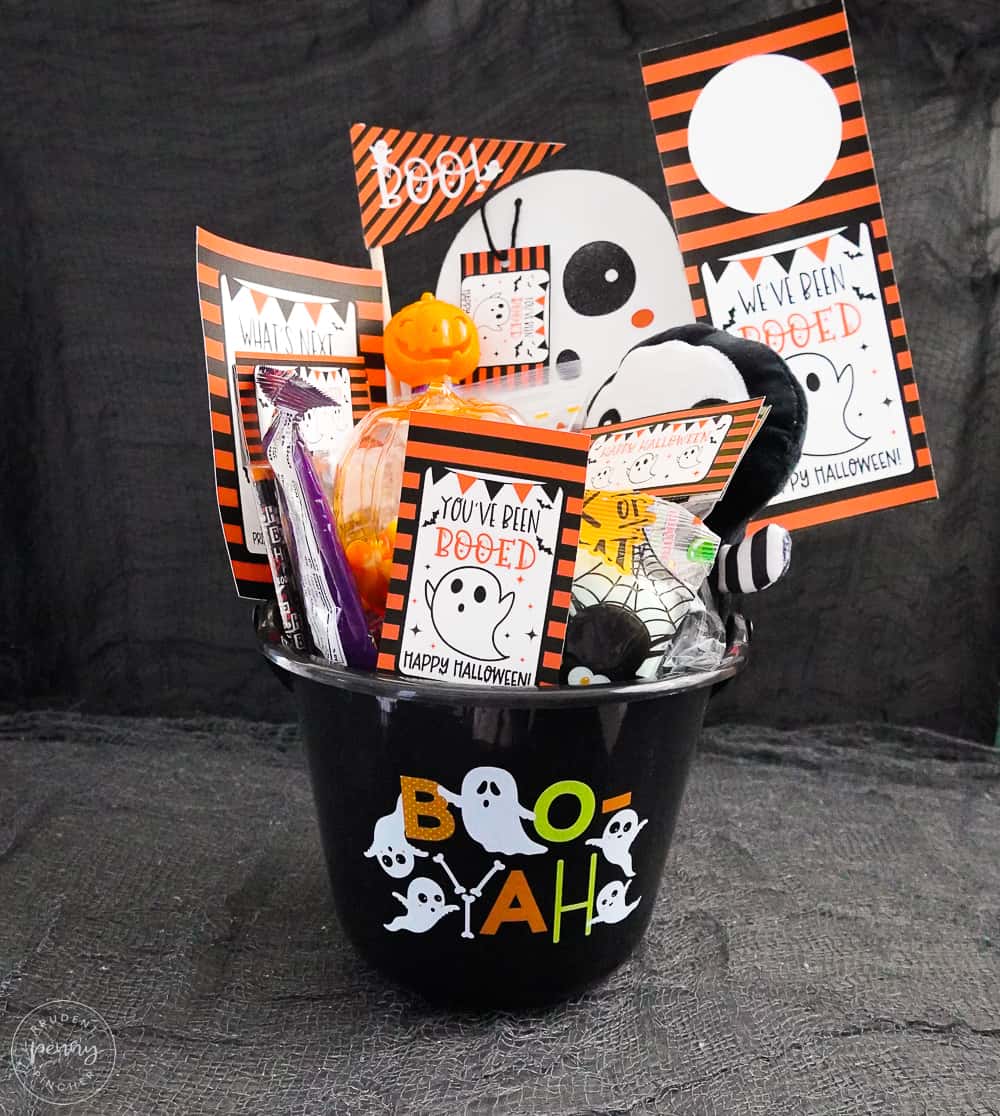 What's Included in This "You've Been Booed" Printable Pack
There are 8 free printable signs, labels, gift tags, and flags. These printables come in two formats: PNG and a printable PDF. You can print multiples of each in case you want more than one.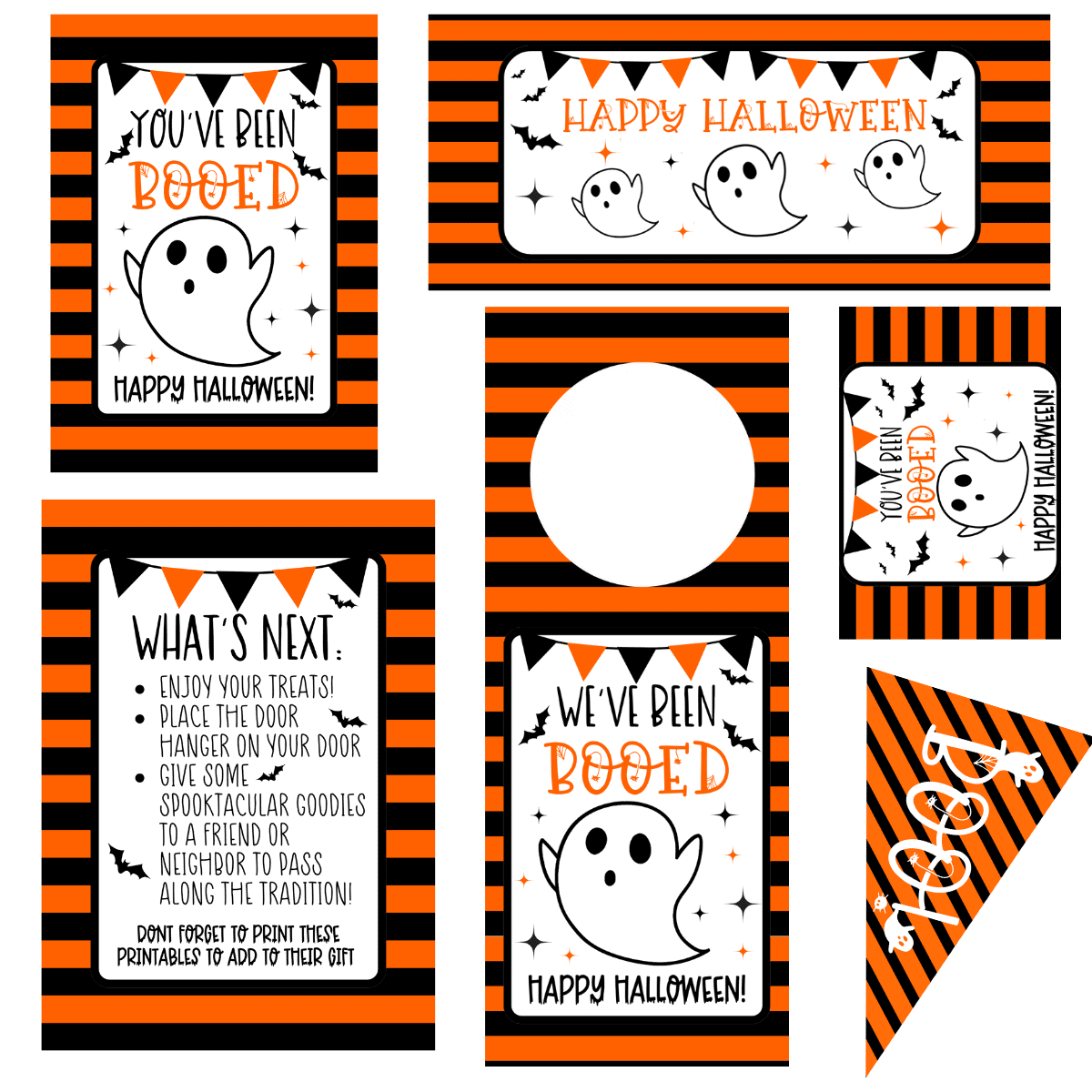 You've Been Booed Printable signs in two sizes (3×5 and 5×7)
Door Hanger (4×10)
Gift tags (2×2)
Mini Flag
Party favor tags in different sizes (5×2 and 4×2)
You've Been Booed Instructions for the person who has been booed (5×7)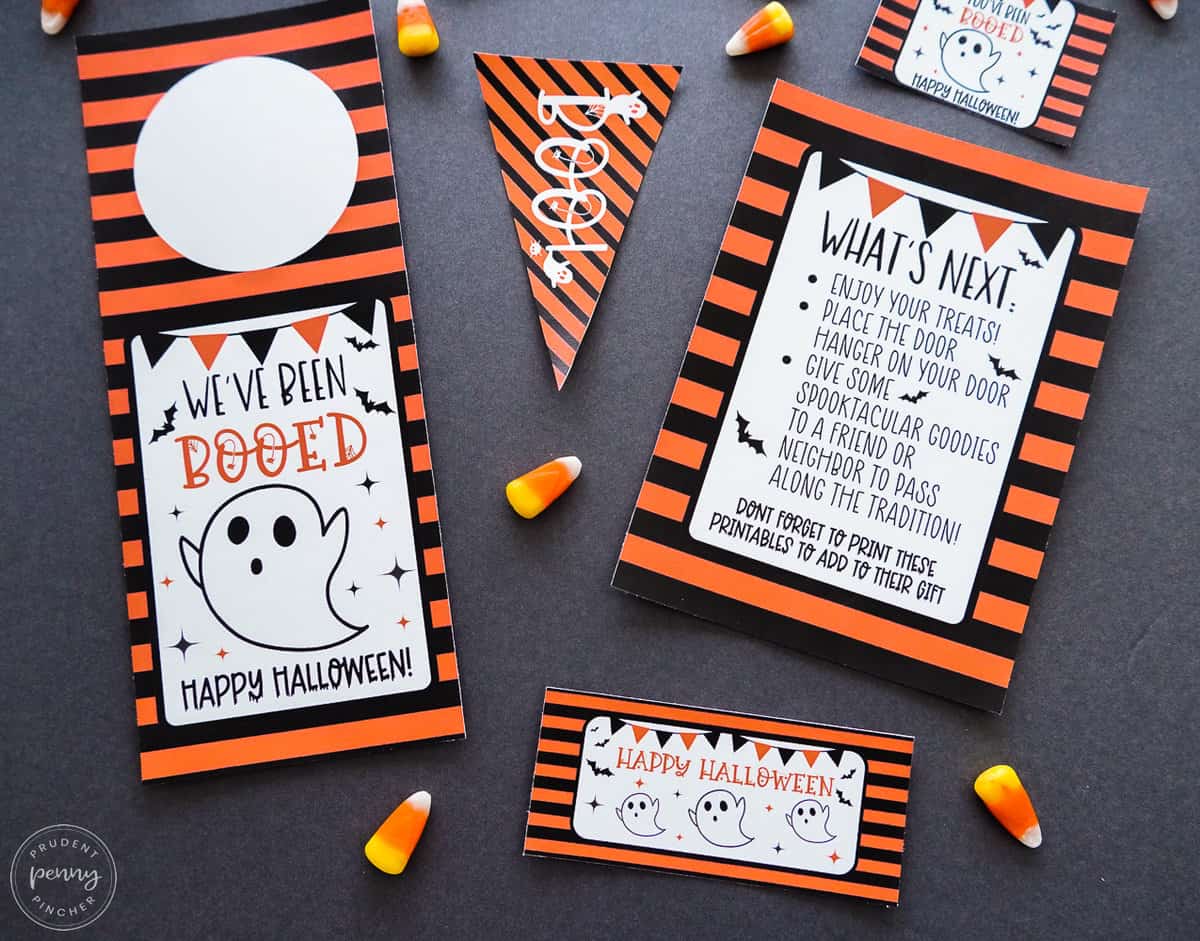 Supplies Needed
white cardstock (65 lb) – I do not recommend printer paper for these as it will adversely affect the quality of printables.
scissors or paper trimmer
small wooden dowel for the mini flag
baker's twine, ribbon, or string for your gift tag
gift basket, bucket, bag, or tote (See below for suggestions)
Halloween goodies (See below for gift ideas)
floral foam (optional – depending on the size of your bucket or basket)
paper shreds (2 packs) or tissue paper

How to Download These "You've Been Booed" Printables
Select the files you want to save.
Click the download button on the right side of the screen.
Save the files to the folder you want.
Open the You've Been Booed printables in your photo viewer (for PNG). For your PDF file, open it with Adobe Acrobat or another PDF reader software.
How to Print
Load the cardstock or printer paper into your printer's paper tray.
Find the Paper Settings option. The location will vary depending on your OS (either under Properties (PC) or Presets (iOS)). This will allow you to select various media types that your printer can handle.

Go to Paper Type –> Card Stock.

Go to File —> Print.
Set the page sizing to "Fit."
Click the printer button at the bottom. A printer setup dialogue box will open.
Under media and quality, set the quality to "Best."
Press the print button.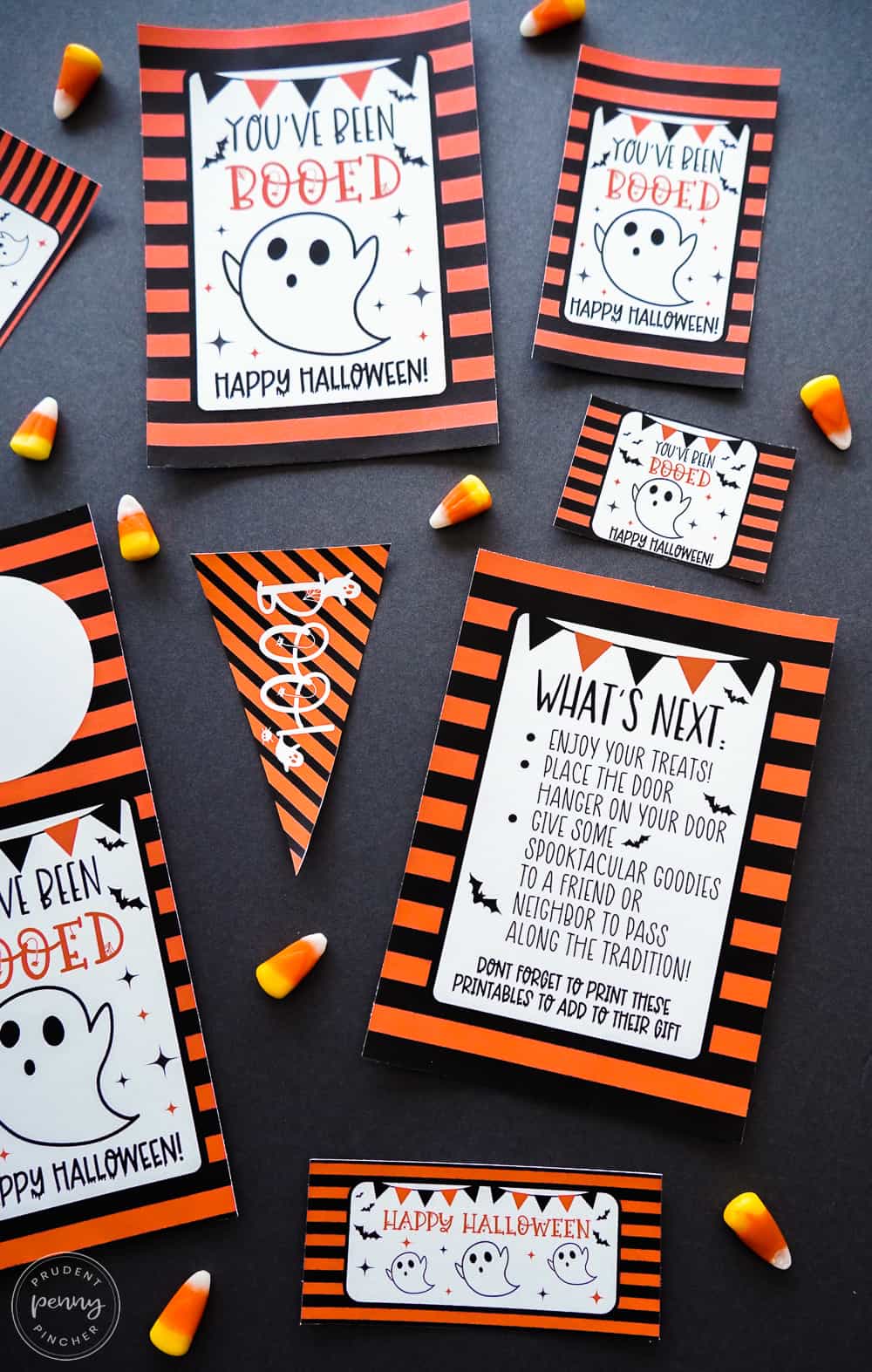 Printables Instructions
After you have printed all your you've been booed printables, use a paper trimmer or scissors to cut them out.
Glue the mini flag on top of a wooden dowel.
Attach your gift tags to a gift using some baker's twine, yarn, or ribbon.
Glue your party favor labels to the tops of your party favors. If they aren't the proper size for your bags, you can always resize them in your photo viewer program or trim the sides.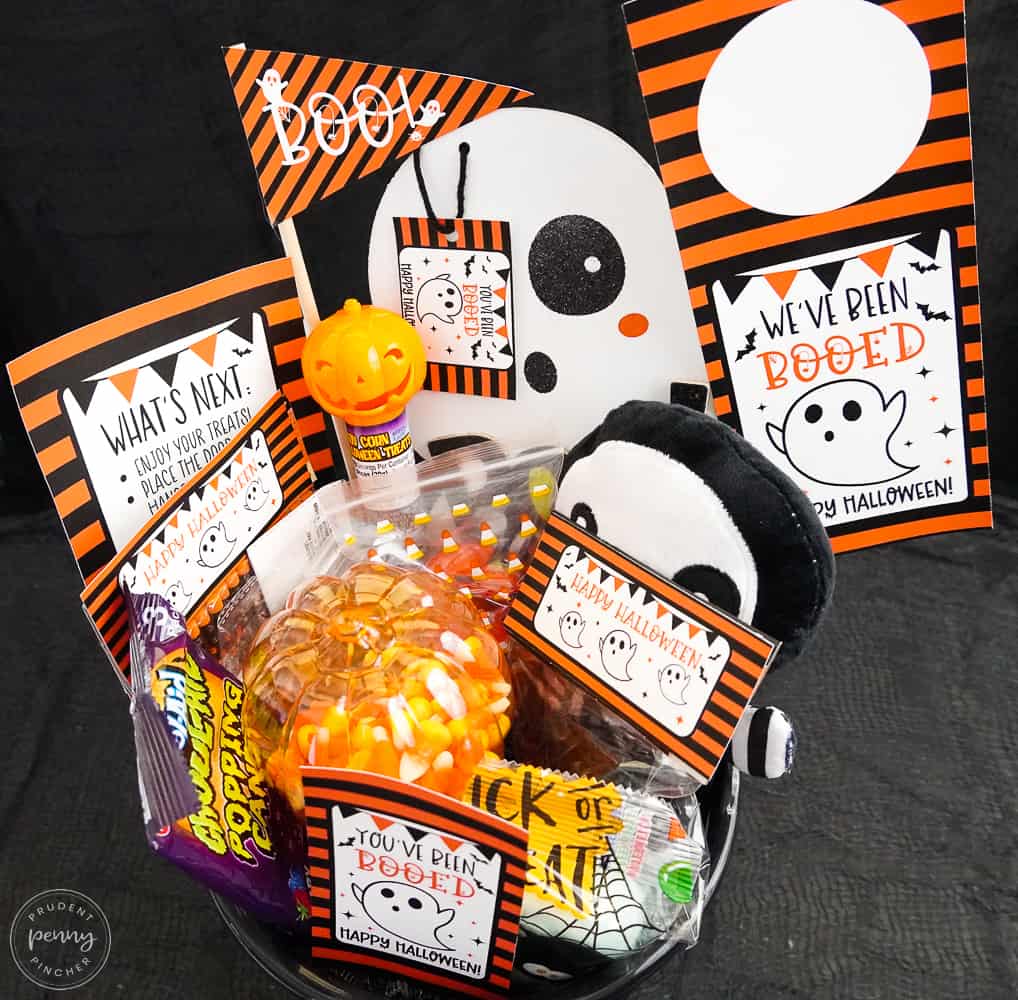 How to Assemble Your Gift Basket and The "You've Been Booed" Printables
Instructions will vary depending on how big your container is, but here is how I assembled mine:
Add floral foam to the bottom of your bucket.
Add one bag of shredded paper on top of your foam (or as much as needed).
The goal is to ensure everything can be seen just by looking at the basket, so start by placing the taller and bigger items in the back of your basket. This includes your door hanger, mini flag, and instructions printables.
Work toward the front of the basket by layering medium-sized items in front of your bigger items.
If you need to create some added height to make sure items be seen more prominently, you can add a small amount of shredded paper to that particular spot to raise it above the other items.
Finally, add your smallest items to the front of the basket, such as your small "You've been Booed" card.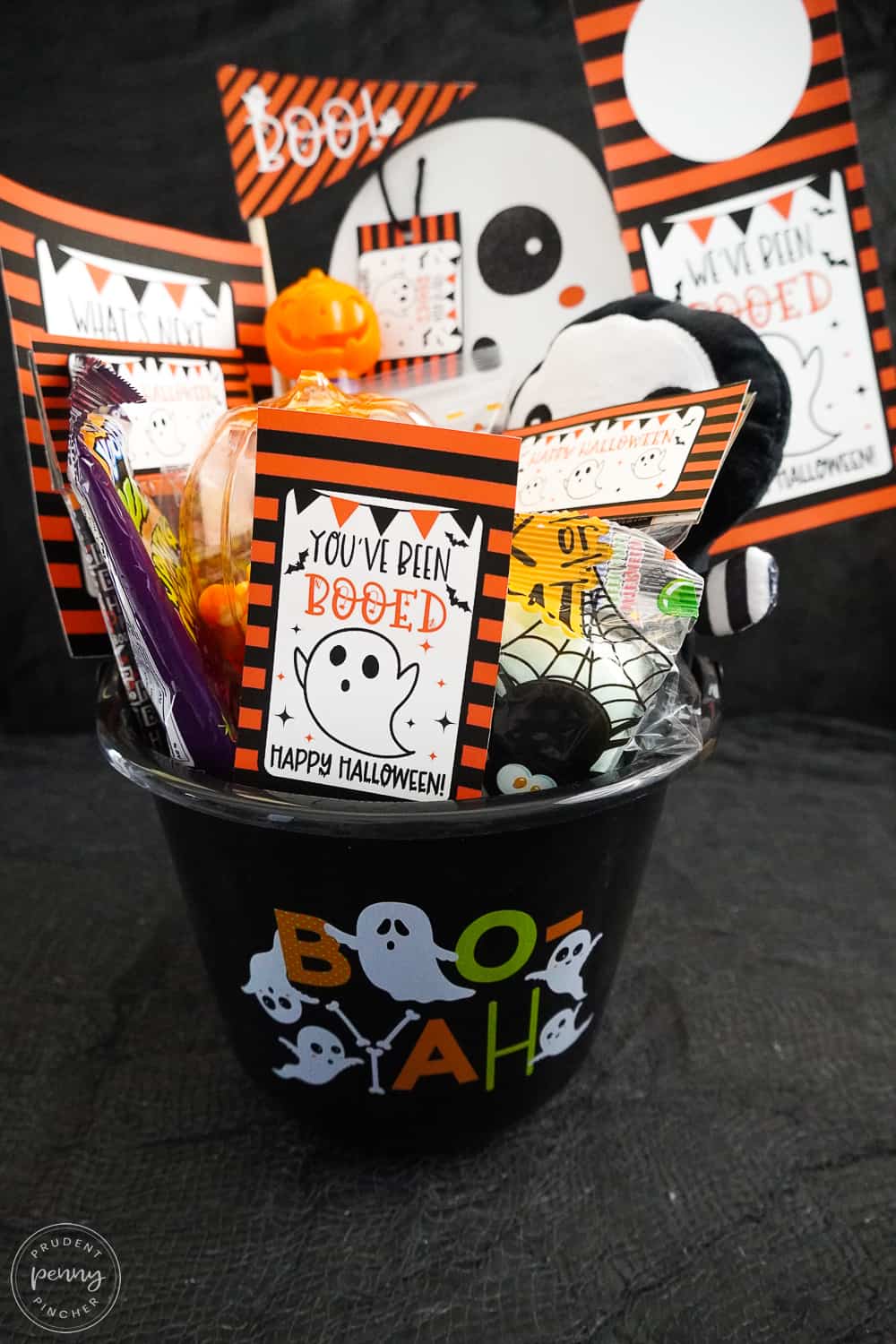 Boo Basket Container Ideas
Your boo baskets can be as big or small as you want. It all depends on your budget. You've been booed gift can be in something as small as a little kraft paper bag or as big as a plastic pumpkin pail!
plastic loot bucket (this is what I used, and I got it from Dollar Tree)
kraft paper gift bags
jack-o-lantern pail
plastic cauldron
Halloween treat tote bags
drawstring bags
Halloween-themed treat pails
candy holders
plastic spider web bowls
skull snack bowls
mini metal pails
boo buckets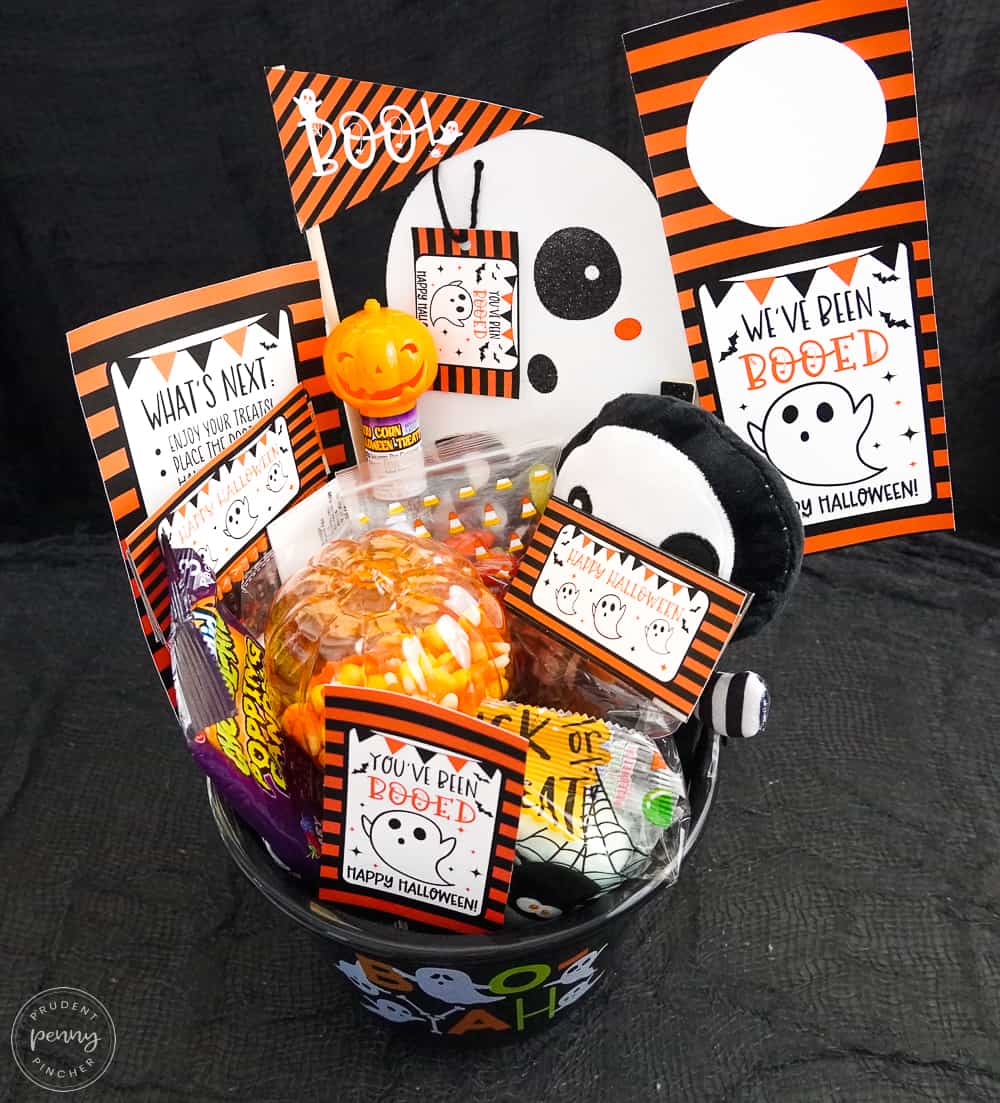 Halloween Gift Ideas to Go with"You've Been Booed" Printables
You don't have to spend a lot of money on your gifts. Dollar Tree has a lot of cute little party favors, Halloween candy, and spooky decorations that are perfect for spreading some Halloween fun without breaking the bank. I spend about $10 on my bucket. It's lots of fun for the whole family to buy or make some fun things to give away, and is a nice little surprise for the ones being booed.
Be sure to think about what the person you are booing will like, but here are some examples to start you off:
Halloween treats
party favors (great choice for those with kids)

plastic spider rings
pencils
note pads
pens
stickers
stamps
bouncy balls
mini paddle balls
other small toys and trinkets like bungee spiders, airplanes, slinkies, stencils, kaleidoscopes, and mini pinball games.

candy corn or candy pumpkins – I filled a Halloween Pumpkin-Shaped Gumball Dispenser with candy corn.
candy bars
lollipops
coloring books
spooky decorations like mini ghost garlands, skeletons, rubber bats, a small pack of orange string lights, and more.
homemade cookies — you can get some cute Halloween-themed mini cookie jars at Dollar Tree to put them in!
homemade treats like muffins, brownies or other small treats – Dollar Tree also sells a mini skull muffin pan and baking pans that would be a perfect choice!
snack mix in treat bags or boo bags
Halloween stuffed animals
You can decorate your gift basket by adding Halloween picks and florals and attaching a bow to the front.
Also, you can choose a particular theme for your basket. For example, make a Halloween decoration-themed basket to help your neighbor or friend decorate for the spooky season! Or you could just have a basket of treats with assorted food items only.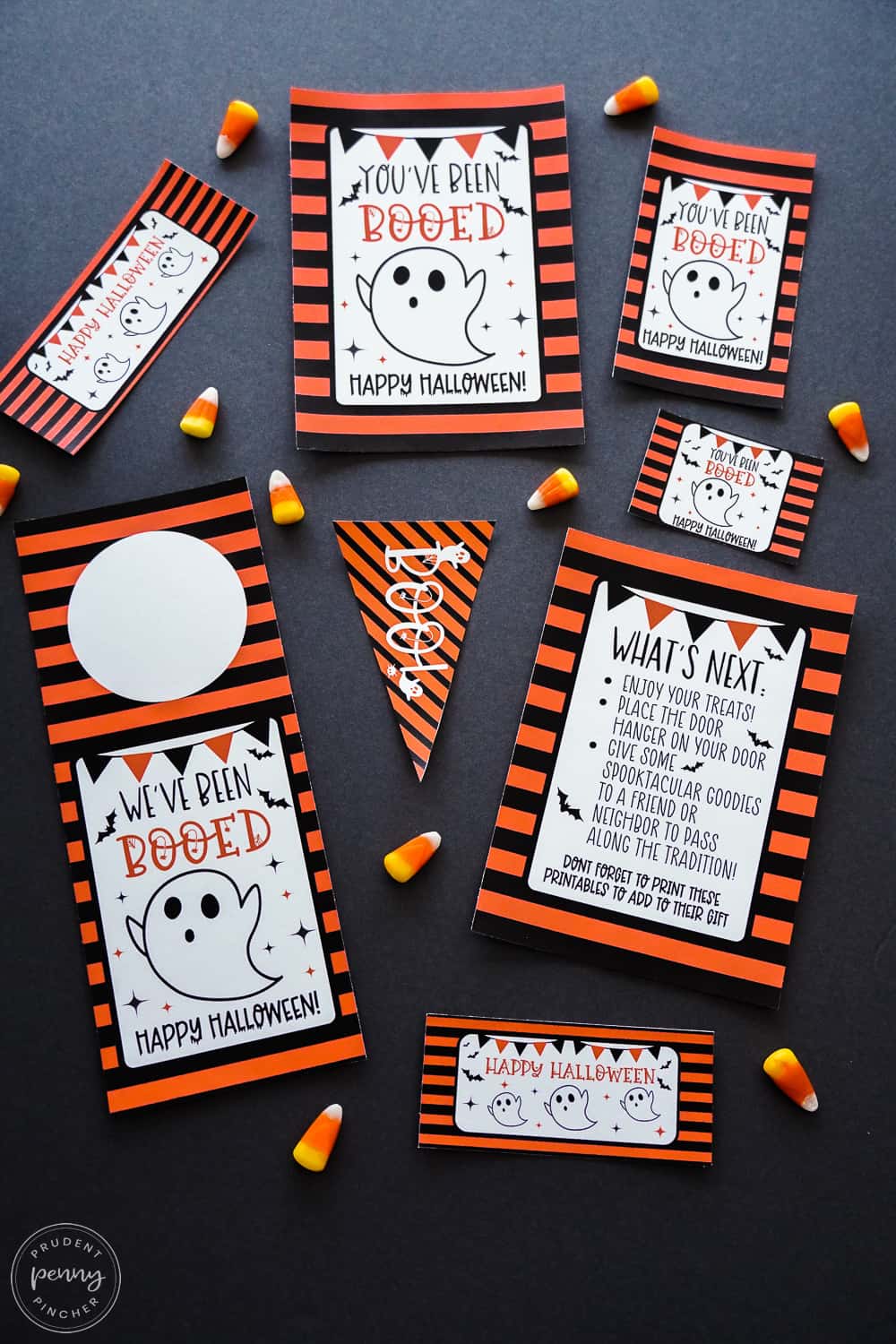 You've Been Booed FAQ
What does it mean you've been booed?
Being "booed" is a fun Halloween tradition for your neighborhood and community! When you've been "booed," it means a neighbor or friend has secretly left a bag of treats on your doorstep, along with a "You've Been Booed" sign and instructions to continue the tradition. The goal is to bring happiness and a festive spirit to your community, all while keeping the givers a secret!
How do you start you've been booed?
Starting the "You've Been Booed" tradition is super simple and spook-tacularly fun! Start by downloading these free "You've Been Booed" printables and cut them out. Make your boo baskets by filling them with treats, toys, or Halloween-themed items and add the printables for an extra spooky touch. Choose two or more households in your neighborhood to "boo." Make sure they haven't already been "booed" to keep the chain going. Secretly deliver the boo baskets or bags to your chosen neighbors. Once you've "booed" your neighbors, sit back and enjoy as the "booing" spreads throughout your community!
More Halloween Printables
More Halloween Ideas
Follow me on Pinterest, Facebook, or Instagram for more inspiration on crafts, DIY, free printables, and recipes!