Spread some holiday cheer to your neighbors and friends with these you've been elfed free printables. Christmas gift ideas for festive goodies and treats are also included!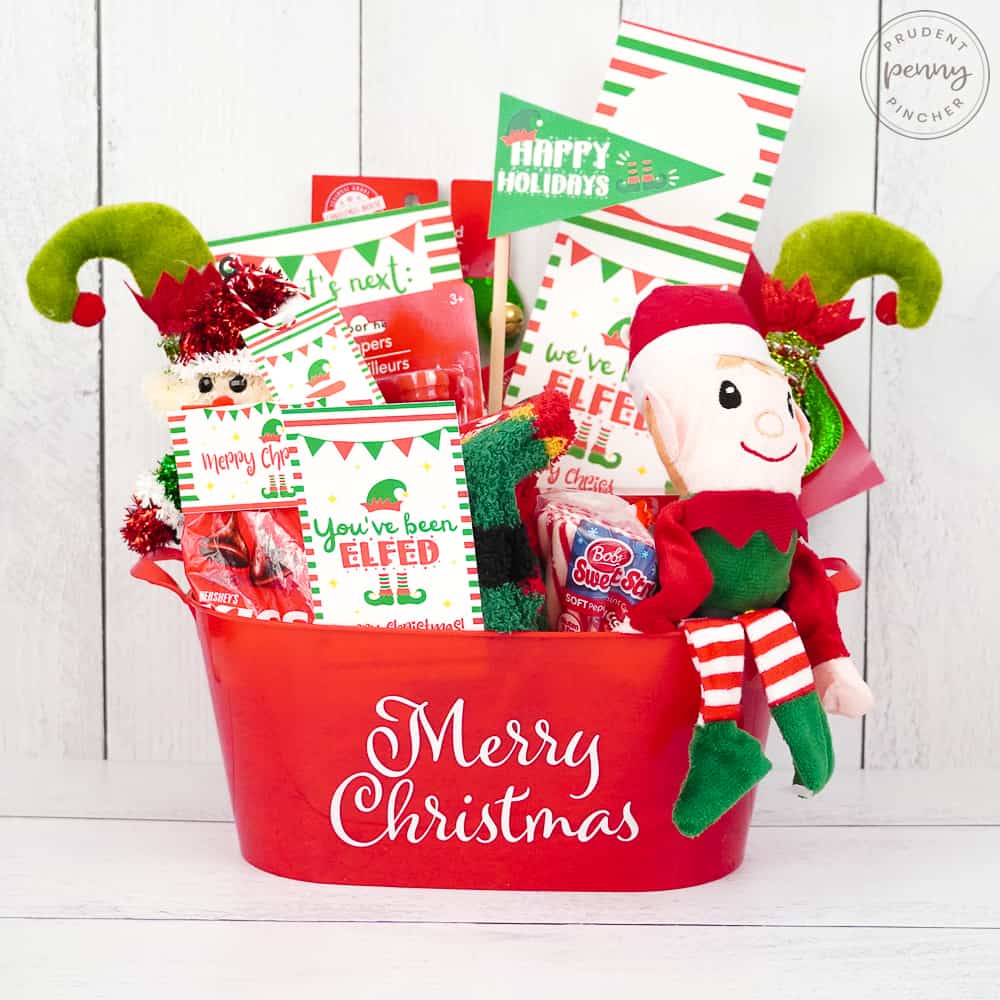 What is it, and How Do You Participate?
It is a fun holiday tradition to spread festive cheer during the holiday season within your neighborhood or community around Christmas time. The concept is simple – secretly deliver (by ringing the doorbell and leaving before they open the door) a Christmas-themed goodie bag to your neighbor's doorstep, along with a note explaining the "You've Been Elfed" tradition. The recipient should then do the same for two other households. If you've been elfed, you should also use the door hanger included here so that others will know you've already been elfed. It is basically the Christmas version of You've Been Booed! This holiday elf tradition is similar to Secret Santa.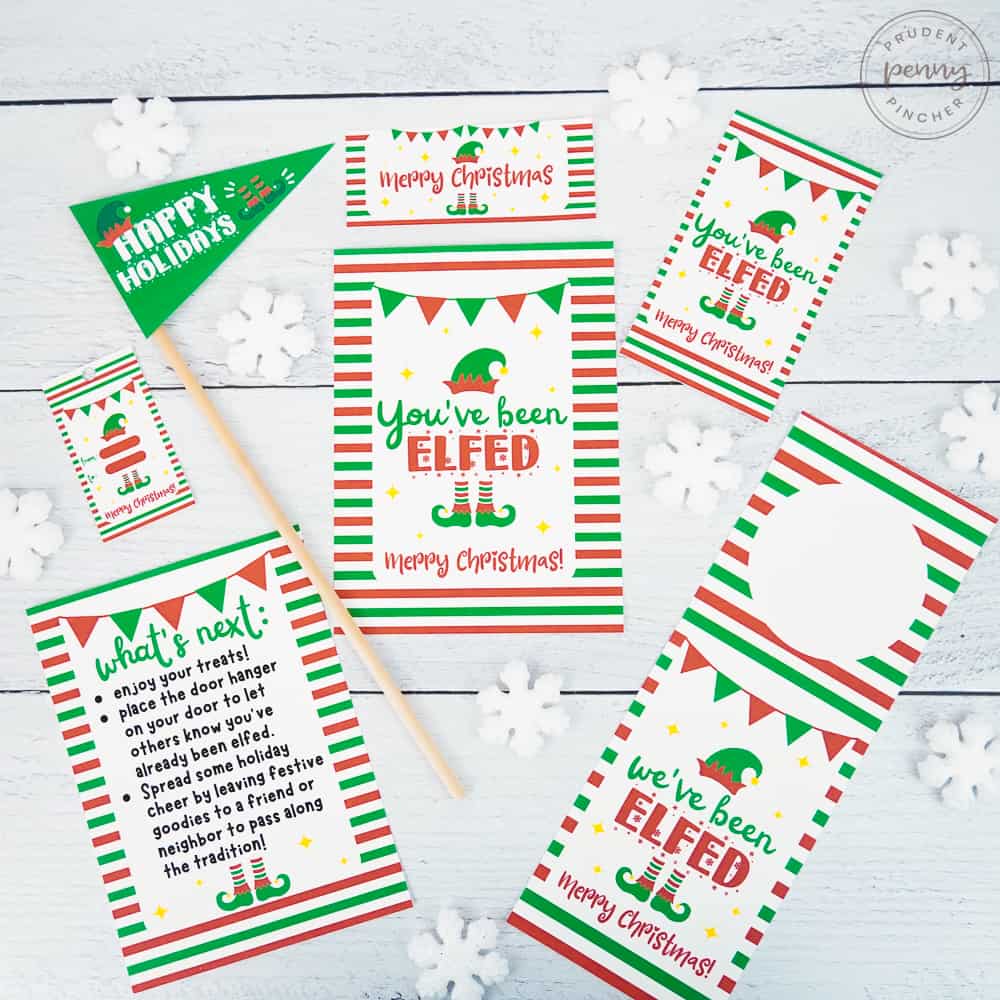 What's Included in This You've Been Elfed Free Printable Pack
There are a total of 7 free Christmas printables, which include signs, labels, gift tags, flags, and more. These printables come in two formats: PNG and a printable PDF. You can print multiples of each one if you need more than one.
You've Been Elfed Signs (3×5 and 5×7)
Door Hanger (4×10)
Gift Tag (2×2)
Mini Flag
Party Favor Tag (4×2)
You've Been Elfed Instruction Sheet (5×7)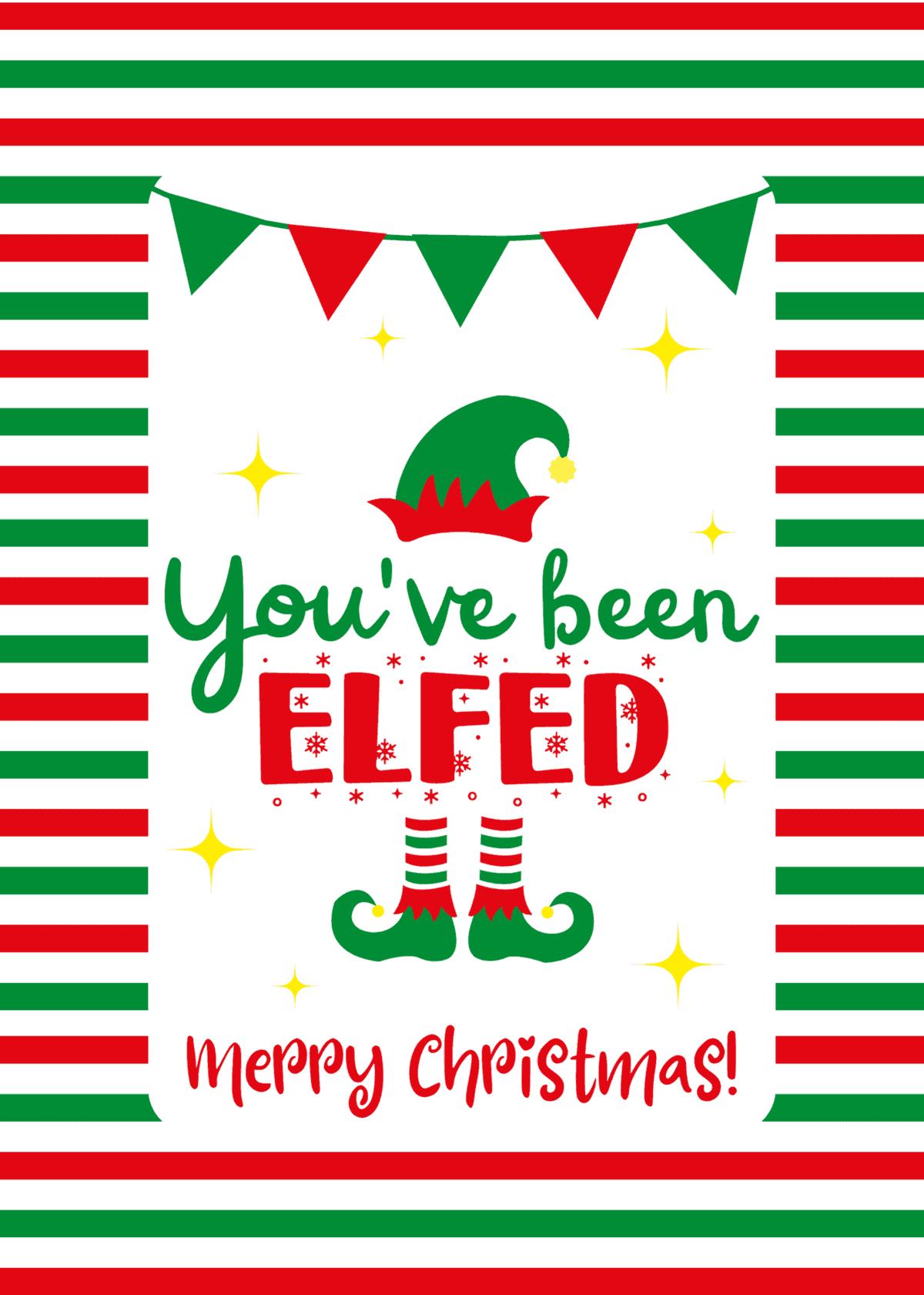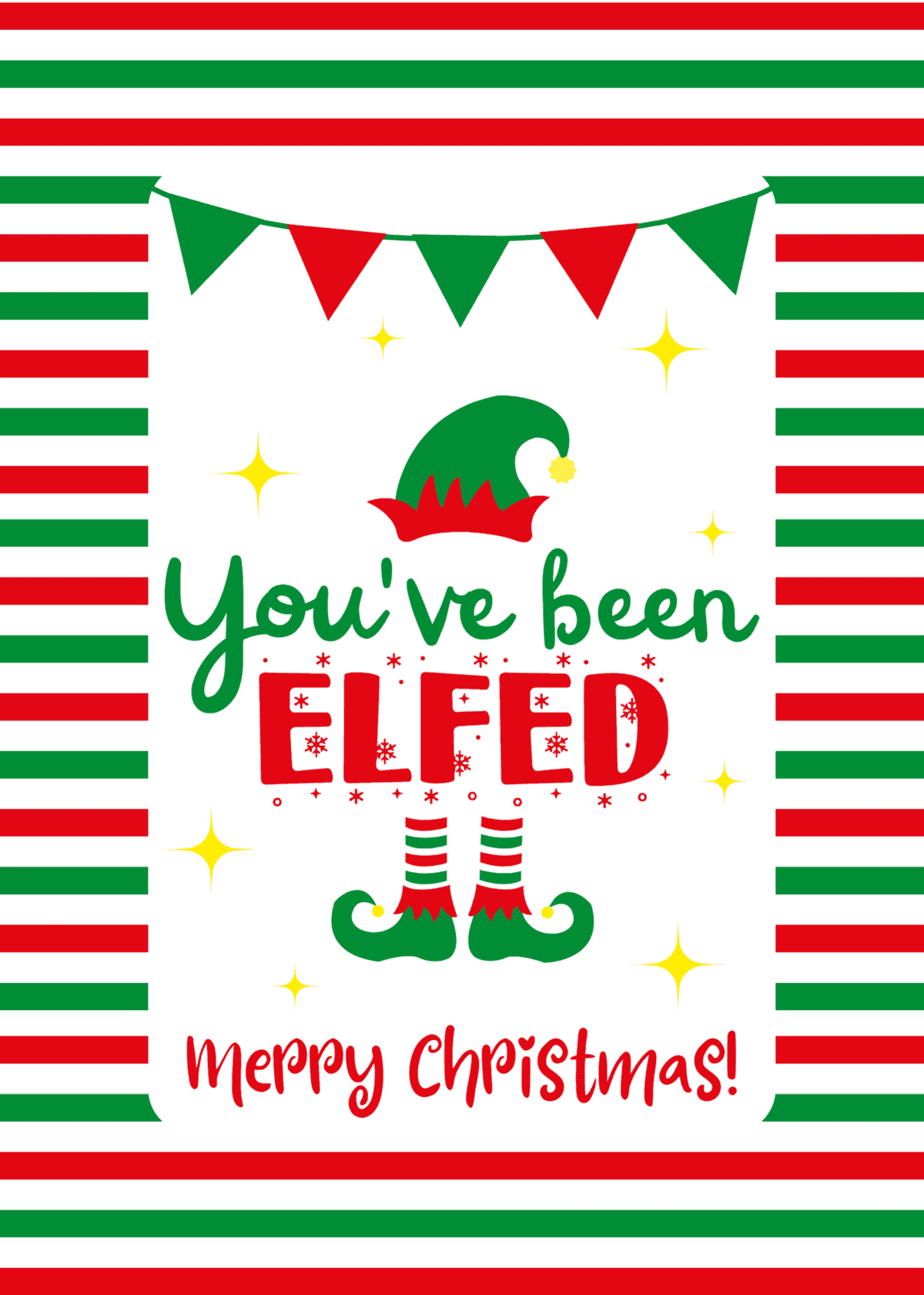 Supplies Needed
white cardstock (65 lb) – I do not recommend printer paper for these as it will adversely affect the quality of printables.
scissors or paper trimmer
small wooden dowel for the mini flag pendant
red and white baker's twine for your gift tag
gift basket, bucket, bag, or tote (See below for suggestions)
Christmas goodies (See below for gift ideas)
floral foam (optional – depending on the size of your bucket or basket)
red or green paper shreds (2 packs) or tissue paper – You can get both at the dollar store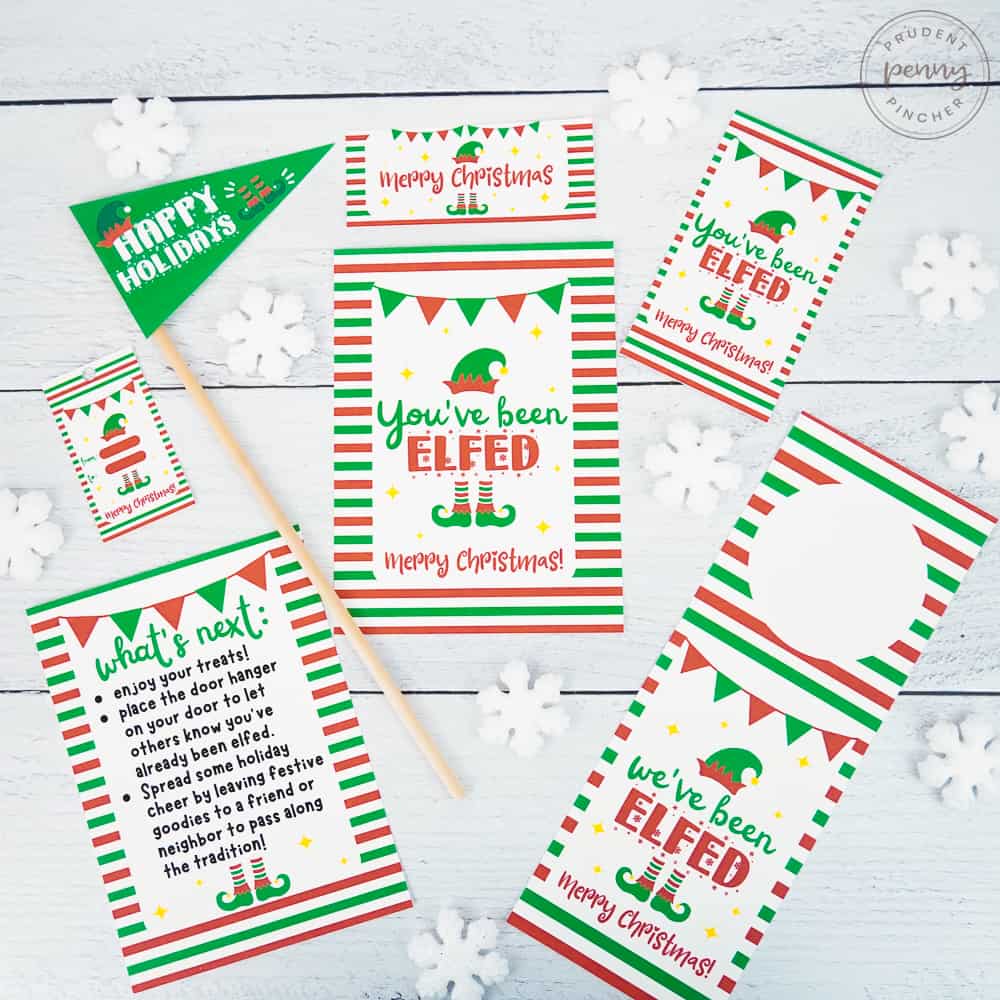 How to Download These Free "You've Been Elfed" Printables
Select the files you want to save.
Click the download button on the right side of the screen.
Save the files to the folder you want.
Open the You've Been Elfed printables in your photo viewer for PNG.

For your PDF file, open it with Adobe Acrobat or another PDF reader software.
How to Print
Load the cardstock or printer paper into your printer's paper tray.
Find the Paper Settings option. The location will vary depending on your OS (either under Properties (PC) or Presets (iOS)). This will allow you to select various media types that your printer can handle.

Go to Paper Type –> Card Stock.

Go to File –> Print. Open your printer settings or printing preferences. The printing settings will vary based on your printer, but ensure the print quality is set to the "Best" setting before printing.
If you are printing with Adobe Acrobat, select "Actual Size" from the printer settings so that it won't print big copies that take up the whole page.
If you want to print an image version of the files through Preview or a similar photo viewing software, set the scale to 100% (it should be the default option).
You've Been Elfed Free Printables Instructions
After you have printed all your you've been elfed printables, use a paper trimmer or scissors to cut them out.
Glue the mini flag on top of a wooden dowel.
Attach your gift tags to a gift using some baker's twine, yarn, or ribbon.
Glue or tape your party favor labels to the tops of your party favors. If they aren't the proper size for your bags, you can always resize them in your photo viewer program or trim the sides down as necessary.
How to Assemble Your Gift Basket & Add The You've Been Elfed Printables
Instructions will vary depending on how big your container is, but here is how I assembled mine:
Add floral foam to the bottom of your bucket.
Add one bag of shredded paper on top of your foam (or as much as needed).
The goal here is to ensure everything can be seen just by looking at the basket, so start by placing the taller and bigger items in the back of your basket. This includes your door hanger, mini flag, and instructions printables.
Work your way toward the front of the basket by layering medium-sized items in front of your bigger items.
If you need to create some added height to make certain items be seen more prominently, you can add a small amount of shredded paper to that spot to raise it above the other items.
Finally, add your smallest items to the front of the basket, such as your small "You've been Elfed" card.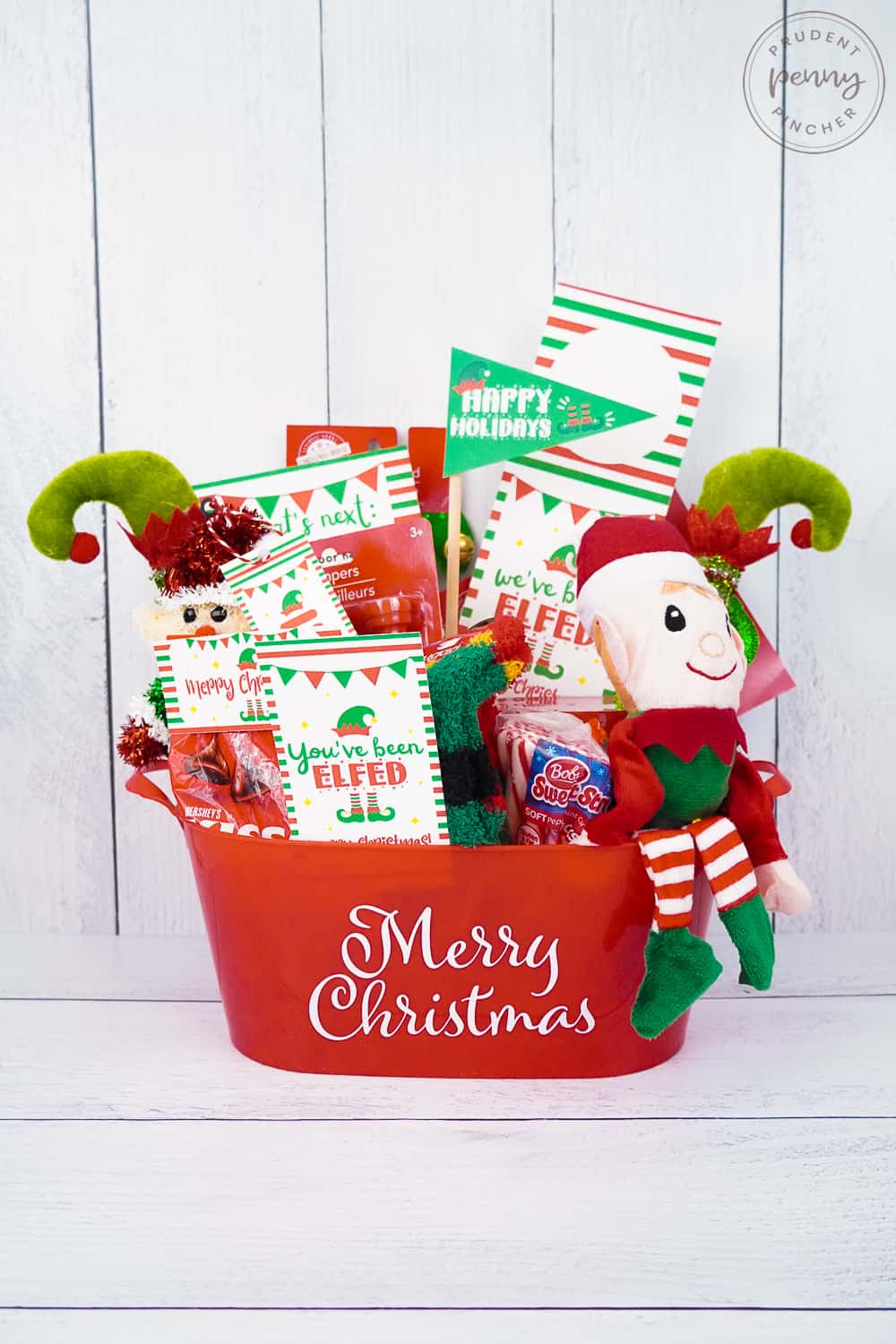 You've Been Elfed Basket Container Ideas
Santa pail
gift boxes
Christmas tins
holiday cardboard boxes
gift bags
holiday tote bags
stockings
decorative metal canisters
holiday buckets
drawstring bags
small festive bins
You've Been Elfed Christmas Gift Ideas
You don't have to spend a lot of money on your gifts. Your local Dollar Tree and the Target dollar section both have a lot of cute little gifts, party favors, Christmas candies, and small holiday decorations that are perfect to spread Christmas cheer without breaking the bank.
Christmas candy (either homemade or store-bought)

red and green M&Ms
candy canes
red and green Hersey's Kisses
candy spoons
lollipops
buttermints
york peppermint patties
holiday sixlets
marshmallows

hot chocolate bombs
Elf headbands
fun holiday party glasses
Elf hat
holiday mugs – Use one of these free SVGs to make a personalized one with a Cricut!
Elf socks
hot cocoa mix
cookie cutters
holiday cookie mix (with a tube of icing and some red and green sprinkles)
cupcake liners with toppers and cupcake mix
Elf wall decorations
Christmas ornaments
santa hat
party favors (great choice for those with kids)

plastic spider rings
pencils
note pads
pens
stickers
stamps
squeeze balls
puzzle cube
bouncy balls
mini paddle balls
jax
other small toys and trinkets

small Dollar Tree Christmas decorations like candles, tiered tray decor, a box of string lights, coasters, mini trees, banner or garland, etc.
homemade Christmas cookies — Dollar Tree has Christmas cookie jars to put them in!
homemade holiday treats like peppermint bark, truffles, brownies, muffins or other small desserts – Dollar Tree also sells a mini holiday muffin pan and baking pans that would be a perfect choice!
festive snack mix in Dollar Tree Christmas treat bags
Christmas activity books, craft kits or games like bingo
Holiday stuffed animals or plushes
small gifts in a jar
festive cookbooks or books
Related Posts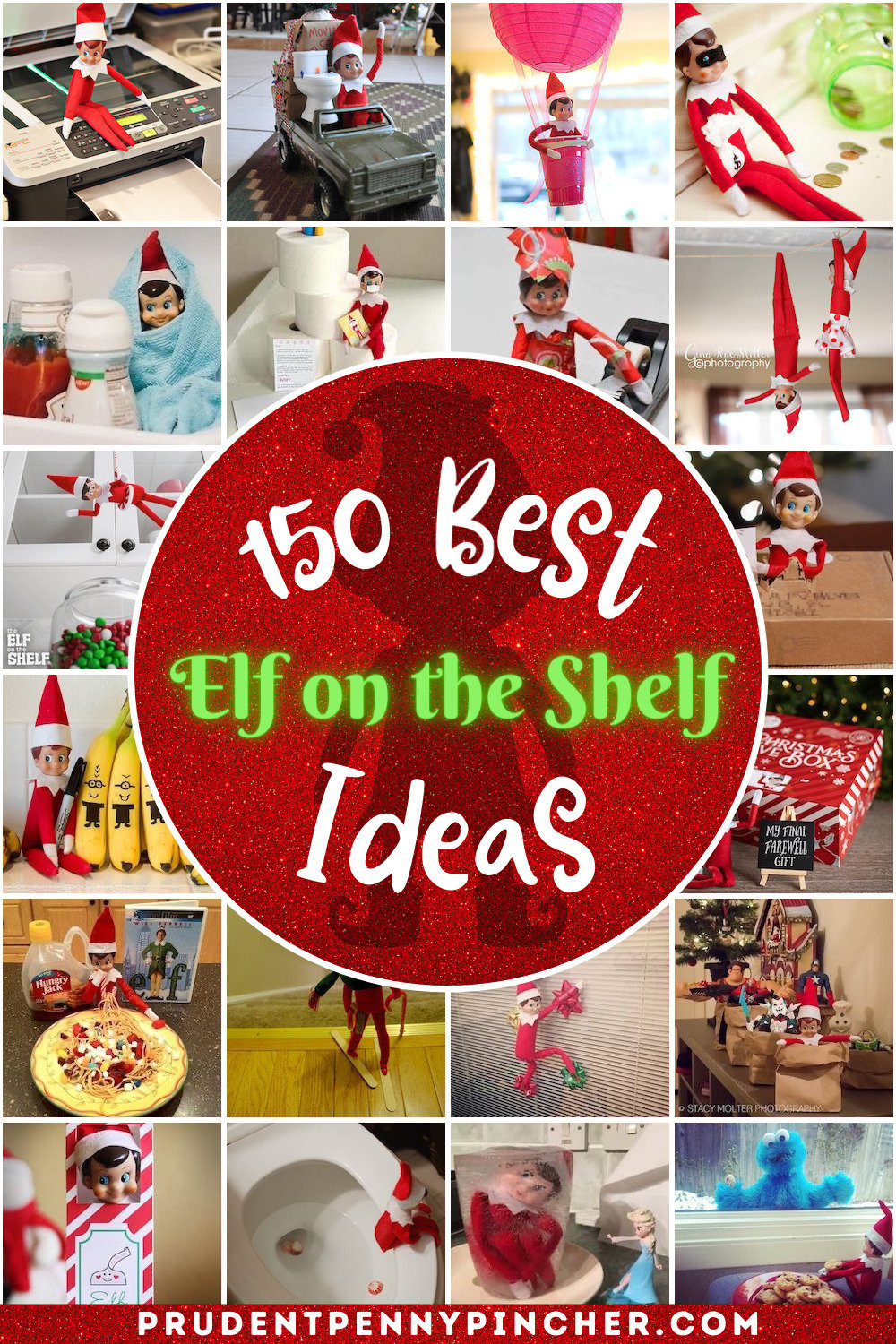 150 Best Elf on the Shelf Ideas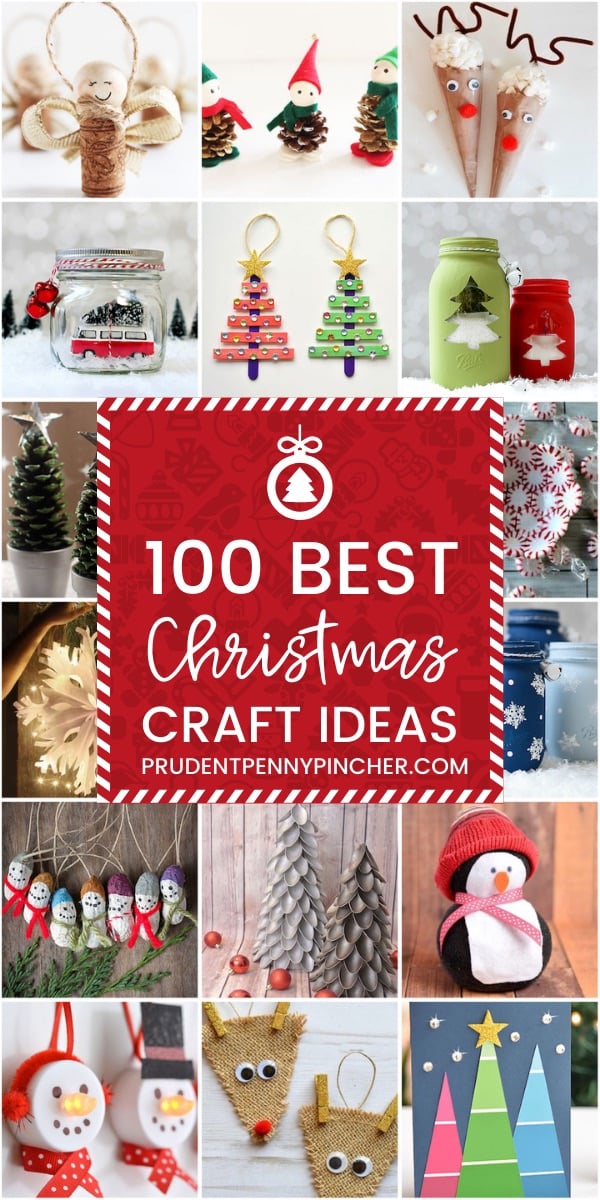 100 Best Christmas Crafts